---
Kenyataan Media: Kerajaan Persekutuan dan Sarawak Mesti Menjelaskan Perlantikan Syarikat Britain untuk menjalankan Kempen Media Haram
Posted: 09 Aug 2011 11:22 AM PDT
Sarawak Report telah mendedahkan bahawa Kerajaan Persekutuan dan Sarawak telah melantik sebuah firma penerbitan TV dan komunikasi strategik Britain, FBC Media untuk menjalankan kempen media secara haram bagi mempromosikan dasar-dasar mereka.
Blog tersebut mendedahkan bahawa FBC Media dibayar sebanyak RM15 juta setahun oleh Kerajaan Sarawak. Ini berikutan pendedahan YB Saifuddin Nasution, Setiausaha Agung KEADILAN di Parlimen bahawa Kerajaan Persekutuan menerusi Pejabat Perdana Menteri telah membayar sebanyak RM57.68 juta kepada FBC Media antara tahun 2008 dan 2009 sementara RM42 muta lagi dibayar untuk "Public Affairs and Government Services and Strategic Communication, Public Relations and Press Outreach" mengikut bajet tambahan terkini.
Dokumen-dokumen Kerajaan Amerika Syarikat turut mendedahkan bahawa FBC Media membayar APCO sebanyak AS$70,000 sepanjang dua tahun lepas untuk melobi Kerajaan Amerika Syarikat bagi pihak Kerajaan Malaysia.
Peranan bercanggah FBC Media sebagai penerbit TV dan firma komunikasi strategic menimbulkan persoalan memandangkan mereka menerima bayaran daripada Kerajaan Persekutuan dan Sarawak untuk menerbitkan program TV yang berat sebelah dan ditayangkan syarikat penyiaran antarabangsa seperti CNBC, CNN dan BBC.
Kerajaan Persekutuan dan Sarawak juga mesti menjelaskan mengapa mereka telah memilih taktik terdesak membelanjakan jutaan ringgit wang pembayar cukai untuk terbabit di dalam kempen media secara haram.
Laporan Sarawak Report boleh diakses di sini: http://www.sarawakreport.org/2011/08/taib-paid-out-5-million-to-attack-sarawak-report-international-expose/
Media Statement: Federal and Sarawak Government Must Come Clean on Hiring of British Company to engage in Illegal Media Campaign
Posted: 09 Aug 2011 11:18 AM PDT
Sarawak Report has revealed that the Federal and Sarawak governments has engaged a British based TV production and strategic communications firm, FBC Media to engage in an illegal media campaign to promote their policies.
The blog reveals that FBC Media is being paid RM15 million a year by the Sarawak Government. This follows the revelation by YB Saifuddin Nasution, the Secretary General of KEADILAN in Parliament that the Federal Government through the Prime Minister's Office paid RM57.68 million to FBC Media in 2008 and 2009 while a further RM42 million was paid for "Public Affairs and Government Services and Strategic Communication, Public Relations and Press Outreach" according to the latest supplementary budget.
United States' government documents also reveal that FBC Media paid APCO US$70,000 over the past two years to lobby the US Government on behalf of the Malaysian Government.
Questions should be raised on FBC Media's conflicting role as a TV producer and strategic communications firm, as the latter involves receiving payments from the Federal and Sarawak governments for the former to produce sympathetic and biased TV programs that are placed in international broadcasters such as CNBC, CNN and BBC.
Furthermore, the Federal and Sarawak governments must come clean on why it has resorted to such desperate tactics by spending millions of ringgit of taxpayers' money to engage in an illegal media campaign.
The Sarawak Report revelation can be accessed here: http://www.sarawakreport.org/2011/08/taib-paid-out-5-million-to-attack-sarawak-report-international-expose/
Logos Hope brings more than books
Posted: 09 Aug 2011 09:43 AM PDT
Warning
: file_get_contents(http://api.bitly.com/v3/shorten?login=tursiainfo&apiKey=R_fe7284ee32bc962288b562dc8aaf9c85&longUrl=http://lucialai.org/2011/08/10/logos-hope-brings-more-than-books/&format=txt) [
function.file-get-contents
]: failed to open stream: HTTP request failed! HTTP/1.1 403 Forbidden in
/home/lucialai/public_html/wp-content/plugins/share-it/share-it.php
on line
53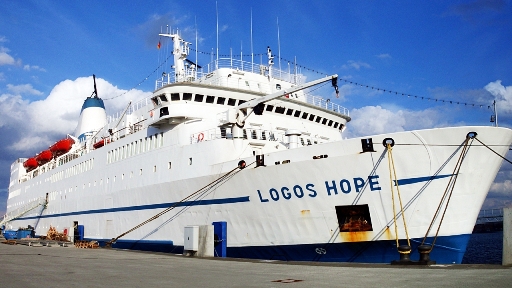 Logos Hope is a ship features a whole deck designed for visitors to experience.
From the moment people step on board, they will receive a warm welcome and have an opportunity to watch a short introduction to the new ship in the Lifeboat Theatre and learn about life on board this unique vessel.
After this Welcome Experience visitors will move into the all new book fair where they can explore over 5,000 different books and CD titles available at affordable prices.
The books cover a wide range of subjects such as science, technology, sports, hobbies, cookery, the arts and philosophy. A large selection of higher education textbooks is available as well as many books for children.
From the book fair visitors will have opportunity to walk through a display that reflects on the meaning and purpose of life before they arrive at the International Café. Here they can enjoy a snack or a beverage in a comfortable, relaxed environment and meet one of the international crew members or enjoy some live entertainment.
Logos Hope will be open to the public at Swettenham Pier, Penang from 12:00pm on Friday, 19th August through to Sunday, 25th September 2011.
Tuesday-Saturday 10 am–10pm
Sunday 1pm-10pm
Monday: Closed
The all-volunteer crew and staff comprise of over 400 volunteers representing 45 different nations who offer a unique example of unity in cultural diversity. Logos Hope is operated by GBA Ships e.V., an international, charitable organization registered inGermany. In just over 40 years of service, the organisation has welcomed over 40 million visitors up the gangways in over 160 countries and territories around the world.
Video: Perbahasan tentang BERSIH 2.0 anjuran Pemuda UMNO Putrajaya bersama Dato' Zaki Zahid & Dr. Nawar Ariffin
Posted: 09 Aug 2011 09:18 AM PDT
Posted: 09 Aug 2011 09:18 AM PDT
Born on October 27, 1932 in Massachusetts, Sylvia Plath was an American poet, novelist and short story writer. She studied at Smith College and Newnham College, Cambridge before receiving acclaim as a professional poet and writer. In 1956, She married fellow poet Ted Hughes and they lived together first in the United States and then England, having two children together: Frieda and Nicholas. Following a long struggle with depression and a marital separation, Plath committed suicide in 1963 by sticking her head in the oven. She was 30. Controversy continues to surround the events of her life and death, as well as her writing and legacy.
The genre of confessional poetry is credited to Plath who is best known for her two collections
The Colossus and Other Poems
and
Ariel
. In 1982, she became the first poet to win a Pulitzer Prize posthumously, for
The Collected Poems.
She also wrote
The Bell Jar
, a semi-autobiographical novel published shortly before her death. I have that book stashed somewhere in my study and have to read it again to fully appreciate Plath, one of my favorite poets together with Frost, Kipling, Wordsworth and Maya Angelou.
This poem,
'A Life'
, was written the same year she gave birth to her daughter. If you read her biography, you'll find that she was fearful of the future and old age. This is why she attempted suicide many times. She was a child prodigy, but she slid into deep depression and even attempted suicide when she got her first B in college. She finally succeeded when she put her head in that oven. Much as I find it quite painful to read her poems, there is somewhat a cathartic effect when I think about the words she uses. And then, I cannot help but be gripped by the magnitude of her pain that was brimming over - yet in silence and suffering.
I think Plath is talking about her time in a mental institution following her first suicide attempt in 'A Life'.
At the beginning of the poem, Plath is staring at the painting. She envies the life portrayed in the painting because it is so easily controlled "at their feet the waves bow in single file" and this detached way of living appeals to her - to be able to be content without thinking. Is that possible?
And then the contrast is slowly introduced. The element of loneliness and alienation creeps in slowly in stanza two with the use of
onomatopoeia
.
The other stanzas have a matter-of-fact tone and yet with such graphic descriptions that I do wonder about the significance of each. The diction, style and tone that she exudes is effortless, merging into one voice that can be Plath's alone.
However, by the end of the poem, we can see that the painting takes on a more dolorous tone. Slowly, the events portrayed in paint change direction and tone. The man coming out of the sea is "drowned", the seagull is "grey" and this is how she feels about her own future. Most depressing indeed. Could it be her Freudian slip that reveals how Plath's mind was incapable of accepting love? Could it be that she really didn't know what to do with love, given her sad state of mind?
This stanza reeks of her deep grief and debilitating sense of loneliness:
A woman is dragging her shadow in a circle
About a bald hospital saucer.
It resembles the moon, or a sheet of blank paper
And appears to have suffered a sort of private blitzkrieg.
She lives quietly
Such resigned loneliness - almost fatalistic in nature.
And the next part reveals how she feels trapped within...The use of 'no attachments' (sans umbilical chord?) and the simile of 'like a foetus in a bottle' reeks of death...The dimensions of her pain are amplified with the 'one too many dimensions' reference and how even though exorcised, she still withers away in her loneliness.
With no attachments, like a foetus in a bottle,
The obsolete house, the sea, flattened to a picture
She has one too many dimensions to enter.
Grief and anger, exorcised,
Leave her alone now.
Many of her struggles were to do with the idea of rebirth, and in the beginning of the poem, the alternate life within the picture seems like a rebirth for her, but by the end, you can see that she realizes that the same problems that followed her in one life, will translate to the next. So much sadness, so much grief...such a deep sense of resigned hopelessness...
The last stanza implies her fear of the future.She is internalizing her own struggles and perhaps projecting them unto the characters. The painting is a mirror of her soul, her demons, her fears, her past, her future, her life.
It is heart wrenching to read Plath. :-(  As such, I am not going to do a detailed analysis of this poem. Too depressing and yet, somehow, some of her thoughts mirror how I feel...Here it is - Plath's 'A Life'. Do leave a comment to share your thoughts. Have a restful evening.
A Life by Sylvia Plath
Touch it: it won't shrink like an eyeball,
This egg-shaped bailiwick, clear as a tear.
Here's yesterday, last year ---
Palm-spear and lily distinct as flora in the vast
Windless thread work of a tapestry.
Flick the glass with your fingernail:
It will ping like a Chinese chime in the slightest air stir
Though nobody in there looks up or bothers to answer.
The inhabitants are light as cork,
Every one of them permanently busy.
At their feet, the sea waves bow in single file.
Never trespassing in bad temper:
Stalling in midair,
Short-reined, pawing like parade ground horses.
Overhead, the clouds sit tasseled and fancy
As Victorian cushions. This family
Of valentine faces might please a collector:
They ring true, like good china.
Elsewhere the landscape is more frank.
The light falls without letup, blindingly.
A woman is dragging her shadow in a circle
About a bald hospital saucer.
It resembles the moon, or a sheet of blank paper
And appears to have suffered a sort of private blitzkrieg.
She lives quietly
With no attachments, like a foetus in a bottle,
The obsolete house, the sea, flattened to a picture
She has one too many dimensions to enter.
Grief and anger, exorcised,
Leave her alone now.
The future is a grey seagull
Tattling in its cat-voice of departure.
Age and terror, like nurses, attend her,
And a drowned man, complaining of the great cold,
Crawls up out of the sea.
-written by Sylvia Plath-
UMNO Berjaya Curi Lonjakan Kerusi Pakatan Rakyat Dengan Isu Gereja Selepas BERS✔H
Posted: 09 Aug 2011 11:30 AM PDT
P
akatan mampu rampas 100 kerusi Parlimen
Perhimpunan BERSIH 2.0 pada 9 Julai lalu mungkin melonjakkan pungutan kerusi bagi Pakatan Rakyat daripada 75 sekarang kepada 100 pada pilihan raya umum akan datang, kata penganalisis politik Wong Ching Huat.
Pada seminarnya di Universiti Monash, Sunway hari ini, Wong yang juga ahli jawatankuasa pemandu BERSIH 2.0 berkata peralihan sokongan itu adalah kerana reaksi rakyat terhadap tindakan kerajaan BN yang mengubah sentimen mereka di sejumlah 55 kerusi marginal yang dimenangi kedua-dua pihak.
"BERSIH telah meningkatkan peluang Pakatan di 20 kerusi yang dimenang tipis oleh BN dan memperkuatkan kedudukan Pakatan di 33 kerusi (marginal) milikinya sebelum ini," katanya.

Wong berkata jumlah berkenaan adalah hasil rumusannya berdasarkan demografik pengundi dan corak pengundian pada pilihan raya umum 2008 dan juga beberapa pilihan raya kecil yang lalu.

Beliau juga menjangkakan corak yang sama akan berlaku di kerusi-kerusi milik calon Bebas seperti di Wangsa Maju, Nibong Tebal dan Bayan Baru yang terletak di kawasan bandar Kuala Lumpur dan Pulau Pinang.

Berdasarkan perkiraannya juga, beliau menjangkakan Datuk Ibrahim Ali akan hilang kersi parlimennya di Pasir Mas di Kelantan.

azlanSelain itu, Wong juga menjangkakan PSM akan mengekalkan kerusinya di Sungai Siput, yang dimenangi dengan majoriti kecil berikutan penahanan ahli parlimennya Dr D Jeyakumar yang ditangkap mengikut Ordinan Darurat.

"Secara demografik ia adalah kerusi yang bahaya (untuk Jeyakumar) tetapi penahanan itu telah memberi manfaat kepada Jeyakumar, terutamanya undi simpati. Beliau akan terus mendapat undi masyarakat India dan menang dengan lebih selesa," katanya kepada Malaysiakini selepas seminar itu.

Katanya dua kerusi milik SAPP lebih sukar diramalkan.

Wong juga berkata Pakatan dijangka akan mengekalkan secara marginal kersi di Sibu, Kuantan dan Indera Mahkota, tetapi bukan kerana BERSIH 2.0 tetapi isu lain seperti kilang pemprosesan bumi nadir Lynas, khususnya di Pahang. -mk



Ulasan GB



Benarkah Pakatan Rakyat mampu melonjakkan pungutan kerusi dari 75 ke 100 di dalam PRU13 akan datang?

YA jika ditinjau hanya berdasarkan dari sokongan rakyat selepas perhimpunan BERSIH 2.0 per se.

TIDAK sebaik sahaja isu "serangan gereja" timbul apatahlagi dengan "sokongan terbuka" yang disuarakan oleh Pemuda PAS kepada Exco Selangor Hassan Ali terhadap tindakan JAIS & Polis.



Kajian Wong Ching Huat tersebut telah mengabaikan isu-isu selepas perhimpunan BERSIH.



Jika Hassan Ali seorang saja menyokong, impaknya tidak begitu besar tetapi apabila Dewan Ulamak dan Dewan Pemuda PAS menyuarakan secara terbuka menyokong

(sekalipun PAS Pusat sendiri baru hendak mengadakan pertemuan dengan pihak JAIS dan gereja)

maka dengan sendirinya impaknya menjadi meluas. UMNO berjaya mencuri kerusi-kerusi di kawasan pengundi Melayu yang ber

marginal

kecil.

Menurut pemerhati politik,

tindakan Exco Selangor dan Pemuda PAS tersebut telah berjaya mengalihkan sedikit sokongan rakyat kepada UMNO walaupun ia telah di perbaiki sebelum itu dengan pembelaan dari Dr. Asri bahawa kegagalan institusi zakat didalam menjaga kebajikan umat Islam adalah merupakan penyumbang utama kepada sebab mengapa umat Islam "terpaksa" menerima bantuan daripada pihak gereja.




Access Audit Training For SOCSO – Day 1
Posted: 09 Aug 2011 08:12 AM PDT
The Return to Work Department of SOCSO is running a 2-day Access Audit Training for 36 case managers and placement officers starting today. Dr. Naziaty Yaaccob is the chief facilitator, aided by five co-facilitators, for this workshop held at the Kuala Lumpur PERKESO office.
Simulation exercise of person with low vision outside the Kuala Lumpur Perkeso Office.
The purpose of this workshop is to familiarise participants with barriers in the built-environment, conduct access audits and furnish recommendations for workplaces of disabled members of the organisation under the Return to Work Programme.
We will be conducting access audits of five buildings and their surroundings tomorrow morning, namely the Intercontinental Hotel, Boulevard Hotel, Shangri-La Hotel, Wisma PERKESO at Jalan Tun Razak and Menara PERKESO Jalan Ampang which is the headquarters of the organisation. I will be facilitating the team auditing Menara PERKESO headed by Tuan Roshaimi bin Mat Rosely, Manager of Return to Work Section.
Related posts:
Myanmar Government and opposition should try to understand the meaning of "Social equality"
Posted: 09 Aug 2011 06:52 AM PDT
Source: Social equality from Wikipedia
Social equality is a social state of affairs in which all people within a specific society or isolated group have the same status in a certain respect. At the very least, social equality includes equal rights under the law, such as security, voting rights, freedom of speech and assembly, and the extent of property rights.
However, it also includes concepts of economic equity, i.e. access to education, health care and other social securities. It also includes equal opportunities and obligations, and so involves the whole of society.
Social equality requires the lack of legally enforced social class or caste boundaries and the lack of unjustified discrimination motivated by an inalienable part of a person's identity. For example, gender, age, sexual orientation, origin, caste or class, income or property, language, religion, convictions, opinions, health or disability must not result in unequal treatment under the law and should not reduce opportunities unjustifiably.
Social equality refers to social, rather than economic, or income equality. "Equal opportunities" is interpreted as being judged by ability, which is compatible with a free-market economy. A problem is horizontal
inequality, the inequality of two persons of same origin and ability.
Perfect social equality is an ideal situation that, for various reasons, does not exist in any society in the world today. The reasons for this are widely debated. Reasons cited for social inequality commonly include economics, immigration/emigration, foreign politics and national politics. Also, in
complexity economics, it has been found that horizontal inequality arises in complex systems.
A counterexample to social equality was the social inequality of medieval Europe, where a person's estate, which was usually inherited, determined the legal and social rights the person had. For example, clergy could
claim the benefit of clergy to receive a more lenient punishment for a crime. Likewise, women have historically been and still are in some countries formally denied access to higher education—even if they could pay the tuition. In 19th century Europe, if female enrollment was even permitted, women had to apply for an "exemption from gender" to enroll in a university.
In apartheid-era South Africa, both blacks and whites had formal access to
health care and similar public services. However, the segregated health care
arranged for blacks did not meet the same standards as those for whites. That is, there was enforced social inequality.
Biarkan Mat Sabu Heret Polis Ke Mahkamah, SUHAKAM Panggil Saksi Yang Lain
Posted: 09 Aug 2011 08:23 AM PDT
B
ersih 2.0: Suhakam tidak boleh siasat aduan jika Mat Sabu fail saman
KUALA LUMPUR, 9 Ogos — Suruhanjaya Hak Asasi Manusia (Suhakam) menegaskan agensi itu tidak boleh memanggil Mohamad Sabu dalam perbicaraan inkuiri awam agensi itu sekiranya Timbalan Presiden PAS itu telah memfailkan saman ke atas polis.
Selain itu jelas Pesuruhjaya Suhakam Mohamad Sha'ani Abdullah, mana-mana kes termasuk dalam isu Himpunan Bersih 2.0 yang telah dibawa ke mahkamah secara automatik pihaknya tidak boleh memanggil untuk memberikan keterangan.
Kata beliau, pihaknya sedang mengumpul maklumat dan bukti berhubung dakwaan tindakan keras polis ketika perhimpunan Bersih 2.0 pada 9 Julai lalu dengan prosiding inkuiri awam dijangka diadakan awal Oktober.

Mohamad sebelum ini memutuskan untuk menyaman polis atas dakwaan dilanggar sebuah kereta polis semasa dalam perjalanan menuju ke ibu negara dengan membonceng motosikal.

Beliau juga telah mengarahkan peguamnya Mohamed Hanipa Maidin agar menghantar surat saman kepada polis kononnya beliau berbohong berhubung isu kemalangan yang mengakibatkannya terpaksa menjalani pembedahan.

"Mengikut undang-undang (Akta) Suhakam, mana-mana kes yang telah dibawa ke mahkamah kes itu tidak boleh disemak oleh Suhakam.

"Macam kes Mat Sabu (Mohamad) kalau beliau bawa ke mahkamah atau polis dakwa di mahkamah, Suhakam tidak boleh terlibat dalam kes itu," kata Mohamad Sha'ani kepada The Malaysian Insider.

Justeru beliau menasihatkan Mohamad supaya menangguhkan hasrat untuk menyaman polis sehingga keputusan prosiding inkuiri awam Suhakam keluar.

"Kita memang tidak boleh siasat kalau dah bawa ke mahkamah, kalau nak kami siasat beliau (Mohamad) tangguhkan dulu.

"Selepas siap inkuiri awam, beliau boleh saman... kalau beliau saman sekarang kita tidak boleh panggil beliau memberikan keterangan," katanya.

Bagaimanapun tambah Mohamad Sha'ani, pihaknya tidak menghalang sekiranya Mohamad mahu berbuat demikian.

"Ia terpulang kepada beliau, kita tiada masalah," katanya.

Sementara itu Mohamed Hanipa pula berkata pihaknya akan menunggu sehingga keputusan inkuiri awam Suhakam keluar.

"Kita akan tunggu, lagi pun kita bukan nak cepat.

"Mat Sabu juga bersetuju dengan perkara ini," katanya.

Sebelum ini polis telah mengeluarkan klip video berkata Himpunan Bersih 2.0 yang menyaksikan hampir 1,700 orang ditahan termasuk pemimpin Gabungan Pilihan Raya Bersih dan Adil (Bersih 2.0) dan Pakatan Rakyat.

Pengarah Keselamatan Dalam Negeri dan Ketenteraman Awam Datuk Salleh Mat Rashid berkata rakaman CCTV menunjukkan tiada kontak langsung dengan Mohamad, sebaliknya didakwa jatuh sendiri.

Salleh mendakwa siasatan mereka menunjukkan motosikal dibonceng Mohamad terjatuh selepas melanggar pembahagi jalan di hadapan kereta polis.

Beliau juga mendakwa kecederaan Mohamad bukan sesuatu yang serius kerana tiada keretakan. -TMI



Ulasan GB



Tidak mengapa.

Biar Mat Sabu bawa kesnya ke mahkamah. Biar beliau ajar polis yang menipu itu cukup-cukup.

GB rasa ada berpuluh lagi saksi lain yang boleh dipanggil mengkisahkan keganasan dan kezaliman polis pada perhimpunan BERSIH 2.0.

Dan jangan lupa panggil sekali Ketua Polis Negara dan Timbalannya serta Menteri KDN yang acapkali keluarkan kenyataan yang menyatakan perhimpunan Bersih 2.0 itu sebagai perhimpunan haram sedangkan perhimpunan itu adalah SAH di sisi Perlembagaan.


SNSD Daum smartphone wallpapers
Posted: 09 Aug 2011 05:55 AM PDT
Mobile phone wallpapers of Korean pop group Girls' Generation, provided by Daum Cloud [Kr] storage service. Click pic for full size (640×960) wallpaper; some of the full images are a bit pixelated but should look fine on your phone…
There's more, read the full post »
SNSD Daum smartphone wallpapers from YeinJee's Asian Blog
Posted: 09 Aug 2011 05:37 AM PDT
Copied from FB of ဒီမုိ ဖက္တီး  Minimum Wages in AP Countries
New Media in Malaysia - Truth or Lies?
Posted: 09 Aug 2011 05:04 AM PDT
The advent of the IT era brought about the emergence of the new media in the later part of the 20th century. At the click of the mouse, on-demand access to content is available anytime, anywhere on any digital device. This is enhanced with interactive user feedback, creative participation and community formation around the media content.
As such, the New Media has democratized the creation, publishing, distribution and consumption of media content. In a land where the MSM is muzzled, the New Media is definitely growing in importance, influence and identity offering:
High impact interactive experience via the use of spoken word, animation, graphics and video.
Freedom of choice through interactivity. Users are in control and cannot be forced down any route they do not wish to take, browsing where their whims, fancies and interests take them.
Usefulness - Quality information delivered in a properly organised and easily understood fashion.
Instant availability - can be accessed from the desktop PC, laptop, or even WAP/Android phone, Pocket PC, Ipad or other tablet devices
Effectiveness- audio-visual in nature and characteristics
Information can be shaped - to meet the needs and interests of audience
Ability to sustain relationships with readers/subscribers/clients without interpersonal or traditional forms of communication
Expandability as the new media can amend according to how needs develop or change. 
According to
NST,
the Home Minister said:
The opposition's use of new media has enabled them to instigate sections of society to participate even in unlawful activities that give them political mileage. He said this was particularly damaging as many of the issues propagated through this media channel were untrue.




Citing the illegal July 9 Bersih rally as a case in point, he said this happened despite it being clear from the start that the rally was not about pushing for free and fair elections but for the interests of parties riding on Bersih's name. He said while the government had exhausted all its avenues to reach and explain to the people about the demonstration, it was not easy as the power hungry were willing to go the distance in pushing to attain power without going to elections.
This site
defines 'instigate' as:
to cause by incitement; foment: to instigate a quarrel.
to urge, provoke, or incite to some action or course: to instigate the people to revolt
Has Bersih 2.0 ever indicated that it is quarrelling with anyone? It is a coalition comprising 62 legally registered NGOs that united to pursue electoral reforms for a stronger and more democratic system. You can see their Eight Demands
OVER HERE.
What is so bad about that?
Which part of the demands do they NOT understand? Which part of the demands are UNTRUE? If so, GIVE US THE TRUTH!! Prove with evidence that there is no basis for those concerns  instead of saying that
'many of the issues propagated through this media channel were untrue."
Name them one by one instead of a blanket overgeneralized statement. That will clarify matters for all!
In a democracy, citizens have the right to clean and fair elections. It is NOT a question of quarrelling.Who wants to quarrel when the main concern is for the betterment of the nation in upholding democratic principles? Don't they share the same concerns?
Who are the parties riding on the Bersih's
coattail
? Didn't they invite BN to join the Bersih walk? Don't they believe in clean and fair elections?
Did the government really exhaust all avenues to reach and explain to the people about the demonstration?
They did not try to mediate but enjoyed giving negative responses all the way. Instead of engaging them in discussions, they declared the Coalition as illegal. Why? How can a coalition be illegal when its member NGOs are legally registered?
Who are the power hungry who allegedly were willing to go the distance in pushing to attain power without going to elections? Name them. What about the evidence to prove that allegation?
How can it be possible in this country to attain power without the ballot box???
That is really news to me.
The Home Minister must explain and clarify this and specify how he prevented this.
With the nation's resources at its disposal, how can it be that the government can admit that the opposition had triumphed over the use of the new media? I am sure we all can remember the outrage that followed the
announcement
after it was revealed in Parliament that the ministry had spent RM1.8 million to develop six Facebook pages?
I don't think the Opposition has that sort of money to spend on the New Media like what Ng Yen Yen has done. And yet this admission
"that they are better than us and we need to get our act together in using the new media."
All that money gone down the drain? Mind you - that was just ONE MINISTRY and SIX FB pages. Good governance or what?
At the same time, the rakyat need to be told specifically what kind of lies are being spread by the new media.
Pray enlighten us! Tell us the truth with evidence that demands a verdict!
He must remember that with the new media, anything that is said can be transmitted, seen under the microscope and cross compared for verification with the click of a mouse. In short, public communication has now been "restructured and partly disembedded from national political and cultural institutions".  Volkmer has argued that "this trend of the globalized public sphere is not only as a geographical expansion form a nation to worldwide, but also changes the relationship between the public, the media and state (Volkmer, 1999:123).
In my post
HERE
, I surmised that our nation is poised on the verge of a massive transformation and it has already begun in the Internet which has a level playing field, something which is so lacking in our turf.
Rakyat believe more in the new media than in the MSM as can be seen in the declining readership of many MSM. Giving us airy statements and shallow allegations cannot detract us from our steadfast love and abiding faith in the New Media. The more they cry 'Lies", the greater the likelihood that they are pushing us to the New Media.
Let the Vox Populi decide for themselves who is spinning lies, spins and more myths and who is telling the truth. Change is IMPERATIVE and people, we need every single one of YOUR VOTES for that MASSIVE SWING to bring about change.
Are you ready?
Posted: 09 Aug 2011 04:34 AM PDT
Dengan nama Tuhan yang menciptakan…
Dalam Atheis, ada mengatakan in de nood leert men bidden, kerosakan hidup mendorong kita sembahyang. Ingat Tuhan. Begitulah agaknya dalam Buah Rindu karangan Amir Hamzah. Ketika manusia memutuskan ikatan yang tidak sempat dicipta, Tuhan masih setia menghulur tali-nya. Ia bermula dengan kasih yang sarat pada manusia. Dia yang akhirnya dikecewakan kembali mempersoalkan arti kehidupan.
Djunjunganku apatah kekal
Apatah tetap
Apatah ta' bersalin rupa
Apatah baka sepanjang masa
Pandangannya seperti Hamzah al Fansuri dalam Syarab al-asyikin yang menzahirkan kata wahdat al wujud. Mengibaratkan Tuhan dengan makhluk. Amir meneruskan dalam Nyanyi Rindu, mengisahkan keinginan – manusia yang ingin pulang ke tempat datangnya ia. Namun perjalanan apapun, tentulah sukar. Kekecewaan dan ketidaksabarannya terzahir dalam ungkapan terhadap Dewa-nya;
Engkau Cemburu
Engkau Ganas
Mangsa aku dalam cakarmu
Bertukar tangkap dengan lepas.
Jika hubungan antara manusia dan Tuhan ini dibaca dalam konteks sekular atau moden, kelihatan seperti sifat manusia sebagai Sang Pemberontak. "Jadi maukah kau bernegosiasi? Kalau begitu cabut nyawaku segera, akan ku hadapi kau sendirian"(i). "Daim bermain dengan hamba-hambanya" dan "Pertipu-tipu dan banyak daya"(ii). Amir Hamzah juga berani mencabar kepercayaannya sendiri, beranggapan bahawa Tuhan suka bermain-main. Tetapi dia tidak angkuh sebaliknya ingin dicerahkan. Tiada jawapan.
Jika dia itu berdosa, adakah Tuhan akan memberi reaksi akan tangisan taubatnya?
Jika Tuhan akan menghukumnya, bukankah itu menghancurkan ciptaanNya sendiri?
Ia sesuatu yang biasa ditemukan dalam penulisan mistik Islam. Dalam tulisan Jalaluddin al Rumi dan Hamzah al Fansuri, cukup jujur dengan dirinya dan Tuhannya. Amir kemudiannya dengan lembut mengakui kelemahan diri dalam rangkap seterusnya. Bait terakhir serupa pandangan Ibn Arabi terhadap sifat ketuhanan. Dan jauh sekali setiap kata, bait itu dilihat tercemar dengan apa-apa maksud;
Nanar aku, gila sasar
Sayang berulang padamu jua
Engkau pelik menarik ingin
Serupa dara di balik tirai
Pesan-pesannya berisi ketuhanan dan adab beragama. Pertarungan antara agama-agama Ibrahimiah mewakili Kebenaran tidak menarik minatnya. Kerana Tuhan itu saja yang diinginkan. Hanya itu. Sepertimana dialami Musa di gunung Sinai. Amir Hamzah tidak dilihat sebagai seorang idealis tetapi yang cukup paham akan kepercayaannya, tidak mencerca agamanya maupun agama yang mungkin tidak dikenalnya. Sikap toleran yang juga diwarisi sebelumnya oleh Hamzah Fansuri; Umpama kapas benang dan kain, Asalnya tunggal warnanya lain. Perjalanan Amir Hamzah mencari Tuhan ini dikongsi dengan al Fansuri dan Rumi. Tuhan yang justeru bukan ingin dikenal (know) tetapi dirasai (feel) dengan hati.
Hamzah Fansuri didalam Makkah
Mencari Tuhan di Baitul Kaabah
Dari Barus ke Kudus terlalu payah
Akhirnya dapat di dalam rumah
~Syair Dagang
I searched for God among the Christians and on the Cross and therein I found Him not.
I went into the ancient temples of idolatry; no trace of Him was there.
I entered the mountain cave of Hira and then went as far as Qandhar but God I found not.
With set purpose I fared to the summit of Mount Caucasus and found there only 'anqa's habitation.
Then I directed my search to the Kaaba, the resort of old and young; God was not there even.
Turning to philosophy I inquired about him from ibn Sina but found Him not within his range.
I fared then to the scene of the Prophet's experience of a great divine manifestation only a "two bow-lengths' distance from him" but God was not there even in that exalted court.
Finally, I looked into my own heart and there I saw Him; He was nowhere else.
~Search for God
Tetapi perjalanan mencari makna ini bukanlah berarti pemisahan dengan diri di sini. Dunia ini bukan untuk dikutuk dan dimusuhi. Ia merupakan ladang bercucuk tanam, buah esok dari benih yang disemai hari ini.
Annual Report of the United States Commission on International Religious Freedom May 2011 on MYANMAR
Posted: 09 Aug 2011 04:28 AM PDT
Country Chapters: Countries of Particular Concern Burma by
Annual Report of the United States Commission on International Religious Freedom May 2011 (Covering April 1, 2010 – March 31, 2011)
FINDINGS: The State Peace and Development Council (SPDC), the military junta that governs Burma, remains one of the world's worst human rights violators. The SP DC severely restricts religious practice, monitors the activity of all religious organizations, and perpetrates violence against religious leaders and communities, particularly in ethnic minority areas. In the past year, the SPDC has engaged in severe violations of the freedom of religion and belief including: the arrest, mistreatment, and harassment of Buddhist monks who participated in peaceful demonstrations in 2007 or are suspected of anti-government activity; the severe repression and forced relocation of the Rohingya Muslim minority; the banning of independent Protestant ―house church‖ activities; and the abuses, including forced labor, relocations, and destruction of religious sites, against ethnic minority Protestants.
In light of these systematic, egregious and ongoing violations, USCIRF again recommends in 2011 that Burma be designated as a ―country of particular concern‖ (CPC). The State Department has designated Burma as a CPC since 1999.
Muslims routinely experience strict controls on a wide range of religious activities, as well as government-sponsored societal violence. The Rohingya minority in particular are subject to pervasive discrimination and a relocation program that has produced thousands of refugees. In ethnic minority areas, where low-intensity conflict has been waged for decades, the Burmese military forcibly promotes Buddhism and seeks to control the growth of Protestantism through intimidation and harassment of religious groups. A 2009 law essentially bans independent ―house church‖ religious venues, and Protestant religious leaders in Rangoon have been pressured to sign pledges to stop meeting.
PRIORITY RECOMMENDATIONS: After a policy review in 2009, the Obama administration retained wideranging sanctions targeting the SPDC, yet also started a ―pragmatic dialogue‖ with senior SPDC leaders and expanded humanitarian aid. But after flawed 2010 elections, administration officials have said that U.S.sanctions will not be lifted without concrete results on concerns such as nonproliferation assistance, release of all political prisoners, and humanitarian aid delivery. In USCIRF's view, religious freedom improvements and democratization are closely linked in Burma. Targeted sanctions should remain until the SPDC takes active steps to meet benchmarks established in UN resolutions and U.S. law. The administration should fully implement the provisions of the JADE Act and coordinate sanctions implementation and diplomatic actions with the EU and other regional allies, particularly the democracies of Southeast and South Asia. The administration announced its support for a UN commission of inquiry on Burma and has worked to build international backing for this mechanism. In addition, U.S. assistance funds should be targeted to empower Burmese civil society groups organizing humanitarian assistance, conducting human rights and religious freedom documentation efforts, and providing public advocacy, leadership, and legal training to Burmese living in and outside of Burma. Additional recommendations for U.S. policy toward Burma can be found at the end of this chapter.
Religious Freedom Conditions
While ethnic minority Christians and Muslims have encountered the most long-term difficulties, in the aftermath of peaceful anti-government demonstrations in 2007, the regime also began systematically to
repress Burmese Buddhist monks and monasteries viewed as epicenters of the protests and those publicly
critical of government policies. Despite this crackdown, the SPDC generally promotes Therevada
Buddhism, particularly in the ethnic minority areas, sometimes pressuring or offering economic
inducements to encourage conversion. Throughout Burma's history, patronage of the Buddhist
community was necessary to legitimize a government's ho
ld on power. SPDC leaders have continued
this practice, publicly participating in Buddhist rituals. Buddhist doctrine is an optional course taught in
all government run schools and daily prayer is required of all students; in some schools, children are
reportedly allowed to leave the room during this time if they are not Buddhist, but in others they are
compelled to recite the prayer. In addition, the Burmese military builds pagodas and has destroyed
religious venues and other structures in Christian and Muslim areas.
Government interference in Buddhist affairs predated the 2007 protests. Members of the Buddhist
sangha
are subject to a strict code of conduct that is reportedly enforced through criminal penalties.
Monks are not allowed to preach political sermons, make public statements, or produce literature with
views critical of SPDC policies. Monks are also prohibited from associating with or joining political
parties. Military commanders retain jurisdiction to try Buddhist monks in military courts. There may be
as many as 100 monks and novices in prison for activities that preceded the 2007 public demonstrations.
Understanding the importance of Buddhism in Burma's life and culture is critical to understanding the
significance of the Septemb
er 2007 protests and the government's harsh reaction. The monks broadened
the scope of the initial protests and began calling for the release of all political prisoners and the initiation
of a process leading to democratization in the country. As the protests broadened, the SPDC ordered the
military to crack down on the monk-led demonstrations. At least 30 deaths were reported, although some
experts say the actual number was much higher. At least 4,000 people, an unknown portion of whom
were monks, were arrested during the crackdown, and between 500 and 1,000 were believed to remain in
detention months later. Many of the detained reportedly have been mistreated or tortured. Given the
lack of transparency in Burma, it is difficult to determine how many people remain in prison or are
missing. A recent NGO report claims that 252 monks were still in prison for their roles in the 2007
protests. In addition, since the crackdown, hundreds of Buddhist monks have fled to Thailand seeking
asylum. They have reported torture, forced defrocking, hard labor, and other deprivations during
detention.
In the immediate aftermath of the 2007 protests, the military raided 52 monasteries, detained many
monks, and arrested those perceived to be the leaders of the demonstrations. These monks were then
tortured, forcibly defrocked, and forced to return to their villages. Several monasteries remain closed or
are functioning in a more limited capacity, including Rangoon's Ngwe Kyar Yan monastery, to which
only about 50 of the original 180 monks in residence have been permitted to return. Government
authorities continue to monitor closely monasteries viewed as focal points of the protests and have
restricted usual religious practices in these areas. Monks perceived to be protest organizers have been
charged under vague national security provisions, including ―creating public alarm;‖ ―engaging in
36
activities inconsistent with and detrimental to Buddhism;‖ ―the deliberate and malicious . . . outraging of
religious feeling
s;‖ and ―engaging in prohibited acts of speech intended for religious beliefs.‖
In April 2009, authorities arrested two monks, U Chit Phay and U Aung Soe Wai, after they led a prayer
meeting for the release of the democratic political activist leader Aung San Suu Kyi. Also in April, a
group of approximately 50 members of the opposition National League for Democracy were arrested after
assembling for prayer at the Zee Phyu Village pagoda in Rakhine province. At the end of the reporting
period, they continue to be detained. In March 2009, two monks were arrested and sentenced to five
years' imprisonment with hard labor for allegedly planning to hold a ceremony to support the All Burma
Monk's Association.
In August 2008, authorities arrested monks U Damathara and U Nandara, both from
the Thardu monastery in Rangoon. Their current whereabouts are unknown.
Over the reporting period, authorities continued to block from meeting a group of Buddhist laypersons
known as the Tuesday Prayer Group, who attempt to gather every week at Rangoon's Shwedagon Pagoda
to pray for the release of Aung San Suu Kyi. In October 2009, authorities arrested Tuesday Prayer Group
leader Naw Ohn Hla and three of her colleagues for offering alms to monks at Magwe monastery in
Rangoon, alleging they acted with intent to incite public unrest. The four were sentenced in February
2010 to two years' confinement each for ―disturbing public tranquility.‖
Active Repression of Religious Minorities
Burma has experienced ongoing conflict since its independence in 1948. The SPDC deals harshly with
any group it perceives as a threat to its hold on power, especially ethnic minority groups whose religious
affiliation is an identifying feature. In the past year, minority religious groups, especially Muslims and
Christians, continued to face serious abuses of religious freedom and other human rights by the military.
In some localities, military commanders have conscripted members of ethnic and religious minorities
against their will for forced labor. Those who refuse conscription are threatened with criminal
prosecution or fined and there are credible reports of death and beatings of those who refused
conscription.
Christians and Muslims have been forced to engage in the destruction of mosques, churches, and
graveyards and to serve as military porters. They reportedly have also been forced to ―donate‖ labor to
build and maintain Buddhist pagodas and monasteries. There continue to be credible reports that
government officials compelled people to donate money, food, or materials to state-sponsored projects to
build, renovate, or maintain Buddhist religious shrines or monuments.
Burmese and Rohingya Muslims
Tensions between the Buddhist and Muslim communities have resulted in outbreaks of societal violence
over the past several years, some of it instigated by Burmese security forces. Muslims in Rakhine state,
on the western coast, and particularly those of the Rohingya minority group, continued to experience the
most severe forms of legal, economic, religious, educational, and social discrimination. The government
denies citizenship status to Rohingyas because their ancestors allegedly did not reside in the country at the
start of British colonial rule. Approximately 800,000 Rohingya live in Burma, primarily in Rakhine
state.
Without citizenship status, Rohingyas lack access to secondary education in state-run schools, cannot be
issued government identification cards (essential to receive government benefits), and face restrictions on
freedoms of religion, association, and movement. Refugees living in Bangladesh report that some
Rohingya are prevented from owning property, residing in certain townships, or serving as government
37
officials. Since 1988, the government reportedly has severely restricted Muslim marriage ceremonies in
certain villages of Rakhine state. Efforts to lift this restriction have failed. Muslims also report
difficulties in obtaining birth certificates for newborns, particularly in the city of Sittwe.
Police often restricted the number of Muslims who could gather in one place. In some places, Muslims
were only allowed to gather for worship and religious training during major Muslim holidays. Police and
border guards also continue inspections of Muslim mosques in Rakhine state; if a mosque cannot show a
valid building permit, the venue is ordered closed or destroyed. The government has, in recent years,
ordered the destructions of mosques, religious centers, and schools. During the reporting period, the
Burmese governm
ent maintained a campaign to create ―Muslim Free Areas‖ in parts of Rakhine state.
Military commanders have closed mosques and
madrassas, stoked ethnic violence, and built pagodas in
areas without a Buddhist presence, often with forced labor. Refugees report that the military continues to
entice conversion to Buddhism by offering charity, bribes, or promises of jobs or schooling for Muslim
children.
As many as ten Muslim community leaders in Rakhine State continue to be detained on unspecified
charges. Reports indicate that the group was arrested by the government to forestall a Muslim political
organization, though NGOs and international media report that the group was meeting to document
human rights and religious freedom abuses among the Rohingya ethnic minority community.
An estimated 300,000 Muslim Rohingya live in refugee camps in Bangladesh, Thailand, and other
Southeast Asian countries. They often live in squalid conditions and face discrimination, trafficking, and
other hardships. They also have faced forced repatriation to Burma from Bangladesh, and Thailand has
pushed the boats of Rohingya asylum seekers back out to sea.
In March 2010, the UN Special Rapporteur on Human Rights in Burma reported to the UN Human Rights
Council that he w
as ―deeply concerned about the systematic and endemic discrimination faced by the
Muslim community… [which] lead[s] to [their] basic and fundamental human rights being denied.‖ The
specific concerns he identified included ―restrictions of movement; limita
tions on permission to marry;
various forms of extortion and arbitrary taxation; land confiscation and forced evictions; restricted access
to medical care, food and adequate housing; forced labor; and restrictions on Muslim marriages.‖
Forced Closure of Protestant House Churches
Christian groups in Burma continue regularly to experience difficulties in obtaining permission to build
new churches, hold public ceremonies or festivals, and import religious literature. In some areas around
Rangoon, police restrict the number of times Burmese Christians can gather to worship or conduct
religious training.
A government regulation promulgated in early 2008 bans religious meetings in unregistered venues, such
as homes, hotels, or restaurants. Burmese Christian
s claim that 80 percent of the country's religious
venues could be closed by the regulation. ―House churches‖ proliferated in the past decade because the
government regularly denied permission to build new churches. In 2009, the SDPC took steps to enforce
the regulation, ordering 100 churches and religious meeting places in Rangoon to stop holding services
and forcing Protestant leaders to sign pledges to that effect. There were additional reports of church
closings in Mandalay. Burmese Christians believ
e that enforcement of the government's ban came in
response to humanitarian aid they provided to Cyclone Nargis victims in May 2008. In the aftermath of
the cyclone, the SPDC forcibly closed some religious charities providing humanitarian support,
particularly those channeling foreign assistance. In addition to restrictions on meeting places and
charitable activities, government authorities have started to prohibit Protestants from proselytizing in
38
some areas, particularly in places hardest hit by Cyclone Nargis. In the past year, local authorities
sometimes refused residency permits for clergy seeking to move to new towns or villages.
Abuses Targeting Ethnic Minorities
Christian groups in ethnic minority regions, where low-intensity conflicts have been waged for decades,
face particularly severe and ongoing religious freedom abuses. The Burmese military has destroyed
religious venues, actively promoted conversion to Buddhism, confiscated land, and mandated forced
labor. The Chin, Naga, Kachin, Shan, Karen, and Karenni peoples, each with sizable Christian
populations, have been the primary targets of these abuses. In the past year, for instance, authorities in
Kachin state halted attempts by the Shatapru Baptist Church to build a Christian orphanage. In some
ethnic minority areas, Christians are required to obtain a permit for any gathering of more than five
people outside of a Sunday service. Permission is often denied or secured through bribes. In Chin areas,
permission for ceremonies on religious holidays must be submitted months in advance, though Protestants
report that they are often granted permission for these events.
There are credible reports that government and military authorities continue efforts actively to promote
Buddhism among the Chin and Naga ethnic minorities as part of its pacification program. Refugees
continue to claim that government officials encourage conversion through promises of economic
assistance or denial of government services, although reportedly such incidents have decreased in recent
years. Chin families who agree to convert to Buddhism were offered monetary and material incentives, as
well as exemption from forced labor. Burmese Buddhist soldiers are also offered financial and career
incentives to marry and convert Chin Christian women. Naga Christian refugees leaving Burma report
that members of the army, together with Buddhist monks, closed churches in their villages and attempted
to force adherents to convert to Buddhism.
Chin Christians claim that the government operates a high school that only Buddhist students are
permitted to attend. Students must convert to attend, but they are guaranteed jobs upon graduation. Also,
Christian Solidarity Worldwide reports that Christian students in the Kachin state are not only forced to
learn the Burmese language, but to become Buddhist, without their parents' knowledge or consent.
Over the past five years, the Burmese military has expanded operations against ethnic minority militias in
parts of eastern Burma, reportedly destroying schools, hospitals, religious sites, and homes, and killing
civilians. According to the Asian Human Rights Commission and the Shan Women's Human Rights
Network, ethnic minority women are particularly vulnerable as the Burmese military encourages or
condones rape by its soldiers as an instrument of war. New refugees have entered India and Thailand,
where they face squalid conditions and possible forced relocation. According to international media and
NGO reports, an estimated 100,000 Chin Christians fled to India during the past year, in hopes of
escaping persecution. In early January 2010, international NGOs reported that more than 2,000 Karen
villagers were forced to flee following attacks by the Burmese Army.
UN Efforts
Burma has been a focus of the UN over the past few years. The European Union has annually introduced
a resolution at the UN General Assembly critical of Burma's human rights record which the United States
has always cosponsored. This resolution was adopted most recently in December 2010. The UN Human
Rights Council also has issued similar annual condemnations, and extended the mandate of the Special
Rapporteur on the situation of human rights in Burma in March 2011.
39
The UN Secretary General has not reappointed a Special Envoy for Burma. Critics assert that the
previous Special Envoy was too solicitous of the SPDC and achieved only a few symbolic prisoner
releases.
The UN Special Rapporteur on the situation of human rights in Burma called on the UN to set up a
commission of inquiry to investigate possible ―gross and systematic‖ violations by the SPDC that may
entail crimes against humanity under the terms of the Statute of the International Criminal Court (ICC).
Since Burma is not a member of the ICC, a successful referral to the ICC would require a UN Security
Council resolution. However, future diplomatic options in the UN Security Council appear limited, as
previous efforts to raise Burma there have been vetoed by China and Russia.
U.S. Policy
The United States has diplomatic relations with Burma but has not had an ambassador to the country
since 1992. In February 2009, Secretary of State Hillary Clinton stated that neither economic sanctions
nor ―constructive engagement‖ was working to halt egregious
human rights abuses or expand democracy
in Burma.
After a policy review, the Obama administration announced the beginning of a ―pragmatic
dialogue‖ with Burmese authorities. Secretary Clinton stated that the United States was committed to
engaging Burma's generals in dialogue ―without setting or dictating any conditions‖ and State
Department officials, notably Assistant Secretary of State Kurt Campbell, held numerous exchanges with
SPDC officials prior to Burma's 2010 elections. Assistant Secretary Campb
ell stated that the United
States will not lift existing sanctions until the SPDC makes progress on a number of issues including
nonproliferation, release of political prisoners, and progress toward free and fair elections. The Obama
administration has al
so publicly expressed concern over the SPDC's proliferation activities and ties with
North Korea.
After the widely discredited 2010 elections, in which the main opposition party, the NLD, and several
ethnic minority groups were not allowed to participate, diplomatic exchanges between the United States
and SPDC leaders have been put on hold.
In the aftermath of the elections, there continue to be calls to rescind sanctions from a number of sources,
including ASEAN nations. The NLD has stated publicly that sanctions should not be lifted, but called for
a discussion on when to end international sanctions ―in the interests of democracy, human rights and a
healthy economic environment.‖ Aung San Sui Kyi, in a message to the World Economic Forum,
echo
ed her party's position and called for renewed and socially responsible investment in Burma.
Secretary Campbell has said publicly that any discussion of lifting sanctions is ―premature‖ until SPDC
takes more ―concrete steps‖ on the release of prisoners an
d democratization. This is a position favored by
most members of Congress and Burmese exile groups.
The United States supports the proposal by the UN Special Rapporteur on human rights in Burma,
mentioned above, that the United Nations should establish a commission of inquiry to address possible
international criminal law violations in Burma. The United States has worked with the United Kingdom,
Canada, Australia, and New Zealand to increase support for this mechanism.
Recommendations
U.S. leadership is essential to bringing democratic change and ending human rights violations, including
of religious freedom, in Burma. In addition to continuing to designate Burma as a CPC, the United States
should build support for targeted sanctions and full access to the country by various UN mechanisms,
while also coordinating the diplomatic actions of regional allies, particularly the democracies of Southeast
and South Asia. Any future engagement with the SPDC should focus on issues that will lead directly to
40
the expansion of democracy and protection of vulnerable ethnic and religious minorities, an end to human
rights and religious freedom violations, the release of all prisoners, and the equal and transparent
distribution of humanitarian assistance. In addition, the United States should work closely with Aung
San Sui Kyi to develop a roadmap to greater democracy and socially responsible investment in Burma.
I. Strengthening the Coordination of U.S. Policy on Burma, both within the U.S Government
and with U.S. Allies
The U.S. government should:
organize a coalition of democratic nations in Asia to replace the moribund Bangkok Process in order
to construct a roadmap outlining concrete steps Burma must take to end economic and political
sanctions and enga
ge with Burma's top leader on issues of concern, including addressing
humanitarian and human rights abuses, releasing all political and religious prisoners, finding a
durable solution for refugees, and achieving both a peaceful transition to civilian rule and a truly
representative government; and
implement any provision of the JADE Act, particularly banking sanctions, that has yet to be fully
applied.
II. Pressing for Immediate Improvements to End Religious Freedom Abuses
The U.S. government shoul
d use its engagement with the government of Burma and with Burma's closest
allies to urge the government of Burma to:

release unconditionally all persons detained or arrested for the peaceful exercise of religious freedom
and related human rights, and reveal the whereabouts of people who are still detained and missing,
including an estimated 250 Buddhist monks and others who led or participated in peaceful protests;

end the forced closures of churches and mosques, the destruction of religious shrines and symbols, the
instigation of communal violence against Muslims, the forced promotion of Buddhism and the
renunciation of other religions among ethnic minorities, and discrimination against non-Buddhist
minorities;

lift all restrictions, that are inconsistent with international standards, on the construction and
renovation of churches and mosques and on the printing of religious literature, and end policies of
forced eviction from, and the confiscation and destruction of, Muslim and Christian properties,
including mosques, churches, religious meeting points, schools, and cultural centers;

end the use of forced labor and the use of children and members of religious minorities as porters or
military labor, and adhere to its own Order 1/99 (May 1999) and Order Supplementing 1/99
(November 2000), which instructs SPDC officials and military commanders to refrain from
employing forced labor of civilians, except in emergencies;

end policies that discriminate on the basis of religion in land use, education, allocation of land, job
promotion, marriage, access to government services, citizenship, freedom of movement, and
marriage, and invite international technical assistance to help draft laws that conform to international
legal standards on these matters;
41

allow religious groups and civil society organizations to provide humanitarian and reconstruction
assistance to the victims of natural disasters, including those still afflicted by the aftermath of
Cyclone Nargis, and to work openly with the UN, the Tri-Partite Core Group, and other international
donors;

grant unimpeded access to the country by relevant UN mechanisms including, in particular, the UN
Special Rapporteur on Burma and the UN Special Rapporteur on Freedom of Religion or Belief; and

ratify core international human rights instruments, beginning with the International Covenant on Civil
and Political Rights.
III. Assisting and Supporting UN and Other Multilateral Diplomatic Efforts
The U.S. government should:
continue to build international support for the creation of a UN commission of inquiry on Burma to
investigate charges including murder, torture, rape, arbitrary detention, widespread forced relocations,
forced labor, forced migration, forced renunciations of faith, and other religious freedom abuses;
consider supporting the creation of a compensation commission on Burma, paid for by the Burmese
government, to bring redress to victims of human rights abuses found by any future UN inquiry into
human rights conditions in Burma;
urge the Organization of the Islamic Conference (OIC) to issue public statements condemning
religious freedom and related human rights violations experienced by Rohingya Muslims in Burma
and work with the Burmese government, and other ASEAN nations, to end religious freedom
violations and find a durable solution for Rohingya Muslim refugees; and
urge ASEAN to expand the Tri-Partite Core Group to discuss other issues of concern with Burma,
including protections for ethnic minorities and refugee issues, particularly a durable solution for
Rohingya Muslims.
IV. Supporting Local Democracy Efforts through U.S. Programs
The U.S. government should:

continue to provide assistance, through the State Department's Economic Support Fund and all other
means, to empower Burmese civil society groups organizing humanitarian assistance, conducting
human rights documentation efforts (particularly religious freedom abuses faced by the Muslim and
Buddhist communities), and providing
This posting includes an audio/video/photo media file: Download Now
Heret SPR Ke Pengadilan, Tubuh Suruhanjaya Diraja Siasat Salahlaku SPR
Posted: 09 Aug 2011 05:13 AM PDT
M
yKad - JPN, SPR dan konspirasi terkotor?
Oleh Dr Syed Azman Syed Ahmad
Banyak yang di perkatakan oleh pelbagai pihak apabila berlakunya pendedahan isu yang cukup membimbangkan sebahagian besar rakyat di negara ini serta mengancam keselamatan negara iaitu isu MyKad dan pendaftaran warga asing di dalam daftar pemilih Suruhanjaya Pilihan Raya (SPR).
Paling terkini beberapa ahli parlimen Pakatan Rakyat (PR) telah mendesak diadakan sidang tergempar Parlimen bagi membincangkan isu penduduk tetap (PR) yang memegang MyPR merah didaftar sebagai pemilih baru yang didakwa dilakukan secara terdesak oleh pimpinan tertinggi negara dengan kerjasama Jabatan Pendaftaran Negara (JPN) dan SPR.
Bagi saya, pendedahan persekongkolan terhormat JPN, SPR dan kerajaan Umno/BN bukanlah suatu yang 'mengejutkan' kerana ianya 'isu lama' telah sejak sekian lama wujud di negara kita. Pendedahan penipuan serta manipulasi pilihan raya inilah yang menjadikan demokrasi di negara kita berjalan dalam keadaan yang penuh kepincangan dan tempang.



Fakta persekongkolan



Saya teringat satu fakta persekongkolan terhormat JPN, SPR dan kerajaan Umno/BN ini apabila berlakunya pendaftaran beratus-ratus pekerja kilang dari Pekan, Pahang bagi mendaftar undi di kawasan parlimen Marang Terengganu.

Konspirasi yang digelar 'Projek Isuzu' ini dilakukan pada pilihan raya umum 1995 adalah bagi menumbangkan Presiden PAS Datuk Seri Abdul Hadi Awang (kiri) di kawasan parlimen Marang.

Begitu juga dengan pertambahan pengundi yang mendadak serta peratus keluar mengundi yang 'amat luarbiasa' di seluruh negeri Terengganu pada pilihan raya umum ke-11 yang lalu sehinggakan ada kawasan yang melebihi 90 peratus keluar mengundi.

Keputusan amat luarbiasa ini menjadi 'konspirasi misteri' sehingga sekarang sehingga ia berjaya menumbangkan kerajaan PAS di Terengganu.

Yang terbaru adalah pendedahan mengenai 'Projek IC Sabah' yang merupakan projek rahsia dan tersusun yang membabitkan beberapa parti politik termasuk agensi kerajaan seperti JPN. SPR dan Jabatan Imigresen.

Aktivis hak asasi dan masyarakat dari Sabah, Dr Chong Eng Leong mendedahkan bahawa sehingga 2005, seramai 600,000 pendatang tanpa izin mendapat status kewarganegaraan tetap melalui projek IC di Sabah. Beliau mendedahkan tentang Projek IC ini adalah bagi membawa pendatang tanpa izin dan di berikan IC serta mendaftar nama mereka dalam daftar pemilih yang di sediakan oleh SPR bagi melayakkan mereka menjadi pengundi yang 'sah'.

Projek IC Sabah yang dilaksanakan ini dipengerusikan sendiri oleh Timbalan Menteri Dalam Negeri ketika itu, Datuk Megat Junid Megat Ayub, Ketua Setiausaha Negara Tan Sri Ahmad Sarji, Pengarah JPN Sabah, Sani Adnan serta beberapa pimpinan tertinggi dan di lakukan ketika Malaysia di bawah pentadbiran bekas Perdana Menteri, Tun Dr Mahathir Mohamad sejak tahun 1980 an dan 1990an.



Siasatan Awam



Persoalannya, siapakah yang harus bertanggungjawab dalam konspirasi besar ini? Dan apakah akan ada usaha dari pihak kerajaan bagi menubuhkan sebuah Suruhanjaya Siasatan Awam bagi menyiasat isu ini?

Namun bagi saya, isu pokok yang harus di lihat oleh semua pihak adalah peranan SPR itu sendiri. Apabila isu kredebiliti SPR menjalankan tugas mereka secara adil bagi menjamin pilihan raya yang bersih dan adil menjadi pertikaian, maka demokrasi di negara kita akan terus menjadi tempang.

Ini ditambah lagi dengan 'hilang keyakinan' rakyat awam terhadap peranan SPR sendiri. Penjelasan serta jawaban yang di berikan oleh SPR mengenai isu MyKad serta serta pelbagai isu yang menjadi pertikaian dilihat amat tidak meyakinkan dan berat sebelah.

Lebih parah lagi SPR kini hanya dilihat menjalankan tugas mereka 'berkhidmat untuk Umno/BN' bagi menjamin kelangsungan kuasa di Putrajaya.

Saya ingin menegaskan sekali lagi bahawa menurut Perlembagaan Negara 114(2) menghendaki SPR mestilah mendapat 'kepercayaan awam'. Namun dengan perkembangan terbaru ini, 'kepercayaan awam' terhadap SPR telah terhakis sama sekali dengan perananya yang dilihat gagal menjalankan tugas sebagai sebuah badan bebas dan adil bagi menjamin pilihan raya yang bersih dan telus.

Bagi saya, untuk menjamin masa depan demokrasi dan pilihan raya di negara kita, Pengerusi dan Timbalan Pengerusi SPR wajar berundur segera dan izinkan Kebawah Duli Yang Di-Pertuan Agong membentuk serta melantik kepimpinan SPR baru yang telus dan BERSIH.



Ulasan GB



SPR sudah hilang kredibilitinya untuk mengendalikan pilihanraya di Malaysia. Namun bagaimana hendak menggugurkan kuasa SPR tersebut dari meneruskan pilihanraya?

Dengan sekalian banyak bukti yang ada, Pakatan Rakyat sepatutnya telah lama dan telah banyak kali mengemukakan writ saman kepada SPR dan Kerajaan Malaysia.

Kita perlu lakukan sampai benar-benar berjaya. Di parlimen, PR mesti terus mendesak supaya penubuhan Suruhanjaya Diraja Menyiasat Salahlaku SPR. Di mahkamah PR mesti kemukakan saman bagi mengisytiharkan SPR sudah hilang wibawa selaku badan yang bebas dan berkecuali untuk mengendalikan pilihanraya di negara ini.

Hal ini perlu di bawa sampai ke peringkat antarabangsa jika perlu, iaitu ke Pertubuhan Bangsa-bangsa Bersatu.

Selama BN memerintah dan SPR mengendalikan pilihanraya, pemantau antarabangsa tidak pernah dipanggil untuk memantau proses perjalanan pilihanraya di negara ini. Sedangkan di negara-negara lain termasuk di negara jiran baru-baru ini, di Indonesia dan Thailand, pemantau luar/antarabangsa diundang untuk meninjau perjalanan pilihanraya di negara tersebut.

SPR sengaja tidak memanggil pemantau luar bagi mengelak kerja-kerja kotor mereka di kesan.


Posted: 09 Aug 2011 02:45 AM PDT
You know, when women say men can't be trusted and are oftentimes a bunch of perverts, well I think they're totally right in their assumptions. Wifey and me work on a basis of trust so it was only natural for her to show me this FB message she got from this guy called Richard.
Hi Pretty,
I came across your profile by
opportunity, would you mind to be my
friend? i must tell you if no one have
done, you the subject of perfection
and i wouldnt mind to keep you. can I
know you better than this? I would so
much appreciate it if I can read from
you pretty soon.
Regards, richard ...
I had to laugh after reading it, especially the part that says
'you the subject of perfection and I wouldn't mind to keep you'
. He wants to keep her? LOL!
I have to wonder though, do guys like these prey on women with sweet
(though grammatically awful)
words like these? And worse yet, do they expect women to fall for it and immediately write back to them professing their love for them?
It's no wonder we guys are naturally blamed for being perverts and opportunist most of the time. But then again, I suppose there are women out there who would fall for
'sweet words'
like these which is why we have opportunistic men like these on the prowl. It's a simple supply and demand theory :D
I have half a mind to reply to this guy on behalf of wifey and string him along and see how far it goes ... hahaha ... well, maybe after I finish looking through this
mortgage
documents first.
.
Posted: 09 Aug 2011 01:46 AM PDT
When Shila died about 10 days ago, my main concern then was to ensure her daughter, Laila, would continue to get our support, especially pertaining to her education. So, while I had not planned any visits last week, I did visit Laila on Saturday, not only to discuss about Laila's needs, but also to hand over the donations I managed to collect from friends.
This week, it's back to my normal routine of home and clinic visits. It's the living ones that I have to help, not much I can do for the dead except to doa for them.
When I told Faridah's sis-in-law last week that the shelter home in KL had agreed to take in Faridah under their care, she agreed to meet up with me during Faridah's appointment at the hospital on Monday. So yesterday morning, I went over to the hospital, not for clinic duty, but specifically to meet up with Faridah and her SIL. And unlike usual, yesterday I was rather lucky when a car got out of a parking lot right beside the specialist clinic building as I was passing there, and yes, I got myself the nearest parking possible! Such luck – it doesn't happen often!
It was about 9.30 am then, and Faridah's SIL told me last week that they should be there around 10 am. But when I went up to the doctor's room, the nurses told me that Faridah and her SIL had just left. And their appointment wasn't supposed to be yesterday either… it was supposed to be this morning! The SIL wrongly looked at the date.
Since they had just left, chances were they were still at the hospital. I immediately called the SIL to ask where they were and true enough, they were still at the hospital. The SIL promised to come back up to the clinic to meet me.
Actually they (or more of the SIL, since Faridah herself simply follows whatever people tell her to do) had gone to the clinic this time to ask for a referral letter so that Faridah's case could be transferred to KL. The intention was that once they got the letter they could immediately send Faridah over to KL. The problem was, they had not informed the clinic of their intention earlier, and so the clinic couldn't issue the letter there and then. Even the doctor wasn't in yet.
The nurses promised to call once the letter is done. And although I did tell the SIL to inform me once they decide when exactly they are sending Faridah, so I could alert the person in charge at the shelter home, the SIL thought she'd inform me on the day itself. Aiyo, susahlah like that… what if the people at the shelter home has other programmes on the day? This time when I asked, she said very likely they will send Faridah this week, as soon as they could get the referral letter. So I immediately called up the person in charge at the shelter home to inform her that Faridah would be coming some time this week, without specifying the exact day.
Today I continued with my house visits and delivery groceries. As usual, I'd get more donations during Ramadhan, and so I could buy more groceries and help out more families. I had bought the groceries last week and left them at our centre so this morning I didn't have to go buy anything, I just went straight to the centre and loaded all the stuff into my car.
First destination was Fuzi's house. Before I left the centre, I called her first to make sure she was in. She's not really the type who often goes out anywhere, but I didn't want to end up going to her house when she's in Ipoh for her hospital appointment. Apparently she was in Ipoh yesterday for her appointment and so she's home today. Perfect timing.
When I got to her house, her 3 boys were playing outside while her 2 girls were at school. The 2 boys' school bus would usually come and fetch them around 11 am, while the youngest, Iwan, is only 5 years old. I got Hafiz and Ijam, 2 older boys to help carry the groceries from my car. Didn't give anything to Iwan although he offered to help… all the stuff were too heavy for him to carry.
When I told Fuzi about Shila's death, she was shocked. "Kan masa hari keluarga hari tu, dia elok saja kak? Dia meninggal kerna HIV ya kak?" she asked in her still strong Indonesian accent. I told her Shila's death had nothing to do with HIV. She had heart problems. The next question Fuzi asked was whether Shila's body was bathed by people from the hospital although Shila died at home. She thought since Shila had HIV, nobody else would dare bathe the body. Her jaw almost dropped when I told her I handled everything.
"Habis tu, kakak pakai segala tutup mulut, apron semua itu?" she asked again.
I told her there was nothing for me to be afraid of as HIV doesn't get transmitted so easily, to which she responded, "Itulah yang saya hairan kak. Doktor bagitau saya tak mengapa kongsi makanan, pinggan gelas apa bagai, tapi waktu si Ijam masuk hospital seminggu kena denggi hari tu, sakit hati saya kak… semuanya diasingkan untuk Ijam. Makanan pun diberi makanan bungkus bukan dalam tray seperti orang lain. Sampai ada orang tanya saya kenapa begitu."
Well yes, she's got a point there. The stigma still exists amongst the hospital staff themselves and naturally other people would think the hospital people should know better than people like me…
Anyway, after leaving Fuzi's house, I called up Aini. The last time I visited her was at the hospital when she was hospitalised right before our Family Day. And yes, she was home. Her hospital appointment will only be some time middle of this month. I prefer to visit her when her children are at school so we could freely talk about her HIV. None of her children or any other family members know about her HIV.
There was a child with Aini in the house when I got there – the boy Aini babysits. The only source of income for Aini other than the monthly welfare aid of RM300. But the boy knows nothing and Aini herself freely talked about her HIV, the problem with her early ARV etc. I guess it's not easy having to keep everything to herself, when she got the chance to freely talk about it, she did!
Aini too, when told about Shila's death, was quite surprised. But she knew that Shila had heart problems.
"Saya harap kalau saya mati nanti biarlah kat hospital. Mandi kapan semua kat hospital, tak kecoh sangat kat rumah."
Both Fuzi and Aini had seen how kecoh it can be when people from the health dept comes to visit at home. And both of them hopes when their time comes, they will die at the hospital, not at home; so that all the necessary arrangements can be done at the hospital without any hoo-hahs at home.
But hey, Shila died at home. No hoo-hah for her as nobody from the health department came. I think it would have been a different story if they did.
Dicekup Buat Maksiat Di Rumah Pusaka
Posted: 09 Aug 2011 02:34 AM PDT
T
anjung Bungah – Sanggup seorang wanita menggunakan rumah pusaka arwah ayahnya untuk tinggal bersama dengan teman lelakinya.
Dipercayai kedua-dua pasangan berkenaan sudah hampir empat tahun bercinta dan tinggal bersama di sebuah kampung sekitar Tanjung Bungah.
Kegiatan tidak bermoral mereka itu bagaimanapun akhirnya berjaya dihidu Jabatan Agama Islam Pulau Pinang (JAIPP) atas aduan orang ramai.

Serbuan dilakukan penguat kuasa JAIPP kira-kira jam 2 pagi hingga 3 pagi dengan keadaan rumah yang gelap.

Setelah selesai mengepung rumah bagi mengelakkan suspek terlepas, seorang penguat kusa mula memberi salam untuk membuat pemeriksaan.

Seorang wanita menjawab salam dan memberi ruang penguat kuasa untuk masuk, namun seorang lelaki yang dipercayai teman lelakinya berada dalam bilik.

Ketika ditahan, wanita berkenaan hanya memakai singlet dan seluar jeans ketat sementara itu lelaki berkenaan memakai baju T dan seluar pendek.

Pada mulanya mereka tidak mengaku pasangan kekasih namun, akhirnya membuat pengakuan tidur di bilik yang sama.

Wanita berkenaan berkata, dulu salah satu bilik di rumahnya itu pernah disewa oleh sebuah keluarga.

"Ustaz baru dua hari saja kami tinggal berdua, dulu memang ada keluarga tinggal dengan saya lagi," katanya memberi alasan.

Sementara itu, lelaki berkenaan ketika ditanya hanya terdiam mendengar penjelasan teman wanitanya kepada penguat kuasa JAIPP.

Dia yang juga bekas 'beach boy' itu mengaku terdapat beberapa masalah yang menyebabkannya dan teman wanitanya susah untuk berkahwin.

Sementara ditanya penguat kuasa JAIPP, lelaki yang berusia sekitar 30-an itu mengaku baru saja keluar dari penjara.

"Saya baru keluar penjara kerana kes gaduh pukat harimau," katanya kepada Sinar Harian.

Operasi maksiat yang dikenali Ops Santai itu diketuai Ketua Operasi dan Penguat kuasa JAIPP, Khairul Azman Azizan dan turut disertai Ketua Penolong Pengarah Bahagian Penguat kuasa JAIPP, Jaafar Ismail serta 14 penguat kuasa lain.

Khairul berkata, kemudiannya kedua-duanya diberikan notis mengikut Seksyen 27 Enakmen Kesalahan Jenayah Syariah Pulau Pinang atas kesalahan berkhalwat.

"Jika didapati bersalah boleh dikenakan hukuman denda RM3,000 atau penjara dua tahun atau kedua-duanya sekali.

"Mereka dibawa ke pejabat JAIPP di Lebuh Pantai dan laporan polis dibuat di Balai Polis Lebuh Pantai," katanya -SH
Posted: 09 Aug 2011 12:02 AM PDT
hye uolssss... puasa ke tidak?....kalau x puasa pi pimpin tangan masuk van mayat ok...
amacam puase uollssss....meriah?...harus lah kan...lagi2 time buka kan...kannnn....
akak belek2 entry akak yang tudung dulu2 tu..amboi ramai yang komen...ramai yang maki pun ade...amboi ramai yang emo ni..tapi lebih ramai juga yang ter
emo-nyet
. kannnnn...
mungkin ada yang dapat terima..ade yang tidak..bukan nak cerca..akak cuma mengimbau nostalgia lampau..gitewww...
agak2 kalau nampak tudung ala2 cam ni..korang nak pakai....?
persoalannnya ade aku kesah?...
amboi raya ni mesti meriah..akak lalu2 kat tempat jual2 baju raya tu..macam2 jual..
jubah liplap2 ala2 ramlah ram ...tudung batu2 penuh..manekan tudung renda2..tudung 3 lapis...baju kurung ..baju melayu...berlambak2..
yang penting mak aiii mahal nak mampus...gerenti papa kedana semata2 nak raya punya pasal...
kuih muih...berlambak2 jual...macam2 jenis..nama warna...dah jual...mahal2...bila makan rasa sam je...selalu macam tu kan..x baik diorang ni jual kuih menipu sangat.
tu lah kan musim2 nak raya ni macam2...
sebenarnya akak bulan puasa ni macam xde idea nak tulis apa...nak cerca2 kang kurang pahala...nak buat entry masak2 kang orang kata akak ni hotmama lak...runnnn
nak filing2 chantek dalam blok macam khila fairy ..tp muka akak lebih kepada FUMAKILA Fairy pulak...kannn
nak cerita pasal baju raya...soooooo mak mak sgt...nak cerita pasal laki..akak xde laki..nak cerita pasal anak..anak xde anak ikan ade lah..itew pun anak ikan longkang...
korang ade idea x nak tulis apa...
matilah tanya orang nak tulis apa...hanjeng sgt perangai kan... xpe2 nanti akak pikirkan...
ape pun semalat bepuase uolsss...
" kurangkan kelahatan..tinggalkan kehanjengan..tingkatkan keperibadian..tambahkan iman."
...gitew...ko mampu
yang benar
Nurul Halimatul Fumakila Fairy
- calon ustazah pilihan-
* jangan lupa vote akak nanti kay....
..
Posted: 08 Aug 2011 11:57 PM PDT
Salam everybody. I just a had a long discussion and it affected my mood. I don't understand people who lie. I think lying is only acceptable for kids because they are that gullible and would do anything to get themselves out of trouble. And for teenagers due to the insecurities that dwell inside their adolescent hearts. But adults? In a professional environment?
Oh! Let's not elaborate further shall we? Now let's just focus on happy stuff. Like Ramadhan, and Raya and the two guys at home. I am thankful for my family, nothing can beat the feeling of coming home after a bad day to the people who you know are waiting anxiously for you.
Sometime ago Mama Rose told me that Miki held a Sumi jelly in his hand all day long instead of eating it just because he wanted to wait for the evening so that he could share it with both Mummy and Daddy. Do you know how big is a Sumi jelly? You can gulp it down without chewing it.
And after work when I fetched him home, the poor little boy accidently dropped the jelly in a deep drain in front of Mama Rose's house. The very jelly that he had been holding on to all day long.
So I replaced it with a big ice-cream cone but I knew the jelly would have tasted so much better. Because then I knew how much Miki is always thinking about Mummy and Daddy when we are apart and he is always waiting for the moment when we can be reunited again.
And knowing that is the best feeling ever.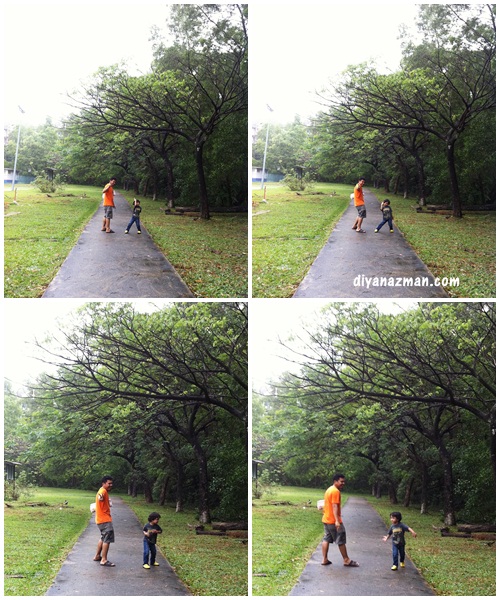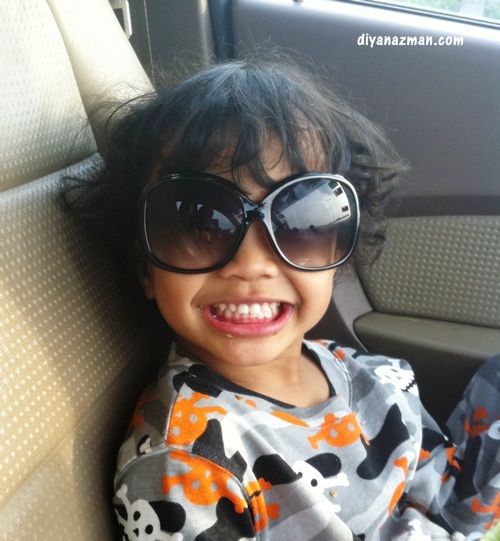 Thinking about Miki and his big grin with cookies crumbs around the mouth always cheer me up!

Today I will cook for iftar. Nasi tomato and ayam masak merah. And if I can find some bananas I wanna make pengat pisang! Yum! The best pengat pisang is the one my Mom makes or the one I make myself!

Have a nice day everyone!