---
Posted: 08 Aug 2011 11:08 AM PDT
It is a benevolent government. Despite being adversely affected by the downward ratings by Standard & Poor on the US economy, our civil servants and pensioners should feel relieved that there is still something for them to spend on Hari Raya.
Its not the amount. Its the thought that counts.
I am not a civil servant but I have many friends who come under the payroll - from a despatch rider to the high-ranking ones. Please don't complaint. It's always better than nothing.
So, 'bersyukurlah'. Thank you, Najib!

KUALA LUMPUR, Aug 8 (Bernama) -- The government has agreed to pay bonus of half month salary with minimum payment of RM500 for civil servants. Prime Minister Datuk Seri Najib Tun Razak said besides this, the goverment had also agreed to give special payment of RM500 to government pensioners. "The bonus and special payment will be made in the middle of this month," Najib, who is also Finance Minister, said in a statement today.

Najib said the bonus was to appreciate the dedication and contributions of civil servants in successfully implementing the nation's development programmes. "The government hopes the provision of this bonus and special payment can lighten the burden of civil servants and government pensioners and help them make preparations for the upcoming Aidilfitri celebration.
"This shows that the government is always concerned about the welfare of civil servants and government pensiors. The awarding of the bonus is a mark of appreciation of all civil servants," said Najib. Najib said the two payments involved 1.27 million civil servants and 590,000 government pensioners and entailed an estimated expenditure of RM2 billion. - BERNAMA
Posted: 08 Aug 2011 10:16 AM PDT
It's the 7th month in the Chinese Calendar now... Since young whenever we reached this month, I always have the eery kind of feeling. Why? It's the Hungry Ghost Month. You could see almost every Chinese Communities will setup some kind of temporary stage to have some presentation at the same time gather all the food and paper made items to pray to the hungry ghost.
I still remember my first time visit to the place that they have this gathering to pray for the Hungry Ghost. They have Chinese Opera and there were two rows of chairs in the front without anyone sitting on it. So i was curious and asked my mom why don't we go in front and sit... it's better view there. My mom told me, it's not for people to sit... it's for ghost.
Since that day onwards, the moment i saw the row of chairs in front which are empty. I straightaway think of the Hungry Ghost seats... Hmm... Is the first row seats in the cinema also reserved for you know what i meant eh~
Okay, i think i better hit the bed now... the more i write the eery feeling that i have... Ciao
What do you think about this picture? Scary?? Feeling Eerie??
Pertemuan dengan Timbalan Menteri Luar Negeri Jerman
Posted: 08 Aug 2011 09:43 AM PDT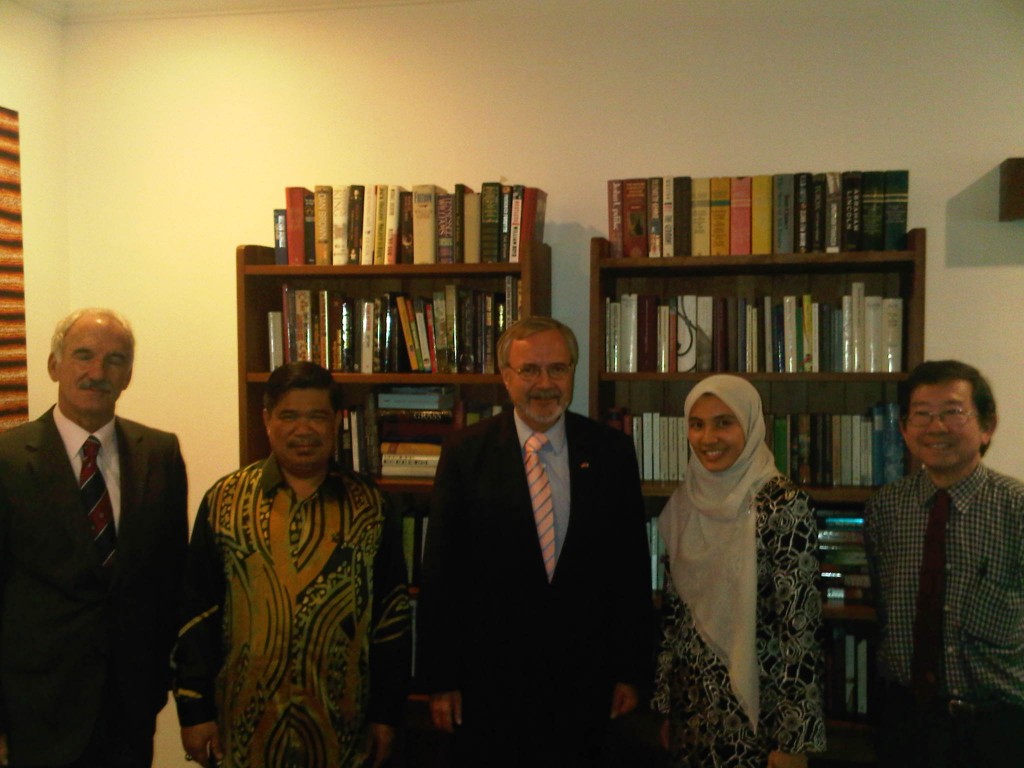 Saya telah dijemput untuk bertemu dengan Werner Hoyer, Timbalan Menteri Luar Negeri Jerman, petang tadi. Bersama-sama saya, seperti kelihatan dalam gambar, ialah Tn Hj Mohd Sabu, Timbalan Presiden PAS, dan YB Tan Seng Giaw, Ahli Parlimen Kepong, yang mewakili DAP. Tidak ketinggalan H.E. Dr. Guenter Gruber, duta Jerman ke Malaysia, turut bersama dalam pertemuan ini.
Alhamdulillah, satu sesi yang cukup menarik dan saya pasti bakal membuahkan hasil yang akan mengeratkan hubungan diplomatik antara Pakatan Rakyat dan kerajaan Jerman. Mereka juga amat tertarik dengan janji terbuka PM untuk mereformasikan sistem pilihanraya Malaysia agar sejajar dengan taraf antarabangsa.
Ya, kita nantikan pelaksanaan tersebut, khusus sebelum PRU ke 13 tiba, InsyaAllah.
Jawatankuasa Siasatan Lantikan Menteri Kesihatan Tidak Serius
Posted: 08 Aug 2011 09:56 AM PDT
S
iasatan Tung Shin diserah kepada polis pula
Jawatankuasa Siasatan Dalaman Kementerian Kesihatan peringkat tertinggi yang sepatutnya menyiasat aduan bahawa gas pemedih mata dan air berkimia disasarkan ke perkarangan Hospital Tung Shin, kini memohon bantuan polis bagi menyiasat kejadian yang didakwa berlaku pada 9 Julai itu.
Perkara itu didedahkan oleh ahli parlimen Petaling Jaya Utara Tony Pua berdasarkan sepucuk surat yang dikeluarkan oleh sekretariat jawatankuasa itu Jumaat lalu.
Pua, yang berada di perkarangan Hospital Tung Shin bersama rakan-rakan pemimpin DAP pada 9 Julai lalu telah menawarkan diri mereka untuk memberi keterangan kepada jawatankuasa berkenaan bagi membantu siasatan mereka.



"Bukan sahaja (mereka) melengah-lengahkan siasatan yang dituntut kami, tetapi mereka meminta pula pihak polis menyiasat kami,"

katanya.

Pada sidang akhbarnya pagi ini, Pua berkata ibu pejabat DAP pada mulanya menerima sepucuk surat daripada kementerian bertarikh 29 Julai yang memintanya bersama tiga pemimpin parti lain untuk menghadiri inkuiri yang dijadualkan pada 1 Ogos.

Tiga yang lain itu adalah ahli parlimen Bukit Bendera Liew Chin Tong, ahli parlimen Serdang Teo Nie Ching dan setiausaha politik ketua menteri Pulau Pinang, Zairil Khir Johari.

Namun, kerana surat yang diterima sudah terlalu dekat dengan tarikh inkuiri dan akibat kesuntukan masa, mereka meminta tarikh baru.

"Kami terima surat pada Sabtu jam 4 petang dan mereka minta kami untuk datang pada Isnin depan," jelasnya sambil menambah beliau kemudiannya menulis kepada jawatankuasa itu untuk meminta tarikh yang lain.

Bagaimanapun sekretariat jawatankuasa itu menulis kepada mereka pada 5 Ogos lalu dan kali ini berkata, "kami akan berpadu tenaga dengan polis dalam menjalankan siasatan yang akan diadakan tidak lama lagi."

Pua berkata beliau juga menerima panggilan daripada polis meminta dirinya dan pemimpin lain ke ibu pejabat polis daearh PJ pada jam 9.30 pagi Rabu ini.

"Jadi menteri telah serah kuasanya kepada ketua setiausaha yang kemudiannya serah pula kuasa itu kepada polis," kata Pua.

Katanya lagi, kementerian kesihatan sengaja mengelak tanggungjawab menyiasat kerana mereka sedar bahawa seluruh dunia sudah mengetahui kebenaran bahawa memang hospital tersebut diserang.

Malah, menurut Perjanjian Geneva oleh semua negara di dunia, hospital merupakan kawasan larangan, dan tidak boleh diserang dalam apa-apa kes pun. -mk





Kementerian Kesihatan Siasat Insiden Di Hospital Tung Shin



KUALA LUMPUR – Sebuah jawatankuasa peringkat tinggi ditubuhkan bagi menyiasat insiden di Hospital Tung Shin pada 9 Julai.

Menteri Kesihatan Datuk Seri Liow Tiong Lai dalam satu kenyataan menyebut jawatankuasa itu akan dipimpin Ketua Setiausaha kementerian berkenaan iaitu Datuk Kamarul Zaman Md Isa.

Liow berkata beliau yakin jawatankuasa itu akan menjalankan siasatan terperinci dan telus memandangkan keselamatan pesakit serta hospital adalah penting.

"Ini akan menjelaskan percanggahan kenyataan yang dibuat pelbagai pihak sejak beberapa hari lepas," katanya.

Isnin lepas, Lembaga Hospital Tung Shin memaklumkan Liow bahawa insiden gas pemedih mata dan meriam air ditembak ke dalam kawasan hospital berkenaan ketika perhimpunan haram baru-baru ini tidak berlaku, namun ramai saksi yang melihat perkara itu mendakwa sebaliknya.

"Orang ramai yang menyaksikan kejadian itu diminta tampil membantu siasatan berkenaan. Mereka yang tidak ingin dikenali juga boleh berbuat demikian," katanya. – BERNAMA




Ulasan GB



Sebenarnya anggota Jawatankuasa Siasatan Kementerian Kesihatan lantikan Datuk Seri Liow Tiong Lai hanya satu gimik, tak tahu buat kerja siasatan dan tidak serius di dalam melaksanakan tanggungjawabnya. Mengaku sajalah!

Ia hanya satu penipuan untuk mengaburi mata rakyat setelah menteri itu ditangkap menipu orangramai dengan menyatakan polis tidak menembak ke arah hospital berkenaan sebaliknya menyalahkan angin yang membawa gas tersebut ke perkarangan hsopital.



Keangkuhan Dan Kekayaan Najib Akan Turut Tersungkur Lebur
Posted: 08 Aug 2011 08:52 AM PDT
M
alaysia terus rasa kesan global, nilai Bursa 'terhakis' RM31 bilion lagi
KUALA LUMPUR, 8 Ogos – Pasaran saham di Malaysia terus merudum dengan nilai dianggarkan RM31 bilion 'terhakis' dari Bursa Malaysia ekoran kebimbangan yang dirasai di peringkat global ekonomi, susulan krisis kredit Amerika Syarikat.
Ekoran trend jualan saham yang diakibatkan oleh penurunan taraf oleh Standard and Poor ke atas kredit Amerika Syarikad dan Eropah, pasaran saham Kuala Lumpur terhakis nilai sehingga RM65 bilion sejak Isnin lalu.
Pemegang-pemegang saham yang rugi mengatasi mereka yang membuat untung – 1,051 berbanding 67 hari ini, manakala indeks Emas menurun 2.39 peratus sehingga 10,227.95 mata, paling rendah dalam lima bulan.

Tanda aras FBMKLCI ditutup 1,496.99, menurun 1.8 peratus, juga paling rendah dalam lima bulan.

Malaysia berhadapan dengan perkembangan ketika spekulasi mengenai pilihan raya umum ke-13 dalam waktu terdekat berterusan.

Ketua firma penyelidikan OSK Chris Eng berkata, meskipun ada kemungkinan kecil pemulihan pada hari-hari mendatang, pasaran tidak mungkin akan meningkat ke paras yang direkodkan bulan lalu dan akan kekal mudah meruap.

"Kami menurunkan gred pasaran hari ini dengan fikiran bahawa penggal pertengahan tidak kelihatan begitu baik, khususnya selepas S&P (Standard and Poor) menurunkan gred (penarafan kredit jangka panjang AS).

"Jelas bahawa pelabur-pelabur mula lebih melihat ke atas saham-saham defensif (alternatif)," kata beliau yang turut mengesyorkan saham-saham dalam bidang kesihatan, media dan kepenggunaan untuk diberi perhatian.

Eng menambah, sementara pasaran memperlihatkan respons positif sebelah tengah hari tadi ekoran laporan bahawa European Central Bank membeli bon-bon Itali dan Sepanyol, pihaknya tidak optimis keadaan itu akan berkekalan.

"Apa yang mereka lakukan sekarang belum mencukupi," kata beliau.

Nilai pasaran kira-kira RM26 bilion telah terhakis dari Bursa Malaysia Jumaat lalu selepas para pelabur mengambil mesej daripada apa yang disaksikan di Wall Street, yang paling buruk sejak keruntuhan Lehman Brothers pada 2008.

Pasaran-pasaran rantau Asia terus merosot hari ini sejak Standard and Poor menurunkan taraf kredit AS buat kali pertama Jumaat lalu.

Pasaran Nikkei menurun 2.2 peratus untuk ditutup 9,097.56 mata selepas ia turun serendah paras 9057.29 manakala Topix pula jatuh 2.3 peratus untuk ditutup 782.86.

Indeks Hang Seng Hong Kong menurun lebih empat peratus untuk mencecah paras paling rendah tahun ini. Indeks Shanghai menurun lebih daripada tiga peratus.

Indeks pasaran Singapura pula jatuh 3.39 peratus, Indonesia (1.82 peratus) dan Thailand (0.99 peratus).

Menurut laporan Reuters, nilai pasaran dunia terhakis AS$2.7 trillion (RM8.13 trillion) minggu lalu.

Dalam laporan terdahulu, bank pelaburan Goldman Sachs juga mengkaji semula pertubuhan ekonomi Malaysia ekoran perkembangan ekonomi semasa.

Kerajaan Barisan Nasional (BN) pimpinan Perdana Menteri Datuk Seri Najib Razak dijangka berhadapan lebih banyak tekanan ekoran langkah Goldman Sachs menurunkan anggaran pertumbuhan ekonomi bagi tahun ini dan 2012.

Goldman Sachs mengkaji semula anggaran pertumbuhan ekonomi kepada lima peratus berbanding 5.4 peratus tahun ini manakala bagi tahun depan ia menetapkan 5.2 peratus berbanding 5.6 peratus yang dianggarkan sebelum ini. -TMI



Ulasan GB



Najib yang angkuh dan boros dengan kekayaannya kini akan terus berdepan dan berlawan dengan kekuasaan dan kekayaan Allah s.w.t.

Sebelum ini GB menyatakan bahawa:

Demikian sebenarnya kaedah yang digunakan Najib melalui agen-agennya untuk membeli beberapa Ahli Parlimen dan ADUN-ADUN Pakatan Rakyat. Betapa dasyatnya manusia bernama Najib ini yang mana kita telah tahu kejatuhan kerajaan PR negeri Perak adalah akibat dari pembelian wakil-wakil rakyat PR entah berapa juta nilainya. Dikuti dengan beberapa siri lompatan ahli parlimen dan ADUN PR samada menjadi wakil bebas atau pun menyertai BN pun dengan habuan wang ringgit.

Namun, Allah tidak pernah lalai dan tidak pernah tidur. Segala kejahatan dan kebatilan yang dilakukan oleh pemimpin-pemimpin UMNO bersama-sama sekutu-sekutunya seperti polis, SPR, SPRM, Peguam Negara, Pendakwa Raya, Hakim-hakim, agensi-agensi kerajaan seperti ROS yang melengah-lengahkan pendaftaran Pakatan Rakyat, akan pasti mendapat hukuman daripada Allah s.w.t.



Allah akan tetap membantu pihak yang dizalimi oleh mereka sekalipun mereka tidak pernah mahu mengakui kezaliman yang mereka lakukan.



Pemerintahan Najib adalah kemuncak terhadap segala kebobrokan pemerintahan UMNO BN di negara ini bermula dari dari cara beliau naik untuk menjawat jawatan Perdana Menteri sehingalah ke hari ini,

bagaimana beliau sanggup "melakukan apa saja" untuk mempertahankan kuasanya sekalipun dengan kaedah keji dan di luar batas undang-undang apatah lagi hukum agama.



Beliau menggunakan kaedah Abu Lahab dan Qarun, menggunakan harta kekayaan untuk mempertahankan kuasanya.

Kisah Najib dan pemerintah-pemerintah zalim UMNO BN sebelumnya seperti Mahathir dan Abdullah Badawi, telah pun berlaku di zaman silam. Ia hanya satu perulangan sejarah dengan pertukaran watak-watak sahaja.

Firman Allah:

"Binasalah kedua tangan Abu Lahab dan sesungguhnya dia akan binasa.

Tidaklah berfaedah kepadanya harta bendanya dan apa yang ia usahakan.Kelak dia akan masuk ke dalam api yang bergejolak. Dan (begitu pula) isterinya, pembawa kayu bakar. Yang di lehernya ada tali dari sabut."

(QS. Al Lahab: 1-5)

"Dan (juga) Qarun, Fir'aun dan Haman. Dan sesungguhnya telah datang kepada mereka Musa dengan (membawa bukti-bukti) keterangan-keterangan yang nyata.

Akan tetapi, mereka berlaku sombong di (muka) bumi, dan tiadalah mereka orang-orang yang akan lepas (dari kehancuran itu)

.

Maka masing-masing (mereka itu) Kami siksa disebabkan dosanya, maka diantara mereka ada yang Kami timpakan kepadanya hujan batu, kerikil dan diantara mereka ada yang ditimpa suara keras yang mengguntur, dan diantara mereka ada yang Kami benamkan ke dalam bumi, dan diantara mereka ada yang Kami tenggelamkan, dan Allah sekali-kali tidak hendak menganiaya mereka, akan tetapi

merekalah yang menganiaya diri mereka sendiri.

" (al-`Ankabut: 39-40)

Mereka boleh terus cuba untuk pertahan lagi kebatilan yang mereka bawa dengan kekayaan yang mereka ada, namun kita akan tetap berjuang dan berdoa semuga Allah memberikan balasan yang setimpal di atas segala dosa mereka terhadap kita.



Dengan tegas kita tegak berdiri menyatakan: Kami ada Tuhan untuk kami berlindung dan bermohon, agar Allah mencabut kekuasaan dan menghukum kamu-kamu semua, dan menyerahkan hak kekuasaan kepada mereka yang beriman dan berlaku adil.




Posted: 08 Aug 2011 07:21 AM PDT
It was reported in an opposition news media that some serving members of the Armed Forces has two identity cards (ID) i.e. first is the service issued ID, and the other the NRD issued ID. The news also reported that this is a deliberate ploy by the government in an attempt to allow holders of such ID's to vote twice during the election in a bid to favor the government's chances of winning the up-coming GE.
I am not quite sure whether to believe or not to believe the news report. But I can say for certain that in my 34 years of military service, I have not heard nor seen any soldier or officer that has in their possession two IDs. I remembered that upon being enlisted into the service, our civilian ID has to be surrendered, and little do I know where the ID is being kept. Upon retirement, I was told to report to the NRD to have a new civilian ID processed and issued. The old civilian ID was never returned to me and the only thing I know of my old ID is the ID number which is recorded in the new ID.
I do not know if the process of surrendering one's civilian ID upon the enlistment of officers and soldiers has now changed. I believe the process is the same, unless there is a deliberate attempt by someone to use the surrendered ID for a 'specific purpose' without the knowledge of the owner of the ID. But to allow the civilian ID to be retained by the owner to be used specifically for voting purposes sound absurd and nonsensical.
I have known officers and soldiers personal character and habits. They being so close to one another will share and speak quite freely of any 'secrets' that one harbors. Even their love affairs are not kept a secret, but to be shared and joked about. I still hold lots of secret on some of my fellow officers, especially their times as a young officer and gallivanting days. We do continue to share some of those 'old stories' when we meet, only to realized how wonderful the days were when we were young officers. I also believe the same goes for the soldiers. Officers and soldiers being what they are do not keep secrets among friends, and should they be in possession of two IDs as reported, many would have known about it.
If at all the report of the two ID's is true, I dare challenge the originator of the report to reveal their source. Otherwise, I would just say that the report is fictitious, and is nothing but a big lie.
CRUSADE AGAINST CORRUPTION
Giving New Meaning to Reverse Takeover
Posted: 08 Aug 2011 06:19 AM PDT
In mid-November last year,
Pauline Hanson
, the Australian politician noted for her anti-immigration outbursts, has said she is abandoning plans to move to Britain because
"it's overrun with immigrants and refugees."
She went on to say that France is becoming filled with Muslims and that the French and English are losing their way of life because they're controlled by foreigners. That scenario could well happen in our own backyard at the rate things are going.
Today,
Pakatan Rakyat (PR) lawmakers
demanded an emergency sitting of Parliament over claims that 1,600 foreigners had been given citizenship and voting rights, claiming that if left unchecked it would erode Malaysia's constitutional monarchy.
PAS vice-president Datuk Mahfuz Omar rationalized that the permanent residents who were being given "express" citizenship and voting rights "would not appreciate our royalty as we do." And why?
RPK's latest post
Upsetting the Ecological Balance
gives the answer: 
But the new (post-Merdeka) immigrants into Malaysia do not face death in their country. They do not owe Malaysia their lives. They are merely 'economic refugees'. It's all about money. Their loyalty is to money, not to Malaysia.


Those are the types of people we are giving 'instant citizenship' to. And in time we shall realise the folly of this immigration policy.


They have no memories of the British Colonial era. They have no memories of the Japanese occupation. They have no memories of Merdeka. They have no memories of the Emergency. They have no memories of the creation of Malaysia. They have no memories of the Konfrontasi with Indonesia. They have no memories of May 13. They have no memories of anything at all that Malaysians hold dear. They are here only for the money.


So where do these people's loyalty lie? Certainly not where our loyalties lie because they do not share our culture and value system. They are only loyal to the Ringgit and as long as the Ringgit is there they will become 'true Malaysians'. However, once the Ringgit is no longer there, they would not care two hoots about Malaysia.
What Malaysia could have on its hands is a time-bomb ticking its way to a socio-economic disaster. The prevailing situation is somewhat like a
Reverse Takeover
whereby you acquire something and then what has been acquired ends up owning you instead!! In short, the
hunter
has now become the
HUNTED!!!
Note also, in the corporate world, a 30% stake in a public enterprise is as good as a controlling stake. So beware. If you think you will limit this exercise to only 30%, it may end up with you losing control.
According to
The Malaysian Insider
, PR had also claimed that
1,108
permanent residents in the Klang Valley were given the status of full citizens on
August 2 alone,
and ridiculed the notion that over
1,000 identity cards were issued within a day.
Most alarmingly, PAS vice-president Salahuddin Ayub also showed documents claiming that between 1.06pm and 2.30pm on August 2,
three voters
had their status changed from
permanent residents to citizens
"in the blink of an eye." The Kubang Kerian MP said that the information was downloaded from the NRD website itself and we have a total of 1,597 cases across the country. These are official statistics. What about the
dark figure
then?
(The dark figure represents the discrepancy between actual statistics and those that are not reported.)
Personally, many perceive this is the tip of the iceberg. In my post on
Immigrants and Emigrants - Facts and Figures,
I wrote:
Strangely, this site shows that the population trend in Malaysia in on an increasing trend and is slightly over 27 million in 2008.




Compare this chart with the tables in the earlier links. Judge for yourself. I am sure the statistics are available but how come the net migration rate is unavailable? How come the population pattern is on the increase in the light of the statistics for birth rate, death rate and the absence of net migration rate for the country?




Just who are leaving and WHO ARE COMING IN???? Can someone kindly explain the demographic pattern??



Clearly, the Pakatan lawmakers and RPK are on the right track in highlighting this impending doomsday scenario awaiting Malaysians. We can talk till the cows come home about
1Malaysia
and unity/harmony and all that jazz but if the gene pool of the population is in imbalance, what will happen? Obviously, they will not be loyal citizens.
There is a high probability that Durkheim's
anomie
will occur here. Anomie is a term meaning "personal feeling of a lack of social norms; normlessness". It describes the breakdown of social norms and values arising from a mismatch between personal or group standards and wider social standards, or from the lack of a social ethic, which produces moral deregulation and an absence of legitimate aspirations.
When immigrants outnumber the original host population, social cohesiveness might be at stake. The social system may then decay into a state of anomie. By then, common values and common meanings are no longer understood or accepted, and new values and meanings have not developed.
For Malaysia to develop, we need citizens with a sense of belonging.  Why are we chasing our own
bona fide
CITIZENS  (
whom some have called pendatang
or prostitutes) and letting the first world countries welcome them to contribute to their economies while we place the welcome mat for
third world brawn
to come in? Worse still, we have those who call themselves citizens who call the authorities to strip some noble citizens of their citizenship! They are well fed and fat!
With absolutely no sense of belonging (normlessness/alienated state), would such citizens care what happens to Malaysia? Their hearts are still with their homeland! Mercenary in nature, they would only care for money. After all, that was why they came in the first place.
The lack of unity will tear the nation apart. If after over half a century of independence, and we still have diatribes almost daily, how can we expect foreign migrants to come in and gel with the population? The nons generally stay away and have been working hard for a future, for a government that does not take care of them. Even so, unity is lacking. What more with migrants?
Take a look at what happened in London recently. Note that the riots happened in the poor section of London where many migrants live.
While we may laugh at Pauline Hanson's statement, the horrible truth is the UK of today in that respect, could be Malaysia in the future!!!
The difference is - Malaysia will get that way faster because some people are thinking of meeting their own objectives and have no qualms about making the rest of us suffer. Furthermore, Malaysia, with its 28 million population compared to UK's 72 million will undergo a faster speed in 'dilution'.
Multi-cultures can be a good thing for our country if they accept our cultures and our way of life. But look at history and how immigrants thrive in their own culture bubbles! How many are willing to assimilate? What they do is to duplicate a neighbourhood of their own ethnic group in their host country and make little effort to assimilate with the host country. Worse still, they leech onto public goods such as hospitals and schools which are
PAID FOR BY TAXPAYERS
!!!
Some immigrants may respect our culture but how many would? What respect would they have for a country whose leaders sold out its own citizens and brought them in just so they could get the numbers needed for their purposes?
To exacerbate the situation is the fact that they are not even accepting smart or educated foreigners who will benefit the country in any way.  To top it all, they are bringing in migrants who have no basic education and are surely liabilities to the country socially, economically and even in terms of health issues.
It seems that some do not wish to rest until they witness the eventual destruction of this land we love!!! How can any sane human sell out their motherland just so they can claim to have the mandate to rule? Isn't this daylight robbery in the highest degree? What an outrage!
They have certainly given new meaning to
Reverse Takeover
not just to their own peril but to the eventual destruction of all that our forefathers fought for! This reverse takeover will impact and hurt them
more
than the
nons
because the pie will get smaller! Now they are the fed and the fat!!! But with this development, they will have to share the pie with them!!!  And what do we have left for the rest of us???
People, you know what to do at the next GE! VOTE WISELY!
Posted: 08 Aug 2011 06:15 AM PDT
Jangan Biarkan BN Tenggelamkan Isu Pilihanraya Bersih Dengan Isu Gereja
Posted: 08 Aug 2011 07:10 AM PDT
I
su Jais tenggelamkan warga asing daftar pemilih
KUALA LUMPUR, 8 Ogos: Isu penguatkuasa Jabatan Agama Islam Selangor (Jais) dengan Gereja Methodist Damansara Utama telah
menenggelamkan isu yang cukup merbahaya kepada negara iaitu isu MyKad dan pendaftaran warga asing di dalam daftar pemilih SPR
.
"Setakat hari ini jawapan yang diberikan oleh SPR diketawakan oleh orang pekak dan buta.
Manakala media perdana BN cuba menimbus isu pendaftaran ini
," kata AJK PAS Pusat, Ustaz Idris Ahmad.
Katanya, PAS telah membuat keputusan untuk bertemu secara langsung dengan pihak Jais dan juga gereja Methodist untuk mendapat gambaran sebenar.

"Negara kita ada undang-undang, siapa yang bersalah akan dihukum. Media bukan gelanggang untuk menyelesaikan perkara ini," ujarnya kepada Harakahdaily.

Katanya, Pemimpin umno dan NGO umno macam dilanda histeria mengenai isu itu, kononnya merekalah pembela agama.

Tegasnya, PAS istiqamah menentang isu murtad di negara ini.

Soalnya, di mana suara Umno dan Utusan ketika isu Noraishah Bukhari, Hartina Kamarudin dan lain lagi yang keluar agama Islam.

Tambahnya, sejarah telah mencatatkan berlaku penangkapan ISA terhadap pemimpin pemuda PAS dalam operasi Lallang 1987 kerana isu kristianisasi.

"Tahniahlah kepada pemimpin Umno dan media Umno kerana baru sedar bahayanya murtad.

"Kita harapkan janganlah kerana politik semata-mata. Samalah ketika isu penggunaan nama Allah oleh bukan Islam, Umno menjadi juara," ujarnya.

Tetapi, katanya

dalam masa yang sama menentang hukum Allah dan menyekat ajaran Allah

diajar di dalam surau dan masjid.

"Pelik juga Umno,

nama Allah dipertahan, hukum Allah dia lawan

," ujarnya lagi.

Tanya beliau lagi, kenapa Umno diam membisu apabila ahli MCA hendak saman kerajaan Kelantan kerana isu pengharaman judi.

"Sepatutnya kalau Umno pejuang Islam kena nasihatlah rakan sejawat mereka. Sudah 54 tahun berkawan pun Umno tidak boleh dakwah, bahawa judi itu bahaya pada masyarakat," katanya. -HD



Ulasan GB



Apabila GB meminta supaya PAS Pusat memfokuskan kepada isu pembersihan pilihanraya dan menyerahkan isu gereja kepada PAS Negeri untuk menyelesaikannya, ada yang salahfaham dan salah tafsir mengenai ulasan GB. Petikan:


Keseluruhan isu serbuan gereja oleh JAIS ini. Sepatutnya PAS Pusat tidak perlu untuk "campurtangan" kerana menurut Presiden PAS Datuk Seri Abdul Hadi Awang, pihaknya juga tidak mempunyai sebarang masalah dengan kerajaan negeri Selangor yang dipimpin Tan Sri Khalid Ibrahim sambil menyifatkan kontroversi yang berlaku adalah "masalah negeri.".

Jika ia "masalah negeri", maka bukankah elok hanya PAS Negeri Selangor sahaja yang menguruskan dengan memberikan kepercayaan kepada Pesuruhjaya PAS Selangor dan barisan kepimpinannya yang baru untuk menyelesaikannya?

PAS sudah sepatutnya mendelegasikan kepercayaan dan amanah kepada peringkat negeri, dan PAS Pusat sepatutnya juga lebih memfokuskan isu sekurang-kurangnya bertaraf nasional.

Isu pembersihan proses pilihanraya masih belum selesai misalnya. Bukankah itu lebih aula untuk difokuskan oleh PAS Pusat buat masa ini?


JAIS yang serbu gereja, bukan PAS yang serbu. Cuma ada "seorang" pemimpin PAS Selangor yang awal-awal membuat kenyataan menyokong tindakan JAIS tersebut di atas alasan ada bukti usaha untuk memurtadkan umat Islam sekalipun bukti itu sendiri belum sahih kebenarannya.

Sebenarnya apa yang cuba GB ketengahkan ialah sama seperti yang disuarakan oleh Ustadz Idris Ahmad di atas dan seperti kenyataan Presiden PAS sendiri di awal sidang medianya semalam iaitu ada dinyatakan

(tiada dlm laporan bertulis)

bahawa

"kita tahu isu gereja itu sengaja diadakan oleh BN untuk menutup isu pilihanraya bersih."



Dan jangan salahfaham, bukan kita tidak pentingkan akidah, malah PAS lebih depan di dalam isu tersebut seperti yang diutarakan oleh Ustadz Idris di atas, UMNO yang selama ini membiarkan kemurtadan berlaku secara berleluasa, maka UMNOlah yang perlu memikulnya.

UMNO hanya menggunakan isu itu untuk melengah-lengahkan perjuangan menegakkan kebenaran dan keadilan yang akhirnya mereka menikam kita dari belakang apabila kita beralih paksi perjuangan. UMNO tidak perlu mengajar PAS bagaimana untuk memperjuangkan aqidah kerana keseluruhan perjuangan PAS adalah perjuangan yang bertunjangkan akidah Islam

.

Kita tidak mahu mengikut rentak-tari UMNO. Perjuangan mereka yang tidak bertunjangkan akidah sebaliknya memperjuangan "kebangsaan sempit".

Kita tidak mahu diperbodohkan sedemikian rupa sehingga kemudiannya isu pembersihan pilihanraya ditenggelamkan dengan hiruk-pikuk isu gereja. Dan di dalam keadaan sedemikian mereka memanggil pilihanraya.

Kita tidak mahu kehilangan fokus. Kita tidak boleh lari dari tumpuan demi kebenaran, keadilan, kemenangan dan kejayaan.



Posted: 08 Aug 2011 03:16 AM PDT
Recently, a very old friend who I have not seen for more than ten years called me up. She wanted me to help her 17 year old son during his summer vacation. Her husband was my singing partner in the 1970's-1980's and for old time's sake, I acquiesced even though I am most wary about taking on a new project. I am truly glad I agreed for in a matter of two weeks, he has improved tremendously. It is really rare to find such talent in a young man who is not only articulate but also refined in manner and gait. It is my pleasure to share with you the following story which he wrote for me last night. We reworked it a bit today and this is the final product. Happy reading! Next socio-political post will be up by 9pm or so.
_______________________
Task:
Write a short story in which the thoughts of a famous figure from the past are revealed at a crucial point in her or his life.
Sitting on a horse atop a cliff on that misty morning, the Emperor just kept silent. Occasionally, he turned around giving monosyllabic responses to the mounted officers behind him, then turned back again. He would glance through his telescope, noted some solutions and pondered of the outcome of the battle. Finally, he had his depressing answer.
As he lifted his head, his senses were assaulted by the sharp smell of gunpowder everywhere, as was the constant blaring of trumpets and cannon fire. When the winds swept in his direction, there came crushing cries of pain and anguish of both sides. The man could almost forget the war here, if it were not for the howling wind.
Fondly, the army nicknamed him
le corporal petit
. The little corporal had more than repaid their affection with victories across Europe. A military genius, he had always started the fight on the backhand, but won outrightly in the end through brilliant strategy and sheer determination. However, faced with those same uneven odds, the emperor, on that cliff, knew his time was up. Instead of looking towards the coming fall, he looked back on his life, to remind himself of his successes and to soften the pain of imminent defeat.
The corporal was born on the island of Corsica in 1769, off the coast of Italy. However, Italy had given France his home in exchange for peace to the 1768 Franco-Genoa war. Related to a French noble, he was educated in a Corsican military school and, at the age of 15, was sent to an artillery school in Paris. At the age of 21, he finished his education and enlisted as an artillery officer in the French Army.
With half the mind on the battle below the cliffs, he mused that if it were not for the Toulon incident, he would never be in this grand position today. In 1793, the port of Toulon had rebelled against the French government and had invited the British navy to occupy them. In response, the government sent an unknown artillery officer to take care of the problem. Upon arriving there, the officer ran the English off by heating up his cannon balls in coal. Using his new red-hot artillery, he fired at the ships until they hurriedly retreated.
Due to the Toulon incident, the officer became a Brigadier-General at the age of just 24. Around France and Europe, his name was everywhere. France's enemies now had a new adversary to face in the form of the Brigadier General. From that point, he had never looked back. The government had given him command of the French army based in Italy, and he had led them without exception.
The Brigadier won huge victories over the Austrians by being flexible with his battle plans, ranging from guerilla tactics to an all-out assault. Exhausted by his range of tactics, the Austrians pulled out of Italy by 1797. Subsequent successes in the Egyptian campaign meant to curtail British naval power boosted the General's fame to new heights. In Egypt, the men started calling him
le petit corporal.
Turning right, he saw his remnant forces at the foot of the hill trying to stop the combined English and Prussian army from getting to him. The inevitable was at hand. In reminiscence, he comforted himself with his earlier success.
The General had returned from the Egyptian campaign in 1799. A few French politicians plotted with him the overthrow of the incumbent government. Thus, the General, at the head of the Paris garrison had called the government defunct and sought to remove it. The coup of Brumaire was successful and the General became the First Consul of France. A year after the coup, the French people voted him to be First Consul for life, and thus the First Consul gave himself the title of Emperor of France in 1800.
The Emperor had wasted no time asserting his power. In 12 years, he had led the French army to a string of victories and conquests around Europe. He installed his brother as King of Spain and made their neighboring countries bend knee to the new continental power in Europe. Only Britain, the Channel acting as their buffer, was safe from the Emperors rampage. However, in an instant, his fortunes changed.
He winced as he recalled the anguish of that journey. It was to be his biggest mistake. Assembling his largest army ever, the Emperor marched into Russia. His wife had followed him on all his conquests, and this was no different. With her watching over him, the Emperor bulldozed through Russia, cities conquered and people enslaved. It was a triumphant start. Already envisioning victory, he had not drawn more supplies. This cost him mightily. Once he had reached Moscow, it was razed to the ground, nothing the Emperor could do about it. The harsh winter was upon them and with no supplies, he conceded defeat and retreated.
The journey was hell. Supplies were low and empty carriages were burnt as firewood. Even the Emperor's carriage was finally sacrificed. Animals that couldn't keep up were shot and eaten. Some soldiers tried to eat their fallen comrades. Hypothermia and the cold claimed many. Finally, the Emperors wife fell terribly ill.
They were still a week off the border of France at that point. The Emperor could do nothing. He carried his wife personally on his back, covered with so much fur that she looked like a grizzly bear. His tears were frozen on his face, and his fears warmed his body as the Emperor strove to save her life. It was to be in vain.
A day off the border, death's hands finally claimed their protracted prize. As he laid her lifeless body in the grave he dug, his own battle-hardened men couldn't stop their own tears. The Emperor didn't know what to do without his Empress. One thing he did know was that his time was up. The Emperor returned to France with a fraction of the large army that followed him. Due to loss of confidence in him, the people cried out for the Emperor to resign. And he did, a week after his wife's death. He exiled himself on St Hilda Island off the coast of Southern France and lived in peace.
That was not to be. A year on, the Empire needed help to fend off the dual armies of England and Prussia. Heeding to their desperate call, the Exile returned to Paris, amidst cheers of
'Viva France!'
and
'Viva Le Corporal Petit!'
. They thought of his past victories and were confident the Exile could repeat them again. If only they knew what was coming for them.
With the last man of the wall fallen, the English and Prussian troops eyed the Emperor like Jack eyed the goose that laid golden eggs in the giants tower. There was a pause, as the Emperor eyed the hundreds before him. Calmly, Emperor Napoleon Bonaparte the First of France drew his sword and charged.
-written by Ian Khor-
*Posted with his permission.
Ian, I am so proud of you. Keep up the good work, young man!
TELADAN: Kemalangan Sedarkan Awi Rafael Dari 'Hanyut'
Posted: 08 Aug 2011 04:40 AM PDT
P
etaling Jaya: Sejak terlibat dengan kemalangan jalan raya pada Rabu lalu, penyanyi Awi Rafael tidak putus bersyukur dan berjanji untuk lebih menumpukan kepada ibadat harian.
Penyanyi lagu Pulanglah dan Bila Aku Jatuh Cinta ini yakin
Allah masih menyayangi dirinya dan memberikan peluang untuk dia berubah ke jalan yang baik agar tidak terus hanyut dengan populariti yang diraih
.
"Saya akui bila mendapat terlalu banyak perhatian, kadangkala kita lupa siapa kita di sisi Allah. Saya bersyukur kerana Allah memberikan petunjuk lebih awal untuk saya berubah. Jadi, saya perlu perbetulkan solat dan banyakkan amalan ibadat.

"Sebelum ini, mungkin saya terlalu peramah dengan semua orang dan bersikap acuh tak acuh dengan solat," katanya kepada mStar Online ketika ditemui di majlis berbuka puasa Muzik FM di Hotel Pearl International, Jalan Klang Lama, Kuala Lumpur.

Malah, Awi juga semakin rajin mengerjakan solat terawih dengan rakan-rakannya pada bulan Ramadan ini.

Paling penting, dia bersyukur kerana dirinya selamat dalam kemalangan yang berlaku di Lebuhraya Persekutuan itu pada sekitar pukul 5 petang selepas menjalani sesi fotografi dengan sebuah majalan hiburan di Shah Alam.

"Saya rasa bersyukur dan terperanjat dengan insiden itu serta sempat mengucap istighfar. Kereta jenis Triton yang saya naiki remuk teruk akibat melanggar pokok.

"Nasib baik saya tidak mengalami kecederaan teruk melainkan luka sedikit di dahi. Waktu itu, saya memakai baju Melayu dan songkok. Jadi, songkok itu telah menyelamatkan kepala saya yang terhantuk di cermin tingkap.

"Selepas terlibat dengan kemalangan itu, terus saya ke klinik dan merawat luka di dahi. Tengkuk saya juga masih berasa kebas selepas kemalangan itu tetapi setakat ini doktor mengesahkan tiada apa-apa kecederaan dalaman," jelasnya lagi.

Tambahnya,

sewaktu keretanya berpusing sebanyak tiga kali sebelum melanggar pokok dan turut melanggar beberapa buah kenderaan di situ turut mengingatkan Awi kepada ibu dan bapanya yang tinggal berjauhan daripadanya

.

Setelah ibu dan bapanya berpisah lapan tahun lalu, ibunya menetap di Pontian, Johor manakala bapanya berada di Indonesia. -mstar





Penyanyi Awi Rafael Accident Teruk Di Lebuhraya Federal



KL, 4 OGOS 2011: Apa yang menimpa penyanyi Awi Rafael ni, betul-betul mengejutkan Murai Batu. Dengan tidak semena-mena dia terlibat pula dengan kemalangan yang teruk, petang semalam.

Kemalangan tersebut berlaku di Lebuhraya Federal iaitu berhampiran dengan jejantas ala San Francisco yang menghubungkan kawasan Sunway dengan Kelana Jaya.

Masa tu, Awi Rafael baru saja pulang daripada menjayakan satu sesi fotografi dengan sebuah majalah hiburan di Shah Alam dan baju Melayu masih lagi dipakainya bersama samping dan songkok.

Entah macam mana, kereta pacuan 4 roda yang dipandunya terbabas sehingga menyebabkan pintu di bahagian tempat duduk pemandu jadi remuk. Mujurlah, tidak ada apa-apa yang berlaku pada Awi Rafael.

Kalau ada pun setakat terhantuk biasa. Tapi, disebabkan kejadian itu, Murai Batu dengar, Awi Rafael masih lagi dalam keadaan terkejutlah. Yelah, kalau sesiapa pun yang ada kat tempat Awi Rafael pun, mestilah jadi trauma.

Lagipun, kemalangan yang dialaminya tu memang teruk. Korang tengok sendirilah gambarnya. Silap-silap haribulan, memang boleh meragut nyawanya. Tapi, Tuhan masih sayangkan lagi Awi Rafael.

Lagipun, mungkin inilah dugaan Tuhan pada bulan ramadan yang penuh keberkatan ini ya. Kita kena selalu beringat padanya. Yang sedihnya tu, Murai Batu dapat tahu, kereta pacuan roda yang digunakannya itu masih baru dan bukanlah miliknya. -murai.com.my




Ulasan GB



Semuga menjadi iktibar / teladan kepada yang lain-lain juga agar jangan sampai "ditegur" Allah dengan cara sedemikian atau keadaan lebih buruk lagi. Muga semua umat Islam dilimpahi rahmat dan hidayahNya di sepanjang jalan kehidupan.



China's challenge to unite its ethnic groups
Posted: 08 Aug 2011 02:15 AM PDT
This posting includes an audio/video/photo media file: Download Now
Khir Toyo Belum Boleh Beraya Sakan Tahun Ini - Diarah bela Diri Kes Rasuah
Posted: 08 Aug 2011 02:15 AM PDT
K
es rasuah: Dr Khir Toyo diarah bela diri
Mahkamah Tinggi Shah Alam hari ini memerintahkan bekas menteri besar Selangor Dr Mohd Khir Toyo bagi membela dirinya berhubung kes rasuah pemilikan dua lot tanah termasuk sebuah banglo di Seksyen 7 di Shah Alam, empat tahun lalu.
Hakim Datuk Mokhtaruddin Baki berkata pihak pendakwaan telah berjaya membuktikan terdapat kes prima facie ke atas Khir.
Beliau kemudian menetapkan 26 hingga 30 September ini untuk pembelaan yang dijangka mengemukakan sembilan saksi.

Dr Mohd Khir didakwa mendapatkan untuk diri dan isterinya Datin Seri Zahrah Kechik, suatu barangan berharga iaitu dua lot tanah dan sebuah rumah di No 8&10, Jalan Suasa 7/1L di Shah Alam daripada Ditamas Sdn Bhd (Ditamas) melalui pengarahnya, Shamsuddin Haryoni.

Hartanah yang terletak di Seksyen 7 itu diperoleh dengan harga RM3.5 juta, sedangkan ia dibeli oleh Ditamas pada 23 Dis 2004 pada harga RM6.5
juta.

Perbuatan itu didakwa dilakukan dalam keadaan Dr Mohd Khir mengetahui bahawa Shamsuddin mempunyai hubungan dengan tugas rasmi beliau sebagai Menteri Besar Selangor pada ketika itu.

Dr Mohd Khir, yang menjawat jawatan menteri besar dari Ogos 2000 hingga Februari 2008, didakwa mengikut Seksyen 165 Kanun Keseksaan yang memperuntukkan hukuman penjara maksimum dua tahun atau denda atau kedua-dua sekali, jika sabit kesalahan.

Beliau yang juga ADUN Sungai Panjang, didakwa melakukan kesalahan itu di kediaman rasmi menteri besar Selangor di Jalan Permata 7/1, Seksyen 7 di Shah Alam pada 29 Mei 2007.

Dalam prosiding hari ini barisan pendakwaan dan pembelaan masing-masing diketuai Abdul Wahab Mohamad dan M Athimulan.


Seramai 25 saksi pendakwaan telah dipanggil untuk memberikan keterangan pada perbicaraan itu.

Shamsuddin (kanan) pula dilepas dan dibebas daripada tuduhan bersubahat dengan Dr Mohd Khir berhubung pertuduhan itu pada 6 Jun lepas dan seterusnya menjadi saksi pendakwaan kedua dalam perbicaraan kes.

Dalam penghakimannya, Mohtaruddin berkata elemen berkenaan ialah tertuduh adalah penjawat awam pada hari kejadian, tertuduh membeli hartanah daripada Shamsuddin dengan harga belian dikatakan tidak mencukupi dan tertuduh mengetahui Shamsuddin mempunyai hubungan dengan kerja-kerja rasmi beliau sebagai penjawat awam pada hari kejadian. -mk





Istana Ala Bali : Khir Diarah Bela Diri



Mahkamah Tinggi Shah Alam hari ini memerintahkan bekas menteri besar Selangor Dr Mohd Khir Toyo bagi membela dirinya berhubung kes rasuah berkaitan pemilikan dua lot tanah termasuk sebuah banglo di Seksyen 7 di Shah Alam, empat tahun lalu.

Hakim Datuk Mokhtaruddin Baki berkata pihak pendakwaan telah berjaya membuktikan terdapat kes prima facie ke atas Khir.

Mokhtaruddin kemudiannya menetapkan perbicaraan pada 26 hingga 30 September ini.

Khir didakwa mendapatkan untuk diri dan isterinya, Datin Seri Zahrah Kechik, suatu barangan berharga iaitu dua lot tanah dan sebuah rumah di No 8&10, Jalan Suasa 7/1L di Shah Alam daripada Ditamas Sdn Bhd (Ditamas) melalui pengarahnya, Shamsuddin Hayroni.

Hartanah yang terletak di Seksyen 7 di Shah Alam itu diperoleh dengan harga RM3.5 juta, sedangkan ia dibeli oleh Ditamas pada 23 Disember 2004 pada harga RM6.5 juta.

Perbuatan itu didakwa dilakukan dalam keadaan Khir mengetahui bahawa Shamsuddin mempunyai hubungan dengan tugas rasmi beliau sebagai Menteri Besar Selangor pada ketika itu.

Khir yang melepaskan jawatannya sebagai Ketua Pembangkang DUN Selangor itu didakwa mengikut Seksyen 165 Kanun Keseksaan yang memperuntukkan hukuman penjara sehingga dua tahun atau dengan denda atau kedua-duanya sekali, jika sabit kesalahan.

Pendakwaan dijalankan oleh Peguam Negara Tan Sri Abdul Gani Patail yang dibantu Ketua Unit Pendakwa Raya Jabatan Peguam Negara, Datuk Tun Abdul Majid Tun Hamzah.

Khir diwakili peguam M.Athimulan dan Mohd Afifuddin Hafifi. -tvsnews


This posting includes an audio/video/photo media file: Download Now
Buffet Ramadhan 2011 At Holiday Villa Subang
Posted: 07 Aug 2011 11:56 PM PDT
Ramadhan this year has been very good to us. Now that I have moved to a new office that's pretty much 10 minutes away, I have more time for myself in the history of my working life. During Ramadhan the initial 8.30am-6.00pm office hours is now 8.00am-4.15pm! If I leave tajam-tajam at 4.30pm, by 4.45pm I would be wandering and wandering at the Bazaar Ramadhan already…
At that time, very few people are shopping for food but all the stalls are ready with their tempting kuih-muih and mouth-watering nasi kerabu, sate, muratabak..you name it! But since I got to be home early, I have been cooking for iftar as well and that's awesome too. Miki doesn't really eat Bazaar Ramadhan food.. picky eater he is…
Talk about picky eating, we had not problem at all feeding Miki at the Buffet Ramadhan in Holliday Villa, Subang recently. In fact we really enjoyed ourselves with the super yummy food that they serve.
Siapa tak enjoy kalau they have 270 dishes to offer. Boleh? Punya lah banyak! Ada Daging Tetel Masak Lemak Ubi Kentang, Udang Kuku Kerabu Mangga, Sotong Sambal Tumis Jering, Kambing Bami, Ikan Sembilang Salai Cili Padi, Nasi Rampai Daun Pudina, Gulai Ayam Cekur, Tomato Daniya Shoba, Siput Sedut Batang Keladi, Tumis Batang Teratai Daging Picisan, Stir Fried Broccoli dengan Oyster Sauce, Butter Crab dengan Crispy Kailan.. etc etc…
In case you have have never been there, the Ramadan Buffet is held at Palm Terrace Coffeehouse. Most importantly, THE PRICE! It's affordable here, you know!
This Ramadhan Buffet Dinner priced at RM77++ per adult and RM57++ per child only. Unlike other places they serves up to RM120 per pax, phew! Another cool thing is, if you come for the first three days of Ramadhan (oops dah terlepas!) and the last three days of Ramadhan (still got time for KL folks but aku dah balik kampung time ni!)  you will be able to enjoy 50% discount! Huuu banyak tu!
Ok let's check out the pics.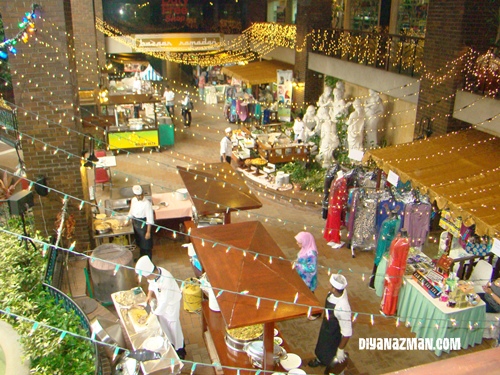 Set up of the booth is such a way that it seems so meriah!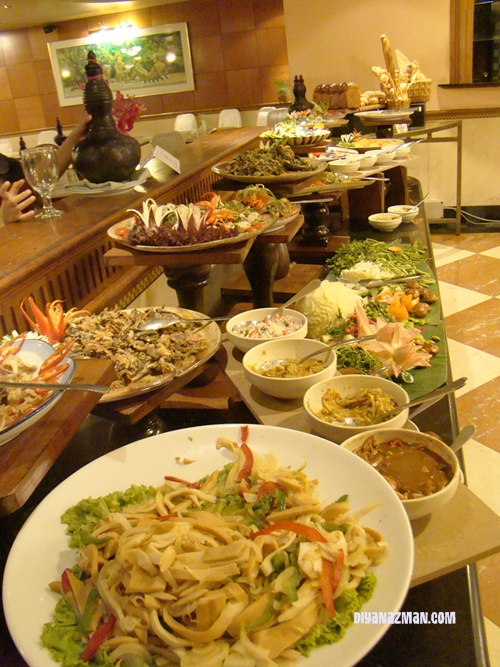 Kerabu-kerabi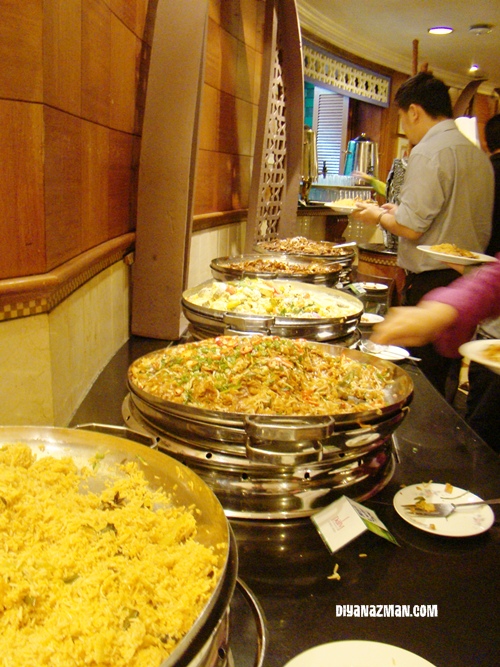 Nampak tu.. nasi minyak, kuey teow goreng… etc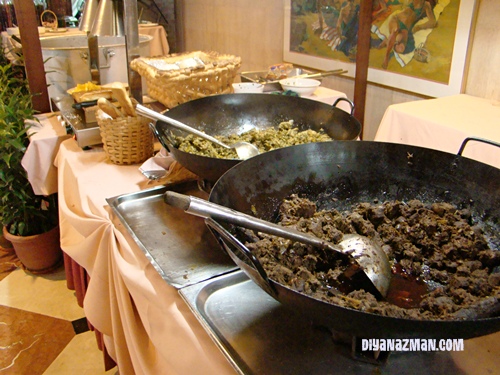 Rendang Tok and rendang ayam… My favorite!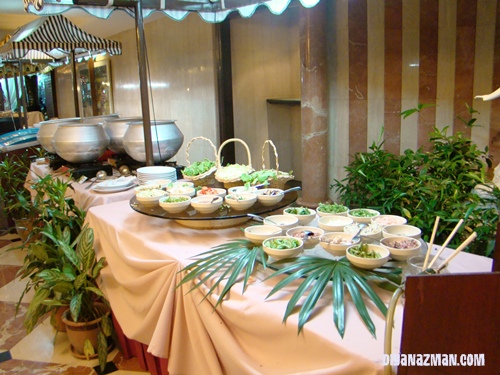 Noodles section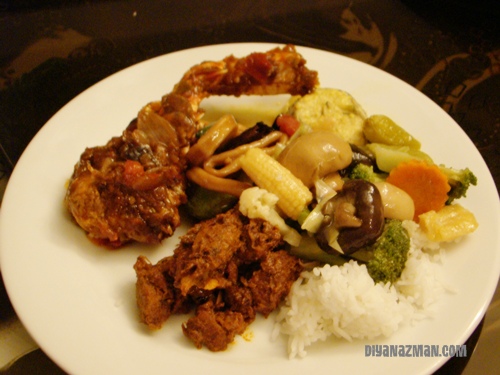 My starter.. starter??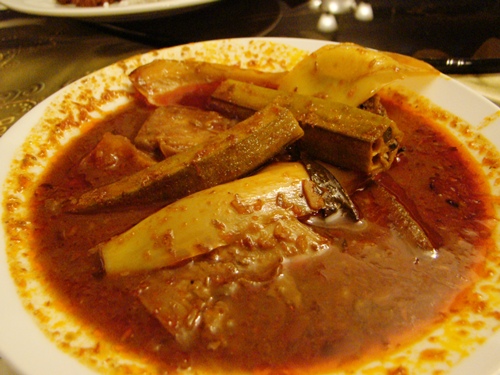 Asam pedas ikan pari dengan kacang bendi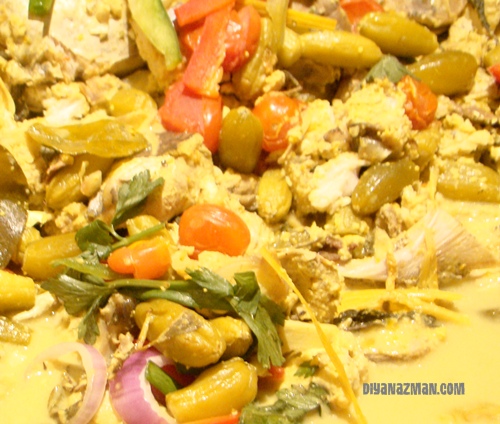 Inilah yang terbaekkk..Masak lemak cili padi ikan duri dengan belimbing buluh…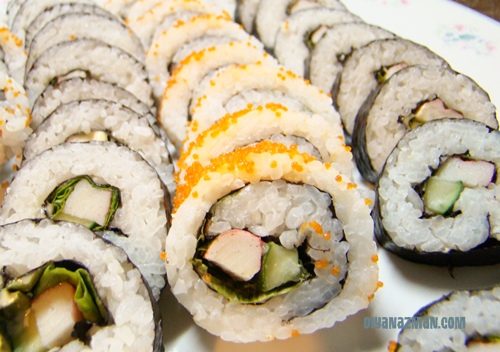 Sushi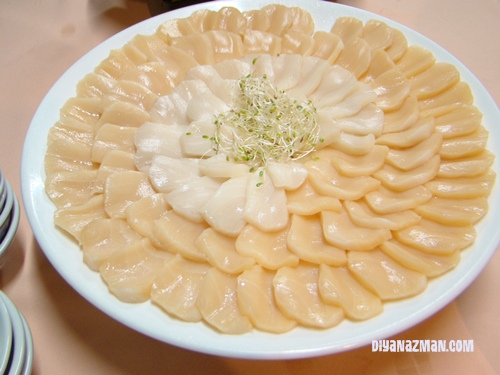 Sashimi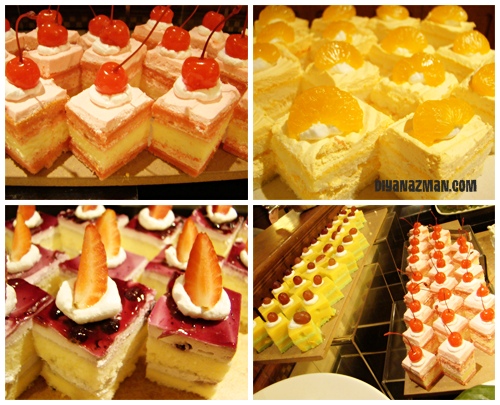 Cakes! Yummy! Actually I wanted to take more photos but I was too busy eating and chit-chatting with fellow bloggers and staff of Holiday Villa Subang. They also have pulut kuah durian, pulut kuning yang sedap! I love it..
Miki also enjoyed himself with freshly cooked pasta. Memang banyak Miki makan nowadays, satay, nasi himpit, beriani semua dia telan!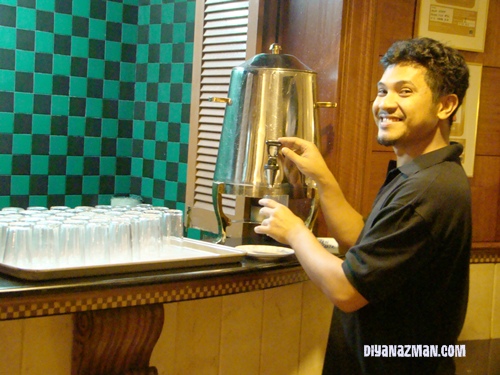 Ni Daddy Miki posing sambil ambik teh tarik…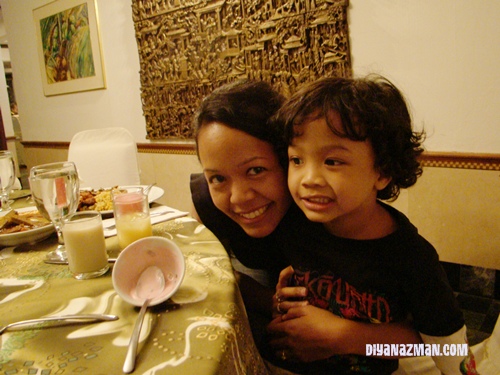 Me and Miki yang baru habiskan semangkuk ice-cream…
I would like to thank Holliday Villa Subang for inviting us. Opps where is the group photo? I'll update later lah… Thanks to my blogger friend Thristhan for inviting! For my friends who are reading this, in case you wanna get in touc with Holiday Villa, here is the number:-
For booking and Reservations, Kindly contact the hotel directly at:
HOLIDAY VILLA HOTEL & SUITES SUBANG
Tel: (6-03) 5633-8788
Have a nice day everyone!
BERS✔H 2.0 : Mahfuz & Salahuddin Fail Saman KPN, Tiga Lain
Posted: 08 Aug 2011 12:04 AM PDT
D
ua Naib Presiden PAS Saman IGP, Tiga lain
Dua naib presiden PAS Salahuddin Ayub dan Datuk Mahfuz Omar hari ini memfailkan saman terhadap Ketua Polis Negara Tan Sri Ismail Omar, kerajaan Malaysia dan dua lagi pegawai polis ekoran tindakan pihak berkuasa menahan mereka ketika hari perhimpunan Bersih 2.0 bulan lalu.
Saman difailkan di Mahkamah Tinggi Kuala Lumpur di sini melalui Tetuan Faiz Fadzil & Co pada pukul 10.30 pagi tadi.
Turut dinamakan sebagai defendan ialah Inspektor Mohd Zaid Madzizat dan Ketua Polis Daerah Brickfields.

Menurut Mahfuz (gambar), pihaknya menuntut ganti rugi am, ganti rugi teruk dan ganti rugi teladan daripada semua defendan berikutan tangkapan yang didakwa beliau menjatuhkan imej sebagai seorang wakil rakyat.

Tindakan saman itu dibuat ekoran penahanan kedua-dua mereka pada 9 Julai lalu yang disifatkan tidak sah.

Kedua-dua mereka memfailkan saman secara berasingan.

"Hari ini kita telah memfailkan saman malu berikutan tangkapan salah pada Himpunan Bersih 2.0, 9 Julai lalu di KL Sentral, tangkapan itu bertentangan dengan perintah mahkamah dan undang-undang negara.

"KL Sentral bukan tempat larangan, kami tidak pernah melakukan apa-apa kesalahan, kami juga tidak dinyatakan mengapa kami ditahan dan polis juga tidak mengambil apa-apa keterangan kami sepanjang ditahan di Balai Polis Jinjang," kata Mahfuz.

Ahli Parlimen Pokok Sena ini berkata tindakan pihak berkuasa menahan mereka berdua adalah satu perkara yang memalukan.

"Tangkapan ini memberi gambaran yang salah tentang kami. Oleh itu, kami menuntut ganti rugi am, ganti rugi teruk dan ganti rugi teladan.

"Selain itu, kami juga mahu faedah pada kadar lapan peratus setahun ke atas jumlah penghakiman dari tarikh writ saman sehingga penyelesaian penuh, kos dan lain-lain relif atau perintah yang difikirkan perlu oleh mahkamah," katanya.

Tambah Mahfuz, jumlah saman akan dibincangkan dengan peguam mereka Zulhazmi Shariff tapi secara berseloroh berkata "tidak kurang daripada RM1 juta."

Sementara itu Salahuddin yang juga Ahli Parlimen Kubang Kerian berkata, tindakan mereka adalah satu peringatan kepada pihak berkuasa agar bertindak mengikut undang-undang yang ditetapkan.

"Ini sebagai satu peringatan dan pengajaran kepada mereka yang terlibat, lain kali mereka perlu mengikut undang-undang yang ditetapkan," katanya.

Mereka juga telah membuat satu laporan polis pada 11 Julai.

Pada 9 Julai lalu, Mahfuz dan Salahuddin telah ditahan di KL Sentral pada pukul 11.50 pagi sebelum dibawa ke Balai Polis Jinjang.

Mereka dibebaskan kira-kira pukul 9.30 malam dan sepanjang tempoh penahanan mereka juga tidak dibenarkan untuk menghubungi sesiapa termasuk peguam.

Pada Himpunan Bersih 2.0 itu hampir 1,700 orang ditahan termasuk pemimpin Gabungan Pilihan Raya Bersih dan Adil (Bersih 2.0) dan Pakatan Rakyat.

Perhimpunan itu dianjurkan oleh Bersih 2.0 menuntut pembaharuan sistem pilihan raya.
-TMI Foto: FMT


Bersih 2.0: PAS veeps Salahuddin Ayub & Mahfuz Omar sue gov't & police
Posted: 07 Aug 2011 11:00 PM PDT
PAS vice-presidents Salahuddin Ayub and Mahfuz Omar today filed a suit against the federal government and inspector-general of police Ismail Omar for "wrongful arrest" during the Bersih 2.0 rally on July 9.

The suit named Brickfields district police headquarters chief Wan Abdul Bari Wan Abdul Khalid and arresting officer Mohd Zaid Mazizat as respondents.
In separate civil suits filed this morning at the Kuala Lumpur High Court, the duo claimed that the arrests had defamed them and are seeking general, aggravated and exemplary damages.
The double suits are the third of over 50 individual suits - with the first one being initiated last Thursday - which the Islamic party claims it will be filling against the government and police for various arrests made on July 9,

Salahuddin (left) said, "We are filing these lawsuits as a reminder and lesson to government bodies to be meticulous and cautious in carrying out their duties. This is not for us but a lesson (for the authorities) that laws must be observed justly and not as how we were treated on July 9."

The two are being represented by PAS Youth's legal bureau lawyer Zulhazmi Shariff and law firm Tetuan Faiz Fadzil & Co.
Taib's 'rogue' PR campaign, thanks to Najib
Posted: 07 Aug 2011 10:33 PM PDT
CORRUPT BARISAN NASIONAL : KUCHING: When Sarawak Chief Minister Taib Mahmud hired FBC Media, it was to counter widespread negative reports of him.
Nothing wrong with hiring a PR company, is there?
Taib needed it, more so after revelations surfaced of his immense personal wealth and billions of dollars in global business links allegedly derived from timber concessions dating back to the 1980s.
The Swiss-based Bruno Manser Fund had linked and blacklisted 49-companies in eight countries to Taib and his family.
To top this opposition, environmentalists and conservationist here and abroad have claimed that under his rule 70% of Sarawak's rainforest have been deforested and indigenous communities marginalised, abused and ignored.
Indeed, Taib needed a 'lifesaving' campaign going into Sarawak's 10th state elections which was held on April 16.
So, he asked his 'chief' Barisan Nasional head-honcho Najib Tun Razak's help.
Najib recommended FBC Media. The company knew the drill, having been on Malaysia's RM28 million-a year payroll since Najib commissioned them to perform a 'Global Strategic Communications Campaign' to prop his and the BN government's image, following the coalition's 'crash' in the 2008 general election.
So, meeting Taib's desperate need to quash allegations of widespread corruption in his administration, his personal wealth and his family's oppulent lifestyle amidst claims of deforestation, land grabs, natives abuse and Sarawakian poverty,  was easy.
All he needed was a rogue PR campaign.
The 'deal' with Taib
The US$5million-a-year deal between Taib and FBC Media was for the latter to mastermind a cyber-war against online critics of the chief minister's corrupt government.
And in this 'war', FBC Media was to recruit as many renegades writers, blogs and television shows as possible to achieve their aim.
At the onset of the deal between Taib and FBC Media, the company's chairman Alan Friedman said US$55,000 (RM165,00) per month would be spent for blogging operations.
And this would include "online digital strategy and blogging, site creation and management, blogging and articles, video reports on line".
A RM138,000 per month budget was set aside for "in-bound press and blogger visits, press, foreign visit support, interview placement, writing, disseminating, media training, media analysis and mapping" services"
Revealing these details in its posting today, Sarawak Report noted that Friedman said he had "the tools and international experience to make a genuine and visible difference".
Friedman allegedly told Taib that he would "work both on the positive messages and to counter negative perceptions and falsehoods that have been spread unfairly about environmental matters ranging from the Bakun Dam, timber, mining and palm oil.
"We would also counter false allegations that have been made about corruption.
"Television reporting and an interview with yourself plus press tours and online sites and special blogging that should provide a blanket of positive messaging about you and Sarawak to the Western media".
Paid for PR spins
Having inked the deal with Taib, Friedman roped in an obsure US website, New Ledger, which is operated by Josh Trevino.
Many of the 'feel good' reports on Taib, Najib and Co were first posted on New Ledger.
Incidently, New Ledger, is an off-shoot of the US-Republican blog, Red State
Trevino also has a hand in Rogue Strategic Services which actively represent 'high-paying' clients on blogsphere.
It is Trevino and his team's reach on the US blogsphere that has allegedly spawned the paid-for advertorials about Taib, Najib and the BN administration these past months.
FBC Media is presently being investigated by both UK broadcaster BBC and US-based CNBC over their practices.
[Video] Prof Dr Ariffin Omar Sertai DAP
Posted: 07 Aug 2011 11:05 PM PDT
T
okoh akademik dan pakar sejarah budaya Prof Dr Ariffin Omar hari ini mengumumkan penyertaannya ke dalam DAP sekali gus meneruskan perjuangan menentang politik perkauman dan menggalakkan hubungan erat antara kaum.
Beliau menyertai DAP atas keyakinan bahawa parti itu bukan sahaja ditegakkan atas dasar berbilang kaum tetapi juga mengamalkan politik yang menolak perkauman.
"Pemilihan parti ini bagi saya ialah kerana ia tidak mementingkan kaum sebaliknya berorientasikan kaum dan mewakili semua kaum"katanya.

"Selama lebih 30 tahun saya aktif dalam gerakan hak asasi manusia serta menentang korupsi dan salah guna kuasa serta menggalakkan amalan demokrasi," katanya dalam satu sidang akhbar di sini hari ini.

Dr Ariffin, 62, adalah pensyarah di Universiti Pertahanan Malaysia, Kuala Lumpur.

Beliau yang dilahir dan dibesarkan di Pulau Pinang bersekolah di St Xavier's Institution, sebelum ke Universiti Sains Malaysia untuk memperolehi ijazah sarjana muda (B.A.).

Beliau melanjutkan pengajian tinggi di Singapore University dengan memperolehi ijazah sarjana (M.A.). Setelah mengajar di USM, beliau memasuki Australian National University untuk memperolehi ijazah doktor falsafah (PhD) pada 1991.

Beliau terkenal sebagai salah seorang pengasas gerakan hak asasi manusia dan kebebasan bersuara Aliran pada 1977.

Karya beliau yang terkenal serta menjadi rujukan kolej dan universiti antarabangsa ialah Bangsa Melayu: Malay Concepts of Democracy and Community 1945 – 1950 terbitan Oxford University Press, 1993.

Beliau juga adalah pengarang buku Revolusi Indonesia dan Bangsa Melayu: Runtuhnya Kerajaan-Kerajaan Melayu Sumatera Timur pada Tahun 1946 (2001, USM Press) yang memaparkan kajian tentang kejatuhan pemerintahan diraja di Sumatra Timur pada 1946, dan buku Bumiputra Policies: Dynamics and Dilemmas (2004, Kajian Malaysia) mengenai masalah negara yang berlaku akibat kerajaan mengenepikan keadilan sosial di Malaysia.

Dr Ariffin yang juga seorang Fulbright Fellow di University of Utah, Amerika Syarikat, kini sedang menulis buku mengenai hubungan antara kaum dan kebebasan beragama di Malaysia.

Turut hadir dalam sidang akhbar itu adalah Setiausaha Agung DAP Lim Guan Eng, Ketua Pemuda DAP Anthony Loke, Setiausaha Antarabangsa DAP Liew Chin Tong dan Setiausaha Politik kepada Setiausaha Agung DAP Zairil Khir Johari. -tvsnews






This posting includes an audio/video/photo media file: Download Now
Asri: NO law against non-Muslims to extend assistance to Muslims in need!
Posted: 07 Aug 2011 10:29 PM PDT
Outspoken religious scholar Mohd Asri Zainul Abidin has urged Muslims in positions of authority in religious bodies to cease their knee-jerk reactions to those of the community who - denied help by their own brethren - turn to other religious communities for help.
Commenting on the controversial raid by the Selangor Islamic Religious Department (Jais) on a multiracial dinner organised in a church compound in which poor Muslims were allegedly involved in proselytising efforts, Asri (
right
) said Islamic bodies have no one to fault but themselves if poor and vulnerable Muslims accept offers of assistance from non-Muslim based organisations and if such people in need are in such a state as to compromise their religious faith in order to gain material assistance, it is only human nature that they come under the influence of those who accord them better treatment.
Asri also noted that it is not against the law for Muslims to receive help from non-Muslims, what more when then former are in difficulty and neither is it wrong for non-Muslims to extend assistance to those they seek to help.

Asri said, "Just because we fail to help, let's not blame others for extending their hand."
Read another article by The Malaysian Insider:
By Boo Su-Lyn
August 07, 2011
The hundreds of millions in zakat collections annually made the difficulty for Muslims to secure aid dubious, said Asri. — File pic
KUALA LUMPUR, Aug 7 — Influential cleric Dr Mohd Asri Zainul Abidin questioned today if red tape and the lack of state alms have forced impoverished Muslims to seek help from Christian churches.
The former Perlis mufti said it was not a sin for destitute Muslims to receive aid from non-Muslims, pointing out that the blame lay with practitioners of Islam who were supposed to help their fellow believers.
"Where have all our wang zakat (alms) gone? Collections of hundreds of millions of ringgit are announced every year," said Asri in an essay sent to The Malaysian Insider today.
"Is it not enough to help the poor get out of their poverty without them having to ask others for help?" he questioned.
Pro-Umno newspapers Berita Harian and Harian Metro have highlighted since yesterday allegations that Christian organisations are secretly trying to convert impoverished Muslims through welfare aid.
The Malay dailies also reported today a Muslim woman claiming that she was forced to accept cash and free food from a church, after failing to get aid from Baitulmal or the state fund for the poor, which is generated from tithes collected from mosques.
The reports came after the Selangor Islamic Religious Department (Jais) and the police raided a multiracial dinner at the Damansara Utama Methodist Church in Petaling Jaya on Wednesday night, based on an allegation that Christians were proselytising to Muslim guests.
"Why is there so much red tape blocking the poor from getting alms? There is so much red tape just to get even RM100 to RM200. This is despite the zakat offices looking opulent, the high salaries for officers and bosses, and advanced equipment," Asri lamented.
"Is the high cost meant only to find donors, but without sufficient willpower to find suitable recipients?" he asked.
The Muslim cleric queried how the zakat administration could fail to help destitute Muslims, so much so they longed to leave their faith.
"It is the right of anyone to help whomever they want. As long as rules and laws are followed, one can help another regardless of race or religion," said Asri.
He also said it was peculiar for Muslims to renounce their faith in the Muslim-majority country because of unsatisfactory treatment from their fellow believers.
"There are many questions that Muslims must ask themselves before blaming others," said Asri.
Christian churches demanded yesterday for evidence behind allegations that Christian charity groups were involved in covert conversions.
A priest has dismissed such allegations as old rumours used to pit Muslims against Christians.
Posted: 07 Aug 2011 10:01 PM PDT
BAKAT BERKARAT ... sehari selepas mesyuarat di rumah Datuk Steven, beliau menyertai kami di harijadi pertama anak buah saya, Ian Ethan Lester Bingkasan, di Kg Kionsom. Dan sempat jugalah cuba mencungkil skill dulu dulu.... "need more practice" dorang bilang hehe
SEBAGAIMANA dalam siaran media oleh Ketua Upko Sepanggar (US) Datuk Steven K Kutai ini, saya adalah antara yang hadir dalam mesyuarat di kediaman beliau hujung minggu lalu. Cukup terharu melihat semangat teman-teman seperjuangan yang bersungguh-sungguh mahu memberikan alternatif serta wadah kepada masyarakat kita untuk terus terlibat secara langsung dalam arus perdana pembangunan negara. Semoga perjuangan ikhlas ini beroleh kejayaan.
UPKO TUNTUT SEPANGGAR
INANAM, 7 Ogos 2011: Upko Sepanggar sebulat suara memohon untuk diberikan peluang bertanding dalam pilihanraya umum ke-13 yang menjelang tiba.
"Upko menuntut Sepanggar. Itulah resolusi yang kami persetujui dalam mesyuarat gilang gemilang kami di Kokol, Menggatal bulan lalu," kata Datuk Steven K Kutai, ketua Upko Sepanggar (US) kepada media di sini hari ini.
"Tuntutan yang berlandaskan konsep perkongsian kuasa Barisan Nasional ini disokong padu oleh lebih 5,000 ahli Upko Sepanggar," tambahnya lagi.
Kutai ditemui media yang bertanya beliau mengenai hasilan mesyuarat pertama Ahli Jawatankuasa US yang telah diadakan di kediaman beliau pada malam 5 Ogos.
"Kami berterima kasih kepada para perwakilan Mesyuarat Agung Tritahunan Upko Sepanggar pada 17 Julai lalu yang meneruskan komitmen jitu serta berwawasan dalam Upko," kata Kutai.
"Barisan kepimpinan Upko Sepanggar akur dengan suara rakyat agar kami mewakili kerusi Parlimen Sepanggar. Kami sudah memaklumkan hasrat ini kepada pucuk pimpinan tertinggi Upko, dan kami berharap ia akan dipersetujui," tambah beliau.
Ditanya kemungkinan niat US itu boleh mencetuskan suasana tegang dikalangan parti komponen di Sepanggar, Kutai percaya BN sudah cukup matang dalam perkara itu.
"Kami menyatakan keinginan semua ahli kami. Begitu juga parti BN yang lain. Yang penting, setelah keputusan dibuat mengenai parti yang akan bertanding nanti, semua ahli komponen BN akan bersatu padu memenangkan siapapun juga calon. Itulah yang telah Upko Sepanggar buat selama ini, sekali gus memastikan Sepanggar kekal diwakili oleh parti pemerintah," tegas beliau.
Kutai juga berkata AJK semalam berterima kasih kepada 188 orang yang menyerahkan borang permohonan menjadi ahli Upko semasa di Kokol.
"Kami juga sedang memproses banyak lagi permohonan untuk menyertai kami. Semua ini mencetuskan semangat baru agar kami terus disiplin dalam parti dan berjuang, dengan cara kami yang tersendiri, demi kemajuan berterusan masyarakat kita dan Negara," kata beliau.
Mesyuarat semalam dihadiri oleh barisan baru AJK Sepanggar yang dipilih dalam MAT lalu, termasuk bekas naib ketua Albert Bingkasan yang menang tanpa tanding bagi jawatan Timbalan Ketua Bahagian.
Lebih 500 perwakilan dan pemerhati memeriahkan MAT lalu yang diakhiri dengan majlis kesyukuran kerana kejayaan US menjadi hos Rumah Terbuka Tadau Kaamatan Upko Nasional di Menggatal pada Mei lalu.
Malam gelap gulita Kokol ketika itu juga diterangi oleh pertunjukan bunga api.
Kerusi Parlimen Sepanggar dimenangi oleh BN melalui parti SAPP dalam pilihanraya umum ke-12 pada 2008. Walau bagaimanapun, SAPP telah keluar daripada BN dan menjadi pembangkang.
Dua kerusi Dewan Undangan Negeri dalam Sepanggar di wakili komponen BN yakni Inanam oleh Parti Bersatu Sabah manakala Karambuni oleh Umno