---
Posted: 24 Nov 2011 08:21 AM PST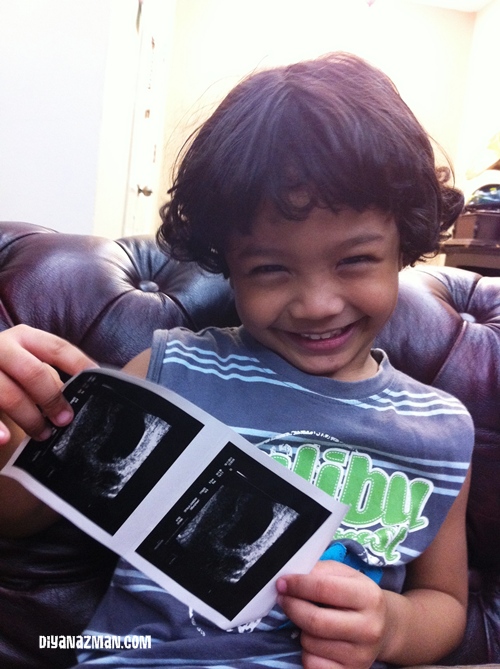 I wanted to keep it a secret for 3-4 months but I got kantoi-ed at three different occasions.
One -I peed on the stick right on the day that I was supposed to raise my red flag. Immediately we saw the double lines so bright and clear. Talk about knowing my own body! We told Miki that he is going to be an Abang and he was pleased. The next day at breakfast, his friend from the babysitter's sat at the next table with his parents. And Miki proudly declared to them at the restaurant, "MIKI NAK JADI ABANG!".  Baru 2 hari dah kantoi.. thanks Miki.
Two  – I went to lunch with my colleagues and the road to Puncak Jalil was so freaking winding, the moment we pulled over back at the office, I puked out my entire RM15 lunch. Nasib baik RM15, kalau RM20?
Three – I was hungry and I posted a Facebook status that reminded my friends of the horror they had to face in dealing with the Ferocious Eating Monster three years ago. They knew me too well..Thanks buddies! I love you all too!

So there you go internet! Insya Allah I will be a Mom of two. Due date – July 2012. Been feeling badly sick and hungry almost immediately after I discovered the double lines. Which explains the absence of new entries in this blog.
But Mommy's back now fellas!
Windy, boncit and bloated! I am loving it! Alhamdulillah…
Which politician would you like to slap most?!
Posted: 24 Nov 2011 08:07 AM PST
If you got the opportunity to express your disappointment, anger or frustration over matters that adversely affect your life, carrier or your family, what would you do?
And if you are given the chance to vent it on someone, especially a minister or a politician (BN or PR), who would you choose?
In India, Indian agriculture minister Sharad Pawar (pic) has been
slapped at a public function
by a youth who claimed he was angry with corruption and price hike, local media reports.
Harvinder Singh, a transporter in his thirties, had been sentenced for assaulting former telecom minister Sukhram on Saturday, before the latest assault took place at a public auditorium on Parliament Street on Thursday.
Later, Pawar reacted to the incident calling it stupid and that he did not make much out of it, NDTV said.
"I was answering some questions by a group of journalists when I saw this man coming towards me and I thought he wanted to ask me a question. I don't know what his intention was. It is up to the police whether they want to press charges against him or not.
Prime minister Manmohan Singh and finance minister Pranab Mukherjee have condemned the attack on Pawar.
Reacting to the assault on Pawar, anti-corruption campaigner Anna Hazare asked, "...only one slap?"
I don't recall any similar incidents took place in Malaysia, except for former PM Tun Dr Mahathir Mohamad who was 'attacked' by chilly powder at a Kelantan airport a few years ago.
It also reminds me of Iraqi journalist Muntazar al-Zaidi who threw shoes at George Bush during the US leader's visit to Baghdad in 2008.
Well, leaders and politicians alike should stay clear of such assaults, don't you think so? If they are nice, good and performing, they should be okay, I suppose...
New assembly law 'revolutionarily' repressive, Najib!
Posted: 24 Nov 2011 07:44 AM PST
UPDATED @ 03:46:30 PM 24-11-2011
By Clara Chooi
November 24, 2011
Demonstrations such as the July 9 Bersih 2.0 rally are expressly forbidden by the proposed assembly law. — File pic
KUALA LUMPUR, Nov 24 — Rubbishing accusations that the Peaceful Assembly Bill was repressive, Datuk Seri Najib Razak today instead declared it a "revolutionary" law and a "giant leap" towards improving individual freedom.
The prime minister pointed out to opposition lawmakers in Parliament that under the new legislation, the powers of the police would be capped and punitive action against protestors reduced to only fines instead of jail sentences.
"We aware, however, that no matter how noble the government's intentions are, the opposition has already objected to the law.
"Supposedly, it chokes freedom to assemble. Is this allegation true? The answer: Not true at all," he said when tabling a motion to lift three Emergency declarations today.
Najib reminded Pakatan Rakyat (PR) representatives that provisions under the Bill prohibit the police from blocking any peaceful assembly from taking place.
He said protestors would merely be barred from holding gatherings at areas gazetted as prohibited zones under the law, such as hospitals, schools and places of worship.
He added that should any assembly required the provision of notice to the authorities, as stipulated under section 9(1) of the Bill, a reasonable timeframe would be given to the authorities to respond.
"And if the response is not given within this timeframe, the assembly can proceed under the protection of the law," he said.
"It proves that based on these abovementioned principles, the opposition's allegations are totally untrue.
"It is clear that this law is revolutionary in nature and a giant leap in terms of improving on current laws," Najib said.
The prime minister, smiling at the occasional chatter from the MPs in the House, added that the government was committed to Article 10 of the Federal Constitution which states that every citizen has the right to assemble peacefully without the use of weapons.
However, he said, it was also the government's "constitutional responsibility" to ensure that national security and public peace continues to be protected.
"We must understand that in this respect, we are looking not only on the right to assembly but also the rights of those who want freedom and peace to continue with their lives," he said.
Opposition lawmakers and civil society groups have objected to the Peaceful Assembly Bill, tabled in the House on Tuesday, claiming it was more repressive than previous laws on public assembly, and that it simply meant "people could not gather anywhere in Malaysia."
PR de facto leader Datuk Seri Anwar Ibrahim said yesterday that opposition MPs will oppose the Bill during debates in the House.
Section 27 of the Bill states that public gatherings cannot be held in the following areas: petrol stations, hospitals, fire stations, airports, railways, land public transport terminals, ports, canals, docks, bridges, places of worship, kindergartens and schools as well as dams and reservoirs.
It states that no street protests are allowed, and bars any assembly in or within a 50-metre buffer zone around the listed prohibited areas.
Section 9 (5) of the Bill allows the police to fine organisers up to RM10,000 if no advance notice of a planned assembly is given to the authorities.
Section 20 (1) (c) allows for police to arrest anyone who brings or recruits children in an assembly.
Section 21 (3) allows protesters arrested by police to be fined up to RM20,000.
The new law says that there also must be 30 days' advance notice for assemblies except for designated areas defined by the home minister. The assemblies can then proceed unless there is objection by the police.
Simultaneous assemblies may be held, but this is subject to the discretion of the police. If a "counter assembly" should cause potential conflict with another assembly nearby, police have the right to name an alternative location and time for the counter assembly to be held.
Individuals under 21 years of age not allowed to organise assemblies and children under 15 are not allowed to participate in assemblies except for cultural and religious ones like funeral corteges or events approved by the home minister.
The prime minister promised a raft of reforms in his Malaysia Day address on September 15, including the repeal of the controversial Internal Security Act (ISA) and doing away with annual permits for the print media, saying he wanted to give Malaysians more freedom.
Posted: 24 Nov 2011 07:37 AM PST
Here's an article by Dean Johns, my favourite columnist from
Malaysiakini:
Paradise For Parasites
Malaysia has all it takes to be an earthly paradise. A benign climate, a fertile environment, a wealth of natural resources, a rich mix of intelligent, industrious and amiable people, and some of the world's finest food.
But unhappily the very fecundity of the country and the good nature of the populace also make it a veritable paradise for parasites.
Malaysia's Umno/BN regime has been fattening itself and its cronies at the nation's expense for decades, and eaten away most of the people's human rights, civil liberties and legal protections - the better to feel free to feed its insatiable greed.
As the 13th general election draws nearer and the signs grow that Malaysians are as sick of their parasitical rulers as their fellows in the Arab world, the government is making frantic attempts to convince voters that it is cleaning up its act.
But paradoxically, the more this regime pretends to reform and transform itself, the more its honeyed words are contradicted by its heinous deeds.
In fact, in the past few weeks, far from suspending its parasitical activities, it seems to have been engaging in an outright feeding frenzy.
The most evident examples of this - appropriately enough in light of the fact that Umno/BN views 'ordinary' Malaysians as so many dumb animals to be farmed, fleeced and otherwise exploited - have been events in the stock market and livestock industry.
Those in the know have apparently made a killing in the shares of Tricubes Bhd, the formerly failing company that was mysteriously selected last year as the beneficiary of the 1Malaysia Email project.
Since renamed MyEmail, this project has not proven to be the cash-cow that Umno/BN intended it to be. So recently, Tricubes was - with the usual lack of tender or transparency - given the prize of collecting traffic fines through ATMs and issuing summons information via SMS.
Naturally the price of Tricubes shares soared on this 'surprise' news, no doubt to the delight of insider traders.
Bumper harvest for some
But the 50 percent bonus for Tricubes shareholders was chicken-feed compared with the 2,575 percent feast for those smart enough or sufficiently forewarned as to hold shares in little-known timber-products company, Harvest Court Industries Bhd.
The price jumped from 8 sen to more than RM2 on the news that Mohd Nazifuddin Najib, second son of Prime Minister Najib Abdul Razak, had been appointed to its board of directors.
azlanNazifuddin reportedly owned 3 million of these shares or 1.7 percent of the company and his business partner Raymond Chan 13.8 percent or around 20 million shares, so the 24-fold increase in price was a nice little earner for them and all others concerned.
And now we all watch with interest to see if Harvest Court Industries gets as lucky as Tricubes when it comes to the awarding of government contracts.
Or 'soft' loans, like the RM250 million in capital advanced to the husband and children of Women, Family and Community Development Minister Shahrizat Abdul Jalil, to fund the National Feedlot Corporation (NFC).
The full, sleazy story of the NFC is too long to relate here, and in any case it has been common knowledge for weeks, and subject to so much scathing comment that all possible puns and on the subject have, much to my disappointment, long been used up.
But for any reader not yet aware of this scam, highlights include losses of RM7 million in 2008, RM11 million in 2009, expenditure of RM827,000 on an overseas holiday by the family owners in 2009, and the recent purchase of two condominiums for RM6.9 million each.
Shahrizat, who owes her own political position to typical Umno/BN largesse, having been humiliatingly defeated in the 2008 general election and restored to her ministerial position through her subsequent back-door appointment as a senator, has defended her family against charges of malfeasance with the comment that they "work very hard".
Akhairy and shahrizat umnond lots of other Umno/BN fat-cats have rushed to her and her feed-alot family's defence. One of the most prominent of these defenders of the indefensible has been Khairy Jamaluddin, who as we all recall had his early public career funded by ECM Libra Bhd.
As ECM Libra chairperson Kalimullah Masheerul Hassan told the High Court recently, despite the fact that Jamaluddin was a "relatively junior staff" he was also appointed a director of the company when he joined it in 2004.
Kalimullah denied that "preparations were made to bring Jamaluddin into the company as a shareholder on the basis of his relationship with Abdullah (Ahmad Badawi), who was finance minister at the time".
But he reportedly did concede that "people have connection with businessmen and politicians...the more the relationship the more easy for business to be done. It is good to have someone who has good connections."
muhyiddin yasin muhyiddin yassinAs if the whole world isn't aware that good connections are everything in the Umno/BN system of nepotism and cronyism, lots of other well-connected figures joined Khairy in rushing to the rescue of Shahrizat and her family.
The most arrogantly dismissive and arguably least persuasive of these apologists has been Deputy Prime Minister Muhyiddin Yassin, who claimed that the government was "well aware of the status of the issue" and declared that "we will not swallow every story concocted by the opposition".
When pressed by an interviewer on whether the government is satisfied with the NFC's explanation of the apparently scandalous state of its affairs, he replied that "that is up to the public, whether to accept it or not".
Terminal infestation
From what I've seen so far there is no sign that the public has accepted this latest in a long, long line of financial depredations committed by the increasingly desperate desperadoes of Umno/BN.
And no sign that the public is falling for the regime's customary diversions. One of its latest schemes to distract attention from its creaming-off the nation's wealth with scams like the NFC, the chain of shops known as Kedai Rakyat 1Malaysia (KR1M), appears to be just a scam for bilking and milking the poor and needy.
Milk powder sold under the KR1M 'brand' has allegedly been found to contain up to six times the safe level of Vitamin A, and chilli sauce to be contaminated with unhealthy levels of lead and mercury.
And into the bargain, KR1M prices have been shown to be little if any cheaper than those in some respectable commercial supermarkets.
But not satisfied with endangering Malaysians' health and cheating them of their hard-earned money, Umno/BN also takes a terrible toll of public morale.
By tolerating if not supporting such ignorant bigots as Selangor exco Hasan Ali, who revealed a claim by the Selangor Islamic Affairs Department that Christians are proselytising Muslims using "solar-powered hand-held talking bibles".
Almost as ridiculous a departure from reality has been the call by Inspector-General of Police Ismail Omar for the public to provide him and his forces of outlaw and disorder with new ideas on how to reduce the crime rate.
And arguably the most insulting recent diversionary tactic of all is the campaign by Malaysian Anti-Corruption Commission (MACC) chief commissioner Abu Kassim Mohamed, for young Malaysians to be educated and enlisted in the fight against corruption - as if we've all forgotten the still-unpunished killing of the young suspect in MACC custody, Teoh Beng Hock.
In short, Malaysia is dangerously if not terminally infested with Umno/BN putras and other parasites. And the country is never going to become the comparative paradise on earth that it could and should be until Malaysians get up the nerve to finally tell them to get lost.
DEAN JOHNS, after many years in Asia, currently lives with his Malaysian-born wife and daughter in Sydney, where he coaches and mentors writers and authors and practises as a writing therapist. Published books of his columns for Malaysiakini include 'Mad about Malaysia', 'Even Madder about Malaysia', 'Missing Malaysia' and '1Malaysia.con'.
Posted: 24 Nov 2011 04:31 AM PST
3 cases were referred to me during yesterday's clinic duty. However, one particular case really stood out, to me, at least. Why? Because based on this lady's condition, I was expecting someone who'd be feeling really sorry for herself and who'd expect to live totally on other people's help.
When SN came into the room, pushing a lady on a wheelchair, at first I didn't realise the lady didn't have one leg. She was wearing a batik sarong and I was looking at her face instead of the whole body. I knew this had to be an exceptional case because since SN now has 2 assistants, usually either one of the assistants would be accompanying the patients to the counselling room. This time SN herself came to explain the case to me as this lady really needed all the help she could get.
Sarojini had her left leg recently amputated – right up to her thighs. She's still married, but her husband, who works as a lorry driver felt that since he was not able to take care of her, decided to send her temporarily to a welfare home. Their 4 children have been sent to another shelter home for children in another town.
Imagine having had her left leg amputated, and finding out at the same time that she had HIV – wow! I wouldn't be surprised if she gave up on life.
But nope, Sarojini has the strength and determination which I truly admire. No doubt she's worried – not so much about herself, but about the future of her children. Apparently her husband was not the type whom she could depend on to take care of their children.
"Dia tada suka balik rumah la akka. Dia mau keluar enjoy sama kawan-kawan saja."
Oh dear, no wonder she was sent to a welfare home. It's not so much that he could not take care of her at home, I don't think he was even willing to go through all the trouble. He comes home only as and when he likes and not even bothered to visit the children at the shelter home.
Sarojini, of course, in her condition, had not been able to visit her children either. But she makes it a point to call them every week without fail to speak to each and every single one of them.
Now, without one leg, Sarojini is determined to get out of the welfare home as soon as possible and get her children to stay with her again. She is determined to live on and earn a living for the sake of her children. She may have lost a leg, but as she said, "Saya punya tangan masih boleh jahit la akka. Kalau saya tada kerja, saya punya anak mau makan apa? Mau sekolah macam mana?"
Wow! I truly admire her determination. I know of people without any physical handicap who'd go round asking for financial assistance – giving all sorts of excuses why they can't work.
Of course, at this very moment Sarojini needs help. First thing is to help her apply for all the available sources of income like welfare aid and socso. Once she can get a fixed monthly income, then only can she move out of the welfare home, and get her kids out of the shelter home to stay with her again. Then we'd need to ensure her children gets all the necessary schooling assistance. And since she mentioned she can sew and plans to do tailoring work to earn her own income, hopefully after a while she'd be able to earn enough to feed her family. Meanwhile, we will try to source for monthly groceries to be delivered to her.
I could see tears in Sarojini's eyes when I assured her that we'd be helping her out especially pertaining to her children's education.
"Terima kasih banyak akka. Sekarang saya tada susah hati, ada orang mau tolong saya punya anak. Kalau saya mati pun dia orang mesti mau terus sekolah."
Hang in there lady. We are more than willing to help those who are willing to take the effort to improve their lives despite all the trials and tribulations. You may be down right now, but definitely not out yet…
World record: 13 dogs jumping rope simultaneously
Posted: 24 Nov 2011 03:13 AM PST
No economic formulators... and no moral as well!
Posted: 24 Nov 2011 02:41 AM PST
Wikileaks exposure about the disaster awaiting Malaysia should Pakatan Rakyat wins the next general election, is perhaps the most downright made by any US diplomats. Not because the fact that they have been supporting Anwar Ibrahim all this while but for the purported 'financial aid' to the Opposition.
Now it is clear that they are also shying away from Anwar & Gang, thus providing a strong testimony that Barisan Nasional under Najib Razak is the only option for the rakyat to stay on the path of progress.
Not only that Pakatan
does not have good economic formulators
to manage the country, they also don't have the right moral to lead us.
US diplomatic cables to Washington DC have reported that a Pakatan Rakyat win the next general election would be a disaster to Malaysia. The US envoys in Kuala Lumpur have told their bosses that Pakatan Rakyat simply does not have economic formulators.
In short, according to Stopthelies, it means if the Pakatan Rakyat forms the next federal government, the whole nation is in for a real serious economic disaster.
This information was obtained from a leaked US Department cable by Wikileaks, which added that the lacked of economic expertise in Pakatan 'weighs on them as a coalition'. It also said that this was due to 'Pakatan's failure to give them high wages' and that 'politics' could have driven them away.
MCA President Dr
Chua Soi Lek
while commenting on the report, said Pakatan's alternative budget was hastily prepared and contained only populist promises that were unrealistic.
"Their budget is rhetoric in nature," he said, adding that even Pakatan's leaders had stopped talking about it. He also urged the public to reconsider their support for Pakatan, cautioning that its lack of expertise might not bode well for the nation's future.
While acknowledging the presence of leaders with strong religious credentials in Pakatan, Chua said they were not too concerned about issues in modern economics and management.
"I understand the sentiments of some voters who are against the government, but they must ask themselves whether Pakatan is a viable alternative to BN," he said.
Yes, they have Anwar who was Finance Minister but he himself was not trained in economic or accountancy. When Dr Mahathir made him Finance Minister, many friends went to his aid. I remember a senior journalist giving him some good economic books for his reference.
So, how to manage a progressive and dynamic economy like Malaysia when you don't have the set of economists to formulate something better than that of Barisan Nasional? The best thing for them to do is spend whatever we have to the list dime!
Posted: 23 Nov 2011 10:48 PM PST
Posted: 23 Nov 2011 07:31 PM PST
How Umno does business: Grab $ first, sign later! ;)
Posted: 23 Nov 2011 09:31 PM PST
The National Feedlot Corporation (NFC) was able to withdraw its RM250 million soft loan from the government even before a contract with the government was signed.
Public Accounts Committee (PAC) chairperson Azmi Khalid (
right
) revealed this after the committee interviewed several Agriculture and Agro-based Industries Ministry officers today and said that other problems with the NFC uncovered by the PAC were poor management, delays in approval and changes in goals.

Azmi told reporters, "In this case, the money was disbursed in 2009  into a special account which needs the (relevant) ministry's approval, to be withdrawn for the company's operations. But only after the money was disbursed (in 2009) was the contract signed a year later in 2010."
Understanding Advent - Preparing for the coming of our Lord
Posted: 23 Nov 2011 11:42 PM PST
Advent is the beginning of the Church Year for most churches in the Western tradition. It begins on the fourth Sunday before Christmas Day, which is the Sunday nearest November 30, and ends on Christmas Eve (Dec 24). If Christmas Eve is a Sunday, it is counted as the fourth Sunday of Advent, with Christmas Eve proper beginning at sundown. The word Advent derives from the Latin word meaning coming. The Lord is coming. We may reflect that every year at this time we celebrate his coming , so that in a sense we can lose the feeling of expectancy and joyful anticipation, because at the end of the season, everything seems to return to pretty much the same routine. If that is the case, then our preparation may have been lacking ...
continue reading
.
The angel Gabriel at the moment of the annunciation salutes her as "full of grace". In fact, in order for Mary to be able to give the free assent of her faith to the announcement of her vocation, it was necessary that she be wholly borne by God's grace...
continue reading
.
Do you know the meaning of Bethlehem? The name Bethlehem consists of two words. The first word is
(
bayit
), the Bible's regular word for house but with connotations of one's family, household or direct sphere of economy. It is also used to mean temple, or place, or depository of certain items. Another name that uses this word
bayit
is
Bethel
, meaning House Of God. Please see the name
Beth
for a closer look at this marvelous word.
The second word of the name Bethlehem is the Hebrew noun (
lehem
), bread. The Bible uses this word frequently in a much broader sense of food in general (proverbial: Genesis 3:19; Manna: Exodus 16:4; honey: 1 Samuel 14:24), and comes from he verb (
laham
), eat, use as food. The concept of food is used often in a figurative sense: bread of wickedness (Pr 4:17), idleness (31:27); target of conquest (Numbers 14:9). It is against this broad background that the words of Jesus should be understood: "I am the bread of life," (Joh 6:35); "Give us this day our daily bread," (Matthew 6:11), as well as the bread part of the communion ritual (Matthew 26:26).
So Bethlehem means the
'House of Bread'!
So who is the bread of salvation?
Christ our Lord!
That piece of bread that you take during communion, the
Eucharist
(
/
ˈ
juː
k
ər
ɪ
s
t
/
), also called
Holy Communion
, the
Sacrament of the Altar
, the
Blessed Sacrament
, the
Lord's Supper
, and other names, is a
Christian
sacrament
or
ordinance
. It is celebrated in accordance with
Jesus
' instruction at the
Last Supper
as recorded in several books of the
New Testament
, that his followers do in remembrance of Him as when he gave his disciples bread, saying, "This is my body", and gave them the cup, saying, "This is my blood".
[2][3].
Let people who desecrate the Eucharist, mock and insult the body of Christ be aware.
He is the beloved of God, with whom God is well pleased.
Many a time you might have heard people saying, I have never found inner peace, I am looking for God for the past 30 years and so forth. One does not have to seek for God. So to them I say, stop looking for God endlessly. God is there looking and searching for you. He has actually found you but you will deny him, the hard hearted, blocked hearts, closeted minds, the wicked and evil. God always looks for you and looks out for you. People say God does not answer their prayers, he always answers their prayers, he from time to time says 'NO', as he has other plans for you, which you will realize until very much later.
Garvan Byrne is a gift from God and I wish to make this gift available to as many people as possible so that you may be as touched as I have been by his story. This little boy found Christ, he did not at all, fear death, he believed. Watch this inspirational story of this child of God. It will touch your soul. The running time is 8 minutes and 15 seconds.
The coming of Christ is predicted. There are many Old Testament prophecies about Jesus Christ. Some interpreters place the number of Messianic prophecies in the hundreds. The following are those that are considered the clearest and most important.
Regarding Jesus' birth—
Isaiah 7:14
: "Therefore the Lord himself will give you a sign: The virgin will be with child and will give birth to a son, and will call him Immanuel."
Isaiah 9:6
: "For to us a child is born, to us a son is given, and the government will be on his shoulders. And he will be called Wonderful Counselor, Mighty God, Everlasting Father, Prince of Peace."
Micah 5:2
: "But you, Bethlehem Ephrathah, though you are small among the clans of Judah, out of you will come for me one who will be ruler over Israel, whose origins are from of old, from ancient times."
Concerning Jesus' ministry and death—
Zechariah 9:9
: "Rejoice greatly, O Daughter of Zion! Shout, Daughter of Jerusalem! See, your king comes to you, righteous and having salvation, gentle and riding on a donkey, on a colt, the foal of a donkey."
Psalm 22:16-18
: "Dogs have surrounded me; a band of evil men has encircled me, they have pierced my hands and my feet. I can count all my bones; people stare and gloat over me. They divide my garments among them and cast lots for my clothing."
Likely the clearest prophecy about Jesus is the entire 53rd chapter of Isaiah.
Isaiah 53:3-7
is especially unmistakable: "He was despised and rejected by men, a man of sorrows, and familiar with suffering. Like one from whom men hide their faces he was despised, and we esteemed him not. Surely he took up our infirmities and carried our sorrows, yet we considered him stricken by God, smitten by him, and afflicted. But he was pierced for our transgressions, he was crushed for our iniquities; the punishment that brought us peace was upon him, and by his wounds we are healed. We all, like sheep, have gone astray, each of us has turned to his own way; and the LORD has laid on him the iniquity of us all. He was oppressed and afflicted, yet he did not open his mouth; he was led like a lamb to the slaughter, and as a sheep before her shearers is silent, so he did not open his mouth."
The "seventy sevens" prophecy in Daniel chapter 9 predicted the precise date that Jesus, the Messiah, would be "cut off."
Isaiah 50:6
accurately describes the beating that Jesus endured.
Zechariah 12:10
predicts the "piercing" of the Messiah, which occurred after Jesus died on the cross. Many more examples could be provided, but these will suffice. The Old Testament most definitely prophesies the coming of Jesus as the Messiah..
Christ will also come at the end of times. It is prophesied.
When the Creed says that Jesus will judge "the living and the dead", it means that he will judge
all
men — past, present and future. No person will escape his judgment. Since all men are subject to sin (
Rom 5
), they are all likewise subject to death (
Rom 6:23
). Even Christ and Mary had to die. Some have interpreted "the living" in the Creed to mean those in a state of grace, and "the dead" to mean those in sin. However, "the living" can also mean those who are still on this earth at the time of the Second Coming. Since all men are subject to death, the most probable meaning is that they will die and be brought before the judgment seat of Christ in an instant.
The judgment of Christ will bring to light who has believed and lived the gospel and who has not. The Gospels make it clear that the believer has already been judged favorably and so has nothing whatever to fear from the particular or general judgment. The particular judgment will give confirmation to the individual that he or she is saved, while the general judgment will be
a public manifestation of the power and glory of Christ.
People should refrain
from calling others Infidels
, as they can be seen as walking on thin ice, very thin!!
My very first Penang Bridge Internation Marathon
Posted: 23 Nov 2011 08:00 PM PST
The Penang Bridge Internation Marathon also known as PBIM is a very popular running event in Penang. The participants were coming from various countries around the world. All most all the participants has to be in the running ground @ midnight.
The full Marathon (42 KM) starts @ 2am 

Half Marathon (21KM) starts @ 3am, 

10KM starts @ 6am 

fun run @ 7am. 
My friend and i, we arrived Penang around noon on the day before the run and went over to Queensbay Mall to collect our running kits.
Blueish Running kits  
Last digit of my BIB
My friend left the hotel @ 10:45pm the night before the run... and i was lucky enough to have more sleep and the hotel shuttle left around 4am. I was waiting for my run @ Starbie Queensbay.
The run started exactly @ 6am for 10KM... initially i wanted to snapshot some nice scenery during the run and on the bridge but due to the time limit to get the finisher medal. I decided to skip the photographing and straight moved forward to the finisher line. Overall it was NOT an easy run compare to the previous marathon that i participated. The ramping up to the bridge has killed my leg muscle until today. I'm still in pain...
Tired. Not in the mood to cam-whore...
Anyway, it was quite a good experience for my very first PBIM... Will i participate again next year... I would say maybe nope but i want to bring my camera to snapshot the nice scenery of Penang Bridge like others did...
Posted: 23 Nov 2011 05:47 PM PST
由八打灵双溪威乡村发展暨治安会引进的一项利民活动,今年开始每逢星期三傍晚4时开始至晚上9时,提供免费中医义诊。此项义诊已于2010成立,反应非常好。义诊由吴万保中医师驻诊,根据很多病患者都说他医术高明兼医德非常好,从来没埋怨病患者,甚至当村民是朋友看待。有很多病患者被他经过一段时间医治,痊愈恢复,有些则病情受控制或减轻。吴医师抱着一颗为大众服务精神,精神可嘉。吴医师从老远的加影来到八打灵双溪威为村民诊病,出钱出力。到来看吴医师的人越来越多。由于吴医师医术高明,多位痊愈的村民为了感激吴医师,特定制牌匾赠送以示感激及鼓励。同时,为了减轻吴医师负担,甘榜东姑区刘永山州议员通过双溪威村委会拨款1000令吉给吴医师购买药物与药品。赠送匾牌与拨款由村长陈有才见证。陈有才村长呼吁村民如患有顽疾,可前往新村大会堂寻求吴医师医治。每逢星期三傍晚4时开始,地点是:双溪威新村大会堂。
'Lebih korup, lebih jahil' jika Umno dan PAS bersatu
Posted: 23 Nov 2011 05:17 PM PST
November 23, 2011
Yet again, one day after Marina Mahathir talked about idiotic politicians, Muhyiddin surfaced with another 'stupid' suggestion.
Which is more important - to unite Malaysians irrespective of race and religion or each race to unite against another race?
Well, that's what race-based BN has been doing and is good at doing - continually divide the nation along racial line.
Just three days ago, Mahathir said Umno must befriend Perkasa. Why? So that Umno-led BN will continue to rule.
The endgame, as always, is one that will lead Umno-led BN to victory.

Who will be the ultimate losers? The rakyat.
Ten Principles For Peace Of Mind
Posted: 23 Nov 2011 02:29 PM PST
1.
Do Not Interfere In Others' Business Unless Asked:
Most of us create our own problems by interfering too often in others' affairs. We do so because somehow we have convinced ourselves that our way is the best way, our logic is the perfect logic and those who do not conform to our thinking must be criticized and steered to the right direction, our direction. This thinking denies the existence of individuality and consequently the existence of God. God has created each one of us in a unique way. No two human beings can think or act in exactly the same way. All men or women act the way they do because God within them prompts them that way. Mind your own business and you will keep your peace.
2.
Forgive And Forget:
This is the most powerful aid to peace of mind. We often develop ill feelings inside our heart for the person who insults us or harms us. We nurture grievances. This in turn results in loss of sleep, development of stomach ulcers, and high blood pressure. This insult or injury was done once, but nourishing of grievance goes on forever by constantly remembering it. Get over this bad habit. Life is too short to waste in such trifles. Forgive, Forget, and march on. Love flourishes in giving and forgiving.
3.
Do Not Crave For Recognition:
This world is full of selfish people. They seldom praise anybody without selfish motives. They may praise you today because you are in power, but no sooner than you are powerless, they will forget your achievement and will start finding faults in you. Why do you wish to kill yours in striving for their recognition? Their recognition is not worth the aggravation. Do your duties ethically and sincerely.
4.
Do Not Be Jealous:
We all have experienced how jealousy can disturb our peace of mind. You know that you work harder than your colleagues in the office, but sometimes they get promotions; you do not. You started a business several years ago, but you are not as successful as your neighbor whose business is only one year old. There are several examples like these in everyday life. Should you be jealous? No. Remember everybody's life is shaped by his/her destiny, which has now become his/her reality. If you are destined to be rich, nothing in the world can stop you. If you are not so destined, no one can help you either. Nothing will be gained by blaming others for your misfortune. Jealousy will not get you anywhere; it will only take away your peace of mind.
5.
Change Yourself According To The Environment:
If you try to change the environment single-handedly, the chances are you will fail. Instead, change yourself to suit your environment. As you do this, even the environment, which has been unfriendly to you, will mysteriously change and seem congenial and harmonious.
6.
Endure What Cannot Be Cured:
This is the best way to turn a disadvantage into an advantage. Every day we face numerous inconveniences, ailments, irritations, and accidents that are beyond our control. If we cannot control them or change them, we must learn to put up with these things. We must learn to endure them cheerfully. Believe in yourself and you will gain in terms of patience, inner strength and will power.
7.
Do Not Bite Off More Than You Can Chew:
This maxim needs to be remembered constantly. We often tend to take more responsibilities than we are capable of carrying out. This is done to satisfy our ego. Know your limitations. . Why take on additional loads that may create more worries? You cannot gain peace of mind by expanding your external activities. Reduce your material engagements and spend time in prayer, introspection and meditation. This will reduce those thoughts in your mind that make you restless. Uncluttered mind will produce greater peace of mind.
8.
Meditate Regularly:
Meditation calms the mind and gets rid of disturbing thoughts. This is the highest state of peace of mind. Try and experience it yourself. If you meditate earnestly for half an hour everyday, your mind will tend to become peaceful during the remaining twenty-three and half-hours. Your mind will not be easily disturbed as it was before. You would benefit by gradually increasing the period of daily meditation. You may think that this will interfere with your daily work. On the contrary, this will increase your efficiency and you will be able to produce better results in less time.
9.
Never Leave The Mind Vacant:
An empty mind is the devil's workshop. All evil actions start in the vacant mind. Keep your mind occupied in something positive, something worthwhile. Actively follow a hobby. Do something that holds your interest. You must decide what you value more: money or peace of mind. Your hobby, like social work or religious work, may not always earn you more money, but you will have a sense of fulfillment and achievement. Even when you are resting physically, occupy yourself in healthy reading or mental chanting of God's name.
10.
Do Not Procrastinate And Never Regret:
Do not waste time in protracted wondering "should I or shouldn't I?" Days, weeks, months, and years may be wasted in that futile mental debating. You can never plan enough because you can never anticipate all future happenings. Value your time and do the things that need to be done. It does not matter if you fail the first time. You can learn from your mistakes and succeed the next time. Sitting back and worrying will lead to nothing. Learn from your mistakes, but do not brood over the past. DO NOT REGRET. Whatever happened was destined to happen only that way. Why cry over spilt milk?
"Spread Love everywhere you go. Let no one come to you without leaving happier "
Mother Teresa
*Thanks to SKT who sent me this post. Have a great day!