---
Seksualiti Merdeka Banned - NGOs condemn move
Posted: 03 Nov 2011 09:00 AM PDT
 Malasiakini story 01 NGOs condemn attacks on Seksualiti Merdeka

1:56PM Nov 3, 2011


The Seksualiti Merdeka coalition and 15 other non-governmental organisations have condemned Perkasa, Hindu Sangam and PAS Youth's attacks on the festival.

They called upon the state authorities to protect human rights advocates, including those advocating equal treatment for the lesbian, gay, bisexual,
Penafian Tak Ada Makna Apa-apa, Najib Perlu Saman The West Australian!
Posted: 03 Nov 2011 09:54 AM PDT
N
ajib: Isteri saya tidak beli apapun barang kemas
Perdana Menteri Datuk Seri Najib Razak menjelaskan bahawa anak perempuannya bukan berada di Australia semasa beliau menghadiri mesyuarat ketua-ketua kerajaan Komanwel (CHOGM) di Perth, baru-baru ini.
Justeru, katanya orang ramai sepatutnya tidak terpedaya atau terbabit menyebarkan pembohongan.
"Jangan percaya atau sebar pembohongan. Malah, anak perempuan saya tidak berada di Australia dan isteri saya (Datin Seri Rosmah Mansor) tidak membeli apapun barang kemas," kata Najib dalam Twitter terbarunya yang dipetik Bernama.


Awal minggu ini, laporan berita di The West Australian, mendakwa anak gadis perdana menteri membelanjakan A$60,000 (RM195,000) semasa membeli-belah di David Jones, antara gedung terbesar di Australia.

Berita itu kemudiannya dipetik oleh para penulis blog pembangkang dan akhbar web rasmi PKR, Keadilandaily.

Selain itu, laporan bertajuk 'Delegates go shopping and sightseeing' atau 'Perwakilan membeli-belah dan bersiar-siar' juga dimuatkan di banyak laman Facebook.

Akhbar Australia itu melaporkan bahawa peniaga membuat keuntungan yang besar apabila seorang wanita pertama yang tidak dinamakan membelanjakan A$150,000 (RM487,000) membeli mutiara Australia Barat, manakala 'anak gadis Najib' membelanjakan A$60,000.

Ia memetik pengarah negeri bagi CHOGM Richard Muirhead sebagai berkata bahawa aktiviti masa lapang dan ekspedisi membeli-belah berkenaan diatur untuk perwakilan asing di luar jadual mesyuarat CHOGM yang ketat itu.

Najib dan Rosmah kini sedang mengerjakan ibadat haji di tanah suci. -mk



Ulasan GB



Bila masa Najib pernah mengaku setiap salahlaku yang dilakukan?

Kedua, hanya gedung David Jones yang tahu samada berita di dalam

The West Australian

itu benar atau tidak kerana, sepastinya pembelian itu menggunakan kad kredit dan pengeluaran resit tentunya dikeluarkan kepada pembelinya. Siasatan bolh dilakukan oleh sesiapa yang berhajat.

Ketiga, jika berita itu palsu, sebarang penafian tidak mempunyai apa-apa makna kerana bukan rakyat Malaysia saja yang membaca, malah satu dunia sudah menatapnya. Najib & Rosmah perlu menyaman akhbar berkenaan. Tidak cukup beliau hanya membuat penafian yang tidak meyakinkan rakyat itu.


Malay-first DPM doesn't give a damn to the minority
Posted: 03 Nov 2011 08:16 AM PDT
UPDATED @ 03:34:30 PM 03-11-2011
By Shazwan Mustafa Kamal
November 03, 2011
KUALA LUMPUR, Nov 3 — The government's decision to scrap the use of English for science and mathematics (PPSMI) in schools is final, Tan Sri Muhyiddin Yassin said today.
In a response directed towards the Parent Action Group for Education (PAGE), the deputy prime minister said there would be no more negotiations on the matter as the government had already decided to do away with the policy in 2009.
"It was already decided by the Cabinet back in 2009, after many levels of discussion, was passed in Parliament and even the opposition supported it. There was no negative reaction back then, I don't know why it's being brought up.
"Maybe they (PAGE)
ketinggalan zaman
(behind the times.) The government will not bow down to the demands of small groups like this," Muhyiddin
(picture)
said today, in reference to demands made by the pro-English lobby group earlier this week.
PAGE chairman Datin Noor Azimah Abdul Rahim had bluntly said Barisan National (BN) risks losing votes in the upcoming general election if it continues to bar students from learning science and maths in English in schools.
"The matter is closed. Full stop. Some people can push and demand all they want, we are a democracy, but the government's decision is final," Muhyiddin said.
The education minister said he will make a detailed announcement tomorrow regarding the government's plans to smoothen the transition process from PPSMI to the MBMMBI (Upholding the Malay Language and Strengthening Command of English) policy.
Muhyiddin argued that teaching science and mathematics in English was not the best approach to improve students' command of the language, and that the government has introduced other methods, including hiring foreign trainers to conduct English training courses for teachers as well as having language labs in schools.
"The question is whether the best way to learn English is to learn English in maths and science or to bring in master teachers to help our teachers improve their proficiency? I believe this (the latter) is a better approach," he said in his speech at an English-language training project ceremony organised by SMR HR Group here.
The DPM met some 200 teachers who have undergone English-language training by foreign trainers under the project.
Opposition parties like the DAP have thrown their weight behind PAGE's cause, demanding that the Education Ministry be more flexible and give students the option which will enable the country to retain its best talents.
The growing row over the education policy has split the country along racial, political lines ahead of national polls likely to be called early next year.
Vocal fundamental groups are using the issue to champion their version of nationalism.
Several non-partisan civil societies have recently banded together to counter this tide but the powerful Malay-dominant political parties appear to be reluctant to commit to this hot potato issue ahead of the 13th general election.
'...we are a democracy, but the government's decision is final," Muhyiddin said.
Absolutely correct!
The rakyat knows that once Umno-led BN is given the power by the people , it will ignore democracy!
Yes, Malay-first Muhyddin has proved himself to be neither for the majority nor the minority.

He is only for political survival of racist Umno party and its runnning dogs - MCA and MIC.
[Bergambar] Ribuan Pekerja Berpiket Seluruh Negara - BN Di Ambang Keruntuhan
Posted: 03 Nov 2011 08:23 AM PDT
R
ibuan piket seluruh negara bantah pindaan Akta Kerja
Piket besar-besaran anjuran Kongres Kesatuan Sekerja Malaysia (MTUC) bagi membantah pindaan Akta Kerja 1955 bermula di seluruh negara bermula petang tadi.
Gambar:
Piket pekerja Di Shah Alam
- FMT
Di Kuala Lumpur, kira-kira 200 pekerja daripada pelbagai kesatuan sekerja dan juga parti-parti politik berhimpun di hadapan bangunan Kumpulan Wang Simpanan Pekerja (KWSP) di Jalan Raja Laut.
Sejak kira-kira jam 5 petang, ahli kesatuan mula berhimpun.

Turut hadir, adalah beberapa pemimpin Pakatan dan PSM. Antara mereka ialah pemimpin veteran DAP, Lim Kit Siang dan naib presiden PAS, Datuk Mahfuz Omar. Turut memberi sokongan adalah beberapa wakil rakyat, termasuk Wong Ho Leng dan Dr Mohd Hatta Ramli.

Pekerja membentangkan hampir 10 kain rentang membantah pindaan akta kerja itu.

Mereka juga membawa plakad yang tertulis "Jangan Gadai Hak Pekerja" dan "Menteri Tipu Pekerja".

Mereka melaungkan "Henti Pindaan", "Turun Menteri", Tarik Balik Pindaan Akta" dan "Hidup MTUC" beberapa kali.

Tindakan itu menarik perhatian orang ramai yang memerhatikan piket itu dari kawasan yang berdekatan.

Di Pulau Pinang, hujan yang mencurah tidak menghalang kira-kira 1000 orang daripada berhimpun bagi menyatakan sokongan mereka kepada MTUC.

Pekerja berbaris di jalan utama menuju Prai dan juga membanwa sepanduk yang tertera mesej yang hampir sama.



Hujan di Pulau Pinang



Sebaik hujan yang mula reda 40 minit kemudian, peserta himpunan semakin ramai.

Hadir bersama adalah penyokong Pakatan Rakyat yang datang dengan payung.

Setiausaha MTUC Pulau Pinang, KVeeriah berkata pihak pekerja membidas pindaan yang disifatkan tidak bertanggungjawap terhadap pekerja.

Katanya, undang-undang tersebut akan mengesahkan pekerja kontrak yang akhirnya menyebabkan majikan daripada mengabaikan hak pekerja.

Di Melaka, seramai 400 orang berhimpun secara aman.

Perhimpunan yang diadakan bermula jam 5.15 petang tadi itu, turut mewakili seramai 426,000 pekerja di negeri ini.

Setiausaha Kesatuan Sekerja Malaysia negeri Melaka, Azlan Tajuddin berkata, pihak kerajaan seharusnya memandang berat terhadap tuntutan itu demi nasib rakyat negara ini pada masa depan.

"Kami meminta pindaan ini ditarik balik kerana ia bukan sahaja untuk masa depan kami tetapi masa depan anak cucu kita dikemudian hari," katanya.



Lupa sumbangan swasta



Di Petaling Jaya, kira-kira 90 ahli MTUC mengadakan piket di depan Wisma Kesatuan Sekerja.

Piket ini diketuai setiausaha agung MTUC, Halim Mansor.

Ia bermula jam 5.10 petang tadi dengan peserta memegang sepanduk bagi menyatakan bantahan terhadap pindaan akta berkenaan.

Antara ungkapan yang tertera ialah

"Martabatkan Pekerja Swasta", "Kerajaan Lupa Sumbangan Swasta"

dan

"Pindaan Akta Kerja 1955 Rampas Hak Pekerja."



Lokasi lain yang terbabit dengan demo meliputi Seksyen 15, Shah Alam; Teluk Panglima Garang; Jalan Barat, Petaling Jaya; Bukit Raja, Klang; Sungai Choh, Rawang; Lebuh Raya Persekutuan; Jalan Raja Laut, Kuala Lumpur; Prai, Pulau Pinang; dan Jalan Bukit Beruang, Melaka.

Padang Majlis Perbandaran Seremban, Negeri Sembilan; depan bangunan MTUC Negeri Perak; padang Masjid Negeri di Kuantan, Pahang; depan Pusat Dagangan Kota Bharu, Kelantan; Jalan Skudai, Johor; Mergong, Kedah; Kuching, Sarawak; serta jalan menuju ke Wisma Merdeka, Sabah.

Antara bantahan pindaan Akta Pekerjaan 1955 ini adalah mengenai kontraktor tenaga kerja yang diwujudkan dan mengembalikan sistem kontrak yang telah dihapuskan apabila Akta Pekerjaan 1955 ini digubal dulu.

MTUC menegaskan dengan pindaan itu kedudukan pekerja menjadi tidak tetap dan tiada jaminan pekerjaan, selain mendapat kadar gaji yang sama tanpa kenaikan atau bonus, termasuk faedah lain.


Piket MTUC berjalan lancar



SHAH ALAM: Piket anjuran Kongres Kesatuan Sekerja Malaysia (MTUC) bagi membantah pindaan Akta Kerja 1955 berjalan dengan lancar petang tadi.

Walaupun hujan renyai, kira-kira 200 pekerja daripada pelbagai kesatuan sekerja dan pimpinan politik bersama-sama berhimpun di bulatan Persiaran Selangor, Seksyen 15, di sini sejak jam 5.00 petang.

Mereka membawa kain rentang dan kad tertulis seperti 'Union basting', 'Jangan perkosa hak kami' 'Jangan lupa pekerja swasta pengundi terbesar' dan 'Akta Kerja 1955 wujudkan kunta kinte Malaysia'.

Mereka turut melaungkan 'hidup pekerja' dan 'tindas pekerja'.

Tindakan itu menarik perhatian orang ramai yang melalui kawasan tersebut, sambil kedengaran bunyi hon kenderaan masing-masing ketika mereka melalui kawasan piket.

Berlaku kesesakan lalu lintas di kawasan terbabit namun kehadiran pihak polis berjaya memastikan keadaan lebih terkawal.

Antara pemimpin yang hadir termasuklah Timbalan Presiden PAS Mohamad Sabu @ Mat Sabu, bekas presiden MTUC Syed Shahir Syed Mohamud dan Exco Selangor Dr Xavier Jeyakumar.

Mat Sabu yang ditemui berkata piket ini sebagai isyarat kepada kerajaan untuk memberi perlindungan kepada para pekerja tidak kira dalam mahu pun luar negara.

"Ini isyarat kepada kerajaan agar tarik semula akta ini dan beri perlindungan kepada para pekerja tidak kira dalam atau pun yang berada di luar negara," katanya. -FMT




Ulasan GB



Kedegilan dan keangkuhan kerajaan untuk meminta Akta Pekerja dijawab dengan jelas hari ini apabila pekerja-pekerja seluruh negara keluar beramai-ramai untuk berpiket membantah pindaan berkenaan.

Sebelum ini MTUC telah memberi amaran keras kepada Datuk Seri Najib Razak bahawa undi melibatkan 5.7 juta pekerja akan menjadi penentu dalam arah aliran sokongan ketika pilihan raya umum ke-13 melainkan pindaan Akta Kerja 1955 yang menjadi kontroversi sekarang ditarik balik.

Hari ini, dilaporkan MTUC bercadang mengemukakan aduan berhubung pindaan Akta Kerja 1955 kepada Pertubuhan Buruh Antarabangsa (ILO) sekiranya permintaan mereka tidak dilayan kerajaan.

Setiausaha Agung MTUC, Abdul Halim Mansor, berkata langkah itu sebagai susulan selepas pertemuan dengan Kementerian Sumber Manusia sebanyak 18 kali tidak membuahkan hasil. Beliau berkata, bantahan seperti ini akan diteruskan sehingga Kerajaan menarik balik pindaan akta yang seharusnya menjamin hak asasi pekerja di Malaysia.



Laporan sebelum ini




klik untuk baca




Isu Pendaftaran Pakatan Rakyat: PR Perlu Heret ROS Ke Mahkamah
Posted: 03 Nov 2011 07:10 AM PDT
P
endaftaran Pakatan: ROS didakwa menipu
Pakatan Rakyat hari ini menafikan dakwaan Pendaftar Pertubuhan (ROS) bahawa gabungan itu tidak membuat permohonan baru untuk mendaftar diri mereka.
Malah, kata setiausaha agung PKR, Saifuddin Nasution,pihak mereka telah menghambat jabatan berkenaan sejak Mac lalu supaya segera mendaftarkan Pakatan Rakyat.
Saifuddin berkata selepas pengerusi pro-tem Pakatan Datuk Zaid Ibrahim berpaling tadah pada November tahun lalu, jawatankuasa itu pada mesyuarat tergemparnya (EGM) telah melantik ahli jawatankuasa pusat PAS Datuk Kamaruddin Jaafar untuk memegang jawatan itu pada Mac lalu.

Saifuddin merujuk laporan akhbar New Straits Times yang memetik Ketua Pengarah ROS, Abdul Rahman Othman, bahawa Pakatan tidak berusaha mendaftarkan gabungan itu.

"Kami kesal dengan kenyataan ini kerana semasa EGM, kita telah menamakan pengerusi pro-tem yang baru... kami telah mengaturkan perjumpaan dengan timbalan pengarah ROS (bahagian pertubuhan) bagi menyerahkan permohonan dengan beberapa pindaan sepatutnya.

"Tetapi ROS enggan menerimanya, alasan mereka, permohonan lama masih menunggu keputusan berhubung permohonan yang dibuat oleh Zaid, walaupun mengikut perlembagaan PKR, Zaid bukan lagi seorang ahli," kata Saifuddin yang juga ahli parlimen Machang

Katanya, sejak Mac, Pakatan berhubungan dengan ROS setiap tiga hingga empat minggu untuk menentukan status permohonan tetapi tidak menerima sebarang jawapan. -mk





Muslihat politik tidak lulus daftar Pakatan


KUALA LUMPUR, 3 Nov: Pakatan Rakyat mengesyaki terdapat 'muslihat politik' apabila Pendaftar Pertubuhan (ROS) enggan meluluskan permohonan pendaftaran mereka untuk menjadi satu parti.

Ketua Pemuda DAP, Anthony Loke berkata, ROS sengaja tidak mahu meluluskan pendaftaran Pakatan Rakyat kerana takut mereka menjadi satu gaubungan yang kuat dalam pilihan raya umum ke-13.

Mereka (ROS) sengaja tidak mahu mendaftarkan Pakatan Rakyat kerana takut kita akan menjadi satu entiti yang kuat untuk mencabar BN.

"Untuk pilihan raya akan datang, kita tidak boleh letak calon Pakatan tapi letak calon PAS, DAP dan PKR kerana belum berdaftar. Saya lihat ini ada muslihat politik," kata beliau yang juga Ahli Parlimen Rasah pada sidang media di lobi Parlimen hari ini.

Sementara itu, Setiausaha Agung PKR, Saifuddin Nasution menyelar jawapan Pengarah ROS, Datuk Abdul Rahman Osman baru-baru ini bahawa pedaftaran Pakatan Rakyat tidak diluluskan kerana mereka tidak membuat permohonan baru selepas pengerusi Pakatan waktu itu, Datuk Zaid Ibrahim keluar parti.

"Majlis Presiden Pakatan kesal dengan kenyataan tersebut kerana Pakatan telah ambil langkah yang perlu sejurus Datuk Zaid tinggalkan Pakatan.

"Kita lantik pengerusi Pakatan Rakyat yang baru iaitu Ahli Perlimen Tumpat Datuk Kamaruddin Jaffar menggantikan Datuk Zaid," katanya yang juga Ahli Parlimen Machang.

Beliau berkata, dalam tempoh dua tahun lalu, mereka sering mengadakan pertemuan dengan pihak ROS untuk mengetahu perkembangan mengenai permohonan tersebut tapi gagal mendapatkan sebarang jawapan.

ROS, katanya masih memberi alasan bahawa permohonan lama Pakatan Rakyat iaitu sewaktu Zaid masih bersama PKR masih belum diluluskan dan Pakatan tidak membuat permohonan baru.

"Mengikut perlembagaan Pakatan Rakyat, sesiapa yang keluar parti, kedudukannya sebagai pengerusi akan terbatal. Jadi tiada masalah dalam hal itu," katanya.

Sehubungan itu katanya, Majlis Presiden Pakatan yang bermesyuarat petang semalam memutuskan untuk membuat keputusan baru sekiranya permohonan mereka masih tergantung.

"Sekarang kita buat keputusan untuk teruskan permohonan tapi kalau tidak ada jawapan juga, kita akan putuskan tindakan baru," katanya.

Ketua Pengarah Jabatan Pilihan Raya PAS, Dr, Hatta Ramli pula berkata, tindakan ROS itu menggambarkan kelemahan pegawai-pegawai kerajaan menjalankan tugas.

Beliau yang juga Ahli Parlimen Kuala Krai, ROS sepatutnya memaklumkan kepada Pakatan sekiranya terdapat kesalahan dalam borang permohonan atau sebagainya.

"Kalau ada sebarang kesilapan dalam permohonan atau perlu maklumat biasanya mereka akan hubungi pemohon tapi tiba-tiba kata tak hantar permohonan baru sedangkan pertukaran individu dalam jawatankuasa penaja adalah perkara biasa.

"Ini memberi gambaran yang tidak baik kepada pegawai kerajaan dan ada orang yang dijadikan mangsa," katanya. -HD







Ulasan GB



Agensi-agensi kerajaan pusat yang bertindak secara diskriminasi dan berpihak seperti Registrar Of Society (ROS) ini perlu diheret sahaja di mahkamah.

Pengarahnya perlu disumbatkan ke penjara lantaran tidak melaksanakan kerja dan tugas secara adil dan telus, tetapi di dalam banyak waktu, menjadi ejen kepada UMNO dan BN untuk menghalang dan menyukarkan apa-apa urusan yang berkaitan dengan Pakatan Rakyat.


Posted: 03 Nov 2011 04:40 AM PDT
Here's a clip showing the drawing of a woman from the inside out. Someone put a HUGE
amount of work into this. Now this is amazing!
Please click on the link and be prepared to be dazzled !!!
Click here and be enthralled.
This posting includes an audio/video/photo media file: Download Now
Does the Crucifix 'Provoke' Muslims? By Raymond Ibrahim
Posted: 03 Nov 2011 06:11 AM PDT
Remember
last year's Christmas celebrations
. Not
forgetting the Bible issue.
It was
duplicitous
. I remember my daughter who wears a cross, coming back from school saying that the headmistress of her school on seeing the cross around her neck said, "
Menyampah!
" I told my daughter to let me know if it becomes an issue. She wears it on the inside, well it was out when the headmistress was around. My daughter is a strong willed person and cannot be intimidated.
For a religion that is perpetually "misunderstood," the consistency of Islam is remarkable. Consider how ostensibly diverse issues—complaints of "human rights" abuses at an American university and murder in an Egyptian classroom—are interconnected.
Egypt: Muslims destroying a cross atop a church.
First, the American story. According to Fox News:
The Washington, D.C. Office of Human Rights confirmed that it is investigating allegations that Catholic University of America [CUA] violated the human rights of Muslim students by not allowing them to form a Muslim student group and by not providing them rooms without Christian symbols for their daily prayers. The investigation alleges that Muslim students "must perform their prayers surrounded by symbols of Catholicism – e.g., a wooden crucifix, paintings of Jesus, pictures of priests and theologians which many Muslim students find inappropriate."
Behind the complaint is John F. Banzhaf III, a George Washington University professor whose website boasts that his "enemies" call him a "Legal-Terrorist" and "the Osama bin Laden of Torts." He asserts that Muslim students are "particularly offended" because they have to "meditate" at the school's chapels and cathedral, where they pray while "having to stare up and be looked down upon by a cross of Jesus."
Of course, as a private Christian institution, even Banzhaf admits "that it is technically not illegal for Catholic University to refuse to provide rooms devoid of religious icons." Still, according to this so-called "Legal-Terrorist," that CUA refuses to compromise its Catholic image "suggests they are acting improperly and probably with malice."
The reader is left to decide who really is acting "with malice": a private institution operating under private—in this case, Christian—principles, or reportedly "offended" Muslims who are free to attend non-Christian institutions?
Banzhaf further tried to denigrate CUA by boasting of how neighboring Georgetown University, a nominally "Christian" university, "provides its Muslim students with a separate prayer room and even a Muslim chaplain"—as if it is not well known that Georgetown's Arab and Islam departments receive much largesse by way of donations from the radical Wahhabis of Saudi Arabia (who, incidentally, refuse to permit churches on Saudi ground).
As Newt Gingrich observed regarding this affair: "Are you [Muslims] prepared to sponsor a Christian missionary in Mecca? Because if you're not prepared to sponsor religious liberty in Saudi Arabia, don't come and nag us with some hypocritical baloney."
Notable, too, why Muslim students are seeking to create Islamic havens (or enclaves) in universities: as one of them put it, "Arab [code for "Muslim"] and American students have a difficult time befriending each other because people naturally gravitate towards others with similar backgrounds and interests." In fact, this is a product of Islam's own doctrine of wala' wa bara', which commands Muslims to be loyal to one another, while completely disassociating themselves from non-Muslims.
Now, consider Muslim behavior toward Christian symbols, specifically the crucifix, where Muslims are the majority and thus in charge—where might not only makes right, but often exposes true sentiments.
Days ago it was revealed that a Christian student in Egypt was strangled and beaten to death by his Muslim teacher and fellow students—simply for refusing to obey the teacher's orders to cover up his cross. When the headmaster was informed of the attack in progress, he ignored it and "continued to sip his tea." And, as usual, Egyptian media covered it up, insisting the "conflict" was "non-sectarian" (worse, it was straightforward "Christian persecution").
17-year-old Ayman Nabil Labib: Murdered by teacher and classmates for refusing to remove his crucifix.
In the words of prominent Egyptian columnist Farida El-Shobashy, writing in the independent newspaper Masry Youm: "I was shaken to the bones when I read the news that a teacher forced a student to take off the crucifix he wore, and when the Christian student stood firm for his rights, the teacher quarreled with him, joined by some of the students; he was beastly assaulted until his last breath left him."
Indeed, the Maspero massacre, where the Egyptian military killed dozens of demonstrating Christians—including by running them over with armored-vehicles—began with hostility for Christian symbols: Muslims insisted a Coptic church be stripped of its dome and cross, so it would not resemble a church; as one Muslim elder put it, "the Cross provokes us and our children." When Christians refused, Muslims destroyed the church. This is what Christians were protesting when the Egyptian military mowed them down to cries of "Allahu Akbar."
These two stories—one in Washington, D.C., the other Egypt—demonstrate remarkable consistency; only methods differ, according to circumstances. Where Islam is weak, "terrorist-lawyers" and Islamist organizations like CAIR complain about "human rights" abuses against Muslims; where Islam is dominant, Muslims take matters into their own hands, violating the human rights of others.
Yet if the methods differ, the motivation is one: the victory of Islam over all else; or, in the words of the Quran (8:39)—"Make war on them ["infidels"] until idolatry shall cease and Allah's religion [Islam] shall reign supreme." Raymond Ibrahim
Posted: 03 Nov 2011 04:21 AM PDT
FIRST
, Bukit Aman has issued a statement
banning
any functions organised by any group relating to the 'Seksualiti Merdeka' programme in the interest of public order.
Deputy Inspector-General of Police Khalid Abu Bakar said police had identified and would call everyone involved including former Bar Council president S Ambiga to record their statements.
"Police will take action under Section 27 A (1) (C) as well as 298 A of the Penal Code to prevent any function relating to the programme," he told a media conference in Kuala Lumpur toda, adding that the law in the country did not recognise any deviationist activity that could destroy the practice of religious freedom.
Deputy Prime Minister Muhyiddin Yassin has described the 'Seksualiti Merdeka 2011' Programme as a deviationist activity and does not bring any benefit to the people in the country as a whole. It is also against the tradition, culture and religion practised by the various communities in the country.

He said although Malaysia had signed the agreement on human rights, the country had its values, systems, religions and laws that were against deviationist activities such as the Seksualiti Merdeka.
SECOND, the authority has also banned a book providing sex guides to Muslim women. The book, entitled Islamic Sex, has infringed censorship law and is related to al-Arqam which was declared illegal in the 1990s.

Published by a group known as the Obedient Wives' Club, which has been widely criticised for promoting polygamy and denegrating women, the book can easily match Kamasutra, an illustrated book for the 'Hindus and believers'.
The Obedient Wives' Club told journalists last month that the book was intended as a spiritual guide to be read only by club members to help them comprehend sex, and that women should act like 'first-class prostitutes' to prevent their husbands from having affairs or resorting to violence.
THIRD, MCA headquarters in Jalan Ampang was splashed with red paint this morning. Passers by could easily note it on the front doors.
Party president Dr Chua Soi Lek was flabbergasted and intructed the party's management to lodge a police report on the matter. Although it is speculated that the deed could have been due his rejection of hudud laws, Dr Chua said he did not want to point fingers at anyone.

"We hope the police will get to the bottom of the matter. There are people saying it (splashing of the red paint) is because the MCA had voiced its opposition to PAS' plans to introduce hudud laws.

In Malaysia, only loan sharks splash red paint on the house or car of their defaulters. MCA is a rich party.
FOURTH, read Sin Chew's comment on Lim Guan Eng pertaining to his son's allegedly sexual harassment case. While blasting Barisan Nasional, especially Umno cyber troopers for launching such an attack on the Penang Chief Minister, it also questioned the motive behind the 'Mat Rempit' demo in Georgetown a few days ago.
"The groundless allegation involving Lim's son is a kind of slander while the demand for a racing circuit for Mat Rempit is absurd. They will become international jokes if spread abroad.
"However, those who have repeatedly come out with such dirty games will never admit their mistakes or consider it a disgrace. When a person becomes brazen, he has lost his sense of shame. Would he still listen to well-meant words?
"Although they are disgusting, we should not just turn a blind eye to such shameless acts. If the community remain silent, it would encourage their arrogance. As a result, the bad political culture will deteriorate and further confuse our social values. Eventually, we have to suffer the loss of justice, as well as the basic judgement of right and wrong!," it said.
MY COMMENT - the Opposition got a hand in all this four issues. Former Bar Council boss Ambiga is not only trying to undermine the government but also to incite tension among the Muslims. That 'sexuality' program is against any religious norms and will only see more moral decays among the younger generation. The sex book is also a disgust to Islam and Muslims. I don't know how the Obedient Wives' Club members (all of whom are Muslims) were deviated from the true teaching of Islam by asking all wives to act like 'prostitutes'. The red paint incident at the MCA headquarters reflects how notorious the people could be if the 'hudud law' is not addressed properly. The Opposition pact, which is widely-divided over the issue, should stop playing to PAS tune before the time-bomb explodes in our face. And finally, Sin Chew is adding weigh to the Opposition. Of late, the newspaper is so fond of playing up racial and religious sentiments to incite hatred among Malaysians. I am not sure if its editorial team belongs to the Opposition but from the way business is being carried out, I doubt they are government supporters. So, all this is pointing back at the Opposition.
Hanya Menteri Bermentaliti Lapuk Seperti Nazri & Khaled Nordin Mahu AUKU Dikekalkan
Posted: 03 Nov 2011 05:32 AM PDT
T
iga MP BN gesa Putrajaya tak rayu, mansuh Seksyen 15 AUKU
KUALA LUMPUR, 3 Nov — Tiga pemimpin Barisan Nasional (BN) termasuk seorang timbalan menteri menggesa Putrajaya tidak membuat rayuan terhadap keputusan Mahkamah Rayuan Isnin lalu yang memutuskan Seksyen 15(5)(a) Akta Universiti dan Kolej Universiti (AUKU) bercanggah dengan Perlembagaan Persekutuan.
Pada masa yang sama mereka menggesa kerajaan memansuhkan Seksyen 15 AUKU dimansuhkan selaras dengan program transformasi politik dibawa Datuk Seri Najib Razak.
Kelmarin, Menteri Pengajian Tinggi Datuk Seri Mohamed Khaled Nordin berkata keputusan Mahkamah Rayuan berhubung peruntukan itu akan dibawa ke Kabinet, sebelum memutuskan sama ada perlu atau tidak kes itu dibawa ke Mahkamah Persekutuan.

Kata beliau, perbincangan teliti akan dibuat di peringkat kementerian, sebelum ia dibawa ke mesyuarat Kabinet, secepat mungkin.

Hari ini,

Timbalan Menteri Pengajian Tinggi Datuk Saifuddin Abdullah, Ketua Pemuda Umno Khairy Jamaluddin dan Naib Presiden MCA Gan Peng Siew berpendirian bahawa Seksyen 15 AUKU perlu dimansuhkan selaras dengan program transformasi politik.



Mereka juga menegaskan dengan keputusan Mahkamah Rayuan itu peruntukan 15(5)(a) sudah tidak lagi wujud dan kini mahasiswa bebas untuk berpolitik.

"Boleh, dengan sendirinya," kata Saifuddin pada sidang media di Mines Resort City, Seri Kembangan dekat sini hari ini.

Khairy menambah: "Dengan keputusan mahkamah itu, ia dah jadi lapuk."

Sementara itu Gan berkata, "mahkamah sudah buat keputusan, Seksyen 15(5)(a) sudah tidak wujud. Mahasiswa boleh terlibat dalam politik."



Saifuddin menambah keputusan sama ada mahu membuat rayuan kemungkinan akan dibangkitkan dalam mesyuarat Kabinet esok, namun beliau bersama Khairy dan Gan berharap Putrajaya tidak akan membuat rayuan.



"Keputusan nak buat rayuan atau tidak akan dibuat dalam Kabinet esok, mungkin perkara ini akan ditimbulkan. Pertimbangan yang ada sama ada mahu membuat rayuan di Mahkamah Persekutuan atau tidak.



"Kalau buat rayuan dan kemudian mahkamah tolak dari segi moral kita sudah kalah, jadi tidak perlu buat rayuan. Kalau tidak buat rayuan kita perlu teruskan perbincangan untuk meminda AUKU

," katanya. -TMI





I - Nazri: AUKU masih kekal, keputusan mahkamah satu pandangan



KUALA LUMPUR, 2 Nov — Kerajaan menegaskan Akta Universiti dan Kolej Universiti (AUKU) kekal terus digunakan meskipun mahkamah telah memutuskan peruntukan undang-undang itu melanggar Perlembagaan Persekutuan.

Menteri di Jabatan Perdana Menteri Datuk Seri Nazri Aziz (gambar) memberitahu Parlimen hari ini bahawa "akta itu masih satu akta."

Kata beliau, undang-undang itu yang melarang pelajar daripada menyertai aktiviti politik masih kekal tidak berubah sebab keputusan Mahkamah Rayuan hanya satu pandangan institusi kehakiman.

"Sekarang terpulang kepada Peguam Negara sama ada mahu membuat rayuan dengan keputusan itu. Sehingga perkara itu dimuktamadkan, kita tida boleh kata apa-apa," kata Ahli Parlimen Padang Rengas ini.

Kelmarin, Mahkamah Rayuan memutuskan AUKU yang melarang penuntut universiti menyertai politik bertentangan dengan Perlembagaan Persekutuan — keputusan yang dilihat bersejarah dalam undang-undang melibatkan pentadbiran dan pengurusan institusi pengajian tinggi negara ini.

Mahkamah membuat keputusan 2-1 dalam permohonan yang dibawa oleh empat penuntut Universiti Kebangsaan Malaysia (UKM) mencabar peruntukan 15(5)(a) AUKU.

Permohonan itu dikemukakan awal tahun lalu selepas mereka dikenakan tindakan oleh UKM kerana berada di Hulu Selangor ketika pilihan raya kecil kerusi itu April 2010.

Keempat-empat pelajar itu sudah pun menawatkan pengajian mereka dan menerima ijazah pada majlis konvensyen September lalu.

Mereka berempat, ketika itu pelajar jurusan sains politik, ditahan oleh polis di Pekan Rasa dan Ampang Pecah, Hulu Selangor pada 22 April 2010.

Mereka terdiri daripada Muhammad Hilman Idham, Woon King Chai, Muhammad Ismail Aminuddin dan Azlin Shafina Mohamad Adzha sebelum ini mendakwa tindakan tatatertib yang dikenakan oleh UKM bagi kesalahan mengikut Seksyen 15(5)(a) AUKU adalah tidak berasas dan tidak sah di sisi undang-undang. -TMI



II - Menteri Pengajian tinggi perjelas isu Seksyen 15 (5)(a) AUKU





SERDANG: Seksyen 15(5)(a) Akta Universiti dan Kolej Universiti (AUKU) yang melarang pelajar berpolitik bertujuan memastikan matlamat utama pendidikan untuk membina minda dan keupayaan intelektual pelajar dipenuhi.

Menteri Pengajian Tinggi, Datuk Seri Mohamed Khaled Nordin dalam penjelasannya semalam, berkata ia juga bagi mengelakkan mereka terikat secara langsung dengan parti politik, manakala Perlembagaan memang membenarkan sekatan tertentu untuk kepentingan pendidikan.

Beliau berkata, jika dibenarkan menjadi ahli atau memegang jawatan politik, pelajar akan terikat dengan ideologi dan peraturan parti yang perlu dipatuhi, sekali gus menjejaskan matlamat pendidikan untuk membina minda dan keupayaan berfikir pelajar.

"Dari sudut pendidikan, Perlembagaan membenarkan supaya ada sekatan dan perkara ini perlu diberi penekanan kerana memang menjadi matlamat institusi pengajian tinggi dan matlamat utama pendidikan untuk membina pemikiran pelajar.

"Ada orang kata jika menyertai parti politik akan menerbitkan keintelektualan di kalangan pelajar, tetapi kita lihat ramai pelajar tidak menyertai parti politik pun untuk mencapai tahap itu (intelek)," katanya selepas merasmikan Kompleks Fakulti Perubatan Veterinar Universiti Putra Malaysia (UPM) di sini, semalam.

Beliau mengulas keputusan Mahkamah Rayuan kelmarin yang memutuskan Seksyen 15(5)(a) AUKU yang melarang pelajar menyatakan sokongan dan simpati atau bangkangan kepada mana-mana parti politik dalam dan luar negara, bercanggah dengan Perlembagaan.

Pada 28 September lalu, Mahkamah Tinggi Kuala Lumpur menolak permohonan empat pelajar Universiti Kebangsaan Malaysia (UKM), Muhammad Hilman Idham, Wong King Chai, Muhammad Ismail Aminuddin dan Azlin Shafina Mohamad Adza yang didakwa terbabit dalam kempen pilihan raya kecil Hulu Selangor pada April tahun lalu sebelum membawa kes itu ke Mahkamah Rayuan Putrajaya.

Mengulas lanjut, Mohamed Khaled bagaimanapun berkata, seksyen itu membenarkan pelajar menjemput wakil parti politik menyertai program di kampus bagi membolehkan mereka mendengar pandangan parti politik berhubung sesuatu perkara.

Beliau juga berkata, orang ramai perlu memahami mengapa AUKU tidak membenarkan pelajar menjadi ahli kepada parti politik. -BH




Ulasan GB



Kedua-dua menteri berkenaan sepatutnya sudah boleh dikenakan tindakan MENGHINA MAHKAMAH.

Setiap keputusan mahkamah adalah "undang-undang" yang mengikat dan perlu dipatuhi di bawah

Common Law

, iaitu sistem undang-undang yang digunapakai di negara ini. Keputusan mahkamah BUKAN sekadar pandangan.

Dua menteri berkenaan juga adalah contoh

menteri yang bermentaliti kolot

yang masih ingin mempertahankan kuasa melalui pengenaan undang-undnag yang tidak demokratik.


Posted: 03 Nov 2011 05:29 AM PDT
It's not easy for anybody to admit.. being stressed out? Depressed?
Talk about a normal conversation that can erupt into a Gaza conflict.
When things are not the happy ones that you hope for, you tend to start blaming others.
And in the process, you accidentally hurt other people's feelings.
Especially, when the person concerned, has been trying to be as considerate as possible.
If you cannot afford a holiday, then don't take it!
It was merely a suggestion, not an invasion of privacy.
I haven't been for a holiday for years too.
Unless going for my Umrah trips are called holidays?
Don't say I'm nice to others but not to my own children??
And when a child is loudly rude, after the 'everything I do is for you', tell her to pack up and leave if she cannot appreciate the sacrifices made..seriously!
Go and stay with the father and his new 'whatever'!
A husband who had cheated continuously on his wife; because he had ultimately realised that he has been so very unhappy for umpteen years..
O what the heck!
Admit lah! Plain horny afterall...
Simply not fearful of God?!!
And then, divorces her for a high maintenance 'crew-meal'..
Well..that explains how the ex wife must have failed miserably and was so yucky in bed!
Children whom the mother tries to be patient with..
if any turns around rudely, when her advice is deemed unacceptable..
then; such children better think twice and be wiser, or it's advisable for the mother to ignore them totally.. and see what happens next.
Never have a low opinion of yourself.
Even if you're like me..a non-career divorcee..
It's tiring.. being measured by how big an income one is earning..
Or not earning at all.
And then, looking at somebody whose husband is a..
VIP, top politician, powerful income earner..lots of wealth and people of high stature.
Both the husband and wife appear so lovey dovey in public..no matter how fat or old the wife is.
Even if the wife looks so unfriendly and snootish.
They're highly respected and loved..so it's more of the material aspect?
People can't wait to kiss their hands! Me included!
They are apparently having a perfectly happy life.
Their imperfections and unhappiness if many, are well blanketed...maybe, they don't have any!
Not forgetting, people who think they better stay away from you..because you're a cuckoo divorcee..
Or, who's trying to steal their husbands or boyfriends, and you're just exuding negative vibes!
Get off..go away..I'm not a desperado!
I do feel slighted when another preached to you;
'you are unworthy because you have made yourself so'..
She/he better wait..it's a taboo!
Nobody sane would want to behave in an unworthy way..
When one is luckier not to be tested yet, one can profess to be a 'psychologist' overnight.
For some who have been there, the same ailment may warrant different approaches..
Talking about your experience is well received..
We can at least share the unlucky family's emotional turbulence, and exchange notes.
Ok, if you still owe some money from a friend or a close sibling many years ago, but somebody whom you trusted, had quietly bitched about it; what do you do?
Calm down..Go and zikir..
I dread it when I'm being told to do this..as though my depth in religion is so shallow!
De-stress yourself..take your ablution..remember God..be a good Muslim!
Ya Allah..do I have to elaborate that I know about all these?
No need to remind me this way..please!
I do pray and I do remember Allah SWT.
There's a good ceramah agama..go and listen!
You'll feel rejuvenated!
Thank you..I will when I can.InsyaAllah.
O my goodness, to my many close pious friends..
I appreciate your religious advice.
However,*I tahu bab agama serba sedikit*..
Thanks so much.
There are a number of Muslim blogger ladies married to Mat Sallehs who do not require so much
cleansing
like me.
It doesn't matter how some of them behave, dress or live the Western ways..
What matters most is that they're successful and happy..
*I hope not to be accused of referring to anybody in particular*
They never need any religious advice?
Because they don't have problems like mine?
I am not totally ignorant.
I do read many blog postings with relevance to all the ayat2 Quran and their interpretations as guidances..
Continuing; Yes..I owe Prof Hamid around 3K? 5k?
Yes..I owe Bim and Ro 7 k..what else?
Nope, we didn't borrow from any Alongs ok..thank God!
Also, both were debts whilst still married to the amorous Dato'.
As for the ex hubby, whatever unhappiness he has sprinkled over his children, and hardships he has caused because the razor sharp 'crew-meal' is so damn worth it;
I hope they'll both rot in hell!
I am definitely not planning to jump into a reservoir!
I know..go and solat, read the Quran..that goes without saying.
No need to remind me please!
I am a born Muslim..no need to frantically teach me like I just got converted..
I do thrive on improving my spiritual knowledge and strength from time to time.
p.s.
If you think I have managed to 'twist things' and 'generate sympathy', please don't come back to my blog..thanks!
My blog postings are just raw fodder for real minded people..I am not from the 'fairytale' world.
They're for people who understand that these are harsh realities..nothing shameful, degrading and extremely normal in life.
And for people who can probably relate their experiences or knowledge to my confrontational postings..
Thank you.
Lelaki Dipenjara Kerana Belasah Isteri
Posted: 03 Nov 2011 03:29 AM PDT
K
uala Terengganu - Hanya kerana menegur suaminya agar jangan berbuat bising, seorang isteri terpaksa berhadapan detik mencemaskan apabila dibelasah dengan teruk oleh si suami pada bahagian kepala menggunakan sehelai kain sehingga mendatangkan kecederaan.
Bagaimanapun, perbuatan sang suami yang panas baran itu terbalas apabila Mahkamah Majistret, di sini, semalam, menjatuhkan hukuman denda RM1,000 selepas dia mengaku bersalah mengikut Seksyen 323 Kanun Keseksaan.
Tertuduh, Wan Badarul Azmani Wan Abdullah, 35, dari Kampung Bukit Bayas, bagaimanapun

memilih menjalani hukuman penjara selama sebulan kerana tidak mempunyai wang untuk membayar jumlah denda berkenaan

.

Mengikut pertuduhan, pada 26 Julai lalu kira-kira jam 5 pagi di sebuah rumah di Jalan Gong Penaga, Pasir Panjang, di sini, tertuduh didakwa dengan sengaja mendatangkan kecederaan ke atas isterinya, Mazlina Mohamed, 31.

Dengan itu, dia yang juga seorang penagih dadah didakwa melakukan kesalahan di bawah Seksyen 323 Kanun Keseksaan yang boleh dipenjara maksimum setahun atau denda sehingga RM2,000 jika disabitkan kesalahan.

Pendakwaan dikendalikan Pegawai Pendakwa, Inspektor Zainuddin Abd Ghani di hadapan Majistret Noradila Abd Latif.

Berdasarkan fakta kes, pada 26 Julai lalu kira-kira jam 5 pagi, mangsa terjaga dari tidur di rumahnya di Jalan Gong Penaga, Pasir Panjang, di sini, dan ketika itu mendapati dua anaknya berada di dalam bilik lain bersama suaminya iaitu tertuduh.

Mangsa sebelum itu terdengar suara mereka bising di dalam bilik berkenaan dan masih belum tidur lagi. Bimbang suasana bising itu boleh mengganggu jiran sebelah rumah mereka, mangsa menegur tertuduh dari luar bilik memandangkan pintu bilik berkunci dari dalam.

Tidak lama kemudian, tertuduh membuka pintu dan keluar dari bilik lalu terus memukul kepala mangsa. Perbuatannya itu dilihat oleh anak kedua mangsa dan selepas itu, tertuduh terus berlalu masuk semula ke dalam bilik serta menutup pintu.

Sebelum ini, tertuduh kerap kali memukul dan menerajang mangsa serta pernah beberapa kali ditahan polis kerana penyalahgunaan dadah.

Keesokan harinya iaitu kira-kira jam 2 pagi, polis membuat serbuan ke rumah tertuduh sebelum menangkapnya untuk siasatan lanjut. -SH


Siri Bercakap Dengan Miki – Hold my GODIAK!
Posted: 03 Nov 2011 01:24 AM PDT
Last weekend Miki had his first haircut done by a proper hairdresser. In his entire life it has always been his Daddy or me trimming his hair. Miki was like totally cool as the hairdresser trimmed his hair except occasionally he wiped his face because he couldn't tahan tickly hair bits on his nose.
Dah besar sangat dah Miki, gunting rambut kat kedai sudah..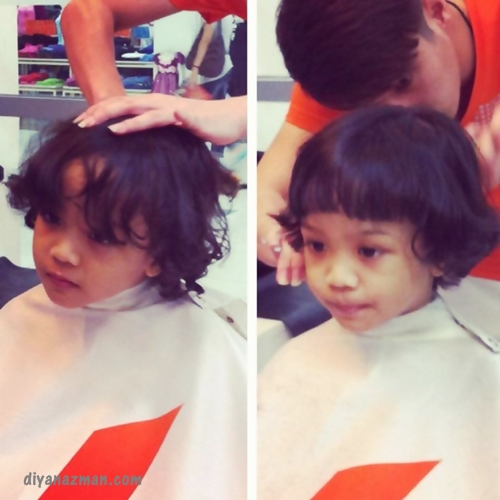 I think Miki is confused between what's English and what's Malay.One day while we were talking, he said,
"Miki tak reti cakap Melayu!" dengan poyo nye…
Daddy : "Ek elehh.. Abis yang Miki tengah cakap sekarang ni bahasa apa?"
Miki : "Miki cakap English!" dengan penuh keyakinan.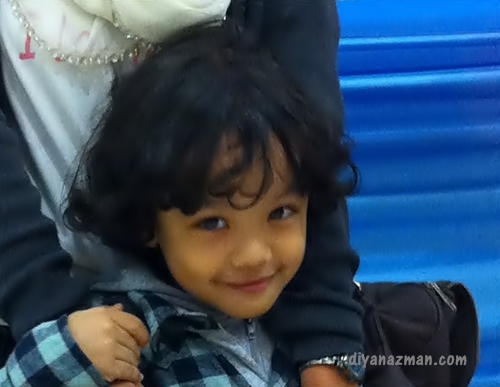 Although we raise Miki with English as the second language and not the other way around, at 3 he picks up a lot of English sentences already. Some really perfect and others bertabur-tabur! Cant blame him la his parents usahkan English, cakap Melayu pun bersepah. What to do? Yesterday while he was scolding Azman in longggg Malay babblings, suddenly he ended it with "HOW MANY TIMES DO I HAVE TO TELL YOU?"
Ha, terkesima Daddy kau! hahahaha
In Finding Nemo, there is a scene where Marlin was taking Nemo to school for the first time. He said "Hold my fin!" Which is really cute and at home we always say that too instead of "Hold my hand!"
Yesterday while crossing the road to our car, Azman reminded Miki not to run. He gave our favourite Finding Nemo instruction to the little guy and Miki just have to give some nasik tambah…
Daddy : "Hold my fin! Hold my fin!"
Miki : "Hehehe….. Hold my godiak! Hold my godiak!"
Mummy : "Daddy dengar tak apa Miki kata?"
Daddy : "Dengar…. Dia kata Hold my godiak….. KETIAK LA MIKI BUKAN GODIAK!!!"
Miki : "Hold my godiak! Hold my godiak! Hold my godiak!" non- stop.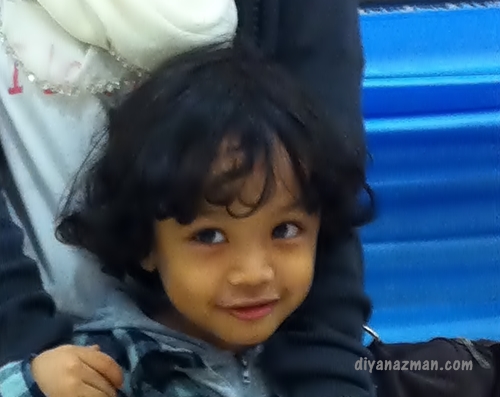 He has been to 2 art classes at Art Safari already. That's 3 if you count the trial class. I think over there, not only that he is the smallest kid. He is also the loudest. If you have been to Giant Kinrara, you'd know how I can hear him asking questions to his teacher from the bench at the nearby playground. Dasyat tul Miki. But yang tak tahan he gave so many excuses to the teacher, like how he doesnt know how to color… how he doesnt know how to draw… Although according to the teacher he is doing really well for his age.
And the best excuse is, tetengah sibuk mengaler, he told her, "Teacher, Miki rasa nak sleep la…."
And it was 8 pm. Itu bidaah Miki! Tak baik. Ko tak pernah rasa mengantuk pada pukul 8 malam. You will only go to sleep at midnight after we force you with forces ala Taliban terrorists. Lagi sekali ko auta keling kat Teacher, Mummy babap ko! Awas!
Here is a picture he drew at home…. I think the tree and the house is so cute. At Art Safari he gets to color with water color etc.. I am too lazy to manage that home!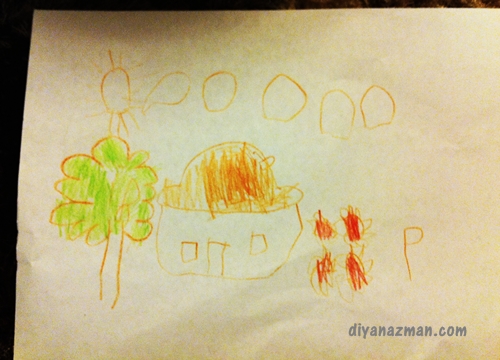 Have a nice day every one!
Ex-ISA detainees now being probed for money laundering
Posted: 03 Nov 2011 01:13 AM PDT
Source: http://www.malaysiakini.com/news/180389 (3.11.2011)
Eight Immigration Department officers suspected of being involved in a human smuggling syndicate are now being investigated under the Laundering and Anti-Terrorism Financing Act 2001.
However, the Home Ministry offered no explanation as to why the officers, freed after being detained for more than a year under the Internal Security Act (ISA), were not being probed under the Anti-Trafficking in Persons and Anti-Smuggling of Migrants Act 2007 for the crime they were originally accused of.
Also, no reason was given as to why these officers were now being investigated under the terrorism financing law in the written reply to Lim Lip Eng (DAP-Segambut) who asked for the rationale in freeing the officers and the legal action taken under the anti-trafficking law.
"The eight Immigration Department officers were released based on the evaluation and the reports from the police as well as the prison authorities that they are no longer a threat to national security," Home Minister Hishammuddin Hussein said.
"As of now, they are being probed under the Laundering and Anti-Terrorism Financing Act 2001 and once investigations are concluded, the investigation papers will be presented to the Attorney-General's Chambers for follow-up action," he said.
The eight officers were released in August and the reason, Hishammuddin said, was because they "had shown awareness and remorse over their mistake, and had promised never to repeat it".
Kenyataan Media: PPSMI Opsyenel Bukan Dasar Pakatan
Posted: 03 Nov 2011 01:00 AM PDT
Minggu ini DAP mengumumkan bahawa mereka menyokong pengajaran dan pembelajaran sains dan matematik di dalam Bahasa Inggeris (PPSMI) sebagai opsyen bagi sekolah-sekolah yang mana majoriti ibu bapa memilihnya.
Kami memahami keperluan pelajar menguasai Bahasa Inggeris dan mendapat pendidikan yang bermutu. Tetapi PPSMI bukanlah dasar untuk mencapai kedua-dua objektif ini.
Tambahan lagi, PPSMI tidak disebut di dalam Dasar Bersama mahupun Buku Jingga yang mendasari muafakat antara KEADILAN, PAS dan DAP.
PPSMI diperkenalkan pada 2003, tidak sampai enam bulan selepas Kabinet Tun Dr. Mahathir Mohammad memutuskan untuk berbuat demikian tanpa sebarang perundingan, penyelidikan mahupun kajian.
Dasar ini mendapat tentangan ibu bapa, pendidik dan sarjana daripada pelbagai latarbelakang dan kaum. Sementara PPSMI diperkenalkan sepenuhnya di sekolah-sekolah kebangsaan dan Tamil, pengajaran dan pembelajaran sains dan matematik di sekolah-sekolah Cina dibuat di dalam dwi-bahasa Mandarin dan Bahasa Inggeris berikutan tentangan keras Dong Jiao Zong.
Akhirnya kerajaan menerima kelemahan PPSMI pada 2009 dan memutuskan untuk memansuhkan dasar ini pada 2012.
Kami menentang PPSMI kerana:
1. Cara terbaik mendidik anak-anak kita ialah menerusi bahasa kebangsaan yang difahami semua. Mendidik pelajar dengan bahasa yang asing pada mereka kecuali segelintir kecil keluarga yang beruntung datang daripada keluarga yang fasih berbahasa Inggeris (yang merupakan minoriti kecil) hanya akan memberi manfaat kepada mereka yang fasih Bahasa Inggeris dan merugikan majoriti pelajar-pelajar lain, sekaligus melebarkan jurang pendidikan. Malaysia merosot secara mendadak di dalam kajian Trends in International Mathematics and Science Study 2007, Amerika Syarikat selepas pelaksanaan PPSMI.
2. Kedudukan Bahasa Malaysia sebagai bahasa kebangsaan telahpun termaktub di dalam muafakat Perlembagaan kita yang dipersetujui bapa-bapa kemerdekaan kita. Pakatan Rakyat telah mengulangi komitmennya kepada muafakat ini.
3. Kami menyokong usaha menambahbaik pengajaran Bahasa Inggeris untuk semua rakyat Malaysia. Namun cara sebetulnya ialah dengan meningkatkan kualiti guru-guru dan kurikulum Bahasa Inggeris serta menambah masa pengajaran Bahasa Inggeris, bukannya menerusi PPSMI!
4. Pelaksanaan PPSMI yang dibuat serta-merta menyebabkan guru-guru sains dan matematik yang tidak menguasai Bahasa Inggeris dipaksa mengajar di dalam bahasa tersebut, sekaligus menjejaskan mutu pengajaran mereka. Mangsa paling besar dasar ini ialah pelajar-pelajar yang datang daripada keluarga yang tidak berbahasa Inggeris yang menanggung beban tambahan menyesuaikan diri dengan guru-guru yang tidak dapat mengajar kedua-dua mata pelajaran ini dengan baik.
5. Pada masa dunia berbahasa Inggeris menjadi semakin terbuka terhadap pengajaran bahasa-bahasa asing seperti Mandarin, Perancis, Sepanyol dan Arab, keghairahan kita dengan Bahasa Inggeris adalah luarbiasa. Kita sepatutnya bersyukur dengan warisan masyarakat majmuk kita yang membolehkan semua diajar Bahasa Malaysia dan Inggeris dan diberi peluang untuk mempelajari bahasa-bahasa lain seperti Arab, Mandarin, Tamil dan lain-lain lagi.
Justeru, dasar Pakatan adalah jelas dalam isu PPSMI dan tidak patut dibangkitkan lagi sehingga dan sekiranya kepimpinan Pakatan mahu mengkajinya semula.
Banjir Di Kamboja Ganggu Eksport Daging Tikus
Posted: 03 Nov 2011 02:22 AM PDT
B
anjir terburuk yang melanda Kamboja selama satu dekad, membuat perdagangan daging tikus negara tersebut mengalami kerugian. Kerana, banjir juga menenggelamkan tikus-tikus yang berpotensi untuk dieksport ke Vietnam.
Gambar:
Sedapnya.... seorang kanak-kanak di kota Battambang, Kamboja, memakan daging tikus
"Setiap tahunnya Kamboja mengeksport 17 ton daging tikus ke Vietnam. Tahun ini persediaan daging tikus menurun secara drastik kerana banjir menenggelamkan banyak tikus," kata Perdana Menteri Kamboja Hun Sen, seperti dikutip dari MSN, Khamis 3 November 2011.

Tidak disebutkan seberapa besar industri penjualan daging tikus di Vietnam. Namun, daging tikus dikenali sebagai makanan yang murah dan lazat di negara tersebut. Hal ini menjadikan Vietnam pengeksport tikus hidup terbesar dari kampung-kampung di perbatasan Kamboja.

Ketua Pemeriksaan Perbatasan Chrey Thom, Ros Sothea, mengatakan masih belum mengetahui statistik penjualan daging tikus tahun ini. Namun, beliau yakin daging tikus yang berhasil dijual ke Vietnam tahun ini jumlahnya susut dengan drastik.

"Hampir tak ada tikus yang dapat dieksport ke Vietnam kerana banjir menenggelamkan kesemuanya. Padahal tahun lalu, banyak sekali tikus yang berhasil dieksport," kata Sothea.

Kamboja menjadi salah satu negara delta sungai Mekong di Asia yang mengalami bencana banjir. Sekurang-kurangnya 247 orang di Kamboja tewas dan sepersepuluh kawasan sawah rosak pada bencana banjir terburuk sejak tahun 2000 tersebut. -vivanews

Media Statement: Optional PPSMI Not in Pakatan's Policy
Posted: 03 Nov 2011 12:55 AM PDT
This week the DAP announced that the party supports the teaching of science and mathematics in English (PPSMI) as an option for schools where the majority of the parents chose to do so.
We understand the need for students to master English and to receive quality education. But PPSMI is not the way to achieve the two objectives.
Furthermore, PPSMI was not mentioned in the Common Policy Framework or Buku Jingga which binds KEADILAN, PAS and DAP.
PPSMI was implemented in 2003, less than 6 months after Tun Dr. Mahathir Mohammad's cabinet decided to do so, without any proper consultation, research or study.
The policy attracted protests from parents, educationists and scholars from various backgrounds and ethnicities. While the PPSMI was fully implemented in national and Tamil schools, the teaching of science and mathematics in Chinese schools were done in both Mandarin and English due to the strong protest from Dong Jiao Zong.
Finally in 2009 the government accepted PPSMI's failures and decided to scrap the policy in 2012.
We are against PPSMI because:
6. The best way to educate our children is through the national language which is understood by everyone. Educating students in a language that is foreign to them bar except for families who are fortunate to come from English-speaking families (which is a minority) will benefit the English-speaking students at the expense of the rest, thus widening inequality. Malaysia dropped significantly in the Trends in International Mathematics and Science Study 2007, the United States after the implementation of PPSMI.
7. Bahasa Malaysia as the national language has been enshrined in our Constitutional Consensus that was achieved by our founding fathers. Pakatan Rakyat has reiterated its commitment to the Constitutional Consensus.
8. We support the effort to improve the teaching of English for all Malaysians. But that should be done through improving the quality of English teachers and the syllabus as well as adding more hours for English classes, not through teaching science and mathematics in English!
9. The immediate implementation of PPSMI resulted in science and mathematics teachers who have poor command of English being forced to do so, thus affecting the quality of their teaching. The worst victims of this policy are the students from non-English speaking households who have the added burden of coping with teachers who are unable to properly teach the two subjects.
10. At a time when the English speaking world is becoming more open to the teaching of 'second languages' such as Mandarin, French, Spanish and Arabic, our obsession at everything English seems out of place. We should be grateful of our diverse heritage where everyone is taught Bahasa Malaysia and English and should be given the opportunity to learn languages such as Arabic, Mandarin, Tamil and other languages.
Thus, Pakatan's policy is clear on the matter and should be left at that until and unless the Pakatan's leadership decide otherwise.
Posted: 02 Nov 2011 11:53 PM PDT
第二副财政阿末胡斯尼最近作出惊人宣布,说为协助处理500令吉援助金给家庭收入低于3000令吉的申请工作,内陆税收局将增加 2000名职员,副部长的言论让国人不禁吃惊。此宣布显示出国阵联邦政府派发500令吉援助金的决定只是一项仓卒的即席政策,因为国阵联邦政府在拟定2012年国家财政预算案时,根本没有预算要用到2000名员工来执行政策。联邦政府拨出了18亿令吉来执行这项政策,根据内陆税收局的统计,目前国内有大约350万户月收入低于3000令吉的家庭,因此,在该笔18亿令吉的拨款当中,有17.5亿令吉是用在那350万户的家庭上,而剩余的5000万令吉则是用在其他还未向内陆税收局登记的家庭,换句话说,在18亿令吉的拨款中,联邦政府并没有考虑到执行政策的预算。本人质疑,联邦政府是否在最后关头才想到执行政策的难度,以致必须临时将增聘2000名职员的成本编入附加财政预算?如果以每人平均月薪1500
Kenyataan Media tentang Isu Bekalan Air dan Hakmilik Strata Pangsapuri Kayangan, PJS 10
Posted: 02 Nov 2011 11:50 PM PDT
Pangsapuri Kayangan merupakan sebuah kediaman bertingkat di PJS 10 Petaling Jaya. Walaupun Pangsapuri ini ditadbir oleh Badan Pengurusan Bersama (JMB) yang aktif namun penduduk menghadapi beberapa masalah khususnya isu bekalan air dan hakmilik strata.
JMB telah cuba menyelesaikan isu-isu ini dengan pihak berkuasa sejak tahun 2007. Sejak saya dipilih menjadi Ahli Dewan Undangan Negeri Seri Setia pada 2008, saya telah membantu JMB untuk menyelesaikan masalah-masalah yang mereka hadapi selama ini.
1. Isu Bekalan Air
Saya dengan kerjasama pejabat Pejabat Menteri Besar Selangor, Exco Perumahan, Pengurusan Bangunan dan Setinggan YB Iskandar Samad, Lembaga Perumahan dan Hartanah Selangor (LPHS) dan MBPJ telah meminta pihak Syabas dan pemaju Pangsapuri Kayangan, Bandar Subang Sdn Bhd menyelesaikan tunggakan bil air meter pukal dan migrasi ke meter individu.
Mesyuarat terakhir pada 20 Julai 2011 telah memutuskan agar sebahagian jumlah deposit meter air pukal yang dibayar penduduk berjumlah dikontrakan sebagai deposit meter individu. Oleh itu, setiap unit hanya perlu mengeluarkan RM40 bagi migrasi ke meter individu.
LPHS telah menghantar surat pada kepada Bandar Subang Sdn Bhd untuk membuat kontra ke atas jumlah deposit RM28760 dengan tunggakan bil air meter pukal semasa tempoh pengurusan pemaju RM31040. Justeru baki yang perlu dijelaskan kepada pihak Syabas ialah RM2280.
2. Isu Hakmilik Strata
Pemilik-pemilik Pangsapuri Kayangan turut menghadapi masalah dalam isu mendapatkan hakmilik strata untuk unit-unit mereka. Masalah dahulu berpunca daripada perbezaan keluasan petak strata di antara keluasan yang diberikan oleh pihak pemaju (97 m2) dan keluasan yang disemak oleh penduduk dan disahkan oleh Jabatan Ukur dan Pemetaan Negeri Selangor (96 m2).
Kini selepas pengesahan Jabatan Ukur dan Pemetaan Negeri Selangor dan kerjasama Pejabat Tanah dan Galian Selangor, pengeluaran geran strata hanya tertangguh akibat penaiktarafan tanah daripada Mukim Damansara kepada Bandar Sunway.
Saya berharap Pejabat Tanah dan Galian Selangor dapat segera mengeluarkan hakmilik strata kepada para pemilik apabila proses tersebut selesai.
Yang dikesali ialah dalam kedua-dua isu ini ialah sikap yang ditunjukkan oleh pemaju, Bandar Subang Sdn Bhd yang tidak mahu bekerjasama dengan JMB bagi menyelesaikan masalah-masalah utama yang dihadapi penduduk. Malah ada pemilik yang terpaksa membayar ribuan ringgit untuk keluasan tambahan (extra built-up) kepada pemaju apabila menjual unit mereka.
Masalah yang dihadapi JMB Pangsapuri Kayangan turut dihadapi beberapa kediaman bertingkat di PJS 10 yang turut dimajukan oleh Bandar Subang Sdn Bhd.
Justeru saya meminta Bandar Subang Sdn Bhd untuk bertindak selewat-selewatnya pada 7 November 2011 sebagaimana diminta oleh LPHS bagi isu migrasi meter air.
Sekiranya mereka terus berdegil, saya ingin memohon kepada YAB Tan Sri Dato' Seri Abdul Khalid Ibrahim selaku Menteri Besar dan YB Iskandar Samad untuk mempertimbangkan tindakan terhadap Bandar Subang Sdn Bhd termasuk menyenaraihitamkan mereka daripada sebarang projek pembangunan semasa dan akan datang di Selangor.
Posted: 02 Nov 2011 10:29 PM PDT
Lotus for China; why not Proton?
Posted: 02 Nov 2011 10:20 PM PDT
The announcement in Beijing by Proton Holdings Bhd group MD Syed Zainal Abidin Syed Mohamed Tahir that the company would go all out to lure Chinese billionaires for its
luxury Lotus
sport car, was indeed a good move.
Good in the sense that Proton will not only make headway in the world's largest economy but will also open the door to the 'Greater China', Mongolia and eastern Russia. And with a well-strategised marketing, the target to sell 400 units of the model seems not to be so daunting.
With Lotus China to open up
30 showrooms
by 2013 will help boost its sales. Well, it is timely for Lotus to enter the Chinese market, and as the network of dealers expands, demand for Lotus sport cars will grow accordingly.
China has many millionaires and billionaires, in fact the number accounts for almost 20 per cent of the worlds' total. They also have a classy taste for other sport makes such as Ferrari, Lamborghini and others. With a 'British' origin, Lotus would be another good option for them.
However, while Proton choose China as the largest sales platform for Lotus, the company should also consider the position of other Proton models in the country. While we accept the influx of China-made models to Malaysia, we should also try to persuade them to 'reciprocate'.
I am not raking the past but history provides us with better insights of how improvement can be attained. When other car manufacturers were busy producing their SUV and MPV models that conquered the market, Proton took more than 10 years later to introduce the Exora, which is not a hit.
There is no way for us to curb the entry of foreign cars to Malaysia. Globalisation and the open market system makes competition more stiff and car manufacturers have to find fresh strategies to stay in business. Proton should always be in good competition with the rest, in Malaysia and elsewhere.
We are proud of Proton's achievement thus far but as compared to other makes, we still lag in innovation and in keeping up with the 'trends in demand'. Proton must be able to habituate to foreign specification while tagging a competitive price to its product.
Something must be done to market Proton's product worldwide. Lotus aside, Proton models are finding it more difficult to penetrate the markets where Honda, Toyota, KIA, Cherry, BMW or other makes have established.
Are we selling any Exora or Saga to China? My last time in Beijing in 2006, I didn't see any.
And by the way, can we find any Proton car on the roads of the countries where Ferrari, BMW, Mercedes Benz, Volkswagen, Hummer, Fiat, KIA and Nissan are produced? We see this cars in Malaysia but can we find a single Proton model over there?
Yes, it is true that we own 100 per cent stake in Lotus UK but Proton models are still our dominance. Why can't we take this models to China, Germany, Italy, South Korea, Japan and other countries?
Are we so inferior?