---
Posted: 09 Dec 2011 10:07 AM PST
Tun Dr Mahathir Mohamad yesterday called for Datuk Seri Shahrizat Abdul Jalil to quit politics following the
controversy
over the RM250 million National Feedlot Centre (NFC) project awarded to the her family.
The former prime minister, who is still highly influential in Umno, told a press conference Friday that the Wanita Umno chief should leave before being "chased out" by her party.
"If we feel it is necessary to quit for the sake of party, we quit. When I wanted to quit, I didn't ask anyone. I hope others do the same. Don't wait for people to chase you off.
"Yes, ukur baju di badan sendiri (measure yourself up)," he said when asked if the senator should resign.
The former Lembah Pantai MP had gained the support of both the Youth and her Wanita wings of Umno last week after denying any wrongdoing in the controversy over the national cattle-farming project.
Looks like there is no 'cooling down' over the issue. If Dr M himself has spoken up, I believe a few others will follow suit. However, let us listen to Shahrizat...
... more stories here and here...
Posted: 09 Dec 2011 09:43 AM PST
Warning
: file_get_contents(http://api.bitly.com/v3/shorten?login=tursiainfo&apiKey=R_fe7284ee32bc962288b562dc8aaf9c85&longUrl=http://lucialai.org/2011/12/10/please-register-to-vote/&format=txt) [
function.file-get-contents
]: failed to open stream: HTTP request failed! HTTP/1.1 403 Forbidden in
/home/lucialai/public_html/wp-content/plugins/share-it/share-it.php
on line
53
… it's your future and your children's future at stake! if you are not a voter yet, quick register at the following venues, a registration exercise organised by the malaysian consultative council of buddhism, cthristianity, hindusism, sikhism, taoism (MCCBCHST) 
Perlis:  Pertubuhan Buddhist Perlis, Kangar
Kedah:  Malaysia Hindu Sangam, Sungai Petani
Penang:  Buddhist Association, Jalan Burmah, Georgetown
Perak:   Hindu Sangam, Jalan Lumut (Ipoh), Tokong Hock Soon Keong (Teluk Intan), SMK Perempuan Perak (Ipoh)
Kelantan:  Kelantan Buddhist Association, Kota Bharu
N. Sembilan:   Punjabi Language Centre, Gurdwara Sahib, Seremban
Malacca:   St Peter Church, Jln Bendahara
Johor:    Sacred Heart Church (Taman Sri Tebrau, JB) & Carrefour (Batu Pahat)
Pahang:   Malaysia Hindu Sangam, Jalan Beringin, Mentakab
Selangor:   Gurdwara Sahib, P. Jaya
KL:   Maha Vihara Brickfields
as i'm in penang, for sure i'll go to penang's venue… but not to register. i had already registered long time, the minute i was of age to register and never missed to vote. i'll be there (around 11am), hopefully to report for the 'union catholic asian news' (UCAN).  lately i had two articles published there, both about the peaceful assembly bill – one general comments and one is on the press statement  from MCCBCHST.
UMNO Bakal Hangus Menjadi Abu Apabila ABU Dilancarkan Besar-besaran Seluruh Negara
Posted: 09 Dec 2011 09:40 AM PST
E
koran kegagalan Umno memimpin Malaysia selama lebih 50 tahun, satu pergerakan dikenali sebagai Asalkan Bukan Umno (ABU) telah ditubuhkan untuk mengkuburkan Umno dari terus mencengkam Malaysia.
Gambar:
(Dari kiri) Badrul Hisham Shaharin dan Haris Ibrahim pada majlis pelancaran Asalkan Bukan Umno di Kuala Lumpur hari ini. ― Foto oleh Choo Choy May (TMI)
Menurut Presiden Solidariti Anak Muda Malaysia (SAMM), Badrul Hisham Shaharin atau Che Gu Bard kempen Gerakan Rakyat Membebaskan Malaysia Dari Cengkaman Umno/BN diadakan serentak diseluruh Semenanjung tepat jam 3.30 petang ini kecuali di Pulau Pinang dan Terengganu yang diadakan pada waktu yang berbeza hari ini.

"ABU akan melancarkan kempen ke seluruh Negara untuk menyeru rakyat supaya berani menyatakan pendirian jijik dan perasaan meluat mereka terhadap penyelewengan dan rasuah yang Umno/Bn amalkan, lantas dengan tidak teragak-agak menolak Umno/Bn.

"Kesan yang kini dirasai rakyat ialah kenaikan harga barang yang melampau. 80 peratus rakyat Malaysia kini terpaksa menanggung beban kos sara hidup yang semakin tinggi. Sedangkan pemimpin-pemimpin Umno/Bn dan kroninya hidup mewah sekali,"katanya.

Selain itu katanya pelbagai penyelewengan dan salah laku pemimpin umno seperti amalan rasuah, kronisme, pemborosan serta dasar perkauman tegar parti tersebut perlu dilenyapkan dari terus bertapak di negara ini.

Gerakan ini dipelopori gabungan beberapa NGO yang terdiri dari organisasi massa termasuk Parti Rakyat Malaysia, Parti Sosialis Malaysia serta kumpulan mahasiswa KAMI.

Presiden MCLM, Haris Ibrahim dalam kenyataannya menyebut usaha menyedarkan masyarakat telah giat dijalankan dalam setahun ini bagi menyampaikan berita sebenar kepada rakyat.

"Usaha ABU adalah untuk membawa kebenaran supaya rakyat sedar tentang apa yang telah dilakukan Umno untuk rakyat dan juga kroni-kroni mereka sehingga negara ini hampir bangkrup," ujar Haris tegas.

Sementara itu, satu forum besar-besaran akan diadakan di Markas Tarbiyah PAS, Taman Melewar, Gombak pada 15 Disember ini.Satu pengumuman penting yang akan merubah situasi politik di negara Malaysia bakal dibuat pada hari tersebut. -FMT





NGO, parti politik lancar ABU tingkat gerakan anti-Umno



KUALA LUMPUR, 9 Dis ― Parti-parti politik dan organisasi bukan kerajaan berganding membentuk satu gerakan anti-Umno, yang dikenali sebagai Asalkan Bukan Umno (ABU) bagi membantu menyedarkan pengundi berkenaan 'kejahatan Umno' menjelang pilihan raya umum ke-13.

Gerakan itu dianggotai Pergerakan Kebebasan Sivil Malaysia (MCLM) dan Solidariti Mahasiswa Malaysia (SAMM) serta parti-parti politik seperti PKR, Parti Sosialis Malaysia (PSM) dan Parti Rakyat Malaysia (PRM).

Badrul Hisham Shaharin dari PKR dan SAMM berkata, sudah tiba masanya orang perseorangan dan pertubuhan-pertubuhan sivil meletakkan titik akhir ke atas penguasaan Umno atas alasan parti itu secara berterusan menggunakan politik perkauman untuk menakut-nakutkan dan menindas rakyat.

Kata beliau, ABU akan melancarkan kempen peringkat kebangsaan bagi menyeru orang ramai menghimpunkan suara mereka menolak amalan-amalan salah guna dan rasuah pihak Umno selama ini.

"Dan, dengan itu tanpa ragu-ragu menolak Umno-BN," kata beliau yang mesra dengan panggilan Chegubard.

Katanya, amalan rasuah yang teruk di pihak Umno telah menyebabkan rakyat terpaksa membayar harga yang tinggi bagi mendapatkan barang dan perkhidmatan seharian.

Katanya, sidang media serentak juga diadakan di negeri-negeri lain termasuk di Pulau Pinang dan Terengganu.

Presiden MCLM Haris Ibrahim yang turut hadir berkata, beliau telah dihalang daripada memasuki Sabah baru-baru ini untuk membentuk gerakan ABU di negeri itu.

"Kami dihalau keluar tanpa sebarang alasan," kata Haris.

"Musa Aman berkata Haris tidak dibenarkan di Sabah sebab alasan keselamatan? Adakah beliau kelihatan seolah-olah satu ancaman kepada keselamatan?" kata Badrul.

Badrul juga berkata ABU akan mengadakan forum khas di Markas Tarbiyyah PAS, Taman Melewar, Gombak pada 15 Disember ini.

Katanya, satu pengumuman besar akan dibuat berkenaan perancangan mengadakan kempen "Umno-less Malaysia".

Bagaimanapun beliau enggan memberi maklumat lanjut.

Ketika ditanya sehingga bila gerakan ABU akan diadakan, Badrul berkata: "Asalkan Umno masih ada." -TMI
Makan-makan : Delicious Steak and Mushroom Pie at Cameron Highlands
Posted: 09 Dec 2011 07:56 AM PST
Despite my maddening morning sickness, we went on a terrific holiday at Cameron Highlands two weeks ago. In case you haven't heard I really love that place for the cool weather, the pretty flowers and the fresh fruits. This time it was much better because we stayed at a very nice hotel – The Strawberry Park Resort.
So much I want to write about the holiday but first! The most important part of any vacations at all.. is definitely – MAKAN-MAKAN!
Hehe, after we checked in at the Strawberry Park, instead of going to check out our room, I insist to check on their famous pies. In the afternoons, freshly baked pies are served at Jim Thompson Terrace and if the weather permits we can enjoy them  at the Garden Terrace.
They have many to choose from like Cornish Pie, Leek and Potato,  Traditional Chicken Pie, Chicken Cordon Blue etc. We ended up ordering Steak and Mushroom (RM18.00) and Strawberry Pie (RM18.00).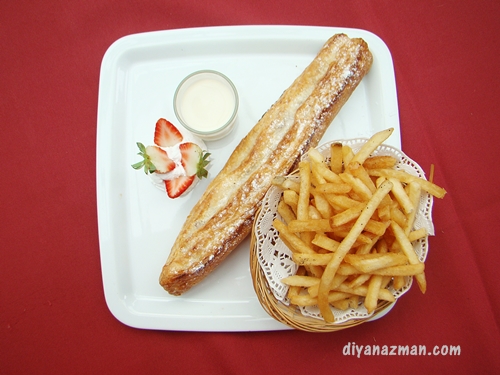 Here is my sweet strawberry pie! Pretty and delicious! Once you break the puff pastry, the fresh strawberry filling came oozing out.. The pie is also served with french fries and strawberry and cream. My favorite way of eating masam Cameron berries. hehe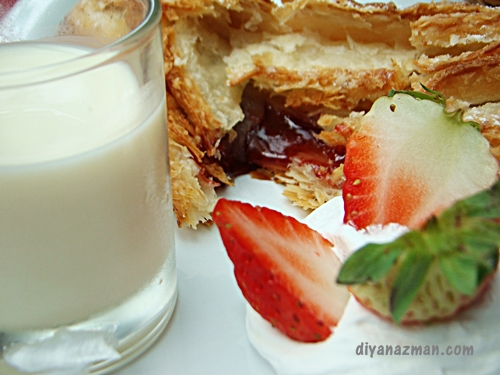 Azman ordered Steak and Mushroom Pie, and I am telling it's so good! They serve it with salad, french fries and gravy to go with the pie. The beef is tender and the mushroom so succulent. I love it!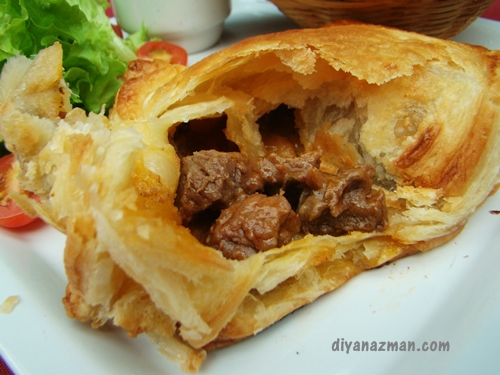 Steak and Mushroom Pie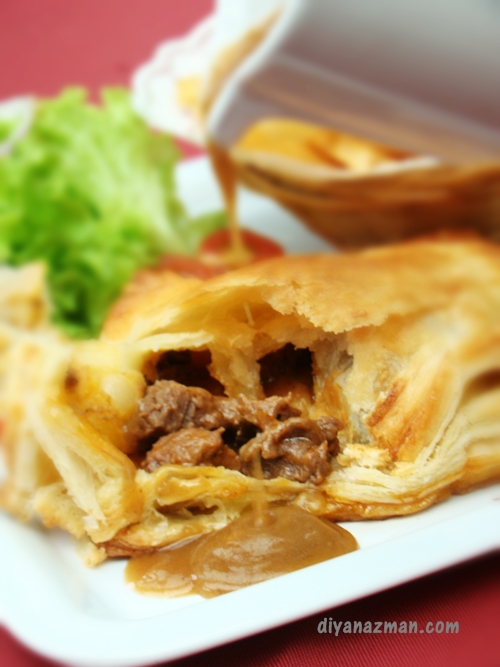 Tuang gravy kasi banjir! Yumss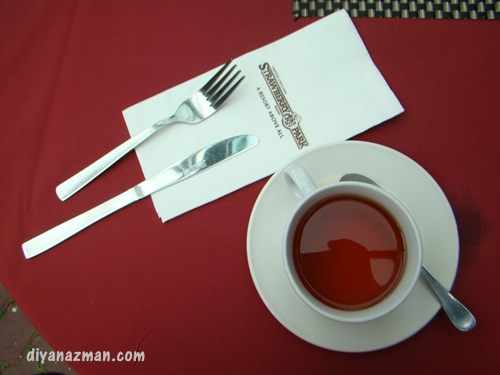 Here are some photos of us at the Garden Terrace. I simply love outdoor dining and enjoying our afternoon tea with hot freshly baked pie at the garden is such a bliss. Strawberry Park Resort has lovely garden in its compound with exotic highland flowers that I simply love. But Miki got really freaked out with this plant. It's a common garden plant that we can see in the low land as well, but here in the cool weather, the flowers grow so big! haha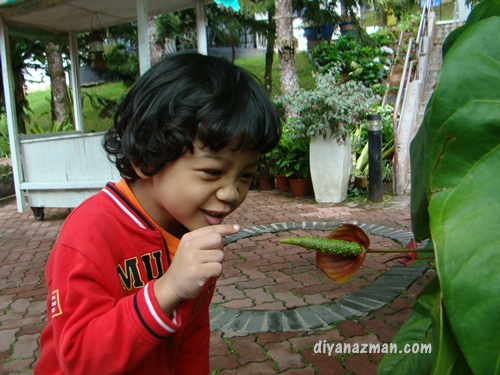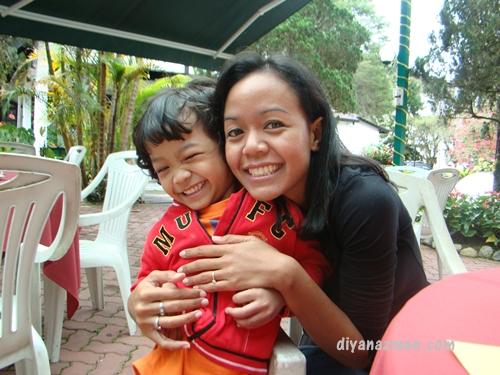 That's me and Chimiki!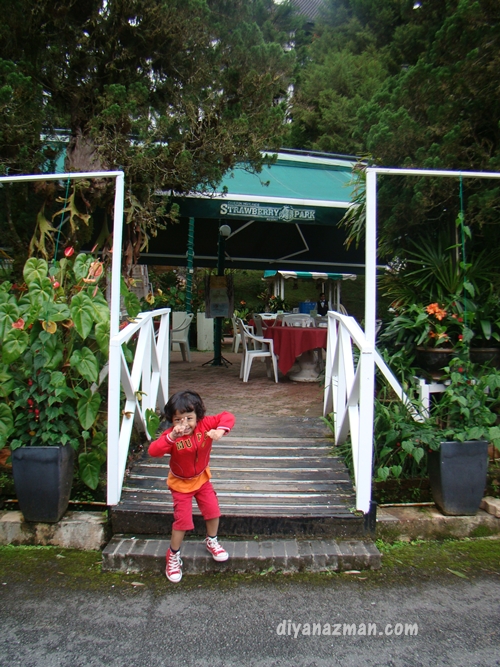 At the entrance to the cool and breezy Garden Terrace. We will be back for more Steak and Mushroom Pie! Wait for us!

Penjawat Awam perlu tingkatkan produktiviti
Posted: 09 Dec 2011 07:13 AM PST
As reported in Sinchew Daily
黃漢偉:落實資訊自由法案‧公僕須提高工作效率
2011-12-09 16:15
黃漢偉(中)頒發獎勵予公務員,左為阿末拉迪。(圖:星洲日報)
(檳城)檳州行政議員黃漢偉指出,在州議會3讀通過的資訊自由法案若正式實施,公務員須改變現有的工作文化,以更透明方式處理事務,從而提高工作效率。
他說,在這變化迅速的社會,民眾對公務員的要求提高,期望公務員能提昇服務效率,推動國家工商業的發展。
黃漢偉是於昨日(8日)代表檳州首席部長林冠英主持檳州工程局創新頒獎禮上致詞時發表上述談話,在場者有該局主任阿末拉迪。
他指出,在新的法案執行後,公務員須擺脫舊有的工作態度,採取有效的溝通技巧,改善與各政府機構、民眾及私人界的關係,更重要是為民眾與私人界提供更佳的服務。
他說,雖然公務員的薪金不如私人界優厚,但公務員須保持樂業敬業的態度,更何況公務員的薪金調高,工作效率也應相應提昇。
(星洲日報/大北馬)
Counter
Data
.com
credit cards
Counter
Raymond Ibrahim: Shariah, Dhimmitude & the Copts
Posted: 09 Dec 2011 06:54 AM PST
Raymond Ibrahim (Middle East specialist and Associate fellow, Middle East Forum) testifies before the Tom Lantos Human Rights Commission in the House of Representatives. Reps. Frank Wolf and James McDermott presented "Under Threat: The Worsening Plight of Egypt's Coptic Christians." Other witnesses included Kathy Fitzpatrick (Deputy Assistant Secretary, Bureau of Democracy, Human Rights, and Labor, U.S. Department of State); Nina Shea (Director, Center for Religious Freedom, Hudson Institute); Dina Guirguis (Member, Egyptian American Rule of Law Association); Adel Guindy (President, Coptic Solidarity International); and Cynthia Farahat (Egyptian political activist).
Watch and listen, to the systematic oppression and persecution of the Coptic Christians in Egypt, every time this happens I want to laugh at the clowns who talk about
Christian Muslim solidarity in Egypt.
Watch Cynthia Farahat (Egyptian political activist) tremble as she relates the deliberate state sanctioned atrocities inflicted on the Coptic Christians of Egypt.
Posted: 09 Dec 2011 06:55 AM PST
Bang goes the Christian votes, to the opposition, the opposition should thank
Kerismuddin

,
for bringing all the Christian votes to them again, for the soon to be GE-13 as well!
DAP wants the home minister to explain why further conditions are being imposed on Christmas carolling, such as the need to provide Bukit Aman and the National Security Council with full details.
"The supposed current need for further information and restrictions on carollers, such as the requirement to provide the police with details of names and contacts of home owners, who the churches' carolling groups will visit, is simply unnecessary and an abuse of power by the authorities," said DAP national organising secretary Teresa Kok (
left
) today.
"I urge Home Minister Hishammuddin Hussein to clarify why the supposed need for the churches to inform Bukit Aman and the National Security Council of this insignificant information.
"This should not be practised nor tolerated by the government of Malaysia and further clarification must be delivered by the authorities should this episode be merely an act of overzealous police personnel," said the Selangor senior exco in a statement.
She cited two cases of churches in Klang apparently receiving a memo from the district police requesting details of carolling activities, such as the homeowners' information that she said was "rather perplexing and indicates an attempt to clamp down and infringe on religious freedoms".
"The police must not use politically motivated manoeuvres to hinder long-held customs, such as the tradition of carolling among Christians, which has been an exercise of goodwill and peace for decades in our country during the joyous season of Christmas," said Kok.
Malaysiakini.
Isu Lembu: Mahathir Sepatutnya Desak Najib Supaya Pecat Shahrizat
Posted: 09 Dec 2011 07:28 AM PST
N
FC: Shahrizat patut undur sebelum dihalau, kata Mahathir
KUALA LUMPUR, 9 Dis — Tun Dr Mahathir Mohamad berkata Datuk Seri Shahrizat Abdul Jalil sewajarnya berundur daripada politik berhubung kontroversi projek ternakan lembu Pusat Fidlot Kebangsaan (NFC), yang dikaitkan dengan keluarganya, jika ia perlu bagi membantu partinya.
Bekas perdana menteri berkata, Ketua Wanita Umno itu perlu meninggalkan sebelum "dihalau" keluar oleh partinya.

"Jika kita merasakan ia adalah penting demi parti, kita berundur. Ketika saya hendak berundur, saya tidak bertanya sesiapa.

"Saya berharap yang lain akan berbuat begitu. Jangan tunggu orang menghalau anda keluar. Ya, ukur baju di badan sendiri," kata beliau ketika ditanya sama ada menteri bertaraf senator itu wajar berundur ekoran isu berkenaan. -TMI


Najib should not protect a fallen woman



It is doubtful that Prime Minister Najib Tun Razak believed a word of what he said, in the closing ceremony of Umno's 2011 general assembly last week.

He claimed to have achieved his four objectives for the party conference: Umno was united, the party was geared up for the 13th general election, delegates fully supported the Government Transformation Programme (GTP) and Umno can be relied upon to provide a better future for the rakyat.

If Najib wants to earn the respect of the rakyat, he should assume leadership and address the financial irregularities which have embroiled members of his Cabinet.

The government website claims that the GTP would address "priorities that matter most to the rakyat". With "1Malaysia" in mind, it is said to focus on "People First, Performance Now".

Family, Women, and Community Development Minister Shahrizat Abdul Jalil defended her role in the National Feedlot Corporation (NFC) scandal, where RM250 million of taxpayers' money was alleged to have been misappropriated by her husband and three children.

Shahrizat's denials and her cries of having "nothing to do with it", will have cost Najib votes. Her arrogance has dented public confidence in Najib, despite the outward show of support by delegates.

The rakyat has been told to tighten their belts. However, it is the taxpayer who has subsidised Shahrizat and her family's luxurious lifestyle – the RM800,000 on overseas holidays, two luxury apartments costing RM14 million, a RM534,000 Mercedes and RM30,000 for her husband and son to perform the haj.

Perhaps, at the end of this debacle, the taxpayer will have to bail her and the government out. Again.

Najib and his ministers rallied around Shahrizat at the party conference. Despite his claim of a united front, his avoidance of the issue may precipitate his own downfall. The drip-drip exposures of large-scale corruption, involving Umno-BN politicians is like a dam with large cracks in it.

"People First, Performance Now" has been replaced by "Cover-ups in corruption".
The irresponsible Shahrizat used the Wanita Umno platform to defend herself. She said, "I am being patient, as a woman I have to be calm… they (Pakatan Rakyat) are doing this because they are afraid of Wanita Umno's strength."

This project is not Wanita Umno's doing but had all the fingerprints of Shahrizat and her family's greed. She even tried to drag the integrity of women, into this scandal.



Covering up the mess



Shahrizat accused the opposition of scheming to undermine Umno. She forgot that it was the Auditor-General's Report on the national audit which alerted us to the abuse of funds in the NFC.

Senior politicians – from Deputy Prime Minister Muhyiddin Yassin, and former premier, Abdullah Ahmad Badawi, right down to Umno Youth leader, Khairy Jamaluddin – were prepared to sink into the mire, to cover up the mess.

Even the police had a part in this drama. They claimed that there was no criminal breach of trust in the NFC scandal. Haven't they jumped the gun by being investigator, judge and jury?

Umno is in a bind. Shahrizat must be protected at all costs. Najib knows that if one minister were to fall, the other ministers would be at risk, too. His own position is precarious.

Najib realises that his authority over the more recalcitrant Umno members, grows weaker by the day. However, as long as they stick together, their corrupt deeds need never be revealed. Najib knows that he cannot sacrifice anyone, just yet, because he has no control over them once they are out of his inner circle.

At best, Najib can only hope that the whole thing will blow over. But it won't.
PAS vice-president Mahfuz Omar charged Umno with scaring the Malays into believing that the DAP would erase Malay rights.

He said, "Don't come to a point where we (Malays) become fearful of DAP, and then RM250 million disappears from National Feedlot Corporation.

"Afraid of DAP, RM52 billion worth of Bumiputera shares shrinks to RM2 billion… afraid of DAP, RM1.8 billion given to (former MAS CEO) Tajuddin Ramli goes missing… afraid of DAP, RM32 billion vanishes from the Hardcore Poverty Development programme (PPRT)."

In contrast, Ahmad Maslan, a deputy minister in the Prime Minister's Department, warned delegates about the DAP. He said: "The Malay language will be lost, say goodbye to the Malay Sultans… say goodbye to Islam."

Ahmad also claimed that should the opposition triumph in the 13th geneal election, the DAP would "not respect the royal institution" and that these "agents of Christianisation" would result in "Malays losing power". He painted a portrait of a country where the Chinese monopolised the country's politics and economy.



No jobs in kampungs



A village elder, who was asked to comment about the developments in the general assembly, said, "Despite being in power for over 54 years, Umno made only a few Malays rich beyond their wildest deams. But not the majority. Look around you. Look at this village, or what is left of it.

"This kampung was once a thriving community. Our smallholdings and agricultural produce sustained us. But it saw a decline in the past two decades.

"Homes are abandoned, there are no jobs in the kampungs. The old moved to the towns and cities to be with their children. This is a ghost village. Even politicians stopped turning up before elections.

"The leaders ripped up our communities. First, they took away our lands and gave concessions to the big companies. These big businesses expected us to be their cheap labourers. When we refused, they brought in the foreign workers. We are priced out of our own lands, our own heritage and our livelihood.

"We continue to give Umno our support. Why, I wonder?"

At the party conference, Najib claimed that the rakyat should entrust their future to Umno. Shahrizat said that the opposition was "jealous" of Umno. And Ahmad claimed DAP was racist while Muhyiddin said Umno was not.

Despite the assurances of Najib and the Umno high command, the party appears troubled and insecure.

Ahmad, the Umno information chief, referred to a "hung Parliament". He sounds insecure and appears to lack confidence in his party.

Perhaps, when things really slide and his own position becomes untenable, Najib may want to save his own skin and only then discard some of the old baggage.



Mariam Mokhtar is an FMT columnist.
Laporan sebelum ini
klik untuk baca
DAMNED IF IT'S NAJIB, DAMNED IF IT'S MOHD NAJIB
Posted: 09 Dec 2011 05:16 AM PST
The article below was extracted from an email send to me, and posted in this blog with the permission of the author i.e. Datuk Mat Zain bin Ibrahim
I have been asked by several people to clarify a couple of my remarks in particular, what I meant by "The Prime Minister is in a blind following his affidavits in support and in reply dated Sept 21st and Sept 23rd respectively", as reported by Malaysiakini on 5 December 2011.
Quite simply, it means that our Prime Minister who is 58 years old and going 59 is still uncertain and unsure of his own name.
If he now declares his name as just "Najib" with no "Mohd" (pronounced as Muhammad) before the name Najib, then some of the following can happen;
1. He can be accused as having lied or misled the Agong and all Malaysians when he affirmed his name a Muhammad Najib during his swearing-in-ceremony as the 6th Prime Minister of Malaysia on 3 April 2009. He should know that the people are also mindful of the fact that he affirmed his oath in the name of Allah and which has been put on official records.
2. The validity of his oath can be challenged as well as whether he is legally our Prime Minister or otherwise and the various other issues that could be raised as a result of it.
3. It can also be taken to mean that PM formally denounced the name "Muhammad" from his name. Personally, being a Muslim I can't help feeling sad and sorry over what the PM did for whatever the reasons.
If now he declares his name as "Mohd Najib" instead, then some of the following can and should happen;
1. That both his affidavits affirmed before a Commissioner of Oath on 21st and 23rd Sept, and that of his wife affirmed on 21st Sept 2011 can be declared not only as null and void, but as false affidavits as well, based on the issue of his name alone without having to touch on the other averments in question.
2. The PM is liable to be charged for making false declarations and knowingly uses the said false declarations in a judicial proceeding. In line with the actions taken by the AG against Sharma Kumari Shukla who subsequently was handed a three years jail sentence for each one of the two offences.
That being the case, can we expect the AG to charge PM Najib then? The answer is absolutely NO. For so long as Gani Patail is still the AG, the chosen few can get away with murder or rape or daylight robbery or all three put together.
If this AG has been a fair person, the he would have charged Tan Sri Rahim Thamby Chik for making a false Statutory Declaration during the same time he took actions on Sharma Kumari. After all, he was the one who endorsed the proposed charges against Rahim, but later twisted the evidence instead.
What are the rakyat's opinion then? My view is still, taking to the streets at this juncture is not the option. Some people may get hurt and many would be arrested. You cannot fight fire with fire. What the rakyat can do in the meantime is to be composed and wait for the nomination day which is just around the corner, amongst them.
When PM Najib files his nomination papers, ost likely in Pekan, he is expected to state his name as Mohd Najib bin Tun Abdul Razak as in previous elections. If he does that this time, then he faces the risks of being disqualified for filing his nomination form using a name which is not his name. For all intent and purpose, he has formally denounced the name Muhammad as his name by way of two affidavits. The Returning Officer (RO) shall take the affidavits as evidence to that effect.
Say, this time around PM Najib states his name as Najib bin Tun Abdul Razak to neutralized the setbacks of the affidavits, still he can be disqualified for not using his full name in the nomination form. The recordings of the oath taking ceremony of 3rd April 2009 where PM affirmed in the name of Allah before YDP Agong that his full name is Mohd Najib can be produced to the RO as evidence.
So, whichever name he chooses, whether Najib or Mohd Najib, it is still contentious and the RO can disqualify him from contesting, although everybody knows, is unlikely to happen. But God works in mysterious ways they say. It has happened many years before, in one little state up north, where the future MB was disqualified on nomination day and an unknown took the seat uncontested.
What I am trying to highlight here is that the issue of PM's name is not just a minor problem that can be easily fixed. At least one ordinary citizen, a women have gone to jail for this. We cannot take this matter lightly, just because this time the person involved is the Prime Minister. No one is above the law. We are equal before the law which our PM is very fond of saying.
Had he got confused with some technical or medical terms or legal jargons, the rakyat can understand. But for the Prime Minister to be confused or forgets his own name, something must be very wrong somewhere and the rakyat ought to be concerned. For that matter, it is incumbent upon the Cabinet members to view this matter with utmost urgency.
The PM cannot say that it was due to some typo errors or that someone else prepared his notes and he just read or signed it. If he says that, then he must also be prepared to admit publicly that he knows nothing of the 2012 Budget; he merely signed and presented them. That he too is not aware what's inside the Peaceful Assembly Bill 2011; he simply approved and read them in Parliament.
When the PM is uncertain and unsure of his name, then he has no right to claim to be certain or sure what is good or what is bad for the rakyat. Let alone to lead our beloved country going forward.
The PM cannot keep on maintaining a deafening silence on matter such as this. He must come clean on the confusion and fast. He must be made aware that there's no expiry date for any affidavits once filed and there's no such thing as time-barred for any criminal proceedings. No amount of pledges or gatherings of loyalist to show the so called undivided support can indemnify the PM of his culpabilities.
He should be accountable to some of his own misjudgments. He cannot continuously throw the burden for others to shoulder or make the rakyat pay for his and his ministers' blunders.
He must also realized that should he be fortunate enough to be allowed to contest and wins this time, he will be invited to take his oath of office as Prime Minister again before the new Yang Di-Pertian Agong. When the Agong himself is bound by the Constitution to state his full name when the King takes his oath of office soon, so which name will PM Najib use then? Damned if he chooses Najib; damned if he chose Mohd Najib.
Unless, if the UMNO President says he takes precedence over the Yang Di-Pertuan Agong, the I rest my case.
Salam sejahtera.
CRUSADE AGAINST CORRUPTION
'Ku Li Layak Jadi PM, Nik Aziz Terbaik'
Posted: 09 Dec 2011 05:25 AM PST
K
apar - Ketua Komuniti Kaum India Selangor Kawasan Batu Belah (Sungai Pinang), Dr V Nedunchelian AMS menyifatkan Ahli Parlimen Gua Musang, Tengku Razaleigh Hamzah atau Ku Li adalah pemimpin yang layak menduduki kerusi Perdana Menteri Malaysia sekiranya Barisan Nasional (BN) dapat mengekalkan kedudukan di Putrajaya pada Pilihan Raya Umum Ke-13 (PRU13) nanti.
Menurutnya, Ku Li satu-satunya tokoh politik Umno yang masih mendapat pengiktirafan rakyat Kelantan sebagai seorang pemimpin yang bijak, kreatif dan mempunyai idea yang bernas.

"Kelebihan ini sudah tentu melayakkannya menjawat apa jawatan sekalipun namun malang sekali apabila parti yang diwakili tidak pernah memberi pengiktirafan kepadanya.

"Kaliber Ku Li yang telah berkecimpung dalam politik sejak lebih tiga dekad tidak boleh diperkecil namun beliau tidak layak untuk diketengahkan untuk jawatan Menteri Besar Kelantan kerana Menteri Besar yang ada sekarang lebih layak berdasarkan kepimpinannya," katanya.

Dalam pada itu, beliau yang juga calon yang menawarkan diri untuk bertanding di kerusi Parlimen Kapar atas tiket bebas berkata, 'track record' yang dimiliki Mursyidul Am Pas, Datuk Nik Abdul Aziz Nik Mat adalah terbaik dan rakyat Kelantan diminta tidak bertindak mengetepikan beliau dengan meletakkan sesiapapun di kerusi yang diterajuinya sejak 21 tahun yang lalu.

Beliau berkata demikian merujuk kepada artikel 'Berpatah Arang' hasil karya Yusof Harun yang bertajuk "Ku Li bakal jadi MB Umno Kelantan" (8 Disember 2011), katanya, Nik Aziz merupakan tokoh politik yang tidak ada pengganti ataupun tidak boleh diganti buat masa ini.

"Beliau merupakan satu-satunya nama yang tidak asing dalam politik Kelantan kerana sifat lemah-lembut dan keterampilan diri beliau yang begitu sopan meletakkan beliau pada kedudukan yang tinggi dalam arena politik tanahair.

"Beliau merupakan seorang tokoh agama yang menceburkan diri dalam politik sememangnya mengamalkan satu cara hidup yang seimbang di mana aspek politik dan 'spiritual' diberi keutamaan bersama.," katanya. -SH


MPKj To Set Up Canine Committee
Posted: 09 Dec 2011 03:46 AM PST
DATELINE KAJANG SELANGOR:
 
PETPOSITIVE BARKING NEWS!

THE KAJANG Municipal Council (MPKj) will be setting up a canine concern committee to look into dog issues.

Fashioned after the Canine Advisory Teams (CAT) of the Petaling Jaya City Council (MBPJ) and the Klang municipality (MPK), the committee is expected to be a best friend of dogs.

MPKj which was denounced for alleged animal cruelty to
Posted: 09 Dec 2011 03:03 AM PST
Umno Sebenarnya Tak Percaya Kepada Prinsip 1Malaysia
Posted: 09 Dec 2011 03:30 AM PST
P
erhimpunan Umno yang baru selesai minggu lepas adalah bukti jelas bahawa pemimpin parti itu sebenarnya tidak ikhlas dengan prinsip 1Malaysia yang diperjuangkan presidennya.
Malah, menurut Timbalan Pesuruhjaya Pas Selangor Khalid Samad, president Umno Datuk Seri Najib Abdul Razak sendiri "cakap tak serupa bikin" apabila dia melaungkan dasar masyarakat majmuk tetapi dalam masa yang sama merasmikan majlis NGO pro-ketuanan Melayu.
Khalid berkata kesimpulan yang cuba disampaikan Umno adalah mereka satu-satunya parti yang memperjuangkan hak dan kedaulatan Melayu sedangkan transformasi yang dilaung-laungkan oleh Najib meliputi rakyat majmuk yang berbilang bangsa.

Dalam sidang media yang diadakan di sini pagi tadi, Khalid yang juga Ahli Parlimen Shah Alam, mendakwa selepas perhimpunan Umno Najib telah merasmikan perhimpunan agung Pekida, sebuah badan yang memperjuangkan semangat ke-Melayuan yang ekstrem.

Di dalam ucapannya di dalam perhimpunan Pertubuhan Kebajikan dan Dakwah Islamiah Malaysia (Pekida), Najib dilihat sengaja membakar semangat nasionalisme Melayu, Khalid berkata.

"Umno tidak lagi boleh memimpin negara Malaysia kerana ia telah menjadi ultra-Malay. Pekida ini satu persatuan yang selama ini Umno sendiri pun tidak berani dekati secara rasmi kerana imejnya yang 'ultra right-wing'.

"Tetapi oleh kerana stance Najib sudah berubah kepada ultra-Malay, maka dia sanggup merasmikannya dan ucapannya mengapi-apikan semangat nasionalisme Melayu dengan bermacam-macam tuduhan yang tidak berasas."

Menurut Khalid, tindakan-tindakan seperti itu sama sekali tidak dapat diterima oleh golongan bangsa Melayu yang waras akalnya apatah lagi oleh yang bukan Melayu.

"Dengan tindakan sebegini, konsep transformasi sudah gagal begitu juga dengan konsep wasatiyah atau kesederhanaan sudah dipinggirkan mereka," ujar Khalid.

Sehubungan itu, beliau berkata corak dan budaya politik tanah air seharusnya berubah menjadi lebih adil, bersih dan bertujuan membela keseluruhan anggota masyarakat tanpa mengira kumpulan atau bangsa tertentu.

"Masalah politik negara adalah dominasi Umno yang mebolehkannya mendominasi parti lain, bangsa lain, mahupun bangsa Melayu itu sendiri sehingga akhirnya Melayu terpaksa redha dengan penyelewengan dan sebagainya," kata Khalid lagi.

Khalid turut menyifatkan sokongan Wanita Umno terhadap Ketua mereka, Datuk Seri Sharizat Jalil sebagai sesuatu yang menyedihkan kerana pemimpin yang korup terus diberi sokongan semata-semata kerana khuatir kononnya dominasi Melayu dalam politik hilang.

"Sedangkan penyelewengan ini bukan didedahkan oleh Pas atau PKR, sebaliknya disebut dalam Laporan Ketua Audit Negara tentang RM250 juta duit rakyat yang disalahgunakan,"jelasnya lagi. -tvsnews






Posted: 09 Dec 2011 01:41 AM PST
DISNEYLAND
Two blondes were going to Disneyland . They were driving on the Interstate when they saw the sign that said Disneyland LEFT. They started crying and turned around and went home.
FLORIDA OR MOON
Two blondes living in Oklahoma were sitting on a bench talking, and one blonde says to the other, 'Which do you think is farther away... Florida or the moon?' The other blonde turns and says 'Helloooo, can you see Florida duh?'
CAR TROUBLE
A blonde pushes her BMW into a gas station.
She tells the mechanic it died. After he works on it for a few minutes, it is idling smoothly.
She says, 'What's the story?'
He replies, 'Just crap in the carburetor'
She asks, 'How often do I have to do that?'
SPEEDING TICKET
A police officer stops a blonde for speeding and asks her very nicely if he could see her license.
She replied in a huff, 'I wish you guys would get your act together.
Just yesterday you take away my license and then today you expect me to show it to you!'
RIVER WALK
There's this blonde out for a walk. She comes to a river and sees another blonde on the opposite bank 'Yoo-hoo!' she shouts, 'How can I get to the other side?'
The second blonde looks up the river then down the river and shouts back, 'You ARE on the other side.'
AT THE DOCTOR'S OFFICE
A gorgeous young redhead goes into the doctor's office and said that her body hurt wherever she touched it.
'Impossible!' says the doctor.. 'Show me.'
The redhead took her finger, pushed on her left shoulder and screamed, then she pushed her elbow and screamed even more. She pushed her knee and screamed; likewise she pushed her ankle and screamed. Everywhere she touched made her scream.
The doctor said, 'You're not really a redhead, are you?
'Well, no' she said, 'I'm actually a blonde.'
'I thought so,' the doctor said, 'Your finger is broken.'
KNITTING
A highway patrolman pulled alongside a speeding car on the freeway. Glancing at the car, he was astounded to see that the blonde behind the wheel was knitting!
Realizing that she was oblivious to his flashing lights and siren, the trooper cranked down his window, turned on his bullhorn and yelled, 'PULL OVER!'
'NO!' the blonde yelled back, 'IT'S A SCARF!'
BLONDE ON THE SUN
A Russian, an American, and a Blonde were talking one day.
The Russian said, 'We were the first in space!'
The American said, 'We were the first on the moon!'
The Blonde said, 'So what? We're going to be the first on the sun!' The Russian and the American looked at each other and shook their heads.
'You can't land on the sun, you idiot! You'll burn up!' said the Russian.
To which the Blonde replied, 'We're not stupid, you know. We're going at night!'
IN A VACUUM
A blonde was playing Trivial Pursuit one night... It was her turn. She rolled the dice and she landed on Science & Nature. Her question was, 'If you are in a vacuum and someone calls your name, can you hear it?' She thought for a time and then asked, 'Is it on or off?'
FINALLY, THE BLONDE JOKE TO END ALL BLONDE JOKES!
A girl was visiting her blonde friend, who had acquired two new dogs, and asked her what their names were. The blonde responded by saying that one was named Rolex and one was named Timex. Her friend said, 'Whoever heard of someone naming dogs like that?' 'HELLLOOOOOOO......,' answered the blonde. 'They're watch dogs.'
-Author Unknown-
*Thanks to Angela who sent me this list of jokes.
Akhirnya Aziz Bari Buat Keputusan Tinggalkan UIAM
Posted: 09 Dec 2011 01:21 AM PST
D
ungun – Konflik membabitkan pakar perlembagaan, Profesor Dr Abdul Aziz Bari dengan majikannya, Universiti Islam Antarabangsa Malaysia (UIAM), berakhir apabila beliau mengambil keputusan untuk meninggalkan universiti berkenaan.
Abdul Aziz berkata, keputusan itu dibuat kerana beliau kini berasa tidak lagi sesuai untuk terus berkhidmat di universiti itu.
Menurutnya, beliau telah cuba untuk melaksanakan tanggungjawab sebagai ahli akademik yang prihatin de­ngan masalah masyarakat, apabila melontarkan beberapa pandangan terhadap isu yang kritikal, namun pesekitaran di universiti berkenaan menyebabkan niatnya itu dianggap sesuatu yang ganjil, sekali gus gagal untuk menjadi seorang ahli akademik ideal.

"Saya terpaksa tinggalkan UIAM kerana dalam keadaan sekarang, saya tak nampak ada ruang sesuai untuk saya terus berkhidmat di universiti itu mahupun di institusi pengajian tinggi awam (IPTA) yang lain," katanya ketika ditemui selepas menghadiri majlis minum petang bersama pertubuhan bukan kerajaan, Waris Badan Bertindak Pewaris Bumi Malaysia di Mayang Sari Resort di sini, petang semalam.

Ketika ditanya apakah beliau akan menyertai politik selepas meninggalkan UIAM, Abdul Aziz yang juga seorang kolumnis Sinar Harian berkata, beliau lebih suka memilih bidang akademik sebagai kerjaya dan buat masa ini, tidak berhasrat untuk menyertai parti politik sama ada kerajaan ataupun pembangkang. -SH


Posted: 09 Dec 2011 02:22 AM PST
Seri kerap bersarapan di warong roti canai Musa, yang berhampiran rumahnya.
Warong kampung ini pun ada menjual nasi lemak, kuayteow dan mi hun/mee bakso.
Mee/mihun kari dan sup tulang pun ada pada menu jualan.
Dengan setia dan sabar,Yah isteri Musa, akan sentiasa membantu suaminya membuat jualan setiap pagi.
Walaupun ramai lelaki makan di situ, Seri akan mengajak kawannya Asiah menemaninya.
Segan jugak baginya untuk berlepak bersendirian.
Anak2 Seri tidak mahu mengikutinya.
Mereka tidak berkenan bersidai di tempat2 sebegini.
Kalau dibeli dan dibawa balik ke rumah, barulah okay.
"Rumah siapa tu Sa?" Seri menanyakan si empunya warong kayu itu.
Terletak sebuah rumah teres lama, dua tingkat, lot sudut sekali bertentang tempat makan.
Di hadapan laman rumah penuh dengan pokok2 bermacam2 saiz.
Pasu2 bunga bersepahan dengan pokok2 bunga dan pokok2 herba.
Pokok durian tercegat depan rumah..walhal kawasan rumah kecil sahaja.
Di sebelah tepi terdapat pokok jambu merah..putik2 telah dibalut dengan kemas.
Suasana halaman nampak berkecah.
Seram pun yea.
Sudah pasti si penghuni tidak berniat dan tidak menggunakan jalan keluar melalui pintu depan.
Pintu belakang sahaja lah gayanya.
Tambahnya ada sebuah tempayan besar yang berisi pokok limau nipis, menghadang pagar karat di hadapan rumah.
"Tu rumah orang kerja JBA..
Usup namanya...bujang expired!
Dia dok sorang jer..lama daah.
Rumah sendiri tu.."
Sambil mengunyah, Seri kadang2 memerhati tingkap bilik tidur di atas..bersangkutlah baju, tuala, kain entah apa lagi, pada kepingan kaca(window panes) jendela..langsir pun takder.
Tingkap kaca yang bilik sebelah lagi ada bayangan kemeja2 yang bersangkut hanger/penyidai.
Siapakah dia tuan rumah ni? Mengapa dia duduk bersendirian?
Bersambung..
Rumah tersebut di beli Usup dengan titek peluhnya sendiri.
Kerana gajinya bukanlah besar, Usup tidak mempunyai sebarang kenderaan samada motor atau kereta.

Dia akan berjalan kaki ke tempat kerja nya.
Biasanya, dia akan mengambil masa setengah jam.

Pada satu pagi, Seri ternampak Usup.
Orangnya berumur 40an, tinggi tegap, lawa dan mempunyai air muka yang sopan.
Bagaimana dia tahu orangnya Usup?

Makcik Peah, tukang jual kueh telah menegurnya ketika dia tengah lalu laju menghala ke arah pejabatnya.
"Tu lah Usup..yang duduk kat rumah ujung yang banyak pokok tu.."

"Kenapa dia macam tu..tak bercampur dengan orang?" Tanya Seri.

"Entahlah..dengar cerita, dia datang dari keluarga berada jugak..tapi dok sorang2.
Adikbradik dia kadang2 datang jugak menghantar makanan atau buah2an kepada dia..
Tapi, dia hanya keluar gi kerja balik kerja..masatu je lah dia tunjuk muka.
Orangnya baik, tak menyombong langsung.."

"Dia rajin gi masjid kan?" Tanya Seri lagi.

"Ish daak! Dia tak pernah datang!" Jawab Mak Cik Peah.

"Mungkin dia sembahyang kat rumah jer.."
Seri menolong membela.
Seri merasa sedih.

"Ya Allah..Seri berdoa di dalam hatinya.
Janganlah ada anak ku yang berkeadaan sedemikian..

Kalau ye pun tinggal sorang2, biarlah selalu rajin pergi ke masjid, sembahyang berjemaah, dan ingat kuat2 pada Allah SWT..Ameen."



Tamat..cerpen ringkas tatapan hari Jumaat.




Tengku Fakhry Saman IGP, Polis RM150j
Posted: 08 Dec 2011 11:32 PM PST
T
engku Muhammad Fakhry Petra Tengku Ismail memfailkan saman RM150 juta terhadap Ketua Polis Polis Negara, Tan Sri Ismail Omar dan tiga yang lain kerana mendakwa telah ditahan secara salah.
Tengku Fakhry menamakan Ismail, ASP Norazman Ismail, bekas Ketua Polis Kelantan, Datuk Abdul Rahim Hanafi dan Polis Diraja Malaysia sebagai defendan.
Beliau memfailkan saman itu di Mahkamah Tinggi Kuala Lumpur hari ini melalui firma undang-undang AS Dhaliwal and Co.

Bercakap kepada pemberita kemudian, Tengku Fakhry berkata beliau mengambil tindakan itu bukan bermotifkan wang tetapi demi keadilan.

"Saya rasa ini adalah kali pertama seorang anggota keluarga diraja telah menamakan ketua polis negerinya sendiri sebagai defendan," katanya.

Peguam AS Dhaliwal dan Harpal Singh turut hadir semasa saman difailkan.

Pada 4 Mei tahun lalu, Sultan Kelantan ketika itu, Tuanku Ismail Petra, raja perempuan serta Tengku Fakhry telah dihalang oleh Unit Tindakan Khas, kira-kira 50 meter dari pintu pagar istana semasa dalam perjalanan ke lapangan terbang Kota Baru pada jam 7.30 malam.

Mereka mahu menghantar Tuanku Ismail kembali ke Hospital Mount Elizabeth di Singapura untuk rawatan susulan tetapi telah dibawa ke Hospital Universiti Sains Malaysia (HUSM) di Kubang Kerian.

Tengku Fakhry juga ditahan selama kira-kira empat jam manakala Tengku Anis mendakwa terpaksa tidur di atas lantai di HUSM untuk mengelak ditangkap polis. -mk



Ulasan GB



Kejadian penahanan secara salah memang berlaku dan lazimnya rakyat terbanyak tidak melakukan apa-apa tindakan kerana tidak berkemampuan mengupah peguam untuk mendakwa pihak terbabit.

Kini, Tengku Muhammad Fakhry memfailkan samannya terhadap pihak polis kerana telah ditahan oleh polis secara salah selama empat jam dan beliau mendakwa tindakan beliau menyaman polis adalah demi keadilan.

Kita berharap polis tidak dengan sewenang-wenangnya menahan rakyat selepas ini.


Suria KLCC: Come shop, pose with Christmas tree!
Posted: 08 Dec 2011 09:53 PM PST
By Yow Hong Chieh
December 08, 2011
A flashmob in action in Los Angeles, from file pic.
KUALA LUMPUR, Dec 8 — Organisers of this Saturday's flashmob to protest the Peaceful Assembly Act have refused to call off the event at KLCC despite being threatened with a court injunction.
Instead, Kill The Bill, a member of the Freedom to Assemble Campaign, said it will go on with the event under another name as public gatherings, including political ones, can be "peaceful, fun and business-friendly".
This weekend's event, originally known as "Flashmob: 1,000 M'sians Appreciate Xmas Tree w/o Police Permit - Human Rights Day", will now be known as "Malaysians Can Go Shopping and Pose with Xmas Trees without Police Permit".
"We gladly remove the words 'flashmob' and 'human rights' in the understanding that these two common words for all civilised countries in the 21st century may cause unnecessary distress to the KLCC management or affiliated parties in Malaysia," Kill The Bill said in a statement today.
The group had earlier received a letter from law firm Zul Rafique and Partners notifying them of Kuala Lumpur City Park Bhd, KLCC Urusharta Sdn Bhd and Suria KLCC Sdn Bhd's intention to apply for an injunction to stop the flashmob.
KLCC's management alleged that similar gatherings over the past two weekends had "eroded and impeded the regular shoppers and visitors and members of the public to the premises and thereby disrupted the business operations of our... tenants".
The letter also stated that organisers of Saturday's gathering, held in conjunction with Human Rights Day, would be held liable for all loss and damage suffered as a result of the event.
Kill The Bill added that it would continue to organise creative public gatherings to drive home the point that the need to apply for a police permit or inform the police in advance for any meeting of three or more people was "ridiculous".
Bila Jakim nak haramkan Internet? Internet bahaya!
Posted: 08 Dec 2011 09:24 PM PST
By Shannon Teoh
December 08, 2011
How ridiculous can a religious body be?
The Internet is so full of anti-Islam stuff.
Why not ban the Internet so that Islam can finally 'live in peace'?
Read:
December 09, 2011
NEW FACES – WHAT IT MEANS TO UMNO
Posted: 08 Dec 2011 07:28 PM PST
The UMNO leadership has reaffirmed that the party will field more new faces in the upcoming general elections. While the idea is good, I think the party leadership needs to satisfy these questions; though not exhaustive.
First, who are the new faces? I presume the word 'new faces' here do not reflect an age limit, but to mean that the candidate is of a suitable age and a 'first timer' to appear in the party hierarchy. I also think that these new faces are those that have been lingering at the 'periphery' of UMNO politics – often seen but seldom heard.
Second, how will the selection process be made? Deciding upon a process of selection I think will be tough, and it will be much tougher to implement that process. I suppose the party will have to establish a set of criteria or traits that a candidate need to have. I can list some based on what I observe of an UMNO politicians, as an outsider. For me, I view politicians as leaders; hence it is the leadership traits that are important, that should form the primary basis of selection, and there are many.
Third, how will the grass root members respond? This is a touchy issue. To ignore grass root support is to invite disaster, and to seek consensus all the time is a never ending process. How then will the party leaders circumvent or overcome this thriving issue will be their greatest challenge. In this regards, the party has learnt many bad lessons in the past, one of which is to choose and place a candidate in a constituency that is foreign to the candidate, especially so in a rural constituency. To prove my point, just try and place PM Najib; the party's most winnable candidate so to speak, to contest in my kampong Ulu Langat and I can assure you that he may lose. Or have KJ instead; this so-called highly rated youth leader, he too is certain to lose.
UMNO is known as a party of patronage and this 'culture' is too difficult to eradicate now. I think the statement by PM Naijb to field new faces must have caused some concern within the party ranks, especially those that are comfortable and well entrenched in ranking position in the party. Even the post of a Ketua Bahagian which is a fiercely fought post, I am told comes with a number of perks, and is a step closer towards acquiring a ministerial position. How then could the leadership ignore such members that are already having some power of influence, and to choose someone that is outside the realm of the party leadership?
Based on the above analysis, I think the new faces referred to by the party leadership will eventually come from those that are already holding some position of influence within the party. Some have held their position for quite awhile, and it is only being human that they too aspire to advance up the political ladder. Such will be the group that will be slighted if they are ignored and are likely to sabotage the party, and the party has experience this before. And the spirit of volunteerism to appeal to individuals to leave on their own accord is never UMNO's culture.
And taking the example of our previous PM Abdullah Ahmad Badawi, wasn't he being forced out? In the case of Malacca Chief Minister Ali Rastum and Rembau parliamentarian KJ who both were found to have been involved in money politics (coincidently not a crime in UMNO, but morally wrong), did they voluntarily resign? You know the answer.
I don't think UMNO lacks members that are qualified and make good future leaders. But the problem with the party (I am told) is that the 'herd mentality' is so strong that it is difficult ousting someone from a position although he/she is proven not to be performing or has done something wrong. I also believe that this 'herd mentality' had a defining role in putting back Isa Samad as the candidate for the Teluk Kemang by-election and subsequently appointed FELDA's Chairman. His past wrong doing does not really matter to the party, and I think this is UMNO's biggest sin.
Finally, I say this in no uncertain terms that a leader that is tarnished loses all morality to lead, and sadly UMNO has many such leaders. I am just too keen to see who these new faces are to contest in the upcoming GE, and my only hope is not those tarnished, recycled or reconditioned ones.
CRUSADE AGAINST CORRUPTION