---
Ten words you need to stop misspelling: theoatmeal
Posted: 20 Dec 2011 09:02 AM PST
Isu Turun Bendera Najib: Najib Perlu Terima Mesej Yang Disampaikan Mahasiswa
Posted: 20 Dec 2011 10:27 AM PST
A
ziz Bari: Nak guna akta apa dakwa pelajar turun 'banting' Najib
KUALA LUMPUR, 20 Dis – Pensyarah undang-undang Universiti Islam Antarabangsa (UIA), Prof Dr Abdul Aziz Bari menegaskan kumpulan mahasiswa SMM dan Bebas tidak perlu dan tidak boleh dikenakan tindakan berhubung insiden menurunkan 'bendera' berbentuk banting berwajahkan Datuk Seri Najib Razak, Sabtu lalu.
Menurut Aziz, beliau tidak melihat apa-apa kesalahan dilakukan oleh pelajar-pelajar berkenaan.

"Saya tidak nampak mereka melakukan apa-apa kesalahan, mereka tidak merosakkan harta benda... tidak. Mereka menurunkan dan kemudian menaikkan semula bendera (banting).

"Mereka hendak siasat di bawah undang-undang apa? Nak ambil tindakan di bawah peruntukan apa?" kata beliau mengulas perkembangan di pekarangan ibu pejabat Umno di sini, Sabtu lalu.

Sebaliknya kata pakar perlembagaan ini, Najib selaku perdana menteri perlu menerima mesej yang disampaikan oleh kumpulan mahasiswa berkenaan, yang mengadakan demonstrasi memprotes Akta Universiti dan Kolej Universiti (AUKU).

Insiden itu dilaporkan berlaku ketika kumpulan mahasiswa dari SMM dan Bebas hendak menyerahkan memorandum kepada Timbalan Menteri Pengajian Tinggi Datuk Saifuddin Abdullah, yang juga ahli Majlis Tertinggi Umno.

Bagaimanapun kumpulan mahasiswa itu menegaskan, mereka tidak akan memohon maaf kepada perdana menteri.

Pemimpin SMM dan Bebas berkata, pihaknya tidak nampak perlunya mereka harus memohon maaf.

"Kami tidak akan meminta maaf. Kita tak perlu meminta maaf. Tindakan menurunkan bendera Datuk Seri Najib selama lima minit dan kemudian dinaikkan semula seharusnya dilihat sebagai satu mesej jelas mahasiswa bahawa perdana menteri perlu serius mendengar suara kami, suara rakyat" kata Pengerusi SMM Ahmad Syukri Abdul Razab.

Saifuddin menuntut mereka memohon maaf dan menyerahkan kepada polis untuk mengambil tindakan.

Aziz yang menjadi sasaran siasatan polis, pengurusan UIA dan Suruhanjaya Komunikasi dan Multimedia Malaysia dua bulan lalu menegaskan, selagi kerajaan tidak memansuhkan AUKU, pelajar-pelajar universiti akan terus memperjuangkan perkara berkenaan.

"Universiti-universiti sudah wujud sebelum AUKU diperkenalkan pada 1971, jadi mengapa perlunya AUKU.

"Kerajaan perlu mendengar suara mahasiswa... jadi mereka tidak perlu meminta, saya tidak perlu memohon maaf, jangan sombong, dengar suara mereka," katanya.

SMM dan Bebas mengadakan demonstrasi tempoh hari menuntut AUKU dimansuhkan untuk mengembalikan kebebasan akademik.

Menjawab soalan sama ada tindakan itu sesuatu yang tidak beradab, Aziz berkata, "kalau nak kata beradap tidak beradap, kita pun saksikan banyak perbuatan dan tindakan pemimpin-pemimpin Umno yang tidak beradap, tidak sopan sebelum ini."

"Saya tidak melihat menurunkan bendera Najib ini sesuatu yang tidak beradap, seteruk tindakan mereka sebelum ini," katanya lagi. -TMI


Maaf bersyarat- SMM



SHAH ALAM- Solidariti Mahasiswa Malaysia (SMM) sedia meminta maaf atas tindakan mereka menurunkan bendera berwajah Perdana Menteri, Datuk Seri Najib Tun Razak tetapi bersyarat.

Presidennya, Ahmad Syukri Abdul Razab berkata, tindakan mahasiswa menurunkan bendera selama lima minit itu juga membawa mesej jelas bahawa perdana menteri perlu serius terhadap suara mereka.

"Pendirian kami, tidak akan meminta maaf tetapi kami akan meminta maaf jika kerajaan memansuhkan Akta Universiti dan Kolej Universiti (AUKU) dan memberi autonomi kepada univerisiti.

"Bukan sahaja kami, bahkan seluruh mahasiswa akan berterima kasih jika ia dapat dimansuhkan," katanya ketika dihubungi Sinar Harian, hari ini.

Selain itu, Syukri turut mempersoalkan tindakan 'bisu' Menteri Pengajian Tinggi, Datuk Seri Khaled Nordin dalam isu Auku dan meminta agar beliau bersuara.

Katanya, Khaled seolah-olah berselindung disebalik timbalannya, Datuk Saifuddin Abdullah dalam isu yang melanda mahasiswa ini.

"Kami tiada masalah dengan Datuk Saifuddin malah beliau merupakan ikon yang perlu dihormati oleh semua pihak.

"Bagaimanapun, saya bersimpati dengan beliau yang seolah-olah menjadi mangsa kepada orang yang tidak membuat kerja," katanya.

Beliau turut mendesak agar Perdana Menteri Datuk Seri Najib Tun Razak dan Khaled untuk mengeluarkan kenyataan berhubung isu Auku. -SH
Posted: 20 Dec 2011 07:08 AM PST
Christmas is just round the corner and many have started their Christmas shopping. I have also received a few presents already even though it's still slightly more than a week to Christmas. In case, you have run out of ideas for presents, here are some ideas for gifts that don't cost a cent...and the best part is - these will multiply when you give them. Take care and have a blessed season and a great day!
1. THE GIFT OF LISTENING...

But you must REALLY listen. No interrupting, no daydreaming, no planning your response. Just listening.
2. THE GIFT OF AFFECTION...
Be generous with appropriate hugs, kisses, pats on the back and holds. Let these small actions demonstrate the love you have for family and friends.
3. THE GIFT OF LAUGHTER...
Clip cartoons. Share articles and funny stories. Your gift will say, "I love to laugh with you."
4. THE GIFT OF A WRITTEN NOTE...

It can be a simple "Thanks for the help" note or a full sonnet. A brief, handwritten note may be remembered for a lifetime, and may even change a life.
5. THE GIFT OF A COMPLIMENT...

A simple and sincere, "You look great in red," "You did a super job" or "That was a wonderful meal" can make someone's day.
6. THE GIFT OF A FAVOR...

Every day, go out of your way to do something kind.
7. THE GIFT OF SOLITUDE...

There are times when we want nothing better than to be left alone. Be sensitive to those times and give the gift of solitude to others.
8. THE GIFT OF A CHEERFUL DISPOSITION...

The easiest way to feel good is to extend a kind word to someone, really it's not that hard to say,
Hello
or
Thank You
.
Take care and remember to smile a lot and be happy always...Have a lovely weekend!
THE SHAME OF BEING CALLED A THIEF, A LIAR AND A CORRUPT POLITICIAN
Posted: 20 Dec 2011 06:40 AM PST
Do you not see how stupid is Perkasa? They say that the Malays (I suppose referring to Perkasa Malays) will not come out to vote during the upcoming general elections if the Election Commission proceeds with the use of the indelible ink. I challenge Perkasa to do so, and let's see who is going to lose this election. If Perkasa does not know who is going to lose, then let me tell them that it will be UMNO that is going to lose. And if that were to happen, I can tell you that many will be dragged to the courts to answer for their 54 years of wrong doing. And if ever I were to see so many politicians being dragged to the courts after a new government is formed, then I will say that these politicians deserve the wrath of Allah SWT on earth, and what awaits them in the hereafter will only be known to them when they go six feet down under.
Now, the Shahrizat's family lembu fiasco is not over yet. Having 'stolen' NFC's money to buy themselves the luxuries that we the ordinary people could not possibly acquire in our lifetime, another explosive story of Shahrizat's family greed and thievery acquisition of another luxury condo costing RM10 million in Singapore have now surfaced. No wonder they say that NFC was making a loss, but that loss is actually Shahrizat family's gain. Now with this latest exposure, let's hear what PM Najib, DPM Muhyiddin, Khairy Jamaluddin and Noh Omar have got to say. I bet all will be acting dumb and mute like the three monkeys; see no evil, hear no evil and speak no evil.
Please forgive me for using such hush words on our leaders, but this old soldier is sick and tired of listening and reading about the many exposures of wrong doings by UMNO politicians. What saddens me most is that all the perpetrators are Malays and claiming themselves Muslims – and yet UMNO and Perkasa have the audacity to talk about 'ketuanan Melayu' and defending the Malay rights and Islam. What rights are they talking about when they have shown themselves to be thieves and liars? What defence are they talking about when they are the ones to deliberately breach and to consecrate the religion of Islam? Do they not know what awaits them in hell for being thieves, corrupt and liars?
I can now say that Shahrizat has been lying to us since day one, claiming that she does not know anything about the NFC affairs. What a bluff she is, and yet Wanita UMNO gave her a standing ovation for all the denials and lies. I think she is a poor example of a wife and a mother, and definitely she isn't the kind of leader that we Malaysians would want to have. Why doesn't PM Najib ask Shahrizat to swear in the name of Allah SWT; just like what PM Najib himself had done before, or Saiful Bokhari, or even the porn CD distributor?
Now speaking about corruption, I read about these two secretaries serving the two most powerful politicians of the country i.e. PM Najib and DPM Muhyiddin, are alleged to be corrupt (view Whistleblower711 for details). For this to happen right under the very nose of our two powerful leaders is unbelievable and unacceptable. Whistleblower711 also alleged that a senator Deputy Minister is also on the take from a contractor since January this year, and that contractor is also an UMNO member. So you see how corrupt the people in UMNO are, and one cannot be wrong to say that UMNO is corrupt to the core. I have my sympathies for those who are not corrupt, but coming from the same mould, they will have to face the wrath of the people and bear the shame for being associated with a group of corruptors.
I believe the recent exposure of corrupt practices and wrong doings by UMNO politicians is the will of Allah SWT. If UMNO leaders does not see this, than they deserve to be kicked out during the upcoming GE. I do not wish to see this country of ours go to ruins, being led by leaders that are dishonest, lacking in integrity, corrupt and bleeds this country for their own self interest. We have seen far too many of such leaders and I personally can no longer bear to be led by leaders of this kind. If UMNO cannot change its bad leaders, than it will be the rakyat that will change them.
CRUSADE AGAINST CORRUPTION
Posted: 20 Dec 2011 06:19 AM PST
"The Guest House":
This being human is a guest house.
Every morning a new arrival. …
A joy, a depression, a meanness,
Some momentary awareness comes
As an unexpected visitor.
Welcome and entertain them all!
Even if they're a crowd of sorrows,
Who violently sweep your house
Empty of its furniture,
Still, treat each guest honorably.
[They] may be clearing you out
For some new delight.
The dark thought, the shame, the malice,
Meet them at the door laughing,
And invite them in.
Be grateful for whoever comes,
Because each has been sent
As a guide from beyond.
Rumi, in the 13th century said in his poem above.
"I died as a mineral and became a plant,
I died as plant and rose to  animal,
I died as animal and I was Man.
Why should I fear?
When was I less  by dying?
Yet once more I shall die as Man, to soar
With angels bless'd;  but even from angelhood
I must pass on: all except God doth perish.
When I  have sacrificed my angel-soul,
I shall become what no mind e'er  conceived.
Oh, let me not exist! for Non-existence
Proclaims in organ  tones,
To Him we shall return
Source: Philosophical outlook of Rumi from Wikipedia @
Jalāl ad-Dīn Muḥammad Balkhī (Persian: جلال‌الدین محمد بلخى), also known as Jalāl  ad-Dīn Muḥammad Rūmī (Persian: جلال‌الدین محمد رومی) and popularly known as Mevlānā in Turkey and Mawlānā[1] (Persian: مولانا, Persian pronunciation: [moulɒːnɒː]) in Iran and Afghanistan but known to the English-speaking world  simply as Rumi[3] (30 September 1207 – 17 December 1273) was a 13th-century Persian[4][5][6][7][8][9][10][11] Muslim poet, jurist, theologian, and Sufi mystic.[12] Rūmī is a  descriptive name meaning "Roman" since he lived most of his life in an area  called "Rumi" (then under the control of Seljuq dynasty) because it was once ruled by the  Eastern Roman  Empire.[13] He was one of the  figures who flourished in the Sultanate of Rum.[14]
It is likely that he was born in the village of Wakhsh,[15] a small  town located at the river Wakhsh in Persia (in what is now Tajikistan). Wakhsh belonged to the larger province  of Balkh, and in the year Rumi was born, his father was an appointed scholar  there.[16] Both these  cities were at the time included in the greater Persian cultural sphere of Khorasan, the  easternmost province of Persia[4] and was part  of the Khwarezmian Empire.
His birthplace[4] and native  language[17] both indicate a  Persian heritage.[18] His father decided  to migrate westwards due to quarrels between different dynasties in Khorasan,  opposition to the Khwarizmid Shahs, who were considered deviant by Bahā ud-Dīn  Walad (Rumi's father),[19] or  fear of the impending Mongol cataclysm.[20] Rumi's family  traveled west, first performing the Hajj and  eventually settling in the Anatolian city Konya (capital of the Seljuk  Sultanate of Rum, in present-day Turkey). This was where he lived most of his life, and  here he composed one of the crowning glories of Persian literature which profoundly affected  the culture of the area.[21]
He lived most of his life under the Sultanate of  Rum, where he produced his works[22] and  died in 1273 AD. He was buried in Konya and his shrine became a place of  pilgrimage.[23] Following his  death, his followers and his son Sultan Walad founded the Mevlevi Order, also known as the Order of the  Whirling Dervishes, famous for its Sufi dance known as the Sama ceremony.
Rumi's works are written in the New Persian language.  A Persian literary renaissance (in the 8th/9th century) started in regions of Sistan, Khorāsān and Transoxiana[24] and by the  10th/11th century, it reinforced the Persian language as the preferred literary and  cultural language in the Persian Islamic world. Rumi's importance is considered  to transcend national and ethnic borders. His original works are widely read in  their original language across the Persian-speaking world. Translations of his  works are very popular in other countries. His poetry has influenced Persian  literature as well as Urdu, Punjabi and other  Pakistani languages written in Perso/Arabic script e.g. Pashto and Sindhi. His  poems have been widely translated into many of the world's languages and  transposed into various formats. In 2007, he was described as the "most popular  poet in America."
Geng UG Terpijak Tahi Lembu UMNO, Habis Melantung Bau Seluruh Parti [updated]
Posted: 20 Dec 2011 10:31 AM PST
P
AS: Hasan Ali, Nasharudin Tolak Usaha Untuk Perbincangan
SHAH ALAM: Pesuruhjaya PAS Selangor, Dr Abdul Rani Osman memberitahu, dua pemimpin parti tersebut, Nasharudin Mat Isa dan Datuk Hasan Ali telah menolak usaha yang dibuat parti untuk berbincang mengenai isu membabitkan mereka.
"Mereka tidak bertindak balas kepada beberapa percubaan. Kami tahu mereka kecewa selepas tewas pada pilihan raya parti," katanya pada sidang media yang turut disertai Timbalannya, Khalid Samad di sini pada Selasa.



"Isu tidak dicalonkan sebagai calon pada Pilihan Raya Umum tidak seharusnya menjadi satu isu. Mereka telah bersama kami selama ini dan tahu prosedur yang digunakan, namum masih mahu mempersoalkannya.



"Nasharudin menggempur hala tuju dan prinsip parti dan semua yang mereka katakan tidak mempunyai bukti kukuh," katanya.

Nasharudin, bekas Timbalan Presiden PAS sebelum ini mendakwa pimpinan parti terlalu obses dengan matlamat politik dan telah meninggalkan perjuangan Islam.

"Kedua-dua Nasharudin dan Hasan perlu menyedari bahawa tindakan mereka akan memakan diri. Parti sudah kukuh dengan ahlinya," katanya.

Dr Rani juga berkata, beliau menganggap Hasan sebagai 'idolanya' dan mendesak agar bekas Pesuruhjaya PAS itu untuk 'berdamai' semula dengan parti.

Khalid pula berkata, parti tersebut tidak akan mengambil tindakan terhadap Nasharudin atau Hasan kerana percaya kedua-dua mereka masih boleh 'diselamatkan'.

Beliau menambah, pemimpin tersebut seharusnya mematuhi disiplin parti dan menerima keputusannya, termasuklah dalam menolak perbincangan mengenai perpaduan antara PAS dan Umno.

"Pucuk pimpinan tertinggi telah memutuskan bahawa ia mahu mengukuhkan perpaduan dalam Pakatan dan ia seharusnya diterima oleh semua," katanya. -mstar


Kenyataan Nasharudin Dikecam Hebat



KUALA LUMPUR: Dakwaan bekas Timbalan Presiden PAS, Nasharudin Mat Isa bahawa parti semakin lemah dan mengetepikan prinsip Islam demi kepentingan politik menerima kecaman hebat daripada rakan sekutunya.

Beliau turut menyindir kenyataan segelintir pemimpin tertinggi PAS yang mengkritik ucapannya yang disiarkan oleh sebuah akhbar berbahasa Melayu.

Setiausaha Agung parti, Datuk Mustafa Ali mempersoalkan apa yang mendorong kenyataan yang dikeluarkan oleh bekas pemimpin kedua parti itu.

"Beliau tidak pernah menyebut apa-apa mengenai kelemahan parti semasa (beliau) menjadi timbalas presiden. Sekarang baru hendak membuat dakwaan itu. Apakah maksud sebenarnya?" soal Mustafa.

Naib Presiden Salahuddin Ayub berkata, beliau tidak boleh menerima dakwaan Nasharudin itu.

Sebagai bekas timbalan presiden, beliau berkata, Nasharudin perlu tahu bagaimana parti itu berfungsi dan tidak ada asas untuk mendakwa PAS semakin terpesong dari prinsip-prinsip berlandaskan hukum syarak (undang-undang Islam).

"Saya tidak menerima pendapat itu. (Perbezaan) hanya menunjukkan pendekatan kami tentang bagaimana untuk berpegang pada dasar kita hari ini.

"Masa sudah berubah dan kita perlu bersikap progresif," kata Salahuddin.

Beliau turut menafikan dakwaan Nasharudin bahawa terdapat unsur-unsur dalaman parti terutama melibatkan kepimpinan tertinggi yang menyebabkan masalah-masalah yang kini dihadapi oleh PAS.

Salahuddin menyifatkan ia sebagai "sesuatu yang tidak benar."

Seorang lagi pemimpin terting yang tidak mahu mendedahkan namanya menuduh Nasharudin tidak mengamalkan seperti yang dipegangnya.

Beliau mendakwa ia merupakan sesuatu yang ironik bagi Nasharudin, yang bercakap tentang mematuhi nilai-nilai Islam.

"Dia (Nasharudin) kini menggunakan kelas perniagaan, jika tidak pun kelas pertama. Dia tidak mengikut prinsip Islam yang mengamalkan kesederhanaan dalam kehidupan dan memerlukan pengorbanan.

"Bagi beliau mengatakan PAS lemah, dan kita mesti mempersoalkan kenapa dia kalah (dalam pemilihan parti lepas). Ia kerana dia benar-benar tersasar daripada sokongan akar umbi dan perjuangan parti," kata pemimpin berkenaan.

Timbalan presiden parti Mohamad Sabu, yang mengalahkan Nasharudin bagi jawatan itu pada Jun berkata, kenyataan Nasharudin itu akan diperbincangkan dalam mesyuarat biro politik pada Rabu.








Ulasan GB



Semakin panas apabila hampir pilihanraya.

Yang nyata sekarang ini kumpulan UG nampaknya beriya-iya mempertahankan "kecurangan" Hassan Ali dan Nasharuddin Mat Isa sekalipun Setiausaha Agung parti telah mendedahkan kedua-dua orang tersbeut tidak hadir mesyuarat - bererti tidak menjalankan amanah yang telah diberikan.

Isu ini timbul apabila Ketua Penerangan PAS, Shaari Sungip menyatakan "kemungkinan" Hassan Ali tidak dicalonkan lagi berdasarkan kekurangan pencalonan di peringkat cawangan.

Tiba-tiba masing-masing melenting tak tentu pasal sedangkan apa yang dinyatakan oleh Shaari Sungip adalah fakta prosidur yang memang telah lama diketahui. Kata Pesuruhjaya PAS Selangor, Dr Abdul rani Osman:



"Isu tidak dicalonkan sebagai calon pada Pilihan Raya Umum tidak seharusnya menjadi satu isu. Mereka telah bersama kami selama ini dan tahu prosedur yang digunakan, namun masih mahu mempersoalkannya.



Anehnya, Hassan Ali dan Nasharuddin Mat Isa menggunakan media massa pro-UMNO menghentam PAS. Sesuatu yang pernah satu ketika digunakan oleh bekas pemimpin PKR bernama Datuk Zaid Ibrahim yang lantarannya beliau dihentam oleh ahli PKR (termasuk PAS juga).

Tapi berbeza dengan kes Hassan Ali dan Nasharuddin Mat Isa. Mereka mengkritik parti menggunakan akhbara pencacai - dan sebahagian pemimpin PAS mempertahankan terutama mereka yang dikaitkan dengan UG.

Dahulu hanya GB bersendirian mengkritik Mustafa Ali kerana beliau dilihat merupakan master-mind UG di dalam PAS. Ramai juga yang menghentam GB selepas itu terutama dari kalangan UG yang "lubuknya" terdapat di Terengganu dan Selangor.

Tetapi apabila Mustafa sudah meninggalkan gagasan tersebut, maka GB tidak lagi mengkritiknya, malah bersyukur kepada Allah telah mengembalikan Mustafa Ali ke dalam saf perjuangan PAS yang sebenar.

Anehnya,

yang mengkritik Mustafa Ali kini ialah pemimpin dan ahli yang masih setia dengan gagasan gila itu

- kononnya Mustafa mendedahkan kelemahan pemimpin mereka secara umum tetapi mereka membisu apabila sebelumnya Hassan Ali dan Nasharuddin Mat Isa mengkritik parti terang-terangan melalui media UMNO.

Diantara yang lantang mempertahankan kedua-dua itu tak lain dari pemuka-pemuka UG juga, termasuklah Tuan Ibrahim, Harun Taib, Nik Abduh dan beberapa blogger ala-pencacai.

Kebetulan timbul isu ini selepas "isu lembu NFC hangat diperkatakan dan "suweh" menimpa akhbar Utusan apabila ia diperintakan oleh mahkamah membayar RM200,000 kepada Lim Guan Eng kerana telah memfitnah Ketua Menteri Pulau Pinang itu.

GB sudah lama melihat hal ini akan berlaku. Sebelum ini di dalam entri bertajuk

Siapa Yang Bakal Terkena Suweh Penyapu?

, GB telah ulas. Petikan:


Jangan lupa Khir Toyo yang dahulu menghadiahkan penyapu kepada PBT, tiba-tiba beliau yang ditimpa suweh sehingga sekarang tak habis-habis lagi.

Kerana apa? Mentaliti orang Melayu dah anggap penyapu itu pembawa suweh. "Kamu ialah apa yang kamu fikirkan"!

Maka yang akan ditimpa suweh nanti nampaknya bukan Khalid Ibrahim tetapi kepada penghadiah penyapu itu iaitu UMNO Selangor yang berselindung di sebalik nama NGO yang dikenali sebagai GEMPAK dan WARISAN.

Kalau geng kepala lembu sudah menerima habuannya, tak lama lagi geng penyapu dan mangkuk tandas ini bakal menerima apa yang mereka lakukan bersama-sama tokoh pujaan mereka Hassan Ali namanya.

Allah itu Maha Melihat dan Allah itu Maha Berkuasa. Sebenarnya Allah yang akan mengurniakan habuan pembalasan itu, bukan kerana suwehnya penyapu.

Dia juga yang akan menunjukkan siapa sebenarnya yang bertanduk. MB Selangor & Khalid Samadkah atau geng songkok tinggi bersama-sama "UG". Di dalam Islam, yang jahat akan terkena balik kejahatan yang mereka lakukan.

Di dalam konteks demonstrasi semalam nampaknya UMNO Selangor yang diwakil oleh geng bersongkok tinggi bersama-sama tokoh pujaan mereka Hassan Ali & kumpulan UG bakal terkena "suweh penyapu" itu disertai dengan wartawan-wartawan & akhbar-akhbar yang menjulang tinggi tindakan mereka itu.





InsyaAllah, pemerhatian GB ini tidak silap.
Laporan sebelum ini
klik untuk baca
Dana Lembu NFC Diguna Beli Kondo RM10 juta Di Singapura
Posted: 20 Dec 2011 05:36 AM PST
P
KR hari ini mendedahkan satu lagi isu berkaitan dengan projek kontroversi Pusat Fidlot Kebangsaan (NFC) — kali ini mendakwa sebuah unit kondominium mewah bernilai RM10 juta pula dibeli di Singapura tahun lalu.
Ia pendedahan ketiga membeli hartanah menggunakan dana NFC, projek yang dikatakan bermasalah menurut Laporan Ketua Audit Negara baru-baru ini.
Bulan lalu, PKR mendedahkan unit-unit kondominium dibeli di Bangsar dan sebidang tanah di Putrajaya.

"Memandangkan Umno dan Datuk Seri Shahrizat Jalil belum memberi tanda-tanda akan ada pertanggungjawaban kepada penyelewengan dana rakyat melalui NFC seperti yang dituntut rakyat, PKR akan terus membongkar penyalahgunaan dana awam bagi kepentingan peribadi keluarga menteri berkenaan," kata kenyataan dikeluarkan hari ini.

Dalam kenyataan dikeluarkan oleh Setiausaha Agung Saifuddin Nasution Ismail, Pengarah Strategi Rafizi Ismail dan Ketua Wanita Zuraida Kamaruddin, PKR berkata pihaknya boleh mengesahkan ada bukti-bukti pembelian sebuah kondominium mewah di 7 Anthony Road, Orchard Scotts, Singapore oleh keluarga Shahrizat Jalil pada 27 Januari 2010.
http://www.blogger.com/img/blank.gif
Kata mereka, kondominium itu dibeli pada harga S$4,107,600 dan luasnya adalah 2,282 kaki persegi iaitu salah satu unit yang terbesar di bangunan kondominium mewah di tengah-tengah kota Singapura itu.

"Pembelian harta mewah oleh keluarga menteri ini lebih memualkan bila mana ia didaftarkan terus di atas nama mereka berbanding dengan pembelian dua kondominium mewah di One Menerung yang didaftarkan di atas nama syarikat National Meat and Livestock Corporation Sdn Bhd," katanya lagi. -TMI



Ulasan GB



Tepat seperti yang GB suarakan sebelum ini bahawa:


Shahrizat Kena Pilih Salah Satu: Letak Jawatan Atau Terus 'Dibogelkan'




Good governance – the best present for a country
Posted: 20 Dec 2011 03:46 AM PST
SOURCE: Good governance – the best present for a country by Steve Oh @ Malaysiakini (NOTE: I edited out all the Malaysian politics from this article.)
Yet the message of Christmas is hope for all mankind. That is why the angel could proclaim,' Joy to the world…a saviour has been born to you.' And Magi – the three wise Oriental kings came to worship him and place gifts at his feet.

How such a simple message of hope that Christians tell others can be offensive I haven't the slightest clue, except when I consider the 'god of this world' – the devil – wants people not to be reconciled with God as the Scriptures tell us.
How else do we explain the greed and evil, the inexplicable cruelty of the politicians and those in power, they who would be seen to pray and go to religious houses only to act in the unkindest manner?
But we know the devil comes to kill and destroy so guess whose will is being done when people harm one another?
When all is considered he had no more chance than Jesus did before Pilate who washed his hands clean of the blood of an innocent man.
Intrinsic in the message about the birth of Jesus is the hope when people come to their senses and submit to God and allow his Spirit to indwell and guide them they will do the right things though living in a depraved world.
But if they fear man and like Pilate washed his hands clean and did the politically expedient they will forever bear the scourge of their cowardice and their name will be dragged through slime for many generations.
'God with us' is the theme of Christmas and it is worthwhile to remember that whatever our beliefs we need to learn to live with and care for one another.
'What good is it for a man to win the world and lose his soul?' is a piercing question we need to consider even if we devalue our souls. The truth is not subject to our ideas.
Because we criticise those who do wrong does not negate our duty to pray for and love them. And if people don't believe in prayer then what harm does it do?
Even Christopher Hitchins, the noted atheist did not mind people praying for his healing, even his redemption, though he thought religion was a bane to society but an integral part of human society.
By now people should realise that there is something innate in every human being that protests against the lies and untruths and acts of injustice they see around them, regardless of their religion.
It is called moral conscience. It is a human and divine attribute to oppose evil and to be civic-minded and to take part in peaceful efforts to right the wrongs in your country.
Only good governance can solve the problem of bad governance for it takes a bad government to repress good citizens who protest for the welfare of their nation.
Times magazine has named 'the protestor,' as the Person of the Year in 2011 and in so doing indirectly opposes government attempts to stifle legitimate political dissent.
Martin Luther was the original 'protestor' who dared prove the religious authorities were wrong. His remonstrance was met with persecution but the world would have been under the jackboots of the religious fascists had the Reformation not taken place.
There is right and wrong protesting.
Mahatma Gandhi emulated the life of Jesus in his teaching on non-violence and was inspired by his sayings known as the 'Beatitudes' found in Matthew 5 in the New Testament, who in turn inspired American civil rights activist Martin Luther King Junior to regularise the freedom and equal rights for all black Americans.
Human civilizations progress from the cross-fertilisation of ideas and it is wrong to keep Humans under a coconut shell.
The fact is God does not suffer fools for those in power to abuse their God-given authority to govern and call evil good and good evil. It is common knowledge backed by thousands of years of human history that the good will triumph over the evil.
When those in power do wrong they will be punished for their deeds in time. Even an often immoral Hollywood knows this and movies see the good guys defeat the bad guys.
It is plainly clear that all dishonest and corrupt leaders will be brought to account.
Former French President Jacques Chirac has been convicted of corruption, former Filipino President Gloria Arroyo is facing charges of rigging an election and corruption and the list goes on.
Where are the world's corrupt leaders today?
Most have been brought to justice, many died in disgrace, some were killed by their oppressed people, and those who have escaped thus far will soon get their just desserts.
Such is the law of divine justice because we are told a divine high official watches over the earthly officials and his retribution though not often realised is always timely, relevant and swift.
When Jesus came into the world the devil was put on notice and did all he could to prevent what took place at Calvary. The rest is history.
Evil and her children of lies, injustice, murder and everything that results in human suffering is in its last throes.
People can choose to be sceptics and be cynical and that is their prerogative but there are many who believe that human affairs are regulated by an invisible divine hand that shows itself in amazing ways and the world had a glimpse of it when Jesus was born.
Who thought the Arab Spring would arise, or that Soviet Russia would collapse or that China would dismantle its bamboo curtain and be the world's leading capitalist economy?
They say man proposes and God disposes and who can argue when we can't even predict when the next earthquake will strike?
I recently watched an interview of Bangladeshi Muhammed Yunus, the Nobel Prize winner and founder of Grameen Bank, the Banker to the Poor, who said something about his life goal that catches the spirit of Christmas and his example is one worth noting.
He is a Muslim but he personifies the true spirit of Christmas and the teaching of Jesus to love your neighbor as yourself.
" I will not do anything that will harm another," and this man's crusade to make the world a better place for others, especially the poor, and in trying to make governance honest and just, sees him deservedly in the group of eminent persons called the Global Elders.
Christmas, besides its religious content reminds us that it is better to give than to receive, and to help others than harm them.
And what better present can any government give its people than good governance and the freedom to pick one?
Dakwat Kekal: Belum Ada Hitam Putih, SPR Didakwa Cuba Alih Perhatian
Posted: 20 Dec 2011 02:45 AM PST
S
PR cuba alih perhatian
KOTA BHARU – Penggunaan dakwat kekal dalam Pilihan Raya Umum Ke-13 (PRU 13) seperti yang dinyatakan Pengerusi Suruhanjaya Pilihan Raya (SPR), Tan Sri Abdul Aziz Yusof belum ada hitam putih.
Pengarah Jentera Pilihan Raya Pas Kelantan, Wan Nik Wan Yusof berkata, walaupun SPR menyatakan persetujuan untuk menggunakan kaedah tersebut, ia belum ada kata putus daripada pihak kerajaan.

Menurutnya, pengumuman itu mungkin hanya untuk mengalih perhatian orang ramai kepada isu lain yang lebih serius seperti pertindihan daftar pemilih yang masih belum diselesaikan sepenuhnya.

"Setakat ini, kita lihat SPR akan bersandarkan kepada kabinet, menteri atau Parlimen, kita hanya boleh mempercayainya selepas ia diumumkan secara rasmi oleh kerajaan. Mungkin juga ia hanya untuk memberitahu kepada rakyat bahawa SPR melakukan sesuatu untuk menjadikan pilihan raya lebih adil," katanya.

Beliau berkata demikian ketika diminta mengulas kenyataan Abdul Aziz yang bersetuju memenuhi salah satu tuntutan Bersih 2.0 itu semalam.


Contoh dakwat kekal yang akan digunakan sudah dihantar ke Jabatan Kimia untuk pengesahan kandungan sebelum dikemukakan kepada kepada Jabatan Kemajuan Islam Malaysia (Jakim) dan Majlis Fatwa Kebangsaan dan Kementerian Kesihatan untuk tindakan susulan.

Dakwat kekal 'silver nitrate' yang akan digunakan digunakan di beberapa negara bagi memastikan pilihan raya berjalan secara adil dan ianya berbeza dengan dakwat kekal yang disyorkan pada PRU 12.

Sementara itu, Timbalan Exco Negeri Kelantan, Abdul Fatah Harun berkata, rakyat mahukan PRU 13 berjalan adil dan bebas daripada sebarang bentuk keraguan.



"Buatlah apa saja asalkan rakyat berpuas hati dan penggunaan dakwat kekal hanya salah satu daripadanya sedangkan SPR sewajarnya terlebih dahulu menyelesaikan isu lain yang lebih besar,"

katanya.

Katanya, aduan mengenai wujudnya pengundi hantu dalam daftar pemilih sehingga ke hari ini belum ada jawapan meyakinkan sehingga rakyat menilai sendiri kredibiliti SPR itu sendiri. -SH


Dakwat kekal: Jangan ada halangan seperti 2008



KUALA LUMPUR, 19 Dis: PAS mahu Suruhanjaya Pilihan Raya (SPR) memberi jaminan bahawa tidak akan ada lagi sebarang halangan untuk menggunakan dakwat kekal pada Pilihan Raya Umum (PRU) ke-13 seperti yang berlaku pada 2008.

Ketua Pengarah Pilihan Raya PAS, Dr Mohd Hatta Ramli (gambar) berkata, biarpun menyambut baik pengesahan SPR untuk menggunakan dakwat kekal itu, namun apa yang dibimbangi sejarah PRU ke-12 pada Mac 2008 lalu akan berulang.



"Kita alu-alukan ianya dilaksanakan. Cuma kita harap tidak ada lagi halangan seperti dakwat lewat sampai dan sebagainya.



"Kita juga nak kepastian berhubung dengan kualiti dakwat tersebut," katanya yang juga ahli parlimen Kuala Krai ketika dihubungi Harakahdaily.

Beliau berkata demikian ketika diminta mengulas pengesahan Pengerusi SPR Tan Sri Abdul Aziz Mohd Yusof bahawa dakwat kekal akan digunakan pada PRU akan datang.

Aziz berkata, SPR juga bersetuju untuk melaksanakan undi awal kepada semua anggota polis dan tentera, termasuk isteri mereka kecuali jika berada dalam tugas dan memohon membuat undian pos.

Kedua-dua pembaharuan yang akan diperkenalkan itu adalah sebahagian kecil dari cadangan jawatankuasa pilihan khas (PSC) parlimen berhubung penambahbaikan proses pilihan raya yang syornya dibentang di Dewan Rakyat baru-baru ini.

Cadangan penggunaan dakwat kekal hampir-hampir digunakan pada PRU ke-12 pada tahun 2008, namun ianya ditarik balik beberapa hari sebelum pengundian.

"Kita juga minta agar SPR memberi penerangan awal kaedah penggunaan (dakwat kekal) supaya mudah untuk kita memberitahu kepada petugas parti yang akan terlibat," kata Hatta yang juga salah seorang anggota PSC itu.

Hatta juga menyifatkan keputusan terbaru SPR itu sebagai kejayaan rakyat yang menuntut penggunaan dakwat kekal sejak sekian lama termasuk melalui himpunan Bersih 10 November 2007 dan terbaru Bersih 2.0 pada 9 Julai lalu.

"Saya berani katakan, desakan rakyat inilah yang memaksa kerajaan untuk akur menggunakan dakwat kekal.

"Harapan kita supaya penggunaan ini akan mengelakkan mana-mana pihak mengundi lebih sekali," katanya. -HD


Posted: 15 Dec 2011 10:41 PM PST
Haha! My ears cannot tahan already so many people sending me messages "HOI, TAK RETI UPDATE BLOG KE?" , "CEPATLA UPDATE DIYANA SAYA SETIA MENUNGGU…" etc etc
Thanks friends and readers for visiting this blog. FYI how I wish I have the time to write about sensational stuff, heartfelt stories and Miki's development update but badan tak kuat, kesihatan tak mengizinkan (aiyoo baru pregnant belum demam denggi lagi… touch wood!)
Anyway I have some pics that I took with my phone over the weekend let me upload here lah! On Saturday Azman had to work I stayed homi with Miki and we did nothing but relaxing, watching TV and play games. If I wasn't down with morning sickness, I am sure we had gone out shopping or at least get some exercise at the park. Instead I made some spaghetti with tomato and fresh basil, spread a matt under the palm trees in our garden and have our own lil picnic there.
The weather on Saturday was cool and the sun was merciful. Miki and I had such a lovely time having our simple lunch outside.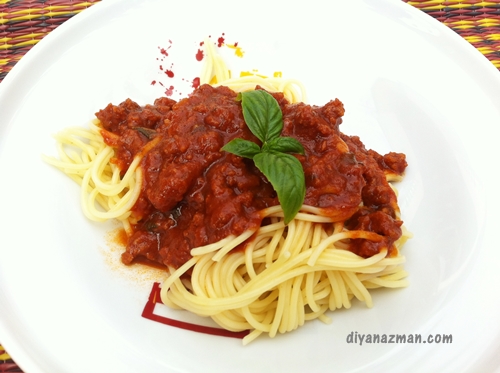 Spaghetti for lunch?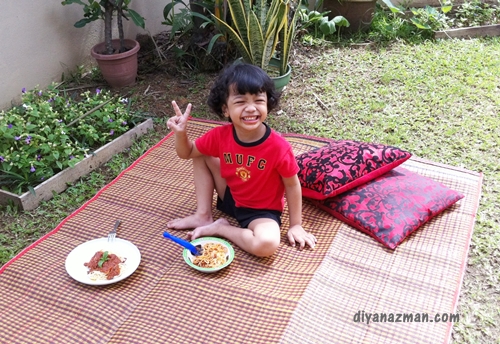 Bentang tikar plastik cabuk, took out a couple of scattered cusions, belum sempat nak hidangkan air segala tengok2 mulut Miki dah bukan main comot hahaha… Sedap ye Miki, of course la Mummy yang masak! :p Took this pic I think he looks so cute here. Although it was not a hot day but Miki went back inside to his Ipad after he finished his meal… alala… so Putera Lilin!
I on the other hand proceeded with my sunbathing. I got my paperback novel with me, my fluffy cusions and the soft blowing wind! Relax betul.. heaven! Love my high fence, takde sapa nampak I terbongkang atas rumput depan rumah nak pakai bikini pun boleh woo kalau sanggup! haha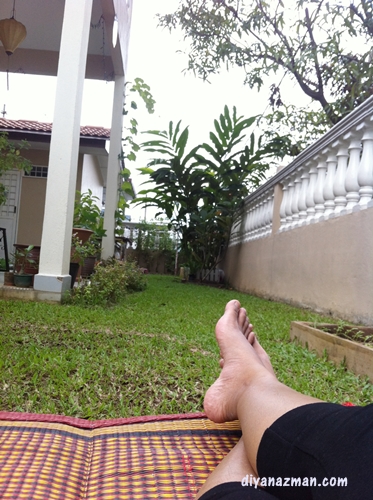 As you all know Azman and I are self-proclaimed Urban Garderner. Now we have more herbs and vegetable plants in our yard than flowering plants. Really banyak sampai tak termakan. At one time we produce so much of that iron-and-minerals-packed red spinach and sawi until I found it funny when I saw other people were buying that from the supermarket. I felt like saying eh.. tak payah la beli, mai datang umah saya petik. *pengsan*
In the end we gave some to family and friends and our pet rabbits pun bukan main mewah makan sayur bayam tiap-tiap hari. Now that my morning sickness is slowing me down a lot, I hardly cook anything and I have like 3 or 4 kuntum bunga kantan yang sampai dah kembang sebab tak petik!!! Not to mention cili padi, serai, basil melambak-lambak…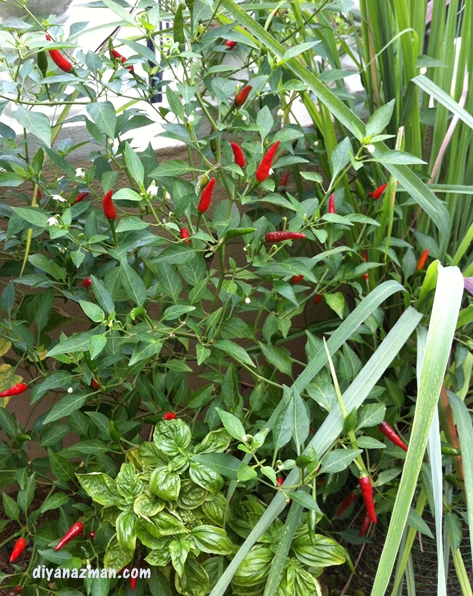 My cili padi yang sampai buruk atas pokok dan jatuh berguguran ke bumi. Below is Azman's latest plants. Memang feeling-feeling Cameron Highlands la! This is cabbage aka kobis. I myself has never seen it grown in low land,in my own garden is the first time. So far it is growing beautifully, hope it will produce the cabbage head soon..


Memang susah jaga food plants when you are not using pesticide but that's the challenge and looking at your plants growing gloriously like this is very satisfying like buying handbag. hahaha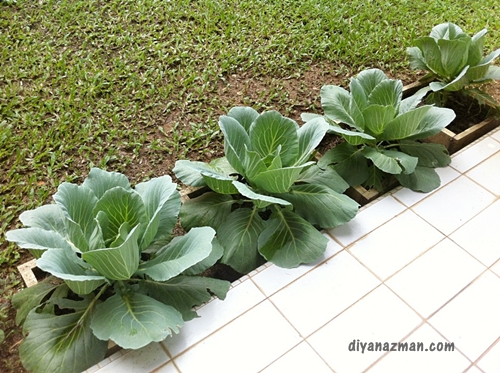 Cabbage plants
On Sunday, I felt a bit better but still didn't feel like going out takut making a scene by termuntah di khalayak ramai! So I decided to cook proper lunch for the family, I love authentic Malay cooking aka makanan kampung-kampung. So picked some herbs from the edible garden, serai, daun kunyit, bunga kantan, cili padi and also daun kesum.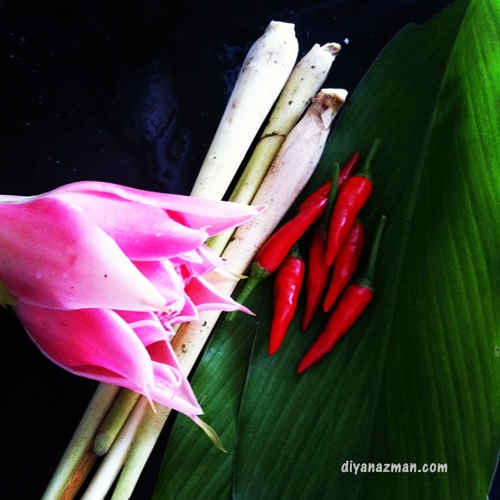 Today's harvest
The ginger torch and daun kesum was thrown into a pot of asam pedas ikan siakap – my husband likes this very much. I think my bro in law Abi mesti horror tengok muka ikan tu hahaha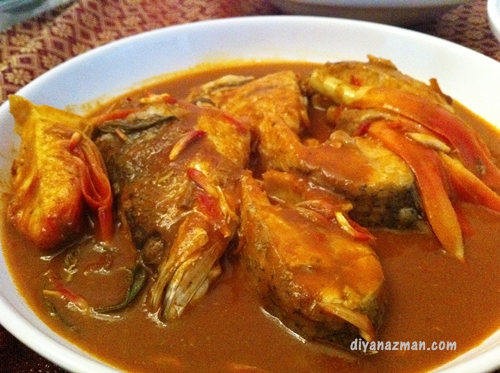 asam pedas siakap
I also made what tasted best in my preggie momma palate – masak lemak cili api!  That day I cooked masak lemak cili api ayam with tomatoes yang sangatlah marvelous lemak berkrim but I feel so guilty about taking that much santan. Next time I will remember not to use so much. FYI I have stopped cooking red meat in my kitchen except when we host bbq parties. I also limit the intake of cheese for myself and Azman except Miki he can take as much cheese as he wants. Red meat, cheese, santan adalah sangat tidak menyihatkan ye Puan-puan - pesanan daripada penaja.  Remember that asam pedas is better than masak lomak dan bolognese is better than creamy carbonara. Sekali -sekala boleh la eh…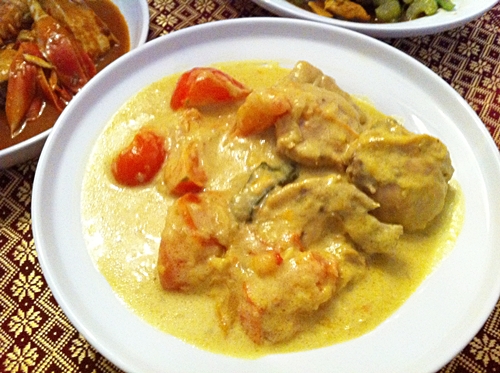 lemak cili api
Below is our lauk sihat campur lauk tak berapa sihat that we had for lunch. Azman and Miki both suka and makan banyak betul, I feel so happy and semangat nak melawan pening so that I can cook regularly again. I really pray so that morning sickness will leave me soon. So that I can function normally again. LOL. Insyal Allah…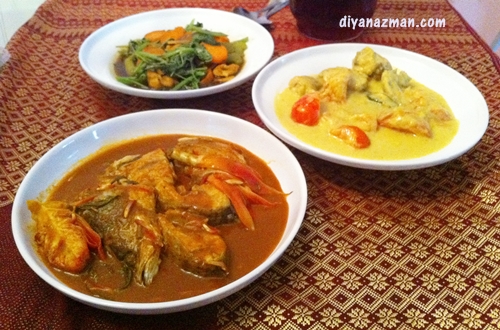 Have a nice day everyone!
Willem Eprom Programmer 2011 adapter SOIC8 209ml
Posted: 20 Dec 2011 12:36 AM PST
No More Excuses: Diet and Nutritional Planning for 2008
Posted: 20 Dec 2011 12:29 AM PST
Visualize this. You were just chosen to let world famous Fitness Model, Frank Sepe, shack up in your house while he does some local photo shoots in your area. His taxi is dropping him off at your door step step in 5 minutes! And, did I mention, he'll be relying on your kitchen and food supply... The question is this. Is your kitchen prepared for your guest? Will he look inside your fridge
20-Minute Fat Loss Workout Ideas
Posted: 20 Dec 2011 12:28 AM PST
If you're sick of fluffy weight loss workouts that aren't giving you any results, then you will love this interview where Hardcore Strength Coach Zach Even-Esh grills me on advanced Turbulence Training for Fat Loss methods. Zach Even-Esh: Craig, thanks for taking the time out of your insane schedule to talk with us. Tell us a little bit about yourself, your clientele and your overall training
Posted: 20 Dec 2011 12:28 AM PST
Is there a demand for affiliate marketers today? Yes, there is a huge demand. One of the challenges faced in the affiliate marketing industry is that it sometimes sounds too good to be true: advertising that's guaranteed to work or it's free! Newcomers wonder if it's possible, and skeptics claim that the cost effective prices of affiliate marketing lower the bar for online advertising. But there
Can You Gain Muscle Weight Without Getting Fat?
Posted: 20 Dec 2011 12:27 AM PST
There are two common fitness goals - to gain muscle mass and to lose body fat.  Unfortunately, for the most part, the two goals are at opposite ends of the spectrum. Building muscle mass is going to require you to take in a surplus of calories because, well, let's face it, you can't build muscle out of nothing (unless of course you have some chemical help going on). Losing fat mass on the
4 Simple Keys To Developing A Wide, Muscular Back
Posted: 20 Dec 2011 12:27 AM PST
It never ceases to amaze me how incredibly misguided the vast majority of the population is in the gym. Everyone is desperate for that wide, powerful and muscular physique, yet very few understand how to properly channel their efforts to get there. For most aspiring lifters, it's all about building a huge chest and arms. Week after week they slave away on endless sets of bench presses and
How To Fight Hair Loss Naturally
Posted: 20 Dec 2011 12:26 AM PST
Hair loss is common problem that affects many people worldwide. The fact that it can happen to anyone, makes you want to know if there is a way around it. This article will discuss how to fight hair loss without taking any prescription drugs or using formulated shampoo. Men and women can both suffer from hair loss. However, losing hair is more natural for men especially when they age. So,
One Of The Most Intense Turbulence Training Workout Ever…
Posted: 20 Dec 2011 12:26 AM PST
From weddings, to reunions to beach vacations, it seems there is always something to look good for. The trouble, however, is finding the one workout program to plough through that stubborn fat loss plateau and into the sculpted look you're after. The key to cutting away fat and shaping your best body possible is through hard work and variation. Nothing in life is free, and it's rarely easy.
How to find support for postpartum depression?
Posted: 20 Dec 2011 12:25 AM PST
It becomes very difficult to explain to people that you are depressed right after having a baby. People would be shocked and might even wonder what is wrong with you. You, yourself, might wonder what is happening. But every fourth new mother has reported suffering from 'baby blues' or postpartum depression. Finding support in such a situation could be difficult. But it is not that only women
The 4 Week Plan to Build a Bigger Back How to Increase Your Wide Grip Chinup
Posted: 20 Dec 2011 12:25 AM PST
A big broad wide back is a very important muscle group that everyone wants to develop. It is a signature factor of any great physique and one that automatically demands respect. It is a sign of hard work, dedication and attention to detail as not many people train their back muscles as much as their chest or arms let alone train their back with proper form and activation. The V-Taper creates