---
Majlis Penyerahan Sumbangan Yayasan Aman & YB Nurul Izzah Anwar
Posted: 13 May 2012 09:45 AM PDT
Assalamualaikum dan Salam Sejahtera…
Alhamdulillah, Program Penyerahan Sumbangan Bantuan Yayasan Aman telah berjaya disempurnakan pada Sabtu, 12 Mei 2012. Seramai 258 penerima sekitar kawasan Parlimen Lembah Pantai hadir untuk menerima bantuan. Walaupun dalam usaha dan kekangan yang dihadapi kerana Peruntukan kepada Ahli-ahli Parlimen Pakatan Rakyat Wilayah Persekutuan yang hampir RM 2.0 juta setahun tidak disalurkan tetapi diberikan kepada UMNO Cawangan, berkat usaha dan sumbangan orang ramai sebegini, sedikit sebanyak dapat membantu golongan yang memerlukan.
Di Majlis yang sama juga, meraikan para pelajar yang mendapat keputusan cemerlang PMR dan SPM 2011. Didoakan adik-adik ini akan terus berjaya di dalam bidang lapangan masing-masing dan menjadi tonggak serta bakap mewarisi kepimpinan Negera kita pada masa akan datang, InsyaAllah.
"Demi Malaysia Yang Lebih Baik"
Gambar-gambar sekitar Majlis Penyerahan Sumbangan ;
Posted: 13 May 2012 09:40 AM PDT
By now, the Malaysiakini article
Parliament to be dissolved this week, says report
would have made its rounds in emails, blogs and other forums. Are you surprised? I am not.
However, I am appalled that of late, at a time when the Opposition leaders should be sharpening their election machinery, two parties are still haggling over an old issue. It is a case of the racing on theroad to nowhere. Such childish antics would make us question as to how they can want to rule the country when they are still fighting in a kindergarten-like manner over pencils and erasers.
Reading Azmin's statement that PKR has prepared 13 million election leaflets and huge numbers of party flags, banners, T-shirts and caps just baffles me.
The battle is not about who has more paraphernalia to flaunt during the campaign period. Neither is it about funds, supporters, rallies, debates or what-have-you's.
In many ways, delusional thinking has transformed many PR leaders into either complacency, stagnancy or further malignancy.
The battle is NOT in main towns or cities which are populated by tech-savvy and connected citizens. Many forget that these comprise only a small percentage of voters.
Realistically, the battle is in the heartland of the country - the older folks, those in the kampung, in the rural areas whose main source of news would be the television and newspapers.
We cannot kid ourselves into thinking that merely a good track record or strong turnouts at public rallies reflect a swing to the Opposition. Such overtures of support are but a small proportion of the actual voters.
Sighs.
More than four years have passed and the shadow cabinet has yet to be announced. The usual dose of s** scandals have been rocking the nation until we are almost desensitized to such news. All kinds of absurd political posturing can be seen on both sides of the divide. The scarcity of new and young leaders of calibre stares right at us.
"Earth provides enough to satisfy every man's needs, but not every man's greed." - Mahatma Gandhi
Seriously, PR leaders have a looooooooooooooooong way to go in terms of strategizing and remaining humble. There is simply no place for arrogance of any form, boasting or even blowing their own trumpets regardless of the degree of success in achievements - eg in Penang.
Nothing lasts forever.
And PR had better shape up. Easier said than done.
"One truth we must all learn in life is that we are not always in charge of what happens, but we can and must take charge of how we respond to life's challenges." - Antoinette Bosco
And is PR doing just that or still putting out fires in their own backyard?
I see dark clouds in the sky foreshadowing tough times. Still, I pray these will clear miraculously and there will be a new dawn in our country for the better. Realistically, we see more and more cases of misinformation, propaganda and selective news reporting. In such a scenario, would deliberate ignorance be the better option?
"Men do not differ much about what things they will call evils; they differ enormously about what evils they will call excusable." – G.K. Chesterton
Look at BN. They are all ready. Confident. Machinery well-oiled. Candies have been distributed. Many are happy. The list of candidates have probably been finalised and campaigns already designed and waiting to be launched when the time is right.
Contrastingly, despite the unresolved issues that they face but choose to not to acknowledge, those on the other side are so confident for a a repeat of the 2008 tsunami.
I beg to differ for many reasons, even though I am a PR supporter. Call me a pessimist but I fear an earthquake
(not a tsunami)
may hit this time. One that may bring shocking casualties.
And I really hope I am wrong. If that were to happen, PR has themselves to blame for despite the support given by many, some apparently chose to sing out of tune. If that were to happen, they can sing Whitney Houston's
Didn't we almost have it all?
"Democracy does not require perfect equality but it does require that citizens share a common life...For this is how we learn to negotiate and abide our differences, and how we come to care for the common good." - Michael Sandel, as quoted by Thomas L. Friedman
The question is how the rakyat will be convinced as to how which coalition can and does care for the common good.
May the
BETTER
and
MORE HONORABLE
party win.
"The problem of power is how to achieve its responsible use rather than its irresponsible and indulgent use — of how to get men of power to live for the public rather than off the public."- Robert F. Kennedy
In the mean time, battle lines have been drawn. Most of us have already made up our minds for whom to vote.
However, this is a crucial time and there is certainly no place for the politics of selfishness. If we consider some individuals, is it possible that a pre-occupation with the self is the root of our country's political and economic problems? Why then is there a dearth of new leaders?
"The modern conservative is engaged in one of man's oldest exercises in moral philosophy; that is, the search for a superior moral justification for selfishness." - John Kenneth Galbraith
Can it be that the EGO is the core of political selfishness? In modern society, there is no shortage in the ways by which ardent supporters can feeding that ego of their political 'idols' e.g. via various mechanisms including the ever powerful money factor. The brutally harsh reality is that such political adulation is also a hugely powerful selfishness tool that works to the detriment of those who have been idolized.
The time has come for less talking, no more quarrelling and LOTS of action.
"Each time a man stands up for an ideal, or acts to improve the lot of others, or strikes out against injustice, he sends forth a tiny ripple of hope, and crossing each other from a million different centers of energy...those ripples build a current which can sweep down the mightiest walls of oppression and resistance." - Robert F Kennedy
Well, Malaysians - it is time to watch and pray and do what we can at the soonest for the betterment of this land we love - Malaysia. I believe miracles can happen.
"It is not true that people stop pursuing dreams because they grow old, they grow old because they stop pursuing dreams." – Gabriel García Márquez
"It is better to vote for what you want and not get it than to vote for what you don't want and get it." - Eugene V. Debbs
Recommended Readings:
If you have time, please read
Ludwig von Mises's masterpiece Human Action which you can either read or download AT THIS LINK.
Rose Wilder Lane described this book as unquestionably the most powerful product of the human mind in our time.
The Economist
referred to Human Action as one whose intellectual power roars through like a great wind...If you only want to read ONE book in 2012, read
Human Action
! I promise you will NOT be disappointed!
And, if you have time, please check out this post on
Ayn Rand And The Politics Of Selfishness And Greed.
.
You might also want to read
Is This Still Our Land?
Capitalists and Other Psychopaths

"Never be afraid to raise your voice for honesty and truth and compassion against injustice and lying and greed. If people all over the world...would do this, it would change the earth. " - William Faulkner
This posting includes an audio/video/photo media file: Download Now
Posted: 13 May 2012 09:01 AM PDT
Umno is still celebrating its 66th birthday. I wanted to go to the Bukit Jalil Stadium on Friday nite but was engaged with another meeting with two European diplomats. After all, I am so used to speeches by Umno leaders, about things they will say and the kind of slogans to chant.
Umno is my party since 1981 and I hope it will stay relevant forever.
However, in order to stay relevant, Umno leaders must restrategise its approach and mechanism. We can be proud for having more than 3.4 million members supporting the party. But what have we drawn or learn from the 2008 poll 'disaster'?
I do not wish to write a long post. Enough to say that Umno (maybe) only exists for the leaders and those who benefit from working with its inner circle. The grassroot members are still there, talking about bread and butter on the promise of 'the moon and sun'.
How sincere are we in appreciating the grassroot members?
Just citing a simple case - an Umno member passed away in Kota Bharu Hospital last Thursday. Two hours later, representatives from KB PAS division came to pay their last respect to the deceased and contributed some money for his funeral.
The very next day, a rep from KITA also came to the family house to extend condolences and gave 'wang ehsan' to them.
However, nobody from Kota Bharu Umno division office came despite a promise by one of its senior official to send a rep and 'wang khairat' to the bereaved family. Up to this date, no Umno rep came.
I don't know what happened. Only God knows best. However, its not about money. Its the thought that counts. The deceased was very active in party's activities, and so are his family members.
But where was Umno when they needed it most?
Umno leaders are very busy with their work and schedule while its office bearers at the State and division levels are also tied up with their routine, especially in keeping their position and gaining the attention from the top.
I am not sure how do we treat 'petty and small' matter like this. Of course its not similar to that of tabling a new Bill at the Parliament or formulating a new development policy for the country. However, a small matter like this has a tendency to escalate into a big one.
This is one of several similar cases brought to my attention. Yes, people at the top may treat it as not important but just wait when it becomes the talk of the town or kampung. So, what kind of an impression do we expect from them?
I don't know if PM and Umno President Najib Tun Razak reads this. Many Umno leaders could laugh at it but I have so much worries for Umno, particularly in preparing its machinery for the next general election.
Will we still blame the grassroot members should the votes for Umno decline again? I think its fair, right?
Tol Sudah Sepatutnya Dihapuskan, Berapa Banyak Lagi Mahu Untung?
Posted: 13 May 2012 09:50 AM PDT
A
ntara perkara utama adalah kaji hapus tol
SUBANG JAYA: Ahli Parlimen Shah Alam, Abdul Khalid Samad hari ini memberitahu apabila Pakatan Rakyat mengambil alih Putrajaya, antara perkara yang utama akan dipertimbangkan adalah menghapuskan tol bagi mengurangkan beban rakyat.
Beliau yang ditemui ketika himpunan hapuskan tol di Tol Batu Tiga memberitahu apa yang dilakukan ini adalah tindakan rakyat untuk mendesak kerajaan agar menghapuskan tol di Lebuhraya Persekutuan iaitu Tol Batu Tiga dan Sungai Rasau.

Lebih kurang seribu orang hadir bagi mendesak tol dihapuskan di kedua-dua tempat iaitu Tol Batu Tiga dan Sungai Rasau.

Bayaran yang dikenakan sebanyak RM1 bagi Tol Sungai Rasau dan RM1.10 untuk kepada sebuah kereta telah mengakibatkan kesesakan yang teruk setiap awal pagi dan juga petang.

Turut hadir pada himpunan tersebut adalah exco kerajaan negeri, Ronnie Liu, Adun Seri Muda, Suhaimei Shafiei dan juga Ketua Angkatan Muda Keadilan (AMK), Shamsul Iskandar Md Akin.



"Ini merupakan satu program yang ditunjukkan oleh rakyat agar kedua-dua tol di Lebuhraya Persekutuan dihapuskan dengan segera supaya ia tidak terus membebani rakyat.

"Kita menjangkakan sepanjang tiga puluh tahun operasi tol ini, syarikat tersebut sudah mendapat kembali modal yang mereka keluarkan malah telah mendapat keuntungan yang berlebihan," kata Khalid.

Tambahnya Tol Batu Tiga dan Sungai Rasau merupakan tol yang terawal beroperasi di bawah kendalian Projek Lebuhraya Utara Selatan (PLUS) hampir tiga puluh tahun operasi.

"Tol ini merupakan yang paling laris dan mustahil jika pihak Plus belum mendapat apa-apa keuntungan dari pengoperasian mereka.

"Malah sebelum tol ini beroperasi, lebuhraya persekutuan telah wujud lebih awal iaitu sekitar tahun 60an bagi menghubungkan Kuala Lumpur dan Pelabuhan Klang," sambung beliau yang turut serta dalam himpunan tersebut.

Maka atas dasar tersebut, Khalid berpendapat tol ini sudah sepatutnya dihapuskan.

Menurutnya lagi, kewujudan kedua-dua tol tersebut telah menyebabkan berlakunya kesesakan lalulintas yang teruk pada awal pagi dan waktu petang.

"Matlamat mewujudkan lebuhraya adalah untuk mengurangkan kesesakan lalulintas tetapi kalau tol menyebabkan kesesakan melampu saya pasti matlamat mewujudkan lebuhraya ini tidak akan tercapai.

"Bagi saya penghapusan tol ini selain dapat membebankan kos sara hidup rakyat ia juga dapat mengurangkan kesesakan lalulintas," tambah beliau lagi. -HD


5 minit tol percuma di Batu Tiga



Kira-kira lebih 30 kenderaan berjaya melalui tol Batu Tiga, Shah Alam secara percuma hari ini dalam perhimpunan oleh 300 orang penyokong Pakatan Rakyat di plaza tol berkenaan.

Kenderaan berkenaan dapat melalui tol tanpa bayaran apabila salah seorang peserta perhimpunan tersebut bertindak mengangkat palang di satu lorong di plaza berkenaan selama kira-kira lima minit.

Bagaimanapun, kutipan bayaran berkenaan kembali kepada keadaan sedia kala apabila ADUN Sri Andalas, Dr Xavier Jayakumar mengarahkan agar palang itu diturunkan.

Jayakumar memberitahu Malaysiakini bahawa beliau akan menemui pemegang konsesi lebuhraya berkenaan, Projek Lebuhraya Utara Selatan, bagi membayar ganti rugi yang ditanggung akibat tindakan tersebut.

"Saya telah bertemu dengan orang PLUS di sini dan mereka kata akan lihat di kamera CCTV berapa kereta yang lalu. Ada dalam 30 buah juga yang lalu.

"Dan saya kata pada mereka, beritahu berapa dan saya akan bayarkan jumlahnya," katanya.

Demonstrasi yang bermula pada pukul 2 dan berakhir pada pukul 4 petang anjuran Pakatan Rakyat Selangor itu turut dihadiri oleh Ahli Parlimen Shah Alam, Khalid Samad dan DUN Pandamaran, Ronnie Liu.

Selain membawa kain rentang bertulis 'Hapuskan tol baru betul' dan 'Hapuskan tol demi rakyat', mereka melaungkan "Hidup Rakyat", "Undi Pakatan Rakyat tak bayar tol, undi BN bayar tol", dan "Hapuskan tol".

Kumpulan itu turun mengedarkan pelekat kereta dengan slogan 'Hapuskan tol demi rakyat' kepada orang ramai yang melalui tol tersebut.

Hadir sama di perhimpunan tersebut ialah ahli parlimen Shah Alam Khalid Samad yang turut menyifkatkan tol bagi Lebuhraya Persekutuan itu sebagai "paling mengarut dalam negara."

Katanya, jalan yang menghubungkan Klang dengan Shah alam itu telahpun wujud sejak 1950 dan pemegang konsesi itu hanya melebarkan jalan tersebut kepada enam lorong.

Kutipan tol pula bermula sejak tahun 1992, katanya.

"Selepas 20 tahun digunakan dan meraih puluhan ribu ringgi setiap hari, tidakkah patut mereka mansuhkan tol ini sekarang?," soalnya. -mk







PAS Buat Keputusan Tangguh Muktamar, Himpunan Raksasa I Jun Di Alor Setar
Posted: 13 May 2012 08:32 AM PDT
P
RU13: PAS tangguh muktamar, ganti himpunan raksasa
Presidennya, Datuk Seri Tuan Guru Abdul Hadi Awang berkata, ia akan digantikan dengan perhimpunan raksasa pada 1 Jun di Alor Setar, Kedah yang akan memberi fokus sepenuhnya kepada pilihan raya umum ke-13.
"PAS lebih menumpukan kepada persediaan menghadapi pilihan raya umum yang masih menjadi teka-teki, itulah demokrasi di negara itu.

"Jadi PAS tangguh muktamar ke satu tarikh lain dan akan adakan ijtima' dan munajat perdana untuk perkasakan jentera dan ahli di seluruh negara bagi menghadapi pilihan raya umum ke-13," kata beliau pada sidang media selepas mempengerusikan mesyuarat jawatankuasa PAS Pusat di ibu pejabat parti, Jalan Raja Laut, dekat sini, hari ini.

Beliau berkata, Naib Presiden, Datuk Mahfuz Omar akan menjadi pengarah bagi ijtima' yang dijangka dihadiri lebih 100,000 ahli parti itu.

"Maklumat lanjut akan dikemaskini dari semasa ke semasa.

"PAS tak akan sediakan bas untuk ke sana tapi semua atas usaha ahli sendiri tapi kita yakin kehadiran lebih 100,000," katanya.

Sementara itu, Ustaz Hadi juga memaklumkan seratus peratus nama calon dari setiap negeri sudah dihantar ke Jawatankuasa Pusat dan diluluskan Majlis Syura.

"Jawatankuasa Pusat memberi kepercayaan kepada Dewan Harian PAS Pusat untuk meneliti semua calon yang dikemukakan kepada pusat dan diluluskan Majlis Syura," katanya.

Tambah beliau juga, isu pertindihan kerusi dengan PKR dan DAP akan diselesaikan oleh Jawatankuasa Bersama dalam Pakatan Rakyat.

"Itu akan diselesaikan oleh jawatankuasa bersama dalam Pakatan Rakyat," katanya.

Turut bersama pada sidang media ialah Timbalan Presiden, Mohamad Sabu, Naib Presiden, Datuk Mahfuz Omar dan Salahuddin Ayub, serta Setiausaha Agung, Datuk Mustafa Ali. -HD



Lesson of the day – Human brain – from Instagram
Posted: 13 May 2012 06:34 AM PDT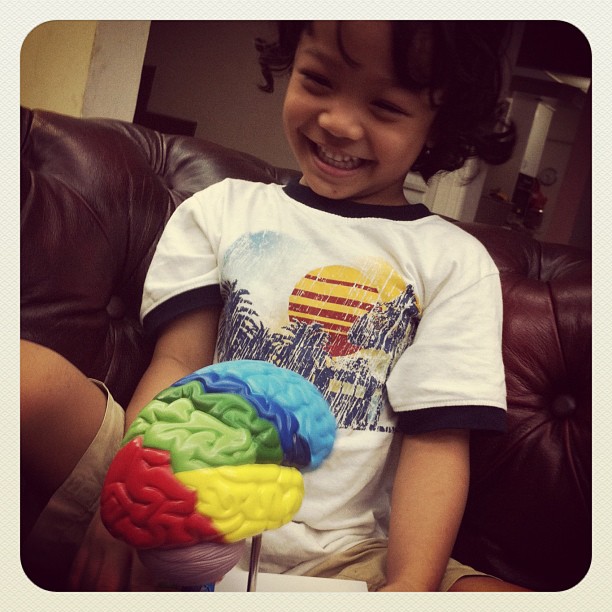 I got this cute human brain model for kids as a gift from Dutch Lady. Miki adores it and keeps asking me to explain the different brain function each color represents.
Miki loves science lessons but hates practising on his reading and writing.. Sigh! Layan kan ajelah! Next year he is going to kindergarten already!
Isu Air Selangor : Khalid Selar Najib Sebagai Bukan Negarawan
Posted: 13 May 2012 07:04 AM PDT
I
su Air : Najib Razak Bukan Negarawan
BANTING 12 MEI : Kenyataan Datuk Seri Najib Razak berhubung isu air di Selangor membuktikan Perdana Menteri hanyalah seorang ahli politik yang tidak bertanggungjawab dan bukannya negarawan sebenar yang sepatutnya mengutamakan kepentingan dan kebajikan rakyat.
Menteri Besar, Tan Sri Abdul Khalid Ibrahim berkata, kenyataan Najib itu juga bertentangan dengan titah DYMM Sultan Selangor yang menyeru semua pihak tidak mempolitikkan isu air demi kepentingan rakyat dan pembangunan negeri.

"Kita telah mengadakan beberapa siri perbincangan dan tawaran kepada syarikat konsesi termasuk menggunakan arbitari antarabangsa.

"Bagaimanapun, kita tidak menerima maklum balas malah Kerajaan Pusat berdolah-dalih untuk melaksanakan Akta Industri Perkhidmatan Air yang memberi kuasa kepada kerajaan negeri menguruskan air.

"Jika Perdana Menteri negarawan sejati, beliau sepatutnya mengarahkan penstrukturan semula industri air di Selangor diselesaikan dengan segera," katanya.

Abdul Khalid berkata demikian pada sidang akhbar selepas merasmikan Visit Kuala Langat 2012 di Pantai Morib sempena Program Mesra Khas Terima Kasih Rakyat peringkat Daerah Kuala Langat.

Beliau juga berjanji kepada rakyat Selangor yang tarif air hanya akan dinaikkan pada kadar munasabah sekitar 12 peratus dan pemberian air percuma 20 meter padu pertama setiap bulan diteruskan, jika selesai penstrukturan semula air.

Kadar kenaikan air mengikut pelan Syarikat Bekalan Air Selangor (SYABAS) adalah melebihi 70 peratus.

"Rancangan kerajaan Selangor adalah menjaga kebajikan rakyat keseluruhan. Justeru, Perdana Menteri perlu mengotakan janji untuk mengutamakan rakyat dengan mempercepatkan penstrukturan air," katanya.

Menteri Besar berkata, Kerajaan Selangor kosisten dengan pendirian bahawa projek Langat 2 dibina selepas rundingan penstrukturan semula diselesaikan.

Sementara itu, Setiausaha Politik kepada Menteri Besar, Faekah Husin berkata, laporan Lembaga Urus Air Selangor (LUAS) yang diterima setiap bulan menunjukkan bekalan air mentah di Selangor pada tahap lebih dari mencukupi.

"Masalah ialah bekalan air bersih kerana kegagalan syarikat konsesi mengguna sepenuhnya loji-loji rawatan air yang sedia ada, tidak menaiktaraf paip-paip air dan gagal mengurangkan kadar air tidak berhasil (NRW)," katanya. - selangorku




Posted: 13 May 2012 05:46 AM PDT
The one who could controls himself while in anger
Posted: 13 May 2012 04:50 AM PDT
Source: Prophet Muhammed (pbuh) said:
"The strong is not the one who overcomes the people by his strength, but the strong is the one who controls himself while in anger."
Sahih Al Bukhari Vol. 8, Book 78, No. 6114
Mat Sabu: PR Mahu 'Guling' BN, Tapi Bukan Guna Kekerasan
Posted: 13 May 2012 05:29 AM PDT
K
ota Bharu - Pakatan Rakyat (PR) hanya akan menggulingkan kerajaan menerusi pilihan raya yang bersih bukannya melalui kekerasan seperti dakwaan pihak tertentu.
Gambar:
A Samad Said berkongsi pengalamannya menyertai Bersih 3 0 di Kota Bharu.
Timbalan Presiden Pas, Mohamad Sabu berkata, PR nekad menukar kerajaan dalam Pilihan Raya Umum ke-13 (PRU13), namun dakwaan yang mengatakan pihaknya akan menggunakan kekerasan hanya fitnah semata-mata.

"Betul, kita nak gulingkan kerajaan tetapi kita akan melakukannya berdasarkan pilihan raya bersih dan bukannya melalui kekerasan pada himpunan yang lalu seperti didakwa," katanya sempena Ceramah Perdana Pasca Bersih 3.0 di sini.

Turut hadir dalam ceramah yang dihadiri 10,000 pengunjung, Naib Presiden Pas, Datuk Husam Musa, Sasterawan Negara yang juga Pengerusi Bersama Bersih 3.0, Datuk A Samad Said dan Ahli Parlimen Rasah, Anthony Loke.

Muhamad menegaskan himpunan Bersih 3.0 yang disertai ratusan ribu rakyat itu menakjubkan dengan penglibatan pelbagai bangsa dan ia menunjukkan rakyat bersatu untuk memilih kerajaan baru dalam pilihan raya akan datang.

"Sekiranya tuntutan rakyat ini tidak dipenuhi saya berharap pihak Bersih boleh memerintahkan kita untuk melaksanakan Bersih 4.0 dan dianggarkan kira-kira satu juta orang akan berhimpun dan ada yang menyatakan kesungguhan menyokong himpunan ini," katanya.

Dalam masa sama, Mohamad meragui panel Siasatan Bebas Bersih 3.0 yang diketuai oleh Bekas Ketua Polis Negara, Tun Hanif Omar kerana beranggapan masih ramai bekas pegawai dan peguam yang boleh dilantik.

Mohamad turut menegaskan beliau tidak pernah memusuhi pihak polis, namun menentang kekejaman yang dilakukan oleh segelintir anggota keselamatan itu yang bertindak kejam ketika menyuraikan perhimpunan.

Sementara itu, Samad berkata, golongan sasterawan menyedari kepentingan keadilan dalam pemerintahan yang sebelum hanya diperjuangkan oleh golongan politik sahaja.

"Buktinya, Bersih 1.0 digerakkan golongan kuasawan (berkuasa), namun Bersih 2.0 dan Bersih 3.0 bukan lagi dikepalai orang politik dan pada awalnya saya hadir memberi sokongan sahaja, namun diminta berada di barisan depan sebagai pengerusi bersama Bersih 3.0 bersama Datuk Ambiga," katanya.

Anthony dalam ucapannya berkata, Bersih 3.0 pada 28 April lalu mendapat sokongan luar biasa daripada anak muda Cina yang dianggarkan kehadiran mencecah puluhan ribu.


'Let brutality victims do balai to balai search as well'
Posted: 13 May 2012 03:52 AM PDT
Source:
http://www.malaysiakini.com/news/197714
(By
Leven Woon
, 12/5/2012)
A DAP leader is challenging the police to allow alleged victims of police brutality in Bersih 3.0 rally to conduct a station-to-station search for their attackers if the authorities claim to be fair in their investigations.
DAP Segambut MP Lim Lip Eng was commenting on a police ultimatum to 141 individuals allegedly involved in violence during the mammoth Bersih rally to turn themselves in within a week or face a house-to-house search.
"If this is the case, then the police should also allow victims of police (brutality) to conduct a balai-to-balai search, especially the woman from Serdang who said she recognises all the police officers who had punched her," he said at a press conference in Kuala Lumpur today.
Earlier, Hindraf leader and Selangor DAP committee member V Ganabatirau, who is on the wanted list, told reporters that he did not breach the police barricades and was far from the scene when the commotion began.
Fishing for info on Indraf 2.0? He claimed the police was intending to get information about his upcoming Hindraf-inspired rally, dubbed Indraf 2.0, instead of nailing him for violence-related charges.
Ganabatirau was arrested in 2007 soon after the Hindraf rally in Kuala Lumpur and detained under the draconian Internal Security Act for 18 months.
Lim said the wanted individuals should reserve their legal rights to sue the police for defamation or harassment if they turned out to be innocent.
"The police should have investigated before releasing their pictures. Based on the reports over the past few days, it is clear that they did not even investigate," he said. He pointed out that four photographs in the list involve the same person. "The total suspects should be 138, not 141," he said.
Janda Dicekup Khalwat Bersama Kekasihnya
Posted: 13 May 2012 03:56 AM PDT
A
mpang - Seorang janda dicekup khalwat dengan kekasihnya di sebuah hotel bajet di Taman Muda, di sini, awal pagi semalam.
Janda anak satu yang bercerai dengan suaminya sejak sembilan bulan lalu memberi alasan dia tidak ada tempat tinggal apabila datang dari Nilai, Negeri Sembilan ke Kuala Lumpur untuk mendaftarkan diri di salah sebuah universiti di ibu kota hari ini.
Pasangan itu dicekup kerana disyaki berkhalwat di sebuah bilik hotel pada jam 4 pagi oleh sepasukan anggota penguatkuasa Jabatan Agama Islam Selangor (Jais) dan Pegawai Masjid Al-Azim, Pandan Indah.

Pegawai Masjid Al-Azim Ahmad Nawi Othman berkata, selepas pihaknya mengetuk pintu beberapa kali, seorang lelaki berpakaian lengkap terkejut melihat kehadiran penguatkuasa sebelum membenarkan mereka masuk untuk membuat pemeriksaan.

"Kami menemui seorang wanita yang hanya berseluar pendek keluar dari tandas, mereka mengaku pasangan kekasih selepas gagal menunjukkan bukti mempunyai hubungan mahram," katanya.

Ahmad Nawi berkata, lelaki berusia 27 tahun itu bekerja di sebuah syarikat telekomunikasi itu sanggup mengambil pasangannya yang berusia 27 tahun itu dari Nilai kemudian bawa ke hotel berkenaan.

Dalam serbuan sama di bilik berasingan, seorang penuntut universiti dicekup khalwat bersama pasangannya.

Beliau berkata, perempuan berusia 23 tahun itu memberi alasan mahu berkahwin dengan teman lelakinya.

"Perempuan itu memberitahu keluarganya tidak merestui perhubungan mereka kerana pasangannya yang berusia 24 tahun itu bekerja sebagai kontraktor," katanya.

Kesemua yang ditahan dibawa ke Balai Pandan Indah.


Girls' Generation-TTS Twinkle music video
Posted: 13 May 2012 02:31 AM PDT
Korean pop group Girls' Generation has formed a subunit, namely Girls' Generation TTS (TaeTiSeo, acronyms of the three subunit members Taeyeon, Tiffany and Seohyun). The trio released their mini-album, Twinkle, earlier this month. Check out the MV…
Cute video, but a forgettable song. These three are the better vocalists in the group, but they need a lot more of swagger and charisma to nail this genre.
Regardless, Twinkle is topping all charts in Korea and doing reasonably well on iTune and Billboard. When you are on a roll whatever you make will turn into gold.
Girls Generation series – Previously: Tiffany Bazaar Magazine |
Girls' Generation-TTS Twinkle music video from YeinJee's Asian Journal
UMNO Gunakan Kemewahan Butakan Hati Ahlinya
Posted: 13 May 2012 02:50 AM PDT
M
embeli rakyat dengan kemewahan
PETALING JAYA: Umno bukan seperti parti-parti lain. Tidak ada parti lain yang boleh menandingi Umno – parti terbesar berusia 66 tahun itu. Sama ada dari jumlah ahli atau kemewahan, Umno adalah nombor satu.
Kehadiran puluhan ribu ahli Umno ke Stadium Nasional di Bukit Jalil malam tadi kerana menyambut kelahiran parti itu bukan sesuatu yang di luar jangkaan. Nyata sambutan itu mewah dan meriah.

Sambutan yang meriah itu memang sudah sinonim dengan Umno. Sebelum ke Bukit Jalil, ahli-ahlinya bermalam terlebih dahulu di hotel yang di tempah khas di sekitar Kuala Lumpur dan lokasi berdekatan.

Mereka menaiki bas yang disewa khas dan dijanjikan wang saku. Ini tradisi Umno bagi ahlinya yang tinggal di luar ibu kota bagi menghadiri program parti termasuk perhimpunan agung Umno di PWTC. Sesetengah mereka menaiki khas jabatan kerajaan kerana wakil rakyat mereka menjadi Exco kepada jabatan berkenaan.

Beberapa ahli Umno berkata, mereka sangat beruntung menjadi ahli parti itu terutama ketika menghadiri program parti di Kuala Lumpur.

Rosli Awang dari Kuala Terengganu berkata, "Saya datang ke Kuala Lumpur semuanya percuma."

"Saya tidur di Hotel Grand Seasons dan dijanjikan wang poket tetapi belum dapat lagi. Masa perhimpunan agung Umno pun begini juga."

Jadi anggaran kasar 100, 000 orang mendengar ucapan Datuk Seri Najib Tun Razak di Stadium Bukit Jalil bukan luar biasa dan mengejutkan.

Dengan kekayaan yang ada, Umno boleh membawa seberapa ramai yang mereka mahu. Jangan lupa ahli parti itu berjuta orang.

Namun menjelang pilihan raya umum 13 yang kini di depan mata, kemeriahan sambutan 66 tahun itu mungkin untuk seketika sahaja.

Percakapan di cawangan dan bahagian ialah Umno masih tidak dapat bersatu padu sepenuhnya.

Tolak calon parti

"Isu yang paling besar ialah masih tidak semua ahli akan setuju dengan calon yang dipilih parti. Ini yang berlaku dalam setiap kali pilihan raya.

"Umno kalah kerana sikap pemimpin di cawangan dan bahagian berlaku tikam belakang menjelang pilihan raya. Kerana mereka tidak bersatu, kerana ada kepentingan sendiri, ahli akar umbi berpecah belah.

"Umno kalah kerana tidak bersatu. Mereka bermusuhan sesama sendiri," kata Rosli lagi.

Apa yang berlaku itu mungkin satu contoh sahaja. Barangkali perkara serupa timbul juga ditempat lain. Najib mungkin menyedarinya tetapi apa yang boleh dilakukannya?

Beliau cuma boleh merayu tetapi apa yang berlaku sebelum ini tidak semua suara presiden didengari.

Ini yang berlaku kepada Tun Abdullah Ahmad Badawi ketika menghadapi pilihan raya umum 2008 yang menyebabkan BN kalah empat negeri – Kedah, Pulau Pinang, Selangor dan Perak.

Perbalahan sesama sendiri adalah musuh dalam parti. Adakah ahli Umno memberi sokongan sepenuh hati kepada Najib?

Adakah rakyat boleh menerima sepenuhnya pemerintahan Najib? Untuk menukurnya dari segi program turun padang atau bantuan kepada rakyat ia bukan jaminan BN secara automatik mendapat undi.

Pengundi sudah bijak. Mereka kini menilai antara kebaikan yang dibuat BN sejak 1957 dengan harapan baru yang diberikan Pakatan Rakyat. -FMT


Remove Shoutbox, Drop Me Comment, I Will Reply
Posted: 12 May 2012 05:00 PM PDT
Remove Shoutbox, Drop Me Comment, I Will Reply – Notice the LEAVE A MESSEAGE section on my blog's sidebar? It's full of spam and unwanted message from I-don't-know-who-they-are. It's so annoying. It was meant to be a short shoutout to me, but they are all spam message, some even promote s3x and p0rn there. So stupid. It sucks.
I have decided to remove it. Find me, drop me a comment on my post, I will reply you. =D Have a nice days, friends.
The deceivers, the believers and the faithful by Commander (Rtd) S THAYAPARAN, formerly of the Royal Malaysian Navy
Posted: 12 May 2012 11:34 PM PDT
But still I have to say, you play with matches you get burned
- Vincent Vega (Pulp Fiction)
COMMENT
The most interesting twist so far of this post-Bersih 3.0 ongoing tale is the subversion of Umno's continued use of Islam as a fear mongering tool to divide Malaysians. Except now, their own weapon is being used against them, with PAS coming out as the moderate Islamic party powered by populist (Muslim and non-Muslim) appeal. Every time the propaganda organs of Umno spew their particular brand of Islam, PAS has to say or do very little except wait for the kudos from the expected section of an extremely partisan public.

In the old days, Umno played the bait-and-switch game, on the one hand, demonising PAS as an Islamic mullah inspired religious entity hell bent on turning Malaysia into some sort of greater Caliphate and in the other, carrying out its own Arabisation/Islamisation programme that effectively decimated all levels of the government, education and social services, turning them into 'Malay/Muslim' entities which were merely reflections of Umno hegemony. PAS in those days were Quran-thumping firebrand preachers disinterested in the multicultural/religious nature of Malaysian society insofar as it conflicted with their own interpretations of the holy text.

Those were the days when they, unfettered by the so-called moderate (and politically savvy) 'Erdogans' and when they were not playing into Umno's hand by graciously shooting themselves in the foot, their hidden more benign interactions with non-Muslims (in Kelantan for instance) was buried deep in whispered anecdotal evidence because of the subservience of a mainstream press and the lack of any sustained form of information dissemination - no Internet folks.
Moderate face of Islam

With the emergence of PKR, Anwar Ibrahim's 'third way' and the rise of the alternative online media, a few kinks had to be ironed out before any form of mutually beneficial opposition pact could be conceived. The results of pre-2008 general elections demonstrated this was a far trickier proposition for Pakatan Rakyat, hampered by the feel-good atmosphere of a post-Mahathir retirement and the slumber years of the Abdullah Ahmad Badawi regime. Just as the DAP had to shed it 'chauvinistic' image, PAS had to shed its fundamentalist reputation in favour of a more inclusiveness 'secular' perspective.

The main criticism coming from Umno and its component party mouthpieces is the tenuous ties that bind Pakatan, the consequence of which make them 'unsuitable' to run the country. It must drive MCA crazy that the more they sound the 'Islamic' peril cry against the DAP, the more it seems to make those Chinese - who have made the pragmatic decision to back the opposition - to support Pakatan even more and label the MCA as a bigoted chauvinistic party intent on dividing Malaysians along racial/religious lines. And let's not forget the head scratching which is going in Umno. Every time Utusan Malaysia attempts to slanderously question PAS' Islamic credentials, the results have been counter productive.
The run-up to PAS' internal elections was a badly managed psych war by
Utusan
on behalf of Umno which resulted in the emergence of the so-called Erdogans as custodians for the time being of PAS. This no doubt warmed the hearts of Pakatan supporters hoping for a moderate face of Islam and had the hawks in Umno screeching in dismay.
What Umno's incompetence has managed to achieve is that any rational discussion on the role of Islam in this country's future has been distorted by partisan rhetoric and the regime's own history of religious malfeasance's. But more importantly for Pakatan supporters and non-partisan skeptics, it has become impossible to rationally discuss PAS' commitment to the inclusive more secular ethos of Pakatan.
Big Bad Extremist Muslim wolf
So far Pakatan has managed to do extremely well in allowing Umno to play the Big Bad Extremist Muslim wolf, all the while putting PAS' own Islamic preoccupations in the back-burner. In situations where a unified Pakatan response has been warranted against perceived Islamic 'interference', the response has been muted. In communities where PAS has had some influence, there have always been some simmering tensions.
The banning of the sale of alcohol for instance started of as a PAS misstep and then turned into a 'Umno said, PAS said' debacle. The fact that this was resolved by Pakatan is a hopeful sign that contentious issues can be worked out amicably, but there are long-term questions that have to be asked. And let's not forget the issue of caning for those unlucky Muslims consuming alcohol which has never been satisfactorily addressed by PAS. The issue of marginalised groups such as the LGBT (lesbian, gay, bisexual, and transgender) community or the 'cultural distortion' of Orang Asli communities for instance has been sidelined for the 'greater good' of claiming Putrajaya.
I've said this before and I'll say it again, it looks as if we are heading into "separate but equal" territory which should play well for most Pakatan supporters, but is detrimental to a truly Malaysian identity. Furthermore, the National Fatwa Council's edict on demonstrations is rather strange considering the role of the Muslim Brotherhood in the Tahrir Square rallies which the Brotherhood claimed was mandated by God.
Of course, Hosni Mubarak's state-sanctioned imams always made pronouncements that favoured his 'ruling party', so perhaps there is some commonality between Egypt and Malaysia, after all. Saudi Arabia's response to the Arab Spring was a crackdown on dissidents (mostly in their words, "extremist provocateurs") and grant generous "windfalls" to the public totalling billions of dollars. And so far the going has been good for Pakatan. Where once PAS Youth were a feared bunch perceived as destabilising the social multicultural/religious fabric of Malaysian society with their protest against anything deemed unIslamic, now its Amal security unit lads are looked upon as heroes fulfilling the role of maintaining the peace in large demonstrations or public-speaking events, a role the police seem to have abdicated. I have many PAS friends, who believe in the democratic process but who believe that the 'Islamic struggle' has been sidelined. They fear speaking up since they would be labeled as Umno stooges.
Understand now that I disagree with the aims of these PAS friends of mine, but my point here is that what Umno has done is merely create an atmosphere where the more fundamentalist impulses of PAS is submerged by the feel-good rhetoric of Pakatan.
Revival of the ISA
When former prime minister Dr Mahathir Mohamad called for people to give a large mandate to PM Najib Razak so the dreaded ISA would be revived so that communists would not be allowed to return to the country and (this is the hilarious part) "a religious extremist party" would be halted.
Question: Would the ISA be used to ban Ibrahim Ali or is he not considered a religious extremist?
With the likes of Perkasa and Pekida running about "defending Islam" without any sanctions from the government, PAS is coming out smelling like roses, all the while nobody questioning their commitment to Islam or how they will navigate the tumultuous waters of a post-Umno era. In other words, nobody is really interested in discovering if the thorns in these roses has been clipped. The sight of Tok Guru Nik Aziz Nik Mat (pictured in a yellow shirt) 'disagreeing' with the National Fatwa Council is further evidence that the religious psych war carried out by Umno is having contrary results.
Nobody remembers the more 'dodgy' religious edicts that have come from PAS. The benign visage of Tok Guru has become the symbol of a kinder gentler PAS and Pakatan supporters continuously bombarded by the malfeasances of Umno and the religious bigotry that the regime perpetuates through its outsourced thugs are more than willing to conveniently forget that at the end of the day, PAS - a religious party - is the backbone of Pakatan.
This should not be construed as a fear-mongering comment piece on PAS (indeed in many of my articles, I have been rather sympathetic to this particular political party) but rather a reminder that we should not be lulled into forgetting that Islam, and who ever controls it in Malaysia, will have a profound effect on how we evolve as a society.
If we don't learn how to ask the difficult questions now, don't be surprised when we get the simple answers regardless of who we vote for. Or as Tariq Ramadan reminds us, "If there is a smoke, there is a fire, the saying goes. That is quite true, but one should find what the fire is, and who lit it."
Malaysiakini.
Another Taiwanese Milk Tea – Mocato Tea @ SS15, Subang Jaya
Posted: 12 May 2012 10:32 PM PDT
Another Taiwanese Milk Tea – Mocato Tea @ SS15, Subang Jaya – SS15, Subang Jaya is getting to become a mini-Taiwan franchise neighbourhood with so many Taiwanese food, beverage and desserts shop popping up at there like Chatime, Snowflakes, Coco, Par Tea Time, HOTSTAR XXXL Chicken, and this one Mocato Tea, which is created by founder of Jogoya Japanese Buffet.
My Penang friend, Yiphing and Chien Chern came to dinner with me and after dinner we didn't know where to go, randomly suggested SS15. At SS15, we randomly came to Mocato Tea because it's something new that we haven't try before. It's quieter there, and the interior ambience is kinda cool too! They have Unifi hotspot somemore for high speed Internet.
Actually nowadays bubble tea feels all the same to me, Gong Cha, Chatime, Sharetea and so many more. It's just for the fun of drinking it and spending time at a different environment. I ordered myself a Black Jelly Milk Tea (RM5.90 regular cup) and it's actually standard milk tea with a kind of stripe chewy black jelly. Very springy, very Q, but I prefer pearl more.
Overall, it's kinda good and if you order pearl, they give you a big cup of pearl. So far so good, will come back to this place. =)
Macoto Tea
62, Jalan SS15/4D
47500 Subang Jaya,
Selangor

Telephone: +6012-2235045

View Shiok Or Not : Food Map in a larger map
Kerajaan UMNO BN Tertekan, Tubuh Akademi Undang-Undang Untuk Saingi Majlis Peguam
Posted: 13 May 2012 12:16 AM PDT
K
erajaan Setuju Cadangan Bentuk Organisasi Baru Pegum - Nazri Aziz
KUALA KANGSAR: Kerajaan bersetuju dengan tuntutan golongan peguam yang mahu membentuk satu organisasi baru bagi mewakili mereka mempertahankan profesion, kebajikan dan kepentingan guaman, kata Menteri di Jabatan Perdana Menteri Datuk Seri Mohamed Nazri Abdul Aziz.
Gambar:
Para peguam yang menyokong usul kutuk kekerasan polis di perhimpunan Bersih 3.0
Beliau berkata golongan peguam itu boleh membentuk organisasi itu atas nama persatuan atau agensi lain yang baru seperti Akademi Undang-undang dengan menggunakan pendekatan lain.

"Kalau (mahu) ada satu persatuan dan agensi yang lain yang (boleh) dibentuk untuk mewakili mereka yang berkelulusan undang-undang mesti tahu, Malis Peguam (sedia ada) hanya mewakili mereka yang praktis undang-undang dan berdaftar dengan majlis itu sahaja.

"Tapi ada juga yang lulusan undang-undang jadi pensyarah namun tidak menjadi anggota majlis berkenaan. Ada lulusan udang-undang yang bekerja di bank-bank dan sektor korporat. Mereka ini bukan 'practising lawyer', mereka tidak jadi anggota majlis, tidak ada persatuan," katanya kepada pemberita selepas menyampaikan ucaptama pada program Profesional Guru-guru Daerah Kuala Kangsar Zon Padang Rengas di Sekolah Menengah Kebangsaan Tun Perak di Padang Rengas di sini, Sabtu.

Beliau berkata demikian ketika diminta mengulas kenyataan anggota Majlis Peguam Abu Backer Sidek supaya sebuah badan guaman baru yang bebas dibentuk kerana Majlis Peguam sedia ada gagal dipertahankan sebagai sebuah badan yang profesional dan berintegriti.

Menurut Mohamed Nazri, golongan peguam berkenaan boleh mewujudkan Akademi Undang-undang yang mewakili semua lulusan undang-undang di negara ini.

Katanya beliau tidak terkejut apabila terdapat anggota Majlis Peguam sendiri tidak berpuas hati dengan badan itu.

Majlis Peguam sepatutnya menjaga anggota dan kepentingan profesion guaman serta mengambil tindakan terhadap mana-mana peguam yang didapati menyelewengkan hasil aduan yang dibuat orang ramai terhadap peguam yang terbabit, katanya.

"Saya dari awal lagi menyatakan kalau Majlis Peguam mahu terlibat politik, sila daftar sebagai parti politik maka tidak berbangkitlah masalah seperti hari ini.

"Ia ada hampir 20,000 anggota dan hanya 1,270 hadir (semalam ke mesyuarat agung luar biasanya). Itu tidak mewakili kehendak suara majoriti peguam-peguam," katanya.

Beliau berkata pemilihan dalam jawatankuasa Majlis Peguam juga dimonopoli oleh segelintir kumpulan sahaja kerana sistem pemilihannya dibuat secara pos dan tiada sistem undi serta peti undi. Pada Jumaat, Majis Peguam meluluskan 12 resolusi pada mesyuarat agung luar biasanya yang antaranya mengecam tindakan polis menggunakan meriam air dan gas pemedih mata terhadap peserta perhimpunan yang bertukar ganas di ibu negara pada 28 April lepas.

Mengenai tuntutan Majlis Peguam supaya Menteri Dalam Negeri dan Ketua Polis Negara memohon maaf atas tindakan polis ketika perhimpunan berkenaan, Mohamed Nazri berkata tidak ada kesalahan yang dilakukan pihak berkuasa.

"Jangan mimpi, esok matahari terbit di timur, kita tidak akan meminta maaf. Jangan mimpi. Tidak ada kesalahan yang dilakukan oleh kita. Dia patut bubarkan (Majlis Peguam) kerana mendatangkan malu besar pada profesion dia. Susah sangat lawan sayalah (dalam pilihan raya)...kalau tidak anda hanya penakut, bacul," katanya.

Beliau turut berkata pihaknya akan meneliti sekiranya penganjur perhimpunan berkenaan Datuk S.Ambiga melanggar apa-apa kesalahan di bawah Akta Perhimpunan Aman 2011 terutama kerana menghina mahkamah. "Kita nak tengok kalau dia ada langgar apa-apa kesalahan di bawah akta baru ini. Kita nak lihat di bawah (kesalahan) menghina mahkamah (kalau) saya nak minta supaya dia didakwa. "Paling ketara adalah menghina mahkamah sebab jelas ada perintah mahkamah yang tidak boleh dilanggar. Dia ketua, jadi dia mesti ambil semua tanggungjawab ini. Jangan 'semut' sahaja kena dakwa, anda sebagai ketua nak lari?," soalnya.-BERNAMA


Usul kecam kekerasan polis: Hanya 16 daripada 1270 tentang



KUALA LUMPUR: Majlis Peguam semalam membuat usul tergempar mengutuk kekerasan melampau polis ketika menyuraikan perhimpunan Bersih 3.0 April 28 yang lalu di dalam satu mesyuarat agung luar biasa (EGM).



Hanya 16 peguam daripada 1,270 ahli majlis peguam yang membantah resolusi tersebut.



Dalam resolusi yang diluluskan dengan cara undian itu, Majlis Peguam turut menuntut permohonan maaf daripada Menteri Dalam Negeri dan Ketua Polis Negara kepada orang awam dan ahli media atas tindakan polis ketika perhimpunan tersebut.

Pengerusinya Lim Chee Wee berkata kehadiran EGM kali amat memberangsangkan – melebihi mesyuarat agung tahunan (AGM)nya.

"Ini menandakan bahawa ahli majlis melihat insiden Bersih 3.0 dengan serius," kata beliau.



Aman sehingga diganggu



Faktanya, kata Lim ialah laporan terhadap kekejaman polis, dan penggunaan gas pemedih mata dan meriam air yang berlebihan hanya selepas penghadang Dataran Merdeka diceroboh pada pukul 3 petang.

"Sebelum itu, situasi (perhimpunan) adalah seperti karnival," kata beliau.

Lim berkata Majlis Peguam telah mengerahkan sebanyak 78 ahli untuk memerhati perhimpunan Bersih, dan hanya keadaan di Kuala Lumpur menjadi kelam-kabut manakala situasi di Kuantan, Johor Bharu, Melaka dan Ipoh aman kerana polis telah bertindak secara terkawal.

Beliau turut menambah bahawa 100,000 hadirin yang membanjiri Kuala Lumpur pada April 28 yang lalu tidak diberikan ruang dan masa secukupnya untuk bersurai di mana gas pemedih mata dan air berasid terus dihalakan pada mereka walaupun mereka dalam keadaan hendak melarikan diri.

"Ini membawa kepada satu soalan mudah. Mengapa polis masih tidak membaca dan melaksanakan apa yang dicadangkan Suhakam?" kata Lim, merujuk kepada laporan siasatan terhadap perhimpunan aman yang lepas.

Lim turut menegaskan bahawa kekerasan yang ditunjukkan polis adalah tidak memadai dengan tindakan penyokong yang mengejek mereka kerana semua peserta adalah tidak bersenjata, dan tanggungjawab menjaga keamanan adalah jatuh di bahu pihak berkuasa yang bersenjata.

Majlis Peguam Malaysia turut menuntut agar anggota polis yang melakukan keganasan dikenalpasti dan didakwa.



Pulau penal bebas kerajaan



Selain itu, Lim berkata Majlis Peguam turut memulau panel bebas yang ditubuhkan kerajaan untuk menyiasat dakwaan keganasan polis dalam perhimpunan BERSIH 28 April lalu.

Majlis Peguam mencadangkan agar wakil Persatuan Bangsa-Bangsa Bersatu (PBB) untuk menyiasat insiden Bersih 3.0 dan bukannya bekas ketua polis negara Tun Hanif Omar. -HD




Ulasan GB



Faktanya:

Kerajaan UMNO BN kini tertekan dengan keadaan rakyat sudah tidak menyebelahinya apabila 99% peguam yang hadir menyokong usul mengutuk keganasan polis semasa perhimpunan BERSIH 3.0 pada 28 April lalu, hanya 16 orang menentang usul berkenaan.



Namun, kerajaan UMNO BN masih dengan sindrom penafian, tak mahu terima hakikat itu lantas menuduh Majlis Peguam yang bebas itu mahu menjadi parti politik.

Lalu diluluskan penubuhan sebuah lagi klon Majlis Peguam dengan harapan hendak menyaingi Majlis peguam yang sedia ada.

Untuk mengelakkan daripada mendapat malu besar berkemungkinan kurangnya peguam menyertai pertubuhan baru itu, maka dinamakan pertubuhan baru itu sebagai Akademi Undang-undang dengan menerima masuk mereka yang bukan dari profeyen peguam sebagai ahli seperti para pensyarah dan sebagainya.



Hukum kebenaran dan keadilan tidak dapat ditolak. Yang bersalah tetap bersalah walaupun berpuluh atau beribu klon majlis peguam ditubuhkan oleh kerajaan.

Lagi faktanya apa>?

Keganasan polis sudah tidak boleh lagi ditutup.





Rakyat segenap lapisan telah mula bangun dan bersuara.





Keganasan dan kezaliman polis adalah hasil daripada sikap dan tindakan kerajaan UMNO BN yang membiarkan mengizinkannya untuk menekan rakyat yang tidak menyokongnya.



Namun di sisi lain, yakinlah

tindakan UMNO BN itu sia-sia

, air dari gunung akan terus melimpah dan tidak mungkin dapat disekat oleh sesiapa, atau anda akan mati jika cuba menghalangnya.



Frontier Region Chief Commander Colonel Saw Myint's positive speech about Rohingya on 15.11.1961
Posted: 12 May 2012 10:21 PM PDT
I.Can't.Stop.Buying.Clothes.For.The.Baby – from Instagram
Posted: 12 May 2012 10:02 PM PDT
A couple of friends of mine who are also expecting baby boys been complaining about how they can't find anything cute for little boys to wear. I slapped my forehead and wondered if they have ever shopped at Pumpkin Patch. Or at least Mothercare which is available in all major malls in Klang Valley.
Yeah of course girls have skirts and dresses and tutus but they sure make really cute clothes for baby boys too these days, my favorites are those tiny ones but similar to adults' in design. Everytime we go out I wouldn't be able to stop myself from buying a lot something new to add to the unborn baby's collection. And that's after I am being reallllyyyy prudent these days.. Masa Miki dulu lagi giler shopping kot for baju budak but most of the stuff have been donated to other kids.
Here are some cute outfits in newborn size waiting for the lil baby boo to enter the world. Mummy can't wait!!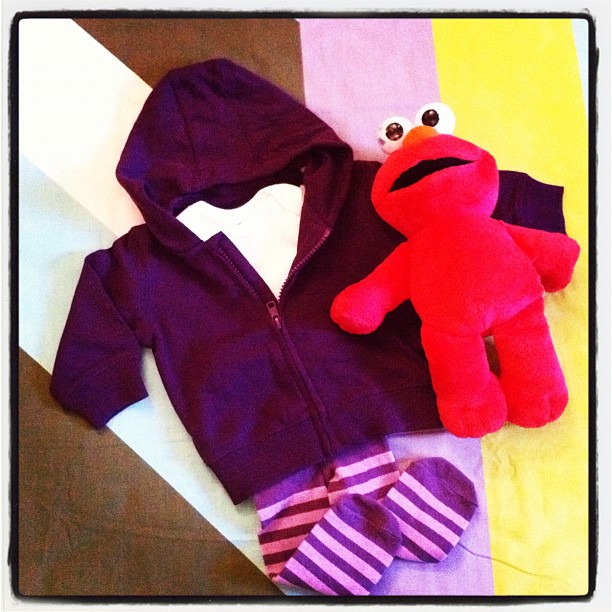 Purple sweater and white romper Opah bought from H&M when she was in Germany. The stripey purple leggings just RM10 from a kiosk at Giant.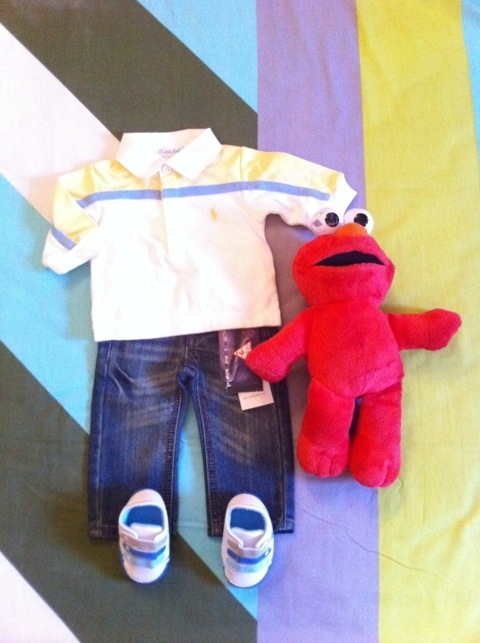 Tiny RL long sleeve shirt with jeans for newborn yang miniature gilerrr and matching sneakers. Too cute! Rasa macam nak makan je haha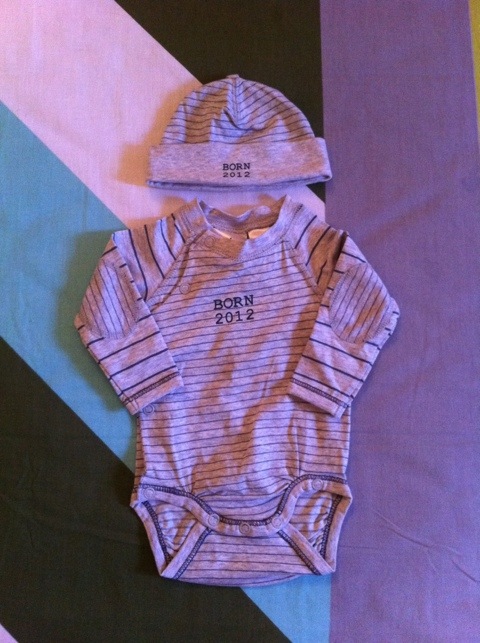 This romper Opah yang beli also… It is so tiny I don't know how long the baby can wear it, maybe 2 months… I think Opah has good taste, doesn't she?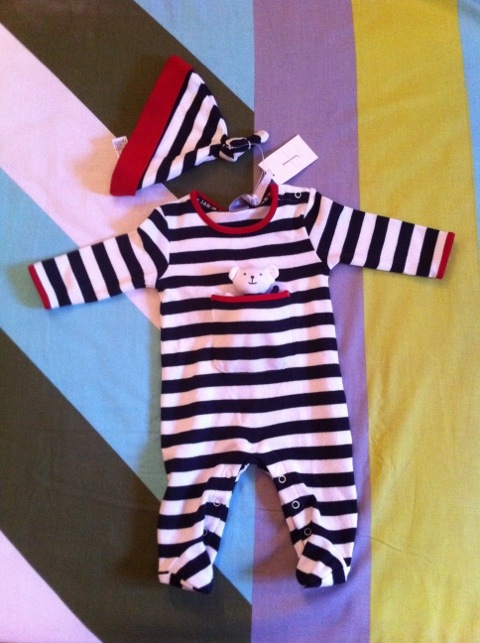 This jumper is another ultra cuteness. Bought it at Debenhams yesterday. They are having 30% off. That matching hat is super comel but the little white teddy bear in the front pocket tu yang paling tak tahan… Hehe! I think this jumper makes any baby extremely gomoi-able!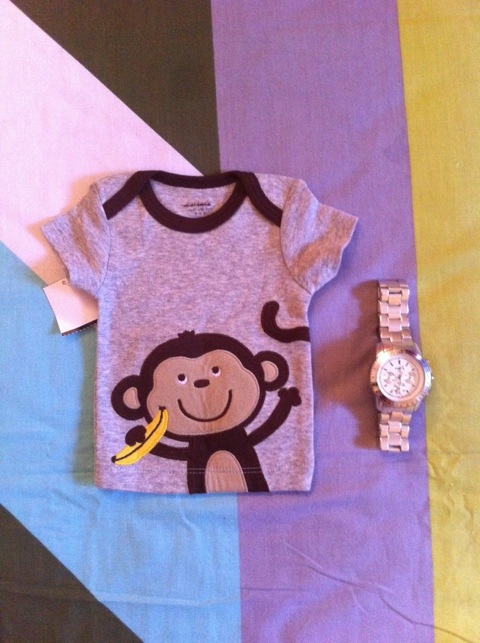 This little t-shirt is probably world smallest. Bought it for RM9 at Brands Outlet. I am so afraid I would sneeze one day and this shirt terus terbang sampai hilang.. Lol… I am still looking for a matching bonnet for this little cekodok, it already has a matching brown pants yang besar sikit je dari batang pencil, brown in color! (more reason to go shopping yay!)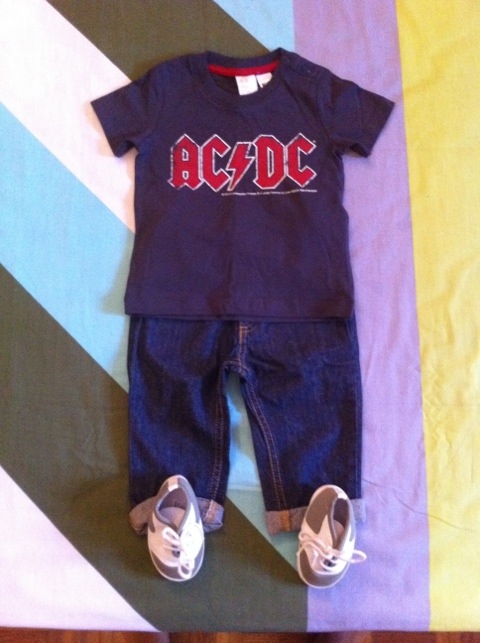 Okay this one is slightly bigger, for 3-6months but it is Daddy's favorite, both ACDC shirt and jeans bought by Opah at H&M. When I saw the shirt she brought back from her Europe trip I was like ACDC tu apa?? Azman gasped with utter disbelief and explained that it is one of greatest heavy metal band ever! I then gasped with utter disbelief that my mother choose that shirt! *pitam*
Oh well! Grandmas, they are the best aren't they? Thanks Mama for shopping so much for your unborn cucu ke-11. Happy mothers' day to you and to all the loving moms reading this blog! You Your husband worked hard at the office for the money, let's spend it on the babyyyyyy… Yay!