---
Senarai sebahagian kecil dari pembaziran wang rakyat
Posted: 27 Sep 2012 11:15 AM PDT
Berikut hanyalah sebahagian kecil punca segala masalah yang melibatkan kehilangan wang dan harta negara sejak umno/BN berkuasa lebih setengah abad yang lalu. Namun, jika dikumpul, ianya mencecah ratusan billion Ringgit wang milik Rakyat yang telah diselewengkan oleh kerajaan umno/BN.
1. Skandal PKFZ yang melibatkan duit Rakyat sebanyak
RM12.7 billion
.
Tun Dr Ling Liong Sik
mengaku tidak bersalah di atas dua pendakwaan di bawah Seksyen 418 dan 417 Kanun Keseksaan atas tuduhan memperdayakan Jemaah Menteri berhubung projek bernilai
RM12.7 bilion
itu. Bekas Presiden MCA ini dituduh memperdayakan Jemaah Menteri untuk bersetuju meluluskan
pembelian 999.5 ekar tanah milik koperasi nelayan Melayu
di Pulau Indah pada harga RM25 satu kaki persegi dengan kadar faedah 7.5 peratus, iaitu nilai yang jauh lebih tinggi dari nilai sebenar di pasaran. Beliau juga mengeluarkan surat sokongan mengarahkan projek PKFZ ini diserahkan kepada syarikat Kuala Dimensi Sdn Bhd, milik Pengerusi Kelab Penyokong BN, Dato Seri Tiong King Sing.
2. Komisen pembelian kapal selam sebanyak
RM500 juta
.
Harga asal pembelian:

€1.14 billion (RM4.52 billion)
Kos Senggaraan jangka panjang:

€999.15 juta

(RM3.964 billion) kepada Perimekar Sdn Bhd bagi kerja-kerja penyelenggaraan jangka panjang kapal selam itu pada tahun 2002.
Permohonan tambahan
daripada Kementerian pertahanan pada
Sidang Belanjawan 2011
RM417 juta

untuk membiayai kontrak senggaraan (In Service Support) dua buah kapal selam Scorpene
RM56 juta

untuk bayaran pendahuluan sewaan perkhidmatan Sistem Submarine Escape Rescue Intervention (SMER-1).
Sebelum ini, kerajaan sudah membayar

€999.15 juta

(RM3.964 billion) - Rujuk di atas.
3. Kerugian pembelian aset oleh Sime Darby
RM1.6 billion
.
Kerugian akibat lebihan kos berjumlah kira-kira RM1.6 bilion, membabitkan projek minyak dan gas

Bulhanine dan Maydan Mahzam di Qatar

serta projekhidroelektrik Bakun.
4. Menanggung kerugian (bailout) Konsortium Perkapalan Berhad milik Mirzan Mahathir sebanyak
RM1.7 billion.
MISC (anak syarikat Petronas) telah diarahkan oleh Mahathir (PM ketika itu) untuk membeli aset Konsortium Perkapalan Berhad dengan pembiayaan sebanyakRM1.7 billion

bertujuan menyelamatkan syarikat perkapalan milik anak beliau, Mirzan.
5. Kos senggaraan Paya Indah Wetland
RM88 juta.
6. Kerugian Pos Malaysia (Transmile)
RM5460 juta.
7. Perjanjian pembelian Eurocopter sebanyak
RM1.67 billion.
Harga ditawarkan oleh

Eurocopter Malaysia

yang dipilih oleh kerajaan:

RM1.67 billion
Harga

Kelowna Flightcraft

untuk helikopter alternatif:

RM865 juta

(Kerajaan dapat menjimatkan

RM805 juta)
8. Kos pembaikan bumbung Stadium Terengganu yang runtuh sebanyak
RM292 juta.
9. Kos memperbaiki kerosakan MRR2 sebanyak
RM70 juta
10. Akaun bil terlebih bayar Maybank sebanyak
RM4 billion.
11. Tumbuk-rusuk (kickbacks) kepada Ng Yen Yen di Kementerian Pelancongan
RM10 juta.
12. Kos membeli tiga buah lukisan oleh MAS sebanyak
RM1.5 juta
.
13. Lebihan bayaran oleh Kementerian Belia dan Sukan sebanyak
RM8.4 juta.
14. Perbelanjaan Kompleks Sukan gajah putih di London sebanyak
RM70 juta.
15. Baikpulih bangunan MATRADE sebanyak
RM120 juta.
16. Kos minyak dan senggaraan jet kegunaan PM sebanyak
RM200 juta.
17. Hutang tidak dapat dituntut InventQ sebanyak
RM228 juta.
18. Membayar gantirugi pembatalan Jambatan Bengkok sebanyak
RM257 juta.
19. Kerugian dalam urusniaga penjualan Augusta sebanyak
RM510 juta.
20. Nilai kehilangan pendapatan kerajaan daripada
Approved Permit (AP)
yang dikeluarkan bagi tempoh setahun sebanyak
RM1.8 billion.
21. Senggaraan kapal-kapal selam KD Tunku Abdul Rahman dan KD Tun Rzak (akan dijadikan artifak Muzium Negara) sebanyak
RM4.1 billion.
22. Pembinaan dan senggaraan PSC Naval Dockyard Lumut sebanyak
RM6.75 billion.
23. Dua skandal Bank Bumiputra pada wal 1980-an sebanyak US$1 billion dengan anggaran nilai kerugian pada 2008 sebanyak
RM3.2 billion.
24. Kegagalan Maminco dalam percubaan menguasai pasaran timah dunia pada tahun 1980-an dipercayai mengakibatkan kerugian bernilai US$500 juta. (
RM1.6 billion
)
25. Bertaruh dalam niaga kewangan pasaran hadapan luar negara menyebabkan Bank Negara Malaysia kerugian
RM30 billion
pada tahun 1990-an.
26. Kerugian Perwaja Steel sebanyak US$800 juta (
RM2.56 billion
).
27. Menggunakan dana awam sebanyak
RM10 billion
dalam operasi Valuecap Sdn Bhd untuk melonjakkan nilai harga pasaran saham.
28. Skandal kewangan Bank Islam yang melibatkan kerugian
RM700 juta.
29. Penjualan MV Augusta dengan harga
€1 (1 Euro)
mengakibatkan kerugian sebanyak €75.99 juta (
RM348 juta
) - sama seperti No. 18?
30. Kehilangan royalti Wang Ehsan Terengganu sebanyak
RM7.4 billion
(antara tahun 2004 – 2007)
31. Sejak penubuhan Petronas Philharmonic Orchestra selama lebih 10 tahun yang lalu, ia telah menelan perbelanjaan sebanyak
RM500 juta
denga
RM1 juta
setahun dibayar sebagai gaji dan imbuhan kepada Ketua Pegawai Eksekutif (CEO).
32. Yuran Penasihat: Mahathir telah dibayar
RM180,000
, Shahrizat Abdul Jalil (Menteri Kemajuan Wanita)
RM404,726
dan Abdul Hamid Othman (Agama)
RM549,675
pada setiap tahun.
33. Kerajaan telah membelanjakan
RM3.2 billion
untuk pelaksanaan program Pengajaran dan Pembelajaran Sains dan Matematik dalam Bahasa Inggeris (PPSMI) sepanjang lima tahun pertama pelaksanaannya. Daripada jumlah tersebut, kerajaan telah membayar
RM2.21 billion
untuk membeli pelbagai kelengkapan teknologi, maklumat dan komunikasi (ICT) namun tiada sebarang perincian perbelanjaan pernah ditunjukkan.
Kerajaan telah membayar
RM6k
bagi setiap komputer laptop/notebook yang dapat diperolehi di pasaran dengan harga di bawah RM3k. Beberapa konsortium telah ditubuhkan semata-mata untuk 'mengendali secara atas-angin' pengagihan segala peralatan dan perkakasan berkenaan. Kini, kebanyakan peralatan dan perkakasan telah menjadi milik anak guru-guru yang terlibat dengan PPSMI.
34. Komisen yang telah dibayar kepada dua buah syarikat persendirian yang mengendalikan pembelian kapal selam
Scorpene
iaitu Perimeker Sdn Bhd dan IMT Defence Sdn Bhd berjumlah
RM910 juta
. Ada kaitan dengan No. 2.
35. Kerajaan membuat bayaran
RM300 juta
sebagai ganti rugi yang dibayar kepada Gerbang Perdana kerana pembatalan pembinaan Jambatan Bengkok yang bernilai RM1.1 billion.
36.
RM1.3 billion
telah dibazirkan dengan pembinaan kemudahan kompleks gajah putih 'Customs, Immigration and Quarantine' (CIQ) apabila projek Jambatan Bengkok dibatalkan.
37. Membelanjakan
RM100 juta
untuk kerja-kerja baik-pulih dan kebocoran Bangunan Parlimen Malaysia.
38. Program Angkasawan Negara yang menelan belanja –
RM40 juta
39. Dianggarkan sebanyak
RM500 juta
setahun dibelanjakan untuk Latihan Khidmat Negara
40. Menanggung kerugian Eye of Malaysia –
RM30 juta
dan
RM5.7 juta
dalam bentuk pemberian tiket percuma.
41. Menanggung kerugian sebanyak
RM2.4 juta
untuk pembelian dakwat kekal
42. Pada September 2006, Samy Velu mengumumkan bahawa kerajaan telah membayar ganti rugi berjumlah
RM38.5 billion
kepada 20 buah syarikat pengendali lebuhraya. Sembilan syarikat pengendali tol lebihraya menerima durian runtuh berjumlah RM380 juta daripada kenaikan kadar tol pada tahun 2008 sahaja.
43. Tumbuk-rusuk (kickbacks) sebanyak
RM32 juta
nilai eksport kayu balak oleh syarikat-syarikat yang berkaitan dengan Ketua Menteri Sarawak dan ahli keluarganya.
44. Dua kali menanggung kerugian (bailout) oleh Malaysia Airline System (MAS) yang berjumlah sebanyak
RM7.9 billion
. Pada ketika MAS berhadapan dengan kerugian pada saban tahun, sebanyak
RM1.5 juta
telah dibelanjakan untuk membeli TIGA buah lukisan untuk menghiasi pejabat pengerusi MAS, Munir Majid. (Berkaitan dengan No. 11)
45. Menanggung kerugian (bailout) Sistem Pengangkutan Putra sebanyak
RM4.486 billion.
46. Menanggung kerugian (bailout) STAR-LRT sebanyak RM3.256 billion.
47. Menanggung kerugian (bailout) Sistem Pembetungan Kebangsaan bernilai
RM192.54 juta.
48. Menanggung kerugian (bailout) Lebuhraya Seremban-Port Dickson sebanyak
RM142 juta.
49. Menanggung kerugian (bailout) Penjara Kuching bernilai
RM135 juta.
50. Menanggung kerugian (bailout) Kajian Makanan dan Gunaan Orang Islam sebanyak
RM8.3 juta.
51. Menanggung kerugian (bailout) Le Tour de Langkawi sebanyak
RM3.5 juta.
52. Agihan secara borong ratusan juta saham di Bursa Malaysia dengan berselindung di bawah Dasar Ekonomi Baru (DEB) kepada kroni, kaum keluarga, anak-anak para Menteri dan pemimpin BN yang bernilai
berbillion-billion ringgit.
53. Pindah-milik puluhan ribu hektar tanah-tanah komersial dan konsesi pembalakan kepada anak-anak serta kaum keluarga para Menteri dan pemimpin BN yang bernilai
berbillion-billion ringgit.
54. Kerugian Petronas sejak tahun 1997 apabila menandatangani perjanjian dengan ENAM PENAMA yang tidak didedahkan dalam dagangan hadapan petroleum negara dengan kadar harga murah untuk jangkamasa yang panjang. Apabila harga bahan petroleum meningkat, Petronas kekal menjual kepada ENAM penama ini pada harga murah yang telah dipersetujui.
Bagi menampung penggunaan bahan petroleum dalam negara, Petronas terpaksa membeli daripada pembekal luar dengan kadar semasa dan mengakibatkan Rakyat terpaksa menanggung kenaikan harga mengikut pergerakan harga minyak dunia. Sepatutnya, tanpa perjanjian dagangan hadapan, Petronas memperoleh keuntungan yang besar mengikut harga pasaran semasa. Dengan keuntungan ini, Petronas dapat berkongsi harga bahan petroleum yang murah untuk kegunaan Rakyat.
Dan manusia yang bertanggungjawab mengatur perjanjian dagangan hadapan yang merugikan Petronas dan Rakyat ini adalah merupakan manusia yang paling lantang bersuara sekarang ini -
Mahathir Muhamad
. Dan beliau ingin kekal menjadi penasihat Petronas hingga mati bagi melindungi identiti ENAM JAHANAM yang menghisap darah Rakyat melalui keuntungan Petronas.
55.
RM5700
untuk membeli seunit jek kereta yang berharga RM50. (*)
56. Kenderaan milik kerajaan meneguk setangki petrol bernilai
RM113
dalam tempoh beberapa minit. (*)
57. Platform tiang bendera berharga RM990 dibeli dengan harga
RM30,000
(*)
58. Thumb drive berharga RM90 dibeli dengan harga
RM480
(*)
59. Kabinet simpanan barang berharga RM1,500 telah dibeli dengan harga
RM13,500
(*)
60. Pembelian seunit lampu suluh bernilai RM35 telah dibayar dengan harga
RM143.
(*)
(*) - yang dinyatakan adalah sebutharga untuk SATU UNIT. Kerajaan membeli dalam bentuk pukal antara puluhan hingga ribuan unit item yang sama.
61. Perbelanjaan kempen
1Malaysia
yang dibayar kepada APCO sebanyak
RM76.8 juta.
62. Membayar subsidi
RM17 billion
kepada Penjana Tenaga Bebas (IPP)
63. Cincin berlian bernilai
USD24 juta
untuk Ro$mah --- kononnya pembelian telah dibatalkan – berapa pula jumlah ganti rugi yang terpaksa rakyat bayar?
64. Satu laman web 1pengguna bagi Kementerian Perdagangan Dalam Negeri, Koperasi dan Kepenggunaan dibina dan diselenggarakan dengan belanja
RM1.4 juta
.
65. Projek e-mel 1Malaysia yang menelan belanja
RM50 juta.
66. Menggunakan Kumpulan Wang Amanah Pencen (KWAP), Kumpulan Wang Simpanan Pekerja (KWSP), Danaharta dan Khazanah untuk membeli saham-saham Timedotcom yang tidak laku – kerugian sebanyak
RM3.3 billion.
67. Skandal Offshore Petrol Vehicle (PSC-NDSB) – rugi
RM6.75 bilion
68. Rosmah sewa bilik hotel
RM100,000
satu malam di Burj Al-Arab Dubai!!
69. Rosmah dan Najib sewa penthouse di Hotel Darling di Sydney pada kadar
RM65,100
untuk sehari semalam.
70. "Lawatan Sambil Belajar" ke Arab Saudi, Oman dan Bangladesh Rosmah and the Gang (FLOM @ First Lady of Malaysia) ditanggung kerajaan berjumlah
RM134,317.76
.
71. Memperuntukkan dana RM100 juta setahun untuk Rosmah berbelanja dalam projek peribadi 'Permata Negara'nya.
72. Perbelanjaan oleh Rosmah untuk mengendalikan Sidang Kemuncak Wanita Pertama yang melibatkan 15 orang wanita isteri Ketua-ketua Negara yang majoritinya daripada negara-negara Afrika yang menelan belanja
RM4.5 juta
untuk tempoh TIGA hari.
73. Kos ubah suai Seri Perdana sebanyak
RM12.5 juta
.
74. Bil elektrik kediaman rasmi PM dan TPM di Seri Perdana sebanyak
RM160,000
sebulan.
75. Insinerator di Broga, Semenyih, kerajaan BN yang di atas kebodohan mereka tidak mendengar keluhan rakyat, terpaksa membazirkan berbilion ringgit membatalkan projek tersebut. Insinerator yang seberat 1,500 tan dan menggunakan teknologi 'fluidized bed gasification' yang dikatakan terbesar di Asia ditaksirkan menelan belanja RM1.5 bilion (lebih kurang USD395 juta) untuk dibina dan RM200 juta (USD53 juta) bagi kos operasinya setiap tahun.
TOLAK ISU – ISU BODOH HANYA UNTUK ALIH PERHATIAN RAKYAT DARI MASALAH SEBENAR
Posted: 27 Sep 2012 11:18 AM PDT
Kenyataan Terbuka
27 September 2012



Solidariti Anak Muda Malaysia (SAMM) bersama organisasi anak muda di Pulau Pinang dengan ini mengecam tindakan permainan media 'dangkal' regim penguasa dalam usaha mengalih perhatian rakyat dalam isu sebenar.
Dari isu bendera 'Sang Saka Malaya' yang dikibar pada malam merdeka yang diberikan perasa propaganda melampau dengan fitnah ia menjadi agenda PR untuk menukar bendera negara. Isu ini dipatah dengan mudah dengan hujah jika benar PR mahu menukar bendera mengapa tidak bendera gantian tersebut diarak di negeri bawah pentadbiran PR dahulu, tetapi ini tidak berlaku kerana ia hanya fitnah regim Bn semata.
Terbaru ialah isu di mana Datuk Seri Anwar Ibrahim dan beberapa pemimpin PR kononya menggunakan jet peribadi untuk hadir ke acara parti di Labuan. Isu ini menjadi gempar hampir lebih seminggu dimainkan di media perdana milik regim Bn.
Persoalanya mudah ; berapa wang negara (baca RM rakyat) hilang kerana pemimpin PR ini menaiki jet peribadi tersebut ? Telah juga diperjelaskan oleh Anwar Ibrahim sendiri jet tersebut di uruskan oleh rakan beliau yang kebetulan merupakan ahli perniagaan dari Malaysia Timur. Sebenarnya ini yang menakutkan Bn apabila ada orang korporat yang mula cenderung menyokong PR. Maka orang korporat ini harus dicari sehingga ke lubang cacing untuk dihukum.
Persoalan berikutnya ialah Anwar hanya seorang Ketua Pembangkang dalam negara Malaysia dan seperti mana yang diketahui hampir tidak punya peranan dalam pentadbiran negara kerana dinafikan oleh regim Bn. Maka apa yang tidak kena ?
Jika melakukan penerbangan dengan jet peribadi merupakan kesalahan, maka seharusnya lebih salah apabila dilakukan oleh Menteri Kabinet dan sudah tentu tajaan itu lebih mampu mengundang perbagai persepsi.
Rekod penggunaan jet yang sama yang disediakan oleh T Jets Sdn Bhd sendiri mampu memberikan penjelasan. Kita cabar media regim mendedahkan pimpinan Umno yang pernah menggunakan jet tersebut dan siapa pembiaya mereka. Antaranya pada 23 September 2011, Dato Seri Jamil Khir Baharom, Menteri di Jabatan Perdana Menteri juga antara yang tersenarai pernah menaiki jet tersebut.
Manakala pada 15 November 2011 lepas DatukSeri Dr. Ahmad Zahid Hamidi, Menteri Pertahanan yang juga Naib Presiden Umno sendiri telah mengakui menaiki jet peribadi yang 'ditaja' sahabatnya untuk ke Arab Saudi. Mengapa ini tidak menarik perhatian media regim jika benar mahukan ketelusan ? Siapa yang menaja menteri tersebut dalam penerbangan jet peribadi dan apa kepentingan mereka ?
Itu belum lagi bagaimana wang negara terbazir kerana atas program parti Bn helikopter, jet dan banyak harta negara digunakan.
Persoalanya kini jika disebut kemewahan bagaimana pula media terus diam apabila muncul satu demi satu pemborosan Datin Seri Paduka Rosmah Mansor. Cincin RM 24.45 juta yang telah dibuat laporan SPRM masih belum terjawab, terbaru muncul pula gambar Rosmah dalam media internet yang dikatakan mengenakan jam berjenama Frank Muller yang dikatakan berharga RM 350,000 – RM 500,000.
Itu belum lagi berbilion wang negara yang hilang kerana kelemahan, pembaziran dan rasuah. Bersama kenyataan media ini disenarai 75 kejadian kehilangan berbilion wang rakyat yang sehingga kini tidak terjawab. (klik sini)
Kami mendesak untuk isu bodoh seperti isu jet ini dihentikan segera. Ia cuma usaha sebuah regim yang hampir lemas dengan kesedaran rakyat. Ia cuma satu usaha mengalihkan isu sebenar dari perhatian rakyat.
Isu sebenar sekarang ialah kepayahan hidup rakyat, negara hilang daya saing sehingga menanggung hutang paling tinggi dalam sejarah negara, kenaikan harga barang dan rasuah serta penyelewengan yang tidak terkawal. Kini negara ditahap kritikal, Malaysia memerlukan peranan semua dalam usaha menyelamatkan negara ini. Kita memerlukan politik matang, seharusnya inilah masa parti politik yang bakal bertanding dalam pilihanraya bersaing dalam isu polisi dan tawaran kepada rakyat. 
Inilah masanya kita melakar sejarah baru politik matang dalam negara di mana ketua kepada parti penguasa (Bn) Datuk Seri Najib Tun Razak harus tampil merani berdebat dengan Datuk Seri Anwar Ibrahim Ketua gabungan pembangkang (PR). Yakinlah bukan kepetahan yang bakal menjadi ukuran tetapi rakyat ternanti untuk menilai kejujuran dalam membuat tawaran bagaimana negara harus dipacu ke depan menjadi sandaran. Selebihnya biar rakyat membuat keputusan.
Kami anak muda tidak akan tertipu dan teralih tumpuan.
Solidariti Anak Muda Malaysia (SAMM) P.Pinang
Angkatan Muda Pulau Pinang (AMK PP)
Unit Ehsan P.Pinang

Jingga 13
Malaysian Indian Voice (MIV) PP
Persatuan Kebajikan India Bayan Baru
**kenyataan media dibacakan oleh sdr. Azrizal Tahir(Timb.Ketua AMK Malaysia) pada 27 September,2.30 ptg di Komtar Walk, P.Pinang
Najib Diasak Lagi: Bagaimana Pakar Paip Perolehi Tender LRT?
Posted: 27 Sep 2012 09:36 AM PDT
P
erdana Menteri, Datuk Seri Najib Razak didesak mendedahkan butiran keputusan tender projek sambungan LRT Ampang bernilai RM1.18 bilion yang dianugerahkan kepada George Kent-Lion Pacific JV (GKLP JV).
Ahli Parlimen Petaling Jaya Selatan, Hee Loy Sian mempersoal bagaimana syarikat itu memenangi projek tersebut yang kononnya melalui tender terbuka, walaupun tidak mempunyai kepakaran dalam bidang pembinaan rel.

"Kita nak tahu bagaimana George Kent yang tiada pengalaman boleh dianugerah tender projek awam bernilai lebih RM1 bilion.

Kita khuatir sama ada mereka boleh laksanakan projek, kerana latar syarikat ini hanya berpengalaman dalam projek pemasangan paip," kata Hee kepada Keadilan Daily.

Dalam jawapan bertulis Menteri Kewangan kepada Ahli Parlimen Petaling Jaya Utara, Tony Pua Selasa lalu, Najib selaku menteri berkaitan mempertahankan bahawa GKLP JV adalah gabungan syarikat tempatan yang berkeupayaan dari segi kewangan untuk menjalankan projek tersebut.

"Sangat menghairankan apabila jawapan Menteri mengatakan bahawa penender lain berpuas hati dengan keputusan. Butirannya mesti didedahkan kepada umum kerana projek ini guna dana awam.

"Kita nak tahu mengapa tujuh lagi pembida projek tidak bantah. Apakah sebab syarikat yang dapat projek ini rapat dengan Perdana Menteri?" soalnya.

"Orang ramai tertanya-tanya apakah ada rahsia yang cuba disembunyikan? Sampai hari ini, tidak ada penjelasan terperinci melainkan jawapan Menteri yang bersifat umum.

"Jawapan Menteri Kewangan semalam tidak adil kepada pembida dan tidak adil kepada rakyat. Kita hairan bagaimana dokumen melibatkan projek ini diklasifikasi di bawah Akta Rahsia Rasmi," katanya.

"Apakah tindakan menawar tender secara terbuka, kemudian memilih kroni untuk projek ini hanya 'wayang kerajaan?" soal Hee lagi.

KEADILAN sebelum ini melalui Pengarah Strateginya, Rafizi Ramli mendedahkan satu dokumen membuktikan jawatankuasa peringkat tinggi yang dipengerusikan Najib telah menganugerahkan projek sambungan LRT Ampang bernilai RM1.18 bilion kepada konsortium yang diketuai George Kent.

Dokumen itu adalah minit mesyuarat kelima Jawatankuasa Perolehan Menteri Kewangan (JPMK) pada 21 Jun, yang dipengerusikan Najib.

Menurut Rafizi, syarikat itu sebelum ini ditolak kerana tidak memenuhi keperluan minimum teknikal bagi kerja tersebut. -KD

New virus from SARS family in Qatar, Saudi Arabia!
Posted: 27 Sep 2012 07:42 AM PDT
September 27, 2012
A Kashmiris Haj pilgrim hugs a relative as other pilgrims rest inside Haj House before departing for the annual pilgrimage to Mecca, in Srinagar September 17, 2012. — Reuters pic
GENEVA, Sept 27 — The World Health Organisation yesterday urged health workers everywhere to report patients with acute respiratory infection who may have been in Saudi Arabia or Qatar, following the discovery of a new virus from the same family as SARS.
Saudi Arabia said it had taken precautions to prevent disease spreading next month, when it expects over 2 million Muslims to flock to the annual haj pilgrimage, than return home.
WHO put out a global alert on Sunday saying a new virus had infected a 49-year-old Qatari who had recently travelled to Saudi Arabia, where another man with an almost identical virus had died.
The Qatari remained critically ill in hospital in Britain as of Tuesday, but the WHO said yesterday no new case of the new virus had been reported.
"We've got things in place should things change, should the behaviour of the virus change," spokesman Gregory Hartl said.
Tests showed that six people with respiratory infections in two hospitals in Denmark did not have the new coronavirus, and at least five of them had flu, Danish health officials said.
The new virus shares some of the symptoms of SARS, another coronavirus, which emerged in China in 2002 and killed around a tenth of 8,000 people it infected worldwide.
So far, scientists do not know how contagious the new virus is, or whether or not it spreads by contact between people.
WHO's clinical guidance to its 194 member states said health workers should be alert to anyone with acute respiratory syndrome and requiring hospitalisation who had been in the area where the virus was found or in contact with a suspected or confirmed case within the previous 10 days.
WHO has not recommended any travel restrictions in connection with the new virus, but said it was working closely with Saudi authorities on health measures for the haj.
WHO said it was identifying a network of laboratories that could provide countries with expertise on coronaviruses.
"Though it is a very different virus from SARS, given the severity of the two confirmed cases so far, WHO is engaged in further characterising the novel coronavirus," it said.
The European Centre for Disease Prevention and Control in Stockholm said that, based on the available information, "ECDC assesses the current risk as low". —  Reuters
[VIDEO] PKNS Buat Laporan Polis Terhadap NGO Mesra UMNO
Posted: 27 Sep 2012 08:34 AM PDT
P
erbadanan Kemajuan Negeri Selangor (PKNS) akan mengambil tindakan undang-undang terhadap beberapa pihak yang mengeluarkan kenyataan berbaur fitnah terhadap syarikat tersebut.
Peguam mewakili PKNS, Sankara Nair berkata beliau telah menasihati PKNS untuk membuat laporan polis terhadap Pertubuhan Jaringan Melayu Malaysia (JMM) dan Presidennya, Azwanddin Hamzah.
"Kami menegaskan bahawa anak guam kami tidak akan teragak-agak untuk mengambil tindakan undang-undang terhadap mana-mana media atau organisasi yang membuat kenyataan fitnah mengaitkan PKNS dan penyelesaian hutang Talam," katanya di luar Ibu Pejabat Daerah Polis Shah Alam di sini hari ini.

PKNS turut membuat laporan polis hari ini ke atas JMM berhubung risalah berbau hasutan dan fitnah yang didakwa menyalahi undang-undang.

Laporan polis itu menyebut bahawa risalah dengan logo JMM menghasut pemilik-pemilik rumah yang telah membeli rumah dari PKNS atau Selangor Industrial Corporation (SIC) agar memohon kepada kerajaan negeri melupuskan hutang tertunggak.

Dasar ini kononnya atas sama seperti diambil kerajaan negeri Selangor dalam melupuskan hutang Talam Corporation Berhad.

Salinan risalah bertarikh 15 September 2012 itu antara lain turut disertakan borang bertajuk "Pembelian Hutang PKNS".

Penulis risalah – Azwanddin didakwa berniat jahat dengan menulis, menerbitkan dan mengedar risalah mengaitkan PKNS dengan isu Talam sedangkan hal tersebut tidak mempunyai kaitan.

"Saya juga melaporkan bahawa motif penulisan, penerbitan dan pengedaran risalah itu mencetuskan perasaan takut,rungsing dan gusar dalam minda orang ramai terhadap PKNS serta mengaibkan dan menjatuhkan reputasi," kata Pegawai Undang-undang PKNS, Silawati Mat Jusoh yang membaca laporan polis itu kepada media.

Pada 21 September lalu, satu laporan polis turut dibuat ke atas organisasi media dan Syarikat Bekalan Air Selangor (Syabas) berkenaan laporan berita palsu yang mengaitkan anak syarikat PKNS- PKNS Infra Sdn Bhd terlibat dalam kes kecurian air.

GAPS lapor polis tentang bas Dalam perkembangan lain, Gabungan Anti Penyelewengan Selangor (GAPS) turut membuat laporan polis di Balai Polis Seksyen 6, berhubung dakwaan penyelewengan pemilikan pembelian bas oleh Menteri Besar Selangor,Tan Sri Abdul Khalid Ibrahim.

Presiden GAPS, Hamidzun Khairuddin mendakwa Menteri Besar mengaku bas dimiliki beliau dan disewa kepada Parti Keadilan Rakyat (PKR) untuk tujuan pilihan raya akan datang.

Maka beliau mahu siasatan terperinci dibuat kerana mensyaki pembelian bas mewah itu yang didakwa bernilai RM900 ribu.

Laporan berhubung hal tersebut juga akan dibuat kepada Suruhanjaya Pencegahan Rasuah Malaysia (SPRM). -FMT


U Thein Sein would not dare to give a SELF INCRIMINATING speech at UN to commit the Crimes against Humanity
Posted: 27 Sep 2012 07:02 AM PDT
U Wira Thu and Rakhines should prepare for the "Htauk Khan Pwe" or supporting 'protests' with a TWIST of their TONGUES as U Thein Sein would be too scared to give a SELF INCRIMINATING speech at UN to commit the Crimes against Humanity on Rohingyas. If not his speech at UNGA could be used as an evidence to put him on TRIAL at ICC.
If U Thein Sein talk with the No 11th. of 10 ways Myanmar SPEECH ( Sa Kar Gyi 10 Khun) by his usual Flip Flop Bluffing method….he may be never believed by world leaders. U Thein Sein talk straight, don't change after this…U cannot use DOUBLE TALK here!
From FB of ဘာမထီ သာ ကီ>'ေဟး မ်ိဳးခ်စ္တုိ႔၊ သမၼတႀကီး အေမရိကန္ကေန မိန္႔ခြန္းေျပာမွာ နားမေထာင္ဘူးလား
ေဖ့စ္ဘုတ္ေပၚကေနပဲ သမၼတႀကီးကိုခ်စ္မေနနဲ႔၊ သူ႔မိန္ခြန္းေလးလည္း နားေထာင္ဦး
သူ႔ခမ်ာ သနားပါတယ္။ အားကုိးရာမဲ့စြာနဲ႔ မိန္႔ခြန္းေျပာရမွာ။ အားေပးႀကရေအာင္ေနာ္။
မေလးရွားျပည္သူမ်ားမွ ရခိုင္ေဒသ ဒုကၡသည္မ်ားအတြက္ RM ၁၀ သန္းဖိုး ရိကၡာသေဘၤာေပးပို႔
Posted: 27 Sep 2012 06:41 AM PDT
Source: မေလးရွားျပည္သူမ်ားမွ ရခိုင္ေဒသ ဒုကၡသည္မ်ားအတြက္ RM ၁၀ သန္းဖိုး ရိကၡာသေဘၤာေပးပို႔
M-Media
မေလးရွားႏိုင္ငံ ဒုတိယ ဝန္ၾကီးခ်ဴပ္ Tan Sri Muhyiddin Yassin ဟာ တန္ခ်ိန္ (၅၀၀) ေက်ာ္ တင္ေဆာင္ထားေသာ မေလးရွားရင္းဂစ္ (၁၀)သန္းဖိုးပါ၀င္သည့္ Sinar Bima အမည္ရွိ ကုန္တင္သေဘၤာၾကီးအား ၿမန္မာႏိုင္ငံသို႔ ပို႔ေဆာင္ေစလႊတ္တဲ့ အခမ္းအနားကို တက္ေရာက္ခဲ့ပါတယ္။
(Photo Mohammad Mustak Mohammad Arif)
Putra 1 Malaysia club ၏ ဦးေဆာင္စီစဥ္မွဳ႕ၿဖင့္  လူသားခ်င္းစာနာေထာက္ထားမွဳ႕ ဆိုင္ရာပံ႔ပိုးကူညီမွဳ႕မ်ားအတြက္ တစ္လနီးပါး ျပင္ဆင္ေဆာင္ရြက္ခဲ့တဲ့ ရိကၡာ ေထာက္ပံေရး သေဘၤာၾကီးသည္ ပုတ္ကလန္းဆိပ္ကမ္း ေၿမာက္ဘက္ မွ ၿမန္မာႏိုင္ငံသို႔ မေန႔က ထြက္ခြာသြားႏိုင္ခဲ႔ပါတယ္။
ကြန္တိန္နာ ၄၀ တင္ေဆာင္ထားေသာ အဆိုပါသေဘၤာသည္ ေနာက္ ငါးရက္အၾကာတြင္ ရခိုင္ၿပည္နယ္ စစ္ေတြဆိပ္ကမ္းသို႔ ေရာက္ရွိမည္ၿဖစ္ပါသည္။
"မေလးရွားတစ္ႏိုင္ငံလံုးရဲ႕ဆႏၵကေတာ့ ဘာသာတရားေတြ၊ လူမ်ဳိးေတြမခြဲၿခားဘဲ ပဋိပကၡၿဖစ္ပြားရာ ႏိုင္ငံေတြမွာ ဒုကၡေရာက္ေနသာ ၿပည္သူမ်ားကို ကူညီဖို႔ပဲၿဖစ္ပါတယ္ "လို႔ ဒုတိယ ဝန္ၾကီးခ်ဴပ္ က ဆိုပါတယ္။
"ဒါဟာ ဒီအဖြဲ႔ရဲ႕ ပထမအၾကိမ္မဟုတ္ပါဘူး။ အစိုးရအဖြဲ႔အစည္းေတြေရာ အစိုးရမဟုတ္ေသာ အဖြဲ႔အစည္းမ်ားအပါအ၀င္ သီးၿခားအဖြဲ႔အစည္းမ်ားက ရန္ပံုေငြေတြစုေဆာင္းၿပီး ဒီလိုမ်ဳိး အကူအညီလိုအပ္တဲ႔ေနရာေတြကို အစားအေသာက္အၿပင္ အၿခား ေသာ ပစၥည္းေတြပို႔စၿမဲပါ " ဟု ဒုတိယ ဝန္ၾကီးခ်ဴပ္ က ဆက္လက္ေၿပာၾကားခဲဲ႔ပါတယ္။
"ရခိုင္ၿပည္နယ္ရွိ ဒုကၡေရာက္ေနေသာ ၿပည္သူမ်ား၏ ငတ္မြတ္မွဳ႕ကို အေထာက္အကူၿဖစ္ဖို႔ ကြ်န္ေတာ္ေမ်ွာ္လင့္ပါတယ္" ဟု ဒုတိယဝန္ၾကီးခ်ဴပ္ က သတင္းေထာက္မ်ားအား ေၿပာၾကားခဲ႔ပါတယ္။
" ဒုကၡေရာက္ေနေသာ ၿပည္သူမ်ားထံအမွန္တကယ္ေရာက္ရွိဖို႔ ကတိေပးတဲ႔ ၿမန္မာအစိုးရအားလည္း ေက်းဇူးတင္ရွိပါတယ္" လို႔ ဒုတိယဝန္ၾကီးခ်ဴပ္က ဆိုခဲ႔ပါတယ္။
ဆက္လက္ၿပီး ဒုတိယဝန္ၾကီးခ်ဴပ္သည္ လူသားခ်င္းကူညီေထာက္ပံ႔ေရးအဖြဲ႔အစည္း Putra 1 Malaysia Club ၏ ဥကၠဌၿဖစ္သူ Datuk Abdul Azeez အား ပါ၀င္လိုက္လံလုပ္အားေပးမည္႔ ေစတနာဝန္ထမ္း မ်ားကိုလည္း တည္ၿငိမ္မွဳ မရွိေသးေသာ ရခိုင္ေဒသအတြင္း မိမိတို႔၏ လံုၿခံဳေရးကို ဂရုစိုက္ရန္လည္း အၾကံေပးေၿပာၾကားလိုက္ပါတယ္။
"အမွန္တကယ္လိုအပ္တဲ႔ၿပည္သူေတြဆီ ပို႔ေဆာင္ဖို႔ ေစတနာ့ ၀န္ထမ္းေတြလည္း ပါသြားပါတယ္။ သူတို႔ အဲဒီ့မွာ လုပ္အားေပးေနစဥ္ ကာလအတြင္း အဖြဲ႔တစ္ဖြဲ႔လံုး လံုၿခံဳမွဳရွိေစဖို႕လည္း ကြ်န္ေတာ္တို႔ ဆုေတာင္းေပးရမယ္" ဟု ဒုတိယဝန္ၾကီးခ်ဴပ္က ဆိုပါတယ္။
(Photo Mohammad Mustak Mohammad Arif)
"အမွန္တကယ္ေတာ့ ကြ်န္ေတာ္တို႔ စက္တင္ဘာလ (၁)ရက္ေန႔မွာ  စထြက္ဖို႔ စီစဥ္ခဲ႔တာပါ။ ဒါေပမယ့္ စက္တင္ဘာ (၁၇) ရက္ေန႔ မတိုင္ခင္အထိ ၿမန္မာအာဏာပိုင္မ်ားရဲ႕ သေဘာတူညီမွဳ႕ ကို မရရွိခဲ႔ပါဘူး။ ကြ်န္ေတာ္တို႔က အဲ့ဒီ့ ေဒသမွာ ရွိတဲ႔ၿပည္သူေတြဆီကို အစားအေသာက္ရယ္၊ အ၀တ္အစားရယ္ ၊ ေဆး၀ါးရယ္ ေပးခ်င္တာပါ။ အထူးသၿဖင့္ သက္ၾကီးရြယ္အိုေတြရယ္ ကေလးေတြရယ္နဲ႕ အမ်ဳိးသမီးေတြကိုပါ။" လို႔  Abdul Azeez က ၿမန္မာႏိုင္ငံအစိုးရ သေဘၤာဆိုက္ေရာက္ခြင့္ ၿပဳလိုက္သၿဖင့္ စိတ္သက္သာရာ ရသြားေၾကာင္း ေၿပာၾကားခဲ့ပါတယ္။
Putra 1 Malaysia Club မန္ဘာမ်ား ၊ ဆရာ၀န္မ်ား၊ ေစတနာဝန္ထမ္း လုပ္အားေပးမ်ားႏွင့္ သတင္းေထာက္မ်ား အပါအ၀င္ စုစုေပါင္း အဖြဲ႔ဝင္ (၅၀) ပါ၀င္ေသာ အဖြဲ႕သည္ (၁၁)ရက္ၾကာ လုပ္အားေပးခရီးစဥ္အတြက္ ေအာက္တိုဘာလ (၁)ရက္ေန႔တြင္ ရန္ကုန္သုိ႔ ထြက္ခြာမည္ၿဖစ္သည္။         ။
Source: http://www.nst.com.my
Rohingya NGO Calls on UN to Push Thein Sein
Posted: 27 Sep 2012 06:27 AM PDT
Source: Rohingya NGO Calls on UN to Push Thein Sein
The Burmese Rohingya Organisation UK (BROUK) has appealed to world leaders at the UN General Assembly to put pressure on Burma's President Thein Sein following his proposal that third countries accept Rohingya refugees.
The Burmese president is currently in New York attending the UN General Assembly. Ahead of a meeting between Thein Sein and US Secretary of State Hillary Clinton on Wednesday, the US announced it was lifting further sanctions on Burma due to the progress of reform under its new government.
In a letter to the UN on Wednesday, the BROUK president said, "We appeal to world leaders to put pressure on President Thein Sein to provide safety and security and to restore Rohingya ethnic rights and citizenship rights. We also appeal to world leaders to ensure strong wording in the UN General Assembly Resolution on Burma, including reform of the 1982 Citizenship Law, and the establishment of a UN Commission of Inquiry into what has taken place in Arakan State."
Burma's 1982 Citizenship Law fails to recognize the 800,000-strong Rohingya community as one of the country's ethnic groups. Many Burmese consider the Muslim group to be illegal immigrants from Bangladesh, though many have lived in the country for generations.
In June, violence erupted in western Burma between the Rohingyas and the majority Arakanese Buddhist community following the rape of a local Buddhist girl, allegedly by three Rohingya men, and the public lynching of 10 Muslim pilgrims.
A month of riots and violence followed, which left thousands homeless and at least 82 dead, according to government figures. Rohingya sources, however, put the number of dead in the high hundreds.
In its letter to the UN, the British NGO claims that despite a Burmese government inquiry into the crisis, "unacceptable restrictions still remain, and the government is also failing to provide sufficient security for aid workers assisting Rohingya who have been threatened."
The group claims that during diplomatic visits to the region in the wake of the violence, Rohingya community leaders were detained by police beforehand to prevent them from speaking to the diplomats, and that members of their community are barred from participating in the government inquiry.
Rohingya sources say that Burmese security forces continue to harass and detain members of their community, and that border guards have insisted on payment in order for them to be allowed to build new camps in the Maungdaw area.
Many of the 3,000 Arakanese Buddhists who are currently living in makeshift shelters have also expressed a fear of returning to Maungdaw and other majority-Rohingya towns, saying they are afraid of further violence. Many say they have put their houses up for sale and will not return.
According to Amnesty International: "Rohingyas have been persecuted for decades in Burma. They have been killed, raped, falsely imprisoned and forced to leave their homes. There are over 100,000 people who are homeless and helpless.
"The Rohingya minority are being persecuted in their own country, and we are demanding that some action be taken to stop this ethnic cleansing. The United Nations has said that the Rohingya minority in Burma is considered one of the most persecuted in the world."
Human Rights Watch released a statement in August alleging that Burma's security forces are playing an underhand role in persecuting the Rohingyas in the wake of the violence. It quoted witnesses as saying that "government forces stood by while members from each community attacked the other, razing villages, and committing an unknown number of killings."
In mid-August, following a mission to Arakan State, the 57-member Organization of Islamic Countries (OIC) condemned "the continued recourse to violence by the Myanmar authorities against the members of this minority and their refusal to recognize their right to citizenship.
"The [OIC] summit has decided to bring this matter before the General Assembly of the United Nations," it said in Mecca.
However, the Rohingya issue is not on any itinerary at the UN General Assembly this week.
U.S. Officials Knew Libya Attacks Were Work of Al Qaeda Affiliates by Eli Lake Sep 26, 2012 4:45 AM EDT
Posted: 27 Sep 2012 05:59 AM PDT
24 hours of the 9-11 anniversary attack on the United States consulate in Benghazi, U.S. intelligence agencies had strong indications al Qaeda–affiliated operatives were behind the attack, and had even pinpointed the location of one of those attackers. Three separate U.S. intelligence officials who spoke to The Daily Beast said the early information was enough to show that the attack was planned and the work of al Qaeda affiliates operating in Eastern Libya.
'Tariq Ramadan discusses the uprisings in the Middle East.' Nonetheless, it took until late last week for the White House and the administration to formally acknowledge that the Benghazi assault was a terrorist attack. On Sunday, Obama adviser Robert Gibbs explained the evolving narrative as a function of new information coming in quickly on the attacks. "We learned more information every single day about what happened," Gibbs said on Fox News. "Nobody wants to get to the bottom of this faster than we do."
The intelligence officials who spoke to The Daily Beast did so anonymously because they weren't authorized to speak to the press. They said U.S. intelligence agencies developed leads on four of the participants of the attacks within 24 hours of the fire fight that took place mainly at an annex near the Benghazi consulate. For one of those individuals, the U.S. agencies were able to find his location after his use of social media. "We had two kinds of intelligence on one guy," this official said. "We believe we had enough to target him." Another U.S. intelligence official said, "There was very good information on this in the first 24 hours. These guys have a return address. There are camps of people and a wide variety of things we could do." 
A spokesman for the National Security Council declined to comment for the story. But another U.S. intelligence official said, "I can't get into specific numbers but soon after the attack we had a pretty good bead on some individuals involved in the attack."  It's unclear whether any of these suspected attackers have been targeted or arrested, and intelligence experts caution that these are still early days in a complex investigation.
The question of what the White House knew, and when they knew it, will be of keen interest to members of Congress in the election year. Last Thursday, the Obama administration formally briefed House and Senate members on the attack. Those briefings however failed to satisfy many members, particularly Republicans. "That is the most useless, worthless briefing I have attended in a long time," Sen. Bob Corker, a Tennessee Republican, was quoted as saying.   "There was very good information on this in the first 24 hours. These guys have a return address."
The Daily Beast reported last week that the U.S. intelligence community was studying an intercept between a Libyan politician and a member of the so-called February 17 militia, Libyans charged with providing security for the U.S. consulate in Benghazi. More intelligence has come in that shows members of Ansar al-Sharia, an al Qaeda–affiliated group operating in and around Benghazi, were attempting to coerce, threaten, cajole, and bribe members of the militia protecting the consulate.
 Eli Lake is the senior national-security correspondent for Newsweek and the Daily Beast. He previously covered national security and intelligence for the Washington Times. Lake has also been a contributing editor at The New Republic since 2008 and covered diplomacy, intelligence, and the military for the late New York Sun. He has lived in Cairo and traveled to war zones in Sudan, Iraq, and Gaza. He is one of the few journalists to report from all three members of President Bush's axis of evil: Iraq, Iran, and North Korea.
For inquiries, please contact  Daily Beast
Posted: 27 Sep 2012 05:34 AM PDT
The following post is from LLTeh. I am posting it for laughs now but would not be surprised if such emails are already being written in our own backyard given the current 'mastery' of the language. Take care and have a lovely evening!
______________________________
You may laugh all you want to and think this is a gross exaggeration !!! However, all signs are already there; showing that our English here is reaching such deteriorating standards !!!
Do read this letter and judge for yourselves ! And ....... Just have for a laugh if you're pleased !  Let's have some fun . . !!!!
Perhaps you have to get a Chinese to translate the English below. Lol.
The Malaysian Ministry of Education (MOE) are reverting back to teaching Science and Mathematics in Bahasa Malaysis.
Is it possible that this could be reality one day?
I e-meow U, U e-meow me -Author Unknown-
Dear Ah Lian
Thanks you for your letters. Wrong time no see you. How anything? For me, I am quiet find.
You say in your letter your taukeh soh want you to chain your face look? Somemore you must wear high hill kick kok shoe, hope you can wok properly wit out felling over.
You know, Ah Kau Kia working start in a soft where company now. Last week, he take I, Muthu & few of his junk friend to May Nonut to eat barger. After that he take we all go to kalah ok.
Muthu sing and sing no stop until the sky bright. We so drown we no go toilet but pee pees on the floor.
Next week, my father mother going to sellerbread 20 years Annie wear sari. My father mother going to give a fist to all the kampong people. So you must come with your hole family. My brother eye deer also to in white the kampong head.
I only hope one day we no need write you and send litters to you and to me. Better I e-meow you, you e-meow me.
I will ketchup you soon. And when you got time, please few free call up to me. Good bye.....
worm regard
Ah Beng
OKU Ikrar Bantu PR Tawan Putrajaya
Posted: 27 Sep 2012 06:44 AM PDT
G
olongan Orang Kelainan Upaya (OKU) berikrar untuk membantu Pakatan Rakyat (PR) menawan Putrajaya dalam Pilihan Raya Umum ke-13 (PRU-13) akan datang.
Lontaran ini disuarakan oleh Ketua Penggerak Kempen OKU Bangkit 2012, Mohammad Faizal Che Yusof dalam satu sidang media di lobi Parlimen hari ini.

Menurutnya, kempen ini merupakan satu mekanisme bagi mengetengahkan permasalahan OKU agar lebih diberikan perhatian oleh semua pihak.

"Diharapkan parti politik akan peka mengenai OKU dalam menifesto pilihanraya akan datang.

Kita bersedia untuk membantu PR memenangi Putrajaya InsyaAllah," katanya.

Selain itu katanya, kerajaan perlu memberikan elaun kecacatan kepada OKU secara menyeluruh tanpa mengikut jenis kecacatan dan gaji pekerja OKU.

Menurutnya, Jabatan Kebajikan Masyarakat (JKM) memberikan tambahan kewangan kepada OKU yang bekerja sehingga mencapai pendapatan RM1,500 sebulan dan RM150 kepada OKU yang tinggal di rumah.

"Pembangunan OKU perlu dibuat secara menyeluruh. Satu portfolio OKU perlu dimartabatkan di peringkat kementerian di persekutuan dan exco di peringkat negerim.

"Kita harapkan dalam Bajet 2013 ada sesuatu untuk OKU," ujarnya lagi.

Sementara itu, Ketua Lujnah Kebajikan dan Kemasyarakatan PAS, Dr Siti Mariah Mahmud berkata pihaknya akan terus mendokong segala usaha pembangunan kepada golongan OKU di seluruh Malaysia.

Katanya, penubuhan sekateriat ini juga merupakan langkah awal bagi membantu kemenangan PR bagi membangunkan OKU kelak.

"Pihak kami akan mengikhtiarkan sebuah pusat khidmat atau sehenti OKU nasional bagi menyediakan perkhidmatan yang lebih signifikan kepada OKU termasuk kajian berkaitan OKU, advokasi, perancangan dan perlaksanaan pembangunan.

"Meskipun belum memerintah, kami akan mengikhtiarkan yang terbaik untuk mereka," katanya. -selangorku


Blasphemy is a two way thing......
Posted: 27 Sep 2012 05:36 AM PDT
Posted: 27 Sep 2012 03:25 AM PDT
When I was on clinic duty 2 weeks ago, I met a couple – the husband, Roslan, on crutches, had been confirmed HIV+ and whose CD4 was already very low; and the wife, Shimah, yet to be tested.
While Roslan was rather calm and had somewhat accepted the fact that he has to live with HIV for the rest of his life, Shimah on the other hand, looked rather depressed. She was quiet most of the time when I spoke to Roslan asking about the wellbeing of the family. When I finally turned to Shimah to ask if she had been tested, she was on the verge of breaking down.
With tears flowing, she kept asking "Kenapa saya?" Although she had not been tested yet, she was convinced that she was surely already infected. I kept telling her that she was not necessarily infected and we wouldn't know for sure until blood tests are done. But at the same time, I also had to prepare her in case she was indeed infected. I did tell her to call me anytime in case she needed to talk to someone about it.
Yesterday I was on clinic duty again. Since there weren't any cases referred, I decided to call Shimah to find out how she was doing. This time her tone of voice sounded happier. The test done showed that she was negative, alhamdulillah. She told me how relieved she was when the news was conveyed to her. She also told me how hard she prayed after the last time we met. She definitely talked a whole lot more this time. I just reminded her to to take the necessary precautions to avoid transmission of the virus from her husband to herself.
Then this morning I received a text message from her, telling me she was scared because her husband's blood stains were on the bed sheet and although she had soaked the bed sheet in hot water, she didn't dare touch the bed sheet in case the virus was still there.
I suppose when she said earlier that she fully understood how the virus spreads, she didn't really understand… but I guess being in her condition, and not well educated, I can understand her concerns. Just give her some time to fully understand everything.
Rakhine Buddhism's bad consequences on Christians and Muslims
Posted: 27 Sep 2012 03:12 AM PDT
Perogol Bersiri Yang Diburu Polis Kerana Merogol Sewaktu 'Temuduga' DICEKUP!
Posted: 27 Sep 2012 05:04 AM PDT
S
eorang lelaki yang merogol dan merompak wanita selepas sesi 'temuduga' yang dilakukan di dalam bilik hotel, ditahan polis awal Rabu di sebuah rumah di Seksyen 27, Shah Alam.
Ketua Jabatan Siasatan Jenayah Kuala Lumpur, Datuk Ku Chin Wah berkata, hasil risikan polis, lelaki berusia 29 tahun itu yang diklasifikasikan sebagai perogol bersiri dan amat dikehendaki polis sejak 2010, ditahan di rumahnya pada 2 pagi ketika sedang tidur.
Beliau berkata, modus operandi lelaki itu ialah mengiklankan tawaran pekerjaan dengan gaji lumayan di internet, khas untuk golongan wanita sahaja.

Suspek akan menghubungi mangsa yang kononnya disenaraikan pendek bagi mengatur sesi temuduga di hotel-hotel mewah dengan meminta mangsa mendaftar masuk atas nama mangsa sendiri.

"Dia akan bagi alasan tak bawa kad pengenalan lah, duit tertinggal la.

Ini semua bagi mengelakkan namanya direkod dan disyaki pihak berkuasa.

Mangsa sebelum itu juga diminta membawa barangan berharga seperti I-Pad, telefon bimbit dan sebagainya," katanya.

Ku berkata, selepas dirogol, barangan berharga milik mangsa juga dilarikan namun mangsa tidak dicederakan.

Beliau berkata, suspek dipercayai terlibat dalam beberapa kes yang sama, yang dikesan sejak 2010 di Kuala Lumpur dan Selangor berdasarkan modus operandi yang digunakan.

"Namun kita percaya suspek terlibat dalam banyak lagi kes, (yang sama), namun tidak dilaporkan mangsa," katanya dan meminta kaum wanita yang pernah menjadi mangsa lelaki itu supaya tampil bagi membantu siasatan polis.

Beliau berkata, suspek yang merupakan seorang jurujual direman pagi ini dan kes disiasat mengikut Seksyen 376 dan 392 Kanun Keseksaan, masing-masing atas kesalahan rogol serta melakukan rompakan – BERNAMA.




Laporan sebelum ini




klik untuk baca




Nazri: Police, MACC not probing Copgate
Posted: 27 Sep 2012 02:51 AM PDT
Source:
http://www.malaysiakini.com/news/210046
(By Aidila Razak, 27/9/2012)
Police and the Malaysian Anti-Corruption Commission are not probing claims that former inspector general Musa Hassan (below) was involved in underworld activities.
In a written reply to Lim Lip Eng (DAP-Segambut), Minister in the Prime Minister's Department Mohd Nazri Abdul Aziz said that this is because no reports were lodged on the matter with both the agencies.
"However, if a report or complaint is made, the enforcement agencies will conduct investigations in accordance with the law," he said.
Lim had asked the prime minister if the government had probed former Commercial Crimes Investigation Department (CCID) chief Ramli Yusuff's claims that Musa had links with underworld figures BK Tan and Goh Cheng Poh while Musa was still in service.
In an immediate reaction, former Commercial Crimes Investigation Department (CCID) chief Ramli Yusuff rebutted Nazri saying he had indeed lodged several reports on the matter. "I lodged a few reports, but (they were) conveniently 'NFA'ed (marked 'no further action') by the AG's Chambers," Ramli toldMalaysiakini in an email today.
However he did not elaborate on the details of the said reports or when they were made. The former top cop also countered Nazri's claim that an investigation could not be carried out without a police report having been made, saying that the case had already been widely reported in the media and action was thus warranted.
"No need to lodge a police report, because it is being widely reported. The police or MACC should initiate action if it involves serious allegations without waiting for reports to be lodged. When I was in service, we opened up a lot of investigation papers based on 'first information reports' lodged by our officers," said Ramli. "That's why we insist to have a tribunal," he added.
'High level collusion'
Malaysiakini earlier this year reported that several whistleblowers-whose information led to the arrest of Johor kingpin Goh aka Tengku Goh in 2007-had been forced to implicated six police officers investigating the case. These officers were charged with fabricating evidence in 2007, but eventually all were acquitted, the last in mid-2011. Ramli on Feb 29 had alleged that attorney general Abdul Gani Patail, Musa and Goh had colluded to "fix" him and the six police officers.
Malaysiakini had posted a special report in 2007 on the scandal, piecing together information on the goings-on involving the top echelon of the police force.
Musa Hassan has denied protecting Tengku Goh or conspiring with Abdul Gani to frame Ramli and his men, calling the allegations a tactic by those with an ulterior motive to create confusion.
Home Minister Hishammuddin Hussein when asked in March following the exposes said the government would investigate if there is proofof the claims.
Related news: No probe into ex-IGP, underworld links as there was no complaint, says Nazri
Nazri: No probe into 'copgate'
http://www.freemalaysiatoday.com/category/nation/2012/09/27/nazri-no-probe-into-%E2%80%98copgate%E2%80%99/
Posted: 27 Sep 2012 02:47 AM PDT
Source: Nowhere To Go – The Rohingya

We meet Kulsum Bibi (the girl in the photograph at the top of this post) and her brother, and the gravity of it all hits home. Update: Kulsum Bibi passed away a few days ago.
The checkpoint looms. There are armed guards on both sides of the road. Our taxi – a cross between a tuk tuk and a pickup truck – lurches. The driver gasps, hesitates. He is nervy and jumpy and clearly afraid. And yet, five minutes earlier, this same young man had boldly offered to take us to our destination, for a hefty fee. He knew we had no choice. Had just seen another driver turn us down with a grimace and a slicing motion to his throat. It was apparently dangerous where we wanted to go.
"Bengali," the first driver had said, shaking his head. "Bengali! No, no, no."
Bengali. That word again. We've come to Sittwe, capital of Myanmar's Rakhine state, in search of a Muslim minority group known to the rest of the world as the Rohingya. And yet, everyone we've met so far – from waiters at a café to local NGO workers to Buddhist monks – has insisted the word is made-up nonsense.
"Bengali!" They would say instead.
This shift appears to be a recent phenomenon. At a monastery, the young monk who served as translator during our interview with his superior, slipped up several times.
"Rohingya," he would begin.
"Bengali!" His head monk countered repeatedly.
It might sound slightly bizarre, this flap over what to call a group of people, but it is a symptom of a larger, more sinister problem sweeping Rakhine state. The area is home to a sizeable Rohingya population, a people the United Nations describes as "one of the most persecuted minorities in the world". They're not recognised as citizens of Myanmar and have suffered official discrimination for decades. But now, the Rohingya could be facing their worst crisis yet – a growing push among the Rakhine people, for their total expulsion from the country.
For months, we'd followed the story from a distance. What triggered the anger, we read, was the brutal rape and murder in May, of a young Rakhine woman called Thida Htwe. The culprits were allegedly three Rohingya men, who were swiftly arrested. But this was not enough to calm a rising tide of anger. Days later, a mob set on a bus, killing at least nine Muslims. The victims were not Rohingya, not even from Rakhine. But their religion appeared to be reason enough to justify the attack.
Angry Rohingya decided to hit back, and a demonstration in the town of Maungdaw turned ugly. A wave of retaliation followed. The violence spread and for tens of thousands of people, the nightmare began. Online, there's also been a war of words as Rakhine supporters and Rohingya activists hurl accusations at each other. Amid the vitriol, the truth can sometimes be hard to discern. We've come to find out what's going on.
*
We saw what looked like a snoozy little town when we first arrived in Sittwe. There were more than a few military personnel on the streets and a curfew remained in force, but there was virtually no sign of the violence that had engulfed the place just months earlier.
There were also no Rohingya on the streets. We could tell because physically, they are markedly different from the Rakhine – darker, with features more akin to those of the people in neighbouring Bangladesh. There were no Rohingya people in the shops, or at the market, none on their way to work, or to school. The group used to make up at least half of Sittwe's population. Now though, the entire community seemed to have vanished.
"No more Muslim," a waiter at a café told us, beaming. "Now, safe. No problem!"
Asked where the Muslims had gone, he would only gesture in a random direction, "Gone!"
But where?
*
Aung Mingalar quarter sits near the old campus of the Sittwe University. The area is not very remarkable, the houses, not particularly nice – many of them, nothing more than rundown wooden structures. But in downtown Sittwe, Aung Mingalar stands out for one reason: it's the sole Rohingya enclave that's managed to survive the madness of June, when mobs torched entire villages, forcing thousands to flee.
It drizzled the morning of our visit. We walked quickly past a few armed men in uniform, nervous that they would stop us. But none did. Foreigners were apparently not a concern for them. The guards' main responsibility was to prevent Rohingya people from leaving the area.
Our contact was standing where he said he would, dressed as he said he would. Our eyes met briefly and he ducked inside a building. We quickened our pace, followed him.
W grasped our hands when we entered. We'd spent hours on the phone trying to arrange this meet-up. It was good to finally put a face to the voice. He spoke fluent English and as soon as we asked about the situation, the words tumbled out.
"We are suffering, you know? How long have we suffered in this country? We cannot keep our patience, you know?"
He told us about the mass of Rakhine people who'd surrounded his street on the morning of 10 June. The motive was apparently revenge, for the Rohingya-led destruction of a village in Maungdaw just two days before. Men, women and children were told to step out of their homes. Thousands filled the street, uncertain what would happen next.
And then, pandemonium.
"Two of my brother-in-laws were killed." W's voice cracked, his eyes watered. "How could they… How can I keep my patience? Is that right?"
The men were beaten and hacked to death in front of him. The police station was nearby and the family called for help as the assault was taking place. But police only arrived when everything was over, when it was way too late.
By the time the madness ended, thousand of houses had been razed to the ground. Footage smuggled out of Rakhine state shows desperate villagers battling to stop massive fires from engulfing their homes. In one clip, a group of Rohingya can be seen standing waist deep in what looked like a pond, crying out in prayer, shouting in desperation, as a fire devoured the buildings behind them.
For reasons that are still unclear, Aung Mingalar quarter survived the violence and unlike many of their friends and relatives, W's family and their neighbours have been able to remain in their homes. Their movements are highly restricted though.
"They'll arrest us if we go into town," W's daughter, S, said. "Normally, we don't even dare go out of the house."
Three months of enforced confinement had taken their toll. Food supplies were running low – the family relied on Rakhine middlemen to bring them daily necessities from the market. Money problems loomed. No adult had been able to go to work. No child could attend school. No one knew if things would ever return to normal.
But if the situation looked grim for W and his family, it was far worse for the thousands of Rohingya who used to live in villages that have ceased to exist. We visited a site – formerly home to a fishing community – one morning. A stray dog scavenged among miles and miles of charred wood, broken bricks and scattered household goods. A child's shoe lay abandoned near what looked like remnants of a door.
*
The camps lie beyond the checkpoint. Long before setting foot in Sittwe, we'd heard about them, had spoken on the phone to Rohingya refugees living inside. They said conditions were bad, that there was not enough food, shelter or medicine, that access was difficult. That we had to try and visit. Soon.
Our taxi lurches towards the barricade. Somewhere past the guards, our contact is waiting. The driver turns to look at us.
"Passport," he says, indicating that we should identify ourselves to the guards.
Neither of us moves. We know instinctively that it's a bad idea.
"Passport?" The driver repeats.
"Go! Go! Go!" James whispers instead.
"Go?"
"Go!"
The driver steps on the accelerator. The taxi zooms past the guards. We keep our heads down, hold our breaths. Maybe it's lunchtime. No one comes after us. A little past the checkpoint, we hear a shout. It's our contact, running behind our taxi. He grins as he hops on. "You're here."
We smile, shake hands and take in our surroundings. For the first time in days, we see Rohingya people on the streets. Our taxi zips past a busy market, hospital tents and row upon row of temporary shelters. We ask to get off, eager to start filming. But our contact tells us we should head first to the local madrasah.
*
The refugees surround us as soon as we enter. There are so many of them, and they keep coming – from out of the classrooms in the madrasah, from sleeping places under staircases, from the makeshift kitchen, from afternoon prayers at the mosque in the same compound. They crowd round our cameras, everyone talking at the same time, trying to tell their stories. Their horrendous stories.
One woman shows us a gash on her forehead before pointing to her tiny daughter's fractured arm. They were hiding on the roof of their house when a mob attacked.
"Security forces also helped," our contact explains.
A man lifts his shirt to reveal a wound from a knife attack.
Another says police watched while a group of Rakhine people torched his house.
It's something we hear over and over again, from refugees from different villages, in different parts of the camp – this allegation that security forces or police either participated in the violence, or stood by as it unfolded. The testimonies are chilling, the desperation and anger on the faces of the refugees, impossible to forget.
It gets a little overwhelming after a while. The stories meld into each, become a blur. But then we're taken to a school, and we meet Kulsum Bibi (the girl in the photograph at the top of this post) and her brother, and the gravity of it all hits home.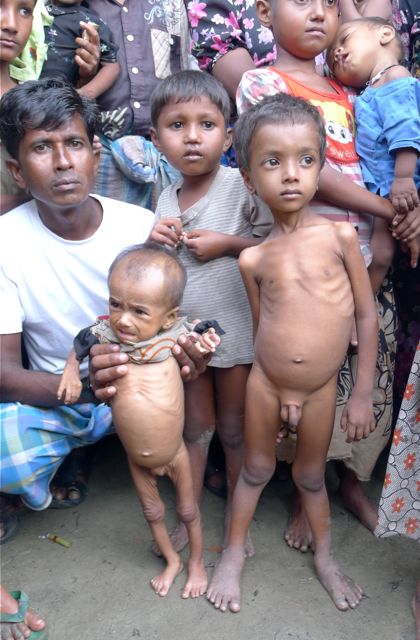 They are all eyes and ribs. All eyes and fear. Their aunt, Nur Banu, tells us their parents died during the clashes. She's trying her best to take care of her niece and nephew. But Nur has children of her own and food rations are minuscule. The irony though? Enterprising Rakhine and Rohingya have set up a market inside the camp. There are fruit, vegetables, meat and even a betel nut stand. But the refugees' movements are restricted and few have been able to find work. The market serves only those with the means to pay. Starving orphans will have to look elsewhere.
A refugee steps forward with a baby. We gasp when we see him, a tiny thing with a bloated stomach, protruding ribs, and jaundiced skin. We know without a doubt that if no one helps him, if no one helps Kulsum Bibi and her brother, they will soon be dead. The refugees tell us there are many more children like them, that apart from hunger, diarrhoae, cholera, malaria and other nasty diseases are common here.
We know there is much more to see at the school, but our contact reminds us time is running out. We have to get back to our hotel before the 7 o'clock curfew and there are still other sites to visit.
A huge crowd follows us as we leave the compound. James presses a few notes into the hands of a young man, tells him they're for the children. But we know they need much more than a good meal. They need medical treatment, a clean, dry place to sleep, drinkable water, good sanitation, post-traumatic stress counseling. And we know that unless something drastic happens, it will be highly unlike that they will have any of these, anytime soon.
Nowhere To Go, our documentary on the crisis in Rakhine state, is slated for air on Al Jazeera English's 101 East on the 27th of September. We will post a link to the film when it is available for viewing online. 
We also spent many hours meeting and interviewing Rakhine Buddhist monks, politicians, NGO volunteers and refugees. I'll have more about them in a separate post.

Masalah E-undi Pilihanraya Kampus: Percubaan Menipu Yang Gagal
Posted: 27 Sep 2012 02:26 AM PDT
U
IA hadapi masalah 'pengundi hantu' dalam sistem e-pengundian
KUALA LUMPUR, 27 Sept — Pihak Universiti Islam Antarabangsa Malaysia (UIAM) memberikan alasan peningkatan pengundi dalam sistem e-pengundian melebihi jumlah yang layak mengundi menyebabkan pilihan raya kampus (PRK) terpaksa ditangguhkan.
Timbalan Rektor Hal Ehwal Pelajar UIAM, Datuk Mizan Hitam, dalam kenyataan rasmi mengesahkan perkara tersebut.

"Sebagai contoh, sepatutnya satu kuliah mempunyai 300 pengundi tetapi e pengundian mencatatkan jumlah melebih 2000 pengundi yang layak," katanya.

Memetik laporan di Berita Harian hari ini, Dekan Bahagian Pembangunan dan Perhubungan Pelajar UIAM, Dr Akmal Khuzairy Abd Rahman mengesahkan perkara tersebut dan dijangkakan pilihan raya semula akan diadakan pada minggu depan.

"Saya masih belum menerima laporan rasmi tetapi ia berpunca daripada masalah teknikal," kata Dr Akmal kepada Berita Harian.

Dr Akmal juga berkata tarikh pilihan raya akan diputuskan hari selepas selesai bermesyuarat.

Disamping itu, beliau juga mempertahankan keupayaan sistem e-pengundian yang digunakan oleh semua universiti dalam PRK kali ini.

"Ia tidak berlaku di universiti lain kecuali di UIA," kata Dr Akmal.

Bagi mengelak ia berulang, UIA dijangkakan beralih kepada sistem lama iaitu mengadakan pilihan raya secara manual.

Cadangan itu dilontar oleh Datuk Mizan dan Dr Akmal dalam kenyataanya hari ini juga menyuarakan pendapat sama yang mahu senat mengadakan satu lagi PRK secara manual.

Semalam, Menteri Pengajian Tinggi, Datuk Seri Mohamed Khaled Nordin dalam sidang medianya berkata pihaknya telah menerima laporan awal yang mengatakan kelewatan itu disebabkan kesilapan teknikal dalam penggunaan sistem e-undi yang dikelolakan pihak bertanggungjawab di UIAM.

Sebanyak 32 kerusi dipertandingkaan melibatkan 18 kerusi di kampus Gombak dan 13 kerusi di kampus Kuantan.

Dalam pada itu, Ketua Dewan Pemuda PAS Nasrudin Hassan dalam kenyataannya hari ini menggesa sebuah jawatankuasa bebas ditubuhkan oleh kerajaan untuk menyiasat segala aduan ketidak adilan dan penipuan yang berlaku dalam PRK sesi ini.

Beliau juga menyifatkan PRK yang berlangsung semalam telah menyaksikan penyelewengan dan penindasan ke atas hak demokrasi mahasiswa. -TMI


Nurul Izzah: Kredibiliti pilihan raya kampus tercalar

PILIHAN raya kampus yang diadakan semalam mencatitkan titik hitam dalam sejarah Malaysia dengan campur tangan pihak eksekutif serta amalan budaya samseng, ugutan berbentuk jenayah yang menekan dan mengekang hak serta kebebasan mahasiswa.

Projek Ops2020, yang didedahkan dalam Parlimen sesi yang lalu terbukti dirangka untuk memenangkan calon-calon kampus yang pro-kerajaan. Projek ini telah memberikan laluan kepada nasir-anasir luar yang didalangi pihak tertentu untuk terus menyekat perjalanan pilihan raya kampus yang bersih, adil dan telus.

Gejala samseng mulai menerjah masuk ke kampus-kampus, dengan insiden terbaru Pengerusi Pro-M Universiti Malaya yang dibelasah oleh 5 orang samseng. Budaya ini wajib dikecam dan segera ditangani oleh pihak berwajib.

Adakan audit terbuka ke atas e-undi.

Sebahagian daripada perancangan durjana pihak eksekutif termasuklah pengenalan sistem e-undi Universiti Malaya (UM) sejak 2009 apabila pihak pentadbiran UM meneruskan konsep menukar sistem kertas undi kepada sistem e-undi (undi secara berkomputer).

Para mahasiswa serta mahasiswi menentang keras sistem e-undi yang diperkenalkan kerana ia memberi impak kepada ketelusan, keberkesanan dan ketelusan setiap undi mahasiswa. Tiadanya audit ke atas sistem e-undi tersebut, dikeruhkan dengan perjalanan pilihan raya kampus yang tidak dipantau oleh pihak yang tidak berkepentingan.

Secara tuntas, persoalan-persoalan berkait sistem e-undi perlu dijawab:

i. Adakah undi rahsia?
ii. Sejauh manakah keselamatan data yang bergerak dalam rangkaian?
iii. Apakah yang perlu diambil kira dalam pelaksanaan sistem e-undi untuk memastikan telus dan tidak boleh dimanipulasi?

Setelah e-undi diperkenalkan sejak 2009, pada 2010 pihak pentadbiran UM sekali lagi memperkenalkan sistem baru dalam pelaksanaan pilihan raya kampus iaitu e-calon, e-daftar dan e-bantah yang semuanya berbentuk elektronik.

Sistem yang diguna pakai ini mengakibatkan seribu permasalahan buat mahasiswa di mana pada pilihan raya kampus UM kali ini – dua fakulti iaitu Fakulti Sains dan Pendidikan terpaksa menjalankan undian semula akibat undi seri yang diperoleh oleh kedua-dua fraksi Pro-Aspirasi dan Pro-Mahasiswa.

Sejarah hitam demokrasi kampus juga tercipta di Universiti Islam Antarabangsa, apabila pilihan raya kampusnya terpaksa diulang semula kemudian secara manual akibat masalah teknikal. Kemelut undian semula yang berangkai bagi banyak universiti membuktikan sistem e-undi perlu dibaik pulih, sebelum boleh dilaksana sepenuhnya.

PKR menggesa supaya Kementerian Pengajian Tinggi melaksanakan sistem undian manual sehinggalah satu badan bebas khas diwujudkan untuk menyiasat dan menyelesaikan kemelut yang berlaku, termasuklah pelaksanaan audit bebas terhadap sistem e-undi. Kita wajib membaik pulih imej universiti-universiti di Malaysia yang tercalar teruk akibat manipulasi sebegini.

Nurul Izzah Anwar
Ahli Parlimen Lembah Pantai merangkap Naib Presiden PKR


Posted: 26 Sep 2012 11:31 PM PDT
No thanks to the flawed AES system and wrong concept by ignoring to manually enforce the other traffic rules
Posted: 26 Sep 2012 11:23 PM PDT
My Comments first: RM 300.00 is nothing for great political leaders and Rich people who could even earn millions with one signature. But for the normal salaried Blue and White collar staff and workers, it is a lot especially when if they get multiple summons in a short time.
Once I sent my mother and brother to Cameroon Highland on their short visit here. I took leave and arranged two doctors to replace my duty. But just on the second day there at highland, clinic nurses rang up that there was a misunderstanding of duties by the two doctors and both were not free to report for work and patients were waiting.
I tried to call other doctors but could not get anyone and decided to rush back. My wife drove quite fast but I think it is NOT fair to get 5 summons amounting to RM 1500.00, few were recorded within 3-5 minutes period apart only. If they stop and remind us, warn us or give the summons on the spot, we would not dare to or be able to speed up again beyond the speed limit within that few minutes.
Even for a doctor with good income, we have a heart-ache. That was during TAAB time. No wonder people had to angrily pay the summons but voted against his government.
Police are seen to be doing the easy way out by using this automatic system. I had seen people parking their cars indiscriminately at road junctions and  traffic lights, sometimes against the traffic flow and even on the wrong side of the road, sometimes even double parked near the traffic light, on the yellow line and even near the police station.
I have seen this on few thousand times in front of Jusco Supermarket, even near the Wangsa Maju police station.
Seen few times at the traffic lights on Chow Kit busy roads during the peak hours. I don't want to mention about the reckless motorbikes on the city roads. Where are the Traffic Police?
Source: The StarOnline>Thanks and no thanks to the AES system
YESTERDAY, I read about the privatisation and installation of the AES system at 14 spots in Perak, Selangor, Putrajaya and Kuala Lumpur, 10 spots with speed cameras and four with traffic light cameras.
It was proudly reported that in just two days, the system caught and issued 2,952 summons for 809 speeding offences, and 2,143 for beating traffic lights.
On the surface, one should be happy and congratulate such an effective automated system.
But on closer look, one should ponder why there are so many traffic light beaters despite the huge RM300 fine.
Is there something wrong with our crazy drivers or is there something wrong with the so called system.
I would like to offer his two sen worth about the light traps.
The window of trigger for capturing the offender is two seconds from amber light to red light. There are two scenarios.
The first is congested traffic for which vehicles follow closely behind at a slow speed. No problem in braking at the amber light.
The second scenario is clear traffic ahead. Let's say the driver is travelling at a reasonable speed of 50km/h. A two-second window will require the driver to brake at least 28m ahead of the stop line upon seeing amber, and stop without being caught by the camera.
Cranfield University's research defines Stopping Distance = Thinking Time + Braking Distance, and gave a table of Total Stopping Distance needed for each corresponding Speed. (www.racemath.info/motionandenergy/stop_distance.htm). A 50km/h (or equivalent 31mph) will require about 24m ahead to stop safely. Checked: 24m needed 28m given (two seconds). Fantastic theory with flying colours! Now the practical side.
Two seconds is a "blink of an eye" while driving. A driver's problem is anticipation of when to step on the brakes (and watch his back!). Anticipation, judgment, and reaction deteriorate with age.
Two ways to help the driver are : (a) a count down number indicator; or (b) a speed road hump built say 35m ahead of the lights. Or lengthen the two-second window to three or four seconds (for P drivers and retirees like me).
I sincerely hope that the relevant authorities will consider my suggestion to fine tune the AES, unless the objective is to increase revenue through fines or watch pile-ups at traffic junctions.
Punishment should not be the motive, help should be the goal to safe driving.
KW MOON
Penang