---
Altantuya murder appeal put off again - at last minute
Posted: 26 Oct 2012 09:34 AM PDT
Altantuya murder appeal put off again - at last minute
Hafiz Yatim
7:28AM Oct 25, 2012

 
The Court of Appeal has again put off hearing the appeal brought by two police personnel sentenced to death for the October 2006 murder of Mongolian national Altantuya Shaariibuu.
The hearing slated to be heard in August had been put off as well in July, with the new hearing dates fixed for Oct 31 and Nov 1.
Hazman Ahmad, counsel for Chief Inspector Azilah Hadri, when contacted yesterday said the postponement is indefinite, meaning that no fresh dates were fixed.
Hazman did not reply to
Malaysiakini
's text message seeking the reason for the postponement.
When the earlier appeal hearing scheduled for Aug 27 was
postponed
in July, the defence lawyers speculated that this was done because of the Hari Raya Aidilfitri celebration.
Azilah and Lance Corporal Sirul Azhar Umar have been languishing in jail since late October 2006.
They were in April 2009 sentenced to death for the murder of Altantuya after a 159-day trial.
The
written judgment
was only released in March this year.
Yesterday's sudden postponement of the appeal is seen as strange because only last week Sirul's lawyers, Kamarul Hisham Kamaruddin and Hasnal Rezua Merican, confirmed that the hearing would go on as scheduled.
Hasnal also told
Malaysiakini
that the court had warned counsel then that no further postponement would be allowed.
At that time,
Malaysiakini
also sought a confirmation from a senior deputy public prosecutor involved in the case and he replied in the affirmative, saying that the Attorney-General's Chambers was busy preparing for it.
The tell-all session that wasn't
The postponement has added further intrigue into the murder case, which was recently compounded with an invitation posted on the website of the Foreign Correspondents Club of Thailand (FCCT), announcing a press conference in Bangkok on Oct 22.
The mysterious invitation, titled 'New revelations in the Altantuya murder', said former inspector-general of police Musa Hassan would give the press conference.
Contacted last Saturday, Musa said he was
not aware
of the event. On Monday, the morning of the supposed press conference, the FCCT issued a notice informing journalists that the event was cancelled. No explanation was given.
The timing of the FCCT invite may have been intentionally designed close to the Oct 31 appeal hearing date, for the Altantuya murder is a politically explosive and increasingly murky case.
At the time of her death, Azilah and Sirul alternated as bodyguards to then-prime minister Abdullah Ahmad Badawi and to Najib Abdul Razak, then-deputy prime minister and defence minister, whose confidante Abdul Razak Baginda was charged with abetting in the murder.
Eventually, Abdul Razak was acquitted without his defence being called. However, to many observers, the bigger mystery of the High Court trial was how the presiding judge, Justice Mohd Zaki Md Yasin, had excluded the motive for the murder from his judgment.

The issue of human rights
Politics aside, the delays in the legal processes are also seen as depriving Azilah and Sirul of their human rights, since prolonged incarceration of death row prisoners is cruel and degrading, said a commissioner with the Human Rights Commission (Suhakam), Khaw Lake Tee.
"It is a violation of Article 5 of the Universal Declaration of Human Rights," said Khaw (
right
), who teaches law at Universiti Malaya.
Article 5 of the UDHR states: "No one shall be subjected to torture or to cruel, inhuman or degrading treatment or punishment."
However, lawyer Andrew Khoo, who is known for his work in human rights, said Malaysian law does not provide a fixed time period to hear appeals in cases where the death sentence has been passed.
He said that in some instances, the appeal process may take many years, causing death row inmates to languish in jail.
"Even after the Federal Court rejects the appeal, the accused have a final chance for clemency before the appeals boards of the various states," said Khoo.
Court can fast-track, if it wants to
Nevertheless, the court
can expedite
a hearing if it wants to, as seen in the recent case of the Selangor government versus Syarikat Bekalan Air Selangor Bhd before the Federal Court on Wednesday, in a dispute involving water tariff calculation.
The Court of Appeal on Oct 8 ruled in favour of the Selangor government in the dispute, prompting Syabas to file its notice for leave to appeal the decision in the Federal Court on Oct 15.
Syabas was granted a hearing date for the leave application within a day and the court papers were served on the Selangor government on Oct 17, even before the Court of Appeal handed out its written judgment.
Senior lawyers consulted by
Malaysiakini
said they have never seen such swift action from the court to decide on hearing dates because such processes will normally take weeks, if not months, and never in a day.
Selangor Menteri Besar Abdul Khalid Ibrahim in his affidavit dated Oct 22 complained over this fact, and also pointed out that the written judgment of the Court of Appeal had yet to come out.
Further, Khalid argued, his lawyers had just 24 hours to prepare their submissions.
Despite these arguments, the Federal Court on Wednesday went ahead and granted Syabas the leave it sought.
Like the Altantuya murder trial, the Selangor Pakatan government's legal battles against Syabas have political considerations, albeit to a lesser degree.
However, the question remains as to whether the appeal against conviction by Azilah and Sirul will be heard before the next general election.
Peragut Rentap Beg Tangan Pelajar Diberkas
Posted: 26 Oct 2012 10:01 AM PDT
K
uala Lumpur : Perbuatan dua peragut melarikan beg tangan milik seorang pelajar kolej wanita memakan diri apabila salah seorang daripada mereka ditahan selepas motosikal ditunggangi suspek terbabas ke dalam longkang berhampiran Kampung Wira, Taman Melati Wangsa Maju di sini kelmarin.
Kejadian pada pukul 8 malam itu berlaku selepas dua peragut yang menunggang motosikal jenis Yamaha LC merentap beg tangan mangsa yang berusia 23 tahun dari arah belakang.

Mangsa yang terkejut cuba mempertahankan beg tangannya namun beg tersebut kemudian direntap dengan lebih kuat menyebabkan mangsa terjatuh dan cedera di lutut sebelah kiri.

Beg tangan yang berada di bahu kanan mangsa berjaya dilarikan.

Bagaimanapun, sumber berkata, perbuatan suspek telah dilihat oleh dua anggota polis yang menaiki sebuah kereta peronda yang kebetulan membuat rondaan di kawasan tersebut – Kosmo.


Robert Sigg's Media Empire and Law Troubles
Posted: 26 Oct 2012 05:30 AM PDT
After the arrest of seventeen-year-old Austin Reed Sigg for the kidnapping and killing of Jessica Ridgeway, a Westminster elementary schooler, attention naturally turned to the suspect's dad, Robert Sigg, a man whose image as the self-styled ruler of a mini-media empire contrasts with his many arrests. Details and videos below -- including a shot of a younger Austin wearing a cross similar to one found by Westminster police.
READ MORE HERE.
Also read
WHO IS AUSTIN REID SIGG?
Posted: 26 Oct 2012 07:08 AM PDT
P
anas dan heboh satu Pekan Kamunting Taiping seekor lembu sumbangan YB Zahir Khalid Adun Kamunting untuk Masjid Kg Expo hilang dan disyaki dicuri.
Pada malam kelmarin ada ditambat oleh AJK Masjid Expo, datang untuk Solat Subuh pagi tadi ,ahli jemaah melihat seekor lembu ,sumbangan YB Dato' Zahir, Exco Kerajaan Perak itu telah dicuri orang.
Ahli Jemaah Masjid Expo, berasa sesuatu tak kena, jika hendak curi lembu kenapa seekor lembu sumbangan YB UMNO tu hilang sedangkan seekor lagi elok ditambat.

Berikutan kehilangan lembu itu, didakwa Timbalan Pegerusi Masjid Expo telah membuat laporan polis.

Jika mereka yang mencuri itu tidak pulang balik lembu itu,pihak Masjid akan buat solat hajat dan baca yassin untuk keselamatan.

Menurut satu sumber yang boleh dipercayai, yang memberitahu penulis,l embu YB Dato Zahir ,Adun Umno itu telah dicuri oleh orang UMNO juga.

Pencuri yang didakwa Ahli UMNO itu tidak suka YB Umno memberi sumbangan lembu kepada Masjid Expo ,kerana Masjid Expo,Kamunting dikatakan pro-PAS. -Sisibukit


Mindy Sigg's Heartbreaking Decision to turn in Austin Reid Sigg
Posted: 26 Oct 2012 03:02 AM PDT
Austin Reid Sigg, 17 years old, has been arrested for the abduction and killing of 10-year-old Jessica Ridgeway. The breakthrough came when his mother made the painful choice of turning him into the police.
Fox News said:
Mindy Sigg sat sobbing, listening to prosecutors tell a court that her 17-year-old son had confessed to the abduction and killing of 10-year-old Jessica Ridgeway.
While any mother would be devastated, there was an even more heartbreaking wrinkle for Sigg: She was the one who called police.
It was not the only high-profile case this week in which a mother made that painful choice. In New Jersey, Anita Saunders saw something on a Facebook page that led her to call police.
Her two sons, ages 15 and 17, are now charged with murdering 12-year-old Autumn Pasquale, a bike-lover who authorities said was lured to their home with the promise of new parts.
What does it feel like to turn in your child, knowing they could be sentenced to many years in prison? Surely, no one knows but those who've done it.
But a main motivation, according to one criminologist, is simply a desire to do the right thing.
"These are law-abiding people, pro-social people," said Kathleen Heide, professor of criminology at the University of South Florida. "And besides doing the right thing, the parents often want to get their children help."
Read more HERE.
CLICK HERE for Huffington Post's article on Austin Reid Sigg.
Pelajar Buang Bayi Ke Dalam Sungai
Posted: 26 Oct 2012 04:29 AM PDT
ZULL AZNAM (kanan) membawa mayat bayi perempuan yang dipercayai dibuang dua remaja di Sungai Berembang, Simpang Empat, Kangar semalam.
K
angar – Dua remaja lelaki berusia 17 tahun ditahan kerana disyaki membuang bayi yang baru dilahirkan oleh seorang pelajar perempuan sekolah agama yang juga rakan sebaya mereka ke dalam sungai di sini malam kelmarin.
perempuan yang cukup sifat itu dicampak dua remaja terbabit dari sebuah titi ke dalam Sungai Berembang di Kampung Behor Rotan Pahit, Simpang Empat di sini kira-kira pukul 9.

20 malam.

Ketua Polis Perlis, Senior Asisten Komisioner Zull Aznam Harun berkata, dua suspek tersebut iaitu seorang sepupu serta teman lelaki kepada pelajar perempuan yang melahirkan bayi itu dan ketiga-tiga mereka bersekolah di tingkatan lima sebuah sekolah menengah agama di sini.

"Komplot mereka terbongkar setelah ibu bayi tersebut mengaku kepada doktor yang merawatnya setelah pelajar itu mengalami komplikasi pendarahan selepas melahirkan bayi itu.

"Ekoran itu, doktor berkenaan memaklumkan kepada polis. Siasatan dijalankan serta-merta sehingga penahanan dua remaja terbabit dan mencari lokasi bayi tersebut dibuang," katanya kepada pemberita di sini semalam. -Kosmo


Kebetulan Atau Sabotaj? Cuba Tengok & Baca Betul-betul ....
Posted: 26 Oct 2012 02:23 AM PDT
PAS Tak Akan Jadi Ayatollah, Usah Bimbang
Posted: 25 Oct 2012 11:31 PM PDT
K
ami bukan Ayatollah', Pas jawab Dr Asri
Pas memberi jaminan tidak akan sama sekali akan menjadi pemimpin-pemimpin bergelaran Ayatollah Iran jika diberi mandat memerintah Kerajaan Pusat kelak kerana parti komponen Pakatan Rakyat (PR) itu sentiasa mengamalkan sikap terbuka kepada semua pihak tanpa mengira fahaman politik.
Sambil menghargai pandangan bekas Mufti Perlis, Prof Madya Datuk Dr Mohd Asri Zainul Abidin, pemimpin-pemimpin Pas yang dihubungi Sinar Harian Online berkata parti berusia lebih enam dekad itu tidak pernah mengamalkan pendekatan tutup pintu kepada pandangan dan teguran mana-mana pihak.

Ayatollah adalah gelaran tertinggi diberikan kepada ulama Syiah Iran.

Mengulas teguran Asri itu, Naib Presiden Pas, Datuk Mahfuz Omar berkata, sekiranya diberi mandat memerintah Putrajaya kelak, mereka tidak akan sekali-kali menjadi seperti pimpinan Ayatollah.

Katanya, sedia ditegur dan dikritik akan terus menjadi asas perjuangan parti itu.

"Saya rasa Dr Asri sekadar membuat peringatan yang jujur dan ikhlas, tiada niat lain dan saya hargai peringatan yang diberi itu.

"Jika dilihat sekarang ini pun, media arus perdana hari ini kerap memutar belit fakta yang kami beri, tetapi kami tidak pernah melenting, malah memberi reaksi yang baik dan sentiasa positif," kata beliau.

Kelmarin, Asri, yang dari semasa ke semasa menganalisis perjalanan politik negara, menggesa Pas agar tidak mengamalkan pendekatan politik negara Teluk itu jika berjaya mandat memerintah Putrajaya kelak.

Bagaimanapun beliau tidak memberi contoh khusus yang berkemungkinan Pas akan menjadi sebagai kepimpinan Ayatollah.

Beliau berkata, kalau ada yang bermentaliti bahawa orang agama yang berkuasa tidak boleh ditegur, negara akan menjadi lebih korup dari sekarang.

"Saya rasa ini satu masalah dalam Pas, masalah sekarang ini, Pas belum menjadi pemerintah, tetapi kalau kita tidak bahas hari ini, kita akan jadi seperti Iran, yang mana pemimpinnya Ayatollah tidak boleh ditegur dan disentuh," katanya.

Mahfuz yang juga Ahli Parlimen Pokok Sena berkata, tidak perlu melihat terlalu jauh atau melihat corak pemerintahan Pas di masa hadapan, corak pemerintahan Pas sekarang ini pun tidak pernah mengambil sikap 'tutup pintu' jika dikritik mana-mana pihak.

"Kami pun sedia maklum, bukan semua pemimpin Pas mahir dan arif dalam semua perkara, justeru teguran juga penting," katanya.

Beliau juga menambah, jika teguran yang dibuat itu merupakan sesuatu yang baik, mereka sedia menerima walaupun berbeza faham politik.

Seorang lagi Naib Presidennya, Salahuddin Ayub turut sepakat dengan Mahfuz menyatakan parti itu sentiasa terbuka untuk menerima sebarang kritikan daripada mana-mana pihak.

"Berdasarkan pengalaman saya dalam Pas, mana-mana ahli bebas memberi pandangan dan teguran masing-masing kerana kami sentiasa berpaksikan semangat demokrasi.

"Jika dalam mesyuarat perwakilan atau mesyuarat bulanan, semua ahli bebas memberi kritikan kepada pemimpin, tiada masalah," katanya.

Beliau juga menambah yang rata-rata keputusan yang dibuat oleh parti itu juga adalah berdasarkan teguran.

"Cara ini kami telah amalkan sejak lama dulu dan setakat ini, kami sentiasa terbuka dan saya rasa tidak mungkin kami akat bersikap seperti Ayatollah jika memerintah Putrajaya kelak," tegas beliau tetapi pada masa yang sama menghargai teguran Asri semalam terhadap Pas.

Katanya, ia satu peringatan positif.


Deported Malaysian demands apology
Posted: 25 Oct 2012 10:30 PM PDT
VIDEO INSIDE: Hooi Mei Then was denied entry into Taiwan because she was accused of being a human trafficker, a charge that puzzles her.
A clerk who has no criminal record was shocked to learn that she was denied entry into Taiwan when she went there for a trip a few weeks ago. Hooi Mei Theng, 28, was barred by the Taiwanese immigration officers upon arriving there on Oct 7 as she was accused of being a human trafficker. Having been detained and deported by the Taiwanese authorities, she felt humiliated and demanded an apology from them.
DAP Segambut parliamentarian Lim Lip Eng, DAP lawyer Eric Tan and Hooi related the incident to the media after meeting the secretary of the Taipei Economic and Culture Office here this morning.
Hooi was on her maiden seven-day trip to Taiwanwith her husband and a friend, and arrived at the Taoyuan International Airport at around 10.40pm. While her husband and friend passed through immigration without any problems, she was however stopped and accused of committing a human trafficking offence in Taiwanin March 2009.
"They claimed that I was on their blacklist and they have banned me for 10 years starting 2009. I asked for clarifications but they only showed a paper that had my name, identification card number, passport number and the accusation that I brought illegal immigrants into Taiwanbefore," she claimed.
She was subsequently detained overnight by Taiwan's immigration authorities and deported back to Malaysia on Oct 8. Puzzled by the deportation, Hooi said she had never faced this kind of situation before when visiting China in April this year, and Singapore, Thailand and Indonesia earlier.
"I have never lost my identification card or passport. I am completely clueless why this happened," she added.
Hooi later brought her case to the Bukit Aman police headquarters, Malaysian immigration department and Foreign Ministry. She was certified with a letter of good conduct by the ministry on Oct 16.
"I want them [the Taiwanese authorities] to apologise and compensate the RM7,000 hotel fees and other expenses I have paid upfront for the trip," she said.
Lim said the Taiwanese embassy's secretary told them a different story during a meeting.
"He said it was not accurate to say she committed the offence in Taiwan. The Taiwanese authorities only got the information from an international network against human traffickers which they are a member of.
"He said the reason that Hooi was still allowed to enter a few countries was that those nations are not members of the network," the MP said.
Lim also criticised the secretary's arrogance for allegedly refusing to reconsider the ban, saying that Taiwan"can afford to lose a tourist like Hooi". He said such a statement was uncalled for as Malaysians would generally choose developed nations such as the United States or Japan if they were to work illegally.
"If we go Taiwan, the sole purpose is only to spend, not to work illegally," he said.
He added that the Malaysian's police assistance was much needed to further pursue the case to clear Hooi's name.
[MELETUP] Zul Kulim Minta Habuan Untuk Kosongkan Kerusi
Posted: 25 Oct 2012 09:07 PM PDT
S
yed Husin: Anwar beritahu Zul minta bayaran
Senator PKR Dr Syed Husin Ali berkata, Datuk Seri Anwar Ibrahim memaklumkannya kepadanya bahawa anggota parlimen Kulim Bandar Baharu Datuk Zulkifli Noordin meminta bayaran bagi mengosongkan kerusi untuk memberi laluan kepada ketua pembangkang itu bertanding.
"Yang mula-mula beritahu saya adalah Anwar Ibrahim ketua umum PKR," kata Syed Husin sewaktu menjawab soalan peguam, Hasnal Rezua yang mewakili Zulkifli dalam perbicaraan di Mahkamah Tinggi Kuala Lumpur hari ini.

Syed Husin pada 27 Januari lalu menuntut ganti rugi sebanyak RM10 juta, ganti rugi teladan, faedah, kos dan relif yang dirasakan wajar oleh mahkamah.

Tuntutan itu dibuat terhadap Utusan Melayu (Malaysia) Berhad, ketua pengarang Utusan Malaysia Datuk Aziz Ishak dan Zulkifli.

Dalam kenyataan tuntutannya, Syed Husin berkata Utusan Melayu dan Abdul Aziz dengan niat jahat dalam akhbar Utusan bertarikh 20 November 2011 menerbitkan kata-kata berunsur fitnah terhadap beliau dalam berita bertajuk "Zul Noordin nafi dakwaan Syed Husin".

Menurutnya, Zulkifli menerbitkan perkara sama dalam blog beliau dengan tajuk "Anjing-anjing Pencen".

Syed Husin turut memohon injunksi menghalang semua defendan daripada menerbitkan sebarang kata-kata bersifat fitnah tersebut.

Menurut Syed Husin lagi, Anwar memberitahunya, Zulkifli meminta bayaran RM60,000 sebagai balasan untuk mengosongkan kerusi parlimennya.

Perkara yang sama katanya turut dinyatakan Anwar kepada ahli-ahli biro politik PKR.

"Perkara itu bukan sahaja diberitahu pada saya tetapi juga kepada biro politik," katanya.

Justeru, beliau percaya Anwar bercakap benar tentangnya.

Beliau turut percaya kepada Anwar kerana beliau telah mengenali Anwar buat masa yang lama.

"Beliau adalah pelajar saya (di Universiti Malaya), rakan tahanan saya (dalam penjara) dan kemudiannya pemimpin saya.

"Jadi apabila beliau beritahu (perkara itu), saya percayakannya," kata Syed Husin.

Bercakap lanjut, Syed Husin berkata Zulkifli berbohong dalam tulisan blognya yang menjadi tumpuan utama saman itu.

Menurutnya, beliau tidak pernah menemui Zulkifli sebagai wakil Anwar dan menawarkan jawatan dalam anak syarikat Selangor sebagai balasan mengosongkan kerusi parlimen yang disandangnya.

"Apa yang beliau sebutkan adalah bohong sepenuhnya apabila mendakwa saya mewakili Anwar.

"Beliau juga berbohong tentang dakwaan saya memberitahunya saya dijanjikan jawatan senator jika melepaskan jawatan timbalan presiden PKR," kata Syed Husin.

Tambahnya lagi, kesediaan Zulkifli melepaskan kerusinya walaupun belum bersetuju berbuat demikian jika syaratnya tidak dipenuhi memberikan gambaran salah kepada orang ramai.

"Kepada orang ramai, beliau akan kelihatan seperti malaikat apabila menarik diri (daripada kerusinya).

Syed Husin diwakili peguam N Surendran dan Latheefa Koya sementara Datuk Firoz Hussein Ahmad Jamaluddin mewakili Utusan dan Aziz.

Perbicaraan yang berlangsung di hadapan Hakim Vazeer Alam Mydin Meera itu akan disambung semula pada 5 November depan.


Posted: 25 Oct 2012 06:13 PM PDT
I was brought up in a moderate family, in a moderate mixed community and under a moderate education system that attributed Merdeka and national progress to the strive and spirit of brotherhood among race and religion.
Glad that at the height of communal tension in 1969, we remained intact and united. We clad ourselves together and conducted prayers according to our different faith, all for peace and harmony.
When Muslim deviators came during late 70s chanting their slogan 'Islam ditegakkan dengan mata pedang', we told our non-Muslim friends that Islam was not as such.
In Malaysia and around the world, I believe Muslims should understand the true meaning of the 'ayyat', "lakum dinukum waliyaddin".
Its all about mutual respect and recognition between different religions and faith, and the spirit of co-existence along the divide. It calls for sacrifice by individuals to create a better today and tomorrow.
As what Allahyarham Ustaz Hussein and the late Uncle Ramu and Master Goh used to tell us, the children of Moncino - in human relations, there is no talk about race, religion and color.
SELAMAT HARI RAYA KORBAN!
The Slide Show That Went Viral
Posted: 25 Oct 2012 03:30 PM PDT
In 1990, there was an Australian student in my Sociology class who has Down's Syndrome. I must admit I was quite worried about how to handle the students' reactions to his presence. Amazingly, the kids were just super with him but best of all, he was such a loving student and would sometimes run up to me to give me a biiiigggggg hug when he said, 'Thank you, Miss." I do know a few more friends who have kids/relatives with Down's Syndrome and I salute their love, devotion and patience with their loved ones.
Yesterday evening, I came across this article about Grace and Josh Curley and their slide show about Down's Syndrome. The photos have been taken spontaneously and the cue cards nothing fancy BUT believe me, I was moved to tears by the time I reached Slide no. 11.
Their love is truly inspiring and I hope that you will take the time to view the photos after you finish reading the post. Most of all, I hope the slide show touches you in many ways. Have a lovely day! And to all my Muslim readers, Selamat Hari Raya Haji.
________________________________________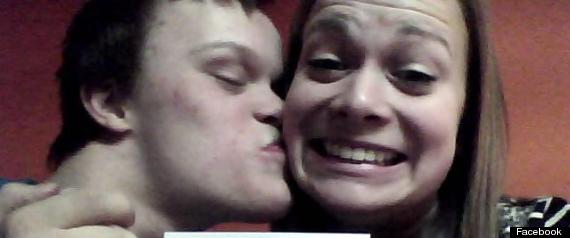 Earlier this year, Grace Curley, 20, of Paris, Canada posted 18 photos of her and her brother to Facebook. It was an album meant mainly for family and friends. But 10 months hence, the images have gone viral, and Grace and her brother are Internet sensations.
Eighteen-year-old Josh Curley has Down syndrome. The series of photographs show his sister holding cue cards with a variety of messages on them. The purpose? To raise awareness about Down syndrome.
"I have so many friends who just aren't aware of how hurtful the words they use can be and I thought that I could reach a lot of people," Grace told Brant News. "A lot of my friends that use those words don't realize that it is offensive."
Perhaps the most powerful card is the one that says "Real Friends Don't Count Chromosomes." The preceding card explains that people with Down syndrome have an extra chromosome.
Since the album was posted on January 10, it has garnered hundreds of shares on Facebook and 1.6 million hits on Imgur.
CLICK HERE to view the slide show.