---
Posted: 10 Nov 2012 05:16 AM PST
Lee Chong Wei, Wong Mew Choo: Wedding photos
Posted: 10 Nov 2012 07:40 AM PST
Van TV3 Terbalik Kerana "Flash" Kamera AES (?)
Posted: 10 Nov 2012 09:02 AM PST
S
ebuah van tv3 telah terbalik hari ini kerana media propaganda Barisan Nasional ini adalah media penfitnah nombor 1 bagi negara malaysia, kejadian berlaku kerana dalam keadaan hujan yang menyebabkan tayar van tv3 ini tergelincir lalu menyembah bumi.
Ini mungkin kerana tv3 sudah tidak mempunyai kewangan yang cukup kerana rating mereka kini jatuh dari 3.2 juta penonton kepada hanya 900 ribu penonton saja buat masa ini, dijangkakan akan turun lagi kepada hanya 500 ribu dalam masa beberapa bulan lagi.

Untuk pengetahuan umum sebuah tayar untuk di lekapkan pada van tv3 ini adalah rm 300 sebuah dan rm 1200 jika penukaran keempat empat tayar sekaligus, budjet tv3 sudah tidak lagi mencukupi untuk menukar tayar kerana pendapatan mereka semakin merosot dan bakal muflis kerana tiada siapa lagi generasi masakini mahu menonton media penfitnah nombor 1 ini.

Pendapatan tv3 semakin merosot kerana media penfitnah untuk Barisan Nasional ini di dapati hanya membuat ulasan ulasan yang berkepentingan pada pemerintah Barisan Nasional.

Oleh kerana itu ianya di boikot oleh hampir 80% anak muda malaysia.

Mengikut saksi di tempat kejadian, dalam keadaan hujan lebat, van yang di pandu ini telah di flash oleh kamera AES yang berada di tempat kejadian, ini menyebabkan pemandu panik kerana menyangkakan ianya adalah kilat atau petir dari langit yang mungkin telah menyambar van tv3 tersebut.

Lalu telah mengelapkan seketika pandangan matanya, hilang kawalan dan seterusnya terbalik akibat daripada rasa takut kepada cahaya kamera AES yang menyilaukan mata itu.

by @tiewnama - jalanraya pun tak terima van media penfitnah no 1 negara. kahkahkahkah


For Malala & right to education
Posted: 10 Nov 2012 06:58 AM PST
Malala Yousafzai [wiki] is a 15-year-old education and women's rights activist from the town of Mingora in Pakistan's Khyber Pakhtunkhwa Province. She was shot (and survived) in an assassination attempt by Taliban on October 9, 2012.
November 10 has been designated as Malala Day by The Office of the UN Special Envoy for Global Education [] aimed to deliver education for every child around the world.
There's lots of stuff going in my mind but I'm short of words… it's never an easy thing to tackle issues like human-rights, poverty, overpopulation, terrorism, child-labour etc. Perhaps education is the answer… it's a long and difficult journey regardless.
Malala's courage and bravery deserves my utmost admiration. I'm feeling a bit ashamed to be frank, and I'm pledging myself to do more to make the world a better place.
For Malala & right to education from YeinJee's Asian Journal
1,000 Sertai Demo Bantah Chua Soi Lek Hina Hudud
Posted: 10 Nov 2012 07:37 AM PST
M
arang: Hampir 1,000 umat Islam yang selesai menunaikan solat Jumaat di Masjid Rusila, semalam mengadakan bantahan secara aman terhadap kenyataan Presiden MCA, Datuk Seri Dr Chua Soi Lek yang disifatkan menghina hudud serta hukum Islam.
Setiausaha PAS Terengganu, Yahaya Ali berkata Presiden MCA itu tidak mengetahui perundangan Islam tetapi bersikap kurang ajar kerana menghina hukum hudud dan Islam amnya.

Menurutnya, pemimpin MCA tersebut juga biadap kerana mempertikai agama Islam dengan mempersoalkan hudud yang telah digubal di Kelantan dan Terengganu sebagai hudud versi PAS.

"Tunjukkan contoh, di mana lemahnya (hudud), di mana kurang atau pun tempat tidak kena undang-undang hudud yang digubalkan khususnya di Terengganu dan Kelantan yang telah mengubalkan undang-undang di bawah Kanun Jenayah Syariah," ujarnya.

Antara pimpinan PAS yang hadir dan berucap iaitu Ahli Jawatankuasa Kerja PAS Pusat, Datuk Abu Bakar Chik, Timbalan Pesuruhjaya (III) PAS Terengganu, Dr Alias Razak, Ketua Pemuda PAS Marang, Ustaz Muhammad Khalil Abdul Hadi, Timbalan Ketua Pemuda PAS Kuala Terengganu, Ustaz Wan Ahmad Faizul Wan Abas dan Ketua Penerangan Pemuda PAS Terengganu, Syeikh Muhammad Hanafi.

Yahaya selaku Yang Dipertua PAS Marang menegaskan perhimpunan secara aman tersebut bagi menyatakan sikap serta pendirian PAS mempertahankan Islam.

Ini kerana, kata beliau, hati umat Islam di negara ini terguris, terkilan dan marah dengan kenyataan dibuat oleh mereka yang tidak faham serta membenci Islam.

"Ini (demontrasi) adalah untuk menyatakan sikap dan pendirian kita membela Islam.

Hati umat Islam terguris, terkilan dan marah dengan kenyataan-kenyataan dibuat oleh mereka yang tidak faham dan dilihat seperti membenci agama Islam.

"Kita sendiri juga diajar oleh agama (Islam) agar kita tidak menghina agama-agama lain walau pun kita tidak bersetuju dengan agama-agama lain (namun) kita tidak sampai menghina agama-agama mereka," jelasnya. -HD


The 4.8million USD Miniature Airport
Posted: 10 Nov 2012 06:30 AM PST
 Far away in Germany, to be more precise in Hamburg is the world's largest miniature airport sited at Miniatur Wunderland which is also home to the world's largest model railroad landscape.
The creators took seven years to build the model airpor at the cost of about $4.8 million to build.
An impressive array of accessories are featured in the miniature airport including 40 planes, 40,000 lights, 15,000 figurines, 500 cars, 10,000 trees, 50 trains, 1000 wagons, 100 signals, 200 switches and 300 buildings.
Through the use of computer controls, the figurines move autonomously. The roughly 1,600 square-foot model -- loosely based on Hamburg's airport -- took more than six years to build.
The
Daily Mail
of London  states that it was built at the cost of 3.5 millon euros. It remarks that "the planes even take off thanks to miniature wires that carry them off the end of the runway."
Australia's
News.com.au
notes the model -- dubbed the Knuffingen Airport -- "features 40 model aircraft and 90 vehicles that move and 'fly' around the airport, and 15,000 mini people. Not a single moment of air rage, however." It also said "there are approximately 40,000 lights, 15,000 figurines, 500 cars, 10,000 trees, 50 trains, 1000 wagons, 100 signals, 200 switches and 300 buildings."
Fascinated? Click here to watch the video clip that features the take-offs.
CLICK here to enjoy the many photographs of the miniature airport.
Thanks to reader SK who sent me the link to the video clip.
Have a pleasant evening.
Down from Olympus By Victor Davis Hanson
Posted: 10 Nov 2012 05:18 AM PST
David Petraeus's resignation marks the end of one of the great postwar military and government careers — his successful surge in Iraq being analogous to and as impressive as Matthew Ridgway's salvation of Korea or Sherman's sudden taking of Atlanta that saved Lincoln's and the Union cause before the 1864 elections. In a book due out in late spring, The Savior Generals, I argue that his achievements were comparable to those of the best of history's maverick commanders who were asked to save wars deemed lost — and did. But for now, the explanation of Petraeus's resignation unfortunately raises more questions than it answers, in a number of significant ways:
1) Fairly or not, questions will be raised why this Washington-style Friday-afternoon resignation occurred after rather than before the election — a question that does not necessarily suggest that Petraeus's did not take the proper nonpartisan course. But just days after this Tuesday, we are already beginning to hear of all sorts of "sudden" news: the Iranian attack on a U.S. drone; the plight of the Hurricane Sandy victims (400,000 still without power? gas rationing, tens of thousands homeless, exposure to cold?, etc.) as much more severe than we were led to believe; the sudden publicity of the "fiscal cliff"; and the Benghazi hearings. In that unfortunate politicized landscape comes the Petraeus bombshell.
2) We were beginning to sense that the crime of Benghazi (not listening to pre-attack requests for increased security; not sending help immediately from the annex to the besieged consulate; not rushing in additional military forces during the hours-long attack) and the cover-up (inventing the video narrative of a spontaneous demonstration gone wild to support a pre-election administration narrative of an impotent al-Qaeda, a successful Libya, a positive Arab Spring, and a cool, competent Commander in Chief, slayer of bin Laden, and architect of momentous Middle East change) were not the entire story of the 9/11/2012 attack: Why was there a consulate at all in Benghazi, given that most nations have shut down their main embassies in Tripoli? Why was there such a large CIA contingent nearby — what were they doing and why and for whom? Why did the ambassador think he needed more security when so many CIA operatives were stationed just minutes away? What was the exact security relationship between the annex and the consulate, and why the apparent quiet about it? Who exactly were the terrorist hit-teams, and did they have a particular agenda, and, if so, what and for whom? All these questions had not been answered and probably would have been raised during the scheduled Petraeus testimony — which is apparently now canceled, but why that is so, no one quite knows. And if Hillary Clinton departs, and perhaps Susan Rice and James Clapper as well, then the principals of the decision-making chain leave with more questions raised than answered. We are sort of back to a Watergate-like timeline of a scandal raised but not explored in a first term, only to blow up in the second.
3) If rumors are true that the liaison may have involved biographer Paula Broadwell, co-author of an extremely favorable biography of Petraeus, then there are additional ethical issues that, fairly or not, call into question Broadwell's bona fides as an author and the portrait of Petraeus in her warmly received book. And if the FBI was involved, then additional questions arise over the reasons they also became interested — when, why, how, and on whose prompt?
4) Because of both Petraeus's sterling reputation and his high office, infidelity takes on greater importance than if it were — how absurd to write this — merely that of a lesser figure like Bill Clinton, whose serial miscreant conduct was taken for granted, even when he was a sitting president. If the affair occurred while Petraeus was general, it contradicted the code of military justice; if while at the CIA, it posed a potential security breach.
5) For most of us, however, Petraeus is forever frozen as the hero of 2007–8, when, battered by the congressional hearings (Hillary Clinton's "suspension of disbelief") and ad hominem attack ads in the New York Times ("General Betray US"), he nonetheless pressed ahead and broke the back of the insurgency — in part due to his competence, his unmatched reputation, and the talented circle around him. After he came down from Olympus in 2008, his subsequent billets in Afghanistan and at the CIA took on political significance, given the Obama administration's paradoxical and obsessive desire to affect his career by keeping him close by, and yet failing to appoint him as chairman of the Joint Chiefs, or supreme NATO commander — appointments that were offered to those of lesser stature. In 2007, the Left went after him as a "Bush general"; in 2009, the Right was disappointed in him for his sudden close, personal relationship with Obama; the truth was always that he sought to serve his country regardless of politics. National Review
Lagi Kes Polis Didakwa Merogol Di Balai Polis
Posted: 10 Nov 2012 06:30 AM PST
B
ukit Mertajam - Seorang pekerja kedai makan warga Indonesia mendakwa dia dirogol tiga anggota polis di sebuah balai polis dekat sini semalam.
Mangsa berusia 25 tahun mendakwa ditahan tiga anggota polis berusia lingkungan 20-an sehingga 30-an pada jam 6.20 pagi berhampiran pasar raya Pacific, Perai dan dibawa ke balai polis.
Ketua Polis Pulau Pinang, Datuk Abd Rahim Hanafi yang dihubungi berkata, pihaknya akan mengambil tindakan tegas mengikut lunas perundangan jika benar dakwaan itu.

Beliau juga mengesahkan tiga anggota terbabit direman selama tujuh hari bermula hari ini bagi membantu siasatan di bawah Seksyen 376 Kanun Keseksaan.

Menurut mangsa, ketika ditahan dia berada dalam kereta sewa bersama seorang pemandu teksi tempatan selepas menghantar seorang rakan perempuannya yang tinggal di kawasan itu .

"Tidak lama selepas itu, sebuah kereta peronda polis jenis proton Wira menahan kereta yang kami naiki dan dua anggota polis yang memakai uniform polis meminta kami menunjukkan kad pengenalan.

"Ketika itu, saya hanya membawa salinan pasport. Jadi, anggota polis itu tidak mahu menerima salinan pasport dan mengatakan akan membawa kami ke balai polis.

"Bagaimanapun, saya merayu kepada dua anggota polis ini dan meminta mereka melepaskan pemandu teksi yang ketika itu digari," katanya yang ditemui di Pejabat MCA Bukit Mertajam, pagi tadi.

Turut hadir, Penyelaras Barisan Nasional (BN) Bukit Mertajam, Lau Chiek Tuan dan Pengerusi Wanita MCA Bukit Mertajam, Goh Swee Gim.

Ulasan GB

Sebelum ini GB sudah ulas di dalam kes seorang anggota polis ditahan kerana merogol pelajar tingkatan 5 di dalam balai polis. Petikan:


Semakin banyak kita temui kisah polis merompak, mengugut, membunuh, merogol dan melakukan hal-hal mengejutkan yang menyebabkan jenayah terus berleluasa kerana ia dilakukan oleh orang yang ada pistol...

Dalam balai polis pun boleh berlaku kejadian rogol. Apakah ini juga bererti perempuan jangan dekati balai polis?

Atau semua balai polis perlu letak signboard besar-besar, "KAMI JAMIN TIADA PEROGOL & PENJENAYAH DISINI!" supaya orangramai berani ke Balai Polis?

Sekali lagi ingin GB tegaskan, kita tidak bermaksud untuk orang membenci polis, tetapi perbuatan polis itu sendiri mengundang kebencian rakyat terhadap mereka.
Thein Sein is sentencing these Muslim Citizens of Myanmar into Concentration Camps @ Refugee camps without food and other facilities နယ္ေက်ာ္ ပုဒ္မျဖင့္ ဖမ္းခံရျပီး ေနရပ္ျပန္ပုိ႔သည့္ ရိုဟင္ဂ်ာမ်ားအား ျပည္ျမိဳ႕ခံ မြတ္စလင္မ္မ်ား အကူညီေပး.
Posted: 10 Nov 2012 03:34 AM PST
Thein Sein is sentencing these Muslim Citizens of Myanmar into Concentration Camps @ Refugee camps without food and other facilities.
နယ္ေက်ာ္ ပုဒ္မျဖင့္ ဖမ္းခံရျပီး ေနရပ္ျပန္ပုိ႔သည့္ ရိုဟင္ဂ်ာမ်ားအား ျပည္ျမိဳ႕ခံ မြတ္စလင္မ္မ်ား အကူညီေပး
ႏိုဝင္ဘာ၊ ၉၊၂၀၁၂ M-Media သတင္း- ဇာဏီ
ေကာ့ေသာင္းျမိဳ႕တြင္ နယ္ေက်ာ္ လ.ဝ.က ဥပေဒျဖင့္ အဖမ္းခံရသည့္  ရိုဟင္ဂ်ာ(၇၈) ဦးအား ၄င္းတိုိ႔ေနရပ္ ရခိုင္ျပည္နယ္သို႔  မေန႔က (၉.၁၁.၁၂)ေန႔တြင္ ရန္ကုန္မွတဆင့္ ျပန္လည္ ပို႔ေဆာင္ခဲ့ရာ ျပည္ျမိဳ႕မွာ ခရီးတေထာက္နားခဲ့ပါတယ္။  အဆိုပါ  ရိုဟင္ဂ်ာ(၇၈) ဦးကို ျပည္ၿမိဳ႕မြတ္စလင္မ္မ်ားမွ ညစာ ေကၽြးေမြးလွဴဒါန္း ၾကေၾကာင္း သတင္းရ႐ွိပါသည္။
ေကာ့ေသာင္းျမိဳ႕တြင္ နယ္ေက်ာ္ပုဒ္မျဖင့္ ဖမ္းခံရသည့္ ရခိုင္မွ ရိုဟင္ဂ်ာမ်ားကို ေတာင္ၾကီးသေဘၤာျဖင့္ေခၚေဆာင္လာျပီး Asia Express ကားျဖင့္ ရခို္င္ျပည္နယ္ ၄င္းတို႔ ေနရပ္သို႔ ျပန္ပို႔ရန္ ေရႊ႕ေျပာင္းရာ သာေကတဆိပ္ကမ္းတြင္ ေတြ႔ရစဥ္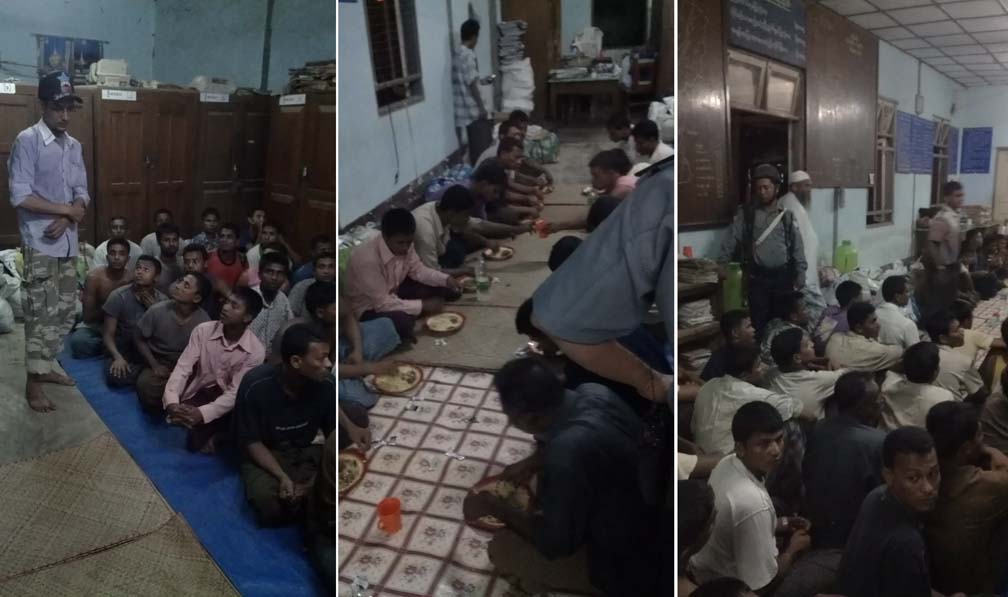 ေကာ့ေသာင္းျမိဳ႕တြင္ နယ္ေက်ာ္ပုဒ္မျဖင့္ ဖမ္းခံရသည့္ ရခိုင္မွ ရိုဟင္ဂ်ာမ်ားကို ရခို္င္ျပည္နယ္ ၄င္းတို႔ ေနရပ္သို႔ ျပန္ပို႔ရန္ ခရီးလမ္းတေထာက္နားရာ ျပည္ျမိဳ႕တြင္ ရပ္နားစဥ္ ျမိဳ႕ခံ မြတ္စလင္မ္မ်ားမွ ညစာေကၽြးေမြးလွဴဒါန္းစဥ္
ရုိဟင္ဂ်ာ အမ်ဳိးသား(၇၆)ေယာက္၊ အမ်ဳိးသမီး(၂)ေယာက္သည္ မေန႔ကမနက္ကပိုင္းတြင္ ရန္ကုန္ သာေကတဆိပ္ကမ္းသုိ႔ တာ၀န္႐ွိ လ.၀.က ၀န္ထမ္းမ်ားႏွင့္အတူ ေရာက္႐ွိလာၿပီး ထုိမွတဆင့္ ညပိုင္းတြင္ ျပည္ၿမိဳ႕သုိ႔ ေရာက္႐ွိမည္ဟု တာ၀န္႐ွိသူမ်ား၏ ေျပာၾကားခ်က္အရ ျပည္ၿမိဳ႕႐ွိ မြတ္စလင္မ္မ်ားက ညစာေကၽြးေမြးခဲ့ၾကၿပီး မုန္႔မ်ား၊ အေအးဗူးမ်ားေပးျခင္း၊ ေစာင္ႏွင့္အ၀တ္အစားမ်ားေပးျခင္းျဖင့္ ကူညီခဲ့ၾကေၾကာင္းသိရပါသည္။
ယင္း ႐ုိဟင္ဂ်ာ(၇၈)ေယာက္တြင္ အမ်ားစုမွာ ျမန္မာလုိ ေရလည္ေအာင္ေျပာႏိုင္ၾကေၾကာင္း၊ စစ္ေတြမွအမ်ားဆုံးျဖစ္ၿပီး၊ ေျမာက္ဦးမွ ၂၀-ေယာက္ႏွင့္ ေက်ာက္ေတာ္မွ အနည္းငယ္ပါ၀င္သည္။ အမ်ားစုသည္ အသက္(၂၅)ႏွစ္ႏွင့္ (၃၀)၀န္းက်င္ျဖစ္ေၾကာင္း၊ ၇၈-ေယာက္အနက္ တခ်ဳိ႕မွာ မေလး႐ွားသုိ႔ အလုပ္သြားလုပ္ရန္ ထြက္ခြာခဲ့၍ လြန္ခဲ့ေသာ ဧၿပီလက ဖမ္းဆီးခံထားရသူမ်ား၊ တခ်ဳိ႕မွာ ရခိုင္ျပည္နယ္တြင္ ဇြန္လကျဖစ္ပြားခဲ့ေသာ အေရးမ်ားေၾကာင့္ ထြက္ေျပးလာသူမ်ားျဖစ္ေၾကာင္း သိရသည္။
နယ္ေက်ာ္ပုဒ္မျဖင့္ ဖမ္းရာမွ ပါဝင္တဲ့ ရိုဟင္ဂ်ာ အမ်ိဳးသမီး(၂) ဦးကို ျပည္ျမိဳ႕ခံ မြတ္စလင္အမ်ိဳးသမီးမ်ားမွ အားေပးစကားေျပာၾကားစဥ္
"အခုဒီမွာပါတာ စစ္ေတြက (၅၀)ေက်ာ္၊ ေျမာက္ဦးက(၂၂)ေယာက္၊ ေက်ာက္ေတာ္က(၁)ေယာက္ပါ။ ရခိုင္ကထြက္လာရတာက ကၽြန္ေတာ္တုိ႔ ၿမိဳ႕တစ္ၿမိဳ႕ေန တစ္ျခားၿမိဳ႕ကုိ သြားလုိ႔မရဘူး။ ကၽြန္ေတာ္တုိ႔သြားမယ္ဆုိရင္ ေထာက္ခံခ်က္လုိတယ္။ ရခိုင္မွာ အလုပ္လုပ္လုိ႔မရဘူးေလ။ တစ္႐ြာကေန တစ္ရြာကုိသြားရင္ အဖမ္းခံရတယ္။ အဲဒါေၾကာင့္ ထြက္လာၿပီး တစ္ျခားမွာအလုပ္လုပ္တာ။ က်န္တဲ့ပိုက္ဆံကုိ စုစုၿပီးေနတာ။ အဲဒီအခ်ိန္မွာ အေဖအေမက ဒုကၡက်ၿပီဟုိမွာ။ ဒါေၾကာင့္ျပန္ခ်င္ၿပီ။"လုိ႔ ဒုကၡသည္တစ္ေယာက္ကေျပာျပခဲ့ပါတယ္။
"ရခိုင္ျပည္နယ္ရိွ ရိုဟင္ဂ်ာ၊ ကမန္ ႏွင့္ အျခားေသာ အစၥလာမ္ဘာသာ ကိုးကြယ္သူမ်ားမွာ ျမိဳ႕နယ္ေက်ာ္ျပိး ခရီးသြားလာလိုလ်င္ သက္ဆိုင္ရာမွ ခရီးသြားခြင့္ လက္မွတ္ ေတာင္းခံရေၾကာင္း၊ အဆိုပါ လက္မွတ္မပါဘဲ သြားလာလ်င္ နယ္ေက်ာ္ပုဒ္မျဖင့္ ဖမ္းဆီး အေရးယူျခင္းခံရတယ္။ လက္မွတ္ကလဲ ဘယ္ေတာ့မွ လြယ္လြယ္နဲ႔မရဘူး။   အိမ္ေထာင္ျပဳခ်င္ရင္လဲ သက္ဆိုင္ရာကို လက္ထပ္ခြင့္ ေလ်ာက္လႊာတင္ျပီး ခြင့္ျပဳမွာသာ လက္ထပ္ခြင့္ရေၾကာင္း၊ ယခုကဲ့ သို႔ ဖိႏွိပ္ခ်ဴပ္ခ်ယ္မႈမ်ားျပဳလုပ္ေနသည့္မွာ ႏွစ္ေပါင္း ၂၀ ေက်ာ္ေနျပီျဖစ္ေၾကာင္း ၊ မိမိတို႔ အ၇ပ္ေဒသမွာ လုပ္ကိုင္ေနထိုင္စားေသာက္ရန္ အခက္အခဲေပါင္းစံု ရိွသျဖင့္ ရခိုင္ျပည္နယ္မွ ရိုဟင္ဂ်ာအမ်ားစုမွာ အႏၱရာယ္မ်ားျပားလွတဲ့ ေရလမ္းခရီးမွတဆင့္ ထိုင္း၊ မေလးရွားႏိုင္ငံမ်ားသို႔ အလုပ္လုပ္ရန္  အသက္စြန္႔ ျပိး ထြက္ေျပးလာရာမွ ယခုကဲ့သို႔ နယ္ေက်ာ္ပုဒ္မွ ျဖင့္ အဖမ္းခံရျခင္း ျဖစ္ေၾကာင္း" ဒုကၡသည္မ်ားထဲက တေယာက္မွ ေျပာၾကားခဲ့တယ္။
Persecution of Muslim Minority in Arakan State, Western Burma
Posted: 10 Nov 2012 03:23 AM PST
Event Summary
This is a photo article about the persecution of the minority Muslims in Arakan state of western Burma. The violence against the Muslims by the majority Buddhist Arakans has been initiated in early June, 2012. Due to the violence, more than 110,000 of Muslim refugees are living currently in makeshift shelters. Myanmar's 800,000 stateless Muslims (Rohingyas), described by the United Nations (UN) as among the world's most persecuted minorities, are seen by the government and many Burmese as illegal immigrants from Bangladesh.
Acknowledgement
All the photos were taken from World Street Journal (WSJ), PressTV and Aljazeera. Myanmar Muslims' Voice (MMV) does not claim any form or type of ownership with regards to the photos.
Tips: Click on below photo AT THE LINK BELOW to change to next photo instantly.
Persecution of Muslim Minority in Arakan State, Western Burma
Unusual Behaviour At Interviews
Posted: 10 Nov 2012 03:00 AM PST
And, we've all spent most of those interviews thinking about what not to do. Don't bite your nails. Don't fidget. Don't interrupt. Don't belch. If we did any of the don'ts, we knew we'd disqualify ourselves instantly. But some job applicants go light years beyond this. We surveyed top personnel executives of 100 major American corporations and asked for stories of unusual behavior by job applicants. The lowlights:


    "...stretched out on the floor to fill out the job application."
    "She wore a Walkman and said she could listen to me and the music at the same time."
    "A balding candidate abruptly excused himself. Returned to office a few minutes later, wearing a hairpiece."
    "...asked to see interviewer's resume to see if the personnel executive was qualified to judge the candidate."
    "... announced she hadn't had lunch and proceeded to eat a hamburger and french fries in the interviewer's office - wiping the ketchup on her sleeve."
    "Stated that, if he were hired, he would demonstrate his loyalty by having the corporate logo tattooed on his forearm."
    "Interrupted to phone his therapist for advice on answering specific interview questions."
    "When I asked him about his hobbies, he stood up and started tap dancing around my office."
    "At the end of the interview, while I stood there dumbstruck, went through my purse, took out a brush, brushed his hair, and left."
    "...pulled out a Polaroid camera and snapped a flash picture of me. Said he collected photos of everyone who interviewed him."
    "Said he wasn't interested because the position paid too much."
    "While I was on a long-distance phone call, the applicant took out a copy of Penthouse, and looked through the photos only, stopping longest at the centerfold."
    "During the interview, an alarm clock went off from the candidate's brief case. He took it out, shut it off, apologized and said he had to leave for another interview."
    "A telephone call came in for the job applicant. It was from his wife. His side of the conversation went like this: 'Which company? When do I start? What's the salary?' I said, 'I assume you're not interested in conducting the interview any further.' He promptly responded, 'I am as long as you'll pay me more.' I didn't hire him, but later found out there was no other job offer. It was a scam to get a higher offer."
    "His attache [case] opened when he picked it up and the contents spilled, revealing ladies' undergarments and assorted makeup and perfume."
    "Candidate said he really didn't want to get a job, but the unemployment office needed proof that he was looking for one."
    "...asked who the lovely babe was, pointing to the picture on my desk. When I said it was my wife, he asked if she was home now and wanted my phone number. I called security."
    "Pointing to a black case he carried into my office, he said that if he was not hired, the bomb would go off. Disbelieving, I began to state why he would never be hired and that I was going to call the police. He then reached down to the case, flipped a switch, and ran. No one was injured, but I did need to get a new desk."
-Author Unknown-
Rude Radical Intoxicated Insane Burmese insulting Daw Aung San Suu Kyi
Posted: 10 Nov 2012 02:55 AM PST
ေၿမာင္းထဲေရာက္ေတာ့မည့္ ေဒၚစုၾကည္
ဟားဟားဟား မင္းလိုေသာက္ေပါက ဘယ္ေလာက္ဘဲ ဇ ရွိရွိ္ ဘယ္သူ ့ကို နိုင္မွာတဲ့လည္း
အလကားေဆးသမား က်ပ္မျပည့္တဲ့ေကာင္ By ေမာင္ ရိုး
Saham FELDA Ditimpa "Haramjadah", Apa Langkah Najib Seterusnya?
Posted: 10 Nov 2012 04:34 AM PST
S
aham Felda menjunam, apa tanggungjawab Najib?
KUALA LUMPUR: Kerajaan mestilah mengemukakan pelan tindakan untuk menangani kejatuhan saham Felda yang telah menghampiri rekod terendah, kata Naib Presiden PAS, Salahuddin Ayub.
"Orang yang dilihat paling beria-ia hendak menyenaraikan Felda Global Ventures Holdings (FGVH) sebelum ini ialah (Perdana Menteri, Datuk Seri) Najib (Tun Razak) sendiri.

"Pandangan dan bantahan yang bertentangan dengan keserakahannya hendak menyenaraikan FGVH tidak dipedulikan langsung," katanya.

Beliau meminta rakyat khususnya para peneroka beramai-ramai mendesak Najib mengambil tanggungjawab ke atas apa yang terjadi ke atas saham Felda kini.

Salahuddin juga kesal kerana kerajaan pimpinan Najib langsung tidak memperlihatkan sebarang daya usaha yang diyakini umum untuk menangani kejatuhan saham Felda itu.

"Rakyat hendak melihat apa perancangan, pelan tindakan dan usaha yang diyakini dari pihak kerajaan untuk menangani kejatuhan saham Felda itu," kata Ahli Parlimen Kubang Kerian itu.

Saham FGVH, tawaran awal awam (IPO) kedua terbesar di dunia tahun ini, dilaporkan telah merosot dalam minggu lepas atas keraguan terhadap pendapatan lemah syarikat perladangan tersebut.

Saham gergasi perladangan itu, yang sepatutnya menjadi durian runtuh kewangan kepada peneroka Felda, diniagakan serendah RM4.59 semalam, sedikit lagi menghampiri rekod terendah RM4.57 yang dicatatkan pada 11 September.

FGVH ditutup pada RM4.63, tujuh sen lebih rendah berbanding pada 1 November dan hanya lapan sen di atas harga IPO.

Bimbang dengan perkembangan yang akhirnya pasti akan memangsakan para peneroka Felda itu, Salahuddin menggesa kerajaan menubuhkan satu panel bebas yang terdiri dari pakar-pakar berkaitan untuk menangani masalah itu.

"Jika panel tersebut ditubuhkan, kita meggesa kerajaan menerima cadangan panel tersebut walaupun merombak pengurusan Felda sekalipun.

"Kita lihat apa yang berlaku itu berpunca dari masalah ketiadaan keyakinan pelabur terhadap saham FGVH," katanya sambil menekankan supaya kerajaan khususnya Perdana Menteri tidak bersikap lepas tangan atas apa yang berlaku itu.

Ramai peneroka mengambil pinjaman untuk membeli saham FGVH dan trend umum penurunan harga saham tersebut sejak penyenaraiannya pada 28 Jun apabila ia mencecah rekod tinggi RM5.46, dijangka akan memangsakan mereka walaupun beberapa langkah diambil oleh Felda untuk menguruskan hutang para peneroka yang terlibat.


Hatred 'locks Myanmar's Rohingya in legal limbo'
Posted: 10 Nov 2012 01:27 AM PST
Hatred 'locks Myanmar's Rohingya in legal limbo'
Rohingya Muslims' statelessness is at the heart of bloody unrest that has torn through western Myanmar, but experts say the regime is unlikely to risk public ire by lifting them from citizenship limbo.
Rakhine state remains explosively tense after being convulsed by two major outbreaks of fighting involving Buddhist and Muslim communities since June that have left 180 dead and more than 110,000, mainly Rohingya, crammed into makeshift camps.
Local authorities told AFP on Wednesday they have begun a process of verifying the nationality of all the state's Muslims, amid widespread calls for those deemed "illegal" to be sent to a third country.
The precise goal of the survey was unclear.
With some 800,000 stateless Rohingya in Rakhine, the reformist government is under pressure to give them a legal status as it comes under international scrutiny with warnings that the conflict threatens its democratic transition.
"We would like the problems, the unresolved problems of the status of the Rohingya people, to be addressed by the leaders in Burma across politics," said Britain's Foreign Minister William Hague on Monday, using Myanmar's former name.
The Rohingya, considered by the United Nations to be one of the most persecuted minorities on the planet, are seen by the government and many Burmese as illegal immigrants from neighbouring Bangladesh.
Observers said the extreme level of hostility against the Rohingya in mainstream public opinion is likely to further inhibit any government efforts at widespread naturalisation, particularly as the country prepares for 2015 elections.
"The government could face a popular backlash if they unilaterally granted citizenship to the Rohingya," said Myanmar expert Nicholas Farelly at Australian National University.
"It would be a tragedy if the Rohingya issue was inflamed by the need for politicians to shore up support before 2015.
"Time and patience may salve these wounds," said Farelly, adding that "an audacious and inclusive effort could work, but given the risks, I find it hard to believe the current government could tilt that way."
The opposition, led by democracy champion Aung San Suu Kyi, has also disappointed international supporters by failing to speak up on behalf of the Rohingya, with many suggesting suspected concerns over the polls.
Nobel laureate Suu Kyi has simply repeated calls for an end to the violence, in defiance of criticism from human rights groups.
The Rohingya were deprived of nationality by the junta, which held Myanmar in an iron grip for half a century until March 2011 and the new regime refuses even to accept there is a group called "Rohingya", habitually referring to them as the "so-called Rohingya".
Other terms are laced with xenophobia, with widespread public references to the group as "Bengalis" or even the pejorative term for foreigner, "kalar".
A 1982 law enshrines the citizenship of Myanmar's officially-recognised ethnic groups.
But the Rohingya were excluded, despite their claims to have met the criteria of having ancestors in the country before 1823, the date of the first Anglo-Burmese war and a benchmark before a colonial relationship that saw a flood of new arrivals into the country from south Asia.
"We have no plan to accept as an ethnic group those who are stateless, or any new tribes who are not officially recognised, like the Rohingya," Myanmar president's office director Zaw Htay told AFP.
Rohingya were recognised under that name during the country's brief period of democratic rule after colonialism, from 1948 to 1962, according to Maung Zarni, visiting fellow at the London School of Economics.
Denying their status "is nothing less than an attempted ethnocide, that is, the attempt to kill a group's cultural identity," he told AFP.
Without recognition as an ethnic minority, Rohingya could apply to become "naturalised citizens" — a status that carries fewer rights than full citizenship — if they can prove their ancestors were in the country before independence in 1948.
But Zarni said Myanmar would "deny a large percentage of them citizenship status", because "they have been deprived of documentations for decades" so few would be able to provide supporting paperwork.
As a compromise, the government could opt to issue the Rohingya with white identity cards, said Zaw Htay. But the cards are temporary documents, allowing them to stay in Myanmar but not conferring citizenship rights.
The strength of feeling surrounding the Rohingya has already derailed efforts to update the citizenship law.
A proposal from a member of the ruling Union Solidarity and Development Party (USDP) for parliament to consider reworking the legislation was immediately rejected despite not being motivated by a concern for the stateless group.
"It is not the time to do it yet," said another USDP MP, Mann Kan Nyunt, after the decision, adding that any attempt to redraft "sensitive" parts of the law could cause "doubt and misunderstanding".
Posted: 09 Nov 2012 07:19 PM PST
Tonto the mommy cat has been crying all morning.
Yesterday before Asar, I buried one of her beautiful kittens.
It was lifeless on the cement by the side of the house.
I thought it was sleeping..there were only a few tiny ants on it.
An orange and white mixture, it was quite big.
Out of the 5, I saw only one left..black and white colour.
However, there were no kits of hers this morning.
In our area, there are a few dogs let loose by their owners.
I assumed the kittens must have encountered their fate via the ferocious dogs.
Jumaat the orphaned stray kitten is about 5 months now.
Remember his mom Angel?
My autogate clapsed her..*sigh*
Jumaat never leaves our house compound.
Always milling within safe distance.
I am trying not to feel so affected..really don't want a heartache.
They don't have to worry about heaven and hell like us humans.
All we can do is to be always kind and sympathetic.
I want to get a couple of durians afterwards.
It's been a long time since I made the serawa.
We had scones and monkey bread for tea yesterday..F and H made them.
So, today will be the Melayu tea.
The weather outside is about to rain.
It looks like evening time though it's about 10 something in the morning.
I can hear the light thunders booming.
The monsoon season has started to roll in..slowly.
Kuantan is however not that bad yet.
No reported areas of flooding so far.
God has bestowed us rainwater.
We thank HIM and must never complain of the extra rainfall.
It is always a blessing..never otherwise.
Alhamdulillah.
Living in Kuantan is really less stressful.
Everything is all nearby..the supermarket, the warongs, the TNB, the Telekoms, theMcD etc.
Our traffic in town is always smooth sailing.
I will definitely miss these easiness when I shift back to KL.
For now, I will enjoy every moment that is available.
I love Kuantan..beautiful Kuantan.
p.s.
InsyaAllah I'll be a nenek soon..Alhamdulillah.
H and his wife A are expecting their first bundle of joy in a week or so.
Semoga Allah SWT kurniakan my daughter-in-law an easy and safe delivery.
May they be blessed with a healthy baby and may their family happiness grow stronger than ever.
Ameen.
Kenyataan Izzah Dimanipulasi Supaya Nampak Teruk – Imam Muda
Posted: 10 Nov 2012 02:08 AM PST
J
uara program realiti Imam Muda musim pertama, Muhammad Asyraf Ridzuan berkata, ada pihak sengaja memperbesarkan isu murtad dan kebebasan beragama supaya nampak teruk dan dijadikan topik hangat, sedangkan ia perkara biasa yang sering dibincang dalam majlis ilmu.
"Isu ini jadi menarik dan sensitif kerana ia telah dimanipulasi, dibesar-besarkan sehingga kita rasa perkara ini sangat teruk dan perlu untuk dibincangkan," katanya merujuk kenyataan Naib Presiden KEADILAN, Nurul Izzah Anwar berhubung kebebasan beragama yang diputar belit oleh Utusan dan media pro-BN.
Beliau berkata demikian dalam forum 'Kebebasan beragama atau murtad?' di Dewan Himpunan Cina Kuala Lumpur-Selangor malam tadi.

Dalam Islam, Asyraf berkata, tiada tuntutan untuk memaksa orang lain percaya dengan keyakinan dan pendapat seseorang.

"Setiap individu bebas untuk memberi pendapat, melahir dan bertukar pandangan, bebas untuk masuk agama Islam tanpa paksaan. Namun, apabila berada dalam Islam, ikutlah syariah sebetulnya," katanya.

Pendakwah, Wan Ji Wan Hussin pula berkata, dalam agama tidak perlu ada unsur memaksa untuk melahirkan penganut yang berkualiti.

"Dalam bercintapun kita kena telus apatah lagi dalam beragama, kita tidak perlu menghukum murtad, tapi berdakwahlah," katanya yang dikenali sebagai Ustaz Wan Ji.

"Ubat kepada penyakit murtad adalah keyakinan, dan keyakinan diperoleh melalui kebebasan," jelas beliau.

Wan Ji turut mempersoal tindakan pihak yang cuba mengkritik isu murtad dan agama walhal tidak mendalami isu tersebut.

"Ini yang (saya) nak komen Saifuddin Abdullah, Khairy Jamaluddin, Perkasa, jangan jadikan pemikiran rakyat itu semakin sempit," tegasnya.

Panelis lain dalam forum itu adalah penulis lirik, Hasmi Hashim dan bekas Setiausaha Akhbar Ketua Pembangkang, Eekmal Ahmad.

Ahli Dewan Undangan Negeri (Adun) Batu Caves, Amirudin Shari pula sebagai moderator.

Umno guna agama untuk takutkan Melayu

Mengulas sama serangan terhadap Izzah, Hasmi berkata, Umno BN gunakan isu agama sejak 50 tahun lalu sebagai ancaman untuk takutkan orang Melayu.

"(Kerajaan) menggunakan elemen politik ketakutan sebagai senjata politik mereka untuk menakut-nakutkan orang Melayu. Dan ketakutan itu boleh dinamakan atas nama agama, bangsa ataupun raja-raja," katanya.

Ketua Cabang KEADILAN Parit Sulong itu mempersoal sikap kerajaan yang hanya berminat menjadikan isu agama sebagai polemik dan bukan mencari jalan penyelesaian.

"Kenapa tidak diadakan debat atau forum seperti ini di media arus perdana? Hanya membesarkan isu tanpa yang dituduh diberi sedikit peluang pun untuk membela diri," tegasnya.

Justeru kata Hasmi, perbincangan seperti itu perlu diadakan di media massa dan semua pihak wajar diberi ruang.

Beliau menyeru generasi muda memikirkan semula sama ada strategi itu masih relevan untuk diaplikasi pada masa kini.

Forum itu dihadiri lebih kurang 200 hadirin dan turut mendapat sambutan golongan bukan Islam.-KD


Posted: 09 Nov 2012 11:30 PM PST
)One day, during Psychology class ....
The professor showed a large cage with a male rat in it.
The rat was in the middle of the cage.
Then, the professor kept a piece of cake on side and kept a female rat on the other side. The male rat ran towards the cake and ate it.
Then, the professor changed the cake and kept some bread . The male rat ran towards the bread.  This experiment went on with the professor changing the food every time.
And, every time, the male rat ran towards the food item and never towards the female rat. \
Professor concluded:  "This experiment shows that food is the greatest strength and attraction"
Then, one of the students from the back rows said:  "Sir, why don't you try changing the female rat ?   She may be his WIFE!
TGNA: Izzah Tidak Bernasib Baik Kerana Dia Pembangkang
Posted: 09 Nov 2012 10:34 PM PST
N
ik Aziz pertahan Nurul Izzah
Kota Bharu - Mursyidul Am Pas, Datuk Nik Abdul Aziz Nik Mat mempertahankan Naib Presiden PKR, Nurul Izzah Anwar berikutan pelbagai kecaman sesetengah pihak ekoran kenyataannya dikatakan meremehkan soal akidah atau menerima orang Islam yang memilih untuk murtad.
Abdul Aziz berkata, kenyataan Nurul Izzah menjadi perkara serius dan dibincangkan oleh pelbagai pihak memandangkan beliau merupakan anggota parti pembangkang yang sememangnya sentiasa tidak sehaluan dengan pihak lawan.

Oleh itu, menurutnya setiap perkara mahupun kenyataan yang dibuat oleh pembangkang diputar belit untuk menjadikannya buruk.

"Bagi saya dalam isu ini, Izzah tidak bernasib baik kerana dia pembangkang, apabila buat benda sikit walaupun perkataannya boleh menjadi celaru juga tetapi ia menjadi 'gege gegok' (diperbesarkan)," katanya ketika menyampaikan Kuliah Mingguan di sini, semalam.

Dalam pada itu, ketika ditemui pemberita selepas Kuliah Mingguan, Nik Aziz yang juga Menteri Besar menyalahkan laporan media dan katanya, tidak semestinya apa dikeluarkan media serupa dengan kenyataan Ahli Parlimen Lembah Pantai itu.

"Izzah lain surat khabar lain.... yang Izzah bercakap mestikah serupa yang akhbar siarkan? Sebab itu kali pertama saya tengok benda ini disiarkan akhbar saya rasa bukan dia," katanya kepada media semalam.

Nik Aziz berkata, berdasarkan keterangan daripada Pengerusi Lajnah Perpaduan Nasional Pas Pusat, Datuk Dr Mujahid Yusof Rawa yang hadir bersama-sama Nurul Izzah dalam forum Islamic State: Which version? Whose responsibility? di Subang Jaya Sabtu lalu, ia tidak sama dengan kenyataan Nurul Izzah.

"Saya pembangkang dan saya juga dituduh sebagai bapa kafir, sedangkan saya ini pejuang Islam," katanya. -SH


ရခိုင္ေဒသအကူအညီမ်ား သြားေရာက္ခြင့္ သံ႐ံုးမ်ား ေတာင္းဆို
Posted: 09 Nov 2012 08:53 PM PST
Thein Sein want to coverup…Why should he allow all of you. If all come out problems for all the Radical Buddhists…Need to build more Jails.
ရခိုင္ေဒသအကူအညီမ်ား သြားေရာက္ခြင့္ သံ႐ံုးမ်ား ေတာင္းဆိုဗီြအိုေအ (ျမန္မာပိုင္း) 09.11.2012
ၿပီးခဲ့တဲ့ ဇြန္လကစလို႔ အၾကမ္းဖက္ အဓိက႐ုဏ္းေတြ ျဖစ္ပြားခဲ့တဲ့ ခိုင္ျပည္နယ္ထဲက ပဋိပကၡေနရာေတြကို သြားေရာက္ၿပီး အိုးမဲ့အိမ္မဲ့ ဒုကၡေရာက္ေနသူေတြထံကို လူသားခ်င္း စာနာမႈ အကူအညီေတြ လြတ္လြတ္လပ္လပ္ သြားေရာက္ ကူညီခြင့္ ျပဳဖို႔ အေမရိကန္၊ အဂၤလန္၊ ျပင္သစ္၊ ဂ်ာမဏီ၊ ဂ်ပန္၊ တူရကီ၊ ၾသစေၾတးလ်၊ ေဆာ္ဒီအာေရဗ် နဲ႔ အီဂ်စ္ သံ႐ံုးေတြက ဒီကေန႔ ပူးတြဲ ေၾကညာခ်က္ ထုတ္ျပန္ ျမန္မာအစိုးရကို ေတာင္းဆိုလုိက္ပါတယ္။
ရခိုုင္ျပည္နယ္ အၾကမ္းဖက္မႈေတြ အတြင္း လူေတြ အမ်ားအျပား ေသဆံုးၿပီး အျပစ္မဲ့ျပည္သူ ေသာင္းနဲ႔ခ်ီ အတိ ဒုကၡေရာက္ခဲ့ရတာမွာ ဒုကၡေရာက္ေနသူေတြကို သူတို႔ဘက္က လူသားခ်င္း စာနာတဲ့ အကူအညီေတြ ေပးဖို႔ အဆင္သင့္ရွိေနတဲ့ အေၾကာင္းနဲ႔ ဒီ အကူအညီေတြ ေပးႏုိင္ဖို႔ ျမန္မာအစိုးရဘက္က ခြင့္ျပဳေပးဖို႔ ေတာင္းဆိုလုိက္တာ ျဖစ္ပါတယ္။
အၾကမ္းဖက္ ပဋိပကၡေတြ ျဖစ္ခဲ့တဲ့ ေနရာေတြကို အေမရိကန္၊ အဂၤလန္နဲ႔ ၾသစေၾတးလ် သံ႐ံုးေတြက သံအရာရွိေတြ သြားေရာက္ ေလ့လာမႈေတြ လုပ္ခဲ့ၿပီးတဲ့ေနာက္ ခုလုိ ေၾကညာခ်က္ ထြက္ေပၚလာတာ ျဖစ္ပါတယ္။ အေစာပိုင္းကေတာ့ သူတုိ႔ရဲ႕ ေလ့လာ ေတြ႔ရွိခ်က္ေတြနဲ႔ ပတ္သက္ၿပီး သတင္းစာရွင္းလင္းပြဲ တရပ္ ျပဳလုပ္မယ့္အေၾကာင္း ေျပာဆိုခဲ့ေပမဲ့ မျဖစ္ခဲ့ပါဘူး။ ရခိုင္ေဒသ ပဋိပကၡေတြနဲ႔ပတ္သက္လို႔ စံုစမ္းစစ္ေဆးေရး လုပ္ငန္းေတြကို ပြင့္လင္း ျမင္သာမႈ ရွိရွိနဲ႔ ကိုင္တြယ္ ေျဖရွင္းႏုိင္ေအာင္ အထူး စံုစမ္းစစ္ေဆးေရး ေကာ္မရွင္အဖြဲ႔ကို လုပ္ပိုင္ခြင့္ေတြ ေပးဖို႔ ဒီ သံ႐ံုး ၉ ႐ံုးက ထုတ္ျပန္တဲ့ ပူးတြဲ ေၾကညာခ်က္မွာ တိုက္တြန္း ထားပါတယ္။
Muslims removed from Arakan probe for criticising gov't
Posted: 09 Nov 2012 08:15 PM PST
Muslims removed from Arakan probe for criticising gov't
Men from
Burma
, who live in Japan, take part in a rally for a global day of action in support of human rights for the
Rohingya people
, in front of the Burmese Embassy in Tokyo on 8 November 2012. (Reuters)
This week's dismissal of two Muslim members from the government's commission to investigate sectarian clashes in Arakan state is reportedly linked to their outspoken criticism of the Arakanese government and alleged bias in favour of the Rohingyas.
Sources near the commission told DVB that Tin Maung Than and Nyunt Maung Shein, the president and the secretary of the Islamic Religious Affairs Council Headquarters, were dismissed under a presidential order last week for violating commission principles, including publicly criticising the government.
It follows the release of a controversial letter, in which Tin Maung Than accused the regional government in Arakan state of being "dictated by [a] terror network" and called on senior MPs to resign.
"Those who are tasked with implementing [security measures] on the ground carry no dignity as government officials, or genuine will and honesty to work for rule of law," he wrote in an open letter published in Myanmar Post Global news journal on Friday. "The Regional Government including the State Chief Minister U Hla Maung Tint and Security Affairs Minister Colonel Htein Linn have no power to defy a group of terror-mongers."
Fellow commission member Zaganar told DVB that his dismissal was likely a direct consequence of the letter, which has been widely distributed across the Internet.
"If he circulated this letter secretly or openly that is the violation of the [commission's] principles and regulations. Because he has no mandate to do that," said Zaganar.
But another source close to the commission, who spoke on the condition of anonymity, insisted the letter was only one of a number of incidents, which prompted his removal. According to the source, a number of commission members resented him for allegedly harbouring biased loyalties towards the Rohingyas.
"The key issue is that he broke commission rules and criticised even fellow commissioners, calling the Arakanese leader a 'racist'," the source told DVB, referring to Rakhine Nationalities Development Party (RNDP) leader and fellow commissioner Dr Aye Maung, who has led a vocal campaign to expel the 800,000 Rohingya minority from western Burma.
Dr Aye Maung's inclusion on the 27-member body, along with other militant nationalists such as student leader Ko Ko Gyi, and the total exclusion of Rohingya representatives, has itself been the source of controversy and led to accusations of bias in favour of the Arakanese. Only four Muslim representatives now remain on the commission.
The latest allegations are likely to raise alarm that Tin Maung Than has been squeezed out for political reasons, since accusations of "bias" are commonly leveled at commentators, activists and journalists concerned with the plight of the Rohingyas, who are considered "illegal Bengali immigrants" by the government.
But Zaganar insisted that overall Tin Maung Than's behaviour has been completely professional and rejected allegations of bias.
"He's a very good man and he's a very smart man, but sometimes I think he is a very emotional man and he made some mischief with this letter," said Zaganar.
None of the commission members have been offered an official explanation for the dismissals, although Thein Sein is set to issue a statement on Monday. The removal of Nyunt Maung Shein in particular has left his fellow commissioners baffled, as he has no known connection to the controversial letter, despite being a colleague of Tin Maung Than.
The multi-faith commission was established by presidential decree in August to investigate the country's worst communal riots in decades, which pitted Buddhist Arakanese against Muslim Rohingyas in June and October, resulting in the deaths of more than 150 people and displacing 110,000. The government has faced stark international criticism for their handling of the crisis.
On Monday, the commission announced that it would delay its findings until March, pending additional research into the latest bout of violence. An interim report will be presented to President Thein Sein on 16 November.