---
Pemimpin Sabah Cepat-cepat Masukkan RM40 juta Ke Dalam Akaun UMNO Sabah
Posted: 05 Nov 2012 09:32 AM PST
A
hli Parlimen BN: RM40 juta kini dalam akaun Umno Sabah
KUALA LUMPUR 5 November: Wang seludup RM40 juta yang diserahkan oleh ahli perniagaan, Michael Chia kepada Ketua Menteri Sabah, Datuk Seri Musa Aman kini berada dalam akaun Umno Sabah.
Maklumat itu dinyatakan Ahli Parlimen Kota Belud, Datuk Abdul Rahman Dahlan dari Barisan Nasional kepada Pengarah Strategi KEADILAN, Rafizi Ramli pada satu program di Sabah dua hari lalu.

"Saya dimaklumkan oleh Rahman Dahlan. Persoalan besar ialah, kenapa sekarang? Semenjak 2008, wang itu baru timbul dalam akaun Umno Sabah?" katanya kepada pemberita di depan ibu pejabat Suruhanjaya Pencegahan Rasuah Malaysia (SPRM) di Putrajaya hari ini.

"Mengikut skop besar SPRM, fail ini patut dibuka semula. Ia tak sukar. Kalau perkara (siasatan) boleh dibuat terhadap rakyat biasa, tanpa kuasa dan sumber, lebih-lebih lagi (membabitkan pimpinan) kerajaan.

"Ini kes berprofil tinggi. Hal ini kemudiannya terpulang kepada SPRM. Ada banyak versi berbeza. Kita akan terus menjejak petanda dan akan ada beberapa lagi pendedahan," jelas Rafizi.

Mengikut Seksyen 16 (a) Akta SPRM 2009, mana-mana orang yang sendiri atau melalui atau bersama mana-mana orang lain secara rasuah atau menerima atau bersetuju menerima bagi dirinya atau mana-mana orang lain melakukan kesalahan rasuah.

"Sebab itu SPRM dituntut membuat siasatan," tegasnya.

Turut hadir bersama Rafizi membuat laporan di ibu pejabat SPRM ialah Ahli Majlis Pimpinan Pusat KEADILAN, Fariz Musa yang juga Ketua Penyelaras Jingga 13.


Isu RM40j: PKR buat laporan SPRM terhadap Musa, Nazri

Pengarah Strategi PKR Mohd Rafizi Ramli hari ini membuat laporan di Suruhanjaya Pencegahan Rasuah Malaysia (SPRM) berhubung isu wang RM40 juta yang didakwa melibatkan Ketua Menteri Sabah Datuk Seri Musa Aman dan juga Menteri di Jabatan Perdana Menteri Datuk Seri Nazri Aziz.

Rafizi berkata, laporan SPRM dibuat terhadap Musa dan Nazri kerana didakwa disebabkan hubungkait yang ada antara mereka tentang isu wang RM40 juta yang dibawa oleh ahli perniagaan, Michael Chia.

"Jadi satu laporan SPRM dibuat dan saya minta SPRM buka satu fail untuk siasat kes RM40 juta terhadap Musa Aman dan Michael Chia, dan juga Nazri dan anaknya.

"Nazri tak menafikan dan mengatakan anaknya tak ada kaitan dengan dia.

"Berdasarkan Akta SPRM, ada asas untuk mereka mulakan siasatan," katanya dalam sidang media sebelum masuk ke bangunan SPRM di Putrajaya hari ini. -mk




Ulasan GB

Seperti kata Rafizi:

Persoalan besar ialah, kenapa sekarang? Semenjak 2008, wang itu baru timbul dalam akaun Umno Sabah?"

Apakah kerana pemimpin Sabah sudah terhidu bahawa laporan SPRM yang dilakukan oleh Rafizi bakal menjerat mereka, maka sebab itu wang RM40 juta dimasukkan ke akaun UMNO Sabah bagi menjustifikasikan dakwaan bahawa wang tersebut sebagai sumbangan kepada UMNO Sabah bagi mengelakkan dari siasatan SPRM?

Hukum kebenaran dan keadilan akan tetap berjalan sekalipun mereka cuba menipu rakyat dan sekalipun SPRM enggan untuk melakukan siasatan.


Alert: Nine Scenarios That Lead To Stock Plunge
Posted: 05 Nov 2012 06:06 AM PST
If you have shares or stocks, take note. Paul B. Farrell of
MarketWatch Wall Street Journal wrote:
SAN LUIS OBISPO, Calif. (MarketWatch) — "Is the U.S. Condemned by History to Slow Growth?" asks Bloomberg BusinessWeek. Yes. But for traders and investors, it's far worse than just bearish slow growth. Plan for no growth or zero growth.
Why? Wall Street, America and the world economy are in the early stages of a long era of "de-growth," a reversal of economic growth and reduction in market growth as population growth adds new stresses on commodities resources, creates unrest, disasters and wars. Big problems ahead.
Please listen: Earnings growth is in a long slowdown in all of the following nine scenarios. Economy down. Earnings down. Stocks down. Trading down. Focus on the long term, on history, look past the noise about elections and fiscal cliffs.
On Oct. 8 the International Monetary Fund lowered its global growth forecast for 2013, from 3.9 percent to 3.6 percent. The fund also warned of an "alarmingly high" chance that growth would slip below 2 percent next year. The number crunchers at the IMF, like most economic forecasters, rely on the basic assumption that over time, growth will do what it always has done: It will trend upward, and the ups will be greater than the downs. A group of economists who take the long view of history—a very, very long view—are now challenging the conventional wisdom.
The standard theory of economic growth comes from two papers penned in the 1950s by Robert Solow that would eventually earn him the Nobel Prize. Before Solow, growth was seen as simply a function of population and capital accumulation: More money plus more people equals more growth. The Massachusetts Institute of Technology economist pointed out that technology had something to do with growth, too. Technological advances, such as the mechanization of looms or the computerization of spreadsheets, increase the economy's productive potential.
In a new paper for the National Bureau of Economic Research, a private, nonpartisan research organization, economist Robert Gordon argues that there's no reason to assume productive technology will continue to materialize and supply the economy with periodic boosts. The Northwestern University professor points to a surprising finding by economic historians. From the 13th to 18th centuries, the economy of the British Isles expanded at a per capita rate of just 0.2 percent per year. Then, with the dawn of the first Industrial Revolution in the 19th century, growth shot up, powered by steam engines and railroads, and the U.K. became what Gordon calls the "frontier" economy—that is, the fastest-growing nation on earth.
Penang. Apa yang istimewa sangat di Pulau Pinang?<br><br>Baru balik
Posted: 05 Nov 2012 05:34 AM PST
Penang. Apa yang istimewa sangat di Pulau Pinang?
Baru balik dari Pulau Pinang.... 
sesak dan menyesakkan, 
jalan2 berselirat, kecik dan sempit....
mostly one way...
terlalu banyak kenderaan....
Makanannya menarik...
pasembor

laksa

nasi kandar

char koay teow

mee udang

durian Balik Pulau
tapi bila tiba di food court di Padang Kota
sesak nafas bila dikelilingi penjaja warung....
nasi kandar, laksa.... entahlah indah khabar dari rasa...
Durian Balik Pulau .... sedap!
kempunan mee udang Teluk Kumbar... tak sempat pekena, lewat buka
Pantai, hampir semua di dominasi oleh hotel2 & private beach....
Bukit Bendera masih menjadi tarikan 
makanan di food courtnya sedap-sedap.....

pemandangan excellent...

Coach trainnya lebih moden, track & kabelnya lebih kukuh
menariknya masih ada lagi haiwan liar...
Scenery matahari naik dan tenggelam masih indah...
Posted: 05 Nov 2012 04:44 AM PST
A woman has sued her local hospital, saying that after her husband was treated recently, he has lost all interest in sex with her.
A hospital spokesman replied –
"The man was admitted in Ophthalmology -- all we did was correct his eyesight..."
_____________________________
A young girl was having a heart-to-heart talk with her mother on her first visit home since starting university. "Mum, I have to tell you," the girl confessed. "I lost my virginity last weekend." "I'm not surprised," said her mother. "It was bound to happen sooner or later. I just hope it was a romantic and pleasurable experience." "Well, yes and no," the pretty student remarked. "The first eight guys felt great, but after them my pussy got really sore."
Jane was a first time contestant on the $65,000 quiz show, where you have to answer questions to win the cash prize.
Lady luck had smiled in her favor, as Jane had a gained substantial lead over her opponents. She even managed to win the game but, unfortunately, time had run out before the show's host could ask her the big question. Needless to say, Jane agreed to return the following day. Jane was nervous and fidgety as her husband drove them home. "I've just gotta win tomorrow. I wish I knew what the answers are. You know I'm not going to sleep at all tonight. I will probably look like garbage tomorrow."
"Relax, honey," her husband, Roger, reassured her. "It will all be OK." Ten minutes after they arrived home, Roger grabbed the car keys and started heading out the door. "Where are you going?" Jane asked. "I have a little errand to run. I should be back soon" he replied. Jane waited impatiently for Roger's return. After an agonizing 3 hour absence, Roger returned, sporting a very wide and wicked grin. "Honey, I managed to get tomorrow's question and answer!"
"What is it?" she cried excitedly.
"OK. The question is: 'What are the three main parts of the male anatomy?' And the answer is 'The head, the heart, and the penis.' " Shortly after that, the couple went to sleep with Jane, now feeling confident and at ease, plummeting into a deep and restful slumber. At 3:30 in the morning, however, Jane was shaken awake by Roger, who was asking her the quiz show question. "The head, the heart, and the penis," Jane replied groggily before returning to sleep. And Roger asked her again in the morning, this time as Jane was brushing her teeth. Once again, Jane replied correctly.
So it was that Jane was once again on the set of the quiz show. Even though she knew the question and answer, she could feel the butterflies conquering her stomach and nervousness running through her veins. The cameras began running and the host, after reminding the audience of the previous days events, faced Jane and asked the big question.
"Jane, for $65,000, what are the main parts of the male anatomy? You have 10 seconds."
"Hmm, uhm, the head?" she said nervously. "Very good. Six seconds."
"Eh, uh, the heart?" "Very good! Four seconds."
"I, uhh, ooooooohh, darn! My husband drilled it into me last night and I had it on the tip of my tongue this morning..."
"That's close enough," said the game show host, "CONGRATULATIONS!!!"
______________________
Three women walking down the street are stopped by a man doing a survey. He asks, "Ladies, would you mind telling me how you know if you've had a good night out?"
The first replies, "I come home, get into bed and if I lay there and tingle all over, I know that I had a good night."
The second one replies, "I come home, have a shower and a glass of wine, get into bed, and if I tingle all over, I know it was a good night."
The third one turns around and says, "If I get home, rip off me knickers, throw them against the wall, and they stick, then I know it was a good night!"
*Posted for laughs and also for de-stressing after a hard day's work.
[TERKINI] Saham FGVH Jatuh Paras Terrendah - Peneroka Mula Rugi
Posted: 05 Nov 2012 07:28 AM PST
S
aham Felda Global Venture Holding (FGVH) hari ini menyaksikan kejatuhan di paras paling rendah sejak ia dilancarkan. Harga saham FGVH ditutup pada RM4.65 petang ini.
Saham FGVH telah dilancarkan pada 5 Julai tahun ini pada harga RM4.55 sebelum ia kemudiannya meningkat di paras tertinggi RM5.55. Selepas daripada itu, harga itu terus jatuh dan jatuh ke paras terrendah pada RM4.69 pada 10 September lalu.

Kemudian harga menjadi tidak stabil selepas itu, sehinggalah rekod paras paling minima itu telah dipecahkan petang ini untuk berada di kedudukan RM4.65.

Sementara itu, sebelum ini, Penasihat Ekonomi Anak (Persatuan Anak Peneroka Felda), Dr Rosli Yaakob telah berkata, peneroka Felda kini mula rugi apabila sahamnya jatuh melepasi 4.70.

Ini kerana, dividen yang diperolehi tidak akan mampu menampung interest pinjaman yang mereka buat untuk membeli saham FGVH.

"Kadar interest pinjaman mereka untuk membeli saham ini pada kadar RM4.45 kini lebih tinggi berbanding dengan dividen yang mereka perolehi," kata Dr Rosli.

Nampaknya apa yang dibimbangi oleh ANAK kini telah menjadi kenyataan.


ဦးရာရွစ္၏ တိုင္းျပည္အတြက္ ေဆာင္ရြက္ခ်က္မ်ား (ေရးသူ ေဒါက္တာေမာင္ေမာင္)
Posted: 05 Nov 2012 04:14 AM PST
ဦးရာရွစ္၏ တိုင္းျပည္အတြက္ ေဆာင္ရြက္ခ်က္မ်ား (ေရးသူ ေဒါက္တာေမာင္ေမာင္)
စက္တင္ဘာ၊ ၂၁ ၊ ၂၀၁၂ ဘာသာျပန္ဆိုသူ-အြမၼရ္ခင္ၫြန္႔ Source: ၁၉၅၆ခုႏွစ္ ဒီဇင္ဘာလထုတ္ အမွတ္စဥ္(၁၄)မွ ေဒါက္တာေမာင္ေမာင္၏ THE GUARDIANမွ (Profile-U RASCHID)
အိမ္ယာေဆာက္လုပ္ေရးႏွင့္ အလုပ္သမား၀န္ႀကီးေဟာင္း၊
ယခု ကုန္သြယ္မႈ တိုးတက္ေရးႏွင့္ အလုပ္သမား၀န္ႀကီး၊
အသက္ -၄၃-ႏွစ္
ပညာအရည္အခ်င္း
၁။ ရန္ကုန္တကၠသိုမွ ဘီ၊အက္၊စီ၊(သိပၸံတန္း)
၂။ ဘီ၊အယ္လ္၊ ၀တ္လံုစာေမးပဲြကိုလည္းေအာင္ျမင္ခဲ့သည္။
လက္ရွိတာ၀န္မ်ား၊
၃။ အလုပ္သမား အစည္းအရံုးအမ်ားအဖဲြ႕ခ်ဳပ္(ဗမာႏိုင္ငံ)၏ဒုတိယ ဥကၠဌ။
၄။ ထြက္ကုန္ပူးေပါင္းေဆာင္ရြက္ေရးႏွင့္ တိုးတက္ေရးေကာ္တီဥကၠဌ။
၅။ ဗမာျပည္ ကမၻာ့ေရးရာအသင္း ဥကၠဌ။
၆။ တကၠသိုလ္ေကာင္စီတြင္ လူမ်ိဳးစုလႊတ္ေတာ္ကိုယ္စားလွယ္။
၇။ လူမႈဖူလံုေရးအဖဲြ႕ဥကၠဌ။
၈။ ဆိပ္ကမ္းအလုပ္သမား ဘုတ္အဖဲြ႕ဥကၠဌ။
၉။ ကုန္သြယ္မႈတိုးတက္ေရးႏွင့္ အလုပ္သမား၀န္ႀကီး။
တိုင္းျပည္အတြက္ ေဆာင္ရြက္ခ်က္မ်ား
ေက်ာင္းသားေခတ္
ရန္ကုန္တကၠသိုလ္ ေက်ာင္းသား သမဂၢ၏ ပထမဆံုးအေထြေထြ အတြင္းေရးမႈးခ်ဳပ္အျဖစ္လည္းေကာင္း၊ ဥကၠ႒အျဖစ္လည္းေကာင္း၊ ဒုဥကၠ႒အျဖစ္လည္းေကာင္း ေဆာင္႐ြက္ခဲ့သူ ဦးရာ႐ွစ္(လယ္) ႏွင့္ သခင္ေအာင္ဆန္း(ေဘးကပ္လ်က္)။တစ္ႏုိင္ငံလုံးတြင္ ဒုတိယေက်ာင္သား သပိတ္ ေပါေပါက္ေရးအတြက္ အဓိကတာ၀န္ယူဦးေဆာင္ခဲ့ေသာ (ထိုစဥ္က) ေက်ာင္းသားသမဂၢ ဒု-ဥကၠ႒၊ ေက်ာင္းသားသပိတ္ေခါင္းေဆာင္ တစ္ဦးျဖစ္သည္။၁၉၃၆ ခုႏွစ္တြင္ ဖြဲ႕စည္းေသာ ဗမာႏိုင္ငံလံုး ဆိုင္ရာေက်ာင္းသားမ်ားသမဂၢ ၏ ပထမဆံုး ဥကၠ႒လည္း ျဖစ္၏။
၁၀။ ရန္ကုန္တကၠသိုလ္ေက်ာင္းသားမ်ားသမဂၢ ကို စတင္တည္ေထာင္ရန္ ဦးေဆာင္ေသာ ပုဂိ္ၢိဳလ္တစ္ဦးျဖစ္သည့္ျပင္၊ သမဂၢစည္းမ်ဥ္းဥပေဒေရးဆဲြရာ၌ အမႈေဆာင္လူႀကီး အျဖစ္ ပါ၀င္ေဆာင္ရြက္ခဲ့သည္။
၁၁။ တကၠသိုလ္ေက်ာင္းသားမ်ားသမဂၢအေဆာက္အဦးကို ေက်ာင္းသားမ်ားလက္သို႔ ေရာက္ရွိေရးအတြက္ အထူးတလည္ ေဆာင္ရြက္ေပးခဲ့သည္။
၁၂။ တကၠသိုလ္ေက်ာင္းသားမ်ား သမဂၢ၏ ပထမဆံုးအေထြေထြအတြင္းေရးမွဴး အျဖစ္ ေဆာင္ရြက္ခဲ့သည္။
၁၃။ ၁၉၃၆ ခုႏွစ္ တကၠသိုလ္ေက်ာင္းသားမ်ားသမဂၢတြင္ ၀န္ႀကီးခ်ဳပ္ဦးႏု ဥကၠဌ အျဖစ္ေဆာင္ရြက္ခဲ့စဥ္က ဒုတိယ ဥကၠဌအျဖစ္ ပါ၀င္ေဆာင္ရြက္ခဲ့သည္။ ဗိုလ္ ခ်ဳပ္ေအာင္ဆန္း၊ ၀န္ႀကီး ဦးေက်ာ္ၿငိမ္းတို႔လည္း အမႈေဆာင္အျဖစ္ ပါ၀င္ေဆာင္ ရြက္ခဲ့ၾကပါသည္။
၁၄။ ၁၉၃၇ ခုႏွစ္တြင္  တကၠသိုလ္ေက်ာင္းသားမ်ားသမဂၢ၏ ဥကၠဌ အျဖစ္ေဆာင္ ရြက္ခဲ့သည္။ ထိုစဥ္က ဗိုလ္ခ်ဳပ္ေအာင္ဆန္းမွာ သမဂၢ၏ ဒုတိယ ဥကၠဌအျဖစ္ ေဆာင္ရြက္ခဲ့ပါသည္။
၁၅။ ဗမာျပည္လံုးဆိုင္ရာ ေက်ာင္းသားမ်ားညီလာခံက်င္းပေရးႏွင့္ ဗမာျပည္လံုးဆိုင္ရာ ေက်ာင္းသားမ်ားသမဂၢတည္ေထာင္ေရးအတြက္ စတင္ဦးေဆာင္ခဲ့ပါသည္။ ထိုပထမ ညီလာခံႀကီးတြင္ ၀န္ႀကီးခ်ဳပ္ ဦးႏု က ဥကၠဌအျဖစ္ေဆာင္ရြက္ၿပီး၊ အမ္၊ ေအ၊ ရာရွစ္ က ဧည့္ခံေကာ္မတီဥကၠဌ အျဖစ္ေဆာင္ရြက္ခဲ့ပါသည္။
၁၆။ ထိုညီလာခံႀကီးက ေရြးေကာက္တင္ေျမႇာက္သျဖင့္ ပထမဆံုး ဗမာျပည္လံုးဆိုင္ရာ ေက်ာင္းသားမ်ားသမဂၢ၏ ဥကၠဌ အျဖစ္ ေဆာင္ရြက္ခဲ့ပါသည္။`
ႏိုင္ငံေရးေခတ္

၁၇။ ေက်ာင္းထြက္ၿပီးေနာက္ ၀တ္လံုအျဖစ္လုပ္ကိုင္ေဆာင္ရြက္လ်က္ တိုင္းျပည္တာ၀န္ ကို တစ္ဖက္တစ္လမ္းေဆာင္ရြက္ခဲ့သည္။
၁၈။ လက္ရွိတိုင္းျပည္ေခါင္းေဆာင္မ်ားႏွင့္ ေရွးႏွစ္ေပါင္းမ်ားစြာကပင္ ခင္မင္ရင္းွႏီွးေသာ မိတ္ေဆြမ်ားုျဖစ္ခဲ့သည့္ျပင္ မ်ိဳးခ်စ္စိတ္ဓါတ္ရွိသူတစ္ဦးျဖစ္ပါသည္။
၁၉။ အလုပ္သမားေရးရာဘက္တြင္ အထူးစိတ္၀င္စားခဲ့သည့္အေလ်ာက္ ၊သံလွ်င္ ဘီ- အုိ-စီ ေရနံခ်က္စက္ရံုအလုပ္သမားမ်ား သမဂၢႏွင့္ဆက္သြယ္မႈရရွိခဲ့ၿပီး၊ ၄င္းသမဂၢ ၏ေစတနာ့၀န္ထမ္း ဥပေဒအၾကံေပးအျဖစ္ ေဆာင္ရြက္ခဲ့သည္။
၂၀။ ေစ်းဆိုင္အလုပ္သမားမ်ား၊ သက္သာေခ်ာင္ခ်ိေရးအသင္း ဥကၠဌ အျဖစ္ေဆာင္ရြက္ ခဲ့စဥ္၊ ေစ်းဆိုင္အလုပ္သမားမ်ားႏွင့္တကြ၊ အလုပ္တိုက္ႀကီးမ်ားမွ အလုပ္သမားမ်ား အတြက္ အလုပ္ခ်ိန္ကန္႔သတ္ျခင္း၊ အပါတ္စဥ္ ရက္အားေပးျခင္းမ်ား ရရွိေအာင္ ေဆာင္ရြက္ေပးခဲ့သည္။
၂၁။ ၁၉၄၇ ခုႏွစ္တြင္ အလုပ္သမားေရးရာ ဥပေဒ ေရးဆဲြေရးေကာ္မတီ၏ ဥကၠဌ အျဖစ္ ဗိုလ္ခ်ဳပ္ေအာင္ဆန္းကုိယ္တုိင္ ေရြးခ်ယ္ခဲ့သည္။ အစိုးရထံသို႔ အစီရင္ခံစာ (၁၂ ) ေစာင္တင္သြင္းခဲ့သည္။ ႏိုင္ငံတြင္းရွိ အလုပ္သမားဥပေဒအားလံုးကို ျပင္ဆင္ေရး ဆဲြၿပီးခဲ့သည့္အျပင္ ဥပေဒသစ္မ်ားကိုလည္း ေရးဆဲြျခင္းျပဳခဲ့သည္။
၂၂။ ၁၉၄၇ ခုႏွစ္တြင္ ၀ါဏိဇ္ၨပဋိပကၡခံုရံုး၏ အဖဲြ႔၀င္ လူႀကီးအျဖစ္လည္းေကာင္း၊
၂၃။ ၁၉၄၈ ခုႏွစ္တြင္ ၄င္းခံုရံုး၏ဥကၠဌအျဖစ္ ၀န္ႀကီးရာထူးလက္ခံသည့္ေန႔တိုင္း ေဆာင္ ရြက္ခဲ့သည္။ အေရးပါအရာေရာက္ေသာ စီရင္ခ်က္ေပါင္းမ်ားစြာေပးခဲ့၍အလုပ္ သမားမ်ားအတြက္ အခြင့္အေရးမ်ား မ်ားစြာရရွိခဲ့သည္။
၂၄။ ဆိပ္ကမ္းအလုပ္သမားမ်ား စီမံကိန္းေရးဆဲြေရးေကာ္မတီဥကၠဌအျဖစ္ေဆာင္ရြက္ၿပီး ထိုစီမံကိန္းကို အေကာင္အထည္ေဖၚႏိုင္ခဲ့ရာ၊ ဆိပ္ကမ္းအလုပ္သမားမ်ား အလုပ္ မွန္မွန္လုပ္ရၿပီး၊ သတ္မွတ္ထားေသာ လစာႏႈန္းထားရရွိသည့္ျပင္ ေဆး၀ါးကုသျခင္း အိုနာစာရံပံုေငြရရွိျခင္းစသည့္ အခြင့္အေရးမ်ားရရွိလ်က္ရွိသည္။ ထိုစီမံကိန္းသည္ အာရွတိုက္အေရွ႕ေတာင္ေဒသတြင္ အေကာင္းဆံုးစီမံကိန္းတစ္ရပ္ျဖစ္သည္ဟု ခ်ီး မြမ္းျခင္းခံရသည္။
၂၅။ လူမႈဖူလံုေရးလုပ္ငန္းကို စတင္ဦီးစီးေဆာင္ရြက္ခဲ့သည္။ (၄)ႏွစ္နီးပါး ပဏာမ လုပ္ငန္းမ်းေဆာင္ရြက္ၿပီး၊ ရန္ကုန္ၿမိဳ႕တြင္ ၁၉၄၆ ခုႏွစ္၊ ဇႏ္ၷ၀ါရီလ ၁ ရက္ေန႔မွ စတင္လုပ္ကိုင္ႏိုင္ခ့ဲသည္။ အျခားေဒသမ်ားသို႔ ခ်ဲ႕ထြင္ရန္စီစဥ္လ်က္ရွိသည္။
၂၆။ ျပည္ေထာင္စုျမန္မာႏိုင္ငံ ဖဲြ႕စည္းအုပ္ခ်ဳပ္ပံုအေျခခံဥပေဒအေရးဆဲြျခင္းႏွင့္ပတ္သက္ ၍ေကာ္မတီအမ်ိဳးမ်ိဳးတြင္ ပါ၀င္ခဲ့သည္။
၂၇။ ေရနံေျမ စံုစမ္းေရးေကာ္မရွင္၊ ျပည္တြင္းေရေၾကာင္းသယ္ယူပို႔ေဆာင္ေရး စံုစမ္း ေရးေကာ္မရွင္အဖဲြ႕၀င္လူႀကီးအျဖစ္လည္းေကာင္း၊ အစိုးရစာပံုႏွိပ္တုိက္ စံုစမ္းေရး ေကာ္မရွင္ဥကၠဌအျဖစ္လည္းေကာင္း ေဆာင္ရြက္ခဲ့သည္။
၂၈။ ၁၉၄၇ ခုႏွစ္ ေဒလီၿမိဳ႕ အာရွညီလာခံသို႔လည္းေကာင္း၊ ၁၉၅၅ ခု၊ ဘန္ေဒါင္းကြန္ ဖရင္းသို႔လည္းေကာင္း၊ ဗမာျပည္ကိုယ္စားလည္အျဖစ္ တက္ေရာက္ခဲ့သည္။
၂၉။ ၁၉၄၈-ခု၊ ၁၉၅၀-ခု၊ ၁၉၅၁-ခု ႏွင့္၁၉၅၄-ခုႏွစ္မ်ားတြင္ အျပည္ျပည္ဆိုင္ ရာအလုပ္ သမား အဖဲြ႕ခ်ဳပ္ႀကီး၏ ညီလာခံသို႔ တက္ေရာက္ခဲ့သည္။ ၁၉၅၁ ခုႏွင့္ ၁၉၅၄-ခု ႏွစ္တြင္ ဗမာျပည္ကိုယ္စားလွယ္အဖဲြ႕၏ေခါင္းေဆာင္အျဖစ္ေဆာင္ရြက္ခဲ့သည္။ ၁၉၅၀ ခုႏွစ္တြင္လည္း အျပည္ျပည္ဆိုင္ရာအလုပ္သမားအဖဲြ႕ႀကီး၏ေရနံေကာ္မ တီသို႔ ဗမာကိုယ္စားလွယ္အဖဲြ႕၏ေခါင္းေဆာင္အျဖစ္တက္ေရာက္ခဲ့သည္။ ထိုအဖဲြ႕ ခ်ဳပ္ႀကီးတြင္ လူသိမ်ားၿပီး ေလးစားျခင္းခံရသူတစ္ဦးျဖစ္သည္။
၃၀။ ရန္ကုန္တကၠသိုလ္ေကာင္စီတြင္ ေက်ာင္းသားသမဂၢကိုယ္စားလွယ္အျဖစ္ ပထမဆံုး ပါ၀င္ေဆာင္ရြက္ခဲ့ရသည္။ ၄င္းေနာက္ အဆက္ျပတ္ဆိုသလို ေကာင္စီလူႀကီးျဖစ္ ခဲ့သည္။
၃၁။ ၁၉၅၁ ခုႏွစ္၊က လူမ်ိဳးစုလႊတ္ေတာ္သို႔ ၿပိဳင္ဘက္မရွိ ေရြးေကာက္တင္ေျမႇာက္ျခင္း ခံခဲ့ရသည္။
အိမ္ယာေဆာက္လုပ္ေရး၀န္ႀကီးအျဖစ္
၃၂။ လူမွန္သမွ် အဓိကအလိုရွိအပ္သည့္ ၀တ္ စား ေန တည္းဟူေသာအေရးသံုးပါး အနက္ စစ္ေဘး၊ စစ္ဒဏ္ကို ႏွစ္ႀကိမ္တိုင္တုိင္အလူးအလဲ ခံလိုက္ရေသာ ဗမာလူ ထု၏အိုးအိမ္မဲ့ျပႆနာကိုေျဖရွင္းရန္ အိမ္ယာေဆာက္လုပ္ေရး၀န္ႀကီးအျဖစ္ ပထမ ဦးစြာေဆာင္ရြက္ခဲ့ပါသည္။ ျပည္သူ႔အိုးအိမ္ျပန္လည္ထူေထာင္ေရးဘုတ္အဖဲြ႕ဥကၠဌ အျဖစ္ေဆာင္ရြက္ကာ ဗမာတျပည္လံုးတြင္ အိမ္ယာေဆာက္လုပ္ေရးလုပ္ငန္းမ်ား ကို လုပ္ကိုင္ေဆာင္ရြက္ခဲ့ပါသည္။ ကုန္သြယ္မႈတိုးတက္ေရး၀န္ႀကီးအျဖစ္
၃၃။ ၁၉၅၄ ခုႏွစ္ကုန္ေလာက္ကစ၍ ကုန္သြယ္မႈတိုးတက္ေရး၀န္ႀကီးရာထူးကို လက္ခံ ေဆာင္ရြက္ခဲ့ရသည္။ ထိုအခ်ိန္က ဗမာျပည္သည္ ဆန္ကိစ္ၥႏွင့္ပတ္သက္၍ အထူး အေရးႀကီးေနေသာအခ်ိန္ျဖစ္ေနသည့္အတိုင္း ထိုျပႆနာမ်ားကို ၄င္း၏လုပ္ရည္ ကိုင္ရည္အစြမ္းျဖင့္ ေျဖရွင္းေပးႏုိင္ခဲ့ပါသည္။
၃၄။ ဆန္ေဟာင္းမ်ား အားလံုးလိုလိုပင္ ယခုအခါေရာင္းခ်ၿပီးျဖစ္သည့္ျပင္ ေဖါက္သည္ ႏိုင္ငံသစ္မ်ားကိုပါ ရရွိေအာင္ ေဆာင္ရြက္လ်က္ "ဆန္"ျပႆနာကို အေတာ္ေျပ လည္စြာ ေျဖရွင္းႏိုင္ခဲ့ပါသည္။
၃၅။ ေကာက္ပဲသီးႏွံေရာင္း၀ယ္ေရးအဖဲြ႕ႀကီးျပန္လည္ဖဲြ႕စည္းေရး တိုးတက္ေကာင္းမြန္ ေရးအတြက္ အထူးလုပ္ကိုင္ေဆာင္ရြက္လ်က္ရွိပါသည္။
၃၆။ ၄င္း၏စီမံေဆာင္ရြက္ခ်က္အရ ႏိုင္ငံေတာ္ေကာက္ပဲသီးႏွံေရာင္း၀ယ္ေရးအဖဲြ႕၏ လက္က်န္စပါးစာရင္းးကို မႏွစ္က ေကာက္ပဲသီးႏွံေရာင္း၀ယ္ေရးအဖဲြ႕၏ရာဇ၀င္ တြင္ ပထမအႀကိမ္အျဖစ္ စစ္ေဆးျခင္းကို ျပဳႏိုင္ခဲ့ပါသည္။
၃၇။ ၿပီးခဲ့ေသာစပါးေပၚခ်ိန္မွစ၍ ႏိုင္ငံေတာ္ေကာက္ပဲသီးႏွံအဖဲြ႕က ၀ယ္ယူၿပီးေသာစပါး ဘိုးေငြမ်ားကို ေတာင္သူလယ္သမားမ်ားအား သံုးရက္အတြင္းေျပလည္ေအာင္ေခ် ရန္ စီမံေဆာင္ရြက္ေပးခဲ့ပါသည္။
၃၈။ ကုန္သြယ္မႈတိုးတက္ေရး၀န္ႀကီးဌာနကို ျပန္လည္ျပဳျပင္ခဲ့သည့္ျပင္၊ သြင္းကုန္လိုင္ စင္ထုတ္ေပးေရးစနစ္ႏွင့္ပတ္သက္၍ အထူးျပဳျပင္လုပ္ကိုင္ခဲ့ၿပီး၊ ယခုအခါ သြင္း ကုန္လိုင္စင္မ်ားကို စနစ္သစ္ျဖင့္ အခ်ိန္မွန္ထုတ္ေပးလ်က္ရွိေနပါသည္။
၃၉။ သြင္းကုန္လိုင္စင္ထုတ္ေပးရာတြင္ ျမန္မာတိုင္းရင္းသားကုန္သည္မ်ား ရာခိုင္ႏႈန္း (၉၀)အထိ တိုးတက္ရရွိေအာင္ ေဆာင္ရြက္ေပးခဲ့ပါသည္။
၄၀။ ရုရွားျပည္၊ တရုပ္ျပည္၊ႏွင့္ အေရွ႕ဥေရာပႏိုင္ငံမ်ားႏွင့္ကုန္သြယ္လုပ္ငန္းတိုးတက္ ေရးအတြက္ အထူးတလည္ႀကိဳးပမ္းေဆာက္ရြက္လ်က္ရွိသည့္အတုိင္း ယခုအခါ ထိုႏိုင္ငံမ်ားက ဗမာဆန္မ်ားကို၀ယ္ယူလ်က္ရွိပါသည္။ ၄င္း၏ႀကိဳပမ္းမႈျဖင့္ ဗမာ ျပည္ကဆန္မ်ားကို ဂ်ပန္ကၽြန္း၊ မေလးကၽြန္းႏွင့္အင္ဒိုနီရွားႏိုင္ငံတို႔ကို ေငြလက္ ငင္းစနစ္ျဖင့္ ေရာင္းခ်ေနသည္မွာ အခုအခါ အေတာ္တိုးတက္လ်က္ရွိပါသည္။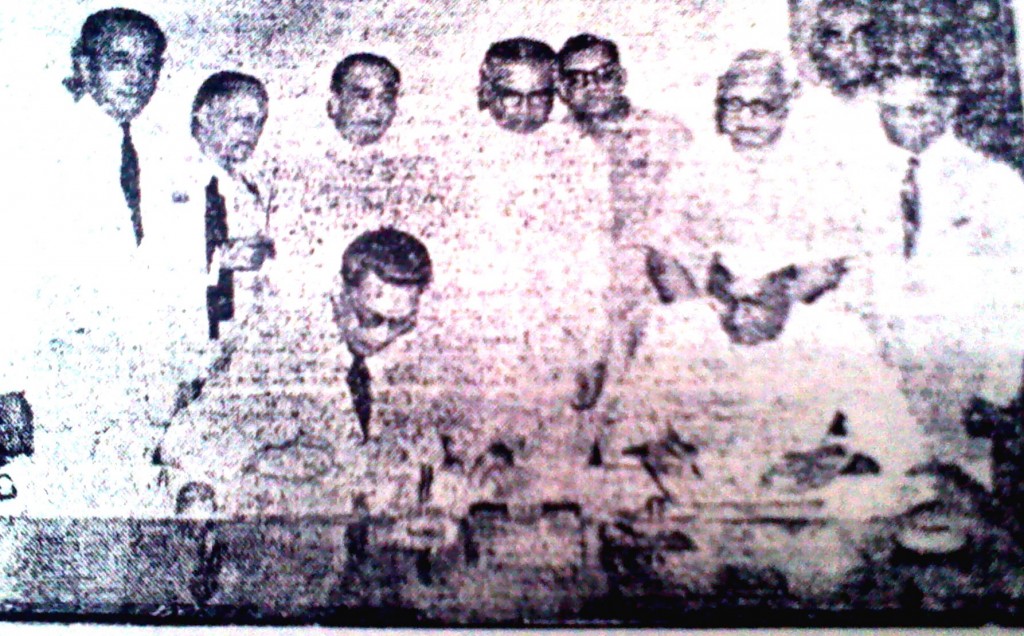 အိႏၵိယႏိုင္ငံမွ ေခ်းေငြရရိွရန္ ၾကိဳးပမ္းေဆာင္ရြက္ခဲ့စဥ္က
၄၁။ ဗမာႏိုင္ငံေတာ္အတြက္ အထူးမစ္ရွင္အဖဲြ႕အမ်ိဳးမ်ိဳးတြင္ ပါ၀င္ေဆာင္ရြက္ခဲ့ပါသည္။
(က) ၁၉၅၂ ခုႏွစ္က ၀ါရွင္တန္ၿမိဳ႕သို႔ တီ-စီ-ေအ ကိစ္ၥႏွင့္ မစ္ရွင္အဖဲြ႕ကိုေခါင္း ေဆာင္ကာ၊ ကိစ္ၥရပ္မ်ားကို ေအာင္ျမင္စြာေဆာင္ရြက္ႏိုင္ခဲ့ပါသည္။
(ခ) ၁၉၅၄ ခုႏွစ္က အလုပ္သမားအစည္းအရံုးအဖဲြ႕ခ်ဳပ္(ဗမာႏိုင္ငံ)၏တရုပ္ျပည္ သြားမစ္ရွင္အဖဲြ႕ကို ေခါင္းေဆာင္ခဲ့ပါသည္။
(ဂ) ၁၉၅၄ ခုႏွစ္က အိႏိ္ၵယျပည္သို႔ဆန္တန္ခ်ိန္(၉)သိန္းေရာင္းခ်ေရးႏွင့္ပတ္သက္ ၍အစီစဥ္မ်ားသြားေရာက္လုပ္ကိုင္ေပးခဲ့ပါသည္။
(ဃ) ၁၉၅၅ ခုႏွစ္က အိႏိ္ၵယျပည္မွ ေငြကုေဋ(၂၀)ေခ်းယူရန္ကိစ္ၥကို ေအာင္ျမင္စြာ သြားေရာက္ေဆာင္ရြက္ေပးႏိုင္ခဲ့ပါသည္။(သို႔ေသာ္၊ ဆန္အေရာင္းအ၀ယ္ ေကာင္းလာသျဖင့္ ထိုေခ်းေငြကို ယခုတိုင္ မယူေသးပါ။)
(င) ၁၉၅၅ ခုႏွစ္၊က ႏုိင္ငံေတာ္၀န္ႀကီးခ်ဳပ္ဦးႏု ေခါင္းေဆာင္ေသာ ယုိးဒယား ႏုိင္ငံသြား ခ်စ္ၾကည္ေရးမိတ္ဆက္မစ္ရွင္တြင္ ပါ၀င္ေဆာက္ရြက္ခဲ့ပါသည္။
(စ) ကမၻာ့အရပ္ရပ္သို႔ ခရီးလွည့္လည္ခဲ့ၿပီး ဗမာျပည္ႏွင့္သင့္ေလ်ာ္သည့္ ကိစ္ၥရပ္ မ်ားကိုေလ့လာၿပီး၊ လုပ္ငန္းရပ္မ်ားကို ေဆာက္ရြက္လ်က္ရွိပါသည္။
၄၂။ အထူးသျဖင့္ ရန္ုကုန္အလယ္ပိုင္းလူမ်ိဳးစုလႊတ္ေတာ္အမတ္ေလာင္း လက္ရွိကုန္သြယ္ မႈတိုးတက္ေရးဌာနႏွင့္အလုပ္သမား၀န္ႀကီး အမ္-ေအ-ရာရွစ္သည္ ဖဲြ႕စည္းအုပ္ခ်ဳပ္ ပံုအျခခံဥပေဒအရ၊ ဗမာတိုင္းရင္းသားအျဖစ္ ခံယူထားၿပီးျဖစ္သျဖင့္ ဗမာျပည္တြင္ အသက္ထက္ဆံုးေနထိုင္လ်က္ ဗမာလူထုႏွင့္ ဆိုးတူေကာင္းဘက္ေဆာင္ရြက္လုပ္ ကိုင္ေနထုိင္သြားမည့္ ပုဂ္ၢိဳလ္တစ္ဦးလည္းျဖစ္ပါသည္။
အမႈေဆာင္အဖဲြ႕။ ဖ၊ဆ၊ပ၊လ ေရြးေကာက္ပဲြ အႏုိင္ရရွိေရးေကာ္မီတီ ရန္ုကုန္အလယ္ပိုင္း(လူမ်ိဳးစု)မဲဆႏ္ၵနယ္။ အမွတ္(၃၃)အီဗင္ဆင္လမ္း၊ ရန္ကုန္ၿမိဳ႕။
၁၉၅၆ ခုႏွစ္ THE GUARARDIAN စာေစာင္တြင္အမွတ္(၁၄) တြင္ ေဒါက္တာ ေမာင္ေမာင္ ေရးသားခဲ့သည့္ MR.RASCHID ဆိုသည့္ ေဆာင္းပါးကို ဘာသာျပန္တင္ျပလိုက္ပါ သည္။
အြမၼရ္ခင္ညႊန္႕
Video Record of Aung Mingalar Village torch by Rakhine Terrorist
Posted: 05 Nov 2012 04:10 AM PST
Myanmar govt. directly involved in killing Rohingya muslims: Iran MP
Posted: 05 Nov 2012 03:11 AM PST
Source: PRESS TV>Myanmar govt. directly involved in killing Rohingya muslims: Iran MP
An
Iranian
lawmaker says the
government of Myanmar
is directly involved in the ongoing massacre of Rohingya Muslims in the
Southeast Asian
country.
"Most activities in Myanmar are controlled by the government and it is unlikely that such incident [the massacre of Rohingya Muslims] with [so many] dimensions and immensity can be made limited to an ethnic-religious conflict," Mohammad-Mehdi Zahedi said on Wednesday.
The lawmaker went on to say that considering dictatorial and military nature of Myanmar's government, it is certain that the ongoing genocide of Muslims is going on through support of government forces.
Zahedi further argued that Myanmar's government should be held accountable by international organizations to explain about massacre of Muslim people in that country.
The Buddhist-majority government of Myanmar refuses to recognize Rohingyas and has classified them as illegal migrants though the Rohingyas are said to be Muslim descendants of Persian, Turkish, Bengali, and Pathan origins, who migrated to Myanmar as early as the 8th century.
According to UN statistics, over 28,000 people, more than 97 percent Muslims, have been forced out of their homes as a result of escalating sectarian violence in Myanmar.
On Tuesday, the UN High Commissioner for Refugees (UNHCR) said that there is a shortage of food, water and medical help at the already overcrowded camps in western Myanmar.
TNP/SS
Daw Suu is not fit to rule Myanmar. ဒီလို ေခါင္းေဆာင္မ်ိဳး တုိင္းျပည္မွာ ၂၀၁၅ အာဏာ ရမယ္ ဆုိရင္ေတာ႔ အနာဂတ္ ရင္ေလးစရာပါ
Posted: 05 Nov 2012 03:05 AM PST
If you are neutral in situations of injustice, you have chosen the side of the oppressor. If an elephant has its foot on the tail of a mouse and you say that you are neutral, the mouse will not appreciate your neutrality. Desmond Tutu
Injustice anywhere is a threat to justice everywhere.
Martin Luther King Jr
Daw Suu should just say, if there is NO FOOD, they could eat Dan Pauk as they are Kalars. She is still PRETENDING not to know why and what happened…She is too naive to believe and just waiting the "President" Post…Myanmar Military would never give her…Except if she agree to be a Puppet President or Bayinkhan. What Rule of Law Daw Suu is talking?

Just Law of the Jungle only in Arakan and her Burma.
There is a MOBOCRACY, demoCRAZY or powercrazy in Myanmar.

She don't know the problem after 5 mts!!! Justice delayed is JUSTICE DENIED!!! So…In conclusion, Daw Suu is not fit to be a leader if she don't know the problem after 5 mts…Good leaders should know to react swiftly within minutes to control the problem….Now too much…people are dying…It is MORALLY IMPORTANT for a leader to stop ETHNIC CLEANSING. But anyway she already claimed that she does not like to be a moral leader.
Why she chooses to keep quiet on the Hate Speeches, protests and attacks on Non-Rohingya Myanmar Muslims? As a responsible political leader she should advice to stop all those activities. No need to side with the Muslims that they are right but just defuse the tensions repeatedly created by obvious Agent Provocateurs.
MY FRIEND WROTE>>>ကိုယ္စီးတဲ႔ ျမင္းအထီးလား အမလား မသိေတာ႔ဘူးလား။ ဒီလို ေခါင္းေဆာင္မ်ိဳး တုိင္းျပည္မွာ ၂၀၁၅ အာဏာ ရမယ္ ဆုိရင္ေတာ႔ မြတ္စလင္အပါအ၀င္ တုိင္းရင္းသားအားလံုး အတြက္ အနာဂတ္ ရင္ေလးစရာပါ ။
ရိုဟင္ဂ်ာ ဘယ္သူလဲဆိုတဲ႔ သမိုင္းေၾကာင္းကို ေမြးရာပါ သူမ မသိတာ မထူးဆန္းပါ ( အိန္ဒိယ မွာ ငယ္စဥ္ဘ၀ စာသင္ ၊ အင္ဂလန္မွာ ၾကီးျပင္း ၊ ဘူတန္ ကို ေယာက်ာ္းနဲ႔ အတူ ေလ႔လာ ဆိုေတာ႔ ျမန္မာျပည္အေၾကာင္း အေသအခ်ာ မသိတာ အျပစ္ျမင္စရာ မရွိပါ ) ။
သို႕ေသာ္ လည္း ပါတီႏိုင္ငံေရး လုပ္ျပီး တခ်ိန္မွာ ႏုိင္ငံ၏ ေခါင္းေဆာင္တစ္ေယာက္လုပ္မယ္႔ သူမတစ္ေယာက္အေနနဲ႔ ဒီအေရး အခင္းကိစၥ မွာ " ဘယ္သူမွားသည္ မွန္သည္ မသိပါ ၊ ဘယ္သူဘက္က မွ မရပ္ပါဟု" ဆိုသည္မွာ တာ၀န္မဲ႔ ၇ာ က်လြန္းပါသည္။
၇ရွိထားသည္႔ ေအာက္စဖို႔ ဘဲြ႕ ကို အားနာဖို႔ ေကာင္းပါသည္။
ႏုိင္ငံတကာ မွာ ရွက္ဖို႕ ေကာင္းပါသည္။
အေမရိကန္ တခြင္ ျပဲျပဲစင္စင္ေအာင္ သြားျပီးေသာ္လည္း ရခို္င္ျပည္နယ္ကို သြားၾကည္႔ပါသလား ၊ ကခ်င္ျပည္နယ္ကို သြားၾကည္႔ပါသလား ၊ ၾကားျဖတ္ေရြးေကာက္ပဲြ မႏုိင္ခင္က ေတာဆင္းေတာင္ဆင္း မဲဆြယ္ခဲ႔ေပမယ္႔ ။ ပါလီမန္ထဲ ေရာက္ျပီးခါမွ ဘိုအင္းဂ်က္ ဘဲ စီးဖို႔စဥ္းစားေနေသာ သူမကို ေမးခြန္း၀ိုင္းထုတ္ၾကသည္မွာ – " လူထူေခါင္းေဆာင္ ပီသရဲ႕လား ၊ ျငိမ္းခ်မ္းေရး အိုင္ကြန္ ပီသရဲ႕လား" ။
'False cops' target Indonesian immigrants
Posted: 05 Nov 2012 02:25 AM PST
Source:
http://www.freemalaysiatoday.com/category/nation/2012/11/02/false-cops-target-indonesian-immigrants/
(By
Leven Woon
, 2/11/2012)
The plainclothes "policemen '' target Indonesia immigrants, robbing homes in Segambut under the guise of police raids.
A group of men impersonating as policemen have been on the rampage in two villages in Segambut. They come to the houses in Kampung Segambut Dalam and Kampung Segambut Bahagia in the wee hours of the morning and ransack the houses.
Segambut MP Lim Lip Eng said many Indonesian immigrants and illegal migrants who reside in the two kampungs have fallen victim to the group. Lim suspects the group to be criminals instead of policemen. At a press conference by Lim, two victims told reporters how the group works.
They conduct raids in the wee hours of the morning and take the valuables in the rooms while the residents were told to wait in the living room. Indonesiaimmigrant Abdul Wasir Ali said the "police robbers" visited his home at 4am on Oct 24, and he was awakened by the continuous knocks on the door. He said the group of six, who were in plainclothes, said they were policemen and entered his home without his permission. He said he was not told why they raided his home and the "police personnel" also failed to produce any identity documents. His family of five was then asked to sit in a corner of living room, while the group ransacked the rooms and stole the valuables. "My wife tried to resist when she saw them taking away necklaces and cash, but one of the guys was very fierce," he recounted, adding the he suffered RM2,000 in losses.
Another Indonesiaimmigrant Fardaus Yusman said the group identified themselves as from the narcotics department of Bukit Aman police headquarters when they approached his home on Tuesday morning. In the 2.30am incident, the "police personnel" claimed their intention was to search for drugs and repeatedly asked for his co-operation, he said.
Fardaus said he tried to keep an eye on the group when they entered his room, but was asked to move away. "One of them shouted 'can't you give co-operation to the police'," he said. He suffered RM10,000 in losses which included RM400 cash, necklaces and bracelets.
Commenting on the incidents, Lim urged members of the public to scream aloud for neighbour's help if these "policemen" come to their house.
He also said the public should snap photos of the "police personnel", since there is no law to prevent them from doing so. The DAP parliamentarian however said it would be hard to pursue the two victims' complaints as there were no clues to identify whether the robbers were real policemen or just criminals.
[IKTIBAR] Mati Melekat Kedua-dua Badan Selepas Melakukan Zina
Posted: 05 Nov 2012 03:32 AM PST
K
arawang Raka, Indonesia – Pada awal bulan oktober yang lalu, masyarakat Karawang digegarkan dengan gambar dua orang yang meninggal dunia ketika melakukan hubungan intim. Berdasarkan berita yang beredar di tengah-tengah masyarakat di sana, dua pasangan itu ialah bukan pasangan suami isteri yang sah, melainkan dua orang yang curang.
Keduanya, dikhabarkan sama-sama sudah berkeluarga. Dari gambar yang tersebar dari telefon ke telefon, nampak dua jasad tengah berpelukan. Di gambar itu kelihatan, badan orang yang berada di atasnya telungkup dan bahagian buntutnya ditutupi kain sarung. Sementara tangan wanita yang berada di bawahnya dalam kedudukan memeluk bahu lelaki itu.

Kedua-dua jasad tersebut berada dalam beg jenazah berwarna kuning. Nampak juga dua orang berpakaian seragam serupa polis, sepertinya tengah menunjukkan mayat dua orang yang sedang berzina ini.

Nampaknya, kedua-dua jasad itu berada di sebuah bilik mayat. Kerana jika dilihat dari lantainya, biasanya digunakan di bilik mayat. Salah seorang warga Karawang, Wahyudi berkata, berdasarkan maklumat yang diterimanya, dua pasangan berbeza jantina itu berzina di kawasan makam keramat yang berada di belakang Cengsin, Klari, Indonesia.

Namun setelah hubungan intim mereka selesai, badan kedua-duanya tak boleh lepas. Katanya yang lelaki sempat menelefon temannya yang pegawai keselamatan, kerana badannya tidak boleh lepas. Sampai akhirnya dibawa ke tiga rumah sakit, tapi tak ada yang dapat melepaskan kedua-duanya "ujarnya.

Berdasarkan maklumat yang diterimanya pula, kedua-dua pasangan curang itu meninggal di hospital. "Pada mulanya saya tidak percaya berita ada orang mati berpelukan, tapi setelah melihat gambar ini saya baru percaya," katanya. -halimislam
Penduduk Bantah Binaan Bonggol – Berita Harian – 19 October, 2012
Posted: 04 Nov 2012 11:13 PM PST
Berita Harian reporter Siti Haliza Yusop wrote this article regarding my complaint about the road hump that was built right beside the driveway outside the house. To date, the issue is still not resolved.
The rights of three property owners and residents whose houses are facing the hump and my right to an accessible environment under the Persons with Disabilities Act 2008 are disregarded by MPAJ and the ahli majlis for Zone 20.
The reason for building the hump was that a "majority" 10 residents requested for it in July. I have a neighbour who can confirm that he was asked to sign a petition to support the road hump on 24 September 2012, 12 days after it was built.
The ahli majlis tried to "persuade" me to accept it as she believed that people of my situation (as a wheelchair user) would welcome it as it is for my safety and that of other residents, never mind that the hump is a barrier to my mobility and a hazard to my safety.
Throwing the majority card at me is really irresponsible. So, the rights of the minority do not have to be respected? Is this what they call the "tyranny of the majority"? Is the Persons with Disabilities Act 2008 effective in protecting my interests in this situation?

Image credit: MPAJ newspaper cuttings archive.
Click on image for larger version.
Related posts:
[VIDEO] Penyelewengan Daftar Pemilih SPR Bukti Umno BN Penipu Nombor 1
Posted: 05 Nov 2012 12:07 AM PST
K
etua Umum KEADILAN, Datuk Seri Anwar Ibrahim menyifatkan kerajaan Umno BN sebagai penipu nombor satu di dunia berdasarkan tindak-tanduknya yang sanggup melakukan apa sahaja untuk mengekalkan kuasa.
Berucap pada pra-Himpunan Kebangkitan Rakyat semalam, beliau berkata, daftar pemilih Suruhanjaya Pilihan Raya (SPR) menunjukkan peningkatan kira-kira 1 juta pengundi dalam masa setahun.
"Rekod ini hanya boleh berlaku ketika Umno BN berkuasa," katanya di hadapan lebih 12,000 hadirin di Taman Seremban Jaya sambil menunjukkan contoh penipuan Umno melalui skrin layar.

Beliau juga mengingatkan rakyat, saman trafik Automated Enforcement System (AES) dan Cukai Barangan dan Perkhidmatan (GST) pula hanya ditangguh kerana Umno BN takut kalah pada Pilihan Raya Umum ke-13.

"Kalau ditakdirkan mereka menang, AES dan GST pasti akan dilaksanakan.

Anda semua jangan percaya puak ini (Umno BN)," katanya disambut sorakan gamat.

Pada 1 November lalu, Parlimen bersetuju menangguh dan mengkaji semula pelaksanaan AES selepas mendapat bantahan hebat pelbagai pihak khususnya pemimpin Pakatan.

September 2011, Perdana Menteri Datuk Seri Najib Razak sendiri mengaku ketika berucap di Persidangan Forbes Global CEO bahawa GST mungkin dilaksanakan selepas PRu ke-13.

Dalam pada itu, beliau juga menegaskan pendirian Pakatan untuk mengubah sistem politik berasaskan kaum kepada politik yang membela nasib seluruh rakyat.

"Mereka kata Anwar nak bagi semua pada orang Cina dan India…Bukan semua Cina tauke judi Genting.

Apa salahnya kita bagi pada Melayu (bersama-sama) anak Cina dan India yang layak? Tidak usah mainlah politik kaum sebegitu rupa," katanya yang kesal Umno BN memanipulasi isu perkauman untuk mengaut kekayaan negara.

"(Justeru) Melayu (Khususnya) jangan pertahankan rasuah. Orang Melayu berakhlak (pasti) akan bersama-sama tentang penyelewengan, rasuah dan salah guna kuasa," tegasnya lagi.

Selain beliau, Presiden PAS Datuk Seri Abdul Hadi Awang dan Penasihat DAP Lim Kit Siang serta pimpinan Pakatan Negeri Sembilan turut memberi ucapan.

Di akhir program, seluruh pimpinan yang hadir naik ke pentas untuk sama-sama melancarkan secara rasmi Himpunan Kebangkitan Rakyat yang akan diikuti dengan program jelajah seluruh negara sebelum kemuncaknya di Stadium Nasional Bukit Jalil Januari depan.


Anwar dakwa cubaan tipu senarai daftar pemilih

SEREMBAN – Ketua Umum Paka-tan Rakyat (PR), Datuk Seri Anwar Ibrahim mendakwa terdapat cubaan menipu dalam maklumat daftar pemilih apabila bagi suku keempat 2011 menunjukkan peningkatan kira-kira 1 juta pengundi dalam masa setahun.

"Jumlah yang dibekalkan seramai 12.4 juta untuk Mac.

Tetapi yang diaudit dan diserahkan kepada kita adalah sebanyak 11.5 juta.

Ini bermakna dalam masa setahun, jumlah daftar pemilih meningkat sebanyak 1 juta.

"Kemudian, SPR bagi penjelasan kononnya mereka tersilap membuat kiraan di negeri Sabah dan Sarawak.

Hal ini sudah nampak ketirisan maklumat dalam SPR," katanya berucap di hadapan 30,000 penyokong pada program Himpunan Kebangkitan Rakyat di Taman Seremban Jaya, di sini, malam kelmarin.

Menurutnya, terdapat juga maklumat daftar pemilih yang meragui sehingga ada maklumat pemilih yang tidak masuk akal.

"Sebagai contoh, pemilih bernama Nurkhanida dari Parlimen Serdang yang lahir pada 26 Oktober 1982 dan memohon menjadi pengundi pada 26 Oktober 1982.

"Begitu juga daftar pemilih bernama Naquib dari Parlimen Temerloh yang lahir pada 18 Ogos 1979, tetapi menjadi daftar pemilih pada 16 Mei 1991 iaitu masih berumur 12 tahun.

Bagaimanapun, Anwar berkata, usaha dan percubaan menipu tersebut masih belum mendapat penjelasan dan jawapan rasmi daripada SPR.-SH


Posted: 04 Nov 2012 11:13 PM PST
She didn't know her hubby borrowed 5k from a moneylender.
And so over the weekend, while she was on her way to buy something with her husband and 3 young kids, their car were stopped by 3 fierce strangers.
Given only 2 weeks to pay up, she and her kids have been threatened in an indirect manner.
She bawled her eyes out later.
Luckily her parents-in-law are quite rich.
I told her to go and seek their help.
I have heard nice stories about them.
She works as a cleaner while her husband never seems to straighten his haphazard brain.
No need to elaborate.
She is of course, the main breadwinner.
Money is always the problem.
Whichever way, many good families have been sadly hurt.
But money is attainable.
A life is not..
Cherish our loved ones and sort it out no matter how doomed the crisis appears to be.
A smiling rainbow will ultimately appear sooner or later..InsyaALLAH.  
May many more happy families continue to bloom sweetly, harmoniously and live happily ever after..
Ameen.
PS:
Please read this beautiful true story. Click
here.
In Rakhine, mistrust deepens divide
Posted: 04 Nov 2012 09:54 PM PST
In Rakhine, mistrust deepens divide By Nirupama Subramanian
Special Arrangement Scene from Te Chaung camp,
Sittwe
, on Saturday. Some 20,000
Rohingyas
are housed here, but the number could be more.
The capital of Rakhine state in western Myanmar is a picture of outward calm. At lunchtime on Saturday, the main street is crowded with bicycle-riders, motorcyclists, a few cars, lots of pedestrians and people eating at roadside cafes. Work continues at the site of the port, which the Indian company ESSAR is constructing as part of the India-funded Kaladan multi-nodal transport project. There are even tourists.
But just a 20-minute drive from the town, beyond Sittwe University, amid paddy fields and shrimp farms, is the evidence of the deep divide that tore apart this coastal town, and other townships in Rakhine, between its Rohingya Muslims and Rakhine Buddhists twice this year, and that has raised fears for the democratic transition in Myanmar.
Housed in a string of squalid camps along both sides of a sandy track are thousands of Rohingyas — or Bengalis, as the government prefers to call them — displaced since June this year when clashes first erupted in the state after an alleged rape and murder of a Rakhine Buddhist woman. As many as 78 people were killed in that violence, 5,000 houses burnt, and more than 75,000 people displaced.
More arrived in these camps after the second round of violent incidents in the last two weeks of October, in which, President Thein Sein announced recently, 89 people were killed, 136 injured, 5,351 houses burned, and more than 32,000 people displaced.
Emergency regulations remain in force in the entire state, and in Sittwe, there's a 10 p.m.-5 a.m. curfew.
Located within the town are four camps housing the Rakhine Buddhists who were also displaced in the June violence. The conditions in these camps are better than in the Rohingya camps. They live in temporarily constructed houses, or in barracks. Their numbers are fewer; each camp houses about 1,000 people.
The separation of the camps is one sign of how divided the town is. Rakhines in Sittwe will refuse to go anywhere near the Rohingya camps; no Muslim will go to a Rakhine camp.
"They hate us, if I go anywhere near the Bengali camps, they will kill me. They get angry just seeing us," a young Rakhine man said, flatly refusing to take me to the camps, offering to accompany me only to the ones with the Buddhists.
Te Chaung camp, the first in the series of the Rohingya camps, is overflowing with people, young and old, men and women, boys, girls, toddlers, newborns. The official number in this camp is 18,500, but it could be more, particularly with the new arrivals.
Many of them are huddled 80 or 100 to a tent, each measuring about 20'x10'. Women from each of the 20 or so families in the tent are sitting in a row outside, preparing the evening meal on wood fires, with rations given by the World Food Programme.
The new arrivals in Te Chaung are from Kyaukphyu. Last week, Human Rights Watch released satellite images that it said showed more than 800 houses razed to the ground in the township on October 23. An estimated 2,500-3,000 people who came from there have found place in a madrassa and in houses in the village where Te Chaung camp is located
"In eight hours, a mob of Rakhine set our houses on fire. I think there must have been 5,000 in the mob. A hundred people died. We had to flee the area in boats," said Muriam Bibi.
It took 20 hours for them to arrive at Te Chaung by river, but it took another three to four days, said Murium Bibi and others who had come with her, before the authorities permitted them to disembark from their boats and enter this camp.
"We cannot think of ever going back to the village. The Rakhine people will surely kill us if we return. Anyway, there is nothing left of that place. It's all been burnt down," said Muriam Bibi, who has camped with her family on the first floor of the madrassa.
On the other side of the camp are the people who arrived in June when their homes in Nazir quarter in Sittwe were burnt down. A group of them are fighting over a sack of clothes donated to them. None of the clothes looks wearable: torn underwear, dirty, muddied and stained shirts, and a garment that looks neither like a shirt nor a blouse.
"How do they expect us to wear this?" asks a man angrily, displaying the incomprehensible piece of cloth.
The garment evokes much laughter in the crowd, but also angry comments that the "good clothes that are being sent from Indonesia and Malaysia are being stolen by the authorities, and this is what they are giving us instead."
He speaks a language that resembles Bengali, but a surprising number of people in the camp speak fluent Urdu, and explain they learnt it from Bollywood films.
"The government calls us Bengali because our language is Bengali. They are trying to show we are from Bangladesh, but we are Rohingya, and we've been living in Rakhine for many generations, that's our parents and grandparents have told us," said Abdul Karim.
Omar Ali, who was among the thousands who fled Nazir Basti, said the troubles for them began when news spread about the rape and killing of a girl in Khauknimon, a township to the south of Sittwe, in June.
"The situation for us is really bad. The government does not accept us. We really have a big problem," he said. Members from an investigation team set up by the government had visited the camp, said Omar Ali, but that had not improved either the conditions in the camp or their long-term prospects.
A 27-member investigation commission has been set up by President Thein Sein to go into the cause of the conflict, but the commission was unable to finish its work and has asked for a deadline until the middle of November.
Things are more orderly in the Rakhine camps. There isn't the crush of people evident in the Rohingya camps. Each camp houses about 700-1,000 people. They live in shelters made of wood, bamboo mats and tin roofs. Each camp has a row of toilets.
In the Nazir camp, U Cheit Maung, who was displaced in June, said a mob of Muslims had set his neighbourhood on fire. "It's difficult to say why they did it, but I know they have a long-term plan in Rakhine state," he says.
A man called Kyaw Thar Baruah, who says his forefathers settled in Myanmar from Assam, claims the plan is to "convert us all to Islam and take over Rakhine. We will not allow that, we are Buddhists."
Another man alleges that the aid organisations working in the relief camps are taking money from "Islamic countries," therefore they are biased towards the "Bengali camps."
Last month, Rakhine Buddhists demonstrated in Sittwe and other places against international aid organisations. But aside from the UN and WFP, others such as Médecins Sans Frontières, Action Against Hunger and others have continued to provide relief to the displaced people, working with security provided by the government.
Ashok Nigam, United Nations Resident & Humanitarian Co-ordinator in Yangon, told The Hindu earlier this week that the Rakhine displaced in the June incidents had been accommodated in shelters constructed by the government and the UN.
The UN was working with the government to build similar shelters for the Muslims displaced in June and at present housed in the Sittwe camps, he said. In addition, the largest number of people displaced in the October incidents, going by the government numbers, are Muslims.
"So those are the people we have to address. But at the UN, we do not discriminate between Rakhine and Muslims. People who are in need are those that we address and provide support."
The one common element between the Rohingya camps and the Rakhine Buddhist camps is the curiosity about the riots in Assam in August. In the Rohingya camps, people ask: "We heard thousands of Muslims have been displaced. Is this true?" In the Rakhine Buddhist camps, they ask: "We heard many Boros have been killed. Is it correct?" Both sides are quick to draw their own parallels between their conflict and the recent riots in Assam.
'Many drowned' in attempt to flee sectarian violence in Myanmar
Posted: 04 Nov 2012 09:21 PM PST
'Many drowned' in attempt to flee sectarian violence in Myanmar
YANGON – First, one body appeared floating in the waters of the Bay of Bengal, then another, and another, until those on board the little fishing boat that had gone to their rescue began to lose count.
Those bobbing lifeless among the waves had set out the night before, so desperate to escape the growing sectarian violence in Myanmar that they were prepared to risk boarding a dangerously overcrowded boat.
At least 130 people had clambered aboard, but the boat foundered – whether it capsized because of the weight of bodies or because it struck rocks remains unclear.
The sinking last week was the worst reported incident resulting from the outbreak of violence between Rakhine Buddhists and Rohingya Muslims in western Myanmar.
The latest assessment from the Myanmar government – which regards the Rohingya as illegal immigrants – said 89 people had been killed in clashes between Oct 21 and 30.
"The situation is dire. The United Nations (UN) is doing its best, but it is trying to find more funding to help them," said Mr Chris Lewa, Director of the Arakan Project, an NGO working with the Rohingya.
With at least 32,000 people displaced by the latest violence – and at least 107,000 since trouble broke out in June – thousands have sought safety in refugee camps around the Myanmar town of Sittwe.
Those camps are at crisis point, according to Refugees International, which estimates that nearly a quarter of children were malnourished.
The death toll and fear of further violence have prompted many of the Rohingya to look for sanctuary in neighbouring Muslim countries.
Many have concluded that the only realistic escape route is by sea. Those that have tried to get away have found that those countries are unwilling to accept them.
The UN has urged Myanmar's neighbours not to close their borders, but the appeal brought no immediate change of heart.
Some of those who have fled, such as the victims of last week's sinking, headed for Malaysia, where people-smugglers will take them for a fee.
Others are looking closer to home – to Bangladesh and Thailand – but neither country wants them.
Ms Melanie Teff, a researcher with the charity who visited Sittwe in September, said the outlook for peace is grim. "There is a total lack of hope for the Rohingya. They have been rejected by many countries," she said. "The only way out is for the international community to act on the current situation."
European Commission President Jose Manuel Barroso has called for an end to communal killings in Myanmar following talks with President Thein Sein and opposition leader Aung San Suu Kyi on Saturday.
He also said the European Union is ready to pledge €4 million (S$6.3 million) aid to the state.
Ms Suu Kyi told the BBC that she could not speak out in favour of Rohingya and insisted that she will not use "moral leadership" to back either side. Agencies
[BERGAMBAR] Cemas: 10 Anggota Bomba Cedera Tangki Minyak Meletup
Posted: 04 Nov 2012 09:56 PM PST
K
ota Bharu- 10 anggota bomba cedera dalam kebakaran yang melibatkan empat tangki minyak di sebuah kilang tayar yang tidak lagi beroperasi di kawasan Perindustrian Pengkalan Chepa, Padang Tembak di sini pagi tadi.
Anggota bomba berdepan detik cemas selepas dua daripada tangki minyak terbabit yang dipercayai mengalami kebocoran meletup ketika mereka cuba mengawal api dalam kebakaran yang berlaku kira-kira jam 8 pagi itu.

Wartawan dan Jurufoto Sinar Harian juga yang turut berada di lokasi kejadian, sempat menyelamatkan diri dari kebakaran itu yang mengambil masa hampir dua jam untuk dikawal.

Kesemua yang cedera dibawa ke Hospital Raja Perempuan Zainab II dan Hospital Universiti Sains Malaysia (HUSM) Kubang Kerian untuk rawatan susulan.

Pengarah Bomba Negeri, Azmi Osman berkata, dalam kejadian itu lima anggota dilaporkan mengalami kecederaan parah manakala selebihnya menerima rawatan susulan di HUSM dan HRPZ II.

"Buat masa ini tiga mangsa yang cedera parah iaitu Nazah Napi, Abdullah Mohamad, Abdul Razak Abdullah yang bertugas di Balai Bomba Kota Bharu ditempatkan di Hospital Universiti Sains Malaysia (HUSM).

"Selebihnya yang mengalami kecederaan di leher, tangan dan badan menerima rawatan susulan di HUSM dan HRPZ II," katanya kepada pemberita ketika ditemui di tempat kejadian.

Azmi berkata, ketika kebakaran berlaku lima jentera dengan 39 anggota iaitu dari Balai Bomba Kota Bharu, Pengkalan Chepa, dan Darul Naim dihantar ke tempat kejadian.

"Ketika cuba memadam api, bomba menghadapi kesukaran disebabkan masalah bekalan air yang tidak mencukupi namun masih berusaha mengawalnya.

"Buat masa ini punca kebakaran dan kerugian masih disiasat bagi mengenal pasti punca kejadian terbabit," katanya. -SH


Tangki 'muntah' api





KOTA BHARU: Laungan Allahuakbar berulang-kali mengiringi suasana cemas di sebuah kilang tayar yang tidak lagi beroperasi di Kawasan Perindustrian, Padang Tembak, Pengkalan Chepa, di sini, selepas sebuah tangki minyak pelincir terpakai berkapasiti antara 16,000 hingga 25,000 liter meletup sehingga 'memuntahkan' minyak bersama api dan membakar anggota bomba yang cuba memadamkan kebakaran di kilang berkenaan.

Kilang itu yang ditawarkan untuk dijual pada harga RM5 juta pada mulanya terbakar pada jam 8 pagi sebelum anggota bomba tiba pada jam 8.

11 pagi, namun ketika menyudahkan tugas memastikan api di tangki berkenaan padam sepenuhnya setengah jam kemudian, minyak dari tangki itu memancut meletuskan api setinggi lebih 30 meter dan membakar beberapa anggota bomba yang berada berhampiran tangki berkenaan.

Akibatnya, tercetus suasana kelam-kabut apabila ada anggota bomba terbakar bersama pakaian dan ada pula yang berlari, berguling sebelum terbaring.

Seramai 10 pegawai dan anggota bomba cedera termasuk seorang anggota bomba wanita dengan lima daripadanya parah selepas melecur di muka dan badan.

Sekumpulan wartawan dan jurugambar turut bertakbir apabila berdepan detik cemas kerana kejadian itu berlaku hanya beberapa meter dari tempat mereka berkumpul.

Malah, Pengarah Jabatan Bomba Dan Penyelamat Kelantan, Azmi Osman yang turun padang turut memberi pertolongan kepada anggotanya yang cedera.

Antara yang parah ialah tiga pegawai bomba, Pegawai Bomba Kanan 1 (PBK1), Abdullah Din Mohd, 55, dan Pegawai Bomba Kanan II (PBKII), Nazah Nafi, 43 yang kini dirawat di Hospital Universiti Sains Malaysia (HUSM) Kubang Kerian, manakala seorang lagi, PBKII, Wan Asri Wan Yaacob, 53, dirawat di Hospital Raja Perempuan Zainab II (HRPZ II).

Mangsa melecur di muka, tangan serta badan dan keadaan mereka dilaporkan stabil.

Seorang anggota bomba, Mahusin Hassan, 45, bersyukur kerana api hanya membakar baju khas memadam kebakaran yang dipakai, namun sayu melihat rakan setugas yang melecur akibat terbakar.

Katanya, mereka tidak menyangka tangki minyak berkenaan meletup sehingga api menyambar anggota bomba.

"Ketika kejadian saya berehat dan berada 50 meter dari tangki berkenaan selepas memadamkan kebakaran di beberapa bahagian lain. Tiba-tiba saya terdengar letupan dan apabila menoleh ke belakang, saya lihat api seperti menyambar dan mengejar dari belakang.

"Saya bingkas bangun untuk melarikan diri sebelum menyedari api menyambar belakang baju khas memadam kebakaran. "Dalam keadaan kelam-kabut itu, saya melihat beberapa anggota yang berguling-guling di atas tanah bagi memadamkan api di pakaian mereka dan ada yang melecur di muka, badan, dan tangan sebelum dikejarkan ke hospital berhampiran bagi mendapatkan rawatan lanjut," katanya yang bertugas di Balai Bomba dan Penyelamat Pengkalan Chepa.

Dalam pada itu, saksi kebakaran, Nadzri Noor, 37, yang juga pemilik kedai makan berhampiran kilang tayar itu berkata, dia menyedari berlaku kebakaran selepas melihat kepulan asap tebal bersama api menjulang tinggi sebelum terdengar letupan.

"Saya melayan pelanggan sebelum terlihat kepulan asap dan terkejut apabila terdengar beberapa letupan. "Walaupun jarak kedai dan kilang kira-kira 100 meter, saya dapat rasa bahang apinya," katanya.

Sementara itu, Azmi berkata, sebanyak lima jentera dan 39 pegawai serta anggota bomba dihantar ke tempat kejadian selepas menerima panggilan kecemasan Katanya, pihaknya berdepan masalah tekanan air, sekali gus menyukarkan operasi memadamkan kebakaran selain perlu menggunakan buih untuk memadamkan api yang berpunca daripada minyak.

"Lima jentera dari Balai Bomba dan Penyelamat Pengkalan Chepa, Kota Darulnaim dan Tunjung dikejarkan ke tempat kejadian, malah kami juga meminta bantuan tambahan selepas letupan yang mencederakan 10 anggota bomba berlaku.

"Kami masih menyiasat punca kejadian dan anggota yang cedera dihantar ke HUSM dan HRPZ II," katanya. -HM


Call To Create A More Inclusive Society – Borneo Post – 23 October, 2012
Posted: 04 Nov 2012 08:00 PM PST
Joanna Yap of Borneo Post covered the Sarawak State Supported Employment Seminar 2012 at the Merdeka Palace Hotel & Suites. This is her article on the Disability Equality Training session titled "What is Disability?" that I conducted. This scanned copy is courtesy of Jabatan Kebajikan Masyarakat Negeri Sarawak. It is also available online here.
Click on image for larger version.
Related posts:
Posted: 04 Nov 2012 07:00 PM PST
   A grown-up is someone who suffers from responsibility.
    They who are afraid to ask are ashamed of learning.
    Blessed are those who can give without remembering and take without forgetting.
    Sermons and biscuits are improved by shortening.
    If men knew what women laughed about, they would never sleep with us.
    If your parachute doesn't open up for you, you've obviously jumped to a conclusion.
    If we knew what we were doing, it wouldn't be called research.
    Sign in a travel agency window: "Please go away."
    Hummingbirds have forgotten the words.
    If you can buy a person's friendship, it is not worth it.
    Humility is such an elusive thing. Just when you think you've got it, you've lost it.
    I'd never make it on one of those Survivor shows. Every time I even think about eating something like caterpillars, I get butterflies in my stomach.
    Change is good as long as I don't have to do anything differently.
    People who are wrapped up in themselves are overdressed.
    Coincidence is just an euphemism for conspiracy.
    George Washington's brother was the uncle of our country.
    It's neither conservative nor liberal to be anti-war. It's humanitarian.
    Life is like a doughnut. You're either in the dough or in the hole.
    When Wal-Mart builds stores in China, will they sell only items imported from the United States?
Posted: 04 Nov 2012 07:00 PM PST
   If one places a tiny amount of liquor on a scorpion, it will instantly go mad and sting itself to death.
    Bruce Lee was so fast that they actually had to slow a film down so you could see his moves.
    The first CD pressed in the US was Bruce Springsteen's 'Born in the USA'
    The mask used by Michael Myers in the original Halloween was actually a Captain Kirk mask painted white.
    The original name for the butterfly was 'flutterby'.
    The first product Motorola started to develop was a record player for automobiles. At that time the most known player on the market was the Victrola, so they called themselves Motorola.
    By raising your legs slowly and laying on your back, you can't sink in quicksand.
    Celery has negative calories! It takes more calories to eat a piece of celery than the celery has in it to begin with.
    Charlie Chaplin once won third prize in a Charlie Chaplin look alike contest.
    In Gulliver's Travels Jonathan Swift described the two moons of Mars, Phobos and Deimos, giving their exact size and speeds of rotation. He did this more than 100 years before either moon was discovered.
    Chewing gum while peeling onions will keep you from crying.
    An old law in Bellingham, Wash. made it illegal for a woman to take more than 3 steps backwards while dancing.
    Astronauts are not allowed to eat beans before they go into space because passing wind in a spacesuit damages them.
    Bats always turn left when exiting a cave.