---
Posted: 23 Nov 2012 08:51 AM PST
"WHO STARTED IT" is not the point, genocide is. I don't blame few readers who condemned the Palestinians for firing rockets into the Israeli territory, giving Tel Aviv a valid reason to level Gaza Strip. They (the readers) don't know history.
So, let me tell them - Malaysians and others - something they should know.
Since 2007, Israel has laid siege to Gaza, controlling its air space, its coast line, its long border with Israel, and via compliant governments in Egypt its tiny border with that country. The fact that these Israeli attacks preceded the firing of primitive rockets from the Gaza Ghetto is both undeniable and irrelevant.
During this time, not a single plane has arrived or departed from Gaza's bombed out airport. The few ships destined for Gaza's seaport have been violently seized by Israel's navy, their crew members arrested if not murdered.
Gazans who stray to close to the fence that Israel built to imprison Gaza's population are shot dead, including a young boy playing soccer earlier this month, whose death predictably provoked the futile rocket fire that Israel uses as a pretext for its genocidal policies.
At the start of the siege an advisor to the Israeli Prime Minister named Dov Weisglass declared that 'the idea is to put the Palestinians on a diet, but not to make them die of hunger'. An Israeli human rights group, Gisha, forced the government to disclose that the defense ministry calculated the minimum number of truckloads of food needed by Gaza's 1.5 million inhabitants to avoid malnutrition - and then allowed only half that number to enter Gaza!
Remember, during most of these six years Hamas has been observing cease fires.
Nothing could better illustrate that Israel's siege has nothing to do with the rockets, and everything to do with deliberately inflicting on Gazans conditions of life calculated to bring about their physical destruction.
This, by the way, fits the definition of genocide set out in Article 2, Section C of the Convention on the Prevention and Punishment of the Crime of Genocide. Israel's siege does not just limit the total quantity of food that Gaza can import but also many specific staples as well as many non-food necessities.
According to a partial list published by Gisha, fresh meat, jam, dried fruit, many spices, and even chocolate are banned. Items used for producing food, such as livestock like goats, cattle, and chicks are prohibited, as are seeds and nuts, fishing rods, fishing nets, fishing ropes, nylon nets for green houses, hatcheries, spare parts for tractors, planters for saplings, etc.
Materials necessary for rebuilding Gaza's bombed out housing stock, such as wood, cement, and iron are prohibited. Education materials like notebooks, writing implements, and standard sized writing paper are banned. Musical instruments are banned.
Even children's toys are not allowed in, according to Gisha. Some of the restrictions may have been relaxed amidst the negative publicity surrounding Israel's murder of Freedom Flotilla activists, but the basic strangulation nature of the siege remains.
Most Gazans are refugees or are descended from refugees who fled what is now Israel in 1948 during the Nakba, when rampaging Jewish armies forced them to flee from their homes. Those homes were given to Jewish families, and their Palestinian owners were never allowed to return. The return of these people to their homes was once a key Palestinian demand, one rooted in the Geneva Conventions.
However, over the decades, Palestinian leaders have gradually given up on ever returning to their homes. Even Hamas has offered a truce if Israel returns to its pre-1967 borders, leaving the final resolution of the problem to future generations.
Yet, despite all claims that they simply want to live in peace, Israeli leaders have always pushed for more. Not just more Palestinian land, but recognition of Israel's right to exist as a Jewish state in borders that it has yet to spell out.
Putting aside the fact that the right of a state to exist does not itself exist in international law (ask Yugoslavia and the Soviet Union), what this amounts to is asking the Palestinians not just to accept the reality that they will never get their homes back, but insisting that they say that Israel has "a right" to those homes.
It is one thing for people to accept the loss of a stolen item, but it is quite another to expect them to acknowledge that the thief actually had a right to that item. But that is precisely what Israel and its puppets in the White House and State Department have long demanded.
We often hear that the United States and Israel are tied by shared values. Nothing could be further from the truth. The core values of the American state and the Jewish state are diametrically opposed. The United States Declaration of Independence is based on the premise that 'Governments are instituted among Men, deriving their just powers from the consent of the governed'.
The American State, at least in terms of its values, is a state of the people it governs. Israel has never been a state for the people it governs. Its declaration of independence is explicit about it being a state for all the Jewish people, whatever governments they live under. It is not a state for Israeli passport holders of Arab descent, and it certainly is not a state for the millions of Arabs in the lands occupied since 1967.
But it is explicitly a state for Jewish people around the world, who are free to come live in Israel simply based on their racial background, while Arabs are excluded from returning to the homes they were driven out of based on their racial background.
We have now heard some government leaders around the world, Obama and others, reiterate that Israel has a right to self-defense (our Anwar Ibrahim is one of them).
No American official has ever spoken of the right of the people of Gaza to self-defense, and it is safe to assume they feel that Gazans have no such right. And judging by some nations' collaboration with and support for Israel's genocidal policies, they actually don't feel that the Gazans  have a right to food or shelter either.
And while the Americans still have food to eat and a roof over their head, they have lost the right to a government that represents their interest rather than those of a genocidal foreign power. Welcome to Zionist-run America!
So, to those who keep blaming it on the 'attacks over frustration' by the Palestinians, you should at least imagine stepping into their shoe!
Posted: 23 Nov 2012 08:19 AM PST
Posted: 23 Nov 2012 07:22 AM PST
I was out with the wife grocery shopping today and we were both just going through the weekly shopping motions without much fanfare. Then all of a sudden, the runner instinct in us kicked in at the same moment and we both stopped and looked at this particular shelf and uttered at t he same time
 'Energy Beans?'
We were instantly perked up as anything to do with running always gets out undivided attention ... LOL! It was a strange sight though cos we never expected to find energy beans being sold in supermarkets here. I normally get my energy gels and chomps from specialty running stores.
So,what did we do? We bought some, like any running crazy people would do ... hahaha! I don't even know if it really is going to work or not but we thought there would be no harm trying them out. They're not exactly cheap though but they're still so much cheaper than the usual energy gels that I buy before my races.
I'll be trying them out during my run tomorrow to see if there is any performance enhancement
(somehow I seriously doubt it)
for my run tomorrow. I'm expecting it to make me run like Meb Keflezighi :D In your dreams, Nick!
Oh well, one can always dream, can't one? Now back to my research on
chauvet slimpar 38
.
Isu AES & Lynas Permudahkan UMNO BN Kalah Dalam PRU
Posted: 23 Nov 2012 08:54 AM PST
A
ES mudahkan BN kalah PRU13
NASIB baik ada juga rakyat cerdik yang memenangkan Pakatan Rakyat (PR) untuk memerintah di Selangor, Pulau Pinang, Kedah dan Kelantan, pada pilihan raya umum lalu.
Kalau tidak, sudah pasti nasib mereka juga sama dengan rakyat di negeri yang diperintah Barisan Nasional (BN) akan menjadi mangsa 'penghisap darah' menerusi pelaksanaan Sistem Penguatkuasaan Automatik (AES).

'Penghisap darah' AES itu tidak dapat menguatkuasakan sistem itu di empat negeri berkenaan kerajaan negeri PR berjaya menghalang dengan tidak membenarkan kamera itu dipasang.

Bagaimanapun, rakyat di negeri yang diperintah PR tidak terlepas, sebaliknya turut dikenakan saman jika mereka pergi ke negeri yang diperintah BN yang pasti banyak dipasang kamera AES.

Walaupun BN menang dalam pengundian untuk melaksankan AES di Dewan Rakyat, tetapi wakil rakyat pembangkang sudah berusaha untuk menghalang sistem itu dilaksanakan.

Rang Undang-Undang Perbekalan Belanjawan 2013 bagi Kementerian Pengangkutan itu diluluskan selepas 78 Ahli Parlimen bersetuju, cuma 49 yang tidak bersetuju.

Sebelum itu, Menteri Pengangkutan, Datuk Seri Kong Cho Ha menerima asakan bertubi-tubi daripada Ahli Parlimen pembangkang yang bangkit mempertikaikan AES.

Keadaan itu mencetuskan kekecohan berikutan Cho Ha dihujani pelbagai persoalan dan dakwaan mengenai pemasangan kamera AES serta keberkesanannya mengurangkan jumlah kematian pengguna jalan raya.

Situasi menjadi semakin gamat apabila Ahli Parlimen Pokok Sena, Datuk Mahfuz Omar, yang juga berjuang melalui NGO Kempen Anti Saman Ekor (Kase) membangkitkan persoalan mengenai dua syarikat utama yang mendapat tender pemasangan kamera AES, iaitu Beta Tegap Sdn Bhd dan ATES Sdn Bhd.

Mengikut Mahfuz melalui maklumat Suruhanjaya Syarikat Malaysia (SSM), ATES Sdn Bhd adalah syarikat berdaftar pada 12 Februari 2009 dan perniagannya berasaskan konsesi yang diperoleh daripada kerajaan termasuk sistem penguatkuasaan trafik automatik.

Manakala Beta Tegap Sdn Bhd didaftar pada 7 Februari 2004 mendapat kelulusan kerajaan menjalankan operasi membekalkan barangan dan perkhidmatan, menguji, serta memasang AES.

Yang dipertikaikan Mahfuz macam mana dua syarikat ini boleh dapat jaminan tender daripada kerajaan sedangkan Kabinet meluluskan AES pada 2006 dan saringan pemilihan tender dilakukan pada 2008.

"Ini menunjukkan ada yang tidak kena… ini bukan untuk menyelamatkan nyawa manusia tapi untuk mengperkayakan kroni dengan merompak wang rakyat. Ini perompak jalanan namanya," katanya.

Ahli Parlimen DAP Batu Gajah, Fong Po Kuan juga bangun mencelah dan mendesak perjanjian pemberian tender antara dua syarikat itu dengan Kementerian Pengangkutan yang menjadi Akta Rahsia Rasmi didedahkan kepada umum.

Apabila AES dikuatkuasakan nanti tidak tahu nasib rakyat yang menjadi mangsa.

Sudahlah sekarang rakyat dibebani dengan pelbagai saman termasuk oleh polis dan Jabatan Pengangkutan Jalan (JPJ) dan tidak lama lagi akan dibebankan dengan saman AES pula.

Ramai juga yang berang dengan keputusan meneruskan AES dan mereka mencabar Perdana Menteri, Datuk Seri Najib Razak dan timbalannya, Tan Sri Muhyiddin Yassin memasang kamera AES di Pekan dan Pagoh.

Sekarang rakyat boleh berfikir sendiri, apa sebenarnya yang UMNO-BN dewa-dewakan sehingga menarik balik penangguhan AES. Ini satu lagi membuktikan UMNO-BN lebih utama memperkayakan kroni daripada membela nasib rakyat.

Walaupun rakyat diberi pelbagai 'gula-gula' pilihan raya termasuk BR1M untuk memenangkan BN, tetapi habuan itu dengan sendirinya akan terhapus apabila mereka terpaksa membayar saman AES nanti. -rkoetkini


'Semoga berjumpa lagi di bumi M'sia tanpa Lynas!'

Saya tiba di Kampung Awah, Maran pada waktu senja 16 November, setelah tiga jam memandu kereta. Penghuni kampung yang berdekatan menuding ke arah masjid, sambil berkata di situlah tempatnya peserta jalan kaki "Stop Lynas" berteduh.

Berteduh di masjid? Mungkinkah? Rupa-rupanya pendeta Buddha dan kawannya benar-benar berteduh di situ untuk semalaman, tetapi di bilik tadika yang bersebelahan dengan masjid.

Sememangnya gerakan Stop Lynas tidak berkenaan dengan politik dan tiada kaitan dengan agama. Saya nampak mereka sedang berehat di tepi jalan ketika saya sampai di situ, sementara sesetengahnya pergi mandi. Saya pergi mencari Wong Tack.

Sedikit "hangus" Wong Tack dijemur keterikan matahari. Kakinya yang sedang berdiri tidak bergetar. Beliau menuju ke arah saya untuk berjabat tangan. Saya memaklumkan bahawa saya membawa sedikit barangan untuk mereka, dan harap mereka tidak mengambil hati.

"Tidak, tidak," lantas beliau membalas. Maka mereka membantu untuk memunggah barangan dari kereta saya, antaranya ubat, plaster, dan minuman herba.

Mereka bersorak, mengagihkan minuman herba kepada yang lain dan minum di situ juga.

Kulit hitam pada wajah mereka akhirnya mengukir senyuman yang puas.

Adegan terharu di mana-mana

Wong Tack tergelak. Menurut beliau, mustahil perjalanan ini dihabiskan hanya dengan berjalan kaki. Tekad adalah motivasi yang menyuntik semangat agar kita menghabiskan perjalanan. Adakalanya kami keletihan, tetapi kekuatan kembali semula apabila kereta yang melalui membunyikan hon-nya sebagai tanda sokongan.

Tadi, seorang pakcik berjalan sehingga kasutnya koyak. Kebetulan seorang anak muda memandu melalui di situ.Anak muda itu telah menanggalkan kasutnya yang berjenama itu dan terus dihadiahkan kepada pakcik.

Adegan yang membuat kita terharu ini disaksikan di mana-mana. Apabila kami kepenatan, kami pun mendampingi pendeta Buddha.Ringan saja cara beliau berjalan.

"Ni Kungfu ni," katanya dengan nada berseloroh.

Polis bertanya kepada saya, apa pertubuhan kamu? Tiada pertubuhan. Hanya sekumpulan orang kampung, dan antaranya dalam usia yang lanjut. Siapa Chairman (pengerusi)? Tiada Chairman, kan ini bukan pertubuhan? Mereka kata saya, jadi sayalah.

Muka Wong Tack yang hitam dijemur itu tergelak lagi, dengan gigi yang putih.

Saya agak pasrah, ramai yang tidak tahu usaha ini. Lebih ramai lagi yang menganggap usaha ini sia-sia sahaja. Kau orang ni semua gila. Dengan serius dan tegas Wong Tack menjawab, semestinya mereka (kerajaan) akan memberi lampu hijau untuk Lynas agar memulakan operasi.

Cuma, kita berkata sekarang, tidak boleh! Malaysia bukan negara yang miskin sangat. Negara kita dilimpahi sumber alam semulajadi yang lumayan, tiada yang kebuluran.

Apa perlunya kita menjadikan negara ini tong sampah kepada racun yang mengancam alam sekitar? Kerajaan dipilih rakyat. Kembalikanlah kuasa kepada rakyat. Kita memiliki hak untuk bersuara! Tiada yang bersungut keletihan

Kami berehat di bilik darjah yang bersebelahan dengan masjid. Masing-masing membaringkan kakinya yang sudah "kilat" digosok sepanjang perjalanan.

Saya mengurut untuk mereka, sambil berjenaka. Anak perempuan berehat di sebelah saya. Mereka akan mengerang ketika diurut. Kami mandi bergilir-gilir, kemudian tidur di lantai.

Tiada televisyen, tiada penghawa dingin. Kami makan malam dalam cahaya yang malap.

Nasi tidak cukup. Wong Tack membeli sedikit roti dan makan, agar orang lain boleh memakan nasi itu.

Saya memeluk Aunty Mei.

Nenek yang berusia 70 tahun ini bersama saya ketika perhimpunan BERSIH 3.0, ditangkap polis atas tuduhan merusuh. (Warga asing tertanya-tanya bagaimana seorang nenek tua yang berusia 70 tahun boleh 'merusuh'?)

Saya pesan pada Aunty Mei supaya berehat, dan saya telah membawakannya ubat pelekat yang sangat mujarab. Lantas beliau membalas, "Tak boleh, kita tak boleh rehat. Selagi kilang tu tak ditutup, takkanlah nyenyak tidur ku? Jalan! Teruskan perjalanan kita!" Aunty Mei memeluk saya dengan erat.

Nenek berbadan kurus ini tiba-tiba menjadi gergasi dalam hidup saya. Beliau bukan lagi seorang ibu atau nenek. Sayapnya yang melebar memberi perlindungan bukan lagi hanya satu keluarganya.

Orang-orang hijau ini menjadi tentera yang tercedera. Lelaki, perempuan, yang muda dan yang tua, yang gemuk yang kurus - dengan kulit yang "hangus" dijemur.

Saya bersama mereka untuk kira-kira dua jam. Tiada sepatah ayat rungutan sama ada letih mahupun menganggap dirinya bodoh - dari bibir yang kekeringan, termasuk seorang budak perempuan kecil. Tak pernah saya dengar rungutannya.

Sebelum berpisah, saya melambai-lambai tangan kepada mereka. Saya menahan sebak, dan cuba menenggelamkan kesebakan dalam hati saya dengan jeritan, "Jumpa lagi pada 20 haribulan. Kita berjumpa di parlimen!"

Sorakan dan tepukan yang gemuruh menenggelamkan saya. Dengan tangkas saya masuk ke dalam kereta, dan mengurung diri saya dengan lenangan air mata, di dalam kereta.

Ya, kita pasti akan berjumpa lagi di bumi Malaysia tanpa Lynas! -mk
Why Was There War in Gaza? Hamas considers all of Israel occupied, illegitimate, a cancer, a crime against humanity by Charles Krauthammer
Posted: 23 Nov 2012 06:04 AM PST
W

hy was there an Israel–Gaza war in the first place? Resistance to the occupation, say Hamas and many in the international media. What occupation? Seven years ago, in front of the world, Israel pulled out of Gaza. It dismantled every settlement, withdrew every soldier, evacuated every Jew, leaving nothing and no one behind. Except for the greenhouses in which the settlers had grown fruit and flowers for export. These were left intact to help Gaza's economy — only to be trashed when the Palestinians took over. 
Israel then declared its border with Gaza to be an international frontier, meaning that it renounced any claim to the territory and considered it an independent entity. In effect, Israel had created the first Palestinian state ever, something never granted by fellow Muslims — neither the Ottoman Turks nor the Egyptians who brutally occupied Gaza for two decades before being driven out by Israel in the 1967 Six-Day War. Israel wanted nothing more than to live in peace with this independent Palestinian entity. After all, the world had incessantly demanded that Israel give up land for peace. It gave the land. It got no peace.
The Gaza Palestinians did not reciprocate. They voted in Hamas, who then took over in a military putsch and turned their newly freed Palestine into an armed camp from which to war against Israel. It has been war ever since. Interrupted by the occasional truce, to be sure. But for Hamas a truce — hudna — is simply a tactic for building strength for the next round. It is never meant to be enduring, never meant to offer peace. But why, given that there is no occupation of Gaza anymore? Because Hamas considers all of Israel occupied, illegitimate, a cancer, a crime against humanity, to quote the leaders of Iran, Hamas's chief patron and arms supplier. Hamas's objective, openly declared, is to "liberate" — i.e., destroy — Tel Aviv and the rest of pre-1967 Israel. Indeed, it is Hamas' raison d'être.
Hamas first killed Jews with campaigns of suicide bombings. After Israel built a nearly impenetrable fence, it went to rockets fired indiscriminately at civilians in populated areas. What did Hamas hope to gain from this latest round of fighting, which it started with a barrage of about 150 rockets into Israel? To formally translate Hamas's recent strategic gains into a new, more favorable status quo with Israel. It works like this: Hamas's new strength comes from two sources. First, its new rocketry, especially the Fajr-5, smuggled in from Iran, that can now reach Tel Aviv and Jerusalem, putting 50 percent of Israel's population under its guns.
Second, Hamas has gained strategic strength from changes in the regional environment. It has acquired the patronage and protection of important Middle Eastern states as a result of the Arab Spring and the Islamist reversal in Turkey. For 60 years, non-Arab Turkey had been a reliable ally of Israel. The vicious turnaround instituted by its Islamist prime minister, Recep Erdogan, reached its apogee on Monday when he called Israel a terrorist state.
Egypt is now run by Hamas's own mother organization, the Muslim Brotherhood, of which Hamas is simply the Palestinian wing. And the emir of Qatar recently visited Gaza, leaving behind a promise of a cool $400 million. Hamas's objective was to guarantee no further attacks on its leaders or on its weaponry, launch sites, and other terror and rocket infrastructure. And the lifting of Israel's military blockade, which would allow a flood of new and even more deadly weapons. In other words, immunity and inviolability during which time Hamas could build unmolested its arsenal of missiles — until it is ready to restart the war on more favorable terms.
Yet another hudna, this one brokered and guaranteed by Egypt and Turkey, regional powers Israel has to be careful not to offend. A respite for rebuilding, until Hamas's Gaza becomes Hezbollah South, counterpart to the terror group to Israel's north, with 50,000 Iranian- and Syrian-supplied rockets that effectively deter any Israeli preemptive attack.
With the declaration of a ceasefire on November 21, Israel seems to have successfully resisted these demands, although there may be some cosmetic changes to the embargo. Which means that in any future fighting, Israel will retain the upper hand. Israel has once again succeeded in defending itself. But, yet again, only until the next round, which, as the night follows the day, will come. Hamas will see to that. National Review
— 
Charles Krauthammer
is a nationally syndicated columnist. © 2012 the 
Washington Post 
Writers Group
.
မြတ္စလင္ မုန္းတီးေရး ေၾကညာခ်က္ လွဳိင္းဘြဲ႕တြင္ ယံုထင္ေၾကာင္ထင္ျဖစ္
Posted: 23 Nov 2012 05:43 AM PST
မြတ္စလင္ မုန္းတီးေရး ေၾကညာခ်က္ လွဳိင္းဘြဲ႕တြင္ ယံုထင္ေၾကာင္ထင္ျဖစ္
ႏိုဝင္ဘာ ၂၃၊ ၂၀၁၂ M-Media ေနသစ္ထြန္း
ေအာက္တိုဘာ ၉ ရက္ေန႕ ဘားအံၿမိဳ႕မွ မဲေဘာင္ေက်ာင္းတိုက္မွ ထုတ္ျပန္ေသာ မြတ္စလင္ မုန္းတီးေရး ေၾကညာခ်က္
ေအာက္တိုဘာ ၉ ရက္ေန႕ ဘားအံၿမိဳ႕မွ မဲေဘာင္ေက်ာင္းတိုက္မွ ထုတ္ျပန္ေသာ မြတ္စလင္ မုန္းတီးေရး ေၾကညာခ်က္ စာရြက္မ်ားမ်ား ယခုလ ဆန္းတြင္ လွိဳင္းဘြဲ႕ ၿမိဳ႕တြင္ ျဖန္႔ေ၀ ခဲ့သည္။ ယင္းေၾကညာခ်က္တြင္ မြတ္စလင္မ်ားႏွင့္ ဆက္ဆံပါက အျပစ္ေပး အေရးယူမည္ဟု ေဖၚျပထား သျဖင့္ ဘယ္သူက ဘယ္လုိ ျပစ္ဒဏ္ေပးမည္ ဆိုသည္ကို ၿမိဳ႕ခံ ဗုဒၶဘာသာ၀င္ မ်ား၊ အစၥလာမ္ ဘာသာ၀င္မ်ားအၾကား ယံုထင္ေၾကာင္ ထင္ျဖစ္ေနၾကသည္။
"ေၾကညာခ်က္မွာက မြတ္စလင္ေတြနဲ႔ ဆက္ဆံရင္ သူတို႔ဆီက ေစ်း၀ယ္ရင္ အေရးယူမယ္ ဆိုေတာ့ တစ္ခ်ိဳ႕ ကလည္း ရဲက ဖမ္းမယ္၊ တစ္ခ်ိဳ႕က စစ္တပ္က ဖမ္းမယ္ ၊ ဆိုၿပီး ယံုထင္ ေၾကာင္ထင္ ျဖစ္ကုန္ၾက တယ္။ "က လွိဳင္းဘြဲ႕ ၿမိဳ႕ခံ တစ္ဦးက ေျပာပါသည္။
"အဲဒီလို စာေတြ က အရင္က မရွိဘူး။ ျမန္မာဂလိုဘယ္ပို႔စ္မွာ ပါလာျပီးတဲ႔ ေနာက္ပိုင္းမွာ ၿမိဳ႕ေပၚမွာ ဘားအံက စာရြက္ေတြ တခ်ိဳ႕ လုိက္ေ၀တာ ရွိပါတယ္။ အဲဒီေနာက္ ပိုင္း မြတ္စလင္နဲ႔ ဗုဒၶဘာသာ၀င္ ဆက္ဆံေရးအနည္းငယ္ တန္းသြားၾကတယ္။ ဟု ၄င္းက ေျပာသည္။
လွိဳင္းဘြဲ႔ ေဒသအာဏာပိုင္မ်ားအေနျဖင့္ ယင္းအေျခအေနအေပၚ မည္သို႔မွ် ေျဖရွင္းေပးျခင္းမရွိသလို ၊ ဘာသာေရး ပဋိ္ပကၡ လွဳံေဆာ္ေၾကညာခ်က္ စာရြက္ျဖန္႔ ေ၀ျခင္း မ်ား ကိုလည္း ထိေရာက္စြာအေရးယူခဲ့ျခင္းမရွိေၾကာင္း သိရသည္။
ဘားအံမဲေဘာင္ေက်ာင္းတိုက္မွ ထုတ္ျပန္ေသာ ေၾကညာခ်က္ တြင္ မြတ္စလင္မ်ားႏွင့္ ဆက္ဆံေရး မလုပ္ရန္ ၄ ခ်က္ကို ေဖာ္ျပထားျပီး ယင္းအခ်က္မ်ား ေဖာက္ဖ်က္ပါ က အျပစ္ေပးအေရးယူမည္ ဟု ေဖာ္ျပထားသည္။ ယင္းေၾကညာခ်က္ကို ျမန္မာပို႔စ္ဂလိုဘယ္ ဂ်ာနယ္ ေခါင္းႀကီးသတင္း အျဖစ္ ေအာက္တိုဘာ ၁၉ရက္ေန႔ တြင္ ေဖၚျပခဲ့သည္။
ရခိုင္ ပဋိပကၡမတိုင္ခင္ ကာလမ်ားတြင္ မြတ္စလင္ မုန္းတီးေရး စာရြက္စာတမ္း ၊ တရားေဟာေျပာပြဲမ်ား ကို ရခိုင္ ျပည္နယ္အႏွံ ျပဳလုပ္ျခင္းျဖင့္ လူအမ်ားစု ဗုဒၶ ဘာသာ၀င္ မ်ားကို အယံုသြင္း ခဲ့ၾကသည္။ ယင္းေနာက္ ပိုင္း မြတ္စလင္မ်ား၏ အိုးအိမ္စည္းစိမ္းမ်ားကို မတရားသိမ္းပိုက္ျခင္း ၊ တုိက္ခိုက္ သတ္ျဖတ္ျခင္း ၊ ဇာတိေျမ မွ ေမာင္းထုတ္ျခင္းမ်ားကို ေဗ်ာင္က်က် က်ဴးလြန္ခဲ့ၾကသည္။
"ကြ်န္ေတာ္ တို႔ေတာ႔ ဒီမွာ အျဖစ္မခံပါဘူး။ ဒီအတိုင္းပါပဲ ၿမိဳ႕ခံ ဗုဒၶဘာသာေေတြကလည္း မျဖစ္လိုၾကပါဘူး။ ဒီလိုမ်ိဳး ကာလမွာ အမွားအယြင္းမျဖစ္ရေအာင္ ကြ်န္ေတာ္ တို႔ေတာ့ မြတ္စလင္ေတြ ဘက္က အမွားမျဖစ္ေအာင္ ထိန္းေနပါတယ္" ဟု ၄င္း လွဳိင္းဘြဲ႕ၿမိဳ႕ခံ ကေျပာပါသည္။
အလားတူ ကရင္ျပည္နယ္ ၿမ၀တီၿမိဳ႕တြင္ ရခိုင္ ပဋိပကၡ ကဲ့သို႔ ပဋိပကၡ မျဖစ္ပြားေစရန္ အတြက္ ျမ၀တီၿမိဳ႕ နာေရးအသင္း ဦးေဆာင္မႈျဖင့္ ဘာသာေပါင္းစံု ကြန္ရက္ ဖြဲ႔စည္းရန္ ႏို၀င္ဘာ ၅ရက္ေန႔တြင္ ေဆြးေႏြး ခဲ့သည္။
လွိဳင္းဘြဲ႕ၿမိဳ႕တြင္ အစၥလာမ္ ဘာသာ၀င္ အိမ္ေျခ ၄၀၀ ေက်ာ္ရွိၿပီး ဗလီ၀တ္ေက်ာင္းေတာ္တစ္လံုး တည္ရွိ သည္။
လွဳိင္းဘြဲ႕ ၿမိဳ႕မွ ၁၅ အကြာ တြင္ရွိေသာ ပိုင္က်ံဳၿမိဳ႕နယ္ခြဲ တြင္ အလားတူ မြတ္စလင္မုန္းတီးေရး စာရြက္ စာတမ္း မ်ား ေ၀ငွခဲ့ျခင္းေၾကာင့္ ေဒသခံ မြတ္စလင္မ်ား စိုးရိမ္ ေသာက ေရာက္ေနရေၾကာင္း သိရသည္။
ငလ်င္ဒဏ္သင့္ ေဒသမွ ေစတီႏွင့္ ဗလီဝတ္ေက်ာင္း ပ်က္စီးမႈမ်ား ၀န္ၾကီး ၾကည့္ရွဳစစ္ေဆး
Posted: 23 Nov 2012 05:39 AM PST
ငလ်င္ဒဏ္သင့္ ေဒသမွ ေစတီႏွင့္ ဗလီဝတ္ေက်ာင္း ပ်က္စီးမႈမ်ား ၀န္ၾကီး ၾကည့္ရွဳစစ္ေဆး
ႏိုဝင္ဘာ ၂၃ ၊ ၂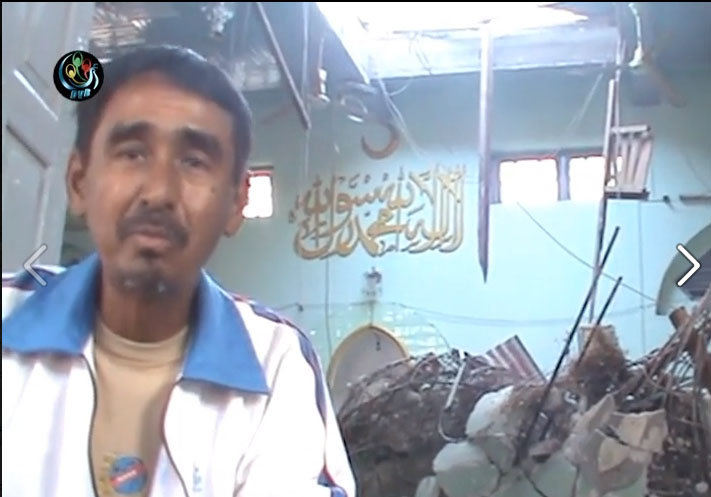 ၀၁၂ M-Media ေမာင္ေလွ်ာက္(ျမယာေျမ)
ႏုိ၀င္ဘာ၁၁ရက္ေန့ မနက္၇နာရီ၄၅မိနစ္တြင္ စစ္ကုိင္းတုိင္းေဒသႀကီး ႏွင့္ မႏၱေလးတုိင္းေဒသႀကီးရွိျမိဳ့နယ္အခ်ဳိ႕ တြင္ လႈပ္ခတ္ခဲ့ေသာ ငလ်င္ေၾကာင့္ အဆုိပါျမိဳ့နယ္မ်ားရွိ ေစတီ၊ပုထုိးမ်ား ႏွင့္ အစၥလာမ္ ဗလီ၀တ္ေက်ာင္းအခ်ိဳ႕ ပ်က္စီးမႈမ်ားရွိေၾကာင္းသိရသည္။
ငလ်င္ေၾကာင့္ ပ်က္စီးသြားတဲ့ စဥ္ငူျမိဳ႕မ ဗလီ (မႏၱေလးတိုင္းေဒသၾကီး ၊ ျပင္ဥိးလြင္ခရိုင္) ဓါတ္ပံု Source: DVBစစ္ကုိင္းတုိင္းေဒသႀကီးရွိ ငလ်င္ဒဏ္သင့္ေရႊဘုိျမိဳနယ္ ေက်ာက္ေျမာင္းျမိဳ့ ေရႊႏႈန္းတုိး ေစတီေတာ္ပ်က္စီးမႈ ၊ ေရႊႏႈန္းတုိး ဗလီ၀တ္ ေက်ာင္းေတာ္မ်ား ပ်က္စီးမႈကုိ ႏုိ၀င္ဘာလ၂၀ရက္ေန့ ညေနပုိင္းတြင္ သာသနာေရး ၀န္ႀကီးဌာနျပည္ေထာင္စု ၀န္ၾကီး သူရဦးျမင့္ေမာင္သည္ တာ၀န္ရွိသူမ်ား လုိက္ပါလ်က္ၾကည္ရႈ႕စစ္ေဆးခဲ့ေၾကာင္းသိရသည္။
၂၀၁၂ ခုႏွစ္၊ ႏုိ၀င္ဘာလ ၁၁ ရက္ေန႔ ျမန္မာစံေတာ္ခ်ိန္ (၁၇) နာရီ၊ (၂၆)မိနစ္၊ (၂၀)စကၠန္႔အခ်ိန္တြင္ မႏၱေလးေျမငလ်င္ စခန္းမွ ေျမာက္-အေနာက္ေျမာက္ဘက္ ၅၅ မုိင္ခန္႔ ကြာေ၀းေသာ ျမန္မာႏုိင္ငံျပည္တြင္း (ေရႊဘိုၿမိဳ႕၏ ေျမာက္ဘက္ (၁၅)မိုင္ခန္႔အကြာ)ကို ဗဟုိျပဳ၍ အင္အားရစ္(ခ်္)တာစေကး (၅.၈)အဆင့္ရွိ ေနာက္ဆက္တဲြ အင္အား အသင့္အတင့္ရွိေသာ ေျမငလ်င္တစ္ခု လႈပ္ရွားသြားေၾကာင္း မိုးဇလက ႏုိ၀င္ဘာလ ၁၁ ရက္ကသတင္းထုုတ္ျပန္ခဲ့သည္။
လႈပ္ခတ္ခဲ့ေသာ အင္းအားျပင္း ငလ်င္ေၾကာင့္ ဗုဒၵဘာသာ ဘုရားေစတီမ်ားႏွင့္ အစၥလာမ္ဗလီ၀တ္ေက်ာင္းအခ်ိဳ႔၊ဘုန္းေတာ္ၾကီးေက်ာင္း မ်ားႏွင့္ လူေနအိမ္ေျခမ်ား ပ်က္ဆီးမႈမ်ားရွိေၾကာင္း သိရပါသည္။
ႏိုင္ငံေတာ္ သမၼတရံုးမွ ထုတ္ျပန္ေသာ အပ်က္အဆီးစာရင္းမ်ားအရ ႏုိ၀င္ဘာ ၁၃ ရက္ေန႔အထိ ငလ်င္ဒဏ္ေၾကာင့္ စုစုေပါင္း ပ်က္စီးဆုံး႐ွဳံးခဲ့ရမွဳ အေျခအေနမွာ အေျခခံပညာေက်ာင္း ၂၅ ေက်ာင္း၊ ဘုန္းေတာ္ႀကီးေက်ာင္း ၃၅ ေက်ာင္း၊ ဘုရားေစတီပုထိုး ၄၅ ဆူ၊ ၀န္ထမ္းအိမ္ရာ ၅၅ လုံး၊ ေဒသခံျပည္သူမ်ား၏ေနအိမ္ ၂၀၁ လုံး၊ ေဆးရုံေဆးေပးခန္း ၁၃ ခု၊ ရတနာသိဃၤ တံတား တည္ေဆာက္ေရးလုပ္ငန္းခြင္မွ ဆိပ္ခံ ေဗာတံတား ၁ ခု၊ တာ၀ါတုိင္ႏွင့္ ထရန္စေဖာ္မာ ၅ ခု ပ်က္စီးဆုံး႐ွဳံးခဲ့ေၾကာင္း သိရွိရသည္။
ႏိုင္ငံေတာ္သမၼတရံုးမွ ထုတ္ျပန္ေသာ အပ်က္အဆီးစာရင္းတြင္ ဗလီဝတ္ေက်ာင္းေတာ္မ်ား ပ်က္စီးမႈ႕ကို သီးသန္႔ထည့္သြင္းေဖာ္ျပထားျခင္း မရိွေၾကာင္းကို ေတြ႔ရိွရပါသည္။
ကုိးကား-
23.12.2012 ထုတ္ျမန္မာ့အလင္းသတင္းစာ
သံတြဲ-ရန္ကုန္ ကားမ်ားေပၚတြင္ မြတ္စလင္မ်ားမပါေရး ၾကပ္မတ္ရန္ ညႊန္ၾကားခ်က္ထုတ္ Ordered to check that there must be no Muslims on the cars travelling between Thandwe Rangoon
Posted: 23 Nov 2012 04:32 AM PST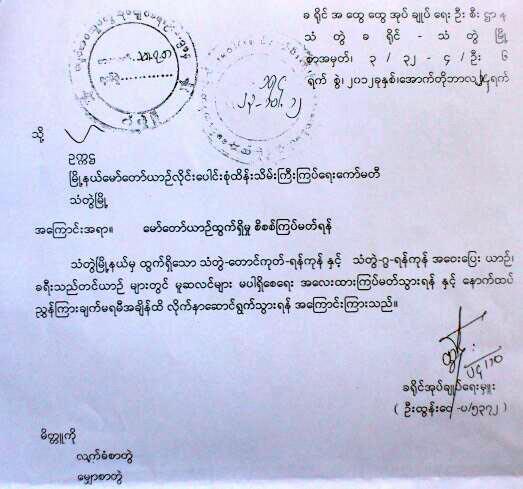 Ordered to check that there must be no Muslims on the cars travelling between Thandwe Rangoo. Please refer to  the Apartheid Racial Segregation and 8 Stages of Genocide.
သံတြဲ-ရန္ကုန္ ကားမ်ားေပၚတြင္ မြတ္စလင္မ်ားမပါေရး ၾကပ္မတ္ရန္ ညႊန္ၾကားခ်က္ထုတ္
————–
၂၀၁၂၊ ႏို၀င္ဘာ၊ ၂၃ source: YPI

သံတြဲျမိဳ႕မွ ရန္ကုန္သို႔သြားေသာအေ၀းေျပးခရီးသည္တင္ယာဥ္မ်ားတြင္ အစၥလာမ္ဘာသာ၀င္မ်ား မပါရွိေစေရးၾကပ္မတ္ရန္ ခရိုင္အေထြေထြ အုပ္ခ်ဳပ္ေရးဦးစီးဌာနႏွင့္ ၿမိဳ႕နယ္ မ.ထ.သ မွ ညႊန္ၾကားခ်က္ ထုတ္ျပန္လိုက္သည္။
ခရိုင္အုပ္ခ်ဳပ္ေရးမႉးမွ ေအာက္တိုဘာ ၂၄ ရက္စြဲျဖင့္ ထုတ္ျပန္လိုက္ေသာ ယင္း ညႊန္ၾကားခ်က္အား ၿမိဳ႕နယ္ မ.ထ.သ က ႏို၀င္ဘာ ၁၆ ရက္စြဲျဖင့္ အေ၀းေျပးကားလိုင္းမ်ားထံ ဆက္လက္အေၾကာင္းၾကားခဲ႔သည္။
ေဒသခံတစ္ဦးက" ေလယာဥ္နဲ႔သြားမယ္ဆိုရင္ ကားခထက္ ေလးငါးဆမက ကုန္တာေပါ့၊ ေတာ္ရံုနဲ႔ ခရီးသြားဖို႔ မလြယ္ေတာ့ဘူး" ဟုေျပာသည္။
သံတြဲ- ရန္ကုန္ကားခမွာ ၁၂၀၀၀ က်ပ္မွ ၁၅၀၀၀ က်ပ္ အထိျဖစ္ၿပီး ေလယာဥ္ခမ်ားမွာ ျမန္မာ့ေလေၾကာင္း ၄၈၀၀၀ က်ပ္ႏွင့္ က်န္ပုဂၢလိက ေလေၾကာင္းလိုင္းမ်ားမွာ ၇၅၀၀၀ က်ပ္ျဖစ္သည္။
"တစ္ကယ္ဆိုရင္ ကားလမ္းမွာ လံုၿခံဳမႈ မရွိဘူးဆိုရင္ အာဏာပိုင္ေတြက လံုၿခံဳေရးစီစဥ္ေပးသင့္တယ္" ဟုလည္း အျခားေဒသခံတစ္ေယာက္က ေျပာသည္။
အဆိုပါ ညႊန္ၾကားစာမ်ားတြင္ မည္သည့္ အေၾကာင္းေၾကာင့္ဟုမပါရွိပဲ ေနာက္ထပ္ညႊန္ၾကားခ်က္မရမီ အခ်ိန္ထိ လိုက္နာရန္ဟုသာ ေဖာ္ျပထားသည္။ ။
Ketua Pemuda Umno Ditahan Polis Bersama Arak, Dadah
Posted: 23 Nov 2012 06:09 AM PST
S
eorang Ketua Pemuda Umno cawangan di Negeri Sembilan ditahan polis dalam satu serbuan minggu lalu.
"Dia ditahan di sebuah hotel dalam keadaan dikelilingi dadah dan arak,
" kata Ketua Cabang KEADILAN Rembau, Badrul Hisham Shahrin kepada Keadilan Daily.
Mendedahkan hal itu, beliau berkata, bapa kepada individu itu seorang pemimpin Umno bergelar Datuk yang juga bekas senator.

Badrul Hisham yang dikenali sebagai Chegubard berharap pendedahan awal itu bertujuan mengelak kes kecurangan pemimpin disorok atas arahan politik.

"Kita harap pendakwaan dapat dilakukan dengan adil. Polis dapat bertindak tegas tanpa mempeduli tekanan politik Umno," kata Penyelaras Solidariti Anak Muda Malaysia (SAMM) itu.

Sebelum ini, beliau berkata, banyak kes salah laku pemimpin Umno disenyapkan tanpa diambil tindakan ekoran tekanan kepada pihak berkuasa.

"Pernah kes seorang Ahli Dewan Undangan Negeri (Adun) salah guna senjata, lepaskan tembakan kerana berbalah dengan orang, laporan dibuat tetapi kes ditutup," katanya. -KD


Uthayakumar's uneasy ties with Pakatan by Commander (Rtd) S THAYAPARAN, formerly of the Royal Malaysian Navy
Posted: 23 Nov 2012 02:51 AM PST
"There comes a time when silence is betrayal." - Martin Luther King Jr.
INTERVIEW
The following is the second of a three-part interview with Human Rights Party leader P Uthayakumar. The first part is here. 
Many now accuse Hindraf and you of being racists but you have a public record of defending Malaysians regardless of ethnicity. Do you think that Hindraf's own polemics is to blame or do you think that Malaysians are generally disinterested in the plight of marginalised communities after years of being divided along ethnic lines?

Hindraf labeled as a racist outfit by no less than prime minister-in-waiting Anwar Ibrahim and top Pakatan Rakyat Malay and Chinese leaders is a very clever political strategy. It's the 3Ds - 'diverting, diluting and denying' the institutionalised state-sponsored racist policies which victimise the most vulnerable Indian poor. Only in bi-racial 1Malay-sia and in no other part of the world is a cry against racism in itself becomes racism. When Hindraf demands equal rights, equal opportunities and equal upward mobility opportunities for the Indian poor, we become a 'racist outfit'.

For 15 long years, I have tried convincing and engaging for hours with top Pakatan and NGO leaders not to racially segregate the Indian poor but to no avail. I have since given up.


Our very first pro bono case of death in police custody that we took up and had filed in court was that of Anuar Sarip, 31, 14 years ago in 1999. Our unwavering stand for justice for this family ended with the apex Federal Court on Oct 10, 2012 rejecting the claims of Suzana Mohammad Aris, Anuar's widow (centre in photo).

Moreover, the very first pro bono case of applying to the High Court for an unprecedented second post-mortem to be conducted in a death in police custody case is that of Ho Kwai See, 29, just to name a few non-Indian cases.

But of course most of the cases we have taken up involve the Indian poor as they constitute about 80 percent of the victims, completely disproportionate to their forming a mere 8 percent of the population. However, we are not going to be apologetic for focusing on the most vulnerable Indian poor, especially bearing in mind that the Malay and Chinese political and NGO leaders, and the Indian elite appear disinterested for obvious reasons. However, when Hindraf focuses on the Indian poor, we are conveniently labeled as a racist outfit. Why should Hindraf not be the focus pressure group on the Indian poor when the 'evil' Umno has formed the highest political level Cabinet Committee on the Indians and led by no less than the Malay prime minister himself and never such a committee on the Orang Asli, Penan, Kadazan and Iban?

Could you describe what you mean by 'mandore/madorini' and does this mean that Hindraf, besides fighting against the systemic discrimination under Umno-BN, is also fighting against the entrenched class system in the Indian community?


'Mandore' is a term I had formulated as Item 7 of the Hindraf 18-point demands, and was widely used at the height of the 2007 Hindraf nationwide forums. This word shot to fame when I had repeated the same on the live Al Jazeera interview at its studio in the afternoon of Nov 25, 2007 Hindraf rally. It was originally used to describe the Umno, self-serving, cari makan, powerless, front men and fall men MIC mandores who were used to mislead, misrepresent, short change, cheat, dish out piecemeal and temporary handouts and to keep the Indian poor out of the national mainstream development of bi-racial 1Malay-sia.


In return, they are blessed with some token rewards. In the post-2008 general elections era, unfortunately, even the Pakatan state governments have aped Umno, but using their very own pseudo 'multi-racialist' mostly English-speaking Indian elite mandores.

These Indian mandores are being used to give the impression that they can solve the Indian poor problems. Having no or very little power to deliver, they end up doing the old MIC job by dishing out the peanuts 'peruntukan'. Their full-time jobs keep them politically afloat and relevant when in their spare time they dish out hampers, rice packets, small ang pows, mock cheques and feeding Tamil dailies with propaganda.

Moreover, when they eventually fail to deliver, the Indian poor would vent their anger and frustrations against these Indian mandores. A very clever racist Umno political strategy now conveniently adopted by Pakatan. The real power wielding tuans and towkays get away scot-free. The tragedy being the MIC mandores today have been replaced by the Pakatan 'multi-racialist' English-speaking elite Indian mandores.

Do you think that the Indian middle class has abandoned the issues confronting the working class/disenfranchised Indians.


So who is racist now? Why should it not be the Malay and Chinese middle-class not abandoning the Indian poor? After all, we are multi-racial and 1Malaysia. It is the duty of the Umno and Pakatan governments not to abandon the Indian poor. In any event, the Indian middle-class are not in much of a position to help, as are the Malay and Chinese middle-class. The Ananda Krishnans, Gnanalingams and Fernandeses are mere Umno showpiece proxies. Not many people know that Tony Fernandes owns only 7.5 percent of AirAsia shares. However, Umno projects him as Mr AirAsia.
Do you think there is any difference between Pakatan and BN? Could you describe your interactions with Pakatan and do you think that Pakatan has lived up to the expectations of Hindraf?

Yes, we want a change. We acknowledge that Umno is one of the last few regimes in the world that has ruled for 55 long years without a break in the chain. The other regimes being Zimbabwe, North Korea, Saudi Arabia, China, to name a few. However, Hindraf is not prepared to take responsibility for Pakatan's non-delivery on the Hindraf 18-point demand. We are worried that the Umno institutionalised, private sector racist policies that victimises the Indian poor will not change when Pakatan gets Putrajaya as per the early warning signs we detect in Pakatan's state little Putrajayas. This is the Hindraf dilemma.

Unfortunately, Hindraf only sees a marginal difference if Pakatan claims Putrajaya concerning the Indian poor. As a nation, we expect to see a better system of governance, better police force, less corruption, toned down Little Napoleons, less abuse of powers by government enforcement agencies, etc. Pakatan does not want to engage Hindraf because we champion this cause without fear or favour, refuse to be the Pakatan Indian mandores, refuse to take their 'perks' posts, positions and therefore cannot be controlled. For the record, no one from Hindraf has ever taken up any positions in the Pakatan state governments.

This way we remain independent, non-compromised and able to act in the best interest of the Indian poor. Unfortunately, as it stands we only see a slightly better version of an Umno clone in Pakatan-controlled states concerning the Indian poor.

Besides the racist label, many have accused you of being "stubborn" in your dealings with Pakatan. What is your response to such accusations?


Yes, if Hindraf does not demand delivery of the 18-point demand, does not demand for seats, does not point out Pakatan's racism - which is like Umno victimising the Indian poor - but instead pledge blind support to Pakatan as what MIC does for Umno, Hindraf and I would become the darling of Pakatan and Malaysiakini readers and no more "racist and stubborn".


Racist label for crying out against racism? Stubborn, because we refuse to kowtow to become Pakatan Indian mandores? We cannot help it if we are deemed stubborn in struggling to see an end to the Umno-style government racist policies and the victimising of the Indian poor in the five Pakatan states now and when they get to Putrajaya, which Pakatan most likely would in GE13.

We wish them well. But Hindraf will not compromise on the 'below the water problems' affecting the Indian poor and will continue being the 'stubborn' pressure group, even with Pakatan at the helm at Putrajaya.

We will continue being stubborn struggling to end the tears of the Indian poor of their day-to-day misery for which most see committing suicide as their only way out. This is how serious the Indian problem is. Is Malaysia a civil society? A masyarakat madani?
How does Hindraf view the non-BN Indian politicians and could you describe Hindraf's interactions with them? Do you think there has been a lack of self-criticism in the Indian community or do you think that for so long as a certain section of the Indian community has been under siege that self-criticism would be an unnecessary distraction from the larger social and economic concerns ?

There are 11 and 13 Pakatan Indian MPs and state assemblymen respectively. But all of them were powerless, for example, to stop the demolishment of the aforesaid Kg Buah Pala, Ladang Batu Pekaka Hindu Cemetery (Kedah PAS) or the Ampang Hindu temple by the Pakatan state governments, which Pakatan wouldn't dare do to the Malay and Chinese communities. A Pakatan Adun conceded that he has no powers to even pick up the phone and call the local council president to issue even a 'kachang putih' licence to an Indian poor. What more Felda-like land for at least 100 of the poorest hardcore poor Indians in? No way. All the other Pakatan MPs and Adun are in the same status. But when we refer to them as mandores, they get very sensitive.

Just this morning (Nov 18, 2012), I read an interview of the most senior Pakatan Indian MP. He outlines Pakatan's 'feather weight' success as having fought (with mandore S Samy Vellu) on the dissolution of the South Indian Labour Fund, saving the Sitiawan Indian Association land. He or any of the other MPs and Aduns is powerless to get their Pakatan tuans and towkays to deliver at the Pakatan-state level. For example, the Felda-like 10 acre land ownership for 10,000 of the poorest Indians for land titles or for all 311 Tamil schools, all Hindu temples and all Hindu cemeteries in the Pakatan states in an "all in one go" policy.

We choose not to interact with these Pakatan Indian mandores just as we chose not to interact with the MIC mandores. We go straight for the jugular, the powerful Umno and Pakatan top Malay and Chinese political leaders who wield the real power, and are the policymakers, decision makers and implementers. Malaysiakini
Yesterday: The state's war against Uthayakumar
Education Ministry patches botched written reply by Kow Gah Chie
Posted: 23 Nov 2012 02:50 AM PST
It was a case of "now you see it, now you don't" at Parliament yesterday when the Education Ministry scrambled to amend a written ministerial reply, possibly to avert a backlash from Chinese voters.


Two days ago, the ministry had issued a written reply to Pandan MP Ong Tee Keat who had sought an explanation on the whether there are different considerations for applications to set up private schools, international schools and private Chinese schools.

Ong, who is former MCA chief, had also asked what were the restrictions that were imposed on such schools. Among other issues, the ministry had replied that applications for Chinese independent schools were "no longer open" because such schools run a curriculum not conforming to the national curriculum. By mid-afternoon yesterday, Malaysiakini's Chinese edition ran the news while several Chinese newspapers had dispatched text message news alerts.

Legacy reasons

Following this, the Education Ministry sent out a revised copy of written reply to the press in which references to the cessation of applications for Chinese private schools were removed. Instead, the new reply stated that 60 Chinese independent high schools exist because of legacy reasons. [Scroll down to see comparison of both replies.] "After the Education Act 1961 was in force, some secondary schools chose to adopt the national curriculum and were classified as SMJK, or 'conforming schools', while the rest became Chinese independent schools. "However, independent schools remain at 'status quo' as stipulated in Section 151 of the Education Act 1996.

"This statement is in line with speech by Najib Abdul Razak (as then education minister) when tabling the Education Regulation Bill 1995 on Dec 18, 1995," he said. The revised copy was sent through email to news organisations. Normally, a written reply can only be obtained from the media room in Parliament or directly from the MPs. An Education Ministry official, who requested anonymity, said that written reply that was made available in Parliament was a draft that had yet to be scrutinised by the education minister's office.

English is okay

The written reply comes at a time when Chinese educationist group Dong Zong is on an aggressive campaign for the establishment of several Chinese independent high schools.


The group has scored a victory in Kuantan, which currently has no independent secondary schools, and is now focusing on getting government approval for another independent school in Segamat, Johor.

Meanwhile, the written reply explained that entrepreneurs were allowed to establish independent schools which used Malay as the medium of instruction or international schools which used English as part of a liberalisation policy.

The entrepreneurs' financial capabilities, teaching strength, specialisation and availability of a suitable location would be taken into consideration. Applications for new Chinese independent schools were however not addressed directly. Contacted later, Ong said the issuance of a new written reply was "baffling" and he has never encountered such an incident in his political career. He added that the new written reply was placed on the bench where he sits in Dewan Rakyat. Malaysiakini
Hamas' Miscalculation - Why The Group Thought It Could Get Away With Striking Israel
Posted: 23 Nov 2012 02:49 AM PST
The escalation in the fighting last week between Israel and Hamas caught many observers by surprise. Operation Cast Lead, Israel's 2008 campaign against Hamas, had led to an uneasy calm between the warring sides. And last year's release of Gilad Shalit (the Israeli soldier who had been kidnapped by militants in 2006) in exchange for a thousand Palestinian prisoners had even given observers hope that Israel and Hamas had found a way to manage their conflict. But then, Hamas attacked an Israeli mobile patrol inside Israeli territory on November 10 and Israel retaliated by assassinating Ahmed Jabari, Hamas's military chief. This time, the violence that has followed has not faded quickly; indeed, the fight is still intensifying.
Given the destruction wrought by Israel and Hamas' last major conflict, Hamas' calculations in the lead-up to this round of fighting are especially puzzling. The typical explanation is that Hamas ramped up its rocket campaign earlier this year in an effort to break Israel's siege on the Gaza Strip. Under fire, Israel had to retaliate.
That answer, though, is unsatisfying. In many ways, the siege had already been broken. True, the Gaza Strip is tiny, densely populated, squeezed between Israel and Egypt, and dependent on both countries for the passage of people and goods. And all of that makes it a rather claustrophobic place. Yet Israel's efforts to tightly control the area's borders, which started after Hamas won elections there in 2006, had gradually wound down. After the public relations disaster that followed Israel's 2010 mishandling of the Gaza-bound Turkish aid flotilla, the flow of goods over the Israeli border into Gaza increased substantially. Moreover, the tunnels under the Egypt-Gaza border, through which most of the goods coming into Gaza are smuggled, became so elaborate that they resembled official border crossings. In fact, the volume of trade that travels through the tunnels could be up to $700 million dollars a year.
To some extent, Hamas had a political interest in perpetuating the siege idea, which could be used to foment anger against Israel and drum up popular support. Further, it made sense for the movement to preserve some limitations on the movement of goods into Gaza, since the smuggling industry lined its coffers. Thus, although life in Gaza might not have been all that pleasant for Gazans, Hamas wanting to break the siege is not a compelling explanation for its renewed violence against Israel.
In fact, two factors pushed Hamas to ramp up its bombing campaign: competition from Salafi groups and Hamas' belief that its strategic environment had improved in the wake of the Arab Spring. Since Hamas was elected, it has found the Salafi groups in Gaza especially difficult rivals to manage. Fatah, Hamas' main competitor before it pushed the group out of the area in 2006, was never such a challenge: with the Oslo peace process discredited and Israel's retreat from the Gaza Strip largely attributed (at least in the Gazan psychology) to Hamas' militant activities, the remnants of Fatah just couldn't compete. The small jihadi outfits, though, embodied the fighting ethos. And unlike Hamas, they were free from the constraints that governing puts on ideological purity.
Under pressure, Hamas repeatedly tried to quell the Salafi threat, and it did not shy from using brute force to do so. The clearest demonstration came in August 2009, when Hamas killed the leader of Jund Ansar Allah, a Salafi group that had openly challenged Hamas' authority, and a number of its members. But short of using extreme violence to suppress Salafism in Gaza, which would have been too costly for Hamas, Hamas could not eliminate the Salafi challenge. It watched with worry as new Salafi groups emerged and strengthened throughout the strip.
The pressure on Hamas only increased in the wake of the 2011 Arab uprisings. The Egyptian revolution and the subsequent chaos in the Sinai Peninsula were a backwind in the sails of Gaza's Salafis. The collapse of authoritarian regimes in North Africa unleashed a flood of weapons and fighters, which Salafis channeled into the Sinai Peninsula. With the Egyptian military unable to control the area, Gazan Salafis turned the peninsula into a staging ground for attacking Israel. They believed (correctly) that Israel, anxious not to kill its peace accord with Egypt, would not dare to respond directly.
Indeed, Israel resorted to thwarting attacks emerging from Sinai and the Gaza Strip as best it could by preventing Gazans from getting to Sinai in the first place. On a number of occasions, Israel preemptively targeted Salafi leaders in Gaza. The Salafis responded by lobbing rockets back at Israeli's southern towns. Periods of quiet between rounds of violence became shorter and rarer.
The new regional order presented Hamas with a serious dilemma. As the ruler of Gaza, it could not sit on the sidelines while Israel targeted territory under its control. But it was unable to fully rein in the Salafis without proving once and for all that it was no longer a resistance movement. For Hamas, then, the only choice was to tolerate the attacks. It portrayed them at home as a way to preserve the struggle against Israel. Abroad, it refused to acknowledge any role in them at all to reduce the danger of a backlash. Over time, pressure from Hamas rank and file led the organization to take a more active role in each round of violence.
Posted: 23 Nov 2012 02:48 AM PST
What's old is new again.
Above: Muslims serving in the Nazi German army
Yes, that's the ticket. Hamas fires thousands of rockets at Jewish civilians and get rewarded with booty. Why stop? How much more will be pledged to Hamas for firing rockets at Jews whose only objective (and crime) is
to live
?
German FM pledges 1.5m. euros to Gaza for medical aid JPOST.COM 11/22/2012
German Foreign Minister Guido Westerwelle pledged 1.5 million euros for humanitarian assistance in the Gaza Strip on Thursday.

Speaking in Berlin, Westerwelle welcomed the cease-fire agreed to by Israel and Hamas, calling it "a first move in the right direction," and discussed the need for emergency medical aid for the injured in Gaza.

"Life for people in the Gaza Strip is far from normal. Germany is therefore making available 1.5 million euros for emergency medical treatment there," Westerwelle stated.

"We consider this as yet another contribution towards giving people in the Gaza Strip the prospect of a real future, without which peaceful coexistence will not materialize," he added.

Al Husseini (leader of the Muslim world) and Heinrich Himmler
SAMM desak Bn batalkan jemputan penjenayah perang
Posted: 23 Nov 2012 03:16 AM PST
Kenyataan Umum
24 November 2012
SAMM DESAK Bn BATALKAN JEMPUTAN PENJENAYAH PERANG (RAJAPAKSA) KE MALAYSIA
Solidariti Anak Muda Malaysia (SAMM) cukup  rasa terhina dan malu sebagai warga Malaysia apabila mendapat tahu regim Bn telah menjemput seorang penjenayah perang yang telah terlibat dalam penghapusan etnik ke Malaysia. Penjenayah Perang yang dimaksudkan adalah, Presiden Sri Lanka, Mahinda Rajapaksa yang akan hadir sebagai Tetamu Kehormat Kerajaan Malaysia untuk menghadiri Forum Ekonomi Islam Sedunia yang akan diadakan di Johor Bahru dari 4hb Disember sehingga 6hb Disember 2012.
Rajapaksa, Presiden Sri Lanka ini merupakan watak terpenting dalam perang yang mengorbankan lebih daripada 30,000 orang awam berketurunan Tamil di Utara-Timur Sri Lanka pada pertengahan tahun 2009. Dokumentari "Sri Lanka Killing Fields" yang diterbit oleh Channel 4, UK telah membongkarkan jenayah perang yang dilakukan oleh tentera Sri Lanka terhadap orang awam berketurunan Tamil yang terperangkap di dalam zon perang di Utara-Timur Sri Lanka. Tentera Sri Lanka sengaja menyerang sasaran awam seperti kawasan Hospital dan kawasan perumahan dengan tujuan untuk membunuh seberapa banyak orang Tamil yang boleh. Tentera Sri Lanka telah menjalankan satu operasi penghapusan kaum – ethnic cleansing semasa penghujung perang di antara Pasukan Tentera dan LTTE pada tahun 2009 itu. Tentera Sri Lanka melakukan segala perbuatan yang kejam itu oleh kerana arahan yang diberikan oleh pemimpin tertinggi mereka. Sebagai Komander Utama Tentera Sri Lanka, Mahinda Rajapaksalah bertanggungjawab sepenuhnya ke atas segala kezaliman yang telah dilakukan ke atas orang-orang Tamil di Sri Lanka.
PULUHAN RIBU ORANG AWAM TELAH DIBUNUH DENGAN KEJAM
Kerajaan Sri Lanka pimpinan Mahinda Rajapaksa telah melanggar segala konvensyen berkaitan dengan hak asasi manusia sejagat dan telah menggunakan segala cara untuk menghapuskan orang-orang Tamil di Sri Lanka. Semasa penghujung perang di antara Tentera Sri Lanka dan LTTE, tentera Sri Lanka telah memerangkap sejumlah orang berketurunan Tamil di dalam "zon keselamatan tertinggi" yang sepatutnya menjadi zon tiada tembakan, dan telah membunuh mereka beramai-ramai dengan mengugurkan bom cluster yang telah diharamkan. Manakala, kerajaan Sri Lanka juga telah memberi tekanan kepada segala pihak ketiga seperti badan-badan bukan kerajaan termasuk ICRC – Persatuan Bulan Sabit Merah Sedunia untuk meninggalkan zon perang, tanpa memberikan apa-apa bantuan kemanusiaan kepada mangsa perang. Malah, Agensi-agensi UN sendiri telah dipaksa meninggalkan zon perang. Para wartawan telah dihalau keluar, supaya tiada ada saksi untuk segala jenis jenayah terhadap kemanusiaan yang dilakukan terhadap orang Tamil di zon perang itu. Maklumat ini disahkan oleh satu laporan dalaman Pertubuhan Bangsa-bangsa Bersatu yang telah bocor baru-baru ini.  http://www.guardian.co.uk/world/2012/nov/14/report-damns-un-sri-lanka
Pada bulan Jun lepas, Presiden Sri Lanka ini disambut dengan tunjuk perasaan dan dia terpaksa membatalkan program ucapanya di London. Manakala beberapa kes telahpun difailkan ke atas Penjenayah Perang ini di mahkamah-mahkamah Amerika Syarikat dan United Kingdom. Mana-mana Negara yang mencintakan keamanan dan hormati hak asasi manusia tidak akan mengalu-alukan kedatangan Penjenayah Perang ini. Harus diingat kedatangan Penjenayah Perang ini ke Malaysia akan berlaku selepas Perdana Menteri, Datuk Seri Najib menandatangani Perjanjian Hak Asasi Asean di Cambodia dua hari yang lepas.
TIADA PERBEZAAN ANTARA MAHINDA RAJAPAKSA, BENJAMIN NETANYAHU & EHUD BARACK
Kerajaan Sri Lanka tiada bezanya dengan rejim Zionis di Israel. Kedua-dua rejim ini dengan angkuh membunuh puluhan ribu rakyat yang tidak berdosa untuk mencapai matlamat mereka. Tatkala, pengkhianatan kerajaan Malaysia terhadap suara orang-orang Tamil (yang menjadi susur galur keturunan

kebanyakan masyarakat India di Malaysia)

,pada Sidang Majlis Hak Asasi Manusia PBB pada awal tahun ini masih lagi segar di ingatan orang-orang Tamil Malaysia, Kerajaan Barisan Nasional sudah bersedia untuk mengkhianati dan melukakan perasaan orang-orang Tamil di Malaysia dengan menjemput Presiden Sri Lanka, Mahinda Rajapaksa ke Malaysia. Menjemput Mahinda Rajapaksa adalah sama seperti menjemput Benjamin Netanyahu ataupun Ehud Barack ke Malaysia. Kesemua mereka adalah pembunuh yang tidak berhati perut yang sanggup membunuh orang-orang yang tidak berdosa demi mencapai matlamat mereka.
Sehubungan dengan itu SAMM mendesak Bn agar tidak memalukan negara dengan membenarkan penjenayah perang sekejam Rajapaksa memasuki negara ini.

Kerajaan Bn selaku penguasa di

Malaysia (buat sementara ini) yang menjadi Tuan Rumah bagi Forum Ekonomi Islam Sedunia ke-8 yang akan diadakan di Johor Bahru,membatalkan hasratnya untuk menjemput Penjenayah Perang Mahinda Rajapaksa sebagai Tetamu Kehormat. 
Jika Bn masih berdegil untuk meneruskan jemputan Rajapaksa ia satu penghinaan terhadap kedaulatan rakyat dan negara ini dan tindakan pekak tidak langsung menghormati suara dan sensitiviti rakyat

.
SAMM

mengajak semua anak muda bangkit menyatakan
pendirian dengan berani dan jelas. Batalkan jemputan atau menerima protes jalanraya besar dan hukuman di peti u

ndi dalam PRU yang bakal menjelang.
Tidak membatalkan jemputan akan membuktikan regim Bn ini tidak langsung menghormati atau memahami jalinan sejarah susur galur saudara kita yang sama membentuk Malaysia dan menguatkan hujah regim ini hanya pewaris regim penjajah British meneruskan penindasan dan ketidak pedulian penguasa kepada rakyat yang diperintah

, hanya memihak pada jaringan penguasa dan pemodal besar diperbagai negara.
SAMM kini sedang menyusun dan merangkaiankan jaringan anak muda termasuk dibawah

gabungan "Tamil Youth Action Force" akan menggerakan anak-anak muda di seluruh Malaysia, untuk berhimpun dan membantah kedatangan "Living Hitler" Mahinda Rajapaksa ke Malaysia. Orang ramai perlu faham isu ini bukan isu orang India (baca; Tamil) semata,ia isu kemanusiaan dan kezaliman yang harus ditentang habis habis

an.
Sedia untuk aksi besar

bantah kehadiran penjenayah perang

dalam masa terdekat !
Sekian
che'GuBard
Penyelaras SAMM Kebangsaan
klik sini untuk menyumbang kepada SAMM
Posted: 23 Nov 2012 02:18 AM PST
I am posting the following joke for laughs and not for any racist slant. My apologies if this offends you in any way. And to my Patel friends from Penang, esp Mr. Patel whom I met two days ago at the Pos Laju office....and his lovely daughter whose baby is due next March, you all know I love good jokes so no offense please. Thanks to Freddie who sent me this joke.
After sorting through a stack of resumes he found four people who were equally qualified -- an American, a Russian, an Australian and a gentleman from India.
He decided to call the four in and ask them only one question. Their answer would determine which of them would get the job.
 The day came and as the four sat around the conference room table the interviewer asked, "What is the fastest thing you know?"
 Dave, the American, replied, "A THOUGHT. It just pops into your head. There's no warning that it's on the way; it's just there. A thought is the fastest thing I know of."
 "That's very good!" replied the interviewer.
 "And now you sir?" he asked Vladimir, the Russian.
 "Hmm... let me see. A blink! It comes and goes and you don't know that it ever happened. A BLINK is the fastest thing I know."
 "Excellent!" said the interviewer. "The blink of an eye, that's a very popular cliché for speed."
 He then turned to George, the Australian who was contemplating his reply.
 "Well, out at my dad's ranch, you step out of the house and on the wall there's a light switch. When you flip that switch, way out across the pasture the light in the barn comes on Yep, Turning on a LIGHT is the fastest thing I can think of."
The interviewer was very impressed with the third answer and thought he had found his man. "It's hard to beat the speed of light" he said.
 Turning to Patel, the gentleman from India, the fourth and final man, the interviewer posed the same question. Patel replied, (in his Gujju accent!)
 "Apter herring da 3 prebius ansers sir, et's obius to me dat the fastest thing is DIARRHEA."
 "WHAT!?" said the interviewer, stunned by the response. The others were already giggling in their seats...
 "Oh, I can expleyn sir," said Patel.
 "You see, sir, da ader day my tummy was pheeling bad and so I run so fast to the baatrum,, but before I could THINK, BLINK, or TURN ON THE LIGHT, I alredi done it !"
 Patel is now the new "Office Manager" at Wal-Mart in Washington.
-Author Unknown-
Have a lovely evening
Memali Kerajaan Malaysia mengaku salah ?
Posted: 23 Nov 2012 02:02 AM PST
Tanggal 19 November - Peristiwa Memali Yang Sukar DiLupakan!
Peristiwa 19 Nov 1985, Kg. Memali, Mukim Siong, Baling, Negeri Kedah, Utara Malaysia menjadi saksi satu tragedi yang sangat dahsyat dalam sejarah tanah air. Lebih 3000 anggota keselamatan dihantar oleh pihak pemerintah daripada regim BN untuk melakukan aksi penangkapan ke atas seorang tokoh ulama' yang bersama di dalam Gerakan Islam di Malaysia iaitu Parti Islam Se-Malaysia (PAS).
Beliau yang mesra dengan panggilan Ust. Ibrahim Libya atau nama sebenarnya Ibrahim bin Mahmud merupakan pendakwah tanah air yang sebelumnya pernah berkhidmat bersama Pusat Islam Malaysia, Kuala Lumpur. Beliau yang telah sekian lama bersama PAS akhirnya mengambil keputusan meninggalkan Pusat Islam bagi meluaskan lagi ruangnya memberikan perkhidmatan kepada Parti Islam walaupun khidmatnya sangat diperlukan oleh Pusat Islam sehingga beliau pernah dii'tiraf sebagai pendakwah terbaik!
Dengan suaranya yang lantang dan tegas menghadapi kezaliman-kezaliman pihak pemerintah ketika itu yang diketuai oleh Perdana Menteri Tun. Dr Mahathir bin Mohamad, setiap majlis-majlis pidatonya pasti dihadiri oleh ribuan pendengar di kalangan penyokong dan pendokong gerakan Islam. Internal Security Act (ISA) yang dikuatkuasakan oleh pemerintah adalah merupakan diantara perkara yang sangat kuat ditentang oleh beliau selain dari sikap pemerintah yang dilihat tidak memandang Islam sebagai 'Aqidah Negara serta jalan penyelesaian masalah ummah. Ditambah lagi dengan peribadi pemerintah yang dicemari amalan korupsi dan sebagainya membuatkan Ust Ibrahim begitu bersungguh dalam memberi semangat kepada ahli PAS agar berazam untuk membuat perubahan dalam kepimpinan Negara.
Sokongan dan dokongan kuat dari ribuan umat Islam di Malaysia yang mencintai perjuangan Islam menjadi 'mimpi ngeri' kepada pihak pemerintah. Ianya begitu menakutkan mereka yang mengimpikan kekuasaan dapat dipegang selama-lamanya.
Akhirnya, pelbagai tuduhan, fitnah dan label-label jahat dilemparkan kepada PAS khasnya Ust. Ibrahim Libya. Alasan-alasan dicipta bagi membolehkan pihak pemerintah dengan mudah menangkap Ust. Ibrahim. Kerjasama antara pemerintah dengan pihak keselamatan mula dilakukan dengan hebat.
Menjelang operasi penangkapan, Kg.Memali dipantau dan dikepung hampir seminggu lamanya. Pertambahan bilangan anggota keselamatan dari sehari ke sehari seakan ingin menghadapi satu bala tentera musuh yang besar atau pengganas yang sangat merbahaya yang diperlukan segera.
Cerita-cerita karut yang direka mengenai kegiatan Ust. Ibrahim dan pengikutnya di Kg. Memali disiarkan media utama negara bagi mengelabui mata orang awam. Ust. Ibrahim yang istiqamah mengajar anak-anak muridnya dikalangan orang tua dan anak muda di Madrasah yang dibinanya dimaklumkan mengajar fahaman salah dan sesat. Semuanya berlaku dalam tempoh menjelang operasi.
Sangat dahsyat. Tanggal hampir segenap penjuru kampung telah terkepung, dibimbangi ada sasaran yang terlepas keluar. Penduduk Kg. Memali yang begitu setia bersama guru mereka terus bermunajat kepada Allah memohon keselamatan dan bantuan. Persiapan persenjataan ala kadar dengan senjata 'orang kampung' disediakan kerana bagi mereka mempertahankan diri dan nyawa yang diancam adalah satu kewajipan yang sangat besar.
Namun apalah sangat dengan senjata 'orang kampung' berbanding pihak pemerintah yang menghantar bala tentera dengan kelengkapan seolah-olah menghadapi peperangan yang besar. Berpuluh-puluh kereta perisai disediakan, lori water canon, gas pemedih mata, senjata, pelbagai jenis polis disediakan termasuk Pasukan Polis Hutan dan segala macam kelengkapan lain.
Anggota polis berpecah kepada dua kumpulan akibat berlainan maklumat yang diterima mengenai siapa sasaran dalam operasi ini. Ada yang mendapat maklumat, mereka akan menggempur perkampungan saki baki Komunis dan ada yang mendapat maklumat mereka akan menghadapi kumpulan pemberontak kerajaan. Namun, atas arahan dari pemimpin tertinggi pasukan polis yang mesti ditaati, mereka akur juga walaupun ada yang mengetahui bahawa di hadapan mereka bukanlah Komunis.
Selepas kejadian, maklumat diterima bahawa pada malam serangan ingin dilakukan iaitu malam 18 Nov tersebut, sebahagian anggota polis bersuka ria dan berpesta besar di sebuah balai polis di Negeri Kedah. Antara anggota polis yang terlibat didalam operasi ini termasuklah di kalangan mereka yang bukan beragama Islam.
Antara watak utama di belakang operasi yang disebut 'Ops Komunis' ini, Musa Hitam (Tim.PM), Dato' Yahya Yeop (pemimpin tertinggi Polis Negeri Kedah) dan Dr. Mahathir sendiri . Mereka inilah yang memainkan peranan utama bagi memastikan tertangkapnya Ust Ibrahim Libya pada tarikh tersebut.
Keesokannya harinya, tanggal 19 Nov 1985, selesai Solat Subuh, Ust Ibrahim terus memberikan taujihat penuh bermakna kepada para pendokong perjuangan yang terdiri dikalangan anak-anak muridnya yang setia dengan majlis-majlis ilmu beliau. Antara lain, beliau mengingatkan kepada ahli jama'ah supaya jangan ada yang lari dari perjuangan yang sedang dihadapi ini serta menyebut mengenai kelebihan mati syahid. Seluruh ahli jama'ah semakin kuat azam dan tekad untuk tidak menyerahkan Ust Ibrahim kepada pihak pemerintah. Mereka rela mati demi mempertahankan As-Syahid.
Antara mereka yang rapat dengan Ust Ibrahim ialah Sdr. Yusuf Husein dan Pak Teh Mat Piah (sudah meninggal). Mereka inilah antara yang kerap melakukan rundingan dengan pihak keselamatan pada hari tersebut agar mengelakkan berlakunya pertumpahan darah khasnya orng ramai.
Namun, Ust Ibrahim tegas dengan pendiriannya untuk tidak menyerahkan dirinya kepada kerajaan yang zalim kerana baginya, beliau tidak melakukan apa-apa kesalahan atau jenayah. Tugasnya hanya memberi nasihat kepada pemerintah yang begitu kuat menganut fahaman Nasionalisme dan Sekularisme yang bertentangan dengan Islam.
Berita kehadiran anggota polis untuk menangkap Ust Ibrahim akhirnya berjaya dihidu oleh pasukan tentera Malaysia yang berada di Negeri Kedah. Bahkan di kalangan mereka juga terdapat anggota-anggota yang sering mengikuti pengajian-pengajian agama daripada Ust Ibrahim. Beberapa orang di kalangan mereka akhirnya bergegas ke Kg. Memali dan memberikan peringatan kepada pasukan polis agar mengelakkan serangan. Dengan bilangan mereka hanya beberapa orang membuatkan pihak polis tidak mempedulikan. Dikalangan anggota tentera ini ada yang menyebut, lalu mereka meninggalkan tempat tersebut.
Setelah dilihat Ust Ibrahim enggan lagi bertemu mereka, akhirnya orang kampung diberi arahan agar berundur ke belakang. Serangan akan dilancarkan. Namun, untuk menerima arahan tersebut tidak semudah itu. Penduduk kampung yang terdiri dikalangan orang tua, kaum ibu, pemuda, wanita dan anak kecil dengan penuh keberanian melaungkan kalimah 'Allahu Akbar' berkali-kali bagi menggerunkan pihak musuh.
Parang panjang yang sering digunakan dikebun untuk tugasan harian, digenggam erat bagi menghadapi kemungkinan-kemungkinan. Ibu-ibu dengan parang dan buluh-buluh panjang menghalau pasukan polis. Anak-anak kecil yang masih tidak mengerti apa itu perjuangan menghadapi pasukan polis bersenjatakan parang dan pisau.
Pihak keselamatan yang panik akhirnya melepaskan gas pemedih mata dan water canon ke arah orang kampung yang kukuh berdiri tidak mahu berganjak. Seorang kanak-kanak terkena serangan tersebut lalu pengsan dengan mulutnya yang berbuih. Melihat anak kecil tersebut menjadi mangsa, lantas seorang penduduk yang dikenali dengan panggilan Cikgu Shafi'e nekad untuk melakukan serangan balas. Parang ditangan digenggam dan terus berlari ke arah anggota polis. Subhanallah. Belum sempat parangnya singgah ke tubuh anggota polis tersebut, sebutir peluru terus menembusi dadanya. Cikgu Syafi'e menjadi korban pertama tragedi tersebut.
Jerit pekik penduduk semakin kuat apabila serangan bertalu-talu dari kereta perisai polis dilakukan. Seorang demi seorang tumbang menerima hadiah peluru dari Kerajaan Barisan Nasional. Rumah Ust. Ibrahim dirempuh kasar. Akhirnya peluru menghinggapi juga tubuh ulama', pendakwah dan pemimpin gerakan Islam ini. Diatas ribaan isterinya, beliau menghembuskan nafas. Beliau sempat bertanya, "Abang kena apa?". Si isteri menjawab, "Abang ditembak".
Menjelang waktu Zohor, hujan renyai-renyai turun membasahi Kg. Memali. Hujan rahmat yang turun sebagai saksi kezaliman pemerintah yang rakus menghadapi rakyat yang serba kekurangan. Operasi pembersihan dilakukan segera agar bau bangkai jenayah mereka dapat ditutup dari pengetahuan rakyat Malaysia. Mangsa yang terkorban diangkut ke dalam trak-trak polis. Di dalamnya turut dimuatkan beberapa ekor anjing buat menemani para syuhada'.
Ada penduduk kampung yang tercedera disepak terajang. Mereka menyebut, " Ada lagi yang belum mati". Semua penduduk kampung disumbat ke dalam trak polis untuk dibawa ke balai. Yang cedera dibawa ke hospital. Maklumat dijaga agar tidak sampai kepada media atau orang ramai. Tahanan diugut agar merahsiakan kejadian.
Beberapa hari kemudian barulah mereka dibebaskan. Jenazah dipulangkan semula dengan bilangan korban seramai 14 orang semuanya. Maka bermulalah perbalahan diantara pihak berkuasa agama (Majlis Fatwa Kebangsaan) dengan penduduk. Mereka mendakwa Ust Ibrahim Libya dan 13 yang lain mati sebagai Syuhada' dan perlu diuruskan sebagai orang mati syahid.
Pandangan ini diambil dari tuan-tuan guru di pondok-pondok Negeri Kedah yang melihat bahawa mereka ini mati kerana mempertahankan agama dan nyawa mereka. Bagi pihak berkuasa agama dibawah pemerintah, mereka terus ditekan untuk mendakwa Ust Ibrahim dan lain-lain mati sebagai Bughah (penderhaka kerajaan Islam) dan wajib diurus sebagai orang mati biasa. Penduduk tetap dengan keyakinan mereka. Akhirnya para korban diurus sebagai syuhada' dengan tidak dimandikan beserta pakaian mereka yang masih basah dengan darah yang terus mengalir walaupun telah beberapa hari ditembak.
Wajah mereka yang tenang menghadap Allah ditambah pula dengan bau wangi yang dapat dihidu oleh orang-orang yang menguruskan jenazah mereka. Esoknya, media yang dikawal pemerintah pun menyiarkan berita operasi ini dengan versi pemerintah. Ust Ibrahim dan rakan-rakan dicap sebagai Bughah (penderhaka kerajaan Islam). Bagi PAS yang mempunyai lidah rasminya sendiri iaitu akhbar Harakah memperbetulkan pula berita tersebut. Selepas itu, ribuan umat Islam dari seluruh pelusuk Malaysia bergegas ke Kg. Memali menyaksikan sisa-sisa dosa pemerintah ke atas pejuang Islam.
Sehingga hari ini, kes ini yang telah beberapa kali dibawa ke mahkamah sunyi sepi tidak berbunyi lagi. Kes yang masih berada di dalam fail mahkamah ini tidak dipedulikan oleh Menteri Penerangan Malaysia (sebelum ini) iaitu Dato' Zainudin Maidin. Beliau memperalatkan beberapa klip video tragedi Memali ini untuk menyerang PAS sebagai gerakan ekstremis, radikal, militan dan sebagainya selepas pasca 11 Sept 2001 dengan menggambarkan orang PAS menyerang anggota keselamatan.
Hari ini, genap 27 tahun tragedi Memali yang meragut nyawa mereka yang tidak bersalah dan mencederakan beberapa anggota polis yang memang mereka ini tidak tahu pun tujuan sebenar dihantar ke sana pada tarikh tersebut. Mereka tidak bersalah. Bahkan seorang demi seorang orang kampong yang sepatutnya menjadi saksi dimahkamah untuk memfailkan saman kepada kerajaan Barisan Nasional kini telah menghadap Allah s.w.t.
Selepas kejadian tersebut, setiap tahun PAS mengadakan sambutan memperingati Tragedi Memali. Saban tahun juga ada sahaja anggota polis yang secara diam-diam menyalurkan sumbangan kepada PAS, kepada balu-balu syuhada' dan memohon kemaafan atas kesilapan mereka. Melihat kepada situasi anggota polis yang sangat sedih dan terkilan dengan kejadian ini yang bukan dengan kerelaan mereka dan sangat terharu dengan sambutan memperingati syuhada' ini , akhirnya atas nasihat dari pimpinan, sambutan yang berjalan beberapa tahun tersebut dihentikan. Wallahua'lam.
Al Fatihah buat para syuhada'....
(artikel diperolehi dari email seorang komrad)
Ketua Pembangkang Selangor cetek akal ?
Posted: 23 Nov 2012 01:59 AM PST
Mengikuti ucapan Ketua Pembangkang DUN Selangor semalam. Tulang Besi hairan. Adakah Tulang Besi semalam mendengar ucapan Ketua Pembangkang ataupun Laporan Bulletin Utama TV3? 
Ini kerana segala pembohongan dan penipuan yang telah dijawab di dalam dewan yang mulia sebelum ini, diulang kembali oleh beliau.
Misal yang paling jelas adalah isu pengurusan pasir yang melibatkan Kumpulan Semesta. Dua kali Ketua Pembangkang menjadikan itu sebagai contoh korupsi dalam kerajaan Pakatan Rakyat Selangor.
Namun, sewaktu sidang SELCAT berkaitan pasir tempohari, Ketua Pembangkang serta Pengerusi BN tidak langsung berani untuk hadzir jauh sekali untuk menjadi saksi. Ertinya tanpa disedari Ketua Pembangkang telah memalukan diri beliau sendiri.
Ketua Pembangkang juga mempersoalkan kenaikan perbelanjaan kerjaan negeri menurut Belanjawan yang baru dibentangkan oleh MB. Malangnya, Ketua Pembangkang tidak menyebut bahawa belanjawan yang baru ini adalah belanjawan seimbang. Juga, beliau tidak sebut jumlah simpanan kerjaan negeri bertambah dari setahun ke setahun sekaligus menunjukkan kerajaan negeri mampu mentadbir kewangan dengan baik. Ertinya Ketua Pembangkang tidak mampu mencari apa-apa kelemahan dalam ucapan Belanjawan Negeri Selangor yang baru dibentangkan itu.
Tampaknya juga seperti tiada perkara membina dalam ucapan Ketua Pembangkang Selangor. Sedari mula lagi nampak seolah-olah Ketua Pembangkang Selangor iri hati dengan Tan Sri Menteri Besar. Ini kerana Tan Sri Menteri Besar adalah seorang graduan lepasan universiti serta seorang tokoh korporat yang berjaya. Tan Sri Khalid adalah lulusan UM serta University of Queensland.
Ucapan Ketua Pembangkang yang serba pendek itu sepatutnya dipenuhi dengan fakta yang jelas.  Sepatutnya Ketua Pembangkang berhenti mengulangi propaganda2 yang ditaja oleh Biro Penerangan UMNO. Kerja propaganda adalah kerja media2 picisan seperti TV3 dan Utusan Malaysia. Bukan tugas Ketua Pembangkang kerana Ketua Pembangkang dibayar gaji oleh rakyat, bukan UMNO.
Hairan juga kenapa ucapan Ketua Pembangkang begitu pendek. Sewaktu arwah Ustaz Fadzil menjadi Ketua Pembaangkang di Parlimen, pernah ucapan arwahnya selama dua hari berturut-turut lantaran ucapan Ketua Pembangkang tiada had masa.
Kasihan rakyat Selangor mempunyai Ketua Pembangkang yang akalnya cetek. Hanya menjadi seperti burung kakak tua kepada UMNO Pusat dan bukannya berucap bagi pihak rakyat Selangor.
Bn hipokrit anti Israel tetapi guna wang rakyat bayar agensi Zionis
Posted: 23 Nov 2012 01:58 AM PST
Kenyataan Terbuka
22 November 2012
Tolak Hipokrasi Kerajaan: Anak Muda Harus Bangkit Beri 'Signal' Sokong Pelestine Depan Kedutaan AS
Di sebalik hipokrasi kerajaan Malaysia yang kononnya simpati dengan nasib saudara kita di Gaza, Solidariti Anak Muda Malaysia (SAMM) menggesa rakyat seluruh negara mencari kesempatan untuk bersama di depan kedutaan AS bagi memberi tekanan kepada sekutu utama Israel.
Hipokrasi kerajaan Malaysia tidak mungkin mampu disembunyikan antaranya termasuklah;
1. Hubungan perdagangan yang pesat antara Malaysia-Israel telah didedahkan oleh Kesatuan Eropah bahawa Malaysia merupakan rakan dagang utama Israel dengan kedudukkan nombor 15 dari ratusan negara ketika kebanyakkan negara menolak sebarang urusniaga dengan Israel.
2. Malaysia membenarkan diri menjadi kaldai tunggangan ekonomi Israel apabila membenarkan komponen 'Made in Israel' dipasang-siap dalam kilang negara ini menjadi barangan 'Made in Malaysia' supaya ia mampu dijual dengan mudah di pasaran dunia, berbanding jika ia dicop oleh Israel. Hasil keuntungan dipulangkan kepada Israel untuk membunuh anak Pelestine. Sebagai pemerintah, tidakkah kerajaan Malaysia mampu halang urusniaga seperti ini?
3. Menteri mengakui kapal dagang Israel masuk ke pelabuhan di Malaysia, membawa minyak sawit Felda ke Pelabuhan Ashdod di Israel kononnya untuk warga Pelestine. Namun menjadi persoalan apabila sijil kosher diguna untuk memastikan produk sawit negara ini 'halal' kepada penganut agama yahudi. Mengapa guna sijil kosher? Mukhriz Mahathir juga harus jawab siapa 'consignee' minyak sawit di Pelestine?
4. Kerajaan Malaysia juga memanggil syarikat zionis APCO wordwide sebagai penasihat kepada Perdana Menteri seolah-olah tiada pilihan lain. Bimbang akan pendedahan ini sehingga Anwar Ibrahim yang membawa isu APCO di parlimen digantung selama 6 bulan daripada memasuki Dewan Rakyat.
5. Kerajaan Malaysia kononnya tidak mengiktiraf Israel namun dalam masa yang sama langsung tidak berani mengiktiraf Hamas yang menang dalam pilihanraya membentuk kerajaan di Gaza.
Dengan senarai yang dikemukakan oleh SAMM dalam kenyataan ini, terbukti kerajaan Malaysia begitu hipokrit apabila berbicara soal keganasan Israel, seolah-olah tangan kiri menghulur roti buat rakyat Pelestine manakala tangan kanan memberi peluru kepada Israel.
Dalam masa sama, satu
signal
jelas harus diperagakan di depan kedutaan AS demi terus memberi tekanan. SAMM memanggil semua anak muda merentasi warna kulit dan kepartian di atas nama kemanusiaan untuk hadir ke perhimpunan besar yang bakal berlaku esok selepas solat Jumaat bermula di Masjid Tabung Haji di Jalan Tun Razak sebelum menuju ke kedutaan AS.
SAMM mencadangkan untuk masa akan datang, himpunan anti Israel tidak lagi diadakan semata-mata di depan kedutaan AS, tetapi harus juga diadakan di depan Kompleks JPM di Putrajaya setelah mengambil kira anasir berperanan 'zionis glokal' yang berpengkalan di Putrajaya.
Sekian
kepilan perjanjian APCO;
1.Perjanjian antara  Kerajaan Israel dengan GCI International
2. Surat Setuju terima Jabatan Perdana Menteri
3. Perjanjian antara Kerajaan Malaysia Dengan APCO Worldwide Sdn.Bhd
Posted: 23 Nov 2012 01:54 AM PST
My mother's last will and grant of probate came by courier just now. The lawyer had sent it over after all the matters have been settled. As I held the documents in my hands, I was choked with emotions. She was a simple woman but she had foresight. She knew she could not be there for me forever and had the will made. That was long before she was diagnosed with leukaemia.
In life and in death, she had it all laid out for me. I never ran out of the urological supplies that I needed. Her cache of Chinese herbs that she painstakingly simmered over charcoal fire was always laden. The soups were for me to regain my health. Day or night, no matter the hour, whenever I needed assistance, she was there. She was always there.
My mother's last will.
I truly regret that I could not reciprocate the love and care that she had unconditionally showered on me. If ever I am granted a wish, I will wish to hold her in my arms again, no matter how brief that moment will be, to tell her how much I love her; and how much I still miss her after all these years; and how lucky I am to have her as a mother; and how sorry I am for not knowing how to appreciate her when she was around; and how I am a better person today because of her. Because of her…
Related posts:
Tahniah MB Selangor ! Hujah yang berjaya mematahkan tohmahan pembangkang Selangor
Posted: 23 Nov 2012 01:54 AM PST
Menteri Besar Tan Sri Abdul Khalid Ibrahim menjawab dakwaan ADUN Permatang Sulaiman Abdul Razak bahawa Kerajaan Negeri yang bertanggungjawab untuk kurangkan kadar air yang hilang akibat kebocoran dan kecurian (NRW), bukan Syarikat Bekalan Air Selangor (Syabas).
Penjelasan Abdul Khalid itu semasa sesi perbahasan Belanjawan Selangor 2013.