---
[EDISI HARAMJADAH] Peruntukan Katil Hospital Pun Kena Kebas
Posted: 26 Dec 2012 10:24 AM PST
P
engerusi Biro Kepenggunaan KEADILAN, Yahya Sahri bakal membongkar penyelewengan dan penipuan Umno BN terhadap projek hospital kerajaan, khususnya mengenai peruntukan katil buat pesakit dan hospital baru yang gagal dibina untuk setiap negeri.
Gambar hiasan
Beliau berkata, kerajaan sepatutnya menyediakan peruntukan 60,000 katil hospital untuk lebih 28 juta rakyat, tetapi perjanjian itu dilanggar apabila jumlah yang disediakan tidak mencukupi.
"Apa yang berlaku sekarang, hanya ada 30,000 katil di setiap hospital seluruh negara, iaitu separuh daripada yang diperuntukkan," jelasnya kepada Keadilan Daily.

Bagaimanapun, kata Yahya, butiran lanjut mengenai penyelewengan tersebut akan didedahkan beliau pada sidang media 2 Januari.

Ketua Cabang Tanjung Karang itu turut mempertikai pengumuman kerajaan untuk membina hospital di setiap negeri, tetapi hingga sekarang proses pembinaan masih tidak berjalan.

"Konon beriya-beriya umum, buat acara pecah tanah dan sebagainya. Tapi pembinaan tak ada.

Itu yang saya nak persoalkan nanti, dan saya ada jawapan untuk kedua-dua isu ini," katanya.

"Ia juga bagi menunjukkan janji kerajaan untuk menyediakan khidmat kesihatan yang cemerlang kepada rakyat tidak ditunaikan," sambung beliau.

Sebelum ini, Yahya mendedahkan seorang bekas pegawai tertinggi polis memiliki aset berupa 10 unit rumah persendirian di sekitar Kuala Lumpur.

Kemudian, beliau mempersoal isu pemberhentian 37 pekerja kilang kelapa sawit (KKS) Bukit Talang, yang dimiliki anak syarikat perladangan konglomerat Sime Darby berusia 60 tahun.

Yahya turut membongkar isu air mineral yang diedar BN Selangor dalam kempen politik dikesan melanggar pelbagai peraturan, malah status halalnya diragui.

"Seperti yang saya beritahu sebelum ini, setiap minggu akan ada penyelewengan Umno BN yang akan saya dedahkan sehinggalah Pilihan Raya Umum ke-13," katanya.


Posted: 26 Dec 2012 07:15 AM PST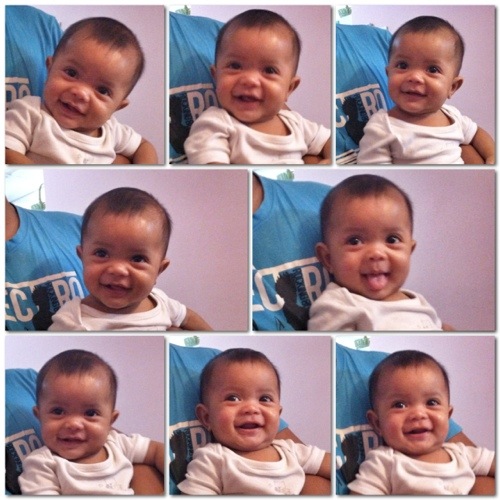 Bishop demurs over PM's Christmas Day remarks
Posted: 26 Dec 2012 06:40 AM PST
have you read the PM's message during the christmas high tea organised by the christian federation of malaysia (CFM)? (if not, go to the malayisan insider to read).  you got to read his speech first before you continue reading bishop paul tan's retort. (pic left)
the PM had said "i'm PM for all". bah! bullshit! total humbug to me. first of all he's not a PM elected by all but elected by umno only. automatically umon president will become the PM. ok fine… i can live with that…. umno president become PM… and it is PM of malayisia, not PM of umno… but the way he has been acting/saying all the time shows us clearly he is PM for umno only!! so many incidents that had happened we clearly see he is not PM for all. well a lot of people were not taken in by his speech. well, trust our catholic bishop, bishop paul tan to speak up about is speech. he's one fantastic man who speaks without fear or favour, doesn't mince his words. what he had said about the PM's speech is exactly what many of us felt too. (btw, notice i use 'the PM' instead of 'our PM'?). here i reproduced verbatim what bishop paul tan said, taken from malaysiakini.
===============
by Terrence Netto
11:12AM Dec 26, 2012
Catholic Bishop Dr Paul Tan Chee Ing described Prime Minister Najib Abdul Razak's remarks at a hi-tea hosted by the Christian Federation of Malaysia (CFM) yesterday as "pious platitudes we are used to hearing on these occasions".
Speaking to Malaysiakini after reading reports on web news portals on Najib's remarks at the CFM function which the prelate did not attend, bishop Tan said:
"I don't want to sound churlish, particularly in this Christmas season of goodwill, but if you shake down the PM's rhetoric, what have you left – syrupy sentiment and clichés that have little or no connection with realities on the ground."
In remarks made at the Christmas Day hi-tea attended by the PM and his wife Rosmah Mansor, Najib assured the Christian community that they have not been marginalised.
"I don't want to be prime minister for only a particular section of the community," asserted Najib. "I'm prime minister for all Malaysians, and I've said that repeatedly."
Bishop Tan said that no one with experience of how prime ministers have run the Malaysian nation would think to remark that there could be an ethnocentric and exclusivist dimension to the PM's role.
"It's odd that Najib has seen fit to remark that he has to be PM of all of our diverse nation and not just one or another part of it," commented the head of the Catholic Church of the Melaka-Johor diocese whose two-year tenure as president of the Catholic Bishops' Conference of Malaysia, Singapore and Brunei ends on Dec 31.
"That he has to say a thing like that shows how far his office has tended to depart from a broad-gauged conception of its responsibilities that now there is the suspicion that it is enthralled to exclusivist notions of its actual import," commented the Jesuit-trained prelate.
"If he had a broad view of his office, how come when Christians were accused over the last two years of not just being 'pendatang' but sinister fifth-columnists, there was not a word from official quarters to stem that patently false accusation which was aimed at creating suspicion and hatred for Christians on the part of the Muslim majority of this country?" queried the bishop.
Promises not kept
The prelate said that as a founding member of the Malaysian Consultative Congress of Buddhism, Christianity, Hinduism, Sikhism and Taoism – founded in 1984 – and as one-time leader of the CFM, he had met, in MCCBCHST and CFM's roles, three Malaysian prime ministers (Dr Mahathir Mohamad, Abdullah Ahmad Badawi and Najib Razak) and "all three had not kept the promises they made at the dialogues we have had with them."
"All three were benign and reassuring in personal interaction with MCCBCHST and CFM councils but were something else when faced with testing circumstances involving religious matters as and when issues fizzled in the public arena," recalled the bishop.
"So it's deja vu as far as I'm concerned with respect to the latest assurance from the present prime minister."
The bishop said Christians have grown leery of periodic assurances from the government that their contributions to education, welfare and heath care were not forgotten when the realities on the ground suggest that "their role must be muted or diminished for reason that others should not feel inferior by comparison."
"For the good of our society, this is not a predicament that Christians can abide anymore for reason that their light cannot be hidden under a bushel and their truth frees and holds no one in bondage," said the bishop.
"I feel this determination will register soon on our polity to the benefit of those political leaders who elect to tack with it in a creative manner and to the disadvantage of those who mean to tackle it in a merely politically expedient and vote-catching way."
GRAYSON: Christmas tells us who we are, why we are alive
Posted: 26 Dec 2012 06:38 AM PST
For Christians, Christmas is the celebration of one of the most significant religious, historical and cultural events in the Western world. It marks a turning point in human history, a new era for the human race.
Two thousand years ago, the world was very different from what it is today. This was true not only of material surroundings, possessions and institutions, but more strikingly of human attitudes, relationships and beliefs. Women were considered inferior to men and had comparatively few rights. Fathers had absolute authority over their children, even to the point of putting them to death. Marriage was dissoluble for trifling reasons. Manual labor was relegated to slaves, who were considered chattel and the property of their masters. Religion was intertwined with the state, with the emperor standing at the head of both.
Then, on a day now known as Christmas, in the words of St. John, the "Word was made flesh, and dwelt among us." This event changed the world. God had come to Earth, conceived by the Holy Spirit, born of a virgin, in the person of Jesus Christ. God assumed a human nature, with all of its joys and agonies, trials and tribulations, thoughts and emotions, sufferings and death.

Jesus did not come as God in the guise of man, or as part God and part man, nor was His nature a mixture of the divine and the human. Rather, He became truly and completely human while remaining truly and completely God. With all of the human weakness He assumed, there was never any lessening of his divine nature. His actions and teachings were always those of the Son of God. This is the essence of the incarnation, the union of two natures, the divine and the human, in a single person.
Christ chose to come into the world in the most humble manner. When Mary was far from her Nazarene home, in the little town of Bethlehem, as St. Luke describes, "she brought forth her firstborn son, and wrapped him in swaddling clothes, and laid him in a manger, because there was no room for them in the inn." He whom the angels adore in heaven came into our world in a stable, among the animals, under a roof not His own. As St. John says, "He came unto His own, and his own received Him not." Yet, the result of this Nativity was profound. He who was the maker of the world, before whom "the pillars of the heavens tremble," took on the lowliness of man and thus exalted the dignity of humanity. He assumed a nature that was human in every way except sin and united it to himself. Archbishop Fulton J. Sheen said this was "not so much the conversion of the Godhead into flesh, as the taking of manhood into God." This is a privilege that not even the angels received.

 
Archbishop Sheen further described the effect of this event:

"Bethlehem became a link between heaven and earth; God and man met here and looked each other in the face. In the taking of human flesh, the Father prepared it, the Spirit formed it, and the Son assumed it. He Who had an eternal generation in the bosom of the Father now had a temporal generation in time. He Who had His birth in Bethlehem came to be born in the hearts of men."

Through the incarnation, our relationship with our Creator changed. God became a personal God rather than an unseen omnipresence. Now He had a human nature and form, with experiences to which we could relate.
People saw Jesus, heard Him, spoke with Him, ate with Him, and touched Him. Since earliest antiquity, there have been prophets and seers, priests and disciples, holy men and preachers. Yet God always had been distant, ethereal, mysterious. Now for the first and only time in history, God came to Earth and lived a human life — having parents and relatives, mingling with neighbors, practicing a religion, learning a trade, working and finally assuming his public mission to teach, gather followers, suffer and die on a cross. These are human experiences we can relate to.
This first Christmas signaled a new era for the human race. Jesus, through His teachings and the church He left behind, brought about profound changes in the world. His doctrines on the dignity of the person elevated women to equality with men, gave respectability to physical labor, asserted the legitimate uses of private property and showed the injustice and immorality of slavery. His concern for children and the family established the sanctity and indissolubility of marriage, extolled children and elevated the role of social justice and the proper use of riches. His obedience to the ecclesiastical and civil strictures of Judaism and Rome showed the importance of law and one's duty to one's country. His statement, "Render, therefore, to Caesar the things that are Caesar's, and to God the things that are God's" presented a new relationship between the state and the church.
Today, too many of us ignore Our Lord's teachings or warp them to fit our desires. We choose among his words, rejecting what we do not like and accepting only those that please us. As a result, we have forgotten why we were created.
In a sermon on Christmas Day 1976, Cardinal Karol Wojtyla, the future Pope John Paul II, directly addressed this attitude, saying:
"Contemporary people in this last quarter of the 20th century, whose human dignity has been ignored and infringed in so many ways, come to Christ's stable in Bethlehem to ask who they are and why they are in the world, bringing with them their existential anxiety. And when they come to Bethlehem, like each of us, they find the reply in the manger on the straw: 'I have given them power to become children of God.' This small, weak infant, who was born and forced to stay outside the town in a stable, has given this power — and he still gives it to us who live in the 20th century and whose human dignity and essence have been so compromised that we no longer really understand that we were made in the image and likeness of God. However, this truth alone gives meaning to our human existence, and only in this truth do we find the answer to the questions of who we are and why we are alive."  Washington Times
Lawrence P. Grayson is a visiting scholar in the School of Philosophy at the Catholic University of America.
Posted: 26 Dec 2012 06:00 AM PST
My Princess Annakate is turning 16 weeks old in two days. I must admit she is a handful and she sucks my energy away instantly.
With the lack of beauty sleep, and with the overwhelming housework, I must say my sanity is a tiny-weeny overstretched.
1. I almost dashed white pepper powder into my bowl of Kellogg's Cornflakes (with milk). I usually dash a teaspoon of Milo (chocolate malt) powder into the bowl, but this morning, I was holding the white pepper powder jar.
2. This morning, I put laundry detergent twice into the washing machine. Oh well, it will be a soapy, clean wash!
3. Instead of using hand sanitizer after bathroom use, I applied baby oil.
4. I dozed off while I was praying. I am sorry Father, I didn't mean to do this. I am trying my best! Help me, Lord!
5. I fell asleep reading Facebook feeds on my iPhone in bed. I was waiting for Mike to get in bed but somehow reading in bed didn't keep me awake.
6. I am so lazy to wash my hair every day or even alternate days. I could stretch it to 3-5 days. I just don't have the energy to wash, towel dry, blow dry, comb,  and style it. I know. I stink!
7. I threw my baby's dirty clothes into the trash can instead of the hamper and I threw my baby's dirty diaper into the hamper instead of the diaper genie! Oh my!
8. I used the skincare toner to remove my make up instead of the make-up remover. Oh boy! What am I doing here?
Wake up, Grace! Wake up!! What I really need is a maid, NO, I need a good rest!
Guess what? I believe most moms go through some insanity at the end of the day!
Posted: 26 Dec 2012 05:34 AM PST
NURUL IZZAH ANWAR
25 Disember 2012
Hujung minggu lepas menyaksikan saya bersama beberapa ibu, ayah berserta anak-anak yang bakal melangkah masuk ke alam persekolahan di sekitar Lembah Pantai dengan penuh semangat.
Memandangkan ramai akan memulakan kehidupan baru bersekolah, kami anjurkan program santai "Kembali ke sekolah" atau dalam bahasa Inggerisnya, "Back to School" di mana peralatan sekolah serta folder kecil dihadiahkan sekadar pemberi insentif buat anak-anak yang diimpikan akan cemerlang di sekolah oleh setiap ibu dan ayah.
Semuanya mengingatkan saya kepada zaman persekolahan saya sendiri – dari Sekolah Kebangsaan Bukit Damansara, SMK Sri Hartamas sehinggalah ke SMK Assunta.
Ayah saya mahukan kami adik-beradik menyertai alam persekolahan biasa. Ternyata, pengalaman bersekolah di sekolah kerajaan membantu saya memahami dua perkara:
Pertama, selok-belok kurikulum dan bebanan guru, memberikan gambaran jelas kelebihan serta kekurangan di sekolah-sekolah kita.
Kedua, pendidikan berkualiti itu wajib wujud di sekolah-sekolah kerajaan kerana latar belakang sosial kita – miskin, kaya, pertengahan – tidak harus menghambat peluang kejayaan anak-anak kita.
Tambahan lagi, ibu-ibu serta ayah-ayah yang tidak punyai gaji besar tidak mungkin menghantar anak ke sekolah antarabangsa ataupun swasta.
Justeru, nasib dan masa depan hanya mampu disamaratakan dengan golongan berada sekiranya standard dan kualiti persekolahan itu setara.
Oleh kerana itu, saya amat gusar apabila membaca laporan Trends in International Mathematics and Science Study (TIMSS) yang menunjukkan kemerosotan amat membimbangkan dalam mata pelajaran Sains dan Matematik yang menjadi pengukur kualiti pendidikan negara.
Secara terperinci, pada 2007, Malaysia alami kemerosotan purata pencapaian dalam dua subjek teras – Sains dan Matematik (pelajar Gred 8 atau tingkatan 2) dalam kajian Trends in International Mathematics and Science Study 2007 membabitkan 59 negara.
Hasil kajian 2007, skor purata pencapaian pelajar Malaysia dalam Matematik dan Sains merosot dengan ketara. Skor Matematik merosot kepada 474 mata banding 508 mata pada 2003 dan 519 bagi 1999, penurunan 34 mata.
Skor Sains pula merosot kepada 471 mata pada 2007 dari 510 pada 2003 dan 492 bagi 1999. Ini mencatatkan penurunan 39 mata antara 2007 dan 2003.
Di kalangan 59 negara yang ambil bahagian dalam kajian TIMSS 2007, yang dilaksanakan Sekolah Pendidikan Lynch, Boston College, Chestnut Hill, Massachusetts, Amerika Syarikat itu, kemerosotan skor purata pencapaian pelajar Malaysia sebanyak 34 mata bagi Matematik dan 40 mata bagi Sains adalah terbesar di kalangan 59 negara.
Terbaru, laporan TIMSS 2011 yang diterbitkan 11 Disember lalu, Malaysia terus merosot bagi Matematik dan Sains, malah wujud jurang besar dalam pencapaian di antara pelajar lelaki dan perempuan.
Markah purata Matematik bagi Malaysia, iaitu 440, boleh dibahagikan lebih tepat kepada pelajar perempuan (449) dan  lelaki (430), menunjukkan jurang gender 19 markah, meletakkan Malaysia di tangga ke-37 dari 42 negara. Sebagai perbandingan, Finland mempunyai jurang gender sebanyak 4 markah – 516 bagi pelajar perempuan dan 512 bagi pelajar lelaki. Jurang gender ini  lima kali ganda berbanding negara teratas.
Jurang ini menampakkan masalah lebih dasar: pencapaian rendah pelajar lelaki yang jelas dilihat dari kadar keciciran mereka di sekolah-sekolah menengah dan jurang melebar antara pelajar perempuan dan lelaki di IPTA.
Laporan TIMSS 2011 ini menunjukkan hingga kini, kita hanya mendengar pernyataan perancangan pendidikan yang indah khabar dari rupa di mana implikasi untuk masa depan negara amat besar dengan merosotnya kebolehan dan kemampuan modal insan yang menjadi mangsa pendidikan yang dipolitikkan.
Kerajaan mesti ikhlas dan telus untuk menggubal dasar-dasar pendidikan lebih berkesan walhal ada di antara menteri-menteri Kabinet masih menghantar anak-anak mereka ke sekolah antarabangsa, mana mungkin memahami keruncingan yang dihadapi majoriti rakyat yang bergantung kepada sekolah-sekolah kerajaan.
Saya khuatir jika tiada perubahan radikal dan reformasi dalam sistem pendidikan negara melangkaui anjakan-anjakan yang bersifat sederhana, Malaysia seperti yang dinyatakan oleh laporan Merrill Lynch kepada Bank Dunia bukan sahaja menjadi sebuah negara muda dan miskin (young but poor) – tetapi juga rendah pendidikan.
Ini bukan satu janji BN yang rakyat harapkan.
Dipetik Dari Sinar Harian
http://www.sinarharian.com.my/kolumnis/nurul-izzah/memikirkan-tentang-pendidikan-1.115240
Menang pilihan raya: Saya optimis
Posted: 26 Dec 2012 05:31 AM PST
NURUL IZZAH
6 November 2012
Insya-Allah, saya yakin dan komited bahawa Pakatan Rakyat akan memenangi Pilihan Raya Umum Ke-13 (PRU13) nanti. Tidak kira bila Parlimen akan dibubar; kami, rakyat dan negara sudah bersedia membawa perubahan besar demi Malaysia yang lebih baik.
Harapan rakyat seperti pertandingan akhir Piala FAM – padang sama rata, pengadil sama adil, perlawanan penentu juara telus – juga akan dilihat  dalam PRU13 walaupun penambahbaikan proses pilihan raya yang disarankan beberapa NGO, termasuk Bersih masih belum dilaksanakan sepenuhnya.
Dua minggu lepas ini, Perdana Menteri dalam ucapan pada perhimpunan agung parti MCA memberikan tumpuan menakutkan rakyat dengan hujah bahawa Pakatan Rakyat jika menang akan merosakkan negara.
Pada pengamatan saya ucapan Perdana Menteri menunjukkan perbezaan naratif atau 'jalan cerita' politik di antara Barisan Nasional dan Pakatan Rakyat, di mana BN menggunakan 'hujah politik menakutkan' manakala Pakatan Rakyat bersandarkan kepada 'hujah politik pengharapan' yang menggariskan masa depan lebih cemerlang
'Hujah politik menakutkan' yang pertama dan paling utama digunakan BN atau khususnya Umno adalah, Melayu akan hilang kuasa jika Pakatan Rakyat menang – adalah tidak benar.
Bukankah Najib menyatakan pada Perhimpunan Agung Umno 2010, bahawa kedudukan istimewa orang Melayu seperti terkandung dalam Artikel 153 'kemas terkunci' dalam Perlembagaan Persekutuan dan walaupun mana-mana parti politik memiliki dua pertiga kerusi Parlimen tidak akan dapat mengubahnya tanpa persetujuan Raja-Raja Melayu?
Bukankah juga sudah dinyatakan adanya 'lima sama dan lima beza di antara Pakatan Rakyat dan Barisan Nasional yang menjadi garis politik untuk penilaian rakyat?
Lima persamaan yang wujud adalah mengenai tiang-tiang pokok kenegaraan – di mana kedua-dua gagasan politik ini sama pendirian mengenai – Perlembagaan Persekutuan menjadi teras demokrasi; Institusi Raja-Raja Melayu sebagai Ketua Negara; Islam sebagai agama rasmi; Bahasa Melayu sebagai Bahasa Kebangsaan dan Kedudukan Istimewa orang Melayu dan penduduk Bumiputera.
Rakyat harus sedar bahawa kelima-lima tiang ini terpelihara dan tidak berubah sedikit pun walau berlaku perubahan di Putrajaya. Justeru, perbezaan yang wujud di antara PR dan BN adalah mengenai prinsip dan pendekatan pemerintahan.
Perbezaan utama adalah prinsip pemerintahan negara atau mengenai di mana – letaknya 'kuasa memerintah' – iaitu sama ada kuasa di tangan rakyat atau kuasa di tangan Elit – dalam bentuk demokrasi atau autokrasi.
Lima perbezaan prinsip dan pendekatan pemerintahan itu adalah mengenai pentadbiran prorakyat; peranan Parlimen; proses pilihan raya; isu perkauman dan hala tuju pembangunan ekonomi.
Dengan melihat setiap satu unsur dengan teliti akan memberikan rakyat peluang untuk menilai dan memilih apakah arah tuju dan rupa bentuk aspirasi masa depan negara yang diimpikan.
'Hujah politik menakutkan' yang kedua digunakan BN adalah Pakatan Rakyat tidak berpengalaman dan tidak mampu memerintah juga tidak benar.
Bukankah laporan Ketua Audit Negara yang lewat dibentangkan di Parlimen minggu lepas secara jelas menyatakan negeri-negeri Pakatan Rakyat menduduki tiga tempat tertinggi dalam tangga prestasi pengurusan kewangan rakyat berbanding negeri-negeri BN?
Bukankah kebanyakan dasar-dasar dalam Buku Jingga dan bajet alternatif Pakatan Rakyat  ditiru dan diberikan penjenamaan baru oleh BN seperti BR1M, gaji minimum dan lain-lain lagi?
Bukankah Perdana Menteri merangkap Menteri Kewangan sendiri enggan hadirkan diri di Parlimen untuk membahaskan ucapan belanjawan Ketua Pembangkang yang jelas melanggar prinsip demokrasi?
Bukankah dengan adanya Pelan Transisi Pentadbiran yang dirangka untuk 100 hari pertama dan lima tahun mandat memerintah – yang bertujuan membersihkan kerajaan, memulihkan demokrasi, membina ekonomi mampan, membela kebajikan dan menyatukan rakyat – sudah cukup jelas membuktikan komitmen Pakatan Rakyat membina Malaysia yang lebih baik untuk semua?
'Hujah politik menakutkan' yang ketiga digunakan BN adalah jika Pakatan Rakyat memerintah, negara akan bangka lagi tidak benar.
Bukankah BN sudah membayangkan jika BN menang rakyat akan dihadiahkan dengan cukai GST, hutang negara bertambah, subsidi rakyat dihapuskan, gaji masih mendatar, harga barang naik berganda dan projek maha gergasi lagi mahal akan dipertingkatkan?
Sebaliknya bukankah Pakatan Rakyat menjanjikan jika menang akan menurunkan harga petrol, berikan pendidikan percuma, sediakan rumah mampu milik, tambahkan royalti minyak kepada negeri-negeri, jaminan gaji minimum RM1,100, elaun guru dan polis dinaikkan, pewujudan Caruman Wanita Nasional dan menutup segala ketirisan ekonomi serta memerangi rasuah habis-habisan?
Akhir sekali, 'hujah politik ketakutan dan bukan menakutkan' yang sering digunakan adalah tidak perlunya Perdana Menteri Najib berdebat dengan Datuk Seri Anwar Ibrahim.
Hanya Najib yang tahu mengapa rakyat tidak layak mendengar dan menilai apa yang ditawarkan BN dan Pakatan Rakyat secara berdepan dan secara terbuka.
Bagaimanapun, jika tidak berani berdebat tidak apa kerana yang lebih penting sekarang adalah untuk Najib menentukan tuntutan rakyat bagi pilihan raya yang telus dan adil terjamin agar mandat diamanahkan rakyat adalah sah.
Saya tetap optimis walaupun Najib terus pesimis.
Dipetik dari Sinar Harian
http://www.sinarharian.com.my/kolumnis/nurul-izzah/menang-pilihan-raya-saya-optimis-1.101168
Posted: 26 Dec 2012 04:37 AM PST
xing Day Jokes
The origin of Boxing Day has nothing to with the art of pugilism, and everything to do with 'Christmas Box'. The idea started with a clay box used in artisan workshops. Apprentices, their masters, and their customers, would put gratuities into the box, which acted like a 'piggy bank'. Then on the day after celebrating Christmas, the box would be ceremonial smashed and the money shared among the workers.
Thus the origin of Boxing Day was all to do with a Christmas present or bonus. The phrase 'Christmas box' lives on as gift householders give to postmen, paperboys and dustbin [garbage collectors] that visit their home. It is NOT a time to punch your siblings or spouse or friends :-) although many do so in jest.
Nowadays people open their presents on Christmas Day so Boxing Day traditions involve visiting members of the wider family circle on 26th December. One by-product is having two Christmas meals in two days. By then, many are unsure if turkey is more
tasty hot on Christmas Day, or cold with mashed potato and pickle on Boxing Day.
In the UK and Ireland Boxing Day is a associated with fox hunting. Horse riders dressed in red and white riding gear, assisted by a pack of foxhounds, chase foxes through the countryside in the hope of running them to earth and killing them.
Townies think this barbaric and in 2004 British MPs voted to ban hunting foxes with dogs. This proved a particularly tough law to enforce, given that the majority of country people actively or passively supported fox hunting. Rightly, catching foxhunters was never going to be a police priority, and the foxhunters shrugged off their "hooray Henry" images when it cam to fighting case in court.
St Stephen's Day is always celebrated on 26th of December, however, Boxing Day, as in the public holiday, is celebrated on Monday 27th December whenever the 26th falls on a Sunday. The public holiday situation is even more complicated when Christmas Day falls on a Saturday, in these years Monday 27th and Tuesday 28th are public holidays to make up for the festivities falling at the weekend. As time goes on, this seems less of a problem has people have a Christmas week or even a Christmas fortnight of holidays.
This post was taken from THIS LINK.
Happy Boxing Day! Swing by later for some Boxing Day jokes which will be put up at 1.45p.m. Have a nice day!
Mereka Mengaku Menghalang Konvoi Oren, Patutkah Polis Berdiam Diri?
Posted: 26 Dec 2012 06:58 AM PST
K
onvoi Jelajah Oren: 'Kami memang rancang sekatan'
JEMPOL - Pemuda Umno bahagian Jempol mendakwa, insiden kekecohan yang berlaku pada Jelajah Oren 'Selamatkan Felda' di Felda Bukit Rokan Utara Ahad lalu sebenarnya berpunca daripada tindakan provokasi pihak berkenaan.
Ketuanya, Mohd Nizam Aman berkata, tidak timbul isu pemuda Barisan Nasional (BN) bersama penduduk bertindak agresif semasa kejadian seperti didakwa.

"Keadaan mula tegang ketika konvoi jelajah terbabit sampai ke persimpangan Felda Bukit Rokan Utara yang dicetuskan oleh kumpulan itu.

"Saya tidak berada di lokasi kerana mengadakan sekatan di Felda Bukit Rokan Barat. Tapi saya diberitahu penduduk yang juga terdiri daripada pemuda BN telah menghalang perjalanan mereka kerana sejak awal lagi kami semua tidak setuju kumpulan itu masuk ke Felda," katanya.

Menurutnya, mereka sememangnya sejak awal lagi merancang mengadakan sekatan jalan di lebih 30 tanah rancangan di sana sebaik sahaja mengetahui kehadiran konvoi jelajah berkenaan.

Bagaimanapun katanya, tujuan sekatan bukan untuk mencetuskan huru-hara tetapi hanya untuk menghalang konvoi itu terus diadakan.

"Kami generasi kedua Felda menolak kehadiran mereka. Tiada sesiapa pun mengalu-alukannya.

"Tiada apa yang perlu diselamatkan kerana nasib peneroka semakin baik di bawah Felda. Lagipun selama ini tidak pernah mana-mana parti politik selain Barisan Nasional (BN) yang membantu peneroka," katanya.

Mohd Nizam berkata, dia bagaimanapun kesal dengan insiden yang berlaku kerana dua pemuda BN juga turut mengalami cedera ringan.

Sementara itu, penganjur konvoi tersebut menyifatkan ia kejadian terburuk dan terhebat di Negeri Sembilan berbanding di negeri lain.

Pengarah Program Kembara Oren Negeri Sembilan, Abdul Rahman Ramli berkata, kekecohan yang tidak disangka-sangka itu turut memberi kesan kepada peserta konvoi apabila dua daripada mereka cedera.

Katanya, kejadian berlaku apabila rombongan konvoi itu tiba berdekatan persimpangan Felda Bukit Rokan Utara dan kemudiannya dihalang oleh beberapa individu.

"Semasa perbincangan sedang dijalankan, secara tiba-tiba kumpulan yang menghalang konvoi Oren ini bertindak agresif, dengan memukul kenderaan pacuan empat roda kami dan secara meluru ke arah Ketua Penerangan Anak Peneroka Felda Kebangsaan (Anak), Noraza Muda.

"Pada waktu yang sama, seorang lagi Ahli Jawatankuasa Anak, Razali Rashad turut dipukul, sehingga mendatangkan kecederaan di kening, manakala Noraza cedera di kepala akibat dipukul dengan kayu.

"Melihatkan keadaan Noraza dalam keadaan separuh sedar, kami memberinya rawatan ringan sebelum pasukan polis membantu menghantarnya ke Hospital Jempol untuk mendapatkan rawatan pesakit luar," katanya kepada Sinar Harian.

Beliau yang juga Timbalan Pesuruhjaya Pas 2 berkata, keadaan Noraza bagaimanapun kini stabil. -SH

Ulasan GB

Sekarang mereka (UMNO BN) telah secara terang membuat pengakuan bahawa mereka menghalang konvoi oren berkenaan. Akibat dari "halangan" itu mereka bertindak liar dan ganas terhadap para peserta konvoi.

"Kami generasi kedua Felda menolak kehadiran mereka. Tiada sesiapa pun mengalu-alukannya." Fasal yang mana di dalam Undang-undang yang mereka gunakan boleh menghalang ornag lain untuk memasuki mana-mana kawasan di dalam negara ini?

Undang-undang ciptaan dan rekaan sendiri lantaran takut dengan konvoi berkenaan?

Kemudian setelah ada pengakuan sejelas itu, apa pula tindakan polis selanjutnya terhadap mereka yang mencabul undang-undang ni?

Bukankah sepatutnya mereka ditangkap dan ditahan kerana mencabuli perlembagaan dan undang-undang negara?


UN General Assembly voices concern for Myanmar's Muslims
Posted: 26 Dec 2012 03:37 AM PST
UN General Assembly voices concern for Myanmar's Muslims
Dec 26, 2012 UNITED NATIONS – The United Nations General Assembly expressed serious concern on Monday over violence between Rohingya Muslims and Buddhists in Myanmar and called upon its government to address reports of human rights abuses by some authorities.
The 193-nation General Assembly approved by consensus a non-binding resolution, which Myanmar said last month contained a "litany of sweeping allegations, accuracies of which have yet to be verified".
Outbreaks of violence between ethnic Rakhine Buddhists and the Rohingyas have killed dozens and displaced thousands since June. Rights groups also have accused Myanmar security forces of killing, raping and arresting Rohingyas after the riots. Myanmar said it exercised "maximum restraint" to quell the violence.
The unanimously adopted UN resolution "expressing particular concern about the situation of the Rohingya minority in Rakhine state, urges the government to take action to bring about an improvement in their situation and to protect all their human rights, including their right to a nationality".
At least 800,000 Muslim Rohingyas live in Rakhine State along the western coast of Myanmar, also known as Burma. But Buddhist Rakhines and other Burmese view them as illegal immigrants from neighbouring Bangladesh who deserve neither rights nor sympathy.
The resolution adopted on Monday is identical to one approved last month by the General Assembly's Third Committee, which focuses on human rights. After that vote, Myanmar's mission to the United Nations said that it accepted the resolution but objected to the Rohingyas being referred to as a minority.
"There has been no such ethnic group as Rohingya among the ethnic groups of Myanmar," a representative of Myanmar said at the time. "Despite this fact, the right to citizenship for any member or community has been and will never be denied if they are in line with the law of the land." REUTERS
စစ္တပ္ထဲ ဝင္မယ္ဆုိရင္ ဘာဆုိ ဘာမွ မလုိဘူး ၊ အသိဥာဏ္မရွိတဲ့ လူဆုိ ပုိၾကိဳက္ေလပဲ.
Posted: 26 Dec 2012 02:50 AM PST
စစ္တပ္ထဲ ဝင္မယ္ဆုိရင္ ဘာဆုိ ဘာမွ မလုိဘူး ၊ အသိဥာဏ္မရွိတဲ့ လူဆုိ ပုိၾကိဳက္ေလပဲ……
FB of ( ၾကက္ဖၾကီး )
To kill the people, esp unarmed civilians, protesters, monks and students the generals sometimes even need to feed those so called illiterate or idiot soldiers with liquor, stimulants etc. Just look at the soldier without boot who shot point-blank and killed the Japanese Journalist. He was NOT even seem to be a regular soldier but a convict fed with amphetamine (Yaba) armed and sent to kill the demonstrators.
If the Generals order you, Dr Zarni, other educated people or me, we all will think whether that order is right or wrong, ask back, argue back… so we are useless for the generals. They want the persons who never think, talk back but obey their orders to serve them…In Phaungyi (gov officers' training), we we need to learn marching and basic military training. Although they never reveal, I understood that MARCHING is the basic training in any uniformed forces around the world because it trained the trainees mind to OBEY ORDER without thinking. Lt turn, Rt turn, march, stop, salute..etc obey the order without thinking. Irony is, the generals are ALSO trained to obey orders only but now in Burma, they want to ORDER or govern the gov (although it is a quasi civilian only) and parliament. Actually Top Generals must obey the Politicians, leaders, civilian Gov of the day.
Somehow, zillions of reporters in Bethlehem missed this story
Posted: 26 Dec 2012 02:18 AM PST
From Holy Land Missions, December 21:
Pressure from the local community is forcing the hands of the Bethlehem municipality to take down a large Christmas billboard sign that has Jesus on it.



"In the birthplace of Christianity, we have seen over the years that the Christmas holiday has been reduced to snowmen and bells,

said Pastor Steven Khoury of Holy Land Missions; the ministry behind putting the 1200 square foot sign up. He added, "The essential message of the holiday season has been taken away for fear of what the dominant factors in Bethlehem would say."

Vandals had cut the electric cable surrounding the sign to ensure that it would not be lit up during the night. Barraged with phone calls from the local community, the municipality informed Pastor Khoury that many are campaigning asking us to take down the sign. ...The billboard sign is located at Manger Square with the slogan "Jesus born to die and rose again. Invite him into your heart so you might live - Merry Christmas"

has caused some people to come out of their cars and take pictures.

Out of fear of repercussions, no one is willing to sell electricity access to the billboard. So Pastor Khoury has been going out with a portable generator and several high beam spotlights and lighting the sign up himself. Anticipating that the sign might be coming down any time, Khoury quickly did one last film next to the billboard sign.
How did every single reporter in Bethlehem miss a story about a pastor who was trying to put up a billboard with a Christian message?  It has an attractive protagonist, who speaks English well. It is an underdog story. It is about freedom of religion. It has the irony of Jesus being absent from Bethlehem. This story is made for TV and print media.

There must be a reason why the reporters ignored this story. Perhaps because of the types of people who are against the sign? Pastor Khoury doesn't identify them, so it is unclear who they are.  All we know is that they are dominant in Bethlehem (so they can't be Christians), that they are from the local community (so they can't be Jews)  that they are threatening those who support the message with violence (so they can't be Quakers,) and that reporters are reluctant to report when these people are acting against freedom of religion and freedom of expression. This is a tough one. Hat tip: Elder of Ziyon
Menteri Pengangkutan Pentingkan Kroni, Rompak Duit Rakyat
Posted: 26 Dec 2012 03:34 AM PST
K
enyataan Menteri Pengangkutan bahawa pelaksanaan Sistem Penguatkuasaan Automatik (AES) diteruskan, bukti beliau lebih pentingkan kroni berbanding bantahan dan kehendak rakyat, kata Ahli Dewan Undangan Negeri (Adun) Teja, Chang Lih Kang.
Mengikut Datuk Seri Kong Cho Ha, Putrajaya akan tetap teruskan operasi AES walaupun Jabatan Peguam Negara membeku semua prosiding kes saman, minggu lalu.
Beliau turut mengakui pelaksanaan sistem itu mendapat tentangan rakyat dan bermasalah dari sudut perundangan, tetapi tetap berdegil tidak akan berhenti mengeluarkan saman.
"Kedegilan menteri seperti Cho Ha jelas menunjukkan dia hanya menjaga kepentingan kroni, bukan rakyat. Padahal semua pihak berpandangan sistem itu ada masalah," kata Lih Kang ketika dihubungi.

Dua syarikat yang mengendali AES ialah Beta Tegap Sdn Bhd dan ATES Sdn Bhd, yang mempunyai hubungan dengan Umno Johor dan menteri dari MCA.

Kedua-dua syarikat itu mensasarkan 10 juta saman dikeluarkan setahun dan bakal mendapat keuntungan sehingga RM700 juta hasil kutipan saman.

Kerajaan berbelanja RM800 juta untuk menyediakan kamera di 831 lokasi.

Kerajaan juga didakwa menyediakan kos senggaraan sehingga RM3.8 bilion untuk lima tahun. Sepatutnya, kerajaan mengambil hasil saman AES, bukan bekerjasama dengan syarikat swasta.

"Jika Cho Ha menteri bermaruah, beliau patut malu dan letak jawatan. Jika tidak, rakyat sendiri akan pecat beliau dalam pilihan raya nanti," tegas Lih Kang.

Menurutnya, penerusan saman AES merupakan usaha pimpinan Umno BN untuk memeras wang rakyat.

"Kedegilan pemerintah yang tetap mahu laksana AES amat mencurigakan. Tiada sebab lain, mereka hanya mahu terus rompak wang rakyat," katanya.

Sejak dimulakan pada 23 September lalu, sebanyak 300,000 saman AES dikeluarkan terhadap pengguna jalan raya.

AES ditentang ekoran terlalu banyak kelemahan termasuk had laju tidak relevan dan kamera di sepanjang lebuh raya yang terlalu banyak sehingga menyebabkan saman berganda. -KD


Putrajaya kekalkan kamera perangkap kelajuan AES walaupun saman dibekukan

KUALA LUMPUR, 26 Dis — Putrajaya akan meneruskan operasi kamera perangkap kelajuan kontroversi Sistem Penguatkuasaan Automatik (AES) walaupun pembekuan pada pendengaran saman oleh Jabatan Peguam Negara (AGC) minggu lepas, kata Menteri Pengangkutan Datuk Seri Kong Cho Ha.

Kong memberitahu The Malaysian Insider pihak berkuasa tidak akan berhenti mengeluarkan saman AES walaupun mendapat tentangan hebat daripada orang ramai dan pemimpin Pakatan Rakyat (PR).

"Kerajaan tidak akan menghentikan saman AES ini, seperti yang sudah diputuskan dalam Mesyuarat Kabinet lalu," kata Kong merujuk kepada kelulusan perbelanjaan dianggarkan kementerian itu di bawah Bajet 2013 bulan lepas.

Setiausaha agung MCA itu akhirnya menjelaskan isu berkaitan pemberhentian semua prosiding mahkamah berkaitan dengan saman AES oleh AGC untuk mengkaji isu-isu undang-undang yang dibangkitkan, selepas seminggu isu ini berada dalam keadaan tergantung.

"Saman itu masih sah dan akan terus dikeluarkan. Keputusan pembekuan itu terpulanglah kepada AGC untuk membuat keputusan," jelas beliau menunjukkan bahawa kementeriannya tidak campur tangan dalam perkara ini.

Sementara itu, Kong juga mengakui saman AES tersebut bermasalah dalam sudut perundangan dan kementeriannya sedang mencari jalan untuk menyelesaikan perkara yang dibangkitkan tersebut.

"Saya fikir tidak lama lagi masalah ini akan diselesaikan," jelas beliau.

Kong juga memberitahu AGC sudah dalam peringkat perbincangan dengan Polis Di Raja Malaysia (PDRM) dan Jabatan Pengangkutan Jalan (JPJ) untuk menyelesaikan isu ini secepat mungkin.

Pembekuan saman oleh AGC berpunca daripada rungutan pelbagai pihak terhadap sistem AES yang sudah mengeluarkan hampir 300,000 saman sejak ia dimulakan pada 23 September lalu.

Sejurus selepas itu Naib Presiden PAS Datuk Mahfuz Omar mengisytiharkan kontroversi berterusan ke atas sistem penguatkuasaan lalu lintas adalah "permainan politik" dan mencabar Putrajaya untuk menangguhkan operasi AES.

Ahli parlimen pembangkang itu menuduh Putrajaya tidak telus dalam berurusan dengan kedua-dua syarikat — Beta Tegap Sdn Bhd dan Ates Sdn Bhd — diberi kontrak untuk memasang dan menjalankan sistem kamera-perangkap kelajuan yang mencetuskan kemarahan orang ramai terhadap apa yang dilihat sebagai penswastaan penguatkuasaan undang-undang lalu lintas.

Mahfuz, yang juga pengerusi gerakan anti-AES Kumpulan Anti Saman Ekor (KASE) juga menuntut JPJ untuk mengembalikan wang pesalah trafik yang sudah membayar denda mereka.

The Malaysian Insider melaporkan minggu lalu Putrajaya mempertimbangkan untuk menggantung pelaksanaan sistem tersebut kerana saman berganda dengan perangkap kelajuan polis di sepanjang lebuh raya.

Projek swasta bernilai RM700 juta bermula pada bulan September dengan 14 kamera fasa percubaan tetapi JPJ berikrar untuk melancarkan sebanyak 831 kamera menjelang akhir 2013 untuk menangkap pemandu laju dan mencegah lebih banyak kematian di jalan raya.

Pihak polis, yang menguatkuasakan undang-undang hadlaju berkata, mereka akan meneruskan penguatkuasaan dan meletakkan perangkap kelajuan mudah alih berhampiran kamera AES, meningkatkan prospek saman berganda untuk pemandu ingkar.
.
Malboro: Cigarette or smoking causes miscarriage?
Posted: 25 Dec 2012 11:09 PM PST
ဆင္တစ္ေကာင္လုံး ေတြ႕ေနတာေတာင္ဆင္ေျခရာ လိုက္ရွာေနၾကေသာ ျမန္မာျပည္မွစုံစမ္းစစ္ေဆးေရးေကာ္မတီမ်ား . . .
Posted: 25 Dec 2012 10:51 PM PST
Source:

M-Media

by Kyaw Naing Win ဆင္တစ္ေကာင္လုံး ေတြ႕ေနတာေတာင္ဆင္ေျခရာ လိုက္ရွာေနၾကေသာ ျမန္မာျပည္မွစုံစမ္းစစ္ေဆးေရးေကာ္မတီမ်ား . . .
They R trying to buy time only and working too hard to cover up the elephant with their tiny goat leather.
Posted: 25 Dec 2012 10:07 PM PST
I had a conversation with my bosses the other day and one of them was complaining about how bad the food they serve at Wadihana Steakhouse in Bangi. For RM40, they can't even serve homemade mashed potatoes, the one that is simply milk, butter and potatoes? But instead they used instant powdery ones you get in KFC. Hampeh!
People are watching the Food Channel these days, my boss said. And you restaurateurs can no longer serve customers so low an F&B standard without having them complain and well…. Not come back. Or worse, they could blog about it and others would read.
I think he is right, the food channels have influenced us quite a lot don't they? I cannot remember when I started watching the food channels on Astro. But I remember even before watching those shows I have always wanted a good kitchen, I serve my food neatly although not artistically beautiful on a nice serving dish that is made of glass or porcelain but hardly plastic. Often my friends call me Makcik for my liking towards good cutleries and dinnerware but I call my ADA STANDARD! Ko ada? It is not that I insist of eating on Royal Dalton day and night but please I am not a 2 year old with tendencies to break my plates and bowls, so please la pengusaha restoran sekalian, treat your customers like adults and give them real glass plate to eat on.
That's why I cannot take it when restaurants serve food on plastic dishes. Kalau mamak atau warung bawah pokok tepi jalan takpe lah but a proper restaurant? Haishhh..
So somehow the food channel has help in moving the quality of F&B service in Malaysia. Now that customers have higher awareness and taste, terpaksalah all these restaurateur be more serious and put extra efforts in keeping up with the standards. Don't be like most restaurants in Bangi (hari ni hari mengeji restoran Bangi ke apa ni?) I think they spend fortunes for fish ponds and wooden huts for this so-called eco dining concept but the food sucks and they waiter are Jawa mana tah cakap pun tak paham. Membazir duit je buat kolam ikan Wak, baik masak sedap-sedap.
Actually impact food channel ni memang baik untuk F&B industry but in my own household pun impacted jugak. Laki aku yang makan main telan je apa pun bagi kat dia sekarang dah pandai… "Asam pedas Diyana ni tak mesra lah! Masak asing-asing kan?"
Wahhhh…. Dah pandai menggunakan perkataan mesra untuk ikan? Ha… ambik ko Diyana! Padan muka aku!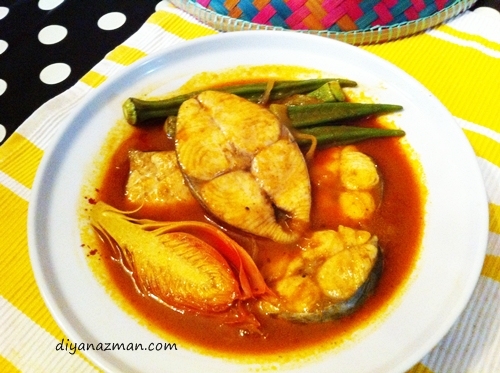 Ni lah asam pedas ikan tenggiri yang Azman cakap tak mesra tu. Sedih i! Nanti I ajar ikan tu bagi salam 1Malaysia supaya lebis mesra masa makan.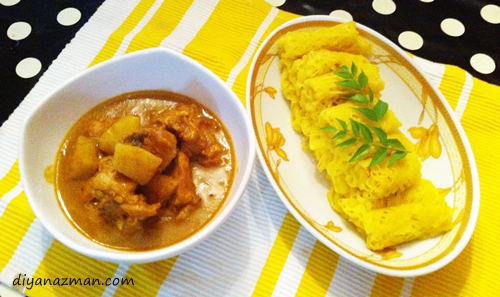 Ni pulak roti jala and kari ayam kentang aku buat hari Ahad haritu kot. BTW, masa tu aku malas cari mangkuk pastu lepas letak kat meja baru perasan mangkuk dengan piring tu satu berbunga satu kosong. Aku ni Mak Enon cerewet tak tentu hala, sangat terganggu dengan pinggan tak match gitu haishh… Anyway baru 2-3 kali buat roti jala tapi dah tahu betapa tertipunya aku makan roti jala selama ni. Aku ingatkan roti jala memang rasa tawar kosong-kosong gitu buat actually penjual tu yang kedekut taik idung masin. All they could do is add some butter or ghee, garam sikit gula sikit pun dah OK, it will improve the taste soo much better. I experimented roti jala with ghee dan rasanya sangatla sedap. You guys should try! Tapi kalau laki uols kata ghee dengan roti jala tak mesra jangan salahkan I ok! haha! Have a nice day guys!
[BERGAMBAR] Detik Cemas Banjir Di Setiu Terengganu
Posted: 25 Dec 2012 11:44 PM PST
D
ibawa arus... Seorang pemuda Khairi Said, 27, yang sedang menunggang motosikal mengalami detik cemas apabila nyaris dihanyutkan arus deras ketika melalui Jalan Permaisuri-Penarik di Kampung Tasik di Setiu, Terengganu, Selasa
Beliau yang bertekad meredah banjir untuk ke tempat kerja gagal mengawal motosikalnya, lalu dihanyutkan arus deras di kawasan sawah terbiar berhampiran Sungai Setiu.

Kejadian berlaku sungguh pantas dan orang ramai yang berada dikawasan itu yang menyedari kejadian tersebut turut membantu mangsa.

Jurufoto BERNAMA Arjasneh Ahmad yang kebetulan berada di situ sempat merakamkan detik-detik cemas itu.

Kelihatan Khairi juga turut dihanyutkan arus deras setelah usahanya untuk menyelamatkan motosikal miliknya gagal. Foto ihsan: BERNAMA


Protest about discrimination in issuing National Registration Cards to Myanmar Muslims
Posted: 25 Dec 2012 09:44 PM PST
အမ်ိဳးသား ဒီမိုကေရစီအဖြဲ႕ခ်ဴပ္ ဥကၠဌ ေဒၚေအာင္ဆန္းစုၾကည္ ျမိတ္ျမိဳ႕ ခရီးစဥ္တြင္ ျမင္ေတြ႔ရတဲ့ ျမင္ကြင္းတခု
Ketulusan Hati - Nyanyian Anuar Zain
Posted: 26 Dec 2012 02:30 AM PST


Umat Islam Di Negara China..



၁၉၇၅ မဆလ ျမန္မာမြတ္စလင္မ္တို႔အား "ကုလား" ဟု ေရးသားသံုးႏႈန္းသည့္ကိစၥ ပိတ္ပင္ တားျမစ္
Posted: 25 Dec 2012 09:20 PM PST
မဆလ (ျမန္မာ့ဆိုရွယ္လစ္ လမ္းစဥ္ပါတီ) အစိုးရေခတ္ ၁၉၇၅ခုႏွစ္ ေအာက္တိုဘာလ ၁၂ ေန႔တြင္ ၿပည္ထဲေရးႏွင့္ သာသနာေရး ၀န္ၾကီးဌာန ၀န္ၾကီးဦးကိုကို မွ ျမန္မာမြတ္စလင္မ္ ေခါင္းေဆာင္တို႔ေတြ႔ဆံုစဥ္ စာနယ္ဇင္းမ်ားတြင္ ျမန္မာမြတ္စလင္မ္တို႔အား "ကုလား" ဟု ေရးသားသံုးႏႈန္းသည့္ကိစၥ ေနာက္ေနာင္ မျဖစ္ေစရန္ ပိတ္ပင္ တားျမစ္သြားမည္ျဖစ္ေၾကာင္း ေျပာၾကားခဲ့သည့္ မွတ္တမ္း Source:M-Media