---
Posted: 02 Dec 2012 08:33 AM PST
ZIPLOC BAGS - Male, because they hold everything in, but you can always see right through them.
SWISS ARMY KNIFE - Male, because even though it appears useful for a wide variety of work, it spends most of its time just opening bottles.
KIDNEYS - Female, because they always go to the bathroom in pairs.
SHOE - Male, because it is usually unpolished, with its tongue hanging out.
COPIER - Female, because once turned off, it takes a while to warm up. Because it is an effective reproductive device when the right buttons are pushed. Because it can wreak havoc when the wrong buttons are pushed.
TIRE - Male, because it goes bald and often is over inflated.
HOT AIR BALLOON - Male, because to get it to go anywhere you have to light a fire under it ... and, of course, there's the hot air part.
SPONGES - Female, because they are soft and squeezable and retain water.
WEB PAGE - Female, because it is always getting hit on.
SUBWAY - Male, because it uses the same old lines to pick people up.
HOURGLASS - Female, because over time, the weight shifts to the bottom.
HAMMER - Male, because it hasn't evolved much over the last 5,000 years, but it's handy to have around AND FINALLY.....
REMOTE CONTROL - Female... Ha! You thought male..... But consider, it gives man pleasure, he'd be lost without it, and while he doesn't always know the right buttons to push, he keeps trying.
-Author Unknown-
Posted for laughs with no intention to offend anyone.
[VIDEO] Saksikan Saat Sewaktu Pintu Kaabah Dibuka
Posted: 02 Dec 2012 10:02 AM PST
D
an dari mana sahaja kamu keluar, maka palingkanlah wajahmu ke arah Masjidil Haram. Dan di mana sahaja kamu (sekalian) berada, maka palingkanlah wajahmu ke arahnya, agar tidak ada hujah bagi manusia atas kamu, kecuali orang-orang yang zalim di antara mereka. Maka jangan kamu takut kepada mereka dan takutlah kepada-Ku. Dan agar Aku sempurnakan nikmat-Ku atasmu, dan supaya kamu mendapat petunjuk."
(SURAH AL-BAQARAH AYAT 150)
Tafsiran ayat ini masih lagi berkisar mengenai pertukaran arah kiblat dari Baitul Maqdis ke Kaabah.

Menurut kitab Tafsir al-Azhar, pangkal ayat ini adalah perintah khusus bagi Nabi Muhammad saw Kemudian dijelaskan sekali lagi kepada seluruh umat Nabi Muhammad saw supaya berpegang teguh dengan arah kiblat ini di mana sahaja mereka berada.

Jangan diubah-ubah lagi dan ia juga tidak akan berubah selama-lamanya. Sama ada berada di tengah lautan, di puncak gunung ataupun di tengah gurun; carilah arah kiblat dan solatlah menghadap ke sana.

Hal ini kerana penetapan kiblat itu sudah pasti diterima oleh manusia yang menjunjung tinggi kebenaran dan kesempurnaan agama.

Rumah Allah yang pertama didirikan ialah Kaabah di Masjidil Haram, tempat seluruh umat Islam dari setiap pelosok dunia berkumpul setiap tahun untuk mengerjakan haji di dalam melaksanakan wasiat nenek moyang kita iaitu Nabi Ibrahim a.s.

Pendek kata, tiada bantahan dan sanggahan daripada orang-orang yang berfikiran sihat tentang penetapan arah kiblat itu.

Lain pula halnya dengan orang-orang yang zalim, kafir, bodoh dan berfikiran sempit. Mereka sentiasa membantah seperti kata kaum Yahudi: "Muhammad memutar kiblatnya ke Kaabah, padahal di sana berderet 360 buah berhala yang selalu dicela-celanya itu. Rupanya dia akan kembali kepada agama nenek moyang orang Quraisy."

Manakala kaum Musyrikin pula berkata: "Dialihnya kiblat ke Kaabah kerana dia hendak menarik-narik kita atau telah insaf atas kesalahannya." Orang munafik di Madinah turut berkata: "Memang pendiriannya tidak tetap. Sekejap begini, sekejap begitu."

Allah s.w.t. berfirman supaya jangan dipedulikan kata-kata itu dan jangan takut dengan serangan-serangan yang sedemikian. Tetapi takutlah hanya kepada Allah dan perintah Allah sahaja yang perlu dilaksanakan.

Di akhir ayat ini, Allah swt membayangkan janji-Nya bahawa nikmat kiblat itu akan disempurnakan-Nya. Nikmat pertama ialah peralihan kiblat walaupun di Kaabah waktu itu masih ada berhala. Tetapi Allah swt berjanji lagi bahawa negeri itu (Mekah) akan berada di tangan umat Islam di mana pada masa itu Kaabah akan dibersihkan daripada berhala dan akan tetap buat selama-lamanya menjadi lambang kesatuan arah untuk semua umat Islam di dunia.

Menurut sejarahnya, pada tahun ke lapan hijrah Mekah telah di takluk oleh umat Islam dan segala berhala telah dirobohkan dan dibuang dari Kaabah dan seluruh Masjidil Haram, juga di seluruh Tanah Hijaz dan tegaklah agama Allah dengan jayanya.

Sebab-sebab turun ayat Diriwayatkan oleh Ibnu Jarir yang bersumber daripada As-Suddi melalui sanad-sanadnya, dikemukakan bahawa turunnya ayat 150 Surah al-Baqarah ini berkenaan dengan peristiwa ini. Ketika Nabi Muhammad saw memindahkan arah kiblat dari Baitul Maqdis ke Kaabah, kaum Musyrikin Mekah berkata: "Muhammad dibingungkan oleh agamanya. Dia memindahkan arah kiblatnya ke arah kiblat kita. Dia mengetahui bahawa jalan kita lebih benar dari jalannya, dan dia sudah hampir masuk agama kita."

Pengajaran

1. Kita sebagai hamba Allah yang beriman seharusnya redha dengan kewajipan yang disuruh oleh Allah swt dan melaksanakannya dengan taat tanpa sebarang alasan, walaupun kewajipan itu akan menyebabkan kita menderita di dunia.Ini kerana Allah swt telah berjanji bahawa kemenangan bagi orang-orang yang menjunjung perintah-Nya dan di akhirat nanti akan dibalas dengan syurga.

2. Berdosa besar bagi sesiapa yang mengubah-ubah perintah Allah, apalagi sesudah kewafatan Rasulullah saw iaitu penutup segala nabi-nabi, dan sesudah Allah swt berfirman bahawa telah disempurnakan agama dan dicukupkan nikmat kepada seluruh umat manusia.

3. Orang-orang kafir sentiasa berusaha untuk menentang agama Islam dengan mencari berbagai-bagai helah dan tipu daya untuk mengelirukan umat Islam. Oleh itu, berwaspadalah dengan mereka walau sebaik mana pun diri mereka, dan berusahalah untuk meningkatkan keimanan dan yakinlah dengan janji Allah. -mynewshub





Smell: The secret of true love
Posted: 02 Dec 2012 07:06 AM PST
The Independent
reported that new research about our sensory systems shows that the nose is central to the way we form relationships.
Love, according to romantics, can have a dramatic effect on the senses: striking lovers blind, deaf or rendering them tongue-tied. But the simple answer to the question of whether any relationship is "the one" seems to be that your ideal man or woman gets up your nose. New research suggests a sense of smell is vital for a good long-term relationship.
In the new study, reported in the journal Biological Psychology, researchers looked for the first time at the effect of being born without a sense on smell on men and women's relationships.
The research involved analysing data on men and women aged 18 to 46 with no sense of smell and comparing it with information gleaned from a healthy control group. The results showed that men and women who were unable to smell had higher levels of social insecurity, although this manifested itself in different ways.
In men, but not in women, it led to fewer relationships. The men with a faulty sense of smell averaged two partners compared with 10 for healthy men.
One theory is that the lack of a sense of smell may make men less adventurous. They may have more problems assessing and communicating with other people. They may also be concerned about how they are perceived by others, and worry about their own body odour.
The two groups of women had the same average number of sexual partners – four. But the women who couldn't smell well lacked confidence in their partners: they were around 20 per cent less secure in their relationship than the women in the control group. Lacking a sense of smell had no impact on their relationships with close friends, suggesting that smell plays a role for women specifically when it comes to their partners.
Research is increasingly showing that olfaction, one of the oldest sensory systems but probably the least understood, has an important role in a large number of areas. According to one study, women are more concerned about the smell than about the look of a potential mate, while men are the opposite. One study found that 13 per cent of men and 52 per cent of women have slept dressed in the clothing of another person, usually their partner, because of the smell.
CLICK HERE for the rest of the entry.
1 Juta Ke Grand Finale Himpunan Kebangkitan Rakyat 12 Jan 2013
Posted: 02 Dec 2012 07:03 AM PST
T
imbalan Presiden PAS, Mohamad Sabu mensasarkan sejuta orang turun ke Himpunan Kebangkitan Rakyat di Kuala Lumpur, 12 Januari tahun hadapan.
Beliau berkata, bagi mencapai sasaran itu, semua orang harus memainkan peranan menyampaikan maklumat berhubung himpunan yang merupakan kemuncak kepada himpunan-himpunan yang diadakan di setiap negeri.

"Grand finale himpunan kebangkitan rakyat, kita akan bersama-sama turun ke Kuala Lumpur bagi menuntut pilihan raya yang bersih.

"Yang ada depan saya ini, mesti sampaikan perkara ini kepada mereka yang tidak tahu, ajak mereka bersama-sama kita demi pilihan raya yang bersih," kata beliau sewaktu berucap di Himpunan Kebangkitan Rakyat di Parit Salleh Ros, Parit Raja, dekat sini malam ini.

Sebelum itu, Ahli Jawatankuasa Gabungan Pilihan Raya Bersih dan Adil (Bersih) menyeru perkara yang sama kerana mendakwa Suruhanjaya Pilihan Raya (SPR) akan terus melakukan penipuan dalam pilihan raya bagi menyelamatkan Umno BN.

"54 tahun Umno menipu kita, tuntutan Bersih tidak dipedulikan. Pilihan raya ini adalah pilihan raya yang akan ditipu.

"Yang rakyat lawan bukan Umno atau BN tapi satu sistem yang dikeluarkan SPR untuk menipu rakyat.

"Selagi SPR yang ada ini wujud, selagi itu pilihan raya akan ditipu," katanya di hadapan lebih 30 ribu hadirin.

Himpunan malam ini merupakan himpunan yang ketiga selepas kali pertama di Seremban dan kali kedua di Kelantan.


RAZIAH GRABS MULTI-MILLION DOLLAR FOREST FOR JUST RM 250!
Posted: 13 Oct 2011 10:30 PM PDT
Corrupt Barisan Nasional l In an act of breathtaking meanness and greed the multi-billionaire Taib family are seeking to deprive impoverished Ibans of one of Sarawak's last remaining hardwood forests, for a paltry compensation of just RM250 per family.
Meanwhile, Sarawak Report has received exclusive new leaks which indicate that the Chief Minister himself stands to personally profit by a million times that amount (an estimated RM250,000,00) in corrupt backhanders from the deal.
Raziah Mahmud and Quality Concrete Holdings
This latest illegal raid on Native Customary Rights Land is being carried out by
Quality Concrete Holdings Berhad
, a company part-owned and directed by the Chief Minister's own sister, Raziah Mahmud.  The Taibs, one of the richest families in Asia, have already started harvesting the timber, which is worth millions of US dollars, even though the majority of the villagers are refusing to accept the deal.
"We have been threatened that if we oppose this claim we are going against the government and opposing development" explained one protester, "but why does the government act like a common thief in this case and how much development can we achieve for RM 250?".
Already driving into the forest without permission
The threatened area is a small range of hills near Sebangan not far from Kuching, consisting of 3,305 hectares of forest.  The surrounding region has already been devastated by state-sponsored logging promoted by the Taibs in the 80s and 90s.
However until now it was not considered economic to tackle the raised ground, which has been farmed and hunted for generations by 16 villages of Iban dwellers.
The villagers explain that the area is carpeted by hundreds of thousands of tall trees, some of it valuable primary jungle containing hardwoods that are now painfully scarce.  The Secretary General of the Sarawak Dayak Iban Association (SADIA) Nicholas Mujah, who comes from the community, says that there are up to 700 tons of  Belian, Meranti, Bulyan, Selangan, Kapur, Kempas, Tekam, Resak, Lon, Penyau, Ruan and Engkaban available per hectare.  These all command top prices in the world market, although the logging of such rare timber is now internationally condemned.
The area is also a refuge for some of Sarawak's remaining wildlife and birdlife, much of which has been wiped out by the Taibs over the past 30 years.
Corruption and conflict of interest
Conveniently on the Board - Raziah Mahmud, Taib's sister
The Iban owners of the forest say they are happy to conserve the wood for future generations and to conduct sustainable logging for their needs.  However, the aging Chief Minister, who has already earned billions out of corrupt logging deals seems to have been unable to resist the prospect of grabbing more money by cutting it all down.
In this case, like so many others, he has used a relative, his sister Raziah Mahmud, to conduct the plunder.  Raziah is a shareholder and paid Non-Executive Director of Quality Concrete Holdings, a public company largely owned by the family of Tiang Ming Sing and Tiang Ming Kok (the Chairman and Managing Director).  She is therefore directly profiting from her connections with the Chief Minister, who hands out all timber licences.
The CM's cut will be at least MR250 million - 

Exclusive new Revelations
However, following new leaks, Sarawak Report is now able to further reveal an even more shocking form of corruption involved in the deal.  Top timber company insiders have exclusively confided to Sarawak Report that before issuing any timber licence the Chief Minister always demands an extra secret cut, to be paid upfront into one of  his offshore bank accounts.


The insiders say that Taib traditionally demands a rate of RM 100 per ton of timber.  However, in this latest case the sum is likely to be substantially larger, given the value of the hardwoods at the Sebangan reserve.
According to the whistle-blowers, the Chief Minister calculates his cut by getting State Forest Department officials to assess how much timber is available in each concession.
So, if the 3,305 hectare Sebangan forest contains 700 tons of wood per hectare, this would mean that Taib will have bagged just under 250 million ringgit from issuing the licence.  That is well over $80 million US dollars at current exchange rates and is almost exactly a million times the amount being offered to the Iban families who rightfully own the land!
Even on a more conservative estimate of 50 tons per hectare Taib would stand to illegally profit by nearly MR17 million. Sarawak Report would therefore like to ask Quality Concrete to confirm if they have yet made such an up front payment or if they are paying part up front and part later, which is sometimes the arrangement, or whether they are claiming that on this occasion they have been for some reason let off the payment?
Robbing his people blind
Simple people robbed of their heritage
Such miserable deals have been the pattern by which the Chief Minister has deprived numerous communities in Sarawak of billions and billions of ringgit-worth of timber and made himself one of the richest men in Asia.  Instead of going into promised development the money has gone into Taib's foreign bank accounts, leaving the people of Sarawak among the poorest in Malaysia, despite their rich natural resources.
Strong-arm tactics – lies and thugs
In this latest case the Taibs are again attempting to abuse their control of state officials and adopting strong-arm tactics to force the unwilling villagers to hand over their forest, firstly through misrepresenting the terms of their licence.
The truth - Raziah's conditional licence expires in two months!
Quality Concrete have in truth, only been issued a conditional year-long Occupation Certificate to log the timber, for the very reason that this is Native Customary Rights (NCR) Land.
This certificate has been issued under Section B of the Forest Ordinance, which specifically means that Quality Concrete need to achieve the consent of the Iban landowners 
before commencing any logging
.
However, Raziah and her business cronies have of course done no such thing, because they know that such consent would either be withheld or would only come at a reasonable price for the land!  They have instead sought to imply that they are fully licenced to strip the forest.
No warning and no permission asked


"Nobody warned or consulted us about anything" explains Sadun Ason, the Headman of Kampong Ensika, one of the affected communities.  "The first I knew of it was when a villager called me to say he had seen logging equipment being shipped up river by boat on 11th July.  We then immediately called the Pengulu, who astonishingly said he knew all about it and told us that there is nothing we can do to protest, as the whole matter is perfectly legal and we have no rights!"
Traditional meeting - community representatives discuss the crisis
The 16 villages involved are rightly suspicious of this Pengulu.  Taib undermined democracy in when he removed the right of longhouses to elect their own headmen and Pengulus and started to appoint these 'representatives' himself.
He pays them a miserable monthly salary to keep them loyal.  Nevertheless, these characters usually still come from the local community and are accepted by the residents.
However, in this case a new Pengulu was appointed a few weeks before the issuing of Razia's logging licence. He is a PBB member from an outside town.  The headmen are naturally furious he kept them in the dark about Quality Concrete's plans and the previous Pengulu has also testified against such behaviour and joined their protest.
"If there is anything that relates to the joint ownership of the forest the Pengulu should discuss the matter with the headmen and likewise the headmen would talk to their villagers.  All these resources are shared resources and it is not right for the Pengulu to make a decision, especially such an important decision on his own", says Ason emphatically.  "Rightfully, the Pengulu and headmen should be the ones to protect the forest, but we end up fighting him".
Deceitful tactics by the loggers and their official backers
The villagers have tried to blockade the site and have demanded proper information and paper-work from Quality Concrete. But Raziah and her co-directors have been characteristically unforthcoming.  Outrageously, they have also started driving a road into the territory and harvesting valuable timber in the process.
At a meeting organised by the police on 2nd July, officials from the Forestry Department and Land Survey Department showed their bias by meeting first, separately with the representatives of Quality Concrete and their lawyers, along with the suspect Pengulu.
The officials then came out and claimed to the villagers that  the land was not gazetted and claimed there was no evidence the area was NCR land.  However, Sarawak Report has obtained evidence proving this claim was untrue.  In fact the Land Registry's own records show that the land has been gazetted since 1956 and is indeed Native Customary Rights Land.  The licence Quality Concrete has been given is subject to any NCR claims.  Meanwhile, internal documents from the Forestry Department also show that officials have now instructed Quality Concrete not to encroach on the vast majority of the area contained in the provisional licence unless and until the dispute has been settled.
Sarawak Report has copies of all these documents, however in typical fashion the officials on the ground, working with Raziah Taib and Quality Concrete and their lawyers, have attempted to conceal these facts from the villagers.
Bullying into submission
Meanwhile the timber company and Pengulu have been working hard to browbeat and divide the community into submission.  They have gone around all the longhouses offering MR25o 'compensation payment' to each family prepared to sign away their rights to the forest and MR800 to each headman.  This may be a laughable sum, but Taib
MALAYSIA VS INDONESIA: ANALISIS PENUH PERLAWANAN
Posted: 02 Dec 2012 03:09 AM PST
oleh Thierry Helmy
Sebentar tadi berlangsung perlawanan yang paling ditunggu-tunggu oleh 2 negara bekas jajahan eropah, Malaysia menentang Indonesia.Konfederasi Bola Sepak Asia seolah-olah sengaja mempertemukan 2 pasukan ini..Barangkali ini adalah agenda Freemason untuk melihat 2 negara ini bertelagah antara 1 sama lain. Tidak kedengaran teriakkan "Indonesia itu Anjing", mahupun "Malingsia", yang ada cumalah teriakan kedua dua penyokong member sokongan padu untuk pasukan masing-masing. Buat pertama kali aku memuji sikap penyokong kedua-dua pasukan baik Malaysia mahupun Indonesia.
Ok,intro review game aku kali ini macam celaka. Tak menarik langsung.Harap yang membaca jangan jadi bosan sebab aku cuma mengulas berdasarkan fakta,dan pengalaman aku dalam melihat perlawanan dan sebagai pemain,bukan macam Hasbullah Awang yang tak reti main bola tapi cuba ulas pasal bola,sampai nama orang pun main sedap mulut jek..Kadang aku terfikir,perlunya kursus pengulasan sukan bola sepak di setiap university agar bila mereka mengulas,tak la berterabur macam abang Hasbullah..(maaf bang,ini kenyataan.Aku selalu perati jek abang ne mengulas)
Okay,selama 94 minit masa bermain,aku cuma terhibur selama 50 minit sahaja. 44 minit lebihnya tu aku banyak habiskan masa hisap rokok dan makan aiskrim Wafer  Walls yang super-sedap,perisa coklat. Indonesia dan Malaysia membuang masa aku selama 44 minit dengan corak permainan yang membosankan. Malaysia turun dengan skuad terkuat(rasanya) terdiri daripada Farizal Marlias selaku penjaga gol, Back 4 yang diketuai oleh Fadhli Shas,Aidil,Zubir Azmi,dan Mahali Jasuli,manakala midfield Malaysia pula diketuai oleh Safiq Rahim(captain),Shakir Shaari,Azamuddin Akil dan Wan Zack Wan Haikal,dan jentera serangan Malaysia diketuai oleh Safee Sali aka Budak Motor(sebab muka dia aku tengok terpampang di bahu jalan sebagai model motorsikal) dan Striker Gaji 80k,Norsharul Idlan Tahala. Manakala barisan Timnas pula,selaku penjaga gawang, Mas Wahyu Tri Nugroho,pertahanan, Raphael(pemain naturalisasi), Novan, Nopendi, dan Fachruddin,pemain tengah diterajui oleh,  Taufiq, Elie Aiboy(captain), Irfan Bachim Oktovianus Maniani dan Vendry Mofu, dan menggunakan seorang bomber utama iaitu Samsul Arif. 4-4-2 vs 4-5-1. Dalam kertas,kelihatan pasukan Indonesia lebih berpeluang cerah untuk layak secara power ke gelanggan separuh akhir kerana mereka hanya memerlukan keputusan seri sahaja manakala Malaysia perlu mencatat kemenangan dalam perlawanan ini.
Pada periode awal perlawanan, Indonesia kelihatan menguasai perlagaan dengan penguasaan bola sebanyak 57% berbanding Malaysia 43%. Indonesia mendapat peluang terbaik melalui Irfan Bachim yang mendapat umpanan sempurna dari Vendry Mofu tetapi digagalkan oleh Farizal Marlias. Okay,gerakan ini sangat menarik. Safiq membuat kesilapan kerana mengawal bola terlalu lama dan kemudiannya dirampas dan dilorongkan kepada Irfan Bachim. Dalam gerakan ini, aku member pujian kepada  Samsul Arif kerana membuat teknik 'creating space for teammate'. Gerakan seperti inilah yang selalu digunakan oleh Barcelona dan Arsenal untuk memecahkan benteng pasukan lawan. Sebagai contoh,  Xavi membawa bola, kemudiannya Pedro  berlari untuk memancing 'nafsu' pertahanan untuk mengejarnya dan pertahanan tadi terpancing dan mencipta ruang untuk membolehkan Iniesta mahupun Messi masuk mengambil alih tempat Pedro dan membuahkan jaringan. Ini adalah kombinasi bola sepak yang sempurna. Mungkin ramai yang akan berkata aku tidak patut buat comparison dengan Barcelona, tapi hal ini berkaitan dengan kognitif seseorang,cara berfikir dalam bola sepak. SepakanIrfan Bachim sedikit terbias kaki Mahali Jasuli dan kemudiannya diselamatkan oleh Farizal Marlias. Kedudukan masih 0-0. Indonesia masih mengawal perlawanan dengan baik. Anchor  Indonesia, Taufiq merancang pergerakan dengan baik dan teratur. Begitu juga dengan Shakir Shaari yang mengawal 'arus' Malaysia agar tidak main macam monyet. Goal pertama terhasil pada minit ke 23,dijaringkan oleh Azamuddin Akil, budak Kuala Lipis,Pahang. Goal ini bagi aku sangat power. Power dan terer. Ketika itu, throw in, Mahali Jasuli mengambilnya dan memberikan bola kepada Wan Zack dan kemudiannya dikembalikan semula kepada Mahali Jasuli, dengan 1 touch, Mahali melakukan crossing ke kotak 10 yards Indonesia dan disambut baik oleh Azamuddin Akil kemudian,GOAL!!!!…28 juta rakyat Malaysia happy kemain. 235 juta rakyat Indonesia garu kepala melihat goal tersebut. Dalam gerakan ini, aku sangat memuji kebijaksanaan Mahali Jasuli. Dia melakukan 'crossing between goalkeeper and defender'(istilah bola sepak) dan menyebabkan Wahyu curious untuk keluar menumbuk bola tersebut. Dalam perlawanan BPL,La Liga mahupun Eredivise, crossing seperti inilah yang paling berbahaya kerana ianya menyebabkan goalkeeper ragu-ragu samada ingin keluar menumbuk bola tersebut ataupun membiarkan defender clear bola. Malaysia leading 1-0. Selepas itu, Safiq Rahim mula datang penyakit lamanya. Owh,sebelum cerita penyakit Safiq, kita cerita dahulu tentang pertukaran pemain Indonesia. Indonesia memasukkan Andik Vermansyah yang disebut-sebut sebagai Messi Asia Tenggara yang namanya semakin 'panas' di liga Itali(dengar cerita mamat ne telah dipancing oleh Inter Milan) menggantikan Elie Aboy yang tercedera. Kemasukan Andik Vermansyah member sedikit kegerunan kepada benteng Malaysia kerana kelincahannya mengawal bola.
Ok,kembali kepada cerita penyakit Safiq Rahim. Sebenarnya, aku sudah lama perati mamat Safiq ne. Dia tak reti-reti nak bagi ground ball ke??Asyik long ball jek. Ini masalah yang perlu dibendung oleh beliau. Safiq terlalu mengharapkan kepantasan Wan Zack Haikal untuk mengejar bola walhal dia boleh sahaja bermain secara bijak dengan member hantaran pendek kepada rakan sepasukannya. Mujur partner Safiq Rahim, Shakir Shaari bijak mengawal corak serangan Malaysia dengan sekali sekala melambatkan tempo perlawanan. Pada minit ke 25 rasanya,  berlaku pergelutan antara Oktavianus Maniani dan Wan Zack Haikal kerana Maniani menyepak paha Wan Zack di tepi garisan padang. Pemain Malaysia menyerbu Maniani tetapi ditenangkan oleh Captain pasukan, Safiq Rahim dan Maniani dilayangkan kad kuning. Waktu itu, aku merasakan penyokong Malaysia akan mengutuk sikap Maniani tetapi tidak. Aku terkejut seketika,dan kemudiannya aku tersenyum. Dalam hati aku,'Mula pakai otak dah penyokong kita ne'. Maniani memohon maaf dan memeluk Safiq Rahim sebagai tanda persahabatan 2 negara. Ini sikap yang patut dipuji. Bola sepak tak perlu ada sentiment, yang perlu ada ialah taktikal dan kemahiran,sentiment boleh pergi mampus.
Pada minit ke 27, Malaysia mula agresif melancarkan serangan. Azamuddin Akil mencuri bola dari Andik Vermansyah, kemudian dilorongkan kepada Safee, dan Safee aka Budak Motor menunggu Fachruddin membuka kangkangnya dan kemudian melorongkan bola kepada Wan Zack(kawan aku teriak OLEE!),dan Wan Zack melarikan bola,kelihatan Wan Zack seperti mahu melakukan percubaan tetapi tidak ada step,jadi dia mengawal bola, Mahali Jasuli melakukan larian overlapping,Wan Zack menguis sedikit,kawalan baik dari Mahali dan GOALLL!!!!! Mahali mencium bendera Malaysia yang terlekat didadanya. 28 juta rakyat  Malaysia bersorak seperti menang 1 juta setiap seorang. 235 juta rakyat Indonesia semakin laju menggaru kepala mereka. Malaysia mendahului 2-0.
Bercerita tentang goal ini, sekali lagi aku puji Mahali Jasuli. Terus terang aku katakan,sebenarnya inilah yang patut dilakukan oleh pertahanan belah kanan dan kiri,iaitu larian overlapping. Overlapping bertujuan untuk menambah kuota menyerang agar pertahanan pihak lawan kelam kabut mempertahankan kubu mereka. Sebagai contoh,4 lawan 8,siapa menang??Mesti la 8 kan??Nah, begitulah perumpamaannya tuan tuan dan puan puan.Larian overlapping Mahali Jasuli menambah kekeliruan defender Indonesia yang sibuk mengawal striker gaji 80k  dan Budak Motor sehingga terlupa bahawa Mahali  sedang berlari macam  kuda disebelah kanan. Ini kesilapan midfield Indonesia kerana mereka tidak turun membantu pertahanan dan peluang ini digunakan oleh Mahali Jasuli  untuk menghasilkan goal kedua Malaysia.  Raja Gopal berdiri dari tempat duduknya. Barangkali sudah berangan-angan pangkat Tan Sri pulak.
Setelah mendahului 2-0, Malaysia mula main macam setan sedikit. Melambat-lambatkan tempo perlawanan, injured sana sini, sepak sesuka hati,passing tak berapa nak terer, dan macam-macam lagi. Hal ini menjadikan aku mencarut dalam hati melihat mereka bermain seperti itu. Ya, aku faham Malaysia tengah selesa, tetapi perlawanan masih panjang dan apa-apa boleh berlaku. Dalam psikologi bola sepak, pasukan yang mendahului perlu menghabiskan sisa-sisa semangat lawannya agar lawan tidak berupaya melawan balik. Takut-takut nanti Indonesia dapat comeback macam Man Utd macam mana??Mengamok lagi penyokong kita. Selepas minit ke 35 barulah permainan mula stabil,berbalas-balas serangan, passing dah boleh terer, tak sepak sesuka hati, dan inilah perkara yang aku tunggu-tunggu dalam bola sepak Asia Tenggara,main guna otak. Pengadil omputeh meniup wisel penamat untuk separuh masa pertama. Malaysia mendahului Indonesia 2-0.
Ramai penyokong mula pergi beli goring pisang, cekedis, air minum dan macam-macam lagi.Yela,dah penat berteriak sakan kan??Mestilah pekena sedikit air. Yang kaki rokok,pegi hisap sebatang dua sementara menunggu separuh masa kedua dimulakan.
Separuh masa kedua dimulakan. Kelihatan Indonesia bersungguh-sungguh nak buat comeback macam Man Utd. 5 minit pertama kelihatan kedua dua pasukan agak agresif,tetapi selepas itu, main dah mula berterabur. Kecuali Mahali Jasuli dan Andik Vermansyah. 2 pemain ini mendapat pujian daripada aku selaku penulis cerita ini.(kah kah kah). Andik Vermansyah, ketinggian 163cm, bermain untuk Persebaya FC dalam Djarum Liga berbangsa Bugis(tapi tak taw Bugis apa,Pinrang kali), antara orang yang disebut-sebut akan menghancurkan benteng Malaysia. Aku tidak pernah melihat Andik Vermansyah bermain, tetapi ternyata dia duri dalam daging buat Malaysia. Ball control yang baik, larian-larian yang mengelirukan,passing tak berterabur, dan sekali sekala membuat percubaan dari luar kotak penalty Malaysia. Benar, pemain ini berbahaya. Sesekali kelihatan sampai 2 orang yang menjaga pemain ini, Zubir Azmi dan Fadhli Shas disebabkan kelincahannya.  Aku rasa, masa depan Andik Vermansyah cerah sekiranya pergi ke eropah. Jangan hairan brader, Messi juga bertubuh kecil,tapi terer nak mampus. Cazorla juga begitu, terer tak patut jugak. So tidak mustahil Andik Vermansyah boleh jadi ikon Asia Tenggara di mata eropah.
Selepas minit ke 50, perlawanan mula membosankan. Aku kembali mencarut dalam hati. Tidak kira Malaysia atau Indonesia. Mereka bermain play save. Tidak mahu menyerang. Aku pun hairan kenapa,terutamanya Indonesia. Serangan Indonesia mudah dipatahkan oleh Aidil dan Fadhli Shas yang mengemudi pertahanan dengan baik sekali ditambah  ketenangan Mahali Jasuli walaupun Zubir Azmi kekadang sedikit leka menjaga kawasannya. Irfan Bachim dan Samsul Arif seperti tidak punya idea untuk memecahkan benteng pertahanan Malaysia. Begitu juga Budak Motor dan Striker gaji 80k. Tidak ada idea. Bola banyak berlegar di tengah padang. Malaysia membuat pertukaran dengan mengeluarkan Striker gaji 80k dan memasukkan Amar Rohidan dengan tujuan bermain secara defensive. Ini taktikal yang bagus dari Raja Gopal. Malaysia tengah selesa, so tidak perlu kelam kabut cari goal lagi. Tapi tolonglah Malaysia, passing tu jangan lah berterabur macam orang tak reti sepak bola. Sharp la sikit. Baru orang tengok macam Brazil. Indonesia juga melakukan pertukaran dengan membawa masuk 2 orang pemain naturalisasi iaitu Rusell dan van Boaengkrim yang macam dinosaur tu. Badan van Boaengkrim tu kemain sasa,idaman setiap wanita, tapi main macam bangang. Lari berat bontot. Control bola tak reti. Harap badan jek sasa. Ceh. Indonesia mengubah formasi menjadi 4-3-3 dengan kemasukan 2 pemain naturalisasi itu tadi. Tetapi, apa yang aku perhatikan, permainan Indonesia tidak banyak berubah.  Andik Vermansyah sahaja yang masih menjadi ancaman bahaya pada kubu Malaysia, yang lain-lain tu macam pelengkap sahaja. Aku tidak faham kenapa. Adakah sebab Malaysia main terlalu bagus??Padahal aku tengok Malaysia asyik main clear bola jek sebab dah leading 2-0.
Perlawanan menjadi bosan sehinggalah striker harapan 28 juta ummat Malaysia dimasukkan,iaitu Fakri Saarani yang menggantikan Azamuddin Akil. Inilah yang ditunggu-tunggu oleh 28 juta rakyat Malaysia. Kemasukan Fakri ini memberikan aku semangat untuk menonton. Fakri idola rakyat Malaysia.  Ramai yang bersorak untuk Fakri. Setelah aku perati Fakri, aku tidak faham apa  yang dia buat di atas padang. Main bola atau jadi model jersey bola. Langsung tidak mendatangkan bahaya kepada Indonesia. Pemain Indonesia dengan steady mengawal pergerakannya. Ada sesuatu yang bermain dibenakku, apakah Raja Gopal tersalah pilih??Atau barangkali ini adalah Fakri Saarani yang palsu??Fakri langsung tidak ada fungsi. Sama seperti pemain naturalisasi Indonesia,tidak berfungsi. Perlawanan semakin bosan,penyokong Malaysia semakin bersorak kegirangan kerana sebentar lagi Malaysia akan layak secara automatic ke separuh akhir.
Game jadi bosan sehinggalah wisel penamat ditiupkan dan Malaysia layak ke separuh akhir AFF Suzuki Cup 2012. Naturalisasi Indonesia yang digembar gemburkan langsung tidak berbahaya.Begitu juga Fakri Saarani.Terer lagi Mail. Aku bukan bencikan Fakri, tapi aku tak faham corak dia bermain. Langsung tidak mendatangkan bahaya kepada kubu Indonesia. Sehinggakan aku berfikir, apakah Raja Gopal memasukkan Fakri ini sebagai hiburan untuk penyokong??  Yang pasti adalah, tidak ada ayat-ayat maki hamun pasukan lawan kedengaran di SNBJ tadi dan itu adalah perkara yang aku puji. Permainan Malaysia ada improve sedikit berbanding perlawanan menentang Singapura.Cuma ada sedikit kelemahan terutamanya kepada Safiq Rahim yang asyik hantar long ball sahaja. Pujian patut diberikan pada 2 orang pemain, Andik Vermansyah dan Mahali Jasuli kerana  berjaya mempamerkan permainan kelas dunia pada aku dan pada pemerhati bola. Aku ne jarang puji orang, kalau aku puji,maka kau betul-betul bagus la tu. Aku tidak mengharap tinggi pada Malaysia, menang Cup atau tidak itu belakang cerita, yang penting adalah hapuskan sentiment perkauman dan main pakai otak. Itu adalah plan jangka panjang yang patut FAM terapkan kepada pemain kita. Sekian..
Posted: 02 Dec 2012 03:01 AM PST
PKR vice-president Nurul Izzah must have 'hated' the police so much that she suggested for PDRM put a freeze on its new intake.
Or she doesn't trust the police at all!
Why must we freeze the police intake when the existing 110,000 personnel is not... repeat... NOT ENOUGH to attend to
rising security demand
by about 28 million Malaysians? Going by ratio, one policeman will look after 254 Malaysians.
But wait!
We actually have about 34 million people, including about 6 million foreigners who study, work and live in the country. Considering the figure, each police personnel has to attend to 309 people at one time, and that is not an easy.
And why must we follow the guideline set by the Interpol? Does Nurul know who controls and operates Interpol? Hmmm.... she should do some homework... but I do understand why the Opposition likes making comparison with foreign governments and their agencies!
Come on, YB! Please ask any of your friends in Singapore, the US and some other countries - what is the ratio population to police do they have! Are they subscribing to Interpol's guidelines?
We, Malaysians owe the police a lot for keeping the country safe and stable. Even some opposition leaders need more than a policeman to look after their safety, making gradual rounds in the neighborhood where they stay, thus denying other areas that need more observation.
The opposition too is so good at lashing out at PDRM weakness when they know very well that the force is understrength (not enough personnel).
How many times had the opposition expressed sympathy or condolences to policemen getting hurt, injured and died while carrying out their duties for the rakyat? What have Pakatan Rakyat done to help the widows and children of the policemen who died at the hands of robbers, drug dwellers and others?
We all should learn how to appreciate the police duty. Yes, a few of them are just 'rascals' but they are normally dealt with accordingly.
Without or apart from the police, who does Nurul expect to safeguard the nation?
Angkatan Tentera Malaysia (ATM)?
Whether we are on BN or PR side, we must put security matters above all. The policemen are just human who attend to their duty. If we don't respect and appreciate their contribution, may as well we live without a police force.
We better take care of our own self!
By the way, will Pakatan retain the number of police personnel should they take over Putrajaya in the next general election?
I doubt it!
Posted: 02 Dec 2012 01:14 AM PST
It is with deep regret that I announce the demise of Mr Fang Ewe Churh this morning at 3.45a.m. Fang, who had long been out from the chess scene, for possibly around 25 years, had been ill for quite some time. About two years ago, he underwent surgery for a malignant growth on his scalp and was thought to be recovering.

For those who are unaware of Fang's contributions to chess in Malaysia, let me say briefly that we consider him to be the Father of Chess in Penang. It would not be too far-fetched to suggest that he had played a significant contributory role to the development of chess in Malaysia as well.

In March 1972, he set in motion the founding of the Penang Chess Association at the Penang Library and became the association's founding president. Under his watch, the following chess activities were initiated:
In June or July 1972, the first Majlis Sukan Sekolah-Sekolah Pulau Pinang (MSSPP) Chess Tournament was organised at the Han Chiang Primary School where he was the headmaster;

In October 1972, he captained the first Malaysian chess team that played in a Chess Olympiad in Skopje, Yugoslavia;

In December 1972, he organised the first Majlis Sukan Sekolah-Sekolah Malaysia (MSSM) Team Chess Championship at the Dewan Sri Pinang, George Town, Penang;

In 1974, he organised the first Penang Chess Open Tournament;

In 1974, together with other chess enthusiasts nationwide, he helped establish the Malaysian Chess Federation. At the inaugural meeting, he was elected as one of the vice-presidents;

In December 1974, he was a key organiser of the first Asian Team Chess Championship which was held at the Dewan Sri Pinang n George Town, Penang;

In 1975, he organised the first Malaysian team chess championship at Recsam in Glugor, Penang;

In 1978, he brought the Penang team to participate in the first Asian Cities Team Chess Championship in Hong Kong. The Penang Chess Association was to participate in three or four more similar events there.
There were several other significant chess activities held in Penang under his tenure as the PCA president until 1989, but I shall not list them further. Suffice for me to say that the Penang Chess Association owes its successes in its formative years to this man. He remained a good friend to me until his final days. My thoughts are with his family.


ca-pub-5430283382112812
Choi Sooyoung, 1st Look, Jain Song
Posted: 02 Oct 2012 03:21 AM PDT
Korean pop group Girls' Generation member Choi Sooyoung on recent issue of 1st Look [Kr] Magazine, modelling for designer Jain Song's latest J.lite fashion line…
There's more, read the full post »
Choi Sooyoung, 1st Look, Jain Song from YeinJee's Asian Journal
Naib Ketua Wanita Umno Sabah Keluar Parti, Bakal Sertai KEADILAN
Posted: 02 Dec 2012 03:04 AM PST
N
aib Ketua Wanita Umno Bahagian Semporna hari ini meletak jawatan dan mengisytiharkan keluar parti berkuatkuasa serta merta.
Kalasahan Abdul Salam berkata, tindakannya itu kerana hilang sepenuhnya keyakinan terhadap pemimpin Umno.

"Saya mengambil keputusan ini kerana hilang keyakinan dan kepercayaan terhadap kepimpinan Umno, khususnya terhadap Ketua Umno Bahagian Semporna yang juga Naib Presiden Umno, Datuk Shafie Apdal.

"Terlalu banyak ketidaktelusan, skandal membabitkan wang rakyat dan moral serta budaya fitnah dalam pentadbiran Umno Bahagian Semporna," katanya pada pengumuman itu dalam sidang media di Ibu Pejabat KEADILAN, di sini hari ini disaksikan Timbalan Presiden, Mohamed Azmin Ali.

Menurut Kalasahan, kepimpinan Umno Semporna juga gagal membawa perubahan sebaliknya banyak masalah asas gagal ditangani.

"Lihat saja kebanjiran pendatang asing tanpa izin, kekurangan bekalan air, ketidakstabilan bekalan elektrik, jalan raya yang berlubang dan berlopak, malah paling teruk, pencapaian pendidikan sekolah yang tercorot di Sabah," jelasnya.

"Sebagai menteri yang bertanggungjawab sepenuhnya terhadap pembangunan luar bandar, Shafie gagal secara total dalam melaksanakan tanggungjawabnya memajukan Semporna," tegas Kalasahan yang sedang mempertimbang untuk menganggotai KEADILAN.

"Peletakan jawatan beliau di kala Perhimpunan Agung Umno sedang berlangsung merupakan tindakan berani. Kita mengalu-alukan kebersamaan beliau dalam menolak Umno bersama Pakatan Rakyat," kata Azmin.


Ucapan perbahasan ADUN Kampung Tunku Lau Weng San semasa menyokong Usul No. 19 Tahun 2012 di Dewan Negeri Selangor, Shah Alam
Posted: 02 Dec 2012 01:14 AM PST
Ucapan perbahasan ADUN Kampung Tunku Lau Weng San semasa menyokong Usul No. 19 Tahun 2012 di Dewan Negeri Selangor, Shah Alam: Tuan Speaker, Salam Selangorku dan Salam Reformasi, Kampung Tunku menyokong usul ini. <!--[if !supportLists]-->1.      <!--[endif]-->Pertama sekali, Kampung Tunku mengucapkan tahniah kepada Jawatankuasa Pilihan Pihak Berkuasa Tempatan (PBT) bagi Dewan Negeri
Ucapan perbahasan ADUN Kampung Tunku Lau Weng San semasa membahas Usul No. 25 Tahun 2012 di Dewan Negeri Selangor, Shah Alam
Posted: 02 Dec 2012 01:14 AM PST
"Bahawasanya mengikut Perenggan (5) dalam Peraturan Tetap 76 bagi Dewan Negeri Selangor, Dewan yang bersidang pada hari ini membuat ketetapan supaya Penyata Jawatankuasa Pilihan Khas  Mengenai Keupayaan, Kebertanggungjawaban Dan Ketelusan Bagi Dewan Negeri Selangor Mengenai Siasatan Ke Atas Urusniaga Perlombongan Pasir Kumpulan Semesta Sdn. Bhd. (KSSB) yang dibentangkan sebagai Kertas Mesyuarat
Umno's war drums herald the future by Commander (Rtd) S THAYAPARAN, formerly of the Royal Malaysian Navy
Posted: 01 Dec 2012 11:07 PM PST
"War is peace. Freedom is slavery. Ignorance is strength." -  George Orwell (1984)



COMMENT
For someone who is gung-ho in parroting Winston Churchill, Khairy Jamaluddin Abu Bakar has a strange way of emulating the complicated former British prime minister. For someone mimicking the "never retreat, never surrender line" his preference of defending his Youth post but sitting out of the next general election is rather perplexing. Surely, in this great time of Umno's needs, when Umno is facing 'Bitter moments between two possibilities, between two futures, between light and darkness. This warrior did not falter, did not fear, and so he vowed: his country will fight at sea, in the air, on the beaches and even on the streets itself. Even starved and subjugated, his country would never surrender!' Khairy thinks of himself as one of the few good Umno men whose fate will be decided at the ballot box.

Indeed, when we have a Wanita Umno representative sounding the alarms bells of hidden hands spreading the gay disease and highlighting the Sunni/Shiite schism, it would seem that minorities would always be the convenient targets of Umno in lieu of any substantive policy debates. Churchill claimed the difference between war and politics is that in the latter, one could be killed many times, and Umno is testament to this truism. I see so many faces of the corrupt and the immoral, banished for a time for misdeeds forgotten by the Umno supreme council, making speeches of war, on a certain section of the electorate who no longer will toe the Umno line.

I have always been cautious of making Nazi analogies with Umno, having had the misfortune of actually meeting those who profess allegiance to those people and ideas that had disposed of the Weimar Republic. However, this Umno general assembly reeked of the ideology that sustained the Nationalsozialistische Deutsche Arbeiterpartei or the National Socialist German Workers' Party.


With Umno Youth information chief Reezal Merican Naina Merican (right) proclaiming that Umnoputras are the chosen people and God's choice will always be Umno to rule and liberate this land, what we as non-Malays/Muslims are left with is the cold comfort that as 'pendatang', Umno and the God they worship will never consider us as Malaysians. Will it be a stretch to replace Aryan supremacy with Malay supremacy?

To Umno, we non-Malays are Jewish stand-ins. This is why there were the constant references at the Umno general assembly to May 13 and the delusion that the Malays would be reduced to the state of refugees in their own land. The non-Malays are reduced to a Jewish stereotype in the hope that this will bolster Malay/Muslim nationalism. To Umno, we are here to take what rightfully belongs to the Malays and what rightfully belongs to the Malays belongs to Umno.

If you have the stomach for it, read up on the speeches of Nazi officials (Hitler was not the only one) or maybe just the writings of Umno sympathiser Ridhuan Tee Abdullah. Doing so will offer clarity on how the 'other' is demonised as part of the Umno state's propaganda efforts and the philosophy that supports the systemic marginalisation of a certain section of the Malaysian polity. I wonder if the Langley spooks, who Umno claims are Anwar Ibrahim's handlers, briefed Obama on this when he met Prime Minister Najib Abdul Razak.

The long Umno watch has been an era of 'Gleichschaltung'. For those unfamiliar with the term, it is Nazi terminology meaning 'coordination' or "the restructuring of German society and government into streamlined, centralised hierarchies of power, with the intention of gaining total control and coordination of all aspects of society".
Poisoning minds of Malay graduates



What have we been witness to over the years? To name a few: the Biro Tata Negara courses that have poisoned the minds of Malay graduates and civil servants, to bolster the Umno narrative that the Malays community is under siege; and 'Operasi Isi Penuh", which saw the civil service decimated and one ethnic group monopolising the instruments of government. The natural consequence of these was that anyone questioning the credibility or efficiency of these institutions would be construed as attacking the 'Malay' institutions.

Our identity cards feel more like 'Ariernachweis' - the certificate that identified one as belonging to the Aryan race - and as Malaysians, we are divided according to race and religion. 'Operasi Lalang', which aimed to cripple dissent from opposition forces. Add to this the subversion of the mainstream media - does anyone remember the time when Utusan Malaysia was considered a 'leftist' news rag? And the restrictions on freedom of speech, under the guise of protecting "racial sensitivities".

State (read Umno) propaganda organs are allowed to inflame racial and religious sentiment but those who attempt a rational dialogue or defend themselves against such attacks are deemed as traitors or engaging in sedition. The ISA and the practitioners of the dark arts (Special Branch) are reminiscent of the Gestapo and over the years, many were carted away in the dead of the night in the Black Maria. The historical distortions in our history books, which are then fed to the younger generation in the hope that they would believe that Umno was truly the party chosen by God, and the absence of non-Malay/Muslim cultures that further estrange the Malay community from the rest of Malaysian society. The formation of para-security groups such as Rela (People's Volunteers Corps), which Prime Minister Najib Abdul Razak once described as Umno's "last line of defence".



Outsourced thugs



Of late, with the rise of Anwar Ibrahim as a credible threat to the Umno hegemony, the hate mongers of Umno have been on overdrive, linking CIA and Jewish conspiracies to the ascension of opposition political parties and special interest groups sympathetic to the aims of these parties. Outsourced thugs in the guise of right wing groups harass anybody questioning their (Umno's) misinterpretation of the constitution.


Umno, which has always been at war with itself, attempts to put on a unified front. However, a 'Night of the Long Knives' threatens to redefine the power structures within Umno. The race and religious cards are the only cards Umno can play.

Let us be honest. With all this talk of Malay sovereignty being at stake, the real target of Umno is always the Chinese community. Umno blames the resurgence of PAS under the multicultural cloak as a devise of the Chinese. It accuses Anwar of being a Chinese proxy in his attempt to divide the Malay community. The DAP is vilified as communist agitators, Singaporean lackeys or Christian zealots threatening the ummah, through (that is right, their proxy) Anwar Ibrahim.

The other non-Malays who pose no significant threat and are merely collateral damage in the coming general election. I suppose what distresses Umno is that the Chinese (or a sizeable majority of them) have paid attention to Winston Churchill's dictum that "an appeaser is one who feeds a crocodile, hoping it will eat him last" and have decided not to appease the Umno crocodile any more. What of the MCA, MIC and all those other satellite political parties circling around the Umno sun? Well, as appeasers to the Umno machine, they are the Neville Chamberlains of this tragic tale and May 13 was their Munich Agreement.

I realise many people may be offended by this analogy (certainly many of my Jewish friends would find this piece distasteful, since Umno has done nothing in the league of the Shoah) but if the honourable gentleman from Rembau wants to indulge in a Churchill analogy, I see no reason why I cannot explore the same. The irony is that Khairy's 'Between Two Visions' manifesto is something worth exploring. An interesting discussion could have been had concerning the visions of Pakatan Rakyat and Barisan National. Instead, what Khairy and his ilk have chosen to do is play the same old cards in the hope that their own record of (mis)rule is forgotten in the ensuring outrage.

I will end this piece with another Churchill quote one that I believe Lee Kuan Yew (he will always be Harry to me) would appreciate: "The best argument against democracy is a five-minute conversation with the average voter." I suppose Harry could be forgiven for this because unlike Umno, Harry could mount a credible defence of his party's record of administering the state, even if many are ignorant or choose to ignore, the PAP malfeasances. Umno, unfortunately, cannot do the same. Malaysiakini
Tiada Maaf Lagi Bagimu, UMNO-BN Pada PRU-13
Posted: 02 Dec 2012 01:21 AM PST
M
aaf?…, tiada maaf bagi mu UMNO-BN, kerana kesalahan yang kamu (UMNO-BN) lakukan bukan sekali malah banyak kali sejak 55 tahun memerintah.
Kalau rakyat masih boleh memaafkan UMNO-BN, bermakna rakyat tidak sensitif atau merelakan apa saja kesalahan yang dilakukan pemimpin UMNO-BN sebelum ini.
Boleh dikatakan hampir setiap kali dalam 12 kali pilihan raya umum pelbagai penyelewengan, salah guna kuasa dan rasuah yang dilakukan pemimpin UMNO-BN, tetapi rakyat masih 'merelakan' UMNO-BN memerintah negara ini.

Ia jauh berbanding sikap rakyat dan pemimpin negara lain, mereka akan tukar kerajaan atau pemimpin meletakkan jawatan jika berlaku dan melakukan penyelewengan, salah guna kuasa atau rasuah.

Hanya pada PRU-12, hasil kerjasama tiga parti dalam Pakatan Rakyat (PR) iaitu PKR, DAP dan PAS, menampakkan rakyat semakin sedar dan mahu menukar kerajaan sebab itu UMNO-BN kehilangan dua pertiga majoriti.

Kalau tidak lama dulu, UMNO-BN dihantui isu BMF di Hong Kong, kini banyak lagi penyelewengan yang didedahkan menjelang PRU-13 tidak lama lagi, termasuk isu pembelian kapal selam Scorpene, projek ternak lembu NFC (National Feedlot Corporation) dan PKFZ yang membazirkan ribuan juta wang rakyat.

Mungkin rakyat maafkan UMNO-BN kerana mereka tidak faham bahawa duit yang diseleweng atau 'disonglap' pemimpin UMNO-BN itu duit mereka sebab itu UMNO-BN masih dipilih memerintah negara.

Rakyat baru bangkit dari tidur

Bagaimanapun pada PRU-13 nanti mungkin berlainan, rakyat sudah sedar dan faham, mereka dilihat mula bangkit daripada 'tidur' tidak lagi akan mengizinkan wang rakyat dibelanjakan diselewengkan sewenangnya walaupun UMNO-BN mengumpan mereka dengan pelbagai habuan termasuk BR1M, baucer buku 1Malaysia, bantuan RM100 kepada pelajar sekolah dan Skim Tayar 1Malaysia untuk pemandu teksi.

Mereka mula yakin kepada Pakatan Rakyat apabila kerajaan negeri yang diperintah PR membuktikan pemimpin mereka bersih, tidak menyeleweng dan rasuah seperti yang diperakui menerusi laporan Ketua Audit Negara terhadap prestasi kewangan negeri Pulau Pinang, Selangor, Kedah dan Kelantan.

UMNO-BN lemas, Najib sanggup bersumpah

Perdana Menteri, Datuk Seri Najib nampak semakin 'lemas' sebab itu merayu supaya rakyat memaafkan mereka sekali lagi pada PRU-13 nanti untuk membolehkan UMNO-BN membaiki kesilapan atau terus sebaliknya terus melakukan kesalahan yang sama.

Rayuan Najib itu bukan pertama kali, malah sudah acap kali dilafazkan termasuk ketika melakukan lawatan rasmi ke Kelantan, Kedah dan Selangor sebelum ini.

Pemimpin PR juga sudah berjanji akan memerintah negara lebih baik daripada UMNO-BN sebagaimana yang dibuktikan di Selangor, Pulau Pinang, Kedah dan Kelantan dan jika mereka gagal rakyat boleh menumbangnya semula pada PRU-14.

Sekarang rakyat juga sedar, mereka kini dibebani dengan pelbagai masalah termasuk harga barang mahal, minyak mahal, gaji rendah dan pelbagai hutang, tidak termasuk terpaksa membayar cukai, kompaun saman polis, JPJ dan yang termasuk menerusi Sistem Penguatkuasaan Automatik (AES) yang diharamkan di negeri yang diperintah PR.

Jauh panggang daripada api berhubung dakwaan UMNO yang mereka membela bangsa Melayu, agama dan negara kerana Kelantan yang diperintah Melayu juga dizalimi, mengutuk pari yang memperjuangkan Islam dan menjahanamkan negara menjadikan wang rakyat macam wangnya sendiri.

UMNO-BN cukup takut kalah PRU-13

Atas alasan itulah menyebabkan UMNO-BN cukup takut akan tewas pada PRU-13 nanti sebab itu mereka bertekad akan melakukan apa saja untuk kekal memerintah negara.

Sebab itu juga mereka mula memainkan sentimen agama, perkauman dan mengugut rakyat supaya takut memilih PR pada PRU-13 nanti.

Sebagai rakyat Malaysia, pencapaian kewangan negara dengan hutang yang begitu banyak tidak langsung membolehkan ia dibanggakan berbanding pencapaian beberapa negara jiran, termasuk Singapura yang tidak mempunyai banyak hasil tetapi sudah begitu jauh meninggalkan Malaysia.

Pada saat genting setelah tahu UMNO-BN akan kalah pada PRU-13, barulah Presiden UMNO sanggup bersumpah dengan nama Allah dan Rasul berjanji terus mendahulukan kesejahteraan rakyat, memartabat rumpun Melayu, membenteng akidah umat dan memelihara agama Islam.

Bagaimanapun, rakyat diharap tidak termakan dengan janji manis UMNO-BN itu, malah membuka pintu hati untuk memberi peluang PR menterjemahkan amanah rakyat dengan lebih baik, termasuk menurunkan harga petroleum, membayar royalti minyak sehingga 20 peratus kepada negeri pengeluar minyak, hapus PTPTN yakni pendidikan percuma, gaji minimum RM1,200 sebulan, harga kereta lebih murah dan hapuskan tol. – Roketkini


The Superpower It Could Be One Day
Posted: 01 Dec 2012 09:03 PM PST
A few days ago, Angela sent me the following article which I enjoyed reading so much. Before posting it, I Googled for the original site and discovered it was first posted by
BBC HERE.
Even though it is quite a lengthy discussion, believe me when I say it is a very good read. Take care and have a great day!
A Point Of View: What kind of superpower could China be?
was written by Martin Jacques, an economist and author of When China Rules the World.
Excerpt:
China is on course to becoming a superpower - but not in the way many expect, writes economist Martin Jacques.
Beijing these days is positively throbbing with debate. It may not have the trappings of a western-style democracy, but it is now home to the most important and interesting discussions in the world.
When I addressed an audience of young Chinese diplomats at their foreign ministry a year ago, it was abundantly clear that a fascinating debate is under way about what kind of foreign policy might be appropriate for the global power China is in the process of becoming.
What will China be like as a superpower? You might think it is already - it is not.
Its military power is puny compared with that of the US. While America has 11 aircraft carriers, China only commissioned its first last month - based on, of all things, a Ukrainian hull.
The only sense in which China is a superpower is economic - that is, its economy is already over half the size of the US economy and projected to overtake it around 2018, notwithstanding its reduced growth rate of 7%. But this is overwhelmingly a function of China's huge population. In terms of technology and living standards it lags far behind the US.
So when we speak of China as a superpower, we are talking about the future.
A common reaction to the idea of China as a superpower is that it will be like the US - except worse. Worse because it is not a democracy, it has a communist government and because its people are not like us. I guess that gives some the jitters.
In fact we should not expect China to behave in the manner of the US. It will be very different. And nor should we assume that it will necessarily be worse.
Why will it be different? Because its history is so different. Articles about China's growing involvement with Africa - in terms of trade and investment - often talk of the "new colonialism".
Beware historical ignorance. China has never colonised any overseas territories. Overseas empires were a European speciality, with Japan getting in on the act for a short while too.
China could have colonised South East Asia, for example, in the early 15th century. It had the resources, it had enormous ships, many times bigger than anything Europe possessed at the time. But it didn't.
That is not to say China ignored its neighbours. On the contrary. For many, many centuries it dominated them - as a result of its sheer size and far more advanced level of development. China's relationship with them was based not on colonialism but what we now know as the tributary system. It neither ruled them nor occupied them. Rather, in return for access to the Chinese market and various forms of protection, the rulers of tribute states were required to give gifts - literally tribute - to the Emperor as a symbolic acknowledgement of China's superiority.
The tributary system comprised what we know today as East Asia, home to one-third of the world's population. It stretched from Japan and Korea to the Malay Peninsula and parts of Indonesia.
CLICK HERE for the rest of this fantastic article.
He Ain't Heavy..he's my brother....
Posted: 01 Dec 2012 05:09 PM PST
Bekas Pengerusi MRCB, Bekas CEO Felda Plantations Sertai PAS
Posted: 02 Dec 2012 01:02 AM PST
B
atu Pahat: Bekas Pengerusi konglomerat media negara, MRCB, Datuk Abdul Rahman Maidin mengumumkan pernyertaannya ke dalam PAS malam tadi.
Beliau yang juga bekas Presiden Dewan Perniagaan Melayu Malaysia (DPMM) mengumumkan penyertaan itu bersama tiga lagi bekas pegawai kanan kerajaan dalam Himpunan Kebangkitan Rakyat Negeri Johor malam tadi.
Turut serta adalah bekas Pengarah Eksekutif Felda Plantation Haji Mohd Sais Joned.


(Haji Mohd Sais menyerahkan borang kepada Ustaz Hadi dengan diperhatikan Pesuruhjaya PAS Johor, Datuk Dr Mahfodz)


Dua lagi adalah masing-masing bekas Pengarah Pelajaran Johor Hj Ramlan Sariman dan Timbalan Pengarah institur Perguruan Batu Pahat Haji Nasir Abdullah.

Kesemua mereka menyerahkan borang meyertai PAS kepada presiden parti itu Datuk Seri Tuan Guru Abdul Hadi Awang dan disaksikan hampir 30,000 hadirin.


(Haji Nasir serahkan borang)


Penyertaan mereka ini yang semuanya pegawai-pegawai tinggi kerajaan, dilihat satu lagi tamparan hebat kepada Umno yang baru sahaja selesai bersidang hari ini.

Tekanan juga pastinya dirasai Felda yang diterajui Tan Sri Isa Samad, yang kini sedang terpalit dengan pelbagai masalah khususnya isu penyenaraian Felda Global Venture Holding Bhd (FGVH).


(Gambar: Haji Ramlan), Bekas Pengarah Pelajaran Johor

Presiden Persatuan Anak-anak Peneroka Kebangsaan (Anak) Mazlan Aliman ketika mengulas kemasukan Mohd Sais ke dalam PAS berkata, ianya satu kekuatan baru kepada NGO itu untuk terus mendedahkan segala kepincangan yang sedang berlaku dalam Felda ketika ini.

"Penyertaan bekas pegawai kanan Felda ini akan lebih menguatkan perjuangan kita untuk terus membetulkan kepincangan dan salah urus Felda pada waktu ini," katanya.


သဲေခ်ာင္း မြတ္စလင္ ဒုကၡသည္ စခန္းကို အဓမၼ ဖိအားေရႊခိုင္းရာ လက္မခံသျဖင့္ ရဲမ်ား အၾကမ္းဖက္ပစ္ခတ္
Posted: 01 Dec 2012 07:39 PM PST
သဲေခ်ာင္း မြတ္စလင္ ဒုကၡသည္ စခန္းကို အဓမၼ ဖိအားေရႊခိုင္းရာ လက္မခံသျဖင့္ ရဲမ်ား အၾကမ္းဖက္ပစ္ခတ္ ဒီဇင္ဘာ ၁ ၊ ၂၀၁၂ M-Media ထြန္းေတာက္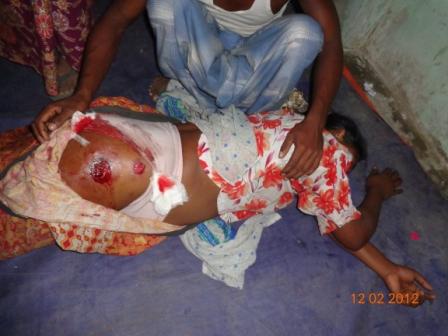 ၂၀၁၂ ခုႏွစ္ ဒီဇင္ဘာ ၁ ရက္ ညေန႔(၅) နာရီတြင္  စစ္ေတြ သဲေခ်ာင္းရိွ မြတ္စလင္ ဒုကၡသည္စခန္းမ်ားမွ ဒုကၡသည္မ်ားကို ေဝးလံသည့္ ေဆးသမားေက်းရြာသို႔ အတင္းအဓမၼ ေျပာင္းေရႊခိုင္းရာ မြတ္စလင္မ္ ဒုကၡသည္မ်ားမွ မသြားလိုေၾကာင္း ေျပာသျဖင့္ လံုျခံဳေရးတပ္ဖြဲ႕ဝင္ ရဲမ်ား ေသနတ္မ်ားျဖင့္ ပစ္ခတ္မႈ႕ေၾကာင့္ အနည္းဆံုး မြတ္စလင္မ္ ဒုကၡသည္ (၅) ဦး ဒဏ္ရာျပင္းထန္စြာရရိွသြားသည္။
သဲေခ်ာင္းဒုကၡသည္စခန္း မွ မြတ္စလင္ ဒုကၡသည္မ်ားမွာ စစ္ေတြျမိဳ႕ေပၚရပ္ကြက္မ်ားတြင္ ေနထိုင္ခဲ့ၾကသူမ်ားျဖစ္ျပီး   ျပီးခဲ့တဲ့ ဇြန္လအတြင္း ရခိုင္အၾကမ္းဖက္သမားမ်ား မွ ၄င္းတို႔ အိမ္မ်ားအားမီးရိႈ႕ျခင္း၊ အၾကမ္းဖက္ တိုက္ခိုက္ သတ္ျဖတ္မႈ႕မ်ားျပဳလုပ္ျခင္း၊ နည္းလမ္းမ်ိဳးစံုျဖင့္ ဖိအားေပးျပီးေနရပ္စြန္႔ခြါေအာင္ လုပ္ေဆာင္မႈ႕မ်ားေၾကာင့္ အဆိုပါ ဒုကၡသည္ စခန္းမ်ားတြင္ လာေရာက္ ခိုလႈံေနသူမ်ားျဖစ္ပါတယ္။ ယခုအခါ အဆိုပါ ဒုကၡသည္ စခန္းမွ ထပ္မံျပီး ေဝးလံေခါင္ဖ်ားတဲ့ ေဆးသမား ေက်းရြာကို ေရႊေျပာင္းဖို႔ အတြက္ အာဏာပိုင္မ်ားမွ ဖိအားေပး လုပ္ေဆာင္လာမႈကို မြတ္စလင္ ဒုကၡသည္မ်ားမွ မသြားလိုေၾကာင္းေျပာၾကားရာမွ လံုျခံဳေရးတပ္ဖြဲဝင္ ရဲမ်ား အၾကမ္းဖက္ ပစ္ခတ္ခဲ့တာျဖစ္ေၾကာင္း သိရပါတယ္။
ပစ္ခတ္မႈေၾကာင့္ အနည္းဆံုး မြတ္စလင္မ္ (၅) ဦး ေသနတ္ဒဏ္ရာ ရရိွသြားေၾကာင္းသိရပါတယ္။ အခုခ်ိန္ထိ စံုစမ္းသိရိွရတဲ့ ဒဏ္ရာသူမ်ားစာရင္းမွာ
(၁)  ဦးေရွာ္ဘီရာမာန္ (အဖအမည္ – ဦးဟာလာမ်ွ)  ၂၈ ႏွစ္၊ နာဇီ (အကြက္၃)
(၂)  ဦးဂ်ာဘူလ္ေလာက္ (အဖအမည္ – ဦးဟာမိတ္ဟူးေဆာင္း) ၂၅ ႏွစ္ ။ ( အကြက္၁)
(၃)  ေမာ္ႏူရာေဘဂါမ္ (အဖအမည္ – ဦးမုိဟာမာတ္ေရာ္ဖိတ္) ၂၃ ႏွစ္ ။ (အကြက္၃)
(၄)  ေစာ္လိမ္ (အဖအမည္ – ဦးေဘာ္ဒီရာမ္) ၂၂ ႏွစ္ ။ (အကြက္၄)
(၅)  အႏူရ္၀ါေဘဂါမ္ (အဖအမည္ – ဦးအမာတ္ဟူးေဆာင္း) ၂၀ ႏွစ္ ။ (အကြက္၁၁) တို႔ ျဖစ္ပါသည္။

ျပီးခဲ့တဲ့ ရက္ပိုင္းတြင္ မံုရြာ မွာရိွတဲ့ လက္ပေတာင္းေၾကးနီ စီမံကိန္း ဖ်က္သိမ္းေရး ဆႏၵျပမႈ႕မ်ားတြင္ အဓိကရုဏ္းႏွိမ္နင္းေရး တပ္ဖြဲ႕ဝင္မ်ားရဲ႕ ျဖိဳခြင္းမႈေၾကာင့္ သံဃာနွင့္ ျပည္သူအမ်ား မီးေလာင္ ဒဏ္ရာမ်ား ဆိုးရြားစြာရရိွျပီး တစ္ျပည္လံုးမွ ျပည္သူမ်ား အျပစ္တင္ေဝဖန္မႈ႕မ်ားႏွင့္ ဦးသိန္းစိန္အစိုးရ ဖိအားေပးခံေနရခ်ိန္မွာ ယခုလို မြတ္စလင္မ္မ်ားအား အၾကမ္းဖက္ ပစ္ခတ္မႈထပ္မံေပၚေပါက္လာတာျဖစ္ပါတယ္။ ဦးသိန္းစိန္ အစိုးရအေနျဖင့္ ၄င္းတို႔ ရင္ဆိုင္ေနရတဲ့ အေထြေထြ ဖိအားမ်ားကို တေက်ာ့ျပန္မြတ္စလင္မ္ ဆန္႔က်င္ေရး လမ္းေၾကာင္းျဖင့္ အာရံုေျပာင္းဖို႔ ၾကိဳးစားလာတာျဖစ္ႏိုုင္ေၾကာင့္ သံုးသပ္မႈမ်ားေျပာဆုိမႈမ်ား ရိွေနပါတယ္။
ဇြန္လ အၾကမ္းဖက္မႈမ်ားေၾကာင့္ မြတ္စလင္မ္ ဒုကၡသည္ ၇၀၀၀၀ ေက်ာ္ႏွင့္ ေအာက္တိုဘာလ ဒုတိအၾကိမ္ အၾကမ္းဖက္မႈမ်ားေၾကာင့္ မြတ္စလင္မ္ ဒုကၡသည္ ၃၃၀၀၀ ေက်ာ္ စုစုေပါင္း ၁၁၀၀၀၀ ခန္႔ ဒုကၡသည္ စခန္းမ်ားတြင္ ခိုလႈံေနရျပီး ကမာၻစားနပ္ရိကၡာ အဖြဲ႕ႏွင့္ အလွဴရွင္မ်ားရဲ႕ ရိကၡာမ်ားျဖင့္ ၾကပ္တည္းစြာ အသက္ဆက္ေနၾကရျဖစ္ပါတယ္။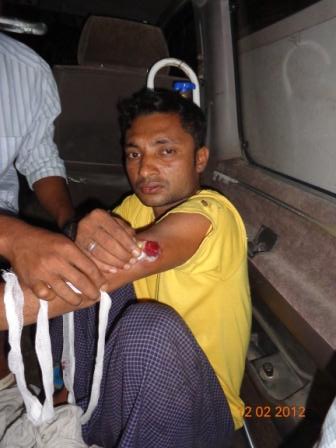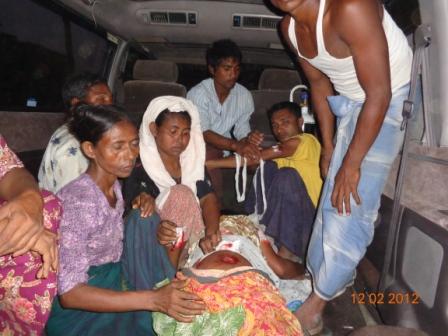 မွတ္ခ်က္။ ။ သတင္းေပးပို႔လာသူရဲ႕ ကင္မရာ Date Setting မွားယြင္းေနျခင္းေၾကာင့္ ေနစြဲ လြဲေနျခင္းျဖစ္ပါတယ္။
Tanya Sama Najib Apasal Goyang, Nanti Najib Jawab, Johor Dah Nak Hilang....
Posted: 01 Dec 2012 08:20 PM PST
R
ibuan rakyat Johor memenuhi Dataran Rakyat, Parit Haji Salleh Ros, Parit Raja, di sini sempena Himpunan Kebangkitan Rakyat Negeri Johor malam ini.
Biarpun program malam ini bertembung dengan siaran langsung bola sepak piala AFF Suzuki 2012 antara Malaysia dengan Indonesia, namun kehadiran yang ramai malam ini menunjukkan semangat perubahan politik rakyat negeri ini.


(Gambar: Mohamad Sabu menerima limau sebagai gimik perasmian.)


Program malam ini bermula dengan ucapan wakil-wakil badan bukan kerajaan NGO yang memperjuangkan hak rakyat.

Ianya termasuk NGO Anti-PPSMI, Jawatankuasa Kempen Anti Saman Ekor (Kase), Gerakan Mansuh ISA (GMI), Hak Air Untuk Semua (Haus), Gabungan Menuntut Royalti Kelantan 'R', Persatuan Anak Peneroka Felda (Anak), Gabungan menuntut Pilihan Raya Bersih dan Adil (Bersih), NGO Pengerang, serta NGO alam sekitar dan Anti Lynas.

Pada malam ini Presiden PAS, Datuk Seri Tuan Guru Abdul Hadi Awang, Ketua Umum PKR, Datuk Seri Anwar Ibrahim serta Penasihat DAP, Lim Kit Siang dijangka hadir.

Mereka dijangka memberikan ucapan penutup sekaligus menjawab beberapa tuduhan Umno sepanjang perhimpunan agung parti itu yang berakhir hari ini.

Sedang berada dipentas ketika ini Pengarah Program Mohamad Sabu yang juga timbalan presiden PAS, Naib Presiden PAS Salahudin Ayub, Pesurhjaya PAS Johor Datuk Dr. Mahfodz Mohamed dan pemimpin PKR, DAP di peringkat negeri.

Terdahulu program malam ini dibuka dengan pertunjukan tarian singa dan kemudian dirasmikan pembukaannya oleh Mohamad Sabu. ~HD


NZ travelogue: The 2011 destruction in Christchurch
Posted: 02 Dec 2012 03:57 PM PST
So there we were, my wife and I being led by my old chess friend, Alan, into the centre of earthquake-hit Christchurch, as near as we could possibly get to the city's Central Business District.
All along the way, we were a bit awestruck by the amount of destruction to the buildings. We could imagine how much people's lives had been changed by the earthquake. It's not only the destruction, which was so widespread.
We stopped by the Cathedral of the Blessed Sacrament. Clearly, this was a very impressive building but it was now in ruins. Two of the domes had collapsed but there was still one dome basking proudly in the early afternoon sun. Just next to the cathedral, the Music Centre of Christchurch had also been affected.
We parked at Cashel Street and walked towards the Bridge of Remembrance. We crossed the Avon River. In happier times, people used to enjoy punting along the river. While we were there, all such activities had ground to a halt, including the tram service. We walked up to the barricade and peered into the distance. We could see the Hotel Grand Chancellor, once the city's tallest building. It survived the first earthquake in 2010 but after the tremblor in February 2011, it was shut down for good and would be demolished. I hear that it has been brought down totally by May this year.
We walked along the river bank towards Worcester Boulevard. More destruction everywhere we turned, such as this building:
We stopped at the Boulevard and looked into the CBD. Beyond the barricade on the left was the destroyed Municipal Chambers.
In the distance was all that remained of the Anglican Cathedral of Christchurch. Its most well-known features, the tower and spire on the building's left, had been reduced to rubble. I hear that until today, the whole building is still being dismantled slowly amidst opposition from groups that included the UNESCO world heritage centre.
After this, I told Alan, "Well, enough is enough. We came here hoping to see the happy side of Christchurch but instead, this is the unfortunate side of the city." My wife and I really hope that the city can recover fast from the earthquakes.
ca-pub-5430283382112812