---
Posted: 19 Dec 2012 08:53 AM PST
Whoever says the government provides different treatment to different religion, should read this and try open up their mind.
We were never bias in dealing with the Muslims, Christians, Buddhists, Hindus and other faiths. There is no politic in religious affairs, so to say.
From now on, Malaysian Christians can go perform their pilgrimages to
Jerusalem
, Israel (pic). No conditions and no quota set.
KUALA LUMPUR: Malaysia has removed quotas and other restrictions on Christians making their pilgrimage to Jerusalem, government and church officials said, according to AFP.
Malaysia bars travel to Israel but the government has previously allowed Christians to travel to the historic city regarded as holy to both Christians and Muslims.
However, according to the Christian Federation of Malaysia (CFM), the government imposed a quota of 700 pilgrims per year, with any one church only allowed to send one group of 40.
Visits were also limited to 10 days and pilgrims were only allowed one visit every three years, CFM executive secretary Tan Kong Beng told AFP Wednesday.
But a letter sent from Prime Minister Najib Razak's office to CFM president Ng Moon Hing on November 28 said these limits no longer applied save that visits could be for a maximum 21 days.
Najib's political secretary, Wong Nai Chee, confirmed that he signed off on the letter but did not give a reason for the move as "it is a cabinet decision and I am just relaying it to CFM", AFP reported.
"Taking into account the needs of Christian Malaysians, the home ministry has amended the religious pilgrimage rules to Israel," he wrote in the letter seen by AFP.
This is a benevolent government, especially when it comes to attending to the needs of different faith. So, please stop complaining and learn how to appreciate it... unless the Opposition still wants to politicise it.
Note
: Is it true that there are more temples than mosques in the country?
[EDISI KANTOI] Ketua Ibu Tunggal Selangor Bermisai Lebat!
Posted: 19 Dec 2012 09:24 AM PST
P
ersatuan Ibu Tunggal Selangor hari ini konon-nya melahirkan rasa kesal dengan sikap kerajaan negeri itu yang didakwa telah memutar belit isu berhubung elaun RM100 seperti yang dijanjikan dalam manifesto pembangkang pada pilihan raya umum (PRU) lepas.
Maka diangkut dan diupah-lah konon-kononya ibu-ibu tunggal kat Selangor oleh Puak UMNO untuk buat demotrasi...dalam kumpulan ibu tunggal tersebut puak UMNO telah membawa seorang ibu tunggal yang special...ada misai...hahaha...

Mungkin ini lah ketua ibu tunggal belaan UMNO kat Selangor.

Pihak Malaysia book of record diminta mengesan ibu tunggal bermisai ini untuk diberi pengiktirafan kepadanya....hahaha..... -orangni


Hampir 20,000 Ibu Tunggal Sudah Terima Bantuan Kerajaan Selangor



SHAH ALAM, 14 DIS : Seramai 19,454 ibu tunggal di Selangor telah mendapat manfaat dan kemudahan daripada berbagai skim yang dimulakan Kerajaan Selangor antaranya bantuan kewangan dan program keusahawanan.

Mereka adala daripada 24,009 ibu tunggal yang disahkan layak menerima skim-skim tersebut, berdasarkan statistik yang dikeluarkan portal rasmi ibu tunggal, e-bu.selangor.

gov.

my sehingga November.

Daripada 24,009, sebanyak 75.01 peratus didominasi kaum Melayu, diikuti India seramai 6.5 peratus, Cina 3.3 peratus, Orang Asal 0.01 peratus, dan kaum lain 15.12 peratus.

Exco Kebajikan, Hal Ehwal Wanita, Sains Teknnologi dan Inovasi, Rodziah Ismail berkata, Kerajaan Negeri komited dalam mengendalikan serta menawarkan pelbagai skim serta kemudahan kepada ibu tunggal yang tidak pernah diberikan Kerajaan Umno-BN sebelum ini.

Beliau berkata, skim itu antaranya ialah Skim Mikrokredit Luar Bandar (SkimSel), Skim Mikrokredit Bandar (MiMBAR), Skim Mikrokredit Wanita Ladang (Wala), Skim Bantuan Asuhan Rakyat (SiKembar) dan Skim Bantuan Tadika Selangor (Tunas).

"Selain itu, ia turut merangkumi program Pemberdayaan Wanita Selangor menerusi Pusat Wanita Berdaya (PWB), program Pemberdayaan Ibu Tunggal SOHO Selangor (PET-SOHO-S), Skim wanita kerja dari rumah, Bantuan Am sebanyak RM250, Laman Dapur, Jabatan Kebajikan Masyarakat Selangor dan Lembaga Zakat Selangor.

"Skim-skim yang ditawarkan adalah berkonsepkan mentor-mentee di mana seramai 19,454 ibu tunggal telah mendapat skim dan kemudahan yang ditawarkan," katanya dalam satu kenyataan media.

Beliau berkata, kesemua skim yang ditawarkan memberi peluang kepada ibu tunggal berpendapatan kurang RM1,500 mendapat kemudahan dengan hanya mendaftar.

Dalam pada itu, Rodzuah turut menyarankan mana-mana ibu tunggal yang layak tetapi belum menerima bantuan untuk merujuk kepada Kerajaan Negeri.

"Kerajaan Negeri Selangor di bawah pimpinan Menteri Besar, Tan Sri Abdul Khalid Ibrahim bersifat terbuka terhadap kritikan dan bersedia mendengar idea yang bernas dan konstruktif kerana Kerajaan Pakatan Rakyat adalah kerajaan yang prihatin dan bertanggungjawab.

"Berkaitan saman terhadap Kerajaan Selangor oleh pihak yang berkenaan, segalanya akan dijawab di dalam mahkamah. Penegasan lengkap dan menyeluruh akan dibuat oleh Kerajaan Negeri Selangor sebaik ketetapan mahkamah diperolehi," katanya lagi. -selangorku

Ying Ker Lou Pavilion Hakka cuisine: Food no MSG
Posted: 19 Dec 2012 07:25 AM PST
Personally, I would give my first-time dining experience here:
For more info you should just check out the gourmet site - OpenRice.Com - by clicking the link below:
http://my.openrice.com/klangvalley/restaurant/ying-ker-lou/50800/
Ying Ker Lou
Address:
Lot 1.03.00 / 1.04.00 Level 1, Pavilion KL, 168, Jalan Bukit Bintang, Kuala Lumpur, Bukit Bintang
Rafa's Baby Milestones – Birth to 5 months
Posted: 19 Dec 2012 06:25 AM PST
Dear Rafa,
Mummy, Daddy and Miki loves you so much we want to remember every single thing about you as a tiny little adorable baby. So before Mummy forgets, let me jot down this entry about the growth and milestones of our precious gem Nuh Rafael bin Mohammad Azman who was born on 29 June 2012.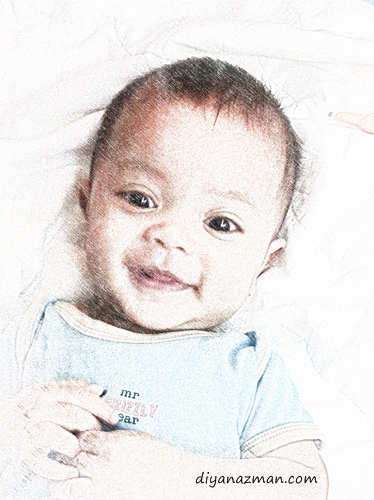 Birth to 1 month:
Weight at birth – 2.8kg, Length – 50cm,
At 1 month : Weight – 4kg,  Lenght 58cm
Mummy and Daddy's little angel. Abang Miki's new found love. He smiles a lot. He can look at people and concentrates on their faces, mengagah so cutely, he can say "agugu" and a few other sounds, he enjoys his baths and will falls asleep after each bath, sucks fingers,  falls asleep on his own, recognize Mummy's voice. He is getting rounder and rounder and his skin is getting darker and darker. He is in pink of health, got just a lil bit of jaundice that was cured by the morning sun. Taking care of the newborn Rafa is such a breeze. Since birth he is such a pro at nursing and can latch on perfectly almost immediately after he pops out into this world.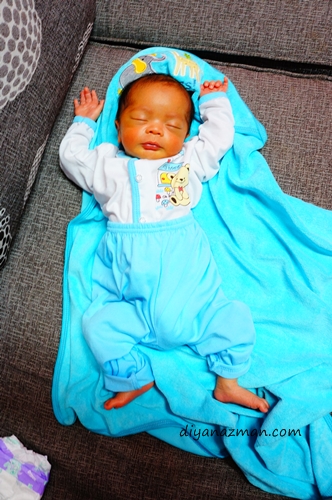 Nuh Rafael at 3 days old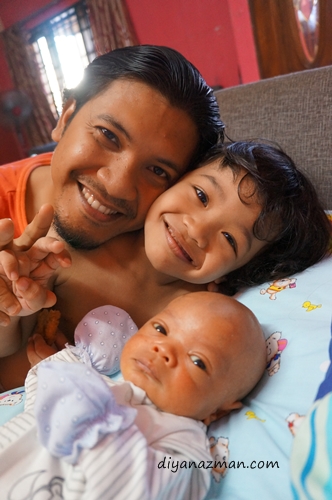 Rafa dalam pantang in Penang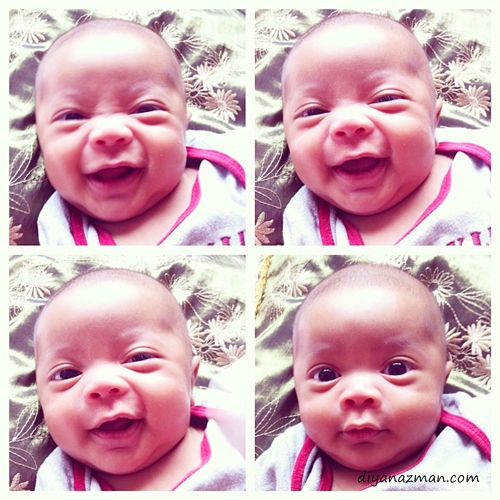 Rafa after pantang..

2 months : Weight – 5.9kg
Although Rafa is very vocal and talkative, he laughs in mute! LOL! Mummy tries very hard but it is very difficult to hear his laughing voice. He will smile and tersengih-sengih tak berhenti-henti! He doesn't mind Miki kissing and hugging and gomoi-ing him endlessly. His gibberish talking can go on non stop for a long time. He rubs his eyes when he is sleepy, pulls his blankie and puts it in his mouth. First time carried by Daddy in a baby carrier at Bj Complex, Penang and he fell asleep. Can watch TV. Bersembang – extremely cute, he will speak gibberish, stop when others reply him and starts talking again just like in a real conversation.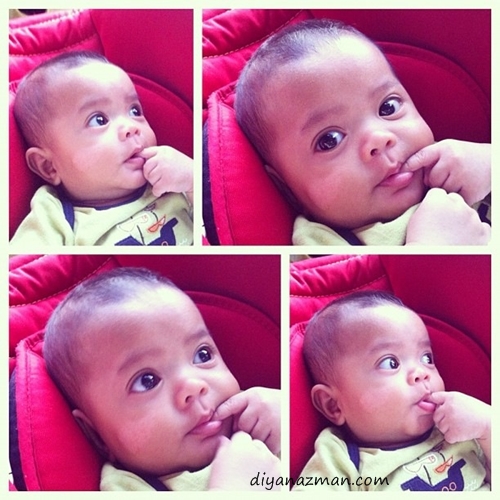 Sucking on his finger- cute!
3 months: Weight : 6.5kg
Akhirnya Rafa meniarap! Yay! He rolls from back to tummy and tummy to back, and a week later he keeps on rolling and rolling until he fell off the bed and gave Mummy and Daddy a huge scare. He turns towards sounds and voices especially Mummy's and Miki's. He laughs at Daddy's jokes so we finally can hear his laughing voice. He is clearly so menyampah kat Abang Miki sebab suka gomoi. He rubs his eyes so adorably, scratches his ears and head when sleepy, he loves his baths very much, he starts laughing tergedik-gedik when he sees the bathtub. He loves looking into the mirror and see his cute self.  He plays with his hands and likes sleeping with a blankie. Can imitate sounds. Likes to play with his tongue and rubs it over his bottom front gum. His skin is still so dark… kesian anak Mummy hitam betul! LOL!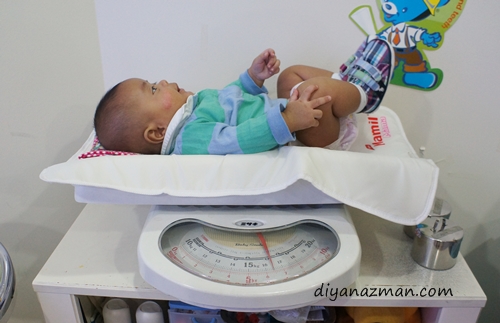 Rafa 3 months check up at Hospital Azzahrah Bangi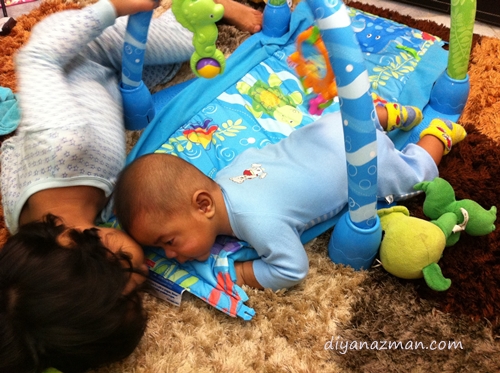 Rafa meniarap for the first time and Miki by his side cheering!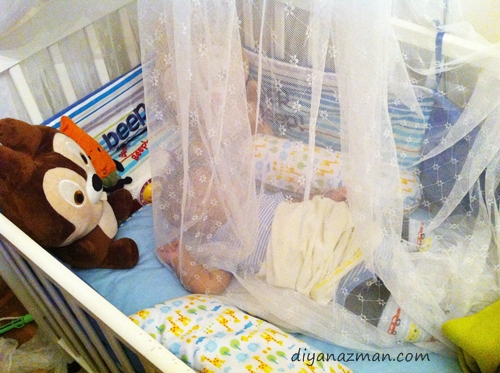 Rafa sleeping in his crib and pulling the net all over himself! tsk tsk tsk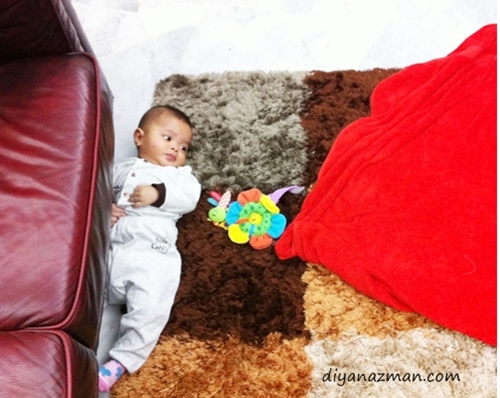 Rafa bergolek from the red blankie until he got stuck half body under the couch. He likes to do this a lot we dont know why! hehe
4 months : Blowing raspberries. He cannot take Abang Miki's endless gomoi-gomoi anymore that he can now push Miki's face away from him and pulls his hair. He even starts screaming when he sees Miki coming near. He stretches his arms out when he wants to be picked up which is so super cute. In fact he will immediately wave his arms and moves his legs as though he is walking tergedik-gedik if we hold out our hands to pick him up. He does it with his cheeky grins and smiles that look so comel!!  He tries to snatch Miki's milk bottle if he comes near and tries to drink from it. He can look at the direction we are looking at which I think is really smart. Rafa can grab on his toys and bats at the hanging ones. Has very high concentration as he can play with his favorite toys for a lomg time. He recognizes familiar faces and only smile or laugh to the people he knows, concentrates well on TV programs and videos on the Ipad. No longer wants to imitate sounds. At four months he becomes fairer a lil bit and looking so chubby and comel I wanna chew on his cheeks omnomnom!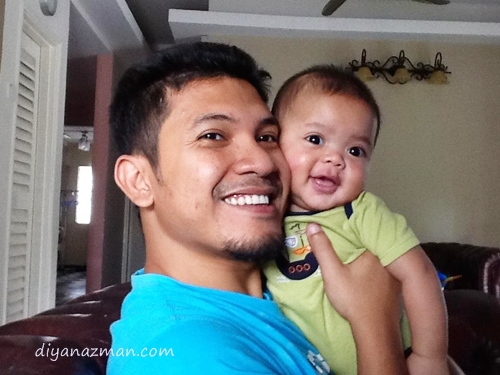 Rafa 4 months old and Daddy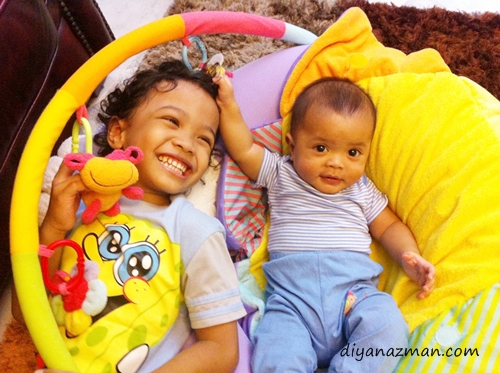 5 months : Weight – 7.2kg Lenght – 68cm
He can cries out Mamma! Mamma! when he wants milk or simply wants Mummy. This is extremely cute and simply amazing! He can still falls asleep on his own although he is starting to dislike the loneliness of sleeping in his crib. He likes to stick his tongue out. Now he has his own favourite TV shows like Mickey Mouse Club House and Jake and the Neverland Pirates. He totally hates Ultraman, Chuggington and Fynn and Jake. Will cry once his favorite TV shows end and if somebody change the channel. Blowing raspberries objectively to show remorse, if he is crossed with Miki especially, he will start blowing bubbles. Responds to his name – Rafa! Very mobile even while sleeping and he can sleep on his tummy or back. Still no teeth although the signs like slobbering has long started. Since birth until 5 months Rafa is such a good boy, he drinks from the bottle without a fuss and can be left playing with his toys or watching TV by himself while Mummy cooks dinner in the kitchen after work. He is still breastfed and has not started on solid food.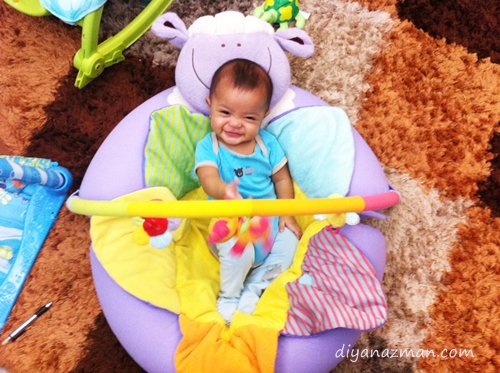 Rafa playing with one of his favorite toys… Look at that cheeky smile!
Rafa you are like a gift from above. Thank you fo making our lives so much more meaningful.  Watching you grow is so mesmerizing we don't wanna miss a minute. But in case we have too, this blog will be a diary for that baby you! Be good son, may Allah always bless you!
Muahh!
[BERGAMBAR] Lagenda Tunjong Mercu Tanda Baru Kota Bahru
Posted: 19 Dec 2012 06:59 AM PST
L
agenda Tunjong, yang dahulunya dikenali sebagai Kota Bharu Sentral@Tunjong, akan memulakan fasa pertama pembangunan bandar baru dengan CheSiti Village Mall di Kota Bharu, Kelantan.
CheSiti Village Mall merupakan bahagian pertama dimajukan dan akan menjadi pusat membeli belah paling unik di timur laut Malaysia, demikian menurut Tunjong Development Corporation Sdn Bhd dalam satu kenyataan.

Pembangunan mega berkenaan akan dilaksanakan dalam tujuh fasa dalam tempoh lebih lima tahun.

Ia berkata reka bentuk terbuka itu akan menampilkan ciri-ciri modern bertemakan jalan pejalan kaki antaranya seperti jalan Kelantan, Malaysia, Antarabangsa dan Arabesque.

Fasa pertama pembangunan akan terdiri daripada lebih 200 kedai, butik, kafe unik, bistro dan kedai khusus yang terdiri daripada fesyen, kesihatan dan kecantikan hingga permainan, buku, peralatan sukan, IT dan peranti berkaitan.

Pusat baharu itu juga menawarkan lebih 300 pangsapuri, yang berkeluasan antara 600 dan 1,500 kaki persegi dengan pilihan dua dan tiga bilik tidur yang yang termasuk unit annex satu bilik tidur, ideal yang bujang atau pasangan yang tinggal dengan anggota keluarga, kata kenyataan itu.- Bernama


Lagenda Tunjong, Kota Bharu

Lagenda Tunjong, Kelantan, is a 7 year joint venture with Perbadanan Menteri Besar Kelantan (PMBK), Tunjong Development Corporation (TDC) and Urban Developer, Sara-Timur.

The Lagenda Tunjong urban development will introduce a new destination for Kota Bharu that will create a whole new unique experience for shopping, living, cultural, work and leisure pursuit.

This project is envisaged to set the momentum and propel the sustainable growth of Bandar Baru Tunjong into an exciting destination of international significance.

- sara-timur.com
How to Avoid Computer-Related Eye Strain
Posted: 19 Dec 2012 03:30 AM PST
Here's an interesting article by Duke Peterson taken from HERE.
Here's an important truth you should know: your computer is NOT your best friend when it comes to your eyes!
Studies show that spending endless hours in front of the computer screen can cause tired eyes and a variety of other eye problems.
So, if you happen to be the type who works on your computer for hours at a time or you're someone who loves to surf the Web…
You need to know that you might end up paying quite a high price for this with your vision!
The good news is that there are ways to protect your eyes even if you have to be "tied" to your computer for work or other reasons.
Just because computers are part of your daily life and work, it doesn't mean you have to live with eye problems or worse-permanent eye damage.
Take Hourly Breaks
You don't have to go far if you want to combat computer-related eye problems.
The first thing you need to do is to listen to your body. It will give you a "cue" on when you should take a break.
If you work until you feel a burning sensation in your eyes and you notice that they're all red, this just means that you disregarded your body's previous warning signs.
When working in front of your computer, keep track of the feeling in your hands and your back. You'll probably note a sensation of tightness or tiredness in these areas before your eyes get really tired.
This will help you avoid spending too much time starting at the screen and damaging your eyes.
As a rule of thumb, take a short break after every hour of work. You should aim to leave your seat and move around at least once an hour.
Proven Techniques to Protect Your Eyes
However, do bear in mind that these mini-breaks aren't enough to protect your eyes.
If you'd like to enjoy good vision despite spending time in front of your computer, you need to follow these eye-friendly techniques.
Technique #1 – Light it Up
A well-lit environment will help you avoid straining your eyes. Even though your computer screen is lit up, sitting in a dark room can still cause major eye strain.
An added bonus is that the lights improve the atmosphere and keep you feeling positive.
Technique #2 – Get Comfy
Sitting comfortably can go a long way toward keeping your eyes healthy.
You should position your keyboard or monitor at a distance that's just right.
This means you don't have to stretch your neck or look at what's on the screen at an awkward angle.
CLICK HERE for the rest of the entry.
Pendedahan Deepak: AMK Mahu Rosmah Disiasat
Posted: 19 Dec 2012 04:29 AM PST
A
ngkatan Muda KEADILAN (AMK) hari ini membuat laporan polis terhadap isteri Perdana Menteri, Datin Seri Rosmah Mansor berhubung pendedahan oleh ahli perniagaan, Deepak Jaikishan baru-baru ini.
Laporan itu dibuat di Ibu Pejabat Polis Daerah (IPD) Petaling Jaya kira-kira 11.30 pagi tadi oleh Ketua AMK, Shamsul Iskandar Mohd Akin, ditemani Timbalannya, Khairul Anuar Ahmad Zainuddin serta beberapa anggota.
Ia ekoran pendedahan Deepak 12 Disember lalu yang menceritakan secara teliti latar belakang akuan bersumpah kedua oleh penyiasat persendirian, P Balasubramaniam berkaitan siasatan terhadap pembunuhan warga Mongolia, Altantuya Shariibuu.

Deepak sebelum ini diketahui rapat dengan Rosmah yang disifatkan sebagai seorang kakak menyatakan, Datuk Seri Najib Razak turut terlibat dalam proses penyediaan akuan tersebut, dan ia adalah atas permintaan Rosmah.

Shamsul berkata, pendedahan itu menimbulkan beberapa soalan yang memerlukan siasatan polis.

"Apakah kepentingan Najib dan Rosmah dalam pembunuhan Altantuya sehingga mengarahkan Deepak agar memastikan pengeluaran akuan bersumpah kedua tersebut berlaku? Apakah penglibatan mereka?" soal Shamsul pada sidang media sebelum membuat laporan.

Menurut Deepak, Balasubramaniam menyatakan beliau dan keluarga diugut untuk membolehkannya membuat akuan bersumpah kedua tersebut.

"Sekiranya perkara ini benar, apakah peranan Najib, Rosmah dan adik Perdana Menteri, Nazim Razak dalam ugutan itu? Apa yang mereka mahu selindungi?" soal Shamsul lagi.

Sedangkan, Balasubramaniam turut menegaskan, hanya akuan bersumpah pertamanya yang sah.

Justeru katanya, ia turut menimbulkan persoalan apakah Najib tidak memberitahu perkara sebenar apabila beliau bersumpah tidak pernah bertemu Altantuya.

Siapa pula yang mengarahkan Altantuya dibunuh oleh pegawai Unit Tindakan Khas (UTK), Koperal Sirul Azhar Omara dan Cif Inspektor Azilah Hadri kerana ternyata mereka dijadikan 'kambing hitam', kata Shamsul.

"Deepak turut memberitahu, SPRM lebih berminat untuk menutup kes tersebut sebelum ini, Jadi apakah benar SPRM menutup siasatan kes tersebut?" sambungnya.

Dalam perkembangan lain, beliau memaklumkan, AMK akan melancarkan 50,000 keping poskad 'Tanya Sama Rosmah' di program Himpunan Suara Anak Muda dekat Dataran Anak Muda, Petaling Jaya Selatan, 9 malam esok.

"Kita akan edarkan poskad mengandungi tiga soalan yang hanya Rosmah mampu jawab.

Poskad tersebut akan diedarkan ke seluruh negara dan dialamatkan kepada Rosmah.

"Rakyat di Sabah dan Sarawak pun berpeluang mendapat penjelasan dari isteri Perdana Menteri itu," jelas Shamsul.


Posted: 19 Dec 2012 01:25 AM PST
There is never a dull moment when it comes to Christmas at 1 Utama Shopping Mall. This year, delicious-looking pastries make up the decor which is aptly theme Pastryland. It certainly is a refreshing change from the usual lighted trees found in most shopping malls.
Taking centre stage at the Oval is a giant two-storey cake flanked by an equally large Swiss roll and a huge gift box replete with ribbon and bow. On top of the gift box sits a polar bear in party hat, a snowman, cupcakes and ice creams.
Snowmen, doughnuts, cupcakes and lollipops on the other side of the stage completes the picture. Several other spots in the shopping mall were also decked in similar decorations. In my opinion, this is the best Christmas decoration yet for any shopping mall so far.
Snowmen, doughnuts, cupcakes, lollipops and ice creams at the Oval 1 Utama.
2-storey cake with snowmen, polar bear and cupcakes to evoke the festive spirit at 1 Utama.
View of the Oval Christmas decorations at 1 Utama Shopping Mall.
Large-than-life sundae and crackers at Highstreet at 1 Utama.
Triple sundaes and lollipops sweetening Christmas celebrations at Highstreet 1 Utama.
Baker snowman and his cupcakes at Ground Floor 1 Utama.
Gift boxes, snowman, chocolate, cupcakes and puddings making it festive at 1 Utama old wing.
Posted: 19 Dec 2012 01:15 AM PST
Thanks to SKT who sent me the following article by Jim Healthy. I have been very busy trying to plan my lectures for the whole of 2013 and revamping my materials. Am into Week 18 of the first semester (21 weeks). Sorry for this late update.
Did you know that there are certain kinds of foods that actually help reduce or even stop arthritis pain?
These "superfoods" are usually easy to find and inexpensive.
Of all the foods that help fight against arthritis — delicious, sweet pineapple comes up close to the top of the list.
The Sweet Pain Reliever
For generations, people around the world have used fresh pineapple to ease their arthritis inflammation. Loaded with joint-protecting vitamin C, pineapple is undoubtedly a superior arthritis-healing food.
Its anti-inflammatory ingredient — bromelain — is so potent that many boxers drink the juice after fights to heal their bruises.
A 1960 study compared boxers who took bromelain with those receiving a placebo. In just four days, an amazing 78% of those taking bromelain were inflammation-free, while only 14% of the control group had recovered.
Other than bromelain, pineapple also contains manganese, which strengthens bones and protects joints.
Here are 5 reasons you should be indulging in this delicious fruit if you struggle with joint pain and arthritis:
Reason #1: Joint Protection
Higher intake levels of the antioxidant vitamin C is essential for people with arthritis…
And just one cup of pineapple has a whopping 94% of the recommended daily allowance (RDA)!
Research published in the Annals of the Rheumatic Diseases showed that vitamin C-rich foods protect against inflammatory polyarthritis, a type of rheumatoid arthritis in which two or more joints are affected.
CLICK HERE for the rest of this entry.
An Inspiring Lecture For Our Muslim Youths....And Us Muslims Too..UPDATED.
Posted: 19 Dec 2012 06:19 AM PST
RM200 Billion Aliran Wang Haram, Wajar Sangat UMNO BN Dihumban Keluar Dari Putrajaya!
Posted: 19 Dec 2012 01:17 AM PST
A
liran wang haram hampir RM200 bilion mengalir keluar pada 2010 yang meletakkan negara di tempat kedua di belakang kuasa ekonomi Asia, China, dalam pengaliran modal global menunjukkan jenayah ini semakin membarah pada era pemerintahan Najib Razak.
Ahli Parlimen Indera Mahkota, Azan Ismail berkata, kegagalan Perdana Menteri merangkap Menteri Kewangan dan kerajaan Umno BN bertindak menangani kepincangan tersebut membuktikan mereka bersekongkol dalam aktiviti itu.

"Ia disokong aktiviti haram terbaru iaitu kes rasuah RM40 juta melibatkan Ketua Menteri Sabah, Datuk Seri Musa Aman, pemimpin Umno Sabah. Ini belum lagi mengambil kira (pengaliran wang) ketika pembelian kapal selam Scorpene.

"Malah, jumlah wang keluar itu melebihi jumlah Keluaran Dalam Negara Kasar (KDNK). Kerajaan sepatutnya sudah tekan 'butang kecemasan', tapi tidak (berbuat demikian). Inilah bukti mereka sendiri bersekongkol," katanya ketika dihubungi.

Badan pemantau – Global Financial Integrity (GFI) yang berpangkalan di Washington – dalam laporan terbarunya yang menjejaki pengaliran modal, berkata, tahap pengaliran wang haram dari Malaysia itu pada tahun 2010 adalah yang tertinggi dalam tempoh 10 tahun.

Laporan terbaru mendapati lonjakan dramatik pengaliran modal di Malaysia – dari AS$30.41 bilion (RM93 bilion) pada tahun 2009 kepada AS$64.38 bilion (RM196.8 bilion) pada 2010.

Pemantau kewangan global itu telah memberi amaran bahawa pengaliran modal di Malaysia adalah "pada skala yang dilihat di beberapa negara Asia".

Laporan GFI – 'Aliran Kewangan Haram Dari Negara Membangun: 2001-2010′ - dihasilkan bersama oleh ahli ekonomi GFI, Sarah Freitas dan Dev Kar, yang merupakan bekas ahli ekonomi kanan di Tabung Kewangan Antarabangsa (IMF).

Menurut GFI, bagi aliran keluar wang haram terkumpul sepanjang lebih 10 tahun – dari 2001-2010 – Malaysia berada di kedudukan ke-3 di dunia, selepas China dan Mexico.

Jumlah anggaran untuk tempoh 10 tahun bagi Malaysia ialah AS$285 bilion (RM871.4 bilion), manakala bagi China ialah AS$2,740 bilion dan Mexico, AS$476 bilion.

Azan yang juga Pengerusi KEADILAN Terengganu berkata, pimpinan Umno BN tidak perlu mengkritik pemimpin negara serantau lain yang turut korup seperti bekas Perdana Menteri Thailand, Thaksin Shinawatra.

"Laporan itu menunjukkan pengaliran wang haram di Malaysia adalah tertinggi di Asia Tenggara. Jadi jangan sibuk kutuk pemimpin negara lain, (sebaliknya) cermin diri sendiri dulu," sindirnya.

Sementara itu, mengikut kajian badan pemantau rasuah, Transparency International (TI), Malaysia mendapat markah terburuk dalam Kaji Selidik Pembayar Rasuah 2012, menurut laporan Wall Street Journal, 11 Disember lalu.

Kata laporan itu, markah keseluruhan Malaysia dalam Indeks Persepsi Rasuah TI merosot dalam tiga tahun berturut-turut.

Pada 2011, Malaysia mendapat 4.3 markah, lebih rendah daripada 2012 (4.4 markah) dan jauh berbeza berbanding penanda aras kerajaan, iaitu 4.9 markah.

Dalam kajiselidik itu, Jepun mendapat markah terbaik dengan 2 peratus, Singapura di tangga kedua dengan 9 peratus, China dengan 27 peratus dan Indonesia, yang memiliki reputasi dalam soal rasuah, malah mendapat markah lebih baik dari Malaysia dengan 47 peratus, kata laporan itu.

Bermakna, rasuah di Malaysia lebih teruk daripada Indonesia.


Najib perlu jelaskan RM196.8b aliran wang haram

Majlis Perundingan Pertubuhan Islam Malaysia (Mapim) menegaskan Menteri Kewangan, Datuk Seri Najib Razak bertanggungjawab menjelaskan bagaimana hampir RM200 bilion wang kotor mengalir keluar dari negara ini pada tahun 2010 yang meletakkan negara ini di tempat kedua di belakang kuasa ekonomi Asia, China, dalam pengaliran modal global.

"Jika beliau tidak dapat menjelaskan kedudukan isu dengan telus dan jujur dan tidak mampu mengambil tindakan mengatasi jenayah ini maka menteri tersebut wajar meletakkan jawatan," kata Setiausaha Agungnya, Mohd Azmi Abdul Hamid .

Ini, ujarnya adalah suatu kepincangan yang sangat besar untuk diketepikan tanpa pertanggungjawapan penuh daripada Menteri Kewangan.

Tambahnya, di peringkat antarabangsa aliran wang haram adalah suatu jenayah serius yang tidak boleh dipandang ringan.

Beliau menyatakan demikian dalam satu kenyataan ekoran laporan badan pemantau - Global Financial Integrity (GFI) yang berpangkalan di Washington - dalam laporan terbarunya yang menjejaki pengaliran modal, berkata tahap pengaliran wang haram dari Malaysia itu pada tahun 2010 adalah yang tertinggi dalam tempoh 10 tahun.

Laporan terbaru mendapati lonjakan dramatik pengaliran modal di Malaysia - dari AS$30.41 bilion (RM93 bilion) pada tahun 2009 kepada AS$64.38 bilion (RM196.8 bilion) pada tahun 2010.

Pemantau kewangan global itu telah memberi amaran bahawa pengaliran modal di Malaysia adalah "pada skala yang dilihat di beberapa negara Asia".

Laporan GFI - 'Aliran Kewangan Haram Dari Negara Membangun: 2001-2010' - dihasilkan bersama oleh ahli ekonomi GFI, Sarah Freitas dan Dev Kar, yang merupakan bekas ahli ekonomi kanan di Tabung Kewangan Antarabangsa (IMF).

Menurut GFI, bagi aliran keluar wang haram terkumpul sepanjang lebih 10 tahun - dari 2001-2010 - Malaysia berada di kedudukan ke-3 di dunia, selepas China dan Mexico.

Jumlah anggaran untuk tempoh 10 tahun bagi Malaysia ialah AS$285 bilion (RM871.4 bilion), manakala bagi China ialah AS$2,740 bilion dan Mexico, AS$476 bilion.

"Ekonomi negara kerugian pada tahap berbilion ringgit jika isu ini tidak diatasi dengan tegas bukan sahaja akan mengakibatkan negara kehilangan pendapatan yang sangat tinggi dari cukai malah integriti pengurusan kewangan negara dilihat sangat lemah dan wang negara akan terjejas teruk bila aliran keluar wang negara berlaku tanpa kawalan," kata Mohd Azmi lagi.

Sementara, ujar beliau disedari bahawa taktik mengeluarkan wang secara haram sangat banyak dan canggih tetapi persoalannya kenapa aktiviti haram itu menjadi sangat mudah dilakukan di Malaysia.

"Adakah ini membayangkan polisi dan undang-undang mengenai pengurusan kewangan negara mempunyai banyak kelemahan untuk dibolosi atau ada konspirasi di peringkat tinggi wujud yang menyebabkan hal ini boleh berlaku dengan mudah?" tanya beliau.

Beliau berkata, Malaysia telah berhadapan dengan krisis besar dalam kewangan negara pada tahun 1997 apabila berlaku aliran keluar kewangan dengan sangat besar disebabkan apa yang sebut sebagai capital flight.

"Kini kita berhadapan dengan pengeluaran wang keluar dari Malaysia secara haram," ujarnya

Ini, katanya menunjukkan tahap pengawasan sangat lemah dan begitu mudah untuk bolos keluar.

"Kami mempersoalkan apakah agensi yang bertanggungjawab memantau jenayah wang haram yang mengalir keluar dan masuk dalam negara ini tidak menjalankan tugas dengan berkesan.

"Kami berpendapat Menteri Kewangan harus mengambil tanggungjawab penuh terhadap isu ini.

Ia melambangkan kelemahan dan kepincangan yang amat ketara yang melibatkan masa depan ekonomi negara," katanya.

Beliau berkata, jika menteri berkenaan tidak boleh mengatasi masalah itu maka beliau perlu melepaskan jawatan dan diserah kepada seorang yang lebih kompiten dan berkelayakan untuk menguruskan kewangan negara.
Posted: 18 Dec 2012 07:54 PM PST
If these are the new saplings that are meant to replace the previous Weeping Figs (right) at the small plot of land along the main road outside the Fort Cornwallis, then I have to wish "good luck" to the people responsible from the Penang Island Municipal Council (Majlis Perbandaran Pulau Pinang) and their erm, hopefully well-meaning botanists/advisors/consultants. I do hope they are already starting to look for a miracle because...
...the saplings look far more dead than alive!!
And this below is the stump -- all that remains -- of the poor Casuarina tree that the MPPP claimed was old and decayed, could no longer be saved and a hazard to people who visit the Esplanade, blah, blah, blah...
All my earlier posts on this destruction of the environment appears here, here, here and here, all within the past 30 days.
ca-pub-5430283382112812
မူစလင္ တိုင္းလူေကာင္းမျဖစ္သလို မူစလင္မဟုတ္သူတိုင္း လူဆိုး မဟုတ္ပါ
Posted: 18 Dec 2012 08:02 PM PST
My cousin U AZW wrote>>>လိုအပ္ခ်က္ျဖစ္မယ္ဆိုရင္ အရွင္႔ဖန္ဆင္းခံ ဆိုတဲ႔ ခံစားခ်က္နဲ႔လႈသင္႔ပါတယ္၊၊ကြ်န္ေတာ္ သိရသေလာက္ လိုအပ္ခ်က္ မရွိပါ၊၊
မူစလင္မ်ား နွင္႔မိတ္ဖက္ျပဳထားေသာ ဘာသာေပါင္းစုံသဟဇာတအသင္း မွ ထူေထာင္သူ ဘုန္းေတာ္ၾကီးမ်ား ရဲ ႔ေမတၱာရပ္ခံခ်က္ ေၾကာင္႔  မႏၱေလးျမဳ ႔ မူစလင္ထုမွ သိန္း၂၀လႉဒါန္းပါသည္၊၊
အသင္းစတင္ထူေထာင္သည္႔ အစည္းေဝးအျပီးတြင္ တက္ေရာက္သူ ထဲမွ
ဘုန္းေတာ္ၾကီး၅ပါး ၏ ဆႏၵအရ မူစလင္နိဗၺာန္ေဆာ္ အဖြဲ႔မွ လက္ပန္းေတာင္း
သို႔ ည ဦးပိုင္းက ပို႔ေဆာင္ေပးခဲ႔ပါသည္၊၊

ထိုအထဲ မွ ဦးပဥၥင္း တစ္ပါး (ပိန္ပိန္၊မုတ္ဆိပ္အေသးေလးရွိသူ)သည္
ေျခေထာက္ႏွစ္ဘက္လုံး ေပါင္ အထိ မီးေလာင္ခဲ႔ပါသည္၊၊
မီးေလာင္သူမ်ားထဲ တြင္ မူစလင္တို႔ ႏွင္႔မိတ္ဘက္ျဖစ္သူလည္းပါဝင္ခဲ႔ပါသည္၊၊
အေပၚမွ comment မွာ မလႉျခင္၍ ေရးထာ၊ျခင္းမဟုတ္ပါ၊၊

လႉဒါန္းမႈကို ျပင္းျပင္းထန္ထန္ ကန္႔ကြက္ၾကျခင္းကို အံ႕ၾသမိပါသည္၊၊
စစ္ေတြမွာ ကြ်န္ေတာ္တို႔ ကိုယ္ေတြ႔ အရ မိတ္ဖက္ျဖစ္ေသာ ရခိုင္မ်ားလည္း
ၾကံဳရပါသည္၊၊ အကူညီလည္းရပါသည္၊၊
မူစလင္ တိုင္းလူေကာင္းမျဖစ္သလို မူစလင္မဟုတ္သူတိုင္း လူဆိုး မဟုတ္ပါ၊၊
Kenali Pemuda Yang Tikam Penyokong PR Di Gombak Minggu Lepas
Posted: 18 Dec 2012 10:06 PM PST
A
khirnya admin pemudabatu.com berjaya mendapatkan informasi daripada sumber yang amat2 boleh dipercayai ttg siapakah macai yang menikam sorg penyokong PR sewaktu ceramah Jelajah Merdeka Rakyat kat gombak minggu lepas. Sila lihat betul-betul dan camkan.
Namanya Herry. Duduk berhampiran dengan kawasan kejadian.

Baru berusia dalam 22-23 tahun.Masih budak lagi. Pernah bekerja sebagai polis tapi dibuang akibat kes rasuah dan salah laku. Abang dia pula org kuat kepada Ketua Pemuda UMNO Gombak, megat zulkarnain omardin.

Menurut informasi yang admin dapat, dia ni DIBAYAR SEBANYAK RM 1,000 khusus untuk buat haru biru dan menimbulkan kekecohan. admin tak pasti sama ada pembuat kecoh yang lain itu turut dibayar sebanyak itu, tapi dengan jumlah RM1,000 tu la yang membuatkan dia ada "lesen besar" bawak kerambit dan menikam bahu salah sorg penyokong PR masa tu.

Inilah bukti kejijikan politik ala-BN - sanggup memperalatkan belia untuk menimbulkan kekacauan dan keganasan semata2 ingin menghalang kemaraan Pakatan Rakyat. Sebarkan perkara ini! biar satu Malaysia tahu kebusukan hati perut UMNO BN dan penghuni2nya! -pemudabatu.com



Laporan sebelum ini




klik untuk baca




Posted: 17 Dec 2012 06:16 PM PST
There are various ways of defining madness but if the latest episode from the
Klinik Kesihatan Seberang Jaya
is anything to go by, this must be the latest addition to the ever-growing list of definition.
As one grows older, the chances get higher that sooner or later we will be inflicted with the most common of ailments such as high blood pressure, diabetes and high cholesterol. Some people are more unfortunate and succumb to even more serious health problems. I've been fortunate: most of my health problems are mainly the blood pressure and sugar and for many years already, I've been on daily medication.
About three years ago after my retirement, I decided to switch my consultations to the KKSJ. After all, why should I pay something like RM100 monthly to the private clinic (for a person who is out of work, this is a strain on my pockets whether I like it or not) when I can still get my supply of the same medicine - or its equivalent - for only RM5 per visit to the government clinic once every three months?
So for years, I've been going to the KKSJ. Over the course of time, the doctors there had added medication for cholesterol to my needs. But my cholesterol level is not high to warrant taking this medicine, I had protested then. You see, I'm a firm believer of taking a capsule of Omega-3 fish oil every morning and my cholesterol level is still within the accepted range.
"Nonsense," the doctor told me, "at your age, it is better to start some control now before it suddenly shoots up without notice." Then he added
lovastatin
to my list of medication. "Don't worry," he tried to assure me, "this is the minimal dosage, just 20mg every alternate day."
The bastard, I thought to myself, I'm going to have a big problem trying to remember which day I had taken the medicine and which day I had not. Maybe I should just cut the tablet into two halves of 10mg each and take one half every day. Which was what I've been doing consistently ever since.
Then on Monday after my latest visit to the government clinic, the pharmacy there issued me with this strip of eight 40mg Simvor tablets.
"You'll have to cut it into two," the lady behind the counter told me.
Strange, the word
bastard
sprang into my mind again without any prompting. Split the pill into two, I muttered to myself. Heck, more likely, I shall have to split it into four.
So here I am today with my pill cutter all ready at hand and trying my best to cut the first pill into four pieces.
But first, this is the pill in my palm, see? Notice how big it is? No matter, if I have to cut it, then cut it I shall. So I positioned it carefully in the pill cutter, making sure that the blade would come down neatly on the dividing line in the centre of the pill.
Darn, the blade must be misaligned a bit when I looked.down at my first attempt. One of the halves was bigger than the other. Never mind, what's done is done. Now to slice up both halves into quarters.
After another moment's work, I ended up with four pieces. But that wasn't the end of the story. Suddenly, I thought to myself that maybe this wasn't right.
Perhaps I should have eight pieces instead of four. That's taking leave of my senses, you see, basically because by this time I was rather enjoying the work of cutting up my medicine. Chop, chop, chop.
So finally, I ended up with eight uneven pieces from one big pill.
Unfortunately, what a mess I've made. Oh well, silly me, I can't be level-headed all the time, right?
But seriously, why can't the government clinics issue me with their normal supply of cholesterol medicine? There have been absolutely no problem in the past one year or so. Why the sudden change in the medication?
I'm lucky because I know how to read and reason (although not always without hilarious consequences) but this constant changes in government medical supplies is probably why some senior people get confused after they visit the government hospital and clinics.
My mother-in-law is one such hapless victim of government inefficiency. After every visit to the government clinic, she would come home with a big bundle of medicine and invariably, one or more of her medication would be packed differently. The dosage is still be the same, the pharmacy would assure her but the fact that one, she is illiterate and two, the blister strips or the medicine cartons are differently packed or presented means that she is absolutely confused every time.
ca-pub-5430283382112812
Samseng UMNO: Mengapa Polis Tidak Bertindak?
Posted: 18 Dec 2012 07:15 PM PST
P
KR mengesa Polis Diraja Malaysia (PDRM) bertindak segera menangani budaya politik samseng yang semakin berleluasa berlaku di negara ini.
Malah Pengerusi PKR Perak, Dr Muhammad Nor Manuty berkata sikap pihak berkuasa itu yang kelihatan 'berdiam diri' berhubung isu serangan ke atas bas Jelajah Merdeka Rakyat PKR menggambarkan ketidakadilan pihak tersebut ke atas Pakatan Rakyat dengan tiada sebarang tindakan dilakukan biarpun beberapa laporan dibuat mengenainya.
Terbaru jelasnya, bas tersebut diserang dipercayai menggunakan batu atau lastik hingga cermin sisi bahagian belakangnya pecah ketika dalam perjalanan di kawasan lebuhraya Utara-Selatan untuk program sambutan Deepavali PKR Tapah dan program Himpunan Kebangkitan Rakyat peringkat Perak pada Ahad lalu melibatkan Ketua Umum PKR, Datuk Seri Anwar Ibrahim.

"Peristiwa ini kali keempat berlaku dan kita membuat laporan polis meminta Ketua Balai Polis Tapah untuk mengambil tindakan dan mereka berjanji untuk bertindak tetapi difahamkan hingga ke saat ini tiada apa-apa dilakukan PDRM.

"Kita ingin menyatakan rasa kesal kerana dalam sebuah negara demokrasi yang dicanangkan Perdana Menteri, Datuk Seri Najib Razak dan pimpinan Umno-BN yang lain namun keganasan politik masih terus berlaku tanpa sebarang kawalan oleh PDRM yang sepatutnya neutral.

"Setakat ini tiada perkembangan mengenai insiden ini dilaporkan termasuk yang berlaku sebelum ini seperti simbahan cat di Kelantan dan Kedah serta balingan batu di Johor dan Melaka," katanya dalam sidang media di Ibu Pejabat PKR di sini hari ini.

Turut hadir, Ketua Biro Kepenggunaan PKR, Mohd Yahya Mat Sahri.

Muhammad Nor Manuty yang juga Ketua Penerangan PKR berkata, PDRM perlu bertindak segera dengan siasatan dibuat untuk memberhentikan sama sekali kegiatan keganasan ke atas parti politik terutama PKR yang sering menjadi sasaran sejak kebelakangan ini.

Insiden tersebut tambahnya memberikan satu gambaran buruk bahawa amalan demokrasi di Malaysia bukan kembali ke arah hala tuju yang baik tetapi ia dalam keadaan membimbangkan.

"Fenomena budaya samseng ini semakin menjadi-jadi dalam negara kita sekarang.

Seperti yang berlaku di Gombak pada minggu lalu dan ini saya lihat satu insiden berdarah serius yang boleh memberi kesan buruk kepada keselamatan negara pada masa depan.

"Kerajaan terutamanya pucuk pimpinan Umno-BN perlu mengotakan apa yang mereka jamin kepada rakyat yang mana mereka mahu rakyat hidup dalam aman damai," katanya.

Katanya, apa yang berlaku sejak akhir-akhir ini diyakini tindakan terdesak Umno-BN yang mana rakyat memberi petanda bahawa mereka mahukan perubahan berlaku dalam kepimpinan negara serta menunggu-nunggu bila Pilihanraya Umum ke 13 (PRU13) akan dilangsungkan.


Posted: 18 Dec 2012 04:48 PM PST
砂拉越•古晉)期昐高回酬的投資計劃原來是一場騙局!超過100名參與"一個馬來西亞稻米計劃"(Skim Beras 1 Malaysia)的投資者,竟被利用此計劃詐財的不法公司蒙騙,面對總額高達1千萬令吉的損失。
公司無央行發出執照
其中12名受害者昨日集體向警方報案後,也在今日下午前往國家銀行瞭解該間公司的背景,但卻被告知該公司並沒有獲得國家銀行發出執照。因此,該公司所進行的投資計劃是不法經營的。
一些受害者也于今午集體前往貿消部投報,希望該部介入調查。(星洲日報/砂拉越)
What You Did Not Know About Curry Leaves
Posted: 18 Dec 2012 02:30 PM PST
Thanks to SKT who sent me the following article written by
 Naini Setalvad 
on curry leaves.
How often have you fished out that "annoying curry leaf" from your food? Well, every time you do so, you might just be committing a criminal act towards your body. This is because, this little leaf has immense powers; some that are even beyond belief.
Benefits 
To begin with, the most crucial of properties — having anti-oxidants — is carried by curry leaves.
These leaves are also extremely high in Vitamin C, They therefore help clean up your blood, leaving your skin with a fresh glow, you hair with more luster and your eyes with brilliance.
CLICK HERE for the rest of the entry.