---
Daily Quickie – Miki's School Boy Haircut ( Before and After)
Posted: 07 Jan 2013 08:16 AM PST
Today 7th Jan 2013 is Miki's first day of school. And although his parents hardly thinks so, everybody else thinks he needs a hair cut. Sigh! So on Sunday night I finally took Miki to get his mane chopped. So sayang. I love his surfer dude hairstyle… Shaggy, curly and messy! That's Miki! Tak main la rambut potongan tempurung aka Abu Bakar Elah kan?
These are Miki's pics taken on different days with his messy long hair: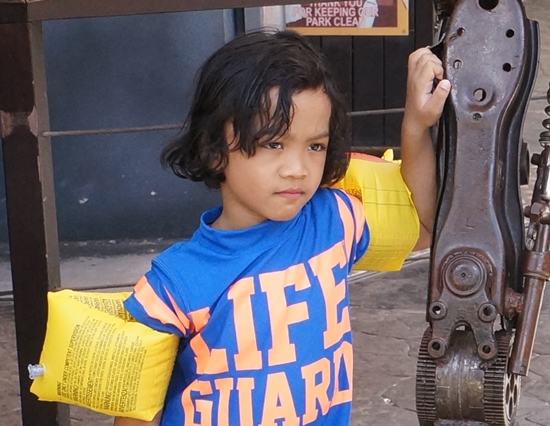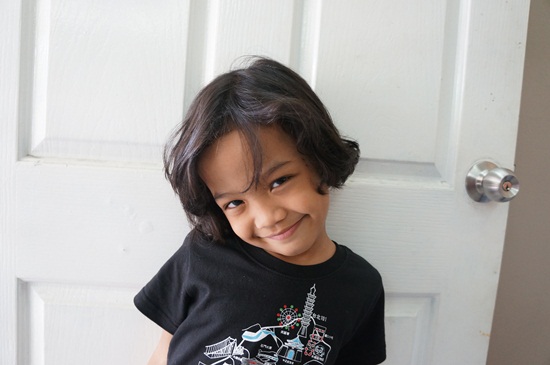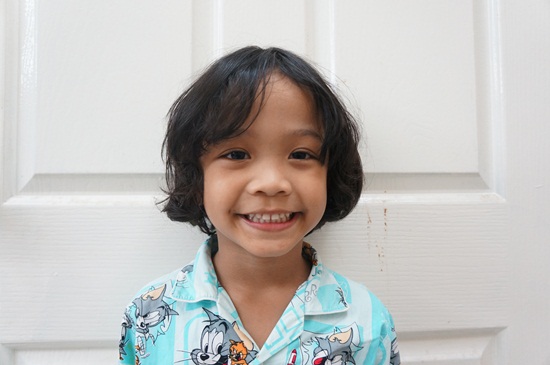 And this is Miki after the hair cut: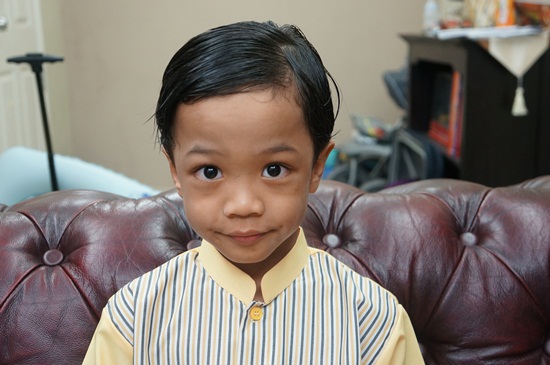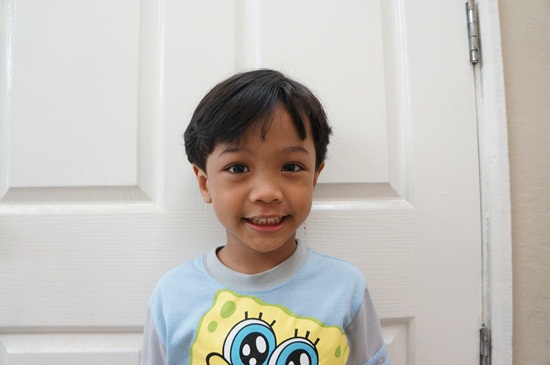 y Quicki
[MELAMPAU] Ada "Tiger Show" Di Malam Mesra Jab. Siasatan Jenayah IPD Shah Alam?
Posted: 07 Jan 2013 09:34 AM PST
R
akyat terkejut! Ada tarian separuh bogel semasa acara "Majlis Malam Mesra, Sekalung Budi, Segunung Intan" Jabatan Siasatan Jenayah IPPD Shah Alam.
Ia bukan superimpose, ia bukan cerita rekaan untuk menjatuhkan imej PDRM. Tetapi ia adalah real, dan PDRM sendiri yang menjatuhkan maruah mereka!

Berikut ialah pengakuan Tun Hisan




Hasil pengakuan daripada Ketua Polis Selangor, Tun Hisan Tun Hamzah terbuktilah acara tarian separuh bogel semasa acara "Majlis Malam Mesra, Sekalung Budi, Segunung Intan JSJ IPPD Shah Alam" itu benar-benar berlaku.

BAGAIMANA PERKARA INI BOLEH TERLEPAS PANDANG?

SIAPA YANG MENJADI PENGATURCARA PROGRAM? Polis juga ke?

(Tidak diterima akal pihak polis lansung tidak terlibat di dalam pengaturcara program. -GB)

Kalau beginilah halnya, APAKAH MEREKA MASIH BOLEH DIHARAP UNTUK MENJAGA KEMASLAHATAN NEGERI SELANGOR INI DARIPADA JENAYAH SEDANGKAN MEREKA SENDIRI MENGALAKKAN KEMUNGKARAN DALAM KELAMBU MEREKA SENDIRI!

(KPN &) Tun Hisan, ANDA WAJIB BERTANGGUNGJAWAB! mereka yang terlibat termasuklah ketua JSJ IPD Selangor, penganjur program atau sesiapa sahaja WAJIB BERTANGGUNGJAWAB! - maklumat: RAMM / PemudaBatu.com

Ulasan GB

- dan kebelakangan ini beberapa kes kejadian rogol melibatkan anggota polis secara berkumpulan, malah ada kes rogol berlaku di dalam balai polis sendiri.. apakah disiplin dan moral polis sudah hancur binasa dan "tiger show" itu manifestasi dari kehancuran akhlak anggota pdrm?

Kita tidak bermaksud untuk orang membenci polis, tetapi perbuatan polis itu sendiri mengundang kebencian rakyat terhadap mereka.

GB selalu sebutkan: Hukum Kebenaran dan Keadilan tidak boleh ditolak dan disembunyikan. Ia akan terpapar dengan jelas dan nyata akhirnya!


Burmese Language's similarities with numerous other languages
Posted: 07 Jan 2013 06:02 AM PST
Nowadays Myanmars are working abroad and interact with other fellow foreigners who are also struggling abroad.
I have worked together with Iraqi doctors in University Hospital KL and now also a lot of Indonesians, Iraqis, Kurdish people, Arabs, Iranians, Koreans, Indians, Pakistanis, Bangladeshis, Sinhalese, Nepalese, Japanese, Chinese Nationals, Africans, Kazakhstanis, Egyptians, Palestinians etc are regularly coming to my clinic and some are even becoming good friends.
I used to surprise the Kurdish people and Iranians with the parting greeting, "Khoda Hafiz" meaning, may God protect you. They are surprised, happy and asked me where I have learned this greeting. When I told them that that is the way, we as Burmese Muslims greet they became closer to me and curious about us. And I understand that Khoda, Namaz, Roza, Ramzan…the words Burmese Muslims use are different slang from Arabic and Malaysian Muslims but are similar to the Iranians. May be Urdu language incorporated these from the earliest Iranian rulers (invaders) of India before Mogul Emperors.
You may also be surprised, if you know that Rice which we called "Hta Min" in Burmese language is also called "Hta Min" in Iraq language. When I told that I am from Mandalay, my Iraqi friend surprised me by telling me that they also have a place in Iraq called Mandalay.
And there are Mandaline People from Indonesia and some of them even claimed that they came down from a place near Mandalay on the way along the journey from the north Yunnan/Tibet to Indonesia.
I am working in Chinese Clinic for many years and as there are a lot of Cantonese amongst my patients, I learnt few hundred of words, phrases and sentences related to my Medical work to facilitate communicating with my patients. I am surprised again to realize that even in that very limited knowledge of Cantonese language there are hundreds of words similar sounding and meaning in our mother tongue, Burmese language.
Nearly 30 years ago, while I was waiting to get the approval for resignation from my teaching job from Surgical Department of Mandalay Medical University (at that time called IMM), I started to learn Bahasa Malaysia and found out about 30 Malay words similar to Burmese words. Most of them have the common roots in Sanskrit.
My Tamil and Nepalese patients could read some of the Burmese alphabets. And their vowels and way of writing is same as A, Ar, Ei, Ee, u, Oo, ae, air, au, or, an, arr….I was almost fainted. Burmese and their language have come down from Brahmi ancient Indian language. Present written Malay language is in Roman letters and prior to that was in Jawi script (Arabic) which is still in use but not widely. But the first script was similar to Burmese Script as it was also rooted in Brami.
My Mon and Shan patients told we that they could learn Thai language easily because there is a lot of similarities between them. And I have learnt that one of the six Orang Asli ( Original People or Aborigines) of Malaysia are using the Mon Khmar language similar to our Mon People.
Burmese Muslims were called as Zerbadi or Zerbadee during the British time but discontinued because of the dislike of that name by Muslims. According to Dr. Moshe Yegar, this word originated from Farsi and means "People below the wind." Arabs and Iranians who used to sail in Monsoon Weather, called themselves as "People above the wind" and Burmese Muslims, Thai Muslims, Malay Muslims and Indonesians as "People below the wind." It is somewhat like "Anyar Thars and Auk Thars in Burmese. In Malaysia they used in their language, "Orang di atas angin and orang di bawah angin." But there is a variant that West Malaysians used to call East Malaysians as orang di bawah angin meaning people below the wind. Quiet interesting similar usages.
Ini Gambar Muhdalena, Perempuan Yang Mengamuk Di Depan JPM Tahun Lalu
Posted: 07 Jan 2013 06:26 AM PST
M
uhdalena pohon untuk runding akuan bersalah
PUTRAJAYA - Wanita yang didakwa mengamuk bersama seorang lelaki bersenjatakan pedang samurai di hadapan Pejabat Perdana Menteri pada Julai tahun lepas akan memohon kepada pendakwa raya untuk runding akuan bersalah terhadap tuduhan yang dikenakan terhadapnya.
Peguam M. Visvanathan memberitahu Mahkamah Sesyen di sini hari ini bahawa beliau akan menulis surat kepada Jabatan Peguam Negara seperti yang diarah oleh anak guamnya Muhdalena Ahmad.

"Kami sedang menimbang kemungkinan bagi runding akuan bersalah antara pihak pembelaan dan pendakwaan dan kami akan maklumkan kepada mahkamah keputusannya esok," kata Visvanathan.

Terdahulu, Visvanathan, yang batuk dengan teruk di dalam mahkamah, memohon agar perbicaraan yang ditetapkan selama tiga hari mulai hari ini, ditangguhkan sehingga esok memandangkan beliau berasa tidak sihat.

Timbalan Pendakwa Raya Kalmizah Salleh tidak membantah bagi kes itu ditangguhkan.

Kalmizah bagaimanapun meminta Visvanathan mengemukakan permohonan rasmi kepada Jabatan Peguam Negara bagi mendapatkan jawapan segera.

Hakim Mohamed Kamil Nizam membenarkan permohonan itu tetapi meminta Visvanathan supaya memberitahu Kalmizah lebih awal jika beliau tidak dapat hadir di mahkamah esok, supaya saksi tidak perlu datang ke mahkamah.

Terdahulu, Kalmizah memberitahu mahkamah bahawa 22 daripada 39 saksi pendakwaan hadir di mahkamah hari ini.

Muhdalena, 28, dari Kota Damansara, didakwa pada 16 Julai tahun lepas di dalam wad di Hospital Putrajaya kerana menjalani rawatan selepas ditembak di paha kanan.

Dia didakwa melakukan ugutan jenayah dengan mengugut untuk mendatangkan cedera parah kepada seorang anggota polis bantuan Ridzuan Megat Ahmad di perkarangan Kompleks B Jabatan Perdana Menteri di sini pada 2.30 petang 9 Julai tahun lepas.

Tuduhan terhadapnya dibuat mengikut Seksyen 506 Kanun Keseksaan yang memperuntukkan hukuman penjara sehingga tujuh tahun atau denda atau kedua-duanya sekali jika sabit kesalahan.

Muhdalena, siswazah Universiti Islam Antarabangsa Malaysia, turut didakwa membawa sebilah pedang di tempat dan masa yang sama. Tuduhan mengikut Seksyen 7 (1) Akta Bahan-bahan Kakisan dan Letupan dan Senjata Berbahaya 1958 itu memperuntukkan hukuman penjara sehingga dua tahun dan denda maksimum RM2,000, atau kedua-duanya sekali, jika sabit kesalahan.

Dia turut berdepan dua tuduhan mengikut Akta Kawasan Larangan dan Tempat Larangan 1959.

Bagi tuduhan pertama, Muhdalena didakwa mengingkari arahan Lans Koperal Ridzuan supaya meletakkan senjatanya di tempat yang diwartakan sebagai kawasan larangan dan bagi tuduhan kedua, dia didakwa mengingkari perintah oleh seorang menteri dengan berada di premis itu tanpa kad atau permit masuk yang dikeluarkan oleh mana-mana pihak berkuasa.

Jika didapati bersalah, dia boleh dikenakan hukuman maksimum penjara dua tahun atau denda RM1,000 atau kedua-duanya sekali, bagi setiap tuduhan.

Muhdalena kini dalam jaminan RM11,500 dengan seorang penjamin, sementara menunggu perbicaraan.

Laporan perubatan dari Hospital Bahagia, Ulu Kinta menunjukkan bahawa Muhdalena berada dalam keadaan tidak siuman semasa kejadian itu dan tidak tahu akibat daripada perbuatannnya.

Laporan yang disediakan oleh perunding forensik psikiatri Dr Rabaiah Mohd Salleh, bagaimanapun menyebut bahawa keadaan mental Muhdalena kini stabil dan dia cukup sihat untuk membela diri dan dibicarakan di mahkamah - Bernama


That Which is Close to My Heart
Posted: 07 Jan 2013 04:14 AM PST
Those of you who have been following my blog and who know me in the real world would be fully aware of my interest in one particular area.
One of the reasons why I stopped blogging on political issues is because of the realization that things are not as simple as we think.
Big big hands are moving the pawns on the chess board.
For obvious reasons, I cannot say more. That explains the cryptic title and the fact that none of those issues that are close to my heart are mentioned here. And this post is untagged.
Sorry to sound so cryptic.
But if you want to know what I have been studying for years,
CLICK HERE
.
I have spent
many
years studying the stuff there and have yet to finish reading the many files/links. When you go to that page, please click into
each item in the horizontal menu bar
that begins with Home - Mission Statement - etc. Each item will probably take 1 year or so for you to read and to study/undertake research to see for yourself if what is posted there is true.
For a long time, I had considered whether or not to share that link. Prior to this, I only shared it with a few close friends. However, seeing the way things are happening, I feel it is timely that more should really study for themselves
what IS really going on
. And no, I am not cuckoo.
For this evening, please set aside time for the following videos.
Video 1 (only 6 minutes 21 seconds)
Video 2 (95 minutes 32 seconds)
Video 3 (38 minutes 46 seconds).
Please do not forget to read the comments for each video.
Be informed. Read. Do not simply believe what you read in many sites. That includes stuff in our own backyard. The propaganda of misinformation is very real.
Have a pleasant and enlightening evening.
Majlis Fatwa MESTI Jemput Ust Hadi - Mufti P.Pinang
Posted: 07 Jan 2013 04:21 AM PST
M
ajlis Fatwa Kebangsaan mesti menjemput Presiden Pas, Datuk Seri Abdul Hadi Awang untuk mendapatkan penjelasan
bagi menyelesaikan kemelut berkaitan dengan apa yang dipanggil Amanat Haji Hadi.
Mufti Pulau Pinang, Datuk Seri Hassan Ahmad menegaskan,
isu yang menjadi kontroversi itu tidak boleh diselesaikan hanya dengan berdasarkan laporan akhbar.
"Ia mesti mengikut prosedur. Datuk Seri Abdul Hadi perlu dijemput untuk berbincang dan bagi mendapatkan penjelasan. Ia tidak boleh diselesaikan mengikut andaian," katanya.

Mengenai fatwa yang dikeluarkan mengenai amanat itu, Hassan berkata, Majlis Fatwa Kebangsaan tidak boleh bergantung kepada fatwa yang dikeluarkan oleh majlis fatwa di peringkat negeri.

Kuasa mengeluarkan fatwa, katanya, adalah kuasa negeri dan fatwa yang dikeluarkan oleh Majlis Fatwa Kebangsaan tidak semestinya satu keputusan mutlak kerana kuasa agama kekal di bawah kuasa negeri.

Beliau menjelaskan, fatwa sesebuah negeri boleh diguna pakai oleh negeri yang menggazetnya.

"Jika fatwa yang dikeluarkan di peringkat Majlis Fatwa Kebangsaan hanya di peringkat kebangsaan, dan ia tidak akan dibawa ke negeri, ia tidak menjadi undang-undang keseluruhan kerana ia berperanan menyelaras sahaja," katanya.

Mufti Perlis, Dr Juanda Jaya pula menegaskan tiada fatwa dikeluarkan Majlis Fatwa Kebangsaan secara khusus mengenai Amanat Haji Hadi yang menjadi isu kontroversi itu.

Katanya, beberapa fatwa yang dikeluarkan mengenai isu seumpama itu adalah dibuat oleh majlis fatwa peringkat negeri.

Sebuah daripadanya adalah Majlis Fatwa Negeri Melaka, yang dikeluarkan pada 2002.

Fatwa yang diputuskan di peringkat negeri, katanya, tidak semestinya boleh diguna pakai oleh negeri lain.

"Fatwa yang ada itu ialah mengenai isu kafir-mengkafir, sama seperti fatwa (yang dibuat) oleh Kelantan. Fatwa yang ada dalam laman web Jabatan Kemajuan Islam Malaysia (Jakim) hanya fatwa yang dikeluarkan oleh Majlis Fatwa Negeri Melaka," katanya kepada Sinar Harian, semalam. -SH


Posted: 07 Jan 2013 03:20 AM PST
It is funny how we can learn lessons from dogs. I cannot believe how my life has been transformed since I adopted Tiger, my beloved West Highland Terrier.
 Lesson #1 Love unconditionally
My Tiger has had four owners in the last two months. When he first saw me, he was very friendly and loving. Of course he was finicky in the first two nights but once he settled down, he has become a very precious and much loved member of the family. He never whined for previous owners nor did he balk at the dog food we gave him.
He just accepted everything in his stride, not forgetting how he melts our hearts with his big, black eyes and the adoring looks he gives us :-).
Tiger sitting beside me
Lesson # 2 Forgive when things go wrong
Earlier this evening, I walked to the sitting room in my noisy crocs slippers which I wear indoors as I am flat-footed. Upon hearing the squishy sound from my Crocs, Tiger scuttled away almost knocking over the rocking chair.
Nick and I were stunned and wondered why Tiger was so nervous.
As I stepped closer, I saw a black thingy on the carpet. I picked it up and could not figure out from where it came. Nick took a look at it and said, "Oh oh, Mom. It's from your racoon."
Yea, my furry racoon that I hand carried from San Francisco in 1992. My aunt bought it for Jonathan as a present. Under normal circumstances, I would have been angry. I bent down and saw Tiger looking at me mournfully. He had hidden there to escape the scolding. Seriously, I think Tiger thought it was a real raccoon. He had also pulled down all my soft toys that I keep in my sitting room. Yea, you read correctly. My soft toys - my rabbit, my grey striped cat, my Westcliff teddy bear and my raccoon.
So I just told him, "Tiger, NO!" once and walked off. I knew then that Tiger knew it was wrong and could not help himself but I would have to work extra hard to help him understand what could/could not be bitten/chewed.
He has been quite mischievous. Yesterday, he 'stole' a book from a friend's bag lying on the floor and ran off with it without our knowledge. And then I heard the chewing sounds. It was Tiger enjoying himself with the cover of the exercise book. Fortunately, my friend has three dogs and he was most understanding.
In reality, Tiger LOVES paper, tissues, tissue boxes. He has to date, destroyed three tissue boxes. The third time, he actually used his paws/teeth to pull out the tissue box from the tissue box cover and ripped everything apart :-(.
I scoured the net for advice with regards to West Highland white terriers and all said the same thing. That they must not be beaten, spanked or yelled at but just a stern "No" would suffice. My friend, PA who has eight dogs including one Westie said the same thing.
Lesson # 3 Always look your best when going out.
My Tiger is quite a vainpot. Once I pick up his leash, he will jump excitedly at me and then shake his whole body as if to make sure his coat looks neat, shiny and attractive to other dogs except there are few pet dogs around my block.
Lesson # 4 Remember not to neglect your loved ones.
Last night, we had a dinner with a lovely couple who treated us to hakka food at a local restaurant. We were away for about four hours. By the time we came home, Tiger was bursting with energy and had to do his business. After he finished, I walked him home, wiped his paws and from then, he ignored the rest of us the whole night as if to show his displeasure. When I was out walking Tiger, Nick discovered Tiger had pee-ed on my chair :-(. We tried to make it up to him but he sulked the whole night under the sofa and refused to come out.
Lesson # 5 The face tells no lies.
This evening, after I gave Tiger his dinner, it was Nick's turn to walk him and he was late. And Tiger pee-ed on the floor in the hallway :-(. After Nick cleaned up and mess and yours truly mopped the area many times and the downstairs area, we tried to make Tiger go to the spot where he was supposed to do his business. We called him many times but he looked at us guiltily and stood still.
Once again, he looked at us guiltily. Generally, Tiger is toilet-trained but has to go out. We have yet to train him to do his business at his 'toilet'.
Lesson # 6 Patience
How can one NOT love Tiger? At the same time, we are always on guard not to spoil him too much. Just after I mopped the kitchen floor, he ran all over the place leaving his paw prints :-(. Just as I remind myself Tiger is only a dog, now I have more patient with others, reminding myself that we are after all, only human.
Despite the stuff he has destroyed, we still love him - unconditionally - that is the greatest lesson we have learnt. To love in spite of challenges, in spite of losing our stuff, in spite of all inconveniences suffered etc...
To all dog lovers out there, do share how I can teach my Tiger to ease himself at the same spot.
Umno-BN Tidak Pernah Belajar Daripada Kesilapan Seleweng Wang Rakyat
Posted: 07 Jan 2013 03:04 AM PST
P
emimpin Umno- BN tidak pernah belajar daripada skandal Pusat Fidlot Kebangsaan (NFC) apabila dengan terus menerus terpalit dengan pelbagai skandal penyelewengan wang rakyat Naib Presiden PKR, Nurul Izzah Anwar berkata, kes terbaru yang membabitkan Ketua Wanita Umno Selangor, Senator Raja Ropiah berhubung pendedahan saudagar karpet Deepak Jaikishan adalah bukti pimpinan Umno-BN perlu ditolak dalam pilihan raya nanti.
Sebelum ini didedahkan bahawa Raja Ropiah membeli tanah itu dengan harga RM7 sekaki tetapi mendapat keuntungan atas angin apabila menjualnya kepada syarikat lain dengan harga RM16 kaki persegi.

Tanah itu digazetkan untuk pembinaan kem tentera terletak di Mukim Bukit Raja didakwa dijual secara komersil dan tidak dibangunkan dengan objektif asalnya.

"Dalam banyak-banyak syarikat yang bagus di Malaysia tetapi projek itu diberikan kepada syarikat Raja Ropiah yang luasnya lebih 200 ekar.

"Tanah ini yang terletak di kawasan utama di negeri Selangor diberikan begitu sahaja, projek daripada 1997 sehingga 2013 ini tidak siap lagi.

"Rakyat warga Selangor susah untuk mendapatkan geran dan tanah dengan pelbagai kesusahan tetapi pimpinan Umno dengan mudah memilikinya," kata Nurul Izzah yang juga Ahli Parlimen Lembah Pantai.

Beliau berkata demikian semasa program 'Jelajah Anak Muda Menuju KL112 1 Juta Turun Himpunan Kebangkitan Rakyat' yang diadakan di Dewan Datuk Fauzi Pasir Panjang di sini.

Sementara itu Penyelaras Kebangsaan Solidariti Anak Muda Malaysia (SAMM), Badrul Hisham Shaharin berkata, Pakatan Rakyat (PR) mempunyai potensi dan peluang untuk mentadbir Putrajaya dalam Pilihan Raya Umum Ke-13 (PRU-13) ini.

Katanya ia berdasarkan keupayaan gagasan itu memperolehi 82 kerusi pada PRU-12 lepas dan sokongan yang semakin melonjak mutakhir ini khususnya di Sabah dan Sarawak.

"75 peratus masyarakat orang Cina sudah menyatakan menyokong Pakatan Rakyat," ujarnya.

Tegas Badrul, rakyat perlu berani turun ke Kuala Lumpur pada 12 Januari ini sebagai perhimpunan terakhir sebelum PRU-13 ini bagi menyatakan bantahan terhadap sikap berat Suruhanjaya Pilihanraya (SPR) dalam melaksanakan tugasnya.

"Kerana itu kita hendak mengelakkan kehancuran negara, kita tiada alasan lain untuk turun beramai-ramai ke Kuala Lumpur pada 12 Jan ini," tegas Badrul.

Kira-kira 1,000 hadiran datang dalam program itu yang dianjurkan oleh SAMM dengan kerjasama Pakatan Rakyat. -selangorku


Tsunami Alert.. Sonamo Tropical Storm Alert?
Posted: 07 Jan 2013 12:05 AM PST
Whatever it is, let us all pray that everything and all the East Coast states will not suffer any unexpected harm.
From Kelantan,Trengganu to Pahang, so far so good..
Alhamdulillah.

Weather in Kuantan is not that sunny but cool and windy.

Of course many of us are in a state of anxiety.

I've yet to buy those extra groceries.

May Allah SWT protect us all..Ameen

p.s.
One can die of a heart attack worried sick over the meteorological forecast.
[AMARAN KECEMASAN DIAKTIFKAN] Ribut Sunamo Bakal Landa Negara!
Posted: 07 Jan 2013 12:22 AM PST
K
uala Terengganu - Ribut Tropika 'Sonamu' dilaporkan laman sesawang 'Global Disaster Alert and Coordination System' (GDACS) akan melanda pantai Timur Semenanjung malaysia pada 6.00 GMT pada Selasa 8 Januari.
Data yang dibekalkan bersama oleh Pusat Amaran Ribut Angkatan Laut dan Udara Amerika Syarikat yang mencadangkan Sonamu akan mendarat di kedudukan 6.3 N,103.3 E.

Namun begitu kenyataan pada hari Sabtu 5 Januari Majlis Keselamatan Negara, yang diterbitkan akhbar The Sun meramalkan keadaan laut bergelora dan banjir di kawasan-kawasan rendah bermula semalam (Ahad) sehingga Rabu.

Setiausahanya Datuk Mohamed Thajudeen Abdul Wahab berkata kawasan-kawasan yang sering dilanda banjir harus berwaspada amaran hujan lebat dan perlu membuat persediaan awal bagi kemungkinan banjir dan orang ramai harus menurut perintah daripada pihak berkuasa untuk mengosongkan rumah mereka.

Jabatan Meteorologi Malaysia (JMM) telah meramalkan keadaan laut bergelora dan banjir di kawasan-kawasan rendah akan berterusan sehingga Rabu.

Laman webnya telah mengeluarkan amaran angin kencang timur laut lebih 60 kmsj dengan ombak lebih daripada 4.5m berlaku di perairan Kelantan, Terengganu, Samui, Condore, Reef North, Layang-Layang dan Palawan.

Susulan itu, Buletinonline dimaklumkan satu berita yang agak tergempar apabila pihak Hospital Sultanah NurZahirah di sini telah memindahkan ubat-ubatan ke tingkat atas bagi menghadapi risiko ribut tersebut.

Menurut sumber dalaman itu, hospital turut mengarahkan pesakit-pesakit yang 'ringan' dan yang tidak melibatkan 'wayar' pulang ke umah masing-masing.

Sehubungan itu, seorang pengamal perubatan telah mengesahkan mendapat pesanan ringkas dari pihak Hospital Universiti Sains Malaysia di Kubang Kerian yang turut meminta semua pihak berjaga-jaga.

"harap semua bersedia. 'Meeting' telah (dibuat) diperingkat MKN (Majlis Keselamatan Negara). 'Emergency response' di east cost(inner ring) activated already today (Amaran Kecemasan telah diaktifkan hari ini untuk Pantai Timur).

"Banyakkan doa semoga semua ok. Cuti 'emergency staff' dibekukan,"sebagaimana yang dipetik dari pesanan ringkas itu.

Menurut Timbalan Ketua Penerangan PAS Terengganu, Ustaz Azman Shapawi Abdul Rani, beliau juga diberitahu oleh anaknya yang bersekolah di Batu Rakit, satu persiapan berjaga-jaga teah diambil pihak pihak sekolah.

"Anak saya di Batu rakit telefon, Cikgu arah kemas barang untuk pindah ke tingkat tiga (asrama), dijangka 9akan berlaku) banjir besar,"respon beliau pada Ahad malam 6 Januari. -BuletinOnline


SETIAUSAHA

MAJLIS KESELAMATAN NEGARA

JABATAN PERDANA MENTERI

AMARAN HUJAN LEBAT DAN ANGIN KENCANG

5 Januari 2013



1. Jabatan Meteorologi Malaysia (JMM) menjangkakan hujan lebat akan berlaku di antara 7 hingga 9 Januari 2013 di negeri-negeri Kelantan, Terengganu dan Pahang ekoran daripada angin kencang dan laut bergelora yang sedang berlaku di Laut China Selatan. Keadaan hujan lebat dijangka akan berlaku yang mana boleh menyebabkan risiko berlakunya episod banjir di kawasan-kawasan yang berkedudukan rendah. Keadaan laut juga dijangka bergelora dan situasi ini akan menyebabkan keadaan bahaya di laut dan persisiran pantai.

2. Sehubungan itu orang ramai terutamanya nelayan adalah dinasihatkan supaya tidak melakukan aktiviti di laut dan lain-lain aktiviti di kawasan persisiran pantai.

3. Orang awam terutamanya yang tinggal di kawasan-kawasan yang sentiasa dilanda banjir perlu berwaspada dengan amaran keadaan hujan lebat ini dan dinasihatkan membuat persediaan awal bagi menghadapi kemungkinan berlakunya banjir. Sekiranya diminta oleh pihak berkuasa untuk berpindah, orang ramai dinasihati untuk mematuhi arahan dan tidak menunggu di saat-saat akhir kerana ia boleh mengundang kejadian yang tidak diingini berlaku. Adalah dinasihati juga supaya orang ramai dapat membawa bersama dokumen-dokumen penting dan keperluan asas peribadi semasa berada di pusat pemindahan.

4. Bagi mengelak sebarang kejadian yang tidak diingini berlaku, orang ramai juga dinasihatkan supaya mengambil langkah-langkah keselamatan sewajarnya semasa kejadian banjir.

5. Agensi-agensi Kerajaan yang terlibat di dalam pengurusan bencana telah membuat persiapan dan diletakkan di dalam keadaan siap siaga bagi menghadapi sebarang kemungkinan berlakunya kejadian banjir.

6. Maklumat terkini mengenai keadaan cuaca dan situasi semasa boleh diperolehi di laman sesawang http://www.met.gov.my dan http://portalbanjir.mkn.gov.my.


Sonamu: Muslimat PAS saran solat hajat

KUALA LUMPUR: Dewan Muslimat PAS Pusat (DMPP) meminta seluruh umat Islam melakukan solat hajat dan berdoa agar penduduk di Pantai Timur Semenanjung Malaysia dijauhi daripada sebarang bahaya dan bencana.

Ia ekoran ramalan Jabatan Meteorologi Malaysia (MMD) minggu ini berhubung amaran Ribut Tropika Sonamu dijangka melanda Pantai Timur pada 8 Januari, jam dua petang.

MMD menasihatkan penduduk khususnya nelayan di negeri-negeri Pantai Timur menjauhkan diri dari laut.

"Mohon solat hajat dan doa semoga Allah lindungi Malaysia khususnya di Pantai Timur daripada bahaya dan bencana Ribut Tropika Sonamu," kata Ketua Penerangan DMPP, Aiman Athirah Al Jundi kepada Harakahdaily.

MMD dalam laman webnya mengeluarkan amaran angin kencang timur laut lebih 60 kmsj dengan ombak lebih daripada 4.5m berlaku di perairan Kelantan, Terengganu, Samui, Condore, Reef North, Layang-Layang dan Palawan.

Situasi ini dijangka berterusan sehingga Jumaat.

Justeru, Aiman mengingatkan ibu bapa agar mengawasi aktiviti anak-anak mereka.

"Minta ibu bapa semua prihatin terhadap kedudukan anak-anak, jangan biarkan berada di luar ketika ribut, hujan dan banjir," katanya.

Ribut Tropika Sonamu akan mengakibatkan keadaan laut bergelora disertai dengan angin kencang dan hujan lebat yang boleh mengakibatkan banjir besar.

Mereka yang berada di kawasan-kawasan yang sering dilanda banjir diingatkan agar berwaspada terhadap amaran hujan lebat dari masa ke semasa dan perlu membuat persediaan awal bagi menghadapi kemungkinan banjir.

Orang ramai juga diminta patuh kepada arahan daripada pihak berkuasa seandainya diminta untuk mengosongkan rumah mereka. -HD


Novandri, Blogger Umno Minta Maaf Kepada Khalid Samad
Posted: 06 Jan 2013 10:09 PM PST
B
logger pro Umno, Dr Norvandri Hasan Basri (gambar) atau dikenali juga Dr MiM hari ini memohon maaf secara terbuka kepada anggota Parlimen Shah Alam, Khalid Samad ekoran dakwaan beliau kepada AJK PAS Pusat itu.
Permohonan maaf ekoran dakwaan Khalid adalah Bishop itu akan diletakkan dalam blog beliau novandri.blogspot.com dan Harakahdaily.net hari ini.
Dr Novandri juga bersetuju membayar sejumlah wang ganti rugi yang tidak disebutkan.

Penyelesaian luar mahkamah ini dinyatakan di depan hakim mahkamah Pulau Pinang hari ini.

Dr Novandri melalui blognya, novandri.blogspot.com pada 15 Januari 2010 lalu menulis satu tulisan dalam blognya bertajuk 'Penjarakan Khalid Bishop Samad'.

Ekoran itu, Khalid melalui peguamnya, Mohamad Hanipa Maidin menuntut supaya Novandri menarik balik tulisan dan gambar yang menunjukkan Khalid memakai tanjak Kristian dan salib dari blognya.

Setelah sekian lama berlalu, hari ini Novandri bersetuju untuk menyelesaikan kes ini di luar mahkamah dengan memohon maaf secara terbuka kepada Khalid.

Hari ini keputusan persetujuan penyelesaian di luar mahkamah dimaklumkan di Mahkamah Tinggi Pulau Pinang. Turut hadir adalah Khalid Samad bersama peguamnya, Mohamad Hanipa Maidin dan peguam yang mewakili Dr Novandri.

Berikut adalah permohonan maaf dari Novadri yang mesti disiarkan dalam Harakahdaily dan juga blog beliau, novandri.blogspot.com -HD/



Ulasan GB

Baru semalam GB ulas untuk kes papagomo di SINI, petikan:

papagomo dan sekalian blogger pencacai pasti BINASA. Itu hukum kebenaran dan keadilan. Allah tidak akan mengizinkan kebatilan mengatasi kebenaran.

Blogger Novandri belum mahu binasa, lantas memohon maaf. Tahniah di atas keberaniannya walaupun sebelum ini pernah menafikan beliau yang menulis artikel berkenaan.

Pencacai-pencacai UMNO yang lain yang giat memfitnah, bagaimana?


Posted: 06 Jan 2013 06:41 PM PST
မြတ္ဆလင္ေတြက ဘာလုပ္ေနလို႔လဲ
ျမန္မာႏိုင္ငံ ဆိုတဲ့ ဧရိယာထဲမွာ ေပၚထြန္းခဲ့တယ္ ဘာသာတရား ဆုိတာ မရွိပါ။ ဗုဒၶဘာသာသည္လည္း ျမန္မာ ဇာတိမဟုတ္၊ ခရစ္ယာန္သည္လည္း ျမန္မာဇာတိမဟုတ္၊ အစၥလာမ္သည္လည္း ျမန္မာဇာတိ မဟုတ္၊ ဟိႏၵဴ ဘာသာသည္လည္း ျမန္မာဇာတိမဟုတ္- ဘယ္ဘာသာတရားသည္မွ ျမန္မာဇာတိမဟုတ္ပါ။
ဘာသာႀကီး ေလးပါးထဲမွာ ေစာစီးစြာ ေပၚထြန္းခဲ့တဲ့ ဟိႏၵဴဘာသာက ျမန္မာျပည္ထဲကို အေစာဆံုး ၀င္လာခဲ့ တယ္။ ဟိႏၵဴဘာသာဟာ ျမန္မာလူမ်ိဳးေတြကို စာေပအေမြေပးခဲ့တယ္။ (ျမန္မာစာေပဟာ တရုတ္စာေပက ဆင့္ ပြား ျဖစ္တည္လာခဲ့တာ မဟုတ္ပါ။- ဟိႏၵဴ ျဗဟၼီစာေပက ဆင့္ပြား ျဖစ္တည္လာခဲ့ျခင္း ျဖစ္တယ္။) ခ်က္ျပဳတ္စား ေသာက္ျခင္းဆိုင္ရာ အေမြမ်ားကို ေပးခဲ့တယ္။ ယဥ္ေက်းမႈ ဆိုင္ရာ အေမြမ်ားကို ေပးခဲ့တယ္။ တုိင္းျပည္တစ္ခု အျဖစ္ ထူေထာင္အုပ္ခ်ဳပ္နည္းပညာရပ္မ်ားကို ေပးခဲ့တယ္။ဗုဒၶဘာသာဟာ ဟိႏၵဴဘာသာေနာက္မွာ ေရာက္လာခဲ့တယ္။ ျမန္မာအင္ပါယာကို ထူေထာင္တဲ့ ျမန္မာဘုရင္ ကိုယ္တုိင္က ဗုဒၶဘာသာကို အားေပးကူညီခဲ့လို႔ သူ႔ေရွ႔က ဟိႏၵဴဘာသာဟာ တိမ္ေကာေပ်ာက္ကြယ္ သြားခဲ့ တယ္။ တနည္းအာျဖင့္ နဂိုရွိရင္းစြဲ ဟိႏၵဴဘာသာ၀င္ လူသားမ်ားက ဗုဒၶဘာသာ အျဖစ္ ဘာသာေျပာင္းလဲ သြား ခဲ့တယ္။ ဗုဒၶဘာသာဟာလည္း ျမန္မာလူမ်ိဳးမ်ားအတြက္ ယဥ္ေက်းမႈကို သြန္သင္ေပးႏုိင္ခဲ့တယ္။
ျမန္မာအင္ပါယာရဲ႔ ပထမဆံုး ပုဂံေခတ္ကတည္းက အစၥလာမ္ ဘာသာဟာ ဗုဒၶဘာသာနဲ႔ ေခတ္ၿပိဳင္ ျမန္မာျပည္ ကို ေရာက္လာခဲ့တယ္။ ဘုရင္ကိုယ္တိုင္က အစၥလာမ္ သာသနာကို အားမေပးခဲ့လို႔ အစၥလာမ္ သာသနာဟာ ျမန္မာႏိုင္ငံမွာ မက်ယ္ျပန္႔ခဲ့ေပမယ့္။ အစၥလာမ္ သာသနာ၀င္ မြတ္ဆလင္မ်ားဟာ ဘုရင္မ်ားနဲ႔ လူထု ကိုယ္ တိုင္က အားကိုးအားထား ျပဳခဲ့ရသူမ်ား ျဖစ္ခဲ့တယ္။ ဥပမာ ေရႊဖ်င္းညီေနာင္ကို ၾကည့္ပါ။ ျမန္မာျပည္သူမ်ား ကိုယ္တုိင္ ဒီေန႔အထိ အားထားကိုးကြယ္ေနရတဲ့ မင္းႏွစ္ပါး ျဖစ္ေနခဲ့တယ္။
ဒီေနာက္ပိုင္း ေခတ္မွာ ဘိုဘိုရွား ဆိုတဲ့ မြတ္ဆလင္ႀကီးဟာလည္း ျမန္မာလူမ်ိဳးမ်ား ကိုယ္တိုင္ အားကိုးအား ထားျပဳေနရတဲ့ ဘိုးဘိုးေအာင္ အျဖစ္ အခုေခတ္ထိ ျမန္မာေတြရဲ႔ ႏွလံုးသားမွာ စြဲၿမဲေနပါတယ္။ တစ္ကယ္လို႔ မြတ္ဆလင္တို႔သာ ျမန္မာလူမ်ိဳးမ်ား အေပၚမွာ ဗိုလ္က်စိုးမိုးခဲ့မယ္၊ အတင္းအဓမၼသာသနာျပဳခဲ့မယ္၊ အယုတ္ တမာေတြ လုပ္ခဲ့မယ္ ဆိုရင္ ျမန္မာလူမ်ိဳးေတြကိုယ္တိုင္က အဲ့လို ကိုးကြယ္ဆည္းကပ္မယ့္ ေနရာမွာ ထားပါ့ မလား။
မြတ္ဆလင္ေတြဟာ ပုဂံေခတ္က စၿပီး ႏိုင္ငံေတာ္ ကာကြယ္ေရး တာ၀န္ေတြမွာ ထမ္းေဆာင္ခဲ့တယ္။ မင္းမႈ ထမ္းေတြ၊ စစ္သားေတြ၊ စစ္သူႀကီးေတြ၊ ဗိုလ္မႈးေတြ၊ ဗိုလ္ခ်ဳပ္ေတြ အျဖစ္ ထမ္းေဆာင္ခဲ့တယ္။- အေျမာက္တပ္၊ စက္ေသနတ္တပ္၊ ျမင္းတပ္၊ ၾကည္းတပ္မ်ားကို ဦးစီးရတဲ့ ဗိုလ္ခ်ဳပ္ႀကီးေတြ ဗိုလ္မႈးႀကီးေတြ အျဖစ္ ႏိုင္ငံေတာ္ တာ၀န္ကို ထမ္းေဆာင္ခဲ့ေပမယ့္- တိုင္းျပည္ကို ေတာ္လွန္ပုန္ကန္ျခင္း၊ အာဏာလုျခင္း၊ ျပည္သူမ်ားအေပၚ မေတာ္မတရား ဗိုလ္က်ျခင္းမ်ား သမိုင္းမွာ ရွိခဲ့ပါသလား။
ကုန္းေဘာင္ခတ္မွာ ဘုရင္ေတြကိုယ္တိုင္က ခ်ီးေျမႇာက္အားထား ရာထူးေတြ တစ္သီတစ္တန္းႀကီး ေပးထား တယ္၊ မႏၱေလးၿမိဳ႔ေတာ္က ေစတီပုတိုး ဘုရားရုပ္ပြားတိုင္း အနီးမွာ မြတ္ဆလင္ေတြကို ရပ္ကြက္တည္- ဘုရား ေစာင့္အျဖစ္ ခန္႔အပ္ထားခဲ့တယ္။ ထင္ရွားတဲ့ ေစတီပုတိုးနဲ႔ ဘုရားဆင္းတု အနီးတိုင္းမွာ ဘုရားေစာင့္ မြတ္ဆ လင္ေတြ ဘုရား၀တ္ျပဳဘို႔ ၀တ္ျပဳေဆာင္ (ဗလီ)မ်ား ေဆာက္လုပ္ေပးထားတဲ့- ဒီေန႔ထိ သမိုင္းက ေဖ်ာက္လို႔ မပ်က္ႏိုင္ေသးဘူး။ မြတ္ဆလင္ေတြဟာ သူတစ္ပါး ဘုရားကို မေစာ္ကား၊ ဌာပနာမ်ားကို ေဖါက္ထြင္းခုိးယူျခင္း မရွိ- သစၥာရွိရွိ ေစာင့္ေရွာက္ေပးခဲ့တယ္ ဆိုတဲ့ သမိုင္းကို ရိုးသားတဲ့ သမိုင္းပညာရွင္တုိင္း သိတယ္။ ေရွ႔မွီေနာက္ မွီ ပညာရွိ သက္ႀကီးရြယ္အို ဘုန္းႀကီးတိုင္း သိတယ္။-
အဂၤလိပ္ အုပ္ခ်ဳပ္စဥ္မွာလည္း လူမ်ိဳးတစ္ရာ့တစ္ပါး ျမန္မာႏိုင္ငံထဲကို ၀င္လာခဲ့တယ္။- အဲ့ဒီ အထဲမွာ မြတ္ ဆလင္ေတြလည္း ပါ၀င္ခဲ့တယ္။ ျမန္မာျပည္ကို ၀င္လာခဲ့တဲ့ မြတ္ဆလင္တို႔ရဲ႔ သမိုင္းေနာက္ခံကို ရိုးသားစြာ ျပန္ၾကည့္ပါ။ ေမာ္လၿမိဳင္ေစ်းႀကီးကို ေဆာက္ေပးခဲ့တယ္။ သိမ္ႀကီးေစ်းႀကီးကို ေဆာက္ေပးခဲ့တယ္။ ျမန္မာႏိုင္ငံ ကို ေစ်းကြက္စီးပြားထြန္းကားေအာင္ ေဆာင္ရြက္ေပးခဲ့တယ္။ လက္လုပ္လက္စား မြတ္ဆလင္မ်ားကလည္း ထီးခ်ဳပ္တယ္၊ ကြမ္းယာေရာင္းတယ္၊ အထည္ေရာင္းတယ္၊ လယ္ယာကိုင္းကၽြန္း လုပ္စားတယ္၊ ဒီထက္ ပိုၿပီး ဆင္းရဲရင္ ဖိနပ္ခ်ဳပ္တယ္၊ ဆံပင္ညႇပ္တယ္၊ ေနာက္ဆံုး မစင္က်ံဳးတဲ့ အလုပ္ကို လုပ္ခဲ့တယ္။- နိမ့္က်တယ္လို႔ ထင္မွတ္ဘြယ္ ရွိေပမယ့္- မရွိဆင္းရဲလို႔ ရိုး ရိုးသားသား လုပ္စားတာပဲ ရွိတယ္။ ျမန္မာလူမ်ိဳးမ်ား စာရိတၱပ်က္ ေစေအာင္- အရက္ဆိုင္ ဖြင့္ခဲ့တာ ဘိန္းဆုိင္ ဖြင့္ခဲ့တာ မရွိ။ အမ်ိဳးသားေကာင္း သမီးပ်ိဳမ်ား တန္ဘိုးမဲ့သြား ေအာင္ အေပ်ာ္ရံု ေထာင္ခဲ့တာမရွိ။ ျမန္မာလူမ်ိဳးမ်ားဆီက ေခါင္းပံုျဖတ္စားဘို႔ အေပါင္ဆိုင္ဖြင့္ခဲ့တာ မရွိ။-
မြတ္ဆလင္ေတြဟာ သမိုင္းနဲ႔ ခ်ီၿပီး ျမန္မာျပည္အေပၚ သစၥာရွိခဲ့တယ္။ ျမန္မာလူမ်ိဳးအေပၚ ေကာင္းက်ိဳးျပဳခဲ့တာ ပဲ ရွိတယ္။ ယိုးဒယား သြားတုိက္ေတာ့လည္း ျမန္မာမြတ္ဆလပ္ စစ္သည္ေတြက အယုဒၶၿမိဳ႔ရိုးကို အေသခံေက်ာ္ ျဖတ္ မိုးထဲေလထဲ၊ ရြံထဲ ဗြက္ထဲမွာ ႏိုင္ေအာင္တုိက္ ယိုးဒယားစစ္တပ္ကို ယိုးဒယား ဘုရင္ဆီက ဆင္ျဖဴကို သိမ္း မိမိရဲ႔ သခင္ ျမန္မာဘုရင္ကို ဆင္ျဖဴရွင္ အျဖစ္ အသက္နဲ႔လဲၿပီး သိဒၶိတင္ေပးခဲ့တယ္။
အဂၤလိပ္က ျမန္မာကို ေနာက္ဆံုး သိမ္းေတာ့- ျမန္မာအမတ္ႀကီး ကင္း၀န္မင္းက အဂၤလိပ္ေပးတဲ့ ရာထူးကို လက္ခံယူၿပီး မိမိအတြက္ ရာထူးကို မက္ခဲ့ေပမယ့္-၊ ျမန္မာမြတ္ဆလင္ စစ္ဗိုလ္ခ်ဳပ္ႀကီး ၀လီခန္ကေတာ့ "ငါ့ သခင္ (သီေပါမင္း) ေကၽြးတဲ့ ထမင္း၊ ငါ့လည္ပင္းကို မေက်ာ္ေသးဘူး၊- ငါ့မွာ သခင္ဆိုတာ တစ္ပါးပဲ ရွိေစရမယ္၊ မင္းတို႔ေပးတဲ့ ရာထူး (စစ္ဗိုလ္ခ်ဳပ္ႀကီး အျဖစ္ ျပန္လည္ ခန္႔အပ္ျခင္း) ကို ငါမမက္ဘူး၊" ဆိုၿပီး- တိုင္းျပည္နဲ႔ လူမ်ိဳး အေပၚ ထားတဲ့ သစၥာနဲ႔ အဂၤလိပ္ေပးတဲ့ ရာထူးကို ေျဗာင္ ပါယ္ခ်ခဲ့တယ္ ဆိုတာလည္း သမိုင္းမွာ ျငင္းမရ ႏိုင္ဘူး။
သမိုင္း အဆက္ဆက္ မြတ္ဆလင္ေတြဟာ တိုင္းျပည္ အေပၚသစၥာ ရွိခဲ့တယ္။ ခြဲထြက္ဘို႔ အာဏာလုဘို႔ ေသာင္းက်န္းခဲ့တာ မရွိဘူး၊ ဘယ္ဘာသာကိုမွလည္း မေစာ္ကားခဲ့ဘူး၊ ဘယ္ဘုန္းႀကီးေက်ာင္းကိုမွလည္း မဖ်က္ဆီးခဲ့ဘူး၊ ဘုရားဆင္းတုေတြကိုလည္း သစၥာရွိရွို ေစာင့္ေပးခဲ့တယ္။
အခုေခတ္မွာလည္း ခြဲထြက္ေရးကို မေတာင္းဆိုဘူး၊ ပါလီမန္မွာ လႊတ္ေတာ္မွာလည္း သူမ်ားထက္ ထူးၿပီး ဘာညာ မေတာင္းဆိုဘူး၊ ျပည္ေထာင္စု ခိုင္မာေစဘို႔၊ လြတ္လပ္သန္႔ရွင္းတဲ့ ျပည္ေထာင္စုႀကီးေပၚလာေစဘို႔ပဲ ဦးတည္ခဲ့တယ္။–
ျမန္မာမြတ္ဆလင္ဟာ ျမန္မာျပည္ထဲမွာ ျပည္နယ္တိုင္းမွာ ရွိတယ္။ ျပည္နယ္တိုင္းမွာ ဒုတိယ လူဦးေရ အမ်ား ဆံုး၊ တတိယ လူဦးေရ အမ်ားဆံုး အျဖစ္ တည္ရွိေနတယ္။ သန္းေခါင္စာရင္းကို မလိမ္ၾကစတမ္း ဆိုရင္ ျမန္မာ ႏိုင္ငံရဲ႔ ဒုတိယ လူဦးေရ အမ်ားစု အသိုက္အၿမံဳ ျဖစ္တယ္။ ဒီ အင္အားစုႀကီးက တိုင္းျပည္အေပၚ သစၥာရွိေနတာ အျပစ္တစ္ခု ျဖစ္ေနေရာလား။
ဒါမွ မဟုတ္ ျမန္မြတ္ဆလင္ေတြက သူမ်ားထက္ ထူးၿပီး ဘာေတြမ်ား ေဖါက္ျပန္ေနလို႔- မြတ္ဆလင္ေတြကို ပစ္မွတ္ထား မုန္းတီးေနရသလဲ။
လံုး၀သက္သက္ မနာလိုစိတ္နဲ႔ မုန္းတီးေနျခင္း သက္သက္ ျဖစ္ေနသလား–၊ ဆိုတာ-
မြတ္ဆလင္ကို မုန္းတီးသူတိုင္း မိမိကိုယ္မိမိ ျပန္ဆင္ျခင္ၾကည့္ပါ။ မြတ္ဆလင္ကို မုန္းတီးသူတိုင္း "ငါ့ကို မြတ္ဆ လင္ ေတြက ဘာေတြ လုပ္ခဲ့သလဲ၊"လို႔ မိမိကိုယ္မိမိ ျပန္ေမးၾကည့္ပါ။ ႏို႔မဟုတ္ရင္ ဘုမသိ ဘမသိ မုန္းမိေနၿပီး အလိုလိုေနရင္း- အကုသိုလ္ သင့္ေနပါဦးမယ္။
ေဌးလြင္ဦး (MMCRM)
The Star: Road users in Bangsar question DBKL's 'double standard' action
Posted: 06 Jan 2013 06:30 PM PST
Monday January 7, 2013
By BAVANI M
Warning: A car illegally parked car in Jalan Telawi 9 was issued a department notice by Kuala Lumpur City Hall.
THE Bangsar business community and some of its residents are alleging that that Kuala Lumpur City Hall (DBKL) is practising double standard by issuing department notices instead of compounds on cars parked along certain areas in the township.
A motorist who had parked along Jalan Telawi 3 on Thursday was slapped with compound after parking on a yellow line, but said his colleagues who were illegally parked along Jalan Telawi 7 were only slapped with a department notice which is also known as an administration notice. The notice comes with a mere warning to not park there.
"I find this odd and confusing, why the double standard?" Sabrina Teh complained. "Shouldn't there be one rule for traffic offences?'' she asked.
Ahmad Sarji, who had parked in Jalan Telawi 1, said he saw DBKL enforcement officers and their tow trucks towing off illegally parked vehicles that day.
"People who were having a quick bite in the area were seen running out to prevent their cars from being compounded and towed,"he said.
"But I heard that if you were to park in Jalan Telawi 7, 8 and 9, you will not get a summon," he added.
A resident living in Jalan Telawi 9, who wished to remain anonymous, said at least 30 cars parked illegally in the area were issued department notices despite there being signboards warning people not to flout traffic rules.
"Why not just summon them?" he asked. "What is the rationale of just giving them a warning?" he lamented.
Bukit Bandaraya Residents' Association (RA) chairman M. Ali blames the haphazard ruling on the blind commercialisation exercise by City Hall in areas such as Jalan Maarof and Jalan Telawi, which is creating the problem and denying residents access into and out of their houses.
"This is what happens when rules are carried out in an ad-hoc manner," Ali said, adding that the residents wanted the Kuala Lumpur mayor and City Hall to engage with residents on community issues.
Bangsar Business Council president Ronnie Quay said the practice was not only unfair and would not resolve the congestion problem, but would worsen it.
Bangsar Village Complex manager Tan Joon Kai too found the practice of issuing department notices instead of compounds in residential areas puzzling.
"All I can say is that I do not condone illegal parking no matter where and the fact that City Hall is extra diligent in commercial areas is a good thing," he said.
A check by StarMetro showed that some 50 cars parked illegally around Jalan Telawi 7, 8 and 9 were issued department notices.
City Hall enforcement director Mohd Sauffi Muhamad said administration notices were usually issued in housing areas but said that he needed time to investigate before making an official statement.
Cleansing and Detox Programs - Dangerous?
Posted: 06 Jan 2013 06:02 PM PST
Warning: Rapid weight loss = rapid weight REGAIN + health problems!
And that's exactly what you get with most cleanses out there on the market.
Health food stores are stocked with pills and detox kits promising to clear your bowels, detoxify your liver, and help you drop several pounds without doing anything.
It's no wonder cleansing has gotten a bad reputation.
This doesn't mean that you shouldn't do a cleanse at all. You just need to know how to cleanse your body in a healthy way to naturally shed the pounds and boost health.
Recognizing the Dangers of Supplement-Based Cleansers
About a year ago, Health Canada issued a WARNING regarding a very dangerous cleansing product called the "Complete 7-Day Cleanse."
Even if you don't live in the Great White North, this is still important to know about…
Here's a snippet from the "health advisory" that was issued:
OTTAWA – Health Canada is advising consumers that the unauthorized product "Complete 7-Day Cleanse" is being recalled…
Because it contains a number of active ingredients with a combined effect that may pose serious health risks.
"Complete 7-Day Cleanse" is a multi-ingredient natural health product promoted for "cleansing" or removing toxins from the body.
According to package labeling, the product contains over 30 active ingredients, some having a diuretic (water pill) or laxative (stimulant, and bulk-forming) effect.
This combination of ingredients may increase the laxative or diuretic impact of the product and pose a risk of dehydration and/or electrolyte imbalance.
Symptoms of severe dehydration may involve an altered mental state and dizziness.
Symptoms of moderate to severe electrolyte imbalance (which is an imbalance of salts in the body, such as potassium or sodium)…
May include muscle weakness or cramping, abnormal heartbeat, and difficulties breathing.
The product is available at retail outlets across Canada and over the Internet. The Canadian importer, Iovate Health Sciences International Inc., of Oakville, Ontario, has initiated a nationwide recall at the request of Health Canada.
Worse still, on the label of this cleansing product is the phrase:
"From the makers of HYDROXYCUT!"
According to a 2009 paper in the World Journal of Gastroenterology, Hydroxycut is the most popular brand of weight-loss supplement, selling approximately 1 million units per year.
CLICK HERE to read the rest of the article.
[VIDEO] Apa Yang Nak Ditarik Balik? Hadi Tak Pernah Tuduh UMNO Kafir!
Posted: 06 Jan 2013 07:18 PM PST
K
ota Bharu - Presiden Pas, Datuk Seri Abdul Hadi Awang tidak pernah menuduh Umno kafir, namun amanatnya yang disampaikan 32 tahun lalu disalahertikan oleh pihak sehingga menimbulkan kontroversi.
Yang Dipertua Dewan Undangan Negeri (Dun) Kelantan, Datuk Mohd Nasaruddin Daud berkata, musuh politik sengaja menimbulkan isu yang sudah lapuk ini, sedangkan ia tidak pernah memberi kesan kepada masyarakat dan pimpinan Umno sebelum ini, tetapi sengaja ditimbulkan kembali menjelang pilihan raya.

"Beliau (Hadi) tidak pernah mengatakan mereka (Umno) murtad, namun tanggapan mereka ketika dahulu, 'politik suku agama suku' (politik asing agama asing) yang pernah dilontarkan oleh pimpinan pihak berkenaan sebelum ini menjerat diri mereka sendiri.

"Akibatnya, mereka pula yang terasa dengan apa yang mereka hujahkan dan mula menuduh Pas pula yang menimbulkan isu panas itu," katanya ketika berucap pada forum 'Isu Gadai Tanah : Menjawab Tuduhan Umno Kelantan di Kelantan Trade Centre (KTC), di sini, malam kelmarin.

Turut hadir, Pengerusi Jawatankuasa Penerangan, Pembangunan Maklumat, Sains dan Teknologi, Dr Mohamed Fadzli Hassan, serta Pengerusi Jawatankuasa Pembangunan Islam Pendidikan dan Dakwah, Mohd Amar Nik Abdullah.

Dalam perkembangan isu terbabit, Nasaruddin berkata, perlu diingat sebelum ini pada tahun 2001, Hadi pernah menyatakan kesanggupan berdepan dengan Majlis Fatwa Kebangsaan dan apabila tiba masanya pengerusi majlis terbabit membatalkan muzakarah itu.

"Sekarang isu ini diungkit kembali oleh Umno, dan Presiden kita (Hadi) bersedia menjelaskan amanat yang diucapkannya di stesen RTM dan TV3 namun niatnya tidak disokong kerana ada pihak yang menentang dan menyatakan penjelasan itu boleh dibuat di dalam media lain dan bukannya arus perdana.

"Sepatutnya kedua-dua stesen televisyen inilah yang memberi peluang kepada Hadi, disebabkan TV3 dan RTM yang sering memainkan isu ini dan menyerang hadi secara terang-terangan," katanya.

Beliau berkata, apa yang lebih menghairankan juga Hadi sendiri tidak pernah menerima sebarang surat dari Majlis Fatwa Kebangsaan yang mengatakan kenyataannya itu bercanggah dengan ajaran Islam.

"Hanya ditempelak oleh dua mufti iaitu Mufti Perak, Tan Sri Harrusani Zakaria dan Mufti Wilayah Persekutuan Datuk Wan Zahidi Wan Teh yang menggesa Hadi menarik balik amanatnya berkenaan.

"Mereka kata amanat ini sesat, Hadi kena bertaubat, sepatunya mereka beri peluang dulu, biar beliau terangkan dan selepas itu nilai kembali apa yang dinyatakan sebelum membuat tuduhan," katanya.

Ulasan GB

"Cili" yang ada dalam AMANAT HADI itu pedas sangatnya untuk orang UMNO, tuh yang menggelupur walaupun sudah berpuluh tahun!


Posted: 06 Jan 2013 04:52 PM PST
I was at the Nandaka Vihara yesterday morning and one of the first things I noticed was this very spectacular lotus flower in full bloom at their lotus pond.
What was interesting about this lotus pond was that it was covered with a wire mesh to prevent the fishes from jumping out of the pond. The lotus plants were all matured and there were two or three blooms trapped beneath the mesh. However, there was this one singular flower that the temple coordinators had set free, allowing it to bloom above the mesh. This was the lotus flower that had caught my eye. This was the lotus flower that I'd like to share with everyone.
ca-pub-5430283382112812
Posted: 06 Jan 2013 01:45 PM PST
Sometime i was not as sensitive as i thought in some of event, people and environment. But nevertheless, i am extremely sensitive when come to a total strange place for instance traveling to a total new place, new environment. My scanner will activate and super careful on each of the detail and change surrounding me including the people.
Unfortunately in some cases, especially those environment that i am too comfortable... I tensed to relax and lose some of my sensitivity. Due to this relaxing mode, I tensed to lost some of the important detail of signal/hint from the event and people surrounding me. I'm not ignoring those signal/hint. It actually registered that moments into my mind, but i just not aware of what need to be done until someone or some event actually come on board. When i tried to scan through my memory, i realized that i should have picked up those signal and try to take action immediately. Sigh~
When came to some event no one would tell you directly as this event/environment should be delivered through signaling/hinting then actions. Some how i failed to get some signal along the way. I'm still weak on capturing some of the signal in such an environment. I don't know it is because of lack of experiences or .... Anyway, if given another opportunity, I will definitely capture all the detail to this area of signaling/hinting follow by the reaction. Action count eh! 
Any of you have some experience to share? How is your sensitivity towards some event, people and environment?