---
Posted: 03 Jan 2013 06:23 AM PST
Posted: 03 Jan 2013 07:19 AM PST
I sat with my friend in a well-known coffee shop in a neighboring town of Venice, the city of lights and water. As we enjoyed our coffee, a man entered and sat on an empty table beside us.
He called the waiter and placed his order saying, Two cups of coffee, one of them there on the wall. We heard this order with rather interest and observed that he was served with one cup of coffee but he paid for two. As soon as he left, the waiter pasted a piece of paper on the wall saying A Cup of Coffee.
While we were still there, two other men entered and ordered three cups of coffee, two on the table and one on the wall. They had two cups of coffee but paid for three and left. This time also, the waiter did the same; he pasted a piece of paper on the wall saying, A Cup of Coffee.
It seemed that this gesture was a norm at this place. However, it was something unique and perplexing for us. Since we had nothing to do with the matter, we finished our coffee, paid the bill and left.
After a few days, we again had a chance to go to this coffee shop. While we were enjoying our coffee, a man entered. The way this man was dressed did not match the standard nor the atmosphere of this coffee shop.
Poverty was evident from the looks on his face. As he seated himself, he looked at the wall and said, one cup of coffee from the wall. The waiter served coffee to this man with the customary respect and dignity.
The man had his coffee and left without paying. We were amazed to watch all this when the waiter took off a piece of paper from the wall and threw it in the dust bin. Now it was no surprise for us the matter was very clear.
The great respect for the needy shown by the inhabitants of this town welled up our eyes with tears.
Coffee is not a need of our society neither a necessity of life for us. The point to note is that when we take pleasure in any blessing, maybe we also need to think about those people who appreciate that specific blessing as much as we do but they cannot afford to have it.
Note the character of this waiter, who is playing a consistent and generous role to get the communication going between the affording and the needy with a smile on his face.
Ponder upon this man in need. He enters the coffee shop without having to lower his self-esteem he has no need to ask for a free cup of coffee without asking or knowing about the one who is giving this cup of coffee to him he only looked at the wall, placed an order for himself, enjoyed his coffee and left.
When we analyze this story, along with the other characters, we need to remember the role played by the wall that reflects the generosity and care of the dwellers of this town.
*Thanks to Angela who sent me this post.
Papagomo Mana Lu Mau Lari, Mahkamah Keluar Sapina Ke Atas Zahid Hamidi
Posted: 03 Jan 2013 10:11 AM PST
M
ahkamah keluar sapina ke atas Zahid Hamidi
KOTA BHARU: Mahkamah Tinggi Kota Bharu telah mengeluarkan sapina kepada Menteri Pertahanan, Datuk Seri Ahmad Zahid Hamidi (gambar) agar datang ke mahkamah 6 Januari ini.
Sapina itu dikeluarkan oleh mahkamah atas permohonan Datuk Husam Musa yang menyaman blogger Papa Gomo.
"Mahkamah telah meluluskan permohonan saya untuk sapina Menteri Pertahanan Datuk Ahmad Zahid Hamidi. Ini kerana, Ahmad Zahid kenal siapa Papa Gomo ini apabila beliau membenarkan blogger ini memasuki kapal selam Scorpean sebelum ini," kata Husam kepada Harakahdaily.

Husam menyaman Papa Gomo ekoran satu laporan fitnah yang dibuat blogger Umno itu melalui blognya.

Writ saman tersebut difailkan Husam melalui peguam Hisham Fauzi baru-baru ini dengan menuntut gantirugi sebanyak RM10 juta, memohon maaf secara bertulis, gantirugi teladan, gantirugi melampau dan gantirugi punitif.

Selain itu injunksi menghalang defendan atau ejen atau pembantu berkomunikasi, memberi komen, mengulangi penerbitan kenyataan-kenyataan berunsur fitnah terhadap plaintif.

Defendan melalui blog; http://www.papagomo.com bertajuk 'gambar ekslusif bakal MB Kelantan pimpin tangan China Doll' diterbit pada 6 Disember tahun lepas cuba mengaibkan Husam dengan menyiarkan gambar tersebut.

Husam yang juga anggota Exco kerajaan negeri menyifatkan gambarnya dimanipulasikan sehingga memberikan gambaran plaintif sedang berpimpin tangan dengan seorang perempuan Cina.

Defendan atau nama sebenar Wan Muhammad Azri Wan Deris beralamat di Villa Apartment, Jalan 5/23 e, Danau Kota, Setapak, Kuala Lumpur antara lain turut menulis;

"Tapi Kawe yakin rakyat Malaysia bijok dan cerdik bilo keleh gambar ni. Ambo yakin sedikit sebanyak rakyat Kelantan akan buko mato kenal siapo hok dalam gambar ni."

Dalam writ samannya Husam menjelaskan gambar itu sebenarnya menunjukkan beliau ketika itu bersama rombongan kerajaan Kelantan ke China sedang berjalan keluar dari sebuah bangunan dengan diikuti oleh jurubahasanya, seorang perempuan warganegara China.

Plaintif sebelum ini mengemukakan notis tuntutan kepada defendan menuntut supaya memohon maaf secara terbuka dan membayar gantirugi. Bagaimanapun defendan gagal dan enggan berbuat demikian.

Ulasan GB

GB sudah ulas sebelum ini. Petikan:
Keengganan beliau untuk mengakui blog itu kepunyaannya bukti awal kebinasaan papagomo! Beliau TAKUT untuk mengakui blog fitnah itu miliknya kerana tahu blog itu menyajikan berita palsu dan dusta.

Sepatutnya apabila beliau sudah tidak mengakui blog itu miliknya, pihak berkuasa sudah boleh menyiasat siapa pula yang mengemaskini blog tersebut selama ini kalau bukan papagomo sendiri, dan papagomo boleh pula didakwa kerana menipu jika sebenarnya beliau yang mengemaskinikan blog tersebut. Dusta di atas dusta!

Namun, kebal macamana pun papagomo yang dilindungi oleh polis, dengan hukum kebenaran dan hukum Tuhan, kita akan menyaksikan papagomo pasti hancur binasa!

Bukan saja papagomo, sekalian blogger pencacai UMNO yang menyebarkan dan menyemarakkan budaya fitnah, lucah dan porno. Termasuklah polis yang selama ini bersikap double standard!
Laporan-laporan sebelum ini
klik untuk baca
Posted: 03 Jan 2013 06:17 AM PST
Posted as sanooaung in my old blog
Most of the western countries had progressed from the struggles to just meet their biological needs of food, shelter and security to the social progress to meet their psychological needs of social values such as Human Rights and Individual Freedoms.
"ASIAN VALUES" apologists claim that certain values and liberties must be compromised for the sake of growth and progress so that most of the citizens are housed, clothed and fed. They claimed that social and political stability for the whole country is more important than individual Human Rights and liberties.
Even US and some developed countries are in reverse gear by saying that sacrifices in certain individual freedoms must be made for the safety of the country and to fight terrorism.
In Japan, Singapore, Malaysia and other Asia countries, there are substantial economic and social progress and could move into the better intellectual, social values, individual values of freedom, justice and equality. These could be called the Universal Values but the Asia Governments just labelled and smoke-screened them as "Western Values" just to scared off their citizens' desires to adopt them.
In the advanced countries, according to "Western Values": the fight is no longer over who gets what economically and who dominates who culturally; but over the value systems for rights of the individual; beyond race and religion.
But when we look at the SPDC Junta, no doubt they are valueless according to "Western Values" or Universal Values. They even do not have "ASIAN VALUES" as they could not fulfil the biological needs of food, shelter and security for all the citizens of Myanmar.
Although they are Buddhists, they have NO BUDDHIST VALUE. They rob the country from the people and NLD. They are killing, jailing and torturing innocent people and committing rape etc. against the Buddha's teaching.
Last of all, the SPDC Generals even do not have the MILITARY VALUE according to the International Standard or even the TATMADAW VALUE according to General Aung San's standard.
As Senior General Than Shwe's children are becoming second illegal wives and Daw Kyaing Kyaing's marriage to Lu Min although both of them are legally still married to their spouses, SPDC Generals also could be labelled as people with no FAMILY VALUES.
The Alexandria The Great was retorted by the pirate that he had a small ship so was labelled a pirate, but as The Alexandria The Great got a fleet of ship and plunder the world and was called the King. During the ancient time those who killed the king became king. Now the world had changed and the whole world, from the Myanmar Citizens to all the governments up to UN knew that SPDC is the ILLEGITIMATE GOVERNMENT. So even if we gauge the SPDC Generals with the pirate's and Pagan Dynasty rule, nowadays SPDC Government have no value and is an ILLEGITIMATE GOVERNMENT.
[EKSKLUSIF] "Aku Tak Halalkan Duit Pampasan Itu" - Mangsa Buruh Paksa Jepun
Posted: 03 Jan 2013 06:40 AM PST
"Saya tak halalkan duit pampasan tu "kata Pak Hashim Yaakob,mangsa buruh paksa Jepun beumur 112 tahun yang ditemui sekretariat "jejak".
S
Sekretariat "Jejak" buruh paksa landasan maut akan pergi ke kedutaan Jepun untuk mendapat maklumat dan penjelasan kenapa wang RM207 bilion tidak sampai ke tangan mangsa buruh paksa,landasan keretapi maut. Sedangkan negara sperti Indonesia dan Vietnam sudah membayarnya.
Menurut DS Nizar pada 13 Disember 2004, Bank Negara mengeluarkan banker's cek bernilai RM107 bilion dan RM100 bilion lagi diperuntukkan dalam bentuk syer Maybank yang didaftarkan pada 13 Disember 2004.

Ini bermakna, wang RM207 bilion yang sepatutnya diberikan kepada 30,000 mangsa buruh paksa ini telah diterima kerajaan sebelum tarikh 13 Disember 2004 lagi, iaitu kira-kira 10 tahun lalu.

30,000 rakyat Malaysia yang terlibat dalam pembinaan landasan itu. Sejumlah 60% daripada mereka itu adalah orang Melayu, 20% orang India, dan 15% orang Cina. Selebihnya 5% itu adalah kaum lain".




LAPORAN SEBELUM INI




RM207 bilion wang pampasan buruh paksa lesap?

Kerajaan BN dituntut supaya menjelaskan di manakah wang bernilai RM207 bilion yang telah diberikan oleh kerajaan Jepun sebagai pampasan kepada 30,000 pekerja buruh paksa pembinaan landasan keretapi dari tahun 1942 hingga 1946.

Ini kerana, walaupun telah diterima kira-kira 10 tahun lalu namun sehingga kini ia tidak diserahkan kepada mangsa atau waris mereka.

Anggota Parlimen Bukit Gantang, Datuk Seri Mohamad Nizar Jamaludin memberitahu Dewan Rakyat, beliau mempunyai dokumen yang mengesahkan kemasukan wang itu.

Yang mengejutkan, kata beliau, pada 13 Disember 2004, Bank Negara mengeluarkan banker's cek bernilai RM107 bilion dan RM100 bilion lagi diperuntukkan dalam bentuk syer Maybank yang didaftarkan pada 13 Disember 2004.

Ini bermakna, wang RM207 bilion yang sepatutnya diberikan kepada 30,000 mangsa buruh paksa ini telah diterima kerajaan sebelum tarikh 13 Disember 2004 lagi, iaitu kira-kira 10 tahun lalu.

Namun sehingga kini, wang itu tidak diberikan kepada mangsa atau waris mereka.

Ekoran itu, kata Mohamad Nizar, bekas Menteri Besar Perak itu, Persatuan Kebajikan Bekas dan Warisan Buruh Binaan Landasan Keretapi Siam ke Burma 1942 - 1946 telah menghantar surat kepada kerajaan Malaysia bagi menuntut wang itu.

Surat itu telah pun dihantar kepada Perdana Menteri, Datuk Seri Najib Razak pada 27 Julai 2011 menuntut pembayaran wang itu.

"Sejumlah 30,000 rakyat Malaysia yang terlibat dalam pembinaan landasan itu.

Sejumlah 60% daripada mereka itu adalah orang Melayu, 20% orang India, dan 15% orang Cina. Selebihnya 5% itu adalah kaum lain".

Menurut Nizar, pejabat Perdana Menteri apabila menerima surat itu telah pun menyerahkan satu salinan untuk dipanjangkan kepada Kementerian Sumber Manusia ada 9 Ogos 2011.

Beliau juga difahamkan, semua pihak dalam kerajaan termasuk Jabatan Peguam Negara telah bersetuju agar duit itu diserahkan kepada 30,000 mangsa ini.

"Saya mahu menyatakan di sini kalau sekiranya perkara itu telah pun dibentangkan dan diluluskan oleh Kabinet, maka kenapa ianya harus disimpan oleh Treasury ataupun Bendahari Kewangan kita sebegitu lama?" soal Nizar dalam ucapannya itu.

Menurutnya, mereka yang terlibat ada yang telah meninggal dunia, ada yang warisnya masih ada.

"Saya boleh menyatakan bahawa ayah kepada Tan Sri Datuk Zulkefli Ahmad Makinudin, Ketua Hakim Malaya hari ini adalah salah seorang daripada mereka yang dikerahkan oleh Kerajaan Jepun ketika itu untuk membina landasan kereta api dan dia masih hidup lagi.

"Dia masih ada di Ipoh dan boleh menceritakan bagaimana susahnya 30,000 rakyat Malaysia ketika itu," beritahu Nizar kepada Dewan Rakyat.

Nizar bertanya, "kalau sekiranya wang itu telah diberikan sebagaimana yang dinyatakan, maka kenapakah kerajaan masih tidak memberikan pampasan itu kepada rakyat Malaysia yang telah dipaksa untuk melaksanakan kerja-kerja itu?"

Bagi beliau, ini merupakan satu amanah yang sewajarnya rakyat Malaysia sedar kerana ini satu hak kepada rakyat yang dinafikan oleh kementerian-kementerian tertentu iaitu Kementerian Kewangan barangkali, Bank Negara dan juga Kementerian Sumber Manusia, Jabatan Perdana Menteri yang telah pun mengarahkan supaya kertas Kabinet diluluskan.

"Jadi saya hendak bertanya sama ada rayuan daripada persatuan itu. Mereka merayu supaya pampasan diberikan kepada mereka, kenapa ianya dinafikan?" soal beliau tegas.

Menurut beliau juga, kerajaan Filipina, Indonesia dan juga Vietnam juga menerima wang yang sama dan telah diserahkan kepada rakyatnya yang terlibat. -HD

Posted: 03 Jan 2013 03:06 AM PST
It has been more than four months since my last post and it has been much longer since I last used the treadmill. I have no good reason to lay off any of them other than laziness. I have promised several people including my son Azuan that I will continue to blog and post new stories but nothing came out of it. Unlike the days of old, making a new post seems to be quite a mental effort. The enthusiasms of old seems to be vanishing all the more so with the popularity of Facebook which seems to be the new preoccupation of even the most ardent of bloggers. Only a few hardcore bloggers most of whom a political bloggers seem to survive.
With the coming of 2013 I guess it is time for me to make a new resolve and continue to blog. There is so much to share and perhaps the sharing may help others and may even save their lives. "Is it that serious?" you may ask. Yes! It is that serious.
As a start for the new year I did a slow walk on the treadmill beginning with a speed of 2 kph at 0 degrees inclination and peaking at 6 kph at 2 degrees inclination and slowing down to 3 kph at 0 inclination for 30 minutes covering a distance of 2 kilometers. 70 calories of energy was expended. All the while I kept a close watch on my pulse rate so as not to exceed 125 beats per minute though the threshold for my age is 150 beeps per minute. Good enough for a start as anything more could be exerting too much strain on a certain section of my vital organ
Prior to this wet season gardening was the way for me to sweat it out. Unfortunately tough physical job is taboo to me now. The balmy wet weather is not the reason that I have to be on the treadmill to exercise. The reason is the incidental finding of me to be suffering from
Abdominal Aortic Aneurysm
, AAA for short or Triple A as is often referred to by doctors. The gist of this disease is the swelling of the aorta, the major artery exiting the heart. In my case it occurred in two places along the same artery with the one at the upper arch as most serious as it is more than 3 times the normal size. Intervention is usually recommended if the aneurysm exceeds 5.5 cm in size. In my case it far exceeded that threshold level.
This Triple A condition wouldn't have been detected if I hadn't suffered from a thyroid disorder. It was sometime in October 2012 that I had discovered a lump the size of a halved egg on my throat. It was diagnosed as hypo thyroid disorder when a thyroid function test was carried out on my blood sample. Fortunately for me a Dr. Andy Zulqarnaen of Hospital University Sains Malaysia had taken up my case and he suggested that the thyroid be removed after a further investigation to determine the malignancy of the tumor.
The Fine Needle Aspiration Cytology (FNAC) procedure was carried but the result was later found to be negative. We reached consensus after a discussion with Dr. Andee that an operation to remove both lobes of my thyroid even though the FNAC result was benign tumor. The sample used to determine the result via FNAC was too minute and I could risk a cancerous tumor as an Ultrasound Scan later showed a widespread coverage of the nodes reaching the collar bones on the lower side and the jugular vein on the left side of my neck. If the tumor is indeed cancerous, I may have to undergo a second operation of the other lobe if only the enlarged right lobe was removed.
I was admitted to Ward Dua Intan at HUSM on 21st November 2012. An X ray was taken the night before the operation. The total thyroidectomy for papillary thyroid carcinoma was  performed the next day by a team of doctors led by Consultant Endocrinologist Miss Maya Mazuin. Dr. Azlina was the anesthetist. Other surgeons assisting Dr. Maya were Mr. Mizwan, Miss Galpalam and Miss Athirah. Dr. Andee was in the operating theater even though he wasn't performing the operation. It was a marathon operation which started at 10.00 AM and ended at 4.00 PM. To all these people and many others in Wad 2 Intan, from the bottom of my heart, I beg to offer you a BIG thank you.
To recuperate, I had to be warded further. Two drainage tubes were attached to my body leading to two bottles to receive the discharge from the sutured incision. The bottles were marked as A and B and the amount of discharge was monitored. They will be removed after the level of discharge was reduced. I will be only discharged from the hospital once the drainage tubes are removed.
One of the tubes was removed on the 25th of November and  the other one was removed the next day. On the 26th morning the head of Specialist Outpatient Department (SOPD) came with a group of doctors including the doctors who operated on me. They decided that I was ready for discharge and Dr, Maya Mazuin was given the honor to remove the tape that covered the incision on my neck. That afternoon, I returned home after 5 days in the hospital ward.
Meanwhile the removed thyroid tissues were sent to the laboratory for further analysis.
The X-ray done on the night prior to the operation showed an enlarged aorta and the surgeons were notified of the finding by the radiologist. This finding was conveyed to me during my recuperation in the ward. A Computer Tomography (CT Scan) is necessary to really determine the extent of the enlargement. The CT Scan was done on 13th December 2013 and I was scheduled to meet a doctor at SOPD on 30th December 2013.
Dr. Lee Say Bob showed me the images of the CT Scan on the computer. There were two sections of the enlargement and the one of importance is the upper arch of the aorta as the enlargement far exceeded the threshold level of 5.5 cm diameter where intervention is necessary. Mine was measured at 6.7 cm! The one on the lower section is smaller and could probably be dealt with by inserting a stent. Another finding from the CT Scan is that of cysts in my kidneys.
Dr. Bob confirmed that the findings of the pathology laboratory on the thyroid tissues were of malignant tumor. The total removal of my thyroid was the right thing to do.
After a lengthy explanation by Dr. Bob of the dangers involved as a rupture may lead to fatality, in the presence of my wife, I agreed for an intervention surgery to be performed. It could be done in the General Hospital Kota Bharu but the earliest date that I could have an appointment with the Cardiologist is 14th March 2013 which is months away. Anything could happen to me within that period.
My other alternative is to have the intervention surgery done at Institiut Jantung Negara in Kuala Lumpur. For that I will have to meet Professor Madya Dr. Ziyadi at the Cardio Unit HUSM on 9th Jan for a reference to IJN. Hopefully after that I will be able to secure an earlier date for the intervention surgery at IJN.
All these while I have been oblivious to my ailment as the Electrocardiography (ECG) done at the local clinic has not shown any sign of the problem. It is not that the disease has been totally asymptomatic which I have been telling the doctors at HUSM that examine me, but I did not relate the mild chest pains that I have been suffering as well as the many other tell tale sign that are the symptoms of such an ailment medically known as fusiform thoracic aneurysm. Most of the time I have been telling myself that the tough physical work that i have been doing was the cause of the muscular pain in the upper left chest.
To all my friends in the age bracket of 50 and above a CT scan of the thorax, abdomen and pelvic area is a good thing to do just to be sure. HUSM Kubang Kerian Kota Bharu charges RM300 - RM550 for a CT Scan. My scan for a thorax and abdomen should cost me RM550 but as a government retiree, I got it done for free. If you have any chest pain however mild, pain in the lower back or pain in the kidney, get a CT scan done, the sooner the better.
For the moment I will be working on my treadmill to improve my overall health so that I will be able to face another arduous operation under at IJN. A serious regime of dieting to reduce my cholesterol level and control my hypertension is also of paramount importance.
Any doctors out there who may notice any mistake in this post, please do not hesitate to correct me as I am only a humble farmer trying to warn others who may have been suffering the same problem without realizing it.
Decorated Iban war hero Kanang Langkau dies
Posted: 03 Jan 2013 03:05 AM PST
o 
The late Kanang (left), with 3rd Brigade commanding officer Brig Jen Jeyabalan, showing his Seri Pahlawan Gagah Perkasa certificate in this filepix.
KUCHING: Decorated Iban war hero Datuk Kanang Langkau collapsed while watching television at home in Sg Apong here Wednesday night. He was 68. He was rushed to the Sarawak General Hospital where he was pronounced dead. Kanang had complained of chest pains while watching television.
Born in Julau in 1945, Kanang served in the Royal Ranger Regiment and as Regimental Sergeant Major of 8 Renjer (8th Rangers) of the Malaysian Army.

 
(He was never the Regimental Sergeant Major

of 8th Rangers, he got his promotion whilst on resettlement. He reported to 7th Rangers at

Pakit Camp,

when on his resettlement course in Simmangang, Sarawak, I was

adjutant then.

. He had nothing then, Major Razak Abdullah who was the SO2 A Ranger

Corps 
got TV3 to make a story about him. Seventh Rangers played a prominent role in the shooting of  that documentary. It was a polished up version

, for the powers to be, to look good.

No one would have known him if not for Major Razak Abdullah. Datuk Kanang was only acknowledged after that

,

by the rest of the country (

civilians

). He was bigger than life for the Rangers and a living legend

in

the M

alaysian

Armed Forces. Datuk Kanang's citation was written by the late 
Lt. Colonel (Rtd) Cyril Antonio (Tony) Loone .  Rest in Peace Datuk Kanang Langkau, God bless you.  - edit) 
He was awarded the Panglima Gagah Berani and Seri Pahlawan Gagah Perkasa medals from the Yang di-Pertuan Agong on June 3, 1981. His citation was written by the late  Kanang joined the service with the Sarawak Rangers, then part of the British Army, as an Iban Tracker on April 21, 1962.

He was absorbed into the Malaysian Rangers when Malaysia was proclaimed on Sept 16, 1963. Kanang retired as a First Warrant Officer after 21 years of service.
Kanang, the last surviving recipient of the Sri Pahlawan Gagah Perkasa received the prestigious Panglima Gemilang Bintang Kenyalang last year from Head of State Tun Abang Muhammad Salahuddin. The award carries the title Datuk'. The Star  
Read all about his courageous exploits here...
........
SHARE THIS STORY 19 RELATED DAP to launch full version of 'Ubah Rocket Style' Gangnam style BN spoof sets delegates rollicking CARTOONKINI Advertise here DAP launches Gangnam-style 'Ubah' video
Posted: 03 Jan 2013 02:57 AM PST
An air of festivity surrounded the official launch of the DAP's catchy multi-language 'Ubah-Rocket style' video at the Kuala Lumpur and Selangor Chinese Assembly Hall last night. Malaysiakini
[KERJA BODOH] Kereta Presiden NGO R Disimbah Cat Merah
Posted: 03 Jan 2013 04:22 AM PST
K
ota Bharu - Dua kereta milik Presiden Gabungan Profesional Menuntut Royalti Pendaratan Minyak dan Gas ke Kelantan (NGO R), Nazri Deraman dan isterinya pecah cermin belakang di samping disimbah cat merah dalam kejadian di Nilam Puri pagi tadi.
Akibat kejadian itu, Nazri menanggung kerugian lebih RM 3,000.
Nazri mengesyaki perbuatan khianat itu dilakukan pihak yang iri hati terhadap perjuangan beliau yang menuntut bayaran royalti minyak ke atas rakyat Kelantan daripada Kerajaan Pusat.

Ekoran kejadian itu, beliau akan membuat laporan polis.

-SH
Rumah, kenderaan Presiden R disimbah cat.

KUALA LUMPUR: Kejadian ugutan ke atas Nazri Deraman, Presiden Gabungan Profesional Menuntut Royalti, Pendaratan Gas dan Minyak Kelantan atau dikenali dengan R yang terus berlaku amat membimbangkan dan mengancam hak asasi rakyat yang dijamin oleh Perlembagaan Persekutuan.

Menurut Koordinator Pusat Rakyat Cakna Prihatin, Mohammad Faizal Che Yusof, kejadian simbahan cat ke atas rumah, kenderaan dan harta benda Nazri di Kadok, Kelantan yang disedari beliau seawal jam 4.

00 pagi tadi adalah ugutan dan tindakan ganas yang kesebelas menimpa penggiat-penggiat R.

"Kami difahamkan laporan demi laporan telah dibuat kepada pihak polis sejak dua tahun yang lalu.

Malangnya sehingga kini tiada satu tindakan yang meyakinkan diambil oleh pihak polis bagi mencegah perlakuan jenayah tersebut dari berulang.

"Kami juga penuh yakin bahawa siri-siri ugutan dan kelakuan tak bertamadun tersebut dijalankan oleh pihak-pihak yang berkepentingan dan merasa tergugat dengan kegiatan-kegiatan menuntut hak oleh R," ujarnya dalam kenyataan kepada Harakahdaily.

Baginya, ia dilihat begitu terancang dan bagai dilindungi oleh pihak-pihak tertentu.

Menurutnya lagi, dalam beberapa kejadian lepas, ugutan dan serangan ke atas penggiat-penggiat R begitu ketara.

"Si pelaku dapat dikenal pasti namun tiada sebarang dakwaan atau tindakan pencegahan diambil," katanya.

Justeru, kata beliau pihaknya menyeru dan menggesa untuk pihak keselamatan memandang Sirius laporan-laporan yang akan dan telah dibuat.

"Kami amat kesal, di sebalik tiadanya perlindungan undang-undang diberikan kepada penggiat R, mereka sebaliknya terus diintip dan diekori oleh pihak cawangan khas Polis Diraja Malaysia," ujarnya lagi.

Katanya, selaku pihak mendokong aspirasi rakyat dan kedaulatan undang-undang, Pusat Rakyat Cakna Prihatin akan terus menyokong pengukuhan hak-hak rakyat yang dijamin oleh Perlembagaan Persekutuan.

Sehubungan itu, pihaknya menyeru mereka yang di luar sana untuk sama-sama menyokong dan membantu menegakkan keadilan dan memastikan hak-hak rakyat yang dijamin oleh Perlembagaan Persekutuan dihormati secukupnya -HD


Ulasan GB

Kerja golongan yang tak bertamaddun.

Mereka menyangkakan dengan berbuat demikian orang akan takut.

Todak samasekali malah kita akan terus berharap kepada Allah swt untuk pastikan mereka yang melakukan perbuatan-perbuatan khianat itu akan menerima balasanNya.
,br>
Vote With Wisdom And Confidence..
Posted: 03 Jan 2013 01:47 AM PST
Whatever the opposition wants to say and whether we're bent on supporting BN, at the end of the day, the choice is ours to make.

There is no pressure on any single voter.
The freedom to vote according to your judgement and how you weigh the current BN government and PR opposition is in your own hands.

Blind hearted or naive, stupid or ignorant..if you have made a choice, no glittering diamond nor any series of carpet bombings can sway your staunch vote.

InsyaAllah once BN has won, we Umno members please be daring enough to organize some detailed, long overdue spring cleaning within the party.
Our Umno has unfortunately been invaded by some scrupulous 'leeches'. 

This PRU 13 is a loud, clanking alarm bell for us especially Umno members who have been too meek and subdued.
We must not repeat this foolish mistake of kowtowing and over trusting our top ranking leaders too much.

As for BN component parties, do not make it seem as though Umno has to do all the dirty, hazardous work while they just ride along comfortably.
They too must have that fighting spirit and behave accordingly.

Otherwise it is so obvious that only Umno is standing in the line of fire.
MCA, MIC and other BN components look more like apathetic bystanders.
They seemed to be separated from the PR bashings facing BN..as though it's just meant for Umno.

Umno leads BN but dammit!
We must face the PRU 13 'war' together.

So everybody, come on.. move! move! move!!
Lets get out of all these shits and freaking ambushes!
We do not want to be sitting ducks!

BN can still win more than two-thirds majority this PRU 13..
InsyaAllah.
Bekas YDP Selayang Dipenjara 3 Tahun & Denda RM132,500
Posted: 03 Jan 2013 01:56 AM PST
B
ekas Yang Dipertua Majlis Perbandaran Selayang (MPS), Datuk Bakaruddin Othman dijatuhi hukuman penjara tiga tahun dan denda RM132,500 oleh Mahkamah Sesyen Shah Alam selepas didapati bersalah menggunakan wang pihak berkuasa tempatan itu bagi penyelenggaraan rumahnya sendiri.
Hakim Asmadi Hussin menjatuhkan hukuman itu selepas berpuas hati pihak pembelaan gagal menimbulkan keraguan yang munasabah terhadap kes pendakwaan.
Bakaruddin, 58, yang kini bertugas sebagai pegawai tadbir dan diplomatik di Jabatan Perkhidmatan Awam didakwa menggunakan jawatannya sebagai yang dipertua MPS untuk mendapatkan suatu suapan dalam bentuk pembiayaan berjumlah RM26,500.

Pembiayaan bagi menyelenggara rumah miliknya di alamat No 14413 Jalan Laksamana 9, Kampung Laksamana, Batu Caves Selangor itu didakwa diluluskan Bakaruddin di dalam Mesyuarat Jawatankuasa Sebut Harga MPS bertarikh 27 Oktober 2001 dengan dia mempunyai kepentingan langsung.

Tertuduh didakwa melakukan kesalahan itu antara Jun 2001 hingga April 2002 di Bangunan Majlis Perbandaran Selayang, Bandar Baru Selayang.

Bakaruddin didakwa mengikut Seksyen 15 Akta Pencegahan Rasuah 1997 dan dihukum mengikut Seksyen 16 akta sama iaitu penjara minimum 14 hari dan maksimum 20 tahun dan denda tidak kurang dari lima kali ganda nilai suapan atau RM10,000 yang mana lebih tinggi, jika sabit kesalahan. -Bernama

Ulasan GB

Alhamdulillah, Allah memakbulkan lagi doa GB. Sebelum ini di SINI, GB telah buat ulasan:


Hukum kebenaran dan keadilan akan tetap berjalan. Si perasuah tidak akan terlepas, baik ikan bilis, apatah lagi ikan jerung.

GB berdoa dan yakin seorang demi seorang ahli dan pemimpin UMNO, dari pencacai sehinggalah ke peringkat pimpinan tertingginya akan disumbatkan ke dalam penjara.
Mereka tidak akan dilepaskan begitu saja.




Kita harap lebih ramai lagi nanti yang jahat-jahat dalam UMNO BN ini ditangkap dan dipenjarakan termasuk menteri-menterinya.


Ten Gorgeous Women (Who Were Born Male)
Posted: 02 Jan 2013 10:30 PM PST
Many people don't realize that transsexual models are popping up in magazines and on runways everywhere. These gorgeous models look and feel like women but were born with male reproductive organs. If we didn't know, we definitely wouldn't be able to tell that they weren't born female! Could you?
CLICK HERE to read about them.
Polemik Amanat Hadi Jadikan TG Abd Hadi Semakin Dikenali. Terima Kasih UMNO.
Posted: 02 Jan 2013 11:34 PM PST
S
eorang pemuda berusianya sekitar 30'an, menemui saya, katanya, mahu bertanya tentang 'Amanat Haji Hadi' yang sedang hangat diperkatakan sekarang. Saya bertanya; siapa yang menghangatkan amanat yang sudah sejuk basi itu kepada kamu?.
"Saya mengetahuinya dari laporan akhbar Utusan Malaysia dan Berita Harian, tapi tak faham maksud amanat itu".

Pemuda itu mengaku terus terang tak faham dengan 'Amanat Haji Hadi' yang siarkan pada muka depan akhbar sepanjang minggu akhir Disember dan awal Januari 2013 kerana ketika isu kontroversi itu meletup 31 tahun lampau, sang pemuda baru pandai merangkak. Belum tahu membezakan antara makanan dengan najisnya sendiri.

Setelah saya menceritakan inti 'Amanat Haji Hadi' baru pemuda itu faham. Anak matanya merenung tajam ke arah saya sambil bibirnya mengukir senyum. "Hebat Haji Hadi" ujarnya dengan bangga.

Realitinya, generasi muda sekarang (31 tahun ke bawah) tak tahu apa-apa seputar amanat yang diletupkan semula oleh mereka yang bijak tapi sebenar tolol, justeru ramai dikalangan mereka ingin tahu lantas merujuk kepada yang arif dan pastinya yang arif itu dari kalangan pendukung PAS, kerana apa-apa juga yang bersumberkan dari televisyen dan akhbar propaganda Umno/BN majoriti rakyat Malaysia tidak mempercayainya lagi.

Hakikatnya isu ini amat merugikan Umno/BN, sebaliknya yang mengaut keuntungan ialah PAS!

Oleh ~ Rossem Sem.


Kes Nizar vs TV3: Tiada Usaha TV3 Sahkan Mesej Twitter Nizar!
Posted: 02 Jan 2013 09:03 PM PST
M
Menteri Besar Perak yang sah, Nizar Jamaluddin hadir di Mahkamah Tinggi Kuala Lumpur bagi menyambung kes perbicaraan saman terhadap Sistem Televisyen Malaysia Berhad (TV3) berkaitan isu nombor plat kereta WWW1 berharga RM520 ribu milik Sultan Johor, Sultan Ibrahim ibni Almarhum Sultan Iskandar.
Nizar yang ditemani dua orang peguam iaitu Zamri Ibrahim dan Fitri Asmuni tiba kira-kira jam 10.

10 pagi tadi dan menyambung keterangannya jam 2.30 petang tadi.

Ahli parlimen Bukit Gantang itu turut ditemani Pengerusi DAP negeri, Ngeh Koo Ham dan beberapa pemimpin Pakatan Rakyat negeri.

Pengarang pengurusan kumpulan Media Prima Berhad, Mohd Ashraf Abdullah ketika ditanya peguam di mahkamah hari ini bersetuju bahawa TV3 tidak menjalankan apa-apa usaha untuk mengesahkan satu tulisan di Twitter oleh Nizar.

Ketika pemeriksaan balas, Ashraf, 45, juga bersetuju bahawa salah satu keperluan utama dalam kewartawanan adalah pengesahan.

Beliau merupakan saksi pertama responden dalam kes saman RM50 juta oleh Nizar ke atas stesen televisyen itu dan produsernya, Rohani Ngah.

Ashraf sebelum ini berkhidmat di The New Straits Times Press Berhad (NSTP) sebagai wartawan dan ketua biro Kuantan, selain sebagai koresponden London.

Beliau mempersetujui kenyataan peguam Nizar, Mohd Fikri bahawa berita berhubung Nizar dan Sultan Johor itu dikira berita "besar" kerana personaliti yang terlibat.

Nizar sebelum ini memberi keterangan bahawa berita Buletin Utama TV3 memfitnahnya dengan memutarbelit tulisannya di Twiiter bahawa bidaan Sultan Johor untuk nombor pendaftaran WWW1 "menggunakan wang rakyat", sedangkan beliau tidak pernah berkata demikian dalam tulisannya.

Beliau juga menyatakan bahawa beliau berada di rumah pada 30 Mei, ketika berita itu disiarkan, dan tiada usaha daripada TV3 untuk menghubunginya. -jalanpulang


Evidence Builds That Meditation Strengthens the Brain
Posted: 02 Jan 2013 07:30 PM PST
Earlier evidence out of UCLA suggested that meditating for years thickens the brain (in a good way) and strengthens the connections between brain cells. Now a further report by UCLA researchers suggests yet another benefit.
Eileen Luders, an assistant professor at the UCLA Laboratory of Neuro Imaging, and colleagues, have found that long-term meditators have larger amounts of gyrification ("folding" of the cortex, which may allow the brain to process information faster) than people who do not meditate. Further, a direct correlation was found between the amount of gyrification and the number of meditation years, possibly providing further proof of the brain's neuroplasticity, or ability to adapt to environmental changes.
The article appears in the online edition of the journal Frontiers in Human Neuroscience.
The cerebral cortex is the outermost layer of neural tissue. Among other functions, it plays a key role in memory, attention, thought and consciousness. Gyrification or cortical folding is the process by which the surface of the brain undergoes changes to create narrow furrows and folds called sulci and gyri. Their formation may promote and enhance neural processing. Presumably then, the more folding that occurs, the better the brain is at processing information, making decisions, forming memories and so forth.
"Rather than just comparing meditators and non-meditators, we wanted to see if there is a link between the amount of meditation practice and the extent of brain alteration," said Luders. "That is, correlating the number of years of meditation with the degree of folding."
CLICK HERE for more.
2012 Recap – A Year of Rollercoaster Ride
Posted: 02 Jan 2013 07:18 PM PST
I wanted to write a re-cap of all that have happened in 2012 but the only thing that I can remember is the year's highlight – Rafa's birth.
But I do remember that we hardly go on any nice vacation last year. Mainly because I was pregnant most of the time and my work at the office was just killing me. I can remember we spent a few weekends in the hotels around Klang Valley and that's it. Yeah, it is clear to me now, the lack of holidays is mainly because of my work. In June 2011 I joined the company I am working now and since then I have been travelling around Malaysian more than I did in the last 3 years. My job took me to places I have never been and never thought that I would visit. Like the interior zone of Sabah, Mukah part of Sarawak, Pahang etc.
I travelled so much ( to places yang aku tak minat nak pergi pun sebenarnya) and leaving my (then) two boys at home so much, the only time I have in Kinrara, I just wanna spend it at home sweet home.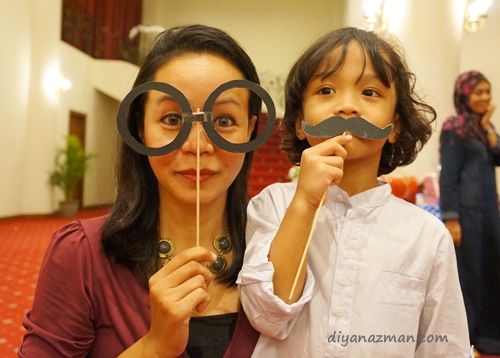 My son and I
In Jan 2012 I was three months pregnant and Miki celebrated his 4th birthday. Miki is such a delightful and brilliant child. And he was very eager to get an adik. We threw him a party with our family members in Penang at KFC in Bayan Baru. It was a lot of fun! Jan 2012 also marked the 6th year of our marriage. 6 year and blessed with a toddler and a baby in my tummy. Alhamdulillah. I feel like we both of understand each other better these days, compared to when we were younger.  We also communicate better with more patience towards each other. Or more like Azman is more patience with the moody me.
In April I celebrated my 30th birthday while working very hard. There are times when I feel like I was gonna call it quit but I needed to hang on until the baby was born. On my birthday (9  April) I worked until 1am in the morning, heavily pregnant and all. And once I got home Miki was still waiting for me- with that huge Secret Recipe cake with candles and singing to me a Happy Birthday. I will never forget that. Muah! Love you two Azman and Miki!
Sometime in May or April, our family went to Manjung and over there Azman and I was infected with the contagious rotavirus that caused severe diarrhoea. I couldn't remember being that sick since was 24 or 25. Azman was also hit very badly and we were so worried that Miki would get infected from us. Luckily he didn't and I cursed the person who sold us the cut fruits tainted with human waste. Celaksss!
In May I was still working and working and working at the office with stress level that was really high, often I go for my maternity check up expecting the doctor to admit for high blood pressure. Luckily she didn't need to and I was healthy Alhamdulillah.
The baby however, was in breech position. Everyday and night I pray that he would turn head down but he didn't. Although I rawkkkk yeah!!! But I am terribly afraid of the knife. Please God, I wanted to deliver the baby normally and not via c-sect.  I tried everything including watching TV while menonggeng but still the baby didn't turn.
On 3rd June Azman celebrated his 36th birthday. Isn't my beau the hottest for a 36 year old? Hehe! We had a great lunch to celebrate but I remember his nose was blocked and he didn't taste a thing. Haha.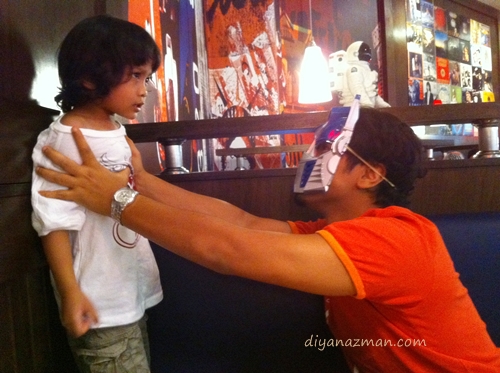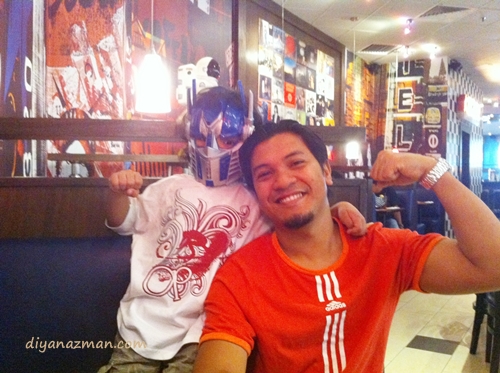 Then I went through the ecv procedure with my gynae. In 15 minutes, the baby was turned manually by her hands into head down position ready for birth.  Alhamdulillah.
The next day I went back to work and face the overwhelming workload again. I was so busy I hardly update this blog. I was so busy I didn't go shopping. Sometimes I go to work  it got so bad I wanna take a shotgun and kill everybody in Cyberjaya. Then one day, the Human Resource gave me a letter indicating a fat increment in my pay that I totally didn't expect. So I kept the shotgun back in my dresser.
2 weeks later on 29th June 2012 at midnight I ate durian with Azman at the patio. Then at 3am we went to the hospital because my contraction was 4 minutes apart. The pain was grotesque. I was almost seeing stars. Then I reached the hospital, requested for epidural, it was given to me and  I went weeeeeeee…… Happy! Happy! Come on everybody let's have a baby…….
At 8 in the morning, Rafa was born and I fell in love with again since I felt his first kick in my tummy  many months before. We brought Rafa home from the hospital and with him he brought so much joy and happiness to Mummy, Daddy and Abang Miki… Especially the proud Abang Miki.
I spent my confinement period at my mother's house in Penang for about a month only. Then we came back to Kinrara because I simply can handle it. Rafa is such a good baby and easy to take care of. Then for Hari Raya, we went back to Penang/Kedah again. It was Rafa's first Raya and we also had a "kenduri" for him. Just like what we did for Miki, we had his akikah and berendoi ceremony together which was beautiful. Owh.. BTW, by this time I already got my pre-baby body back! Yeahhh!
My maternity leave was for 2 months then I came back to work in September. The stress and workload has lessened because the management finally recruited a few new junior staff.  Rafa and Miki stays at Mama Rose while we work. She is the best babysitter in the whole world!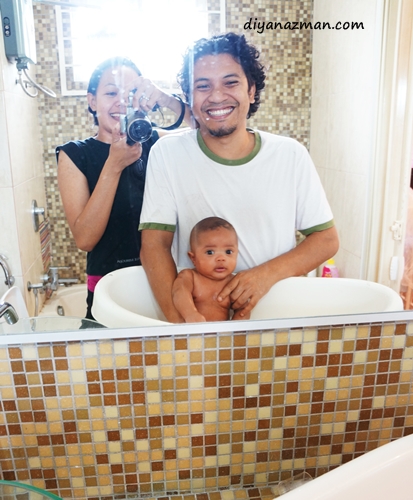 Mandi Time
In October a bad incident happened and we suffered about RM11K of lost. I was quite devastated but Allah is Great, after that rezeki was still pouring in. Qadak and Qadar I guess, things have been written for us by Him. Our whole year was full of affluence takkan satu kesedihan tak boleh nak terima? Alhamdulillah. Allah is Great. We are still happy as can be.
In November I worked my butt off for an international conference at KL Convention Center. I enjoy my role as a Mum of two and try my best to be the best mom. Miki gets smarter everyday (and naughtier too). Rafa grows so quickly too and he is oh such a cutey and delightful little baby.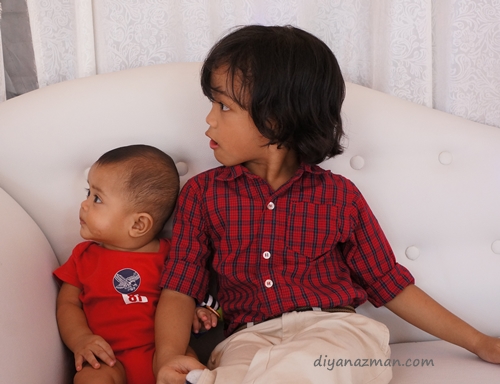 Miki and Rafa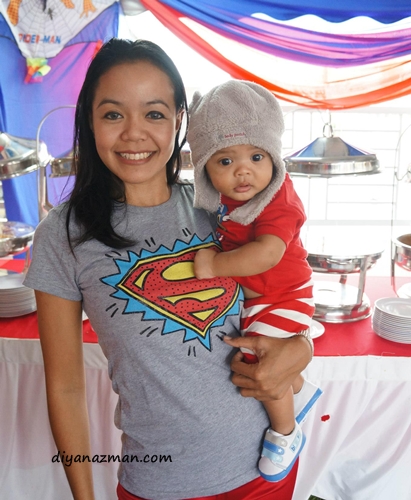 Mummy and Rafa
In December I got a surprise – one month bonus by company. Happy,  because we were not supposed to get any in the first place.  We registered Miki at Lil Caliph in Bandar Kinrara and he will start school on 7th January. On 29 Dec, Rafa turned 6 months.
To sum it all up, I can say that 2012 is one hell of a year. It was rollercoaster ride all throughout the 12 months. All year we were drinking cocktail of happiness, thrill, excitement, stress and surprises. But most of all – it was HAPPINESS!  The year started well and ended really good. We were very blessed. Alhamdulillah.
I look forward to an adventurous 2013. Stay tuned peeps! Here comes Diyanazman clan with a new addition -Tiger Rafa! Roarrr!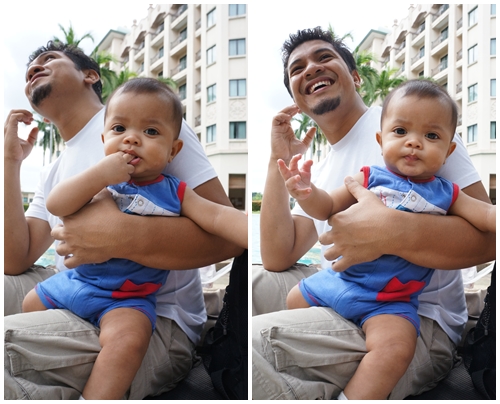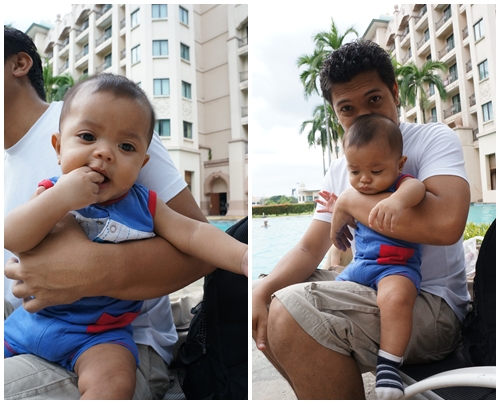 Israel Palestinian Conflict: The Truth About the West Bank
Posted: 02 Jan 2013 05:05 PM PST
Orang Miskin Dilarang Sakit, Tiada Ubat Percuma Lagi Di Hospital Kerajaan
Posted: 02 Jan 2013 07:14 PM PST
K
erajaan henti bekal ubat percuma, rakyat tanggung kos sendiri
PETALING JAYA 2 Jan: Orang ramai tidak lagi berpeluang mendapat ubat percuma dari hospital atau klinik kerajaan sebaliknya perlu menanggung sendiri kos menerusi swasta ekoran dasar baru yang bakal dilaksana Kementerian Kesihatan tidak lama lagi.
Pengerusi Biro Kepenggunaan KEADILAN, Yahya Sahri berkata, maklumat diterimanya menyatakan Kerajaan Persekutuan menangggung RM1.2 bilion untuk membiayai ubat-ubatan pesakit dan ia meningkat 10 peratus setiap tahun.

Oleh sebab itu, kementerian dikatakan terpaksa menghentikan pengedaran ubat-ubatan secara percuma.

"Antara ubat paling banyak diberi kepada pesakit ialah paracetamol (ubat demam) dan ubat penahan sakit, piriton (selsema) dengan kos 10 sen setiap biji. Kementerian membelanja lebih RM1.2 bilion dan ia meningkat 10 peratus setiap tahun.

"Maka satu sistem baru akan diperkenal dalam masa terdekat. Kementerian Kesihatan tidak lagi membekalkan ubat kepada pesakit, tetapi perlu membelinya sendiri di farmasi," katanya pada sidang media di Ibu Pejabat KEADILAN hari ini.

Yahya berkata, sistem itu jauh berbeza pada masa kini apabila kementerian menanggung segala kos rawatan, konsultasi dan perubatan.

"Kami mendesak dasar baru itu dibatal serta-merta kerana ia jelas membebankan rakyat terutama golongan berpendapatan rendah selain kos sara hidup setiap hari kian melonjak.

"Kita juga desak dasar sedia ada dikekalkan kerana kami yakin jika kewangan negara diurus dengan tata kelola baik termasuk membasmi rasuah, rawatan kesihatan percuma boleh diberi kepada seluruh rakyat sebagaimana dinikmati di beberapa negara Eropah," katanya.

Mengikut data Kewangan Kongres Kesatuan Sekerja Malaysia (MTUC), ketika ini, 72 peratus daripada 12 juta pekerja Malaysia bergaji RM700 hingga RM1,500 sebulan dengan purata mereka mempunyai tiga orang anak. Dasar baru ini pasti akan membebankan rakyat.

Turut hadir dalam sidang media, Ahli Dewan Undangan Negeri (Adun) Sikamat, Aminuddin Harun dan Setiausaha Kewangan (MTUC), Alias Awang. -KD


Does Israel Have No Roots There in History? By Richard Elliott Friedman
Posted: 02 Jan 2013 04:50 PM PST
On Sept. 24, the president of Iran informed reporters that Israel has "no roots there in history" in the Middle East. Now a lot of good jokes come to mind at the expense of this clueless man, but, seriously folks, he has at least conveyed an important truth: he recognizes that Israel's historical presence in that world since antiquity matters -- matters enough to deny it. Now, the Bible pictures an Israelite-Jewish population and government there starting in the 12th century B.C.E. and continuing until the end of the Bible's history about 800 years later. But how do we know if this is true? As scholars, we can't just say, "The Bible tells us so." We need to see evidence that could be presented to any honest person, whether that person be religious or not, Jewish or Christian or from some other religion or no religion, or from Mars.

In the first place, the land is filled with Hebrew inscriptions, so I begin with that. These are not just an occasional inscription on a piece of pottery or carved in a wall. Nor should we even start with one or two of the most famous archaeological finds. Rather, there are thousands of inscriptions. They come from hundreds of excavated towns and cities. They are in the Hebrew language. They include people's names that bear forms of the name of their God: YHWH. This means names like:
Hoshaiah, which means "YHWH Saved"

Ahijah, which means "YHWH is My Brother"

Shemariah, which means"YHWH Watched"
The inscriptions also refer to their kings. They include stamps and seals from official documents. They come from tombs where that land's people were buried. They name people who are mentioned in the Hebrew Bible. They include wording that also appears in the Hebrew Bible. They reflect a widespread community whose dominant language was Hebrew, who didn't eat pork and who worshipped a God named YHWH.

I happened to be present at the time of the discovery of another important inscription in Jerusalem. Right below the Church of Scotland in Jerusalem, in a Jewish tomb from the seventh century B.C.E., was a silver cylinder with the words inscribed in it: "May YHWH bless you and keep you. May YHWH make his face shine to you and give you peace." It is the words of the Priestly Blessing in the Hebrew Bible (Numbers 6:24-26). That's just one inscription. The distinguished scholar Jeffrey Tigay of the University of Pennsylvania sums up: "The names of more than 1,200 pre-exilic Israelites are known from Hebrew inscriptions and foreign inscriptions referring to Israel." Of these, 557 have names with YHWH as their divine element, 77 have names with El.

As for those foreign inscriptions, texts from the neighboring lands refer to the people, to their kings, to their government, to their armies and to their cities. The basic fact: everybody knew that Israel was there: the Egyptians, the Assyrians, the Babylonians, the Arameans, the Moabites, the Persians. Pharaoh Merneptah (1213-1203 B.C.E.) refers to the people of Israel in a stone stele. Pharaoh Shoshenk I (c. 945-924 B.C.E.) describes his campaign in which he refers to cities in Israel (including Ayalon, Beth-Shan, Megiddo, Rehob and Taanach). Assyrian King King Shalmaneser III names King "Ahab the Israelite" among his opponents in his Kurkh monument and names and pictures King Jehu on his Black Obelisk. Seven other Assyrian emperors also refer to Israel and Judah and name kings who are also mentioned in the Bible. 
The Babylonian sources, too, refer to the Jews and their monarchy in the years after the Babylonians replaced the Assyrian empire. And the record continues when the Persians replace the Babylonians, as documented in the Cylinder of Cyrus, the Persian emperor. Cyrus' decree in 538 B.C.E., let the exiled Jews return to their land; it was followed by an influx of Jewish population. There was population growth from the reign of Darius I to Artaxerxes I. The country that the Babylonians had conquered was reestablished as a state of Judah (yehud medintha) within the Persian umbrella. You want irony? Persia, now called Iran, the country that re-established the Jews' country in biblical times, now has a president who says that Israel has no roots there.

Also from that period come the Elephantine papyri, a collection of documents that include letters from the Jewish community in Egypt in the fifth century B.C.E. to the Jewish community back in Jerusalem. Closer to home, right across the Jordan River from Israel was Moab, in what is now Jordan. In the ninth century B.C.E., its King Mesha erected a stele referring to Israel and its King Omri. He also refers to the royal House of David. An inscription erected by an Aramean (what is today Syria) also refers to a king of the House of David. In all, these ancient texts refer to 15 kings of Israel and Judah who are known from the Bible, and all are referred to in the right periods.

Material culture (in other words: stuff) fills out this picture. Thousands of people have now walked through the Siloam Tunnel under Jerusalem. It is a major feat of engineering. It is a passage nearly six football fields long underground. A tremendous project like this and others that we shall see reflect a major organized society with a government that could bring such an undertaking off. If it were done today, the governor would be there for photo opportunities, and the architect and builder would be honored. When it was done 2,700 years ago, it took a substantial number of workers and tremendous cost.

Likewise, when my students joined in the City of David Project archaeological excavations of Jerusalem under the archaeologist Yigal Shiloh, they uncovered the now visible "stepped stone structure." Whatever purpose it served -- defense, soil or water retention, a platform for some other major structure -- it was a huge project. It wasn't something that a couple of friends assembled. It required community organization, planning, design, a large number of construction workers and funding. The archaeologist John S. Holladay, Jr. thus speaks of the "archaeologically discernible characteristics of a state" from the 10th century B.C.E. on. These include a pattern of urban settlements in a hierarchy of size: cities, then towns, then villages, then hamlets. 
They have primary seats of government (i.e., capital cities): Jerusalem and Samaria. Then they have major cities as regional centers: Hazor, Megiddo, Gezer and Lachish. They have centralized bureaucracy. They have frontier defenses. They have standing armies. They have economics based on tribute, taxes and tolls. They have a writing system. Holladay lists all of these and more in showing how we know that there was a populous society with a central government from this early stage of the biblical period. Holladay published this in 1995. We can now add more: central planning of the architecture and layout of towns, a distinctive alphabet, standard weights and measures. And we can add that the Israelite sites lack pork bones. The archaeologist Elizabeth Bloch-Smith seconds the point, that the material culture is clearly Israelite starting from the Iron II period (950-600 B.C.E.) at the latest.

We can also see the changes in the Hebrew scripts on the inscriptions developing through time, and we can actually date texts based on this. (An eighth century letter aleph doesn't look the same as a seventh or sixth century aleph.) The study of these scripts and the inscriptions is called epigraphy. Many biblical scholars go through training in this field. The point is that this doesn't happen overnight. It takes centuries for these scripts to go through all these changes. So (1) we can date texts, and (2) we know that the Hebrew of these inscriptions was the language of the people of Israel and Judah, not just for a year or a decade or a century, but for many centuries.

In parallel, we can trace the development of the Hebrew language as found in the Bible and the other ancient texts. We didn't move from Shakespearean English to Valley Girl English overnight. That takes centuries. Likewise, the Hebrew of the Song of Miriam and the Song of Deborah, which are the two oldest texts in the Bible, is different from the Hebrew of the late book of Nehemiah. Hebrew existed as a language that went through all the natural stages of development that we find in any language that people continuously speak and write over very long periods of time.

And then there is the literature itself. What we now know of who wrote the Bible reflects, conservatively, that there were 75 to 100 authors and editors of the Hebrew Bible, and quite possibly a lot more. The literary study of the Bible that has blossomed in the last 40 years has revealed the artistry in so many of these works. Such a huge quantity of prose, poetry and law did not pop up overnight. Or in a year. Or in a century. It had to take centuries and a thriving culture to compose. Great literature (like a bacillus) can only develop in a culture. It is not chance that Russia produced so many superior novels, or that the British isles produced so much superior poetry. For ancient Israel to have produced so many fine authors required a culture that welcomed and fostered such literature over centuries. And the linguistic evidence confirms this, and so does the epigraphic evidence, and so does the archaeological evidence.

The point of this is how vast the array of the evidence is. 
This is not a vague hypothesis. It is not formulated by overestimating or overinterpreting a single little find. It is not like an Indiana Jones movie (though we love them), in which the archaeologist goes looking for a single object. This is a civilization: between 400 and 500 cities excavated, hundreds of years, thousands of items in writing, millions of people. This evidence was not discovered by an individual or even by a small group. It was assembled by hundreds of archaeologists, with tens of thousands of workers, coming from many religions and many countries. Some archaeologists hoped to confirm the Bible. Some seemed to take pleasure in throwing the Bible into doubt. There have been frauds, and there have been mistakes, aplenty, as in any other field. But the mass of the evidence remains available to all. We can see and continually refine a picture of ancient Israel.

We can (and do) have a million arguments about almost every aspect of the Bible. But what we cannot deny is the existence of the world that produced it. That fact is not true just because the Bible says so. It is true because practically everything says so.

We don't all agree on matters relating to the present politics of Israel and its neighbors. That's OK. It's even healthy. But let no one repeat this nonsense about Israel not having its historical roots there. One cannot understand the Jews or Israel if one displaces the first 1,000 years of their history.
Huffington Post
Why Israel Needs the Bomb - It's the only country whose right to exist is routinely questioned, and its conventional military superiority in the region is being challenged
Posted: 02 Jan 2013 04:28 PM PST
By Mark Helprin Sixty-five years after Germany's campaign to exterminate the Jews, of the many countries in the world Israel is the only one repeatedly subjected to calls for its extinction. Though Pakistan and India, like Israel and the Arabs, have suffered population exchange and territorial wars, neither questions the other's right to exist. So rare and extreme is such a position that one might think the countries of Europe, so many of which cooperated in hunting down their Jews, would do more to recognize its endemic presence in the Middle East. 
They don't—their publics having largely accepted that, in regard to the question of Palestine, Arabs were the victims and Jews the victimizers and colonialists to boot. Even though, strangely for colonialists, the Jews had no mother country and it was their armed struggle that ejected Great Britain from the Levant. Conveniently forgotten is that the Jews accepted partition and the Arabs did not; that half the Palestinians who left in 1948 did so of their own volition; that more Jews left and were expelled from Arab countries than Arabs left and were expelled from Palestine; that Arabs were able to remain in Israel whereas the Arab states are effectively Judenrein; that Israel ceded the Sinai for a paper treaty, and Gaza in return for nothing but rockets and bombs; that, amidst a sea of Islamic states, it has accepted a Palestinian state while the Palestinians indignantly refuse to recognize it as a Jewish state; and that it was ready to compromise even on Jerusalem had Yasser Arafat been willing to take yes for an answer. 
And conveniently forgotten in fallacious references to a cycle of violence is that—following from their oft-stated call for the destruction of Israel— Hamas, Hezbollah (which is more or less an Iranian expeditionary force), Iran itself, and the Arab confrontation states are the parties that want to change the status quo, by violence and by their own flamboyant admission. It exists, they assert that it has no right to exist, they act to destroy it, and then they claim that they are resisting it. Last week, the Iranian president traveled 1,000 miles from Tehran to stand on Israel's border and threaten annihilation. One can only imagine the hysteria—not only in Iran but in London and Paris—if Israel's prime minister were to go to the Iranian border and do the same.
In many quarters, such startling asymmetricality in regard to the question of Palestine, which is also the question of Israel, is made acceptable by the conviction that as long as the Palestinian refugees remain unassimilated by their brethren, and as long as their flag doesn't fly from the Mediterranean to the Jordan, they are the underdog. Of course, the underdog is not always right, and nor are the Palestinians, backed by the power of the Arab states and Iran, exactly the underdog.
The popular view of Israel as a "regional superpower" that at little cost to itself rolls over its opponents has for decades been sustained by Arab propaganda, Western anti-Semitism, and Israeli braggadocio. It exempts those who subscribe to it from the burden of knowing the orders of battle and the geography and history of the conflict, and—in regard to Israel's ongoing casualties or in the event of its destruction—serves as a preset moral salve.
But Israel has seldom gotten off easily. In the 1948 War of Independence it had 30,000 casualties, including 6,000 dead, which given its population was proportionally as if today 2.6 million Americans were killed, more than all the deaths in all the wars in our history. In the 1967 War, in just six days of battle that created the legend of its invincibility, the proportional figure is 118,000—20 times the number of Americans killed in Iraq and Afghanistan since 2001. The numbers for the subsequent War of Attrition are much the same, higher for the October War of 1973, and civilian and military deaths continue even through relatively peaceful interludes.
In 1973, having overwhelmed the Bar-Lev Line, crossed the Suez Canal, downed a significant portion of the Israeli Air Force, and penetrated deep into the Sinai, an elated Egyptian army found itself with virtually nothing between it and Israel's heartland. The accepted narrative is that the Egyptians could not conceive of going forward, were frightened, and had insufficient supply. They could conceive fighting in Israel. They had fought there in 1948, and sat on the border for all but six years since. Having beaten back the Israelis, they were anything but frightened, and their lines of supply were adequate. But knowing that had they continued, their concentrations of armor would have been vulnerable to tactical nuclear weapons, that if Israel's existence hung in the balance so would Cairo's and Alexandria's, and that the whole of Egypt could drown in the flood of a breached Aswan Dam, they went no farther.
Partly as a result of the steady development of Saudi air power in response to Iraq and Iran, Israel's potential antagonists are closing the gap in numbers and quality, and the Israeli Air Force does not offer the same margin of safety that once it did. With the Arabs' approaching 1.3/1 advantage in first-line aircraft, 2.9/1 in second-line aircraft, and an enormous 12/1 advantage in mobile air defense, many new options open if Arab unity coalesces as it did prior to the three major Arab- Israeli wars, in all of which Israel's existence was at stake and the result unpredictable. If Turkey is included, as it might be, Israel's prospects become seriously darker. 
Other than a direct nuclear strike, what it most has to fear is that a combination of states will throw all their aircraft against it at once while advancing a surface-to-air-missile umbrella to threaten Israeli planes and provide sanctuary for its own. Though the Israeli Air Force is qualitatively superior and its imaginative responses cannot be counted out, the steadily improving professionalism of the Arab air forces, their first rate American and European equipment, their surface-to-air-missile shield, and most importantly their mass, are potentially a mortal threat. For if the Israeli Air Force is sufficiently degraded, Israel's prospects on the ground will follow proportionately.
In light of the fact that the conventional balance can change and is changing, one of the many purposes of Iran's drive for nuclear weapons is not merely to wait for a lucky shot at Tel Aviv but to neutralize Israel's nuclear deterrent so as to allow a series of conventional battles to advance Israel's downfall incrementally.
The military strategy of Israel's enemies is now to alter the conventional balance while either equipping themselves with nuclear weapons or denying them to Israel, or both. Their calls for equation of the two sides in a nuclear-free Middle East leave out the lack of equation in aims. Israel cannot dream of conquering its adversaries and replacing them with a Jewish state. But from war to war its adversaries have made their intentions clear, and as their mass and wealth are applied to their militaries over time, Israel's last line of defense in a continual state of siege is the nuclear arsenal devoted solely to preserving its existence.
Mr. Helprin, a senior fellow at the Claremont Institute, is the author of, among other works, "Winter's Tale" (Harcourt), "A Soldier of the Great War" (Harcourt) and, most recently, "Digital Barbarism" (HarperCollins). WSJ