---
Posted: 25 Feb 2013 08:17 AM PST
Whenever I go for a karaoke session with friends, I never fail to sing
Close to you
and
Something In Your Eyes.
What to do? Loyal fan of The Carpenters.
For me, the eyes reveal a lot. I would never trust anyone who does not look at me in the eye when talking to me, and would definitely stay away from those who look the other way. Such body language speak volumes. Yet, it is also easy to fall in love with someone who has beautiful brown eyes. I think the most telling part of man is our eyes. That is for sure.
According to
Wikipedia
:
Something in Your Eyes
is a song from Richard Carpenter's debut solo album,
Time
.
It reportedly was to have been the lead single off what would have been the Carpenters' follow-up to their 1981 album
Made in America
; however, Karen Carpenter died before having had the opportunity to lay down a vocal track (although, according to Richard's album notes, Karen had been very excited and looking forward to recording the song).
Richard ultimately chose Dusty Springfield to record the vocal in conjunction with his arrangement, backing vocals and instrumentation. It peaked at #12 on the Adult Contemporary chart.
In 2008, the song was released and revived by Philippine singer Claire de la Fuente as her comeback single from the album Something in Your Eyes. (Wikipedia).
Click here for Dusty Springfield's version of Something In Your Eyes.
 This version is my favourite because of the way she projects the emotions in her singing.
Click here for Claire de la Fuente's version.
It is a good interpretation but nothing compared to Dusty Springfield's version.
And
OVER HERE
is my version of the song. Bad recording. I did something to the settings and the playback is of poor quality so the minus one track is way too soft. Still, I sang it twice this evening and recorded this the second time. Nothing great but it IS one of my favourite songs because I am a die hard romantic - the type that expects to be wooed and then swoon, collapse. The former never happened but faint - yes :-). The recording is quite soft cos it was almost midnight when I sang this. Listen at your own peril!
Something In Your Eyes
There was a certain face
That filled a thousand nights
With all the sweetest dreams and promises
Of paradise
But that face was gone
When the dawn would come and steal you
Yet I still could feel you
Waiting just a kiss away
I'd surely know your face
When love would cast its spell
I'd recognize each curve and line of you
I knew it well
Now at last you're here and I can tell
(*) Something in your eyes it seems
Is all I've ever wanted
(And) Something in your smile for me
Is calling out my name
Your eyes, it seems,
Are mirrors of my dreams
In ways I can't explain
And my heart will never be the same
We never said a word
As if we'd always known
That through the bittersweet of waiting
We were not alone
Now we're close enough
For the touch of love to find us
Fantasies designed us
But they never really could
Begin to measure you
No pictures ever do
And as I watch you framed in sunlight
And a sky of blue
I know what my life's been leading to
Pakatan manifesto: Dodging the people
Posted: 25 Feb 2013 08:22 AM PST
Let's apply some logic and arguments to the 10-point general election manifesto announced by Pakatan Rakyat yesterday. My argument in red.
1. Shutting down the Lynas plant - as part of the coalition's environmental sustainability policy, Pakatan pledges to stop the Lynas rare earth refinery in Gebeng, Pahang.
(
Once they form a government, they will have to compensate Lynas Australia for such an action, and it will not going to be cheap. 'Environmentalist, they are, PR should also shut down all coal-based power station i.e the one in Kapar and invest a few billion ringgit for hydro-based turbines. All plans for a nuclear-based power generation will be jettisoned, leaving Malaysia lagging behind other developing nations in that area
).
2. Abolishing the AES - Pakatan argues that the automated enforcement system (AES) for traffic offences has endangered lives and enriched cronies, and thus will be immediately stopped.
(
What nonsense! If we dont come down hard on traffic offenders by not issuing any summon and producing them to court, our roads will be like race tracks. Educating the users take a lot of time and money. May as well PR takes off the speed limit on all roads and see whether the number of accident and casualty take a dive or multiply
).
3. Putting the brakes on healthcare tax - Pakatan promises to provide free basic healthcare and thus will stop longstanding plans to introduce a healthcare tax.
(
Crap! There is no such thing as free basic healthcare in most countries, unless each and every Malaysian subscribes to medical insurance, which still requires you to pay for the premium. This idea would see all healthcare product manufacturers leaving the country. BN government has been subsidizing much on healthcare for the rakyat. However, a free basic treatment will also lead to the private hospitals and clinics close shop. Who will bear the cost as the subsidy is already eating almost 15 per cent of the government's pocket. Stupid idea!
)
4. Promoting media freedom - The coalition says it will abolish all legislation that restrict media freedom, including the Printing Presses and Publications Act 1984 (PPPA).
(
OMG! Then Anwar, Kit Siang, Karpal, Nik Aziz and the rest must bear all consequences should racial and religious divide take to the media by extreme. Any backlash will augur well in bringing the whole country down. If The Star comes up with a page-1 headline that reads, "Anwar the motherfucker" or Utusan's "Pelir Nik Aziz lemah", it will also bring about 'positive' result in educating our present and future generations about our new culture
).
5. Freeing all ISA detainees.
(
Brilliant! Forgive them and repeal all laws that had helped kept the nation stable and peace since Independence. Close down most of the existing prisons and replace them with special housing project for the detainees, give them good jobs and other perks. As we cannot tell the public to accept rapists, subversive agents, drug dealers, armed robbers, black money dwellers and murderers, PR government will engage them. Should someone is proven to pose danger to our stability, apply reverse-psychology by giving them a top post somewhere in the government
).
6. Affordable housing - Pakatan says it will build 150,000 affordable homes in the low-cost category (below RM75,000) and medium-cost category (below RM250,000) within its first term.
(
As BN has already proven its word in this area, perhaps PR can offer a house at RM25,000 and below, including in the urban areas. As part of their 'Negara Kebajikan', its better to give it free to those in need of houses. No need to pay for the contractors as they can submit to PAS' amal jariah concept, whether they are Malays, Chinese or Indians. PR government will have to spend billions of ringgit to open up new downstream industries for the housing sector i.e cement, tiles, roofing etc. They may also train the ex-ISA detainees and school dropouts for the job, at RM100 per hour
).
7. Policing - To deal with rising crime, Pakatan says it will reallocate human resources to increase the size of the Criminal Investigation Department by reducing the General Operations Force and other non-core task personnel.
(
Why not task them with general works, as rubber tappers or palm oil plucker. Since PR is so convinced that crime rate will stand at almost NIL during its administration, better reclassify those in the police and armed forces. They can help our fishermen and those in the plantation sector. No need to patrol the streets as nobody would want to indulge in any form of major crimes, especially under PAS hudud.
)
8. Free education, abolishing PTPTN - Describing education as the people's right and the government's responsibility, Pakatan says its administration will bear tertiary education fees and subsidise fees in private institutions.
(
Fine enough! All will get free education, scholarship for overseas study and other benefits. We don't have to encourage our kids to study hard as each and everyone of them will get a good job even though they flop in their final exam. We will notice what kind of undergraduates and graduates we produce when we feed them with everything free. Pakatan must have plenty of money for all these dream. Wonder if Anwar's friends in the US, Britain, Australia, Singapore and Israel were given free education and full scholarship. So, our students will not have to compete against each other as a grade 3 university graduate can easily become a surgeon or architect or engineer. Just wait for their job result! I don't think Anwar or Karpal dare to engage such a surgeon or engineer!
)
9. Lowering fuel, electricity and water charges - Pakatan's manifesto argues that the country's oil revenue should be shared with the people in the form of cheaper fuel prices.
(
I second the notion! Pakatan will have to down-structure the salary of those working in the sectors, ensuring that all households and industries get to pay minimum bill every month. But why not for free under its 'Negara Kebajikan' concept? The National Grid must be revised as not to trip frequently due to lack of supervision (over low pay) and regular check. TNB will eventually has to close shop over multiple losses and industrial action by its workers. Petronas, on the other hand will have to rely on its overseas investment for profit. Water? If Selangor and Kelantan are not able to solve the water issue, how are they going to manage the national supply?
)
10. Reducing foreign workers by 1 million - Pakatan said it will introduce a 'comprehensive package' to ensure the removal of one million foreign workers within five years to allow locals to take up the jobs.
(
Hahahahaha! Not even foreign workers would leave the 'Welfare State', most locals too will opt for jobs overseas. When the inflow of FDIs comes to a halt due to the impracticality of PR policy, the country will have to go back to where it once belonged - a fully agricultural-based economy. But still, its okay as it will make us self-sufficient in many aspects. However, instead of 'sending off' the foreigners, its wise for PR to utilise them. Give them PR or citizenship, just like what Anwar did in the 1992 IC Project in Sabah. Hope he remembers!
)
What else? The manifesto was based on 'moral value' and 'universal principle'.
Whose moral was it based-on? Anwar? Nik Aziz or Lim Kit Siang?
Terbaik Dari Ust Hadi: Zaman Firaun Dulu Pun Ada BR1M
Posted: 25 Feb 2013 09:07 AM PST
P
emberian "one-off" seperti Bantuan Rakyat 1Malaysia (BR1M) oleh kerajaan Umno-BN akan melahirkan budaya mengemis dan mengajar rakyat untuk patuh kepada pemimpin walaupun mereka zalim dan menekan rakyat.
Malah, kata Presiden Datuk Seri Abdul Hadi Awang, "pemberian BR1M" juga dijalankan pada zaman dahulu ketika pemerintahan Firaun yang zalim dan ditentang Nabi Musa.

Abdul Hadi berkata program bantuan kerajaan persekutuan itu sepatutnya mencerdikkan rakyat, sebaliknya, rakyat didakwa menjadi pengemis walaupun bantuan itu adalah wang rakyat sendiri.

"Zaman Firaun dulu pun ada BR1M," kata Abdul Hadi, sambil senyum.

"Firaun memberi duit tapi menyekat rakyat. Dia kerahkan kaumnya dan dikumpulkan di satu tempat.

"Kemudian dia memberi ucapan bahawa projek yang disalurkan kepada rakyat adalah projeknya. Firaun menjadikan rakyat ringan akal," kata Abdul Hadi di dalam ucapannya di konvesyen Pakatan Rakyat di sini hari ini.

Abdul Hadi menjelaskan konsep dasar PR adalah untuk mengangkat martabat rakyat supaya boleh berdikari dan berdaya-saing. Bukan seperti Umno-BN yang mahu rakyat mengemis.

"Kita mahu ajar rakyat agar dimampukan dan bukan rakyat jadi pengemis. Maka dengan Buku Jingga kita mampu laksanakan konsep rakyat dimampukan."

Abdul Hadi turut menasihati rakyat agar tidak mengundi BN, walaupun menerima BR1M.

"Kamu (rakyat) bukan ayam, itik, tapi kamu manusia.Jika diberi dedak atau hampas kelapa kita (rakyat) beri makan ayam. Lepas itu kita makan ayam itu balik," katanya.





Firaun pun bagi 'BR1M', kata Hadi






Presiden PAS Datuk Seri Abdul Hadi Awang hari ini mengumpamakan bayaran Bantuan Rakyat 1Malaysia (BR1M) oleh kerajaan BN dengan tindakan Firaun di Mesir yang menurutnya memberi kekayaan demi menyesatkan pemikiran rakyat Hadi yang membacakan kutipan ayat daripada Al-Quran itu menceritakan semula kisah Nabi Musa berhubung sikap Firaun yang cuba "membodohkan rakyat" itu.

"Cerita BR1M ini bukan cerita baru. Al-Quran sudah menceritakan lebih lima enam ribu tahun yang lalu, Firaun telah (agih) BR1M," katanya sambil diringi gelak ketawa perwakilan di Pusat Konvensyen Shah Alam.

Beliau menceritakan bawah Nabi Musa pada awalnya meminta Allah menjelaskan mengapa Firaun diberi kekayaan yang banyak.

"Nabi Musa berdoa wahai Tuhan kami, mengapa engkau beri kepada Firaun, kekayaan yang melimpah ruah. Dengan kekayaan itu, digunakan untuk menyesatkan rakyat bukan untuk membela rakyat," katanya.

Seterusnya, beliau menceritakan pula mengenai keangkuhan Firaun yang mendakwa berkuasa untuk memberi nikmat kepada rakyat berkenaan.

"Firaun telah mengarahkan rakyat Mesir, dikumpul beramai-ramai, dan Firaun berucap. Tidakkah aku menjadi pemerintah berkuasa di Mesir ini? "Sungai-sungai yang mengalir di kampung-kampung, ini adalah projek aku. Di bawah penguasaan aku.

"Aku (Firaun) yang bagi. Satu lagi projek aku (Firaun). Al-Quran berkata maka Firaun menjadikan rakyat ringan (meremehkan) akal dan membodohkan rakyat," katanya diiringi ketawa yang menggamatkan dewan konvensyen.

Beliau seterusnya menyeru rakayt agar tidak mengundi BN walaupun menerima bantuan tersebut.

"Cara BR1M, adalah tangungjawab kita untuk membijakkan rakyat. Rakyat dibijakkan, terima BRIM jangan undi BN. BRIM itu duit rakyat. Bukan duit poket BN. Beritahu rakyat, bahawa BR1M itu duit kamu, ambil," katanya lagi

Katanya, beliau yakin Pakatan mampu mentadbir Putrajaya selepas membuktikan kecemerlangan memimpin di negeri dikuasai Pakatan selama satu penggal.

"Insya-Allah kita buktikan sekiranya kita ke Putrajaya. Kita menunaikan janji Buku Jingga. Janji yang akan ditepati, bukan menepati janji selama 50 tahun.

"Kita tahu rakyat diperkudakan. Buku jingga menyelesaikan masalah, bukan membodohkan rakyat. Insya-Allah rakyat tidak boleh dibodohkan. Tanggungjawab kita mencerdikkan rakyat," katanya. -mk

Ulasan GB

Masalah utama kini pemimpin UMNO BN tak baca malah ramai diantara mereka tak reti baca Al-Quran walaupun mengaku Islam! Itu sebab tak jumpa kisah-kisah kezaliman pemerintah dan kerajaan zaman silam, malah mereka tidak menyedari menjadi pewaris kezaliman mereka.

Dan kita tunggu serta lihat para wartawan media massa arus perdana, bagaimana nanti mereka putarkan ucapan Ust Hadi berkenaan kerana mereka, sama seperti pemimpin-pemimpin UMNO BN yang tongong itu, tak nak baca Al-Quran.

Manakala seorang dua menteri yang berpendidikan agama pula termasuk para mufti, sentiasa menjadi pengampu yang menyembunyikan kebenaran!


ၾကံ့ဖြံ႕ေတြ တိုင္းျပည္မျငိမ္မသက္ျဖစ္ေအာင္ လူမ်ိဳးေရး၊ ဘာသာေရး အေၾကာင္းႁပုၿပီး အထိက႐ုဏ္းေတြ ၾကံစီဖန္တီး
Posted: 25 Feb 2013 06:13 AM PST
၂၀၁၅ မတိုင္ခင္မွာကို ၾကံ့ဖြံ႕ေတြ တိုင္းျပည္မျငိမ္မသက္ျဖစ္ေအာင္ လူမ်ိဳးေရး၊ ဘာသာေရး အေၾကာင္းႁပုၿပီး အထိက႐ုဏ္းေတြ ၾကံစီဖန္တီးလာေနပါျပီ၊
ျပီးခဲ႔တဲ႔ ရခိုင္မွာ ျဖစ္ခဲ့တဲ႔ အျဖစ္အပ်က္ေတြ ျပန္ၾကည့္ရင္ ဘယ္သူေသေသ ငေတမာရင္ျပီးေရာ လုပ္မဲ႔သေဘာ႐ိွတယ္။
Online မွာ စနစ္တက် ဘာသာ၊လူမ်ိဳးအထိက႐ုဏ္းျဖစ္ေအာင္ ဖြဲ႕စည္းလႈံေဆာ္ေနတဲ႔ အုပ္စုေတြ႐ိွေနပါတယ္၊
အလင္းေရာင္သမားေတြျငိမ္ေနရင္…
အေမွာင္သမားေတြ ၾကီးစိုးလာပါလိမ္႔မယ္။
နီးစပ္ရာ လူမႈေရးအေထာက္အကူႁပုအဖြဲ႕ေတြဆီ အေၾကာင္းၾကားဟန္႕တားၾကပါ။
Source: FB of Lu Cifer
အရွင္၀ီရသူရဲ႕ တရားေခြေတြကို စုျပီး ေခြကူးခိုင္းပါတယ္ သာေကတ မာန္ေျပမွာ သြားေ၀
မယ္လို႕ ေျပာပါတယ္ ……. ကၽြန္ေတာ္ မလုပ္ႏိုင္ေၾကာင္း ေျပာလိုက္ပါတယ္
လုပ္တဲ႕ သူက ရပ္ကြက္အုပ္ေရးမႈး (ၾကံခိုင္ေရး) တေယာက္ပါ
စဥ္းစားၾကည္႕ၾကပါ…… လူမ်ိဳးေရး ဘာသာေရး အထိမခံတဲ႕ ကိစေတြကို
ဘယ္လိုလူေတြက ဦးေဆာင္ေနသလဲဆိုတာ သိေစခ်င္လို႕ပါ။
၉၆၉ စေတကာေတြကို လိုက္ေ၀ေနပါတယ္
ေခြေတြကို လည္း လိုက္ေ၀ေနပါတယ္
စာရြက္ေတြကို လည္း လိုက္ေ၀ေနပါတယ္
ကၽြန္ေတ္ာ သေဘာကေတာ႕ ျပႆနာတခုကို ေျပေျပလည္လည္ပဲ ေျဖရွငး္ေစခ်င္ပါတယ္
ဒီလိုၾကီး ၀ါးလံုးခ်ီးသုတ္ ရမ္းေနတာေတာ႕ သေဘာမက်ပါ။
(Credit to Chan Myae)
[HOT] Risikan Tentera, Polis Yakin Pakatan Menang, Rangka Pelan Keamanan
Posted: 25 Feb 2013 06:22 AM PST
B
Tentera dan polis yakin Pakatan Rakyat akan menang pada Pilihan Raya Umum ke 13, kata Leftenan Jeneral (B) Datuk Abdul Ghafir Abdul Hamid.
"Risikan dari tentera dan polis mengatakan bahawa mereka yakin Pakatan akan menang.
"Mereka juga merangka rancangan bagaimana untuk menjaga keamanan negara," kata bekas Timbalan Panglima Angkatan Tentera Darat itu.

Beliau berucap demikian depan hampir 2,000 perwakilan pada Konvensyen Pakatan Rakyat ke-4 di Pusat Konvensyen Shah Alam (SACC) di sini hari ini.

Ghafir berkata, peralihan kuasa nanti akan berjalan lancar tanpa sebarang kekacauan seperti yang didakwa Umno BN.

"Saya percaya tidak akan ada revolusi yang akan terjadi kerana rakyat kita adalah rakyat yang berbudaya," kata Ghafir.

"Saya juga ingin memberi jaminan bahawa angkatan tentera kita adalah profesional dan taat kepada Yang DiPertuan Agong.

"Sekiranya pemimpin-pemimpin Pakatan dipanggil mengangkat sumpah untuk membentuk kerajaan, saya yakin angkatan tentera akan berada di belakang pimpinan ini," ujarnya disambut tepukan gemuruh.

Dalam pada itu, beliau menyokong penuh Manifesto Pakatan Rakyat yang disifatnya terbukti menjamin keadilan untuk rakyat.

"Tahniah kepada pimpinan Pakatan kerana berjaya hasilkan manifesto terbaik untuk mengangkat martabat rakyat khususnya rakyat miskin.

"Ia ternyata bukan sekadar retorik, tapi ada implikasinya," kata Ghafir. -KD


'Blanket deportation' as good as ceding sovereignty by Mat Zain Ibrahim
Posted: 25 Feb 2013 03:12 AM PST
An issue of territorial occupation in which Malaysia should have sent in the Army in the first place but instead due to some chicken brain Ministers we expect the Police and Immigration to handle it with fragile care. Leading two weeks into the controversy and turmoil the Home Minister who went in to look at the situation like a Rambo Hero turns yellow and decides that the Foreign Minister hailing from the Land Below the Wind has a better understanding of "What wind blew the armed men here ? 
And if the Foreign Minister can't resolve this my next guess is he will ask his brother, the Chief Minister of Sabah to grant them a hospitable stay due to some blood relationship among their fore fathers as it is already has a precedent when the Philippine government was ready to whisk their long lost relative away to prison on a jet plane. This time the Pinoys, not trusting our Sabah Minister anymore think that a dragnet of an armada of patrol boats will do better justice. A comedy of grievous and bloody error - Black Mamba !
COMMENT
I am referring to the statement by Home Minister Hishammuddin Hussein that he has left it to Wisma Putra on the Phillipine's government request of an extension on the deportation of the Lahad Datu intruders.This gives Foreign Minister Anifah Aman an absolute authority to decide on the matter. I am not questioning the noble and sincere intention of any party to have this standoff brought to an immediate end and free of bloodshed as long as they are done within the framework of our laws.


Neither would I at this juncture question the wisdom of the prime minister to hand over authority to Anifah Aman (left), who hails from Sabah,who happens to be a younger brother to Musa Aman, the Sabah CM and who in turn is related to Manuel Amalilio, to decide on this crucial matter. What is important, is for Anifah to be advised by none other than the attorney-general that he has no right or power whatsoever to indemnify any one of the armed intruders or the other members of the group from each of their criminal culpabilities.

Anifah must realise that limitation. It is not like he is given a free hand to make his own decision anyway he likes or he is a law unto himself. Even the prime minister or the attorney-general themselves have no power to strike a deal with anyone facing criminal charges or being caught in a sticky political situation. This has been explained by the de facto law minister, Nazri Aziz in Parliament on March 30, 2011, in answer to a question on this issue.

Regardless of their status, ethnicity, ideology or purpose, the Sulu intruders have committed  serious criminal acts ranging from attempting or waging war against the Yang di-Pertuan Agong and the Yang di-Pertua Negeri, besides serious violations of the Penal Code, Firearms Act, Immigration Act, etcetera, etcetera. I beg to differ with Home Minister Hishammuddin when he says that the Lahad Datu standoff is different from several previous incidents such as those involving Al-Maunah, Abu Sayyaf and Jemaah Islamiah Malaysia.

Even a lay person knows that killing a person by strangulation, or by stabbing or by blowing that person into bits using explosives, is still murder as defined in the Penal Code and the punishment is still death by hanging, when the killer is found guilty regardless of the motive of the murder or how it was done. The difference here is only in the manner the murder was executed.The end result is the same, that a person is dead.

A standoff is still a standoff

A standoff is still a standoff whether it is an Al-Maunah standoff or a Lahad Datu standoff. It cannot be dealth with differently. The weapons smuggled in by the Sulu invaders are no less lethal than the weapons stolen from the 304 army camp by the Al-Maunah group. The Al-Maunah group's members are no less Muslims than the Sulu invaders if religion is to be considered. If the Al-Maunah gang members who surrendered were charged with waging war against the Yang di-Pertuan Agong and a few of them hanged, so must the same charges be preferred against the Sulu intruders when they surrender.

As such Anifah must be advised that he has no powers to promise or agree with the Phillipines government to deport all those intruders whether individually armed or not, without all of them being brought to face the full brunt of our laws, first. With due respect to Anifah, it is not within his purview to decide whether an act is criminal in nature or otherwise or whether the intruders should be charged in court or just let them go scot-free. Neither it is Hishammuddin's.


In the event Anifah is adamant in conceding to the Phillipines a "blanket deportation" of all the armed intruders to their homeland with the concurrence of Prime Minister Najib Abdul Razak, for any reasons whatsoever, without going through the due process of our laws and constitution, then not only both of them have made a landmark decision arbitrarily but they will be setting a very dangerous and vicious precedent.

That decision would effectively implies that armed invasion or incursion or anything of that sort into any part of our country whether for temporary or permanent occupation, are no longer prohibited but rather most welcome. Smuggling of any types of weapons and firearms into the country are no longer considered as crimes. Deporting the Sulu invaders lock stock and barrel and exempting them from criminal prosecution is as good as surrendering our sovereignty.

Our beautiful Malaysia can then be proudly proclaimed to have been transformed into a lame duck nation.
---
MAT ZAIN IBRAHIM is former chief of the Criminal Investigation Department, Kuala Lumpur Police Contingent. Malaysiakini
Return of PI Bala: Altantuya close to you, PM Najib
Posted: 25 Feb 2013 02:30 AM PST
By Md Izwan
February 25, 2013
SEPANG, Feb 24 — Private investigator P. Balasubramaniam returned to Malaysia today, vowing to help voters and Pakatan Rakyat (PR) oust the Barisan Nasional (BN) government in Election 2013. Balasubramaniam fled the country since he made a second sworn statement to refute his first statutory declaration (SD) that implicated Prime Minister Datuk Seri Najib Razak and his wife Datin Seri Rosmah Mansor in the 2006 murder of Mongolian Altantuya Shaaribuu.
Talks had been circulating that he was planning to return home and campaign for the federal opposition bloc. "I came back because I want to be with my fellow Malaysians.
We must change this corrupt government. "If we let them govern for 50 years more this country will be ruined," he told some 50 PKR supporters who greeted him at the Kuala Lumpur International Airport here upon his arrival from India.
The former private investigator also swore that he had made the second SD under duress while claiming that the allegations contained in the first statement was the truth.
Balasubramaniam
(picture)
had said in the past that he fled the country after he and his family received death threats.
"I had no other choice. I had to take my family out of the country," he said.
The former PI confirmed that controversial carpet dealer Deepak Jaikishan had assisted in the drafting of the second SD.
PAS Istihar kerjasama dengan ABU beri Amaran menjelang PRU
Posted: 25 Feb 2013 01:29 AM PST
Pengarah pilihan raya PAS Dr Hatta Ramli memberi amaran kepada golongan "warganegara segera" yang diberikan hak mengundi oleh kerajaan agar tidak mengundi dalam pilihan raya umum akan datang.
Hatta berkata, PAS kini bekerjasama dengan NGO Asalkan Bukan Umno untuk memburu golongan tersebut dan menakut-nakutnya individu terlibat, yang diberi kerakyatan untuk menyokong kerajaan BN, agar tidak mengundi.
"Kita akan pastikan mereka yang mengundi benar-benar rakyat Malaysia," katanya dalam konvensyen Pakatan Rakyat di Shah Alam hari ini.
Hatta juga berkata Pakatan juga akan memastikan untuk memastikan pertandingan satu lawan satu berlaku di kesemua 700 kerusi DUN dan kawasan parlimen.
Katanya, Pakatan kini di pusingan terakhir untuk menghadapi pilihan raya umum ke-13 dan PAS telahpun bersedia sejak dua tahun lalu. - petikan asal http://www.malaysiakini.com/news/222264
Penerima BR1M Yang Dipaksa Lafaz / Tandatangani Akujanji Perlu Lapor Polis
Posted: 25 Feb 2013 02:59 AM PST
V
ideo majlis sumpah undi BN tersebar di internet
Selepas beberapa blog sebelum ini melaporkan penerima BR1M di Kelantan dipaksa bersumpah untuk mengundi Umno BN, kini video rakaman satu majlis sumpah dipercayai ada kaitan dengan pendedahan tersebut pula tersebar.
Video sepanjang 1.29 minit itu dipercayai dimuat naik ke laman perkongsian Youtube sejak semalam oleh akaun pengguna JkkkFanClub dengan tajuk "Umno terdesak memaksa penerima BR1M ikrar sokong Umno PRU13".

Di bahagian bawah video tersebut tertulis maklumat bahawa insiden dalam rakaman itu berlaku di Kampung Temila, Pasir Puteh Kelantan.

Dalam rakaman yang dipercayai waktu malam di sebuah dewan itu, kelihatan beberapa orang lelaki berkopiah berada di hadapan menghadap sekumpulan yang lain.

Kedengaran pula seorang wanita mengepalai bacaan akujanji dan yang bersumpah dengan nama Allah akan mengundi Umno BN pada Pilihan Raya Umum ke-13 (PRU13), dengan diikuti oleh orang ramai.

Selain itu, mereka juga melafazkan kesediaan menerima balasan Allah jika tidak menunaikan janji mengundi Umno BN pada PRU13 ini.

Kedengaran juga beberapa kali bacaan lafaz janji itu ditegur oleh seorang lelaki akibat salah menyebut perkataan.

Lafaz akujanji tersebut antara lain berbunyi:

"Wallahi, wabillahi, wataalahi, dengan nama Allah kami bersumpah dan mengaku dalam keadaan yang waras akan mengundi Umno atau Barisan Nasional dalam pilihan raya ke 13 ini.

Dan kami bersumpah dan mengaku akan menyokong Umno atau Barisan Nasional demi untuk kepentingan agama Islam bangsa Melayu dan negara Malaysia.

Sekiranya kami melanggari janji-janji kami, kami dengan rela hati menerima pembalasan dari Allh swt."

Bagaimanapun tidak terdapat maklumat berhubung tarikh rakaman video tersebut dibuat.

Juga tidak dapat dipastikan sama ada video tersebut benar-benar ada kaitan dengan laporan penerima BR1M yang didakwa dipaksa bersumpah mengundi BN sebelum ini.

Harakahdaily akan cuba mendapatkan pengesahan dari pihak PAS kawasan terbabit berhubung kejadian dalam rakaman video ini.

Selain di Youtube, rakaman ini juga sedang tersebar meluar di Facebook dan Twitter sehingga mengundang pelbagai reaksi penonton. -HD





Ulasan GB

Rakyat yang dipaksa untuk melafazkan /menandatangani akujanji tatkala mengambil/menerima BR1M perlu membuat laporan polis.

Ia tidak boleh dipandang ringan.

Tindakan tersebut jelas menyalahi undang-undang dan perlu diheret ke maahkamah. Mungkin tindakan tidak dapat dilakukan sekarang kerana sistem kehakiman belum 100% bebas dan adil.

Tetapi apabila kerajaan PR memerintah dan sistem kehakiman telah dapat dibebaskan sepenuhnya, maka hakim mahkamah boleh mengisytiharkan pembatalan kemenangan kerusi calon yang tempatnya pernah memaksakan akujanji dilakukan semasa pemberian BR1M.

Jangan bagi peluang kepada UMNO BN yang mengkhianati wang rakyat ini.

Peguam-peguam PR tidak boleh memandang sepi hal ini.


SAMM bawa PI Bala untuk berdepan dengan rakyat pada 27 Feb, 8mlm di KLSCAH
Posted: 25 Feb 2013 01:04 AM PST
Kenyataan Umum
24 Februari 2013
Bala Selamat Sampai Ke Malaysia, Bakal Merungkai Misteri Di Sebalik Pembunuhan Altantuya
Setelah empat tahun menghilangkan diri, akhirnya P.Balasubramaniam (PI Bala) kembali ke Malaysia dengan selamat. PI Bala muncul di ketibaan antarabangsa KLIA pada lewat petang tadi dan terus disambut oleh ratusan orang dari pelbagai pihak termasuklah Solidariti Anak Muda Malaysia (SAMM).
Bagi SAMM, kepulangan PI Bala ke tanahair tepat pada waktunya malah ia adalah satu simbol keberanian dalam usaha menyelamatkan negara ini dari terus dikuasai pasangan 'penjenayah' bebas.
SAMM yang menyambut PI Bala hari ini tidak terkejut apabila tindakkan pertama beliau setelah sampai ke Malaysia ialah dengan tegas menyatakan akuan bersumpahnya yang pertama yang terpalit nama Najib Razak adalah benar. Ini menunjukkan betapa seriusnya PI Bala untuk merungkai segala simpulan misteri di sebalik pembunuhan Altantuya.
PI Bala merupakan saksi paling berwibawa dalam kes pembunuhan Altantuya yang berkait rapat dengan skandal penyelewengan pembelian kapal selam Scorpene. Ini adalah kerana PI Bala antara susuk yang terakhir bertemu dengan Altantuya ketika masih bernyawa. PI Bala juga dikatakan telah dibawa bertemu adik kepada Najib sebelum akuan bersumpah kedua dibuat susulan pertemuan tersebut.
Justeru itu, SAMM mempersiapkan sebuah pentas jelajah buat PI Bala sebagai saksi tragedi pembunuhan Altantuya, dengan sokongan pelbagai NGO dan gerup mahasiswa. Berikut adalah informasi bagi pentas yang pertama;
Talkshow:
Rungkai Misteri di Sebalik Pembunuhan Altantuya
Tarikh:
27 Februari (Rabu)
Masa:
8.30mlm
Venue:
Dewan KLSCAH (Berhampiran Monorail Maharajalela)
Panel:
PI Bala, Chegubard (SAMM), Cynthia (SUARAM) dan Khalid Ismath (KAMI) dan Zunar (Kartunis)
SAMM menjemput kehadiran semua termasuk pengamal media dan diminta juga agar program penting ini dapat dihebahkan dengan maksima.
Sekian
Avoid These If You Want to be Smart
Posted: 25 Feb 2013 12:30 AM PST
There are food that increases your intelligence by helping the brain to function better. There are also food that decreases your intelligence.  If you want to be smart and if you are working on making yourself even smarter, do not eat (or at least try to avoid eating them often) the food listed below.
Fast food - Everyone loves to eat quickly these days, but little they know that while eating quickly they are also damaging their brain rather quickly. There are so many researches that show results of fast food affecting the brain in the worst possible way.
Highly Salted food - Forget about your heart because any food that has high amount of salt is pretty bad for your brain as well. With high level of sodium high salted foods can cause some major brain issues.
Processed food - Stay away from any such product that has artificial additives because they may include hundreds of chemicals that could harm our brain in more than one way.
All these foods one way or another are bad for your brain, stay healthy and stick to the natural foods and maintain a healthy diet.
CLICK HERE for more tips.
Posted: 24 Feb 2013 11:53 PM PST
With all the resting and feasting, I put on 5 pounds during the CNY celebrations. Time to knock off that weight and to dream of a flat belly all over again!
CLICK HERE for ten flat belly tricks.
Posted: 21 Feb 2013 04:34 AM PST
It was sometime last month that my wife and I noticed a bunch of boys hanging out at a road junction in my neighbourhood. Saw that they were hawking Telekom Malaysia's Unifi service and so, we went over to talk with them. Had always been interested in Unifi ever since it was launched some three years ago. Couldn't believe that it took so long before it finally reached me!
Anyway, effective today, my house can be considered as officially Unified. The TM independent contractors came over in the morning to carry out the installation.
The Unifi service also carried a subscription to TM's HyppTV: television channels served through optical cables.
Initially, I was considering installing the Unifi equipment downstairs beside the television set but yesterday, I decided that I really didn't need HyppTV to clash with my Astro channels. Therefore, the installation went ahead upstairs in my present work area where I have my desktop computer. Perhaps I shouldn't term it as my work area because here's where my desktop's hooked up to my hifi system. This area upstairs has become a complete entertainment centre.
The contractors insisted that they had to instal HyppTV anyway, before I could sign off their work chit. But I don't have a TV set upstairs, I protested. No problem, they said. They'd just carry the TV set from downstairs temporarily. So I allowed them to carry up the old and humongously heavy television set from the living room downstairs just to test the signals before they carted the set down again. Well, even if I don't watch television much, at least I know that HyppTV works.
After they left, it was time for experimentation. First, I hooked up the HyppTV set box top to my little 19-inch computer monitor. I've heard that it could work, that it was possible to channel the video feed to a computer monitor, but a television doofus like me was totally in the dark. How to get it to work? Sweated buckets but eventually got it right - with the right cable. Next, I connected the audio cables to the hifi system. Wanted to "get the perfect sound" but later decided that it was a bit of a bother listening to audio that wasn't hitting me face on. So the next best alternative - which worked, luckily, because it was audio and not video - was to connect the audio cable to my desktop speakers which allowed for this sort of secondary input. So everything's all right now in the house...
ca-pub-5430283382112812
Siri Bercakap Dengan Miki – Syafinas Muka Kosong
Posted: 24 Feb 2013 08:34 PM PST
The excitement (and tension) level in our home has quadrupled significantly since Miki started schooling. Every day he has stories to tell, new zikir and doa to recite etc.  Sometimes, he blurt out the names of his friends and teachers for no reason at all. Like tengah –tengah makan.. tiba-tiba "NAUFAL IMAN!!". Tengah-tengah layan Ipad tiba-tiba "TEACHER AFNI!!".
Eh..eh… Ni baru betul meroyan.
Yesterday Miki overheard my friend– Anez's name while I chatted with Azman and told us he too has a friend named Anis. Anis Melissa (not her real name). There is also another girl in the class and her name is Syafinas (also not her real name).
Mummy Miki pun tanya soalan tak agak-agak. "Anis Zurina dengan Syafinas siapa lagi cute, Miki?"
Miki shyly answered "Syafinas…"
"Syafinas dengan Sarah siapa lagi comel?" I asked again. Sarah is his cousin in Penang.
"Sama comel…." He said. "Mummy tahu??" Tiba-tiba Miki cerita bersemangat, "Syafinas tu muka dia kosong!! Kosong betul! Muka dia takde apa-apa… kosong aje……"
"Muka kosong tu camana?" I didn't understand. Ko biar betul Miki, teacher dengan budak-budak lain nampak tak si Syafinas ni? Ke ko sorang je nampak dia?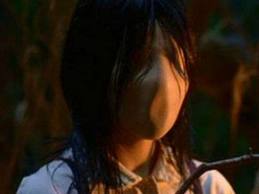 "Muka dia macam kosong la… Macam takde apa-apa….."
"Muka Mummy kosong tak?"
"Hmmmm…." He said while he came close and studied my face.. "Kosong jugak tapi ada ni!!" Miki pointed at my PARUT JERAWAT! *pitam*
So now I understand that muka kosong is actually a very flawless complexion. Hmmm… Tinggi taste ko Miki, awek comel nak yang flawless ajer… Haish!
"Tapi kan Mummy," he continued "Syafinas tu cakap tak keluar suara! Tak dengar langsung dia cakap apa… Baca ABC ke doa ke apa semua tak keluar suara!"  Hai dah flawless bisu pulak ke?
"Dia shy tu Miki…. "I explained.
"Tak… dia cakap dengan kawan dia je. Dengan teacher dia takut. Lagipun dia tak pandai sangat…" kata Miki lalu berjalan pergi.
Wahai Miki anakku, di dalam dunia ini ada ramai perempuan. Ada yang sangat cantik mempersonakan. Ada yang baik budi pekerti ada yang jahat macam setan. Tapi kalau yang muka cantik, kulit kosong licin, tapi kurang tahap kecerdikkan, ini kita namakan  b to the i to the m to the b to the o. BIMBO.
Ok, itu saja pesanan Mummy untuk hari ini! Bye baby! Mummy loves you! Muah!
Posted: 24 Feb 2013 07:55 PM PST
ျမန္မာ့အခက္ ၊ တရုတ္အခ်က္ ေဖေဖာ္၀ါရီ ၂၄  ၊ ၂၀၁၃ M-Media source: www.nytimes.com
ျမန္မာျပည္ေဘာ္ဒါအနီးတြင္ တရုတ္စစ္တပ္က အျပင္းစားစစ္ေရးေလ့က်င့္ မွဳမ်ား ျပဳလုပ္ေနေၾကာင္း၊ ယင္းသို႔ျပဳလုပ္ေနျခင္းမွာ တရုတ္ျပည္ အေနာက္ေတာင္ ဘက္သို႔ ျမန္မာျပည္တြင္းစစ္အရွိန္ ၀င္ေရာက္လာမွဳေၾကာင့္ျဖစ္ေၾကာင္း တရုတ္ျပည္၏ တရား၀င္ သတင္းမီဒီယာမ်ား က ေသာၾကာေန႔ တြင္ ေဖာ္ျပလိုက္သည္။
တရုတ္စစ္တပ္သည္ ျမန္မာေျမာက္ဖ်ားပိုင္း ကခ်င္ႏွင့္ နယ္စပ္ျဖစ္ေသာ ယူနန္ျပည္နယ္ တြင္ စစ္ေရးေလ့က်င့္လ်က္ရွိသည္။ ကခ်င္ျပည္နယ္တြင္း တြင္ ျမန္မာအစိုးရ စစ္တပ္ႏွင့္ ေကအိုင္ေအတို႔အၾကား တိုက္ပြဲျဖစ္ပြားေနသလို ဒီဇင္ဘာလ ေႏွာင္းပိုင္းက တိုက္ပြဲအရွိန္ မွာ ျမင့္တက္ခဲ့ေၾကာင္း၊ က်ည္ဆံအခြံမ်ားမွာ တရုတ္ျပည္တြင္း သို႔ က်ေရာက္ လ်က္ၿပီး ကခ်င္စစ္ေျပးဒုကၡသည္မ်ားကလည္း ယူနန္ျပည္ နယ္အတြင္း ရွိ ေဆြမ်ိဳးမ်ား သို႔မဟုတ္ ဟိုတယ္မ်ားသို႔ ေျပာင္းေရႊ႕လာၾကေၾကာင္း တရုတ္တာ၀န္ရွိသူ မ်ားႏွင့္ သတင္းမီဒီယာမ်ားက ေဖာ္ျပသည္။
လြန္ခဲ့သည့္လက ျမန္မာစစ္အစိုးရဘက္မွ ေကအိုင္ေအႏွင့္အပစ္အခတ္ရပ္ဆဲေရး ေၾကညာခဲ့ၿပီး ေနာက္ေန႔မ်ားတြင္မူ ျမန္မာ စစ္တပ္ က ဆက္လက္ တိုက္ခိုက္ ခဲ့ျခင္းမ်ိဳး ရွိသည္ဟု ကခ်င္ျပည္ နယ္ေရာက္ ႏုိင္ငံျခားသားမ်ား က သတင္းေပးၾကသည္။ ေသာၾကာေန႔ကမူ တရုတ္သတင္းမီဒီယာတစ္ခု က ျမန္မာအစိုး ရႏွင့္ ေကအိုင္ေအတို႔ အၾကား ျငိမ္းခ်မ္းေရးေဆြးေႏြးမွဳ မ်ားရွိေသာ္လည္း ထိေရာက္သည့္ တိုးတက္မွဳတစံုတရာမေတြ႔ ရေၾကာင္း ေျပာၾကားသည္။
တရုတ္တို႔ ယူနန္တြင္ ယခုကဲ့သို႔ စစ္ေရးေလ့က်င့္ရျခင္းမွာ တရုတ္စစ္တပ္အေနျဖင့္ စစ္ပြဲမ်ားတြင္ တိုက္ခိုက္ႏိုင္ေစရန္ႏွင့္ ေအာင္ျမင္မွဳမ်ားရရွိေစဖို႔ ရည္ရြယ္ေၾကာင္း ဆင္ဟြာသတင္းဌာနက ၾကာသပေတးေန႔က ေဖာ္ျပသည္။
စစ္ေရးေလ့က်င့္မွဳကို တရုတ္ႏွစ္သစ္ကူးအၿပီး ယခုလအတြင္း စတင္ခဲ့ေၾကာင္း၊ နယ္စပ္လံုျခံဳေရးအေစာင့္မ်ားကို  တိုက္ပြဲငယ္မ်ားအတြက္ အဓိက ေလ့က်င့္သင္ၾကားေပးရန္ ရည္မွန္းေၾကာင္း ဆင္ဟြာ သတင္းက ေဖာ္ျပသည္။ တရုတ္စစ္တပ္မ်ားကို ဆိုး၀ါးလွသည့္ ရာသီဥတုအတြင္း ခ်ီတက္ႏိုင္ဖုိ႔ႏွင့္ မျမင္ရသည့္အေနအထားမ်ားတြင္ အဆက္အသြယ္ျပဳလုပ္ႏုိင္ဖုိ႔ ေလ့က်င့္ေပးေနေၾကာင္းလည္း သိရသည္။
ယူနန္ျပည္နယ္တြင္ ေတာင္ကုန္းထူထပ္သျဖင့္ စိန္ေခၚမွဳမ်ားရွိေနေၾကာင္း၊ တရုတ္စစ္တပ္ကို ေတာထဲ၊ လွိ်ဳေျမႇာင္မ်ားႏွင့္ ေရထဲတြင္ပါ တိုက္ခိုက္ႏုိင္ ဖုိ႔ ေလ့က်င့္ေနေၾကာင္း၊ အခ်ိဳ႕တပ္မ်ား ကမူ ျမန္မာ နယ္နိမိတ္အနီးတြင္ ဆက္သြယ္ေရးစခန္းငယ္မ်ား တည္ေဆာက္လ်က္ရွိေၾကာင္း အခ်ိဳ႕ေသာ သတင္းအရင္းအျမစ္မ်ားအရ သိရသည္။
အေစာပိုင္းကမူ ယူနန္ျပည္နယ္ စစ္တပ္ေခါင္းေဆာင္မ်ားအတြက္ ျပည္နယ္အတြင္း၌ ကြပ္ကဲအမိန္႔ေပးႏိုင္သည့္ စင္တာတစ္ခုကို တည္ျပီးျဖစ္ေၾကာင္း လည္း သိရသည္။ ဇန္န၀ါရီလကမူ တရုတ္ကြန္ျမဴ နစ္ပါတီ၏ သတင္းစာတစ္ေစာင္ျဖစ္ေသာ People's Daily ကမူ ျမန္မာနယ္စပ္ရွိ နဘန္းျမိဳ႕ တေလွ်ာက္ နယ္စပ္လံုျခံဳေရးတပ္မ်ားႏွင့္ ရဲအရာရွိမ်ားအား ျမိဳ႕ေနျပည္သူမ်ားအား မွတ္ပံုတင္ကဒ္ (ID Cards) မ်ားစစ္ေဆးေနျခင္းကို ေတြ႔ရွိ ရေၾကာင္း ေဖာ္ျပခဲ့သည္။ ျမိဳ႕ထဲတြင္မူ ဆက္သြယ္ေရးရပ္ဆိုင္းသြားသျဖင့္ စီးပြားေရးလုပ္ငန္းမ်ားလည္း ရပ္ဆုိင္းေနေၾကာင္း၊ ညဘက္မ်ားတြင္ လက္နက္ၾကီး ပစ္ခတ္သံ မ်ားကို ၾကားေနရေၾကာင္းျဖင့္လည္း ယင္းသတင္းစာက ေဖာ္ျပသည္။
တရုတ္ေခါင္းေဆာင္မ်ားကမူ တရုတ္စစ္တပ္အား တိုက္ခိုက္ရည္ျမင့္မားလာေစဖို႔ႏွင့္ အင္အားေတာင့္တင္းေသာ ေခတ္မီစစ္တပ္အျဖစ္ ဆထက္တပိုး တိုးတက္လာေစဖို႔ အာရံုထားလ်က္ရွိသည္။ ၿပီးခဲ့ သည့္ႏွစ္ေႏွာင္းပိုင္းအတြင္း တရုတ္ကြန္ျမဴနစ္ပါတီ၏ ေခါင္းေဆာင္သစ္ ဆိက်င္းပင္ (Xi Jinping) က တရုတ္ေတာင္ပိုင္းရွိ ေျခလ်င္ႏွင့္ ေရတပ္မ်ားသို႔ လာေရာက္လည္ပတ္ခဲ့ၿပီး စစ္တပ္ အင္အားျမင့္ မားေစဖို႔ လိုအပ္ေၾကာင္းေျပာၾကားခဲ့သည္။
ျမန္မာစစ္တပ္နွင့္ ကခ်င္ေကအိုင္ေအတို႔သည္ ေကအိုင္ေအ၏ ကိုယ္ပိုင္အုပ္ခ်ဳပ္ေရးလက္ေအာက္ရွိ လိုင္ဇာျမိဳ႕ကို ဗဟိုျပဳ၍ တိုက္ခိုက္ေနျခင္းျဖစ္ သည္။ ယခုႏွစ္ ေဆာင္းရာသီက ျမန္မာစစ္တပ္က လိုင္ဇာကို သိမ္းပိုက္ႏုိင္ဖို႔ သို႔မဟုတ္ လိုင္ဇာတ၀ုိက္ရွိ စစ္အေရးအရ ဗ်ဴဟာက်ေသာေနရာမ်ားသိမ္း ဖို႔ ထိုးစစ္ဆင္ခဲ့သည္။ ျမန္မာစစ္တပ္တြင္ ဖိုက္တာဂ်က္ေလယာဥ္မ်ား၊ လက္နက္ၾကီးမ်ားပါ ၀င္ေၾကာင္း၊ အရပ္သားမ်ားလည္း ေသဆံုး ရေၾကာင္းျဖင့္ ေဒသခံမ်ားက ဆိုသည္။
မိမိတို႔ဘက္သို႔ က်ည္ဆံခြံမ်ားက်ေရာက္ေနေၾကာင္း၊ ဒီဇင္ဘာ ၃၀ အထိ က်ည္ဆံခြံေလးခုအထိ က်ေရာက္ခဲ့ေၾကာင္း တရုတ္ကဆိုသည္။ ထို႔ျပင္ စစ္ေျပး ဒုကၡသည္ အေရအတြက္မ်ားျပားလာျခင္းကို လည္း တရုတ္ဘက္က စိုးရိမ္ေၾကာင္း ေဖာ္ျပသည္။
ကခ်င္ စစ္ေျပးဒုကၡသည္မ်ား
ျမန္မာစစ္တပ္ႏွင့္ ကခ်င္ေကအိုင္ေအတို႔ တုိက္ပြဲေၾကာင့္ ၂၀၁၁ မွစတင္၍ ကခ်င္စစ္ေျပးဒုကၡသည္ေထာင္ေပါင္းမ်ားစြာတို႔ ယူနန္ျပည္နယ္တြင္း ၀င္ေရာက္လ်က္ရွိေနသည္။ ကခ်င္စစ္ေျပးဒုကၡသည္ အမ်ားစုမွာ ခရစ္ယာန္ဘာသာ၀င္မ်ားျဖစ္ၾကၿပီး တရုတ္ခရစ္ယာန္မ်ားက သူတို႔ကို လိုအပ္သည္မ်ား ကူညီသလို တရုတ္ျပည္တြင္းရွိ ကခ်င္မ်ားကလည္း ကူညီၾကသည္။
Siaran Lansung: Konvensyen Pakatan Rakyat Kali Ke-4 [updated]
Posted: 24 Feb 2013 11:30 PM PST
S
hah Alam: Konvensyen Pakatan Rakyat ke 4 telah bermula di Pusat Konvensyen Shah Alam dengan penuh warna warni.
Menjelang konvensyen bermula pelbagai persembahan kebudayaan dipersembahkan bagi menyambut semua yang hadir.

Dari tarian suku kaum di Sabah dan Sarawak hinggalah ke serunai dan gendang Melayu, tarian singa dan persembahan serunai India.

Ia melambangkan kepelbagaian kaum dan budaya yang diraikan oleh Pakatan Rakyat sebagai sebuah pakatan yang bakal mentadbir negara yang terdiri dari kepelbagaian kaum, agama dan budaya ini.

Konvensyen kali ini adalah yang terakhir menjelang pilihanraya umum ke13 yang bakal berlangsung.

Tema konvensyen ini adalah Pakatan Harapan Rakyat melambangkan kesungguhan gabungan ini untuk memberikan harapan baru kepada rakyat Malaysia.


Anwar, Hadi & Guang Eng ketuai pimpinan Pakatan di Konvensyen


Ketua Umum KEADILAN, Datuk Seri Anwar Ibrahim, Presiden PAS, Datuk Seri Abdul Hadi Awang dan Setiausaha Agung DAP, Lim Guan Eng mengetuai parti masing-masing pada Konvensyen Pakatan Rakyat hari ini.

Ketibaan mereka pagi ini diiringi persembahan silat diikuti acara kebudayaan Malaysia.

Sebaik ketiga-tiga mereka mengambil tempat, majlis diteruskan dengan lagu Negaraku, seterusnya bacaan doa.

Abdul Hadi dan Guan Eng dijadual menyampaikan ucaptama mewakili parti masing-masing antara jam 11.55 pagi hingga 12.35 tengah hari, diikuti gimik persembahan.

Ucaptama Anwar mewakili KEADILAN pula berlangsung mulai jam 12.40 petang, disusuli bacaan ikrar dan nyanyian Negaraku. -KD
Konvensyen PR: PAS sedia 'ramuan' kemenangan PRU13


PAS sudah bersedia dengan 'ramuan-ramuan' kemenangan bagi menghadapi PRU-13 yang akan diadakan paling lewat 60 hari dari sekarang.

Ketua Pengarah Pilihan Raya PAS Pusat, Dr Hatta Mohd Ramli berkata, ramuan kemenangan itu termasuklah menyelesaikan serta menggerakkan pembentukan jentera parti yang sedia bertempur bila-bila masa sahaja.

"798 kerusi DUN dan parlimen sudah selesai diputuskan dan akan masuk PRU kali dengan satu lawan satu dengan BN," katanya ketika berucap dalam Konvensyen Pakatan Rakyat di SACC pagi ini.

Beliau berkata, parti-parti politik di negara ini berkempen selama lima tahun memandangkan tarikh pilihan raya sudah menjadi amalan pimpinan negara, dirahsiakan.

"Kalau kita tahu bila PRU, kita tidak perlu habis masa selama lima tahun untuk berkempen, kita tidak tahu tarikh, jadi kita perlu berkempen sepanjang masa," katanya.

Hatta berkata, Pakatan Rakyat harus bersedia dengan segala bentuk penipuan yang akan berlaku dalam PRU nanti.

"Kita di malaysia mempunyai krisis keyakinan terhadap Suruhanjaya Pilihan Raya (SPR). Kalau SPR bebas kita tidak ada masalah, tetapi kita hilang keyakinan dan tidak boleh ada pilihan lain, kita kena bersedia dengan penipuan," katanya.

Apa yang penting katanya, PAS, PKR dan DAP akan menyertai pilihan raya ini sebagai gabungan mantap bagi mengambil alih kerajaan.

Malah katanya, Pakatan Rakyat juga memutuskan masa depan politik negara akan ditentukan oleh rakyat negara.

Justeru, kerjasama Pakatan Rakyat dengan rakyat Malaysia yang prihatin sama ada individu atau NGO akan mempastikan bahawa mereka yang turun mengundi adalah rakyat Malaysia. -HD
14 tawaran Pakatan untuk kesejahteraan rakyat


Ketua Umum KEADILAN, Datuk Seri Anwar Ibrahim, Presiden PAS, Rakyat terbeban dengan kos sara hidup yang tinggi sedang gaji dan upah tidak meningkat, malah generasi kini adalah lebih miskin dari generasi sebelumnya, generasi mendatang lebih miskin dari generasi kini.

Atas keprihatinan ini Pakatan Rakyat mengutamakan Kesejahteraan Rakyat yang merupakan salah satu cabang daripada Manifesto Pakatan Rakyat yang dilancarkan hari ini.

Cabang Kesejahteraan Rakyat ini dibentangkan Pengarah Strategi PAS Pusat Dr Dzulkifli Ahmad di hadapan kira-kira 1,500 perwakilan ketiga-tiga parti PAS, PKR dan DAP di Pusat Konvensyen Shah Alam, di sini hari ini.

Menurut Dzulkifli, perbelanjaan asas setiap isi rumah dibebankan dek struktur harga yang berpihak kepada kroni dan syarikat besar, ekonomi negara dikuasai oleh beberapa monopoli yang dimilki kroni dan syarikat besar.

"kemungkaran ekonomi yang menindas rakyat seperti ini perlu ditentang sekeras-kerasnya," kata beliau.

14 tawaran yang digariskan dalam cabang Kesejahateraan Rakyat iaitu;

- Harga minyak turun
- Caj elektrik lebih rendah
- Caj air lebih rendah
- Hapus tol
- Hapus monopoli
- Turunkan harga kereta
- 150,000 rumah selesa mampu milik
- Perbadanan Perumahan negara: pelaburan RM5 bilion tahun pertama dan RM2 bilion setahun selepas itu untuk bina rumah selesa mampu milik.
- Pendidikan percuma untuk semua, hapus PTPTN
- Hapus AES. Batalkan saman AES
- Keadilan untuk warga Felda
- Tingkatkan guna tenaga polis untuk banteras jenayah
- Perkhidmatan wad percuma (kelas 1 dan 3) di semua hospital kerajaan
- Bantuan Jabatan Kebajikan Masyarakat dinaikkan kepada RM550 sebulan. -HD



Pakatan buktikan perpaduan, tolak perkauman -TG Hadi





Presiden PAS Datuk Seri Tuan Guru Abdul Hadi Awang berkata Pakatan Rakyat telah membuktikan perpaduan dan muafakat yang erat walaupun kadang-kadang berbeza pendapat.

"Kita buktikan perpaduan walaupun bertelingkah, berdebat, boleh berbalah, tetapi kacau gula, kopi dan teh tidak memecahkan cawan itu," katanya yang diikuti tepukan gemuruh lebih 1,500 perwakilan yang memenuhi dewan SACC.

Bagaimanapun beliau mengingatkan agar Pakatan Rakyat memelihara perpaduan yang dibina selama ini kerana parti lawan sedia untuk mengambil kesempatan.

"PAS, DAP dan PKR bergaduh, yang kenyang BN," katanya.

Abdul Hadi juga, turut menegaskan lima perkara yang menjadi harapan rakyat di mana Pakatan Rakyat mesti melaksanakannya.

Lima perkara tersebut, perpaduan masyarakat majmuk, adil terhadap semua, demokrasi hak rakyat sebenar, kehebatan perlembagaan dan undang-undang yang adil dan kerajaan yang bersih.

"Inilah harapan rakyat, kita perlu sedar dan faham lima perkara ini yang menjadi harapan rakyat," katanya ketika berucap dalam Konvensyen Pakatan Rakyat.

Jelas Abdul Hadi, semua kaum yang ada di Malaysia telah menerima hakikat masyarakat majmuk melalui Pakatan Rakyat yang telah diterjemahkan melalui PRU-12 pada 2008 lalu.

"Apabila orang Melayu Islam yang kuat PAS boleh mengundi calon DAP dan PKR dari kalangan bukan Islam.

Apabila orang kuat DAP dan berbagai kaum dan agama boleh undi calon PAS dan PKR dari kalangan Melayu Islam.

Mereka sedia mengalahkan calon dari bangsa mereka sendiri," katanya.

Senario ini, katanya, Pakatan Rakyat telah berjaya memecahkan fanatik perkauman yang dihidupkan oleh BN selama ini, sudah dianggap tidak relevan lagi.

"Kita terima berbagai kaum satu adunan yang baik, pelbagai budaya dan pengalaman disatukan.

Kita boleh bina kekuatan Pakatan Rakyat dengan satukan berbagai kaum di atas konsep dalam perlembagaan yang tak mampu dibuat oleh BN,"katanya.


ေနရပ္စြန္႔ခြာ၍ တတိယႏိုင္ငံမ်ားသို႔ ထြက္ခြာေနၾကသူမ်ား အေၾကာင္း ႏိုင္ငံအၾကီးအကဲမ်ားသို႔ တင္ျပသည့္ စာတမ္း
Posted: 24 Feb 2013 07:13 PM PST
M-Media :
ေနရပ္စြန္႔ခြာ၍ တတိယႏိုင္ငံမ်ားသို႔ ထြက္ခြာေနၾကသူမ်ား အေၾကာင္း ႏိုင္ငံအၾကီးအကဲမ်ားသို႔ တင္ျပသည့္ စာတမ္း
=======================
စာတမ္းျပဳစုသူမွာ ဦးမ်ိဳးျမင့္ျဖစ္ျပီး စာတမ္းမွာ ပါဝင္တဲ့ အခန္းအလိုက္ ေခါင္းစဥ္မ်ားမွာ
၁။ ထိပ္တံုးခတ္ခံထားရေသာ ျပည္သူမ်ား
၂။ တတိယႏိုင္ငံသို႔ ခိုးထြက္သည့္ လမ္းေၾကာင္း(၈)ခု (ေအာက္လမ္းမ်ား)
(က) ထိုင္းႏိုင္ငံနယ္စပ္ ဒုကၡသည္စခန္းသို႔ ကုန္းလမ္းမ်ားမွေနရပ္ စြန္႔ထြက္ခြာျခင္း
(ခ) ထိုင္းႏိုင္ငံအတြင္းပိုင္းသို႔ ေနရပ္စြန္႔ခြာျခင္း
(ဂ) ထိုင္းႏိုင္ငံသို႔ ေရလမ္းျဖင့္ ေနရပ္စြန္႔ခြာျခင္း
(ဃ)မေလးရွားႏိုင္ငံသို႔ ထိုင္းႏိုင္ငံမွတစ္ဆင့္ ေနရပ္စြန္႔ခြာျခင္း
(င) မေလးရွားႏိုင္ငံသို႔ ေရလမ္းမွ စက္ေလွျဖင့္ေနရပ္စြန္႔ခြာျခင္း
(စ) ဂူအန္ကြၽန္းသို႔ ကုန္းလမ္းျဖင့္ တတိယႏိုင္ငံသို႔ ေနရပ္စြန္႔ထြက္ခြာျခင္း
(ဆ)အိႏိၵယႏိုင္ငံမွ ကုန္းလမ္းျဖင့္ တတိယႏိုင္ငံသို႔ ေနရပ္စြန္႔ထြက္ခြာျခင္း
(ဇ) ဘဂၤလားေဒ့ရွ္ႏိုင္ငံ ကုန္းလမ္းမွတစ္ဆင့္ တတိယႏိုင္ငံမ်ားသို႔ ေနရပ္စြန္႔ထြက္ခြာျခင္း
၃။ တတိယႏိုင္ငံသြားခရီးစရိတ္မ်ား
၄။ တိရစၦာန္သန္းေခါင္းစာရင္း ၾကားဖူးပါသလား
၅။ မတရားေသာ အမိန္႔အာဏာဟူသမွ် တာဝန္အရတင္ျပၾက
၆။ မတရားဖမ္းဆီးခ်ဳပ္ေႏွာင္မႈ ဟုတ္မဟုတ္သံုးသပ္ေပးပါ
၇။ လူသားမ်ိဳးႏြယ္စုအေပၚ က်ဴးလြန္ေသာရာဇဝတ္မႈ ဟုတ္မဟုတ္ သံုးသပ္ေပးပါ
၈။ လဝကအရာရွိမ်ားတြင္ ဘယ္လူမ်ိဳးရာခိုင္ႏုန္းအမ်ားဆံုးလဲ
၉။ ေခြးလူမ်ိဳးဟုသာ ေခၚပါေတာ့
၁၀။ ျပည္နယ္ဝန္ၾကီးခ်ဳပ္ဦးေဆာင္၍ လူသတ္၊ မီးရိႈ႕ရန္ အမိန္႔ေပးဦးေဆာင္ ေနသည့္အေနအထားမ်ိဳးျဖစ္ေန
၁၁။ ယုတ္ညံ့၍ အဓိပၸာယ္မဲ့ေသာ ဘြဲ႕လက္မွတ္
၁၂။ အေသအေပ်ာက္စာရင္း
၁၃။ ႏိုင္ငံေတာ္သမၼတ၏ လူ႔အခြင့္အေရးခ်ိဳးေဖာက္မႈေကာ္မရွင္
၁၄။ သတ္ျဖတ္သူႏွင့္ အသတ္ခံရသူ ကြဲကြဲျပားျပား သိေစလိုပါသည္
၁၅။ အစၥလာမ္ဘာသာဝင္မ်ား၏ရြာမ်ား၊ ရပ္ကြက္မ်ား၊ အၾကမ္းဖက္မ်ား၏ အဝိုင္းခံရသည့္အခါတိုင္း အကူအညီေတာင္းခံခဲ့ေသာ္လည္း အကူအညီမရ
၁၆။ ေဒါက္ျဖဳတ္ခံ ေကာ္မရွင္လူၾကီးႏွစ္ဦး
၁၇။ ေလွစီးေျပး ေနရပ္စြန္႔ခြာဒုကၡသည္မ်ားကို အျပစ္မယူေတာ့
၁၈။ ေက်ာင္းပိတ္၍အိမ္အျပန္လူငယ္ေက်ာင္းသားတစ္ဦးနယ္ေက်ာ္မႈျဖင့္ ေထာင္နန္းစံေနရ
၁၉။ ၆ ႏွစ္ႏွင့္ ၈ ႏွစ္အရြယ္ ကေလးႏွစ္ဦးအား အတင္းအဓမၼရခိုင္သို႔ ပို႔ရန္ ၿခိမ္းေျခာက္
၂၀။ အမိန္႔ရမွလက္ထပ္ခြင့္ရ လက္ထပ္ခြင့္၊ ခြင့္ျပဳမိန္႔ပံုစံ
နိဂံုး
ပူးတြဲ (၁) ယုတ္ညံ့၍ အဓိပၸာယ္မဲ႔ေသာ ဘြဲ႕လက္မွတ္
ပူးတြဲ (၂) ရခိုင္ျပည္မွ အျပန္ခရီးသြားပံုစံ
ပူးတြဲ (၃) ရခိုင္ေဒသတြင္းေနထိုင္သူမ်ား နယ္ေက်ာ္ခရီးထြက္ခြင့္ပံုစံ
ပူးတြဲ (၄) အေသအေပ်ာက္စာရင္း
File DownLoad ယူရန္
DropBox =>https://www.dropbox.com/s/hsq0qc367ygmqau/Paper%20About%20Rohingyas%20IDP%20By%20Myo%20Myint.pdf
Google Doc =>https://docs.google.com/file/d/0B1Nc1yYXgtogeXY5YVU2RlBqYVE/edit
Posted: 24 Feb 2013 06:43 PM PST
This year has been the quietest Chinese New Year in my entire life due to an unfortunate incident which left me horizontal most of the time. On a positive note, the last day of the Lunar New Year ended very well. A beloved cousin hosted a pot-luck get-together at his family home.
It was a serene evening last night ...
In the stillness and tranquility of the setting, the sunset orchestrated the mood of the evening...
One by one they came - the guests and their choice dishes for the evening...a veritable feast not just for the eyes but for the palate. Each brought a culinary delight to tease the senses and tickle our taste buds which were screaming for more. Surprisingly, the ladies ate more than the guys - at least at the beginning...The following photo taken at the earlier part of the evening only showcases 30% of the fabulous array of food that filled the table and our stomaches which included Belachan Chicken, Roti Jala and Curry Chicken, Steamed Chicken, Sarawak Laksa
(made by yours truly)
, Char Koay Teow, Roast Chicken Wings, Fried Mee Hoon, Or Nee, Durian Pulut, Cucuk Udang, Yee Sang, Local Cakes, Desserts, Bubur Cha Cha, soft drinks, beer, wine, fruits etc
My favourite dish for the evening was certainly durian pulut with durian bubur!!! Exquisite and sinfully creamy and oolala!
After all the initial feasting, it as Loh Sang time....yummy yee sang..
Up, Close and Yee Sang!
And loh sang...
Then an old friend brought a surprise birthday cake and everyone was rolling with laughter when they saw the cake cos it looks exactly like my cousin
See for yourself...:-) He is a MMA, Shaolin, Wingtsun, Muay Thai exponent. In fact, three other cousins run martial arts schools - on in London, one in San Francisco and one in Penang. I was supposed to have taken up Shalin in the early 1970s with him under the late Dato' P'ng but most regretfully I chickened out then. Today, he is a skilled exponent of many forms martial arts ...
Most unfortunately, we had to leave earlier before the fireworks session as Nick has school today.
Anyway, we all had a fun evening reconnecting and I am certainly glad a CNY that started off quite scarily due to the unexpected accident ended beautifully and positively. Hope you all had a grand time.
Bukan Saja Ramai Ke Penjara, Ramai Juga Bakal Ke Hospital Bahagia...
Posted: 24 Feb 2013 06:58 PM PST
U
mno BN dilihat di dalam keadaan yang cukup tersedak di dalam menghadapi pilihanraya umum ke 13 ini.
Ini dipaparkan melalui perwatakan melampau dengan caci maki yang kesat diluahkan oleh gerombolan "syaitan dikenali" sehinggakan seperti sudah tidak ada iman lagi di dalam hati mereka.

Hal ini juga berlaku bukan saja di peringkat bawahan tetapi, Presidennya sendiri, Najib Tun Razak, pernah memaki peneroka FELDA dengan "haramjadah" kerana tidak mempersetujui langkahnya untuk menyenaraikan FGVH.

Dari sudut psikologis, mereka yang sedemikian sebenarnya menggambarkan jiwa yang kacau bilau apabila minda sudah tidak dapat berfungsi dengan baik dan sudah tiada lagi rasa malu, lantas mengeluarkan perkataan lucah, mencarut serta melakukan tindakan abnormal sebagai satu escapism.

Justeru itu, kita akan melihat nanti bahawa bukan sahaja ramai menteri dan ahli UMNO BN yang akan ke penjara kerana rasuah, salahgunakuasa, kronisme dan lain-lain selepas "kebenaran dan keadilan" dapat ditegakkan, tetapi tidak kurang juga ramai yang akan dihantar ke hospital bahagia untuk mendapat rawatan mental kerana perlakuan-perlakuan yang melampaui batas mereka itu. Termasuklah golongan blogger pencacai UMNO yang menjadikan perkara fitnah, lucah dan mencarut sebagai cara untuk melepaskan geram mereka.

Ruang dan dunia syaitan dikenali semakin sempit di ruang dan dunia yang memertabatkan kebenaran dan keadilan. Kita camkanlah perkataan dan tindakan pemimpin-pemimpin dan ahli-ahli parti syaitan yang dikenali ini.....

Gambar-gambar ini menyaksikan pesakit-pesakit mental berkenaan.


Posted: 24 Feb 2013 04:00 PM PST
BBC ONLINE 15 February 2013
Last updated at 03:54 GMT










Family sugar remedy tested for healing people's wounds



Moses Murandu saw sugar treatment being used often as a child in Zimbabwe

 

A nurse is researching whether an old family remedy using sugar to heal wounds does actually work.
Moses Murandu, from Zimbabwe, grew up watching his father