---
Political violence a la Bersih
Posted: 25 Apr 2013 09:48 AM PDT
Shut up la Ambiga! There is no need for you to condemn and criticise those culprits who threw 'bombs' at BN operation rooms in Nibong Tebal, Sekinchan and Ipoh.
You and Bersih taught them to be notorious by opening the door to political and street violence. Have you forgotten?
"We view the recent bombings very seriously along with the other incidents (of political violence) and we are glad that the police have acted and taken urgent action," said Bersih co-chairperson Ambiga Sreenevasan.

The coalition noted that incidents of political violence have escalated from threats and minor injuries to the recent bombings, and reiterated its call for all politicians to condemn every instance of political violence regardless of who is targeted.
Bersih has become a bad influence over the last three years. Together with the opposition, they inculcate a culture of political clutter among Malaysians, especially the youth.
And now they try to demonstrate their
grave concern
over the incidents. A thief condemning another thief!
Three youths hurled two molotov cocktails at a BN operations room in Buntong, Ipoh at 5am, causing fire but minimal damage.
According to Perak Police Chief Datuk Mohd Shukri Dahlan, two police special patrol teams saw a red car, believed to be driven by the suspects, speed away after the attempt to burn the operations room early this morning near SK Buntong.
"The two police teams gave chase and the car driven by the suspects crashed five kilometers away from the incident. Three male suspects was seen exiting the vehicle and managed to escape," said Mohd Shukri.
Two lit molotov cocktails were found intact in the vicinity of operations room. No one was injured and the small fire was under control within minutes causing minimal damage.
Nope, I dont think Ambiga and friends are sincere. Isn't this what they want - a violence political revolution
to unseat Barisan Nasional?
Two explosive devices was planted near Barisan Nasional's (BN) operations centre in Nibong Tebal, Penang on April 24.
The first device exploded at about 10.15pm behind the operations centre in the midst of a speech by Penang Gerakan chief Datuk Dr Teng Hock Nan.
A 35-year-old Umno Youth member was injured in the incident when he was hit by shrapnel from the explosion.
Penang Police Chief ACP Datuk Abdul Rahim Hanafi said that the Improvised Explosive Device (IED) was made without splinters, by professionals, with intention to create a loud sound and unrest.
Election reforms are good but Bersih failed to detach itself from the opposition, an indication that the movement is bias and pro-Pakatan Rakyat. Ambiga could have gained a lot of respect had Bersih moved on a neutral platform.
One doesn't need to ally with any political party if the objective is political reform alone. But Bersih has its own political agenda by forming a cahoot with Pakatan.
How 'bersih' are you people in Bersih?
SPR Sudah Rancang Untuk Memenangkan BN
Posted: 25 Apr 2013 11:09 AM PDT
S
eorang penjawat awam PGA dari kem PGA Galing Kuantan telah upload gambar sesi staf staf PGA sedang mengundi POS di Kem Galing Kuantan, Pahang.
Menurut tinjauan gua ke wall FB dia.. beliau ni pro BN.. lihat jer lah aktiviti berbasikal di sekitar Putrajaya...maka SAH lah info ni benar.

Semalam pengerusi SPR menafikan Undi POS atau undi awal telah dilakukan.. tetapi BUKTI menunjukkan sebaliknya.

Kegilaan apakah ini meskipun difahamkan tarikh pengundian awal sepatutnya ialah pada 30 April 2013 (lima hari sebelum tarikh undi awam).Berikut mesej yang dihantar oleh beliau:


Salam admin, minta jasa baik admin ambil berat apa yang saya ingin sampaikan ni.. Hari ni telah bermula undi pos bagi anggota PGA,di sini saya nak bagitau beberapa perkara

1) Undi pos sepatutnya bermula 3 hari awal dari undi awam tapi skrg ni baru berapa hari bulan?

2) Undi tanpa ada pemerhati dari SPR,hanya kantung undi sahaja yang ada

3) Kertas undi ada no siri

4) Sebelum pangkah undi, terdapat borang yang sudah tertera nama pengundi beserta no ic dan no siri yang sama dengan kertas undi

5) Borang tersebut dimasukkan bersama kertas undi ke dalam sampul sebelum digam dan dimasukkan ke kantung undi

6) Undi tak rahsia langsung, siap ada no siri, kawan-kawan ada kiri kanan, bersepah2 undi.. Suasana macam funfair!!
Jika begini lah caranya. SPR telah melangar SOP iaitu..

Tidak menjemput wakil calon BN,PR dan juga wakil calon bebas yang sepatutnya menghantar pemerhati.

Nampaknya SPR sedang merancang memastikan BN menang,, bagaimanalah rakyat dan negara ingin berubah menjadi negara yang lebih baik..aksyik mempertahankan perompak berleluasa... sedih.. -kingofgoblok


Posted: 25 Apr 2013 08:22 AM PDT
This article showcases eight interesting facts about breasts - the quintessential embodiment of female sexuality, breasts have fascinated and mystified since the beginning of time. From the biology that makes breasts, and breast-feeding, possible, and the odd boob changes that occur with motherhood to historical perceptions of the hourglass shape, LiveScience discusses the art and science of breasts.
CLICK HERE for the eight interesting slides.
The Diamond and the Quantum Internet
Posted: 25 Apr 2013 08:09 AM PDT
Today's Internet runs on linked silicon chips, but a future quantum version might be built from diamond crystals. Physicists report today in Nature1 that they have entangled information kept in pieces of diamond 3 metres apart, so that measuring the state of one quantum bit (qubit) instantly fixes the state of the other - a step necessary for exchanging quantum information over large distances.
Entanglement, which Albert Einstein called 'spooky action at a distance', is one of the weird phenomena that make quantum devices promising. A quantum Internet would use entangled photons travelling down fibre-optic cables to in turn entangle qubits, with the aim of one day providing super-secure communications, or delivering software and data to future quantum computers2.
The qubits themselves are analogous to the bits used in conventional computers, but can exist in a superposition of states, being both '0' and '1' at the same time (another aspect of quantum weirdness). Linked qubits could in theory zip through calculations that, on a classical computer, would take longer than the age of the Universe. Entangling them over a distance might allow unbreakable communication: for example, if the sender and the receiver of a message possess two sets of qubits that together provide an encryption key.
The technical feat of entangling qubits at a distance has already been achieved in other systems, including trapped ions and atoms. Although diamond is still playing catch-up, rapid progress has quickly elevated it to the A-list of candidates for quantum networks. "Connecting many qubits in diamond chips may be much easier than scaling up other systems," says Ronald Hanson, a nanoscientist at Delft University of Technology in the Netherlands, who led the team that reported the results in Nature1.
Flawed diamonds
Qubits in diamond depend on imperfections in the materials' carbon lattice. When nitrogen atoms substitute for carbon atoms, and appear next to gaps, or vacancies, in the structure, a qubit can be created based on the spin state of electrons held in the gap. Their fluorescence gives a faint pink tinge to the crystal.
CLICK HERE for the rest of this fascinating article by Richard Van Noorden.
ျမန္မာႏုိင္ငံေရွ႕ေနမ်ားကြန္ရက္မွ ေရွ႕ေနဦးကုိနီ၏ ေဆြးေႏြးေျပာၾကားခ်က္မ်ား
Posted: 25 Apr 2013 06:54 AM PDT
"ဘာသာေရးပဋိပကၡျပႆနာေတြဟာ ျမန္မာ့ဒီမုိကေရစီျပဳျပင္ေျပာင္းလဲေရးကုိ ဘယ္ေလာက္ထိခုိက္သလဲ"
(၂ဝ၁၃ ခုႏွစ္၊ ဧၿပီလ(၂ဝ)ရက္ စေနေန႔ည VOA အေမရိကန္အသံ ျမန္မာပုိင္းအစီအစဥ္၏ တုိက္႐ုိက္ေလလႈိင္းေဆြးေႏြးပြဲအစီအစဥ္တြင္ ျမန္မာႏုိင္ငံေရွ႕ေနမ်ားကြန္ရက္မွ ေရွ႕ေနဦးကုိနီ၏ ေဆြးေႏြးေျပာၾကားခ်က္)
ဘာသာေရးပဋိပကၡအသြင္ေဆာင္တ့ဲ ျပႆနာေတြေပၚေနတ့ဲအတြက္ ကၽြန္ေတာ္တုိ႔ႏုိင္ငံကုိ ဘယ္ေလာက္ထိေအာင္ ထိခုိက္သလဲဆုိတ့ဲဟာ၊ ဒါေတာ္ေတာ္အေရးႀကီးတယ္ခင္ဗ်။
ကၽြန္ေတာ္တုိ႔ႏုိင္ငံရဲ႕ အဆင့္အတန္း ပုံရိပ္က ေတာ္ေတာ္က်သြားတယ္။ ကၽြန္ေတာ္တုိ႔ျမန္မာႏုိင္ငံဟာ တကယ္ေတာ့ ေတာ္ေတာ့္ကုိ ယဥ္ေက်းၿပီးေတာ့၊ သေဘာေကာင္းၿပီးေတာ့၊ လူအမ်ားကုိ စာနာတတ္တ့ဲသူေတြလုိ႔ ႏုိင္ငံတကာက အဲဒီလုိနားလည္တယ္ဗ်။ ဒီ မိတၳီလာျဖစ္ရပ္က လူေတြသတ္၊ အိမ္ေတြမီး႐ႈိ႕၊ ၾကမ္းၾကမ္းတမ္းတမ္း လုပ္လုိက္တ့ဲအခါက်ေတာ့ ကၽြန္ေတာ္တုိ႔အေပၚမွာ ႏုိင္ငံတကာရဲ႕ အျမင္ေပါ့ဗ်ာ။ ပုံရိပ္ကေတာ္ေတာ္က်ဆင္းသြားတယ္။ ဒါထိခုိက္တာေပါ့ဗ်ာ။
ေနာက္တစ္ခါ ကၽြန္ေတာ္တုိ႔တုိင္းျပည္မွာ ဒီမုိကေရစီစနစ္ကုိ ေျပာင္းမယ္ဆုိၿပီး (၂ဝ⁠ဝ၈)ဖြဲ႔စည္းပုံနဲ႔ (၂ဝ၁ဝ)က ေရြးေကာက္ပြဲေတြ ဘာေတြလုပ္ၿပီးေတာ့ လႊတ္ေတာ္ေတြနဲ႔ ေရွ႕ကုိသြားေနတ့ဲအခ်ိန္မွာ ဒီမုိကေရစီစနစ္ကုိေျပာင္းေနတာလား? အၾကမ္းဖက္စနစ္ကုိ လုပ္ေနတ့ဲ လူေတြကရွိေနသလား? ေမးစရာေမးခြန္းေတြျဖစ္လာတယ္။
ဒီပဋိပကၡေတြကုိ ေက်ာ္လႊားဖုိ႔နည္းလမ္းက ေတာ္ေတာ္လြယ္တယ္ဗ်။ ဒါကိုမေျပာခင္ ေရွ႕ကဖန္တီးတ့ဲသူက ဘယ္အတိုင္းအတာအထိ ဖန္တီးမလဲဆုိတ့ဲအေပၚမွာ ေတာ္ေတာ္ေလးမူတည္ေနသလုိ၊ ႏွစ္ေပါင္း(၅ဝ)စစ္တပ္က လက္နက္အင္အားနဲ႔ အုပ္ခ်ဳပ္ခ့ဲတယ္။ ဒါကုိလြတ္ေျမာက္ေအာင္ ႀကိဳးစားေနတ့ဲအခ်ိန္မွာ လူမ်ားစုဘာသာဝင္က ျပန္ဖိႏွိပ္တ့ဲစနစ္ကုိ သြားလုိ႔မျဖစ္ဘူးဗ်။
ေနာက္တစ္ခုက တရားဥပေဒစုိးမုိးမႈမရွိတာေပါ့ဗ်ာ။ လူေတြသတ္တယ္။ အိမ္ေတြမီး႐ႈိ႕တယ္ဆုိတာ တရားဥပေဒစုိးမုိးမႈမရွိတ့ဲလကၡဏာ။ ဒီလုိဆုိရင္ ဘယ္ေတာ့မွ ဒီမုိကေရစီႏုိင္ငံ တည္ေဆာက္လုိ႔ရမွာမဟုတ္ဘူး။ ဒီလုိျဖစ္ေနတ့ဲ ျပႆနာဟာ ဘယ္ဘက္ကုိ ဦးတည္သလဲဆုိတာကုိ ေျပာျပတာပါ။
ဒါကုိရပ္ပစ္ေအာင္ ဘယ္လုိလုပ္မလဲ။ ေကာင္းေအာင္ ဘယ္လုိလုပ္မလဲ။ ေတာ္ေတာ့ကုိလြယ္တယ္ေနာ္။ လြယ္တယ္၊ လြယ္တယ္၊ အရမ္းကုိလြယ္တယ္။
ဘာျဖစ္လုိ႔တုန္းဆုိေတာ့ ဒါေတြဟာ ျဖစ္ခြင့္ေပးထားလုိိ႔ ျဖစ္ေနတ့ဲကိစၥ။ မျဖစ္ေစခ်င္ရင္ ဘယ္လုိမွမျဖစ္ႏုိင္ဘူး။ ကၽြန္ေတာ္တုိ႔ (၂ဝ⁠ဝ၇)ခုႏွစ္ သံဃာေတာ္ေတြ ေမတၱာပုိ႔ဆႏၵျပတယ္။ အဲဒါကုိ မျဖစ္ေစခ်င္တ့ဲအခါမွာ ရက္ပုိင္းအတြင္း ေျဖရွင္းပစ္လုိ႔ရတယ္။ ဒီသံဃာေတာ္ေတြက ေမတၱာပုိ႔တာ။ ဘယ္အိမ္မွမီးမ႐ႈိ႕ဘူး။ ဘယ္သူ႔မွမသတ္ဘူး။ အဲဒါကုိ မလုိလားတ့ဲအခါမွာ ခ်က္ခ်င္းရပ္ပစ္လုိ႔ရတယ္။ အခု မိတၳီလာမွာျဖစ္တ့ဲကိစၥ၊ လူေတြကိုသတ္တယ္။ မေသေသးတ့ဲလူကုိ မီး႐ႈိ႕တယ္။ ဗလီေတြ ေက်ာင္းေတြကုိ မီး႐ိႈ႕တယ္။ ဗလီေက်ာင္း မီး႐ိႈ႕တာ အိမ္တစ္လုံးမီး႐ိႈ႕တာနဲ႔ မတူဘူး။ အိမ္တစ္လုံးက လူတစ္ေယာက္ရဲ႕အိမ္ပဲ။ လူတစ္ေယာက္ပဲ ထိခုိက္နစ္နာတာ။ ဗလီမီး႐ိႈ႕တယ္ဆုိရင္ အဲဒီဘာသာကုိးကြယ္တ့ဲသူ အားလုံးရဲ႕ အသည္းႏွလုံးကုိ မီး႐ိႈ႕သလုိျဖစ္တယ္။ ဒါေတြကုိ လြယ္လြယ္ကူကူေလး လုပ္လုိ႔ရေနတယ္။ ဒါေတြအားလုံးကုိ ရဲေတြအေရွ႕မွာလုပ္ေနတာ။ တာဝန္ရွိတ့ဲလူေတြေရွ႕မွာ လုပ္ေနတာ။ တာဝန္ရွိတ့ဲလူေတြက ခြင့္ျပဳထားလုိ႔သာ လုပ္လုိ႔ရတာေပါ့။ ကၽြန္ေတာ့္စကား နည္းနည္းေလး ၾကမ္းခ်င္ၾကမ္းမယ္။ တာဝန္ရွိသူက ခြင့္ျပဳတယ္ဆုိတ့ဲစကားက ဒါကၽြန္ေတာ္စြတ္စြဲသလုိျဖစ္တာေပါ့ဗ်ာ။ ဒါေပမ့ဲ ကၽြန္ေတာ့္မွာေျပာစရာရွိတယ္။ ဥပေဒေပါ့ဗ်ာ။
ျပစ္မႈဆုိင္ရာဥပေဒပုဒ္မ(၃ဝ၂)အရ လူသတ္မွက်ဴးလြန္ရင္ အဲဒီလူကုိ ေသဒဏ္ခင္ဗ်။အဲဒီလုိ လူသတ္တ့ဲသူကုိ ဘယ္အရပ္သားမဆုိ သတ္ပစ္လုိက္လုိ႔ရတယ္။ ျပစ္မႈဆုိင္ရာဥပေဒပုဒ္မ(၁ဝဝ)အရ သတ္ပစ္လုိက္လုိ႔ရတယ္။ လူတစ္ေယာက္ကုိ ေသေလာက္ေအာင္လုပ္ရင္၊ လူတစ္ေယာက္ကုိ နာေလာက္ေအာင္လုပ္ရင္၊ လူတစ္ေယာက္ကုိ မုဒိန္းက်င့္ရင္၊ ေနာက္ လူတစ္ေယာက္ကုိ ဓမၼတာနဲ႔ဆန္႔က်င္တ့ဲနည္းနဲ႔ ကာမကုိရယူရင္၊ လူတစ္ေယာက္ကုိ ခုိးရင္၊ လူတစ္ေယာက္ကုိ ခ်ဳပ္ထားရင္၊ အဲဒီအခ်က္(၆)ခ်က္မွာ သတ္ပစ္လုိ႔ရတယ္။ ဆုိလုိတာက မိတၳီလာမွာ လူေတြကုိ ေအးေအးေဆးေဆး သတ္ေနတယ္။ အဲဒီလုိလူသတ္ေနတ့ဲသူကုိ ကာကြယ္ခုခံပုိင္ခြင့္အရ တရားခံေတြကုိ ပစ္သတ္ပစ္လုိ႔ရတယ္။ ေနာက္ ျပစ္မႈဆုိင္ရာဥပေဒပုဒ္မ(၄၃၆) မီးျဖင့္အက်ဳိးဖ်က္ဆီးမႈလုိ႔ေခၚတယ္။ အိမ္ကုိမီး႐ႈိ႕ဖ်က္ဆီးတ့ဲသူကုိ ပစ္သတ္ပစ္လုိ႔ရတယ္။ ေထာင္ဒဏ္တစ္သက္ထုိက္တ့ဲအမႈကုိ က်ဴးလြန္တယ္။ ဒီလုိလူကုိ ပစ္သတ္လုိ႔ရတယ္။ ဒီလုိဥပေဒေတြ ရွိရဲ႕သားနဲ႔ တကယ္တမ္း လူသတ္ေနတ့ဲဟာ၊ အိမ္ေတြကုိ မီး႐ိႈ႕ဖ်က္ဆီးေနတ့ဲသူေတြကုိ အေရးမယူဘဲ ခြင့္လႊတ္ထားတ့ဲအတြက္ ဒီျပႆနာဟာ ႀကီးသြားတယ္။ အဲဒီတုန္းက အေရးမယူႏုိင္ခ့ဲရင္လည္း အခုၿပီးသြားတ့ဲအခ်ိန္မွာ ဒီလူေတြ လုပ္တ့ဲဟာေတြ အားလုံးဟာ ဗီဒီယုိမွတ္တမ္းေတြရွိတယ္ခင္ဗ်။ ဒီလူေတြကုိ ထိ⁠ထိေရာက္ေရာက္ အေရးယူလုိက္ရင္ ဒီျပႆနာဟာ ေရွ႕ဆက္ မလုပ္ရဲေတာ့ဘူး။ အခု အဲဒီလုိ အေရးမယူတ့ဲအတြက္ ပဲခူးတုိင္းအေနာက္ျခမ္းအထိကူးတယ္။ ဆုိလုိတာက နံပါတ္(၁)က စကတည္းက ျပည္ထဲေရးဝန္ႀကီးဌာန၊ ျမန္မာႏုိင္ငံရဲတပ္ဖြဲ႕က ဒီကိစၥကုိ လုံးဝခြင့္မလႊတ္ရဘူး။ တားဆီးရမယ္။ အဲဒီမွာတစ္ခ်ဳိ႕ကေျပာေသးတယ္။ ႏုိင္ငံေရးပါတီေခါင္းေဆာင္တခ်ဳိ႕က ေျပာေသးတယ္။ ရဲေတြက အမိန္႔မရလုိ႔ပါဆုိေတာ့ မဟုတ္ဘူး။ ရဲက အမိန္႔ေတာင္းစရာမလုိဘူး။ အဲဒါကၽြန္ေတာ္ အတိအက်ေျပာမယ္။ ရဲလုံးဝအမိန္႔ေတာင္းစရာမလုိဘူး။ ပစ္သတ္ပစ္လုိ႔ရတယ္။ အာဏာပုိင္ေတြဘက္က အေရးယူတ့ဲေနရာမွာ လုိအပ္ခ်က္ေတြရွိတယ္ဆုိတာထက္ကုိ လုံးဝအေရးမယူဘဲ လႊတ္ေပးထားတယ္။ တာဝန္မ့ဲတယ္။ အေရးယူရန္ပ်က္ကြက္တယ္။ တာဝန္ယူဖုိ႔ လုံးဝပ်က္ကြက္တယ္။
"တရားဥပေဒစုိးမုိးမႈအားနည္းတယ္"
VOA ေမး = ေဒၚေအာင္ဆန္းစုၾကည္ကုိယ္တုိင္ ဥကၠ႒အျဖစ္ ဦးေဆာင္တ့ဲ လႊတ္ေတာ္က တရားဥပေဒစုိးမုိးေရးေကာ္မတီဆုိတာလည္း ရွိေနပါၿပီ။ လႊတ္ေတာ္နဲ႔ အုပ္ခ်ဳပ္ေရးပုိင္းရဲ႕ အခန္းက႑က ဒီပဋိပကၡေတြကုိ ေက်ာ္လႊားဟန္႔တားဖုိ႔အတြက္ ဘယ္ေလာက္ထိ လုပ္ႏုိင္မလဲလုိ႔ ကၽြန္ေတာ္တုိ႔ ေမွ်ာ္လင့္လို႔ရမလဲ ?
ဦးကုိနီ ေျဖ = က႑သုံးခုရွိတယ္ဗ်။ လႊတ္ေတာ္ရယ္၊ အုပ္ခ်ဳပ္ေရးက႑ရယ္၊ တရားေရးဌာနရယ္ သုံးခုရွိတယ္ခင္ဗ်။ ပဋိပကၡျဖစ္တာတုိ႔၊ တရားဥပေဒစုိးမုိးမႈမဲ့တာတုိ႔ဟာ တုိက္႐ုိက္ႀကီးအားျဖင့္ လႊတ္ေတာ္နဲ႔ မဆုိင္လွဘူး။ ျဖစ္လာတ့ဲအခါမွာေတာ့ ပတ္သက္တာေပါ့။ အဓိက နံပါတ္(၁)ဆုိင္တာက အုပ္ခ်ဳပ္ေရးဌာန၊ ဆုိလုိတာကေတာ့ သမၼတႀကီးေပါ့ဗ်ာ။ သမၼတႀကီးဦးေဆာင္တ့ဲ အုပ္ခ်ဳပ္ေရးဌာနက အဓိကတာဝန္ရွိတယ္။ ဒါကုိမျဖစ္ေအာင္ သူတုိ႔တားရမယ္။ တကယ္လုိ႔ မတားႏုိင္လုိ႔ ျဖစ္ခ့ဲရင္ေတာင္ ျဖစ္ၿပီးတ့ဲေနာက္ပုိင္းမွာ က်ဴးလြန္တ့ဲသူေတြကုိ ထိ⁠ထိေရာက္ေရာက္ အေရးယူရမယ္။ တရားေရးဌာနကလည္း တရားဥပေးစုိးမုိးေရးအတြက္ သိပ္အေရးႀကီးတယ္။
[၂ဝ၁၃ ခုႏွစ္၊ ဧၿပီလ(၂ဝ)ရက္ စေနေန႔ည VOA အေမရိကန္အသံ ျမန္မာပုိင္းအစီအစဥ္၏ တုိက္႐ုိက္ေလလႈိင္းေဆြးေႏြးပြဲအစီအစဥ္တြင္ ျမန္မာႏုိင္ငံေရွ႕ေနမ်ားကြန္ရက္မွ ေရွ႕ေနဦးကုိနီ၏ ေဆြးေႏြးေျပာၾကားခ်က္မ်ားကုိ ေရးသားေဖာ္ျပျခင္းျဖစ္ပါသည္။]
အေတြးအျမင္က်ဥ္းေျမာင္းလြန္း၊ အခ်က္အလက္က်က် သံုးသပ္ႏုိင္စြမ္း အားနည္းလြန္းသူေတြရဲ႕ ပါးစပ္ဖ်ားက စကား
Posted: 25 Apr 2013 06:45 AM PDT
လူတေယာက္ေယာက တခုခု ေရးလိုက္ရင္ ဒီေကာင္ မြတ္ ျဖစ္ရမယ္ ဆိုျပီး တံဆိပ္ကပ္တာမ်ိဳး ရွိတတ္တယ္။ အဲလိုတံဆိပ္ကပ္တဲ့ သူေတြရဲ႕ စိတ္ကုိ ခြဲျခမ္းၾကည့္ရင္ မေကာင္းတဲ့ စိတ္ေတြ အမ်ားၾကီး စုေနတာ ေတြ႕ရတယ္။
ဥပမာ ေပးရရင္…..
(၁) U U Mhaw Sayar ဆိုတဲ့ မိတ္ေဆြတေယာက္ ေထာက္ျပတဲ့ ပံုစံ၊ ဗမာဆိုရင္ အမွန္တရားကုိ ဘယ္ေတာ့မွ မေျပာဘူး။ ဗမာမွန္ရင္ ဗမာဘက္ကပဲ ေျပာမွာ။ ဒီလူက တျခားလူမ်ိဳးခံရတာကုိ ေျပာေတာ့ ဗမာ မျဖစ္ႏုိင္ဘူး၊ ဗမာထဲမွာ အဲေလာက္ သေဘာထားၾကီးတဲ့သူ မရွိဘူး ဆိုတဲ့ အေတြးရွိေနလို႔
(၂) ကုိယ့္စိတ္နဲ႔ ကုိယ္ ႏွီႈင္းလိုက္ၾကတာ။ ငါဆုိရင္ ငါ့လူမ်ိဳးဘက္ ငါ့ဘာသာဘက္ပဲ ရပ္တယ္။ အမွန္တရားကုိ ဂရုမစိုက္ဘူး။ ဒီေတာ့ ဒီေကာင္လည္း ဟုိလူမ်ိဳးေတြ ခံရတာကို ေျပာေနေတာ့ ဟုိလူမ်ိဳးပဲ ျဖစ္ရမယ္ ဆိုျပီး ကုိယ့္စိတ္နဲ႔ကုိယ္ ႏွိႈင္းလိုက္တာ
(၃) ကမၻာေပၚမွာ လူမ်ိဳးေတြ ဘာသာေတြကို ထည့္မတြက္ပဲ ကိစၥတခု မွန္သလားမွားသလားပဲ ေရးေနၾကတဲံသူေတြ၊ အဖြဲ႕ေတြ အမ်ားၾကီး ရွိမွန္း မသိႏုိင္ေလာက္ေအာင္ တံုးတာ၊
ကမၻာ့လူ႔ အခြင့္အေရး အဖြဲ႕ေတြ ဘာေတြေရးေနလဲ၊ သူတုိ႔အျမင္နဲ႔ တူရဲ႕လား ဆိုတာကို မသိႏုိင္ေလာက္ေအာင္ တံဳးေနတာ၊ သူတို႔ ေျပာသလိုဆို ကမၻာေပၚက လူ႔အခြင့္အေရးအဖြဲ႕မွန္သမွ်လည္း အဲဘာသာဝင္ အဲလူမ်ိဳးေတြ ျဖစ္ေနျပီ
(၄) လူမ်ိဳးျခားေတြေျပာျပီ ဆုိရင္ မွန္တာေျပာေျပာ မွားတာေျပာေျပာ ေျပာခြင့္မရွိဘူး တရားမဝင္ဘူးဆုိတဲ့ အထားမ်ိဳး။
အဲလိုေၾကးသာဆုိ ဗမာ့လြတ္လပ္ေရးကို ဗမာေတြကုိယ္တိုင္ တိုက္ခြင့္မရွိဘူး၊ ျမန္မာေတြရဲ႕ အခြင့္အေရးကို ျမန္မာေတြ ေျပာခြင့္မရွိဘူး ဆုိတဲ့သေဘာမ်ိဳးလည္း သက္ေရာက္သြားမွာေပါ့။
ထုိင္းမွာ ျမန္မာအလုပ္သမားေတြ မတရား အႏုိင္က်င့္ခံရရင္ ျမန္မာတေယာက္က အဲကိစၥကုိ ေျပာခြင့္ မရွိေတာ့တာမွ မဟုတ္တာ။
ျမန္မာလည္း ျမန္မာအေရး ေျပာခြင့္ရွိတယ္။
ကခ်င္လည္း ကခ်င္အေရး ေျပာခြင့္ရွိတယ္။
ကခ်င္က ကခ်င္ဘက္က ေျပာတိုင္း မွားတယ္လုိ႔ ေျပာလို႔ မရဘူး။ ကခ်င္ေတြ ဖိႏွိပ္ခံရရင္ ကခ်င္လည္း ကခ်င္ဘက္က ေျပာမွာပဲ။
ဒီေတာ့ လူမ်ိဳးျခား ဘာသာျခားေတြလည္း သူတို႔ အခြင့္အေရး ခ်ိဳးေဖာက္ခံေနရရင္ သူတို႔ကုိယ္တိုင္ ေျပာခြင့္ရွိတယ္ ……..
နာစရာေတာ့ မရွအဆင့္ရွိတဲ့ စာဖတ္သူဆိုရင္ေတာ့ ေရးသူက ဘာေတြေရးေနလဲ၊ သူေျပာတာ ဟုတ္မဟုတ္ဘဲ စဥ္းစားမွာပါ။ ေျပာတဲ့အရာ မွန္မမွန္ကုိ မစဥ္းစားဝံ့၊ ဒါမွမဟုတ္ မေခ်ပႏုိင္လို႔ ေအာက္လမ္းနည္းသံုးၾကတာလို႔သာ ေတြးလိုက္ပါဗ်ာ။
အဲ… တံဆိပ္ကပ္ခံရတဲ့ သူကေတာ့ သူေျပာတာကုိ အခ်က္အလက္ က်က် မတံု႔ျပန္ပဲ ေအာက္လမ္းနည္းသံုးျပီး credibility က်ေအာင္ လုပ္ဖုိ႔ ၾကိဳးစားလို႔ ၾကိဳက္မွာ မဟုတ္ဘူး။
ကုိယ္ အစုဝင္ မဟုတ္တဲ့ အုပ္စုတခုခုရဲ႕ တံဆိပ္ အတင္းကပ္ခံရတာလည္း ၾကိဳက္မွာမဟုတ္ဘူး။ ဒါေပမဲ့ တံဆိပ္ကပ္ခံရသူဟာ ဘယ္လူမ်ိဳး၊ ဘယ္ဘာသာဝင္ အလယ္အလတ္သမားေတြကုိ နိမ့္က်ေနတယ္လို႔ ျမင္သူမဟုတ္ဘူးဆိုရင္ နာစရာလည္း မရွိဘူး။
မဟုတ္လို႔ မဟုတ္ေၾကာင္း ေျပာခ်င္ေျပာမယ္။ နာစရာ မရွိဘူး။
က်ေနာ့္အျမင္ ဆိုရင္ေတာ့ လူတေယာက္ဟာ ကုိယ္တခုခု ေရးလို႔ ဒီေကာင္ ဗမာ မဟုတ္ဘူးလို႔ ေျပာလာရင္ ဗမာပါလို႔ အသနားခံေနစရာ မလိုသလို မြတ္စလင္ ဆုိျပီး မဟုတ္ဘဲ တံဆိပ္ကပ္ခံရတယ္ ဆိုပါေတာ့။
ကုိယ္မဟုတ္တဲ့ တခုကို တံဆိပ္ကပ္ခံရတဲ့ အတြက္ မၾကိဳက္တာ မွန္ေပမဲ့ လူတေယာက္ရဲ႕ တန္ဖုိးကုိ ဘာသာေရး သံုးေလးခုေပၚ မူတည္ျပီး သတ္မွတ္လို႔ မရတာမို႔ နာစရာလည္း မရွိပါဘူး။ (ဘာသာမဲ့မို႔လို႔ ဘုရားေတြ က်မ္းေတြ တမန္ေတာ္ေတြရဲ႕ တခ်ိဳ႕ စကားေတြကုိေတာင္ ပယ္ခ်လာျပီးမွ) သူတုိ႔ကပ္တဲ့ တံဆိပ္ေတြ သူတို႔ေျပာတဲ့ စကားေတြကို လိုက္ျပီးတုန္လွႈပ္ေနစရာ ခံစားေနစရာ မလိုဘူးလို႔ ထင္တယ္။
ဘာသာရွိတဲ့ ဗုဒၶဘာသာတေယာက္ အေနနဲ႔ လည္း မွ်တတာေတြ ေရးမိလို႔ မြတ္စလင္လို႔ တံဆိပ္ကပ္ခံရတယ္ ဆုိပါစုိ႔။
အေတြးအျမင္က်ဥ္းေျမာင္းလြန္း၊ အခ်က္အလက္က်က် သံုးသပ္ႏုိင္စြမ္း အားနည္းလြန္းသူေတြရဲ႕ ပါးစပ္ဖ်ားက စကားကုိ လိုက္ခံစားေနစရာ မလုိဘူးလို႔ ထင္တယ္။
ဒါေပမဲ့ credibility က်ေအာင္ အဆင့္မရွိတဲ့ နည္းေတြနဲ႔ တိုက္ခုိက္တာကုိေတာ့ စိတ္ပ်က္မိတယ္။
This exhibits why literates choose PR!!!
Posted: 25 Apr 2013 07:11 AM PDT
[VIDEO] Bekas Naib Cancelor UPNM: "Kenapa Aku Sertai PAS"
Posted: 25 Apr 2013 08:05 AM PDT
B
ekas Naib Canselor Universiti Pertahanan Nasional Malaysia (UPNM), Leftenan Jeneral (B) Datuk Ir. Ismail Samion memilih PAS kerana tertarik dengan ideologi parti itu yang memperjuangkan Islam.
Beliau yang menyerahkan borang keahliannya kepada Setiausaha Agung PAS, Datuk Mustafa Ali, pagi tadi, berkata tiada apa yang boleh ditinggalkan kepada anak-anak dan keluarganya melainkan Islam.

"Saya pun sudah berumur, mungkin akan pergi esok lusa. Apa yang kita mahu tinggalkan untuk anak-anak dan isteri, kalau bukan Islam?" soal beliau kepada wartawan.

Beliau turut menambah, suasana politik hari ini juga menunjukkan perlu berlakunya satu perubahan menyeluruh demi memastikan masa depan yang lebih telus dan adil.

Katanya, perubahan itu perlu datang dari diri sendiri, ahli keluarga dan teman-teman bagi sama-sama menyemarakkan momentum ke arah perubahan.

Ini kerana, tegasnya perubahan menyeluruh ini tidak boleh dilakukan bersendirian, sebaliknya perlu dilakukan dalam kelompok yang besar.

Mengakui kelompok tentera tidak mempunyai kebebasan bersuara ketika dalam perkhidmatan, Ismail menegaskan kini beliau tampil berani untuk menentang segala kemungkaran supaya tidak berterusan.

"Dulu saya tidak aktif politik. Maklumlah, pegawai kerajaan kena patuh. Tidak boleh bercakap...tak dibenarkan cakap pun. Tapi selepas bersara ini, saya berasakan perlu bersama-sama membuat perubahan. Dan inilah peluang yang ada untuk melakukannya," tegas beliau lagi. yang cenderung dengan sistem dua parti.

Beliau berpandangan sistem dua parti membolehkan rakyat mempunyai pilihan yang luas untuk memilih, selain tidak menjadikan sesebuah parti monopoli itu sebagai sebuah parti yang tidak boleh ditegur.

"Kalau terus mengamalkan sistem monopoli secara berterusan, ia menjadikan sesebuah kerajaan itu tidak boleh ditegur dan boleh berbuat apa sahaja yang disukai mereka," kata beliau lagi.

Atas sebab itu, tambah Ismail perlu ada persaingan di antara dua parti bagi memastikan keselesaan rakyat dapat dipenuhi.

Perkara itu, kata Ismail boleh dilihat apabila BN memberi begitu banyak bantuan muktahir ini, bairpun boleh melakukannya sejak memerintah Malaysia 55 tahun lalu.

"Kenapa BN banyak beri bantuan? Kerana Pakatan Rakyat kuat menyebabkan mereka terpaksa memberi pelbagai bantuan. Sejak 55 tahun memerintah, tidak ada apapun (bantuan). Apabila ada persaingan hebat, rakyat mendapat faedahnya. Justeru, kita perlu meneruskan momentum itu," seru beliau.

Dilahirkan di Kuala Nerang, Kedah pada 23 Nov 1951, Leftenan Jeneral (B) Datuk Ir. Ismail Bin Samion (TUDM) merupakan lulusan dari Universiti Reading, UK dalam bidang kejuruteraan mekanikal pada tahun 1980.

Beliau telah berkhidmat dengan Angkatan Tentera Malaysia selama 38 tahun sebagai seorang jurutera dengan Tentera Udara Diraja Malaysia (TUDM), Komandan Akademi Tentera Malaysia (MAM) dan akhirnya sebagai Naib Canselor (VC) di Universiti Pertahanan Nasional Malaysia (UPNM).

Kerjayanya dalam TUDM bermula sebagai seorang jurutera junior di skuadron pengangkutan (helikopter) dan semakin memuncak apabila dilantik ke jawatan Penolong kepada Ketua Tentera Udara (Kejuruteraan).

Beliau dilantik sebagai ketua jurutera TUDM (1997 hingga 2000) sebelum dilantik sebagai komandan MAM pada tahun 2001.

Apabila Akademi dinaik taraf kepada Universiti Pertahanan, pada tahun 2006, beliau telah dilantik sebagai Naib Canselor pertama. Beliau merupakan jurutera pertama yang dilantik sebagai Naib Canselor sesebuah IPTA.

Selain daripada itu, beliau juga pernah memegang beberapa jawatan penting lain di dalam berbagai sektor industri dan kejuruteraan Malaysia.

Beliau juga sangat aktif dalam menyokong aktiviti-aktiviti Industri Pembinaan dalam sebagai seorang penilai panel (2005 hingga 2010).

Beliau juga merupakan salah seorang daripada perintis bagi Lembaga Pembangunan Industri Pembinaan (CIDB) dalam menilai dan mencadangkan penerima anugerah The CEO of the Year dan The Prominent Award.

Beliau pernah mewakili Institusi Jurutera (IEM) di dalam Lembaga Panel Tatatertib, Peguambela & Peguamcara (2010 hingga 2012) dan juga sebagai ahli PEMUDAH Selangor (2010 hingga 2012).

Mempunyai seorang isteri, Datin Khalijah Hashim dan dikurniakan 4 orang cahayamata. Ayah beliau, Samion bin Mohamad, adalah salah seorang bekas anggota tentera yang terkorban ketika Kedah diserang komunis pada tahun 1954. Ibu beliau bernama Aminah bt Ishak.

Penyertaannya ke dalam PAS hari ini melambangkan kesediaan Pakatan Rakyat untuk mentadbir dengan dengan baik dan mendapat sokongan dari teknokrat negara.





Rohingya face uncertainty, even in Muslim countries
Posted: 25 Apr 2013 05:18 AM PDT
Rohingya face uncertainty, even in Muslim countries By Casey Hynes
They have been called the world's least wanted people. It's a difficult title to refute for the Rohingya, the Muslim minority that has been the target of violent attacks in Burma's Arakan and Rakhine states.
Rohingya Muslims are fleeing Burma in their
Thousands of Rohingya have fled Burma, seeking safety and sanctuary in countries such as Malaysia and Indonesia. These are predominantly Muslim states, which ensures that at least they will not be persecuted for their religious beliefs.
However, while they might have relatively safe passage in Indonesia and Malaysia, the Rohingya are considered a stateless people. The Burmese government refuses to claim them, and so does that of Bangladesh, the country in which thousands have sought refuge until the country closed its doors to them nearly a year ago.
Although many Rohingya were born and raised in Burma, they are still unrecognized – and undefended – by the Burmese government. In fact, Human Rights Watch recently released a report stating that government officials had been complicit and even participated in the violence waged against Muslims in the country. Human rights advocates have even criticized revered opposition leader Aung San Suu Kyi, long a hero of the people, for not unequivocally condemning the violence against Muslims. With so little support or hope for assistance in their own home, it's no wonder that seeking asylum in foreign states is the only hope these people see.
(READ MORE: International Crisis Group makes a mockery of 'peace' in Burma)
But life as a refugee is by definition difficult, harrowing and deeply uncertain. And the horrors have not ended even for the Rohingya who have made it to foreign shores. In early April, a fight between Buddhists and Muslims broke out in an Indonesia detention centre in which 8 people were killed. The Thomson Reuters Foundation reported that the violence was initially attributed to tension over the state of Buddhist-Muslim affairs in Burma, but that it was actually sparked after three Rohingya women were raped by Buddhist fishermen from Burma.
The Jakarta Globe reported that the Rohingya refugees in Indonesia will not receive identity cards, and are classified as immigrants who will be sent to Bangladesh. This is complicated by the fact that Bangladesh "closed its doors to newly arriving asylum-seekers" after the outbreak of Buddhist-Muslim violence in Rakhine state in June 2012, according to the UN Refugee Agency. There is nowhere for these people to go.
In addition to their stateless, immigrant status wherever they go, there are other practical social concerns that arise from their purgatorial state.
Al-Jazeera recently reported that the social stigma attached to being a "stateless groom" makes it difficult for young Rohingya men in places such as Malaysia to find suitable marriage partners. This has created a market for "mail-order" brides, with refugees seeking assistance from those in other Rohingya communities to find them potential spouses.
The Al-Jazeera article raises another aspect of life as a stateless refugee. A young man interviewed for the piece had worked odd jobs as a tailor's assistant and on a construction site, all the while "hoping to evade authorities" while on these projects. Undocumented and "illegal" workers throughout Southeast Asia face the very real threat of exploitation and abuse, and the Rohingya are no exception.
The article also pointed out the dangers of young women being sent to places such as Malaysia and Indonesia, to marry men they have never met, in a place that is not their own. In addition to fears of being apprehended by authorities, there is a threat of domestic violence, with no authorities or family members to turn to for help.
There is certainly no definitive solution for these exiled people. Even leaders from Malaysia and Indonesia have made seemingly cautious and diplomatic statements that gave no indication of a long-term stance on the Rohingya crisis.
According to the Irrawaddy, Indonesian president Susilo Bambang Yudhoyono said this week that, "We urge the Myanmar (Burma) government to quickly resolve this problem and prevent further conflicts from erupting, so that all the people in Myanmar can live in an atmosphere of peace."
(READ MORE: Indonesian leader airs concern on Burma violence)
A spokesman for Malaysian Prime Minister Najib Razak was similarly diplomatic and cautious, saying "Malaysia remains extremely concerned abut ongoing tensions between Buddhists and Rohingya Muslims in the Rakhine state of Myanmar," according to the Irrawaddy Magazine.
One thing seems apparent in all of this: the Rohingya have few friends in power in the region. Even ASEAN has not released a collective statement firmly calling on Burma to establish a peaceful, humane solution to the Rohingya crisis.
All the more reason to panic!!
Posted: 25 Apr 2013 05:11 AM PDT
Najib comes from an aristocrat family, silver spoons since the day he was born...these people don't care about the welfare of the common people....they just pretend and be seen to be  concerned....what they really care about is billions for themselves, their children and their cronies in UMNO, MCA (scraps for this gang of porn stars) and MIC (a bit of scraps too for these

gang of coffin carriers,

that fall off the tables of MCA). Our PM should be from the ordinary people who wake up everyday and smell the shit, of the Barisan Nasional Government.
43pct backs Anwar as PM, 39pct for Najib

by Hafiz Yatim and Koh Jun Lin  from Malaysiakini
Anwar Ibrahim has a slight edge over Najib Abdul Razak as a prime ministerial candidate, according to a survey by Universiti Malaya's Democratic and Election Centre (Umcedel). The survey, involving 1,403 respondents residing in Peninsular Malaysia, indicated that 43 percent of voters believe Anwar was qualified to be prime minister while 24 percent of voters disagreed and the rest were unsure.

As for Najib, 39 percent of voters said he was qualified to be the prime minister while 31 percent disagreed. Another 30 percent were unsure. Interestingly, 54 percent of Malay respondents said Anwar was qualified to be prime minister while only 28 percent said the same for Najib. Among first-time voters, 48 percent of respondents believed Anwar to be qualified as prime minister while 25 percent of respondents said the same for Najib. 
However, Najib has a slight edge in terms of "friendly-ness" compared to Anwar. Fifty four percent of respondents believe Najib to be more "people-friendly" compared to 46 percent who said the same for Anwar. "Of course Najib is higher (in the polls). He appears on TV almost every day, compared to Anwar who only appears when there is something not good about him," said Umcedel director Mohd Redzuan Othman at a press conference today.
Why This Kolaveri... - Tamil Election Song 2013
Posted: 25 Apr 2013 04:12 AM PDT
This paatti (grandmother) is so disappointed... she must be quiet illiterate but she is well aware of what's happening around her... but some shameless bastards are still brownnosing UMNO's arse and licking their boots!!
Be careful…ultranationalist Bama, Rakhine Buddhists and the Political or Military Masters
Posted: 25 Apr 2013 03:58 AM PDT
Be careful…ultranationalist Bama, Rakhine
Buddhists
and the Political or Military Masters …
In every atrocity both of you committed on Muslims of Myanmar…there could be SEVERE reaction on your fellow Buddhists in Bangladesh, India,
Malaysia
, INDONESIA, Middle East Arab Countries and around the world.
Please stop the Racist NONSENSES and arrest the INSTIGATORS, Masterminds and MASS-MURDERERS to get for PEACE FOR ALL.
If you fail to stop in time, you could lost your ILLEGALLY gained UNION because you cheated on the Panglon Agreement and exploiting all the privileges for Bama Buddhists only.
Even in Indonesia, your RAPIST Buddhist Fishermen were exposed by the Indonesian Police after they were (sadly) killed. (We don't support or agree to that kind of killing.
Kindly read this news>>>
Share Arakan News
HRW အစီရင္ခံစာေၾကာင့္ ဘဂၤလာေဒခ်္႕ လူနည္းစု ဗုဒၶဘာသာ၀င္မ်ား အၾကား စိုးရိမ္မူတိုးပြား
Human Rights Watch ( HRW) မွ အစီရင္ခံစာ ထုတ္ျပန္ျပီးေနာက္ အဆိုပါ အစီရင္ခံစာပါ အခ်က္အလက္မ်ားကို အေျခခံျပီး ျမန္မာႏို္င္ငံတြင္ ျဖစ္ပ်က္ခဲ့ေသာ သတင္းမ်ားကို ဘဂၤလာေဒခ်္႕ ႏိုင္ငံ ရုပ္သံလိုင္းမ်ားမွ ထုတ္လႊင့္ ျပသေနသျဖင့္ ဗုဒၶဘာသာ၀င္ လူနည္းစုမ်ား အၾကား စိုးရိမ္မူမ်ား တိုးပြားေနေၾကာင္း သတင္း ရရွိသည္။
" ကၽြန္မက မေန႕ကေရာ၊ ဒီေန႕မနက္ကေရာ ဒီႏိုင္ငံက ရုပ္သံလိုင္းလိုလိုမွာ ျမန္မာ သတင္းကုိ ထုတ္လႊင့္တာကို ေတြ႕ရပါတယ္။ အဲဒီမွာ ေျပာတာက ျမန္မာႏိုင္ငံမွာ အစၥလာမ္ဘာသာ၀င္ေတြကို ဗုဒၶ ဘာသာ၀င္ေတြက လူမ်ိဳးတုန္း သတ္ျဖတ္ေနတယ္ဆုိျပီး ေျပာဆုိပါတယ္။ ျပီးရင္ ဒီသတင္းေတြနဲ႕ အတူ ဗလီေတြ၊ လူေတြ သတ္ျဖတ္ခံေနရတဲ့ ပံုေတြကို ထုတ္လႊင္ျပေနတဲ့ အတြက္ ဒီမွာလည္း ျပႆနာေတြ ေပၚေပါက္လာႏိုင္တယ္လို႕ ထင္မိတဲ့ အတြက္ စိုးရိမ္မိတာ ျဖစ္ပါတယ္" ဟု ဒကၠားျမိဳ႕က ရခိုင္ အမ်ိဳးသမီး တစ္ဦးက ဆုိသည္။
၎ျပင္ ယေန႕ထုတ္ သတင္းစာမ်ားတြင္လည္း HRW အစီရင္ခံစာကုိ ကုိးကားျပီး ျမန္မာႏိုင္ငံတြင္ အစၥလာမ္ဘာသာ၀င္မ်ားကို လူမ်ိဳးတုန္း သတ္ျဖတ္မူမ်ား ေပၚေပါက္ေနပါသည္ ဆိိုေသာ ေခါင္းစဥ္ျဖင့္ သတင္းမ်ားေရးသား ေဖၚျပေနၾကသည္။
၎ျပင္ BBC မွ ထုတ္လႊင့္ေသာ ဗြီဒီယို မွတ္တမ္းႏွင့္ ပတ္သက္ျပီး သတင္းမ်ား ေဖၚျပၾကသည္။ လြန္ခဲ့ေသာ မတ္လက ျဖစ္ေပၚခဲ့ေသာ မိတၳိလာ အေရးအခင္းတြင္ လံုျခံေရး တပ္ဖြဲ႕၀င္မ်ားက ဗုဒၶဘာသာ တိုက္ခိုက္သူမ်ားမွ မူဆလင္မ်ားကို တိုက္ခိုက္ေနသည့္ အေပၚ တစ္စံု တစ္ရာ ဟန္႕တားျခင္း မရွိဟု ဘီဘီစီ က ထုတ္လႊင့္ေသာ ဗီြဒီယို မွတ္တမ္းတြင္ ေဖၚျပထားသည္ဟု ဆိုသည္။
" အခုလို မူဆလင္ေတြကို သတ္ေနတယ္ဆိုတဲ့ သတင္းေတြ တက္လာေတာ့ ဒီႏိုင္ငံက အစၥလာမ္ဘာသာ၀င္ေတြက မေက်နပ္မူေတြ တိုးလာေနတယ္။ ဒါေၾကာင့္ ျပႆနာေတြ ေပၚလာႏိုင္တယ္။ မေက်နပ္သူေတြက တုိက္ခိုက္မူေတြ ရွိေကာင္း ရွိလာႏိုင္ပါတယ္" ဟု ဆိုသည္။
ရခိုင္အေရးအခင္းမွာ လြန္ခဲ့ေသာႏွစ္ ဇြန္လႏွင့္ ေအာက္တုိဘာလက ျဖစ္ပြားခဲ့ျခင္း ျဖစ္ျပီး အေျခအေန ေအးေဆး တည္ျငိမ္မူ ရွိလာေနစဥ္ HRW ၏ တဘက္သတ္ ေရးသား ထုတ္ျပန္ေသာ အစီရင္ခံစာေၾကာင့္ ျပႆနာမ်ား ဆက္လက္ ျဖစ္ပြားမည္ကို ျမန္မာႏိုင္ငံတြင္ သာမက ဘဂၤလာေဒခ်္႕တြင္ပါ စိုးရိမ္လာၾကျခင္း ျဖစ္သည္။
narinjara
Desperadoes broker for desperate measure in desperate times
Posted: 25 Apr 2013 03:44 AM PDT
By

J. D. Lovrenciear
The two fresh incidents of explosions and another incident of fighting between opposing camp supporters would not have been the news of the day as we inch so close towards polling date if not for foul-mouthed politicians. The defining truth is: do not blame the followers; blame the leaders instead. If only certain politicians and seeming veterans had not been preaching and admonishing and threatening of chaos, but instead chose to engage and promote healthy discussions, banter and debates as we march to the polls, we would not witness such dangerous reports. 
Yes, if there are explosives going off here and there and physical break-outs between supporters who then is the culprit? Who sowed the seeds of divisiveness? Who is screaming for blood in the first place? Who is preaching 'to win at all costs'? BN must take responsibility for it was UMNO that was screaming "over our dead bodies and crushed bones". 
BN has to take responsibility for the disparaging remarks of a certain individual against a particular faith and ethnic group and yet ending up nominating him to be a choice candidate in the GE-13.  BN must be held responsible because it is the UMNO supremoes who are getting away with repeated belting of race and religion sentiments hinging on sedition and treason. Such actions by irresponsible politicians are bound to incense supporters as much as it does ruffle the hearts of peace-loving Malaysians.
And lest we forget, what about the many attacks on the election-vehicles of the opposition parties? These threatening and near dangerous attacks got away scot-free from effective police action even when they were being reported long before the announcement of the election date.

Question: Did the PM or his Deputy or any

taiko

within the BN machinery condemn such attacks vehemently and promptly? People know that silence or delayed response also means approval..
In fact, do not blame the rakyat if they question all these fresh incidents of trouble that are being reported. People are putting two and two together and are becoming suspicious of these incidents of sabotage.  Can we blame them if they were of the opinion that it is BN who might be staging all these dangerous incidents?
If only BN had led the way with gentleman politics; if only BN leaders had set the pace for healthy debates and engagement-politics; if only BN had demanded from the police quick, transparent and justice-anchored actions on all reported incidents of attacks and sabotage right from day one when such ugly behavior surfaced – today we will not have to see such arson-related acts.

If only BN leaders had not militantly peddled fear and chaos premonitions, people will be already blaming the opposition for such incidents that threaten the peace and sanctity of this nation, and not suspecting BN this late into the run-up to GE-13. 
BN has successfully caused failure for its own self image.
Desperate people broker for desperate measure in desperate times – perhaps best summarizes the situation.
Mahathir violates the Elections Act abusing Government Facilities, visiting the Lumut Naval Base
Posted: 25 Apr 2013 03:43 AM PDT
Guess, he misses the limelight and the sycophan

ts

who are part of his retinue

. No, I do not think so, he is desperately trying his utmost to save his legacy, which is of course a failed one and the loot accumulated over 22 years

, "A

D

octor

I

n

T

he

H

ouse" or not, he might end up being a "

Quack

In

S

g Buloh". Who paid for

his

trip of desperation? Of course, it is us, the taxpayers!
Sejak pihak risikan memaklumkan data menunjukan sokongan anggota TLDM di Lumut terhadap Pakatan Rakyat semakin meningkat , UMNO semakin gelisah.. Tambahan pula ianya bakal mengugat dua Kerusi penting milik BN iaitu DUN Pangkor (MB Perak - Zambry) dan Parlimen Lumut (Menteri Pengangkutan - Kong Cho Ha). Oleh itu UMNO/BN 'terpaksa' melakukan apa saja hatta melanggar akta pilihanraya..
Pada 23 April (semalam) dengan menganggap harta Kerajaan itu harta Mak bapak depa.. Mahathir telah diterbangkan khas menggunakan helikopter Nuri dari Kuala Lumpur ke Pengkalan Tentera Laut di Lumut, Perak. Tujuannya ialah untuk menyampaikan ceramah mengenai perpaduan Ummah menjelang PRU13 ini kononnya.. Tetapi menurut beberapa individu yang dipaksa menghadirinya, mereka mempersoalkan akan Ceramah tersebut ianya seolah-olah mengambarkan tiada perpaduan di dalam anggota TLDM dan apa yang disemai oleh Mahathir di sini ialah perasaan perkauman..

Apa yang dilakukan oleh Mahathir demi menyelamatkan UMNO/BN yang lemah dibawah pentadbiran Najib ialah satu perbuatan yang melanggar akta pilihanraya. Beliau bukan sahaja telah menyalahgunakan harta Kerajaan Malaysia bagi kepentingan UMNO/BN malah beliau juga telah berpolitik hingga ke dalam Kem Tentera. Mahathir yang sudah bersara kini bertungkus lumus berkempen bagi memastikan kemenangan BN dalam PRU13 ini..  Apakah yang menyebabkan Mahathir terlalu TAKUT jika BN kalah?.. sehingga beliau kelihatan amat gelabah jika di bandingkan dengan Pak Lah?

Persoalan ini pasti terjawab andaikata UMNO/BN ditolak rakyat pada PRU 13 ini.. Oleh itu UNDILAH CALON-CALON PAKATAN RAKYAT!! From:

anaksungaiderhaka@gmail.com
Final attempt to brainwash the Military through hate
Posted: 25 Apr 2013 03:41 AM PDT
From Malaysiakini
Dr M: Pakatan rule will herald 'failed Islamic state'

Onyourtoes: Former PM Dr Mahathir Mohamad, when you spoke to the Navy personnel, you ought to tell them whether the country has managed its military expenditure properly and prudently. You asked the voters not to be swayed by emotions or hatred. What an irony; were these not what you use against the opposition? You warned the voters of racial tensions if DAP leader Lim Kit Siang wins Gelang Patah. Now you tell the voters of the possibility of a failed Islamic state. I have never seen a person your age as treacherous as you. What devil right have you got to say on anything when your whole life is an embodiment of corruption, racism, abuse of power, grandeur, mega-mania, contradiction and hypocrisy?
Retnam: Why does Mahathir have to talk to the Navy people at this time? The information given by the secret service must be that the Navy and Army and Air Force personnel are leaning towards the opposition. Next Tuesday, postal ballot voters will do their voting. So this looks like a last-minute campaigning for the postal ballots. This is indeed a good sign for Pakatan.
Apa Ini?: Through the politics of fear, he has cultivated and nurtured the likes of Ibrahim Alis, big and small, and insulted the intelligence of all Malays. If the Malays, the majority group, fail to compete with others on a level playing field, they will never learn the rules apart from the rules of privilege. They will never be seen as equals and thus never be truly respected.
Tehachapi: This is a clear abuse of power by Mahathir, trying to brainwash these young naval officials. However, these men and women in uniform are smart thinking people and we are confident that they will not be fooled easily by seductive, but deceitful lies. Choose they must between the path leading to national ruins due to worsening corruption, or the path of clean and just government. Umno is incapable of leading change because it is pursuing an obsolete strategy founded on race and religious superiority.

The direction the country had taken was the main reason for our current problems. Instead we should elect a clean government which embraces national unity and diversity as valuable resources to improve our capabilities to compete in the new world. Umno-BN is too distracted and too self-absorbed as to pay attention to the problems that ordinary citizens face each day. Vote for change and hope, not stasis. Make a rational choice based on truth and facts, not emotions.
Freemsia: What a minute, I believe Mahathir is advocating for mediocrity rather than meritocracy. Worse still, he was preaching this to our nation finest? Don't the best deserved the best? Best machinery and equipment for our armed forces, led by the most capable officers. No wonder we bought submarines that cannot submerge. No wonder we cannot handle the Lahad Datu incident. No wonder we have Ahmad Zaid Hamidi as our defence minister. Now he is also telling us to vote 'okay' candidates to lead our 'okay' country and there is no need to strive for the best. Just 'average' can do.
Apa Nama: Mahathir, Malaysia is already a failed state as far as education, finance and social justice are concerned. These three pillars were damaged by you during your 22 years of useless administration. While you were education minister, you destroyed our education system. So what failed state you are talking about when it has already failed in many fields.

Abasir: Only a failed Islamic state as defined by Mahathir will allow the thieving of state assets by cronies, the murder of Mongolians with the connivance of crooked lawyers, the thuggery of policemen, the production of sex videos and their public broadcasting, the use of mat rempits against citizens and the worshiping of evil doers like Mahathir a/l Iskandar Kutty.

Cala: Where is Mahathir's logic? As usual, this tirade from Mahathir is boring and lacking in facts. First, Malaysia is a secular state, so where is Mahathir leading us to in his argument? Recall Karpal Singh's vehement protest at PAS' proposal to turn Malaysia into an Islamic state. Second, a close look at the World Bank's annual worldwide governance indicators confirmed that Malaysia has been badly managed in terms of rule of law, corruption, etc. Mahathir ought to account for his role in sending the country into this sordid state.

Third, the dim light at the end of the tunnel to reverse Malaysia's misfortune at the hands of Umno-led BN regime is the hope that Pakatan is bringing to the people. Finally, if Malaysia is doing so well as claimed by Mahathir, why is Najib said change is underway and he can do better in reforming the country than Pakatan?

Anticonmen: You lost to PAS in 1969 but put the blame on the Chinese. You now robbed us of billions of ringgit but put the blame on Islam.
Mahathir, you are a 'has been'
Posted: 25 Apr 2013 03:35 AM PDT
From Malaysiakini
Dr M: Pakatan rule will herald 'failed Islamic state'

Tehachapi: Former PM Dr Mahathir Mohamad, you cannot be more wrong. Without Pakatan Rakyat's winning this GE13, Malaysia will be a failed state, period, Islamic or not. The only viable option for our survival is bring about radical change after GE13. The cause of our decline is total erosion of trust and confidence in the Umno government and loss of morality and ethics. We suffer from rampant corruption, rising crime, inflation, declining standards of health and education, police brutalities, and loss of competitiveness. Please let us have the peace to solve the scourge of corruption, thanks to your poor moral leadership. The day of reckoning for you to account for this sorrowful state of affair will happen soon enough. For now, we won't give you the liberty to cause more damage to a fragile nation. It is our rights to save the nation. You had your chance, but failed.
LifeGoesOn: "We are not against meritocracy, but we also consider giving chances to those who are good, but not the best, this is our way," said Mahathir. He has applied this logic to his son - he is good but not the best. When compared to Khairy Jamaluddin and Mohd Khir Toyo, he got the least votes at the Umno Youth election. Yet Umno must give his son the chance to become Kedah menteri besar. This is Mahathir's way. Crony 'didahulukan'.
Comrade In Arms: Dr M, you and I know 'good' is not enough to compete in the real world. If we follow your policies we will always be second best. Other countries will take over us in all fields. A glaring example is our education system. What is our standing? Our universities have low ranking. Our economy is already been overtaken by many Asian countries. The ringgit has fallen and it's expensive to buy foreign goods. As with security, there is nothing to be proud of. We have two million illegal immigrants and foreign forces easily slipped into our country. Lahad Datu is a prime example. To save our country and protect the Malays, we have to work with the very best, be they Malay, Chinese, Indians, Kadazan or whatever.
Rakyat Malaysia: Meritocracy? What a great lie. Just look at the quality of the lecturers in our public universities. Most of them are of low-grade. I'm not running them down but can we produce quality graduates? Mahathir, are you educated in Malaysia or overseas?
Boiling Mud: What is the good of having an Islamic state infested with corrupt and cruel politicians who defy every good tenet of the Islamic teaching true Muslims are expected to adhere to? The use of religion for personal and political gains is a sin against God.
Moontime: Who appointed this dinosaur to be a soothsayer in the first place? Predicting dire things to befall Malaysians in case Pakatan takes over Putrajaya seems to be the mantra being chanted ad nauseum by this failed statesman. Malaysians have been wondering and asking the same question: Is he trying to make a comeback in politics with all this drivel and venom spewed here and yonder?

Look Mahathir, your time has come and gone. We Malaysians have paid a heavy price due to your failed policies, grandiose schemes and idiotic ramblings over the past 20 odd years. This is the time for undoing all that is wrong in this nation and we politely ask you to step aside and let the young ones proceed with the agenda of making Malaysia great again.

We don't need your stupid, idiotic predictions, your venomous comments that confirmed the conduct most unbecoming of a former premier, even a statesman. You can't seem to exorcise the inferiority complex demon in you, eh? Don't worry. After GE13, it will be gone.
Sunnyd: How do you judge the identity of a country? Obviously the majority culture will remain dominant. Dr M, Malay Muslims are the majority in this country, it is impossible they will lose their culture or their dominance. The Malays in Thailand and Singapore are minorities, so don't compare them to the Malays here.
Absalom: Here is the fear-mongering ex-PM who is all out to protect himself and his billions by ensuring that his political party continues to rule so that he still wields some power to stop anybody from going after him. Dr M, can you explain how in the states of Selangor, Kelantan and Penang and Kedah (ruled by the opposition) the Malays have lost their language, custom and identity? The only person who seems to have lost his identity or is confused about it (on purpose) seems to be you.

I think the people of Malaysia deserve to experience a change of government at least once so that they are better equipped to choose between the two the next time around. So for now, please stop telling lies to the people, stop frightening them and let them make the decision to chart the course for their future.
1st Class Taxpayer, 3rd Class Citizenship: If Pakatan rules, can Mahathir's son still be 15th richest man in Malaysia?
Malaysia Needs to Get Off the Road to Mediocrity by William Pesek
Posted: 25 Apr 2013 03:35 AM PDT
In his bid for re-election, Malaysian Prime Minister Najib Razak has dispensed with all shame. Vote for me, he has essentially declared, or Malaysia will suffer "catastrophic ruin" and an "Arab Winter" of the kind that has undone economies from Egypt to Libya. 
Both warnings are ludicrous -- signs of how worried Najib's National Front coalition is of losing power for the first time since 1957. They speak to the desperation of a government that has come to serve itself, not Malaysia's 29 million people. And they are emblematic of a leader whose talk of bold change hasn't been matched by action. 
Najib's claim is this: Giving the opposition, led by former Finance Minister Anwar Ibrahim, a chance to lead on May 5 would reverse all the gains Malaysia has made since the 2008 financial crisis. The economy would crater, stocks and the currency would plunge, and chaos would reign. 
Change through the ballot box in a democracy should never be disruptive or chaotic, and rhetoric suggesting otherwise is disingenuous. Najib likes to say: "The time has come for Malaysians to make a decision." Actually, the time has come for Malaysia's government to grow up. 
Najib's scaremongering, some of which came out of an April 17 Bloomberg News interview, smacks of the re-election campaign run almost a decade ago by then U.S. President George W. Bush. Instead of this vote-for-me-or-you're-in-danger appeal, Najib should scare up some headline-grabbing reforms that leave Malaysia better off in the future. Continue to the rest of the article in Bloomberg by William Pesek
Guess who is the Fisher-Price Parent Ambassador 2013?
Posted: 25 Apr 2013 03:07 AM PDT
Me. *faints*
Yes, ladies and gentlemen. Apparently Fisher –Price Malaysia went on a hunt to find parents who appreciate innovative toys and let their children grow and learn through play. And since I have been openly blogging about how much I love Fisher-Price products and how much they have made my life easier in taming Miki the Monster and Wreck-It Rafa, I was appointed as one of Fisher-Price Ambassadors through Fisher-Price Play Ambassador Programme. *faints again*
According to Wong Lai Kwn, Senior Brand Manager Mattel Southeast Asia, I have a strong synergy with the brand and they thought they'd like to include me as part of the programme.
She said that yesterday in her speech at the launch of the Ambassador programme held at Ben's in Publika. It was such a perfect event. I was there with Rafa (sadly Miki had to go to school), where a whole bunch of members of the media and parenting bloggers was present. For your information, this was the first press conference that I got to sit on the beautiful comfy couch and be scared to death of the questions from the media. Usually, through my profession in PR, I would be the one moderating the conference for my CEO and COO, to Datuk-Datuk mana tah, to the Ministry's Chief Secretary General and to the Ministers themselves.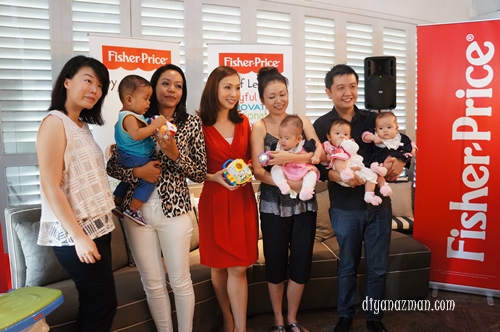 From left- Ms Wong Lai Kwan, Brand Manager of Mattel Southeast Asia Pte. Ltd. , Rafa and I , Belinda Chee, Melissa, Vince and the cutie triplets – Kimie, Ariana and Marissa.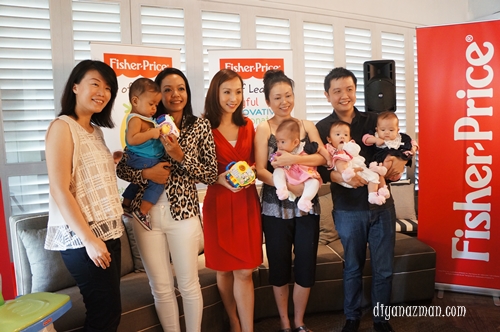 Luckily I was just talking about the joy of learning and parenting which happens to be my forte (after gossiping and more bimbo gossiping)
To my honour, the introduction of me as the Ambassador was done by the beautiful celebrity Belinda Chee. She has been a celebrity Ambassador for Fisher-Price for the past 12 months and she was also excited to welcome me and the other parent ambassador on board.
The other ambassadors are parents to the famous triplets on Facebook, Happy 3 Bubs – Vince and Melissa Tan. Their three daughters are amazingly adorable!
Back to the event, after the Q&A, we were treated with a scrumptious buffet by Ben's. I wish I had more time to eat that chocolate cake but I was busy taking care of Rafa and answering questions from the media… and answering more questions from the media…. haha! poyo! I know.. LOL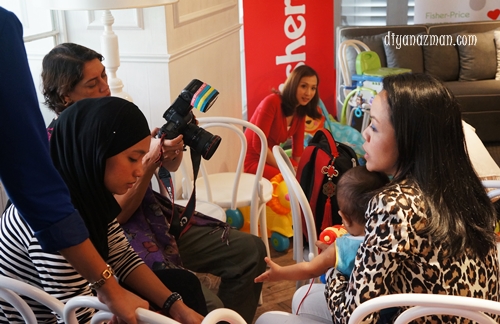 That's me being interviewed by a Berita Harian journalist. I don't know what Belinda at the back was looking at. I hope she wasn't giving me THE STARE for answering inappropriately. LOL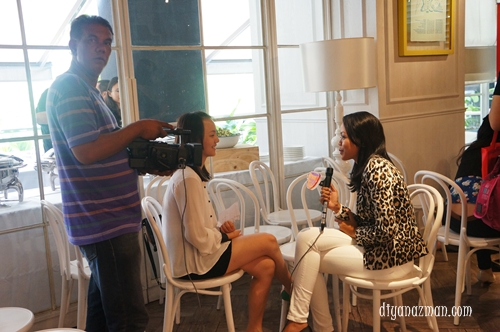 That's another journo from NTV7. Feeling-feeling retiss sangat kan?? I don't know when I was going to be featured on TV but I just won't watch. I know I looked and sounded dumb.. urgh!
Here is me picking up a name card from a bowl for the lucky draw. The winner was a journo from Yellow Pages mag she won an amazing Fisher-Price toy.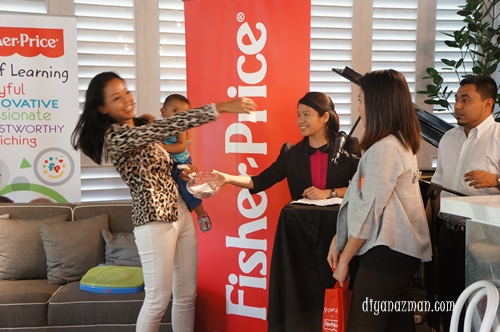 Over kan kibas-kibas rambut bagai… Nak cabut card satu jer… Oh well!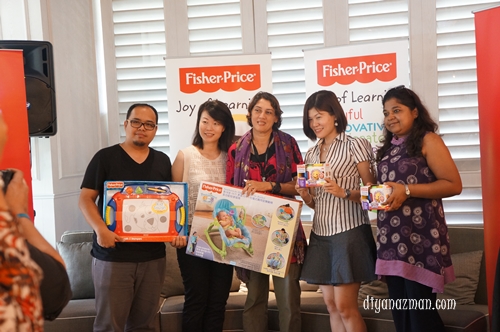 These are lucky draw winners.
They had a little play area full of Fisher-Price toys for the kids to play. Rafa rambang mata taktau nak main which toys in the end he played with Kimie's pretty socks. LOL (She is Kimie I think, I can't differentiate them lah!)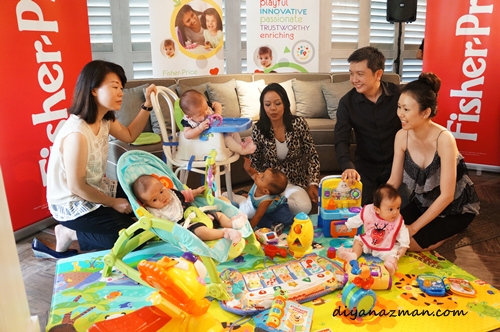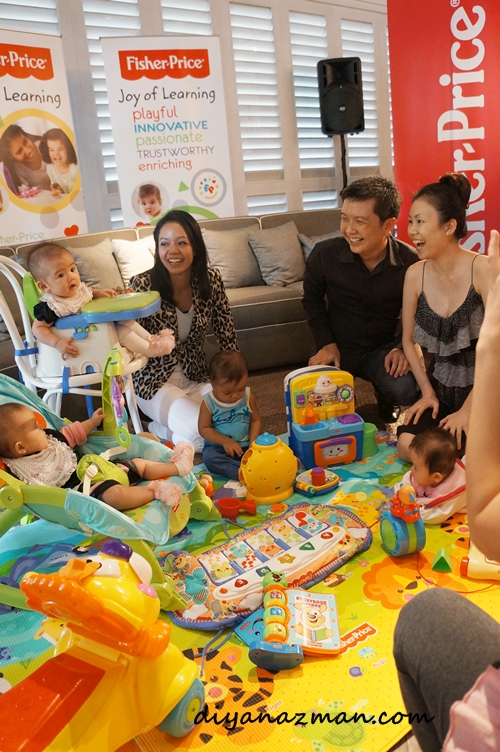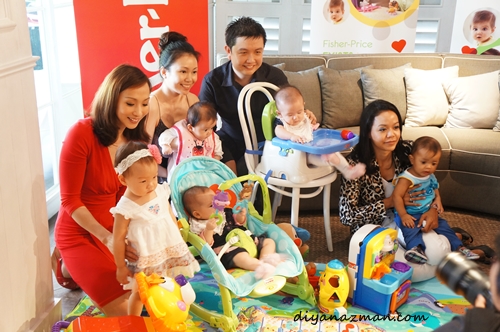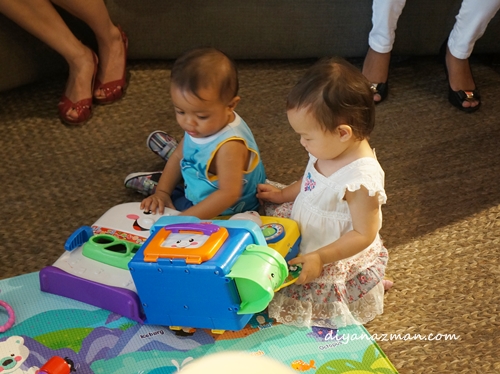 Rafa and Danielle, Belinda's beautiful daughter.. She is 16 months old but can already talk and even put two words together in a sentence.
Some of my blogger mama friends also come to cover the event. Here is a pic of me with hot momma Ina, Azzamoro, ShilaShower, Nannoor, Siti Fatimah. Also present was my blogger friend Diha and cre8tone. Thanks guys!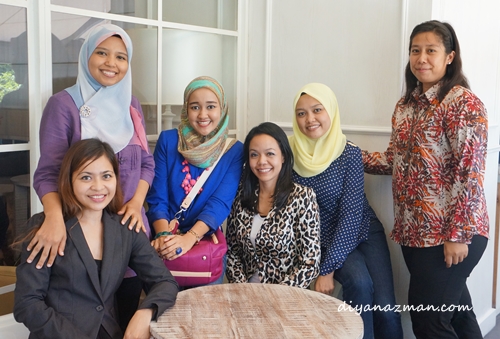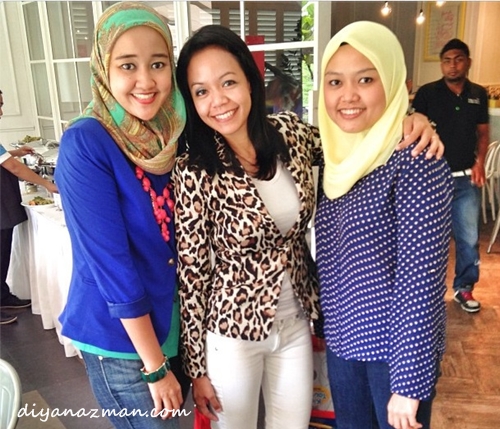 Shila, Diyana and Azza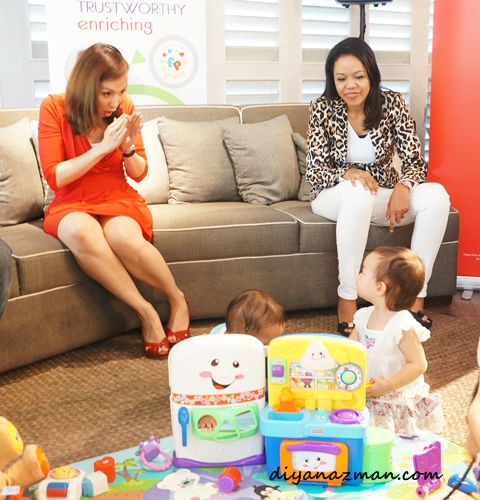 I just have to post this pic. Check out Belinda and my own faces… haishhh hahahaha
I am indeed very honoured to be a part of this programme. Now that I have ticked on the checkbox – THINGS I NEED TO DO BEFORE I TURN 40 – Become an ambassador for an international brand. If I die, I die satisfied! LOL…
For my friends and readers who have been with me for the past 5 years, they would probably know how much I believe in home-schooling and learning through play. I also always insist on safety and quality of the toys I let my kids play with. It secretly frustrates me when fellow parents complain on how expensive some good quality toys are for their kids while they clutch on their Chanels and sitting in their Lexus. To me, my kids are everything and even their toys must be the best.
I hope to share my views and experiences on how Fisher-Price toys has been beneficial in developing my children's motor skills and coordination. So if you guys have any questions and opinions, do share with me at any time at all.
Cheers to all loving moms and dads out there!

Diyana
[BERGAMBAR] Rakyat Segamat Bersemangat Nak Kuburkan BN
Posted: 25 Apr 2013 05:23 AM PDT
K
edatangan Ketua Umum PKR, Datuk Seri Anwar Ibrahim ke Segamat untuk membantu kempen calon parti itu, Datuk Chua Jui Meng malam tadi telah menarik lebih 20,000 orang - perhimpunan politik terbesar pernah disaksikan di bandar itu sejak kebelakangan ini.
Anwar mengakui Chua telah bekerja keras di Gelang Patah selama bertahun-tahun atas arahan PKR tetapi telah diminta memberi laluan selepas pemimpin veteran DAP Lim Kit Siang berhajat untuk menerajui "serangan" di Pakatan di Johor.

Sambil memuji kepimpinan Chua yang bersedia mematuhi keputusan yang sukar itu dan bersetuju untuk bertanding di Segamat, Anwar menyeru penduduk di situ supaya menyokong bekas menteri berkenaan.

Segamat, katanya, telah menjadi sebuah kawasan pilihan raya yang sangat penting, selain daripada Gelang Patah.

"Kita mahu menang," tegas Anwar dalam ceramahnya di Kampung Abdullah di tengah-tengah bandar Segamat.

Orang ramai yang menyambut ketibaan Anwar seperti seorang bintang rock, teruja dengan jenaka dan kata-kata sindiran beliau terhadap kerajaan BN.

Sementara itu seorang penduduk, Sudirman Suramat, 64, berkata ia merupakan perhipunan terbesar pernah disaksikannya sejak lebih 60 tahun tinggal di Segamat.-mk


Reported the Racist Nay Myo Wai for inciting Racial Hatred
Posted: 25 Apr 2013 01:51 AM PDT