---
Posted: 22 Apr 2013 09:03 AM PDT
Umno has sacked 61 members for breaching the party's constitution by contesting as independents in the 13th general election, something that the party hates. However, more members are defying it and could not be bothered with
disciplinary actions.
There must be reasons as to why they 'humiliated' the party by doing so. Could it be frustration?
PETALING JAYA - Malaysia's Umno party has sacked 61 members for defying the party and contesting as independents, including the former deputy chief of its women's wing.
The party's disciplinary committee also issued three members with show-cause letters for proposing members as independent candidates and for not submitting nomination papers.
The decision was made on Monday morning by the Umno disciplinary board headed by Tengku Ahmad Rithaudeen.
Bernama reported Tengku Rithaudeen as saying said the decision was made in line with Clause 20.10 of the Umno Constitution which states that any Umno member contesting the general election as independent candidates will be expelled from the party and their membership cannot be accepted forever.
"Membership expulsion letters have been sent to those concerned," he said in a statement on Monday.
Ms Kamalia Ibrahim, the deputy chief of Wanita Umno, was expelled for contesting as an independent candidate in the Kuala Kangsar parliamentary constituency.
Among the others are Datuk Seri Shariff Omar, the former Deputy Agriculture and Agro-based Industry Minister, who is contesting the Tasek Gelugor parliamentary seat and Sepang Umno division Youth head Datuk Suhaimi Mohd Ghazali who is going for the Sepang parliamentary seat.
Datu Badruddin Tun Mustapha was expelled for contesting in the Semporna parliamentary and Senallang state seats.
Tengku Rithaudeen said that in addition, three Umno members would be called up this week to answer the show-cause latter why action should not be taken against them for becoming proposers, seconders or failing to submit the nomination forms on nomination day last Saturday.
Leaders' decision must be respected although the final list of candidates for the national poll sparked some unpleasant reactions.
For instance, Kamalia should be 'automatically' be on the list as Wanita chief Shahrizat Jalil has opted out. By virtue, her assistant deserves the chance to represent the wing but the party felt otherwise.
Having more people like ex-mentri besar of Selangor Tan Sri Muhammad Muhd Taib to leave the party and joined the opposition reflects their disloyalty toward the party but some saw it as a sign that the largest political party is on the brink of 'collapsing' again.
I personally deplore such act. Turning their back on the party that once made them rich and famous is despicable and shows how ungrateful they are.
However for some reasons, I believe there were flaws in deciding on the list of candidate when we kicked out good and winnable candidates and picked up the 'dead' and 'unwanted' people to become our 'wakil rakyat'.
If we are serious about discipline, we must admit that some of us don't even deserve a second chance to stand for the election!
Ramai Sokong Anwar Untuk Humban Bos TV3 Ke Penjara
Posted: 22 Apr 2013 10:53 AM PDT
A
nwar ancam humban bos TV3 ke penjara
Ketua umum PKR Datuk Seri Anwar Ibrahim mengancam untuk memenjarakan pengurusan tertinggi Sistem Televisyen (M) Bhd seandainya stesen TV3 itu terus memfitnah kerajaan Pakatan apabila gabungan parti berkenaan membentuk kerajaan persekutuan.
Menurut satu laporan Berita Harian hari ini, Anwar mengancam untuk bertindak demikian memandangkan "fitnah tidak dibenarkan dalam pentadbiran kerajaan pakatan pembangkang yang berasaskan akhlak tinggi".

"Selepas kita menjadi kerajaan, kalau TV3 terus memfitnah, kita tendah mereka masuk penjara," katanya seperti dipetik dalam laporan akhbar tersebut.

Menurut laporan itu, lagi, Anwar berkata demikian dalam satu ceramah di Kampung Batu 9, di Changkat Jering, Perak.

TV3 merupakan stesen televisyen swasta yang dikendalikan syarikat kumpulan Media Prima Bhd, yang turut memiliki Berita Harian dan New Straits Times.

Laporan Berita Harian juga menyebut, Anwar mendakwa BN akan turut menimbulkan satu lagi fitnah, berhubung dakwaan rakaman perbualan beliau dengan Sultan Sulu Jamalul Kiram.


THE JEWISH CHRONICLE ONLINE:Buddhist atrocities on Muslims in Myanmar
Posted: 22 Apr 2013 07:19 AM PDT
သာကီတုိ႔ပေထြးကေတာ႔ သာကီတုိ႔ကုိ နာဇီဆုိပဲ။
THE JEWISH CHRONICLE ONLINE:Pogroms that we cannot ignore
The Holocaust, as we know, was not a sudden event and nor is it – as some well-meaning (mostly) religious people often suggest – incomprehensible. Its scale, its ambition was what was remarkable about it. How it came about is not amazing at all.
The most important precondition for the attempt to murder all of Europe's Jews was successfully to depict them as a malign "other"- as not-quite-people who, by existing, represented an existential threat to the majority. So historic ideas about Jewish separateness and hostility to the "goodness" of Christ and Christianity became, in the modern era, ideas about the illegitimate accretion of power, the undermining of the natural community and conspiracies.
Wirathu preaches a message that is horribly familiar
The tropes of ancient antisemitism slowly morphed into those of modern antisemitism and as they did, prepared the way for what came later. The early brickwork for the gas chambers was laid in the acts of exclusion and literal stigma: the word "Jew" in passports, laws about what jobs Jews could do, the boycotting of Jewish businesses, the depictions in cartoons and films.
Of course, you knew this and if you have to read another article about the Holocaust you'll scream. Doesn't he have anything else to write about etc? I understand. But I have a very specific reason for having tried your patience with the above. It is to compare the process of "othering" the Jews with what is happening to a group of Muslims in Burma.
To give a very brief recapitulation. In western Burma there are hundreds of thousands of "Rohingya" Muslims, originally from Bengal. The majority population is Buddhist and ethnically Burmese and for years Burmese governments have refused to recognize the Rohingya as Burmese citizens. They have, however, nowhere else to go and have built lives for themselves in the Arakan province.
For years there has been a campaign against them by Burmese nationalists, including that strange phenomenon, Buddhist extremists. But what have been dubbed "tensions" have become something else. In the last few months, in what can only be described as pogroms, Rohingyas have seen mosques and shops taken over and their houses burned. Some have been murdered. Hundreds of thousands have been displaced, many to internal refugee camps.
But what must worry any Jew with a memory is the language of the persecutors. One of the leaders of the anti-Rohingya campaign is a Buddhist monk from Mandalay, who preaches a message that is horribly familiar. Take these elements from a recent speech:
Wirathu warns that the Buddhist public needs to adopt a "nationalist mindfulness" in everything it does, otherwise the "Kalars" (a derogatory term for ethnic Bengalis) will take over. These "Kalars" and their influence have prevented Aung San Suu Kyi speaking out for true Burmese people. Muslims are taking over important positions in politics. Now Rangoon is at risk of falling into the Muslims' hands. And, of course, Muslims only think of their own interests.
He cites examples of Buddhist religious sensitivities being assaulted by Muslims and Muslim businessmen and asserts that no-one "will protect the Buddhist faith". So Buddhists must act. "We must do business or otherwise interact with only our kind: same race and same faith" shopping only at shops marked with the sign of a Buddhist owner. Buddhists must use Buddhist owned buses even when Muslim buses are cheaper, "otherwise the enemy's power will rise".
"Consider that extra you have to pay," he exhorts, "as your contribution to your race and faith". Finally, "once we have won this battle we will move on to other targets".
Wirathu is a modern Nazi, is he not? Which means we know where this one is going and where, if nothing is done, it may end up.
Suddenly, Zul Nordin of Perkasa IS the champion of Indian issues. Not MIC, not Hindraf, not Palanivel, not Vell Paari, not Waytha!
Posted: 22 Apr 2013 07:03 AM PDT
Anthony Bourdain Parts Unknown S01E01 Myanmar
Posted: 22 Apr 2013 06:29 AM PDT
IX. Recommendations to the Government of Burma, UN and world
Posted: 22 Apr 2013 06:27 AM PDT
To the Government of Burma
Justice and Accountability
Fully, promptly, and impartially investigate those responsible for serious abuses in connection with the sectarian violence in Arakan State and prosecute them fairly to the fullest extent of the law, regardless of rank or position.
Agree to the establishment of an independent international mechanism to investigate serious violations of international human rights law, including possible crimes against humanity, committed by security forces and non-state actors in Arakan State.
Provide unfettered access to Arakan State for the United Nations special rapporteur on human rights in Burma, and for representatives of the UN Office of the High Commissioner for Human Rights (OHCHR).
Authorize and facilitate establishment of an OHCHR office in Burma with a mandate for rights protection, promotion, and technical assistance; and permit OHCHR to set up branch offices as needed elsewhere in the country, including in Arakan State.
Invite the UN special rapporteur on freedom of religion and belief to visit and report on the situation in Arakan State.
Publicly release the findings of the presidential commission tasked with investigating the situation in Arakan State that were already submitted to the government, and any future findings of the commission.
Immediately make public information about the fate of all the hundreds of Rohingya and Arakanese detained since the security operations began in June 2012 in Arakan State. Ensure that anyone in detention has access to legal counsel of their choosing and to family members; detainees that have not been charged with a criminal offense should be released.
Release Dr. Tun Aung and other political prisoners arrested in Arakan State since June 2012.
Amend the legislation creating the Myanmar National Human Rights Commission to ensure its independence and other requirements of the Paris Principles on national human rights commissions.
Ratify the International Covenant on Civil and Political Rights, and the International Covenant on Economic, Social and Cultural Rights.
Ratify the 1951 Convention relating to the Status of Statelessness and the 1961 Convention on the Reduction of Statelessness.
Ratify the Rome Statute of the International Criminal Court.
Humanitarian Aid and Access
Provide safe and unhindered humanitarian access for UN agencies and international and national humanitarian organizations to all affected populations in Arakan State.
Allow unhindered access for humanitarian organizations to all detention facilities in Arakan State holding persons in connection with the sectarian violence.
Revise legislation as necessary and ensure state practice upholds the equal rights of Rohingya and other Muslims in Burma in accordance with international human rights law.
Immediately order government security forces, including Nasaka, police, and army, to stop mass arrests of Rohingya or other group on account of their ethnic, religious or other status.
Undertake an independent expert review of the border guard force, Nasaka, to reorganize it as necessary to end abusive practices.
Ensure that law enforcement officials do not use excessive or unnecessary force, and operate in accordance with the UN Basic Principles on the Use of Force and Firearms.
Rescind provisions of the state of emergency in Arakan State that permit for arrests without necessary due process safeguards.
Launch a public information campaign promoting tolerance and non-discrimination.
Develop a long-term plan in consultation with affected communities to end discrimination and promote tolerance in Arakan State.
Ensure high-level national government officials make clear public statements endorsing non-discrimination and the right of all individuals in Arakan State to equal protection of the law.
Treatment of Internally Displaced Persons
Treat all internally displaced persons (IDPs) in accordance with the UN Guiding Principles on Internal Displacement.
Immediately lift all unnecessary restrictions on freedom of movement of the Rohingya population, and ensure they are able to pursue livelihoods, purchase essentials and return to their homes and recover property, providing protection as needed. Make available alternative locations to accommodate IDPs and refugees who do not wish to return to their places of origin and instead relocate to other areas or remain in areas in the vicinity of their displacement.
Ensure that returns of displaced persons and refugees take place in accordance with international standards, on a voluntary basis with attention to the safety and dignity of the returning population.
Initiate and sustain reconciliation programs with local communities to promote and facilitate the voluntary return and reintegration of refugees and IDPs.
Citizenship
Urgently amend the 1982 Citizenship Law to eliminate provisions that are discriminatory or have a discriminatory impact on determining citizenship for reasons of ethnicity, race, religion or other protected status. Ensure that the amended law is enforced to provide citizenship without discrimination.
Revise the Citizenship Act in accordance with article 7 of the Convention on the Rights of the Child to ensure that Rohingya children have the right to acquire a nationality where otherwise they would be stateless.
Cease including ethnic and religious biographical details on national identity cards, as a matter of anti-discrimination practice and policy
National Census
Ensure that the national census currently underway, directed by the Ministry of Immigration and Population and supported by the UN Population Fund, fully complies with international standards, is non-discriminatory, and covers all populations in Burma, including Rohingya.
Ensure that Rohingya are employed to conduct the census in Rohingya areas and communities in Arakan State.
To the Neighboring States of Thailand, Malaysia, and Bangladesh
Immediately open borders to Rohingya asylum seekers and provide them with at least temporary protection. Order naval security forces to cease pushbacks of boats of asylum seekers fleeing Burma and inform coastal villages to do the same.
Provide unfettered access for UNHCR and other humanitarian agencies to provide assistance to fleeing Rohingya asylum seekers and ensure that they have adequate food, shelter, and protection.
Allow UNHCR access to register and assist arriving Rohingya, and to conduct refugee status determination screening for those seeking asylum, including all those designated by the UNHCR as in "a refugee-like situation" but whose status has not yet been verified.
Coordinate and agree upon search and rescue procedures so that the immediate humanitarian needs of asylum seekers and migrants are met and responsibility is shared.
Permit officially recognized Rohingya refugees in the Bangladesh-based Nayapara and Kutupalong camps to take up offers of third-country resettlement without hindrance.
Allow unregistered and undocumented Rohingya from Arakan State living in Bangladesh to lodge refugee claims.
Provide domestic and international media, nongovernmental organizations, and foreign diplomats unfettered access to the areas where Rohingya fleeing Burma are arriving.
Press the Burmese government to end human rights violations and discriminatory policies, including with respect to citizenship, against the Rohingya and other vulnerable minorities, making clear that such actions will harm Burma's bilateral relationships and international standing.
Use the Bali Process to forge a regional consensus to protect the rights of Rohingya fleeing by boat, and press ASEAN to adopt that consensus.
To Concerned Governments, including Australia, Canada, Japan, US, and EU Member States:
Press the Burmese government to allow the UN special rapporteur on Burma to conduct an independent investigation into abuses in Arakan State; express support for an OHCHR office in Burma with a full protection, promotion, and technical assistance mandate, and sub-offices in states around the country, including in Arakan State. Provide sufficient resources to allow the special rapporteur on Burma and OHCHR to be able to carry out these activities.
Call on the Burmese government to permit diplomatic missions in Burma to travel to affected areas, including displaced person sites.
Provide financial and technical support to UN agencies and humanitarian organizations providing assistance in Arakan State and for refugees and asylum seekers in Bangladesh; publicly promote unfettered access for humanitarian agencies and the delivery of humanitarian assistance to all populations in need.
Publicly press Burmese authorities to end discrimination and violence against Rohingya and other vulnerable minorities, making clear that such actions will harm Burma's bilateral relationships and international standing.
Support reconciliation efforts between the Arakan and Rohingya populations in Arakan State, and publicly press the Burmese government to reform the discriminatory 1982 Citizenship Law and bring it into line with international standards.
To United Nations Agencies and the Donor Community:
Provide sufficient resources and other support (including OHCHR staff support) to enable the UN special rapporteur on Burma to conduct a full investigation into abuses in Arakan State.
Ensure that humanitarian aid is delivered impartially to all populations in need in Arakan State, including those not displaced; raise concerns publicly when humanitarian access to communities in need is blocked.
Urge the Burmese government to permit the resumption of assistance programs in northern Arakan State that were suspended in June 2012.
Ensure that any assessments of the humanitarian situation in Arakan State include not only the communities affected by sectarian violence but also those affected by abusive security force sweeps since June 2012.
Ensure that the national census, currently underway and supported by the United Nations Population Fund, meets international standards, is non-discriminatory, and covers all populations in Burma, including Rohingya.
Provide support for the national census only on the basis that Rohingya representatives are appointed to the ethnic advisory committee for the census, and that Rohingya are hired to conduct the census questionnaires in Arakan State.
To the World Bank, Asian Development Bank, and Other Donors:
Ensure that any future development projects in Arakan State are explicitly conditioned on non-discrimination in provision of assistance and take into account the impact of planned projects on both Rohingya and Arakanese communities.
Ensure that any future development projects in Arakan State do not discriminate in any way against Rohingya on the basis that they are not Burmese citizens under the 1982 Citizenship Act.
VIII. Legal Standards: Crimes Against Humanity and Ethnic Cleansing
Posted: 22 Apr 2013 06:20 AM PDT
VIII. Legal Standards: Crimes Against Humanity and Ethnic Cleansing
Many of the serious abuses committed against the Rohingya and other Muslims in Arakan State since June 2012 amount to crimes against humanity.
According to the Rome Statute of the International Criminal Court (ICC), crimes against humanity are certain criminal acts, including murder, torture, and persecution "committed as part of a widespread or systematic attack directed against any civilian population, with knowledge of the attack."[349] International legal jurisprudence provides that the attack must be widespread or systematic, but need not be both.[350] "Widespread" refers to the scale of the acts or number of victims and a "systematic" attack indicates "a pattern or methodical plan."[351] The attack must also be part of a state or "organizational" policy. [352]
The "attack" does not necessarily need to be a military attack as defined under international humanitarian law, and "need not even involve military forces or armed hostilities, or any violent force at all."[353]
Non-state organizations – such as the RNDP and the Buddhist sangha (order of monks) in Arakan State – can be responsible for crimes against humanity if they are demonstrated to have a sufficient degree of organization. In its leading ruling to date on this issue, the International Criminal Court's Pre-Trial Chamber stated that "the determination of whether a given group qualifies as an organization under the [ICC's Rome] Statute must be made on a case-by-case basis," taking "into account a number of considerations," including:
(i) whether the group is under a responsible command, or has an established hierarchy; (ii) whether the group possesses, in fact, the means to carry out a widespread or systematic attack against a civilian population; (iii) whether the group exercises control over part of the territory of a State; (iv) whether the group has criminal activities against the civilian population as a primary purpose; (v) whether the group articulates, explicitly or implicitly, an intention to attack a civilian population; (vi) whether the group is part of a larger group, which fulfills some or all of the abovementioned criteria.[354]
The Pre-Trial Chamber emphasized that these factors "do not constitute a rigid legal definition, and do not need to be exhaustively fulfilled."[355]
Forced population transfers, forced deportation, and persecution are specific crimes against humanity set out by the Rome Statute and other international courts that are particularly relevant to the situation in Arakan State.
The expulsions of Rohingya Muslims and Kaman Muslims from their neighborhoods and villages in Arakan State in June and October 2012, and their subsequent treatment, amount to a Burmese government policy of deportations and forced transfer of populations that appear aimed at permanently removing Rohingya and other Muslims from their current residences to other parts of Arakan State or outside of Burma altogether, thus changing the state's demographic nature. Widespread and systematic attacks by Arakanese, with the participation of state security forces in many instances, forcibly displaced over 125,000 Muslims from their homes. At least another 20,000 others are known to have fled the country during that time. Underlying these crimes was an evident goal of the majority Buddhist population to drive out Muslim populations.
The authorities have compelled the displaced Rohingya and Kaman populations to live in squalid conditions for months without adequate food or other basic services, face severe restrictions on their movements that greatly hinder their ability to earn a livelihood, and endure abusive treatment from security forces. Rohingya children in these displaced persons camps have been effectively cut off from access to schools and education. Many Muslims in Arakan State have experienced multiple displacements, in at least one case resulting in deaths.[356] In areas damaged by violence throughout the state, municipal authorities have demolished structurally sound mosques, sending a clear anti-Muslim message. The Burmese government has restricted the delivery of humanitarian aid to the Rohingya, and in some areas continues to do so.[357] The government has also attempted to move displaced Rohingya and other Muslims to areas where there has long been a high Muslim concentration – in the north of the state – indicating intent to change the demographic profile of the state by segregating the two primary religious communities.
Deportation and forcible transfer of population are crimes against humanity under the Rome Statute of the International Criminal Court (ICC).[358] Burma is not a party to the ICC but the statute is considered to reflect customary international law.
Deportation and forcible transfer of population are distinguished by whether or not the victim was forced across an international border:
Both deportation and forcible transfer relate to the involuntary and unlawful evacuation of individuals from the territory in which they reside. Yet, the two are not synonymous in customary international law. Deportation presumes transfer beyond State borders, whereas forcible transfer relates to displacements within a State.[359]
To be recognized as a crime against humanity under the requirements put forth by the ICC, the deportation also must be committed as "part of a widespread or systematic attack directed against any civilian population, with knowledge of the attack."[360] Deportation has also been recognized as a crime against humanity in each of the major international criminal instruments prior to the ICC.[361]
The crime of forcible transfer of populations includes "the full range of coercive pressures on people to flee their homes, including death threats, destruction of their homes, and other acts of persecution such as depriving members of a group of employment, denying them access to schools, and forcing them to wear a symbol of their religious identity."[362]
After June 2012, the RNDP and the Buddhist sangha in Arakan State both issued public statements and at times spoke to the media, explicitly calling for the isolation, departure and removal of Rohingya from Buddhist areas in the state.[363] Members of these organizations committed apparent incitement to violence and participated in attacks that were at least consistent with the expressed positions of their organizations.
Both organizations led efforts to organize the Arakanese community to end all interactions with the Rohingya, with the apparent intention to economically weaken and socially isolate, and eventually drive out the Muslim population of certain areas – by denying them food and other basic services, access to income generating activities, and restricting their ability to move or interact beyond the strict confines of their neighborhoods or IDP camps. Members from both organizations were involved in activities that led to violence that caused population transfers of the Rohingya. State security forces and local government officials indirectly supported these groups in their efforts, including by not acting on advance knowledge of likely violence and failing to intervene to stop or counteract them.
State security forces also participated directly in the forced transfer of populations by committing violent acts such as killings – in some cases, killings of children – and beatings.[364] In June, attacks against the Rohingya Muslim population by state security forces occurred primarily in the state capital, Sittwe, and northern Arakan State. An immediate result was the clearing out of the Muslim population in all areas of Sittwe with the exception of one neighborhood, Aung Mingalar.[365] In October, groups of Arakanese acted alongside local state security forces such the Nasaka, army, and police. In other cases the security forces simply failed to intervene. In at least Kyauk Pyu and Pauktaw, local government officials and members of RNDP were directly involved in meetings prior to the commission of violent acts during which decisions are known to have been made to coerce Muslims to flee.
During the June violence, the security forces began abusive sweeps and mass arrests of hundreds of Rohingya men and boys. The seeming randomness of these arrests, incommunicado detention, and reports of torture and ill-treatment in detention have combined to instill widespread fear in Muslim neighborhoods and villages.[366]
The requisite elements of the crime against humanity of deportation or forcible transfer consist of coercing movement to another location of people lawfully in the area with the intent of permanently relocating them. [367]
First, the actions by the RNDP and sangha in Arakan State, with the direct or indirect support of the government have caused over 125,000 Rohingya Muslims and others "to another location, by expulsion or other coercive acts."[368]
Second, the persons expelled from their neighborhoods and townships in Arakan State – Rohingya and Kaman Muslims – "were lawfully present in the area from which they were deported or transferred."[369] Any claim by the authorities that the displaced families, many who have lived in their townships and neighborhoods for generations, were not lawfully permitted in their homes because they are "illegal immigrants," ignores the discriminatory treatment of Rohingya under the citizenship law and other legislation and practice.[370] The Kaman Muslims are Burmese citizens so there is no issue as to the lawfulness of their presence.
Finally, the intent to expel the Rohingya from their neighborhoods and villages by the RNDP and sangha is evident from the public statements calling for such action. Evidence of government intent can be found in both the actions and inaction of state security forces, combined with the longtime discriminatory state practices against the Rohingya, such as restrictions on freedom of movement, marriage, childbirth, education, and employment.
For decades the Burmese government has made conditions extremely difficult for the Rohingya through severe restrictions and human rights violations. As a result, tens of thousands have been compelled to move from their homes or flee the country. This longstanding situation, exacerbated by events since June 2012, amounts to a Burmese government policy of deportation and forcible transfer. UN bodies for at least two decades have consistently acknowledged deportation of Rohingya from Arakan State, and the abuses that contribute to it. Successive UN special rapporteurs have often identified these abuses in terms explicitly suggesting the commission of international crimes, such as "widespread," "systematic," and as a result of "state policy."[371] The current UN special rapporteur on human rights in Burma, Tomas Quintana, reported in 2010:
Discrimination [against the Rohingya] leads to forced deportation and restriction of movement owing to the enduring condition of statelessness, which is the result of the Rohingyas' historic difficulty in obtaining citizenship, particularly following the enactment of the 1982 Citizenship Act. Acts of land confiscation, forced relocation and eviction through violent means also appear to be widespread and systematic. Finally, discrimination leads to persecution, which can be defined as intentional and severe deprivation of fundamental rights contrary to international law by reason of the identity of the group or collectivity.[372]
Persecution
Persecution is recognized as among the offenses considered to be crimes against humanity.[373] The ICC statute defines persecution as "the intentional and severe deprivation of fundamental rights contrary to international law by reason of the identity of the group or collectivity."[374] The crime of persecution consists of an act or omission that 1) entails actual discrimination and denies a fundamental human right, and 2) was carried out deliberately with the intention of discriminating on one of the recognized grounds.[375] These include for political, national, ethnic, and religious reasons.[376] Persecutory acts have been found to include murder, sexual assault, beatings, destruction of livelihood, and deportation and forced transfer, among others.[377]
Both acts of violence and other apparently discriminatory actions – such as the majority Buddhist community depriving Rohingya of access to their livelihoods or to food to force them to leave – might be considered acts of persecution that amount to crimes against humanity.
"Ethnic Cleansing"
Human Rights Watch has documented a pattern of human rights violations in Arakan State that amount to "ethnic cleansing" of the Rohingya and other Muslims from their areas of residence. Although "ethnic cleansing" is not formally defined under international law, a UN Commission of Experts has defined the term as a "purposeful policy designed by one ethnic or religious group to remove by violent and terror-inspiring means the civilian population of another ethnic or religious group from certain geographic areas. . . . This purpose appears to be the occupation of territory to the exclusion of the purged group or groups."[378]
Commenting on the situation in the former Yugoslavia in the early 1990s, the Commission of Experts stated:
[T]he patterns of conduct, the manner in which these acts were carried out, the length of time over which they took place and the areas in which they occurred combine to reveal a purpose, systematicity, and some planning and coordination from higher authorities. Furthermore, these practices are carried out by persons from all segments of the Serbian population in the areas described: members of the army, militias, special forces, the police and civilians. Lastly, the Commission notes that these unlawful acts are often heralded by the perpetrators as positive, patriotic accomplishments.[379]
The UN Committee on the Elimination of Racial Discrimination found that attempts to alter permanently the ethnic make-up of a region are contrary to international law: it noted that "any attempt to change or uphold a changed demographic composition of an area, against the will of the original inhabitants, by whichever means, is a violation of international law."[380] The United Nations has also repeatedly characterized the practice of ethnic cleansing during an armed conflict as a violation of international humanitarian law, and has demanded that perpetrators of ethnic cleansing be brought to justice.[381]
As discussed above, the orchestrated violence in Arakan State, particularly in October, involved near simultaneous attacks by Arakanese against Rohingya villages and settlements. The violence, largely carried out by mobs armed with a variety of weapons, appeared organized and inspired by higher entities, including the RNDP and the sangha. State security forces stood by and watched or participated in the killing, and later disposed of the bodies in a manner that hindered rather than helped investigations.
Perhaps most indicative of all, ethnic cleansing was reflected in the terror tactics of the Arakanese attackers. According to survivors, the mobs relentlessly killed all those they could catch. They hacked children to death with machetes and threw some into fires. Muslim neighborhoods and entire villages were burned to the ground. State security forces deprived the outnumbered Muslims of their weapons in anticipation of the slaughter. And when the slaughter happened, they dumped the Rohingya bodies in areas inhabited by Rohingya displaced persons – no doubt to send a message of terror.
Right to Return Home
International law provides a remedy for persons victim to the crime against humanity of deportation and forced and arbitrary transfer. They are entitled to return to their home areas and property.[382] This right is related to the right to return to one's home country – the Universal Declaration of Human Rights provides that, "Everyone has the right … to return to his country."[383] Some international human rights instruments recognize this right.[384] Although there is no specific provision in international covenants affirming the right of internally displaced persons to return to their places of origin, that right would be protected by the "right to freedom of movement and residence" within the borders of a country.[385]
The Sub-Commission on the Promotion and Protection of Human Rights, which operated under the former UN Human Rights Commission, reaffirmed "the right of all refugees and internally displaced persons to return to their homes and places of habitual residence in their country and/or place of origin, should they so wish."[386] The UN Security Council and other UN bodies have also repeatedly asserted the right of internally displaced persons to return to their former homes. The Security Council, in its Resolution 820 (1993) dealing with Bosnia and Herzegovina, stated "all displaced persons have the right to return in peace to their former homes and should be assisted to do so."[387]
Also applicable to the situation in Arakan State are the UN Guiding Principles on Displacement,[388] which are drawn from accepted principles of international law.[389] The Guiding Principles set out provisions relating to return, resettlement and reintegration of Internally Displaced Persons. [390] Principle 28 states:
Competent authorities have the primary duty and responsibility to establish conditions, as well as provide the means, which allow internally displaced persons to return voluntarily, in safety and with dignity, to their homes or places of habitual residence, or to resettle voluntarily in another part of the country. Such authorities shall endeavour to facilitate the reintegration of returned or resettled internally displaced persons.[391]
This principle further provides that special efforts should be made to ensure the full participation of all internally displaced persons in the planning and management of such processes. The participation of women, in particular, is considered essential.
Right to Redress
International law provides for victims of human rights violations to receive adequate compensation. The Universal Declaration of Human Rights provides that, "Everyone has the right to an effective remedy by the competent national tribunals" for acts violating fundamental rights. [392]
The UN Committee on the Elimination of Racial Discrimination (CERD), in its General Recommendation XXII, says compensation should be provided for those refugees and displaced who are able to return and have lost property:
All refugees and displaced persons have, after their return to their homes of origin, the right to have restored to them property of which they were deprived in the course of the conflict and to be compensated appropriately for any such property that cannot be restored to them.[393]
When displaced persons are unable to return to their homes because their property has been destroyed, they are entitled to compensation. The UN Commission on Human Rights recognized the need for property restitution as an effective remedy for forced displacement.[394]
The Guiding Principles provide that:
Competent authorities have the duty and responsibility to assist returned and/or resettled internally displaced persons to recover, to the extent possible, their property and possessions which they left behind or were dispossessed of upon their displacement. When recovery of such property and possessions is not possible, competent authorities shall provide or assist these persons in obtaining appropriate compensation or another form of just reparation.[395]
The right to return needs to be conducted in a manner that does not further violate human rights. The UN Sub-Commission on the Promotion and Protection of Human Rights, under the UN Commission on Human Rights, urged "all states to ensure the free and fair exercise of the right to return to one's home and place of habitual residence by all refugees and internally displaced persons and to develop effective and expeditious legal and administrative procedures to ensure the free and fair exercise of this right, including fair and effective mechanisms to resolve outstanding housing and property problems."[396]
As noted, the Rohingya's lack of citizenship has resulted in their being denied fundamental rights, such as restrictions on land and property ownership. Addressing the discriminatory provisions in the 1982 Citizenship Law that effectively deny Rohingya citizenship is crucial for ensuring Rohingya receive adequate compensations for violations of their rights.
Moreover, any attempt to redress past abuses and to repossess private property should be free of violence, intimidation, and threats. The potential for hostility against Rohingya and Kaman Muslims from local Arakanese, Buddhist monks, political party activists, state security forces, and government officials remains high, and could complicate returns unless the authorities take proactive measures. [397] In order to prevent renewed violence and state-sanctioned abuse against the Rohingya, any program to implement the right to return of the displaced communities should ensure that persons who have their claims legally recognized can actually return to their homes in safety.[398]
Moreover, the government of Burma is obligated to ensure that those who may not have lawful or other rights to dwell within the housing or property registered to returnees do not become homeless or subject to other human rights violations. According to the UN Committee on Economic, Social and Cultural Rights:
Evictions should not result in rendering individuals homeless or vulnerable to the violation of other human rights. Where those affected are unable to provide for themselves, the State party must take all appropriate measures, to the maximum of its available resources, to ensure that adequate alternative housing, resettlement or access to productive lands, as the case may be, is available.[399]
This posting includes an audio/video/photo media file: Download Now
Posted: 22 Apr 2013 06:17 AM PDT
III. Mass Graves April 22, 2013 Page 7 Page 9 Page 8 of 19
III. Mass Graves
I saw three trucks full of dead bodies, some wrapped in tarpaulin. They were brought to the funeral ground here [Thackabyin Rd.]. …The smell was terrible.[156]
In locations in Arakan State where violence and abuses have occurred since June, community members told us that state security forces have not provided information about the bodies they collect. This is particularly true in cases implicating the security forces. The failure to provide information about the bodies of victims of violence places a great burden on their families and will hinder future efforts to provide accountability and redress.
Human Rights Watch
uncovered evidence of four mass-grave sites in Arakan State, three dating from the immediate aftermath of the June violence and one from the October violence. Rohingya men who participated in digging mass graves told us that they did so under orders from the authorities in four different areas: Yan Thei village in
Mrauk-U Township
and at three different sites near the Ba Du Baw IDP camp outside Sittwe. Several Rohingya said they had witnessed a large mass grave being dug by army personnel outside Ba Du Baw IDP camp.
Mass Graves at Yan Thei Village, Mrauk-U Township
As reported earlier in the report, the Arakanese attack on Yan Thei village on October 23 resulted in the deaths of at least 52 Rohingya, according to local village-head records obtained by Human Rights Watch. Two witnesses claim that at least 70 Rohingya died. On October 25, villagers began digging graves for Rohingya killed in the massacre. Several told us they began digging individual graves but police and army officials ordered them to dig larger graves in the interest of time. A Rohingya man told Human Rights Watch:
That night [October 23], we could not collect the dead. We collected them in the morning but we could not bury them. We had to wait one day for [government] approval. Once we received permission we … put three or four bodies in one hole, and many more in other holes. … The [larger] holes we dug were 10 feet wide and several feet deep. We made at least one very big hole and other smaller ones. At first we buried the bodies in single graves but then the soldiers said we should dig bigger graves because single graves would take too much time. They wanted it done quickly. It was both the police and army who ordered us to dig bigger graves. They were watching over us.[157]
Another Rohingya man said he buried 61 people, and he estimated that others later died from injuries, making a total of about 70 killed:
We dug the graves. We buried 11 men, 20 women, and nearly 30 children. At that time the children couldn't escape with their parents. All the children were killed by knife, and then they threw them into the fire. They had burns. I brought some of the burned, dead bodies here to bury them. We buried the dead bodies after getting permission from the army. When we were burying the bodies, the security forces were standing nearby. They were together, the army and the police.[158]
A Rohingya man who buried his mother said:
My mother was stabbed with a knife in her head and neck. She died from bleeding. She died in the evening. I was with her at the time. We could not do anything for her. Later, we received permission from the authorities to bury her, so we buried her. I dug her grave with some other relatives.[159]
Mass Grave on Thackabyin Road
Eyewitnesses told Human Rights Watch that immediately following the wave of June violence, on June 14, Burmese army soldiers dug a mass grave on the road to Thackabyin outside the Ba Du Baw IDP camp, just west of Sittwe.Displaced Rohingya and local villagers confirmed the details of what happened: three military trucks arrived at the Muslim cemetery and then pulled away when people gathered; soldiers dug holes in what was formerly a Buddhist cremation compound several hundred yards away; and several dozen bodies were unceremoniously buried. They assumed the bodies were Muslim because the bodies were buried – had they been Buddhist they would have most likely been cremated – and because the trucks appeared to have left the Muslim cemetery to avoid a crowd of Rohingya that had gathered.In a response to a question from Human Rights Watch about how dead bodies were dealt with by the authorities, the Ministry of Border Affairs claimed on February 26 that dead Rakhine bodies were cremated in Akyeiktawkone cemetery in order to avoid "Bengali villages and refugee camps" that existed on the same road as another cemetery.[160] The government claimed, "The dead bodies of Bengalis [Rohingya] were buried in their religious cemeteries with the arrangement of [the] Rakhine State Government."[161]A Rohingya woman said:
There were three military trucks. I saw them digging a pit and one truck was parked near the pit. When we passed by the funeral ground, there were two men holding shovels over a pit. There were bad smells and no one was allowed to pass through there. I saw one person who tried to go into the area and he was stopped by the military. The men next to the pit had on undershirts and military uniform trousers. I saw them take a lot of dead bodies out of one truck. I saw them drop them next to the pit. I also saw a coffin being laid on the ground. There was one coffin and the rest were piled up bodies. If I guessed I would say there were around 50 or 60 bodies. Some bodies had clothes on, some didn't.[162]
Another Rohingya woman who had been walking on the road to Thackabyin, told us:
At around 10 a.m. we saw the truck filled with dead bodies. There were two people wearing t-shirts with army pants. They were digging in the ground and there were two other trucks parked there. The men who were digging were Burman or Arakanese. I think they were all army people. There was an awful smell coming from the area. When we returned from shopping they hadn't finished digging the ditch. I could see in the back of the truck and the smell was very bad. One dead body was in a wooden coffin. … The [displaced Muslim] men walking back and forth on the road also saw it but they didn't want to tell anybody. People are very afraid to talk.[163]
A Rohingya woman said that government trucks, including the truck filled with dead bodies, arrived in the morning of June 14:
At first they went to the Muslim cemetery, slowed down to a stop, and then the trucks turned around and drove back toward the Buddhist funeral ground [several hundred yards away]. The soldiers buried the bodies themselves. I watched them do it. We think they saw us taking photos the day before, and that they knew we took photos, so they went elsewhere [to the Buddhist funeral ground]. And [Rohingya] people were gathering as they drove near the Rohingya cemetery.[164]
Some bodies also appear to have been cremated. A 26-year-old Rohingya man who had witnessed killings of Rohingya by the police in nearby Narzi on June 12 said:
They [army] let us take some dead bodies, but the rest of them we couldn't take. Most of the Muslim bodies were taken away by the authorities and cremated in the Buddhist cremation center. The place I am living is less than a mile away from the cemetery. We could see the burning [at the cremation center].[165]
In a response to questions from Human Rights Watch, the government claimed that bodies of Arakanese were cremated in "Akyeiktawkone cemetery"; they did not mention the cremation of Rohingya bodies.
Mass Graves Outside Ba Du Baw IDP Camp
Witnesses said that on June 13, a government truck arrived at an area outside Ba Du Baw IDP camp and dumped 18 naked and half-clothed bodies in a pile.Human Rights Watch obtained photos from local sources showing a cluster of bodies, including at least one of a child. Although Human Rights Watch was unable to confirm the identities of the victims, local witnesses and those who buried the bodies asserted they were Rohingya.Some bodies had their hands still bound, and appeared to have been killed execution style.[166] Many showed signs of blunt force trauma, stab wounds, and gunshot wounds. Human Rights Watch visited the location where the photos were taken and learned at least three Rohingya men had been ordered to bury the bodies in two nearby graves.A 48-year-old Rohingya man explained the condition of the bodies, matching what is depicted in the photos obtained by Human Rights Watch:
They dropped the bodies right here. Three bodies had gunshot wounds. Some had burns, some had stab wounds. One gunshot wound was on the forehead, one on the chest. Two men's hands were tied at the wrists in front and another one had his arms tied in the back. We buried the bodies. … I saw one police car and two municipal trucks [bring the bodies]. After dropping off the bodies the police ordered us to bury them.[167]
A Rohingya woman who also witnessed the burial said: "On the 13th [of June] some municipal people brought dead bodies here so some people could bury them. They just threw down the bodies. They left 18 bodies that day. That was early in the morning, around 9 a.m."[168]One Rohingya man explained that the authorities dumped bodies on two consecutive days: "The first day it was a municipal truck and the second day it was a municipal truck. I saw it both days but we were afraid to take a photograph."[169]The bodies that were dumped were buried in two pits demarcated with two makeshift bamboo fences constructed by local Rohingya. Human Rights Watch photographed the gravesites, marked the GPS coordinates,[170] and interviewed other witnesses and gravediggers who all provided similar details.[171]Human Rights Watch was unable to learn the provenance of the bodies. A Rohingya man, 36, said that he had helped place 17 bodies of Rohingya in an army truck in Narzi, several kilometers away, on June 12.[172]Other witnesses to the violence in Narzi also reported seeing detained Rohingya tied in ways similar to that described by those who saw the corpses:
At one time, when they [Arakanese] came I saw them catch one [Rohingya] man and they tied his hands behind his back and made him sit in the street. There were police nearby. They were working together [with the Arakanese]. They tied his hands behind his back with a gray-color plastic string. They had very long swords.[173]
Another Rohingya woman who fled her home in Sittwe on June 10 said: "They [police and Arakanese attackers] brought everybody they caught to the road. They tied everybody behind their backs."[174]
Bodies Taken by State Security Forces
Several Muslims told Human Rights Watch that they saw security forces collecting dead bodies after the violence in June and October. Apart from concerns about accountability for the crimes that were committed, the Muslim communities considered it offensive that they were unable to provide proper religious burials for their dead.A Rohingya woman, describing events that took place in Narzi quarter, Sittwe, in June, told Human Rights Watch: "Nobody could carry the dead bodies. Some of us tried to get the bodies but we couldn't. I saw the security forces take the bodies of the two young boys and young men who I saw get shot."[175]A Kaman Muslim man who witnessed the police kill two boys aged 16 and 17 and a 21-year-old man just a few feet away from him in Kyauk Pyu said:
They [the three] were all dead. We took their bodies into the compound of the mosque. They were not buried. By the time we left our village there were [many] dead in Kyauk Pyu. It was both police and Tatmadaw [army] who took them. I saw them taking the bodies away. Many people are still missing today. I don't know where the bodies are now.[176]
A Rohingya man, 56, from Minbya witnessed four killings by Arakanese in his village on October 22. He said, "We have no information about our relatives' dead bodies. We have our own graveyard but they are not buried there. I do not know who took the dead bodies."[177]
Posted: 22 Apr 2013 06:13 AM PDT
Crimes Against Humanity and Ethnic Cleansing of Rohingya Muslims in Burma's Arakan State
This 153-page report describes the role of the
Burmese government
and local authorities in the forcible displacement of more than 125,000 Rohingya and other Muslims and the ongoing humanitarian crisis. Burmese officials, community leaders, and
Buddhist monks
organized and encouraged ethnic Arakanese backed by state security forces to conduct coordinated attacks on
Muslim
neighborhoods and villages in October 2012 to terrorize and forcibly relocate the population. The tens of thousands of displaced have been denied access to humanitarian aid and been unable to return home.
This posting includes an audio/video/photo media file: Download Now
Burma: End 'Ethnic Cleansing' of Rohingya Muslims
Posted: 22 Apr 2013 05:56 AM PDT
Ethnic Arakanese with weapons walking away from a village in flames while a soldier stands by. Arakan State, Burma, June 2012Burma: End 'Ethnic Cleansing' of Rohingya Muslims
Unpunished Crimes Against Humanity, Humanitarian Crisis in Arakan State April 22, 2013
(Bangkok) – Burmese authorities and members of Arakanese groups have committed crimes against humanity in a campaign of ethnic cleansing against Rohingya Muslims in Arakan State since June 2012, Human Rights Watch said in a new report released today.
The 153-page report, "'All You Can Do is Pray': Crimes Against Humanity and Ethnic Cleansing of Rohingya Muslims in Burma's Arakan State," describes the role of the Burmese government and local authorities in the forcible displacement of more than 125,000 Rohingya and other Muslims and the ongoing humanitarian crisis. Burmese officials, community leaders, and Buddhist monks organized and encouraged ethnic Arakanese backed by state security forces to conduct coordinated attacks on Muslim neighborhoods and villages in October 2012 to terrorize and forcibly relocate the population. The tens of thousands of displaced have been denied access to humanitarian aid and been unable to return home.
"The Burmese government engaged in a campaign of ethnic cleansing against the Rohingya that continues today through the denial of aid and restrictions on movement," said Phil Robertson, deputy Asia director. "The government needs to put an immediate stop to the abuses and hold the perpetrators accountable or it will be responsible for further violence against ethnic and religious minorities in the country."
Following sectarian violence between Arakanese and Rohingya in June 2012, government authorities destroyed mosques, conducted violent mass arrests, and blocked aid to displacedMuslims. On October 23, after months of meetings and public statements promoting ethnic cleansing, Arakanese mobs attacked Muslim communities in nine townships, razing villages and killing residents while security forces stood aside or assisted the assailants. Some of the dead were buried in mass graves, further impeding accountability.
Human Rights Watch traveled to Arakan State following the waves of violence and abuses in June and October, visiting sites of attacks and every major displaced person camp, as well as unofficial displacement sites. The report draws on more than 100 interviews with Rohingya and non-Rohingya Muslims and Arakanese who suffered or witnessed abuses, as well as some organizers and perpetrators of the violence.
All of the state security forces operating in Arakan State are implicated in failing to prevent atrocities or directly participating in them, including local police, Lon Thein riot police, the inter-agency border control force called Nasaka, and the army and navy. One soldier told a Muslim man who was pleading for protection as his village was being burned: "The only thing you can do is pray to save your lives."
Displaced Rohingya told Human Rights Watch how in October security forces stood by or joined with large groups of Arakanese men armed with machetes, swords, homemade guns, and Molotov cocktails who descended upon and attacked their villages. In some cases, attacks occurred simultaneously in townships separated by considerable distance.
Satellite images obtained by Human Rights Watch from just 5 of the 13 townships that experienced violence since June show 27 unique zones of destruction, including the destruction of 4,862 structures covering 348 acres of mostly Muslim-owned residential property.
In the deadliest incident, on October 23, at least 70 Rohingya were killed in a daylong massacre in Yan Thei village in Mrauk-U Township. Despite advance warning of the attack, only a small number of riot police, local police, and army soldiers were on duty to provide security, but they assisted the killings by disarming the Rohingya of their sticks and other rudimentary weapons they carried to defend themselves. Included in the death toll were 28 children who were hacked to death, including 13 under age 5. "First the soldiers told us, 'Do not do anything, we will protect you, we will save you,' so we trusted them," a 25-year-old survivor told Human Rights Watch. "But later they broke that promise. The Arakanese beat and killed us very easily. The security did not protect us from them."
"In October, security forces either looked the other way as Arakanese mobs attacked Muslim settlements or joined in the bloodletting and arson," Robertson said. "Six months later, the government still blames 'communal violence' for the deaths and destruction when, in truth, the government knew what was happening and could have stopped it."
Considerable local organizing preceded and backed October's attacks. The two groups most influential in organizing anti-Rohingya activities were the local order of Buddhist monks (the sangha) and the regionally powerful Rakhine Nationalities Development Party (RNDP), which was founded in 2010 by Arakanese nationalists. Between June and October, these groups and others issued numerous anti-Rohingya pamphlets and public statements, explicitly or implicitly denying the existence of the Rohingya ethnicity, demonizing them, and calling for their removal from the country, at times using the phrase "ethnic cleansing." The statements frequently were released in connection with organized meetings and in full view of local, state, and national authorities who raised no concerns. Local authorities, politicians, and monks also acted, often through public statements and force, to deny Muslims their rights to freedom of movement, opportunities to earn a living, and access to markets and to humanitarian aid. The apparent goal has been to coerce them to abandon their homes and leave the area.
"Local officials and community leaders engaged in an organized effort to demonize and isolate the Muslim population as a prelude to murderous mob attacks," Robertson said. "Moreover, since the bloodshed, the central government has taken no action to punish those responsible or reverse the ethnic cleansing of the forcibly displaced Muslims."
Human Rights Watch uncovered evidence of four mass-grave sites in Arakan State – three dating from the immediate aftermath of the June violence and one from the October violence. Security forces actively impeded accountability and justice by digging mass graves to destroy evidence of crimes.
For instance, on June 13, a government truck dumped 18 naked and half-clothed bodies near a Rohingya displaced person camp outside of Sittwe, the state capital. Some of the victims had been "hogtied" with string or plastic strips before being executed. By leaving the bodies near a camp for displaced Rohingya, the soldiers were sending a message – consistent with a policy of ethnic cleansing – that the Rohingya should leave permanently.
"They dropped the bodies right here," said a Rohingya man, who saw the bodies being dumped. "Three bodies had gunshot wounds. Some had burns, some had stab wounds. One gunshot wound was on the forehead, one on the chest."
Arakan State faces a major humanitarian crisis brought on by the Burmese government's systematic restrictions on humanitarian aid to displaced Rohingya.
More than 125,000 Rohingya and non-Rohingya Muslims, and a smaller number of Arakanese, have been in displaced person camps in Arakan State since June. While President Thein Sein's government has hosted high-profile diplomatic visits to displacement sites, it has also obstructed the effective delivery of humanitarian aid. Many of the displaced Muslims have been living in overcrowded camps that lack adequate food, shelter, water and sanitation, schools, and medical care. Security forces in some areas have provided protection to displaced Muslims, but more typically they have acted as their jailers, preventing access to markets, livelihoods, and humanitarian assistance, for which many are in desperate need.
Tens of thousands of Rohingya face a range of deadly waterborne diseases if they are not moved to higher ground before the rainy season begins in May.
"The problem with aid delivery in Arakan State is not a failure of coordination, but a failure of leadership by the government to allow displaced Muslims access to aid and freedom of movement," Robertson said. "An entirely predictable and preventable humanitarian crisis is just weeks away when the rains fall and camps flood, spreading waterborne diseases."
The displaced Rohingya have not been consulted on their right to return to their original towns and villages, heightening concerns of a long-term intent to segregate the population.
Lacking aid, protection, and facing violence and abuses, tens of thousands of Rohingya have fled the country by sea since June with hopes of reaching Bangladesh, Malaysia, or Thailand, and many thousands more appear ready to do the same – several hundred people have already died at sea.
Under international law, crimes against humanity are crimes committed as part of a widespread or systematic attack by a government or organization on a civilian population. Among the crimes against humanity committed against the Rohingya since June were murder, deportation and forcible transfer of the population, and persecution.
"Ethnic cleansing," though not a formal legal term, has been defined as a purposeful policy by an ethnic or religious group to remove by violent and terror-inspiring means the civilian population of another ethnic or religious group from certain geographic areas.
Central to the persecution of the Rohingya is the 1982 Citizenship Law, which effectively denies Burmese citizenship to Rohingya on discriminatory ethnic grounds. Because the law does not consider the Rohingya to be one of the eight recognized "national races," which would entitle them to full citizenship, they must provide "conclusive evidence" that their ancestors settled in Burma before independence in 1948, a difficult if not impossible task for most Rohingya families.
The government and Burmese society openly consider the Rohingya to be illegal immigrants from what is now Bangladesh and not a distinct "national race" of Burma, denying them consideration for full citizenship. Official government statements refer to them as "Bengali," "so-called Rohingya," or the pejorative "kalar."
Human Rights Watch urged the Burmese government to urgently amend the 1982 Citizenship Act to eliminate discriminatory provisions and to ensure that Rohingya children have the right to acquire a nationality where otherwise they would be stateless.
"Burma should accept an independent international commission to investigate crimes against humanity in Arakan State, locate victims, and provide redress," said Robertson. "Burma's donors need to wake up and realize the seriousness of the Rohingya's plight, and demand that the government urgently stop abuses, promote the safe return of displaced Muslims, and ensure accountability to end the deadly cycle of violence in Arakan State."
Majlis Khaled Nordin Dipukul Ribut, Petugas Media Dihempap Khemah
Posted: 22 Apr 2013 08:18 AM PDT
P
etugas, tetamu utama dan pegawai Kementerian Pengajian Tinggi, nyaris cedera apabila khemah tempat mereka sedang menikmati jamuan, roboh dipukul angin.
Kejadian berlaku selepas Majlis Perasmian Pelan Strategik Keusahawanan Institusi Pengajian Tinggi dan Women In Social Enterprise (WISE) 2013, di Dewan Serbaguna Taman Mawar oleh Menteri Pengajian Tinggi Datuk Seri Mohamed Khaled Nordin.

Semua tetamu dan peserta majlis itu baru menikmati hidangan pencuci mulut, pengat pisang, apabila berlaku hujan lebat serta angin kuat pada kira-kira 12.10 tengah hari.

Khaled, yang juga calon BN bagi kerusi DUN Permas, meninggalkan majlis lima minit sebelum kejadian

Wartawan New Straits Times S K Thanusha Devi, 25, terpaksa ditarik keluar dari khemah yang roboh ditimpa tiang khemah.

"Ia berlaku sekelip mata ...saya mendengar rakan-rakan menjerit meminta kami segera keluar dari khemah.

"Saya meluru keluar secepat mungkin... malangnya sesuatu menimpa bahu saya dan saya terjatuh...saya ditarik keluar oleh rakan setugas jurukamera TV3, Yahya Kiprawi.

Yahya yang sebelum itu terlihat sebatang tiang khemah berdekatan mejanya dalam keadaan tidak stabil, cuba menahannya daripada jatuh.

"Keluar, keluar, keluar," jeritnya apabila tidak mampu menahan tiang itu menyebabkan semua tetamu di enam meja di bawah khemah berkenaan, termasuk Naib Canselor Universiti Teknologi Malaysia Prof Datuk Seri Dr Zaini Ujang, lari menyelamatkan diri.

Yahya berkata beliau cepat bertindak kerana mempunyai pengalaman serupa beberapa tahun lepas ketika menghadiri satu karnival masyarakat Kemboja, dan berjaya menyelamatkan dua kanak-kanak lelaki masyarakat itu yang terperangkap di bawah khemah.

Tiada kecederaan dilaporkan dalam kejadian itu. - Bernama

Ulasan GB

Libas BN Pada PRU13 mencatatkan:

Bila alam mulai murka, ia takkan mengenali siapa "mangsanya"... Kamu bolehganggu majlis Pakatan Rakyat dengan hantar orang baling batu, buat bising & sebagainya, tapi kamu tak boleh halang "Kuasa Tuhan" dengan hanya menghantar angin dan ribut di majlis acara kamu... Itulah hebatnya doa orang-orang yang teraniaya. Moga ianya dapat muhasabahkan diri...
Report documents 'Rohingya persecution'
Posted: 22 Apr 2013 04:56 AM PDT
Report documents 'Rohingya persecution'
Ethnic cleansing and crimes against humanity have been committed against Myanmar's ethnic Rohingya people, according to a new report by Human Rights Watch (HRW), a New York-based nongovernmental organisation.
According to the report released on Monday, entitled All You Can Do is Pray, more than 125,000 ethnic Rohingya have been forcibly displaced since two waves of violence in May and October 2012.
Satellite images show almost 5,000 structures on land mostly owned by Muslim Rohingya have been destroyed, says the report.
The October attacks, the report states, were coordinated by Myanmar government officials, an ethnic Rakhine nationalist party and Buddhist monks. The deadliest attack took place on October 23, in which witnesses say at least 70 Rohingya – including 28 children – were massacred in Mrauk-U township.
The UN has described the Rohingya as one of the most persecuted minorities in the world.
Most Rohingya who live in Myanmar's western Rakhine state are denied citizenship by the Myanmar government, which claims they are illegal immigrants from neighbouring Bangladesh and often refers to them as "Bengali".
The Myanmar government has done nothing to prevent the violence, alleges the report, and at times government forces have joined in the attacks on the Rohingya.
"The Burmese government engaged in a campaign of ethnic cleansing against the Rohingya that continues today through the denial of aid and restrictions on movement," Phil Robertson, HRW's deputy Asia director, said.
"The government needs to put an immediate stop to the abuses and hold the perpetrators accountable or it will be responsible for further violence against ethnic and religious minorities in the country."
In response to a letter from Human Rights Watch, the Myanmar government asserted that "the armed force, police force and militias handled the conflicts between the two communities in accordance with the existing laws, rules and regulations taking care of providing security in order to restore law and order and tranquillity".
Allegations that the police used excessive force to handle the outbreak of violence in June "were unfounded and not true information", the government said, adding that authorities faced "unfounded bias" from media both within and outside the country.
The government also said it has established an independent commission to study "the conflict" in Rakhine.
Conflicts between Muslim Rohingya and Buddhist Rakhine have long roiled Rakhine. During World War II, clashes between the Rakhine, who supported Japanese forces, and the Rohingya, who supported the British, led to many deaths.
BBC News – Burma riots: Footage shows anti-Muslim violence
Posted: 22 Apr 2013 04:52 AM PDT
Rights group says Myanmar authorities aided killing of Muslims
Posted: 22 Apr 2013 04:46 AM PDT
Rights group says Myanmar authorities aided killing of Muslims
April 22, 2013
A blaze running out of control in Rakhine state. — Reuters file picBANGKOK, April 22 — Authorities in Myanmar's Rakhine State aided the ethnic cleansing of Rohingya Muslims last year in crimes against humanity that have sparked anti-Muslim violence elsewhere in the country, Human Rights Watch (HRW) said today.
Security forces were complicit in disarming Rohingya Muslims of makeshift weapons and standing by, or even joining in, as Rakhine Buddhist mobs killed men, women and children in June and October 2012, New York-based HRW said.
"While the state security forces in some instances intervened to prevent violence and protect fleeing Muslims, more frequently they stood aside during attacks or directly supported the assailants, committing killings and other abuses," the report said of the unrest, in which at least 110 people died.
The failure to investigate properly or punish state officials had emboldened those behind campaigns against Muslims elsewhere, said Phil Robertson, deputy Asia director at HRW, referring to violence in central Myanmar that killed more than 43 people in March and displaced at least 12,000.
"People are allowed to incite and instigate in a coordinated campaign — this is the lesson taken in by others," Robertson told Reuters. "What happened in Arakan (Rakhine) has helped spark radical anti-Muslim activity."
Myanmar government officials could not be reached for comment on the report.
Human rights abuses still take place in fast-changing Myanmar despite widespread political, social and economic reforms by a quasi-civilian government that took power in March 2011 and convinced the West to suspend most sanctions to allow aid and investment into one of Asia's poorest countries.
Losing leverage
A decision expected today by the European Union to lift all but its arms embargoes would only weaken the hand of Western powers seeking to clean up Myanmar's poor human rights record, Robertson said.
"They're going to be hostage to what the military and government does," he said. "They're not going to have the kind of leverage and capacity to push back on the government if it becomes more oppressive."
The report into the Rakhine state violence, which called for international pressure on the government, said authorities had blocked aid from going into the squalid camps occupied by stateless Rohingya and Kaman Muslims, exposing them to malnourishment and diseases such as cholera or typhoid.
Robertson described the segregation of Muslims as "ghettoisation" that left them vulnerable to abuse.
More than 120,000 people fled arson and machete attacks in Rakhine state and thousands have embarked on perilous journeys on rickety wooden boats to other countries, where they are prey to human trafficking gangs.
An estimated 800,000 stateless Rohingyas live in Myanmar, where the authorities restrict their movements and access to employment and consider them illegal immigrants from Bangladesh.
The HRW report said more than 70 Rohingyas were killed in Mrauk-U township's Yan Thei village in October, among them 28 children and infants who were hacked to death. — Reuters
Artis Malaysia Sokong Perdana Menteri Terima Kecaman Di Internet
Posted: 22 Apr 2013 04:51 AM PDT
T
ak sampai 24 jam proses penamaan calon selesai semalam, beberapa artis terkenal bertaraf antarabangsa terus dikecam hebat kerana menyatakan sokongan secara terbuka kepada BEKAS perdana menteri, Najib Razak.
Mendahului senarai tentunya 'Gadis Bond Malaysia' Michelle Yeoh yang turut hadir di majlis makan malam mega di Pelabuhan Klang anjuran seorang taikun yang rapat dengan Najib.

Michelle dalam ucapannya meminta hadirin yang majoritinya kaum Cina supaya terus menyokong Najib kerana dia layak 'untuk terus mentadbir negara'.

Ucapan dan sokongan secara terbuka menyebabkan Yeoh teruk dikecam terutamanya di laman sosial Facebook milik Najib, 'Ah Jib Gor' malam tadi.

Kenyataan secara terbuka Yeoh turut menyebabkan hadirin yang sudah tiba agak lewat terus meninggalkan majlis malah ada sesetengahnya belum lagi menikmati jamuan yang disediakan.

Yeoh yang perasan akan hal tersebut terus menyampaikan ucapannya dengan mengharapkan sokongan kaum itu terus kekal kepada Barisan Nasional (BN) kononnya hanya parti itu sahaja yang boleh menyelamatkan negara.

Yeoh turut dikecam pengguna internet kerana di sebalik memainkan watak penting sebagai pejuang demokrasi Myanmar, Aung San Suu Kyi, dia langsung tidak nampak pemerintahan Najib sebenarnya mirip junta tentera negara itu yang menekan rakyatnya supaya terus menyokong rejim zalim di Asia Tenggara itu.

Hal yang sama turut dialami superstar dari Hong Kong, Alan Tam yang turut mengadakan persembahan di Pulau Pinang anjuran MCA malam tadi.

Alan yang tidak mengetahui makna konsep 1Malaysia Charity Dinner, majlis sama yang dihadiri Yeoh turut menjadi sasaran pengguna Facebook miliknya hingga terpaksa menjelaskan mengapa dia membuat persembahan malam tadi.

Dia yang tidak mengetahui sokongan kaum Cina terhadap BN semakin lemah memohon maaf atas kesilapannya dan berjanji akan lebih berhati-hti dengan sebarang tawaran persembahan di Malaysia selepas ini.

Pengguna Facebook bagaimanapun memuji pendirian seorang lagi artis antarabangsa Hong Kong, Gigi Leung yang tidak 'bersekongkol' membuat persembahan bersama Alan atas faktor yang tidak dapat dielakkan.

Leung yang dipuji lebih 6,000 peminatnya melalui komen di laman sosial yang sama turut meminta supaya peminatnya memahami 'keputusannya' dipercayai sudah dinasihatkan beberapa rakannya supaya membatalkan persembahan di hadapan lebih 12,000 orang yang membanjiri perkarangan Padang Kota Lama itu.

Artis band popular Taiwan, Mayday juga membatalkan persembahan mereka dan turut dipuji pengguna laman Faebook kerana berani membatalkan persembahan di sebalik sokongan kaum itu terhadap BN kekal di bawah 20 peratus di sleuruh negara.

Peminatnya di negara ini meminta supaya kumpulan terkenal itu membuat persembahan hanya setelah rejim BN ditumbangkan selepas 5 Mei nanti.

Mayday yang akur dengan permintaan peminatnya terus membatalkan kehadirannya dan dipuji lebih 14 ribu pengikut kumpulan itu di laman peminat mereka di Facebook.

Tidak hairanlah mengapa kempen Najib akhir-akhir ini sering tidak mendapat sambutan dan jika ada pun ia lebih kepada memancing undi dari menyelesaikan isu rasuah dan salah guna kuasa yang membelenggu pentadbiran negara. -jalanpulang


Senarai Aktiviti dan Program – 22 April 2013
Posted: 22 Apr 2013 03:23 AM PDT
9.00pm-10.00pm
Ceramah di Bilik Gerakan Jalan Gasing Indah (depan Petronas)
(http://goo.gl/maps/AB7kU)
10.30pm-12.00pm:
Ceramah di Bilik Gerakan Blok 100 PPR Sri Pantai, Pantai Dalam
(http://goo.gl/maps/jvZCN)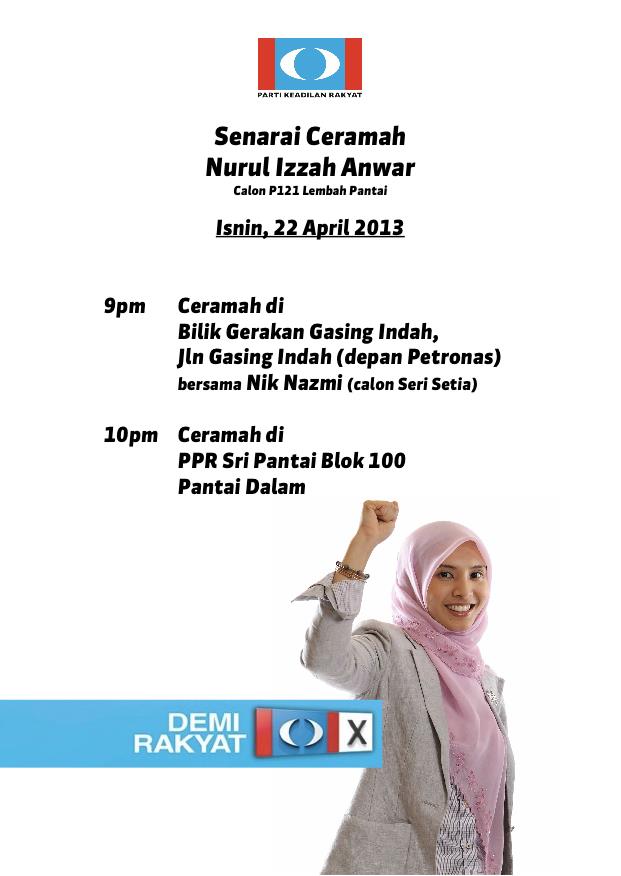 Buddha Buzz: A Rough Week for Monks
Posted: 22 Apr 2013 01:06 AM PDT
Buddha Buzz: A Rough Week for Monks by Alex Caring-Lobel on 19 Apr 2013 TRICYCLE
It's been a rough week for Buddhist monks. I'm afraid that, if you're still holding on to any bit of romanticism regarding Buddhist monks, young or old, this week's news will crush it. It's been a devastating week news-wise, and it looks like the Buddhist world is no exception.
On Saturday, The Hindustan Times reported that three Bhutanese Buddhist monks and a driver were charged with gangraping a 14-year-old girl in Kalimpong—a hilly, historically religious center for Buddhism in the Darjeeling district of India. The monks, all 20 or 21 years old, allegedly coerced her into a van and forced her to drink fruit juice laced with drugs. She was later dumped at the same roadside of her abduction, where some people saw her crying and took her home to her parents, who subsequently filed a complaint with the police. Kunal Agarwal, the Superintendent of Police of Darjeeeling, claims that all four perpetrators have confessed their crime.

In an article for The Daily Beast, Kapil Komireddi exposes the continuing religious and ethnic intolerance of Sinhalese Buddhist Monks in Sri Lanka. In a previous Buddha Buzz, we reported that the group that calls itself the "Buddhist Strength Force" was rallying in the country's capital against the Islamic halal system of meat certification. Now they've taken on Muslim garb, calling for the abolition of virtually every kind of women's clothing. Apparently, the Sri Lankan sangha would like to see the Muslim population of their country naked and hungry.
"Saffron-robed Buddhist monks, having designated themselves the defenders of the Sinhala majority," Komireddi writes, "sniff the air each morning for the scent of fresh offence—and follow it to one minority community or another."
We've seen the same rhetoric of defense of Buddhist people, culture, and principles to justify violence along ethnic and religious lines in Burma, where the ultranationalist "969″ movement has quickly risen in prominence. The Guardian recently interviewed Wirathu, the leader of the group, who has come to be known as the "Burmese Bin Laden"—a strange epithet for an Islamophobe, but perhaps fitting:
Burmese dissident and political activist Maung Zarni wrote about just this in the current issue of Tricycle.
[Buddhism] has proven itself indisposed to guard against overarching societal prejudices and their ultranationalist proponents, those Burmese who vociferously profess their adherence to Buddhist faith, practice religious rituals and patronize Buddhist institutions, and then proceed to commit unspeakable atrocities against anyone they imagine to be an enemy of Buddhism, the Buddhist state, Buddhist wealth, Buddhist women, and Buddhist land.
Amid ongoing ethno-religious unrest in Burma, its president Thein Sein will be visiting New York on Monday to receive the International Crisis Group's top honor at its annual In Pursuit of Peace Award dinner, to the ire of many Burmese and human rights activists. Once a prominent member of the brutal military junta, the former general has recently garnered praise for enacting sweeping political and economic "post-junta" reform. On the issue of Buddhist-Muslim violence in the Rakhine state, he has said that it "has nothing to do with race or religion."

Many readers have commented on Tricycle's coverage of Buddhist-led violence in Burma, objecting in one way or another that those monastic perpetrators were not really Buddhist. In The New York Times, Yangon-based journalist Swe Win grapples with that issue:
Five years ago, when Myanmar was still under military rule, some Western and Chinese friends asked me how there could be such oppression in a country where Buddhism, which preaches nonviolence, is the predominant religion.

I was in self-imposed exile at the time, studying journalism at the University of Hong Kong, and I would answer that the country's military leaders were immoral, Buddhists in name only. I would also point out that Myanmar's pre-colonial monarchical rulers — they, too, nominally Buddhist — also had committed great crimes. In other words, nothing was wrong with the religion itself; the problem was with the politicians who were flouting it.

I can't give such answers any more — not since the recent deadly attacks by Buddhists against Muslims in Meikhtila, a city in central Myanmar with no history of sectarian violence. Reports that monks instigated some of those burnings, beatings and killings suggest a much deeper problem than unprincipled state officials.
Read the excellent article in its entirety, here.
The town of Kalimpong (Wikimedia Commons/Anuj Kumar Pradhan).
Barack Obama and Burmese President Thein Sein shake hands during their meeting in Rangoon (Reuters).
[SELESAI] 3 DUN T'ganu Kepada PAS, Labuan, Sg Aceh, Panti Kepada PKR
Posted: 22 Apr 2013 02:58 AM PDT
P
AS memutuskan untuk menyerahkan kerusi Parlimen Labuan, D
UN Sungai Aceh, Pulau Pinang dan Panti di Johor kepada PKR.
PKR pula menyerahkan tiga DUN di Terengganu iaitu Bukit Besi, Seberang Takir dan Kota Putera kepada PAS.

Manakala kerusi DUN Kota Damansara di bawah Parlimen Subang akan dirundingkan antara PAS dan PKR.

Timbalan Presiden PAS, Haji Mohamad Sabu akan bertemu dengan Dr Nasir Hashim iaitu calon dari PSM di Kota Damansara yang bertanding atas tiket PKR di Kota Damansara.

Perkara ini diumumkan Presiden PAS, Datuk Seri Tuan Guru Abdul Hadi Awang dalam sidang media di Pusat Media PAS Jalan Raja laut hari ini.

Ustaz Hadi juga memaklum, semua ahli PAS yang bertanding atas tiket bebas termasuk penyokong dan pencadang mereka akan dipecat dari menjadi ahli PAS.

Dalam penamaan calon Sabtu 20 April lepas, calon PAS dan PKR bertindan di tujuh kawasan pilihan raya iaitu satu Parlimen dan enam DUN.

Ekoran itu, Penolong Setiausaha Agung PAS, Ahmad Sabki Yusof memaklumkan ia akan diselesaikan hari ini.

Dengan pengumuman ini bermakna semua kerusi yang bertindih selesai kecuali DUN Kota Damansara yang akan dirundingkan lagi dengan mereka yang terlibat.


Demi Agama, Bangsa Dan Negara..
Posted: 22 Apr 2013 12:27 AM PDT
Keahlian parti mana pun orang Melayu masuk tak kira UMNO, PAS, DAP dan PKR, kita orang Melayu Islam tidak ada sorang pun yang jahil sangat nak jual agama kita, bangsa dan negara.
Malah kita sepatutnya menolak golongan individu2 bertopeng yang tamak haloba dan penuh dengan agenda menyetan, yang duduk atas kerusi2 empok dalam UMNO/BN pandai berlakun menjaga martabat bangsa, agama dan negara.
Diamanahkan jawatan yang berpangkat dan ganjaran upah kemewahan melangit, tentulah tanggung jawab demi bangsa, agama dan negara dilaksanakan...kalau tak kepercayaan pada mereka ini akan terjejas dan luntur akhirnya.
Kita tahu ramai specie ini membiak dalam kepimpinan tinggi UMNO..tengok airmuka pun kita dah tahu sangat siapa mereka.
Cuma kita ahli2 UMNO kecut perut nak berbunyi..kalau tegur lebih2 karang dia tuduh kita pembangkang dan bangsa yang tak mengenang budi.
Nanti nak mintak recommendation untuk apa2 pun payah pulak.
Kalau anak2 nak belajar karang dia ejek balik..mintak biasiswa duit kerajaan..muka tak malu..
Nak mintak tender pandai pulak nak sokongan tandatangan orang kenamaan UMNO.
Habis semua dibangkit dan diungkit..diherdik kita habis2an..
Silap2 dipulaukan terus..
Jadi kita ahli2 UMNO jangan nak bising2..karang diaorang kata kalau tak suka, keluar parti laah.
Sebab kita golongan pembelot..mengkritik dan tak menghormati pemimpin parti.
Macamlah parti UMNO ni makbapak dia punya kan..atuk nenek kita pun berkorban sama tau?
Mudah betul pemimpin2 nak pecat ahli2 yang dah berjasa lama, dan suka mengenepikan bakat2 yang boleh berjuang untuk UMNO, Islam, Melayu dan rakyat Malaysia..
Bekas ahli UMNO tetapi kini berani berjuang demi agama, bangsa dan negara dalam DAP..walaupun dituduh munafik dan murtad..( tanggunglah dosa di akhirat pada pihak yang mencerca dia begitu.)
Dato' Ariff bertanding PRU 13 di Raub, Pahang.. kawasan pilihanraya P080.
Semoga Dato' Mohd Ariff Sabri Bin Haji Abdul Aziz berjaya mengalahkan DS Hoh Khai Mun dengan majoriti undi yang sangat tinggi..
Ameen..
Kalau sudi bacalah http://sakmongkol.blogspot.com/2013/04/melayu-mesti-waspada-pada-gunting-mca.html
Terima kasih pada mereka yang bersetuju membaca dan menyokong serba sedikit hujjah2nya.
ရိုဟင္ဂ်ာမ်ားအေပၚ လူသားျဖစ္မွဳကို ဆန္ ့က်င္က်ဴးလြန္မွဳႏွင့္ လူမ်ိဳးတံုး သုတ္သင္မွဳ အစီရင္ခံစာ Human Rights Watch ထုတ္ျပန္
Posted: 21 Apr 2013 11:34 PM PDT
ရိုဟင္ဂ်ာမ်ားအေပၚ လူသားျဖစ္မွဳကို ဆန္ ့က်င္က်ဴးလြန္မွဳႏွင့္ လူမ်ိဳးတံုး သုတ္သင္မွဳ အစီရင္ခံစာ Human Rights Watch ထုတ္ျပန္
ဧျပီလ-၂၂၊၂၀၁၃
M-Media
လူမဆန္သည့္ ဒုစရိုက္ျပစ္မႈမ်ားကို   ျမန္မာအစိုးရမွ အေရးမယူဘဲ မ်က္ကြယ္ျပဳေနေၾကာင္း HRW မွ ထုတ္ျပန္ေျပာၾကား
၂၀၁၂ ခုႏွစ္၊ ဇြန္လမွစ၍ ရခိုင္ျပည္နယ္ရိွ ရိုဟင္ဂ်ာမြတ္စ္လင္မ္မ်ားအား လူမ်ဳိးစုရွင္းလင္းဖယ္ရွားေရး လႈပ္ရွားမႈ၌ ျမန္မာ အာဏာပိုင္မ်ားႏွင့္ ရခိုင္လူမ်ဳိး အုပ္စုမ်ားက ကရုဏာ တရားကင္းမဲ့စြာ က်ဳးလြန္ျပဳလုပ္ေနခဲ့ေၾကာင္း လူ႕အခြင့္အေရးေစာင့္ၾကည့္ေရး အဖြဲ႕ HRW  မွ အစီရင္ခံခ်က္ အသစ္တစ္ရပ္ကို ယေန႕ထုတ္ျပန္လိုက္သည္။
All You Can Do is Pray : Crimes Against Humanity and Ethnic Cleansing of Rohingya Muslims in Burma's Arakan State  ဟု ေခါင္းစဥ္ တပ္ထားေသာ စာမ်က္ႏွာ ၁၅၃ မ်က္ႏွာရိွ ယင္းအစီရင္ခံစာ၌္ ရိုဟင္ဂ်ာႏွင့္ အျခား မြတ္စ္လင္မ္ေပါင္း ၁၂၅,၀၀၀ ေက်ာ္အား အဓမၼ အင္အားသံုး ဖယ္ရွားျခင္း ၊  လူသားခ်င္း အကူအညီေပးေရး၌ ဆက္လက္ျပႆနာ ရွာေနျခင္းတြင္  ျမန္မာအစိုးရ ႏွင့္ ေဒသခံ အာဏာပိုင္မ်ား၏ အခန္းက႑ကို ေဖာ္ျပထားသည္။
HRW ၏ အာရွေရးရာတာ၀န္ခံ ဒါရိုက္တာ Phil Robertson က " ရိုဟင္ဂ်ာလူမ်ဳိးစု ဖယ္ရွားေရး လႈပ္ရွားမႈထဲမွာ ျမန္မာအစိုးရ ပါ၀င္ပတ္သက္ေနပါတယ္။ ဒီေန႕ထက္ထိ ေထာက္ပံ့ ကူညီမႈကို ျငင္းဆိုေနဆဲ၊ သြားလာလႈပ္ရွားမႈကို ကန္႕သတ္ ခ်ဳပ္ျခယ္ေနဆဲ ျဖစ္ပါတယ္။ အစိုးရအေနနဲ႕ ဒီလို ေစာ္ကားမႈေတြကို ခ်က္ျခင္းရပ္တန္႕ဖို႕ လိုပါတယ္။ ၿပီးေတာ့ ဒီအမႈ က်ဴးလြန္သူေတြကို အေရးယူဖို႕ လိုအပ္ေနပါတယ္။ ဒီလိုမွမဟုတ္ယင္ တိုင္းျပည္ထဲရိွေနတဲ့ လူမ်ဳိးေရး ဘာသာေရးဆိုင္ရာ လူနည္းစုေတြဆီမွာ ထပ္မံျဖစ္ပြားတဲ့ အၾကမ္းဖက္မႈေတြ အေပၚ တာ၀န္ယူရပါလိမ့္မယ္ "  ဟု ေျပာၾကားလိုက္သည္။
၂၀၁၂ ခုႏွစ္၊ ဇြန္လတြင္ ရခိုင္ႏွင့္ရိုဟင္ဂ်ာတို႕အၾကား မ်က္ကန္း အၾကမ္းဖက္မႈ ျဖစ္ပြားခဲ့သည့္ေနာက္ပိုင္း အစိုးရ အာဏာပိုင္မ်ားသည္ ဗလီ၀တ္ေက်ာင္းေတာ္မ်ားအား ဖ်က္ဆီးျခင္း၊ လူတို႕ကို အစုလိုက္အၿပံဳလိုက္ ဖမ္းဆီးျခင္း၊ ေမာင္းထုတ္ခံရသည့္ မြတ္စ္လင္မ္တို႕အား အေထာက္အပံ့ အကူအညီမရႏိုင္ေအာင္ တားဆီး ပိတ္ဆို႕ျခင္းမ်ား ျပဳလုပ္ခဲ့ၾကသည္ဟု HRW မွ ဆိုသည္။ လူမ်ဳိးစုရွင္းလင္းဖယ္ရွားေရးေဆြးေႏြးပြဲမ်ား၊ ေဟာေျပာမႈမ်ားကို ၃ လတာမွ် အရွိန္ျမွင့္တင္ၿပီးေနာက္၀ယ္ ေအာက္တိုဘာ ၂၃ ရက္တြင္ ရခိုင္လူရမ္းကားအုပ္စုမ်ားသည္ ၿမိဳ႕နယ္ ၉ ခု၌ မြတ္စ္လင္မ္လူ႕အဖြဲ႕အစည္းမ်ားကို တိုက္ခိုက္ျခင္း၊ ေက်းရြာမ်ားကို မီးတင္ရိႈ႕ျခင္း၊ ရပ္ၾကည့္ေနေသာ လံုၿခံဳေရးတပ္ဖြဲ႕၀င္မ်ား ေရွ႕ေမွာက္မွာပင္ ေဒသခံမ်ားအား သတ္ျဖတ္ျခင္း (၀ါ) ႏွိပ္စက္ေစာ္ကားျခင္း စသည္တို႕ က်ဴးလြန္ခဲ့ၾကသည္။ ေသဆံုးသူအမ်ားအျပားအနက္ အခ်ဳိ႕သာ ျမွဳပ္ႏွံခြင့္ရခဲ့သည္။
ဇြန္လႏွင့္ေအာက္တိုဘာလအတြင္း အၾကမ္းဖက္မႈျဖစ္ပြားၿပီးေနာက္  ရခုိင္ျပည္နယ္ရိွ အတိုက္ခိုက္ခံရသည့္ေနရာမ်ား၊ တရားမ၀င္ အေရႊ႕ေျပာင္းခံေနရာမ်ား၊ ေမာင္းထုတ္ဖယ္ရွားခံရသည့္ ဒုကၡသည္စခန္းမ်ား မွန္သမွ်ထံ HRW မွ သြားေရာက္ၾကည့္ရႈေလ့လာခဲ့သည္။ ရိုဟင္ဂ်ာမ်ား၊ ရိုဟင္ဂ်ာ မဟုတ္သည့္ မြတ္စ္လင္မ္မ်ား၊ ေစာ္ကားႏွိပ္စက္ခံရသည့္ ရခိုင္လူမ်ဳိးမ်ား၊ အၾကမ္းဖက္မႈျဖစ္ေအာင္လႈံ႕ေဆာ္သူႏွင့္က်ဴးလြန္သူ အခ်ဳိ႕ အပါအ၀င္ လူအေယာက္တစ္ရာေက်ာ္အား ေတြ႕ဆံုေမးျမန္းခဲ့မႈမွ အစီရင္ခံစာ ေရးသားထားျခင္း ျဖစ္သည္။
ေဒသတြင္း ရဲတပ္ဖြဲ႕၊ အဓိကရုဏ္းႏွိမ္ႏွင္းသည့္ လံုထိန္းတပ္ဖြဲ႕၊ နစက လက္နက္ကိုင္အဖြဲ႕၊ ၾကည္း/ေရတပ္မေတာ္သားမ်ား အပါအ၀င္ ရခိုင္ျပည္နယ္ရိွ ႏိုင္ငံေတာ္ လံုၿခံဳေရးတပ္ဖြဲ႕၀င္အားလံုးတို႕သည္ ယင္းရက္စက္မႈမ်ားအား တားဆီးရန္ ပ်က္ကြက္ေၾကာင္း  သို႕တည္းမဟုတ္ ၄င္းကိစၥမ်ား၌ တိုက္ရိုက္ ပါ၀င္ ပတ္သက္ေနေၾကာင္း ေတြ႕ခဲ့ရသည္။္ မိမိ၏ရြာအား မီးတင္ရိႈ႕ေနၾကခ်ိန္  မြတ္စ္လင္မ္ အမ်ဳိးသားတစ္ဦးမွ လံုၿခံဳမႈေပးရန္ ေတာင္းဆိုပန္ၾကားသည္ကို တပ္မေတာ္သားတစ္ဦးက " မင္းတို႕အသက္ရွင္ဖို႕ကိုဘဲ ဆုေတာင္းေနၾကပါ (အသက္နဲ႕ကိုယ္ အိုးစားမကြဲဖို႕ဘဲ ဘုရားတရား တ,ထားၾကေတာ့) " ဟူ၍ ေျပာဆိုခဲ့သည္။
ေအာက္တိုဘာလိႈ္င္း၌ လံုၿခံဳေရးတပ္ဖြဲ႕မ်ား၏ ရပ္တည္ပံု (တစ္နည္း) မီးဒုတ္မ်ား၊ ဓားလြယ္မ်ား၊ လက္လုပ္ေသနတ္မ်ား ကိုင္ေဆာင္ထားသည့္ ရခိုင္လူအုပ္စုႀကီးမ်ားႏွင့္ ပူးေပါင္းခဲ့ၿပီး မိမိတို႕ ေက်းရြာမ်ားအား တိုက္ခိုက္ ဖ်က္ဆီးပံုတုိ႕ကို ေမာင္းထုတ္ခံရသည့္ ရိုဟင္ဂ်ာမ်ားက HRW သို႕ ေျပာျပခဲ့သည္။
ဇြန္လမွစ၍ ဖ်က္ဆီးခံရေသာ ၿမိဳ႕နယ္ ၁၃ ခုမွ ၅ ခု၏ ၿဂိဳလ္တုမွတ္တမ္းတင္ပံုမ်ားကို HRW မွ ရရိွခဲ့သည္။  ေနရာ ၂၇ ခုသည္ လံုးလံုးလ်ားလ်ား ဖ်က္ဆီးခံလိုက္ရေၾကာင္း၊ ေနအိမ္ေပါင္း ၄၈၆၂ လံုး ႏွင့္ ေျမ ၃၄၈ ဧက အထိ ပါ၀င္ေၾကာင္း၊ ၄င္းတို႕မွာ ေဒသခံ မြတ္စ္လင္မ္အမ်ားစု၏ ပိုင္ဆိုင္မႈမ်ားျဖစ္ေၾကာင္း ၄င္း၌ ေဖာ္ျပလ်က္ရိွသည္။
ေအာက္တိုဘာ ၂၃ ရက္တြင္ျဖစ္ပြားခဲ့ေသာ ျဖစ္ရပ္ဆိုးႀကီး၌ ေျမာက္ဦးၿမိဳ႕နယ္၊ ရန္ေသရြာတြင္ တစ္ေန႕တည္းအတြင္း ရိုဟင္ဂ်ာ ၇၀ ဦး အနည္းဆံုး သတ္ျဖတ္ခံရသည္။ တိုက္ခိုက္မႈအရိွန္အဟုန္ ႀကီးမားလာသည့္တိုင္ေအာင္ လံုၿခံဳေရးတာ၀န္ေပးထားေသာ လံုထိန္း၊ ရဲ ႏွင့္ စစ္သားတို႕၏ဦးေရမွာ မဆိုစေလာက္မွ်သာ ရိွခဲ့သည္။ သို႕ေသာ္ ၄င္းသူတို႕သည္ အၾကမ္းဖက္မႈကို ကာကြယ္ထိန္းသိမ္းေပးမည့္အစား မိမိတို႕ကိုင္ေဆာင္ထားေသာ (နံပါတ္)တုတ္မ်ား၊ ကာကြယ္ေရး လက္နက္ပစၥည္းမ်ားကို အသံုးျပဳလ်က္ လက္နက္မဲ့ ရိုဟင္ဂ်ာတို႕အား သတ္ျဖတ္ရာ၌ ပူးေပါင္းပါ၀င္ခဲ့ၾကသည္။ ေသဆံုးသြားေသာ ရုပ္အေလာင္းမ်ား၌ ကေလးငယ္ ၂၈ ဦးကို ေတြ႕ရၿပီး ၄င္းတို႕အနက္ အသက္ ၅ ႏွစ္ေအာက္ကေလး ၁၃ ဦး ပါ၀င္သည္။ အသက္ ၂၅ ႏွစ္အရြယ္ ေသေဘးမွ လြတ္ေျမာက္လာသူ တစ္ဦးက " ပထမတုန္းကေတာ့ စစ္သားေတြက ေျပာပါတယ္။ ဘာမွျပန္မလုပ္နဲ႕တဲ့။ ငါတို႕က မင္းတို႕ကို ကာကြယ္ကယ္တင္ေပးမယ္တဲ့။ ဒါေၾကာင့္ ကၽြန္ေတာ္တို႕က သူတို႕ကို ယံုၾကည္ အားထားခဲ့ၾကတယ္။ ေနာက္ပိုင္းက်ေတာ့ သူတို႕ ကတိ မတည္ေတာ့ဘူး။ ရခိုင္(လူရမ္းကား)ေတြက ကၽြန္ေတာ္တို႕ကို အလြယ္တကူ ရိုက္ႏွက္ သတ္ျဖတ္သြားၾကတယ္။ အဲ့ဒီအၾကမ္းဖက္မႈ အေပၚ လံုၿခံဳေရးအရ ဘာအကာအကြယ္မွ မေပးခဲ့ပါဘူး " ဟု HRW သို႕ ျပန္လည္ရွင္းျပခဲ့သည္။
" ေအာက္တိုဘာလတုန္းက လံုၿခံဳေရးတပ္ဖြဲ႕၀င္ တစ္ခ်ဳိ႕ ေဒသခံမြတ္စ္လင္မ္ေတြအေပၚ ရခုိင္လူရမ္းကားေတြတိုက္ခိုက္ေနတာကို လက္ပိုက္ၾကည့္ေနၾကတယ္၊ တစ္ခ်ဳိ႕ကေတာ့ ေသြးေခ်ာင္းစီးသတ္ျဖတ္မႈနဲ႕ မီးတင္ရိႈ႕မႈမွာ ပါ၀င္ခဲ့ၾကတယ္။ ဒီေသေၾကပ်က္စီးမႈေတြနဲ႕ ပတ္သက္ၿပီး အျပန္အလွန္ အၾကမ္းဖက္တိုက္ခိုက္မႈ (အဓိကရုဏ္း)ေၾကာင့္ ျဖစ္ပြားရတာပါ လုိ႕ အစိုးရက ေျခာက္လေက်ာ္ၾကာေအာင္ လိမ္ညာေနတုန္းပါဘဲ။ အမွန္ကိုဆိုရယင္ ဘာေတြျဖစ္ပ်က္ေနခဲ့တာလဲ၊ ဘယ္လိုရပ္တန္႕ေအာင္လုပ္ရမလဲ ဆိုတာကို အစိုးရဖက္က သိရိွထားခဲ့ပါတယ္ " ဟူ၍ Robertson မွ ေျပာၾကားသည္။
ေအာက္တိုဘာတိုက္ခိုက္မႈ မတိုင္မီႏွင့္ တိုက္ခိုက္မႈေနာက္ပိုင္း ေဒသတြင္းရိွ လႈံ႕ေဆာ္ခ်က္မ်ား ႏွင့္ပတ္သက္၍ HRW မွ ဤသို႕ တင္ျပသည္။ ရိုဟင္ဂ်ာဆန္႕က်င္ေရးလုပ္ရပ္မ်ားတြင္  ၾသဇာအသက္ေရာက္ဆံုးအုပ္စု ၂ စုမွာ ျပည္တြင္းရိွ ဗုဒၶဘာသာသံဃာမ်ား ႏွင့္ ေဒသဆိုင္ရာႏိုင္ငံေရးပါတီ RNDP – Rakhine Nationalities Development Party ျဖစ္ၾက၏။ RNDP ပါတီကို ရခိုင္အမ်ဳိးသားေရး၀ါဒီမ်ားမွ ၂၀၁၀ ခုႏွစ္တြင္ ဖြဲ႕စည္းတည္ေထာင္ခဲ့ၾကသည္။ ဤအုပ္စုမ်ားႏွင့္အျခားသူတို႕သည္ ဇြန္လမွေအာက္တိုဘာလတစ္ေလွ်ာက္ ရိုဟင္ဂ်ာဆန္႕က်င္ေရး လက္ကမ္းစာေစာင္မ်ား ေျမာက္မ်ားစြာ ထုတ္ေ၀ျဖန္႕ခ်ိျခင္း၊ လူထုအတြင္း ၀ါဒျဖန္႕ေဟာေျပာျခင္း၊ တိုက္ရိုက္တစ္ဖံု သြယ္၀ိုက္တစ္မ်ဳိးျဖင့္ ရိုဟင္ဂ်ာလူမ်ဳိးစု မရိွဟု ျငင္းပယ္ျခင္း၊ ၄င္းတို႕အား အသေရဖ်က္ျခင္း ႏွင့္ တိုင္းျပည္တြင္းမွထြက္ခြာေအာင္ လႈံ႕ေဆာ္ျခင္း၊ အမ်ဳိးသားေရး ဟူသည့္ အသံုးအႏႈန္းကို မျပတ္ အသံုးျပဳျခင္း ျပဳလုပ္ခဲ့ၾကသည္။ ေဒသတြင္း၊ ျပည္နယ္ ႏွင့္ ႏိုင္ငံေတာ္အာဏာပိုင္မ်ားကို အလ်ဥ္း အေရးမစိုက္ဘဲ အစည္းအေ၀းမ်ားျပဳလုပ္၍ ေၾကျငာခ်က္မ်ားကိုလည္း  မၾကာခဏ ထုတ္ျပန္ၾကသည္။ ေဒသဆိုင္ရာ အာဏာပိုင္မ်ား၊ ႏိုင္ငံေရးသမားမ်ား၊ ဘုန္းႀကီးမ်ားကလည္း လူထုသေဘာထားႏွင့္ တြန္းအားေပးမႈ ဟု တြင္တြင္ဆိုကာ – မြတ္စ္လင္မ္တို႕၏ လြတ္လပ္စြာ သြားလာခြင့္၊ ဘ၀ရပ္တည္မႈအတြက္ သက္ေမြး၀မ္းေၾကာင္းခြင့္၊ ေစ်းေရာင္းေစ်း၀ယ္ခြင့္ ႏွင့္ လူသားခ်င္းစာနာေထာက္ထားေရး ရပိုင္ခြင့္ အစရိွသည့္ အခြင့္အေရးတို႕ကို ပယ္ခ်ခဲ့ၾကသည္။  မိမိတို႕ ေနအိမ္၊ ရပ္ရြာေဒသမ်ား စြန္႕ခြာထြက္သြားေစရန္ ၄င္းတို႕အေပၚ အဓမၼက်င့္ေဆာင္ေနျခင္းကို ထင္သာျမင္သာသည့္ ရည္ရြယ္ခ်က္အျဖစ္ ေတြ႕လာရသည္။
" ေဒသတြင္း အာဏာပိုင္မ်ား၊ လူ႕အဖြဲ႕အစည္းေခါင္းေဆာင္မ်ားက မြတ္စ္လင္မ္လူထုကို သီးျခား ဖယ္ထုတ္ဖို႕ နဲ႕ ေသးသိမ္တဲ့အျမင္ျဖစ္လာဖို႕ ပူးေပါင္းလႈံ႕ေဆာ္ခဲ့ၾကတယ္။ ဒါတင္မကပါဘူး။ ေသြးေျမက်ကိစၥ ျဖစ္ခ်ိန္ကတည္းက ဗဟိုအစိုးရကလည္း အဲ့ဒီတာ၀န္ရိွသူေတြကို တစ္စံုတစ္ရာ အေရးယူမႈ မရိွေသးဘူး။ မြတ္စ္လင္မ္ေတြကို အဓမၼအင္အားသံုး ဖယ္ထုတ္ေစတဲ့ လူမ်ဳိးစုရွင္းလင္းဖယ္ရွားေရးအေပၚ ဆန္႕က်င္တုန္႕ျပန္တာမ်ဳိးလည္း မရိွေသးပါဘူး " ဟု ေရာဘတ္ဆင္က ေျပာဆိုလိုက္သည္။
လူ႕အခြင့္အေရးေစာင့္ၾကည့္ေလ့လာမႈအဖြဲ႕ HRW မွ သူေသမ်ားကို အစုလိုက္အၿပံဳလိုက္ ျမွဳပ္ႏွံထားသည့္ ေနရာေလးခုအား အေထာက္အထားအျဖစ္ ရွာေဖြေတြ႕ရိွခဲ့သည္။ ဇြန္လအၾကမ္းဖက္မႈအၿပီး မေရွးမေႏွာင္းမွာပင္ ျပဳလုပ္ထားသည့္ ေနရာ ၃ ခု ႏွင့္ ေအာက္တိုဘာအၾကမ္းဖက္မႈအၿပီး ျပဳလုပ္ထားသည့္ေနရာ ၁ ခု ျဖစ္သည္။ လံုၿခံဳေရးတပ္ဖြဲ႕၀င္တို႕သည္ အင္တိုက္အားတိုက္ က်င္းႀကီးမ်ားတူး၍ ျပစ္မႈဆိုင္ရာသက္ေသမ်ားကို လက္စေဖ်ာက္ရန္ ႀကံစည္ေဆာင္ရြက္ခဲ့မႈ၌ တာ၀န္ရိွေၾကာင္း HRW မွ ေျပာၾကားသည္။
ဥပမာအားျဖင့္ ဇြန္လ ၁၃ ရက္တြင္ စစ္ေတြၿမိဳ႕ျပင္ဖက္ ရိုဟင္ဂ်ာဒုကၡသည္စခန္းတစ္ခုအနီး အစိုးရပိုင္ထရပ္ကားတစ္စီးေပၚမွ အ၀တ္မဲ့ႏွင့္လည္းေကာင္း၊ အ၀တ္စတစ္ပိုင္းတစ္စႏွင့္လည္းေကာင္း ရုပ္အေလာင္း ၁၃ ခုကို သယ္ယူပံုခ်ခဲ့သည္။ ၄င္းတို႕အနက္ အခ်ဳိ႕မွာ ကြပ္မ်က္သတ္ျဖတ္ျခင္းမခံရမွီ ႀကိဳးမ်ား၊ ပလပ္စတစ္ပိုက္မွ်င္မ်ားျဖင့္ တုပ္ေႏွာင္ထားျခင္းခံထားရသည္ကို ေတြ႕ၾကရသည္။ အေလာင္းမ်ားကို လာေရာက္ပံုခ်ခဲ့သည့္ စစ္သားမ်ားက အနီးအနားစခန္းရိွ ရိုဟင္ဂ်ာဒုကၡသည္မ်ားအား ျပန္မလာေတာ့ဘဲ အၿပီးတိုင္ ထြက္ခြာသြားၾကရန္ အေၾကာင္းၾကားေျပာဆိုေနခဲ့ၾကသည္။
" ရုပ္အေလာင္းေတြကို သူတို႕ ဒီေနရာမွာ ပစ္ခ်ခဲ့တာပါ။ ရုပ္အေလာင္းသံုးခုမွာ က်ည္သင့္ဒ ဏ္ရာေတြေတြ႕ရတယ္။ ေသနတ္ဒဏ္ရာ တစ္ခုက နဖူးမွာ၊ ေနာက္တစ္ခုက ရင္ဘတ္္မွာ ျဖစ္ပါတယ္။ တစ္ခ်ဳိ႕သူေတြကို မီးရႈိ႕ထားၿပီး၊ တစ္ခ်ဳိ႕ဆီမွာ ဓားနဲ႕ ထိုးထားတာ ေတြ႕ရပါတယ္ " ဟု မ်က္ျမင္သက္ေသ ရိုဟင္ဂ်ာတစ္ဦးက ေျပာျပခဲ့သည္။
ဖယ္ရွားခံရေသာ ရိုဟင္ဂ်ာမ်ားထံ ေပးပို႕ေသာ လူသားခ်င္းစာနာေရးအေထာက္အပံ့မ်ားအေပၚ ျမန္မာအစိုးရမွ အစီအစဥ္ရိွရိွ ကန္႕သတ္ ပိတ္ပင္မႈေၾကာင့္ ရခိုင္ျပည္နယ္အတြင္း ကူညီေထာက္ပံ့ေရးျပႆနာမ်ား အဓိကႀကံဳေတြ႕ေနရသည္။
ရိုဟင္ဂ်ာမ်ား၊ ရိုဟင္ဂ်ာ မဟုတ္ေသာ မြတ္စ္လင္မ္မ်ား ႏွင့္ ရခိုင္တိုင္းရင္းသားအနည္းငယ္ အပါအ၀င္ လူေပါင္း ၁၂၅,၀၀၀ တို႕မွာ ရခိုင္ျပည္နယ္ဒုကၡသည္ စခန္းမ်ားသို႕ ဇြန္လကတည္းက ေရာက္ရိွေနခဲ့ၾကသည္။ သမၼတဦးသိန္းစိန္၏ အစိုးရအဖြဲ႕မွ ေရႊ႕ေျပာင္းေနရာမ်ားသို႕ သြားေရာက္ၾကည့္ရႈခဲ့ၿပီးျဖစ္ေသာ္လည္း ထိေရာက္သည့္ကူညီေထာက္ပံ့ေပးေ၀မႈအား ပိတ္ပင္ တားဆီးလ်က္ရိွေနသည္။ ဖယ္ရွားခံရသည့္ မြတ္စ္လင္မ္ မ်ားစြာတို႕မွာ ဒုကၡသည္စခန္းမ်ားအတြင္း က်ဥ္းၾကပ္စြာ ေနထိုင္ၾကရၿပီး အစာေရစာ၊ ေနရာထိုင္ခင္း၊ သန္႕ရွင္းမႈ၊ က်န္းမာေရးေစာင့္ေရွာက္မႈ၊ ပညာသင္ၾကားခြင့္ အျပည့္အ၀ မရႏိုင္ၾကေပ။ အခ်ဳိ႕ေဒသမ်ားတြင္ လံုၿခံဳေရး တပ္ဖြဲ႕၀င္တို႕သည္ ဒုကၡသည္မြတ္စ္လင္မ္တို႕အား အကာအကြယ္ေပးထားၾက၏။ သို႕ေသာ္ ေစ်းသို႕သြားလာျခင္း၊ အလုပ္အကိုင္၊ အေရးေပၚလိုအပ္ေနသူမ်ားအား အကူအညီေပးေရးတို႕ကို ကန္႕သတ္တားဆီး၍ ေထာင္သားမ်ား သဖြယ္ ျပဳမူဆက္ဆံလ်က္ရိွသည္။
ေသာင္းႏွင့္ခ်ီေသာ ရိုဟင္ဂ်ာမ်ားမွာ ေမလတြင္စတင္မည့္ မိုးရာသီမတိုင္မီ ေရလြတ္ရာ ကုန္းျမင့္ပိုင္းသို႕ မေျပာင္းေရႊ႕ႏိုင္ပါက ေရညစ္ေရဆိုးမွျဖစ္ပြားလာမည့္ ေရာဂါဘယမ်ားႏွင့္ ဆိုးဆိုး၀ါး၀ါး ရင္ဆိုင္ရဖြယ္ရိွေၾကာင္း HRW မွ သံုးသပ္သည္။
" ရခိုင္ျပည္နယ္အတြင္း ကူညီေထာက္ပံ့ေရးပစၥည္း ေပးကမ္းျဖန္႕ေ၀မႈမွာ မပူးေပါင္းမေဆာင္ရြက္တာက ျပႆနာ မဟုတ္ပါဘူး။ ျပႆနာက ဒုကၡသည္မြတ္စ္လင္မ္ေတြ လက္ထဲ ေထာက္ပံ့ေရးပစၥည္းေတြ ေရာက္ရိွဖို႕ နဲ႕ လြတ္လပ္စြာသြားလာႏိုင္ဖို႕ အစိုးရပိုင္းက ဦးေဆာင္လမ္းျပမလုပ္ေပးတာပါဘဲ။ မိုးက်လို႕ စခန္းေရလႊမ္းလာၿပီး ေရာဂါကူးစက္မႈေတြ ျဖစ္လာႏိုင္ပါတယ္။ လူသားခ်င္းစာနာေရးလုပ္ငန္းေတြကို ႀကိဳတင္တြက္ဆ ကာကြယ္ေဆာင္ရြက္ထားႏိုင္ဖို႕ ရက္သတၱပတ္ အနည္းငယ္သာ က်န္ပါေတာ့တယ္ " ဟုလည္း ေရာဘတ္ဆင္က ေျပာၾကားသည္။
HRW ၏အဆိုအရ အဖယ္ရွားခံရေသာ ရိုဟင္ဂ်ာတို႕သည္ မိမိတို႕၏ ေနရင္းေဒသ ၿမိဳ႕ရြာမ်ားထံ ျပန္လည္သြားေရာက္အေျခခ်ေရး၊ လူထုအၾကားမွ ေရရွည္ ခြဲထုတ္ခံရျခင္းတို႕ပတ္သက္၍  ေျပာဆိုေဆြးေႏြးခြင့္ မရေသးေခ်။
အေထာက္အပံ့၊ အကာအကြယ္ မရရိွျခင္း ႏွင့္ အၾကမ္းဖက္မႈ၊ ေစာ္ကားမႈခံရျခင္းတို႕ေၾကာင့္ ေထာင္ႏွင့္ခ်ီေသာ ရိုဟင္ဂ်ာတို႕သည္ ႏိုင္ငံကို စြန္႕ခြာ၍  ဘဂၤလားေဒ့ရွ္၊ မေလးရွား၊ ထိုင္းႏိုင္ငံသို႕ ေရေၾကာင္းျဖင့္ ပင္လယ္ျဖတ္ကာ ထြက္ေျပးခဲ့ၾကသည္။ က်န္သူမ်ားစြာတို႕ကလည္း ယင္းသို႕ပင္ျပဳရန္ အလားအလာရိွေနသည္။ ပင္လယ္ျပင္၌ ရာႏွင့္ခ်ီ၍ အသက္ဆံုးရံံႈးခဲ့ၾကၿပီးလည္း ျဖစ္သည္။
အစိုးရတစ္ရပ္မွျဖစ္ေစ အဖြဲ႕အစည္းတစ္ခုမွျဖစ္ေစ ျပည္သူလူထုလူ႕အဖြဲ႕အစည္းတစ္ရပ္အေပၚ ရည္ရြယ္ခ်က္ရိွရိွ စံနစ္တက်စီမံတိုက္ခိုက္ျခင္း၊ သို႕တည္းမဟုတ္ ၄င္း၌ တစ္စိတ္တစ္ေဒသအားျဖင့္ပါ၀င္ျခင္းသည္ အျပည္ျပည္ဆိုင္ရာဥပေဒအရ လူမဆန္ေသာရာဇ၀တ္မႈ အျပစ္ထိုက္ေနသည္။ ယမန္ႏွစ္ဇြန္လမွ ရိုဟင္ဂ်ာတို႕အေပၚ က်ဴးလြန္ခဲ့မႈမ်ားအနက္ လုပ္ႀကံသတ္ျဖတ္ျခင္း၊ နယ္ႏွင္ျခင္း၊ လူဦးေရ အေျပာင္းအလဲျဖစ္ေအာင္ အဓမၼေဆာင္ရြက္ျခင္း ႏွင့္ ညွင္းပန္းႏွိပ္စက္ျခင္းတို႕မွာ ရာဇ၀တ္မႈမ်ား ျဖစ္သည္။
" လူမ်ဳိးစု သန္႕စင္ဖယ္ရွားေရး " ဟူသည္ ဥပေဒေ၀ါဟာရ မဟုတ္ေသာ္လည္း လူ႕အုပ္စုတစ္စုမွလည္းေကာင္း၊ ဘာသာေရးအုပ္စုတစ္စုမွလည္းေကာင္း မိမိတို႕ပထ၀ီ၀င္ပိုင္နက္မ်ားရိွ အျခား လူမ်ဳိးတစ္စုကို ျဖစ္ေစ၊ ဘာသာေရးအုပ္စု တစ္စုကိုျဖစ္ေစ ျပင္းျပင္း ထန္ထန္ အၾကမ္းဖက္နည္းလမ္းမ်ားျဖင့္ ဖယ္ထုတ္ရန္အလို႕ငွာ ရည္ရြယ္ခ်က္ရိွရိွ မူစံနစ္ခ် ေဆာင္ရြက္ျခင္း ဟု အဓိပၸာယ္ဖြင့္ သတ္မွတ္ထားေပသည္။
ရိုဟင္ဂ်ာမ်ားကို ႏွိပ္စက္ညွင္းပန္းမႈ၏ အဓိကအူတိုင္မွာ ၁၉၈၂ ႏိုင္ငံသားဥပေဒ ျဖစ္ေၾကာင္း၊ ၄င္းမွာ လူမ်ဳိးခြဲျခားႏွိမ့္ခ်ေရးအျမင္ျဖင့္ ရိုဟင္ဂ်ာ (အပါအ၀င္ အခ်ဳိ႕ လူမ်ဳိးစု)တို႕ကို ျမန္မာႏိုင္ငံသား မဟုတ္သည့္အျဖစ္သို႕ သက္ေရာက္ေအာင္ ေရးဆြဲ ထားခဲ့ျခင္းျဖစ္ေၾကာင္း HRW က ဆိုသည္။ ၄င္းဥပေဒတြင္ အသိအမွတ္ျပဳထားေသာ တိုင္းရင္းႏြယ္ ရွစ္မ်ဳိး (ကခ်င္၊ ကယား၊ ကရင္၊ ခ်င္း၊ မြန္၊ ျမန္မာ(ဗမာ)၊ ရခိုင္၊ ရွမ္း) အနက္ အပါအ၀င္ မဟုတ္သျဖင့္ ၄င္းတို႕မွာ တင္းျပည့္ က်ပ္ျပည့္ႏိုင္ငံသားအျဖစ္ ထည့္သြင္း စဥ္းစားျခင္း မခံရေခ်။ မိမိတို႕၏ဘုိးေဘးစဥ္ဆက္တို႕သည္ သကၠရာဇ္ကာလတစ္ခု မတိုင္မီ ျမန္မာႏိုင္ငံ၌  အေျခခ်ေနထိုင္လာေၾကာင္း ထင္ရွားျပတ္သားသည့္ အေထာက္အထား တင္ျပႏိုင္မွသာ ႏိုင္ငံသားအျဖစ္ စဥ္းစားေပးသည္။ ထိုအခ်က္မွာ ရိုဟင္ဂ်ာ အမ်ားစုအဖို႕ အခက္အခဲႀကီး တစ္ရပ္ျဖစ္ေနသည္။
အစိုးရ ႏွင့္ ဗမာလူမ်ဳိး အသိုင္းအ၀ိုင္းတို႕က ရိုဟင္ဂ်ာတို႕ကို (ယခု) ဘဂၤလားေဒ့ရွ္ဖက္မွ တရားမ၀င္လာေရာက္ အေျခခ်ေနထိုင္သူမ်ား အျဖစ္ ေျပာင္ေျပာင္တင္းတင္း သတ္မွတ္ၾကသည္။ ၄င္းတို႕သတ္မွတ္ေသာ တိုင္းရင္းသားမ်ဳိးႏြယ္မ်ားထဲ မပါ၀င္ေသာေၾကာင့္ ႏိုင္ငံသား အျဖစ္ အသိအမွတ္ျပဳရန္ ျငင္းဆိုၾကသည္။ ရိုဟင္ဂ်ာ ဟုအမည္တြင္သူမ်ားကို အစိုးရကလည္း ဘဂၤ ါလီ (ဘဂၤလားေဒ့ရွ္ႏိုင္ငံသား)ဟု တရား၀င္ သံုးႏႈန္းေဖာ္ျပၾကၿပီး၊ ေသးသိမ္ေအာင္ခ်ဳိးႏွိမ္သည့္အားျဖင့္ " ကုလား " ဟုလည္း ေခၚဆိုၾကသည္။
ခ်ဳိးႏွိမ္ခြဲျခားမႈမ်ား အဆံုးသတ္ေစေရးအလို႕ငွာ ၁၉၈၂ ႏိုင္ငံသားဥပေဒအား အေရးေပၚျပင္ဆင္အပ္ေၾကာင္း၊ ရိုဟင္ဂ်ာ ကေလးငယ္မ်ားမွာ ႏိုင္ငံသားျဖစ္ခြင့္ရိွေၾကာင္း၊ သို႕မဟုတ္ပါက ၄င္းတို႕အဖို႕ ခိုလႈံေနထိုင္ရာႏိုင္ငံမရိွေၾကာင္း HRW  မွ ျမန္မာႏိုင္ငံအစိုးရကို ေျပာဆိုတိုက္တြန္းခဲ့သည္။
" ရခိုင္ျပည္နယ္က လူသားမဆန္စြာက်ဴးလြန္တဲ့ ရာဇ၀တ္မႈေတြကို စံုစမ္းစစ္ေဆးဖို႕၊ ဒုကၡသည္ေတြကို ျပန္လည္ေနရာခ် စီစဥ္ေပးႏိုင္ဖို႕ ျမန္မာႏိုင္ငံအေနနဲ႕ လြတ္လပ္ေသာ ႏိုင္ငံတကာေကာ္မရွင္တစ္ရပ္ကို လက္ခံသင့္ပါတယ္။  ျမန္မာႏိုင္ငံအတြက္ လွဴဒါန္းသူမ်ားကလည္း ရိုဟင္ဂ်ာေတြရဲ႕ အျဖစ္ဆိုးအေပၚ သေဘာေပါက္ထားဖို႕ လုိအပ္ပါတယ္။ ထို႕အတူ ျမန္မာအစိုးရအေနနဲ႕ ရႈတ္ခ်ေစာ္ကားမႈေတြကို ခ်က္ျခင္းရပ္တန္႕လုိက္ဖို႕၊ ဖယ္ရွားခံရတဲ့ မြတ္စ္လင္မ္ေတြကို ေဘးကင္းစြာ ျပန္လည္ပို႕ေဆာင္ေပးဖို႕၊ ရခိုင္ျပည္နယ္အတြင္းက အၾကမ္းဖက္လုပ္ရပ္ဆိုးမ်ားကို အဆံုးသတ္လိုက္ဖို႕ ေတာင္းဆိုရမွာျဖစ္တယ္ " ဟု ေရာဘတ္ဆင္ ကေျပာၾကားလိုက္ပါသည္။
http://www.hrw.org/news/2013/04/22/burma-end-ethnic-cleansing-rohingya-muslims တြင္ ေဖာ္ျပထားသည့္ ေၾကျငာခ်က္ကို ဆီေလ်ာ္ေအာင္ ဘာသာျပန္ဆိုပါသည္။