---
Posted: 26 May 2013 08:11 AM PDT
[VIDEO] Anwar: Tribunal Rakyat Hakimi Penipuan PRU-13
Posted: 26 May 2013 10:09 AM PDT
K
etua Umum KEADILAN, Datuk Seri Anwar Ibrahim menyeru rakyat Malaysia menyokong langkah Gabungan Pilihan Raya Bersih dan Adil (Bersih) untuk menubuhkan Tribunal Rakyat bagi menyiasat penipuan pilihan raya umum ke-13.
"Bersih akan adakan Tribunal Rakyat. Ini medan yang sah. Ratusan ribu rakyat akan beratur bagi keterangan (penipuan pilihan raya)," kata Anwar di hadapan lebih 50,000 hadirin yang membanjiri himpunan Suara Rakyat 505 di Padang Timur, malam tadi.

Kata Anwar, walaupun Pakatan Rakyat sudah masak dengan sikap mahkamah di Malaysia, namun tetap menggunakan saluran undang-undang bagi membongkar penyelewengan yang dilakukan Suruhanjaya Pilihan Raya (SPR)

"Kita ada banyak pengalaman dengan mahkamah. Tetapi, kita tetap patuh kepada peraturan, undang-undang dan perlembagaan.

"Kita takkan menyerah. Barisan peguam akan kumpul maklumat. Apakah mahkamah nak selesaikan masalah kita? Kita lebih yakin dengan mahkamah rakyat," katanya disambut sorakan hadirin.

Tegas Anwar, dengan segala tipu helah termasuk membawa masuk pengundi asing, monopoli media dan penipuan dakwat kekal, Umno-BN hanya mampu meraih sokongan 47 peratus pengundi.

Beliau menyeru agar pengundi yang yang tertanggal dakwat kekal membuat laporan polis membuat laporan polis dan menyerahkan salinan kepada Pakatan Rakyat untuk digunakan sebagai bukti di mahkamah kelak.

"Semua orang tanpa kecuali telah ditipu (SPR). Ada profesional, peniaga, pekerja kilang, anak muda dan mahasiswa.

"Ramai yang miskin. tapi saya nak beritahu Najib dan SPR. Ya, kami miskin. Tapi kami ada maruah. Kita akan tetap lawan!, kata Anwar disambut laungan 'Lawan Tetap Lawan' oleh ribuan hadirin.



VIDEO RANGKUMAN KEMUNCAK HIMPUNAN SUARA RAKYAT 505 PADANG TIMUR AMCORP MALL OLEH SINAR





World's 'most racially intolerant' countries mapped
Posted: 26 May 2013 07:30 AM PDT
The World Values Survey asked respondents in more than 80 different countries to state the type of people they did not want as neighbours.Over 40 per cent of respondents in India, Jordan, Bangladesh and Hong Kong said they would not want a neighbour of a different race.The British were among the most tolerant, along with former colonies the United States, Canada, Australia and New Zealand. People in Latin American counties were also prepared to embrace racially diverse neighbours. 

, The data from the survey by Niclas Berggren and Therese Nilsson was mapped by the Washington Post by Max Fisher. 
 In India, 43.5 per cent said they did not want someone of a different race as their neighbour. In Jordan it was 51.4 per cent, while in Hong Kong and Bangladesh, over 70 per cent said someone of a different race was their biggest concern in a neighbour. Europe showed widely varying results, with France coming out as notably racially intolerant at 22.7 per cent. Former Soviet states such as Belarus and Latvia proved to be more tolerant than many of their European neighbours, according to the study. The Telegraph
သက္ၾကီးစကား သက္ငယ္ၾကား (ဆရာကိုေလး (အင္း၀ဂုဏ္ရည္) ႏွင့္ ေတြ႕ဆံုျခင္း)
Posted: 26 May 2013 07:14 AM PDT
သက္ၾကီးစကား သက္ငယ္ၾကား (ဆရာကိုေလး (အင္း၀ဂုဏ္ရည္) ႏွင့္ ေတြ႕ဆံုျခင္း)
Published By Myat Shu On Sunday, May 26th 2013. Under မ်က္ရႈ, အင္တာဗ်ဴး
ဒီႏွစ္ သၾကၤန္ရံုးပိတ္ရက္ မႏၱေလးကို ျပန္ေတာ့ သၾကၤန္အတက္ေန႔မွာ ဘဘ(ဦး) ကိုေလး (အင္း၀ဂုဏ္ရည္) ကို ဦးခ်ကန္ေတာ့ခြင့္ရခဲ့ပါတယ္။ ဘဘရဲ႕ စာေတြ ပံုႏွိပ္စာမ်က္ႏွာေတြထက္မွာ မေတြ႕ရတာ အေတာ္ၾကာခဲ့ပါၿပီ။ ၂၀၁၁ ခုႏွစ္ ေႏွာင္းပိုင္းက်မွ ဘဘေရးတဲ့ ေဆာင္းပါးတခ်ိဳ႕ကို ဂ်ာနယ္ေတြမွာ ဖတ္ခြင့္ရလာပါတယ္။ အဲဒီေနာက္ တေလာေလးကပဲ "မြန္းတည့္အမီ" ဆိုတဲ့ စာအုပ္ေလး ထြက္လာပါေရာ။ ဘဘရဲ႕ ကဗ်ာနဲ႔ ေဆာင္းပါးေတြကို ေဖာ္ျပႏုိင္ခြင့္ အတန္ၾကာ ေပ်ာက္ဆံုးေနေပမယ့္ ကိုေလး (အင္း၀ဂုဏ္ရည္)ဆုိတဲ့ ကေလာင္ဟာ တန္႔မသြားခဲ့ပါဘူး။ ဘဘဟာ ေခတ္ကိုေရာ၊ စာေပေလာကကိုေရာ မ်က္ေျခမျပတ္ခဲ့သူမို႔ ယေန႔ေခတ္သရုပ္ကို ထပ္ဟပ္ေပၚလြင္ေစတဲ့ ကဗ်ာေတြ ေရးဖြဲ႕ႏုိင္ေနဆဲျဖစ္ၿပီး သူနဲ႔ ခဏတျဖဳတ္ေတြ႕တုန္း ေထြရာေလးပါးစကားဆိုေနခိုက္မွာေတာင္ မ်က္ေမွာက္ေခတ္ ျမန္မာစာအေျခအေနကိုလည္း မိမိရရ သံုးသပ္ျပခဲ့ပါတယ္။ ဘဘနဲ႔ ေတြ႕စဥ္ အခ်ိန္ သံုးနာရီနီးပါးမွာ စာအေၾကာင္း ေပအေၾကာင္း ဘဘက ေရာက္တတ္ရာရာ ေျပာျပခဲ့တယ္ဆိုေပမယ့္ အေၾကာင္းအရာတုိင္းဟာ မွတ္သားစရာေတြခ်ည္း ျဖစ္ခဲ့ပါတယ္။
အဲဒီေန႔က ဘဘ ေျပာျဖစ္ခဲ့သမွ်ထဲမွာ နတ္သွ်င္ေနာင္ပါတယ္။ ျမိဳ႕မျငိမ္းပါတယ္။ ကိုေစာညိန္းပါတယ္။ မင္းသု၀ဏ္ပါတယ္။ ေရႊမန္းတင္ေမာင္ပါတယ္။ ဦးပုညပါတယ္။ ကဗ်ာဆိုတာ ဘာလဲလို႔ ရွင္းျပတယ္။ ရြတ္ျပတယ္။ အဖြဲ႕အႏြဲ႕နဲ႔ စကားလံုးေတြရဲ႕ ခြန္အားကို သရုပ္ခြဲျပတယ္။ စာေပေဟာေျပာပြဲလို၊ ကဗ်ာရြတ္ဆိုပြဲလို စာသင္ခန္းထဲက သင္ခန္းစာသင္ၾကားသလို မဟုတ္ေပမယ့္ ေျပာခဲ့၊ ညႊန္ခဲ့၊ ဆိုဆုံးမခဲ့သမွ်ဟာ ျမန္မာစာနဲ႔ ျမန္မာကဗ်ာ၀ါသနာရွင္တို႔ကို လက္ဆင့္ကမ္းစရာမို႔ ေပထက္အကၡရာ တင္လိုက္ရပါတယ္။
စကားလံုးအႏွစ္သာရ ပစ္ပယ္၍ မရ
ဆရာျငိမ္းဆိုရင္ နတ္သွ်င္ေနာင္ကို တကယ္ ဒိုင္ဂ်က္ဇ္ျဖစ္တာ။ ဘယ္မွာသိသာလဲဆိုရင္ ရတုဘုရင္ နတ္သွ်င္ေနာင္ရဲ႕ ေပၚေႏြလလွ်င္၊ ေတာင္ကျခိမ့္ျမဴး၊ မင္းလြင္ဦးႏွင့္ ပ်ံ႕ပ်ဴးခ်ဳပ္တိုင္း၊ မုန္တုိင္းဆင္လို ေပၚတင္ၾကီးထည့္သံုးလိုက္တာ ေပၚေႏြလလွ်င္၊ ေဖ်ာ္ေျဖမွလွ်င္၊ ေမွ်ာ္ေခ်ကလွ်င္ ၾကည့္စမ္း ေတာထဲေရာက္ေနတာ။ "ေမွ်ာ္ေခ်ကလွ်င္၊ ကာလအေလ်ာက္၊ ပိေတာက္လ်ံခဲ၊ ေရႊရည္စြဲက၊ ပုလဲငံုသြယ္၊ အလွယ္လွယ္တိ၊ စံပယ္ျဖဴေမႊး၊ စံကားေသးကို၊ ျမတ္ေလးစံုမက္၊ ကၽြႏ္ုပ္လက္ျဖင့္၊ ေရြးလ်က္ရြရြ၊ မဆင္ရတည့္"..။ အဲဒါကို ဆရာျငိမ္းက သူ႕ဗားရွင္းနဲ႔ ေရးတာကိုးဗ်။ လူကို ၾကက္သီးထတာကို။ ပိေတာက္လွ်ံကဲ ေရႊရည္စြဲသို႔ဆိုတာကုိ "ပိေတာက္ေတြ ေရႊရည္လူးခဲ့ေပါ့အေျခ.. ပုလဲငံုစပယ္ျဖဴ ဖူးခိုက္ေ၀ေ၀.. ပန္းမ်ိဳးစံု ရာသီကုန္ကူးခဲ့ေပါ့ေလ.. ခ်စ္သူကိုရည္စူး ခူးတဲ့လို႔ေျခြ.. ကုိယ္တုိင္ လွရာရာေရြးလို႔ ဆင္မေပးရ ဆံျမညွာေက…" ေဟာ ဒိုင္ဂ်က္ဇ္ျဖစ္လုိက္ပံုက ေၾကာက္ခမန္းလိလိပါလားဗ်။ "ကၽြႏု္ပ္လက္ႏွင့္ ေရြ႕ေရြ႕လ်လ်မဆင္ရသည့္" အဲဒီ ေရြ႕ေရြ႕လ်လ်မဆင္ရသည့္ဆုိတာကို "ကုိယ္တုိင္ လွရာရာေရြးလို႔ ဆင္မေပးရ ဆံျမညွာေက…" အဲဒါ သူ႕ဗားရွင္းဗ်။
ဆရာမင္းသု၀ဏ္ ဘယ္လုိေျပာတယ္။ ဆရာေဇာ္ဂ်ီဘယ္လိုေျပာတယ္။ ေဒါက္တာလွေဘ ဘယ္လုိေျပာတယ္ဆုိတာေတြက ဒါဟာ အျပင္သက္ေသေတြ။ အျပင္သက္ေသေတြ ေျပာတာထက္ တကယ္သူသံုးသြားတဲ့ စာသားေတြကမွ တကယ့္ evidence ေတြပဲ။ သူရဲ႕ စကားလံုးေရြးခ်ယ္မႈကို ၾကည့္ရမွာ။ ငါတု႔ိက အဲလို စနစ္တက်သင္ခဲ့ရတာ။ ခုနကဟာ ျပန္ဆက္ၾကစို႔။
ကဗ်ာဆိုသည္မွာ….
အလကၤာ ၊ စကားလံုးေရြးခ်ယ္မႈ ၊ ႏူးညံ့မႈ ၊ အာရံုခံစားမႈ၊ အသံရယ္။ ဒါေတြက ကဗ်ာအဂၤါရပ္ေတြပဲ။ စကားေျပနဲ႔ ကဗ်ာကို ခြဲေပးမွာက အသံပဲ။ အသံေနအသံထားနဲ႔ ရြတ္လို႔ေကာင္းရဲ႕လားဆုိတာေပါ့။ ရႊံ႕ေပၚရွဥ္႔ေျပး၊ ရွဥ္႔ေမြးရႊံ႕မလူးဆိုတာ ဘာအလကၤာပါလဲ၊ စကားလုံးေရြးခ်ယ္မႈလည္း အထူးမလိုဘူး။ ဒါေပမယ့္ ရြတ္လို႔ေကာင္းေတာ့ ကဗ်ာျဖစ္ေနတယ္။ စာေရးရင္ပဲျဖစ္ျဖစ္ ကဗ်ာေရးရင္ပဲျဖစ္ျဖစ္ အဓိကအေရးၾကီးတာက လူနားလည္ဖို႔ပဲ။ လူနားလည္ဖို႔ဆိုတာကို  ေျပာျပခ်င္ေသးတယ္။ ငါ့ညီ ဟားခါးေဆးရံုးမွာ ဆရာ၀န္အျဖစ္သြားေတာ့ လူနာေခၚလာတဲ့ သားက သူ႕အေဖေနမေကာင္းတာကို "ေဟ့ ဆရာ၀န္၊ ဒီေကာင္ၾကီး ေနမေကာင္းလုိ႔ လုပ္စမ္း" လို႔ ေျပာတယ္။ ဒါ ဘာျဖစ္လဲ။ ဘာမွမျဖစ္ဘူး။ သူ ျမန္မာစကားေကာင္းေကာင္းမတတ္ဘူး။ ဒါေပမယ့္ ဒီဘက္ကလည္း သူ ဘာေျပာခ်င္တယ္ဆိုတာ နားလည္တယ္။ ညည္း… ညည္းအေဖကို အဲလို ေျပာၾကည့္ပါလား။ ဘယ္ခြင့္ျပဳမွာလဲ။ အဲဒါေၾကာင့္ ပထမအေရးၾကီးတာက စာေရးရင္ လူနားလည္ေအာင္ေရး၊ ဒုတိယက ယဥ္ေက်းေအာင္ေရး။
ျမန္မာစာေလ့လာသူ မ်ိဳးဆက္သစ္တို႔အတြက္….
ငါတို႔ ေလးတန္းေအာင္တယ္၊ ရွစ္တန္းေအာင္တယ္ဆိုတာ အရည္အခ်င္းျပည့္မွ ေအာင္တာ။ ေနာက္ ၁၀ တန္းေအာင္ေတာ့ Choose what you like။ ကုိယ္ၾကိဳက္တာ ကိုယ္ေရြးေတာ့ပဲ။ ကုိယ္ၾကိဳက္တဲ့ လိုင္း၊ ကိုယ္ၾကိဳက္တဲ့ဘာသာရပ္ သင္ရံုပဲ။ ခုလို အမွတ္စနစ္လဲမဟုတ္ဘူး။ ခုေတာ့ ပါရဂူယူမယ့္သူကုိ ဆရာမင္းသု၀ဏ္ရဲ႕ ကဗ်ာ ၅၀ တဲ့၊ ဆရာျငိမ္းရဲ႕ သီခ်င္း ၅၀ တဲ့။ စုခိုင္းတာ။ ဆရာျငိမ္းေရးတဲ့.. "အစားအစာ ေတာင္းလာ သနားခ်စ္စရာ့ စင္ေရာ္သည္ " ဆိုတာ ဘယ္သူ႕ကဗ်ာမွတ္လဲ။ ဆရာမင္းသု၀ဏ္ကဗ်ာကို ယူသုံးထားတာ။ ဆရာမင္းသု၀ဏ္က ကြမ္းျခံကုန္းကလယ္သမားေလး။ သေဘၤာဆိပ္ကေန ကြမ္းျခံကုန္းျပန္လာေတာ့  သေဘၤာစီးေတာ့ စင္ေရာ္ေလးေတြကေန အစာေတာင္းေတာ့ "စာဆိုမွာ အေဖာ္နဲ႔သာျဖင့္ တဖဲ့စီေ၀လို႔ ေကၽြးခ်င္တယ္… " အမယ္ ခုေတာ့ စာဆုိမွာ အေဖာ္မပါေတာ့ သူတကိုယ္တည္းေပါ့။ အဲသလို ေရးခဲ့တာ။ ဆရာျငိမ္း သီခ်င္းျပန္ေရးတာ သူ႕ကဗ်ာဗ်။ ေနာက္ "သံသာေလ ကမ္းတုိင္" ဆိုတဲ့ "မဂၤလာေမာင္မယ္" သီခ်င္းေလ။ ဒါးတန္းဦးသန္႔သမီး မဂၤလာေဆာင္အတြက္ ေရးေပးတာ။ အဲဒီကဗ်ာ ဘယ္သူ႕ကဗ်ာေအာက္ေမ့လဲ။ မင္းယုေ၀ကြ။ ေနာက္ၿပီး "သၾကၤန္ေလညွင္းလုလင္ ျမဴးရႊင္ေတာ့ေပ.. ပိေတာက္ေတြ ထံုတဲ့၀တ္မႈန္.. ၀တ္ဆံၾကားေတြ" ဆိုတာမွာ ေလညွင္းလုလင္ဆိုတာ ဗမာစကားမ်ား မွတ္ေနလား။ ေလညွင္းနဲ႔ လုလင္တြဲထားတာ.. အဲဒါ ရွိတ္စပီးယားရဲ႕ ကဗ်ာကေန ယူထားတာ။ ခု ျမန္မာစာပါရဂူယူမယ္ဆုိတဲ့သူေတြ အဲဒါေတြလည္း ဘာမွသိၾကတာမဟုတ္ဘူး။ အာဆီယံႏုိင္ငံေတြထဲမွာ တို႔က ပါရဂူဘယ္ႏွေယာက္ဆိုတာမ်ိဳးျဖစ္ခ်င္လုိ႔ လုပ္ေနတာဆိုရင္ေတာ့ သြားမွာပဲ။
ဒါမ်ိဳးေတြ သိသလား ေမးလိုက္ရင္ ေနာက္မလာၾကေတာ့ျပန္ဘူး။ အဲဒါကုိ တခါ ကေလး ကဗ်ာ ၅၀ နဲ႔ ဇာတ္စာေတြ စုေပးပါဦး တခါလာၾကေသးတယ္။ ငါျဖင့္ စိတ္ညစ္လိုက္တာ။ ဟိုတုန္းက အာလုပ္စကားသံုးတာေတာင္ ရိုးရိုးသံုးတာ မဟုတ္ဘူး။ ဥပမာ "သယ္" ဆိုတာ ဘာတုန္း။ "သယ္" ဆုိတာ ဘီလူးသံုးတာ။ တုိ႔ေတြက အာလုပ္သံၾကားလိုက္တာနဲ႔ ဒါဘယ္သူလဲ။ ဘယ္သူထြက္ေတာ့မယ္ဆိုတာ သိတယ္။ "ေညာ.." ဆိုတာ ရုကၡစိုးသံ။ "ေညာ.. ရွစ္ေသာင္းေလးေထာင္၊ ျမေရာင္ညိဳေမာင္း၊ ေတာင္ထြတ္ေပါင္းႏွင့္၊ သြယ္ေျပာင္းျမစ္ေရ၊ ရစ္ေခြ၀န္းပတ္၊ ေဟ၀န္ေဗြတြင္၊ မေဟသကၡ၊ စိုးရေခါင္ခ်ဳပ္၊ သံးေထာင္အုပ္သည္၊ ရုကၡစိုးနတ္ ငါျဖစ္သည္" ဆုိၿပီးလာတာ။ ေနာက္ၿပီး "ထိုက္ဟဲ့" ဆိုတာ "ေခါင္းအံုးၾကီး ေခါင္းအံုးၾကီး ျမင္းပ်ံလုပ္လုိ႔စီး" ကဗ်ာမွာ ဆရာမင္းသု၀ဏ္က "ထိုက္ဟဲ့ ဇာနည္ဘြား" လို႔ သံုးလိုက္တာ။ အဲဒီအခ်ိန္မွာ နယ္ခ်ဲ႕ကိုလိုနီဆန္႔က်င္ေရး လုပ္ေနတာ။ ဒီ ထုိက္ဟဲ့က ႏိုင္ငံေရးစိတ္ဓာတ္အတြက္ သံုးလိုက္တဲ့ အသံုးပဲ။
ေဟာ ဦးပုညရဲ႕ ေရသည္ျပဇာတ္မွာက်ေတာ့ "ေဗလု၀ေစာင္း၊ အေၾကာင္းလင္း၊ ငါးကြင္းဥေသွ်ာင္၊ နတ္မင္းေဆာင္တဲ့၊ သန္းေခါင္ေမာင္း၊ ခုနစ္ေခ်ာင္းညွိဳ႕၊ ဆုိင္ရာတုိ႔ၿပီးလွ်င္၊ ေခ်ာပို႔ေတာ္မူလိုက္စမ္း ကိုးရြာစား"။ စဥ္းစားစရာေပါ့။ ဒီအထဲမွာ ေဗလု၀လည္း ပါတယ္။ နတ္မင္းလည္း ပါတယ္။ သန္းေခါင္ေမာင္းက ဘာလဲ။ ခုနစ္ေခ်ာင္းညွိဳ႕က ဘာလဲဆိုတာ။ ေဗလု၀ဆုိတာ ပါဠိစကား။ အသံသာတဲ့ေစာင္း။ ဒီေစာင္းကို တီးတာက ဥေသွ်ာင္ငါးခု ရွိတဲ့ ပဥၥသိခၤနတ္သား။ ျမန္မာဖတ္စာ ခက္ဆစ္ထဲမွာ သန္းေခါင္ေမာင္းကို "သန္းေခါင္းယံမွာတီးေသာ ျမည္ဟိန္းေသာ ေမာင္းၾကီး" တဲ့။ အမေလး.. ငါ့ႏွယ္ ေသပါေတာ့လို႔ေတာင္ ေအာ္လိုက္ခ်င္တယ္။ တကယ္္က မင္းတုန္းမင္းၾကီးလက္ထက္မွာ ဦးပုညက ျမ၀တီမင္းၾကီး ဦးစနဲ႔ေနခဲ့ေတာ့ ကဗ်ာဆရာ ဦးပုညက ရင္ခုန္ရတာရွိတယ္။ အဲဒါ ဦးစရဲ႕ေစာင္းပဲ။ ေဗလု၀က ပဥၥသိခၤနတ္သားရဲ႕ ေစာင္းနာမည္ျဖစ္သလို "သန္းေခါင္ေမာင္း"ဆိုတာ ျမ၀တီမင္းၾကီးဦးစရဲ႕ ေစာင္းနာမည္ပဲ။ ျဖစ္ရပံုက ဒါေလးေတာင္ မသိၾကဘူး။ သင္တဲ့ဆရာမကလည္း ဒါကို သိသင့္တယ္။ "ခုနစ္ေခ်ာင္းညွိဳ႕" ညွိဳ႕ဆိုတာ ၾကိဳး။ ေလးညွိဳ႕တာ ေလးၾကိဳး၊ ေစာင္းညွိဳ႕ဆိုတာ ေစာင္းၾကိဳးကိုေျပာတာ။ ျမ၀တီဦးစရဲ႕ ေစာင္းက ၾကိဳးက ခုနစ္ေခ်ာင္းပဲရွိတာ။ ေနာက္ပိုင္းက်မွ အခုတီးတဲ့ ေစာင္း ၁၃ ၾကိဳးျဖစ္သြားတာ။ ေနာက္ အလကၤာေက်ာ္စြာ ဘဘဦးဘသန္းက သံုးၾကိဳးထပ္ျဖည့္ေတာ့မွ ၁၆ ၾကိဳးျဖစ္သြားတယ္။ အဲဒါေၾကာင့္ ေရသည္ေယာက်္ား နန္းတြင္းကို ၀င္မယ္ဆိုေတာ့ ေစာင္းၾကိဳး ခုနစ္ၾကိဳးမွာ ဆုိင္ရာကို တီးလိုက္စမ္းပါလို႔ ေျပာခ်င္တာ။ ျပႆနာက generation gap ျဖစ္ေနတာေပါ့။ စာထဲမွာ ပါတာ ဘာကိုဆိုလိုတယ္၊ ဘာရယ္ဆိုတာ မသိၾကေတာ့ဘူး။
ေနာက္ၿပီး သံခ်ပ္ဆိုတာ ပိတ္ထားတာၾကာၿပီ။ သံခ်ပ္ဟာ ဘယ္ကလာတာလဲ။ ဒီေန႔ ဟစ္ပ္ေဟာ့ဆိုတာ သံခ်ပ္ အေျခခံပဲ။ တုိ႔ မင္းတုန္းမင္းၾကီး၊ သီေပါမင္းၾကီး လက္ထက္ေတာ္ကတည္းက သံခ်ပ္ဆိုတာ ရွိႏွင့္ေနၿပီးသား။ လယ္ထြန္မဂၤလာဆင္းတယ္ ဆုိပါေတာ့။ စည္ေတာ္ေတြပါတယ္။ ဒိုးပတ္ေတြပါတယ္။ အိုးစည္ဗံုေမာင္းပါတယ္။ အဲတုန္းကေတာ့ ငါတုိ႕က နန္းဆန္တဲ့ မန္းဟန္ၾကီးနဲ႔ေပါ့ေလ။ "မိုး မိုး မိုးလားေမာင္တုိ႔.. ေလ ေလ ေလလား ေမာင္တို႔.. ဘုန္းေတာ္ၾကီးလုိ႔ သက္ေတာ္ရွည္.. တုိ႔တေတြ ေရခ်မ္းအိုး" (ဆရာက အသံေနအသံထားျဖင့္ ခပ္ေအးေအး ျဖည္းျဖည္းေလး ဆိုျပပါသည္) ဆုိၿပီး တုိ႔ေတြက ဆုိခဲ့တာ။ ရန္ကုန္က ေကာင္ေတြက်ေတာ့ ဘာနန္းဆန္ေတြ မန္းဟန္ေတြ ဘာမွမရွိဘူးေလ။ ၀ုန္းဒိုင္းျဖစ္ကုန္ၾကတာပဲ။ တို႔ ကဗ်ာဆိုတာ အလကားမဟုတ္ဘူး။ အသံေနအသံထားရွိတယ္။ အသံေန အသံထားနဲ႔ ရြတ္ရတယ္။ "ခ်စ္တဲ့သူငယ္ေလ…. သူငယ္ခ်င္းေကာင္း ေယာင္းမတို႔ေရ.." ဆိုတာ အသံနဲ႔လာတာ။ အဲဒါ အုိင္ခ်င္း။ ေနာက္ စစ္ခ်ီကဗ်ာေတြက ကာခ်င္း။ အုိင္ခ်င္းကို ဘယ္လို ရြတ္ရမယ္၊ ကာခ်င္းကို ဘယ္လို ဆိုရမယ္ဆိုတာ အသံေနအသံထား ဥပေဒသရွိၿပီးသား။ ဒါေတြကို အခု မသိၾကေတာ့ဘူး။ အသည္းနာစရာေကာင္းတာက တကယ္ဆို ဒါေတြကုိ ျပတုိက္ထဲ ထားသိမ္းထားေပးသင့္တာ။ ခုေတာ့ နာလိုက္တာကြာ။ ကာခ်င္းဆိုတာက တဘက္က အခ်ိန္မေရြးလာတုိက္ႏုိင္တာမို႔ အျမဲစိတ္ဓာတ္တက္ၾကြေနေအာင္ ဆိုေပးေနရတာ။ "တစ္ေမာင္း တစ္ေမာင္း တုိ႔တစ္ေမာင္းသည္ ဘေကာင္းသားေလာ.. ဘေကာင္း.. ဘေကာင္း"။ ရြတ္ရတာ သိပ္အရသာရွိတာ။ ဒီေနရာမွာ တစ္ေမာင္းမသိရင္ ဘယ္လိုလုပ္မလဲ။ အရင္က ဗမာ့တပ္မေတာ္ဖြဲ႕စည္းပံုက ငါးေယာက္ဆုိရင္ တစ္အိုးစား။ ႏွစ္အိုးစားကို တစ္ၾကပ္၊ ႏွစ္ၾကပ္ကို တစ္ေသြးေသာက္၊ ႏွစ္ေသြးေသာက္ကို ေသြးေသာက္ၾကီးတစ္ တဲ့။ လူေလးဆယ္ကို ေသြးေသာက္ၾကီး တေယာက္က အုပ္ခ်ဳပ္တယ္။ ဒီလူေလးဆယ္အတြက္ တစ္ေမာင္းေပးထားတယ္။ အဲဒါေၾကာင့္ "တစ္ေမာင္း တစ္ေမာင္း တို႔တစ္ေမာင္းသည္ ဘေကာင္းသားေလာ…. ဘေကာင္း.. ဘေကာင္း" ေအာ္ၾကတာ။
ေနာက္ၿပီး ေရႊမန္းတင္ေမာင္ရဲ႕ လက္၀ဲသုဒၵါရျပဇာတ္မွာ "ေနႏႈန္းေျပာင္" "ျပည္ကုန္းေဘာင္"၊  "ရတနာသိခၤ" "သမၻာရွိန္ၾကြ"၊ "ေနႏႈန္း၍ေျပာင္တယ္…. ျပည္ကုန္းေဘာင္ဆိုတာ နာသိခၤပါပဲ.. သမၻာရွိန္ၾကြသူ အေလာင္းဘုရင္ျမတ္ကယ္က" တဲ့။ ၿပီးေတာ့ "ၾကမၼာကံအို"  "ရာဇသံဆို" တဲ့။ သံုးသြားတာ ေကာင္းတာဗ်ာ။
ျမန္မာစာ၊ ျမန္မာစကား နိမ့္ဆင္းေနရျခင္းႏွင့္ ပတ္သက္ၿပီး….
ေလ့လာမႈရွိရမွာေပါ့။ ငါတုိ႔က ပါဠိလိုေျပာရင္ေတာင္ ဒီအဖိုးၾကီး ဘုန္းၾကီးေစာ္နံတယ္ လုပ္ေသးတာ။ ေမတၱာသုတ္ရြတ္တဲ့အခါ ပရိတ္ထဲမွာပါတဲ့ တံ ဘဏာမေဟ ဆိုတာ ငါတုိ႔ နန္းမေတာ္မယ္ႏု အုဠ္ေက်ာင္းထုိင္သြားတဲ့ ဆရာေတာ္ဦးဗုဓ္ ထည့္ေရးသြားတာေပါ့။ ပရိတ္ညႊန္းလို႔ေခၚတယ္။ ဧ၀မာဒိ ဂုဏူေပတံ ဤကဲ့သို႔ ဂုဏ္ေတာ္အေပါင္းႏွင့္ ျပည့္စံုေတာ္မူေသာ ပရိတ္တံ ထိုပရိတ္ေတာ္ကို၊ ဘဏာမ ရြတ္ၾကကုန္အံ့။ အဲလုိ အရင္ရြတ္ရတာက ေမတၱာပို႔မယ့္သူဟာ သူမ်ားကို ေမတၱာမပို႔ခင္မွာ ကိုယ့္ကိုယ္ကို အရင္ေမတၱာပို႔ၿပီး ေဆာက္တည္ရတယ္ဆိုတာ နားလည္ရမယ္။ ငါတို႔မွာက gap မရွိခဲ့ေတာ့ သိတယ္။ ၾကားရတယ္။ မွတ္သားရတယ္။ ျခေသၤ့ဆီဆိုတာ သိဂႌေရႊခြက္နဲ႔သာ တည္တယ္။ ဒါေပမယ့္ ၾကားဖို႔ကုိ နားပိတ္ေနတယ္ဆိုရင္ေတာ့ ငါတို႔လည္း မေျပာဘူး။ သူ႕အေၾကာင္းကံမရွိဘဲ ငါက ေလွ်ာက္ေျပာေနရင္ ငါ ေမာရံုရွိမွာပဲ။ ငါက ကဗ်ာဆိုတာ အတၳာလကၤာရနဲ႔ သဒၵါ လကၤာရလုိ႔ ေျပာေတာ့ လွည့္ေတာင္ မၾကည့္ၾကဘူး။ ေနာက္မွ ကဗ်ာဆိုတာ sound and sense ပဲလုိ႔လဲ ေျပာေရာ ဒီအဖိုးၾကီး ဒီလိုလည္း တတ္သားပဲဆိုၿပီး ျဖစ္ကုန္တယ္။ ဘာကြာလဲ။ ဘာမွမကြာဘူး။
ငါတို႔ ျမန္မာစာ ေပါ့ေသးေသးမမွတ္နဲ႔။ ကၾကီး (က)၊ ခေခြး (ခ)၊ ဂငယ္ (ဂ)၊ ဃၾကီး (ဃ)၊ (င) ပထမတန္း ငါးလံုး။ ဒုတိယတန္းမွာက စလံုး (စ) ကေန (ည) အထိ။ အဲသလုိ ဘယ္ဘက္အတန္းက က၊ စ၊ ဋ၊ တ၊ ပ ငါးလံုးနဲ႔ ညာဘက္အတန္းက င၊ ည၊ ဏ၊ န၊ မ ငါးလံုးနဲ႔ပဲ အသတ္တင္တယ္။ ျမန္မာစာ ဘယ္ေလာက္ ရွင္းလဲ။ ခေခြးနဲ႔ မသတ္ဘူး။ ဂငယ္နဲ႔ မသတ္ဘူး။ သတ္ရင္ ျမန္မာစာမဟုတ္ဘူး။ က်န္တာေတြနဲ႔ အသတ္တင္ရင္ ပါဠိက လာတာမ်ားတယ္။ ထပ္ေျပာရဦးမယ္။ သရက္ပင္ဆိုတာမွာ "ပင္" ကို အသံေျပာင္းစရာမလုိပဲ ပေစာက္ကေလးကုိ ပီပီသသနဲ႔ သရက္ပင္ဆိုလို႔ရတယ္။ ဒါေပမယ္ င၊ ည၊ ဏ၊ န၊ မ နဲ႔ဆိုရင္ အသံေျပာင္းရမယ္။ ေညာင္ပင္ေလး ေပးပါလို႔ ေျပာရင္ ငါက ရိုက္ခ်င္တာ။ အသံေျပာင္းရတယ္။ ပထမအကၡရာက ပေစာက္၊ ဒုတိယအကၡရာက ဖဦးထုပ္၊ တတိယအကၡရာက ဗထက္ခ်ိဳင့္မလား။ ဗထက္ခ်ိဳင့္အသံထြက္ရတယ္။ ေညာင္ပင္လုိ႔ မထြက္ရဘူး။ ေညာင္ "ဗင္" ထြက္မွ မွန္တယ္။ မဟုတ္ရင္ ဒါ ကၾကီး၊ ခေခြး မတတ္ဘူးလုိ႔ ေျပာရမယ္။
ျမန္မာစာ၏ အနာဂတ္
[VIDEO WAJIB TONTON] Rafizi Bayangkan BERSIH 4.0 Jika Tuntutan Terhadap SPR Tidak Dipenuhi
Posted: 26 May 2013 08:34 AM PDT
A
hli Parlimen Pandan, Rafizi Ramli semalam berkata "tidak akan ada penjara yang mencukupi untuk kerajaan memenjarakan semua orang yang menyuarakan bantahan terhadap penipuan pilihan raya."
Rafizi, yang mempengerusikan jawatankuasa Pakatan menyiasat penipuan pilihan raya, berkata rakyat telah hilang keyakinan terhadap SPR kerana telah melanggar sumpah dan mengkhianati amanah mereka. Menurut Rafizi, apabila mereka telah melanggar sumpah mereka, mengkhianati amanah yang diberikan kepada mereka, maka halallah bagi untuk lawan dan jatuhkan mereka.

"Jika rakyat berkata terdapat penipuan, bukan tugas kamu untuk menjadi macai dan pencacai UMNO...(tetapi) menjadi tanggungjawab kamu untuk menyiasat seadil-adilnya!" kata Rafizi.

Rafizi turut mencabar pegawai SPR jika hendak mempertahankan kerajaan UMNO BN, pegawai tersebut perlu letak jawatan.

"Kalau rasa ketagih sangat nak bodek Najib, nak jadi ahli politik, kamu letak jawatan sekarang juga, jangan jadi Timbalan Pengerusi SPR," kata Rafizi yang merujukkan kata-katanya itu kepada Datuk Wan Ahmad Wan Omar.

"Kalau rasa hebat sangat, gian sangat nak masuk pilihanraya, jangan berkempen macam sekarang pakai SPR, letak jawatan dan bertanding lawan Dr Siti Mariah di Kota Raja, tengok siapa yang lagi hebat, siapa yang lagi kuat, siapa yang lagi disokong oleh rakyat!" tambah Rafizi.

"Sebab itu, sekarang kita akan tumpukan seluruhnya untuk kita tuntut semua pesuruhjaya SPR diganti dan dibuang serta-merta dari sekarang," katanya.

Beliau juga berkata mulai minggu depan kita akan failkan 29 petisyen pilihan raya dan kita minta semua istiqamah. Kita akan berjumpa di Dataran Merdeka selepas ini sehinggalah tuntutan kita dipenuhi.

Rafizi turut membayangkan kemungkinan akan adanya himpunan BERSIH 4.0





Challenges to the Rights of Malaysians of Indian Descent
Posted: 26 May 2013 04:30 AM PDT
The success of democracy in a multi-cultural society could be measured in terms of ethnic accommodation, since there are greater possibilities for communitarian antagonism owing to rising expectations. However, every multi-cultural society has evolved a political structure through a historical process to meet the indispensable demands (i.e. liberty and equal opportunities of development) of multiple ethnic groups. This article attempts to address the problem of Indian minorities through the prism of human rights, as enshrined in the charter of international human rights. It also seeks to cast light on the peculiar political arrangement in the case of Malaysia, which is discriminatory and restricts the genuine functioning of a fair democratic process.
Introduction
Malaysia is a multi-ethnic and multi-cultural society, where Malays and indigenous groups (Orang Asli, Sabahans and Sarawakians etc.), who are defined as bumiputera (son of the soul), comprise 67 percent of the population (Department of Statistics, Malaysia 2010). By constitutional definition, all Malays are Muslims and speak the Malay language. They dominate national politics, administrative and other governmental jobs. About a quarter of the population consists of Malaysians of Chinese descent, a group which historically has played a significant role in the field of trade and business. Malaysians of Indian descent comprise 7.3 percent of the population, and include Hindus, Buddhists, Sikhs, Christians and Muslims (Department of Statistics, Malaysia 2010).
The term 'Indian' in Malaysia is used to refer to all people from the sub-continent – Indians, Pakistanis, Bangladeshis and Sri Lankans. Malaysia has one of the largest communities of peoples of Indian origin in the world outside the subcontinent, numbering about two million.  The overwhelming number are of South Indian origin, predominantly Tamil-speaking and a significant numbers speak Telugu, Malayalam, Hindi and Punjabi. The Indians began migrating to Malaysia in the latter part of the 19th Century, while under British rule, to work as indentured labourers in plantations.  The subsequent waves from other parts of India and Sri Lanka were for the security services, railways and clerical services (Kuppuswamy 2010). As the years progressed, they integrated themselves into the society and culture of Malaysia while retaining their language and religion. About eighty percent of ethnic Indians in Malaysia are Hindus and their problems are the same as the problems of minorities in a multicultural society. Apart from the economic discrimination they have suffered under Malaysia's Bumiputera policies since 1971, a number of sensitive issues relating to demolitions of Hindu temples and Hindu Burial grounds, forced religious conversion, denial of birth certificates and national identity documents and others have come up.
While overseas Indians are amongst the best educated and successful communities in the world (The Ministry of Overseas Indian Affairs), peoples of Indian origin living in Malaysia find themselves marginalized and excluded from the mainstream of national development in almost every aspect of day-to-day living. The economic and political rights of ethnic Indians have witnessed both moderate and violent contestations from native socio-political forces. As Dilip Lahiri points out, Indians are categorically denied basic and elementary needs and necessities, fundamental rights and equal opportunities of progress. They have to face racial discrimination in many fields, including: the allotment of business licenses, the awarding of government scholarships, the closure of Tamil primary schools, citizenship applications, granting of permits for taxis, allotment of land, admission to universities, appointment of lecturers or teachers, etc. (Lahiri 2008).
The notable thing is that, at the time of Malaysia's independence in 1957, the condition of ethnic Indians was much better than today's. Even, in the aftermath of independence, all ethnic groups were given equal rights and opportunities of development. However, Islam was made the official religion of the Federation; non-Malays were also given enough space to exercise their religious and cultural customs and traditions. All three major ethnic groups (Malays, Chinese and Indians) were given representation through the ethnic parties such as the UMNO (United Malay National Organisation), the MCA (Malaysian Chinese Association) and the MIC (Malaysian Indian Congress) within the ruling coalition of the Alliance Party (BN- Barisan Nasional).
Affirmative Action Policy
In 1969, politics in Malaysia took a dramatic turn when, for the first time since independence, the ruling Malay party lost many seats in the general elections. The subsequent political developments, including bloody ethnic riots in May 1969 between Malays and non-Malays (principally Chinese), provided grounds for the ruling Malay elites within the Alliance Party to consolidate their position. The Parliament was suspended and all political and administrative powers were taken away by Malay leaders. In order to ensure the peace and stability in the pluralist society of Malaysia, a political formula of 'Affirmative Action Policies' was found to address Malay 'grievances'. With this in mind, the government introduced a number of policies to improve the condition of the Bumiputeras (sons of the soil) in all sectors of life. In 1971, the New Economic Policy (NEP) was launched, effectively imposing a regime of 'positive discrimination' for Malays in a variety of sectors from education and business to the bureaucracy (Crouch 1996: 24-26). Later revisions of this, such as the New Development Plan (1991-2000) as well as the New Vision Policy (2000-2010), all targeted the promotion of the local Malay population.
The implementation of the above-mentioned policies and measures in favour of Malays means the following things: Malay domination in the public sector, special privileges for Malays in the educational and economic realms, generous loans and scholarships for Malay students, the promotion of Malay culture and religion, and so on. These privileges accorded to Malays also implied the discrimination of non-Malays in the business sector, reduced intake into higher educational institutions, denial of scholarship, and a reduction in the space for the promotion of the ethnic and cultural rights of the non-Malays (Ramasamy 2004: 151). The notable point is that nobody can challenge the 'special rights' granted to Malays, since the Malaysian Constitution does not allow any discussion on these 'sensitive' issues.
Political Representation
In the aftermath of the riots of 1969, politics in Malaysia has shifted from an ethnic-elite cooperation mechanism to a Malay hegemonic system. In the changed political scenario, the UMNO has played a predominant role in championing the privileges of Malays on the grounds of their indigenous status, which has seeded dissonance among the sections of non-Malays. According to P. Ramasamy, non-Malay political parties within the ruling coalition Barisan National (BN) function without any real power, and therefore inter-ethnic bargaining and compromise does not exist in any real sense (Ramasamy 2004: 151).
The change in power relations in the BN coalition has posed serious difficulties for the effective representation of numerically-weaker ethnic groups, such as Indians. Given the absence of inter-elite bargaining and compromise, the MIC, the biggest Indian political party and  a constituent of the ruling coalition government at the centre since independence does not have much political clout and has not been able to do anything substantial to improve the lot of the Indians. In contrast, with allegations of corruption and little regard for the plight of the Indian community the party today has lost its credibility as the voice of the marginalized sections of the peoples of Indian origin in Malaysia (Sundararaman 2009). The results of the last general elections of 2008 clearly indicate that the MIC has lost the confidence and popular support amongst the Indian community. The party had to face a massive defeat in the Parliamentary elections, even the party's longest serving president (1979-2010) Dato Seri S. Samy Vellu lost the seat to his ethnic Indian opponent, R. Jeyakumar, who was contesting for the multi-racial party PKR (Parti Keadilan Rakyat) (Shekhar 2008:). At present, there is no single powerful political party in the Parliament or in the local legislative bodies which can raise its voice to protect the interests of the Indian community in Malaysia.
Socio-Economic Marginalization
The shift from an ethnic-elite cooperation mechanism to a Malay hegemonic model of politics in the aftermath of the 1969 ethnic riots has been particularly hard on numerically-weaker ethnic communities in the country. Constituting nearly eight percent of the population, Indians have been adversely affected by the pro-Malay policies (Bumiputera policies) of the regime. Although the Chinese have been affected in a political sense, their economic clout has mitigated the worst effects of the Malay hegemonic model. Meanwhile Indians, being numerically small and economically weak, have to suffer with the full brunt of government policies that prioritise Malay interests (Ramasamy 2004: 152).
As long as Malay interests are prioritised under the model of Malay hegemony, it becomes very difficult for Indians to get a fair chance. According to a prominent Malaysian Indian scholar P. Ramasamy, without the necessary political support, and in the absence of equal opportunities of development, working-class Indians find it impossible to venture into business and other forms of entrepreneurial activities. Public sector tenders, contracts and business licenses are virtually beyond the reach of ordinary Indians. Even licenses for garbage collection and disposal are denied to Indians on the grounds of their ethnicity (Ramasamy 2004: 156). In the Ninth Malaysian Plan report, it was highlighted that ethnic Indians control only 1.2 percent of the corporate wealth in Malaysia, a decline from the 1.5 percent that they controlled previously (Osman 2007: 1).
It is not that Indians lack the necessary professional skill and knowledge, but it is the particular kind of racial politics in the country that prevents them from seizing the opportunities. Ramasamy points out that people of Indian origin living in Malaysia do not want any kind of affirmative action programme to boost their level of economic participation; they just want the systematic removal of the discriminative racial policies that stand in the way of their progress (Ramasamy 2004).
Amid its social and economic marginalization, the Indian community has faced serious challenges in the last three decades due to major changes in the plantation sector. As mentioned earlier, the majority of Malaysian Indians are Tamils, and about 60 percent of them are descended from plantation workers. As the country progressed, recording impressive economic growth rates from the 1980s, the largely Indian plantation resident communities were left behind, as well as becoming victims to the overall national development. More than three hundred thousand poor Indian workers have been displaced after the plantations were acquired for property and township development over the years (CPPS 2006). When evicted from the plantations, these people not only lost their jobs, but, more importantly, housing, basic amenities and socio-cultural facilities built up over decades. Despite the very large number of people involved in this involuntary stream of migration from rural plantation areas to urban areas, little or nothing was done by the authorities to provide skills training and resettle these communities in more sustainable and improved livelihoods. Thus, the government's discriminatory policies and the worst living condition of the displaced community contributed to a situation where many Indian youths have turned to illegal activities to sustain themselves (CPPS 2006).
The following statistics collected by various sources apparently indicate the marginalisation and deprivation of the Indians in Malaysia in every aspect of life:
Seventy percent of the two million Indians are very poor or poor; the national average poverty level is a mere 2.8 percent (Ponnusamy 2009: 27).

Less than 1 percent of Malaysia's education budget goes to Indian schools, even though Indians comprise about 8 percent of the total population (South Asian Voice 2008).

Indians' participation in the civil services declined from about 40 percent in 1957 to about 2 percent in 2007 (Kuppuswamy 2010).

About 90 percent of the armed forces personnel are from the majority Malay Muslims (Ramakrishnan 2011).

78 percent of the government services are occupied by Malays, while Indians share only 4 percent (Ramakrishnan 2011).

Indians comprise 60 percent of the urban squatters and 41 percent of all beggars (The Economist, February 22nd, 2003).

95 percent of Malaysian victims shot dead by the police and 90 percent of the deaths in police and prison custody victims are Indians (Ponnusamy 2009: 32).
Religious Persecution
Besides economic and political discrimination, religious persecution has been a formidable source of marginalization of the people of Indian origin in Malaysia. In the last couple of years, the growing religious intolerance and Islamic conservatism have heightened the sense of insecurity among minorities, especially in Hindu Tamils.
A number of Hindu temples have been demolished by city hall authorities in Malaysia. According to a report, every one week one Hindu temple is demolished in the country. Between 2004 and 2007, 96 Hindu temples were demolished in Selangor state alone (Ponnusamy 2008: 14). The centuries-old Malaimel Sri Selva Kaliamman Temple, located in Kuala Lumpur, was destroyed by the City Hall Authorities on 21 April 2006 because of a violation of construction laws. It was followed by a series of destructions of many temples in the city and outside. For instance, on 11 May 2006, part of a 90-year-old suburban Hindu temple was forcefully demolished by armed city hall officers in Kuala Lumpur on grounds that the temple was built illegally. Moreover, the 100-year-old historical Temple of Maha Mariyaman was destroyed by the Malaysian authorities in the region of Shah Alam on 30 October 2007 (Gill & Gopal 2010). This incident occurred just around the time of Deepavali (most important Hindu festival, popularly known as the "festival of lights") and later triggered the unrest that was led by the HINDRAF (Hindu Rights Action Force). The devotees who resisted the government's act of temple demolitions were doused with water cannons and beaten by baton-wielding security forces several times (Bukhari 2006). The manner in which these incidents were dealt with shows the degree of intolerance and insensitiveness on the part of the Malaysian government towards the religious sentiments of the Indian community.
Temple demolitions are only a precursor to other forms of religious persecutions amongst ethnic Indians in Malaysia. The issue of forced religious conversion has also been at the forefront. There are several cases of non-Muslim Malaysian Indians finding themselves or their children forcibly converted to Islam and unable to reverse the process. For instance, in February 2008 a teenager of Indian origin was converted to Islam (without his parents' knowledge) by school friends who took him to the religious department where he recited the syahada (proclamation of faith) and received a conversion certificate. He was subsequently given a Malaysian identity card (MyKad) which stated "Islam" as his religion. The teenager still practices Hinduism and wants to leave Islam but cannot revert to his religion of choice, as he faces a tough legal battle in the Syariah Courts (Gill & Gopal 2010). Such cases are not limited to Hindus only. A similar case involving an Indian, Sikh Mohan Singh, occurred in the region of Shah Alam. On 4 June 2009, the Syariah High Court of Shah Alam ruled that Mohan Singh was a Muslim at the time of his death and should be buried according to Muslim rites. However, Mohan's family claimed that he had neither converted nor practiced Islam (Gill & Gopal 2010). There are many such cases of conversion to Islam, either voluntary or forced upon the ethnic Indian community, which has caused fear and apprehensions among the group.
However, in order to dispel apprehensions of non- Muslims over the conversion of minors, in April 2009, the government of Prime Minister Najib Tun Rajak passed a ruling that conversion of minors should only be done with the consent of parents (both mother and father). Many Muslim organizations like Pembela criticised the move. Finally, the decision came under the purview of the Sultans of Malaysia, the final authority on issues related to Islam in Malaysia, who have deferred a decision on the issue (Jha 2009). The predominance of Shariah courts on religious affairs has created dissent among non-Muslim communities. Therefore, there have been demands for reverting to the pre-1988 arrangement where both civil and Shariah courts' jurisdictions were demarcated (Jha 2009). It was Prime Minister Mahathir who led the Islamisation of administration, education and judiciary in the 1980s (which still continues in some ways) to fulfill his political ambitions.
The lack of sensitivity on the part of the Malaysian authorities in dealing with the issues of temple demolition, religious conversion and other issues have led to massive outcries from the Indian community. As Mohamed Osman states:
 "The attitude of government officials, many of whom are Muslims, is reflective of a new sense of religious superiority that many Malaysian Muslims feel. These Muslims feel that with the introduction of Islam Hadhari as a new model of development for Malaysia, the position of Islam has been elevated and many feel little need to show respect for other religious groups" (Osman 2007: 2).
The HINDRAF Movement
The unrest and grievances boiling amongst the Indian community for years finally blew up in 2007, when around fifty thousand people assembled under the banner of the HINDRAF (Hindu Right Action Force, a composition of more than 30 non-governmental organizations) in the streets of Kuala Lumpur. For the first time in the history of post-Colonial Malaysia, such a huge gathering of people wielded the portraits of Mahatma Gandhi and Nelson Mandela and demonstrated against the government's discriminative policies. The Indians who rallied were emotionally charged and angered by the growing transgression of their fundamental rights, demolition of Hindu temples, economic deprivation and religious persecution. The Hindraf champions religious freedom, the abolition of Indians' poverty and investigation into the deaths of Indians in police custody (Lahiri 2008).
Unfortunately, the Malay-Muslim dominated government of Malaysia handled these non-violent and peaceful protests in a brutal manner, using tear-gas and water cannon to disperse the mob. Several prominent Hindraf members were arrested—some on charges of sedition, and five were detained without trial under the draconian law Internal Security Act (ISA), normally associated with acts of terror and extremism. The prominent leaders of the organisation P. Uthayakumar, M. Manoharan, R. Kengatharan and V. Ganapathi Rao were arrested under the ISA. However, shortly after Prime Minister Najib Razak was sworn in (in April 2009), two Hindraf leaders were freed among the 13 detainees released from detention under the Internal Security Act (Yang & Ishak 2012: 168). Although the Malaysian government crushed the Hindraf movement forcefully, it has emerged as a powerful political voice (not a political party) of the marginalized Indian community in Malaysia, exposing the ground reality of the country's "multi-cultural" image.
Conclusion
In multicultural Malaysia, the Malays are politically dominant, the Chinese have the economic influence and the Indians have neither.  Indians continue to be looked down upon and mantras like "the Malays are lazy, the Chinese are greedy and the Indians are cheats" are still a part of Malaysian lore, degrading each community. As long as Malay interests are going to be prioritised under the Malay hegemony model, it will be difficult for Indians to obtain a fair chance of development.
However, there is a little hope from the Political Transformation Plan of Najib Razak, who is trying to regain the support of non-Malays, particularly Indians and Chinese, to secure his second consecutive term as Prime Minister. Under this plan, the Malaysian government has passed several bills related to civil liberties. Most recently, Najib has announced the National Harmony Act (2012), which will replace the age-old Sedition Act 1948. According to Prime Minister Najib, "the decision to replace the Sedition Act was made to find a mechanism that could determine the best balance between guaranteeing every citizen's freedom of expression and the need to tackle the complex nature of the country's multi-racial and multi-religious society" (New Straits Times 11July, 2012). Although Malaysia is a nation on the path of progress, it can neither ignore the violation of human rights nor appease the rising aspirations of contending identities for much longer.
By Karmveer Singh on February 6, 2013
[VIDEO & GAMBAR] Ustazku Kahwin Lagi... Dengan Orang Pagoh..
Posted: 26 May 2013 05:48 AM PDT
P
endakwah terkenal, Ustaz Azhar Idrus atau lebih dikenali sebagai UAI hari ini selamat melangsungkan perkahwinannya buat kali ketiga.
Menurut sumber yang enggan dikenali berkata, mengakui bahawa penyebaran mengenai berita perkahwinan UIA seperti di laman-laman sosial Facebook (FB) dan blog itu adalah benar.

"Ikut apa yang tersebar itu memang benarlah..," jawabnya ringkas ketika dihubungi Sinar Harian Online, sebentar tadi.

UAI yang begitu popular di semua peringkat usia turut dikenali sebagai 'Ustaz Youtube' di samping penyampaiannya yang kreatif dan bersahaja ketika menyampaikan dakwah

Beliau bukan sahaja berjaya menarik generasi muda, malah turut menarik orang ramai untuk datang mendengar ceramah yang sering beliau adakan di seluruh negara.

Sementara itu, penyanyi nasyid, Hafiz Hamidun memberitahu Sinar Harian Online majlis tersebut telah berlangsung hari ini.

"Ya... Betul. Maaf saya sedang dalam majlis, tidak boleh bercakap.

"Isteri beliau berasal dari Pagoh dan kini menetap di Keramat," jawabnya melalui pesanan khidmat ringkas (SMS), sebentar tadi. -SH







Ulasan GB

GB ucapkan tahniah kepada Ustaz Azhar Idrus sempena pernikahannya dan semuga berbahagia ke akhir hayat.





[VIDEO] Anwar: Hakikatnya Pakatan Rakyat Telah Menang PRU13!
Posted: 26 May 2013 03:36 AM PDT
R
ibuan membanjiri perhimpunan Black 505, SPR digesa letak jawatan
Ribuan rakyat berpakaian hitam memenuhi Padang Timur berhadapan Amcorp Mall menyokong perhimpunan #Black505 di sini.
Perhimpunan ini merupakan rentetan daripada perhimpunan #Black505 yang telah dijalankan di seluruh negara termasuk di Selangor, Johor, Pahang, Perak, Melaka dan Terengganu dan NGO Solidariti Anak Muda Malaysia (SAMM) sebagai penganjur utama.

Ketua Pembangkang Datuk Seri Anwar Ibrahim mengatakan pendirian Pakatan Rakyat (PR) jelas mereka menang secara sah dalam pilihan raya 5 Mei lalu.

"Ini bukan soal kaum. Dia kata saya, Mat Sabu ni jaga Cina. Saya nak jawab, ya, saya jaga Cina apa masalah? Ya, saya jaga India apa masalah? Kita jaga rakyat dan bukan rompak harta rakyat.

"Saya nak ulang, tak boleh siapapun sangka, saudara telah membuat keputusan bijak. Saudara telah memilih Pakatan Rakyat. Kita lebih yakin dengan mahkamah rakyat!" kata Anwar disambut dengan sorakan.

Anwar juga mengatakan perhimpunan akan meneruskan perhimpunan #Black505 kerana ia adalah hak kepada semua rakyat Malaysia.

"Kita akan terus berhimpun kerana ini adalah hak kita untuk menentang kezaliman. Bersih akan ada Tribunal Rakyat. Biar ratusan ribu beratur untuk beri keterangan!

"Kita hasut orang pertahankan hak, kita hasut orang lawan perompak, kita hasut orang lawan penipu," katanya.

Anwar turut meminta pengundi yang tertanggal dakwat kekal membuat laporan polis beramai-ramai sebagai bukti dakwat kekal tidak berkesan untuk digunakan di mahkamah kelak oleh PR.

Timbalan Presiden PAS Mohamad Sabu mengatakan mereka yang menuduh rakyat menggulingkan kerajaan dengan kekerasan sebagai tidak bijak kerana rakyat tidak bersenjata.

"Zahid Hamidi pemimpin penakut kerana hanya berani berlindung dibelakang 120,000 anggota polis," kata Mohamad merujuk kepada menteri dalam negeri yang baru Datuk Seri Ahmad Zahid Hamidi.

"Kita juga menuntut supaya media dibebaskan. Semua parti politik, NGO diberikan akses kepada media. Kerajaan Barisan Nasional tunaikan atau tidak?" tambah beliau sambil disahut dengan jawapan "tidak" dari hadirin.

Pengerusi Bersama Bersih 2.0 Datuk Ambiga Sreenevasan mengatakan pilihan raya umum ke 13 (PRU13) adalah kemenangan buat rakyat Malaysia kerana buat pertama kali, peratusan mengundi tertinggi dalam sejarah iaitu lebih 85 peratus.

"Saudara dan saudari, selepas ini Bersih akan mengadakan Tribunal Rakyat. Apakah tujuan tribunal rakyat? Tribunal rakyat bertujuan untuk mengumpulkan kebenaran.

"Akhir sekali, SPR kalau bermaruah mesti letak jawatan sekarang jugak. Atas satu alasan cukup, alasan dakwat kekal!" kata Ambiga disambut dengan sorakan dan tiupan vuvuzela.

Diantara yang turut berucap dalam perhimpunan adalah Timbalan Presiden PAS Mohamad Sabu, Naib Presiden PKR Fuziah Salleh, N Surendran, Pengarah Strategi PKR Rafizi Ramli, Ronnie Liu dari DAP dan ramai lagi.

Rafizi mengumumkan, destinasi seterusnya bagi perhimpunan #Black505 adalah di Dataran Merdeka. Beliau turut meminta agar semua kepimpinan SPR meletakkan jawatan.

Perhimpunan untuk membantah keputusan Pilihan Raya 2013 yang bermula semenjak jam 5.00 petang itu disambung semula pada jam 8.30 malam selepas rehat untuk solat Maghrib dengan pengerusi NGO Solidariti Anak Muda Malaysia (SAMM) Badrul Hisham Shaharin memberikan ucapan.

"SPR penipu, SPR penipu, SPR penipu," kata Badrul merujuk kepada Suruhanjaya Pilihan Raya (SPR) disambut dengan jawapan "ya" oleh hadirin diiringi dengan tiupan vuvuzela.

Ahli Dewan Undangan Negeri (ADUN) Sri Andalas dari PKR Dr Xavier Jeyakumar mengatakan Pakatan Rakyat (PR) tidak akan mengalah selagi reformasi pilihan raya tidak dilakukan di Malaysia.

Hadirin berbilang kaum memenuhi padang walaupun hujan turun renyai-renyai.









The Political Innuendos of Iron Man 3
Posted: 26 May 2013 12:46 AM PDT
Two nights ago, I watched Iron Man 3 with my family after a rushed dinner at the family's favourite restaurant (House of Dumplings, Shang Ding @ QB). Walking up the stairs, I could feel the yuan nam noodles swirling in the middle of my oesophagus. Being naturally agoraphobic, I felt a bit faint at the sight of the sardine-packed crowd queuing up for their tickets. Fortunately, someone had booked the tickets for us online hence it was easy to get into Hall 8. The last movie I watched was 'This is it' in 2009! We barely made it as the movie began shortly after we sat down to catch our breath.
Iron Man 3
(stylized onscreen as
Iron Man Three
) is a 2013 American superhero film featuring the Marvel Comics character Iron Man, produced by Kevin Feige of Marvel Studios and distributed by Walt Disney Studios Motion Pictures. It is the sequel to 2008's
Iron Man
and 2010's
Iron Man 2
, and the seventh installment in the Marvel Cinematic Universe, being the first major release in the franchise since the crossover film
The Avengers
.
Shane Black
(Lethan Weapon)
directed a screenplay he co-wrote with Drew Pearce and which uses concepts from the "Extremis" story arc by Warren Ellis. Robert Downey, Jr. reprises his role as the title character, with Gwyneth Paltrow and Don Cheadle reprising their roles as Pepper Potts and James Rhodes, respectively. Jon Favreau, who directed the first two films, serves as an executive producer and reprises his role as Happy Hogan. Guy Pearce, Rebecca Hall, Stephanie Szostak, James Badge Dale, and Ben Kingsley round out the film's principal cast.
CLICK HERE for more (warning - spoiler ahead).
For information about the cast and crew of Iron Man 3, please
CLICK HERE.
Since its release,
Iron Man 3
, produced with an estimated budget of 200 million USD, has grossed over 700million USD. At 
Rotten Tomatoes
Iron Man 3 scores at 78% (67% among top critics) whereas at
Metacritic
, it achieved 62 out of 100. Comparatively,
The Dark Knight Rises 
and
Prometheus
, scored 84% and 74% respectively. 
I wonder if its poor showing at the box office was possibly due to its untimely release just before the Boston bombing. Of course, these were circumstances beyond any one's control!
Initially, I was awed by the special effects and the grandeur of his suits and of course other CGI gimmicks not forgetting the handsome, six-packed (but short) Robert Downey Jr, the suave but menacing Guy Pearce and the captivating screen chemistry of Downey-Paltrow. Far beyond all the cosmetics of the movie, I guess Iron Man 3 can be faulted in many areas.

To put it simply, along the way it is obvious that Shane Black forgot that a good movie is one that is NOT peppered with special effects but founded on the solid rock of story line/plot. The plot development is actually pretty lame and fizzles out at times hence losing whatever dramatic effect intended by the grandeur of Stark's gadgets/abilities.
Another missing factor is the absence of a moving soundtrack that complements the action on the screen or accents the romantic and more humane moments of the movie.
The plot of
Iron Man 3
is actually drawn from several
comic arcs
. For instance, the use of genetically modified super soldiers by Aldrich alludes to Warren Ellis'
Extremis arc - 
a six-issue story arc from the comic book series Iron Man (vol. 4), published in issues one through six in 2005 and 2006 by Marvel Comics. The variations of Tony's iron suits alludes to the
Armor Wars
 - "an American comic book limited series published by Marvel Comics. The series is set in the Ultimate Universe, and is written by Warren Ellis and pencilled by Steve Kurth. The story is considered an adaptation of the original Armor Wars story line, placing it in the Ultimate Universe. This is also the second limited series by Ellis to focus on Ultimate Iron Man, after the previous Ultimate Human series." To a certain extent, the iron suits also alludes to Joe Quesada's
'Sentient Armor'
arc (comic addicts can read more
HERE
).
In a Viber chat with my former student, Aaron Lau (Canada), he opined that Iron Man 3 was the worst of the three because of the racial stereotyping of Chinese via the Mandarin. A discussion ensued. However, he added that Ben Kingsley was superb for the role. Indeed, yours truly was so blown away by Kingsley pulled it off with his fantabulous acting skills that obfuscated the racist overtones of the character. In retrospect, I do wonder the real reason for introducing a Chinese character in such a negative light against the iconography of disasters such as 911, war, terrorism and exploitation of women (as in the scene where (Rhodes) Don Cheadle falls into Aldrich's trap and goes into the factory manned by Arab women who thought he was there to rescue them.
A. Who is The Mandarin?
The Mandarin is a fictional character, a super villain who appears in comic books published by Marvel Comics. He is the archenemy of Iron Man. 
The character was created by Stan Lee and designed by Don Heck, first appearing in Tales of Suspense #50 (February 1964). The character is described as being born in China before the Communist revolution, to a wealthy Chinese father and an English aristocratic mother, both of whom died when he was very young. He is characterised as a megalomaniac, attempting to conquer the world on several occasions, yet also possessing a strong sense of honor. 
The Mandarin is portrayed as a genius scientist and a super humanly skilled martial artist. However, his primary sources of power are ten power rings that he adapted from the alien technology of a crashed space ship. Each ring has a different power and is worn on a specific finger. 
In other media, the Mandarin has been shown in several forms of animation and computer games. He serves as the main antagonist in the 2013 film Iron Man 3.[4] His presence was implied in the 2008 film Iron Man through the name of the terrorist group known as "The Ten Rings". In 2009, Mandarin was ranked as IGN's 81st Greatest Comic Book Villain of All Time. (Source: HERE)
B. Why Ben Kingsley?
It was only today that I discovered that not only is Ben Kinglsey not Chinese, not half Chinese but the fact that  he is actually half Indian! Kingsley was born Krishna Pandit Bhanji in Snainton, North Riding of Yorkshire, near Scarborough. He is the son of Anna Lyna Mary (née Goodman), an actress and model who appeared in films in the 1920s and 1930s, and Rahimtulla Harji Bhanji, a medical doctor.
More here
.
Would the effect would have been different had they chose a Chinese actor to play the part? Think Chow Yun Fatt or Jet Li or Jackie Chan????? *gulps*
This is what Shane Black told
Yahoo! Movies
about The Mandarin:
In the comic books, Iron Man archenemy the Mandarin is Chinese. And when Ben Kingsley -- who decidedly doesn't fit that racial profile -- was cast in the villainous role for "Iron Man 3," there was naturally concern over how the character would be portrayed and whether it would be offensive. 
So we went straight to the movie masterminds to get the inside information on the Mandarin. 
"His nationality is not even clear because he is shrouded in secrecy," "Iron Man 3" co-writer and director Shane Black told Yahoo! Movies. "He has crafted himself in the manner of the Mandarin, of a warlord. And I think that's great because you get to do the comic book but you don't… have to deal with the specifics of Fu Manchu stereotyping.




"We're not saying he's Chinese, we're saying he, in fact, draws a cloak around him of Chinese symbols and dragons because it represents his obsessions with Sun Tzu in various ancient arts of warfare that he studied." 
For some "Iron Man" mavens, the Mandarin's appearance is a long time coming. Producer Kevin Feige recalled that he was promised to appear in the film's first installment by then-helmer Jon Favreau – during a Comic Con panel nearly six years ago. 
"We thought, 'What can we tell 'em? That's probably safe!' And then we changed it about 12 weeks before we start filming," explained Feige. But there was simply too much going on in the script. Favreau and Feige wanted to put more focus on Tony Stark (Robert Downey Jr.) 
"So we took him [The Mandarin] out. And we talked about him again for 'Iron Man 2,'" Feige continued. Alas, the Mandarin didn't make into that one either. And Feige credits Black with providing the right set of circumstances to bring him and his handful of 10 mystical rings on board for "IM3." MORE HERE.
The truth is, The Mandarin strangely resembles a Chinese caricature with the right combo of physical traits: the tangled and knotted hair, tattoos, hooded robe and worse of all, the accent. Was it deliberate that The Mandarin vaguely reminds viewers of Osama?  Iron Man 3 has snippets of a televised execution, simulated Middle East locations, even scenes of American soldiers and falling bodies. Whilst it all looks and sounds eerily familiar even in a world constructed by Marvel comics, defined by its own rules and reality, do you think obvious racist overtones can be detected?
Personally, I reckon most would have been engrossed with the special effects than to have taken offense with the characterisation of The Mandarin which is after all, an unfamiliar character except to avid comic addicts.
That aside, here are other issues...
C. Innuendo to Post-Traumatic Stress Disorder (PTSD) of 911 and New York?
Iron Man 3 is set in events after "Marvel's The Avengers" and a battle for New York. In
Iron Man 3
, Tony Stark is portrayed as literally suffering from post-traumatic stress disorder (bedroom scene with Paltrow, garage scene with the boy etc.) from the horrors his character experienced in the film
The Avengers 
– events that are repeatedly referred to in
Iron Man 3
by the reference to "New York". He has insomnia and loses his sense of reasoning by challenging The Mandarin and giving the whole world his address when interviewed by broadcast journalists!
Whilst one may question the rationale of portraying a super hero this way, I figure it is Shane Black's tactic of tugging at our heart's strings by revealing the more human side of Stark which we might not be aware of at all. Beneath the veneer of iron suits is a man - fully human both with strengths and weaknesses - reminding us of the fragility of life, how one can never run away from who is the real us regardless of whatever devices/gadgets/equipment we may have at our disposal just like Stark.  Coming to terms with being at the height of human potential like Stark and the hopelessness of being human with weaknesses and all - is a journey which all can identify with in life.
C. Drones
How many of you realized that unlike Iron Man 1 and Iron Man 2 where Stark wears his super-powered armor, the suits are portrayed differently in Iron Man 3. Here, we see how his 'toys' are deployed as remote-controlled flying weapon parts which assembly as programmed all of which evoke references to the current concerns about drone technology. A couple of questions arise.
Why does Stark choose to destroy his suits at the end of the film? Why does he remove the shrapnel from his heart when it is that which necessitates him wearing it in the first place?
To me, there is a hidden political message that may be undetected by many.
Dear readers, what do you think is the basic argument of the film?
Hint: Think of terrorists, military experts, businessmen,  status quo, capitalistic motive etc.
Who decides what?
Who breeds terror?
Who profits from it?
Who manipulates it?
What is behind the development of armaments, weaponry etc?
Profiteering conditioning of the highest order???
Unlike its predecessors, I found Iron Man 3 highly entertaining because of Stark's witty one-liners and his well-executed role of an egotistical businessman/inventor/crime fighter. I suppose Stark ignites that dream many of us had when we were kids - to be a vigilante - per chance with the ability to fly, fight crime and live happily ever after with the love of our life!
I think the best part of the movie is the connection between Stark and  Harley Keener (played by Ty Simpkins). I can connect with his reactions and dreams not forgetting the overwhelming ecstasy that filled his heart when he sees the array of rewards from Stark at the end of the movie. Sentimental me really wish Stark could have adopted him to give him the best of both worlds - a stable family plus life with his idol/super hero.
Yes, the plot could have been better but the smart surprises, reversals in plot development seasoned with loads of jocosity, especially by Stark (OK I am biased!) sort of compensates for its failings. Regardless of the overload of sci-fi trimmings thanks to the godzilla budget, Iron Man 3 is lots of fun with a capitalised heart and exploding emotions, suspense and moral lessons if we care to look what lies beneath. Overall, the imperfections are definitely outweighed by the positives so if you have yet to watch Iron Man 3 yet, please - GO FOR IT!
Happy viewing! Please leave a comment to share your response. Excuse me now, I need to go back to my books to study. Have a great day!
Written by mws - a baby boomer who grew up on a staple diet of Marvel Comics, DC Comics, Beano, Dandy comics not forgetting a whole range of comics including war comics and June and School Days. :-)
Check out:
Yesterday at Berlin Natural History Museum. Miki said this is so awesome! Dinosour bones yo!
Posted: 26 May 2013 12:17 AM PDT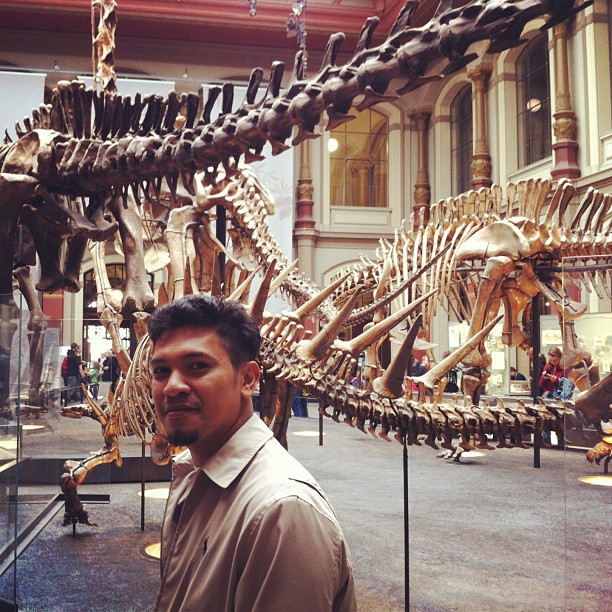 [VIDEO] Nurul: SPR Tidak Akan Terlepas Dari Tindakan Undang-undang!
Posted: 26 May 2013 01:25 AM PDT
A
hli parlimen Lembah Pantai, Nurul Izzah Anwar mengumumkan Pakatan akan mengheret SPR ke mahkamah berhubung isu pilihan raya.
"Mula minggu depan, kita akan saman pimpinan tertinggi SPR berkenaan dakwat kekal", kata Nurul Izzah di dalam ucapannya di Himpunan Blackout505 di Padang Timur hadapam Amcorp Mall semalam.

Nurul izzah berkata SPR tidak akan lepas dari cengkaman undang-undang.

"Kamu (SPR) tidak akan lepas dari cengkaman undang-undang!," kata Nurul Izzah.

"Kita akan pastikan mereka bayar harga 'jenayah' mereka dan keadilan ditegakkan.

"Ingat, masa yang sukar tidak kekal lama tapi orang yang kuat dan tegar, kekal lama.

"Kita akan tunjukkan kekuatan kita kepada BN," katanya lagi.





Signature Campaign to OPPOSE the RAKHINE COMMISSION REPORT, Taungope and Meikhtila Comissions and unfair persecution of Muslim victims
Posted: 25 May 2013 09:44 PM PDT
Let us consider to do a signature campaign to OPPOSE the RAKHINE COMMISSION REPORT.
(1) Oppose the expelling of active Muslim members,U Nyunt Maung Shein and U Tin Maung Than from the commission after giving lame flimsy excuse.
(2) Exclusion of Rohingya representatives (even Rohingya MP were excluded)
(3) The Muslims in the commission may have signed under duress and we declared that they could not represent all the Muslims of Myanmar.

(4) Demand for UN led Independent Investigators as Rakhine Commission report is bias, one sided obviously supporting the Rakhines and neglected the suffering of Rohingyas.
(5) Failure to investigate and reveal the Taungope killers, possible involvement of well trained commandos like Swarnarrshins etc and their masterminds believed to be holding authoritative power.
(6) Inclusion of Rakhine leaders suspected of involvement in instigating and participation in Anti-Rohingya activities and Anti-Muslim activities.
(7) Most of the Meikhtila Investigation Commission members are police and we do not trust the police and government to give a fair report.
(8)The Taungope Commissioners are mostly the Administrators from Union Government, Rakhine Government and Military. We lost the trust on their ability on giving fair and truthful report.
(9)Up to the present, Muslims are the victims and surf suffering more than the Buddhist counterparts but more Muslims are arrested and mostly the Muslims were tried in Kangaroo Courts and given severe sentences but Rakhine Murders, Swarnarrshins, 969 monks and followers and the masterminds behind them are not arrested.
(10)Anti-Muslim Hate Speeches are everywhere and government never attempt to arrest the Hate-Mongers  or stop the widespread Islamophobic propaganda.
This is just a proposal…anyone could add, edit, delete any facts…By doing this kind of Signature Campaign, we could get unity of ALL Muslims and get a PLATFORM to hit back the 969 led Anti-Muslim activities and Atrocities…
We could show our Muslim Strength.
BUT…for us, who are staying out side, no much problem (but I even got the brotherly message from the Myanmar authorities…politely requesting, to stop my FB activities and indirect mild warning that it may be dangerous for my relatives in Burma)…
For insiders it may be dangerous BUT if we do not resist peacefully…we could be the easy soft target for the political ambitions of the authorities.
Gambar "Blackout" Itu Adalah Tulen, Wan Ahmad Diselar Buat Kenyataan Palsu
Posted: 25 May 2013 09:55 PM PDT
S
erdang: Adun Seri Serdang yang baru dipilih, Noor Hanim Ismail mengecam Timbalan Pengerusi Suruhanjaya Pilihanraya (SPR) Datuk Wan Ahmad Wan Omar kerana membuat kenyataan palsu dan menipu.
Ini ekoran kenyataan Wan Ahmad yang mendakwa bahawa kejadian Blackout 505 yang tersebar di internet dan akhbar adalah fitnah dan lakonan yang dirakam sebelum PRU 13.

"Mereka telah melakonkan perkara ini sebelum pilihan raya lagi untuk disebarkan di internet sebagai helah bagi menunjukkan kononnya berlaku kejadian lampu padam, sedangkan ini semua cerita karut.

"Pada gambar tersebut ditunjukkan kononnya petugas SPR sedang mengira kertas undi dan terpaksa menggunakan lampu bantuan kerana lampu padam sedangkan petugas itu langsung tidak memakai baju SPR," kata Wan Ahmad kepada Bernama ketika ditemui baru-baru ini.

Noor Hanim, calon PAS dalam pilihan raya ini menang dengan majoriti 16,251 undi dalam pilihan raya ini un tuk kerusi Seri Serdang.

Beliau mendapat 39,373 undi mengalahkan calon BN Mohamed Yusof Mohamed Yassin yang mendapat 23, 486 undi.

Menurut Noor Hanim, gambar itu adalah asli yang berlaku di Sekolah Kebangsaan Serdang, di bilik pengiraan undi Saluran 3.

"Counting Agent kami telah mengambil beberapa gambar sebelum dan selepas kejadian blackout tersebut itu berlaku," kata Noor Hanim dalam kenyataannya.

"Saya menyarankan agar pihak SPR khususnya Timbalan Pengerusi SPR Datuk Wan Ahmad Wan Omar memohon maaf kepada seluruh rakyat Malaysia kerana telah melakukan kesilapan dalam mengeluarkan kenyataan tanpa membuat kajian yang mendalam dan mengambil ringan isu yang dibangkitkan oleh rakyat.

"SPR sebagai badan rasmi yang menguruskan pilihanraya ini mesti dilihat profesional, adil dan telus serta tidak berpihak kepada mana-mana parti," kata Noor Hanim dalam kenyataannya.

Katanya, ternyata hasil penelitian dan siasatan awal yang dilakukan beliau (Wan Ahmad) bersama pegawai-pegawainya adalah sangat lemah dan hanya sekadar ingin menutup kelemahan sistem pilihanraya yang ada dan menafikan kejadian blackout yang benar-benar berlaku.

"Saya juga melihat beberapa kelemahan Timbalan Pengerusi SPR dalam menilai beberapa aspek dikatakan Prosedur Operasi Standard (SOP) SPR sewaktu hari mengundi pada 5 Mei 2013 yang lalu.

"Bagaimana beliau sendiri tidak tahu pakaian rasmi petugas-petugas SPR berwarna kelabu pada hari tersebut," katanya.

Noor Hanim juga berasa hairan kerana beliau juga tidak kenal kotak bekas kiraan undi yang digunakan oleh pihak SPR sendiri.

"Gambar tersebut dengan jelas menampakkan logo SPR di tepi kotak kiraan undi yang digunakan," katanya.

Sewaktu kejadian itu berlaku, wakil calon beliau juga telah berusaha membekalkan lampu suluh ke bilik kiraan undi tersebut bagi memastikan proses kiraan undi berjalan dengan lancar.

"Saya menafikan bahawa terdapat wartawan di lokasi kejadian kerana yang ada hanya Ketua Tempat Mengundi (KTM), petugas SPR, wakil calon dan anggota polis yang bertugas," katanya. -HD
Truth & facts why Anwar keeps lying...
Posted: 25 May 2013 08:43 PM PDT
By
SYA - The Only & Only
1. Fitnah Blackout
-  Two DAP election candidates in Bentong have now stated that there was no power blackout in Bentong, contrary to postings on Facebook during polling day on Sunday. In addition, Tenaga Nasional
had also denied that there was a power cut or power failure while counting was going on.
Wong Tack, the environmental activist who sought election on the DAP ticket as MP for Bentong, made a Facebook posting today denying the alleged blackout. He wrote: "Dear all: There was no black-out in Bentong main counting center (Dewan Jubli Sultan Haji Ahmad Shah).
- Ketari DAP assemblyman Lee Chin Chen said, "There was definitely no blackou.
- Anwar masih meneruskan dengan 505 Blackout Rally walaupun isu blackout telah dinafikan sendiri oleh 2 calon DAP di Bentong.
2. Fitnah Bangla
- Serdang DAP MP
Dr Ong Kian Ming
now wants to personally meet Chua Lai Fatt and apologise to him and his family for the accusation.Chua, it turned out, is of Indian parentage but adopted by a Chinese family in Klang who gave him that name.When contacted by
The Star
, Chua declined to be interviewed."I want to stay away from the media spotlight," he said.
Dr Ong had used first-time voter Chua as an example when he questioned the Election Commission on allegations that the Government had issued MyKads to foreigners on May 4, the eve of the general election. He has since made an apology in the Chinese media over the accusation. The Chinese papers quoted him as apologising to Chua for wrongly accusing him of being a foreign voter in GE13.
"I found out why Chua has a Chinese name. I feel very sorry. "I apologise to Chua and his family members," said the DAP representative, adding that he hoped to personally extend his apologies to the voter and his family.
- KUALA TERENGGANU: Seven men were roughed up during polling day at SK Ladang here after supporters of a political party accused the group of being "phantom voters" from Bangladesh. Police said three of them were held captive until the end of the polling period and were not able to cast their votes. The bullied group, of Indian ethnicity and locals, had studied at a university here previously and were registered voters in Kuala Terengganu. (Seven Malaysians Voters Assaulted After Being Accused As Foreigners
- CEO Air Asia Tony Fernandez turut menafikan bahawa Air Asia membawa sebanyank 40 000 Bangla dari Sarawak ke Kuala Lumpur dan juga mencabar BERSIH Ambiga untuk menunjukkan bukti dan sehingga ke hari ini Ambiga tidak menjawab cabaran Tony Fernandez.
- AirAsia Group CEO Tan Sri Tony Fernandes has challenged Bersih co-chairman Datuk S. Ambiga to investigate whether they (AirAsia) had organized charter flights to cater for 'phantom' voters. Fernandes, in his Twitter, said for greater transparency, official representatives from Bersih and Pakatan Rakyat are welcomed to check on this issue. He said it is not an issue at all.
In his tweet, he said: "No issue at all. Ambiga can come herself. RT @esKahn @tonyfernandes cool. for greater transparency, how about allowing official reps from Bersih and PR to check?"
 3. Isu Popular Vote
- Sistem pilihan raya di Malaysia tidak berlandaskan kepada popular vote ( sistem sama yang juga diamalkan oleh Amerika Syarikat ).
- Sistem pilihan raya dalam DAP sendiri juga tidak mengamalkan popular vote ( Lim Guan Eng tidak pernah mendapat ranking tertinggi daripada DAP top 25 voting system ).
- Umno secured 29.3% or 3,241,286 popular votes and won 88 federal seats, leaving the second biggest party, the DAP far behind with 15.7% or 1,736,267 popular votes and 38 seats.
- In Terengganu, BN won 265,195 votes and Pakatan won 264,465 votes for state seats while in Kedah, BN won 447,198 votes while Pakatan won 440,701 votes for state seats.BN recorded significant wins in Sabah, Sarawak, Johor, Melaka, Negeri Sembilan, Pahang and Perlis.
-  Pakatan Rakyat only won popular votes in Selangor , Perak , Penang , Kelantan and Kuala Lumpur.
 4. Pakatan Rakyat Sudah Menang
- Keputusan ini sendiri diumumkan oleh Anwar Ibrahim pada jam 7 petang dan keputusan rasmi diumumkan hanya pada jam sekitar 12.30 am ( Beza hampir 5 jam ).
 5. Dakwaan SPR/BN Campur Tangan Dalam Ballot Paper
-Before the ballot box is sealed, your agent needs to inspect the box to ensure that no 'stuffed votes' are already in the box. Only then can the ballot box be sealed, once it is confirmed that it is empty. You already know how many voters will be voting in your
saluran
or stream because you have the registered voters list. Let us say, for argument's sake, 1,000 voters will be voting in your
saluran.
When the first voter comes in to vote, his/her identity card will be checked. Then his/her name will be announced loudly with the number on the list to confirm that he/she is a registered voter. You then cancel this name, which means this person has already voted and cannot vote again. At the end of the day, after polling has ended, you count how many names from the 1,000 turned up to vote.
Let's say 820 names have been cancelled. This means there should be 820 ballot papers in the ballot box.The ballot box is then sealed and you stay with the ballot box and do not take your eyes of it. If the ballot boxes are transferred to another place, say to the counting centre, you escort the ballot box and never take your eyes of it, even if a naked girl walks in to the room (or a
jambu
youth if you are gay). – Raja Petra
- The seal for the ballot box is then broken and the ballot papers are poured onto the table and counted (make sure no ballot papers are 'stuck' in the box). The number of ballot papers counted should come to 820. And if it shows a number other than 820, you fill in the form and file a complaint. Normally the number of ballot papers in the box would tally with the number of names on the list that have been cancelled — in this case 820. – Raja Petra
- After counting the ballot papers and confirming that the numbers are correct — meaning 820 — you then sort the ballot papers. Let's say there are only two contestants — Barisan Nasional and DAP. All the Barisan Nasional ballots are put into one pile and the DAP ballots into another. As they sort the ballot papers one-by-one, they have to first show you whether they are Barisan Nasional or DAP ballots.
Once you are satisfied and you nod in agreement, the ballot papers are placed into the correct pile, Barisan Nasional on one side and DAP on the other.Once all 820 ballot papers have been correctly sorted to your satisfaction — Barisan Nasional ballots on one side and DAP on the other — you then count the ballot papers in each pile. The sum total of the two piles must come to 820. – Raja Petra
- If the votes for Barisan Nasional come to 420 and, for DAP, 400 and you are not satisfied, you can demand a recount. If the recount is 419 for Barisan Nasional and 401 for DAP and you are still not satisfied, you can demand that they be counted yet again. Say the third count shows that it is again 420 for Barisan Nasional and 400 for DAP and this time you are satisfied, then this is the figure that is recorded on the form.
This form is then signed by the SPR with the agents for all the candidates also counter-signing the form. You then demand a copy of this form for your records. That would be the final result. – Raja Petra
- So how can they cheat? The number of registered voters in your s
aluran
is 1,000. This has been confirmed by your party HQ or the operations centre of your candidate. – Raja Petra
- The number of people who voted was 820. You confirmed this. The number of ballot papers in the ballot box is also 820. You confirmed this. The total votes for both candidates is 820. You confirmed this. They sorted out the ballot papers correctly. You saw this yourself. They counted both piles correctly. You saw this yourself. And the sum total for both piles comes to 820. You confirmed this. Hence Barisan Nasional won that particular
salurn
with 420 votes versus DAP's 400 votes. All this was done in front of you with you as the witness. So, pray tell, how can they cheat as far as what happened in your
saluran
on Polling Day is concerned? – Raja Petra
 6. Timbalan Presiden PKR Sendiri Menyuruh Anwar Menerima Keputusan PR 13 ( BN Menang )
- Azmin said the calls for reformasi should start with one whispering it within himself. "Gagal ke Putrajaya. Salah siapa? Ikuti penjelasan dalam masa terdekat. (Failure to go to Putrajaya. Whose fault is it? Wait for the explanation soon)," said Azmin in another tweet.
Azmin said the people were getting fed up with aggressive politics. "Accept the punishment. Acknowledge your weaknesses. Progress forward. "
Accept the verdict of the people
. Move forward while focusing on policies which benefit the people and not those which bully them." – Azmin Ali.
 7. Presiden DAP Karpal Singh Mengiktiraf Keputusan Pilihan Raya 13
-While PKR leader Datuk Seri Anwar Ibrahim has every right to question the legitimacy of the 13th general election,
DAP chairman Karpal Singh said his party was happy with its performance in the polls
. Karpal also expressed satisfaction with DAP's win of 38 parliamentary seats in the polls."DAP has done very well, especially in Gelang Patah, where the win was unexpected," he added.
 8. Setiausaha Kebangsaan PAS Mustaffa Ali Menghormati Keputusan Pilihan Raya
- Mustafa said PAS accepted that "you win some and lose some". "The reality is that the government of the day is formed by the winning side. The election results are balanced' and
we accept the people's verdict.
– Mustafa Ali
 9. Wartawan Antarabangsa Nile Bowie (columnist with Russia Today. He also contributes to PressTV, Global Research, and CounterPunch.)
-
Any claims of fraud made by the opposition leader should be submitted to the courts with evidence, and non-partisan monitoring agencies (meaning organisations with no affiliation to Bersih) should be able to corroborate these claims.
Articles from the Sarawak Report website and other less-than-objective sources are making their rounds on social media purporting to show evidence of fraud, however the content of these reports are politicised, speculative, reliant on half-truths and clearly not definitive. Grand allegations, especially made at politically opportune moments, need to be supported by concrete sources with definitive evidence. –
Nile Bowie
-
International monitors from Asean countries also monitored these polls, and they claimed that they were as good as they could be. Numerous reports from various monitoring agencies will be released in the coming days, which will provide a clearer picture of the situation. 
Needless to say, it was deeply misleading of Anwar Ibrahim to declare 'victory' over Twitter before any poll results were even announced. The hearsay and allegations of the opposition leader have prompted several Malaysian Indians to be physically attacked by voters and prevented from casting the ballots on the suspicion that they were Bangladeshi phantom voters; they filed police reports and were later vindicated. –
Nile Bowie
-
Malaysia Airlines has denied the opposition leader's accusations, and Air Asia Group CEO Tony Fernandes has dismissed rumours that foreigners were flown into Malaysian to place dubious votes; Fernandes invited S Ambiga to review the flight manifests.
–
Nile Bowie
10. Amerika Syarikat Mengiktiraf Keputusan Pilhan Raya 13 ( BN Menang dan Kerajaan Yang Sah )
- WASHINGTON – The United States has recognized Malaysia's election result, calling it the "most competitive" in the Southeast Asian nation's history, despite opposition claims of irregularities in the vote. State Department spokesman Patrick Ventrell said the U.S. looked forward to working with the government to be formed by Prime Minister Najib Razak after his coalition returned to power after winning Sunday's parliamentary elections with a diminished majority and despite losing the popular vote.
 11. Wartawan Free Malaysia Today Lisa J. Ariffin Melaporkan Pakatan Rakyat Membayar Upah kepada Bangla
- This claim comes following numerous reports by Pakatan observers that foreigners – mostly from Bangladesh, Myanmar and Nepal – were seen queing up at polling stations across the country to cast votes. They also said that reports have been filed at the Election Commission (EC) and claimed the issue would be addressesed during the EC's press conference later this evening.
"Our parties have discovered PKR's modus operandi in Kota Kemuning, Shah Alam and Pantai Dalam not too long ago. PKR had employed these foreigners, gave them ICs, sent them to polling stations and pretended to be caught to give them (PKR) credit," blogger Afiq KLTown said on his Facebook page today.
"The opposition are all desperate and cannot accept the fact that they will lose, and therefore had resorted to create this cheap propaganda," he added. "The suspects are believed to have been trying to manipulate the election today by claiming the Bangladeshi's were voting on behalf of BN," he added. It was reported earlier today that a suspicious voter from Sabah was questioned by Pakatan Rakyat workers in Pandan, Selangor, when he attempted to claim money at their booth after voting.
 12. Pemantau Antarabangsa Mengatakan Pilihan Raya 13 dianjurkan dengan Telus dan Bersih
- Independent international observers have lauded the handling of the 13th general election, calling it transparent, fair and well-organized.
Cambodian National Election Committee vice chairperson Dr Sin Chum Bo said the polling was secure, visible and fair, with observers able to oversee the process unhindered.
- Dr Sin Chum was among the 19 delegates from Association of Southeast Asian Nations (Asean) that observed the Malaysian election over the last two days, after the first-ever invite for international observers by the Election Commission (EC).
- Indonesian Election Commission chief Husni Kamil Manik said the EC's move to give observers more room improved the quality of the election.
- Asean Secretariat (Cross-Sectoral Cooperation) director Larry Maramis said the delegates were honored to have been chosen, adding that it gave them an opportunity to exchange ideas and views on best practices on election processes.
Posted: 24 May 2013 10:30 PM PDT
A melon producer in Furano, Hokkaido, has grown some cute cantaloupes with the image of Japanese's favourite icon Hello Kitty engraved on the fruit surface.
The limited item (300 pieces) will be on sale until July 31. I suspect it won't last until then despite costing 4,980 yen (US$48.53) apiece. Seems steep to most people but high quality melons are priced at this range in Japan, it's not extraordinary.
Japanese Hello Kitty melon from YeinJee's Asian Journal
MIAR - A Unique Animal Rescue Organisation In Malaysia
Posted: 25 May 2013 07:00 PM PDT
PET+BLOGSPOT is the ONLINE BLOG of the Malaysian Animal-Assisted Therapy for the Disabled and Elderly Association or Petpositive.

Our stories are CURRENT, ACCURATE and RELIABLE.

We offer both local and foreign news on animals, disability and the elderly.

PET+BLOGSPOT was first established in October 2007. Our hits since then are now 150,000 and ever increasing!

PET+BLOGSPOT is updated
Rakyat Bergotong Royong Bersihkan Padang Timur Amcorp Mall
Posted: 25 May 2013 08:00 PM PDT
K
wasan Padang Timur hadapan Amcorp Mall yang menjadi lokasi Pesta Rakyat semalam menyokong #Black505 yang dihadiri tidak kurang 50,000 orang telah dibersihkan dengan sikap para peserta bergotong royong memungut sampah sarap.
Ia menunjukkan tahap disiplin yang tinggi dan sikap bertanggungjawab di kalangan para peserta perhimpunan yang terdiri daripada ahli-ahli Pakatan Rakyat dan NGO dan hal sedemikian tidak terdapat di program-program anjuran parti politik BN.

Dan paling indahnya semalam ialah tiada sebarang kejadian yang tidak diingini berlaku apabila tiada provokasi mana-mana pihak.

Sekalung tahniah & syabas kepada mereka yang mengambil inisitif untuk melakukan kerja-kerja secara sukarela ini!


Imams from the US and several Muslim countries are touring Poland this week to learn more about European Jewry.
Posted: 25 May 2013 03:45 PM PDT
Muslim clerics visit Nazi death camp
Imams from the US and several Muslim countries are touring Poland this week to learn more about European Jewry.  Thirteen imams from Indonesia, the Palestinian Authority, Saudi Arabia, Turkey, Bosnia and other Muslim lands, along with five American imams, visited the new Museum of the History of Polish Jews in Warsaw on Monday.
Denial is still a river in Londonistan
Posted: 25 May 2013 03:45 PM PDT
Melanie Phillips: Denial is still a river in Londonistan
On one thing the British liberal class is certain – the hacking to death of a soldier in a Woolwich street yesterday had absolutely nothing to do with religion. The murderers screamed 'Allahu akhbar' as they tried to decapitate the soldier, announced proudly that 'We swear by almighty Allah we will never stop fighting you' and quoted the Koran as religious justification.
Londonistan" apparently originated as an appellation used in the 1990s
Posted: 25 May 2013 03:41 PM PDT
UK's Islamist problem
It should come as no surprise that random terrorist attacks have been, and will remain for the foreseeable future, MI5's greatest security threat.  "Londonistan" apparently originated as an appellation used in the 1990s by French security officials frustrated at British leaders' failure to confront in their capital the dangers of radical Islam, which, the officials feared, would spill over into France. Steven Simon, a former White House counterterrorism official, referred to London as "the Star Wars bar scene," that caters to all kinds of Islamist recruiters and fund-raisers for, and practitioners of, holy war.