---
Hijrah: Keceluparan Zahid Hamidi Disanggah Prof Mohd Agus
Posted: 17 May 2013 10:09 AM PDT
P
enganalisis politik, Prof Madya Datuk Dr Mohammad Agus Yusoff terkejut apabila Datuk Seri Ahmad Zahid Hamidi yang baru dilantik menjadi Menteri Dalam Negeri meminta rakyat yang enggan menerima sistem pilihan raya Malaysia berhijrah ke negara lain yang menjalankan pilihan raya mengikut sistem yang digemari.
"Mengapa DS Zahid boleh mengeluarkan kenyataan sebegini?" tanya beliau di dalam Facebooknya.

Beliau juga mempersoalkan apakah salah jika rakyat mempersoalkan pelaksanaan sistem pilihan raya yang ada dan apakah perlembagaan negara kita menghalangnya.

"Setahu saya, Perkara 10 Perlembagaan menjamin hak rakyat untuk bebas mengeluarkan pendapat, berhimpun dan berpersatuan," jelasnya.

Tambahnya, tidak ada satu klausa pun dalam perlembagaan yang membenarkan menteri untuk memberitahu rakyatnya supaya berhijrah ke negara lain hanya kerana berbeza pendapat dalam politik.

"Jika kita akui negara kita adalah negara demokrasi, maka berdemokrasilah secara jujur," ujarnya.

Sebagai menteri, kata beliau Zahid sepatutnya membangkitkan kasih sayang dan semangat patriotik rakyat kepada negara, bukannya mengeluarkan kenyataan sebegitu.

Sebagai menteri, kata Mohammad Agus, Zahid sepatutnya menggunakan masa untuk merancang mengatasi masalah keselamatan, jenayah, social ills dalam negara daripada menyerang rakyat yang mempunyai perbezaan politik dengan parti kerajaan.

"Saya mohon kita semua hentikan kenyataan sebegini hanya kerana kita mempunyai perbezaan politik. Ini adalah tanah air kita bersama.

"Saya yakin, sebagai rakyat, kita semua mahu terus menyumbang bakti kepada negara kita ini mengikut keupayaan masing-masing, biarpun dalam bentuk yang berbeza. Malaysia adalah negara kita bersama," katanya.
Pilihan Jalanraya Pembina Memori Bersama
Posted: 17 May 2013 08:40 AM PDT
Sebahagian daripada pendidikan politik saya adalah di jalanraya. Sebahagian lagi adalah melalui pembacaan dan kuliah serta diskusi kedai kopi yang sering saya ikuti. Saya adalah antara generasi muda yang terlibat di dalam siri-siri demonstrasi dan protes jalanraya pada tahun 1998.
Tahun 1998 merupakan tahun penting di dalam sejarah gerakan sosial di Malaysia di mana benih-benih perlawanan yang diperolehi dari kesinambungan sejarah silam mula ditanam.
Sebahagian daripada hasilnya sudah dapat kita tuai pada hari ini. Sedikit demi sedikit ruang demokrasi dan kebebasan mula terbuka. Semakin hari semakin ramai orang menjadi berani. Takut pula sedikit sebanyak sudah berjaya ditundukkan.
Sebahagian besar daripada penglibatan saya di jalanraya pada ketika itu hanyalah sebagai peserta sahaja. Namun terdapat juga sebilangan kecil daripada protes dan demonstrasi jalanraya yang berbentuk kecil-kecilan di sekitar tahun 1998 – 2003 di kota Kuala Lumpur ini yang saya bersama beberapa orang kawan anjurkan, gerakkan dan laksanakan.
Bila mengingat kembali penglibatan saya di dalam protes dan demonstrasi jalanraya ini saya sering jadi nostalgia dan sentimental. Suatu memori yang tersulam kejap ke dalam ingatan.
Memori yang bukan hanya sekadar kenangan tetapi suatu unsur emotif dan sosio-psikologis yang sebahagiannya membentuk pemikiran, pandangan dunia dan keperibadian diri saya. Memori di dalam konteks ini bukan sekadar perakam peristiwa tetapi suatu  kesedaran (consciousness) emosi dan sosio-psikologi yang kompleks yang menjadikan wujudiah kita sepertimana kita wujud sekarang ini.
Apabila saya katakan bahawa aksi jalanraya adalah suatu memori buat saya bukanlah bermakna saya tidak turun lagi ke jalanraya bila ada demonstrasi dan protes. Turun tetap turun. Cumanya saya sudah tidak aktif lagi di dalam kerja-kerja menggerakkannya.
Jalanraya tetap menjadi pilihan saya sebagai kaedah perlawanan yang paling efektif di dalam gerakan politik. Jika tidak ada jalanraya, SUHAKAM tidak akan ditubuhkan. Jika tidak ada jalanraya ISA tidak akan dimansuhkan. Jika tidak ada jalanraya AUKU tidak akan dipinda. Jika tidak ada jalanraya Anwar Ibrahim tidak akan dibebaskan. Jika tidak ada jalanraya Mahathir tidak akan undur. Jika tidak ada jalanraya Pakatan Rakyat tidak akan mungkin mengecapi kejayaannya seperti sekarang ini. Sebahagian besarnya adalah kerana politik jalanraya.
Pilihan jalanraya ini cukup efektif tetapi sentiasa mendebarkan. Apa sahaja yang berisiko dan tidak selamat tentu akan mengundang debaran.
Tapi debar ketika di jalanraya adalah debar yang mengasyikkan. Kadang-kadang ia menjadi rindu yang ditagihi. Seperti cinta pilihan jalanraya adalah menyakitkan tetapi perlu. Cinta menjadi lebih bermakna jika kita merasa sakit kerananya. Politik menjadi lebih bermakna jika kita turun ke jalanraya kerananya.
Politik yang tidak ke jalanraya adalah politik orang tua. Politik orang muda adalah politik ke jalanraya. Umumnya di mana-mana negara di belahan dunia mana pun polanya sama. Politik jalan raya adalah politik orang muda. Muda di sini bukan bermaksud umur tetapi sikap dan atitud.
Kemudaan itu bagi saya dinilai dengan berahi dan ghairah melawan yang tinggi. Menjadi muda adalah menjadi pelawan dan salah satu daripada manifestasi perlawanan orang muda adalah dengan turun ke jalanraya.
Jalanraya adalah suatu pendidikan politik yang paling jujur. Kejujuran yang terdalam hanya dapat kita temui di dalam keadaan di mana keselamatan diri kita menjadi taruhan. Di aksi jalanraya keselamatan diri akan sentiasa menjadi taruhan kerana kita akan berhadapan dengan alat-alat negara yang tidak punya nurani.
Di jalanraya inilah kita akan belajar bahawa negara atau state diterasnya yang paling dalam adalah suatu bentuk organisme mekanikal yang terdiri daripada institusi-institusi kekuasaan dan penguatkuasaan tanpa nurani yang bermatlamat mempertahankan dirinya sendiri daripada terbubar. Kerana itu negara tidak pernah terbubar. Yang terbubar hanyalah kerajaan.
Namun sebelum sesuatu kerajaan itu terbubar, alat-alat negara akan dikerah, digembeling dan digunakan semaksima yang mungkin oleh kerajaan yang berkuasa untuk memastikan dirinya terus survive.
Berhadapan dengan alat-alat negara di aksi jalanraya inilah kita akan belajar untuk menjadi berani. Kita akan belajar untuk bersetiakawan. Kita akan belajar untuk bersolidariti. Kita akan belajar untuk berlawan. Kita akan belajar untuk mengenal antara musuh dan kawan. Kita akan belajar tentang pengkhianatan. Kita akan belajar tentang persahabatan. Kita akan belajar tentang persaudaraan. Kita akan belajar untuk menjalin hubungan kebersamaan di waktu-waktu keperihan, kesakitan dan kesengsaraan.
Dengan kata lain, aksi jalanraya adalah rangkuman tindakan, hubungan, pemikiran dan perasaan yang kita jalin bersama-sama dengan peserta-peserta lain untuk membina memori bersama.
Di dalam kesemua tindakan kesetiakawanan yang kita lakukan ketika aksi di jalanraya kita sebenarnya membina hubungan dan menjalin ikatan-ikatan kecil antara sesama kita yang jalinannya membentuk memori bersama walau pun kita tidak kenal antara satu sama lain. Ini adalah kerana pengalamannya, ceritanya dan naratifnya adalah sama.
Asap pemedih mata yang kita hidu, semburan air kimia yang membasahi tubuh kita, cotar yang memukuli badan kita, tumbukan dan tendangan daripada but Polis yang menghentak rusuk kita, larian yang kita lakukan bila dikejar oleh FRU dan Polis – semuanya membentuk naratif memori yang sama.
Memori bersama punya tarikan emosi dan sosio-psikologi yang kuat yang mampu untuk melahirkan rasa kekitaan sebagai satu bangsa yang sama. Walaupun kita berlainan etnik, agama dan bahasa tetapi kita adalah sebangsa, bangsa Malaysia. Bangsa Malaysia yang diikat dengan memori bersama yang dilalui ketika aksi di jalanraya.
Bagi saya turun ke jalanraya bukanlah tujuan utamanya untuk menumbangkan kerajaan atau menunjuk perasaan atau mengajukan tuntutan atau melakukan desakan. Kemungkinan besar di Malaysia ini kerajaan takkan tumbang dengan aksi jalanraya atau tunjuk perasaan.
Malaysia sebagai sebuah negara atau state terlalu kuat untuk ditumbangkan oleh peserta-peserta demonstrasi yang sebahagian besarnya adalah kelas menengah yang selesa. Tuntutan dan desakan juga kemungkinannya akan mengambil masa yang lama untuk diterima.
Tetapi ada satu tujuan turun ke jalanraya yang kita tidak nampak. Tujuan ini tidak diajukan oleh politisi atau aktivis politik ketika mereka menghasut kita untuk turun ke jalanraya. Tujuan ini terselindung di sebalik retorik-retorik perlawanan.  Tetapi ia tetap merupakan tujuan yang sangat penting buat kita semua.
Kita sendiri mungkin tidak sedar tetapi selain daripada untuk meluahkan perasaan kita dan juga bermain kejar-kejar dengan FRU, kita  turun ke jalanraya untuk membina memori bersama.
Memandangkan struktur sosial masyarakat Malaysia ini secara relatifnya terpisah mengikut garis etnik, bahasa dan agama maka peluang dan ruang untuk membina memori bersama itu sangat kurang. Kita tidak perlu melihat jauh. Lihat sahaja diri kita dan teman-teman di keliling kita.
Di dalam lingkungan aktivis-aktivis politik yang dikategorikan sebagai progresif sendiri pun secara umumnya saya perhatikan masih terpisah mengikut garis etnik, bahasa dan agama. Apatah lagi masyarakat awam di luar sana pemisahannya tentulah lebih ketara.
Keadaan ini tidak dapat dielakkan kerana tingkat integrasi antara etnik di negara kita ini umumnya masih rendah disebabkan pemisahan struktural mengikut garis etnik, bahasa dan agama yang kita sendiri pilih secara sukarela.
Pemisahan sukarela ini boleh kita lihat daripada keinginan masyarakat kita sendiri untuk menubuhkan dewan-dewan perniagaan mengikut etnik, mewujudkan sekolah-sekolah mengikut bahasa vernakular dari peringkat tadika sehinggalah sekolah menengah, mengkonsumsi media dan budaya popular mengikut garis etnik dan bahasa serta memilih penempatan perumahan yang juga cenderung mengikut etnik.
Pada masa yang sama kita juga dihadapkan dengan pemisahan yang bukan sukarela yang diwarisi oleh kita melalui perlembagaan yang memberikan keistimewaan serta layanan yang berbeza kepada etnik dan agama tertentu.
Justeru itu, di dalam kondisi keterpisahan yang sebegini rupa dengan kurangnya institusi sosial yang wujud di negara kita yang memberi ruang dan peluang untuk kita menjalin hubungan antara etnik yang lebih dalam, intim dan akrab maka pilihan jalanraya adalah merupakan wahana terpenting untuk kita membina memori bersama sebagai satu bangsa di tanah air Malaysia milik kita semua ini.
Tidak ada memori yang lebih kuat daripada memori bersama-sama mengharungi suka-duka simbahan air kimia, tembakan asap pemedih mata, pukulan cotar FRU dan tumbukan serta tendangan daripada but keras FRU dan Polis yang dilawan dengan semangat kesetiakawanan dan tolong-menolong yang tidak berbelah-bagi tanpa mengira etnik, bahasa atau agama.
Memori bersama mengharungi suka-duka keperihan, kesengsaraan dan kesakitan di aksi jalanraya ini akan menjadi cerita, naratif dan akhirnya mitos yang akan diperturunkan kepada anak cucu kita dari satu generasi ke satu generasi yang lain yang akan mengikat kita sebagai satu bangsa yang berkongsi nasib dan masa depan yang sama.
Seperti mana cinta, memori yang paling menyakitkan itulah yang paling diingati. Begitu jugalah dengan pilihan jalanraya, memori kesetiakawanan di waktu-waktu yang paling perih, sengsara dan sakit itulah yang menjadi kenangan yang akan mengikat kita di dalam jalinan emosi dan sosio-psikologis yang kompleks yang akan membantu di dalam usaha untuk melahirkan bangsa Malaysia yang masih belum siap pembikinannya ini.
[LIVE] Himpunan Blackout505 Di Seremban, N9
Posted: 17 May 2013 08:23 AM PDT
"Kabinet Terakhir BN" Terus Terima Kritikan
Posted: 17 May 2013 07:06 AM PDT
B
adan pemikir: Kabinet Najib tidak akan berupaya tangani kehendak rakyat
KUALA LUMPUR, 17 Mei — Kabinet yang dibentuk Perdana Menteri Datuk Seri Najib Razak selepas Barisan Nasional (BN) berjaya membentuk kerajaan Pusat selepas Pilihan Raya 2013 tidak akan berupaya menangani isu pokok dan perubahan yang dikehendaki rakyat kerana wakil Kabinet Najib jelas pertubuhan berkenaan menunjukkan Najib kekurangan calon yang berkelayakan.
Badan pemikir PKR turut menegaskan Kabinet baru Najib itu juga adalah kumpulan "pasukan lama" dan "tukang sorak" untuk mempertahankan kedudukan Presiden Umno itu ketika pemilihan parti majoriti Melayu berkenaan penghujung tahun ini.

"Institut Rakyat berpendapat Kabinet baru tidak akan serius dan berupaya menyelesaikan perubahan perkara pokok yang diinginkan dalam negara ini iaitu masalah sosio-ekonomi dan aspirasi demokrasi rakyat Malaysia," kata pertubuhan berkenaan dalam satu kenyataan hari ini. "Kabinet baru itu hanyalah pasukan lama Najib untuk mempertahankan kerusi Presiden."

Malahan, mereka turut merasakan anggota Kabinet Najib dalam bidang utama seperti kewangan, jenayah, pendidikan dan pertahanan nasional hanyalah "anggota yang tidak menunjukkan prestasi yang baik dan dikitar semula".

"Institut Rakyat kecewa dengan barisan kabinet Najib kerana pada dasarnya, tidak ada transformasi, sederhana atau perpaduan kebangsaan yang didorong oleh anggota Kabinet yang baru ini," tegas badan pemikir berkenaan dalam kenyataan tersebut.

Antara perkara yang dibangkitkan Institut Rakyat adalah kurangnya anggota Kabinet wanita, kitar semula pemimpin veteran Umno dan BN, penurunan wakil masyarakat Cina dalam anggota Kabinet, perlantikan semula pemimpin yang bermasalah, dan banyak lagi.

"Kebimbangan utama adalah 'tradisi' tidak sihat dan buruk yang dilaksanakan sejak pentadbiran (bekas perdana menteri Tun Dr) Mahathir (Mohamad) bagi Perdana Menteri pada masa yang sama menjadi Menteri Kewangan.

"Ini bukan satu amalan biasa di negara-negara Komanwel yang lain atas sebab yang mudah bahawa semak dan imbang mesti dilaksanakan bagaimana kumpulan eksekutif membelanjakan wang negara," katanya. Presiden Umno itu telah melantik 17 ahli partinya untuk jawatan menteri apabila menamakan Kabinetnya sebelum ini, yang kebanyakkan adalah muka lama yang bertukar portfolio atau kekal kecuali muka baru seperti — Ketua Pemuda Umno Khairy Jamaluddin dan Setiausaha BN Sabah Datuk Abdul Rahman Dahlan.

The Malaysian Insider sebelum ini melaporkan, penganalisis berpendapat dominasi Umno dalam Kabinet 2013 menunjukkan keinginan Najib untuk meningkatkan sokongan peribadinya menjelang pemilihan parti akan datang akan tetapi boleh menjejaskan langkah pembaharuan negara perdana menteri itu, kata beberapa pemerhati.

Walaupun sinis dengan jumlah besar veteran dalam Kabinet 32 orang itu, pemerhati mengatakan Najib perlu diberi peluang untuk membuktikan beliau boleh menunaikan janji transformasi kerajaan dan ekonomi, sebaik sahaja kekal sebagai presiden parti.

Ulasan GB

GB lebih melihat bahawa barisan kabinet yang diumumkan Najib adalah kabinet terakhir BN.

Setuju?
Posted: 17 May 2013 05:46 AM PDT
Posted: 17 May 2013 05:45 AM PDT
"Dad, everyone is looking for happiness. But what is meant by happiness?" This was one of the questions a wise boy in India, Sveta-ketu, put to his father many centuries ago.
 "One of the signs of happiness, son, is that a person who has it becomes active. A person who does not find happiness does not feel like being active. His mind is cramped, his will is weak. What is vast & infinite brings happiness. There is no true joy in what is small or finite. I can tell you that the Infinite alone is happiness; but you must desire to understand this Infinite, my son."
 "I want to understand it, Dad," said Sveta-ketu.
"Good," said his father. "Then you must listen carefully to what I say & think deeply about it:
"When a person sees that nothing & no one is separate from him, that he is one with all the people, animals, and objects in the universe, when a person sees & hears & knows nothing else - that is the Infinite.
"But, if one sees or feels some other thing, obstructing him, separating him, then that is the finite. He has not yet found the Infinite.
"The Infinite never passes away; it lasts forever; but what is finite will pass away."
-Chhandogya Upanishad-
*Thanks to YK who sent me this post.
Why Disabled People Must Vote – Breaking Barriers – The Borneo Post – 13 April, 2013
Posted: 17 May 2013 04:15 AM PDT
Why disabled people must vote
by Peter Tan. Posted on April 13, 2013, Saturday
"MY one vote will not change anything."
That was what I used to think. Imagine, a constituency full of like-minded people.
In that case, we deserve the politicians who get voted in due to our apathy.
These politicians may not have our best interests at heart but we have no moral standing to voice out against that.
How can we complain when we did not even bother to participate in the election?
We only have ourselves to blame when that happens.
That is why everyone who is eligible to vote must vote, more so when it comes to disabled people.
It is our right as citizens. That one vote is our most valuable asset as Malaysians. It is also our responsibility and duty as citizens to exercise that right to vote.
The exercising of that right, responsibility and duty makes us active participants in the democratic process of the country which in turn contributes to nation building.
Neither the Federal Constitution nor the Persons with Disabilities Act specifically mentions the political rights of disabled people.
However, Article 29 of the Convention on the Rights of Persons with Disabilities (CRPD) requires that disabled people are guaranteed full and effective participation in political and public life on an equal basis with others.
Malaysia, being a signatory to this instrument and having ratified it, is bound by the CRPD to ensure that those rights are protected.
Going out to vote on this important day raises our visibility in public. There are actually a lot more disabled people than we usually see out and about.
The first ever World Health Organisation (WHO) and World Bank world report on disability estimates that 15 per cent of the world's population lives with some form of disability.
That is more than a billion people based on the 2010 global population estimates.
Hypothetically, if we apply that percentage on the population of Malaysia, we have 4.2 million people who are experiencing some form of disability.
That is a lot of people by any account. At that figure, disabled people make up the second largest minority that transcends ethnicity, gender and religion in the country.
State parties to the CRPD are obligated to ensure that voting procedures, facilities and materials are accessible, easy to understand and use.
In this aspect, most polling centres are situated in schools and community halls, and they are generally inaccessible.
This is a good opportunity for us to show the various barriers that we face and ensure that the facilities in these polling centres are made accessible, not only for future elections but for people who use it on a daily basis at other times.
By voting, we are able to discover other issues, like how the voting process can be made more dignified for blind people and people with severe impairments.
How do we ensure that this group of people are able to vote while at the same time preserving the integrity and secrecy of their ballot?
The Election Commission needs to look into these matters seriously. The only way to do this is to involve the stakeholders in the decision making process.
Our responsibility does not end after casting our votes. In fact, it is only the beginning.
After that, irrespective of the candidates we have voted for, we have to engage these politicians representing our constituencies.
We have to educate them on the issues affecting disabled people for them to draw up and implement effective policies.
Subsequent to the election in 2008, a group of us drafted a memorandum on the provision of accessible facilities for disabled people.
In Selangor, we forwarded the memorandum to the state government through a state assembly member.
Our fellow advocates in Penang got an appointment with the Chief Minister and presented to him a similar version of the document.
This initiative brought some changes but more is required.
It should be replicated for this election, and this time, hopefully presented to all the state governments in Malaysia.
We need to continue doing this to ensure that we are not forgotten. We must come together and speak in unison in order to have a louder voice.
Disabled people have been marginalised for far too long. Our need for an accessible built environment and public transport are often ignored.
The by-law for the provision of access for disabled people to public buildings and even the Persons with Disabilities Act have not been effective in protecting our rights.
We need to actively pursue our case and at the same time constantly campaign these elected representatives to support our cause.
On our part, many of us have not participated in the electoral process. Many have not even registered as voters.
This is also partly due to the inaccessibility of registration centres and polling centres.
Perhaps the Election Commission can look into easing the registration process for disabled people and extending postal voting to those with severe impairments.
Having said that, if disabled people want society to be inclusive, first and foremost, we have to play our part and exercise our right to vote despite the many barriers we will face.
For registered disabled voters, it is time to shrug off that apathy and realise that we have the power to change the country for the better.
As the second largest minority in the country, we certainly have the numbers to influence and sway these politicians if we play our cards right.
We must not allow this opportunity to slip away because it comes only once every five years or so. Make that one vote count!
Comments can reach the writer via columnists@theborneopost.com.
Read more: http://www.theborneopost.com/2013/04/13/why-disabled-people-must-vote/
Adventures Of A First Time Voter – Breaking Barriers – The Borneo Post – 6 April, 2013
Posted: 17 May 2013 04:09 AM PDT
Adventures of a first time voter
by Peter Tan. Posted on April 6, 2013, Saturday
THE announcement that had the entire nation waiting in anticipation has come to pass. Our Prime Minister finally dissolved parliament on Wednesday.
Once again, as a citizen, I am raring to exercise my right to vote for candidates who will serve to protect my interests and that of the people and our nation.
I recall the very first time I voted. It was in 2008. I was residing in Selangor but my voting constituency was in Penang.
On the morning of polling day, my wife Wuan got up early to cast her vote at the polling station just down the road from our house.
The plan was that we would make our way up to Penang after she had performed her duty as a citizen. We expected to begin our journey latest by nine o'clock.
We did not set off until an hour and a half later as the polling station was packed to the brim. Wuan had to wait for nearly one hour for her turn.
We did not even pack anything as we planned to drive back immediately after I had voted.
As soon as we hit the North-South Expressway, we were caught in a crawl due to road widening works and unusually heavy traffic.
Most of the vehicles had Perak, Penang and Kedah plates. They were probably like us rushing back to their respective home towns to vote.
The sky that was blue when we began turned dark halfway. Rained pelted our windscreen mercilessly. We had to slow down due to the limited visibility.
I wondered if we could make it in time before the polling station closed and how I was going to get out from the car in that rain.
There were several nasty traffic accidents along the way. We even counted a 10-car pileup that caused a jam several kilometres long.
Upon nearing Penang, we almost got into an accident. Three vehicles that we were following suddenly stepped on their brakes.
Right before our eyes, the lorry ahead of us skidded. It swerved and almost toppled over, the cargo on its load bed shifted violently from one side to another.
I floored the brake pedal. The road was slippery. I mumbled a silent prayer and swerved the car. It did not skid and came to a stop. That was a very close call.
Traffic came to a crawl again as we crossed onto the island. It was already quarter to four. At the rate we were going, we certainly could not make it in time.
I took several shortcuts to avoid the jam but we were not making good time. As the seconds ticked away, I became more and more edgy.
At close to half past four, we were stuck in another jam. The polling station was just 2km away. The rain not only did not let up but became heavier.
That stretch of road we were passing was notorious for flash floods, especially during monsoon seasons. We inched our way slowly in the fast rising water.
When we finally reached the school where the polling station was located, a policeman at the gate stopped us.
I wound down the window and told him that I am an OKU. He waved us through. It was half past four. We had been on the road for six hours already.
Wuan took my identity card and went to get the number for my polling stream. Each polling station has several polling streams. These were rooms where we collect out ballot papers and cast our votes.
As Wuan was getting the wheelchair out from the car boot, a helpful polling station staff came with an umbrella to shield her from the rain and for me to get out from the car.
There were numerous steps from the car park to the polling stream. Wuan had to lift my wheelchair over these barriers several times.
After the officers in the polling stream verified my identity card and gave me the ballot papers, I wheeled myself to the booth.
I had some difficulty holding the pencil to mark the ballot papers with my weak hand.
After marking the paper for parliamentary seat, I pondered over who to vote for for the state seat. Penangites have a tendency to give the vote to BN for state and DAP for parliament.
I must have taken a little too long to decide because the ballot box officer stood up to peek at me. I quickly marked the other paper and slotted them into the respective ballot boxes.
As I got out from the room, I felt relieved and happy that I made it. That long journey was not in vain.
Traffic on the expressway was smooth the entire trip back. When we reached Ipoh, news trickled in that the alliance of DAP, PKR and PAS had won the majority of seats in Penang.
We reached home at one o'clock in the morning, tired, hungry and in serious need of a warm bath to soothe our aching muscles. A quick check on the Internet before bed revealed that BN also lost Perak and Selangor.
All in all, I had driven 800km in 15 hours for the round trip. I am proud to have exercised my right to vote for the first time after 42 years as a citizen. It was truly an unforgettable adventure.
Comments can reach the writer via columnists@theborneopost.com.
Read more: http://www.theborneopost.com/2013/04/06/adventures-of-a-first-time-voter/
The message is crystal clear: Get out! If you don't like BN
Posted: 17 May 2013 05:23 AM PDT
By

J. D. Lovrenciear
Holy grail! Even before he could have warmed in his newly appointed chair as Home Minister, Datuk Zahid Hamidi has belted out his first threat, demanding that Malaysians who do not like the system here can leave the country.

What he failed to assimilate is that his statement is extremely provocative, downright insulting and beyond doubt an absolutely uncalled for bully-statement against the very subjects of His Royal Highness. OMG! What on earth is happening in Malaysia? Are the citizens such pathetic political eunuchs and suckers to earn such brandishments?
The 52 percent of the total voting citizens who cast their ballots for the 'Opposition' and the Independent candidates, clearly have taken a stand of not supporting or agreeing with the BN-political position. The more than half of the voting population has taken a position that is in summary, one that is not in agreement with the BN mantra of governance. This is a foregone conclusion, otherwise why did they not vote for BN. Now, with the given background to the voting pattern, what Zahid's statement means is that more than five million Malaysians should 'GET OUT' of this country. Yes or no?
Where in the world do we hear in-coming Ministers warning their citizens who voted for the 'opposition' (i.e. should be rightly termed as 'alternative political party'), that they better show support for the party that took governance with a minority-votes-system supported by gerrymandering, or they should get out of their country? Okay, Mr. Honorable-newly-minted Home Minister, let us all agree to your prescription. Let us then de-register all opposition political parties for disagreeing to your BN system and declare them as

anti-nationalists. Let us all fall behind BN. We shall have only BN in this country as there shall be no need for any opposing political block. We shall only have your main stream media. We shall banish any media that reports anything against your system. We shall take it lying down. We shall all sing praises and not question anything at all as long as it is the BN system. 
How is that? Okay for you Sir? Let us take that given rule of thumb where more than half of the voting population translates to more than half of the entire contry's population, Now, given this rule-of-thumb, just because the more than half of the population does not agree with BN's system you are threatening us to get out of this country? And that warning, coming from the Home Minister of this country - of all persons, must be taken very, very seriously. Worse, if the in-coming Prime Minister keeps his trademark silence it also means that the entire, newly-minted government agrees with this outrageous threat and warning from a fellow appointed leader. Okay. So be it! Then here is the challenge to the Home Minister who carries that burden of yoke of national security:
Haul up all – each and every single man and women who voted not for BN. Haul every single man and woman who is for the 'Opposition' political blocks. Every single one, mind you – from the humble road sweeper to the MPs and leaders of 'Opposition' political blocks. Everyone - Malays, Chinese, Indians, Ibans, Dayaks, Kadazans and others. Put us all in ships and drive us out to the open seas. Of, course, you cannot house us in detention centers because we will bankrupt your BN system as you have to clothe, feed and care for us and true too you do not have that many lodges to house almost more than half the nation's 28 million people. Mr. Honorable Home Minister, are you prepared to do that then? No? Then why on earth (rather, why the hell), did you belt out such a statement?
Please do not go around the bend and say, "I have been quoted out of context". Remember, as the Home Minister, it is your sole responsibility and imperative duty to ensure that what you spew out to the media is a hundred-percent fool-proof and therefore, no way it can be misquoted in the first place. And if you have been misquoted, and that it is also established beyond all reasonable doubt that you did not insult the subjects of His Royal Highness, then go after all the media that reported you to have threatened the citizens of this nation.
The rakyat expect to hear from you. Your silence and your collaborating partners and leaders' keeping mum will confirm that you did make this outrageous and dangerous statement and therefore you must be brought to task as it is an insult to the citizens who are subjects of His Royal Highness. There is no room for a 'forgive and forget' here because your statement is an insidious assault on the very security and safety of this nation.
The  moral responsibility too lies on the leaders of professional organizations, NGOs, religious congregations and the international community to register their displeasure.
Erdogan's Agenda : Turkey was once a staunch ally of the West and a reasonably free country. No longer. By Michael Rubin
Posted: 17 May 2013 04:04 AM PDT
L

ater today, President Barack Obama will sit down with Turkish prime minister Recep Tayyip Erdogan in the Oval Office. It will be a friendly reunion. Obama has
said

Erdogan is one of the few foreign leaders with whom he has developed "friendships and the bonds of trust." Speaking to the Turkish parliament four years ago, on his first trip abroad as president, Obama

declared

, "Turkey is a critical ally. Turkey is an important part of Europe. And Turkey and the United States must stand together — and work together — to overcome the challenges of our time." These challenges are many — among them, Syria, Iraq, Iran, and the Israeli–Palestinian conflict.

While Turkey and America partnered for the greater good throughout the Cold War, no amount of White House praise can hide the fact that Turkey today is less a bridge between the West and the Islamic world and, increasingly, a force undermining trust and cooperation.
Erdogan, who is now in his second decade of power and quite openly plotting for his third, has transformed Turkey from an imperfect democracy based on rule of law into an increasingly dictatorial state rooted in religion. By tweaking university admission formulas, he privileged students from religious high schools, who had long been denied acceptance because they lacked a solid liberal-arts foundation. In order to help these unqualified graduates enter the civil service, Erdogan imposed a new interview process, transforming a meritorious civil service into a mechanism for political — and religious — patronage.
The Turkish military, once the envy of the Middle East, is now a shadow of its former self. Despite the recent peace accord with the leaders of the Kurdish insurgency, the Turkish military has trouble controlling large swaths of the southeast. And the Turkish air force continues to lose planes — the latest earlier this week — along the Syrian border when, in contrast, Israel has run high-risk missions without any casualties. The reason is simple: Like Josef Stalin, who gutted the Soviet military in the years prior to the Nazi invasion, or Ayatollah Khomeini, who did likewise to the Iranian military in the months before the Iraqi invasion, Erdogan has done his best to destroy his country's military. One in five Turkish generals rots in prison, many on dubious charges and most without even a court date.
American diplomats initially cheered the reforms that excised the military's role in politics — after all, ending military influence over politics is a noble goal. But since Erdogan's government did not construct any alternative system of checks and balances, excising the military allowed him to pursue his agenda without regard for rule of law. He and his aides were not shy about seizing the opportunity. In response to judicial vetoes of the prime minister's religious and social initiatives, Bulent Arinc, then speaker of the parliament and now Erdogan's chief deputy, threatened to dissolve the constitutional court if it continued to find the ruling party's legislation unconstitutional. More recently, in a fit of pique, Erdogan told parliament, "We want to raise a religious youth."
Women and minorities have suffered disproportionately. Erdogan has forced Turkey's minority Alevis to attend Sunni religious classes, and he has flushed women from top levels of the state bureaucracy, advising them that instead of pursuing a career they should have at least three babies and ideally more. And Turkish women today find not just their careers at risk, but their lives. In 2011, Turkey's justice minister reported to parliament that, between 2002 and 2009, the number of women murdered each year had increased 1,400 percent. Some of that is the result of better reporting, but the bulk appears to be due to a sharp rise in the number of honor killings: Would-be perpetrators are no longer deterred by fear of prosecution, as the increasingly conservative police forces sympathize with the Islamist notion of honor. Obama once quipped that he had turned to Erdogan for advice on raising teen daughters. Perhaps for the sake of his two girls, he had better find a new role model.
In most democracies, the press holds the government accountable. That is no longer so in Turkey. Erdogan's security forces arrest journalists with impunity; in ten years, according to Reporters without Frontiers, Erdogan has transformed his country into "the world's biggest prison for journalists." After first stacking once-independent banking boards with functionaries trained exclusively in Saudi Arabia, Erdogan has used their financial pronouncements to justify seizure of opposition newspapers. Turkey now ranks below even Russia, Palestine, and Venezuela in press freedom. When career American diplomats like Daniel Fried describe Erdogan's Justice and Development Party as "a kind of Muslim version of a Christian Democratic Party," they appear so wrapped in the bubble of political correctness that they have become detached from reality.
American policymakers might shrug off Turkey's domestic turn away from rule of law if it did not presage a transformation of Turkish foreign policy. Erdogan's agenda has more to do with the promotion of Islamic solidarity than a fight against terrorism or dictatorship. The days of Turkey's being "a vital and strategic partner of the United States," as Condoleezza Rice once described it, are over. Pages 1 2 Next › National Review
This posting includes an audio/video/photo media file: Download Now
Getting fit in middle age may protect your heart
Posted: 17 May 2013 04:03 AM PDT
Getting fit in middle age may protect your heart May 17, 2013
Getting fit in your 40s and 50s can help protect your heart as you age. — AFP-Relaxnews picTEXAS, May 17 — Middle-aged people who are overweight or out of shape may think it's too late to get fit. But new US research finds that shaping up in midlife can reduce risk for heart failure later on.
The reduction risk was also found to be independent of other risk factors, such as smoking, high blood pressure, and high cholesterol, the study found.
Researchers from the University of Texas Southwestern Medical Center in Dallas ranked fitness levels of 9,050 middle-aged men and women who took two treadmill fitness tests eight years apart in mid-life. After 18 years of follow-up, they matched the fitness information to health insurance (Medicare) claims for heart failure hospitalisations.
"People who weren't fit at the start of the study were at higher risk for heart failure after age 65," said lead author Dr. Ambarish Pandey. "However, those who improved their fitness reduced their heart failure risk, compared to those who continued to have a low fitness level eight years later."
"Improving fitness is a good heart failure prevention strategy – along with controlling blood pressure and improving diet and lifestyle – that could be employed in mid-life to decrease the risk of heart failure in later years," Pandey said.
The team presented their findings May 15 at an American Heart Association scientific meeting in Baltimore. — AFP-Relaxnews
The 7-minute scientifically proven workout
Posted: 17 May 2013 04:00 AM PDT
The 7-minute scientifically proven workout May 16, 2013
A new study outlines 12 exercises — include the side plank shown here — that can get you into scientifically proven good shape. — AFP picNEW YORK, May 16 — One of the biggest buzzwords in fitness right now is HIIT, or high-intensity interval training — and now a new study outlines 12 HIIT exercises that can get you into scientifically proven good shape in as little as seven minutes.The principle of HIIT is short, intense workouts that can give you maximum benefits but in less time.
"There's very good evidence" that high-intensity interval training provides "many of the fitness benefits of prolonged endurance training but in much less time," study author Chris Jordan, the director of exercise physiology at the Human Performance Institute in Orlando, Florida, told The New York Times.
New research published in the May-June issue of the American College of Sports Medicine's Health & Fitness Journal lists 12 exercises that should do the trick, with each to be performed for 30 seconds with 10 seconds of transition time between bouts. Total time for the entire circuit workout is about seven minutes, but it can be repeated two to three times.
1. Jumping jacks (total body)
2. Wall sit (lower body)
3. Push-up (upper body)
4. Abdominal crunch (core)
5. Step-up onto chair (total body)
6. Squat (lower body)
7. Triceps dip on chair (upper body)
8. Plank (core)
9. High knees/running in place (total body)
10. Lunge (lower body)
11. Push-up and rotation (upper body)
12. Side plank (core)
According to a 2011 study, just two weeks of high-intensity interval exercise was found to improve your aerobic capacity as much as six to eight weeks of endurance training.
Access the new study:
HIGH-INTENSITY CIRCUIT TRAINING USING BODY WEIGHT: Maximum Results With Minimal Investment
Bishop Paul Tan Says Polls Anything but Free and Fair
Posted: 17 May 2013 03:20 AM PDT
Bishop: Polls anything but free and fair | Free Malaysia Today

PET+BLOGSPOT is the ONLINE BLOG of the Malaysian Animal-Assisted Therapy for the Disabled and Elderly Association or Petpositive.Our stories are CURRENT, ACCURATE and RELIABLE. We offer both local and foreign news on animals, disability and the elderly. PET+BLOGSPOT was first established in October 2007. Our hits since then are now
Najib Perlu Lepaskan Jawatan Menteri Kewangan
Posted: 17 May 2013 06:25 AM PDT
P
ortfolio Menteri Kewangan sewajarnya tidak lagi dipegang oleh Perdana Menteri sebaliknya diberi kepada timbalannya bagi mewujudkan budaya semak imbang di peringkat tertinggi kerajaan dalam membuat keputusan berkaitan kewangan negara.
Menurut Exco Dewan Pemuda PAS Malaysia (DPPM) Syahir Sulaiman, Malaysia mengalami defisit fiskal selama 16 tahun berturut-turut sejak 1998.

Dalam tempoh ini, format penjawatan Perdana Menteri memegang portfolio Menteri Kewangan yang dipraktikkan oleh Tun Dr Mahathir Mohamad diteruskan oleh Tun Abdullah Ahmad Badawi dan disambung oleh Datuk Seri Najib Razak.

"Negara sangat memerlukan budaya 'semak dan imbang' (check and balance), bukannya budaya 'cek dan baki' (cheque and balance) di peringkat tertinggi membuat keputusan.

"Dasar fiskal negara yang disuburkan oleh sistem urus tadbir yang tidak pruden, dek kuasa yang diberi pada orang yang sama memegang jawatan CEO dan CFO dalam kerajaan.

"Hatta di peringkat persatuan, kelab dan masjid, seorang pengerusi tidak boleh turut memegang jawatan bendahari, bagi mengelakkan berlaku salahguna kuasa dan pecah amanah," kata Pengarah Institut Polisi Studi DPPM itu.

Kabinet yang diumumkan Najib petang semalan membabitkan 24 kementerian membabitkan 33 jawatan Menteri, termasuk Timbalan Perdana Menteri, 26 Timbalan Menteri, termasuk seorang Senator sedia ada dan lima lagi Senator (dua Menteri dan tiga Timbalan Menteri) akan dilantik.

Ulasan GB

Beberapa tahun yang lalu GB sudah ulas hal ini di SINI. Petikan:


Semenjak Tun Dr. Mahathir memegang Kementerian Kewangan selain menjadi Perdana Menteri, trend itu nampaknya berterusan dengan diikuti oleh PM selepasnya, Abdullah Ahmad Badawi dan Mohd Najib Razak.

Maisng-masing PM tersebut dilihat hendak menjaga dan memanipulasi pelbagai kepentingan dengan menyandang jawatan Menteri Kewangan.

Malah seingat GB, sebelum Pak Lah berundur sebagai PM beliau telah terlebih dahulu menerima tekanan daripada kumpulan Najib supaya menyerahkan jawatan Menteri Kewangan kepada Najib yang pada ketika itu adalah Timbalan Perdana Menteri.

Mahathirlah yang telah meletakkan "precedent" tersebut.

Sudah sampai masanya ia diubah semula dengan Najib menyerahkan portfolio kewangan kepada orang lain sebelum nanti dibongkar segala kepentingan yang beliau ada di kementerian berkenaan.
Posted: 17 May 2013 12:51 AM PDT
Posted: 17 May 2013 04:36 AM PDT
Zahid Hamidi's call to 'unhappy Malaysians' to leave the country was the simplest gesture to make the opposition, especially people like Tony Phua, Anwar Ibrahim, Rafizi and others to understand a simple thing - what would become of Pakatan Rakyat and the country if they go on protesting the 13th general election result.
PAS has accepted the simple fact that Pakatan lost the GE and everybody has to move forward. There is still time for Anwar to wait for another four or five years until the next national poll is held.
When will Anwar & Gang stop from demonstrating their disgust at Najib and Barisan Nasional? After six big rallies thus far, are they going to continue it in the next five years. If it fails, will they resort to a more intimidating tactic?
Tony Phua doesn't understand this 'simple language' issed by Zahid, the new Home Minister. He spoke for majority of Malaysians who are already fed up with the attitude of some Pakatan leaders who still dispute the GE result without trying to substantiate it.
KJ defends Zahid
:
New minister Khairy Jamaluddin came to the defence of his senior Datuk Seri Ahmad Zahid Hamidi today, saying the home minister was merely expressing his own opinion in telling Malaysians unhappy with the country's political system to migrate elsewhere.
Ahmad Zahid, who had swapped his defence portfolio for home affairs, had come under flak from the opposition Pakatan Rakyat over his controversial writing published yesterday in Umno-owned Utusan Malaysia.
"He was trying to put across that we have a certain system in the country, first past the post.
"We don't have a direct democracy. We don't have a system where whoever wins the popular vote can form the government."
Malaysians, regardless of their race, religion and political ideologies are being dragged into such a quagmire at a time when they are already forgetting the 'big battle' and settling down with the outcome. To them, life must go on no matter who rules.
The country's stability and progress depends much on our determinant to chart it. Whether BN or PR, both have to find ways to serve the rakyat better by sharing views and mind, and not by inciting the people to burn their own fingers.
What Zahid said is a non-des-cript as it was only a simple gesture to make the opposition understand that there is a standard law and procedure for them to contest the election result. Taking to the street and calling for rallies only reflects on Anwar's political immaturity and mounting desperation to become a prime minister.
However, Zahid didn't say it out of context.
I personally agree that if a Malaysian is not happy here - objecting to each and every step the government takes to develop the country and uplift the living standard of the rakyat; that all the government does is wrong - may as well he or she finds another country that can offer happiness and does all the right thing.
In lambasting Zahid, Tony Phua spoke of nonsense - comparing BN and PR's win in some constituencies, relating it to what the Home Minister said - but he himself does not have the package as a constructive opposition MP.
If Tony looks at other countries, the opposition's task is to work alongside the ruling party by providing new and better ideas as to how certain policies could be enhanced. They support what is good and right and oppose what is deemed as 'wastage'.
However in Malaysia, our opposition's job is only to object from A to Z anything the government does although some of it really augur well for national development and integration.
If everything about BN is wrong, what is so right about Pakatan Rakyat?
To Tony, what is your role actually as an opposition MP? Bring down the legitimate government via daily rallies and street demos? If Pakatan rules, will you allow BN to hold similar protest and public rally to bring you down?
I bet Pakatan government will bar public rally, just like Singapore!
Teng and Ean Yong are DAP picks for S'gor exco, for now - Malaysiakini
Posted: 17 May 2013 12:02 AM PDT
Teng and Ean Yong are DAP picks for S'gor exco, for now - Malaysiakini

PET+BLOGSPOT is the ONLINE BLOG of the Malaysian Animal-Assisted Therapy for the Disabled and Elderly Association or Petpositive.Our stories are CURRENT, ACCURATE and RELIABLE. We offer both local and foreign news on animals, disability and the elderly. PET+BLOGSPOT was first established in October 2007. Our hits since then
[BONGKAR] Kajian "81% Mahu Anwar Bersara" Adalah Palsu
Posted: 17 May 2013 02:06 AM PDT
K
ajian laman web The Edge yang menunjukkan 81 peratus pembacanya bersetuju bahawa Datuk Seri Anwar Ibrahim harus bersara daripada politik rupa-rupanya palsu.
Mengikut laporan penjelasan The Edge, editor laman webnya Ho Wah Foon mendapati kajian yang berusia seminggu itu telah menarik 12,736 reaksi yang berat sebelah. Ini menyebabkan beliau menghentikan kajian tersebut pada 14 Mei yang lalu.

Setelah disemak, jabatan IT The Edge telah mendapati 6,354 reaksi datang daripada satu alamat IP yang sama, dan 1,700 datang daripada beberapa alamat IP yang lain dari bangunan yang sama.

"Manakala 2,000 lagi datang daripada tujuh alamat IP berlainan. Daripada ini, ia adalah jelas kajian telah digodam dan keputusannya tidak boleh diambil sebagai satu yang objektif dan boleh dipercayai," kata The Edge.

Difahamkan keadaan itu berlaku akibat telah digodam cybertroopers.

Dalam kajian yang keputusannya disiar media kelmarin, laman itu bertanya samada Anwar harus terus memimpin Pakatan Rakyat atau bersara ekoran kegagalan pakatan itu untuk memenangi pilihanraya 5 Mei yang lalu.

81 peratus atau 10,396 daripada 12,736 reaksi yang diterima berpendapat Anwar patut bersara. -hd

Ulasan GB

Sewaktu berita mengenai satu kajian kononnya 81% mahu Anwar bersara disiarkan oleh Sinar Harian dan malaysiakini kelmarin (15 Mei 2013), GB lansung tak percaya dengan berita berkenaan sekalipun blog para pencacai UMNO melompat sakan dengan penyiaran berita berkenaan.

Ini kerana senario semasa lansung tidak menunjukkan sokongan terhadap keputusan kajian berkenaan, malah jika diukur dari keputusan pilihanraya pun, undi popular yang diterima BN lansung tidak mencecah 50%. Jadi bagaimana boleh sampai 81% mendesak Anwar berundur.

Memang puak UMNO BN ni sekarang di dalam keadaan amat tertekan dan terdesak. Melakukan apa saja dan "penipuan" merupakan satu-satunya cara kini untuk kekal berkuasa.

Namun percayalah hukum kebenaran dan keadilan kini sedang mengambil tempatnya dan UMNO BN sedang menuju kehancurannya!
လူထုေမာင္ကာဠဳတိုအုပ္စုရဲ႕ေမႊတိုင္းရန္ကက်န္ေသးတယ္
Posted: 16 May 2013 11:39 PM PDT
ashin issariya
မဟာဆင္မုန္တိုင္းရန္ေအးသြားေပမယ့္
လူထုေမာင္ကာဠဳတိုအုပ္စုရဲ႕ေမႊတိုင္းရန္ကက်န္ေသးတယ္။
မဟာဆင္ကဖ်က္ႏိုင္လွရခိုင္ကမ္းရိုးတန္းနဲ႕ေနရာအခ်ိဳ႕ေပါ….။
ေမာင္ကာဠဳတို႕ဖ်က္လိုက္မွာေတြက…..

၁။ႏိုင္ငံတြင္းေသြးထြက္သံယိုမွဳေတြျဖစ္ဦးမယ္။(ဘာသာေရးအဓိကရုဏ္းေတြဖန္တီးဦးမယ္။)
၂။ဆီးဂိမ္းကိုပ်က္ေအာင္ဖ်က္ၾကဦးမယ္။
၃။အာဆီယံဥကၠဌမရေအာင္လုပ္ၾကဦးမယ္။
၄။၂၀၁၅ေရြးေကာက္ပဲြဖ်က္ၿပီးေနာက္ေၾကာင္းျပန္လွည့္ၾကဦးမယ္။
ေသာက္အ…ေတြကလည္းရွဴးတိုက္ရင္ကိုက္ေနၾကေတာ့ေမာင္ကာဠဳတို႕အႀကိဳက္ေပါ့။ ။
◄ေတာ္ၿပီ..တန္ၿပီ ♪♪♪ ေျပာင္ႀကီးအစိုးရျပဳတ္ေအာင္လုပ္ႏိုင္သည္ ♫♫♫ေဗပံုဒူးပံုဂ်မ္►
Petunia Friday! How to plant petunia flowers
Posted: 16 May 2013 10:13 PM PDT
Happy Friday everybody!
I am extra happy today, not only it is Friday but Rafa said a new word this morning! Yay! He said "fahwer" while pointing at my petunias at the garden. As usual, I was taking him around the garden every morning before work and showed him flowers, butterflies, cars, ball and other objects but today he uttered the word flower! What a pleasant surprise…
Here is the flowers Rafa was talking about. Pretty aren't they?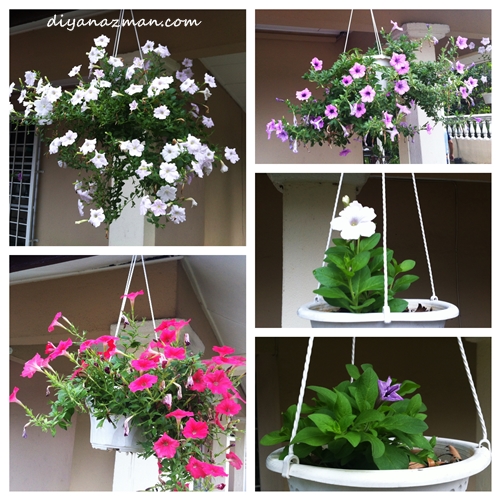 The two smaller pots you see in the pic are young white and purple petunias that Azman planted through stem cutting. Many asked me how to care for these cheerful flowers, I think I will share today what I know…
HOW TO PLANT PETUNIA FLOWER
1) If you are buying potted petunias from the nursery, they are good for the next two months or so. Water twice a day, fertilize once every two weeks and change to bigger pot after two months. I call this the 2x2x2 petunia formula. hehe
2) What kind of fertilizer? Anything organic should do.
3) When to water? Once in the morning and once in the evening at 6-7pm.
4) Petunia needs lots and lots of sunshine to grow flowers. The hotter the place to hang it, the more flower it will grow. In the pic above, you can see the red petunia plant is sort of lopsided. Its new shoots and flower are highly sensitive towards sunshine and grow towards that direction.
How to grow a new petunia plant?
1) Azman and I always propagate our petunias using stem cuttings although petunia does produce seeds. Check out your plant and find the healthiest shoot. It would be best if there is no new flower buds on it too. Because if there is, all the energy will be channeled to growing the flower instead of new roots.
2) Use a pruner and cut above a node but please make sure there are at least one more node on your cutting for new leaves to grow.
3) Dip the end in rooting hormone if you have, if you don't, it is fine. Then plant it in free draining soil with lots of compose.
4) For the first few days, you will need to put the new plants under 50% shade. Once it grows a few new leaves, you can move it under full sun and enjoy the beauty everyday.
Have a great weekend ahead guys. And happy gardening!