---
Berkas 15 Peserta Flashmob, Tindakan Gila
Posted: 17 Jun 2013 10:15 AM PDT
T
indakan polis memberkas 15 peserta 'flashmob' di depan pusat beli-belah Sogo, Jalan Tunku Abdul Rahman, Kuala Lumpur dan menahan mereka hampir lapan jam di Balai Dang Wangi pada Sabtu lalu disifatkan sebagai satu tindakan gila.
"Namun kejadian itu sama sekali tidak mungkin berjaya menakut-nakutkan anak muda untuk terus beraksi dalam banyak lagi siri 'flashmob' selepas ini menjelang himpunan 22 Jun nanti," kata Edy Noor Reduan, pengarah propaganda Solidariti Anak Muda Malaysia.

Beliau menjelaskan bahawa sebenarnya tidak ada perhimpunan pada hari itu. Jika ada perhimpunan sekalipun, ia bukan berlangsung di depan Sogo tetapi di Padang Merbuk Jalan Parlimen pada 22 Jun nanti.

"Di depan Sogo tempohari hanyalah sebuah aksi spontan yang dipanggil 'flashmob'," terang beliau.

Menurutnya, polis tidak memahami konsep 'flashmob' apabila cuba menggunakan Seksyen 9(1) Akta Perhimpunan Aman yang menetapkan notis sepuluh hari untuk sebarang perhimpunan.

"Jika beri notis 10 hari, itu bukan 'flashmob'. Malah dalam akta yang sama, polis tiada peruntukan untuk membuat tangkapan," katanya.

Edy Noor menerangkan bahawa jika diarahkan bersurai sekalipun, peserta 'flashmob' bertekad tidak akan meninggalkan kawasan tersebut

"Ini kerana sangat jelas mereka tidak melakukan apa-apa kesalahan, tidak mengganggu orang awam, tidak mengganggu lalu lintas malah keadaan Jalan Tunku Abdul Rahman sememangnya sesak setiap hari Sabtu," tambahnya.

Menurutnya, 'flashmob' Sabtu lalu bertujuan mengolah persetujuan orang ramai bahawa pilihan raya umum padad 5 Mei lalu dijalankan dengan penuh kecurangan.

Panik

Katanya, sikap panik kerajaan hingga menangkap peserta 'flashmob' dengan isyarat ugutan sebenarnya telah berjaya membangkit lebih banyak aksi 'flashmob' di seluruh negara.

Sehari selepas tangkapan 'flashmob15′, beberapa flashmob dilancarkan termasuk salah satunya di depan Queensbay Mall, Pulau Pinang.

Hari ini juga katanya, satu 'flashmob' anak muda di Ipoh, esok di beberapa lokasi lagi termasuk di pekan Sungai Besar, Selangor.

Rabu ini, fasa kedua 'flashmob' seperti yang dijadualkan di Jalan Tun Perak akan tetap diteruskan bermula jam 5 petang, juga akan berlangsung di Bandar Melaka.

Khamis pula di Flashmob Kuala Terengganu, Kemaman, Port Dickson dan pekan Pontian, semua bermula jam 5 petang.

Lebih banyak lokasi 'flashmob' pada hari Jumaat iaitu sehari sebelum hari besar #KL622 – Hari Rakyat Lawan Penipuan SPR, katanya. -FMT
'Usulkan Undi Tidak Percaya Terhadap Najib'
Posted: 17 Jun 2013 08:06 AM PDT
B
ekas Ketua Jabatan Siasatan Jenayah Polis Kuala Lumpur, Datuk Mat Zain Ibrahim hari ini menggesa Ketua Pembangkang Datuk Seri Anwar Ibrahim agar mengusulkan undi tidak percaya terhadap Perdana Menteri Datuk Seri Najib Tun Razak.
"Sumpah, lafaz dan tindak-tanduk beliau [Datuk Seri Najib] semenjak memegang jawatan sebagai Perdana Menteri mengukuhkan lagi justifikasi untuk usul undi tidak percaya terhadap beliau dibentangkan dalam sidang Parlimen yang akan datang ini.

"Usul yang dicadangkan adalah di atas pertimbangan salah laku dan ketidakpatuhan kepada peruntukan Perlembagaan dan undang-undang negara dan bukan di atas pertimbangan politik," katanya dalam surat terbuka kepada Anwar.

Surat sama dihantar kepada Ketua Setiausaha Negara, Tan Sri Dr Ali Hamsa, Peguam Negara Tan Sri Gani Patail dan Ketua Polis Negara, Tan Sri Khalid Abu Bakar.

Beliau juga berpendapat bahawa kenyataan "tsunami Cina" yang diutarakan Najib selepas pilihan raya umum ke-13 (PRU-13) tidak sepatutnya dilafazkan oleh seorang Perdana Menteri berbilang kaum.

Tambah Mat Zain, Najib telah menghina Yang di-Pertuan Agong [Tuanku Mizan Zainal Abidin] ketika upacara majlis mengangkat sumpah jawatan di Istana Negara pada 3 April 2009 dengan menggunakan sumpah yang direka sendiri.

'Membelakangkan Perlembagaan'

"Tindakan Datuk Seri Najib sedemikian itu bukan sahaja membelakangkan peruntukan Perlembagaan, bahkan beliau turut menghina kepercayaan YDP Agong terhadap beliau," katanya.

Menurut beliau, sekiranya di hari pertama memegang jawatan tersebut Najib telah sanggup berbohong di hadapan YDP Agong dan rakyat Malaysia, maka apatah lagi, di hari-hari yang berikutnya.

"Justeru itu, beliau tidak layak melaksanakan fungsi jawatan Perdana Menteri semenjak 3 April 2009 lagi. Sebarang perkara yang beliau lakukan atas sifat seorang Perdana Menteri boleh dianggap sebagai tidak sah kerana tidak mengikut sepertimana peruntukkan dalam Perlembagaan Persekutuan," katanya.

Menambah burukkan lagi, tambah Mat Zain, ialah apabila Najib mengikrarkan dua afidavit di hadapan seorang Pesuruhjaya Sumpah pada 21 dan 23 Sept 2011, yang difailkan dan dikemukakan dalam Mahkamah Tinggi berkaitan kes liwat yang kini berada di peringkat rayuan.

"Dalam affidavit-affidavit berkenaan, Datuk Seri Najib telah mengikrarkan nama seperti yang terkandung dalam kad pengenalan beliau sebagai Najib bin Tun Haji Abdul Razak. Nama ini adalah bercanggah dengan nama yang beliau lafazkan di hadapan YDP Agong ketika mengangkat sumpah jawatan iaitu Mohd Najib bin Tun Haji Abdul Razak," katanya.

Tambah beliau, selain daripada percanggahan nama, Najib telah mengikrarkan dua kenyataan mustahak berasingan yang boleh dibuktikan sebagai kenyataan yang tidak benar atau palsu.

'Keterangan palsu'

"Membuat kenyataan secara bersumpah yang tidak benar adalah sama dengan memberi keterangan palsu di mahkamah.

"Bukan sahaja beliau telah melakukan kesalahan jenayah terhadap keadilan awam kerana membuat kenyataan bersumpah palsu, malahan beliau turut boleh disifatkan sebagai telah mengingkari atau membelakangkan hukum Islam," katanya.

Tambah Mat Zain, keengganan Najib menjadi saksi dalam perbicaraan yang dinyatakan di atas telah menyebabkan kedua-dua pihak yang menuduh dan tertuduh tidak mendapat pembicaraan yang adil dan sempurna.

"Mengikut kefahaman saya, dengan sengaja mengelakkan diri daripada menjadi seorang saksi yang adil adalah dosa besar, kerana boleh membawa kezaliman kepada orang dituduh melakukan kesalahan," katanya. -FMT
Unity for Peace Networks' Press Conference on Misconceptions about Islam and Myanmar Muslims Part 1
Posted: 17 Jun 2013 05:48 AM PDT
သူေတာ္ခ်င္းခ်င္း သတင္းေလြ႕ေလြ႕ေပါင္းဖက္ေတြ႕ (သို႔မဟုတ္) EDL ႏွင့္ ၉၆၉
Posted: 17 Jun 2013 05:34 AM PDT
သူေတာ္ခ်င္းခ်င္း သတင္းေလြ႕ေလြ႕ေပါင္းဖက္ေတြ႕ (သို႔မဟုတ္) EDL ႏွင့္ ၉၆၉
ဇြန္လ ၁၁။ ၂၀၁၃ (GlobalPost)
မြတ္စ္လင္မ္ ဆန္႔က်င္ေရးအဖြဲ႕မ်ားျဖစ္ေသာ အဂၤလန္အဖြဲ႕ႏွင့္ ျမန္မာအဖြဲ႕တို႔အၾကား အျပန္အလွန္အားက်မႈမ်ား ပြင့္လင္း လာၿပီေလာ…။
စကားသံေပ်ာ့ေျပာင္းေသာ္လည္း စကားလုံး ျပတ္သားသည့္ ျမန္မာ ၉၆၉ လႈပ္ရွားမႈ ေခါင္းေဆာင္ ၀ီရသူက ၎၏ အဖြဲ႕ကို အဂၤလိပ္ ကာကြယ္ေရး အသင္း (EDL)အား အတုယူရန္ ရည္ရြယ္ေၾကာင္း Times of London သတင္းဌာန ကုိေျပာၾကားခဲ့သည္။ EDL မွာ လန္ဒန္၌ သေဘာထားတင္းမာသူ မြတ္စ္လင္မ္ ၂ဦးက ၿဗိတိသွ် စစ္သားတစ္ဦးအား သတ္ျဖတ္ခဲ့ၿပီးေနာက္ လမ္းမမ်ားတြင္ ေဒါသတႀကီး ဆန္႔က်င္ဆႏၵျပခဲ့သည့္ သေဘာထား တင္းမာသူမ်ားျဖစ္သည္။
"လူေတြက ဦးဇင္းကို နာမည္အမ်ိဳးမ်ိဳးေပးတယ္၊ ဗမာဘင္လာဒင္တုိ႔၊ ထိပ္ေျပာင္ နာဇီလက္သစ္တုိ႔ ေပ့ါ၊ ဒါေပမယ့္ အဂၤလိပ္ကာကြယ္ေရးအသင္း (ELD)ကို သိလား၊ ELD လို ျဖစ္ခ်င္ေနတာ၊ အၾကမ္းဖက္မပါဘဲ ျပည္သူေတြကုိ ကာကြယ္ေပးတာမ်ိဳးေပါ့" ဟု ၎က သတင္းေထာက္ Richard Lloyd Parry အား ေျပာျပသည္။
အဆုိပါလႈပ္ရွားမႈ ၂ခုလုံးက ကမၻာႀကီးအား ရႈျမင္ပုံတြင္လည္း မ်ားစြာ တူညီေနသည္။ ႏွစ္သင္းလုံးက အစၥလာမ္သည္ ၎တုိ႔ ေလးစားရေသာ ႏိုင္ငံတြင္ ေခတ္ေရစီးေၾကာင္း ဘ၀ေနထုိင္မႈပုံစံအား အႀကီးအက်ယ္ ၿခိမ္းေျခာက္ေနသည္ဟု မွတ္ယူသည္။ ႏွစ္သင္းလုံးက အစၥလာမ္အား "အႏၱရာယ္" တစ္ခုအျဖစ္ စြပ္စြဲကာ အၾကမ္းဖက္မႈမ်ား ျဖစ္ေပၚေစရန္ လႈံ႕ေဆာ္ေပးခဲ့သည္။
"၉၆၉"လႈပ္ရွားမႈက ဗုဒၶဘာသာ စီးပြားေရးသမားမ်ားကို ၎တုိ႔၏ ဆုိင္မ်ားတြင္ သေကၤတခ်ိတ္ဆြဲ ထားျခင္းျဖင့္ ဗုဒၶဘာသာ၀င္မ်ားအား ယုံၾကည္ခ်က္တူညီမႈကို သိျမင္ေစၿပီး မြတ္စ္လင္မ္တုိ႔ လက္ထဲ ၎တုိ႔၏ ေငြမ်ား မေရာက္ရွိေရးအတြက္ ထိန္းသိမ္းႏုိင္ရန္ တုိက္တြန္းသည္။
"မူဆလင္ ဆိုင္ေတြမွာ ခင္ဗ်ားတုိ႔ ေစ်း၀ယ္မယ္ဆုိရင္ ခင္ဗ်ားတုိ႔ပိုက္ဆံေတြက အဲဒီမွာတင္ ရပ္တန္႔သြားမွာ မဟုတ္ဘူး။ အဲဒီေငြဟာ ေနာက္ဆုံးမွာ အမ်ိဳးဘာသာ သာသနာကို ဖ်က္ဆီးသြားလိမ့္မယ္" ဟု ၿပီးခဲ့သည့္ ေဖေဖာ္၀ါရီလတြင္ ၀ီရသူက မိန္႔ၾကားသည္။
အဆိုပါ မိန္႔ၾကားခ်က္ကို ယခုအခါ EDL မွ Jewish Division ၏ Facebook စာမ်က္ႏွာတြင္ "ဗုဒၶဘာသာ၀င္ေတြရဲ႕ အာသာဆႏၵကို က်ဳပ္ တကယ္ျဖည့္စည္းခဲ့ၿပီ" ဟူေသာ စာသားျဖင့္ ယွဥ္တြဲေဖာ္ျပထားသည္။
မၾကာေသးမီက ေဖ့စ္ဘုတ္စာမ်က္ႏွာတစ္ခုတြင္ "အဂၤလိပ္ ကာကြယ္ေရးအသင္းကို ေထာက္ခံသည့္ ျမန္မာဗုဒၶဘာသာမ်ား "ဟူ၍ အဖြဲ႕ႏွစ္ဖြဲ႕အၾကား အျပန္အလွန္ အထင္ႀကီးေလးစားမႈမ်ားကို ေရးသားေဖာ္ျပထားသည္။
EDL အဖြဲ႕၏ ေနာက္ဆုံး လမ္းေပၚထြက္ ဆႏၵျပမႈမ်ားအတြင္း အၾကမ္းဖက္မႈ အေသးစားမ်ား၊ ၿခိမ္းေျခာက္မႈမ်ား၊ အမ်ားျပည္သူပိုင္ အေဆာက္အအုံ မ်ားကို ဖ်က္လိုဖ်က္ဆီးျပဳလုပ္မႈမ်ား က်ဴးလြန္ခဲ့သျဖင့္ အမ်ားအျပား ဖမ္းဆီးခံခဲ့ရသည္။
သို႔ေသာ္ ယင္းျဖစ္ရပ္မွာ ျမန္မာႏုိင္ငံက ၉၆၉ ေပၚျပဴလာျဖစ္ၿပီးေနာက္ ယခုႏွစ္တြင္ ျဖစ္ပြားခဲ့ေသာ အၾကမ္းဖက္ မႈ ျဖစ္စဥ္မ်ားႏွင့္ ႏႈိင္းယွဥ္ၾကည့္လွ်င္မူ အစြန္းေရာက္ ထိန္းသိမ္းခံခဲ့ရျခင္းျဖစ္သည္။
ျမန္မာျပည္တြင္းရွိ ၿမိဳ႕အေတာ္မ်ားမ်ားတြင္ ျဖစ္ပြားခဲ့ေသာ ရိုင္းစိုင္းၾကမ္းၾကဳတ္သည့္ အၾကမ္းဖက္မႈမ်ားတြင္ မြတ္စ္လင္မ္ ဒါဇင္ႏွင့္ခ်ီ၍ ေသဆုံးခဲ့ၿပီး ေနအိမ္မ်ား မီးရႈိိ႕ခံရမႈေၾကာင့္ ထြက္ေျပးခဲ့ရသည္။ ဘဂၤလားေဒ့ရွ္နယ္စပ္က ႏုိင္ငံမဲ့ ရိုဟင္ဂ်ာ မြတ္စ္လင္မ္ တုိ႔သည္လည္း စနစ္တက် သုတ္သင္မႈေၾကာင့္ လူေပါင္း ၂၀၀ ေက်ာ္ ေသဆုံးခဲ့ရၿပီး ေပေရစုတ္ခ်ာေသာ ယာယီတဲမ်ားဆီသို႔ တြန္းပို႔ျခင္းခံခဲ့ရသည္။
GloblePost တြင္ေဖာ္ျပေသာ "Why Myanmar's hardline Buddhists are fans of the English Defence League" ကို စိုင္ဖုလႅာဟ္ (ျမန္မာမြတ္စလင္မီဒီယာ) က ဆီေလ်ာ္ေအာင္ ဘာသာျပန္ဆုိသည္။
Erdogan's fall from grace has lessons for Pakatan Islamists by Terence Netto
Posted: 17 Jun 2013 04:30 AM PDT
From Malaysiakini
COMMENT
Turkey's Prime Minister Recep Tayyip Erdogan was the Islamist-democrat who some time ago was held up in parts of the democratising world as the object of emulation. The leader of the religiously-inclined Justice and Development Party (AKP), elected to rule Turkey in 2002 after years of misrule by secular parties, would demonstrate for all the Western and Muslim worlds to see that an Islamist orientation would not render a governor inhospitable to democracy.


Pakatan Rakyat supremo Anwar Ibrahim would favourably cite of Erdogan every chance he got during the long prelude to Election 2013. He, like Erodgan, was going - if given the chance at GE13 - to reshape the widespread assumption that an Islamist worldview was necessarily hostile to the premises and postulates of democracy. Today, after nearly 11 years of rule by AKP and following the events of the last few weeks in Istanbul's Taksim Square where huge crowds have demonstrated their contempt for Erdogan's methods, the Turkish premier no longer looks the model Islamist-democrat.

Instead, Erdogan seems more like Vladimir Putin, the Russian leader who behind a democratic veneer deploys methods of repression of the opposition that recall the ways of the worst autocrats in the history of a nation notable for its ability to engender the species. That Erdogan the Islamist has morphed into someone more reminiscent of the oligarchs that have dotted Russian history does not necessarily render the notion of the Islamist-democrat oxymoronic.

It's just that, after what Mohamed Morsi had turned out to be in Egypt after the heady promises of the Arab Spring (2011-2012) at Tahrir Square, it is more difficult to contend that an Islamist orientation can co-exist with democratic persuasion in the same ruler.
Slippery slope to authoritarism


Let's see how the erstwhile Erdogan slithered down the slope to authoritarianism. He began the slide towards autocracy by announcing his intention in 2011 to Islamise a generation. This intention boded ill for the democratic and pluralistic aspects of Turkish society. After having reconfigured the exam formula applicants for university admissions had to sit for to benefit those who had attended Iman Hatip schools - the Turkish equivalent of the madrassa - over those who had a liberal arts education, Erdogan's administration decreed that the religious instruction that is already in the state curriculum be Sunnism, ignoring the fact that 20 percent of Turkish Muslims are Alevis, not Sunnis.

The Erdogan model of political development in tandem with Islamism took an ominous stride towards autocracy in 2005 when Bulent Arinc, then speaker of the Parliament, threatened to dissolve the constitutional court if it continued to find AKP legislation unconstitutional. This threat took on added menace when subsequently Erodgan promoted Arinc to be his chief deputy. This was followed by the PM himself describing the separation of powers as the government's main obstacle to the introduction of steps the AKP wanted to effect.

Six months ago, Hurriyet Daily News, a leading newspaper in the country quoted Erdogan to this effect: "Even during our own governing tenure, we are having some troubles. Unfortunately, the errors within the system are the causes of those troubles. Since the system was built the wrong way, we are facing some unexpected troubles. Bureaucracy blocks our path or we face the judiciary unexpectedly...."
Peace deal with the Kurds


Erdogan's growing taste for the acquisition of power further manifested itself in the peace deal he worked out with imprisoned Kurdish leader Abdullah Ocalan. Doubts over the durability of the pact, agreed to last March, revolve around the unwillingness of Erdogan to implement the confederation between the Kurds and the Turks that Ocalan's followers demand. The political reorganisation entailed by such a confederation would also demand reforms to the security forces and intelligence services that had once repressed the Kurds.

Erdogan, though loathe to give full force of the confederation implied by the peace pact with the Kurds, is keen on obtaining the support of Kurdish voters for any constitutional referendum to endow a revamped presidency with news powers. Erdogan is interested to run for the post when he retires as PM. Also, Erdogan wants the peace pact with the Kurds to win for Istanbul the host status for the 2020 Summer Olympics, an award that would see huge construction projects in the city, a large share of which is almost certain to be stream to Calik Holdings, a company run by his son-in-law.

In other words, Erdogan may have begun his public career as an Islamist politician with an inclination to democratic persuasion. But after several years in power, his religious orientation, like Morsi's, has not been a sufficient check on his appetite for increased power and its trappings. That should come as no surprise to those brought up on the wisdom of Lord Acton's dictum on the corruptive consequences of power.

A religious orientation is no guarantee of immunity from its effects.
---
TERENCE NETTO has been a journalist for four decades. He likes the occupation because it puts him in contact with the eminent without being under the necessity to admire them.
A talk given by the Senior NCO on the eve of the commissioning of US Army officers
Posted: 17 Jun 2013 04:16 AM PDT
I feel a tinge of regret that I am not young enough to be sitting out there as some of you. You have so many years of challenge and adventure to look forward to. So many of these years are behind me. Soon you meet your platoon sergeants, your first sergeants, your sergeants major, your other non commissioned officers and your troops. What do we expect from you as officers, commanders, leaders ? We expect of you unassailable personal integrity and highest of words. We expect you to maintain the highest state of personal appearance; we expect you to be fair - to be consistent - to have dignity but not aloofness, to have compassion and understanding - to treat each soldier as an individual, with individual problems. 
And we expect you to have courage - the courage of your convictions - the courage to stand up and be counted – to defend your men when they follow your orders, even when your orders are in error - to assume the blame when you are wrong. We expect you to stick out your chin and say, "This man is worthy of promotion and I want him promoted". And we expect, you have even greater courage and say "This man is not qualified and he will be promoted over my dead body". Gentlemen, I implore you do not promote a man because he is a nice guy, because he has a wife and five kids, because he has money problems, because he has a bar bill. If he is not capable of performing the duties of his grade, do not do him and us the injustice of advancing him in grade. When he leaves you, or you leave him, he becomes someone else's problem. 
This will only shake their confidence in your judgment. Now Gentlemen, you know what we expect from you. What can you expect from us ? From a few of us, you can expect antagonism, a "Prove yourself" attitude. From a few of us who had the opportunity to be officers and didn't have the guts and motivation to accept the challenge, you can expect resentment. From a few of us old timers, you can expect tolerance. But from most of us you can expect loyalty to your position, devotion to our cause, admiration for your honest effort - courage to match your courage, guts to match your guts, to match – esprit to match your esprit - a desire for achievement to match your desire for achievement. 
You can expect a love of God, a love of country, and a love of duty to match your love of God, your love of country and your love of duty. We won't mind the heat if you sweat with us. We won't mind the cold if you shiver with us and when our cigarettes are gone, we won't mind quitting smoking after your cigarettes are gone. And if the mission required, we will storm the very gates of hell, right behind you. Gentlemen, you don't accept us; we were here first. We accept you, and when we do , you'll know. We won't beat drums, or carry you off the drill field on our shoulders. But may be at a company party, we'll raise a canteen cup of beer and say, "Lieutenant, you're O.K." just like that. Remember one thing. 
Very few non commissioned officers were awarded stripes without showing somebody something, sometime, somewhere. If your platoon sergeant is mediocre, if he is slow to assume responsibility, if he shies away from you, may be some time not too long ago someone refused to trust him, someone failed to support his decisions, someone shot him down when he was right. Internal wounds heal slowly; Internal scars fade more slowly. Your careers appointing you as officers in the United States Army appointed you to command. No orders, no letters, no insignia of rank can appoint you as leaders. Leadership is an intangible thing; leaders are made, they are not born. 
Leadership is developed within yourselves. You do not wear leadership on your sleeves, on your shoulders, on your caps or on your calling cards. Be you lieutenants or generals, we're the guys you've got to convince and we'll meet you more than halfway. You are leaders in the Army in which we have served for so many years, and you will help us defend the country we have loved for so many years. I wish you happiness, luck and success in the exciting and challenging years that lie ahead. May God bless you all!" Source: Via e-mail
Actor dresses as woman to experience sexual harassment in Egypt
Posted: 17 Jun 2013 04:15 AM PDT
Egypt is a cesspool for women. Most Egyptians are sickos!!
"Hard-talk" with a Burmese Hardliner
Posted: 17 Jun 2013 04:24 AM PDT
Actually I strongly believe that the political drama of Anti-Muslim riots is not aimed to stage the ground for a coup d'état but to brainwash the people to become Ultra-Nationalists and making their supports and votes swing from Daw Suu led NLD to USDP. As Daw Suu has to keep neutral or even if spoken something according to the Human Rights norms, present gov supporters would discredit her as Klara-supporter. If military coup, the sanctions would definitely come back. Now they are trying to stay in power even after "democratic" and "fair election" in 2015.
Head to Head With a Burmese Hardliner By SANAY LIN / THE IRRAWADDY, June 17, 2013
Burma's President Thein Sein, left, talks with Aung Thaung, center, and Rangoon's former mayor Aung Thein Lin in Mandalay in 2010. Aung Thaung is a former general and industry minister turned lawmaker with close connections to the president and former dictator Than Shwe. (Photo: The Associated Press)
Aung Thaung is a Burmese hardliner with major connections. A former military general and minister of industry under Burma's old military junta, he is among the country's wealthiest businessmen and a Parliamentarian, and he has close ties to former dictator Sr-Gen Than Shwe, who he met while serving in the Burma Army. The two men reportedly ate breakfast together when the military was still in power.
Despite his political connections, or perhaps as a result of these connections, Aung Thaung has not escaped negative press. Under the former regime, he was accused of involvement in attacks against opposition leader Aung San Suu Kyi and other members of the National League for Democracy (NLD) party. In the most famous scandal, the 2003 Depayin affair, members from the Union Solidarity and Development Association (USDA), now the ruling Union Solidarity and Development Party (USDP), attacked a motorcade of the democracy icon and her followers, leaving about 70 people dead. A group of thugs, criminals and ex-convicts known as Swan Arshin were thought to be involved.
Today, Aung Thaung is known as a hardliner in Parliament, where he represents the military-backed USDP. He says he promotes Burma's transition to democracy, but the negative press has continued. Earlier this month, The Straits Times newspaper of Singapore published a report which hinted at his possible connection to recent anti-Muslim riots in the country—including in Shan State's Lashio town and Mandalay Division's Meikhtila town. The report described the emergence of a new Buddhist military known as the "Taung Tha army," and noted that Taung Tha is a town in Mandalay Division "which happens to be home to the notoriously hardline Aung Thaung."
In a rare, exclusive interview, The Irrawaddy met Aung Thaung and asked some tough questions about allegations of his involvement in recent anti-Muslim unrest; his relations with the controversial nationalist monk U Wirathu, who is at the helm of the 969 movement to shun Muslim businesses; and his close relationship with Burma's reformist President Thein Sein.
Question: The Straits Times describes the current religious and racial conflict in Burma as a reflection of the handiwork of Taung Tha groups, and Taung Tha is your hometown. The article also says you have connections with members of Swan Arshin who attacked monks after the [2007 pro-democracy] Saffron Revolution and who were part of the Depayin plot. Will you comment on these allegations?
Answer: It's nonsense. The article makes it sound like I don't want our country to continue along the path to democracy. We have already transitioned from a military junta to a democracy because we're serious about developing this country. And we'll keep going. … I presume that whoever offered this description [in the article] did so in order to tarnish our dignity. You can investigate as you wish. If their allegations were found to be true, even the tiniest bit true, they could say whatever they wanted about us. But if the situation was not as they described, would they be happy to be prosecuted? The incidents in Meikhtila and Lashio were described poorly. Likewise, the Depayin issue. It was described without firm evidence. I'm not sure what they were talking about. Last month, I wasn't able to go to the regional states. I wasn't able to talk with anyone or direct anyone. You can go to Taung Tha and ask anyone you meet. I also have my own personal problems—I'm getting old too, and my wife, who has been suffering from cancer for four years, has been in very bad condition.
Q: It is widely accepted that Swan Arshin is linked to the current unrest. It has also been written that the incidents in Lashio and Meikhtila were systematically planned. What do you say of this?
A: I have never formed an organization, even in the days of the military regime. I didn't form the USDA. And I don't have the right to form any association. As I am from the USDP, I am involved in political affairs, and I won't behave in a way that would cause the public to misunderstand me or look down on me.
Q: You've been criticized for shaking hands with U Wirathu, who was recently released from prison. [The monk who now leads the 969 movement was jailed about a decade ago for inciting religious unrest]. What are your thoughts on that?
A: Masoeyein is a monastery [in Mandalay] that I often visit. He [U Wirathu] is from Masoeyein. When I went there, U Wirathu allowed us to meet him. I was with about 25 members of the USDP, and around 50 monks were standing in my vicinity. I just listened to U Wirathu and then I left. A monk like U Wirathu won't listen to what I say, so I just had to say, "Yes, abbot," and leave without saying anything to him.
Q: According to the Straits Times, U Wirathu gave an anti-Muslim speech about 50 kilometers from Lashio just before violence in Lashio broke out. Can you comment on this connection?
A: I have only met and spoken to the abbot once, and that meeting only lasted about 20 or 25 minutes. I haven't had any later contact with him. So I don't know anything about the allegations in the article, that he was just 50 kilometers from Lashio.
Q: Political analysts have said that if President Thein Sein cannot tame those who are pro-violence, his political reputation will gradually decline. What do you think of Thein Sein's attempts to control the violence?
A: Those things have been written to make the situation worse. U Thein Sein is our president, and I'm personally very close to him. He is my colleague as well. He is a very honest man, and he was also my comrade when we were on the frontlines [in the Burma Army]. Despite the fact that he is not healthy, he is doing a good job with everything. [The president is known to have a heart condition]. However, there may have been some mistakes because he tends to administer and direct others—he doesn't manage everything personally. What he does is the task of our party. I need to support that. In Parliament, too, I am responsible for promoting democracy and stopping actions that turn back to the old ways. I have nothing to say so far regarding his management. Since he has a lot to do, some of his management may seem weak. That's understandable.
Q: Before the violence, it was widely heard, even in Parliament, that the military's role [in politics] should be reduced. Committees were formed to amend the Constitution [which guarantees 25 percent of Parliament seats to the military]. Then violence broke out. Some critics say the violence could hint at another possible military coup or a bid to promote the role the military.
A: The military has no desire to take back power. It would be extremely foolish if the military wanted to take back power. Even if the situation was favorable, there shouldn't be another military coup d'état. The military should help—it must help the state achieve its goal of democracy. I presume the commander-in-chief has the same view about helping the state. I don't think we would ever dream of seizing power again. The military only stands to help the state.
Turkish police adding chemicals (pepper spray) to water cannons
Posted: 17 Jun 2013 04:14 AM PDT
This photo has been floating around the pages of people watching the protests in Turkey:
It is supposedly of Turkish security personnel pouring Jenix, a pepper spray concentrate, into the water cannons they are using against protesters at Gezi Park.
Ansa (Italian) reports:
Istiklal Avenue, Taksim Square, Besiktas, the Bosphorus Bridge: names that trigger in the minds of millions the images of holiday tourists and colorful Eastern postcards. Today these places in the heart of Istanbul are war zones. A war, with lots of stinging substances used by the police, which continues into the night. Tens of thousands of people took to the streets again in the megacities of the Bosphorus and Taksim to march to denounce the brutal assault last night of police in Gezi Park and the young activists who occupied it.





A vicious attack, which injured 800, including children hit by rubber bullets, dozens of people 'burned' by stinging agents put in the water by police fire hydrants - as reported by the photos of the activists in which you can clearly see the cops load the substance 'Jenix' in armored vehicles - or hundreds suffocated by the clouds of tear gas. All this while riot police arrested the doctors who treated injured protesters, beat an opposition deputy, lawyers and journalists. It is a "war against the population," the president of the German Greens Claudia Roth charged.
While Jenix doesn't seem to be any less legal than tear gas, it is still a chemical weapon that causes the skin to burn. it is unclear whether it is meant to be mixed together with water in this fashion.
So far, this has barely been reported in English anywhere except in social media. Hat tip: EOZ
Turkish Prime Minister Recep Tayyip Erdogan goes to war with his people
Posted: 17 Jun 2013 04:13 AM PDT
Erdogan Goes to War; Police Wound Hundreds, Attack Drivers
Turkish police went to war against protesters Saturday night, using rubber bullets and tear gas to clear thousands from Taksim Square and on pedestrians trying to cross a foot bridge, where drivers also suffered the effects of the gas. Hundreds of people, including motorists, were injured, while official government statements claimed the number of wounded was 44. Turkish Prime Minister Recep Tayyip Erdogan had issued an ultimatum to the protesters to leave Taksim Square in favor of a pro-Erdogan rally scheduled for Sunday. Hat tip: EOZ
Egypt: "Do not sacrifice your children" -- Muslims threaten Christians not to demonstrate against Muslim Brotherhood president
Posted: 17 Jun 2013 04:12 AM PDT
"Islamists Warn Christians From Demonstrating to Topple Egyptian President," by Mary Abdelmassih for AINA, June 15
(AINA) -- The youth-led Tamarod (rebel) Initiative has collected more than their targeted 15,000,000 signatures calling for a no-confidence vote against President Mohammed Morsi and forcing early elections in Egypt, causing the ruling Muslim Brotherhood party and its Islamists partners to feel seriously threatened, say political observers. Millions are expected to join a nationwide anti-Morsi and anti-Brotherhood demonstration set for June 30, to coincide with Morsi's first anniversary as president.
Protesters in Cairo will go to the Presidential "Unity" Palace in the Heliopolis suburb of Cairo with their demands. "We will stay there until Morsi leaves," said Mahmoud Badr, spokesman for Tamarod. In every other Egyptian province local protests will be held. Expatriate Egyptians will also hold demonstrations in their respective countries.
This week Assem Abdel Maged, a leader of the Egyptian extremist group Gamaa Islamiya, said that those calling for the demonstrations are "extremists Copts" and issued a warning to the Coptic church and Christian citizens who plan to join in the protests on June 30.

Speaking on an Islamist satellite channel (video), he said "Do not sacrifice your children, Muslim public opinion will not tolerate toppling the President."
Continue here to Jihad Watch for the article in full......
Putin says West arming Syrian rebels who eat human flesh
Posted: 17 Jun 2013 04:11 AM PDT
Putin's Russia is in bed with Iran, so he lives in a glass house, but that doesn't mean his stones aren't hitting the mark. "Putin says West arming Syrian rebels who eat human flesh," by Khaled Yacoub Oweis and Alexei Anishchuk for Reuters, June 16: AMMAN/LONDON (Reuters) - Russian President Vladimir Putin, arriving in Britain ahead of an international summit set to be dominated by disagreement over the U.S. decision to send weapons to Syria's rebels, said the West must not arm fighters who eat human flesh.
Indonesia's top Islamic authority issues fatwa against Catholic schools as "morally unsound," forbidden to Muslims
Posted: 17 Jun 2013 04:10 AM PDT
Tolerance: "Central Java: fatwa against Catholic schools, "forbidden" to Muslims," by Mathias Hariyadi for Asia News, June 14
Jakarta (AsiaNews) - The powerful Indonesian Ulema Council (MUI) has come out against Catholic schools in Tegal District, Central Java province, issuing a "controversial" a fatwa that has sparked reactions and protests. For MUI leaders, such schools are "haram", "morally unsound" for young Muslim pupils despite the fact that they score high for the quality of the education they provide and have as a consequence attracted a large number of non-Christians. In so doing, they have opened up a new fault line after their recent attack against Miss World Contest; this in the world's most populous Muslim nation, where Catholics are a small but significant presence. 
For the schools, the fatwa is a great blow, coming in the wake of attacks from Muslim extremists and local governments that included threats of closure that were however eventually dropped. The Ulema Council has often intervened to enforce orthodox views about Muslim precepts, such as how to butcher animals or uphold Islamic mores. However, in this case the motivation behind MUI's stance is "political" in nature. It follows appeals by local authorities to force Catholic schools to teach the Muslim religion to its non-Christian pupils. Harun Abdi Manaf, MUI leader in Tegal, said that the council went through "lengthy discussions" and that a "decision was taken in April" to issue "a fatwa destined for the parents" of Muslim pupils, telling them not to send their children to Catholic schools. He explicitly referred to Catholic schools in Tegal and Pemalang, which have been under the threat of closure because they opposed a government order that requires them to reach Islam.
In addition to Mgr Julianus Sunarko, bishop of Purwokerto, many Muslim families have come to the defence of the two schools, claiming their right to a quality education. In fact, many schools run by nuns, priests and lay Catholics offer such excellence in education that they are sought after by

non-Christians. However, government authorities have tried too often to exert some form of control (however small) over these schools. The demand to have Islam included in the curriculum has thus become a rallying point to gain Islamist political and electoral support. Indeed, Indonesian authorities in recent years have repeatedly given in to MUI's pressures. For example in Aceh, a province run by Islamic radicals, women are not allowed to wear tight pants or skirts. 
In March 2011, MUI also lashed out at the flag raising "because Mohammed never did it". Before that, it had launched anathemas against Facebook for its "amoral" nature, as well as yoga, smoking and voting rights, in particular for women.Hat tip: Jihad Watch
"There are groups of foreign nationals involved in this and maybe respect for women isn't seen as being a high priority in their country of origin."
Posted: 17 Jun 2013 04:09 AM PDT
"Scots police smash two 'large' paedophile rings," by Ben Borland for the Express, June 16
SCOTTISH police have smashed two "large scale" child sex networks involving a "significant proportion" of ethnic minority offenders. Further details cannot be disclosed for legal reasons as the cases are still to come to court, however the investigations contain chilling echoes of high- profile prosecutions south of the Border. In another, utterly appalling example of child abuse, two 13-year-old Scots girls were groomed and raped by a network of "numerous" paedophiles across Britain.





This operation resulted in 37 arrests and the identification of 108 further potential victims and perpetrators. Again, all of those involved are still awaiting trial. The details of the crackdown were revealed by Assistant Chief Constable Malcolm Graham to a Holyrood inquiry into the scale of child abuse. Concern is growing that the problem has been grossly underestimated for years, with police and prosecutors failing to take victims seriously.
Continue to article in Jihad Watch................
Posted: 17 Jun 2013 03:56 AM PDT
A father takes his deaf mute son to the Godfather.....
Father: Godfather my boy is a good boy but he can't get a job because he's a deaf mute.
Godfather: I will give him a job as a bag man. He will pick up the money from my bookies and bring it back here. he doesn't have to talk to anybody. Two weeks go by and the Father is grabbed off the street brought to the
Godfathers office. His Son is sitting in a chair all beat up.
Godfather: $50,000.00 is missing, ask your Son where it is. The Father: turns to the boy and in sign language says...."What did you do? Where is the money? they are going to kill you!
Son: (in sign language) I don't know anything about the money
Father: Godfather my Son is a good boy. He says he didn't steal any money
Godfather: Pulls a gun from his drawer and lays it on the desk and says..."ask him again" The Father: (in sign language) This guy is serious, he's going to kill you! where is the money?
Son: (in sign language) I honestly dad I don't have any money
Father: Godfather my Son says he doesn't have your money, Please believe him.
Godfather: Puts the gun to the boys head, pulls the hammer back, and says..."ask him one last time" The Father: (in sign language) He's going to kill you for sure, for you mother's sake please, WHERE IS THE MONEY?
Son: (in sign language) all right, all right its in a shoe box in the attic under moms wedding dress!
_____________________________
A man had recently gone through a messy divorce to his wife of 10 years. Part of the settlement was that for every dollar he made, she would get 2/3 of it. If he made $300, she would get $200 and he would get $100. So, she would always get twice as much as he did.
One day on a jog, he found a corked bottle lying on the ground, and of course, when he rubbed on it to try to clean it off, a genie came out.
'You know the drill,' said the genie.' You get three wishes, but be aware that for everything you wish for, you ex-wife gets twice as much. That was in your settlement and I am obligated to stick to that.'
'Yea, OK,' said the man.' For my first wish, I want a million dollars.'
'Done,' said the genie.' But now your wife has 2 million.'
'I know, I know...' said the man.' Now I wish for a mansion and a matching sports car in the garage.'
'Done,' said the genie.' But now your wife has a mansion twice your size and two matching sports cars in the garage.'
'I know, I know...' said the man.' Now, for my last wish, I want you to beat me half to death.'
____________________________________________
A retired man who volunteers to entertain patients in nursing homes and hospitals went to one local hospital in Brooklyn and took his portable keyboard along. He told some jokes and sang some funny songs at patients` bedsides.When he finished he said, in farewell, "I hope you get better."One elderly gentleman replied, "I hope you get better, too."
____________________________________________
Little Johnny was eating breakfast one morning and got to thinking about things."Mommy, mommy, why has daddy got so few hairs on his head?" he asked his mother.
"He thinks a lot," replied his mother, pleased with herself for coming up with a good answer to her husband's baldness.
Or she was until Johnny thought for a second and asked, "So why do you have so much hair?"
Have a restful evening!
Suara Rakyat 505: Rakyat Tetap Berhimpun Hingga SPR Letak Jawatan
Posted: 17 Jun 2013 05:21 AM PDT
M
inggu lepas, Suara Rakyat 505 telahpun menyeru kepada SPR supaya letak jawatan dan bertanggungjawab kepada Parlimen.
Gabungan ini berpandangan bahawa jawatankuasa khas bagi memantau Suruhananjaya Pilihan Raya tidak akan membawa apa-apa perubahan signifikan dan kata-kata kami terbukti apabila Pengerusi SPR berkata bahawa dia tidak mungkin akan meletakkan jawatan.

SPR telah mencabar kuasa rakyat, maka seperti dijanjikan Gabungan lebih 50 NGO 'Suara Rakyat 505' menggembeling segala kekuatan untuk membawa rakyat beraksi pada 22 Jun 2013 di Padang Merbuk, menuntut demokrasi yang digelapkan dan mengembalikan kemenangan rakyat yang dirampas. RAKYAT TURUN BERAKSI 22 JUN HINGGA SPR LETAK JAWATAN.

Bagi memastikan mobilisasi terbesar dan sebagai aksi akhir membangkitkan kesedaran rakyat tentang penipuan PRU13, Gabungan 'Suara Rakyat 505' akan mengkoordinasi sebuah jelajah untuk mengira detik (countdown) menuju 22 Jun.

Tirai Roadshow akan dimulakan dengan sebuah aksi flashmob pada 15 Jun dan kemuncak jelajah, satu aksi 'kira detik akhir' (final countdown) bertempat di Dewan Perhimpunan Cina KLSCAH pada 21 Jun.

Pada malam kemuncak tersebut juga, hadirin akan diberi pedoman akhir bagi menghadapi hari besar 22 Jun 2013, hari rakyat menolak penipuan PRU!

Dalam masa yang sama, Kami juga akan mengembangkan inisiatif sukarelawan Gabungan Suara Rakyat 505. Pasukan sukarelawan ini akan dimoblisasikan pada masa yang tepat khususnya ketika masa untuk beraksi samada di himpunan atau protes.

Akhir sekali, Kami menegaskan bahawa hak untuk berhimpun secara aman adalah hak rakyat yang diperuntukkan oleh perlembagaan, khususnya bagi menyuarakan kepincangan yang berlaku dalam Negara. Hak ini tidak wajar dicabuli dan tidak boleh dihalang oleh pihak berkuasa termasuklah DBKL. Justeru, kami tetap akan teruskan perhimpunan di Padang Merbok walaupun mendapat halangan DBKL.

Sekian

GABUNGAN # SUARA RAKYAT 505

1. Solidariti Anak Muda Malaysia (SAMM)
2. Solidariti Mahasiswa Malaysia (SMM)
3. Tindak Malaysia
4. Suara Rakyat Malaysia (SUARAM)
5. Parti Sosialis Malaysia (PSM)
6. Parti Rakyat Malaysia (PRM)
7. Gabungan Menuntut Royalti ®
8. Asalkan Bukan Umno (ABU)
9. Gerakan Mansuhkan ISA (GMI)
10. Jaringan Rakyat Tertindas (JERIT)
11. Gabungan Tanah Rakyat (TANAH)
12. Kill The Bill
13. Malaysian For Beng Hock
14. Mama Bersih
15. Kelab Bangsar Utama
16. Radio Bangsar Utama (RABU)
17. Mahasiswa Keadilan Malaysia
18. Kumpulan Aktivis Mahasiswa Indipenden (KAMI)
19. Malaysia Youth and Students Democratic Movement (DEMA)
20. Indipendent Student Front (INSTEF)
21. University Malaya Association Of New Youth (UMANY)
22.Gabungan NGO Pengerang
23. Angkatan Pembebasan Bangsa (APB)
24.Kumpulan Aktivis Mahasiswa Independent (KAMI)
25. Pro-Mahasiswa Nasional Aksi Mahasiswa Peduli (AKSI)
26. Pertubuhan Kemajuan dan Kebajikan Rakyat Selangor (Pro-Rakyat)
27. Angkatan Rakyat Muda (ARM)
28. Anak Bangsa Malaysia (SABM)
29. Unit Ehsan Malaysia
30. Anwar Ibrahim Club (AIC)
31. Agent of Change (AoC)
32. Revolusi Anak Muda Malaysia (RAMM)
33. Kami Anak Muda Menentang Umno (K.A.M.U)
34. Gagasan Majlis Permuafakatan Rakyat Terengganu (MAMPAT)
35. Pertubuhan Kebajikan Rakyat Perlis (PKR Perlis)
36. Kumpulan Aktivis Media Independent (KAMI)
?37. Gabungan NGO Kelantan
38. Solidariti Anak Bachok Daratkan Minyak (CABAR)
39. Majlis Permuafakatan Kampung Warisan KL/Selangor (MUAFAKAT)
40. Gabungan Profesional Menuntut Royalti, Hak Pendaratan Minyak dan Gas Ke Kelantan (ROYALTI)
41. Gabungan Menuntut Royalti Terengganu (R Terengganu)
42. Selamatkan Teluk Rubiah
43. Selamatkan Pantai Port Dickson
44. Selamatkan Pasar Payang
45. Jaringan Sepadu Rakyat Malaysia (SEPADU)
46. Angkatan Warga Aman Malaysia (Warga AMAN)
47. Malaysian Indians Progressive Association (MIPAS)
48. Federation of Malaysian Indian Organisation (PRIMA)
49. Malaysian Indians Transformation Action Team (MITRA)
50. Angkatan Nasional India Malaysia (AGNI)
51. Comuniti Front (CF) Seremban

MITI ENGAGEMENT BEGINS WITH PROMISE OF LIMITED DISCLOSURE
Posted: 17 Jun 2013 01:20 AM PDT
Last Friday, 14 June 2013, we met with MITI representatives led by Dato Rebecca Sta Maria, the KSU of the Ministry as well as one of the lead negotiators of the Trans-Pacific Partnership Agreement (TPPA), Mr J. Jaya Siri.
Our meeting was timely, just a day after the failed dialogue between MITI and Majlis Tindakan Ekonomi Melayu (MTEM). While we appreciate the overtures made by MITI in engaging stakeholders, especially Opposition Parliamentarians and leaders, we remain unsatisfied by the fact that the TPPA is not subject to parliamentary oversight.
This being the case, Malaysians face limitations in ensuring that our socio-economic rights and the nation's sovereignty are respected and protected. The TPPA's overarching legal framework could render domestic laws subservient and put multinational corporations on stronger if not equal footing as governments.
Many issues were brought to the fore during the discussion, ranging from sovereign control over financial markets, investor-state dispute settlements (ISDS), pharmaceutical and medical prices, as well as the general anxiety over the lack of transparency and information the TPP negotiating texts. During the dialogue that lasted an hour, the following concerns were raised in particular:
1) Cost-Benefit Analysis (CBA) on the TPPA
MITI admitted the existence of a CBA paper presented to the Cabinet in 2010. i.e. the 2010 United Nations Development Programme (UNDP) report that was commissioned by the Government of Malaysia. On a slightly positive note, we were promised a copy of the said report in two weeks' time although stripped off its negotiating positions.
2) Financial Controls and Freedom
MITI gave verbal assurance of no loss nor dilution of Malaysia's sovereign rights to implement economic and capital control policies by signing the TPPA. However, the recent disclosure of leaked Australian negotiation text on capital controls, and the existence of such a provision in other FTAs that the United States has signed, compels us to remain highly vigilant of the possibility of losing such rights.
Additionally, there has been no information at all on the framework on managing the exploitation, exploration and development of the respective countries' hydrocarbon and mineral resources. It would be pertinent to allay the fears as not to allow a foreign corporation to forcefully insist on its right to extract our natural resources based on the terms of the TPPA.
3) Costs of Healthcare

With regards to intellectual property rights to pharmaceuticals, we were informed by MITI and the Health Ministry that they aim to find a balance between promoting innovation and ensuring access to affordable medicines. We were also informed that discussions are still on-going and no related provisions have reached the text-based phase.
The twofold issues of proprietary data and extension of exclusivity period are very important for Malaysia –we must not lose out access in the price versus access debate.
Indeed, time is running out since the next round of TPPA negotiations will be held in July 2013 and the final text is expected to conclude in October 2013. Whilst we understand that some level of secrecy is required in all detailed trade negotiations, we are alarmed by overall lack of engagement with the general public on the fundamental principles of sovereignty and socio-economic impact of the TPPA.
We applaud MITI for organizing the meeting and promising to let us have a censored copy of the UNDP report in two weeks' time. However, we remain fully committed to fighting for greater transparency and more public engagement vis-à-vis all aspects of the TPPA. In the interest of the public at large, we would urge a bipartisan Parliamentary Select Committee on TPPA be set up immediately. We are mindful of the necessary confidentiality that comes with such a framework and will strive to fulfill our responsibility as custodians of the people's trust. We also remind the government of Malaysia that the people's trust is predicated on transparent and responsible disclosure.
Pakatan Rakyat Leadership
NURUL IZZAH ANWAR
CHARLES SANTIAGO
WONG CHEN
DR DZULKEFLY AHMAD
Speaker dan Demokrasi Berparlimen ala Westminster
Posted: 17 Jun 2013 01:25 AM PDT
Sidang Dewan Rakyat ke-13 yang akan bermula bersidang pada 24 Jun 2013 nanti bakal menyaksi pertarungan pertama antara Pakatan Rakyat (PR) dan Barisan Nasional (BN). Pakatan Rakyat (PR) sebulat suara bersetuju menamakan mantan Hakim Mahkamah Persekutuan, Datuk Abdul Kadir Sulaiman sebagai Yang Dipertua (Speaker) Dewan Rakyat bagi Parlimen Ketiga Belas. Menurut Ahli Parlimen Permatang
mari ramai2 pakat pakai tanah liat basah kat muka...
Posted: 17 Jun 2013 12:48 AM PDT
hey uollssss ..puas menyalak suruh akak update?...
saje je aku lambat update... hahahahah
ok ok.. ari ni akak nak cerita satu benda yang tengah gila orang semua dok pakai...
dulu semua anak beranak..nenek atok..mak orang dok meragut rumpai laut...sekarang apa dah jadi..diam je..rumpai laut dah abis di tuai ke... xde pun nampak die hard fan rumpai laut ni duk menyalak suruh semua orang duk ragut rumpai..ke masing2 dah cantek sebab ragut rumpai laut....
ha lagi satu.. perut ko dah leper lom guna inchloss tu.. eh senyap gak ke... semua duk pakat lempar dalam longkang ke... ke masing2 kurus cam lidi dan x perlukan inchloss lagi..hotmama guna inchloss ni..akak kagum sbb dia dapat kekalkan bentuk empat segi dia...ujung2 inchloss lempar kan ke longkakng...dia duk berdiet dengan benda lain...
and then akak rasa lah semua orang kat malaysia ni semua dah putih cam snow white..sebab tukang jual produk putih dah makin senyap..akak rasa semua terlebih makan sbb tu trus jadi putih lutsinar gamaknya...
hari ni akak nak cakap tentang produk yang duk semua lah duk post kat fb... thanaka powder .
Sejak daru dulu wanita burma asli tenah gunakan thanaka ni untuk cantekkan wajah mereka.. oleh itu semua orang pakat nak jadi orang burma hari ni...
benda cam rupa tanah liat ni rupanya di buat dr batang pokok..rupa tanah liat je akak tengok...sebelum ni kalau korang perasan orang myanmar keje kat malaysia banyak pakai benda ni..pagi2 buta gi keje semua dok colet kat muka...tinggal pakai cawat pakai tombak trus leh pi memburu...
kat malaysia ni...ko suruh je artis cantek pakai and jadi duta..konpom laku...sekarang ni bila nora danish pakai produk ni trus makcik2 yang mengangankan wajah mereka persis nora danish.. tu yang trus dok borong berkodi2... dalam hati sambil berkata
" moga moga aku cantek cam nora danish"...
sebelum ni nora danish x pkai benda ni muka dia azab ke...buruk ke..dia mmg cantek...dia tepek rempah kari babas kat muka pun dia tetap cantek cik kak oi...
yang kita tidak...nampak je orang cantek pakai trus beli..manakan pula ngan beli berguni2 jadi ejen...post lak kat fb x henti2 jaja muka nora danish.. bagus berniaga ni...akak bukan cakap produk ni x bagus..tapi sikap sengal ubi segelintir yang beranggapan produk2 cam ni dapat mencantekkan mereka...
kat malaysia ni..kayu ko celop kan tepong.. ko amik artis comel jadi duta... kompom 6 bulan lepas tu ko leh pakai mercedes lah gamaknya...betul..akak x tipu...senang benor percaya...
akak rasa lepas ni akak nak amik tahi ayam lencong..aku pek cantek2 ..suruh sapa2 cantek jadi duta ..post kat pesbook bagai nak gila..akak yakin konpom laku...
yang nyakitkan hati tu sibuk duk tayang kat pestbook... anak emak laki semua dok tenyeh bedak rupa tanah liat basah ni kat muka sambil buat muka kiut....
" yes thanaka i dah sampai..ready to transform like Nora danish"
... sedih ko kak.. nak je aku mandikan ko ngan air yasin agak terang skit hati tu tu..
ko x tau produk mahal apa yang nora danish tu pakai jadi lawa..sah sah dia adik beradik mmg lawa secara azali..ni muka ko yang kusam berjelaga ni berharap pakai bedak thanaka ni trus cantek berseri.
mungkin ada betul benda ni bagus..sebb tu orang myanmar ni duk pakai benda ni kan...nak tau pi tanya orang myanmar sana...
ok lah malas nak komen panjang2..kang ejen bedak tanah liat basah ni naik hantu lak baca...terpulang pada sesiapa yang nak pakai... itu hak anda...
banyak lagi petua orang kampung kita yang leh buat kita jadi cantek...suci kan hati.. jaga pemakanan dan banyakkan minum air masak.. konpom cantek...
akhir kata...kalau muka ko dah bisa cam bisa ular tedung selar..ko sapu 3 tahun Thanaka ni pun muka ko tetap bisa ok.. tetap pandang cermin retak.. sekian terima kasih.
..
အလဲဗင္း၊ ဦးသန္းထြဋ္ေအာင္ႏွင့္ ျမန္မာ့ မီဒီယာေရွ႕ေရး (အပိုင္း ၁)
Posted: 17 Jun 2013 12:26 AM PDT
ဇြန္- ၁၆၊၂၀၁၃ M-Media ေဆာင္းပါးရွင္ -ဒန္ျငာရွိန္း MMedia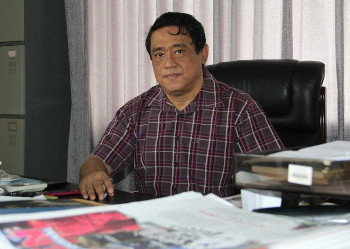 မၾကာေသးမီက WAN-IFRA မွ ေရႊကေလာင္ဆုခ်ီးျမႇင့္ခံခဲ့ရသည့္ ဦးသန္းထြတ္ေအာင္ဦးေဆာင္ေသာ အလဲဗင္းမီဒီယာဂရုသည္ ျမန္မာျပည္ရွိ ႏိုင္ငံသား မြတ္စလင္မ္မ်ားအား တဘက္သတ္အျမင္ေစာင္းမွဳ ၾကီးထြားလာႏိုင္ေစေသာ သတင္းေခါင္းစဥ္မ်ားျဖင့္ မေလးေရာက္ျမန္မာမ်ားသတင္းကို ပံုၾကီးခ်ဲ႕ကား ခဲ့ပါသည္။ (အပိုင္း ၂ တြင္ အေသးစိတ္ ေဖာ္ျပပါမည္။)
ဦးသန္းထြတ္ေအာင္၏ အဆုိပါ ေရႊကေလာင္ဆုႏွင့္ ပတ္သက္၍ ေဟာင္ေကာင္ အေျခဆုိက္ asiasentinel.com မွ ျပင္းျပင္းထန္ထန္ေ၀ဖန္ခဲ့ၿပီး ၄င္းအေနျဖင့္ မြတ္စလင္မ္မ်ား အေရးတြင္ ကမၻာ့သက္တမ္းရင့္ မီဒီယာၾကီးမ်ားကိုပင္ စြပ္စြဲေ၀ဖန္ေရးသားခဲ့ေၾကာင္း၊ မ်က္ျမင္သက္ေသ ဓာတ္ပံုမ်ားျဖင့္ တင္ျပသည့္ မြတ္စလင္ဆန္႔က်င္အၾကမ္းဖက္ သတင္းမ်ားကို ၄င္းက ျငင္းဆန္ခဲ့ေၾကာင္း စသျဖင့္ ေရးသားေဖာ္ျပထားပါသည္။
ထို asiasentinel.com ပါသတင္းကို ျမန္မာတိုင္းမ္စ္ အဂၤလိပ္ပိုင္းမွလည္း ထပ္မံတင္ဆက္ခဲ့ပါသည္။ ယင္းသို႔ေသာ အျငင္းပြားဖြယ္ရာေကာင္းလွသည့္ ဦးသန္းထြတ္ေအာင္၏ အလဲဗင္း ဂရုမွာ မၾကာေသးမီကလည္း ျပည္တြင္း ျငိမ္းခ်မ္းေရး အခမ္းအနားတစ္ခုတြင္ မတူကြဲျပားျခင္းအား လက္သင့္ခံႏိုင္ျခင္းမရွိဘဲ အရည္အခ်င္းမျပည့္မီသည့္ သတင္းေထာက္တဦး ကို ေစလႊတ္ကာ သတင္းရယူခဲ့ပါသည္။ ထို႔ေနာက္ ျမန္မာျပည္ရွိ ႏိုင္ငံသား မြတ္စလင္မ်ားအား အထင္အျမင္လြဲမွားသြားေစႏိုင္ေသာ အေရးအသားမ်ား၊ သတင္းေခါင္းစဥ္မ်ားျဖင့္ သတင္းကို က်င့္၀တ္စည္းကမ္းေဖာက္ဖ်က္ကာ ၄င္းတို႔၏ ေန့စဥ္ထုတ္သတင္း စာ၌ ေဖာ္ျပခဲ့ပါသည္။
ဦးသန္းထြတ္ေအာင္အတြက္ မီဒီယာသည္ ေငြေလာ
ေတာင္ကုတ္အေရးမွ စတင္၍ ျမန္မာႏိုင္ငံသား မြတ္စလင္မ်ားအား ႏိုင္ငံႏွင့္အ၀ွမ္း ဆက္တိုက္အၾကမ္းဖက္ခဲ့ၾကရာ၌ အလဲဗင္းမီဒီယာက မည္သို႔ေသာ သတင္းအေသးစိတ္ကိုမွ တင္ျပခဲ့ျခင္းမရွိပါ။ ထုိ႔ျပင္ မိတၳီလာ၊ ဥကၠံ၊ လားရွိဳးစသည့္ျမိဳ႕မ်ား၌ အၾကမ္းဖက္ခံခဲ့ရေသာ အျပစ္မဲ့ နိုင္ငံသားမြတ္စလင္မ်ားအေရးကိုလည္း အခ်ိန္ႏွင့္တေျပးညီ သတင္းထုတ္ျပန္ျခင္းမ်ိဳး မရွိခဲ့သလို ထင္ေယာင္ထင္မွားျဖစ္ေစမည့္ သတင္းေရးသားမွဳမ်ားကိုသာ ျပဳလုပ္ခဲ့ပါသည္။
အလဲဗင္းေဘာလံုးဂ်ာနယ္သည္ ယခင္ကတည္းက ျမန္မာေဘာလံုး အသင္း၏ စာရိတၱပိုင္းႏွင့္ စည္းကမ္းပိုင္းဆိုင္ရာ ခြ်တ္ယြင္းမွဳမ်ားကို အမွန္အတိုင္း မေထာက္ျပဘဲ ျမန္မာပရိသတ္ အမ်ားစု၏ သေဘာဆႏၵႏွင့္ လိုက္ေလ်ာညီေထြျဖစ္ေစရန္ သတင္းကို ထိန္ခ်န္ဖံုးကြယ္၍ တင္ျပခဲ့ျခင္းမ်ိဳး ရွိခဲ့ဖူးပါသည္။
၂၀၀၄ တိုက္ဂါးဖလားေဘာလံုးျပိဳင္ပြဲ၀င္ျမန္မာအသင္းမွာ အလြန္ဆိုး၀ါးသည့္ စည္းကမ္းေဖာက္ဖ်က္ျခင္းမ်ိဳးရွိခဲ့ေသာ္လည္း အလဲဗင္းဂရုက မိမိတို႔ဂ်ာနယ္ ေရာင္းေကာင္းေရးကိုသာ ေရွးရွဳၿပီး ၀ါရင့္ကေလာင္ရွင္ ဦးခင္ေမာင္ေထြး (ပ်ဥ္းမနား) ကို အသံုးခ်ကာ အျခားအားကစားဂ်ာနယ္မ်ား၏ အမွန္ေထာက္ျပ ေရးသားခဲ့မွဳမ်ားကို အတိုက္အခံျပဳ ေရးသားျခင္းမ်ိဳး ရွိခဲ့ဖူးပါသည္။
ထို႔ေၾကာင့္ ျမန္မာျပည္သူအမ်ားစု၏ စိတ္သေဘာထားကိုလုိက္၍ တင္ျပေလ့ရွိသည့္ အလဲဗင္းဂရုမွာ ယခုျမန္မာႏိုင္ငံသားမြတ္စလင္မ်ား အေရးတြင္လည္း "ဘူး" တလံုးေဆာင္ကာ ႏိုင္ငံတကာ မီဒီယာမ်ားကို မ်က္ႏွာေျပာင္တိုက္ ရွံဳ႕ခ်ခဲ့ျခင္း၏ အေျဖမွာ ရွင္းရွင္းလင္းလင္း ေပၚထြက္လာပါေတာ့သည္။
ႏုိင္ငံတကာႏွင့္ ကိုယ္ေတြ႔ဆက္ဆံရသည့္ အေျခအေနမွ ဦးသန္းထြတ္ေအာင္
ရခုိင္အေရးမွ စတင္ကာ ျမန္မာျပည္တြင္း ႏိုင္ငံသားမြတ္စလင္မ်ားအား အမ်ားအျမင္တြင္ သို႔ေလာသို႔ေလာအေျခအေနသို႔ အဓိကတြန္းပို႔ခဲ့သည့္ အလဲဗင္းဥေသွ်ာင္ ဦးသန္းထြတ္ေအာင္ႏွင့္ ၄င္း၏မီဒီယာသည္ WAN-IFRA မွ ေရႊကေလာင္ဆု မရရွိေသးမီ ကာလမ်ားအထိ မြတ္စလင္ဆန္႔က်င္အၾကမ္းဖက္မွဳမ်ားအား မည္သို႔ေသာသံုးသပ္ခ်က္တစံုတရာကိုမွ ပရိသတ္အား ခ်ျပခဲ့ျခင္းမ်ိဳးမရွိခဲ့ပါ။
သို႔ေသာ္ WAN-IFRA မွ ဆုခ်ီးျမႇင့္ျခင္းမခံရမီ တစ္လခန္႔အလိုတြင္မူ ျမန္မာႏိုင္ငံသား မြတ္စလင္မ်ားအား အံ့အားသင့္ေစမည့္ "ေခတ္သစ္ငရဲေခြးၾကီးလြတ္ေနသည္" ဆုိသည့္ သတင္းေဆာင္းပါးမ်ိဳးကို စတင္ေရးသားခဲ့ပါသည္။ ထိုသို႔ ေရးသားမွဳမွာ ႏုိင္ငံတကာတြင္ လူေတာတိုးဖို႔ အရံသင့္ျပင္ဆင္သည့္ သေဘာမ်ိဳး သက္ေရာက္ေနပါသည္။
ဘန္ေကာက္တြင္ က်င္းပသည့္ WAN-IFRA ၏ ဆုေပးပြဲတြင္မူ ဦးသန္းထြတ္ေအာင္က ၄င္းတို႔အေနျဖင့္ အခက္အခဲမ်ားအၾကား၌ မီဒီယာ လုပ္ငန္းေဆာင္တာမ်ား လုပ္ေဆာင္ေနရေၾကာင္းျဖင့္ "ဒီမိုကေရစီ" ဟူေသာ စကားလံုးကို သံုးကာ ႏုိင္ငံတကာဂ်ာနယ္လစ္မ်ား၊ အယ္ဒီတာမ်ားကို ရင္ဆိုင္သြားခဲ့ပါသည္။
သို႔ေသာ္ မီဒီယာသမားအျဖစ္ အသက္ေမြး၀မ္းေၾကာင္းျပဳေနေသာ ဦးသန္းထြတ္ေအာင္မွာ WAN-IFRA ေရႊကေလာင္ဆုရရွိေၾကာင္း အေၾကာင္းၾကားျခင္းမခံရခင္ အထိ ျမန္မာနာမည္ၾကီး ဂါးဒီးယန္းဦးစိန္၀င္း ဆြတ္ခူးခဲ့ဖူးသည့္ WAN-IFRA ဆုအား မိမိ မသိရွိခဲ့ေၾကာင္းကိုမူ ႏုိင္ငံတကာပရိသတ္အား၀န္ခံခဲ့ရပါသည္။
ေခတ္သစ္ငရဲေခြးၾကီးလြတ္ေနသည္ေဆာင္းပါးေၾကာင့္ ၄င္းတို႔မီဒီယာ၀က္ဘ္ဆိုက္ အတိုက္ခိုက္ခံခဲ့ရသည္ဟူေသာ အလဲဗင္း၏ သတင္းတြင္မူ ယခင္ျမန္မာနိုင္ငံသား အစၥလာမ္ဘာသာ၀င္မ်ား၏ ၀က္ဘ္ဆိုက္မ်ားနွင့္ အျခားအစၥလာမ္ဘာသာ၀င္ အမ်ားဆံုးေနထုိင္သည့္ ႏိုင္ငံမ်ား၏ အစိုးရ၀က္ဘ္ဆိုက္မ်ားအား မင္းမဲ့စရိုက္ဆန္စြာ တိုက္ခိုက္ခဲ့ဖူးသည့္ BHG ဟက္ကာ ဂရုအား ျပစ္တင္ေ၀ဖန္ခဲ့ပါသည္။
ထို ဘလင့္ဟက္ကာဂရု (BHG) မွာ သက္တမ္းရင့္ မင္းမဲ့စရိုက္ဆန္ေသာ ဟက္ကာအဖြဲ႔ အျဖစ္ ရပ္တည္ေနသည္မွာ ၾကာျမင့္ေနၿပီျဖစ္ေသာ္လည္း ဦးသန္းထြတ္ေအာင္၏ ၀က္ဘ္ဆိုက္ကို အတိုက္ခိုက္ခံရမွ ျပည္သူအတြက္ သတင္းျဖစ္ခဲ့ရပါေတာ့သည္။
ဘလင့္ဟက္ကာဂရု (BHG) က အလဲဗင္း အဂၤလိပ္ပိုင္းကို တိုက္ခိုက္ခဲ့သည့္ သတင္းတြင္ ဦးသန္းထြတ္ေအာင္က "ဘန္ေကာက္မွာ က်င္းပတဲ့ (၆၅)ႀကိမ္ေျမာက္ ကမၻာ့သတင္းစာမ်ား ညီလာခံမွာ ႏိုင္ငံတကာ မီဒီယာေတြကို ျမန္မာႏုိင္ငံက ပဋိပကၡ ကိစၥေတြနဲ႔ ပတ္သက္ၿပီး ဗုဒၶဘာသာ၀င္ေတြနဲ႔ မြတ္စလင္ေတြ အၾကားက အမုန္းတရားေၾကာင့္ မဟုတ္ဘဲ ေနာက္ကြယ္က ဖန္တီးလႈံ႕ေဆာ္ မႈေတြေၾကာင့္ဆိုတာ ရွင္းျပခဲ့ပါတယ္။ " ဟု ထည့္သြင္းေရးသားထားပါသည္။
ဤသို႔ေသာ စကားလံုးမ်ားမွာ WAN-IFRA ေရႊကေလာင္ဆုအတြက္ နုိင္ငံတကာအား ရင္ဆိုင္ဖို႔ အေရာင္ေျပာင္းခဲ့ေသာ အလဲဗင္းမီဒီယာဂရု၏ ကေလာင္ အၾကမ္းဖက္မွဳ အရည္ျခံဳ စကားလံုးမ်ားအျဖစ္သာ သံုးသပ္ၾကရမည္ ျဖစ္ပါသည္။
အပိုင္း(၂) ဆက္လက္ေဖာ္ျပပါမည္။