---
Posted: 29 Jun 2013 08:46 AM PDT
Posted: 29 Jun 2013 08:48 AM PDT
"EDL Leader Robinson Arrested Amid Tribute Bid," from Sky News, June 29
Posted: 29 Jun 2013 08:33 AM PDT
Two English Defence League leaders have been arrested in London as they attempted to march to Woolwich, where Drummer Lee Rigby was killed in May. Tommy Robinson shouted, "You are enforcing Sharia law", at officers who held him on suspicion of obstructing police as he tried to enter the London borough of Tower Hamlets. The EDL had previously announced plans to walk through part of the capital before gathering outside Woolwich Barracks, near where Drummer Rigby was hacked to death in broad daylight.

But the Metropolitan Police put conditions on the march which demanded that it ended at Old Palace Yard, opposite the House of Lords. As well as planning to lay flowers in memory of Drummer Rigby, Mr Robinson and EDL co-leader Kevin Carroll, who was also arrested, were walking to raise money for a young girl fighting cancer. Sky Correspondent Tom Parmenter said: "They'd walked six miles when they were arrested outside Aldgate East underground station. "Police had been tracking the walk across London and had regularly spoken to them about their route.

"The EDL leaders had been warned not to go past a large mosque in east London or enter the borough of Tower Hamlets. "As they approached the boundary of the borough they were warned again by officers who told them they may be arrested." Mr Robinson and Mr Carroll repeatedly asked if they would actually be arrested before another man approached the pair and assaulted Mr Carroll. Parmenter said: "As police officers tried to deal with the situation the EDL leaders continued to walk forward and then a senior policewoman placed the pair under arrest."

The pair, who were wearing T-shirts bearing the words "support our troops", were led into a police van in handcuffs while complaining about their treatment. Two other men were arrested over the assault. At the start of the walk in Hyde Park, Mr Robinson had said: "There's two of us doing a charity walk. "They're (police) saying it (Tower Hamlets) is a Muslim area but to me there is no Muslim area, there are just areas of my capital city that if I have to walk from A to B then you have to walk through." "Obviously I don't want to get arrested and I don't want to get in trouble so we'll cross that bridge when we get to it." 

Scotland Yard said the conditions were imposed because of fears the march and the gathering would result in "serious public disorder" and it had warned that a breach would lead to arrest. The Met said it had attempted to work with the EDL to facilitate the march and gathering and offered them two alternative routes that avoided the London Borough of Tower Hamlets, which is home to the East London Mosque. In a statement posted on the EDL's Twitter feed, the group said: "Tommy Robinson & Kev Caroll arrested for obstructing the police and carted off."

The statement claimed "negotiations" for their release were taking place and that the pair still hoped to walk to Woolwich to lay flowers. Mr Robinson earlier replied to a tweet asking him what weather he was expecting for Saturday: "ill be in a cell by lunch time so won't matter. Ha ha" The EDL campaigns against what it says is the spread of radical Islam, but it has been accused of Islamophobia and previous rallies have ended in clashes with anti-fascist groups.
"Anti-fascist groups," i.e., fascist thugs.
Earlier this week, two American political activists who founded an anti-Muslim group were banned by the Home Secretary from entering the UK following reports they were to attend this weekend's march.
Calling us "anti-Muslim" is like calling foes of the Nazis "anti-German."
Pamela Geller and Robert Spencer, who set up Stop Islamisation of America and run the website Jihad Watch, have been forbidden from entering the country on the grounds their presence would "not be conducive to the public good". Hat tip: Jihad Watch
U.S. prison warden: Muslim prayers led to gangs
Posted: 29 Jun 2013 07:58 AM PDT
The Associated Press
The warden of a U.S. prison holding high-risk inmates, including American Taliban fighter John Walker Lindh, insisted Thursday that he was obeying a court order to allow daily group prayer by permitting inmates to pray in pairs within their cells. 
Warden John Oliver told a federal judge that when the prison allowed group prayer earlier this year, Muslim inmates formed gangs and bullied other prisoners.
Lindh attended the hearing by video conference from the high-security unit that houses him and about 40 other inmates, including several convicted on terror charges. 
A U.S. District judge ruled in January that barring Lindh and his fellow Muslims from engaging in daily group prayer violates a 1993 law that bans the government from curtailing religious speech without showing a compelling interest. The judge issued an order demanding that the prison allow group prayer.
Ken Falk, legal director of the American Civil Liberties Union of Indiana, filed a motion in Lindh's name in April asking the judge to find the prison warden in contempt. The motion argued that the warden allowed only three group prayers per day in a single room, instead of the five that Lindh said his faith requires. 
But Oliver said he believed he was balancing inmates' religious rights with the security needs of the special unit that severely restricts inmates' communications with the outside world.
The prison converted a recreation room into a "meditation room" to accommodate group prayer in March, but Muslim inmates, who make up more than half of the 42 people in the unit, used the inmate-led prayers to set up a prison gang, Oliver said.
Some Muslim inmates "shunned" others by banning them from the prayer group, controlled access to food and claimed the room as their territory by leaving prayer rugs and other religious items there. Oliver said this intimidated inmates of other faiths and deterred them from using the room. 
In response to what Oliver called "gang activity," he changed the rules in May, barring use of the meditation room for group prayer and limiting prayer to two inmates per single cell, which he said was more secure.
The judge said she will rule later on whether the prison has violated her order.
U.S. troops captured Lindh in Afghanistan in 2001. Lindh, who was raised Catholic, was accused of fighting for the Taliban to help them build a pure Islamic state. In 2002, he pleaded guilty to supplying services to the now-defunct Taliban government and carrying explosives for them. He is eligible for release from prison in 2019.
Syrian Residents Decry 'Occupa-tion' by Islamist 'Liberators'
Posted: 29 Jun 2013 06:35 AM PDT
Execution of 3 Shiites in Raqqa in revenge for killing of Sunnis in other towns.
Raqqa a city of about 500,000 has been in rebel hands for almost four months now but there are already conflicts between many remaining in the city who want a civil and democratic state and the Islamists who want an Islamic caliphate. The struggle between the two viewpoints is shown in a battle of slogans:"A slogan painted in small letters on a school wall reads, "We the people want Syria to be a civil, democratic state." Scrawled next to it in bigger letters is the response from an unknown Islamic hard-liner: "The laws of the civil state contradict the Islamic caliphate." " The rebellion's three star flag is not seen in Raqqa but black Islamic banners.
Moderates have been trying to struggle with the radical's grip on power. They have managed to establish a number of newspapers and other media outlets and also public forums trying to educate the residents about democracy and the right to vote. This seems rather surprising to me in that one would think that the militants would immediately crack down on the media and the forums. Perhaps they wish to win the support of the public.
There are two radical factions that took control of Raqqa, the Al Nusra Front many of whom are foreign fighters. The group is on the US terror lists and has links to Al Qaeda. The other group is Ahrar al-Sham which is Syrian but with a jihadist ideology as well. Many opponents of the Assad regime have been distressed by the extreme brutality of the fighters. In the days after seizing the city, the brigades brought captured security forces into a public square, killed them, and drove their bodies through the streets. Later in May, Al Nusra fighters brought three Shiite Muslims into the city's main square and shot them in the back of the head. The group announced that the shootings were in retaliation for killing of Sunni Muslims in other nearby cities. The statement was made in the name of the Islamic State of Iraq and the Levant referring to a merger announced in April. Appended videos show two sets of executions in Raqqa.
Mohammed Shoeib, who witnessed the events, said that the Shiites were executed in front of everyone, young and old. For several hours no one dared approach the bodies to take them away for burial. The nurse, Saado, who finally did, was assassinated the next day. Other observers confirmed Shoeib's account. Shoeib complained:"Executing people in this manner in a public square and killing Saado was unacceptable and turned many people against them. Our revolution was against oppression and we don't accept such actions under any circumstance." Activists erected a mourning tent where the three were executed. For three days, they received mourners who expressed their anger at the execution. The al-Nusra front were not pleased but did not remove the demonstration.
The rebels were greeted with great enthusiasm when they first took the city. But the Assad regime still mounts air attacks that cause considerable damage. Schools in the city are closed and Syrian government employees have no paychecks coming in. The residents complain that the Syrian National Coalition pays little attention to the needs of Raqqa. An anonymous owner of a sweets shop said:"The opposition groups are too busy fighting each other. They have not sent anyone to ask about our needs, nor is there any contact with any of them."
A spokesperson for the Coalition said the city was receiving aid but that it was unmarked and so people might no be aware of it. He also said that air strikes around the city made delivering aid difficult. The rebel groups do their best to administer the city. They set up bakeries, and try to keep the electricity and water going and also distribute the aid they receive from international agencies. Many residents praise the militant groups and support them more than the opposition in exile. The militants are there trying to make things function at least. However, the owner of the sweets shop said:"Raqqa has not been liberated. It has been re-occupied by the Islamists." All Voices
(Egypt) Two Years of Hate Speech Paid Off with Lynchings...
Posted: 29 Jun 2013 06:27 AM PDT
Human Rights Watch expressed alarm on Thursday over the lynching of four Shiites by a mob led by an Egyptian Salafi Sheikh in Greater Cairo on Sunday. The rights group said the violence in the village of Abu Musallim comes after months of anti-Shiite rhetoric.
"The brutal sectarian lynching of four Shiites comes after two years of hate speech against the minority religious group, which the Muslim Brotherhood condoned and at times participated in," said Joe Stork, deputy Middle East director at HRW. "This horrific incident in Abu Musallim shows that Shiite can't even gather in the privacy of their homes to celebrate and heightens fear of persecution among all religious minorities in Egypt."
The ruling Muslim Brotherhood, which President Mohammed Mursi is affiliated with, were involved in propagating the hate speech, HRW warned, adding the Egyptian government must "recognize that Shiites in Egypt are at risk," and should "take protective measures to ensure their protection and equal rights. Al-Azhar, Egypt's main center of Islamic learning and authority, also "publicly called for an end to the spread of Shiite Islam in Egypt."
The police failed to intervene and halt the mob attack on a house of Shiites, who were gathered for a religious feast, they arrived three hours late, HRW said, adding the investigation ordered by Mursi needs to examine their failure. "Mursi should state unequivocally that Shiites in Egypt have the right to practice their religious beliefs without fear and intimidation, something he has failed to do."
အလဲဗင္းမွ အမ္-မီဒီယာအား အစြန္းေရာက္ဟု အေျခအျမစ္မဲ့တိုက္ခိုက္မွဳအေပၚ အမ္-မီဒီယာ၏ တုန္႔ျပန္ခ်က္
Posted: 29 Jun 2013 06:44 AM PDT
M-Media ၂၀၁၃ ဇြန္လ ၂၉ ရက္
၂၇ ရက္ဇြန္လ၊ ၂၀၁၃ ထုတ္အလဲဗင္းမီဒီယာသည္ သတင္းစာမ်က္ႏွာဖံုးေဆာင္းပါး "Facebook ေပၚတြင္ ဘာသာေရးေသြးထိုး လွဳံေဆာ္မွဳမ်ား လုပ္ေဆာင္ေနသည့္ လူထုေမာင္ကာဠဳ၊ We Love True ကဲ့သို႔ပင္ မြတ္စလင္အစြန္းေရာက္မ်ားလည္း ရွိေန" ဟူေသာ ေခါင္းစဥ္ျဖင့္ တင္ျပခဲ့သည္။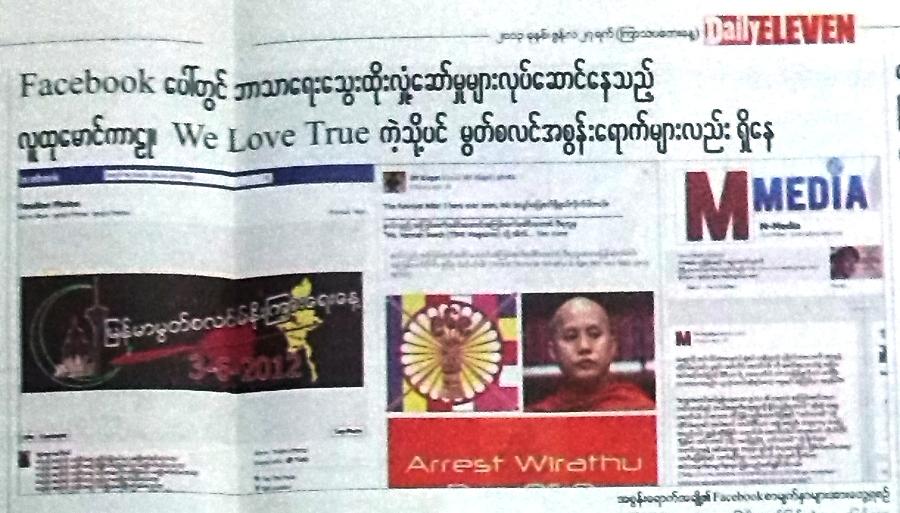 ယင္းေဆာင္းပါးတြင္ အလဲဗင္းက M-Media အား အစြန္းေရာက္မြတ္စလင္မီဒီယာအျဖစ္ ေဖာ္ျပခဲ့သည္မွာ အေျခအျမစ္မရွိေသာ တိုက္ခိုက္ ေရးသား မွဳ သာျဖစ္ေၾကာင္း အမ္-မီဒီယာအၾကီးတန္း တာ၀န္ခံမ်ားက ဆိုၿပီး အလဲဗင္း၏ က်င့္၀တ္သိကၡာႏွင့္ အစြန္းေရာက္ (extremist) စကားလံုး အေပၚ သေဘာေပါက္ နားလည္မွဳအား ေမးခြန္းထုတ္ ေ၀ဖန္လိုက္သည္။
"extremist ဆိုတဲ့ေနရာမွာ ဒီစာလံုးကို အသံုးျပဳဖို႔ အင္မတန္မွ စဥ္းစားသင့္တယ္။ ကိုယ့္ကိုကိုယ္ ပရိုမီဒီယာၾကီးလို႔ ေကြ်းေၾကာ္ၿပီး Asia News Network က သူတို႔သတင္းတင္တာေလာက္ကို ကမၻာကပဲ သူတို႔ေရးတာ လက္ခံသေယာင္ ေအာင္ပြဲခံခဲ့တာမ်ိဳး ရွိတဲ့ အလဲဗင္းက ဒီလိုမ်ိဳး စကားလံုး သံုးတာ ထူးျခားတယ္လို႔ေတာ့ မထင္ဘူး။ ဥပမာေပါ့ဗ်ာ၊ အေမရိကန္သံအမတ္ၾကီးကိုယ္တိုင္ ဦးစီးဦးေဆာင္ျပဳၿပီးေတာ့ လုပ္တဲ့ အင္တာဖိတ္ (Interfaith) ေဆြးေႏြးပြဲ သတင္းကို အေလးျပဳေဖာ္ျပၿပီးေတာ့ ျပည္သူကို ပညာေပး၊ အသိေပးလုပ္သင့္တဲ့အခ်ိန္မွာေပါ့၊ သူတို႔က Father Land နဲ႔ ေဒၚ၀ါ၀ါ၀င္းေရႊအမွဳနဲ႔ အလုပ္မ်ားေနတယ္။ ဒါမ်ိဳးက hate incitement ဆိုတဲ့ သြယ္၀ိုက္ၿပီးေတာ့ ကို၀ါဒျဖန္႔တဲ့ နည္းမ်ိဳး၊ မြတ္စလင္ပိုင္ ကုမၸဏီတစ္ခုပါ၀င္ပတ္သတ္ေနတာနဲ႔တင္ သူတို႔အတြက္ တျခားအေရးၾကီးသတင္းေတြကို လ်စ္လ်ဴရွဳလုိက္တဲ့ လုပ္ရပ္မ်ိဳးပဲ။ ဒါေၾကာင့္ ဒီလိုမီဒီယာရဲ႕ extremist ဆိုျပီး တုိက္ခိုက္ခ်က္ကို ကြ်န္ေတာ္တို႔ဘာမွ အေလးေပး ဂရုစိုက္ဖို႔ မလိုဘူးလို႔ ထင္ပါတယ္။" ဟု အမ္မီဒီယာမွ တာ၀န္ရွိသူတစ္ဦးက ဆိုသည္။
အလဲဗင္းအေနျဖင့္ အင္တာဖိတ္ေဆြးေႏြးပြဲသတင္းမ်ားကို အေရးတယူလုပ္ေဖာ္ျပျခင္းမ်ိဳးမရွိေသာ္လည္း အစၥလာမ္သာသနာ၀င္မ်ားပိုင္ဆိုင္သည့္ စီးပြားေရး လုပ္ငန္းမ်ားႏွင့္ အစိုးရ၀န္ထမ္းမ်ားအၾကား မသမာမွဳမ်ားရွိေနသည္ဟူသည့္ သတင္းစသည္မ်ားကိုသာ အသားေပး ေဖာ္ျပေလ့ရွိ သည္။ ေဒးလီးအလဲဗင္း သတင္းစာ၏ ဇြန္လ ၂၅ ရက္ေန႔ထုတ္ အယ္ဒီတာအာေဘာ္တြင္ အမွန္တရားပင္ျဖစ္လင့္ကစား လူအမ်ားစု၏ သေဘာထားကို လုိက္၍ သတင္းတင္ျပရေလ့ ရွိ သည္ဟူေသာ သေဘာကို သြယ္၀ိုက္စြာ ေရးသားေဖာ္ျပထားပါေသးသည္။ ယင္းနွင့္ပတ္သတ္၍ အမ္မီဒီယာ အၾကီးတန္းသတင္းသံုးသပ္သူတစ္ဦး က ေအာက္ပါအတိုင္း မွတ္ခ်က္ေပးပါသည္။
"M-Media ရဲ႕ အင္တာဖိတ္ tolerance နဲ႔ပတ္သတ္ၿပီး တင္တဲ့သတင္းကို ဦးရဲထြဋ္လို ႏိုင္ငံေတာ္အဆင့္တာ၀န္ရွိသူေတြကိုယ္တိုင္ ရွယ္တဲ့အေျခ အေန မ်ိဳးမွာ ရွိပါတယ္။ ကြ်န္ေတာ္တို႔ မီဒီယာရဲ႕ အဓိကရည္ရြယ္ရင္းကလည္း ဒါပါပဲ။ ေနာက္ၿပီးေတာ့ ကြ်န္ေတာ္တို႔ မီဒီယာရဲ႕ အဂၤလိပ္ပိုင္းကို ဘန္ေကာက္ ေအပီ ဗ်ဴရို ခ်ိဖ္ (AP Bureau Chief) ျဖစ္တဲ့ Todd Pitman လို လူမ်ိဳးက like လုပ္ထားတာမ်ိဳးလည္း ရွိပါတယ္။ အလဲဗင္းရဲ႕ စြပ္စြဲခ်က္နဲ႔ ပတ္သက္လို႔ကေတာ့ဗ်ာ၊ ရွင္းပါတယ္၊ ဒါမ်ိဳးကို အရင္က အာဏာရွင္အစိုးရလုပ္ခဲ့တာပဲ၊ ဥပေဒေတြ ခ်ျပျပီး ျခိမ္းေျခာက္မယ္။ ဥပမာ – အရင္ exile media ေတြျဖစ္တဲ့ ဧရာ၀တီတို႔ စတဲ့ မီဒီယာေတြကို အာဏာရွင္စစ္အစိုးရက ဒီလိုပဲ ျခိမ္းေျခာက္ၿပီး မိစၦာမီဒီယာေတြလို႔ သမုတ္ခဲ့တာပဲ။ အခု အလဲဗင္းကလည္း အာဏာရွင္ပံုစံဖမ္းၿပီး ျခိမ္းေျခာက္တာမ်ိဳးပါ။ အမွန္ေရး သတင္းေထာက္ေတြကိုေတာင္ ရန္မူေနတဲ့တိုင္းျပည္မွာဗ်ာ၊ လူမ်ားစုနဲ႔ ဆန္႔က်င္တဲ့အမွန္ကို တင္ျပရင္ေတာ့ ဒါ အစြန္းေရာက္လို႔ ေျပာခံရမွာပဲ။ သူတို႔ကိုယ္သူတို႔မွ မသံုးသပ္ ႏုိင္ၾကတာကိုး။ "
အလဲဗင္းမီဒီယာအေနျဖင့္ အမ္-မီဒီယာအား အစြန္းေရာက္အျဖစ္ တိုက္ခိုက္ ေရးသားထားရာ၌ အဓိကအကိုးအကားအျဖစ္ "လမ္း ၂၀ ထိပ္တြင္ သကၤန္း ၀တ္သံဃာေတာ္တစ္ပါးမွ ရိုက္ႏွက္ရန္စမွဳျဖစ္ပြား" ဟူသည့္ မမွန္သတင္းကို အသံုးခ်ထားပါသည္။ ယင္းႏွင့္ပတ္သတ္၍ အမ္-မီဒီယာအၾကီးတန္း သတင္းေထာက္တစ္ဦးက -
"ဒါက သူတို႔အဆင့္အတန္း ဘယ္ေလာက္ရွိသလဲဆိုတာ ေဖာ္ျပလုိက္တာေပါ့။ အမ္-မီဒီယာမွာ အဲလိုေခါင္းစဥ္နဲ႔ ဘယ္တုန္းကမွ သတင္းမတင္ခဲ့ ဘူးဆိုတာ အတည္ျပဳေျပာခ်င္တယ္။ သူတို႔မွာ အမ္မီဒီယာကို အစြန္းေရာက္လို႔ စြပ္စြဲဖို႔ကို သက္ေသ ဒီေလာက္ထိရွားေန တယ္ဆိုတာ ေပၚလြင္ေန တယ္။ မရိုမသားလုပ္ တယ္ဆိုတာလည္း ေပၚလြင္ေနတယ္။ အခ်က္အလက္ေတြကို ထင္ေရာင္ထင္မွားျဖစ္ေအာင္လိမ္တယ္ဆိုတာ ထင္ရွားေနတယ္။ ဘာေႀကာင့္လဲဆိုရင္ သူတို ့ ေျပာသလို လမ္း ၂၀ ထိပ္မွာျဖစ္ခဲ့တာမွ မဟုတ္ဘဲ၊ က်ေနာ္တို႔ သတင္းက လမ္း ၁၂၀ ထိပ္လို႔ အတိအက် မွန္မွန္ကန္ကန္ ကို ေရးထားတာကိုး ဗ်။" ဟု ေျပာျပခဲ့ပါသည္။ ၄င္းကပင္ ဆက္လက္၍ "၂၇ ရက္ေန႔ထုတ္ သတင္းစာမွာေတာ့ အမ္မီဒီယာ အစြန္းေရာက္ေၾကာင္း လမ္း ၂၀ သတင္းမွား ကို ေထာက္ၿပီး စြပ္စြဲတယ္။ အဲ – အဂၤလိပ္ပိုင္းမွာက်ေတာ့ဗ်ာ၊ အမ္မီဒီယာအစြန္းေရာက္ေၾကာင္း စြပ္စြဲၿပီး အေၾကာင္းျပခ်က္ျဖစ္တဲ့ လမ္း ၂၀ ကိစၥ ထည့္မေရးဘူး။ ဒါကို က်ေနာ္တို႔ ဘယ္လိုေျပာမလဲ၊ ကေလးကလားဆန္တဲ့ လုပ္ရပ္ထက္ကို ဒါကိုက အစြန္းေရာက္ေျခာက္တြန္းတဲ့ လုပ္ရပ္ျဖစ္ေန ၿပီ။ ႏုိင္ငံတကာကိုက် တစ္မ်ိဳးလိမ္၊ ျပည္တြင္းကိုက် တစ္မ်ိဳးလိမ္ဆိုေတာ့ မေကာင္းဘူးေပါ့ဗ်ာ။" ဟု ျဖည့္စြက္ေျပာၾကားခဲ့သည္။
အလဲဗင္း၏ သတင္းစာတြင္ အစြန္းေရာက္စြပ္စြဲခ်က္အား ေရးသားထားပံု
Link => အလဲဗင္းမီဒီယာ၏ အမ္-မီဒီယာအေပၚစြပ္စြဲခ်က္ အဂၤလိပ္ပိုင္းသတင္း
အမ္-မီဒီယာမွာ ဇြန္ ၁၉ ရက္ေန႔စြဲျဖင့္ တင္ျပခဲ့သည့္ လမ္း ၁၂၀ ထိပ္ျဖစ္ရပ္ သတင္းမွန္
(Link => http://www.m-mediagroup.com/news/15026)
ထုိ႔ျပင္ အလဲဗင္းမီဒီယာ၏ မီဒီယာမဆန္ေသာလုပ္ရပ္ကို စင္ကာပူအေျခဆိုက္ စီေဂ်တစ္ဦးျဖစ္သည့္ Chan Myae Khine ကလည္း Facebook ေပၚတြင္ ေအာက္ပါ အတုိင္း ေထာက္ျပထားပါသည္။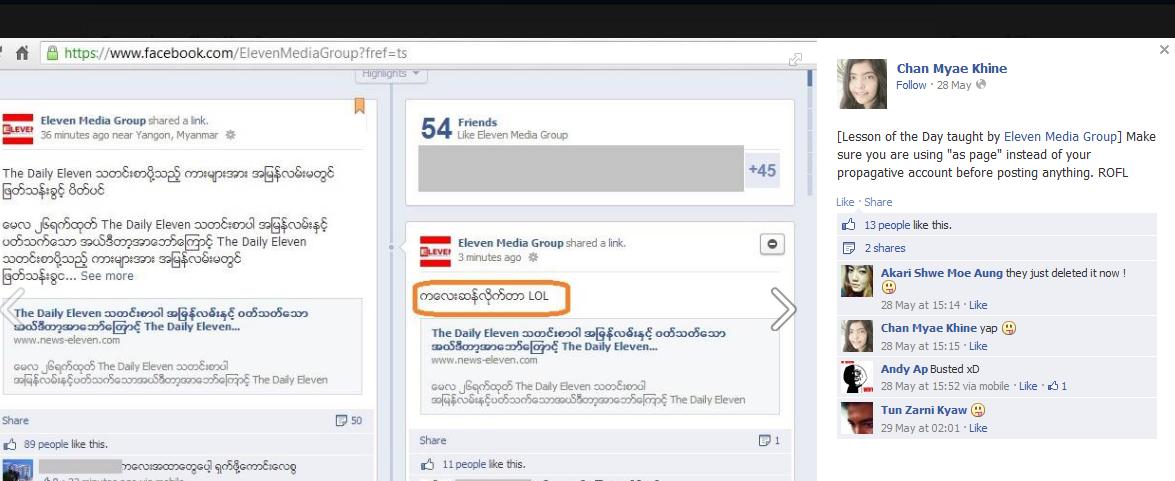 အမ္-မီဒီယာ၏ ျပည္တြင္းသတင္းဆိုင္ရာ အၾကီးတန္းအယ္ဒီတာတစ္ဦးကို ၂၇ ရက္ေန႔ထုတ္ အလဲဗင္းသတင္းႏွင့္ပတ္သတ္၍ဆက္သြယ္ေမးျမန္းခဲ့ ရာေအာက္ ပါအတိုင္း ေျဖၾကားခဲ့ပါသည္။
"၂၇-ရက္ေန႔ အလဲဗင္းက M-Media က အစြန္းေရာက္လုိ႔ သုံးတာကုိ ဘယ္လုိျမင္သလဲဆုိက ပြင့္ပြင့္လင္းလင္း ေျပာရရင္ အလဲဗင္းကုိ ရခိုင္ သီတာေထြးကိစၥစျဖစ္ကတည္းက အယုံအၾကည္မ႐ွိတာဆုိေတာ့ ႏိုင္ငံရဲ႕ နာမည္ႀကီးမီဒီယာတစ္ခုက အခုလုိ တစ္ျခားမီဒီယာငယ္ေတြကုိ အစြန္းေရာက္လုိ႔ေျပာတာဟာ တျခားမီဒီယာ (M-Media)ကုိ တိုက္႐ိုက္တိုက္ခိုက္မႈ တစ္ခုပါ။ ၿပီးေတာ့ M-Media က အခုထက္ထိ အမွန္တရားေတြ ကုိပဲ တင္ျပေနပါတယ္။ အဲဒါေၾကာင့္ အလဲဗင္းရဲ႕ လြဲမွားမႈေတြ၊ လုိအပ္ခ်က္ေတြကုိ ေထာက္ၿပီးတင္ျပခဲ့တာေတြ ရွိခဲ့လုိ႔ အဲဒီအေပၚ မီဒီယာက်င့္၀တ္ကုိ မေစာင့္ထိန္းပဲ အညွိဳးအေတးနဲ႔ အပုတ္ခ်တယ္လုိ႔ ျမင္ပါတယ္။ ကုိယ့္မီဒီယာကေန အစြန္းေရာက္မႈေတြ၊ ဘာသာေရးပဋိပကၡေတြျဖစ္ေအာင္ လုပ္ေဆာင္ေနတာကုိ ျပန္လည္သုံးသပ္ျခင္းမျပဳပဲ တဘက္မွာ အမွန္တရားကုိ တင္ျပေနတဲ့ မီဒီယာေတြကုိ အစြန္းေရာက္လုိ႔သုံးႏႈန္းလိုက္တာဟာ အလဲဗင္းရဲ႕ခံယူခ်က္က ပဋိပကၡေတြျဖစ္ေအာင္ လႈံ႕ေဆာ္ေနတယ္ဆုိတာ ပုိၿပီးျမင္သာသြားပါတယ္။ ေခ်ပခ်င္တယ္ဆုိတာထက္ အျဖစ္သင့္ဆုံးတစ္ ခုေျပာခ်င္တာကေတာ့ အလဲဗင္းအေနနဲ႔ ကုိယ့္မီဒီယာက ဘယ္လုိပုံစံ ဘယ္အေျခအေနေရာက္ၿပီလဲဆုိတာ သုံးသပ္ေစခ်င္ပါတယ္။ ကုိယ့္စီးပြားအက်ဳိး အျမတ္ေၾကာင့္ပဲျဖစ္ျဖစ္၊ တျခားကေန ေထာက္ပ့ံမႈေတြ ရခ်င္လုိ႔ပဲျဖစ္ျဖစ္၊ ေနာက္ကြယ္က ႀကိဳးကိုင္ေနသူ႐ွိလုိ႔ ေ႔ရွကေန ကျပအသုံးေတာ္ခံေနတာ ပဲျဖစ္ျဖစ္ အဲဒါေတြကေန ရပ္တန္႔သင့္ၿပီလုိ႔ ေျပာခ်င္တယ္။ ကုိယ့္ႏိုင္ငံကို တကယ္ခ်စ္ျမတ္ႏိုးၿပီး ႏိုင္ငံရဲ႕ စတုတၳမ႑ိဳင္ပီသေအာင္ ရပ္တည္မယ္ဆုိ ရင္ ႏိုင္ငံေတာ္ရဲ႕ တည္ၿငိမ္ေအးခ်မ္းမႈကုိ ပ်က္ျပား ေလာင္ကၽြမ္းေစမယ့္ ေလာင္စာေတြထည့္ျခင္း၊ မီးေမႊးျခင္းကုိ မလုပ္ဖုိ႔ အလဲဗင္းကုိ ေျပာခ်င္တယ္။"
တဖန္ အမ္-မီဒီယာ၏ အုပ္ခ်ဳပ္ေရးႏွင့္ အတိုင္ပင္ခံျဖစ္သူ တစ္ဦးကမူ -
"က်ေနာ့တစ္ေယာက္တည္းအျမင္အရေတာ့ အလဲဗင္းမီဒီယာဂ႐ုပ္အေနနဲ႕ သူအပါအဝင္ ျပည္တြင္းမီဒီယာေတြကို M-media ကေန ေထာက္ျပေျပာ ဆိုတာေလ့ရွိတာေၾကာင့္ ကိုယ့္အေနအထား ကိုယ့္အမွားေတြကို လူသိမွာစိုးလို႕ Localized Press License ကိုသံုးခ်ျပီး လူထုကို စာအဆိပ္သြပ္ လိုက္တာလို႕ပဲ ျမင္ပါတယ္… မီဒီယာအခ်င္းခ်င္း စြပ္စြဲမႈအေပၚ ခ်က္နဲ႕လက္နဲ႕စြတ္စြဲေထာက္ျပတာမ်ိဳးကို လက္ခံႏိုင္ေပမဲ့ အခ်က္အလက္လည္းမမွန္ တိက်တဲ့ေထာက္ျပေဝဖန္မႈမ်ိဳးမပါပဲ လက္လြတ္စပါယ္စြတ္စြဲေျပာဆိုတာကေတာ့ အလဲဗင္းမီဒီယာဂ႐ုပ္အေနနဲ႕ ကိုယ့္မီဒီယာဂ႐ုပ္တစ္ခုလုံးရဲ့ သိကၡာနဲ႕က်င့္ဝတ္ ကို နင္းခ်ျပတာပဲဗ်… မယံုရင္ M-media အေနနဲ႕လည္း အလဲဗင္းအပါအဝင္ ျပည္တြင္းကမီဒီယာေတြရဲ့ သတင္းတင္ဆက္ မႈ ေဆာင္းပါးတင္ဆက္မႈ အမွားအယြင္းေတြရွိရင္ ေထာက္ျပခဲ့တာပဲ… ဒါေပမဲ့ မီဒီယာတစ္ခုခုကိုေတာ့ အစြန္းေရာက္လိုမ်ိဳး အၾကမ္းဖက္လံႈ႕ေဆာ္မီဒီယာလိုမ်ိဳး စြတ္စြဲျပီး အပုပ္ခ်တာ မ်ိဳး လုပ္တာမရွိခဲ့ဘူး… ေျပာရရင္ေတာ့ အဲ့ဒီအပိုင္းမ်ိဳးအထိ လိုရာစြဲျပီး တန္ျပန္ထိုးႏွက္မယ္ဆိုရင္ လုပ္လို႕ရတာေတြ အလဲဗင္းမီဒီယာဂ႐ုပ္ရဲ့ လုပ္ရပ္ေတြ ထဲမွာ အမ်ားၾကီးထုတ္ျပႏိုင္ေပမဲ့ မီဒီယာဆိုတာ အစြန္း၂ဖက္ကိုေရွာင္ျပီး ျဖစ္သင့္ျဖစ္ထိုက္တာကို လူထုကိုခ်ျပရတာမ်ိဳးလို႕ပဲ ထင္ျမင္ယူဆထားေတာ့ M-media အေနနဲ႕ ေထာက္ျပေဝဖန္မႈထက္ပိုျပီး စြတ္စြဲတိုက္ခိုက္တာမ်ိဳးေရွာင္ၾကဥ္တယ္… "
အမ္-မီဒီယာ၏ ပင္တိုင္ေဆာင္းပါးရွင္တစ္ဦးကလည္း သူ႔အေနျဖင့္ "တစ္ကမၻာလံုးႏွင့္ ၁၁" ဟူေသာ ေခါင္းစဥ္ျဖင့္ တစ္ကမၻာလံုးက ျမန္မာျပည္တြင္ အစြန္းေရာက္မွဳရွိေနၿပီး ယင္းကို ျမန္မာျပည္တြင္း မီဒီယာမ်ား ၄င္းတို႔ႏွင့္ ဘာသာတူအစြန္းေရာက္လူမ်ားစုၾကီးကို မ်က္ကြယ္ျပဳ ေထာက္ပံ့ေပးေနသည့္ အေၾကာင္း ကမၻာ့မီဒီယာၾကီးမ်ား ၏ ေထာက္ျပေျပာဆိုမွဳမ်ား ကို အေထာက္အထားမ်ားျဖင့္ ေရးသားေဖာ္ျပသြားမည္ျဖစ္ေၾကာင္း၊ ပရိသတ္မ်ား အေနျဖင့္ ေစာင့္ေမွ်ာ္ဖတ္ရွဳေစ လိုေၾကာင္း မွတ္ ခ်က္ေပး ေျပာၾကားပါသည္။
အခ်ဳပ္ဆိုရပါမူ အမ္-မီဒီယာအေနျဖင့္ အလဲဗင္း၏ အစြန္းေရာက္ဟူေသာ အေျခအျမစ္မဲ့စြပ္စြဲခ်က္အား ျပင္းထန္စြာ ရွံဳ႕ခ်ကန္႔ကြက္ေၾကာင္း ေဖာ္ျပအပ္ ပါသည္။
Any Jewish Temple - first or second - on the Temple Mount in Jerusalem is a lie
Posted: 29 Jun 2013 06:22 AM PDT
The Al Aqsa Foundation issued a statement today saying that every piece of evidence that points to the existence of any Jewish Temple - first or second - on the Temple Mount in Jerusalem is a lie. 

The group says that it rejects these myths and confirma the Islamic and Arab character of the area.
According to the statement, they say that all the experts in the Israel Antiquities Authority who claim they found stones and jewelry and seals in the area of ​​the Al Aqsa Mosque, claiming they are archaeological discoveries of Jewish objects dating from the time of the First and Second Temples, are lying, since there were no Temples. The group said "these lies and myths are a figment of the imagination," and said that international and even Israeli archaeologists have confirmed through research and vigorous exploration that was scientific and objective that there were no structures in the area that were Jewish temples.
They stressed that Arabs Canaanites were the first residents who built Jerusalem, with Jebusites and Amorites living there for thousands of years, while "the Jews" were there for only a short time.
The Al-Aqsa Foundation says that the Israel Antiquities Authority and other groups are trying desperately to fabricate history of Hebrew presence in Jerusalem, through the myths and legends of the alleged phantom structure in the place of or under the Al Aqsa Mosque, to the point of wanting to demolish the mosque. The groups asserted that the real history is clear and it has proved beyond a doubt that the al-Aqsa mosque is for Muslims alone,
The foundation even says that relics found by sifting through the tons of debris that were criminally excavated from the site by the Islamic Waqf and dumped outside Jerusalem were really not from the Temple area at all. 

They even illustrate the article with some of these lying relics.
After 1967, archaeologists found that the wall extended all the way around the Temple Mount and is part of the city wall near the Lion's Gate. Thus, the Western Wall is not the only remaining part of the Temple Mount. Currently, Robinson's Arch (named after American Edward Robinson) remains as the beginning of an arch that spanned the gap between the top of the platform and the higher ground farther away. This had been used by the priests as an entrance. Commoners had entered through the still-extant, but now plugged, gates on the southern side which led through beautiful colonnades to the top of the platform. One of these colonnades is still extant and reachable through the Temple Mount. The Southern wall was designed as a grand entrance. Recent archeological digs have found thousands of mikvehs (ceremonial bathtubs) for the ritual purification of the worshipers, as well as a grand stairway leading to the now blocked entrance. Inside the walls, the platform was supported by a series of vaulted archways, now called Solomon's Stables, which still exist and whose current renovation by the Waqf is extremely controversial. The temple itself was constructed of imported white marble that gleamed in the daylight.
On September 25, 2007 Yuval Baruch, archaeologist with the Israeli Antiquities Authority announced the discovery of a quarry compound which may have provided King Herod with the stones to build his Temple on the Temple Mount. Coins, pottery and an iron stake found proved the date of the quarrying to be about 19 BCE. Archaeologist Ehud Netzer confirmed that the large outlines of the stone cuts is evidence that it was a massive public project worked by hundreds of slaves.[30]
Moreover, there is a significant and growing collection of artifacts that verify specific parts of the Biblical narrative. 

But I guess they are all fake too. 

Also, as I learned during 

my tour of the Temple Mount earlier this year

, the Al Aqsa Mosque itself was constructed on top of the Herodian extensions of the Mount, meaning that the Temple was not underneath it - the Temple was where the Dome of the Rock is. 

Hat tip: EoZ
Egypt had replaced Waziristan as the main centre for the training of militants
Posted: 29 Jun 2013 06:15 AM PDT
German Intelligence: Egypt Now World's Main Jihadist Training Ground
A new German intelligence report presented on Tuesday showed that Egypt had replaced Waziristan as the main centre for the training of militants. German intelligence voiced concern over the growing number of ultra-conservative Islamic extremists in the country, some of whom are swelling militant ranks abroad, while warning of an increasingly violent German extreme right. Hat tip:EoZ 
Geller and Spencer don't go round calling for people to be killed, or preaching genocide or holy war
Posted: 29 Jun 2013 06:13 AM PDT
Melanie Phillips: 
The British government's jihad against free thought
What an extraordinary thing to say. Geller and Spencer don't go round calling for people to be killed, or preaching genocide or holy war, or spreading conspiracy theories and lies to foment hysteria and hatred. But when he was chairman of the Parliamentary Labour Party, Tony Lloyd led a delegation to Gaza to meet leaders of Hamas, where he was photographed fraternally shaking the hand of the Hamas leader Ismail Haniyeh. So Lloyd is happy to meet with a group whose leader has called Israel a 'cancerous tumour that must be removed'  EoZ
Posted: 29 Jun 2013 06:09 AM PDT
Myanmar's Emerging Radical Voices against the State-led "Buddhist" Hate Campaign
Posted: 29 Jun 2013 06:14 AM PDT
Myanmar's Emerging Radical Voices against the State-led "Buddhist" Hate Campaign  June 28, 2013
Could view the video at Dr. Zarni's blog.
Some of the radical (read truthful) voices in Burmese society are beginning to speak out LOUD AND CLEAR against the existing dictatorship with Thein Sein as a puppet president, 28 June 2013
his name is U Htay Nyunt, and obviously connected to the NLD as he said towards the end he was responsible for Daw Aung San Suu Kyi's security during an upcountry trip to the old British colonial hill station/summer resort and now the Army town Pyin Oo Lwin or May Myo.
The gist of his remarks:
1) stop wasting your time looking for circumstantial evidence and fringe groups. we see the big elephant in the room that is responsible for all the instabilities. Are you still looking for elephant footprints with a pair of magnifying glasses
2) Who was behind Kyauk-ni-maw Crisis? (the story of an alleged rape and murder of a Buddhist woman which triggered the Rohingya cleansing and anti-Muslim pogroms)
3) in the past 20- plus years these men have misruled the country and did everything they wanted . they want to carry out doing what they have been doing.
They were forced to make changes, and finally had to bring in Aung San Suu Kyi and NLD into the legal parliamentary politics. Now they want to keep repeating the same old politics. You know she survived the government-orchestrated mob assassination at Depayin in 2003.
4) why did one of the alleged criminals committed suicide in detention? was it possible?
5) why was no one brought to justice for the brutal mob slaughter of 10 Muslim pilgrims in Tauk-goke in a country the regime would happily jail those who fail to make an overnight visit to a friend's house or stay overnight at a place other than he or she is registered?
6) my wife is from Sittwe. The Rohingya and the Rakhine were not hating each other or fighting nastily with one another. So, who is whipping up this Rohingya-Rakhine conflict??
7) one of the business of Buddhist Sangha or monks is to help with the Buddhist lay public's spiritual quest and liberation.
the Monks should not concern themselves with matters that have nothing to do with them.
Marriage is about individual choices, and let anyone marry whoever they want. It's not your or monks' business.
8) this is no longer the era of "General Council of Buddhist Association (GCBA), a remotely political Buddhist cultural association that became a nucleus of the later nationalist movements). No longer the time for regulating footwear in pagodas and temples.
9). one of the problems of our country now is people are not minding their business (implying monks are NOT minding their business of spreading loving kindness, teaching the Buddhist public to regulate and curb their greed, anger and delusions).
10) as long as the existing dictatorship in Myanmar (under a new disguise) is allowed to exist the people will never be able to lead a free and democratic political life.
11) be reminded we are a country with the Myanmar Ayatolla Khomeina in the background.
12) let me tell you something. I was in charge of her security matters during her upcountry trip to PyinOoLwin or May Myo.
Here is what I found in one place (please show the slides):
"People's Force Office" or Swan-ar-Shin in Kyauk Hse area, senior dictator Than Shwe's birthplace
The pictures of People's Force office show the office is still in operation.
So, you think we have a country under any rule of law?
(Swan-Ar-Shin is the notorious Brown Shirt, organized as the violent thuggish wing of the Union Solidarity and Development Association (now the ruling party) with its ultimate patron Than Shwe).
DVB Reporter Bangali Buddhist Dental Surgeon Dr. Maung Maung Myint's views on ေရႊညဝါဆရာေတာ္တရား
Posted: 29 Jun 2013 06:11 AM PDT
ေနာ္ေဝးအေျခစိုက္ DVB သတင္းေထာက္ Bangali Buddhist Dental Surgeon Dr.Maung Maung Myint (Pathein) ရဲ့ ေရႊညဝါဆရာေတာ္တရားအေပၚမွာ သူ႕ရဲ့အျမင္ Comment
Maung Maung Myint>> တပည့္ေတာ္ဟာ ေထရဝါဒကို ႏွစ္ႏွစ္ကာကာ ျမတ္ႏိုး ကိုးကြယ္သူ ျဖစ္ပါတယ္။ ရခိုင္ အေရးအခင္းနဲ႔ မိတၳီလာ အေရးအခင္းေတြမွာ ေထရဝါဒ ဘုန္းႀကီးမ်ား ဒုတ္ေတြ ဓါးေတြကိုင္ၿပီး ရမ္းကားခဲ့တာကို ဗီဒီယိုေတြမွာ ျမင္ရလို႔ မယုံခ်င္ေပမယ့္ ဝမ္းနည္းစြာ ယံုခဲ့ရပါတယ္ ဘုရား။ ရခိုင္မွာ ဆိုရင္ ဘုန္းႀကီးတပါးက မူဆလင္ အမ်ိဳးသား တေယာက္ရဲ့ ေခါင္းကို ေသေလာက္ေအာင္ ေသေသခ်ာခ်ာ ခ်ိန္တြယ္႐ိုက္ႏွက္ေနတာကို ေၾကကြဲစြာ ျမင္ခဲ့ရပါတယ္ ဘုရား။ ဒီပံုရိပ္ေတြ ကမၻာကို ပ်ံ႕သြားခဲ့တာေၾကာင့္ ဗုဒၶဘာသာဝင္ေတြ သိကၡာက်ခဲ့ရပါတယ္ ဘုရား။
ဒါေၾကာင့္လည္း ဒလိုင္လားမားက သူေျပာသင့္တဲ့ စကားကို ေျပာသင့္တဲ့ အခ်ိန္မွာ ေျပာခဲ့ျခင္းသာ ျဖစ္တယ္လို႔ တပည့္ေတာ္ ယူဆပါတယ္ ဘုရား။ ဒီျဖစ္ရပ္အတြက္ အရွင္ဘုရား အေနနဲ႔ ဒလိုင္လားမားကို ျပင္းျပင္းထန္ထန္ တုန္႔ျပန္ ေျပာဆိုျခင္းဟာ မသင့္ေလ်ာ္ပါ ဘုရား။ အျပစ္တင္ျခင္းတင္ရင္ေတာင္မွ အၾကမ္းဖက္မူကို က်ဴးလြန္ခဲ့တဲ့ ျမန္မာဘုန္းႀကီးေတြကို ျဖစ္ေစ အဲဒီကိုယ္ေတာ္ေတြကို မဆုံးမႏိုင္ခဲ့တဲ့ အရွင္ဘုရား အပါအဝင္ ၾသဇာေညာင္းတဲ့ ဆရာသမားေတြကိုသာ အျပစ္တင္သင့္ေၾကာင္းပါ ဘုရား။ FB of Ko Myo
YYTS:မိထၳီလာမွာ နမ္ဗီယား ေရာက္တုန္း က "နံျပားဆိုတာဘယ္ေကာင္လဲကြ" လို႕ ႐ိုင္း႐ိုင္းစိုင္းစိုင္း ေျပာတာ အဲဒီလူ (ေရႊညဝါ) ပါ။
My comment: Once Shwe Nyu War was released, he was not allowed to go back to his Monastery. Actually other political monks released from prison are even not allowed to enter back the monk-hood. Shwe Nya War was once seen almost crying like a lady because he was not allowed to stay in any monastery. To get back into lime-light, he together with U Wira Thu even contact the Myanmar Muslim Youths for peace meetings. But later they made an about turn after meeting ex-generals and actively participated in anti-Muslim Terrorist 969 Group and slowly became the leaders of that group.
Lt. Col. Hayib, 45, is from the Jezreel Valley
Posted: 29 Jun 2013 06:05 AM PDT
A Different Set of Eyes: Bedouin Muslim Officer on Journey to Poland
Lt. Col. Hayib, 45, is from the Jezreel Valley, where he lives with his wife and five children. He has been serving in the IDF for 28 years and is currently an officer in the tracking unit of the IDF's Edom Division, charged with obstructing illegal breaches of Israel's southern border regions.

 
The Witnesses in Uniform program brings IDF soldiers and officers to Poland to commemorate and learn about the Holocaust, providing them with the unique opportunity to experience Poland in an entirely new light – in a way Jews from previous generations perhaps never imagined: proud and in uniform. Hat tip: EoZ
Bishop says bill on minors' conversion a litmus test by Terence Netto
Posted: 29 Jun 2013 08:21 AM PDT
From Malaysiakini

Catholic Bishop Paul Tan Chee Ing described the proposed amendments to the Administration of Islamic Law (Federal Territories) on the conversion of minors as a "flagrant violation of the equality of persons' provisions of the federal constitution". The amendments, tabled in Parliament earlier this week, by dint of the use of the word 'parent' instead of 'parents', makes it legal for a father or a mother, or guardian, to convert children below the age of 18 to a religion of proprietary choice.
Bishop Paul Tan wondered if there was not an element of diabolism in the intent of the framers of the amendment who he said knew that the word 'parent' can also be construed as a collective noun like 'crowd', and hence, when push comes to shove, they could limit its meaning to one of the two progenitors - father or mother - or a guardian.

"This shows the mala fide of the framers of the amendments," he argued.

"I understand this amendment contravenes a decision by the cabinet announced on April 23, 2009 that a single parent cannot convert a minor," said the head of the Catholic Church in the Melaka-Johor diocese.

"If so, this would not be the first time that the cabinet is overridden by civil service functionaries - the main drivers of creeping Islamisation in this country," charged the Jesuit-trained prelate. "Truly, it does not come as a surprise to me that a cabinet undertaking on a matter of this importance has been shown to be not worth the vapor it takes to avow it," expatiated the bishop.

Commitment to gender equality

"What would come as a surprise is the way the vote would go in Parliament because there are legislators in the House who have signed on to gender equality in their election manifestoes," he reminded. "The proposed amendment clearly violates this commitment to gender equality so that the way those signatories vote on this bill would be a test of whether they will match deed to word. Failure to do so would expose them for the imposters they are," warned the bishop.

He also noted that the proposed amendments provide for the Syariah High Court to determine whether a person is a Muslim or not. "This power to determine whether a person is Muslim or not has always resided with the civil High Court so that the proposed shifting of this onus on to an Islamic jurisdiction is further evidence of not just creeping, but galloping Islamisation which is a matter of the gravest concern to non-Muslims," he argued.

Bishop Paul Tan warned that the vote on the bill will be a litmus test of the fidelity to the Federal Constitution of legislators elected to Malaysia's 13th Parliament. "I fully support the Malaysian Consultative Congress of Buddhism, Christianity, Hinduism, Sikhism and Taoism and the Christian Federation of Malaysian in their opposition to this bill," he said.
[VIDEO] Piala FA: Kelantan 1 JDT 0 [updated]
Posted: 29 Jun 2013 10:11 AM PDT
P
asukan Kelantan sekali lagi bergelar juara Piala FA Malaysia sekaligus memepertahankan trofi yang di julang musim lalu selepas menewaskan pasukan Johor Darul Takzim (Johor DT) 1-0 pada aksi akhir di Stadium Nasional Bukit Jalil, Sabtu.
Kemenangan tipis pasukan Kelantan itu hasil jaringan Mohd Nor Farhan pada minit ke-16 permainan.

Babak pertama perlawanan menyaksikan skuad kendalian Bojan Hodak itu menguasai permainan dengan beberapa serangan berbahaya yang dilakukan Ahmad Fakri Shaarani serta Dickson Nwakaeme.

Skuad Singa Selatan yang dikemudi Fandi Ahmad gagal memecah benteng pertahanan Kelantan di mana penyerang sensasinya, Nor Shahrul Idlan Talaha dikawal rapi rakan-rakan bekas pasukannya itu.

Sementara itu, kelibat Safee Sali hanya dapat dilihat sehingga minit ke-17 sahaja selepas dikeluarkan kerana kecederaan dan diganti dengan Leonel George Nunez.

Selain itu, separuh masa kedua menyaksikan permainan seimbang Dengan kedua-dua pasukan cuba melakukan serangan balas.

Tiada perubahan pada babak kedua dengan menyaksikan keputusan kekal 1-0 sehingga tamat permainan.

Lebih manis, kapten pasukan Kelantan, Badhri Radzi atau Piya dipilih sebagai Pemain Terbaik perlawanan.

Aksi ini merupakan kali keempat Kelantan mara ke final selepas tahun 2009, 2011 dan 2012.

Manakala Johor kali terakhir menjulang trofi ini pada tahun 1998.

Aksi perlawanan akhir ini disaksikan 87,000 penonton yang memenuhi Stadium Nasional Bukit Jalil.

Senarai Pemain:

KELANTAN

Azizi Matt Rose, Obinna Nwaneri, Nik Shahrul Azim, Mohd Shakir Shaari, Ahmad Fakri Saarani, Mohd Norfarhan, Mohd Daudsu, Badhri Radzi, Khairul Fahmi Che Mat, Dickson Nwakaeme, Zairul Fitree

JOHOR DARUL TAKZIM

Muhd Al-Hafiz, Kamarul Afiq, Agmad Tharmini, Safiq Rahim, Norshahrul Idlan Talaha, Andre Francisco, Nurl Azwan Roya, Mohd Safee Sali, Muhd Nazri Ahmad, Jasazrin Jamaluddin, Mohd Farid Ramli



GOL KELANTAN JARINGAN MOHD NORFARHAN







Kelihatan para penyokong pasukan Kkelantan bersujud syukur di atas kemenangan pasukan mereka
Mandela's daughter slams media coverage of father's illness | Connect Asia | ABC Radio Australia
Posted: 29 Jun 2013 05:50 AM PDT
Mandela's daughter slams media coverage of father's illness | Connect Asia | ABC Radio Australia

PET+BLOGSPOT is the ONLINE BLOG of the Malaysian Animal-Assisted Therapy for the Disabled and Elderly Association or Petpositive.Our stories are CURRENT, ACCURATE and RELIABLE. We offer both local and foreign news on animals, disability and the elderly. PET+BLOGSPOT was first established in October
Counting..Eager To Scrape Off More Sinful Barnacles..InsyaAllah..
Posted: 29 Jun 2013 08:41 AM PDT
I am told our Umrah group will comprise of around 14 people.
Earlier on, I was supposed to share a room with 2 other ladies from Kemaman.
However, another lady from KL will be joining us so we'll have 4 to a room..still Alhamdulillah..

The heart is palpitating stronger than ever.
It's not that I'm not familiar but tell me, who isn't?

My friend Su said her mum and her mum's siblings will be leaving for Makkah from the 15th July and will stay on there until Raya Puasa.
I'm just going for around 11 days inclusive journey.
Yet, I'm still trembling inside.

Mine will be just from the 7th till the 17th July..InsyaAllah.
We'll be going straight to Makkah first from Jeddah, and will proceed to Madinah InsyaAllah a few days before flying back to Malaysia.

My nervousness is partly about the meekat part.
I have never done it before on the plane.
Someone told me that it is so easy..InsyaAllah.

I pray Allah SWT will calm my anxiety and make me do everything correctly, and help me perform all my Umrah excellently upon arriving Masjidil Haram and throughout the whole Makkah stay..
Ameen.

May Allah SWT Bestow upon me and my Umrah colleagues, the happiness and success to carry out all our ibadah activities in Makkah and Madinah in good health and with loads of pahala..
Ameen.

And infront of the Kaa'bah, May Allah SWT Grant all my countless and endless doa for all my loved ones and everyone else who have always showered kindness on my family and I. 
Ameen.

p.s.
Umrah journey expenses partly sponsored by my ex husband and some scooped from my EPF.
Alhamdulillah syukur.
May Allah SWT Bless him for his kind gesture..Ameen.
Israel is the center of the world "in so many ways"
Posted: 29 Jun 2013 05:20 AM PDT
Archbishop of Canterbury: Israel the center of the world
Israel is the center of the world "in so many ways," the archbishop of Canterbury said Thursday in Jerusalem. He stressed Israel's legitimacy and right to security, and also spoke, in the context of persecution of Christians by Islamists in the Middle East, about the Christian imperative to "love our enemies." The Most Reverend Justin Welby, who has a Jewish father, is the leader of the Church of England and of 80 million Anglicans worldwide.

 He was enthroned in Canterbury on March 21.
Hat tip: EoZ
"In 1947, the Political Committee of the Arab League drafted a law that...called for the freezing of bank accounts of Jews, their internment and [the confiscation of their assets].
Posted: 29 Jun 2013 05:13 AM PDT
Jews from Muslim lands: The forgotten refugees of 1948
On the recent World Refugee Day, the Israeli Knesset member Shimon Ohayon, whose family fled Morocco in 1956, called on the Arab League to "accept their great responsibility for driving out almost a million Jews from lands [in] which they had lived for millennia." He explained that "In 1947, the Political Committee of the Arab League drafted a law that...called for the freezing of bank accounts of Jews, their internment and [the confiscation of their assets]. Various other discriminatory measures were taken by Arab nations and subsequent meetings reportedly called for the expulsion of Jews from member states of the Arab League."

 
Ohayon challenged the League to accept responsibility for "the ethnic cleansing of the Jewish population from most of the Middle East and North Africa...[and] to provide redress to the Jewish refugees.