---
Posted: 19 Jun 2013 10:44 AM PDT
By FARAH HARITH,
Malaysian Digest
IT shocked the nation when he was arrested back in 1998. Such was the influence he had that a major split in support took place the minute he formed his 'Reformasi' movement.
Suddenly, families started arguing, friends debated, colleagues got into heated discussions, either in defending him or defending the move to sack and arrest him.
It is undeniable that Datuk Seri Anwar Ibrahim has been a tour de force in the country, however whether he is a good or bad force, somehow that still remains to be seen. What exactly is Anwar fighting for?
From the first time he took to the streets crying out 'Reformasi' and declaring that he had been wronged, one thing for certain, what he did would go on to change the political landscape in Malaysia like it has never before.
During the time he was in prison after his sodomy indictment, the political party he started, Keadilan, which later became Parti Keadilan Rakyat (PKR), was helmed by his wife and daughter, Datin Seri Dr Wan Azizah and Nurul Izzah Anwar.
However, former Prime Minister, Tun Abdullah Ahmad Badawi, in an act of goodwill released Anwar from prison before his sentence finished.
From then on, Anwar began his 'crusade' so to speak to become the next Prime Minister. He made several promises about taking over Putrajaya before the 13th general election, however nothing materialised.
The support he garnered from the public, however, continued to grow. Calling themselves Pakatan Rakyat (PR), the marriage of convenience that came about between PKR, PAS and DAP made Anwar and the coalition he is leading, stronger.
This was further proven when they garnered more popularity votes in the 13th general election, compared to Barisan Nasional (BN) who retained the ruling government, after winning on parliamentary seats.
What is obvious is that, Anwar and his coalition are popular amongst the rakyat. However, this still leaves the question of what exactly is he fighting for unanswered.
If Anwar is truly devoted in his fight for free and fair elections, must he be at the helm? After 15 years, is the fight to seat himself in Putrajaya still relevant? Wouldn't it be better to advise and pass the baton to someone else?
While it can be seen that Pakatan Rakyat is popular amongst the rakyat, with more than 50,000 attendees at any one of their rallies, it begs the question of are those people attending to support Anwar or the cause?
If they are supporting the cause, then it would be high time for Anwar to sit back and probably groom someone else to take his place, for instance his own flesh and blood Nurul Izzah Anwar.
It is obvious that Nurul Izzah, having been dubbed Puteri Reformasi, will be a hit with the rakyat who are crying out for new blood. Most of those supporting Pakatan Rakyat, and want BN toppled, are those who want to see the old dogs gone.
Isn't Anwar himself an old dog?
Having been apart of BN himself before his arrest and sacking in 1998, Anwar is actually far from being the new blood the public is craving for.
Going back to the question of what is Anwar fighting for, one can't help but think of two important figures in the annals of world history; Reverend Dr Martin Luther King Jr and Mahatma Gandhi.
Reverend King fought for black equality during the African American Civil Rights Movement, and it is understood that he would go to the ends of the earth to see his people get the same treatment as any other race.
The blacks were oppressed. They couldn't get on the same bus as white folks. They couldn't drink from the same water fountain. They couldn't sit at the same table. Their houses were torched by the Ku Klux Klan. Their children lived in fear.
Reverend King fought for equality and went on to conduct rallies to garner support for his cause. He fought to his last dying breath.
This was the same case for Gandhi. Like King, Gandhi employed non-violent civil disobedience. He led India to independence from the British and was a prominent figure in Indian nationalism. He fought to free his people.
Gandhi too persevered till his last dying breath.
This brings us to Anwar's perseverance. While his persistence in taking over Putrajaya can match the persistence of King and Gandhi, are their fights on the same level?
Malaysia has its fair share of problems, however we are not oppressed like the blacks in America were. We are no longer colonized.
The fight for free and fair elections and the fight to end corruption does not necessarily need to be helmed by one Anwar Ibrahim.
Before GE13, Anwar promised that if he lost in the elections, he would retire from politics and move on to a career of lecturing.
That has yet to happen. Anwar has instead opted to conduct one rally after another, apart from attempting to boycott the parliament's opening session next week.
What is he hoping to achieve through these rallies? If enough people gather on the streets, BN will willingly hand over Putrajaya to Pakatan Rakyat?
If they believe the election was tainted, the best course of action would be to take it to the courts and sort it out there.
If that fails, serve the rakyat and wait for the next general election. With that said, must Anwar still be the one leading the fight?
[VIDEO] Berkumpul Di 7 Check Point Sebelum Ke Padang Merbok Pada 22 Jun
Posted: 19 Jun 2013 10:49 AM PDT
P
eserta perhimpunan aman #Blackout505 Sabtu ini diseru agar berkumpul di tujuh 'check point' sebelum bergerak bersama pemimpin Pakatan Rakyat dan badan bukan kerajaan (NGO) ke Padang Merbok pada hari tersebut.
Tujuh 'check point' tersebut adalah :

1) Brickfields diketuai Naib Presiden PKR Nurul Izzah Anwar, Setiausaha Agung Parti Sosialis Malaysia, S Arulchelvan dan Pemimpin Gabungan Pilihan Raya Bersih dan Adil (BERSIH), Marina Chin.

2) Masjid Negara – Timbalan Presiden PKR, Azmin Ali, MP Shah Alam Khalid Samad

3) Jalan Pudu – Timbalan Pengerusi DAP, Tan Kok Wai, Setiausaha Organisasi Parti DAP, Anthony Loke, Ketua Gerakan anti Lynas, Wong Tack, Koordinator Solidariti Anak Muda Malaysia (SAMM) Badrul Hisham Shaharin.

4) Jalan Raja Laut (ibupejabat Pas) – Presiden PAS, Datuk Seri Abdul Hadi Awang dan Timbalan Presiden PAS Mohamad Sabu.

5) Jalan Raja Laut (Sogo) – Naib Presiden PKR Tian Chua, bekas-bekas pesara tentera

6) Universiti Malaya – aktivis mahasiswa Safwan Anang dan Adam Adli, Ketua AMK Shamsul Iskandar Mohd Akin, Ketua Pemuda PAS Nasruddin Hassan

7) Pekeliling – Naib Presiden PAS Salehuddin Ayub dan NGO ANAK.

Kumpulan-kumpulan tersebut akan bergerak ke Padang Merbok selepas solat Zohor dan bergabung di padang tersebut kira-kira jam 2.00 petang.

Demikian menurut MP Sungai Petani, Datuk Johari Abdul dalam sidang media di ibu pejabat PKR di sini pagi tadi.


Report: Modern, moderate Indonesia fails to protect religious minorities
Posted: 19 Jun 2013 06:16 AM PDT
"Indonesia's president has accepted a statesmanship award from a U.S. interfaith foundation that says it hopes to encourage him to promote freedom of worship and tolerance in the world's most populous Muslim-majority nation." -- Associated Press, May 30, 2013 Irony of ironies. "RI fails to protect religious minorities, says US report," from The Jakarta Post, June 18 (thanks to Phillip):
The US Department of State's 2012 Report on International Religious Freedom has revealed that the Indonesian government has failed to properly address the banning and assault of religious minority groups. The annual report was released by the US Embassy in Jakarta on Tuesday. 
"The Indonesian government honors the freedom to choose religion but fails to prevent violent acts toward religious minority groups," a statement in that report said as quoted by Antara news agency. The report said the Indonesian government respected six official religions but that some religious sects were deemed as deviant by clerics. The report also said that the police tended to be lenient on hard-liners that tried to implement laws that limited religious freedom.
"Police failed to protect religious minority groups when they are being attacked by hard-liners," the report said.
Hat tip: Jihad Watch
Member of banned jihad group gives Qur'an lessons online to Muslim children in UK and North America
Posted: 19 Jun 2013 06:13 AM PDT
"Concerns over online Qur'an teaching as ex-Pakistan militants instruct pupils," by Jon Boone in The Guardian, June 17:
With his track record as a member of the political arm of a banned terrorist organisation, Mian Shahzib is unlikely to ever be given a visa to enter Britain.But that does not stop the jovial 33-year-old from giving British children religious instruction every day from the comfort of his home in Pakistan. He spends hours each night sitting under a fluorescent light in the courtyard of a small mosque in Lahore, peering into a laptop as children first from the Middle East, then Europe and North America spend half an hour after school talking to him over a faltering Skype line. "Put on your cap and wash your hands," he told a 12-year-old boy sitting in a large office chair in his parents' home in Edinburgh. 
After checking the boy had memorised various prayers to get him through the day, including a special blessing for exiting and entering the toilet, he got down to business, helping the boy read aloud the classical Arabic of a few verses of the Qur'an.

The fact that a hardcore Islamist and long-term follower of the UN-proscribed Jamaat-ud-Dawa (JuD) has daily access to children in the west is likely to fuel concerns about religious radicals spreading their message.
Shahzib's website, Easy Qur'an Memorising, makes no mention of his history and is one of hundreds of such online companies, some of which advertise on satellite channels broadcasting to the Pakistani diaspora. They are part of a little-known outsourcing boom fuelled by parents of Pakistani origin turning to Qur'an teachers in Pakistan. "It's just like a call centre where you are saving a lot of money by getting someone overseas to do it much more cheaply," said Fawad Rana, a property developer in Solihull who has used Qur'an teachers for his two sons for the past three years.
Rana makes an online payment of £30 a month to Faiz-e-Quran, one of the larger online religious education companies, which gets his children three half-hour sessions a week.

"And there's the convenience factor – the last thing kids want to do is spend half an hour travelling to the nearest mosque and then not even getting 10 minutes of one-on-one tuition," he said.
Although Faiz-e-Quran say it takes care to scrutinise and monitor all the teachers it employs, the industry is increasingly dominated by one-man operations. After several years working on his business, Shahzib now has about a dozen students aged 12 to 18 scattered all over the world. It's a long way from his past role as an activist with JuD, a Pakistani Islamist organisation known for its holy war against Indian rule in the contested region of Kashmir.
The organisation is on the UN's list of sanctioned organisations because of its alleged association with al-Qaida and is considered a front for Lashkar-e-Taiba, the group behind the 2008 terrorist attacks on Mumbai. As a young man, Shahzib helped prepare young JuD militants before they crossed the line of control that marks the unrecognised border between Pakistani and Indian-held Kashmir. His job was to motivate them with religious teachings and to fill their heads with tales of Indian soldiers raping Muslim women. He was briefly arrested after falling out with his old mentor, Hafiz Saeed, the JuD leader, who lives openly in Lahore but who is subject to a US reward of $10m (£6.36m) for information leading to his arrest. Shahzib believes Saeed has bent to demands from Pakistan's security establishment to rein in militancy in Kashmir.
"I told him to his face that he had betrayed the jihad," he said. These days he still follows the "philosophy" of JuD, even if he is not an active member. He supports the fight against foreign forces in Afghanistan. But he does not think the struggle should be taken to the streets of Britain. "It is completely wrong to attack soldiers in Britain," he said. "If a young man in the UK wants to support jihad I support that, but come to Afghanistan to fight, not the UK." The Guardian was told of other online tutors with radical backgrounds or who are members of extreme or sectarian organisations, but it is impossible to know how widespread the phenomenon is in a completely unregulated industry.
Sultan Chaudri, the owner of Faiz-e-Quran, said his company is at pains to scrutinise all 13 teachers who work for him to ensure radicals are not employed. "All the problems we are seeing in Pakistan and Afghanistan is because these young children get sent to madrasas where no one knows what sort of education they are getting or what kind of indoctrination is taking place." Chaudri, a retired colonel, started his business four years ago his marketing team had to assure parents that there would be no such risk with online teaching.
"They used to say we are not going to get education from a maulvi [Islamic scholar] in Pakistan because he is going to teach bad things to my child," he said. "Parents realise now that there is no risk because they can see the lessons right in front of their own eyes."... Hat tip: Jihad Watch

Posted: 19 Jun 2013 06:09 AM PDT
ေျပာျပခ်င္တဲ႔ စကားေတြ။
မခင္ဦး။
( ၂၂၇)မေန႔က မစိုးရိမ္တိုက္က ဦး၀ီရသူရဲ.အျငင္းပြားဖြယ္ရာေျပာဆိုမွဳေတြနဲ႔ ပတ္သက္ျပီး ဦး၀ိရသူကို ဘုန္းၾကီး မဟုတ္ဘူးေျပာတာ ဘယ္ေကာင္ေတြလဲဆိုတဲ႔ post တခုတက္လာတယ္။ မစိုးရိမ္တိုက္မွာနာယကျဖစ္ဘို႔ စာတတ္ေပတတ္မွ ျဖစ္နိုင္ေၾကာင္းလဲ ပါပါတယ္။ဦး၀ိရသူဟာ ေက်ာက္ဆည္ဘာသာေရးအဓိကရုန္းနဲ႔ဆက္စပ္ျပီး စစ္အစိုးကိုယ္တိုင္ ထိန္းသိမ္းထားခဲ႔သူ ဆိုတာေတာ႔ ျငင္းနိုင္မယ္မထင္ပါဘူး။
နိုင္ငံေရးနဲ႔ ပတ္သက္ျပီး အဖမ္းခံရတဲ႔ သံဃာေတာ္ေတြ၊ သီလရွင္ေတြ ေထာင္ကထြက္လာရင္ ဘယ္ကိုယ္ေတာ္၊ ဘယ္သီလရွင္မွ ကိုယ္ေက်ာင္းကိုယ္ ျပန္ေနခြင္႔မရွိခဲ႔တာ သတိရမိတယ္။
၁၉၉၃ခုနွစ္ကတဲက ေက်ာင္းသားသမဂၢနဲ႔ေတြ႔ဆံုေဆြးေနြးခဲ႔လို႔ အမွဳဆင္ အဖမ္းခံရတဲ႔ ဦးဇ၀နကိုယ္ေတာ္၊ ဦးစေနၵာဘာသတို႔ဆိုရင္ ေထာင္ထဲမွာ ၁၆နွစ္ေလာက္ေနျပီး ျပန္ထြက္လာေတာ႔ ဆရာေတာ္တို႔ရဲ. မူလေက်ာင္းမွာေတာင္ ျပန္ေနခြင္႔မရဘူး။ ရဟန္းမွတ္ပံုတင္ျပန္မရလို႔ ျမန္မာျပည္ထဲမွာ မေနနိဳင္ဘဲ နိုင္ငံျခားထြက္ေနရတယ္။ေရြ၀ါေရာင္မွာ အဖမ္းခံရတဲ႔ သီလရွင္ၾကီးေတြ သီလရွင္ျပန္၀တ္ခြင္႔မရလို႔ လူဘ၀နဲ႔စက္ခ်ဳပ္ျပန္သင္ျပီး အသက္ေမြးရတယ္။ အေတာ္ေလးဒုကၡေရာက္ၾကရတယ္။ေထာင္ကထြက္လာျပီး ကိုယ္ေက်ာင္းမွာကိုယ္ ဇိမ္နဲ႔ ျပန္သီတင္းသံုးနိုင္တာ ဦး၀ီရသူတပါးဘဲ ၾကားဘူးတာေတာ႔အမွန္ဘဲ။ ထူးတယ္ေျပာရမွာေပါ႔။ အခြင္႔အေရးျခင္းမတူတာကိုေျပာတာပါ။
က်ြန္မတို႔တေတြ ေ၀ဖန္ေနတယ္ဆိုတာ သံဃာတပါးကိုေ၀ဖန္ေနတာမဟုတ္ဘဲ မလိုလားအပ္တဲ႔ အမုန္းတရားေတြကို ပ်ိဳးေထာင္ေနသူကို ေ၀ဖန္ေနတာသာျဖစ္ပါတယ္။ သူမိန္းၾကားေနတာေတြဟာ နိုင္ငံအတြက္လဲအက်ိုးပ်က္သလို ေလာကအတြက္လဲ အက်ိဳးမဲ႔ေစတယ္လို႔ ထင္မိပါတယ္။
ေရွ.႕ ဆရာေတာ္ၾကီးေတြ ဘယ္လိုသာသနာျပဳခဲ႔ၾကသလဲ။ သာသနာေတာ္ကို ဘယ္လိုထိန္းသိမ္း ေစာင္႔ေရွာက္ ခဲ႔သလဲ နည္းလမ္းေလးမ်ားယူသင္႔ပါတယ္။ လက္ရွိေထၾကီး၀ါၾကီးပုဂၢိဳလ္ေတြေရာဒကာဒကာမကို ဘယ္လို ဆံုးမသြန္သင္သလဲ အတုယူသင္႔ပါတယ္။
ဒကာဒကာမကုိဆံုးမတဲ႔အခါ ဆံုးမသြန္သူကလဲ တရာဓမၼနဲ႔ညီမွဘဲ လိုက္နာနိုင္မယ္။ ေဒ၀ဒတ္က ဗုဒၶဘာသာ၀င္ေတြ သတ္သတ္လြတ္စားဘို႔ကို ျမတ္စြာဘုရားက မျဖစ္နိုင္တဲ႔ကိစၥ၊ တင္းက်ပ္တဲ႔ကိစၥမို႔ ခြင္႔မျပဳခဲ႔ပါဘူး။
က်ြန္မတို႔ ဗုဒၵဘာသာ၀င္ေတြအေနနဲ႔ျဖစ္နိုင္တာနဲ႔ ျဖစ္သင္႔တာကိုဘဲ လိုက္နာရမွာပါဘဲ။ ဒါမွ ဘုရားအဆံုအမနဲ႔ညီမယ္။
အယူ၀ါဒဆိုတာကေတာ႔ ေ၀ဖန္ရမွာဘဲ။ သံုသပ္ရမွာဘဲ။ ျမတ္စြာဘုရားလက္ထက္ေတာ္ကတဲက ျမတ္စြာဘုရားေဟာတာနာခံရမွာလား။ ေဒ၀ဒတ္ေဟာတာ လိုက္တာရမွာလား ခဲြခ်မ္းစိတ္ျဖာၾကရပါတယ္။ ေဒ၀ဒတ္လဲ သကၤန္း၀တ္ထားသူပါဘဲ။ နည္းလမ္းကလဲြေနရင္ လက္မခံသင္႔ဘူးေလ။
ျမတ္စြာဘုရားရဲ႔ အယူတရားေဒသနာကို ၀ိဘဇၨ၀ါဒလို႔ေသတ္မွတ္ပါတယ္။ ဆင္ျခင္တံုတရားကို လက္ကို္င္ထားရတဲ႔ သေဘာသဘာ၀ရွိပါတယ္။
တိုင္းျပည္မွာ စည္းလံုးညီညြတ္ေရးလိုအပ္ခ်ိန္မွာ သံဃာျခင္းေတာင္သေဘာထားကဲြလဲြေစတာေတြ ေျပာဆိုေနတာကေတာ႔ ဘုန္းၾကီးပင္ျဖစ္လင္႔ကစား ဆင္ျခင္ေျပာဆိုသင္႔တာေတာ႔ အမွန္ပါဘဲ။
အမွန္အတိုင္းေျပာရရင္ တရားစစ္လား-တရားမစစ္ဘူးလားသံုသပ္ရမွာ ဒကာဒကာမမွာလဲ တာ၀န္ရွိတယ္ မဟုတ္လား။
စစ္အစိုးရအဆက္ဆက္ တရားဥပေဒေတြ ေဖါက္ဖ်က္က်ဴးလြန္သမ်ွ အတိုက္အခို္က္ကိုနင္းေခ်ဖ်က္ဘို႔ ဘာသာေရးနဲ႔ လုူေတြကိုမွိဳင္းတိုက္ ေျပာဆိုမွုေတြကိုေတာ႔လက္မခံနိုင္ပါဘူး။ အျပစ္တင္စားရွိရင္ အစဥ္အဆက္တာ၀န္ပ်က္ကြက္ခဲ႔သူ တာ၀န္ရွိသူေတြကိုဘဲ အျပစ္တင္ပါ။
အခုအခ်ိန္မွာ မြတ္ေဒါင္းေတြ-မြတ္ေဒါင္းပါတီေတြ စသည္စသည္ စြပ္စဲြေျပာဆိုမွုေတြဟာလဲ မလုပ္သင္႔ဘူး ထင္ပါတယ္။
အမ်ိုးဘာသာ သာသနာဆိုတာ ကာကြယ္ရမွာ လူတိုင္းတာ၀န္ပါ။ ဒါေပမဲ႔ နည္းမွားၾကီးနဲ႔ ေသြးခ်ြတာမ်ိုးကိုေတာ႔ လက္မခံနိုင္ပါဘူး။
တိုင္းျပည္မ်က္နွာရွိပါတယ္။
ဘာသာတရားမ်က္နွာရွိပါတယ္။
က်ြန္မတို႔လူမ်ိုးေတြဟာ အရိုင္းအစိုင္းေတြ၊ လူဂြစာေတြ၊ ေျပာမရဆိုမရေတြ၊ မယဥ္ေက်းသူေတြဆိုတာမ်ိုး ကမာၻပံုရိပ္မွာ အမ်ားကျမင္လာေအာင္ ေျပာဆိုလုပ္ကုိင္ေနတာေတြကိုေတာ႔ ဘယ္လိုမွသေဘာမတူနိုင္ပါဘူး။ ဒီအေျခအေနမ်ိုး ဒီေျပာဆိုမွဳေတြကို အစိုးရက လက္ပိုက္ၾကည္႔ေနတာကလဲ စဥ္းစားစရာပါဘဲ။
ဥပေဒေတြ ရွိပါတယ္။ ဥပေဒနဲ႔ အညီလုပ္ရမယ္႔ကိစၥေတြ ဥပေဒလက္မဲ႔ လုပ္ဘို႔ ေျမွာက္ထိုးပင္႔ေကာ္ ေျပာဆိုမွုေတြကို ရပ္တန္းကရပ္သင္႔ျပီလိုသာ ေျပာလိုပါတယ္။
အစြန္းေရာက္မွဳကို္တားျမစ္ရမွာ အစိုးရတိုင္းမွာ တာ၀န္ရွိပါတယ္။ အစြန္းေရာက္မွဳဆိုတာ ဘာသာတိုင္းမွာ တခါတရံေပၚလာတတ္ပါတယ္။ အေမရိကားမွာ ခရစ္ယန္အစြန္းေရာက္ဂုဏ္ေတြျဖိဳခြင္းခဲ႔ရဘူးသလို ဂ်ပန္မွာလဲ ေၾသာင္းအမည္ရွိတဲ႔ ဗုဒၶဘာသာအစြန္းေရာက္ဂုဏ္းကို နွိမ္နင္းရဘူးပါတယ္။
က်ြန္မတို႔ဟာ ေဒ၀ဒတ္ကိုသကၤန္း၀တ္ထားသူျဖစ္ေသာ္ျခား ယခုထက္တိုင္ ပယ္ထားတယ္ဆိုတာ အေသအခ်ာပါဘဲ။ သကၤန္းထက္ အက်င္႔တရားိကုလ္ကမခံၾကတာပါ။ ရွင္းလင္းပါတယ္။
နိုင္ငံပံုရိပ္-ဘာသာပံုရိပ္ေတြကိုထိပါးလာရင္ေတာ႔ လက္ခံဘို႔ခက္သလို အစိုးရမွာတာ၀န္လံုး၀ရွိတယ္ဆိုတာ ေျပာပါရေစ။
( ၁၅-၆-၁၃)
https://www.facebook.com/makhin.oo/posts/574253449263847 မွ ကူးယူေဖာ္ျပပါသည္။
၉၆၉ ဆုိတာ တကမၻာလံုးနဲ႕ မေထာက္ခံတဲ႕လူေတြ အၿမင္မွာေတာ႕… သံုးစားမရေအာင္ နာမည္ပ်က္ေနတယ္
Posted: 19 Jun 2013 05:29 AM PDT
ဆရာေတာ္ ဦး ၀ီရသူရဲ႕ facebook အေကာင္႕ Wira Thu ဆိုတာ ဆရာေတာ္ ကိုယ္တိုင္ သံုးတာ မဟုတ္ပါ.. သံုးလည္း မသံုးတတ္ပါ… ေၿပာခ်င္တာရွိရင္ ဒါေရးေပး ဒါတင္လုိက္ ေၿပာယံုသာရွိပီး သူ႕နားမွာ ညအိပ္ညေန ေနၾကတဲ႕ ၉၆၉ လွဳပ္ရွားသူ လူတစု လက္ထဲမွာ ရွိတဲ႕ အေကာင္႕လုိ႕ သိရပါတယ္.. ကိုယ္တိုင္ ၀င္သံုးေနတာ မဟုတ္ေပမယ္႕ ဆရာေတာ္႕ အာေဘာ္ေတြ ပါသလို အေကာင္႕သံုးတဲ႕လူရဲဲ႕ သာသာထိုးထိုး အေရာက္ပို႕တာေတြလည္း ပါႏုိင္ပါတယ္

၉၆၉ဟာ အၾကမ္းမဖက္ ၿငိမ္းခ်မ္းေရး လမ္းစဥ္ပါလုိ႕ တြင္တြင္ေၿပာေနတဲ႕လူေတြရဲ႕
အစၥလာမ္ဘာသာနဲ႕ ပတ္သတ္ၿပီး သေဘာထားတဲ႕ အတြင္းသ႑န္ အမွန္ကိုလည္း ထင္ဟပ္ေစတဲ႕ အေရးအသားေတြ သြားရွာေဖြလုိ႕ရပါတယ္ .. တကမၻာလံုးမွာ ၉၆၉ကို လွဳပ္ရွားမူကို အၾကမ္းဖက္ အစြန္းေရာက္ လုပ္ရပ္လုိ႕ ထင္သြားေအာင္ လုပ္တာ.. ၿပည္တြင္းက ကြ်န္ေတာ္တို႕လို လက္မခံတဲ႕ လူေတြက ၀ိုင္းပို႕လို႕ဆိုၿပီး စြပ္စြဲခ်င္ၾကသူမ်ား ဆင္ၿခင္ႏုိင္ၾကပါတယ္ ကမၻာမွာ ဂုဏ္သိကၡာရွိရွိ
ရပ္တည္ေနၾကတဲ႕ သတင္းမီဒီယာ ေတာ္ေတာ္မ်ားမ်ား ကာယကံရွင္ေတြရဲ႕ လုပ္ရပ္ကို မၾကည္႕ပဲ ေဘးစကား တစ္ခြန္းနဲ႕တင္ သံုးသပ္ေရးသားတာ မဟုတ္ဘူးဆိုတာ ဦး၀ီရသူကို ႏုိင္ငံၿခား မီဒီယာေတြ လာ အင္တာဗ်ဴးေနတဲ႕ အေရအတြက္ကို ၾကည္႕ရင္ သိႏုိင္ပါတယ္…
၉၆၉ ဟာ အၾကမ္းမဖက္ လွဳပ္ရွားမူပါ ဆိုၿပီး တြင္တြင္ေၿပာေနေပမယ္႕
၉၆၉ လွဳပ္ရွားေနတဲ႕လူေတြရဲ႕ စကားအေၿပာအဆို စိတ္ေနသေဘာထားကေတာ႕
ပါးစပ္က ဘုရားဘုရား လက္က ကားယား ကားယား ၿဖစ္ေနပါတယ္….
အားလံုးကို မဆိုလိုေသာ္လည္း အေၿပာနဲ႕ အလုပ္နဲ႕ မညီတဲ႕ ၉၆၉ ေထာက္ခံသူ ကိုယ္တိုင္ ပါ၀င္ ေဆာင္ရြက္ေနသူ အားလံုးကို ဆိုလိုပါတယ္…
ဗုဒၶဘာသာ နဲ႕ ၉၆၉ ကို ဗုဒၶဘာသာ၀င္ အားလံုးရဲ႕ သေဘာတူခ်က္ မယူပဲ ကမၻာမွာ ၿမန္မာၿပည္က ဗုဒၶဘာသာ၀င္ေတြရဲ႕ အမွတ္သေကၤတလုိလို ဘာလိုလို အဆင္႕ေရာက္ေအာင္ အတင္း လုပ္ၿပီးမွေတာ႕ နာမည္ေကာင္းေရာက္ေအာင္ လုပ္ဖို႕ အဲ႕ဒီ စ စတန္႕ထြင္တဲ႕ လူေတြမွာ တာ၀န္ အၿပည္႕ရွိတယ္…..
ခုထိေတာ႕ ၉၆၉ ဆုိတာ ကိုယ္တိုင္ ပါ၀င္ေနတဲ႕ လူေတြနဲ႕ ေထာက္ခံေနတဲ႕ ၿပည္တြင္းက အသိုင္းအ၀ိုင္း ကြက္ကြက္ေလးမွာပဲ အေကာင္းၿမင္မူရၿပီး တကမၻာလံုးနဲ႕ မေထာက္ခံတဲ႕လူေတြ အၿမင္မွာေတာ႕… သံုးစားမရေအာင္ နာမည္ပ်က္ေနတယ္…
အေၿပာနဲ႕ အလုပ္နဲ႕ ညီေအာင္ ၾကိဳးစားလုိက္ၾကပါအံုး… ဘယ္ ဘာသာၿခားကိုမွ မထိခုိက္ပဲ ကိုယ္႕သာသနာ ကိုယ္႕ဘာသာကို အဆင္႕အတန္း ၿမင္႕ၿမင္႕ သေဘာထားၾကီးၾကီး ကာကြယ္ႏုိင္တဲ႕ စံႏွဴန္းေတြ လုပ္ရပ္ေတြ လုပ္လာႏုိင္တဲ႕တေန႕ ကိုယ္တိုင္ အဲ႕ဒီ sticker ေတြ လုိက္ကပ္ေပးမယ္ ေလာေလာဆယ္ေတာ႕ ေဆာရီးပဲ !
ညီသစ္
"Hasad Dengki" Untuk Gagalkan Black 505, Larian Olimpik Tukar Tempat!
Posted: 19 Jun 2013 07:27 AM PDT
K
onspirasi' tukar tempat larian olimpik?
Pertukaran saat akhir tempat Larian Hari Olimpik pada Ahad depan dari Dataran Merdeka ke Padang Merbok oleh Majlis Olimpik Malaysia (MOM) mengejutkan sesetengah pihak.
Malah, ada di kalangan pengguna Internet yang mengaitkannya dengan "konspirasi" bertujuan memberi alasan terbaik kepada Dewan Bandaraya Kuala Lumpur (DBKL) untuk menolak permohonan menggunakan Padang Merbok untuk perhimpunan Black 505 anjuran Pakatan Rakyat.

Tengah hari ini, MOM mengumumkan di Facebook mereka bahawa tapak acara larian mereka yang ditetapkan pada tahun lalu ditukar.

"Sila ambil perhatian bahawa tempat untuk Larian Hari Olimpik yang dijadual pada 23 Jun 2013, Ahad pada 7.30 pagi ditukar akibat keadaan yang tidak dapat diduga.

"Tempat baru untuk Larian Olimpik 2013 kini di Padang Merbok, Jalan Parlimen, Kuala Lumpur. Segala kesulitan amat dikesali," menurut mesej di Facebook MOM.

Semakan Malaysiakini di laman web majlis itu dan juga McDonald's sebagai penaja acara jelas menyebut tempatnya di Dataran Merdeka. -mk




Ulasan GB

Hukum kebenaran dan keadilan akan tetap berjalan.

Orang/pihak yang berhasad dengki akan tetap gagal dan kecundang!


အမုန္းတရားေဟာၾကားတဲ့ ကိုယ္ေတာ္ေတြကို ၀ိုင္း၀န္းခ်ီးပၾကတဲ့သူေတြ အမ်ားႀကီးေတြ႔ရတယ္
Posted: 19 Jun 2013 04:33 AM PDT
မိတၳီပဋိပကၡ-လားရိႈးပဋိပကၡ
အပါအ၀င္
ျမန္မာနိုင္ငံတနံတလ်ားမွာ
ႏွစ္စဥ္လိုလို ျဖစ္ပြားခဲ့တဲ့
အစၥလာမ္ဘာသာ၀င္ေတြကို
ႏွိပ္ကြတ္တဲ့ ျပသနာေတြမွာ
အဓိက အခန္းက႑ကေနၿပီး
ျပသနာေတြ ၿငိမ္းေအးသြားေအာင္
ေဆာင္ရြက္ေပးခဲ့သူေတြဟာ
စစ္မွန္တဲ့ ရဟန္းသံဃာေတာ္ေတြ
ျဖစ္ပါတယ္။
လူေပါင္းေျမာက္မ်ားစြာရဲ့အသက္
ေတြကို လူမ်ိဳး ဘာသာမခြဲျခားဘဲ
ကယ္တင္ခဲ့တာကို အားလံုး
မ်က္၀ါးထင္ထင္ ေတြ႔ျမင္ခဲ့ၾက
ၿပီးသားပါ။
ဒီလိုေက်းဇူးရွင္ ရဟန္းသံဃာေတြ
ကို ေက်းဇူးတင္ ဂုဏ္ျပဳစကား
ဆိုၾကသူေတြအမ်ားစုဟာ
အစၥလာမ္ဘာသာ၀င္ေတြပါ။
ဗုဒၶဘာသာ၀င္ေတြထဲမွ သိသိ သာသာ ထင္ထင္ရွားရွား ေက်းဇူး
စကားဆိုလာသူေတြ အလြန္နဲပါ
တယ္။
ဒီအထဲမွာ-ဆရာၿဖိဳးေမာင္ေမာင္၀င္း
တို႔ ကိုေပၚလြင္တို႔ ကိုညီသစ္တို႔ ခြန္ ဒီးယမ္တို႔ ဒီမိုဖက္တီးတုိ႔ ကိုဘဲ သတိထားမိပါတယ္။
(အျခားသူမ်ားက်န္ရွိခဲ့နိုင္ပါတယ္
ကၽြန္ေတာ့္မွတ္ဥာဏ္ရဲ့ ခ်ိဳ႔ယြင္းမႈ
ကိုခြင့္လႊတ္ပါ)
ဒါေပမဲ့ လူနဲစုပါ။
လူေတြကိုသတ္ဖို႔ ဗလီေတြကို ဖ်က္ဆီးဖို႔ စီးပြားေရးေတြကို ရိုက္ခ်ိဳး
ဖို႔ (သူတပါးတီထြင္ထားတဲ့ ၉၆၉ ကို ခိုးယူသံုးစြဲၿပီး) ေသြးထိုးလႈံ႔ေဆာ္
အမုန္းစကားျဖန္႔ျဖဴးေနတဲ့
ကိုယ္ေတာ္ေတြကို
ဗုဒၶျမတ္စြာသာသနာနဲ႔ မကိုက္ညီ
ပါဘူးေျပာၾကတဲ့အခါ
မခံနိႈင္မရပ္နိႈင္ျဖစ္ၿပီး
အျပစ္တင္ ေ၀ဖန္တဲ့သူကို
ဆဲဆိုရင္း
အမုန္းတရားေဟာၾကားတဲ့
ကိုယ္ေတာ္ေတြကို
၀ိုင္း၀န္းခ်ီးပၾကတဲ့သူေတြ
အမ်ားႀကီးေတြ႔ရတယ္။
မဟုတ္တာလုပ္တဲ့သူဟာ
ကိုယ့္လူျဖစ္ေနလို႔
သူမ်ားေျပာတာ မႀကိဳက္ရင္
ကိုယ့္လူကို
ကိုယ့္ဖာသာကိုယ္ရွင္းၾကေလ။
မတရားမႈတခုခုျဖစ္တဲ့အခါ
ၾကား ေနတယ္ဆိုရင္
အသင္ဟာ မတရားမႈကို
အားေပးသူတစ္ေယာက္
ျဖစ္ေနပါတယ္။
ျမန္မာဗ်ည္း (၃၃) လံုး ျဖစ္ေပၚလာပံုု
Posted: 19 Jun 2013 04:11 AM PDT
ျမန္မာဗ်ည္း (၃၃) လံုး ျဖစ္ေပၚလာပံုု
~~~~~~~~~~~~~~~~~~~~
အမ်ားသူတို.ကိုဗဟုသုတ ရေစခ်င္ေသာအလို.ငွာ ျပန္လည္မွ်ေ၀ လုိက္ရပါသည္။
ျမန္မာဗ်ည္း ၃၃-လံုး ျဖစ္ေပၚလာပံုအေၾကာင္း ေျပာရာမွာ ဗ်ည္းေရာ သရေရာ ျမန္မာအကၡရာ ဘယ္လိုျဖစ္ေပၚလာတယ္ဆိုတာက စေျပာဖို႔လိုမွာေပါ့။
ျမန္မာအကၡရာဟာ အိႏၵိယႏိုင္ငံမွာ ဘိစီ ၅၀၀-ေလာက္က ၇၀၀-ေက်ာ္အထိ ထြန္းကားခဲ့တဲ့ ျဗာဟၼီ (Brahmi) အကၡရာက ဆင္းသက္လာေၾကာင္း ပညာရွင္ေတြက မိန္႔ဆိုၾကတယ္။
ခရစ္ႏွစ္ဦးပိုင္းေလာက္မွာ အိႏၵိယႏိုင္ငံသားေတြ အေရွ႔ေတာင္အာရွကို သေဘၤာႀကီးေတြနဲ႔ ရြက္လြင့္လာ ရာမွ ဗုဒၶဘာသာ၊ ဟိႏၵဴဘာသာ၊ အကၡရာ၊ နီတိက်မ္း၊ ဓမၼသတ္က်မ္း စတဲ့ ယဥ္ေက်းမႈေတြပါလာျပီး အေရွ႔ေတာင္အာရွ ႏိုင္ငံေတြမွာ ထြန္းကားတာပါ။
အဲဒီအကၡရာဟာ မြန္လူမ်ိဳးေတြဆီ အရင္ေရာက္ျပီး အဲဒီကမွတဆင့္ ျမန္မာေတြဆီေရာက္တယ္။
ျမန္မာေတြက အဲဒီအကၡရာေတြကို ျမန္မာစကားသံေတြနဲ႔ အံ၀င္ခြင္က်ျဖစ္ေအာင္ လိုအပ္သလို မြမ္းမံအသံုးျပဳရာက ျမန္မာအကၡရာ ေပၚေပါက္လာတယ္လို႔ ယူဆၾကပါတယ္။
ျမန္မာအကၡရာဆိုရာမွာ ဗ်ည္းေရာ၊ သရေရာ ပါ၀င္ပါတယ္။ ဗ်ည္းေတြကို အမည္ေပးပံုက စိတ္၀င္စားစရာ ေကာင္းပါတယ္။
ဘယ္တုန္းကစျပီး ကႀကီး-ခေခြး-ဂငယ္-ဃႀကီး-စတဲ့အမည္ေတြ ေပးတာလဲလို႔ စဥ္းစားၾကည့္ရင္ ျမန္မာအကၡရာေတြကို ေပရြက္ေပၚမွာ ကညစ္နဲ႔ အ၀ိုင္းပံုေရးေတာ့မွ ျဖစ္လိမ့္မယ္လို႔ ဆိုခ်င္ပါတယ္။
ေက်ာက္စာ စေရးထိုးတဲ့ ပုဂံေခတ္တုန္းကေတာ့ ခုလို ၀ိုင္း၀ိုင္းစက္စက္ မဟုတ္ေၾကာင္း ပုဂံေက်ာက္စာေတြကိုၾကည့္ရင္ သိႏိုင္ပါတယ္။
အဲဒီတုန္းက ေက်ာက္ေပၚမွာ ေဆာက္တို႔၊ ဘာတို႔နဲ႔ ထြင္းရတာမို႔ ေလးေထာင့္ပံုေတြ ထြင္းတယ္၊ မ၀ိုင္းေသးဘူး။ ၀-၀ကေလး ၀ိုင္း၀ုိင္းေရး-လို႔ ေျပာလို႔မရေသးဘူး။
ေပေပၚမွာေရးေတာ့ ေလးေထာင့္ေရးရင္ အဆင္မေျပဘူး။ ေပရြက္အေၾကာေတြ စုတ္ျပတ္ႏိုင္တယ္။
အ၀ိုင္းေရးေတာ့ ပိုအဆင္ေျပတယ္။ အဲဒီလိုအ၀ိုင္းေရးတဲ့ေခတ္ေရာက္မွ ဗ်ည္းေတြရဲ႔ ပံုသ႑ာန္ကိုၾကည့္ျပီး အမည္ေပးတာပါ။
ဒီေတာ့ ျမန္မာဗ်ည္းေတြဟာ မ၀ိုင္းခင္တုန္းက ကႀကီး-ခေခြး စတဲ့ အမည္ေတြ မရေသးဘဲ က-ခ-လို႔ပဲ ေခၚလိမ့္မယ္ထင္တယ္။
ဗ်ည္းေတြကိ္ု အမည္ေပးရာမွာ ဂုဏ္အရည္အေသြးအရ အမည္ေပးတာေရာ၊ ပံုသ႑ာန္အရ အမည္ေပးတာေရာ ေတြ႔ရတယ္။ ကႀကီး၊ ဃႀကီး၊ ဏႀကီး၊ ဠႀကီး ဆိုတဲ့ အကၡရာေလးလံုးကို ႀကီးေလးလံုး-လို႔ေခၚၾကတယ္။
အဲ ဃႀကီး၊ ဏႀကီး၊ ဠႀကီးတို႔မွာေတာ့ ဂငယ္၊ နငယ္၊ လ(ငယ္) ဆိုတဲ့ အတြဲေတြ ရွိတယ္မဟုတ္လား။
ဒါေၾကာင့္ အႀကီးအငယ္ခြဲျပီး အငယ္ေတြထက္ အရြယ္ပမာဏႀကီးတဲ့ အကၡရာေတြကို ႀကီး-ထည့္ျပီး ေခၚၾကတာေပါ့။
ကႀကီးက်ေတာ့ ကငယ္ မရွိဘဲ ဘာျဖစ္လို႔ ကႀကီးလို႔ေခၚရသလဲလို႔ ေမးစရာေပါ့။
ဗ်ည္း ၃၃-လံုးမွာ ေရွ႔ဆံုးက ေခါင္းေဆာင္ဗ်ည္းျဖစ္လို႔ ကႀကီးလို႔ ေခၚတယ္လို႔လည္း ယူဆၾကတယ္။
၃၃-လံုးမွာ အႀကီးဆံုးေပါ့။
ပံုသ႑ာန္က ဂငယ္ထက္ ၂-ဆ ႀကီးေနလို႔ ကႀကီးလို႔ေခၚတယ္လို႔လည္း ဆိုၾကတယ္။
ပုံသ႑ာန္အရ အမည္ေပးတဲ့ဗ်ည္းေတြကို ၾကည့္ပါ။
ေခြေခြကေလးေနလို႔ ခ-ေခြး၊
လံုးလံုးကေလး ေနလို႔ စ-လံုး၊
လိမ္ေခြေနလို႔ ဆ-လိမ္၊
ေအာက္ကြဲေနလို႔ ဇ-ကြဲ၊
ေဘးကမ်ဥ္းဆြဲထားလို႔ စ်-မ်ဥ္းဆြဲ၊
ရင္ကေလးေကာက္ေနလို႔ ဍ-ရင္ေကာက္၊
၀မ္းပူေနလို႔ တ-၀မ္းပူ၊
အငယ္အေထြးေလးျဖစ္လို႔ ဒ-ေဒြး (ဒေထြး)၊
ေအာက္ပိုင္းကျခိဳက္(ခ်ိဳင့္) ေနလို႔ ဓ-ေအာက္ျခိဳက္၊
မတ္မတ္ေစာက္ေစာက္ရွိလို႔ ပ-ေစာက္၊
အထက္ပိုင္းကျခိဳက္(ခ်ိဳင့္)ေနလို႔ ဗ-ထက္ျခိဳက္၊
ကုန္းေနလို႔ ဘ-ကုန္း၊
ပက္လက္လန္ေနလို႔ ယ-ပက္လက္၊
အဖ်ားက ေကာက္ေနလို႔ ရ-ေကာက္-ဆိုျပီး ပံုသ႑ာန္အရ အမည္ေပးတာ ေတြ႔ႏိုင္ပါတယ္။
အကၡရာတခ်ိဳ႔ရဲ႔ အမည္ေတြက ပံုသ႑ာန္ကို ရိုးရိုးေဖာ္ျပ တာမဟုတ္ဘဲ ပံုသ႑ာန္တူတဲ့ အရာ၀တၳဳေတြနဲ႔ ခိုင္းႏႈိင္းအမည္ေပးတာျဖစ္ပါတယ္။
ေရွးကသံုးတဲ့ သံလ်င္းလို႔ေခၚတဲ့ ထမ္းစင္မွာပါတဲ့ ခ်ိတ္ေလးကို ေကာက္ေကာက္ကေလးမို႔ ဋ-သံလ်င္းခ်ိတ္၊
၀မ္းဘဲနဲ႔တူလို႔ ဌ-၀မ္းဘဲ၊
ေရမႈတ္နဲ႔တူလို႔ ဎ-ေရမႈတ္၊
ဆင္ရဲ႔ေျခေထာက္ကို ခတ္ရတဲ့ ထူးလိုအကြင္း ၂-ကြင္းပါလို႔ ထ-ဆင္ထူးလို႔ ေခၚေၾကာင္း ေတြ႔ႏိုင္ပါတယ္။
င-မ-၀-သ-ဟ တို႔ကိုေတာ့ အမည္မေပးတာ ေတြ႔ရပါတယ္။
ည-ယ-လ တို႔ကိုေတာ့ သာမန္အားျဖင့္ အမည္ မေပးေပမယ့္ လိုအပ္တဲ့အခါ ညႀကီး၊ ယပက္လက္၊ လ(ငယ္)လို႔ အမည္ေပးပါတယ္။ ဉ ကို ဉ ကေလး၊ ည ကို ညႀကီးလို႔ ခြဲျခားေခၚပါတယ္။
ျမန္မာဗ်ည္း ၃၃-လံုးမွာ ည(ညႀကီး) ပဲပါတယ္။
ဉ (ဉ ကေလး) ကိုေတာ့ အသတ္အကၡရာအျဖစ္ပဲ သံုးတယ္။
သံေယာဇဥ္တို႔၊ ၀ိညာဥ္တို႔၊ အစဥ္အျမဲ-တို႔မွာ သံုးသလိုေပါ့။
ဒီေနရာမွာ ပါဠိဘာသာမွာသံုးတဲ့ ညနဲ႔ ျမန္မာဘာသာမွာသံုးတဲ့ ညကို ခြဲျခားမွတ္ရမယ္။
ပါဠိဗ်ည္း ၃၃-လံုးမွာ ည မသံုးဘူး။ ဉ ပဲသံုးတယ္။
ဒါေၾကာင့္ ပုည ကို ပုဥ္+ဉ လို႔ အသံထြက္ရတာေပါ့။
ေရွ႔က ညကို အသတ္အသံထြက္ရတယ္။ /ပုန္+ညာ့/လို႔ အသံထြက္ရတာေပါ့။
ဒီလိုပဲ ပညာ/ပဥ္+ဉာ/ပ်င္ညာ။ သုည/သုဥ္+ဉ /သုန္ညာ့၊ လို႔ အသံထြက္ရတယ္။
အခ်ဳပ္အားျဖင့္ ပါဠိမွာ ညဟာ ဉ ၂-လံုးတြဲျဖစ္တယ္။ ဉ ေရာ၊ ညေရာ သံုးတယ္။
ျမန္မာမွာေတာ့ ညႀကီး ဉ ကေလးလို႔ ခြဲသံုးတယ္။ ဗ်ည္း ၃၃-လံုးမွာ ညႀကီးသံုးျပီး အသတ္မွာ ဉ သံုးတယ္လို႔ ခြဲျခားမွတ္သားႏိုင္ပါတယ္။
ျမန္မာစာမွာ ဉ နဲ႔ ဥနဲ႔ ေရာေထြးတတ္တယ္။ ဉ (ဉ ကေလး) က ေျခေထာက္ ရွည္တယ္။
ဥ (ဘဲဥ၊ ၾကက္ဥ-မွာပါတဲ့ အကၡရာ ဥ) က ေျခေထာက္ တိုတယ္။
ယပက္လက္ကို ရေကာက္နဲ႔ ယွဥ္ျပီး ယပက္လက္လို႔ ခြဲျခားေခၚတယ္။
ေရွ႔က ရကို ရႀကီး၊ ယကို ယငယ္လို႔လည္း ခြဲေခၚေသးတယ္။ ရႀကီးနဲ႔ ရငယ္ေပါ့။ လကိုလည္း ဠနဲ႔ ယွဥ္ျပီး လငယ္လို႔ ေခၚႏိုင္ပါတယ္။
အကၡရာအမည္ေတြနဲ႔ပတ္သက္ျပီး ေျပာစရာတခုက ဓေအာက္ျခိဳက္ကို ေအာက္ကခ်ိဳင့္ေနလို႔ ဓေအာက္ျခိဳက္ ေခၚတယ္ေျပာျပီး ေရးေတာ့ ေအာက္က မခ်ိဳင့္ပါလားလို႔ ေမးစရာရွိတယ္။
ပုဂံေခတ္ ေက်ာက္စာေတြမွာ စေရးတုန္းက ဓဟာ အခုလို ေအာက္က ပိတ္မေနဘူး။ ဗ ေစာက္ထိုးေရးသလို ေအာက္ကခ်ိဳင့္ေနတယ္။
( ဗထက္ျခိဳက္ ေျပာင္းျပန္ပံုစံမ်ိဳးေပါ့။)
စ် (စ်မ်ဥ္းဆြဲ) ကို စလံုးယပင့္-ဆိုျပီး မွားသင္တဲ့ ဆရာမကေလးေတြ ရွိတယ္လို႔ ၾကားရတယ္။ စ် ဟာ မူလအကၡရာမွာ သီျခားပံုသ႑ာန္ ရွိပါတယ္။ စလံုးကို ယပင့္ထားတာ မဟုတ္ပါဘူး။
ေဘးက မ်ဥ္းဆြဲထားလို႔ စ်မ်ဥ္းဆြဲ ေခၚတယ္လို႔ မွတ္သင့္ပါတယ္။ ကဲ ဒီေလာက္ဆိုရင္ ျပည့္စံုျပီထင္ပါတယ္။
.ကိုးကား ။ ။ ေမာင္ခင္မင္ (ဓႏုျဖဴ)
ko yehlin htun
Sunnis and Shiites are fighting - in Australia!
Posted: 19 Jun 2013 04:03 AM PDT
"Same shit all over the whole civilized world. The future is not good, and our politician's don't care, they are the people that must face trial and take responsibility for destroying our future. Our kids will grow up in a world with the same problems they are facing in Afghanistan, Iraq, Iran, Syria, Egypt, Libya and the rest of the Arabic world. Time to wake the fuck up and throw these barbaric fucks back to the desert! Vote "right wing", that's your only chance to prevent civil war in the future" - Blazzeish  (Aussie) Break out the pop corn and bring out the beers, guys. Cheers, bottoms up !!! Australia too is going into the toilet.
And this:
A secretive and radical program operating inside an Islamic book store in western Sydney is encouraging young Muslims to get involved in Syria's conflict, a 7.30 investigation has revealed. The bloody conflict in Syria has become a magnet and a new training ground for militants around the world, including Australians. ASIO has estimated around 100 Australians could be currently fighting in Syria, and four Australians have so far died in the conflict.





Since it opened just over a year ago, the Al Risalah bookstore has gained a reputation as a centre of Islamic extremism. 7.30 has been investigating Al Risalah's activities and the people behind it, identifying four key sheikhs. All are radical, and all are encouraging Australians to get involved in the Syrian crisis. The most famous of the sheikhs is Abu Suhaib, known to authorities as Bilal Khazal. Khazal is a former baggage handler for Qantas, trained at a military camp in Afghanistan, and was a confidant of Osama bin Laden.
Hat tip: EOZ
Posted: 19 Jun 2013 03:06 AM PDT
အစၥလာမ့္အလင္းစကားမ်ား (၂ )
" ဗလီမွာ ေန႕တိုင္းေအာ္ေနတာက ဘာသာျခားေတြကို
သတ္ျဖတ္ဖို႕ လူစုေနတာ ဟုတ္ပါသလား " တဲ့။
သတ္ျဖတ္ဖို႕၊ ေတာ္လွန္ဖို႕၊ တိုက္ခိုက္ဖို႕ ေခၚယူတာ အမွန္ပါဘဲ။
ဒါေပမယ့္ ဘာသာျခားေတြအပါအ၀င္ လူနဲ႕သတၱ၀ါအေပါင္းကို
တစ္စံုတစ္ရာေသာ ပ်က္ရာပ်က္ေၾကာင္းအတြက္ ေအာ္ေခၚလူစုတာမ်ဳိး မဟုတ္ပါ။
စင္စစ္အားျဖင့္ ၀တ္ေက်ာင္းေတာ္ကိုလာၿပီး ၀တ္ျပဳၾကဖို႕ သတိေပးေအာ္ေခၚႏိႈးေဆာ္ျခင္း ျဖစ္ပါတယ္။
ေလာကီ့မာယာေတြထဲကေန တဒဂၤ ေတာ္လွန္ရုန္းထြက္စြန္႕ခြာလာၿပီး
ေလာဘ၊ ေဒါသ၊ အတၱ၊ ေမာဟ၊ မာန၊ စိတ္ရိုင္း၊ အေတြးဆိုး စတဲ့ ေန႕တစ္ဓူ၀ ေလာကီနစ္မြန္းမႈအရာေတြကို

ေအးခ်မ္းတဲ့ေနရာမွာ မိမိရဲ႕အရွင္ကိုဦးခ်၀တ္ျပဳယင္း ကိုယ္စီကိုယ္ငွ သတ္ျဖတ္ပယ္ခ်ေစတာပါဘဲ။
ဒီအမႈေဆာင္ရြက္ဖို႕အတြက္ လာၾကပါ (မလာႏိုင္ခဲ့ယင္လည္း ကိုယ့္နည္းကိုယ့္ဟန္နဲ႕ေဆာင္ရြက္ဖို႕
အခ်ိန္က်ေရာက္ပါၿပီ) ဆိုၿပီး ႏိႈးေဆာ္ဖိတ္ေခၚသတိေပးျခင္းလုပ္ရပ္တစ္ခု ျဖစ္ပါတယ္။
ဘယ္ဘာသာတရားမွာမဆို စုရံုး၀တ္ျပဳဖို႕၊ ဆုေတာင္းဖို႕၊ တရားေဒသနာေဟာေျပာ/ပို႕ခ်/သင္ယူဖို႕ "ေနရာ" ဆိုတာ
ရိွစၿမဲ/လိုအပ္စၿမဲ/သတ္မွတ္ရစၿမဲ ျဖစ္ပါတယ္။ အဲ့ဒီလိုေနရာမ်ဳိးမွာ ညစ္ညမ္းတဲ့အရာ၊ အမႈမ်ဳိး လက္မခံျခင္းကလည္း
ဘာသာတရားတိုင္းမွာ ရိွပါတယ္။ သန္႕ရွင္းတဲ့ေနရာတစ္ခုမွာ ဦးခ်၀တ္ျပဳဖို႕ အစၥလာမ္က သြန္သင္ထားပါတယ္။
တစ္ဦးခ်င္းတစ္ေယာက္ခ်င္းအေနနဲ႕ သန္႕ရွင္းတဲ့ဘယ္ေနရာမွာမဆို ျပဳလုပ္ေဆာင္ရြက္ႏိုင္ေပမယ့္
စုရံုးေဆာင္ရြက္ဖို႕က သီးသန္႕ေနရာလိုအပ္ပါတယ္။ အဲ့ဒီလို စုရံုး၀တ္ျပဳဦးခ်တဲ့ေနရာဌာန/စုရပ္ကို အရဗီလို
"မတ္စ္ဂ်ိ(ဒ္)"လို႕ ေခၚဆိုၿပီး ျမန္မာလိုနားလည္က်အတိုင္း ဗလီ/၀တ္ျပဳေက်ာင္းလို႕ ေခၚဆိုၾကပါတယ္။
(အၾကမ္းအားျဖင့္ အမ်ားနားလည္ေအာင္ တင္ျပျခင္းျဖစ္ပါတယ္)။ ဒါေၾကာင့္ ဗလီ၀တ္ေက်ာင္းဟာ
ေလာကီနဲ႕တိုက္ရိုက္မသက္ဆိုင္တဲ့ေနရာဌာနတစ္ခု ျဖစ္လို႕ ေလာကီေရးသီးသန္႕ကိစၥေတြကို ဗလီရဲ႕ပရ၀ုဏ္အတြင္းမွာ
ျပဳလုပ္ေျပာဆိုပိုင္ခြင့္ မရိွပါဘူး။ သာသနာကသြန္သင္လမ္းညြန္တဲ့ ဘ၀လမ္းစဥ္အတိုင္း က်င့္မူေနထိုင္ရွင္သန္တာကို
အစၥလာမ္က ေလာကီေရးသီးသန္႕အျဖစ္မျမင္ပါဘူး။ ေလာကီေရးမွန္သမွ်စြန္႕ပယ္ၿပီး ေလာကုတၱရာေရးသက္သက္
မလုပ္ဖို႕၊ ေလာကုတၱရာေရးကို လံုး၀ ကရုမစိုက္ဘဲ ေလာကီေရးသက္သက္လုိက္စားတာမ်ဳိး မလုပ္ဖို႕
(တစ္နည္းအားျဖင့္) အစြန္းႏွစ္ဖက္ကိုေရွာင္ၾကဥ္ဖို႕ အစၥလာမ္က လမ္းညႊန္အားေပးထားပါတယ္။ ဒါကလည္း
အစၥလာမ္ရဲ႕တမူထူးျခားခ်က္တစ္မ်ဳိးျဖစ္ပါတယ္။ " ဓား၊ လွံ၊ ေလး၊ ျမွား (စတဲ့)လက္နက္ေတြကိုင္ေဆာင္ၿပီး
ဗလီ၀တ္ေက်ာင္းေတာ္ထဲ ၀င္ေရာက္လာသူဟာ ငါတို႕အနက္မွမဟုတ္ " ၊ " ၿငိမ္းခ်မ္းသူအခ်င္းခ်င္း လက္နက္နဲ႕
ခ်ိန္ရြယ္သူဟာ ငါ့ေနာက္လိုက္ မဟုတ္" လို႕ အစၥလာမ့္တမန္ေတာ္ မုဟမၼဒ္ (ၿငိမ္းခ်မ္းမဂၤလာသက္ေရာက္ေစသား) က
အတိအလင္း မိန္႕ေတာ္မူထားပါတယ္။ ဒါ့အျပင္ ဆူပူေသာင္းက်န္းသူမ်ားက အျခားဘာသာ၀င္ေတြရဲ႕
ဘုရားေက်ာင္းဂန္ေတြကို ပ်က္လိုဖ်က္ဆီးျပဳလာခဲ့ယင္ေတာင္ အစၥလာမ္ဘာသာ၀င္မ်ားက
ကာကြယ္တားဆီးေစာင့္ေရွာက္ေပးရမယ္ဆိုၿပီး အစၥလာမ့္က်မ္းဂန္ ကုရ္အာန္ထဲမွာ ထင္ထင္ရွားရွား ေတြ႕ႏိုင္မွာပါ။
ဘာသာျခားေတြအေပၚ တစ္ဖက္သတ္အျပစ္ျမင္ၿပီး တစ္စံုတစ္ရာႀကံစည္ဒုကၡေပးဖို႕ဆိုတာ ပိုလို႕ မျဖစ္ႏိုင္ပါဘူး။
သို႕သာမက ဗလီဟာ ဂိုေဒါင္ မဟုတ္တဲ့အတြက္ လက္နက္သိုေလွာင္ရံုတို႕၊ စစ္စခန္းတို႕ ဘယ္ျဖစ္ႏိုင္မွာလဲဗ်ာ။ ဒီေတာ့
ေဖာ္ျပခဲ့တဲ့ သေဘာတရားေတြနဲ႕ဆန္႕က်င္ၿပီး တစ္ဖက္သတ္အျမင္မွားမႈ သို႕မဟုတ္ စြပ္စြဲပုတ္ခတ္မႈကိစၥလိုမ်ဳိး
ဗလီထဲမွာ ဘယ္လုိရိွႏိုင္မွာလဲဆိုတာ စဥ္းစားမိၾကပါလိမ့္မယ္။ ( ဘာသာတရား နဲ႕ ဘာသာ၀င္ေတြကို ခြဲျခားသိျမင္ဖို႕
လုိပါတယ္။ ဘာသာတရားရဲ႕အဆံုးအမကို ဥေပကၡာျပဳၿပီး ဆန္႕က်င္ၿပီး လုပ္ခ်င္ရာလုပ္တဲ့သူေတြဟာ -
ဘယ္ဘာသာ၀င္ျဖစ္ျဖစ္ – သူတို႕ရဲ႕ဘာသာတရား နဲ႕ သူတို႕ရဲ႕ဘာသာ၀င္အျခားသူအားလံုးကို ကိုယ္စားမျပဳပါဘူး။
ဘယ္ဘာသာတရားမွာမဆို အစြန္းေရာက္ေတြ၊ စုန္းျပဴးေတြ ရိွတတ္ၾကစၿမဲပါ။ ဥပမာဆိုရယင္ ျမန္မာႏိုင္ငံက
ဗုဒၶဘာသာ၀င္တစ္ဦးက အလြန္အင္မတန္ေသးသိမ္ယုတ္ညံ့တဲ့အမႈကိစၥက်ဴးလြန္လိုက္တယ္ဆိုပါေတာ့။ ဗုဒၶဘာသာက
ဒီလိုလုပ္ဖို႕ခြင့္ျပဳထားသလား၊ ဆံုးမသြန္သင္ထားသလားလို႕ သတ္မွတ္လို႕မရသလို အျခားႏိုင္ငံမွာရိွတဲ့
ဗုဒၶဘာသာ၀င္မွန္သမွ် ဒီပုတ္ထဲကဒီပဲပါဘဲ လို႕ စြပ္စြဲလို႕မရစေကာင္းပါဘူး။ ဘယ္လိုလူစားျဖစ္ပါေစ ဒီလို
တစ္ယူသန္အစြဲရိွသူမ်ားရဲ႕ ပညာ၊ ဥာဏ္ရည္ ၊ ယံုၾကည္မႈ နဲ႕ စိတ္ဓာတ္ေတြဟာ ဘယ္အဆင့္အတန္းမွာ ရိွေနသလဲ
ဆိုတာ အလြယ္တကူ ခန္႕မွန္းမိၾကပါလိမ့္မယ္)။
ဒီေနရာမွာ အစၥလာမ္သာသနာရဲ႕ထူးျခားမႈတစ္ခု ၾကားညွပ္ေဖာ္ျပဖို႕လိုပါတယ္။
အစၥလာမ့္လမ္းစဥ္ရဲ႕က႑အသီးသီးတိုင္းမွာ ၿငိမ္းခ်မ္းစြာ ဘ၀တည္ေဆာက္ပံုေဖာ္ႏိုင္ေအာင္ စည္းမ်ဥ္း၊ က်င့္၀တ္ေတြ
ခ်မွတ္ထားပါတယ္။ တင္းၾကပ္ခ်ဳပ္ခ်ယ္တာမဟုတ္ပါဘူး။ လူ႕အရည္အေသြးျပည့္၀လာေအာင္ ရုပ္ပိုင္းဆိုင္ရာ၊
နာမ္ပိုင္းဆိုင္ရာ စည္းကမ္းနဲ႕ ပံုစံခ်ထိန္းကြပ္ေပးျခင္းသေဘာပါဘဲ။ မြတ္စ္လင္မ္ေတြအားလံုး ၿငိမ္းခ်မ္းေရးဖက္ကို
ေရွ႕ရႈေစသလို အျခားတစ္ဖက္မွာလည္း "မိမိကိုယ္ကိုခုခံကာကြယ္ပိုင္ခြင့္ဥပေဒ"ကို ျပ႒ာန္းေပးထားပါတယ္။
မတရားမႈကို တုန္႕ျပန္ရင္ဆိုင္မႈမျပဳလုပ္ဘဲ တရားမွ်တမႈျဖစ္မလာႏိုင္ပါဘူး။ တရားမွ်တမႈမရိွယင္
ၿငိမ္းခ်မ္းေရးဆိုတာလည္း မရိွႏိုင္တဲ့အတြက္ ဘက္ညီမွ်တေအာင္ ျပ႒ာန္းေပးထားျခင္းျဖစ္ပါတယ္။ အစၥလာမ္မွာ
မိမိဖက္က သူတစ္ပါးကို စတင္ေစာ္ကားခြင့္ မျပဳပါဘူး၊ ေစာ္ကားခံရတဲ့အေပၚ ခုခံကာကြယ္ပိုင္ခြင့္ကိုေတာ့
ေပးထားပါတယ္။ ဒါကို တစ္ခ်ဳိ႕သူေတြက "မီးစတစ္ဖက္၊ ေရမႈတ္တစ္ဖက္"လို႕ အထင္မွားတတ္ၾကပါတယ္။
(အထက္ကဆိုၿပီးတဲ့အတိုင္း တလြဲအသံုးခ်ရုပ္လံုးေဖာ္သူေတြရိွတယ္၊ လိုက္နာသူရိွသလို မလိုက္နာသူေတြရိွတယ္။
အဲ့ဒါက သက္ဆိုင္ရာဘာသာတရား၊ ဘာသာ၀င္ေတြနဲ႕ မသက္ဆိုင္ပါဘူး)။ မည္သည့္တိုင္းျပည္ႏိုင္ငံမွာမဆို
လူတစ္ဦးခ်င္းစီအတြက္ မိမိကိုယ္ကိုခုခံကာကြယ္ပိုင္ခြင့္ဥပေဒမ်ား တရား၀င္ခ်မွတ္ျပ႒ာန္းေပးထားတာကို
ျမင္ေအာင္ၾကည့္ဖို႕လိုအပ္ေနပါတယ္။
ေနာက္ဆံုးအေနနဲ႕ ဗလီကေန ေန႕စဥ္ငါးႀကိမ္ ၀တ္ျပဳဖို႕လာေရာက္ေရးေဆာ္ၾသဖိတ္ေခၚခ်က္ကို ေဖာ္ျပပါမယ္။
အစၥလာမ္ဘာသာ၀င္ေတြအတြက္ ေန႕စဥ္တစ္ရက္ငါးႀကိမ္ အခ်ိန္ပိုင္းအလိုက္ ၀တ္ျပဳဖို႕ တာ၀န္ေပးထားပါတယ္။
နံနက္အရုဏ္ခ်ိန္၊ ေန႕လည္ မြန္းလႊဲခ်ိန္၊ ညေနေနေစာင္းခ်ိန္၊ ေန၀င္ခ်ိန္ နဲ႕ ညဦးခ်ိန္ေတြမွာ ျဖစ္ပါတယ္။
အစၥလာမ့္လမ္းစဥ္ေပၚထြန္းစက ယေန႕ေခတ္လို နာရီေတြမရိွခဲ့ပါဘူး။ ဒါေၾကာင့္ အခ်ိန္မီတစုတရံုးတည္း
လာေရာက္၀တ္ျပဳႏိုင္ဖို႕ အခ်ိန္က်ေရာက္လာယင္ တစ္ဦးတစ္ေယာက္က အသံေပးေအာ္ယူေဆာ္ၾသတဲ့နည္းစံနစ္ကို
အသံုးျပဳခဲ့ၾကတာပါ။ သတ္မွတ္ခ်က္တစ္ခုလည္း ျဖစ္သြားခဲ့ပါတယ္။ ဒါကို သာသနာ့သမိုင္း၀င္အစဥ္အလာအျဖစ္
ဒီေန႕ထက္တိုင္ ထိန္းသိမ္းက်င့္သံုးေနျခင္းျဖစ္ပါတယ္။ လာေရာက္၀တ္ျပဳေရးဖိတ္ေခၚစာသားနဲ႕အဓိပၸာယ္ကို
ေအာက္ပါအတိုင္း ေတြ႕ရပါလိမ့္မယ္ (အမ်ားနားလည္ေအာင္ ေရးသားတင္ျပပါတယ္)။
၁။ အလႅာဟု အတ္က္ဗရ္ ၊ အလႅာဟု အတ္က္ဗရ္ (၂ ႀကိမ္)
- အလႅာဟ္အရွင္ျမတ္သည္ တုႏိႈင္းမဲ့ႀကီးက်ယ္ျမင့္ျမတ္ေတာ္မူပါ၏။
* ဘယ္သာဘာ၀င္ျဖစ္ျဖစ္ မိမိရဲ႕ကိုးကြယ္ရာကို အႏႈိင္းမဲ့အဆင့္မွာ ထားပါတယ္။ အႀကီးက်ယ္ဆံုးအျမင့္ျမတ္ဆံုးအျဖစ္
သတ္မွတ္လက္ခံေလ့ရိွပါတယ္ *
၂။ အရွ္ဟဒု အလႅာအိလားဟ အစ္လလႅာဟ္ (၂ ႀကိမ္)
- အလႅာဟ္အရွင္ျမတ္မွအပ (ကၽြႏ္ုပ္အဖို႕) ခ၀ပ္ကိုးကြယ္ရာမရိွေၾကာင္း ကၽြႏ္ုပ္ သက္ေသခံပါ၏။
* အစၥလာမ့္၀တ္ျပဳေရးဖိတ္ေခၚေနသူဟာ အစၥလာမ္သာသနာ၀င္သာျဖစ္ေၾကာင္း ခံ၀န္ေျပာဆိုတာပါ *
၃။ အရွ္ဟဒု အန္းန မုဟမၼဒန္ ရစူးလုလႅာဟ္ (၂ ႀကိမ္)
- မုဟမၼဒ္ သည္ အလႅာဟ္အရွင္ျမတ္၏ က်မ္းရပုဂၢိဳလ္ေစတမန္ေတာ္စင္စစ္ျဖစ္ေၾကာင္း ကၽြႏ္ုပ္သက္ေသခံပါ၏။
* ဖိတ္ေခၚေနသူဟာ မုဟမၼဒ္ရဲ႕ေနာက္လိုက္တစ္ဦးျဖစ္ေၾကာင္း ခံ၀န္ေျပာဆိုတာပါ *
* ဒီ နံပါတ္ ၂ နဲ႕၃ ဟာ အစၥလာမ္သာသနာရဲ႕ယံုၾကည္ခ်က္သက္ေသခံစကားရပ္ အရင္းအျမစ္ ျဖစ္ပါတယ္။
အစၥလာမ္ကိုသက္၀င္လက္ခံလာသူတိုင္း ဒီစကားရပ္ကို အနည္းဆံုးသက္ေသႏွစ္ဦးေရွ႕မွာ ဖြင့္ဟ၀န္ခံေျပာဆိုရပါတယ္*
၄။ ဟိုင္းယ အလတ္ ဆြလာဟ္ (၂ ႀကိမ္)
- ၀တ္ျပဳရန္ လာေရာက္ၾကပါကုန္။
၅။ ဟိုင္းယ အလတ္ ဖလားဟ္ (၂ ႀကိမ္)
- ေအာင္ျမင္ျခင္းဖက္သို႕လာေရာက္ၾကပါကုန္။
* အထက္ကတင္ျပခဲ့တဲ့အတိုင္း ေလာကီနစ္မြန္းမႈမွရုန္းထြက္ႏိုင္ျခင္းကို ေအာင္ျမင္မႈလို႕တင္စားညႊန္းဆိုျခင္းျဖစ္တယ္*
၆။ ၁။ အလႅာဟု အတ္က္ဗရ္ ၊ အလႅာဟု အတ္က္ဗရ္ (၁ ႀကိမ္)
- အလႅာဟ္အရွင္ျမတ္သည္ တုႏိႈင္းမဲ့ႀကီးက်ယ္ျမင့္ျမတ္ေတာ္မူပါ၏။
* ဆိုလိုခ်က္ကို အမွတ္စဥ္ ၁ ၌ ေဖာ္ျပၿပီး *
၇။ လာအိလားဟ အစ္လလႅာဟ္ (၁ ႀကိမ္)
- အလႅာဟ္အရွင္ျမတ္မွအပ (ကၽြႏ္ုပ္အဖို႕) ခ၀ပ္ကိုးကြယ္ရာမရိွပါ။
(အထူးမွတ္ခ်က္) – " အလႅာဟ္ " ဆိုတာ အရဗီဘာသာစကားအရ မိမိရဲ႕ကိုးကြယ္ရာ (ဖန္ဆင္းရွင္) အရွင္သခင္ကို
ေခၚဆိုပါတယ္။ အာရဗ္လူမ်ဳိး ခရစ္ယာန္ေတြကလည္း God ကို အရဗီစကားနဲ႕ အလႅာဟ္လို႕ဘဲ ေခၚဆိုသံုးႏႈန္းပါတယ္။
ဒီေလာက္ဆိုယင္ " ဗလီမွာ ေန႕တိုင္းေအာ္ေနတာက ဘာသာျခားေတြကို သတ္ျဖတ္ဖို႕ လူစုေနတာ ဟုတ္ပါသလား "
ဆိုတဲ့ေမးခြန္းအတြက္ အေျဖမွန္ကို ရေလာက္ၿပီလို႕ ေမွ်ာ္လင့္ပါတယ္။
သဂၤဟအေပါင္း ၿငိမ္းခ်မ္းမႈကို ရရိွၾကပါေစ။
သူေတာင္းစားရုပ္နဲ႕ အၾကမ္းဖက္သမား သရဝဏ္
Posted: 19 Jun 2013 02:59 AM PDT
မြစၥလင္မ္တိုင္းသည္ ဘဂၤါလီမဟုတ္ေသာ္လည္း
ဘဂၤါလီတိုင္းသည္ မြစၥလင္မ္ျဖစ္ေနသည္။
ဆိုေတာ့ကာ ဘဂၤါလီဆိုတာက ဘာကိုေျပာတာပါလဲ သရဝဏ္။

မြစၥလင္မ္တိုင္းသည္ အၾကမ္းဖက္သမားမဟုတ္ ေသာ္လည္း
အၾကမ္းဖက္သမားတိုင္းသည္ မြစၥလင္မ္မ်ားျဖစ္ေနသည္။
ဆိုေတာ့ကာ အၾကမ္းဖက္သမားဆိုတာ
ဘာကိုေခၚပါသလဲ သရဝဏ္
ဘဂၤါလီတိုင္းမြစၥလင္မ္ျဖစ္တယ္ဆိုရင္ ဘဂၤလားေဒ့ရွ္မွာ ဘုရားေတြ ဘုန္းႀကီးေက်ာင္းေတြ ဘာလို႔ခုထိရွိေနတာလဲေျဖ။ ။ ။
အၾကမ္းဖက္သမားတိုင္းဟာ မြစၥလင္မ္ပါဆိုရင္ ႏိုင္ငံစုံမွာရွိေနတဲ႔ ခိုးဆိုးတိုက္ခိုက္လူသတ္ေနတဲ႔ အဖြဲ႕ေတြ ဂိုဏ္းစတားေတြကိုမင္းလိုက္ၾကည့္လိုက္ အားလုံး မြစၥလင္မ္ေတြပဲလား။ဘိန္းေမွာင္ခို လက္နက္ေမွာင္ခို လူေမွာင္ခို ေၾကးစား ဓါးျမ ကမ႓ၻာနဲ႔ခ်ီပတ္ၾကည့္လိုက္ အဲဒီေကာင္ေတြအားလုံး မြစၥလင္မ္ေတြလားလို႔။မင္းခုထမင္းငတ္ေနလို႔ စာမူပိုရေအာင္ ဒီေဆာင္းပါးထေရးတာလား။
သူေတာင္းစားရုပ္နဲ႕ ေစာက္ရိုးေကာင္ ဒီအေတြးေလာက္နဲ႕ေဆာင္းပါးတက္ေရးဆရာႀကီးလုပ္ခ်င္ေသးတယ္။ထမင္းငတ္ရင္လည္း မ်ိဳက်မဲ႔နည္းေလးဘာေလးသုံးၿပီးရွာစား ဒီအတိုင္ဆက္သြား မင္းမိန္းမဖာတန္းေရာက္မယ္
ဘာသာလူမ်ိဳးဆိုတာကို ေရွ့တန္းတင္ျပီးျပႆနာေဖၚ ေနတာက ဘာေတြတံုး?
Posted: 19 Jun 2013 02:56 AM PDT
ျပင္ပ လူေနမႈ႔ဘဝမွာ
တဦးျခင္းတို႔ရဲ့ဘာသာတရား
ကဘယ္ေလာက္ျပဒါန္းေနလို႔လဲ။
၁၉၈၇ ေနာက္ ၁၉၈၈ ျမန္မာျပည္အႏွံအျပား လူငယ္
နိုင္ငံေရးလႈပ္ရွားမႈ႔ေတြအစပ်ိဳး
ခဲ႔တယ္။
က်ြန္ေတာ္တို႔တေတြ နိုင္ငံေရး
ဆိုတဲ႔အထဲ ထဲထဲဝင္ဝင္ပါမိႀကတယ္။
က်ြန္ေတာ္ကမြတ္စလင္။
ဒါေပမဲ႔ ဆက္ဆံမႈ႔အပိုင္းမွာေရာlနိုင္သံေရးအသိုင္းအဝန္းမွာေရာ ျပႆနာရွိဖို႔ေနေနသာသာ
မြတ္စလင္ တဦးပါဆိုျပီးခြဲျမင္တာ
မ်ိဳးေတာင္မရွိခဲ႔ဘူး။
ည ည စကု ေက်ာင္းတိုက္ထဲမွာသြား
တည လံုးတိုင္ပင္ႀကlအလုပ္လုပ္ႀက
ခြဲျခားမဲ႔လူမရွိဘူး။
ေနာက္ ေတာခိုႀက။တေယာက္
အသက္တေယာက္ ကယ္ဖို႔က်ိဳးစား
ႀက။ အနစ္နာခံႀက။
ဒါေပမဲ႔ ဘာသာေရးမပါဘူး။
အခု ကိုညီညီေက်ာ္ ေထာင္ ၃လ
က်သြးတယ္။ ဝိုင္းကန္႔ကြက္ႀကတာ
ဘာသာစံုlလူမ်ိဳးစံု။
ေျမာက္ပိုင္းျပန္ ေမာင္ႏွမေတြက
သူ႔ဇနီးကို လက္ေဆာင္ ေငြ တသိန္း သြားေပးႀကတယ္။
ဘာသာလူမ်ိဳးမပါျပန္ဘူး။
ဒါဆို က်ြန္ေတာ္တို႔ပါတ္ဝန္းက်င္
မွာ ဘာသာလူမ်ိဳးဆိုတာကို
ေရွ့တန္းတင္ျပီးျပႆနာေဖၚ
ေနတာက ဘာေတြတံုး။
ေသခ်ာတာကေတာ့ သူတို႔မွာ
ခင္ဗ်ားတို႔က်ြန္ေတာ္တို႔လို
မွန္ကန္တဲ႔ရည္ရြယ္ခ်က္နဲ႔
ရိုးရွင္းတဲ႔ေစတနာမရွိႀကပါဘူး။
ဒီလိုျပႆနာမ်ိဳးေတြေပၚမွအက်ိဳး
အျမတ္ခံစားရတဲ႔သူေတြပါ။
သူတို႔ေႀကာင့္ နိုင္ငံေရာlလူမ်ိဳးေရာ
ေနာက္ဆံုးသာႆနာပါကမၻာ့
အလည္မွာသိကၡက်။
ရိုက္ခတ္မႈ႔တခုနဲ႔ျပည္တြင္း
ျပည္ပ မလံုျခံဳမႈ႔ေတြခံစားရ။
ဘာတခုမ်ားေကာင္းတာရွိႀကသလဲဗ်ာ။
ဝိုင္းဝန္းျပီးဆန္႔က်ဥ္ႀကဖို႔ေတာ့လိုေနပါျပီ။
Black 505 22 Jun: Wakil Rakyat Menang Wajib Turun – Pengerusi Sekretariat
Posted: 19 Jun 2013 04:15 AM PDT
P
engerusi Sekretariat Black 505, Datuk Johari Abdul menyeru agar wakil rakyat Pakatan Rakyat yang menang dalam Pilihan Raya Umum 5 Mei lalu menjadi barisan hadapan dalam kebangkitan rakyat melawan penipuan pilihan raya BN.
Katanya, jika pihak yang kalah atau yang tiada kena mengena dengan pilihan raya menuntut SPR dibebaskan dan pilihan raya dilaksana secara adil, maka rakyat akan menghukum BN dalam PRU akan datang.

"Saya bertemu dengan ramai orang dan mereka berkata mahu melihat wakil rakyat Pakatan yang menang mengetuai penentangan penipuan pilihan raya.

"Wakil rakyat yang menang tidak boleh berdiam diri. Kalau mereka menjadi barisan depan, maka lebih ramai rakyat akan turun dan menyokong perjuangan ini.

"Anak muda Melayu, Cina, India tidak lagi takut untuk berhimpun. Marilah kita meraikan perubahan baru ini," katanya.

Johari juga meminta peserta perhimpunan pada 22 Jun berpakaian hitam sebagai lambang kematian demokrasi.

Menurutnya, peserta akan berarak dari beberapa tempat berkumpul seluruh Kuala Lumpur mulai pukul 2 petang dan tiba di lokasi utama Padang Merbok pada pukul 3 petang. -KD


A Response To KJ John's Criticism Of MBPJ Dogcatchers - Trained By The World's Best
Posted: 19 Jun 2013 01:55 AM PDT
MBPJ dog-catchers trained by among the world's best






Anthony Siva Balan Thanasayan
4:18PM Jun 19, 2013


 




I refer to KJ John's article 'Dog-catching - an art or science? (Malaysiakini, June 18, 2013) It
is most unfortunate that the writer was disturbed by stray dogs a
couple of times during his walk in Taman Aman park in Petaling Jaya
recently. We are, however, relieved and happy
International Buddhist-Muslim Joint Statement
Posted: 19 Jun 2013 01:48 AM PDT
International
Buddhist
-Muslim Joint Statement
Shared Commitment of Action
Bangkok, Thailand | 16 June 2013
Buddhist and Muslim leaders from South and South East Asian countries including India, Indonesia,
Malaysia, Myanmar, Sri Lanka, and Thailand, have gathered in Bangkok, Thailand to address
escalating tensions between two communities and potential spread of hatred across the region. The
consultation was co-organized by the International Network of Engaged Buddhists (INEB), the
International Movement for a Just World (JUST), and Religions for Peace (RfP).
We recognize these challenges facing the two communities in the region:
1) Rise of extremism, hate speeches and campaigns and instigation of religious discrimination and
violence;
2) Prejudice, fear and hatred caused by ignorance, misperception, stereotyping, negative impact of
traditional and social media, simplification and generalization, and communal pressure;
3) Misuse of religion by certain religious, political and other interest groups and individuals;
4) Socio economic dimensions of conflict; and
5) Spillover effects across the region.
We are also deeply aware that if Buddhist and Muslim communities can overcome the challenges that
confront them, there is tremendous potential for the growth and development of ideas and values that
may help to transform the region. For Buddhist and Muslim philosophies embody gems of wisdom
about the purpose of life, the position and role of the human being and her relationship with all other
sentient beings and nature which could well liberate contemporary civilization from its multiple crises.
The young in these two communities in particular should be imbued with these profound ideas and
values about life and its meaning.
We endorse the Dusit Declaration of 28 June 2006 and commit ourselves to implementing its shared
action across the region. Our actions will include intra-religious and inter-religious initiatives in
education, advocacy, rapid reaction/solidarity visits/early warning/conflict prevention, constructive
engagement with the government, strategic common action, and the effective use of media for positive
messages. We will also engage in multi-stakeholder partnerships with governments, inter-governmental
bodies such as the
Association of South East Asian Nations
(ASEAN), South Asian Association for
Regional Cooperation (SAARC), the
Organization of Islamic Cooperation
(OIC), and the United
Nations.
Dusit Declaration
28 June 2006, Bangkok
A Buddhist–Muslim Dialogue on the theme 'Buddhists and Muslims in Southeast Asia working
towards justice and peace' was held at the Suan Dusit Place of Suan Dusit Rajabhat University,
Bangkok from 26-28 June 2006. It was organised jointly by the Santi Pracha Dhamma Institute (SPDI),
International Network of Engaged Buddhists (INEB) and International Movement for a Just World
(JUST).
A total of 35 participants from eight countries attended the three-day Dialogue. Most of the participants
were Buddhists and Muslims from Southeast Asia. A number of them were socially-engaged scholars
and grassroots activists.
The Dialogue was part of a continuous process of interaction and engagement among individuals from
the two communities that had begun ten years ago. Since Buddhists and Muslims constitute the
overwhelming majority of Southeast Asia's 550 million people, dialogue aimed at enhancing
understanding and empathy between the two communities is vital for peace and harmony in the region.
In view of the critical situation in Southern Thailand, the Dialogue on this occasion assumed special
2
significance. Apart from Southern Thailand, the Dialogue also reflected upon issues of concern
pertaining to the two communities in a number of other Southeast Asian countries.
The Dialogue observed that for most of history relations between Buddhists and Muslims have been
relatively harmonious. This has been due largely to a certain degree of mutual respect and a willingness
to accommodate differences. This historical backdrop should provide the two communities with the
strength and resilience to overcome the challenges that confront them today.
In order to overcome these challenges, the Dialogue made the following proposals:
1. Civil society groups should utilise to the fullest various information and communication
channels with the aim of increasing knowledge and understanding among Buddhists and
Muslims of the principal teachings of their respective religions. Towards this end, SPDI, INEB
and JUST undertake to produce a series of monographs in all the Southeast Asian languages
which will emphasise the fundamental values and principles in Buddhism and Islam that give
meaning to justice and peace. An attempt will also be made to disseminate documentaries on
inter-religious harmony that embody real life episodes through various local communication
channels as well as via webcasting, podcasting and broadcasting.
2. The mainstream print and electronic media should highlight those moral values and ethical
standards that Buddhism and Islam share in common, and at the same time explain differences
in doctrines and rituals with sensitivity. It should also regard it as a duty to eradicate stereotypes
and prejudices about the two religions. The media should not aggravate inter-religious ties by
distorting and sensationalising events that have implications for religious harmony. In this
regard, the media should not allow itself to be manipulated by opportunistic politicians and
public personalities who abuse religion and nationalism for their own agendas. Civil society
groups should establish 'media watches' to monitor media reporting on matters pertaining to
inter-religious ties.
3. Schools and universities should introduce and expand courses that seek to promote better
understanding between Buddhists and Muslims. Since both religions are committed to justice
and peace, it would be worthwhile to increase peace studies programmes at all levels of formal
education which focus on non-violence in conflict resolution. School and university curricula
should not contain materials which create animosity and perpetuate prejudice between religious
and ethnic communities. Civil society groups can help to initiate the development of curricula
that reflect Buddhism's and
Islam's
concern for justice and peace. At the same time, they
should monitor school and university curricula to ensure that they do not have a negative
impact on inter-religious ties.
4. Buddhist and Muslim religious leaders should within the context of their respective faiths
emphasise those ideas and values which conduce towards inter-religious harmony and the
celebration of our common humanity. They should discard the tendency to be exclusive in their
outlook and consciously cultivate a more inclusive and universal orientation towards religion.
Differences between the two religions should not be allowed to create cleavages between their
followers. Buddhist monks and the ulama should work together to eliminate prejudices, hatreds
and misconceptions that sometimes tend to separate the two communities. Both should adopt a
principled position against violence, especially the killing of civilians, and the destruction of
places of worship regardless of who or what the target is. In this connection, civil society
groups should engage with religious leaders in order to encourage them to become more
inclusive and universal in outlook and more positively orientated towards justice and peace.
5. Government leaders and politicians should consciously nurture harmonious relations between
Buddhists and Muslims and among people of other faiths through both their public
pronouncements and policies. It would be utterly irresponsible of government leaders and
politicians to exploit religious sentiments for narrow political gain. They should instead initiate
meaningful reforms to existing political structures which would protect and strengthen the
rights and dignity of the different religious communities. In certain situations it may even be
3
necessary to devolve political authority through the empowerment of disenfranchised religious
communities. To endow substance to the empowerment of the community, government and
political leaders should adhere to moral principles such as transparency and accountability.
Civil society and the media should not hesitate to expose irresponsible leaders who divide the
followers of different religions in pursuit of their self-serving political agendas.
Apart from looking at the challenges facing Buddhists and Muslims in Southeast Asia as a whole, the
Dialogue also addressed immediate and urgent issues obtaining in specific country situations. The focus
was of course on Southern Thailand.
6. In the case of Myanmar, there was concern over attempts by the government to control
religious activities to the detriment of the communities in question. The state itself appears to
be a purveyor of prejudice against certain religious communities. In Indonesia, the adverse
socio-economic and socio-political situation has had a negative impact upon inter-religious
relations. Unethical methods of proselytisation by groups within a particular religious
community allegedly supported by foreign elements have led to a further deterioration in
majority-minority ties. There is also a need for the Malaysian state to be more sensitive to some
of the legitimate interests of its non-Muslim minorities.
7. The Dialogue was of the view that the recommendations of the National Reconciliation
Commission (NRC) established to study the situation in Southern Thailand deserve the
wholehearted support of the nation. It is significant that the NRC declared in unambiguous
terms that religion is not the cause of the violence in the South. Injustices arising from the
existing judicial process and administrative system and poverty and deprivation are more
important contributory factors. Historical and cultural conditions have also played a role in
prodding militants to resort to violence which has been met with excessive force by the state.
The NRC recommends a whole gamut of measures to overcome the violence. Among them is
the establishment of a Peaceful Strategic Administrative Center for Southern Border Provinces
(PSAC) which inter alia would seek to promote understanding of the situation and methods to
solve the problem in all government agencies among people in the region in Thai society at
large and in the international community. There is also a proposal for the state to engage in
dialogue with the militants and to act decisively against state officials who abuse their power.
There are also other recommendations for solving the unemployment problem, building
confidence in the judicial process and improving the education system.
8. The Dialogue also proposed that civil society undertake to ascertain the sentiments of the
people in the three troubled provinces of Pattani, Narathiwat and Yala about the form of local
governance that they prefer. A petition with at least 50,000 signatures on the form of
governance they opt for should then be presented to Parliament for deliberation. This would be
in accordance with the Thai Constitution and would reflect the democratic will of the people of
the three provinces.
9. Monks and the ulama and Buddhist and Muslim religious leaders in general in the three
provinces should make a concerted effort to break down barriers that have created a wide
chasm between Buddhists and Muslims and instead build bridges of understanding between the
two communities. This process would require honest and sincere introspection on the part of the
religious leaders and others about their own flaws and foibles. Critical self analysis should go
hand-in-hand with Buddhist-Muslim dialogue in the three Southern provinces.
10. INEB and other NGOs should initiate efforts to form a "People's Watch" comprising both
Buddhists and Muslims drawn from various sectors of society whose primary purpose would be
to protect and safeguard places of worship, institutions of learning and hospitals among other
public institutions. A "People's Watch" would not only ensure the safety and security of these
institutions but more significantly, it would also help foster a spirit of togetherness among
Buddhists and Muslims.
11. Both Buddhists and Muslims from neighbouring countries especially those representing the
influential strata in religion, politics and the media should assist in whatever way possible in the
4
process of dialogue and reconciliation in southern Thailand. More specifically they should try
to strengthen a more inclusive and universal approach to both religions informed by values of
justice, compassion and forgiveness.
Enhancing understanding and empathy between Buddhists and Muslims in Southeast Asia has become
imperative in view of the overwhelming power and influence of contemporary global capitalism rooted
in global hegemony. The hegemonic power of global capitalism is the new 'religion' which threatens to
undermine the universal, spiritual and moral values and world views embodied in Buddhism, Islam and
other religions. This is why Buddhists, Muslims and others should forge a more profound unity and
solidarity which will be able to offer another vision of a just, compassionate and humane universal
civilization.
It is with this mission in mind that we hereby announce the launch of a permanent Buddhist-Muslim
Citizens' Commission for Southeast Asia.
Interactive Dialogue on Actions for Peace and Sustainability Consultative Meeting on Contemporary Issues in Buddhist-­‐Muslim Relations in South and South East Asia 15-­‐17 June, Rissho Kosei-­‐kai, Bangkok Dharma Centre, Bangkok
SPECIAL REPORT: A Buddhist Minister's Experience of the Myanmar Muslims Genocide Awareness Convention
Posted: 19 Jun 2013 01:29 AM PDT
SPECIAL REPORT: A Buddhist Minister's Experience of the Myanmar Muslims Genocide Awareness Convention
At the Myanmar Muslims Genocide Awareness Convention at the Veterans Memorial Complex Auditorium, Culver City, CA, on June 9th, 2013. Photo by the author.
Two weekends ago, I had the pleasure of attending the Myanmar Muslims Genocide Awareness Convention in Culver City, CA. I went because I felt it was important to put my presence where my mouth was: as I've indicated here at this blog, the situation in Burma has been incredibly distressing to me, and rather than simply talk about it, I want to be more involved in helping in any small way that I can to get it resolved.
I've certainly tried to be involved, at least from my desk. My friend Joshua Eaton and I collaborated last year on an open letter from Buddhist teachers and scholars and others on Islamophobia that you can read at buddhistletteronislamophobia.wordpress.com. (Joshua authored the letter — though a few of us offered little tweaks and edits — and I put together the website and helped him get the word out and generate signatures.) Not long after I also added my name to "A Joint Buddhist-Muslim Statement on Inter–Communal Violence in Burma", authored by my friend Bill Aiken at SGI-USA. In addition, I took the time to write a substantial post about Engaged Buddhist icon Aung San Suu Kyi's silence and lack of action on this matter back in November, and you can read that post here.
Satellite imagery by Human Rights Watch that shows "widespread destruction of Rohingya homes, property."
As I explained in that post, for the uninitiated: the Rohingyas are the 800,000 or so Muslims who live in the western part of Burma. They have lived in the area of the Rakhine state for centuries, with much immigration and flight between Burma and Bangladesh — the result of ever-changing political fortunes and conquest. British colonialists encouraged their immigration from Bangladesh in the nineteenth century to boost their agricultural yield in the region. By 1939, the population of Rohingya Muslims (and tensions with local Rakhine Buddhists) had risen to such a degree that a commission of inquiry decided to close the border. Once World War II began, the British left the region, and terrible violence erupted between the two groups. Thousands died. More bloodshed ensued when the Japanese arrived: the Rohingyas were supporters of the Allies — some of them even served as spies for the British — who had promised to support them in their goal of a separate Muslim state. Tens of thousands are believed to have fled to Bangladesh at this point. Following the coup of 1962, more were forced to seek refuge in Bangladesh and Pakistan due to the junta's targeted attacks on the Rohingya community. In 1982, General Ne Win tightened a nationality law in the country and effectively (and illegally) rendered the Rohingyas a stateless people.
Today, the United Nations consider the Rohingyas "one of the most persecuted minorities in the world." Right now there is considerable unrest and devastating violence — dozens are dead, whole villages have been razed, and well over 100,000 have been displaced — in the Rakhine state as a result of what the Agence France-Presse identified as "the rape and murder of a Rakhine women and the revenge mob killing of 10 Muslims." By last fall, Human Rights Watch had issued a report noting that "recent events in Arakan State demonstrate… state-sponsored persecution and discrimination [of the Rohingyas]," including murder, rape, and mass arrest. Reuters released a shocking special investigative report not long after which led with what was essentially a confirmation of HRW's report: "The wave of attacks was organized, central-government military sources told Reuters. They were led by Rakhine nationalists tied to a powerful political party in the state, incited by Buddhist monks, and, some witnesses said, abetted at times by local security forces."
International news agencies and the Buddhist media have since been following the situation closely, and have reported on those in the Burmese sangha who are encouraging violence, as well as those trying to do something to help. It was all this news and information that brought me to the Myanmar Muslims Genocide Convention on June 9th.
Attendees at the Myanmar Muslims Genocide Awareness Convention. Photo by the author.
Attended by easily 250-300 people or more — the crowd grew steadily throughout — the audience at the convention was made of largely persons of South Asian heritage, quite a few of them readily identifiable as Muslim from their hijab, kufi, and other distinctive dress. Things got off to a very strong start with some simple, important points of clarification from host Devin Hennessy. In the context of the event, a "Myanmar Muslim," he stated, was "any Muslim living in the borders of the country, regardless of ethnicity." This is an important point considering that, even though the Rohingya Muslims of the Rakhine state are dominating news coverage right now, there are more than one-hundred ethnic groups in Burma, and many of them have Muslims in their ranks. Hennessy also laid the groundwork for later discussion about proper terminology in this situation by stating that it had "escalated to a genocidal level," and that the word "genocide" was being used specifically because what is happening is "within the criteria" for its use.
These introductory remarks were followed by a dua from a young boy in attendance, and a statement from Culver City Mayor Jeffrey Cooper. As the mayor took to the stage, I braced myself for the usual, rote politician's speech at these sorts of things, only to be very pleasantly surprised: he spoke movingly as both "a Jew and the husband of a Burmese Muslim woman" about how much the cause and the event "hit home" for him. The powerful launch of the event wrapped with the singing of two national anthems: the United States and Burma's.
Before speakers and others rose to speak, the Burmese American Muslims Association presented a video of their own making (with quite a lot of clips from this Al Jazeera English report) to set the stage for anyone unfamiliar with the situation in Burma. Two things in particular struck me in the video presentation, though neither were surprises exactly — just shocking to see explicitly: first, this clip from the BBC, which shows an attack on Muslim-owned gold shop, with police doing nothing and Buddhist monks joining in the violence. Second, the explication of how precisely what's happening in Burma now fits with scholar and Genocide Watch president Dr. Gregory H. Stanton's "8 Stages of Genocide" was arresting.
This segued nicely into Dr. Stanton himself, who presented prepared remarks for the conference via video. He noted that the plight of the Rohingya has been on Genocide Watch's radar for at least two years, and offered useful perspective on what it means to be a Rohingya right now: no ID cards (needed for education and travel), placement in displaced persons camps and forced labor for many, no government employment, limits on marriage/childbirth, coercive situations, and a host of other indignities. Dr. Stanton also highlighted the unique threats to Rohingya refugees and "boat people" fleeing Burma.
In addition, he noted that the attacks on Muslims in Burma had reached the level of genocidal massacre, saying that "the world must speak out." He chastised Aung San Suu Kyi, calling her much-discussed silence as a Nobel Peace Prize laureate "unacceptable." Dr. Stanton also outlined other things that he felt must happen now: (i) Burma's parliament must pass legislation to make the Rohingya citizens with full rights; (ii) displaced persons camps must be dissolved with UN and ASEAN assistance; (iii) authorities must cease all rights violations; and (iv) Bangladesh must stop turning away and pushing back refugees. This was the first of many times that the issue of Rohingya citizenship would come up in the proceedings.
The second instance came with the next speaker, who also spoke via video: Wai Hnin Pwint Thon, campaign officer for Burma Campaign UK. She began by lamenting that the international community still hadn't "gotten the balance right" in terms of praise for Burma's reforms and concrn/penalty over human rights violations. She pointed out that sanctions on Burma had been lifted despite stated benchmarks not being met; by her count, at least eight international laws and treaties are currently being violated by the Burmese government. As many others have pointed out, she reminded the audience that the Rohingya's exclusion from citizenship in particular represents a clear violation of Article XV of the UN Declaration of Human Rights. "Casual racism and intolerance exist and must be acknowledged and confronted," she said. "The Burmese have to decide what it means to be Burmese."
Rev. John Iwohara. Photo by the author.
At this point, after quite a bit of information had been presented, the organizers wisely changed up the pace and brought Rev. John Iwohara of the Venice Hongwanji Buddhist Temple to the stage. "It is difficult to receive a human form," he preached, explaining the Buddhist way of helping others, or, at the very least, "acting less inhumanely." "The pain and loss of losing a loved one is the same for everyone; you don't feel more or less if you're a Buddhist or a Muslim or a Christian or a…" he continued. He invoked the Dhammapada's fifth verse and King Ashoka's experience at the Kalinga War as resources for Buddhists thinking about their approach to this situation. "Let us take this opportunity to exchange anger for love, and violence for beauty. May every life help us find beauty and joy."
The Buddhist representation at the conference continued in a way with Gordon Welty from the U.S. Campaign for Burma, who named Soka Gakkai International president Daisaku Ikeda as "his mentor" during his remarks. A board member of the organization, he offered a helpful blow-by-blow of how things in Burma have escalated to the point of genocide. Like his predecessors, Welty stated that the removal of the 1982 citizenship law was the "first step" in fixing the problem. He also said authorities must "unambiguously" devote themselves to ending mob violence.
A rousing speech by Omar Jubran, executive member of the Council on American-Islamic Relations (CAIR)-LA, was followed by a presentation of photographs by Matt Rains. Rains has done striking, groundbreaking work photographing Muslims in Burma, and jolted the audience as much with his words as his images. He claimed to have seen "boxes of DVDs from the national government" delivered to monasteries and video halls, which were then used to stir up anti-Muslim sentiment. "This has all been devised by the government," he said flatly.
Naama Haviv, a genocide expert with Jewish World Watch, spoke next about genocide in general. She joked about being the only speaker who didn't know anything about Burma, but added that genocide happens in places where leaders are "habituated" to it. The 1994 genocide in Rwanda, she reminded us, was actually the second (arguably third) such event in that country's history. With such a violent past in the form of the military junta's reign, she felt Burma was definitely a place that we should continue to watch closely.
Statements of support from House Committee on Foreign Affairs Chairman Ed Royce and Los Angeles Police Department Deputy Chief Michael Downing were read by Hennessy before the mighty Dr. Maung Zarni rose to speak. Buddhist magazine readers will undoubtedly recognize Dr. Zarni, whose name has been coming up a lot lately: his piece "Buddhist Nationalism in Burma" was a feature in one of the most recent issues of Tricycle: The Buddhist Review, and Alex Caring-Lobel interviewed him not long ago for Trike's Awake in the World blog. A Visiting Fellow at the London School of Economics, Dr. Zarni received applause when he began his remarks by saying, "I offer my apologies as a Burmese — and a Buddhist at that." Saying he felt compelled to "speak truth at any cost," he castigated his fellow Burmese for "sleepwalking into a genocidal space," adding that "the Buddha himself was not a Burmese, so he would be treated as such an outsider [under current laws and conditions]." Joining the chorus of voices decrying the 1982 citizenship law, he noted that "this problem has come to the Rohingya," and not the other way around.
Dr. Zarni was followed by Dr. Wakkar Uddin (Director General of the All Rohingya Union), Dr. Nora E. Rowley (a humanitarian doctor who works with refugees in Burma), and Htay Lwin Oo (Myanmar Muslims Civil Rights Movement). Dr. Rowley's comments in particular made an impression. She referred to the country's leadership as the "Burman supremacist regime," took the international media to task for "lazily or complicitly" framing the situation as "Rakhine versus Rohingya," and pointed out what Human Rights Watch has observed about the national police force in the country.
A panel discussion and Q&A with Haviv, Dr. Zarni, Dr. Rowley, Dr. Uddin, and Lwin Oo followed. Among the questions addressed was, "Why haven't a majority of Buddhists — who are supposedly against violence — come out to strongly denounce the racist '969 Movement'? Are they silently supporting them?" Dr. Zarni spoke about the false, fear-based narrative of 969, and how it  "criminalizes" Islam, and produces a largely complicit Burmese Buddhist population in the country. He then went "on the record" to say that the 969 Movement enjoys "the full backing of the Burmese state." He continued, "In this [current] scenario, the 969 Movement is going to thrive and help destroy the Muslim communities. Therefore, I think it is important for the Buddhist community to wake up to the danger of 969, which is self-destructing the Burmese society."
Dr. Maung Zarni. Photo by the author.
While the question, and Dr. Zarni's response, were helpful, the question that was more important to me personally was, "What can Buddhists, particularly Buddhists outside of Burma, do to help?" So I set out to ask a few of the conference organizers and participants this question.
"Burmese Buddhist is different from other forms of Buddhism," one of the conference's spokesmen, Yousef Iqbal, told me. "So they don't actually look at other Buddhists as ones who can inspire them. Unless you can find a Burmese Buddhist, in Burma's Theravada Buddhist tradition, to say, 'Killing people is wrong and you should not do it,' I'm not sure how much it will do." While he acknowledged the important contributions of Buddhists from other traditions, like Rev. Iwohara, he was clear about what was needed: "More participation from the Theravada, the Burmese Theravada Buddhists. They should be involved, especially those who have spiritual authority."
Iqbal's co-spokesman, Yusman Madha, was more optimistic about the wider Buddhist community. "It would definitely be helpful — definitely," he said in response to my question of whether or not a more pronounced, ecumenical Buddhist response to the situation would be useful. "The teachings of their faith are being flouted by these thugs, and they should now speak up. There are Buddhist monks in Burma speaking up, but they are in the minority."
Dr. Uddin agreed, and told me, "American Buddhist organization can do a lot to influence the [anti-Muslim] monks in Burma. We really believe that American Buddhist leaders can have a tremendous influence on this situation, and teach the heretical Buddhists in Burma that this is not the right path. We would like to open up more of a dialogue with the American Buddhist community, in fact. We've spoken to some monks here in America, and they've been receptive. The vast majority of Burmese Buddhists in America have a totally different vision [then their fellows within Burma]. We can work together — the Rohingya in diaspora and the American Buddhist community."
As we talked, Dr. Uddin added, "We look forward to making these connections with American Buddhists, but we don't have the means and know-how. We don't know who to approach, or how to approach them. We've asked ISNA, the Islamic Society of North America, to help us open up a dialogue. We need to get connected to Buddhist leaders and discuss this and develop strategies."
Before the conference, but even more so after, I was determined to help. After talking with Dr. Uddin about approach, I'd like to say, for whatever it's worth, that I'm happy to help in any way I can to make these connections and get this conversation started. If you're the leader of a Myanmar Muslim group and you'd like assistance making connections, please leave a comment. And if you're a Buddhist leader, please feel free to leave a comment alerting us to anything you might be willing to do or offer.
Dr. Uddin offers a good starting point for us as concerned Buddhists in America: just get Buddhist American leaders to the table with Rohingya in diaspora to talk. At the very least, let's all of us, as Buddhists in America, make sure this happens.
At one point during the conference, it was observed that the event bore the year 2013 in its title, implying that the Myanmar Muslim community is digging in for what portends to be a long struggle. If we as Buddhists in America truly aspire to love all beings the way a mother loves her only child, we need to get to that table with Rohingya leaders and see to it that this doesn't become a yearly event.
- See more at: http://www.patheos.com/blogs/dannyfisher/2013/06/special-report-a-buddhist-ministers-experience-of-the-myanmar-muslims-genocide-awareness-convention/#sthash.QpzFe0KZ.dpuf
This posting includes an audio/video/photo media file: Download Now
An Opportunity for Aung San Suu Kyi, President Obama…and You
Posted: 19 Jun 2013 12:38 AM PDT
An Opportunity for Aung San Suu Kyi, President Obama…and You
"Rohingya Muslims who fled
Burma
to Bangladesh to escape religious violence, sit in a boat after being intercepted crossing the
Naf River
by
Bangladeshi
border authorities." Photo by the Associated Press.
This past week, Daw Aung San Suu Kyi – the leader of Burma's parliamentary minority party the National League for Democracy, iconic Engaged Buddhist leader, and Nobel Peace laureate – broke her long and much-criticized political silence over the violence between Rakhine Buddhists and Rohingya Muslims in the western part of her country, encouraging the government to take action to stabilize the region. She also added within the last day or so that the unrest is "an international tragedy."
It's about time.
That being said, her rhetoric must be matched with clear and immediate action. In addition, the newly reelected Barack Obama is set to make history later this month by becoming the first sitting U.S. President to visit Burma. If this visit is to have any meaning beyond being an historic first, he will have much to do beyond simply showing up.
Here's what you need to know: The Rohingyas are the 800,000 or so Muslims who live in the western part of Burma. They have lived in the area of the Rakhine state for centuries, with much immigration and flight between Burma and Bangladesh—the result of ever-changing political fortunes and conquest. British colonialists encouraged their immigration from Bangladesh in the nineteenth century to boost their agricultural yield in the region. By 1939, the population of Rohingya Muslims (and tensions with local Rakhine Buddhists) had risen to such a degree that a commission of inquiry decided to close the border. Once World War II began, the British left the region, and terrible violence erupted between the two groups. Thousands died. More bloodshed ensued when the Japanese arrived: the Rohingyas were supporters of the Allies—some of them even served as spies for the British—who had promised to support them in their goal of a separate Muslim state. Tens of thousands are believed to have fled to Bangladesh at this point. Following the coup of 1962, more were forced to seek refuge in Bangladesh and Pakistan due to the junta's targeted attacks on the Rohingya community. In 1982, General Ne Win tightened a nationality law in the country and effectively (and illegally) rendered the Rohingyas a stateless people.
Satellite imagery by Human Rights Watch that shows "widespread destruction of Rohingya homes, property."
Today, the United Nations consider the Rohingyas "one of the most persecuted minorities in the world." Right now there is considerable unrest and devastating violence—dozens are dead, whole villages have been razed, and over 100,000 have been displaced—in the Rakhine state as a result of what the Agence France-Presse identified as "the rape and murder of a Rakhine women and the revenge mob killing of 10 Muslims."
When I saw Aung San Suu Kyi speak earlier this fall, she lamented that "the rule of law" had not been established immediately following the first instances of violence. But there is some clarity amidst the chaos: that same week Suu Kyi was in Washington, Human Rights Watch issued a report noting that "recent events in Arakan State demonstrate… state-sponsored persecution and discrimination [of the Rohingyas]," including murder, rape, and mass arrest. Then, this week, Reuters released a shocking special investigative report, which led with what was essentially a confirmation of HRW's report:
The wave of attacks was organized, central-government military sources told Reuters. They were led by Rakhine nationalists tied to a powerful political party in the state, incited by Buddhist monks, and, some witnesses said, abetted at times by local security forces.
As if we should not already be troubled by all of this, one part of this sentence should grab the attention of Buddhist readers: "incited by Buddhist monks."
In fact, just last week, Doctors Without Borders reported that "radical Buddhist groups"—led not by nominally Buddhist laypeople, but monks—were preventing their medical professionals from delivering assistance to sick, injured, and otherwise in need Rohingyas. In addition, Joe Belliveau, operations manager for Doctors Without Borders, noted that many of the organization's staff members are now afraid to work in the area. He said, "I've never experienced this degree of intolerance. What we really need is for people to understand that giving medical aid is not a political act." Buddhist monks also recently blocked the opening of a Rakhine office of the Organization of Islamic Cooperation (OIC), a global body that wanted to open an office in the country in order to assist the Rohingyas and contribute to reconciliation efforts. The Democratic Voice of Burma has reported that the All-Arakanese Monks' Solidarity Conference has called for the Burmese to identify Rohingya "sympathizers" so that they may be "targeted and exposed as 'national traitors'" as well. (Reflecting on the monks' behavior even before these incidents, Foreign Policy's William McGowan referred to "Burma's Buddhist chauvinism," and the Bangkok Post's Assistant Editor Sanitsuda Ekachai stated bluntly, "This is racism, not Buddhism.")
This is insanity.
Whatever complications exist (and they certainly do) in this situation, there is absolutely no universe in which these sorts of things should not be categorically deplored in the strongest possible terms by someone in Suu Kyi's position. Indeed, "the Lady" herself has unique power to effect outcomes here: many of these same monks are those who rose up against the junta in 2007's "Saffron Revolution." On September 22nd of that year, the day the monks began marching, their first stop was to Suu Kyi's home, where she was then under house arrest. They offered blessings to her, but she, in effect, also offered her own blessing to their efforts.
If Suu Kyi were to publically ask the monks to cease and desist in their anti-Rohingya efforts now, there's no guarantee that that would quell them. However, it would almost certainly deal them a crippling public relations blow, given the history of the relationship between "the Lady" and the Sangha. They would lose any implicit seal of endorsement from Suu Kyi, and with that undoubtedly much of their support.
Suu Kyi's sacrifices on behalf of her country are some of the most selfless and inspiring acts this world has ever known. She has shown through staggering example what human beings are capable of when they set their sights on the highest ideals. For someone who has been so doggedly, movingly stubborn on behalf of others, her silence up to now has been very disappointing. She is quite right to point out that there has been violence on both sides, but wrong to "not take sides," as she put it. Even that language is somewhat problematic, for it implies a false equivalency: as imperfect and unskillful as the past actions of some may have been, there's no denying that the Rohingyas, as a stateless people, have comparatively limited means (to put it mildly) by which to advocate for themselves. "Illegal immigration," as she puts it, may well be happening and need attention; but she must also contend with the fact that even Rohingyas who have never crossed a border in their lives are not viewed as legitimate citizens by the Burmese government.
As her country's moral touchstone—and very rightly so—"the Lady" has a special ability to help here, particularly with the monks. As a serious Buddhist practitioner herself, she might remind those monks who advocate fighting fire with fire of what it says in the Dhammapada:
"He abused me, he struck me, he overpowered me, he robbed me." Those who harbor such thoughts do not still their hatred.

"He abused me, he struck me, he overpowered me, he robbed me." Those who do not harbor such thoughts still their hatred.

Hatred is never appeased by hatred in this world. By non-hatred alone is hatred appeased. This is a law eternal.
Remembering their own Buddhist heritage might help the monks take the lead in a different way: as agents of reconciliation in a part of their country that has been plagued by hate and violence for such a terribly long time. "The Lady" might help them get there.
And President Obama might give her and the Burmese government a helpful nudge during his upcoming visit to the country. (It looks as though he will.)
Of course, he will need our encouragement to keep meaningful pressure on the country regarding the Rohingyas. Buddhist American leaders have already spoken out through two petitions (both of which I signed and helped with). You can make your voice heard through the petitions to President Obama that are currently circulating from Amnesty International and United to End Genocide. (Each takes only a few seconds to fill out.)
May all those in Burma be happy.
May all those in Burma be well.
May all those in Burma be peaceful.
- See more at: http://www.patheos.com/blogs/dannyfisher/2012/11/an-opportunity-for-aung-san-suu-kyi-president-obamaand-you/#sthash.24e6UKst.dpuf
This posting includes an audio/video/photo media file: Download Now
Miki, Rafa and Diyanazman's Euro Road Trip 2013
Posted: 18 Jun 2013 11:46 PM PDT
Salam blog readers!
It has been ages I know! If you have been to this blog for the past 2-3 weeks you would probably see really weird entries with nothing but just one pic. Well that actually updates from my Instagram. I wasn't able to update long entries because we went on THE MOST AWESOME VACATION EVER!
We had the most terrific adventures, meet wonderful people, enjoyed beautiful scenery, savored delicious food, shop till we drop, had our first Disneyland thrill and fun and so much more… From 23 May until 5 June 2013, Azman and I took our kids, Miki and Rafa to Europe. It was a perfect vacation!
From KL we flew to Frankfurt, Germany via Dubai. In Germany we visited my sister, Shanaz and brother in law, Abdullah who lives in Wolfsburg. With them, we travelled to Berlin, Stuttgart and later to Paris, France. From Paris we stopped for awhile at Brussels, Belgium in our way to Amsterdam, the Netherlands. From Netherlands we went back to Germany, back to Wolfsburg and that's when we visited the city of Hannover before we went back to KL from Hamburg. Altogether we traveled to 4 capital cities of 4 European countries in about 2 weeks. And the best thing about it, we had all the adventures as one big happy family!
Being the blogger that I am, of course I would like to jot down all the stories from our first European trip before they were all gone from my grey matter. It would probably take more than 5 entries, full of pictures and great memories for us and the kids to read later.
But where should I start? Ok, how about in KL…
On 22 May, a day before our flight to Germany, Miki got sick. We were doing last minute shopping at Midvalley at around 8pm when he suddenly vomited the floor. And then he vomited again and again and again. He also had a temperature. At midnight we went to  KPMC. I told the doctor she must make my son well for our flight that was less than 18 hours hours. I was nervous, worried, helpless and extremely sad looking at sickly baby. The doctor must have given him something strong because the last time he puked was at 4 am and that was the last. He was still very-very weak however, we had to spoon feed him and constantly wiping his body with damp towel to keep the temperature down.  By noon 23 May, his temp was back to normal but he was so weak he was hardly sitting down, but just lying helplessly not saying a word. He cut my holiday mood by 80%.
But we went anyway,and in the cab to the airport, he slept soundly, in the airport he laid down on Rafa's stroller.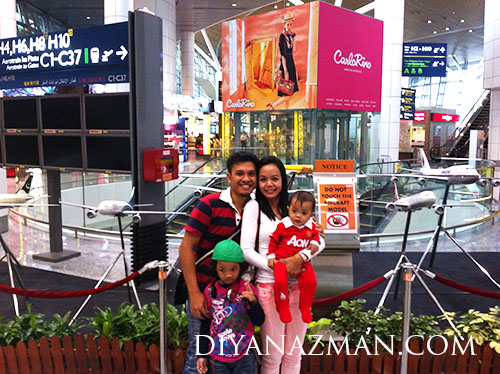 "Bye! Miki and Rafa are going to Germany!" Look at Miki.. see how he can't even hold his peace sign together.
And then we had to take the aerotrain.
A train? He said. And suddenly he jumped off the stroller and start jumping around, asking question one after another. And once we boarded the A380, Miki saw how huge it is, how all the seats have screen with hundreds of movies and tv shows and games that he could play; he was well again 100 %! As if the air in the cabin contained some magic antibiotic that cures sick people within seconds. All I wanted to say was – "KO  NI BETUL SAKIT KE APA MIKI?" haishh…Sakit jiwa Mummy risaukan ko!

Rafa comeli – kecik-kecik dah jalan jauh… Mummy dulu jalan pergi Penang KL aje…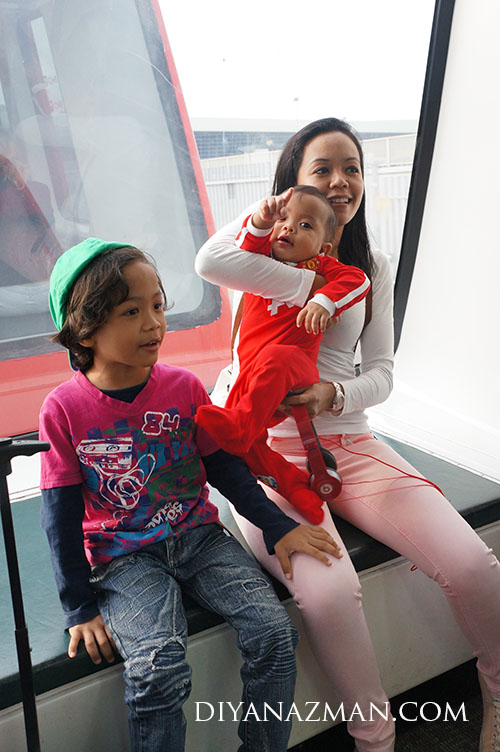 See above pic, the three of us in the KLIA aerotrain. See how Miki is suddenly looking all fine and his mulut potpetpotpet aishhhhh… Rafa was also doing his thang – orang Perak said, mengelejat or squirming! For no reason!
From KL we flew 7 hours to Dubai. Later I will write about traveling with baby and some things to ensure ease and comfort. At Dubai, the transit took 5 -6 hours, and we were given meal vouchers. I love Dubai airport, it is like a  huge shopping mall for you to spend your moolah! haha. But we were more excited about meeting Shanaz and Abdullah in Germany…

From Dubai, we took another 7 hours flight to  Frankfurt. We arrived at 9am German time and it was well… SEJUK!
Abdullah drove all the way from Wolfsburg to fetch us at the airport. Actually I do not know how to express our gratitude to Abdullah and Shanaz because they treat us like VIP throughout the trip… Thank you again guys!!
From Frankfurt to Wolfsburg we feast our eyes with terrific early spring view of Germany. We see endless fields raps (rapeseed or canola plants) with the brightest yellow flowers. The seeds of these flowers are processed into cooking oil and even biodiesel. Shanaz uses it in her kitchen and I think it taste very good. Among the yellow fields dotted with bright green trees are gigantic power windmills, standing tall and strong. Miki said "Hey, that's a transformer!" Haha! And later he remembers that he saw it in "Real Steel". I think it was shown for about 3 seconds in the beginning of the movie and somehow Miki can recall it. Macam-macam lah Miki!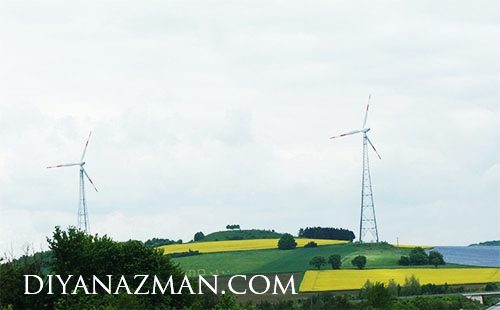 From the fast moving car that Abdullah was driving, we also see these gorgeous German village that reminds me of these images I made inside my head while reading Enid Blyton or some fairy tales books when I was a child…
On our way from Frankfurt to Wolfsburg, we stopped at a restaurant called MAXI, because I was extremely kebulur. Although Shanaz was waiting at home and she was cooking, I still need to eat something LOL. It is my first meal in the Europe. I had fish with vegetables and potatoes. Miki had fries with mayo. Rafa had baby food supplied by Emirates. Azman tak lalu makan langsung. LOL.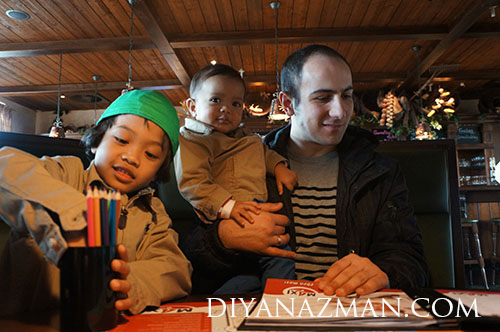 Miki hadn't meet Cik Abi (that's what he calls him) for a long time but he has always been his favorite. Cik Abi is my best friend, katanya… And throughout the entire 2 weeks, Abi patiently put up with Miki's level of annoyingness that is beyond belief! LOL… See even Rafa loves Cik Abi!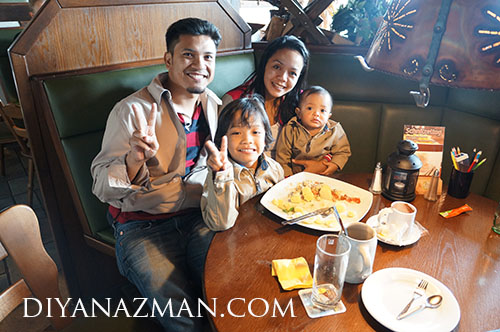 This is our first family pic in Europe. We hadn't take a shower in 24 hours. LOL!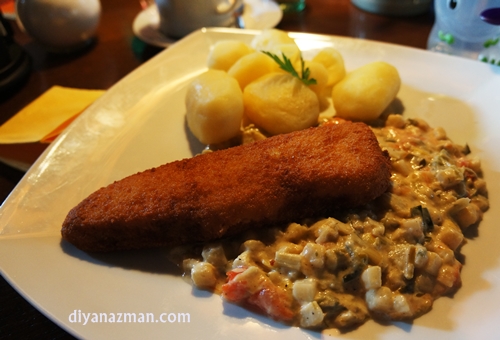 My first meal in Germany. It is delicious… I wish I know they make that vege salad.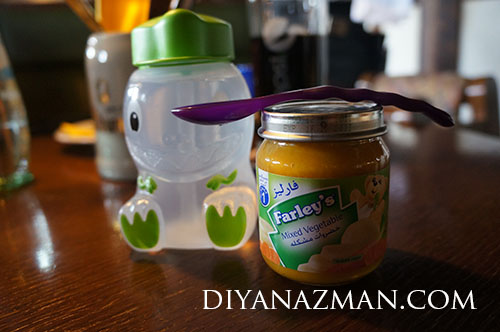 Rafa's first food in the Europe… Farley's ada tulisan jawi… haha
I am very impressed with the restaurant. I don't know if it is a fancy restaurant or not… but it is just situated along the highway and near a petrol station. But the set up, the decor, the service is very good. The interior of the restaurant is something like what we used to have in Dave's Deli in Malaysia, only 10 times nicer and grander. They have activity sheet and color pencil for the kids, kalau kat Malaysia we only get this treatment in expensive restaurant. Restaurant sebelah highway kat Malaysia bagi apa? Muka waitress pun macam cuka. Hmmm… the Maxi's waitresses, although didn't speak English but still friendly and helpful.
So my first impression of the Germans? (Actually the first German I met was of course Abdullah lah! Masa dia berdating dengan adik aku haha!) Very nice people! I loike…
Haha! More stories and pictures coming.. Thanks for reading! Danke!
PR gesa tubuh PSC pantau secara khusus
Posted: 18 Jun 2013 11:47 PM PDT
WARTAWAN SINAR HARIAN
19 Jun 2013
SHAH ALAM – PR menyuarakan kekecewaan berikutan perjanjian Perkongsian Trans Pasifik (TPP) tidak tertakluk pengawasan Parlimen.
Naib Presiden PKR, Nurul Izzah Anwar berkata, perkara itu diketahui PR semasa mengadakan pertemuan dengan wakil Kementerian Perdagangan Antarabangsa dan Industri (Miti) baru-baru ini.
"Walaupun kami menghargai rundingan yang dianjurkan oleh Miti, tetapi kami masih tidak berpuas hati bahawa pada hakikatnya TPP itu tidak tertakluk kepada pengawasan Parlimen.
"Rangka kerja undang-undang TPP yang menyeluruh itu boleh menyebabkan undang-undang domestik terpaksa akur dengan meletakkan syarikat-syarikat multinasional di atas jika tidak setara dengan kedudukan kerajaan," katanya dalam satu kenyataan bersama yang turut melibatkan Ahli Parlimen Klang, Charles Santiago; Ahli Parlimen Kelana Jaya, Wong Chen; Pengarah Pusat Penyelidikan dan Pembangunan Pas, Dr Dzulkefly Ahmad dan mewakili Institut Rakyat, Azrul Azwar.
Nurul Izzah berkata, PR mencadangkan agar ditubuhkan Jawatankuasa Terpilih Parlimen (PSC) bagi pantau perkara itu secara khusus.
"Kami tetap komited memperjuangkan ketelusan dan penglibatan awam yang lebih tinggi dalam semua aspek TPP. Kami juga mahu sebuah Jawatankuasa Terpilih Parlimen dwi-partisan mengenai TPP ditubuhkan dengan segera," katanya.
http://www.sinarharian.com.my/politik/pr-gesa-tubuh-psc-pantau-secara-khusus-1.173186